When it's time to sell a unique luxury home in Seattle, you need smart and savvy Realtors with a plan to ensure your home sells quickly and for top dollar. Team Diva has that plan. We have a robust strategy to prepare, market, and sell luxury homes, and we call it the Diva Difference.
In this blog we explain what it takes to sell a luxury home in Seattle using our method.
Five Steps for Selling A Unique Luxury Home in Seattle
In-depth Global and Local Real Estate Market Research for the Home
"Get Real" Conversation on Getting Your Home "Market Ready"
Get Personal About the Details About the Unique Aspects of Your Luxury Seattle Home
Specific Marketing Strategy for the Home
Implement a Comprehensive Online Digital Marketing Strategy
Bonus Step: Center the Seller in the Negotiation Process
Let's dive in and see if our approach is the right one for you and your fabulous luxury home that is super unique in the marketplace.
---
How to Sell a Unique Luxury Home in Seattle Quickly and For the Most Money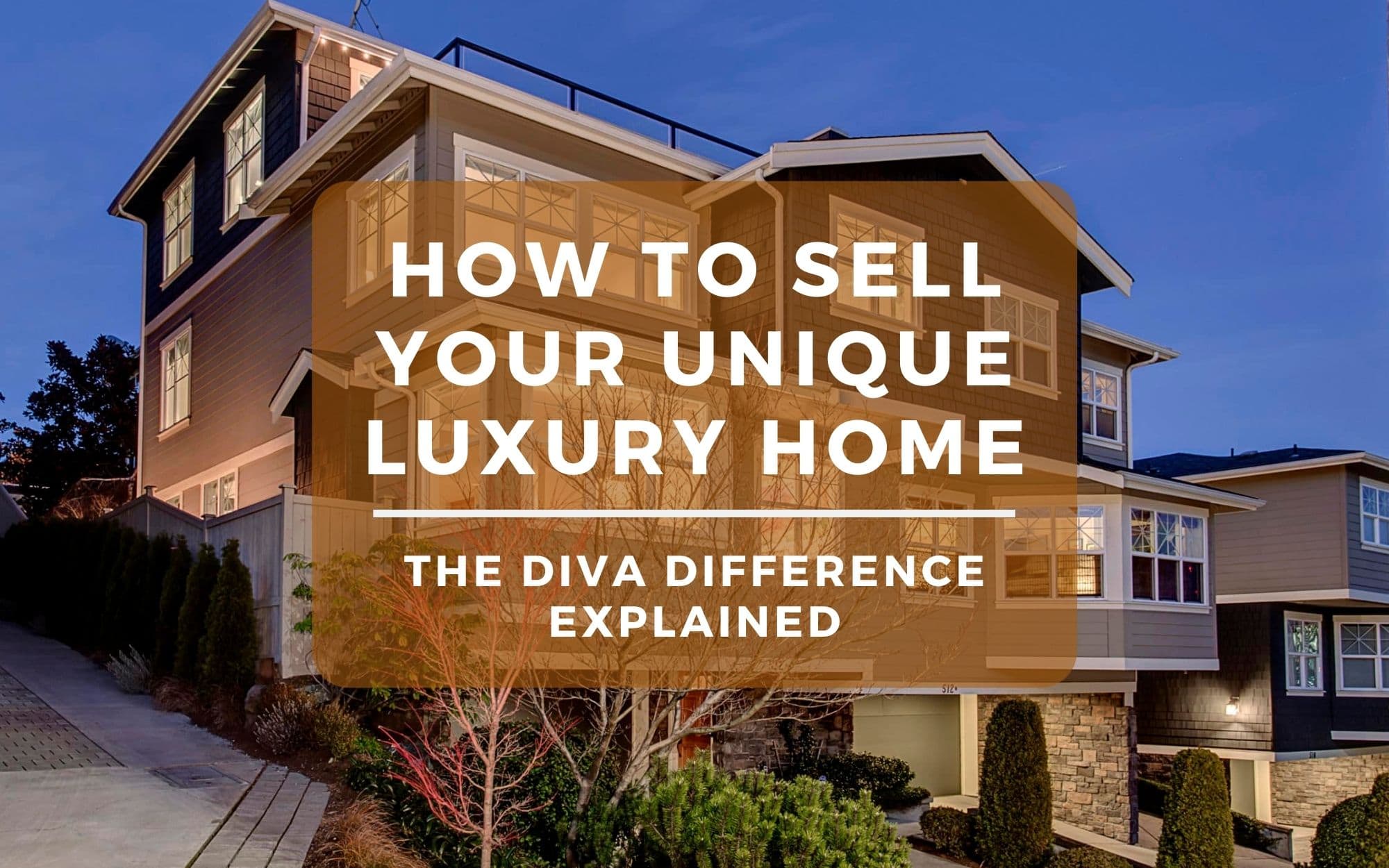 If you're selling a unique luxury home in Seattle, you need a plan that is just as custom and lux as your property. Why hire an agent who wants to squeeze your extraordinary home into an ordinary sized box? You need a listing plan that's worthy, and digital marketing content that says, "This Home is Fabulous and Unique and YOU, Dear Buyer, Want to Own it!"
Hey Diva, What is a Unique Luxury Home in Seattle?
Team Diva's specialty really is in unique homes. We really are not the team for the luxury homes that all look like each other and are lined up on a golf course. We are the team for a vintage mid-century home with soaring views of the sound, or a Space Needle view townhouse in Queen Anne. Send us in when you have a smaller mid-century home in Alki that is perfectly updated or a famous chef's home that is in its original look in Ballard. We are your people. 
Now let's move on to the methodology of selling a very unique home that is in the luxury price point in Seattle.
The Diva Difference Method
Over the years, Team Diva has expertly honed our process behind bringing our DivaLux listings to market. We take in the architectural significance of the home, work out how to position that home for the optimal buyer, use a sound data approach to understand the local market factors, and have those tough "get your home Diva-riffic" conversations.
This process is not for everyone. But hey, there is a traditionalist out there who will do the bare minimum for you.
Fun fact, our DivaLux listings sell, on average for 5 percent MORE than other similar Seattle homes in the same luxury price points.
That is a significant difference compared to the more traditional methods of selling luxury homes in Seattle. You know the situation with these traditionalists ("I know how to talk to wealthy people that look just like me.") It's so old school, and let's not even get started on how problematic these traditionalists are.
And when it comes to a unique home in Seattle our process goes beyond the standard luxury marketing.
Step One: We Do an In-depth Global and Local Real Estate Market Research for the Home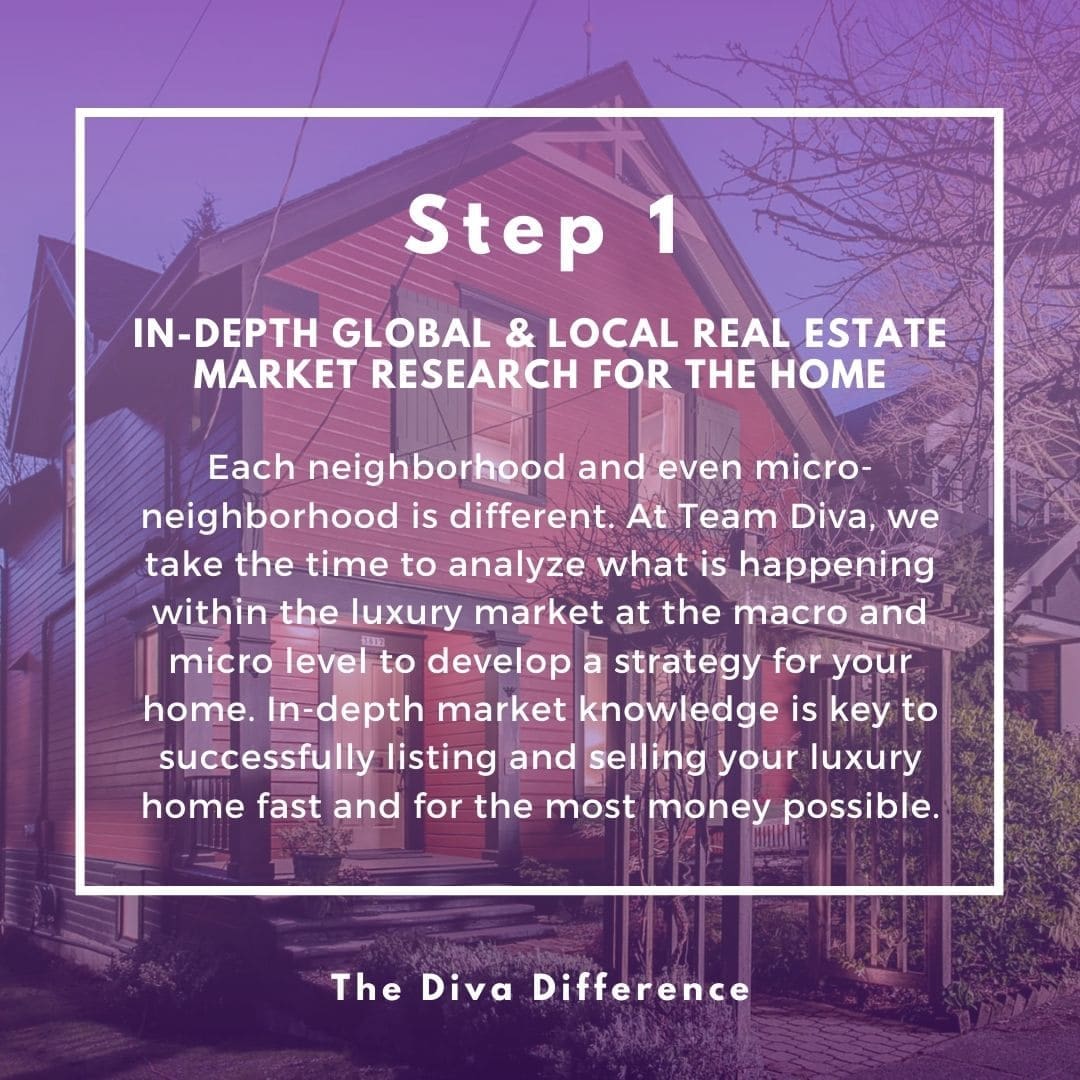 Because the luxury market is much more susceptible to global and local changes than homes that are at or below the median price point (the $600k-$900k range in Seattle), it is crucial to keep a tight track on the shift in demand from week to week. Anything above that $600k-$900k range requires a thorough dive into the numbers, and historical knowledge of the market, on both a macro and micro level.
Changes in interest rates, conventional loans, jumbo loans, stock market, etc. can all impact the luxury market. We stay tuned into what's happening economically on a global scale, as well as the King County, the Greater Seattle Area, and of course the City of Seattle itself. (We are even frequently interviewed by local and national news publications to share our expert market knowledge).
But it goes beyond just knowing general real estate market data. Each neighborhood and even micro-neighborhood within Seattle is different. At Team Diva, we take the time to analyze what is happening within the luxury market in your neighborhood.
Many agents simply will not do much market research beyond what they'd do for an average home. They might look at comps in the neighborhood, but we frequently will encounter other agents who do not look at more subtle trends to inform their clients' decisions. In-depth market knowledge is a key component of successfully listing and selling your unique luxury home fast and for the most money possible.
Step Two: The Diva "Get Real" Conversation on Getting Your Home "Market Ready."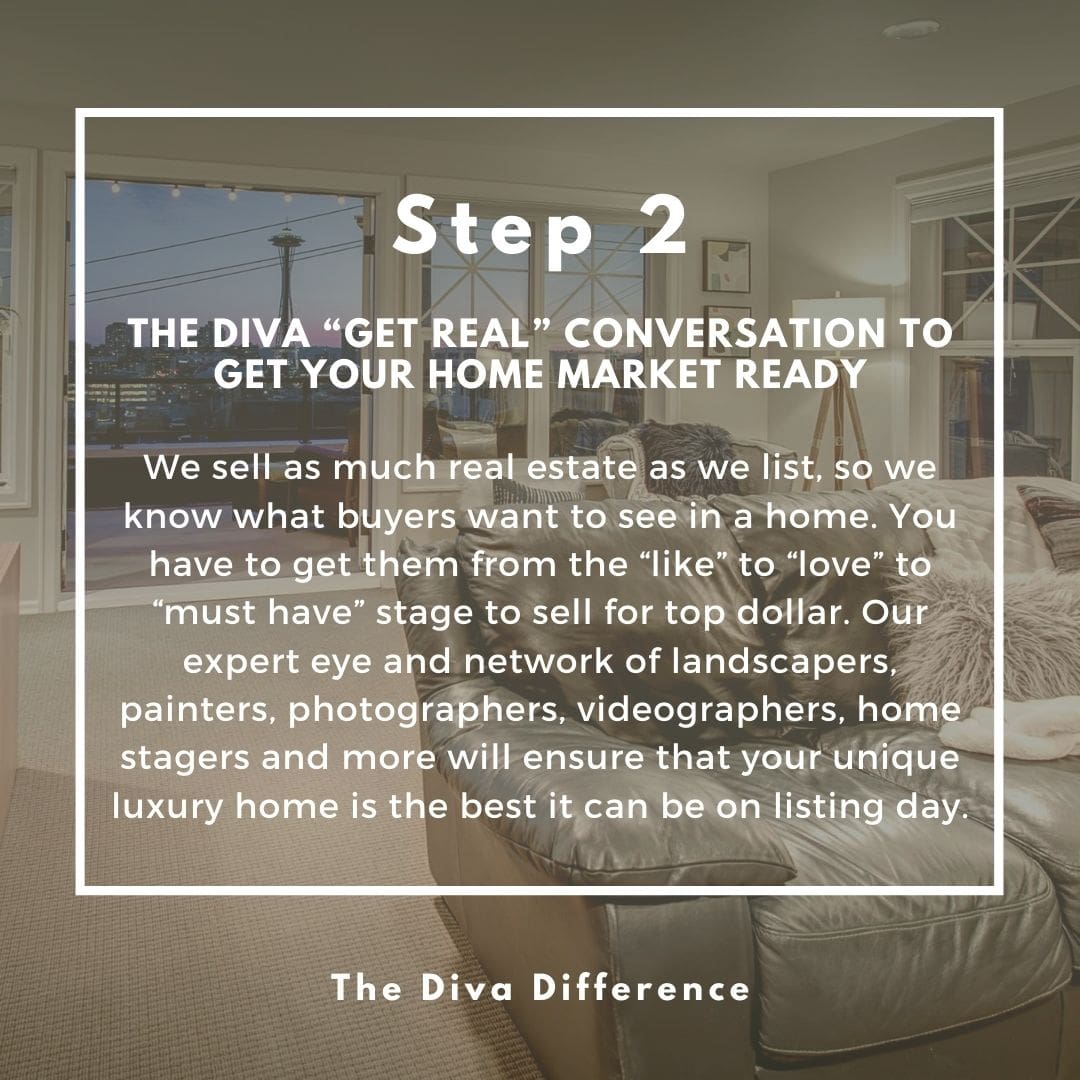 One of the best and unique parts of Team Diva is that we actually work as a team. Rarely do we walk into a home and not notice that something needs to be moved, changed, or positioned differently to attract the ideal buyer. When it's time to sell your home, Team Diva, is not afraid to have the "Get Real" conversation with Sellers making their home "Market Ready."
Selling homes for top dollar means being willing to have tough conversations.
Because we sell as much real estate as we list, our team is in touch with the current zeitgeist of buyers in the market. We know what buyers want to see in a home AND what buyers are looking for to get them from the "like" to "love" to "must have" stage. This is key to selling your home for top dollar.
When you work with Team Diva, you're not just working with our team of expert real estate agents. We have a whole network of professionals on our side to ensure that you experience the full Diva Difference. Our landscapers, painters, photographers, videographers, home stagers, etc. know and understand the standards we set for all our listings. And they're available to help you get your home in tip-top shape.
Our expert eye is ready to help you make sure that your unique luxury home is the swankiest, sparkliest, and most spectacular it can be when it's time for listing day.
Step Three: Let's Get Personal About the Details About the Unique Aspects of Your Luxury Seattle Home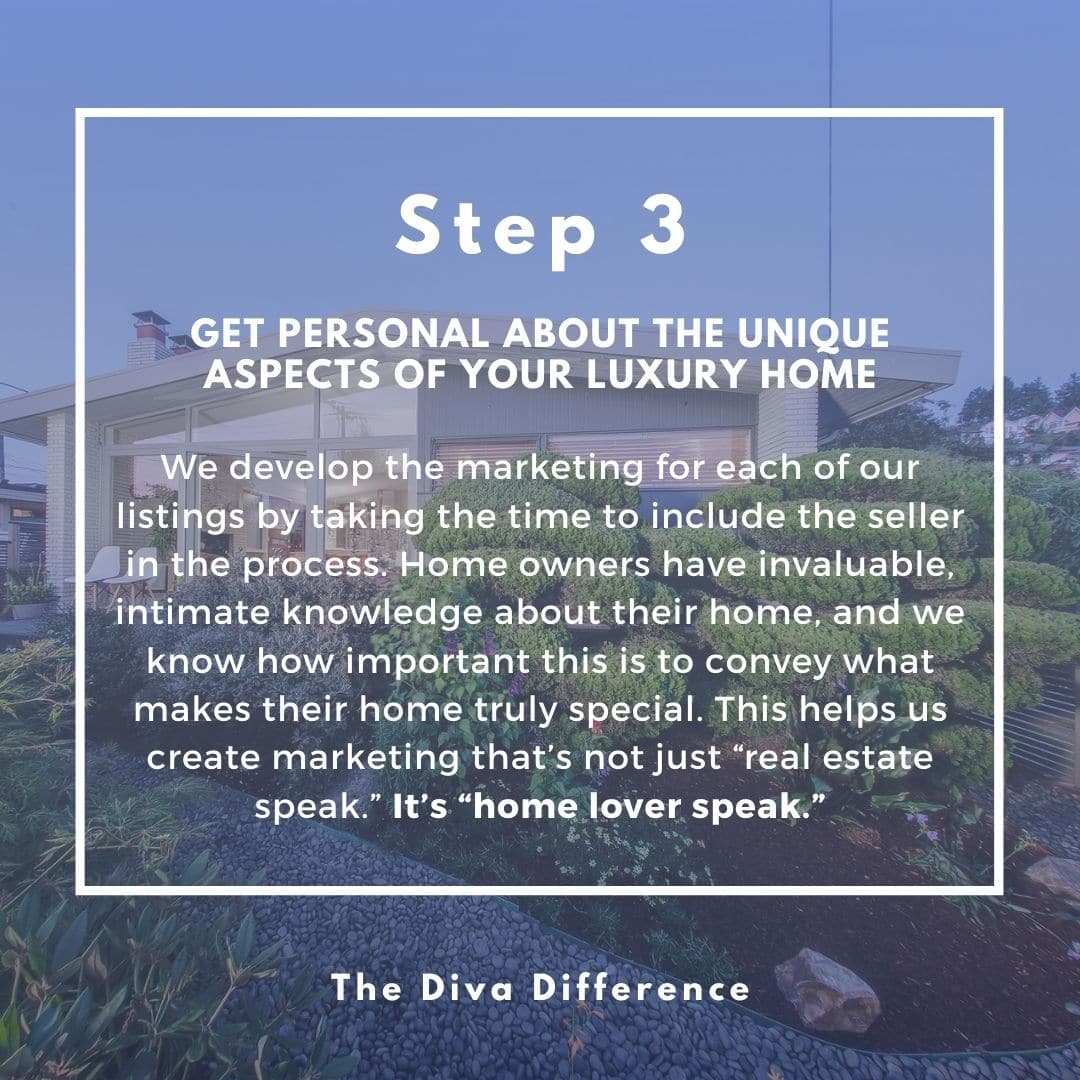 Part of selling a unique home is getting to know it on a personal level. We develop the marketing for each of our listings by taking the time to include you, the seller, in the process. Our sellers have invaluable, intimate knowledge about their home, and we know how important this is in order to truly convey what makes a home special.
Team Diva focuses on why our client has loved their home, not just what we see as real estate agents. We begin this process by sending our sellers an email survey to prompt them to think about their home and neighborhood and what they love about it all. Additional questions help us hone in on how our sellers actually live in the home, specific details about custom upgrades, interesting history about the home, and more.
This essential information helps us create marketing that's not just "real estate speak." It's "home lover speak."
If we didn't ask these questions, then we wouldn't know that you can see whales from the deck at our Mid-Century View Home in Three Tree Point. Or that our Wallingford Farmhouse was a neighborhood icon with colorful local history. These details help to create an emotional connection with potential buyers, and it's these little details that help people fall in love with a home that they may only see once before deciding to buy.
Step Four: We Create the "Market the Heck Out of Your Home" Strategy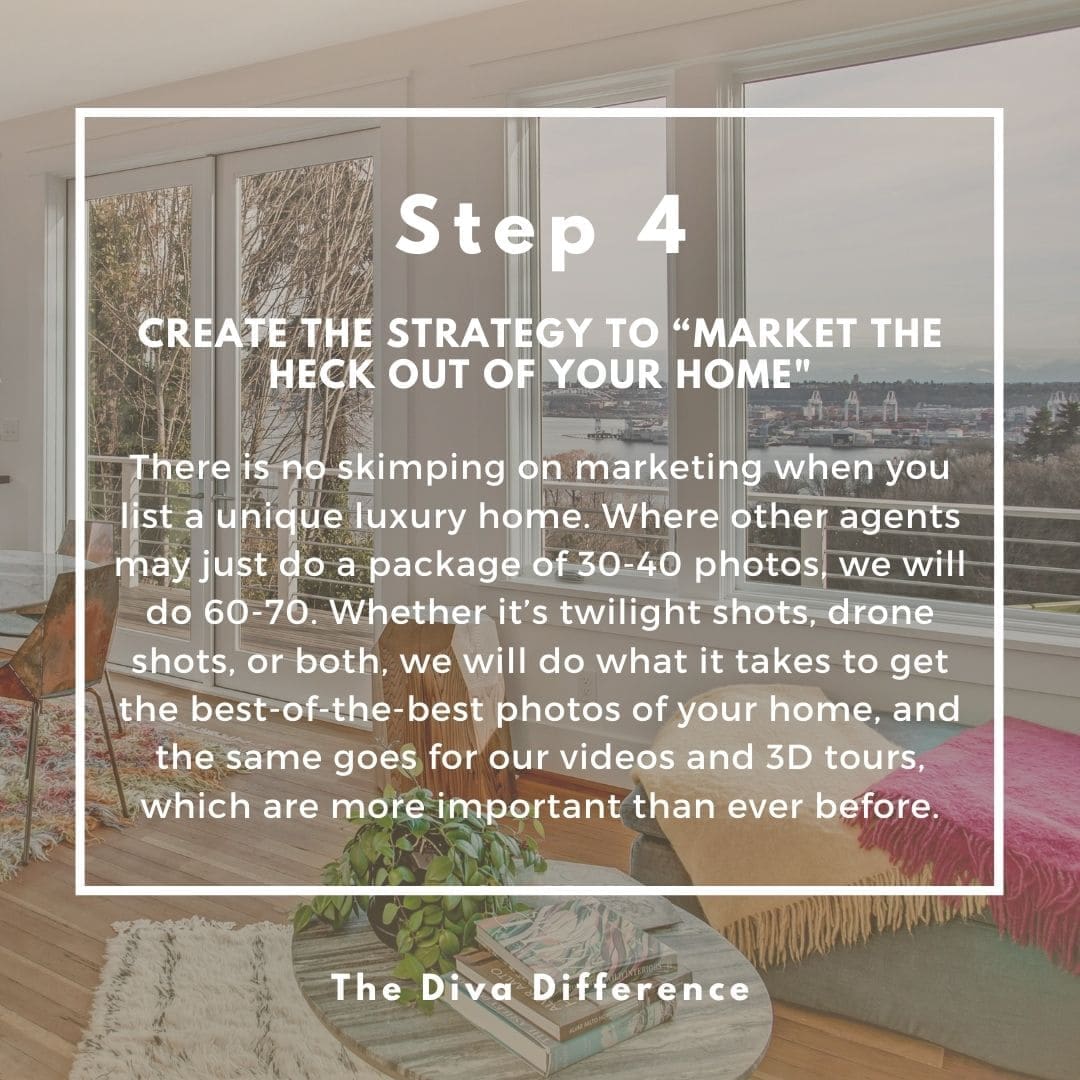 Your unique luxury home deserves a customized, lux marketing plan that's worthy of your premium property. Home prep might include new paint, carpet replacement, new lighting, a yard refresh, etc.) Then it's time to connect you with one of our professional home stagers.
Professional staging ensures your home is featured in its best light, and helps buyers see how they can truly make the most of each space. Once the home is staged, it's "lights, camera, action." Professional photos, drone shots, 3D tours, and your own personalized Team Diva video.
There is no skimping on the marketing when it comes to selling a unique luxury home.
Where other agents may just do the bare minimum package of 30-40 photos, we will do 60-70. Whether it's twilight shots, drone shots, or both, we will go the extra mile and spend the extra dollars to get the best-of-the-best photos of your home.
The same goes for our videos and 3D tours. This is crucial for luxury properties, especially during COVID-19. Many of Seattle's luxury buyers are relocating from out of the area, which means they are using digital content to decide if it's worth it to get on that plane to come see your home. We produce a customized lifestyle video for you that shows what it's actually like to live and entertain in your home, and in your neighborhood. Team Diva makes sure to not only show off the home itself, but the lifestyle and access it affords residents.
In April, we sold one of our Lux Listings to buyers who had never personally seen the home. The buyers were able to tune into our virtual open house, watch our custom lifestyle video, and view the 60+ photos and 3D tour we provided. They sent their agent to confirm their thoughts and bought the home without ever physically stepping a foot inside. That's the power of digital marketing!
Which brings us to our next point:
Step Five: Implementing a Comprehensive Online Digital Marketing Strategy
Creating stunning marketing is pointless as an agent if you don't have the means to showcase and distribute it. We host all of this gorgeous virtual content on a custom listing page on our Team Diva website. We also create SEO rich blog posts to offer a deeper dive into what makes the home special, leaving no stone unturned. This also includes a neighborhood page, highlighting the perks of the location.
We share all of this content on our active and engaging social media channels to our large and active audience, gaining as much exposure as possible for your listing. And through our robust email marketing platform, we are also able to reach thousands of Realtors and Team Diva clients, friends, family, and fans.
For Team Diva, marketing your home is so much more than posting the requisite 40 photos on the MLS and slapping a flyer in your home. It's a creative endeavor that we embrace with a passion. Which means we are constantly bringing YOUR listing to the next level.
It's all about telling the right story to the right audience. We call it Divaland.
Team Diva's extensive content creation, digital marketing, and smart SEO strategy makes all the difference. We write regular blog content, and create custom home tour videos. We host a weekly Facebook Live event, and publish a Seattle Real Estate podcast. Consistency is key, as we also create beautiful marketing materials that we share on our online platforms. Each piece of content is part of a cohesive whole, so people keep coming back for more.
This is how we have created Divaland: a huge network of passionate folks who love real estate, activism, and the arts. We stay in touch with everyone through a weekly email newsletter and the top social media platforms. The community building aspect of this is its own reward, but it also reaps huge rewards for our listings.
This trove of content allows us to supercharge our lux listings with unbeatable SEO. That means more eyes on YOUR luxury home when you LIST with Team Diva.
Bonus Step: The Diva Negotiation Skill Set
We don't often brag about how good Kim and the rest of the team are at problem solving complex issues that come up during a transaction. But here, we are going to toot that horn.
Kim has been in business for over 20 years and pretty much has seen everything that could go wrong. People and their properties are complex. Real estate is complex. Hell, do you know how many Seattle homes have their fences built on other people's properties? (Answer: A LOT.)
It takes a true artist to not only solve issues that come up but ensure the seller is fully protected throughout the process. And that is the Diva Negotiation Skill Set!
How is Team Diva Able to Create a Marketing Plan Worthy of Your Unique Luxury Home?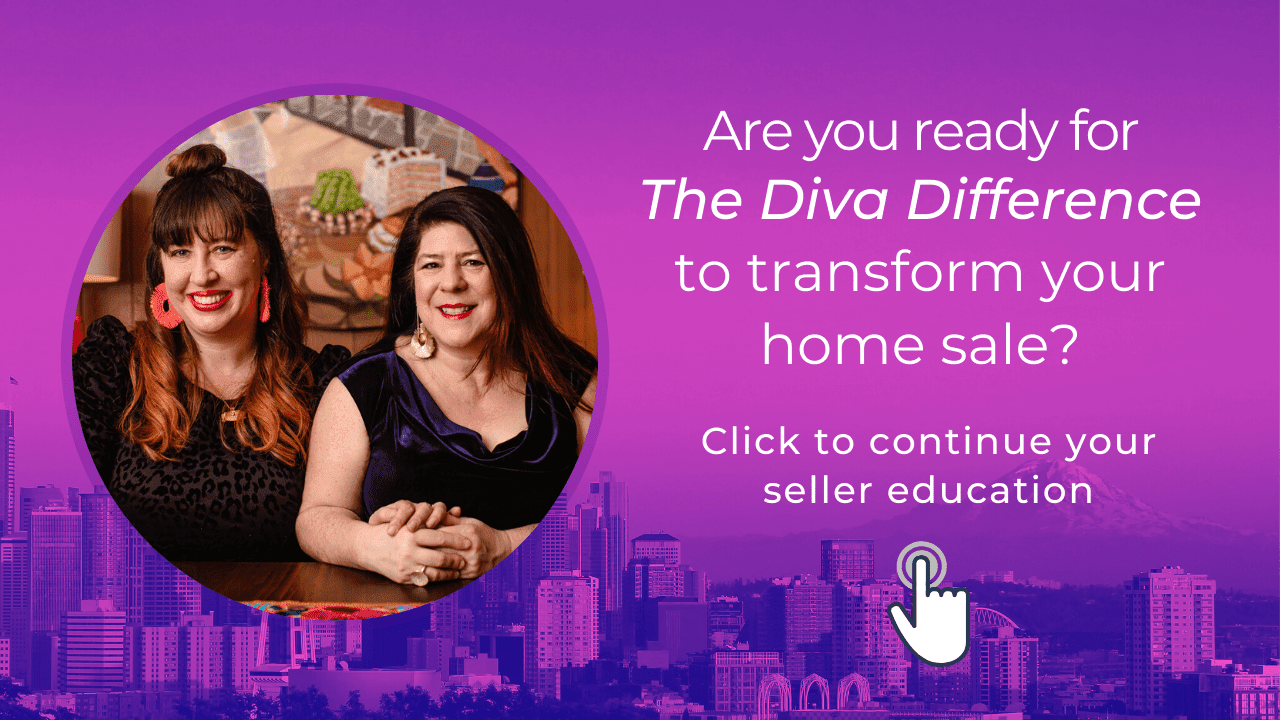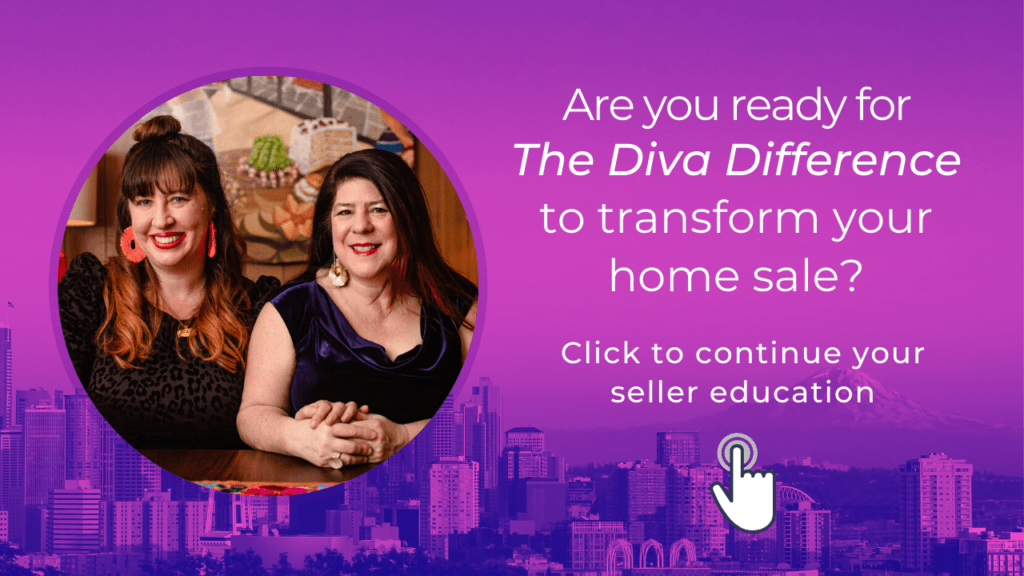 Team Diva approaches every single one of our listings at a level often beyond where an average real estate agent approaches a luxury home. Everything we do to prepare and promote all of our listings is already at a TEN. Which means when we list your unique luxury home, we are already prepared to go far beyond the norm.
We have the professional team, the customized plan, the online platform, the tested systems, and the superior skills necessary to create award-winning listing marketing, and deliver that marketing to target buyers for your home. The results speak for themselves.
Here Are a Few of Our Favorite Sold Unique Homes That Needed More Than the Standard Seattle Luxury Approach
The Diva Difference Approach
Team Diva sells our DivaLux Listings at 5% higher than the Seattle market. Our methodology works, because we fully involve the client. To review:
Five Steps To Sell A Unique Luxury Home in Seattle
In-depth Global and Local Real Estate Market Research for the Home
"Get Real" Conversation on Getting Your Home "Market Ready"
Get Personal About the Details About the Unique Aspects of Your Luxury Seattle Home
Specific Marketing Strategy for the Home
Implement a Comprehensive Online Digital Marketing Strategy
Other Resources
Check out our "How to Sell a Home in Seattle" blog for the basics steps of selling a home. It gives you a comprehensive look at the entire process, with links for deeper reading on every subject. Then, when it's time to sell your unique luxury home, choose Team Diva and The Diva Difference.
We are here to help. Our team understands that this process can take a year or two. And we are more than willing to give you a personalized plan to get the ball rolling. Feel free to contact us directly at thediva@teamedivarealestate.com or call/text 206-271-0264.