Tis the season of love and we are crushing on this Queen Anne view home with its spectacular views of the Space Needle. The South Slope of Queen Anne Hill is the best neighborhood for those seeking views of the city and the Space Needle. And this particular home has this view on every floor. In addition, the layout of the home is rarely replicate in today's new construction home market.
We have been spending lots of time as of late in this luxurious Queen Anne home. Every time we are in this home we are stunned by the Space Needle view from almost every window, the luscious upstairs entertaining space, the gracious owner's suite, the open layout of the main level, and how super close this home is to all our favorite neighborhoods spots in Lower Queen Anne.
Let's Crush on This Luxury Queen Anne View Home
First off, thank you, Dani, for being our tour guide through this home. Dani is genuinely the best home ambassador a Diva can have. Not only do our clients have one of the cutest doggies on earth they are meticulous in their care of this home. Everything from the walnut floors, to the surround sound, and the landscaping have been attended to prior to putting this home on the market.
Let's jump into why we love this luxurious Space Needle view home in Queen Anne.
Reason #1 Why We Are Loving This Home – The Space Needle View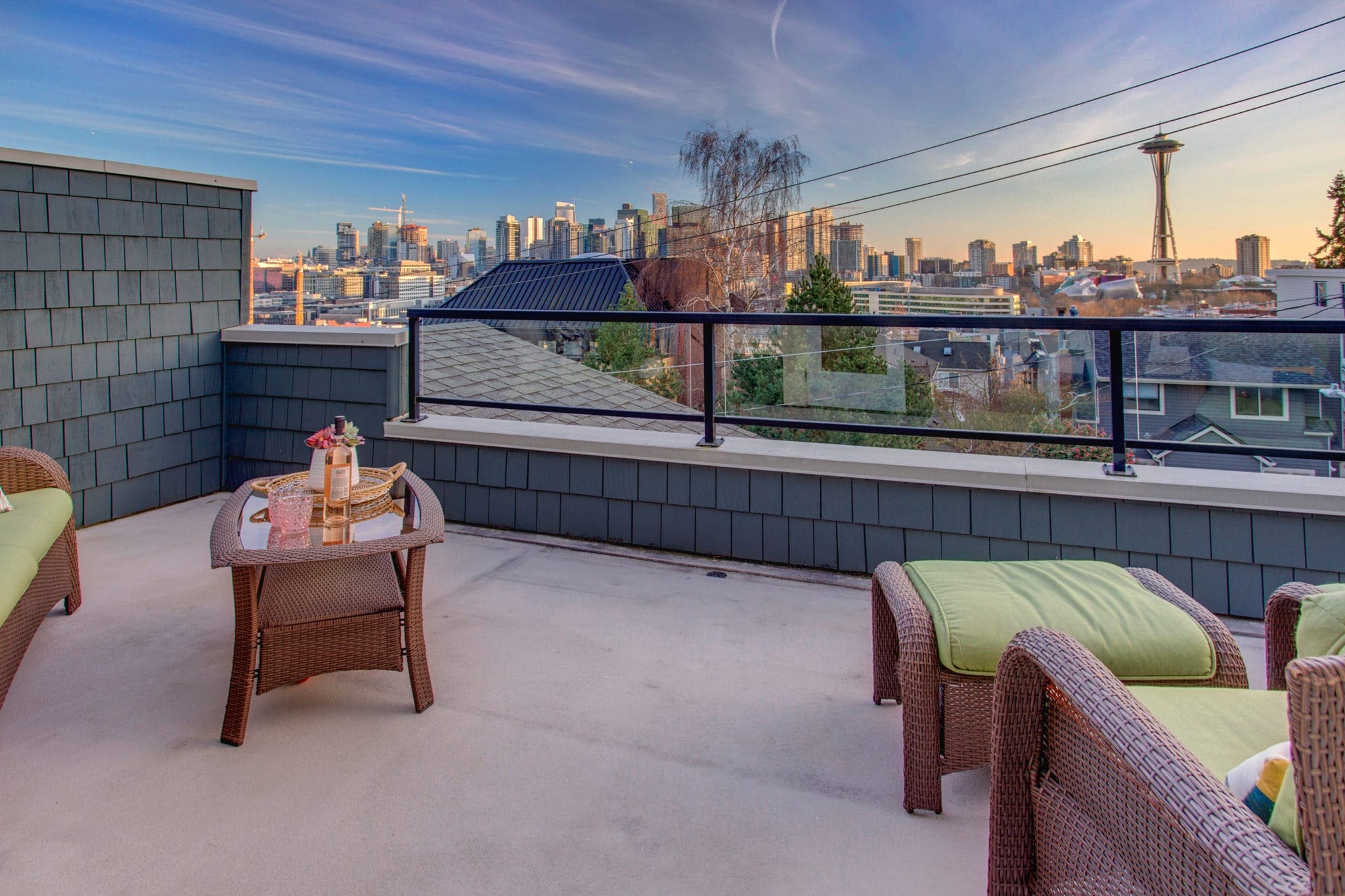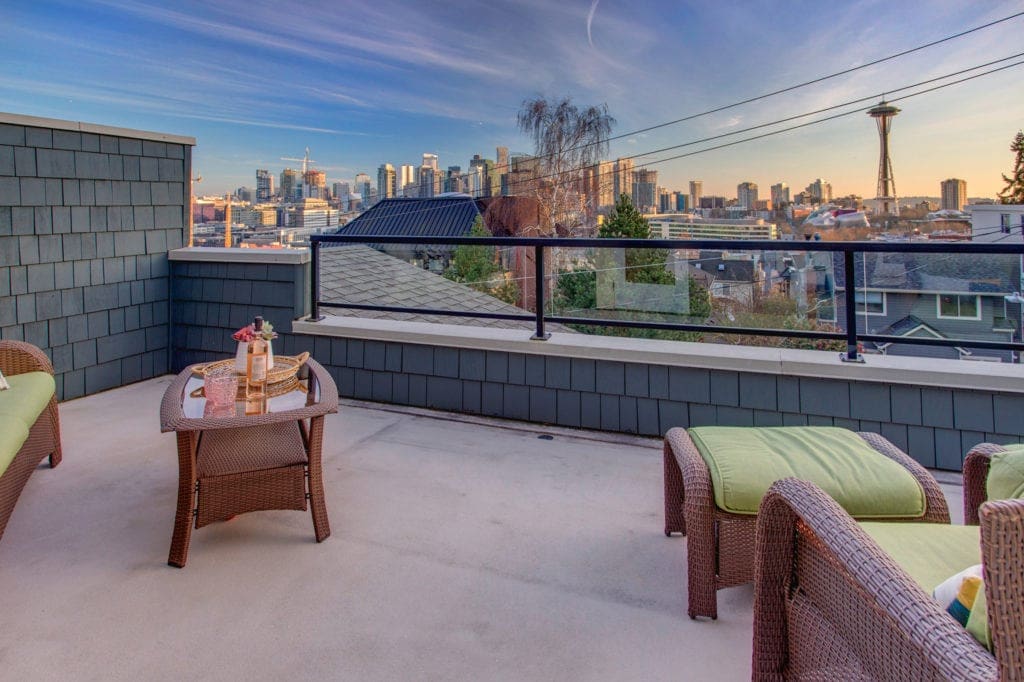 Nope, It never gets old. The view of the Space Needle is what make us Seattle-ites love Seattle. It sparkles. It guides us. It celebrates our major milestones. It is a masterpiece of engineering. It's the landmark that makes Seattle – Seattle. Imagine yourself upstairs enjoying your morning coffee and you look up at the Space Needle to see the "12" flag or the Pride flag waving in the breeze. You are reading a book or catching up on work and you look up and there is the sun setting on the Space Needle. And on New Year's Eve, you and your friends have a front-row view of the fireworks. Pure magic!
Reason #2 Why We Are Loving This Home – Top Floor Entertainer's Suite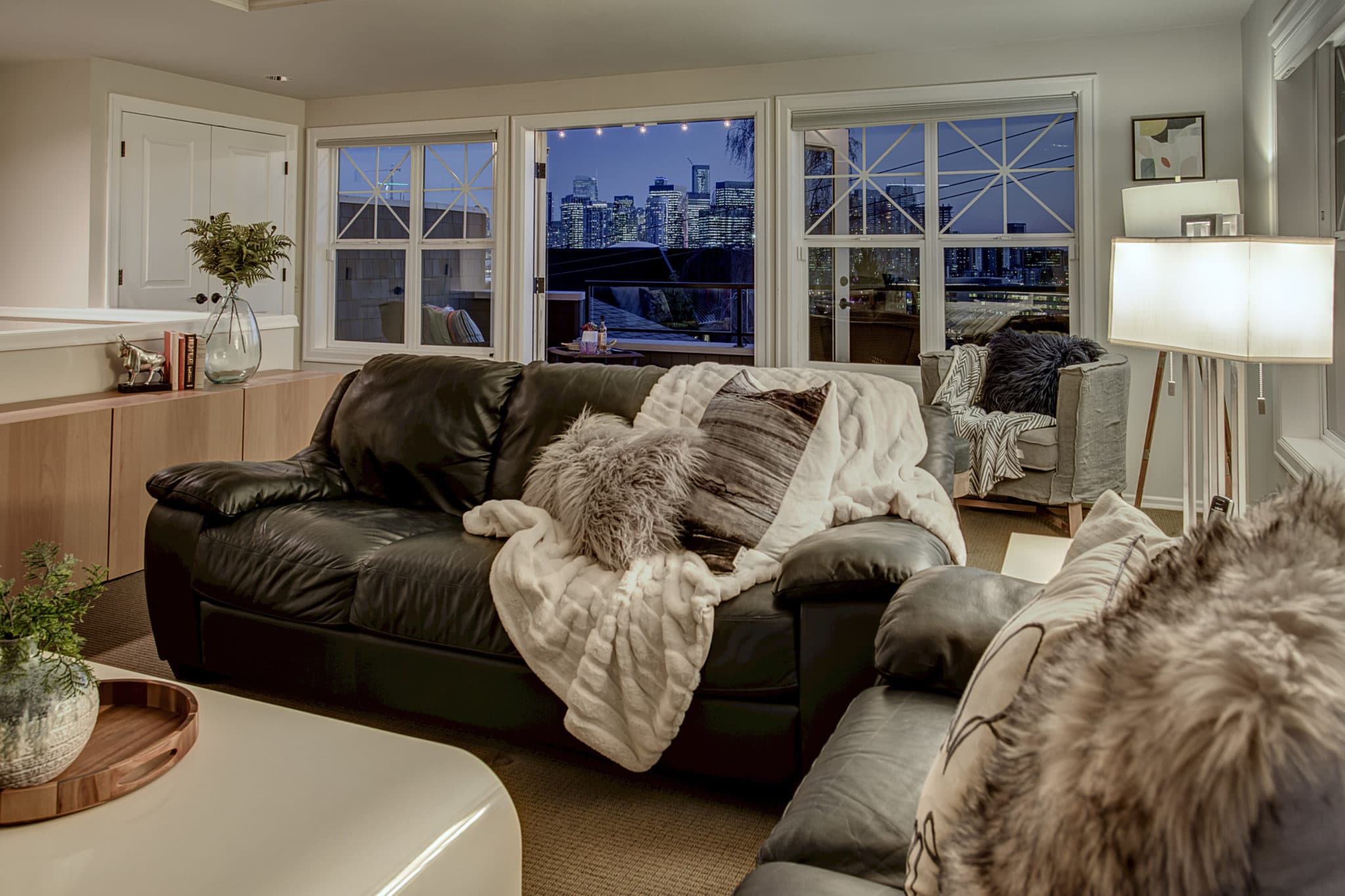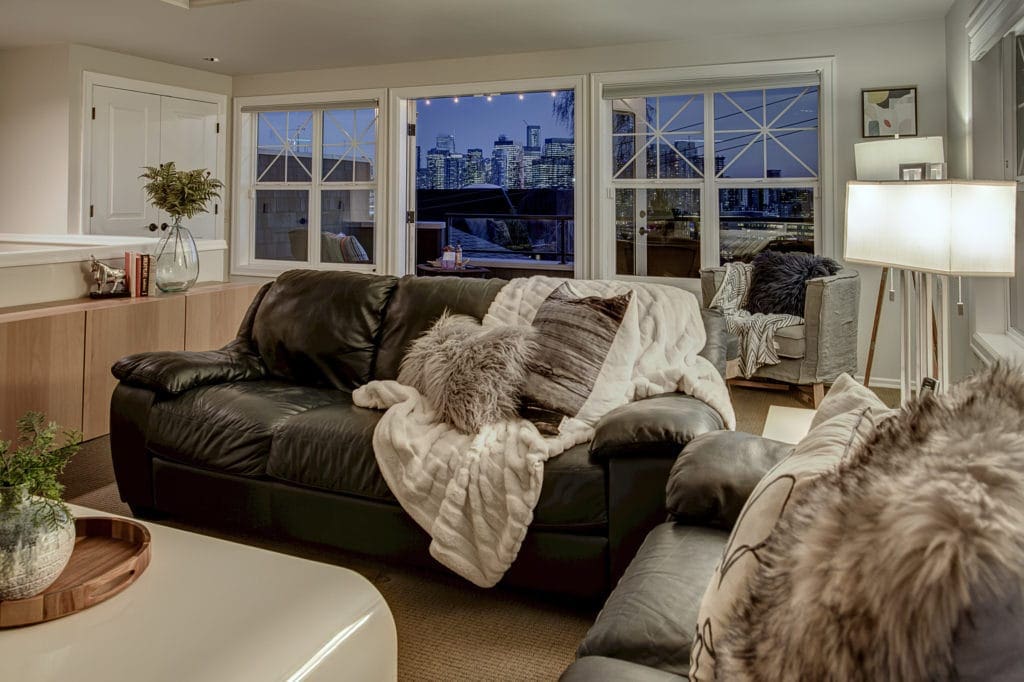 The top floor opens up to a deck with a full view of Downtown Seattle and the Space Needle. Currently, it is being used as a hangout entertainers space. Invite friends over for dinner and retire upstairs with a nice bottle of bubbly, throw a fabulous movie night to celebrate all the women directors who were snubbed at the Oscars or have a game night with the family to play Exploding Kittens.
Reason #3 Why Why We Are Loving This Home – The Majestic Owner's Suite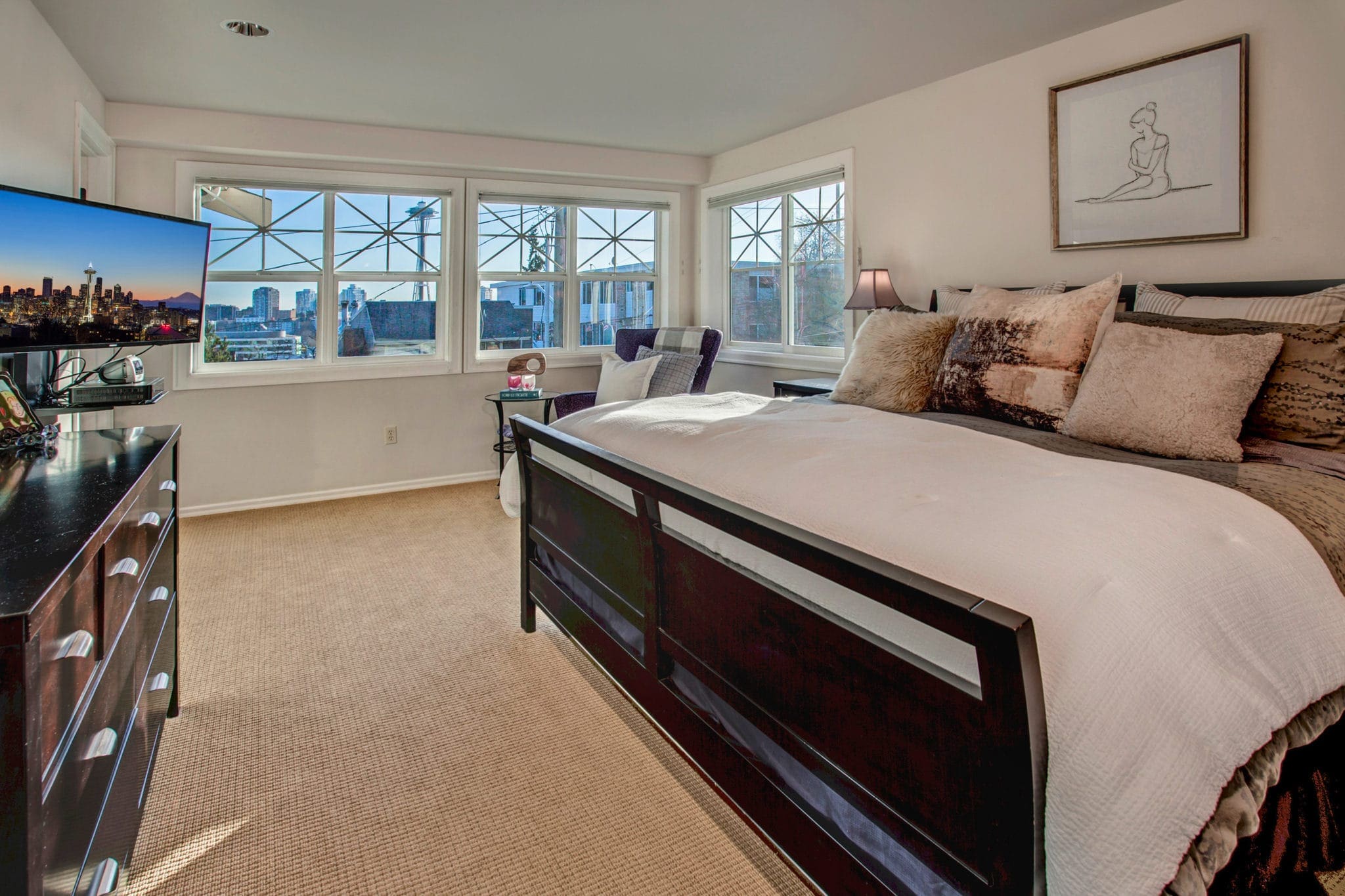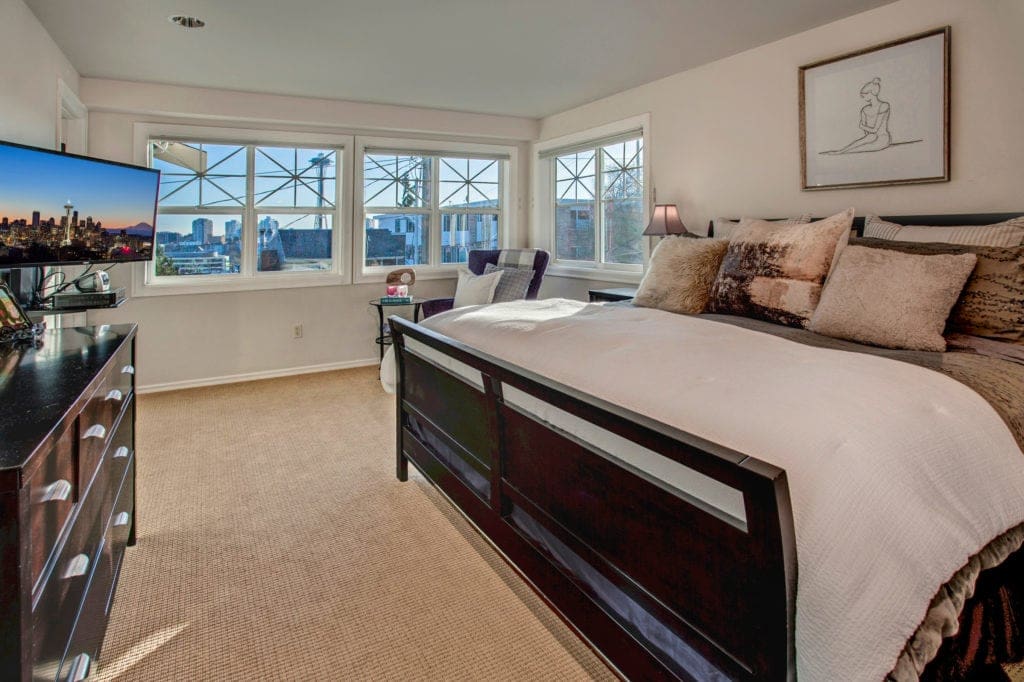 Frankly, I could get lost in the well organized walk-in closet in the owner's suite. Or dream a bit in the spa tub while watching the birds fly by the Space Needle. Yes, there is a view of the Space Needle from the bathroom. And no, no one can see you enjoying yourself. The builder was super conscientious of layout, proximity to one's neighbor's when constructing this home. The bedroom itself has a full view of the Space Needle. Just relax and enjoy this view as you fall asleep in this suite.
Reason #Why We Are Loving This Home – The Entertainers Dream Kitchen and Dining Layout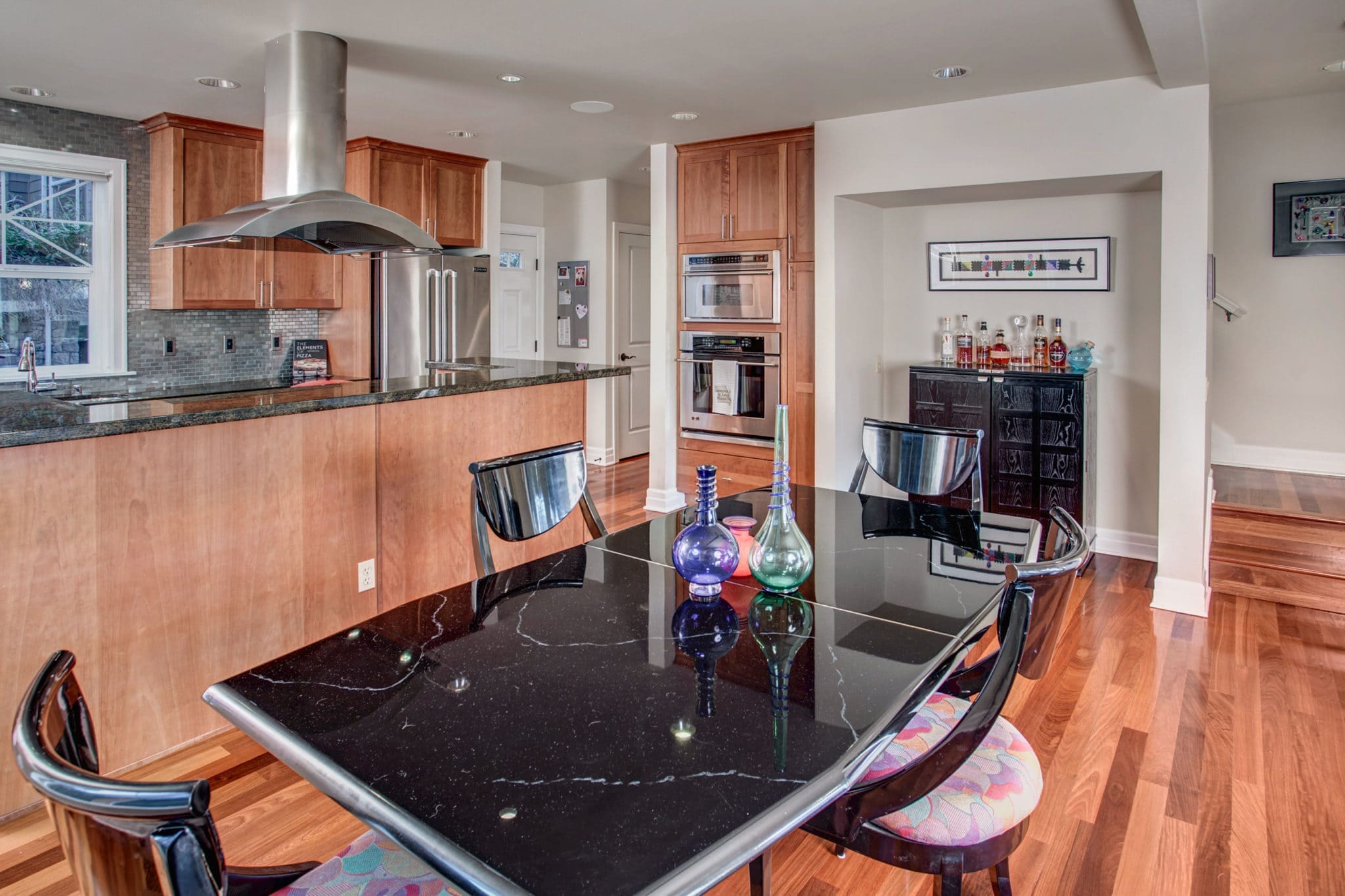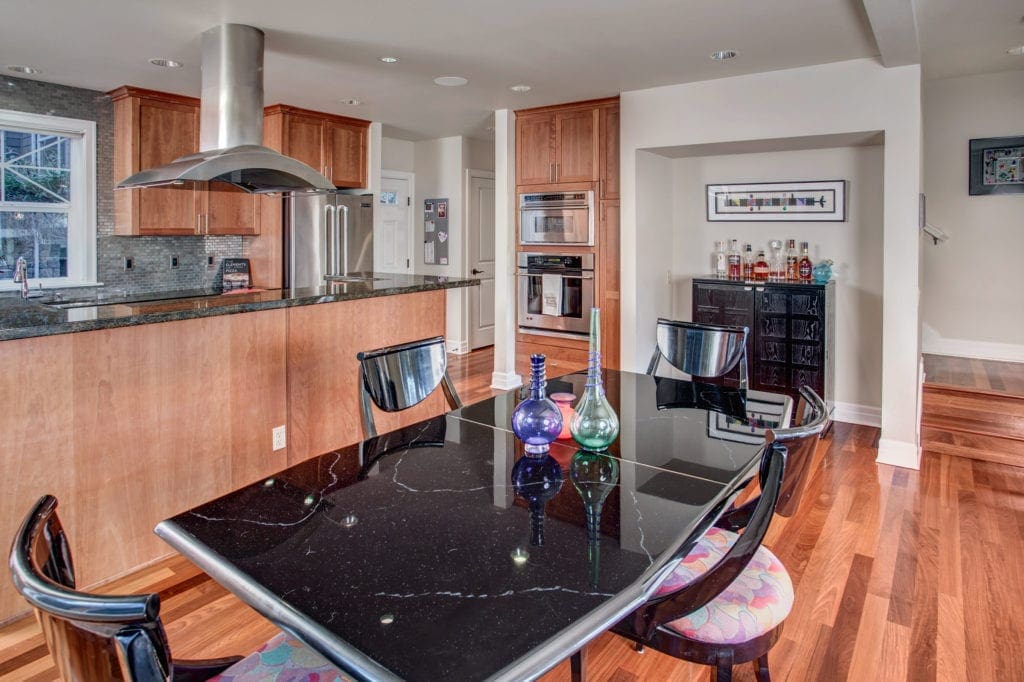 Personally, I crave a kitchen that easily flows to the dining room and onto the living room.  Inside this Queen Anne view home, you are immediately greeted by one of the best kitchens we have discovered in a long time. The six-burner gas range is right in the middle of an island with plenty of counter space on either side. The extra tall cabinets are perfect for those of us who crave having the perfect Le Cruset for our Cassoulet. The flow from the kitchen to the dining and onward into the living room is exactly how many of us enjoy entertaining.
Reason #5 Why We Are Loving This Home – The Lower Queen Anne Neighborhood is Right Outside Your Door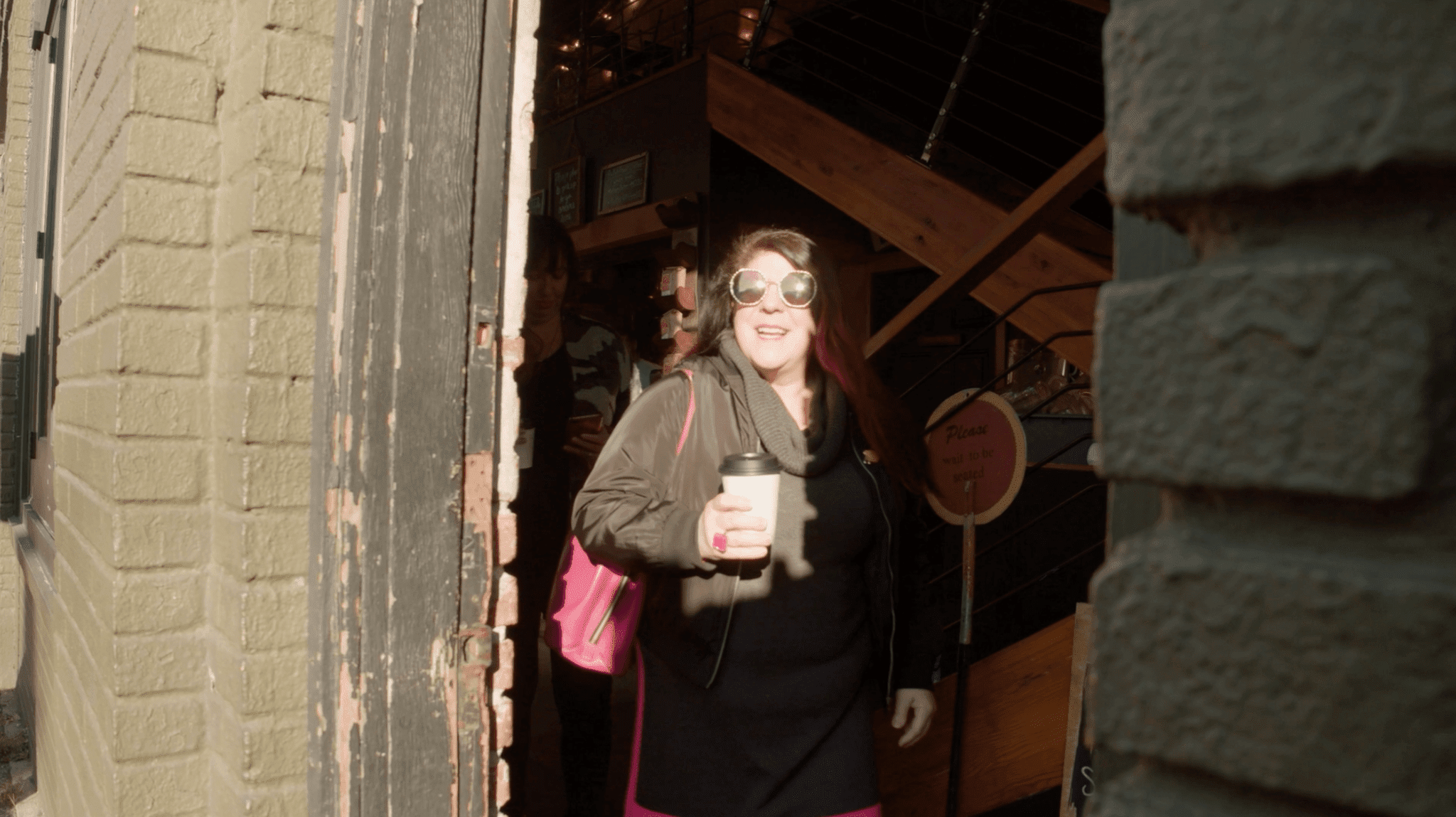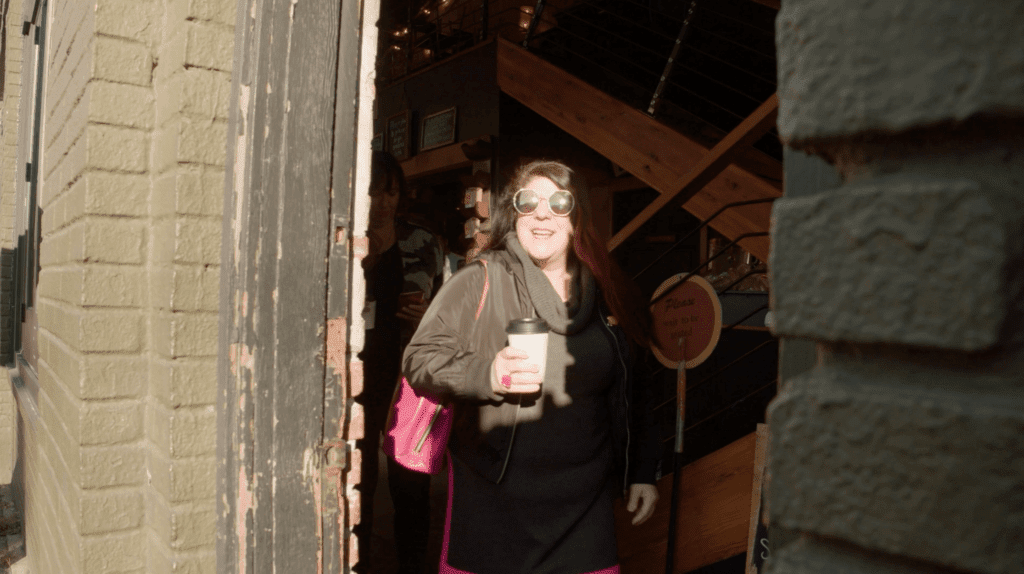 Citizen Coffee and Lazy Susan are two of our favorite spots in all of Seattle. And the fact that they are right outside this home's door makes this all the more reason why we love this home. Lower Queen Anne really should be known as Seattle's arts district. It is home to the Seattle Opera, Pacific Northwest Ballet, Intiman Theatre, Seattle Rep Theatre, and On the Boards. This Queen Anne Townhome is literally a short walk to these top Seattle theatres in the Seattle Center. So in case, you get a wee bored with the view just walk
---
Seattle Loves Queen Anne's Views and Its Homes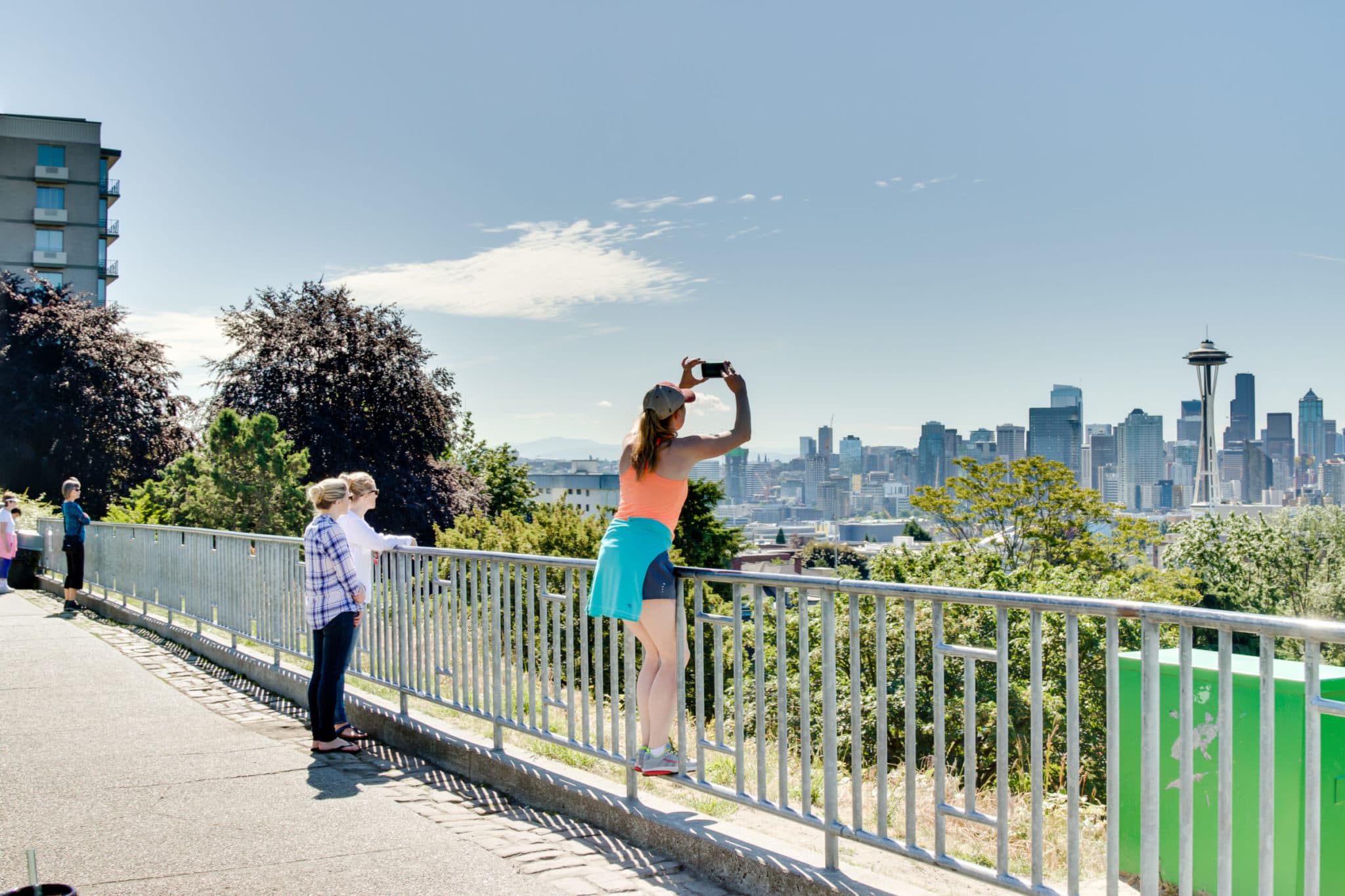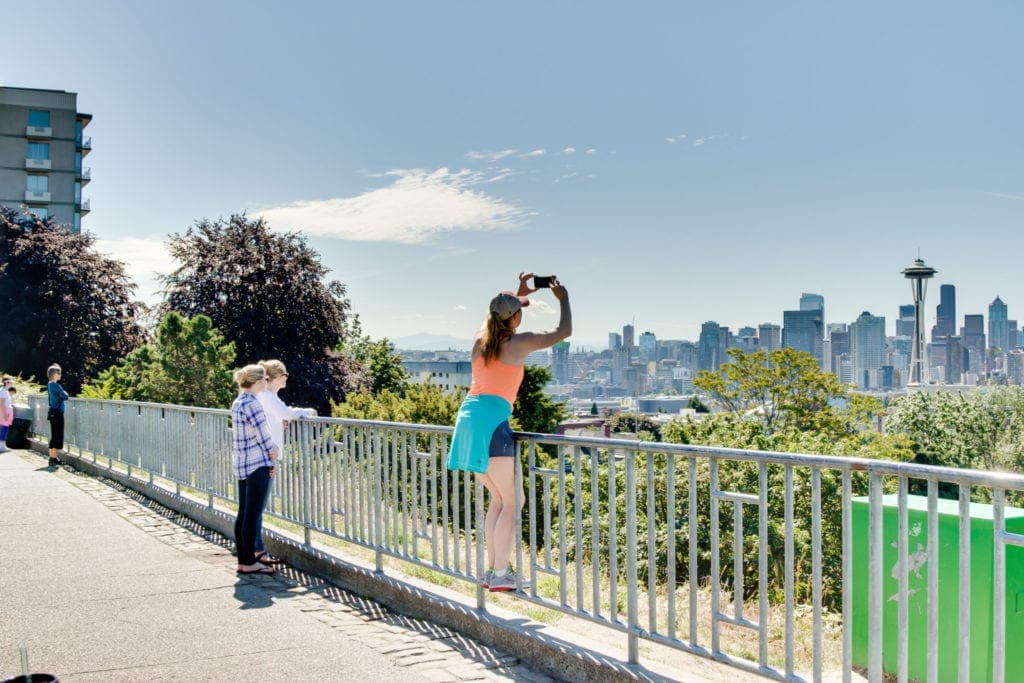 People come all over the world to soak up the views from Queen Anne towards downtown Seattle. It is not surprising that when people picture Seattle they are actually experiencing what locals on Queen Anne live with every day. It is truly a magical spot in our city.
Why We Love Queen Anne
There is so much we love about Queen Anne. Specifically, it is six neighborhoods in one. You have Lower Queen Anne, Uptown, Upper Queen Anne, the Western View Slope Queen Anne, Fremont adjacent Queen Anne,  and Interbay Queen Anne. You want to be close to the action consider Uptown. You want those huge water views head over to Interbay. You want that classic Seattle neighborhood feel with the big craftsmen houses? Head up to Upper Queen Anne.
Below are a few of our favorite things in Queen Anne including a few homes we have sold over the years. 
---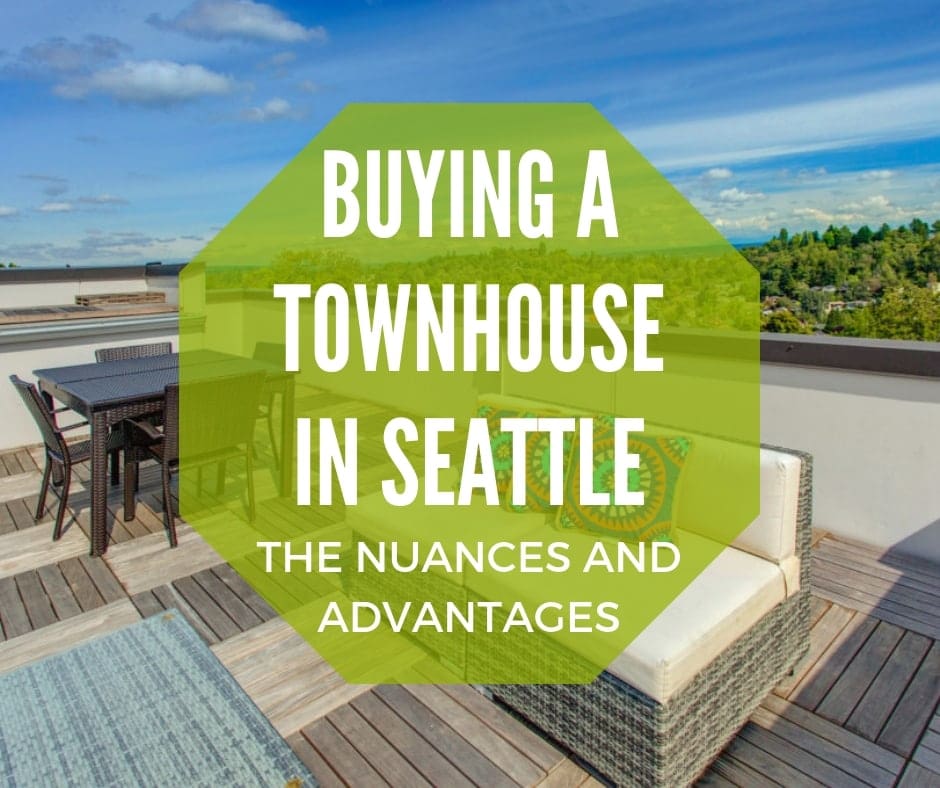 This fabulous luxury Queen Anne view Townhome is one of a kind. They literally do not build townhomes anymore that are built with this type of quality and understanding of the community. Buying a townhouse is slightly different than buying a single-family home.
Below are a couple of key points to keep in mind as you go through this process. 
Read the Title Report and Understand the Joint Maintenance Agreement
Do an Inspection – Even a New Construction Townhouse Has Issues
Dig into more detail in the blog below about how to buy a townhouse in Seattle.
---
Thank You For Loving this Fabulous Queen Anne View Luxury Home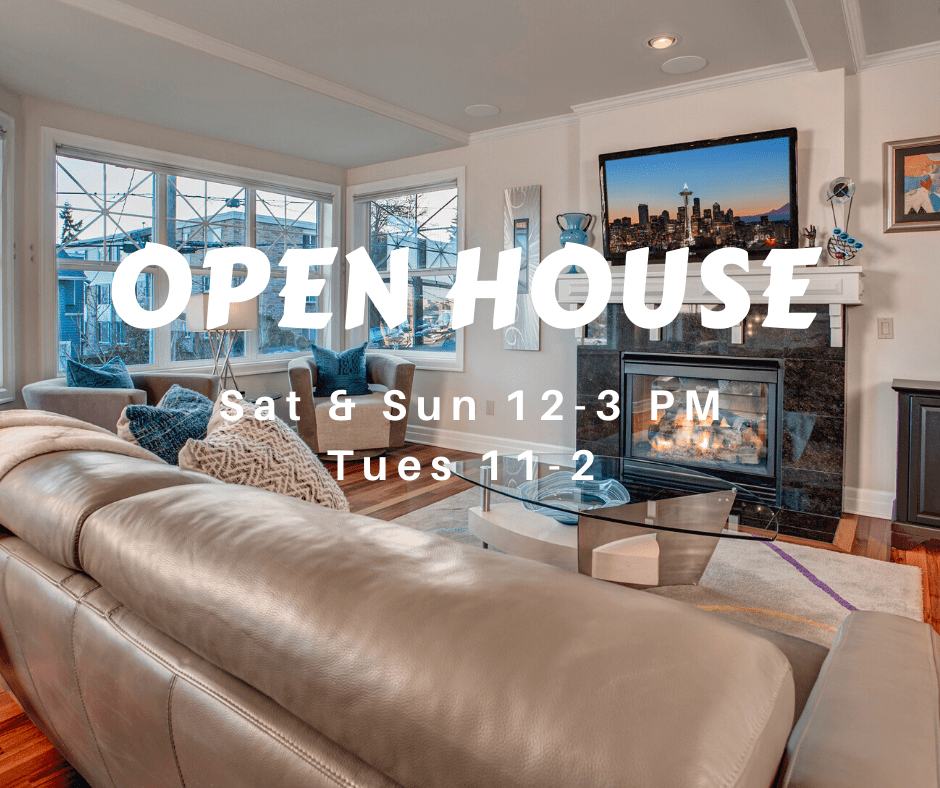 Now come see this Queen Anne View Townhome in person. We are crushing on this home with its spectacular views, amazing entertainer's space, fabulous owner's suite, a kitchen a diva could love, and all of this goodness is just steps away from the fabulous Lower Queen Anne neighborhood.
Home Details Below
Address: 512 Prospect St. Unit A

Price: $1,340,000
Bedrooms: 3
Bathrooms: 3.25
Thank you for stopping by and enjoying this home as much as we do.