Divas Announce | Queen Anne Corner View Co-op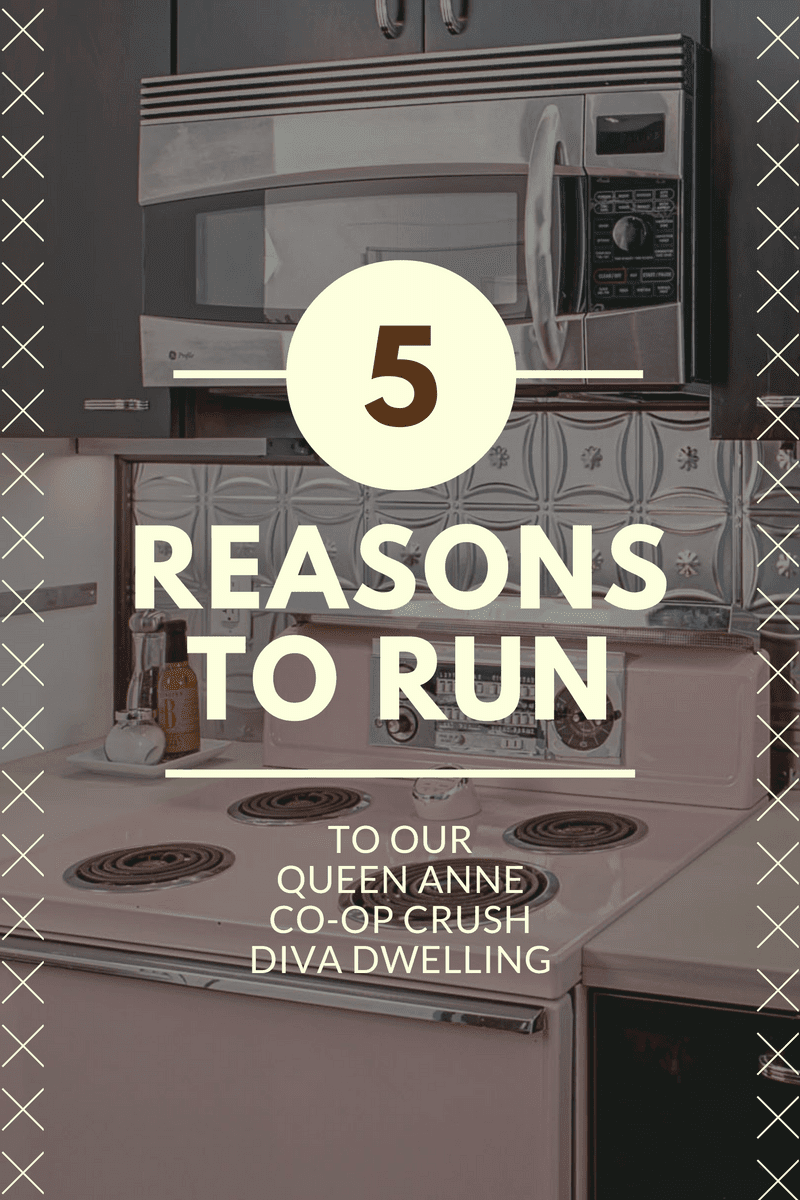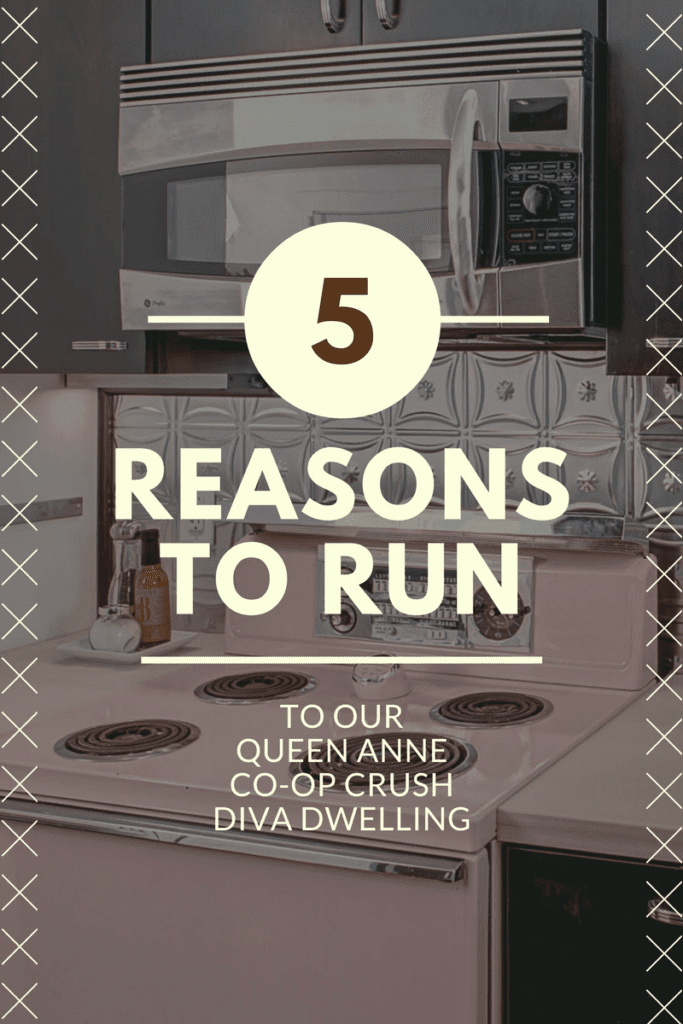 I know you are not supposed to get a crush on your Diva Dwellings. They are all of our babies and wonderful in their own magical ways. That being said, we have a mad Diva Crush on this Queen Anne Corner View Co-Op!
J'adore. We are all hoping to find a friend to buy this fabulous home so we can come visit. Preferably, someone who would love to make dinner for us on the cutie refurbished pink stove. Or maybe someone who would invite us over to enjoy the views with while sipping a nice glass of bubbly? That would be lovely! Frankly, we would buy this awesome home ourselves if we could but sadly – no Diva Dogs allowed. Just Diva Kitties.
Reason 1: The Views – No seriously the views. This Queen Anne co-op is the top floor fully facing Downtown and Elliott Bay. The first thing I fell in love with in this home were the views. They are freaking spectacular. I could see myself hosting friends over for afternoon cocktails and watch the sunset. Or stream a movie this Fall and see the twinkling lights of Downtown in the background. The views are probably some of my favorite in this city.
Reason 2: The Kitchen – The kitchen is custom designed and built to accommodate the most spectacular of chefs. Every cabinet, every counter length, every angle of the faucet, and more has been thoughtfully planned and implemented. The roller cart can act as additional storage or prep space while you are cooking. I am also completely in love with the vintage pink stove. Squeel!
Reason 3: Wine Storage – Team Diva is a big fan of wine and wine collecting. Guess what this adorable space (meaning smaller than a house) comes with? Your very own temperature controlled wine cabinet. Not only will it chill your rose but it will store your finds from Walla Walla wine country.
Reason 4: The Dining Room Built-Ins – Personally I have a ton of cookbooks that I adore collecting from all over the world. The idea that there is an entire library space of amazing built-ins to hold my collection makes me super excited. I can totally see an avid book reader enjoying filling up the shelves.
Reason 5: Being Top of Queen Anne – Yep right outside your door is one of the most amazing neighborhoods in Seattle, Queen Anne. Pop down the hill to enjoy the Opera or a show at Intiman. Spend the weekend brunching at the 5 Spot or many of the other awesome spot at the top of Queen Anne. This neighborhood is quintessential Seattle.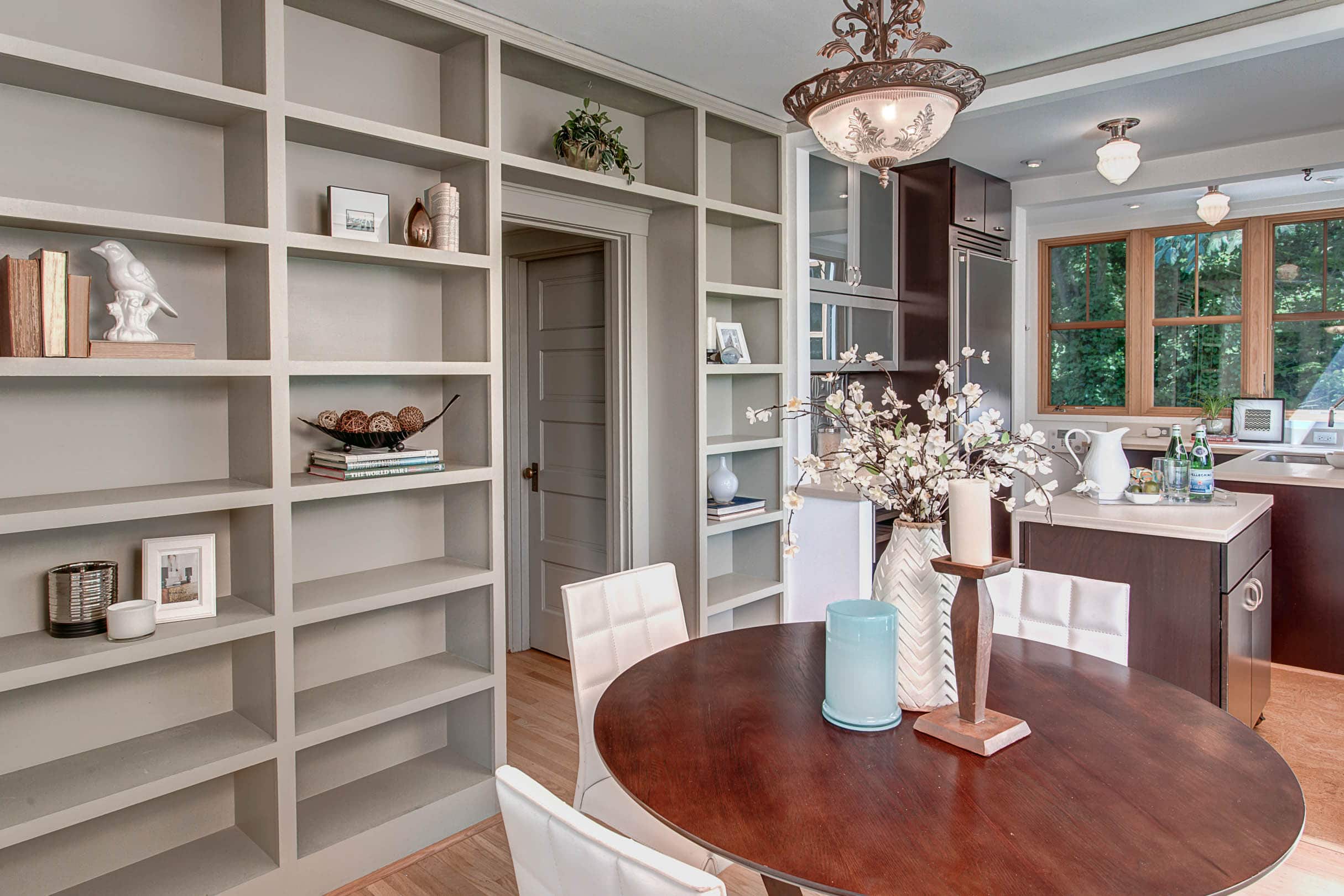 The Critical Nuggets About This Home:
Now let's check out some pretty photos of our current heartthrob – this Queen Anne Corner View Co-op