https://youtu.be/rTFGr81xrDk
GET TO KNOW Queen Anne
Queen Anne was established as an elite neighborhood for Seattle's wealthy founders in the early years of the city. But Queen Anne is quite large, and its character changes from street to street, with some roads still lined by stately manors, while a block away are grids of residential streets, lined with large craftsman homes and quaint cottages. Homeowners have been fairly active in keeping the aesthetics of the neighborhood consistent, so most of the more modern construction has been centralized around the thoroughfares, especially Queen Anne Avenue, which is also the center of retail and dining for the neighborhood for Upper Queen Anne atop the hill, down into Lower Queen Anne at the northern base of the hill, whose residential options are mostly condos and apartments. There one finds a dense blend of retail, dining and cultural activities. That includes Seattle Center (whose McCaw Hall is home of Pacific Northwest Ballet and Seattle Opera), as well as independent film hotspot SIFF Cinema Uptown and avant-garde performing arts organization On the Boards.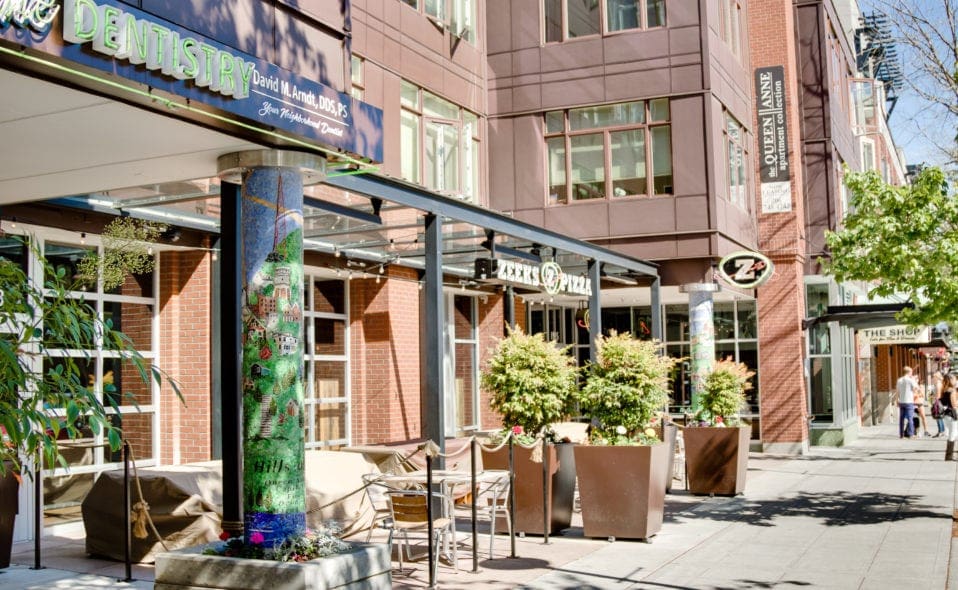 LIVE IN Queen Anne

$1.10 m
Single Family Avg.
Why We Love the Queen Anne Neighborhood in Seattle 
Nestled just north of Belltown and Downtown Seattle, Queen Anne is an eclectic neighborhood that was originally established as an elite enclave for Seattle's wealthy founders in the early years of the city. This neighborhood is quite large and its character changes from street to street—some roads are still lined with stately, head-turning manors, while other parts of Queen Anne are home to high-rise condos and apartments.
Let's Explore Why We Love Queen Anne
We love all of the variety in the neighborhood, but Queen Anne's offerings extend far beyond the type of dwellings you'll find; Queen Anne features a dense blend of retail, dining, and cultural attractions and activities. Of course, it must be mentioned that Queen Anne is home to the iconic Space Needle and the Seattle Center that surrounds the landmark, and the Seattle Center's dynamic offerings include McCaw Hall (home of the Pacific Northwest Ballet and Seattle Opera), the Pacific Science Center, the Museum of Pop Culture, Chihuly Garden and Glass, the Climate Pledge Arena (formerly known as the Key Arena), Seattle Children's Theatre… and really, so much more. The Seattle Center is a destination for locals and tourists alike and you can see why! We also love nearby independent film hotspot SIFF Cinema Uptown and avant-garde performing arts organization On the Boards. Every Fall we put together an arts guide. Here is one of our Arts Guides from a couple of years ago with many of the types of events happening on Queen Anne. 
Of course, we also love all of the incredible restaurants that seem to be around every corner in Queen Anne. How to Cook a Wolf (an Ethan Stowell masterpiece), Toulouse Petit Kitchen & Lounge, Taylor Shellfish Oyster Bar, La Marzocco Cafe (they share a space with KEXP, check it out!), and El Diablo Coffee are just a *few* of our favorites in this destination neighborhood. 
What Can I Buy or Rent in the Queen Anne Neighborhood?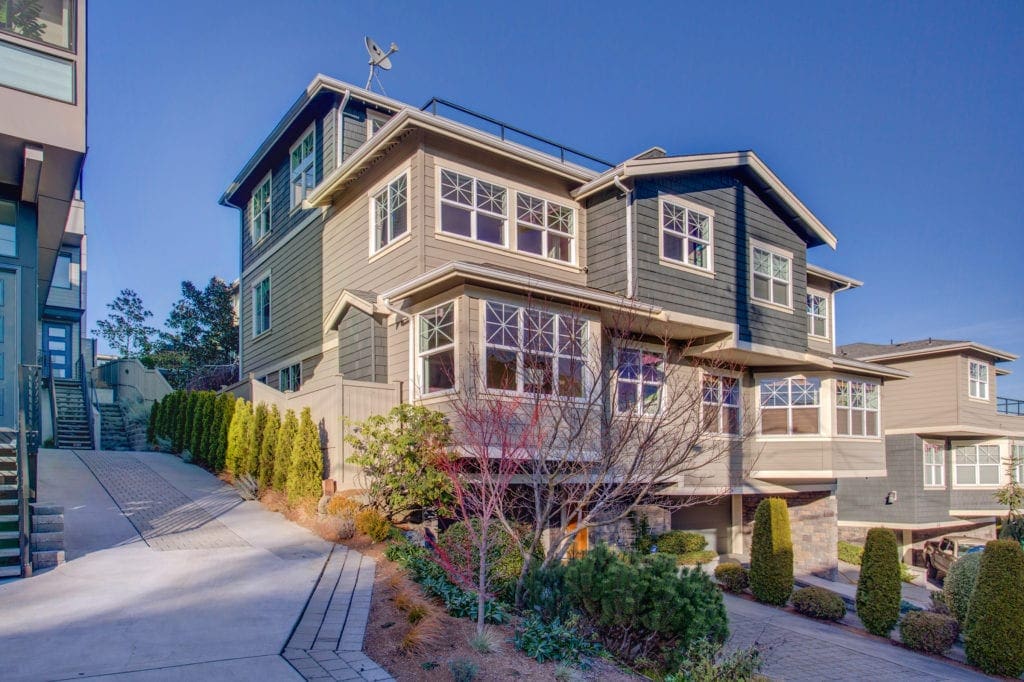 Queen Anne real estate offers a little bit of everything. As we mentioned before, you'll find stunning historic manors to admire, then just a block away you can stroll along residential streets lined with large, classic Craftsman homes and quaint cottages. All mixed in with modern and older apartment buildings.
As you explore Queen Anne's grid, you'll see that homeowners are fairly active in keeping the aesthetics of neighborhoods consistent; for example, most of the more modern construction has been centralized around thoroughfares. You have some stunning older and affordable co-ops in what we call Uptown and on top of Queen Anne. You will also find a mix of modern homes with rooftop deck and Space Needle views right next to older classic craftsman homes. 
Residential options in Lower Queen Anne include mostly condos and apartments, and here you have a "true" city setting that many people desire. Car-free living is certainly possible here, with buses running in every direction and easy access to Downtown Seattle, South Lake Union, etc. 
What Can One Expect to Pay to Live On Queen Anne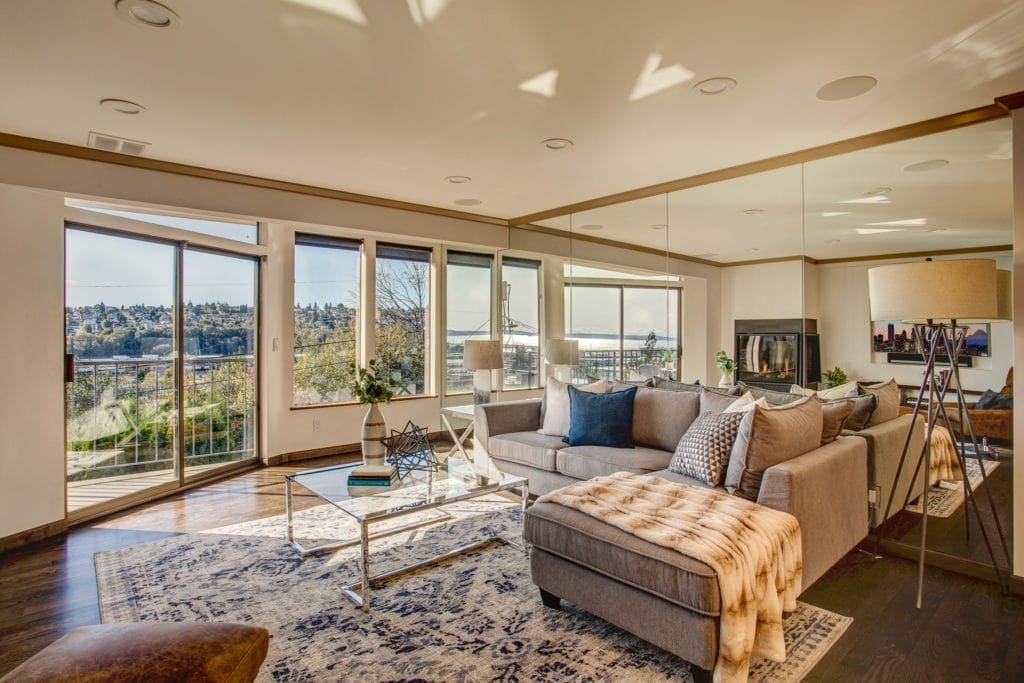 Queen Anne is literally in the middle of the city. Hence it is centrally located for commuters and as a result there is a price tag that goes along with that. Queen Anne is one of the few neighborhoods that give you that quintessential Seattle view of the Space Needle, Lake Union, and the Puget Sound. There is not a spot on Queen Anne that does not have something to walk out your door and be blown away by the view. There are also pockets of affordability in the absolutely adorable co-ops and other vintage buildings in and around Lower Queen Anne or closer to Fremont. Below is a quick breakdown of what one would expect to pay on Queen Anne for a home. 
Average Home Prices on Queen Anne
Now that you know what to expect, how much does Queen Anne real estate cost? The prices below also vary by neighborhood; living in North Queen Anne is a lot different than living in Lower Queen Anne, for example. Buying a co-op is going to be vastly different than buying a townhouse. And of course, the single-family residential homes is everyone's prize in this fabulous neighborhood. 
Residential Home:

$1,500,000

Townhouses:

$1,025,000

Condos:

$575,000

Co-Ops:

$335,000
Here Are a Few of Our Favorite Homes We Have Listed on Queen Anne
Queen Anne is one of our favorite areas to list homes in Seattle. The Diva Dwellers in Queen Anne love the urban village setting of their neighborhood, are blown away by the views, and are deeply rooted in their community. Here is a small sampling of what we have listed all over Queen Anne. 
Why We Love the Local Parks and Community in the Neighborhood 
If you're like us, then having pretty parks to explore in your neighborhood and a wonderful community to be a part of are both a must. Queen Anne goes above and beyond in both of these categories. 
First, let's start with parks. Kerry Park is small, but it offers some of the very best views in all of Seattle—panoramic views of the Seattle skyline await! In fact, if you stop by here, you're likely to run into tourists checking out the cityscape. 
Another standout park is technically a series of parks, but basically includes greenspace anywhere along the waterfront (and Centennial Park, Myrtle Edwards Park, and Olympic Sculpture Park are the official names of each park here). It's worth checking out! Grab a coffee and a pastry and head down to relax on a bench while you take in water views, or bike along the paved waterfront trail. (Commuters also appreciate this trail that takes you straight into Downtown!) 
Below are a few of our favorite things in Queen Anne including a few homes we have sold over the years. 
---
Queen Anne Has So Much to Offer in the Center of the City
Thank you for exploring the Queen Anne neighborhood with us. It is hands down one of our favorite neighborhoods in all of Seattle. The architecture, the views, the proximity to amazing dining options, and of course we Divas love the art scene in Lower Queen Anne.
Message Us
Want to chat about something you see or just need an incredibly gifted Seattle real estate team? Send us a quick message!
A Few Of Our Favorite Neighborhoods