Let's stay in touch
The best Diva News and links to our fabulous Diva Dwellings. Delivered to your inbox.
We'll never share your email address and you can opt out at any time, we promise.
Team Diva's Email Real Estate Newsletter Sign-Up Page
Welcome to Team Diva's Real Estate Newsletter email sign up page. Sign up for our email newsletter and marketing. Team Diva's email newsletter is one of the best in the industry. And it is fun!
Here we are going to dive into why we email marketing is a cornerstone of our marketing methodology. And we would be ever so grateful if you signed up and were part of the party.
Let's Stay In Touch – Sign Up for Our Email Real Estate Newsletter
Thanks for stopping by Team Diva and signing up for our Seattle Real Estate Email Newsletter. Our team sends one or more emails a week to our "Fan Club" aka Diva Dwellers and friends.
The newsletter is a mix of fabulous Diva Dwellings, real estate education, announcements about the Roy and Kim show, and other topics that interest our team. We won't inundate you, but we will keep you informed about all the good stuff: art, politics, and the people that keep us falling in love with this city over and over again. We are always up for connecting and chatting. 
Sign up for our newsletter and send us a note, tweet, email, or text.
Below we are going to dive into the details of what we send out. Plan on your inbox getting sparkly with newsletters about the Roy and Kim Show, Team Diva in the news, our annual Political Guide, how we get spicy and talk about things like racism and bigotry, and the fact that we love inviting you to parties (once we are all safe from COVID). 
What Will Be In Our Email Real Estate Newsletter?
Team Diva produces incredible content that we send out to our many fans via our email real estate newsletter. Hands down, we love showing off our Diva Dwellings and spotlighting our Diva Dwellers. We also take every opportunity possible to showcase local artists, political activists, small businesses, political organizations, and community builders. After all, real estate is itself about more than homes; it's about building and becoming part of a community together.
Sure, we love to nerd out about real estate data, and we'll occasionally share interesting data from our industry. Once a year, we also put out a market report, so you can get an informed perspective about the way Seattle Real Estate is changing. We have friends who dig deep into the real estate nerd part of the business and can easily connect you if you want to learn more.
Most people who want to learn about real estate want to just learn the essentials. How do you buy a home in Seattle? What are the best strategies for selling a home in Seattle? What Seattle neighborhood is right for me? We love to share our expertise, so we also have created award-winning buyer education and seller education pages. When we add new content, our Seattle Real Estate Newsletter subscribers are the first to know.
In fact, in addition to signing up for our newsletter, you can sign up for our homebuyer education course, which serves up lessons twice a week for ten weeks. You'll get the scoop on the entire home buying process, from narrowing your search to getting financed to closing day. Sign up for our homebuyer education course here.
Here are a few things you will find in our weekly newsletter: 
Perspective About the Big Issues of Our Time

And so much more….
Here are a Few Of Our Favorite Email Newsletters We Have Sent Out Over the Years
Over the years we have sent out hundreds of emails. Each one has its own character and content. We have also learned more over the years about how to do email marketing more effectively and include more graphic information. This is lots of fun for us, but it's also an important tool that gets great results for our home sellers. We have been recognized as leaders and innovators in digital marketing, and it has helped us sell homes faster in competitive markets.
It's also been an important tool for the work we do outside of Real Estate, and to address issues within the industry. We are committed to seeing a more equitable society, confronting racial bias, and fighting for our most vulnerable community members. As people in the business of selling and buying homes, we have a responsibility to demand ethical practices and accountability in our industry for the communities that we serve. Our Seattle Real Estate Newsletter also serves to amplify voices calling for change.
Here are some highlights and examples:
Let's dig in and explore what you will find in the newsletter. 
Roy and Kim Show
This week we are super excited to host Community Activist Marlon Brown. Marlon is a dear friend of the Divas and has been on the inside doing the hard work to get our city to make fundamental changes to its policing, community reinvestment, and frankly make the changes to support our BIPOC Community. 
See the full email newsletter here >
Team Diva in the News aka the Seattle Times
Occasionally news outlets will talk to one of our team members and ask for our perspective on the current state of the news. In this particular newsletter, the Seattle Times asked Kim to talk about what's happening in the real estate market in the middle of COVID. 
See the full newsletter here >>
Fabulous Diva Dwellings aka Listings We Have On the Market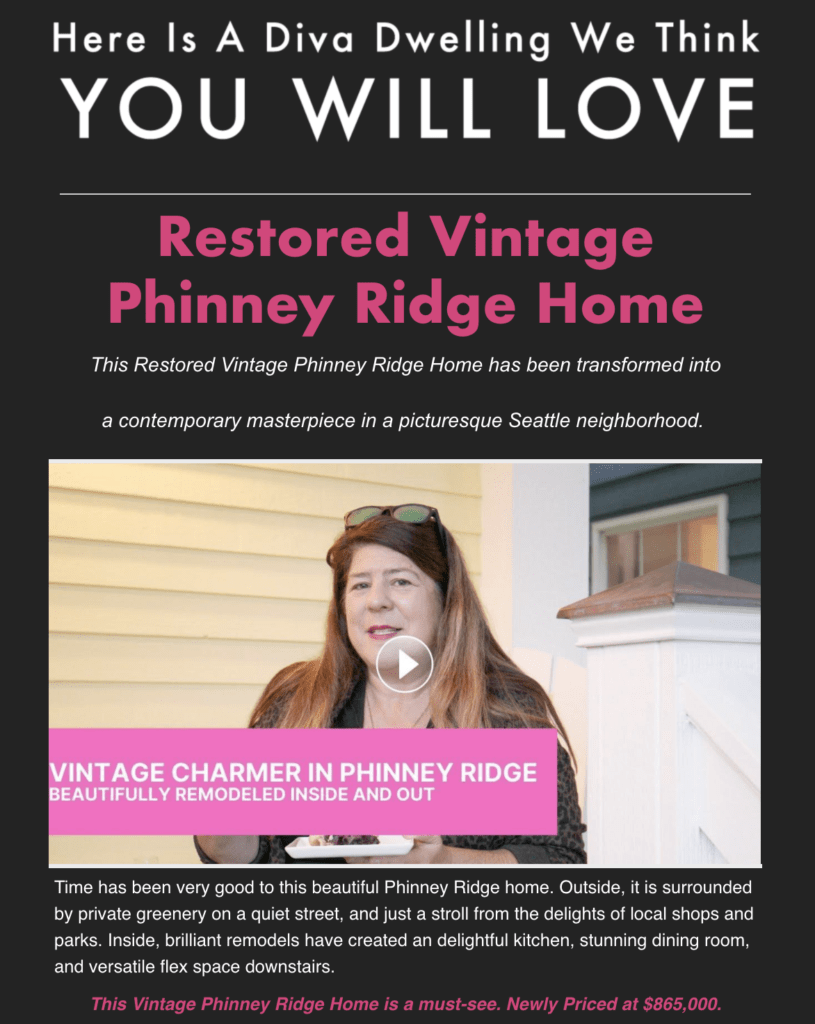 Wait what we sell homes? We do and it is frankly one of the best uses of our email newsletter. People know that when our newsletter hits their inbox the house that is being marketed is going to be stunning. No skimping on the edges in this world. 
Check out how we used this newsletter to sell a home in Phinney Ridge >>
Party Invites | Team Diva Loves Throwing Parties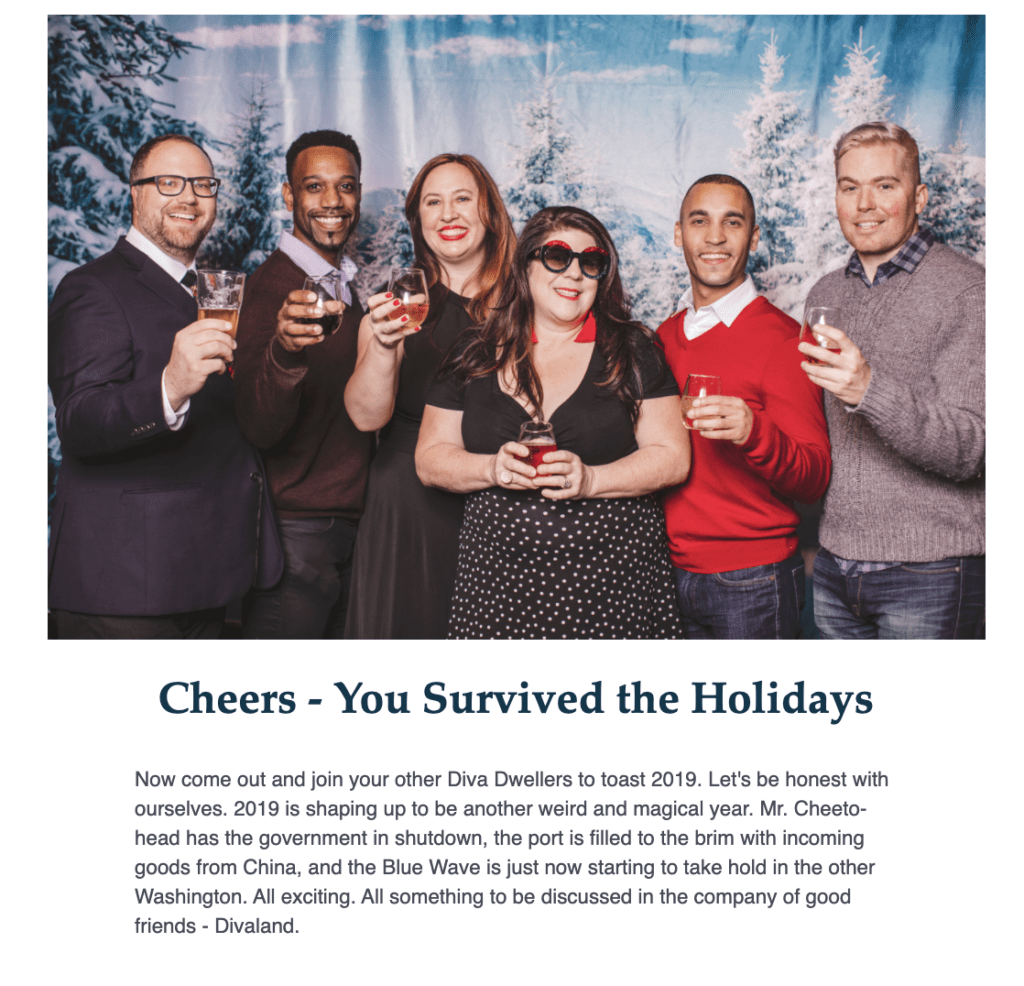 Team Diva is known for its parties. In fact, it is how we have connected with many of our team members before they were team members. Some of our favorite friends were Diva Dwellers who became friends as a result of joining us at a Diva Soiree. Right now we have a yearly tradition of hosting a Holiday Hangover party in January. Right now with COVID we are putting parties on hold and dedicating much of that money to support local arts organizations. 
Check out our invite from the Holidaze Party of 2019 >>
Sign Up and Welcome Team Diva Into Your Own Box
We get it. Everyone is emailing you something. But our email marketing is handcrafted. We literally write every word and get nerdy about the design every Thursday before we send it to you on Friday. 
Sign up for Some Diva Love in Your Inbox >>
Email Marketing Is A Cornerstone Of Our Online Marketing Strategy For Selling A Home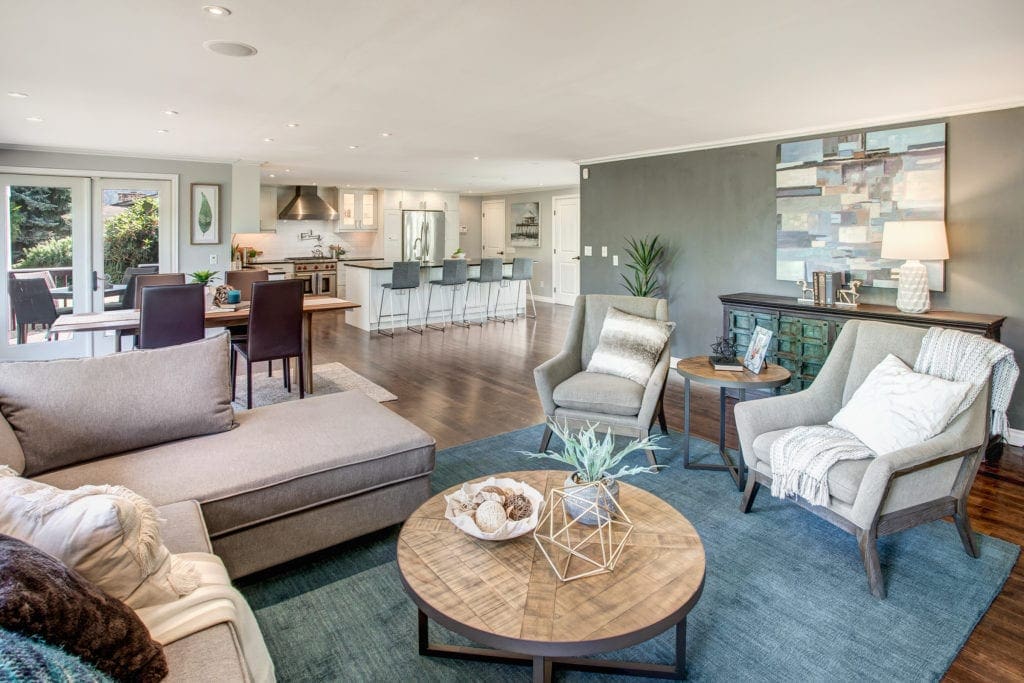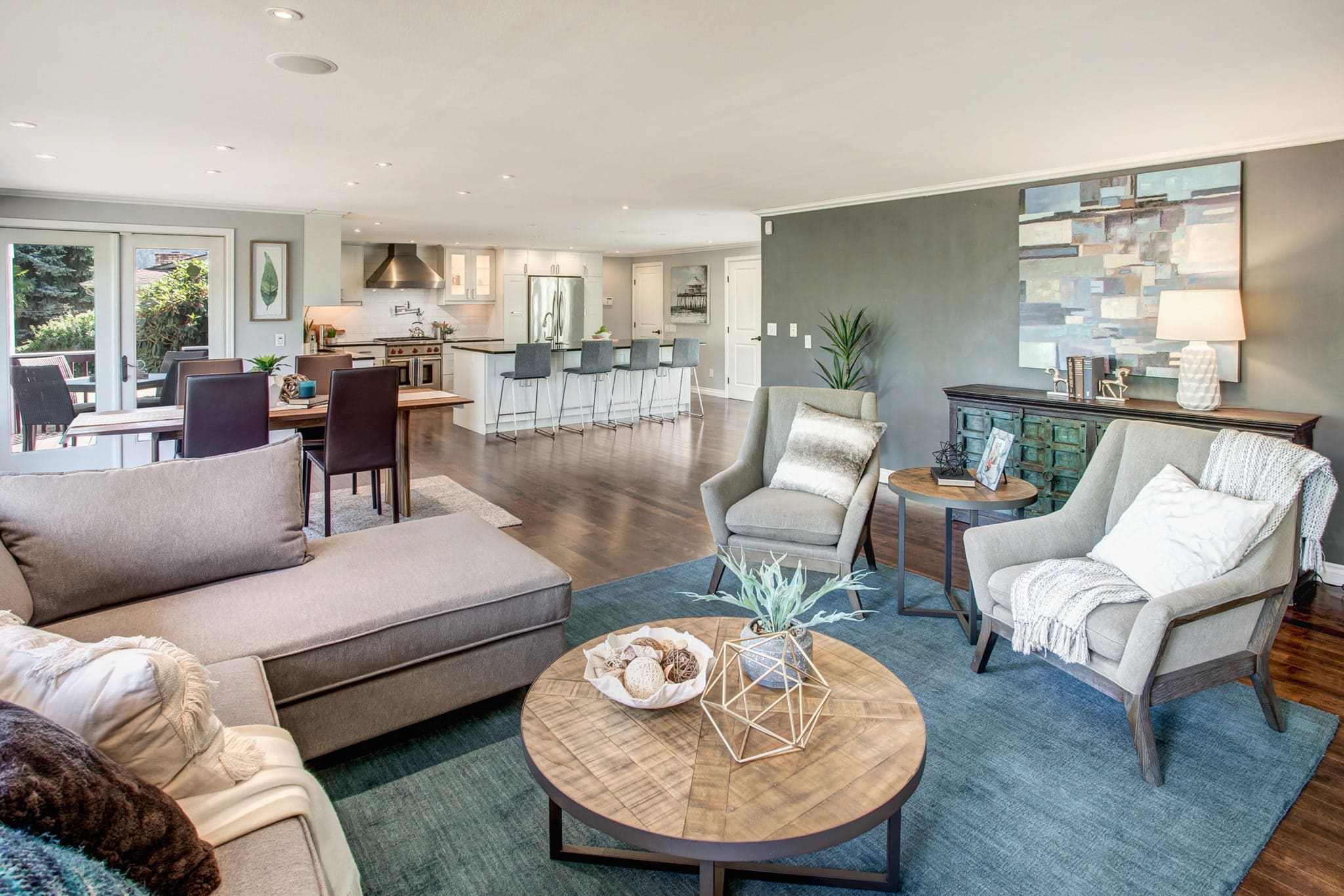 Even before a pandemic came along and upended the world, real estate was increasingly a game of virtual marketing. Team Diva has been at the forefront of this way of doing business, but we never sacrificed quality or personal touch. Every home we list gets an individual blog post, virtual tour, and lots of gorgeous photos and videos. We then share this content via our Seattle Real Estate Newsletter, reaching realtors, home buyers, and people who just love our latest Diva Dwellings looking fab (i.e. house porn). Check out our blog "How to Sell a Home in Seattle" to really dive into our process. 
It's more important than ever to have a solid digital marketing plan when you sell a home in Seattle, and we are pros at it. In our blog "Selling a Home Requires an Effective Online Marketing Strategy" we dive into everything we do to make sure a home reaches more people than the average listing broker. We understand online marketing, we are constantly learning, and frankly, we are one of the best listing marketing teams in town. A cornerstone of that strategy is our email marketing. 
Subscribe to our newsletter and see us in action, and maybe get inspired to make improvements in your own home, or just see it in a new light.
A Few Of Our Favorite Homes Sold Using Email Marketing
It's pretty much impossible to come up with a list of our favorite homes after so many years in the business. It's not much easier to narrow down that list to our favorite marketing content. But in the interest of showing off how much creativity and fun we have with our marketing, here are some of our favorite Diva Dwellings featured in our Seattle Real Estate newsletter.
Our entire list of homes we have sold whose selling journey needed some extra love aka a blog >>
Our Seattle Real Estate Newsletter Content is Spicy (i.e. Controversial) for Some
Every once in a while we will have someone who will sign up for our newsletter because they heard we are awesome real estate marketers, but not know anything else about us. Well, we are awesome at what we do, hence the reason we consistently rank on Real Trends and have won two Inman Innovator awards. But more than once we have gotten messages from far-off real estate agents who have been freaked out that we talk about race, LGBTQ issues, and resisting the fascist agenda of the Trump era Republicans.
Our whole industry is generally too scared to talk about this stuff, and some of them are in fact okay with racist oppression, or pretend that it doesn't exist. That is not okay with us, and we have never compromised our morals just for another transaction. We are going to keep making noise and amplifying progressive voices. And if other agents don't like it, oh well!
We support Seattle's artists, politics, and fight like hell for racial equity. We do use this platform to promote important issues of our time. And if that is an issue for you, just sign up for a real estate newsletter that is about data and super boring. We understand that the fabulosity and fierceness of Divaland aren't for everyone.
But for every naysayer who has told us we need to pipe down, we have heard from so many more folks who are grateful to see a diverse real estate team taking a stand on these issues. If you feel the same, sign up, and welcome to Divaland!
Our Promise To Our Subscribers
Team Diva promises up and down and on all that is sacred that we will NEVER EVER sell or share your contact information with other people. We take seriously the privacy of our Diva Fans and do not ever want to break that trust. Even when we use our platform to signal a boost to important art and political news, we control the content. No matter how cool, notable, and trustworthy those artists and organizations may be, no one sees our subscriber list but for us.
We hope you join us in Divaland and that we get to delight, inform, and entertain you with our content (Especially since we can't all party together in person right now.) As we discussed we promise to handcraft content to you that is about our Diva Dwellings, politics, getting spicy on the big topics of our time, showcasing how we end up in the news from time to time, and highlighting our Diva Dwellers. 
Message Us
Want to chat about something you see or just need an incredibly gifted Seattle real estate team? Send us a quick message!
A Few Of Our Favorite Neighborhoods