Let's explore our top 5 reasons to love this Capitol Hill Seattle Condo. This Capitol Hill condo is exactly what Seattle home buyers are looking for in today's market. First off, this condo is located in our old stomping grounds of Capitol Hill. It's a top floor corner unit with an open layout, it is super pet-friendly, and this building is in solid financial condition with a well run Homeowners Association.
Let's dive into this blog and explore why we are crushing on the Morgan in Seattle's Capitol Hill neighborhood.
Top Five Reasons We Are Crushing on The Morgan
First off, our Diva Dweller's Kitty and Sam live in this building. They make rad neighbors, have the cutest dog, and are huge activists in our community. So the neighbors are great. And let's be honest not every neighbor is the same. Check out the cute video we did of Sam and Kitty enjoying this particular unit before it was refreshed for the 2020 market.
Reason #1 We Love the Morgan Condo – It Is a Top Floor Corner Unit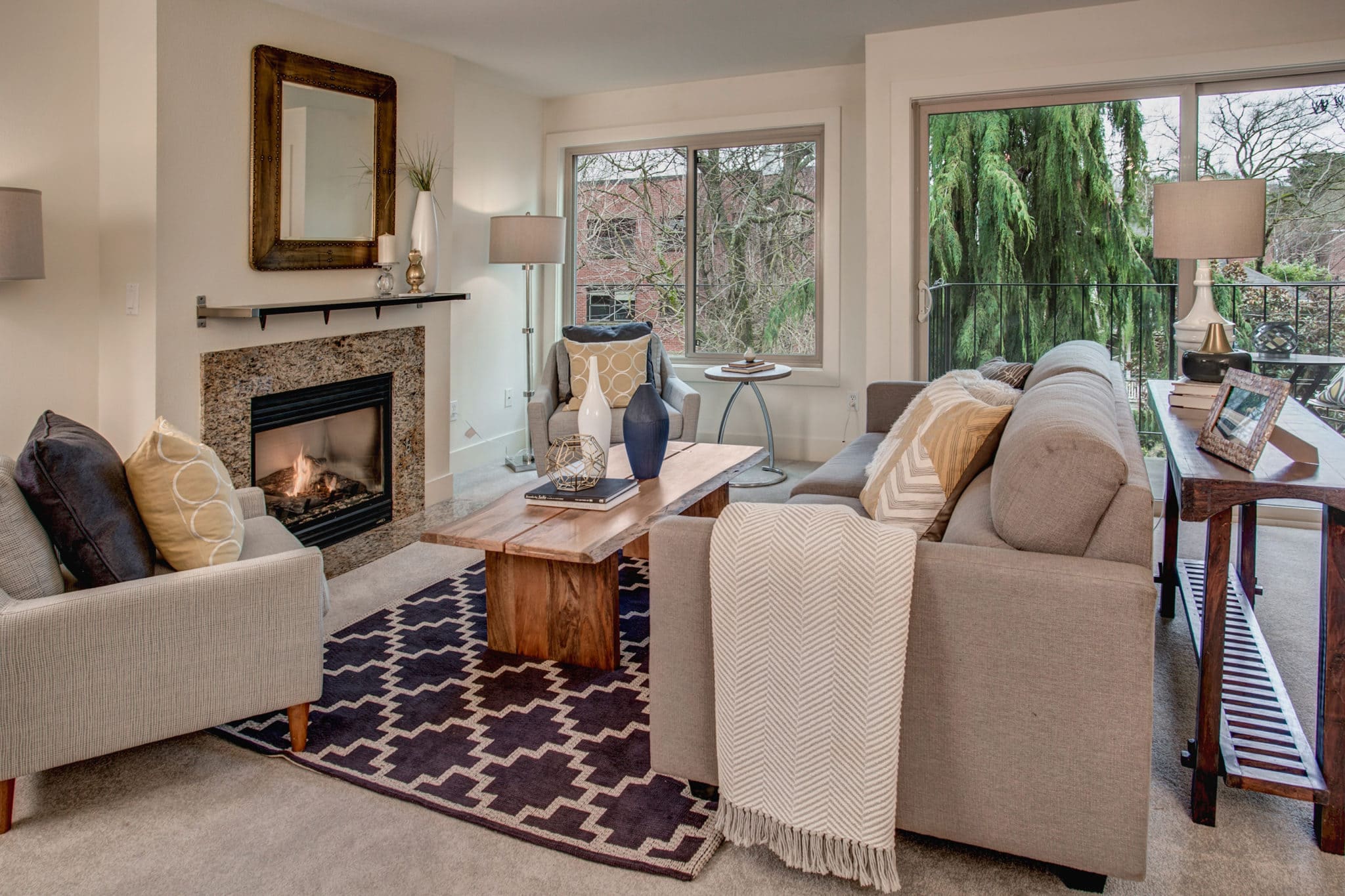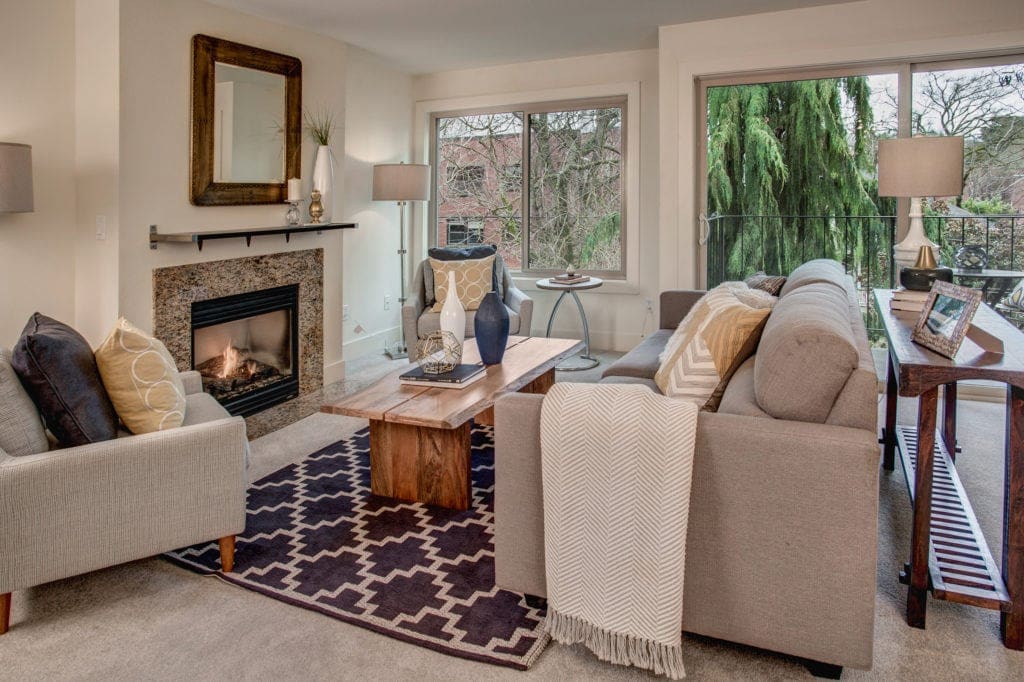 Being on the top floor is always a plus. Especially for resale value. Top floor condo homes ten to sell for more money than their counterparts in the building. And this particular home is overlooking one of Capitol Hills pretty tree-lined streets. Being perched above it all is definitely one of our favorite things about this home.
Reason #2 We Love The Morgan Condo – Open Layout That is Great for Entertaining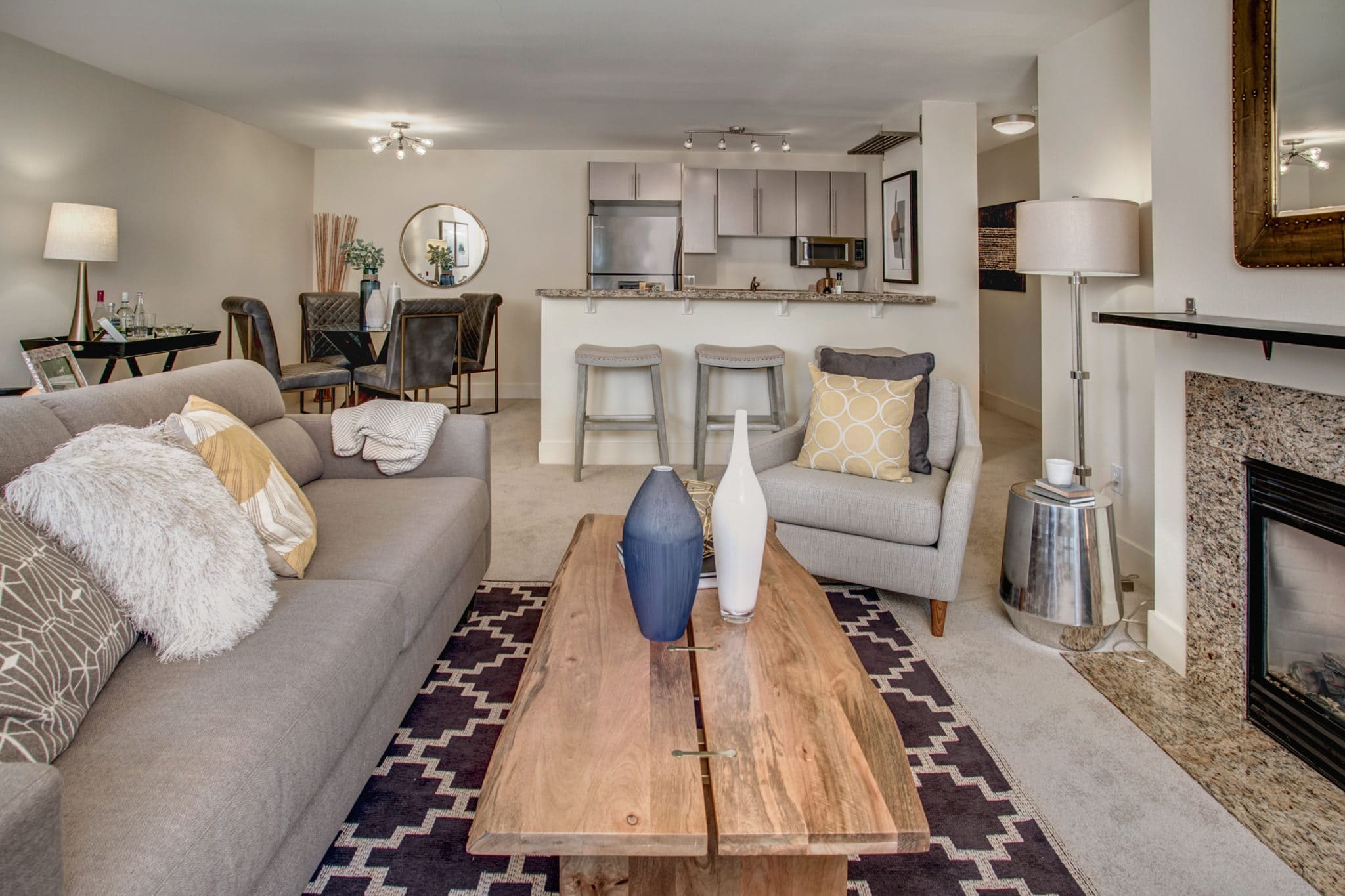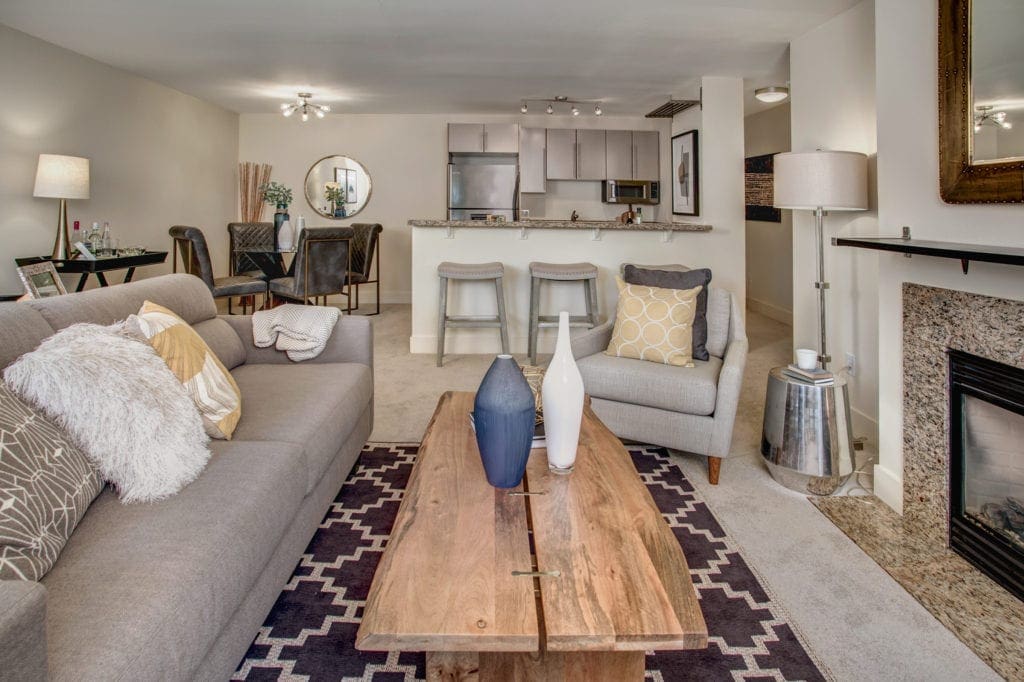 The open layout in the Morgan is a delight. Especially if you like to entertain. The kitchen with its gas range opens to the dining and living room spaces. You can create a fab dinner while your friends hang out by the fireplace in the  living room and never feel like you're missing a beat. Then you can all sit-down for a formal dinner in the dining room or gather around the fireplace for dinner if you are feeling more casual. The Divas have seen a lot of condos in their long careers but few have as well designed a layout and efficient use of space as this home.
Reason #3 We Love the Morgan Condo – It Is A Super Pet-Friendly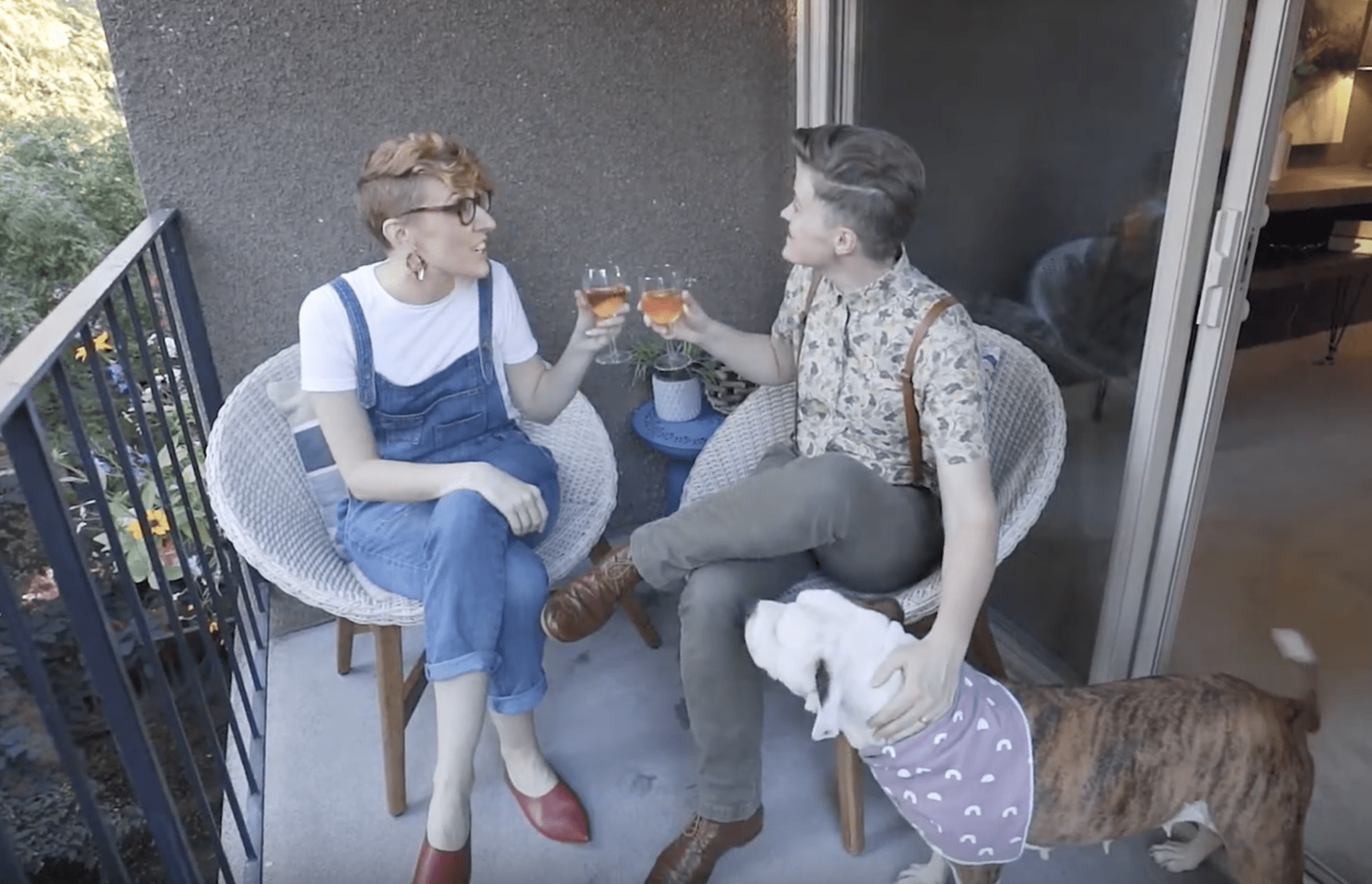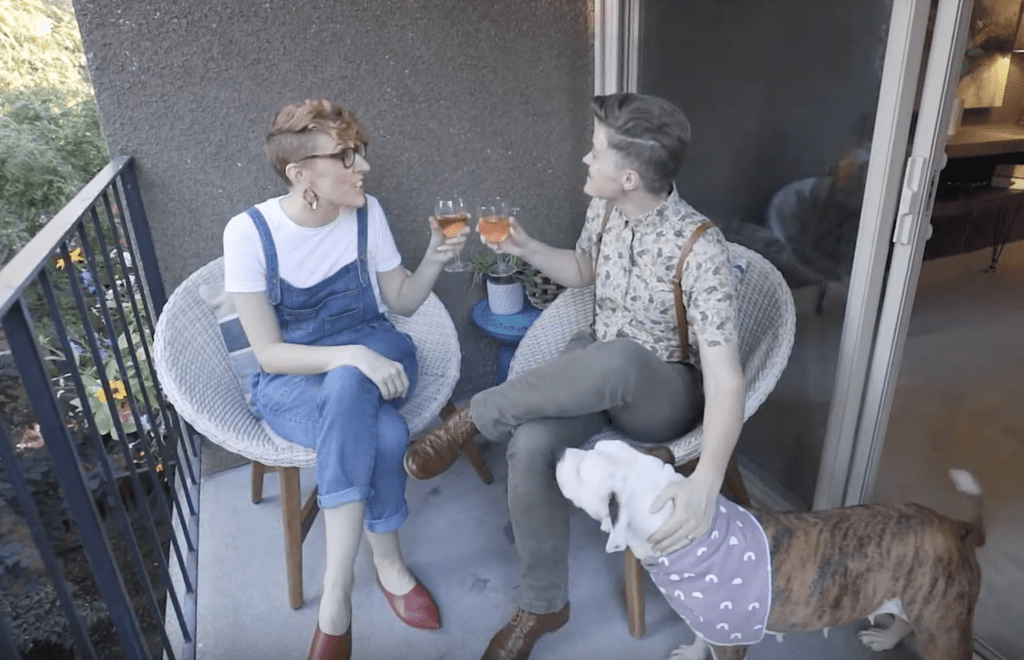 The majority of the condo buildings on Capitol Hill have a weight and breed limit, and some still don't allow dogs at all. As you know, the Divas are huge fans of rescue animals. Having a pet-friendly building that is  also accepting of your larger rescue pooch is a huge plus for us animal lovers. And the more pet-friendly a building is, the more options you have for home buyers. In other words, allowing cats and dogs = higher resale values. So remember – your furry friends like Jolene, the Morgan Condo Video Star, are always welcome at the Morgan.
Reason #4 We Love the Morgan Condo – Summertime Chill Time on the Balcony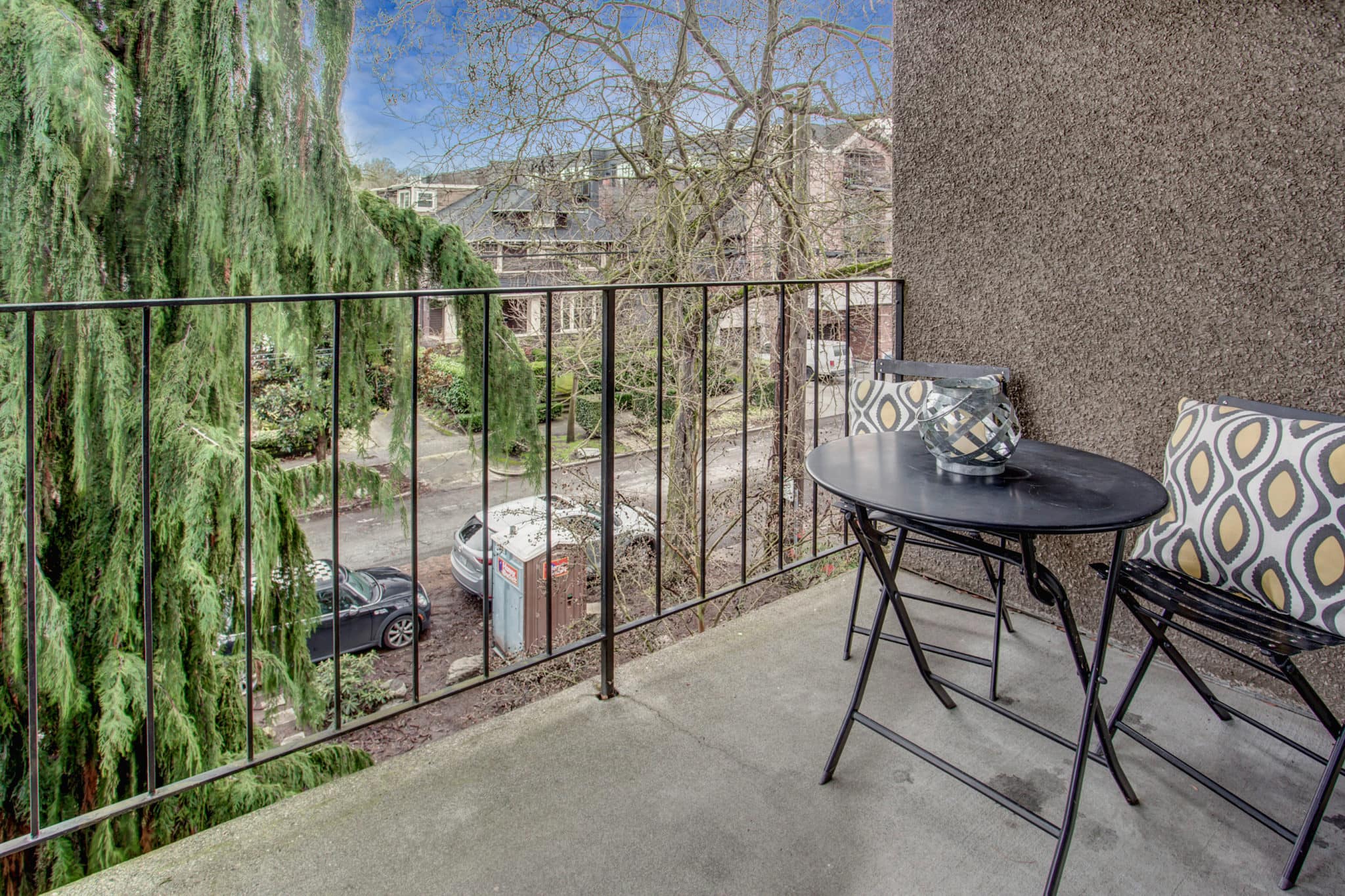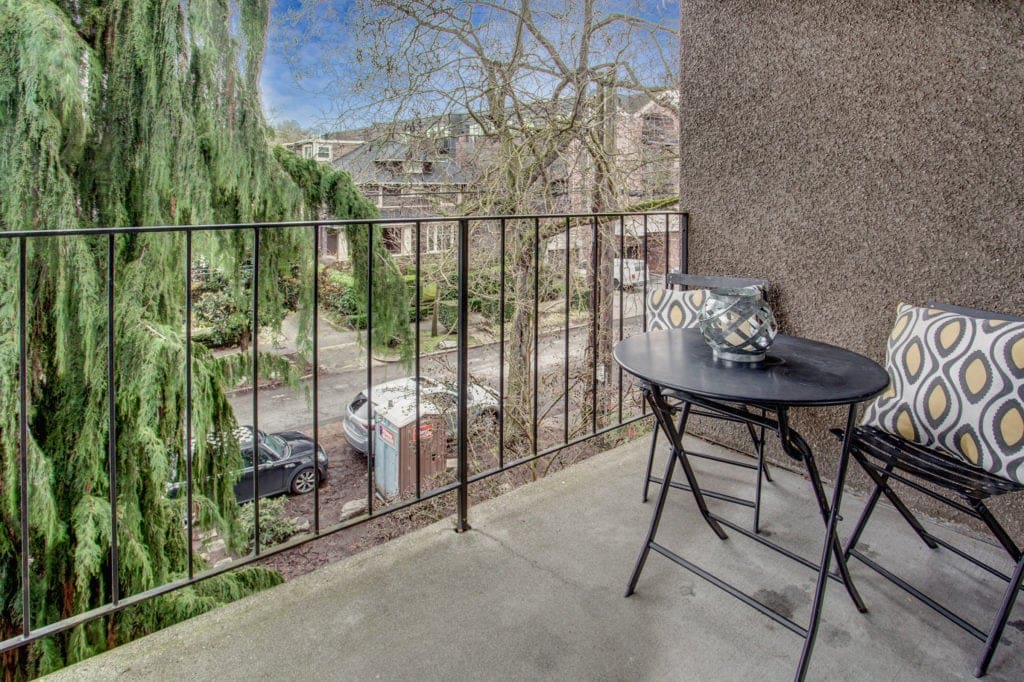 I know it is hard to imagine our Seattle summer weather with this rain. But really we have the best summers in the nation. They are glorious. And having an outdoor space in the middle of the city makes it all the more special. This particular balcony spot at the Morgan is situated to soak in the views of North Capitol Hill's architecture, tree-lined streets, and North Broadway fun. And like Jolene, it's also a spot where your pets can get some needed fresh air as well.
Reason #5 We Love the Morgan Condo – The North Capitol Hill Location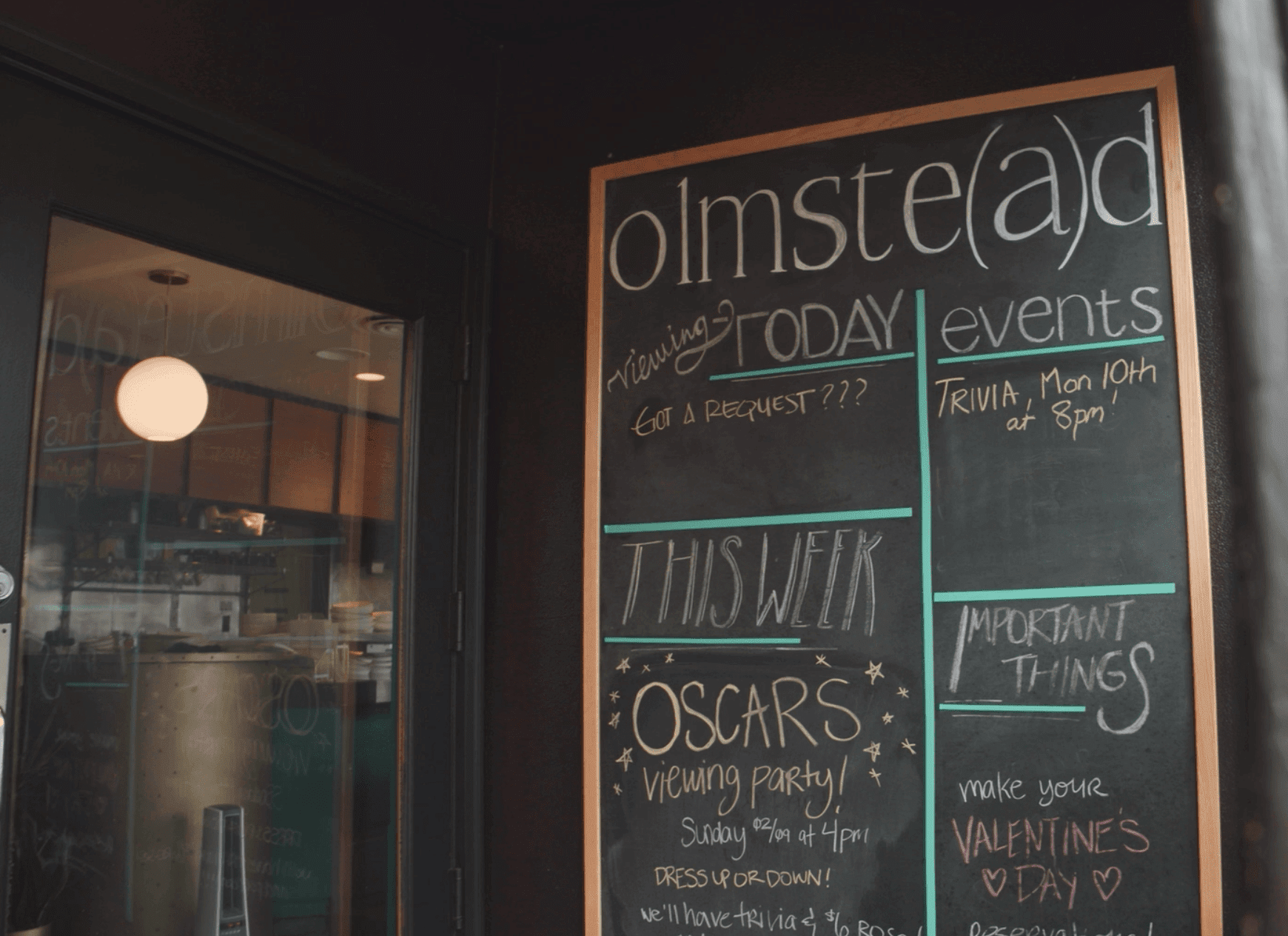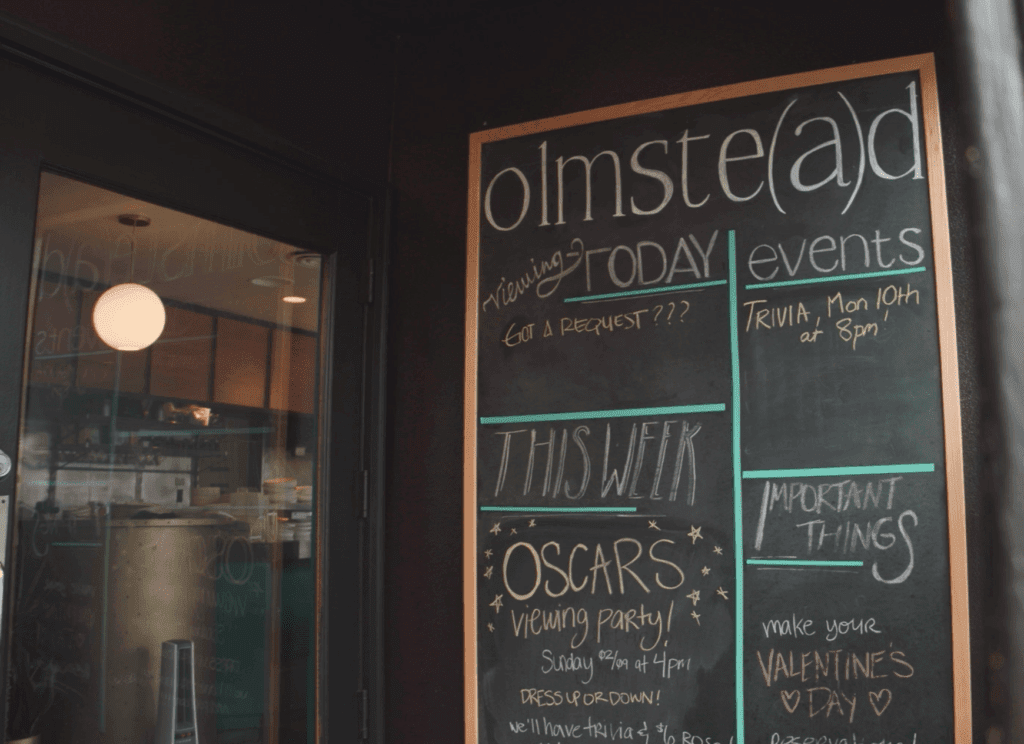 We are huge fans of the north section of Capitol Hill in and around the Morgan Condo. The Divas are old school and love visiting the banking staff at their Umpqua Bank on Broadway. Around the corner, you will see us at Joe Bar having a crepe and chilling between appointments. Late at night, Deluxe is still one of our favorite places on the hill to get a post-party burger and fries with your last call cocktail. And with Olmstead, Witness, Carrello, and Bait Shop a hop skip, and jump away who needs to leave the neighborhood?
Seattle Loves Its Capitol Hill Condos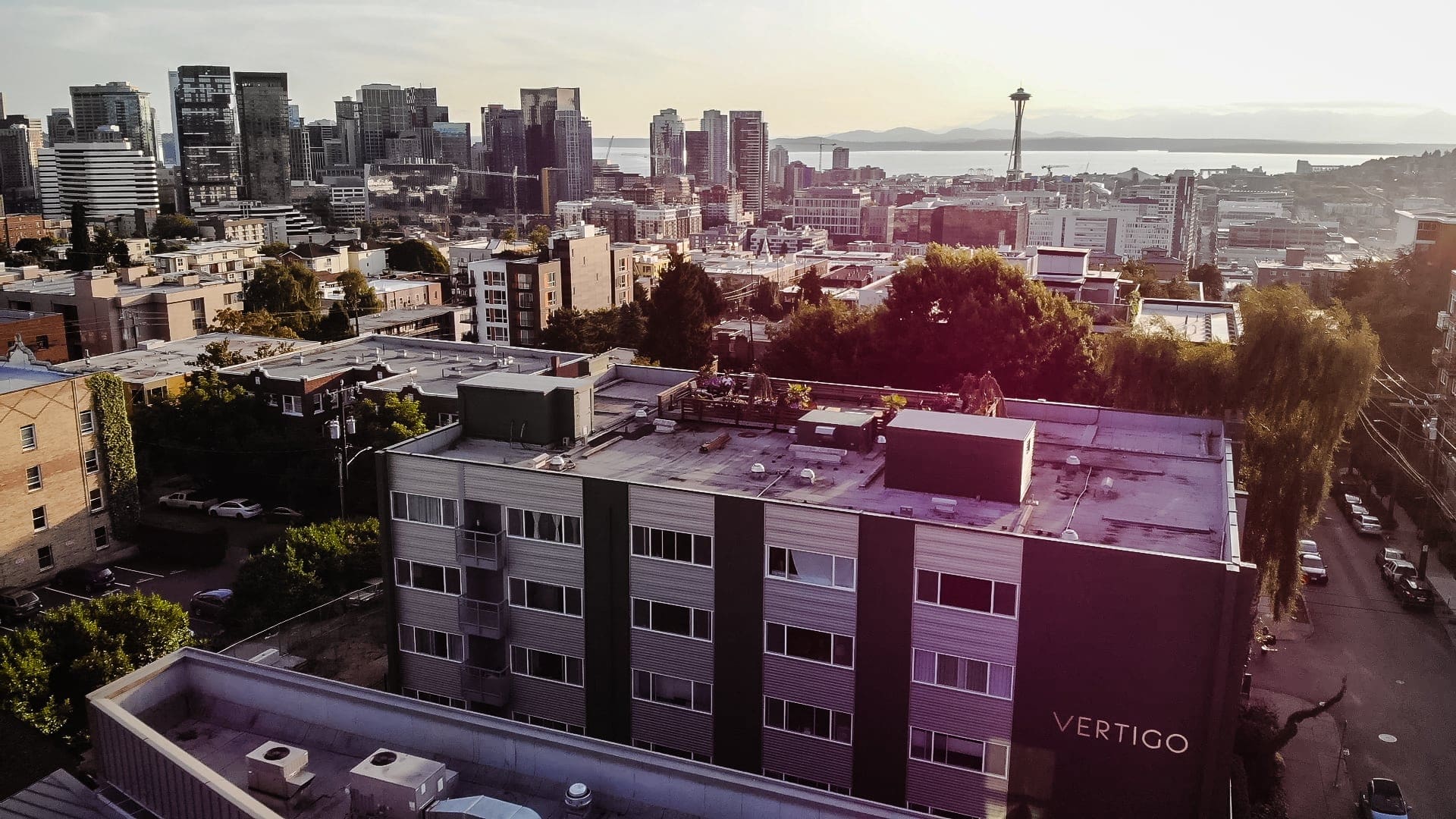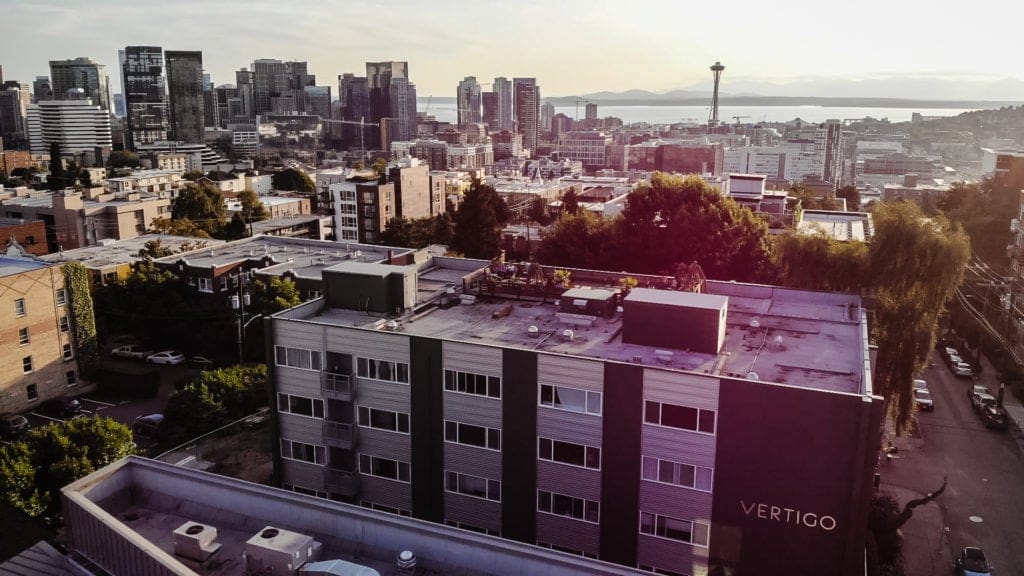 Capitol Hill has a long history of being the best place to go if you want a chic flat in the center of the city. It was a bastion of well established Condo Building before Belltown started its build-up of luxury condos in the early 2000s. Capitol Hill was, and still, is one of Seattle's go-to place to live in a condo, specifically due to its walkability and easy transit to Downtown and South Lake Union. Team Diva originally set down its roots on Capitol Hill and has long loved its many modern condo and historic co-op buildings. Let's check out a few of our favorite buildings.
A Few of Seattle's Favorite Capitol Hill Condo Buildings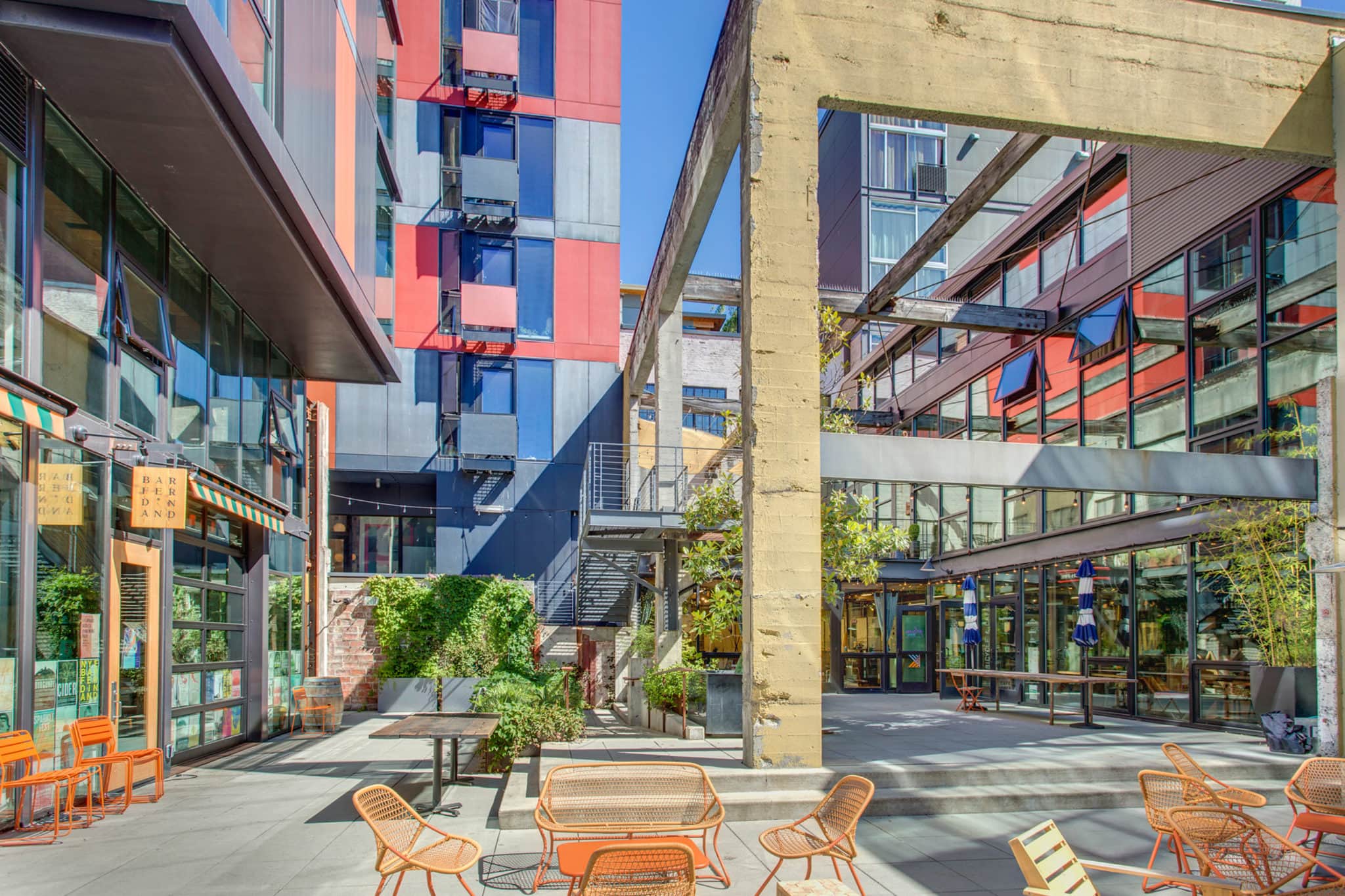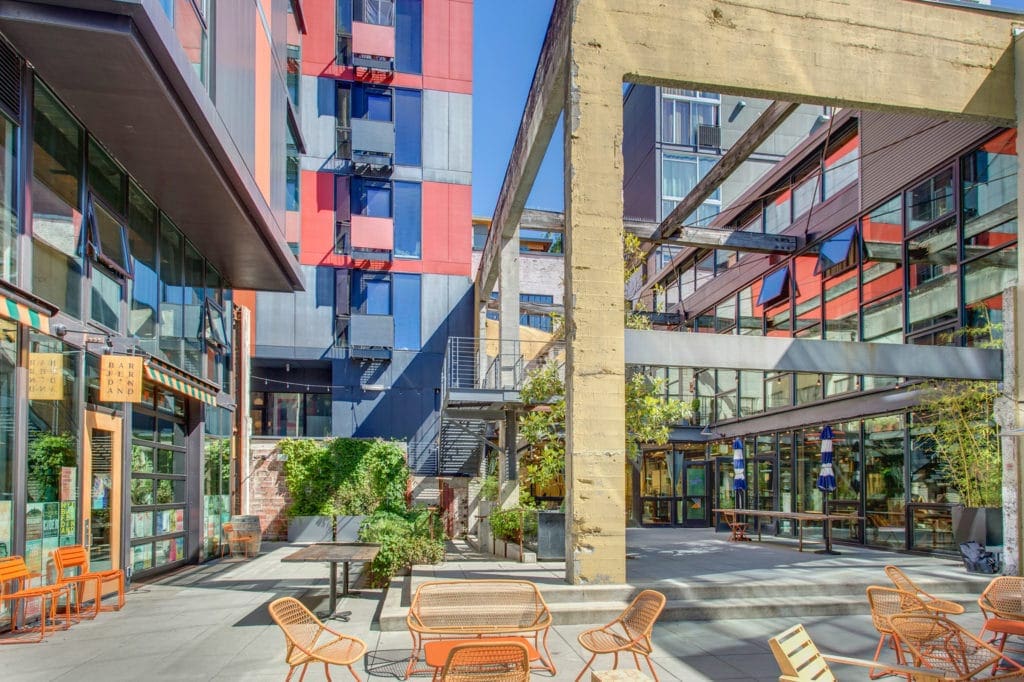 Check out our Capitol Hill neighborhood section to really dive into why this location is one of the best in the city. And check out a few of our favorite buildings in Seattle
Last October we did a deep dive into why now is a really good time to buy a condo in Seattle. A few of our Diva Dwellers listened and dove into the Seattle Capitol Hill market and found themselves some incredible deals. Super exciting to know that many of our cool kid Diva Dwellers are so smart about Seattle's constantly changing market.
---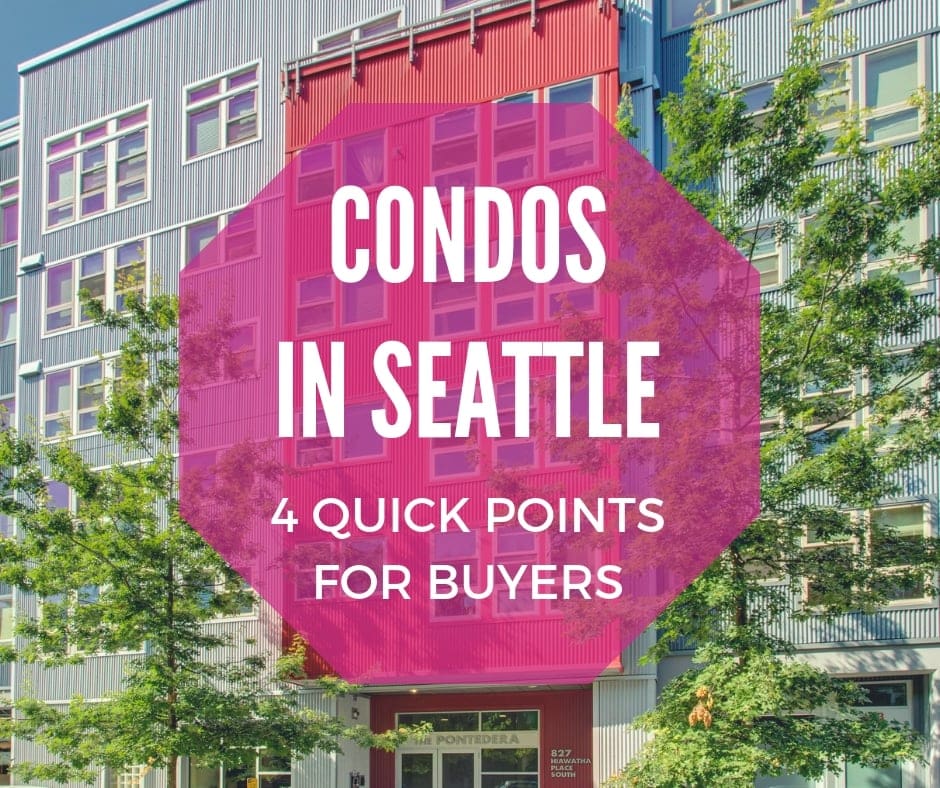 Are you interested in learning more about how to buy a condo in Seattle? In our Blog, we explore top points to keep in mind when buying a condo on in our fair city.
Identify Your Seattle Condo Buying Goals – Location, rentability, pet policy, amenities, etc..
Be Savvy About Your Purchase – Not every building is in good physical and financial health. It is extremely important to make sure your favorite building has solid reserves and a plan for major work.
Review the Condo's HOA and Financial Documents – Many condo buyers skip the part of doing their due diligence and end up with a building that needs a ton of work. Check out our blog about how to review the condo resale certificate and corresponding documents.
Please Do an Inspection – No seriously. Do a freaking inspection! We live in a very wet climate that requires all of us to take constant care of our homes. A home inspection is the only way to discern if you are going to have big issues with your home.
---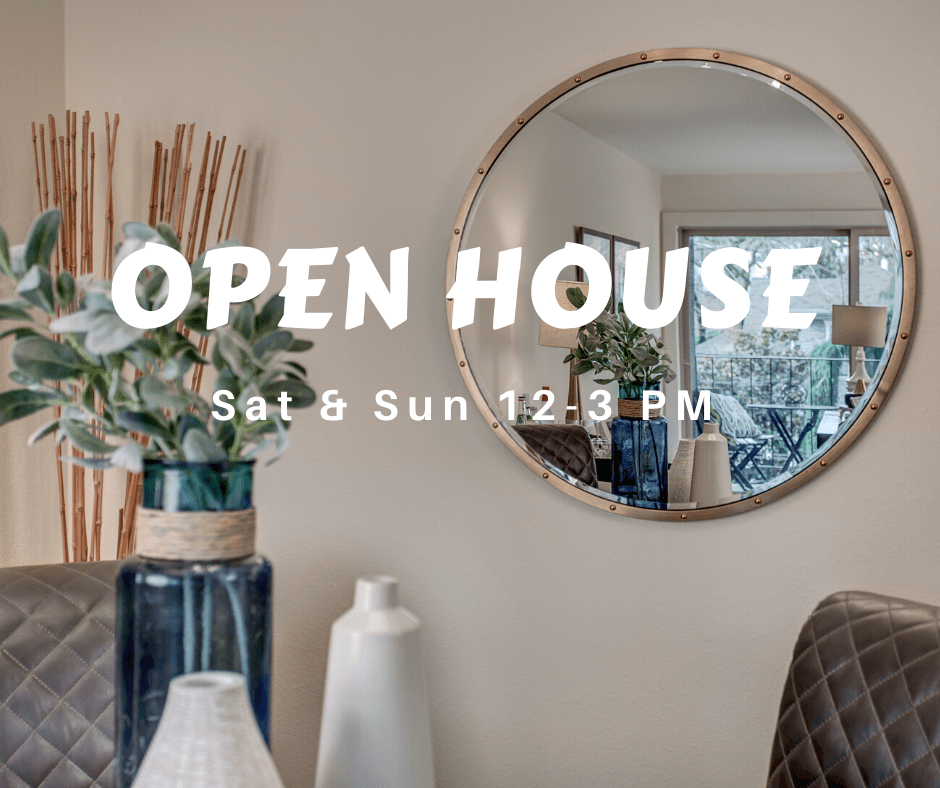 Home Details Below
Address: 731 Broadway E, Unit 302
Price: $525,000
Bedrooms: 2
Bathrooms: 1
Team Diva is in love with the Morgan Condo Building on Capitol Hill. It is everything we look for in a home. It is a top floor unit (no noisy party people upstairs), you can install hardwood floors, it has a gas range, it is super pet-friendly, and it is in great financial shape thanks to the hard work of its board.