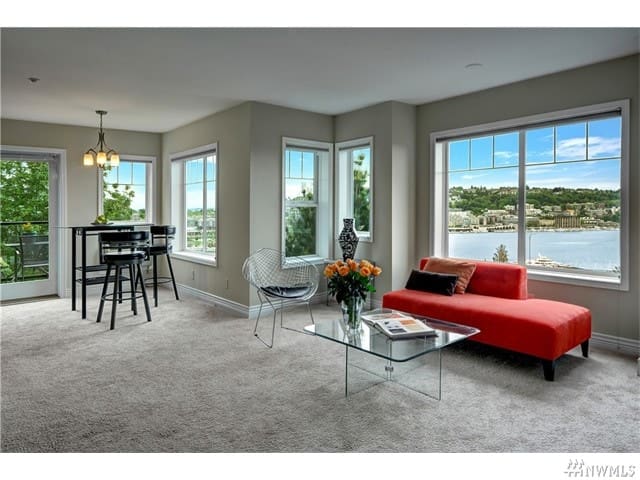 Capitol Hill Condo Home of the Week is at The Palermo: 1029 Belmont Ave E #302 $595,000
When the Palermo was built I was twenty-one years old and just starting to discover the magic of Capitol Hill. The Palermo was an early favorite of mine. Chris Karsteter of Coldwell Banker Bain has a stunning listing that shows off all the reasons to take the leap and make yourself a Diva Dweller in this fabulous condo home.
I don't know what makes me happier about this home, the stunning panoramic views from Capitol Hill or the spacious floorplan. Sometimes condos can have really awkward and unusable spaces. This condo makes the most of every bit of square footage. The open living room, kitchen, and dining area make for comfortable living and lively entertaining. Because this unit is west facing there is no shortage of light beaming into every room of the home.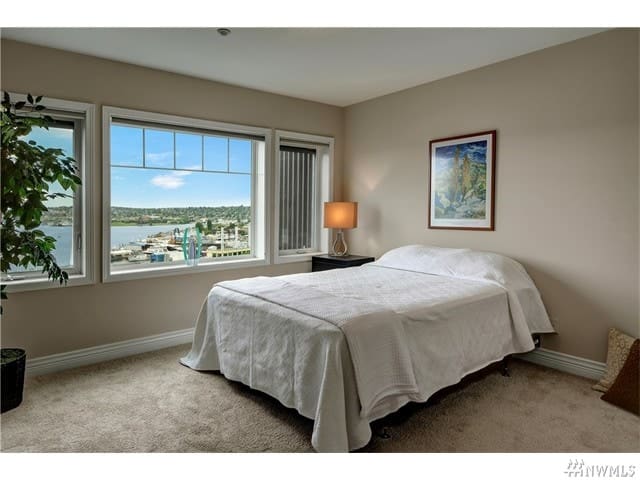 Two bedrooms are always better than one. It is even more fantastic when the bedrooms are in separate areas (no shared bedroom walls) of the condo. Every Dweller has their needed privacy. The master bedroom boasts its own private bathroom. You can avoid those nasty spats with your partner over closet space because this master bedroom boasts two closets so there is plenty of room for everyone's wardrobe. In addition, this is a western facing condo so you will get to wake up to beautiful views of Lake Union every day.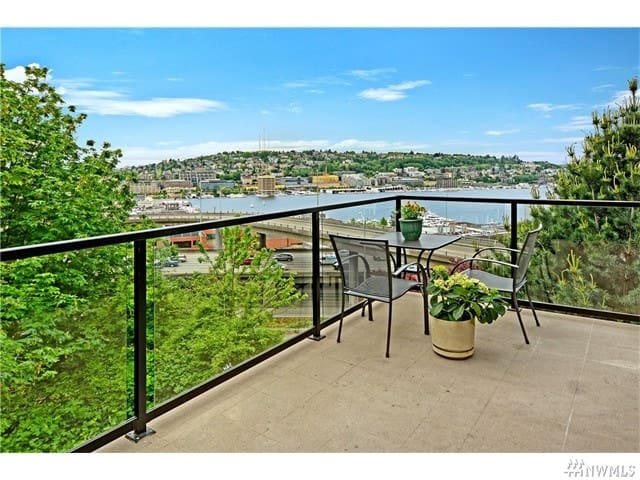 A huge bonus for this condo is the outdoor patio deck. You are not stuck with one of those tiny little step out patios you see on  new construction apartments. Nope, this deck is plenty big and is the perfect spot for all your summer shenanigans. When the sun is shining this deck is perfect all day so be ready to set yourself up on the lounge chair with a nice book and a glass of your favorite summer Rose.
What I love about this condo:
Sweet Location: It's located in a quieter part of Capitol Hill but close enough to all the good stuff we love. It's walkable to Broadway, Downtown, and South Lake Union.
Stunning Views: Panoramic settings of Downtown, Queen Anne, North Seattle and more. As Seattleites, we often have the pleasure of enjoying so much of our city's beauty right from the comfort our homes.
The extras: Two Parking spots, large utility room for laundry, and a large storage unit. What more could you ask for?
Corner units have all the fun: Southwest facing windows illuminate the unit and brighten up your day.
 Gas Fireplace: Seattle folks love fireplaces. They serve no real necessity here in our temperate climate, but what sets the right mood and ambiance better than a warm cozy fire?
This Capitol Hill condo is truly amazing but don't just take my word for it. Give me a call 206.795.6292 and let me show you this amazing condo in person. I can make you our next Diva Dweller in this magical hillside condo.

Photo credit: Aimee Chase at Vista Estate Imaging, courtesy of Chris Karsteter Coldwell Banker Bain and NWMLS