People lovingly call this historic Wallingford home The "Red House" because of its distinctive red paint job. It is even more remarkable when you step inside. This is a classic farmhouse to its core, but with stunning updates that have carefully preserved the quality of its character. For the current owners, its been a twenty-two-year labor of love.
The Top 5 Reasons We Adore This Historic Wallingford Home
Our Favorite Things #1: The History of This Transformed Farmhouse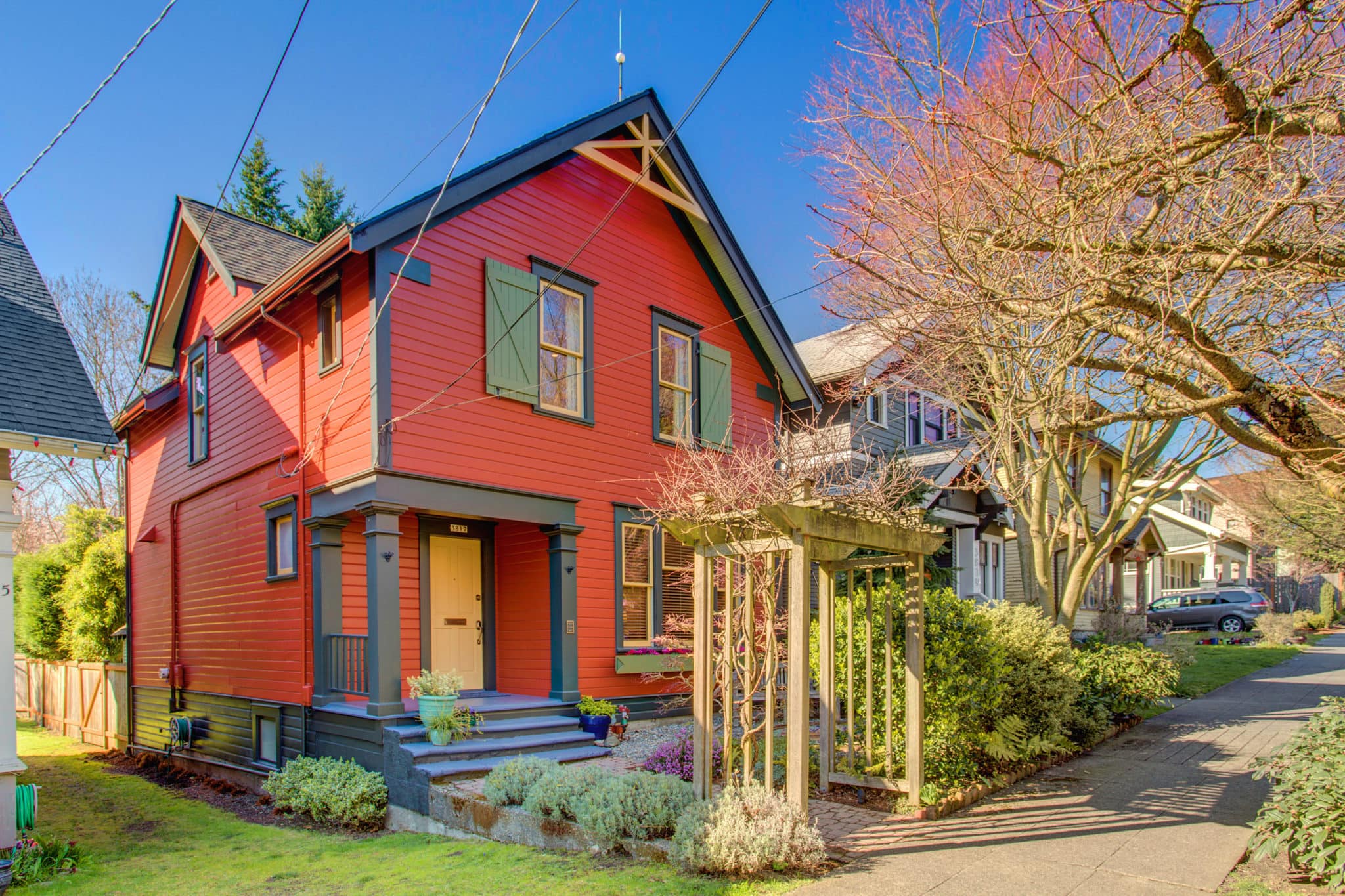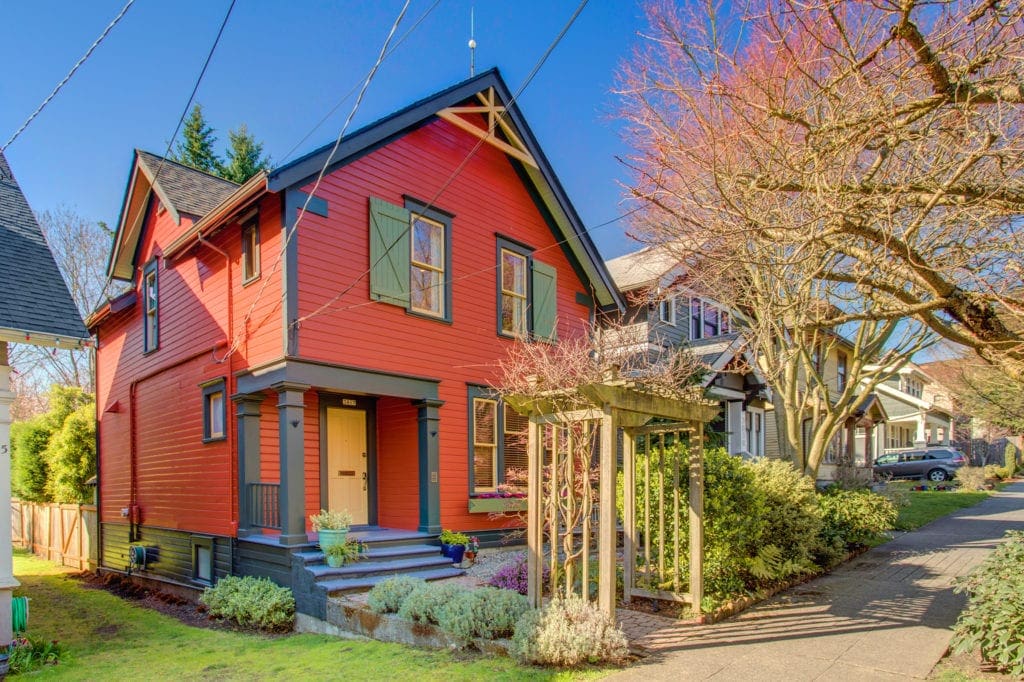 This historic Wallingford home is a work of art, whose every upgrade and addition was built to last like the house itself. Every ceiling is unique. There are many built-in shelves for displaying books and treasures, and something quite unusual for older homes: full walk-in closets in all three upstairs bedrooms!
This was one of the first houses built in what would become known as Wallingford. It is truly a farmhouse, pre-dating the craftsman craze of the 1920s and 30s. The main floor has fantastic flow, with the living and dining spaces passing to the kitchen at back, and the deck overlooking the private, beautiful backyard.
As an original farmhouse, this historic Wallingford home had a fine balance of form and function from the start. Successive owners have ensured this balance has been preserved, from the roof to the basement. Speaking of the basement, it is partially finished with tons of storage. There is a deep, cedar-lined closet for safely storing off-season clothing. Another extra-long closet serves the current owners well, holding their gear for biking, skiing, and sailing in a tidy fashion.
Our Favorite Things #2: The Re-envisioned Farmhouse Kitchen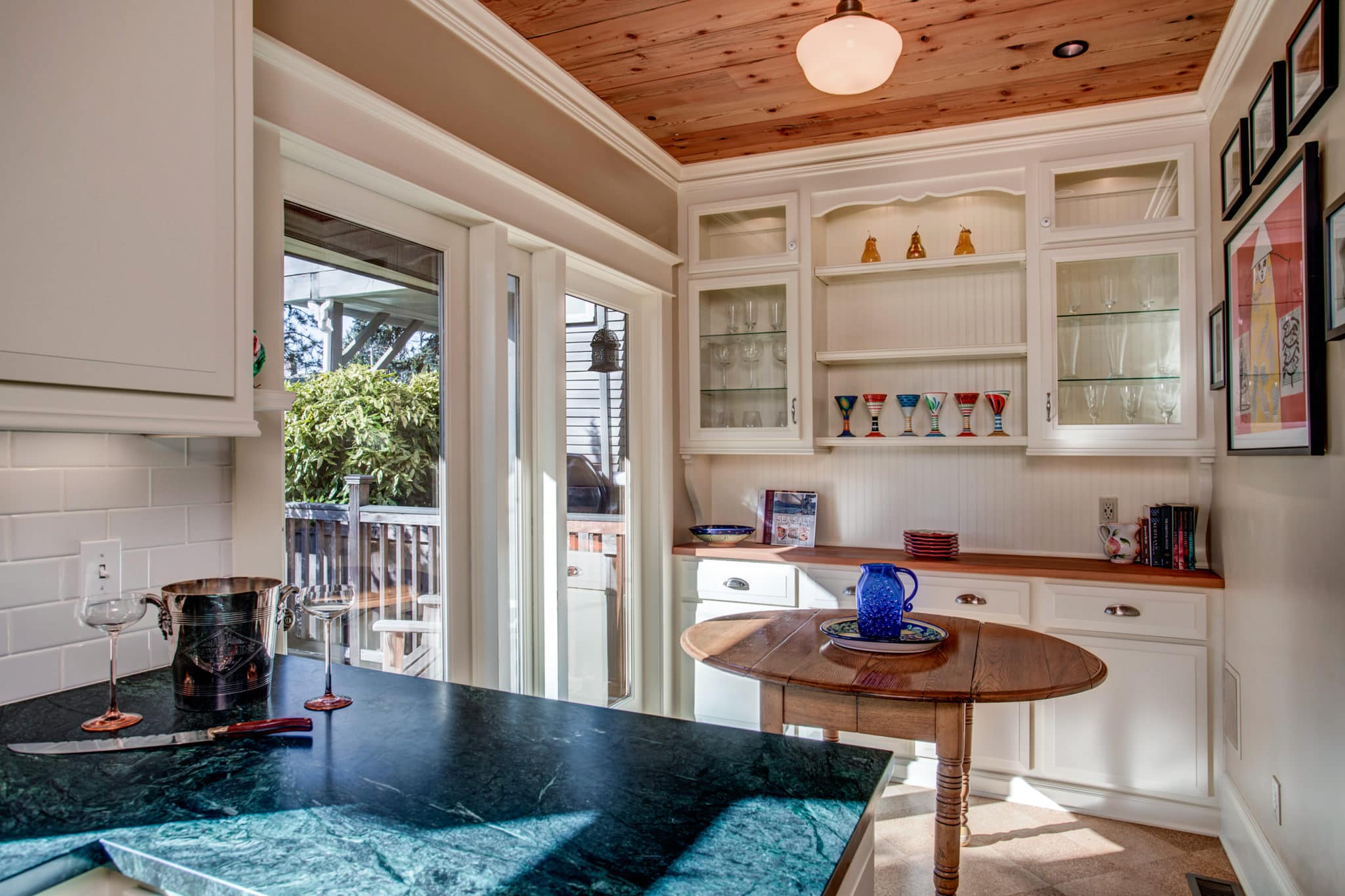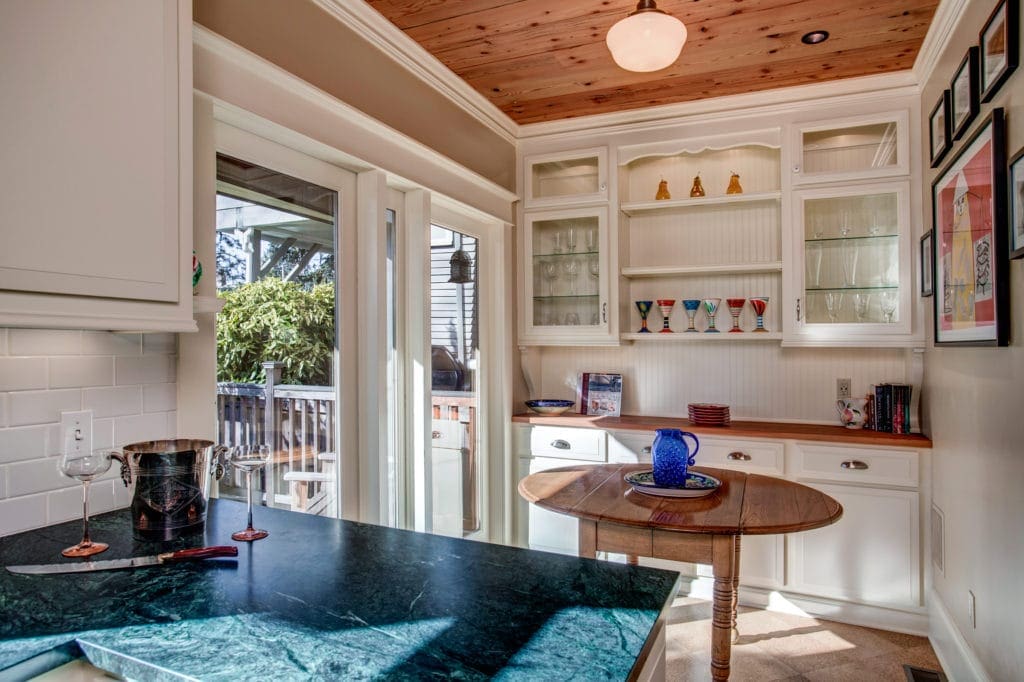 The current owners of this historic Wallingford home tell us that their favorite room is this kitchen, and we see why. The former husband of the Red House's current owner is a high-end contractor with an eye for design and detail. The kitchen cabinets were custom designed and built for this space. The beautifully detailed display cabinets with built-in spotlighting allow any collector of unique home goods to show off their wares in style. This kitchen is also roomy enough to allow for you and your honey to cook together in comfort and the secret cupboards for toaster ovens and microwaves, allow for functionality without giving up counter space. This joyfully warm and inviting kitchen offers views and access to this home's idyllic backyard, perfect for a garden party!
Our Favorite Things #3: The Stellar Backyard Deck and Garden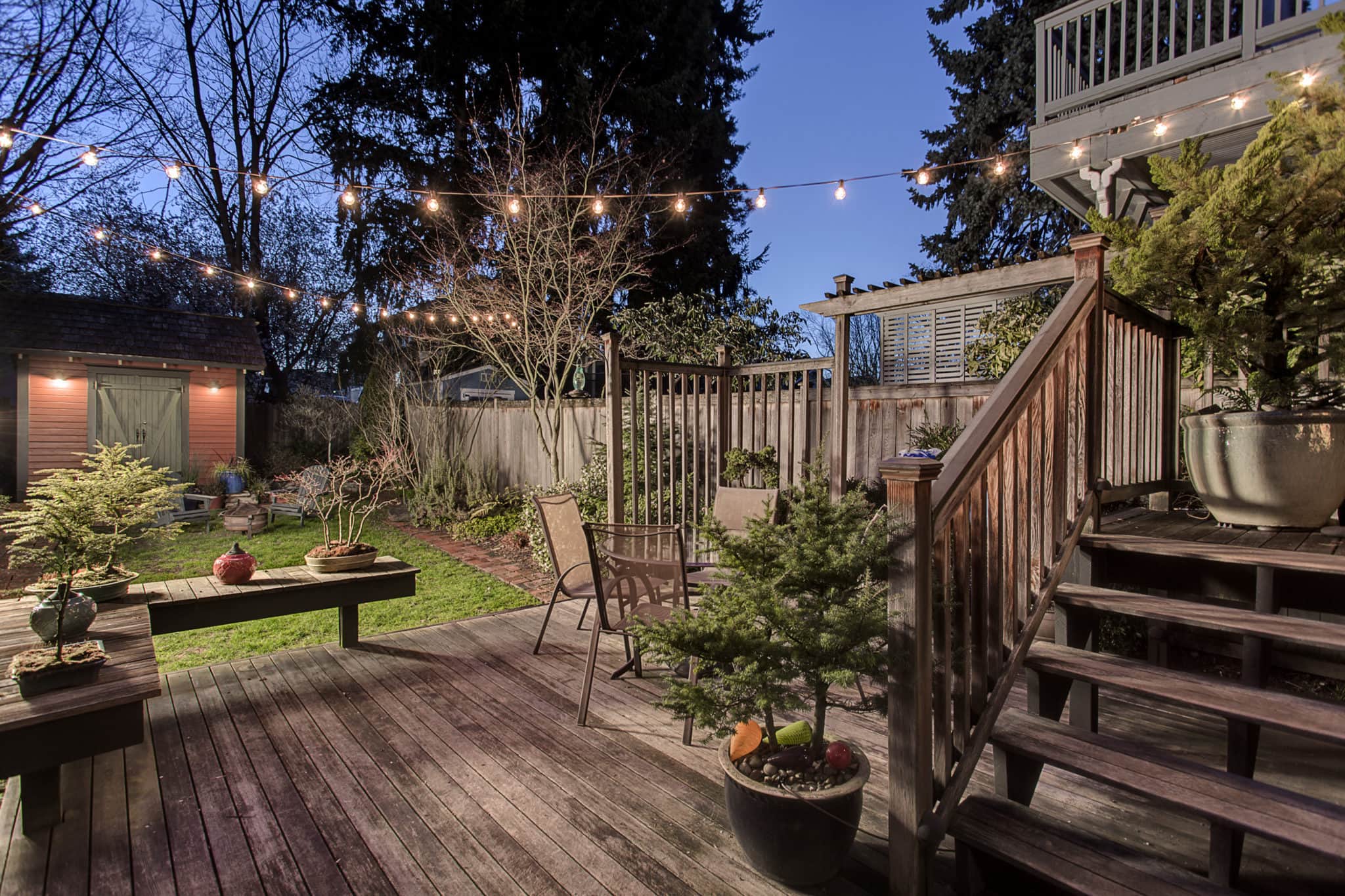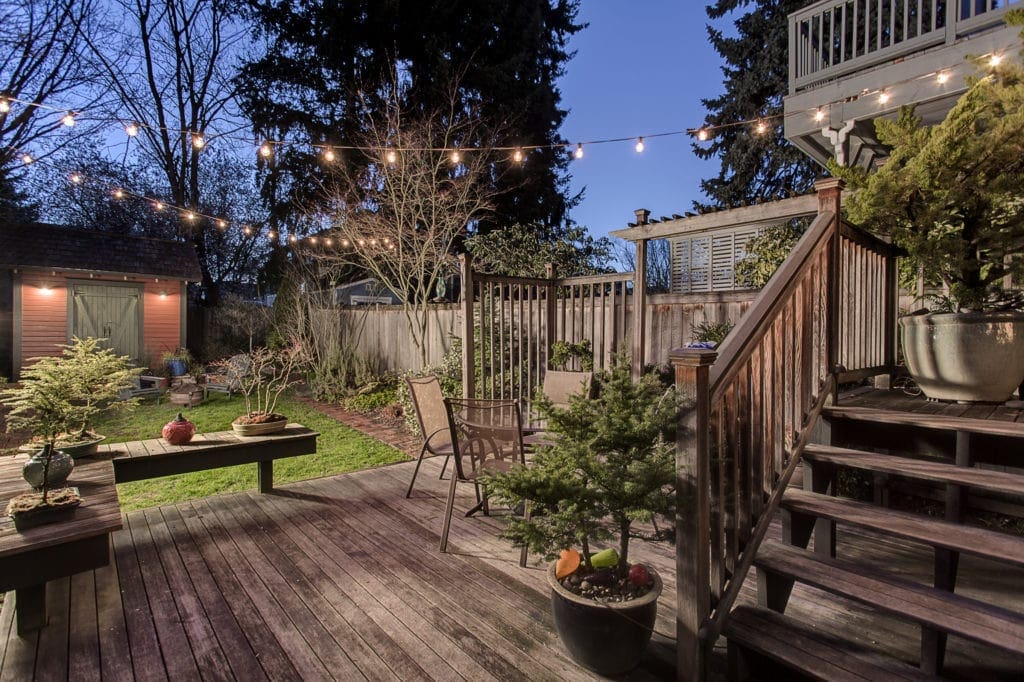 It is delightfully inspiring to hear the owners wax poetic about the sights and sounds of the yard. This historic Wallingford home attracts more than admiring looks from pedestrians. Its abundant flowers and landscaping brings out a sweet variety of wildlife. And the owners' furbaby, a Mini Australian Shepherd, even has room enough to do her agility exercises. In the warmer months, as the leaves fill in, it becomes even more private.
And that's great, because—to quote the owners—"In summer, the deck serves as the living room from morning coffee until evening nightcaps." Whether you are having a quiet night in or hosting a party, this historic Wallingford home feels ensconced in serene, natural beauty. Not to mention, this yard has hosted many a garden party and has had numerous bottles of bubbly sabered by the owner from the back deck. Check out our video for this home to see Diva Kim learn to saber her first bottle of bubbly ever.
Cute anecdote: The owners' most elusive neighbor is a raccoon that they saw on security footage, but never in person. They know he still visits, however, because he carefully removes glass balls from their fountain to play with them on the lawn. He's never broken one, despite leaving them scattered about.
Our Favorite Things #4: Beautiful Formal Dining Space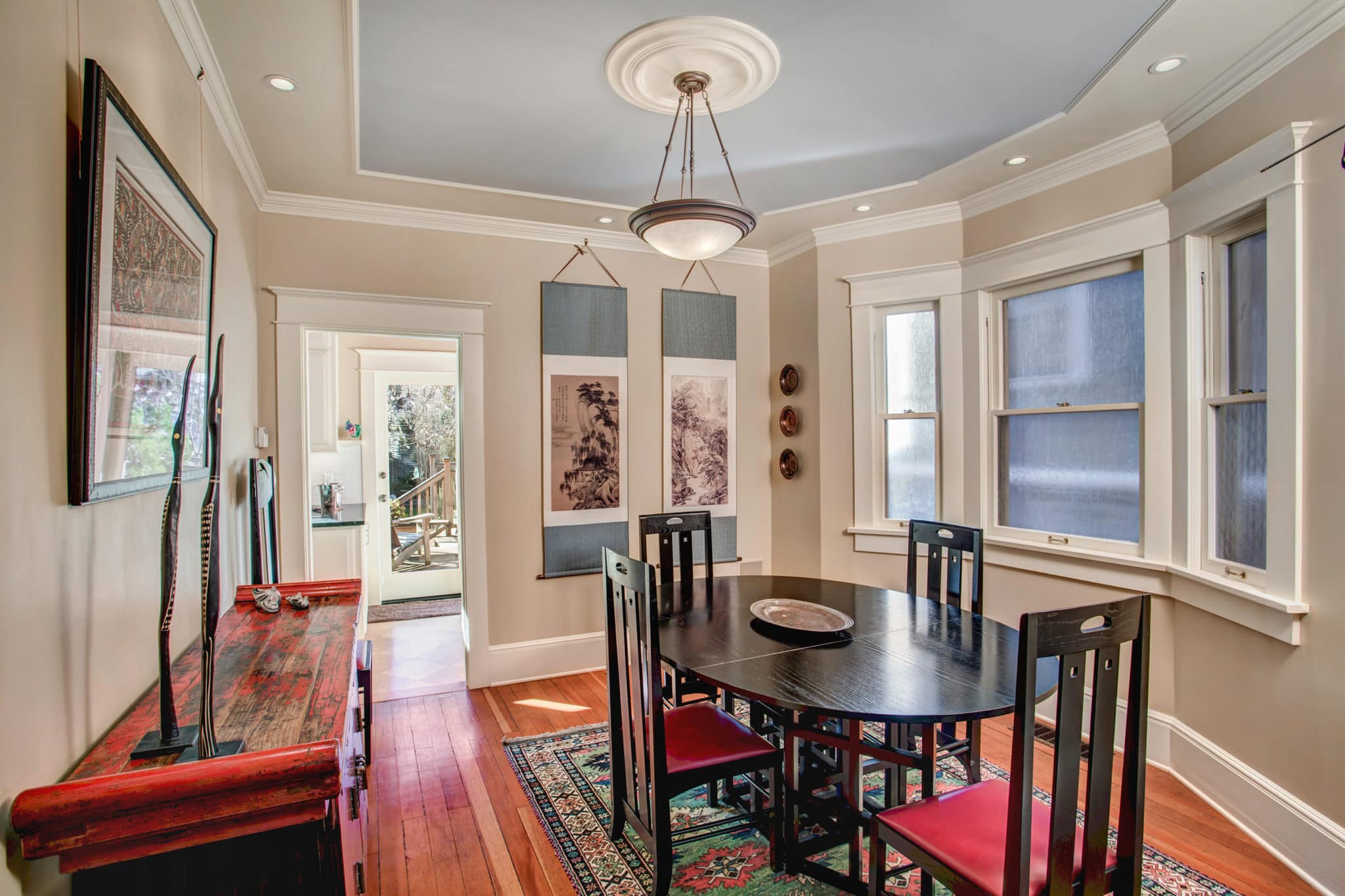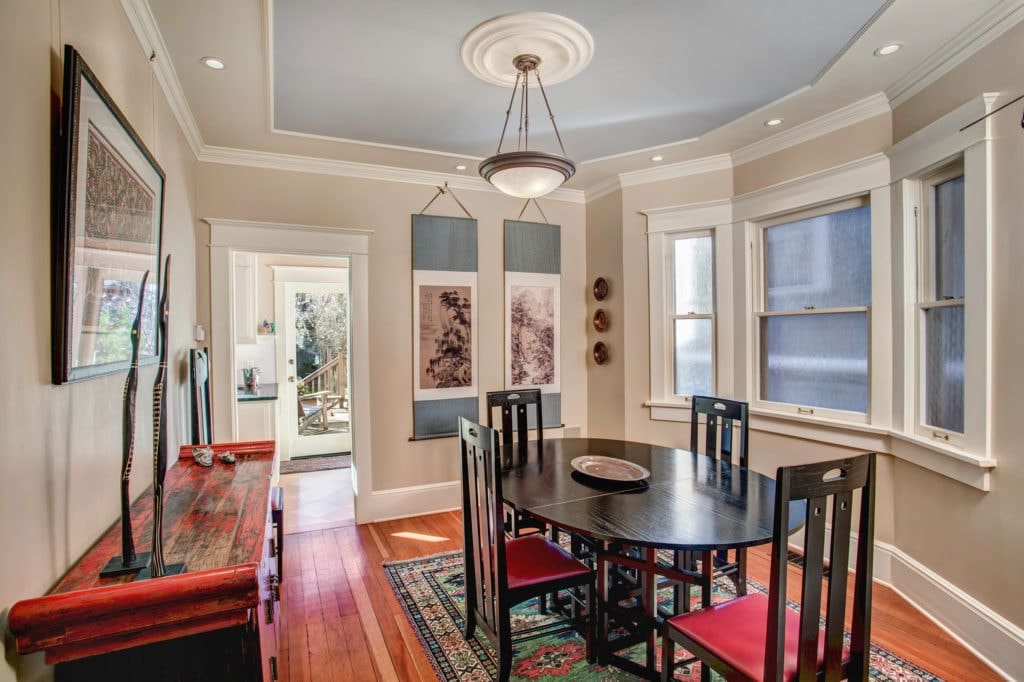 As with every room in this fabulous home, the formal dining room is beyond charming. With its bay windows and intimate lighting, this space is perfect for casual brunches or fancy dinner parties alike. We love how it serves as the perfect anchor space between the quaint living room and the sunny kitchen. Picture serving beautifully crafted meals to your friends and family with a freshly sabered bottle of bubbly lining your dining table under the soft dimmed lights. Between the cozy kitchen, picturesque backyard and this sweet dining room – the entertaining options abound in the wonderful home.
Our Favorite Things #5: The Sweetness of Wallingford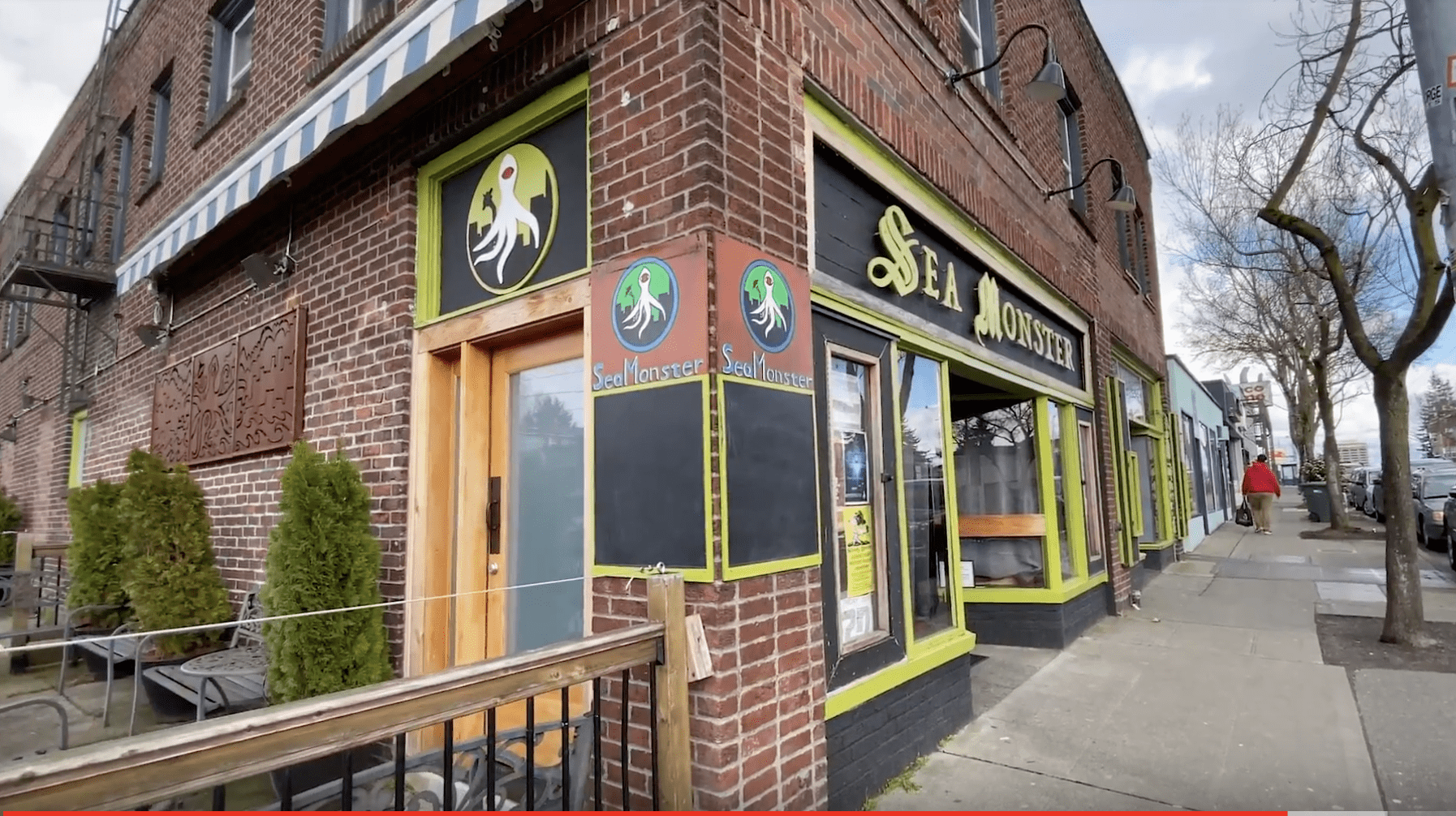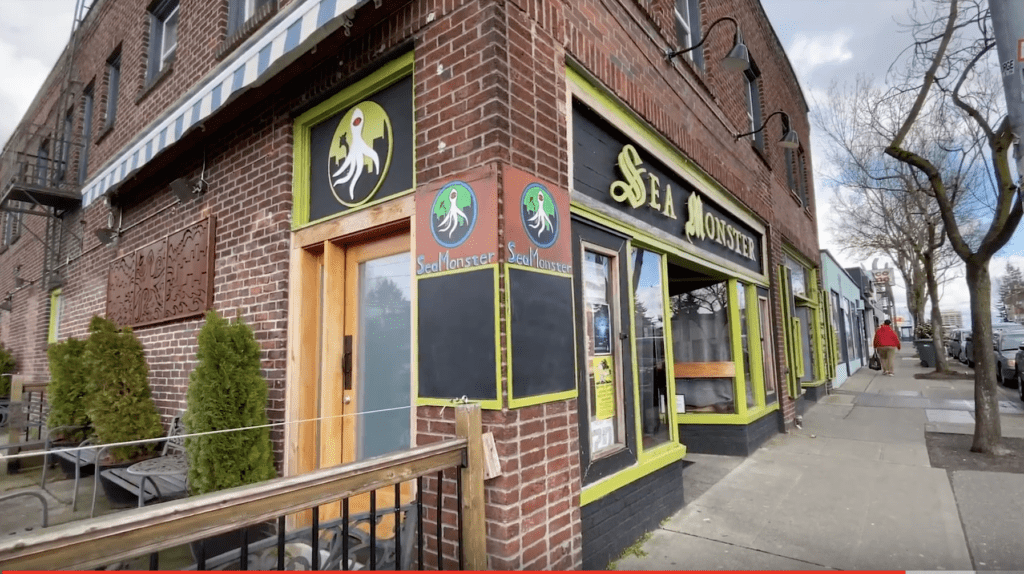 The main street of Wallingford is 45th Street, which attracts visitors from around the city, thanks to its great bars, boutiques, grocers, cafes and restaurants. Among the latter, you'll find every kind of cuisine, from fine dining to the original Dick's Drive-In. The streets running perpendicular to this are lined with charming craftsman homes. This historic Wallingford home is on Densmore Avenue, which is among the quieter streets in part thanks to Wallingford Playfield, which interrupts Densmore for a block south of the main street.
Head a few blocks south on Densmore and you meet Gasworks Park on Lake Union. Head north to 50th St and Woodland Park will be just to the west, and Meridian Playground just to the east. And if you head east from the home, you're not far from Fremont and Ballard. You can even take the Burke-Gilman Trail, which also connects to the University District. In short, this historic Wallingford home is close to great hiking, biking, outdoor and cultural activities, and all the shopping that you need to get through the week.
But something that won't show up in a Walk Score or Bike Score (which are an enviable 87 and 89 respectively) is how lovely the neighbors are. Aside from afternoon sounds of children playing and the occasional buzz of a floatplane, it's a quiet place. People tend to stay here once they move in, including a pair of lifelong Wallingford residents, Ruth and Dean. They know everyone and everyone knows them, and they give the current owners of The Red House green beans and tomatoes in the summer and homemade pumpkin bread at the holidays.
This charming, historic Wallingford home truly is more than an eye-catching house. It's the foundation of an idyllic Seattle lifestyle.
---

Team Diva loves helping people find the perfect home in Seattle for savvy homebuyers. Check out our blog that goes into detail about how to buy a home in Seattle.  Or just jump on over to our home buyer page for more detailed information about how to buy a new construction home, a condo, or a townhouse. Here are the quick five steps to understand the process:
Step 1: Meet The Team. We have decades of combined experience in Seattle Real Estate, marketing savvy, and an amazing Divaland community. They can attest to our incomparable client service.
Step 2: Get Your Financing In Order. We'll put you in touch with a trusted, top-notch mortgage broker to get you approved quickly and easily.
Step 3: The Diva Dwelling Search. We'll find the right house in the right Seattle neighborhood for your lifestyle and family.
Step 4: Winning The Right House. Finding a home you love is easier than winning one. Making sure the terms of a home purchase are written to protect our buyers is an art form.
Step 5: Closing The Home Buying Process: We are always by the book when it comes to ensuring that everyone involved is doing their part to close on time and get those keys in your hand.
---
Come See This Historic Wallingford Home For Yourself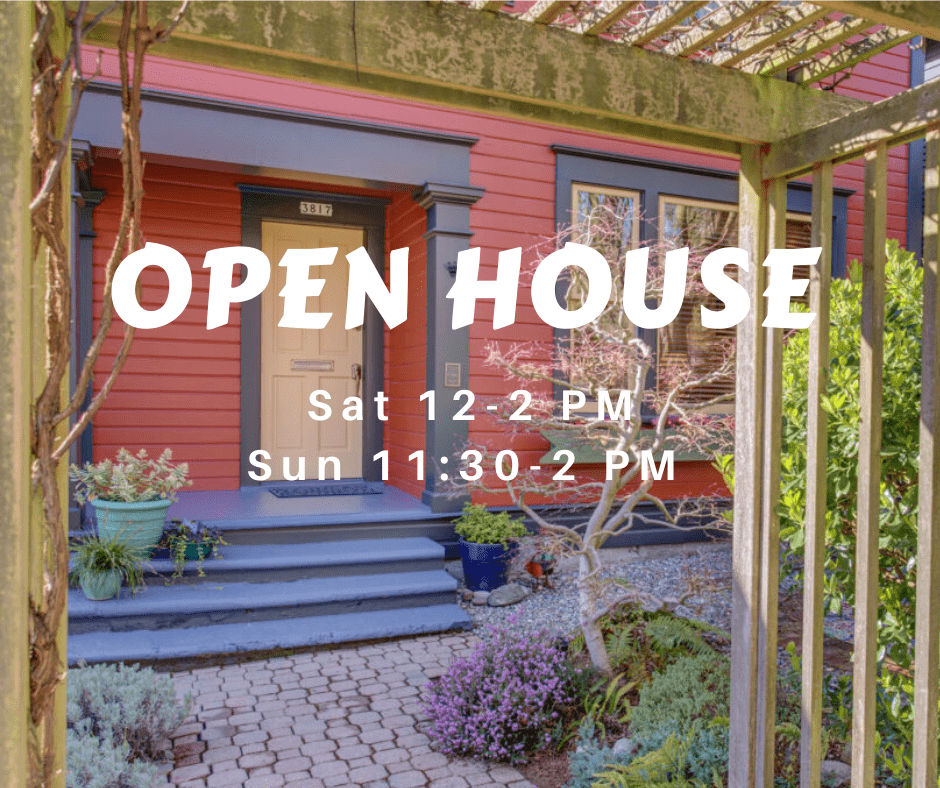 Now come see this Historic Wallingford Home in person. We are simply head over heels for this fabulous farmhouse with its picture-perfect garden, custom-designed kitchen, a diva ready dining room and all tucked away on a beautiful tree-lined street in Wallingford. We know once you see this you will fall in love as well.
Home Details Below
Address: 3817 Densmore Ave N

Price: $1,025,000
Bedrooms: 3
Bathrooms: 1.5
Thank you for stopping by and enjoying this home as much as we do.