We are loving this Luxury Mid Century Rambler in Bellevue, literally across the street from Lake Sammamish. You get peekaboo views of the water throughout this home, but it's not just about the lake. We, of course, LOVE the classic Mid-Century Modern design, and so many more details in this home.
So let's dive right into our Top 5 for this fabulous new Diva Dwelling.
Our Top Favorite Things At This Luxury Mid Century Rambler in Bellevue
The Stunning Living Room And Kitchen Combo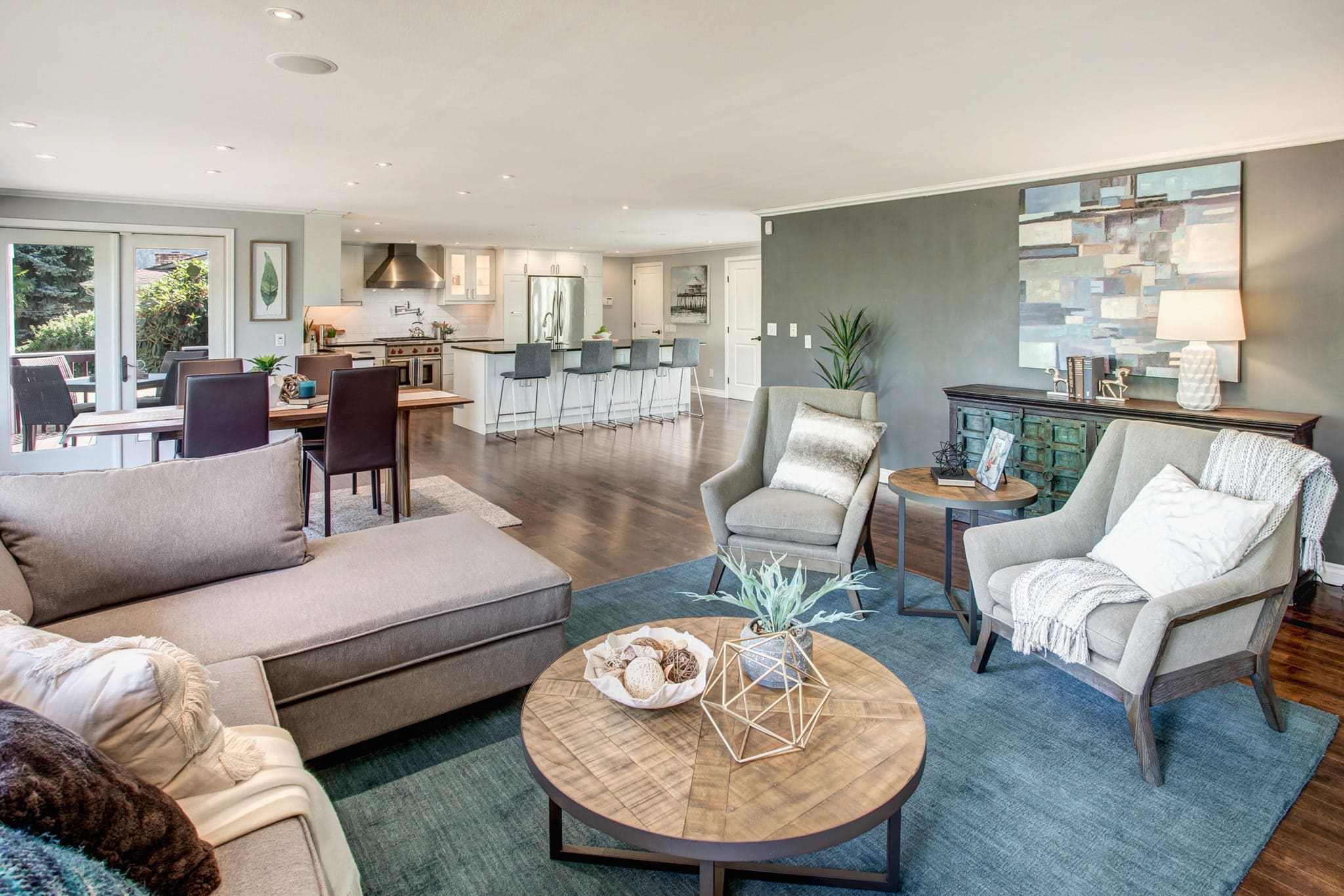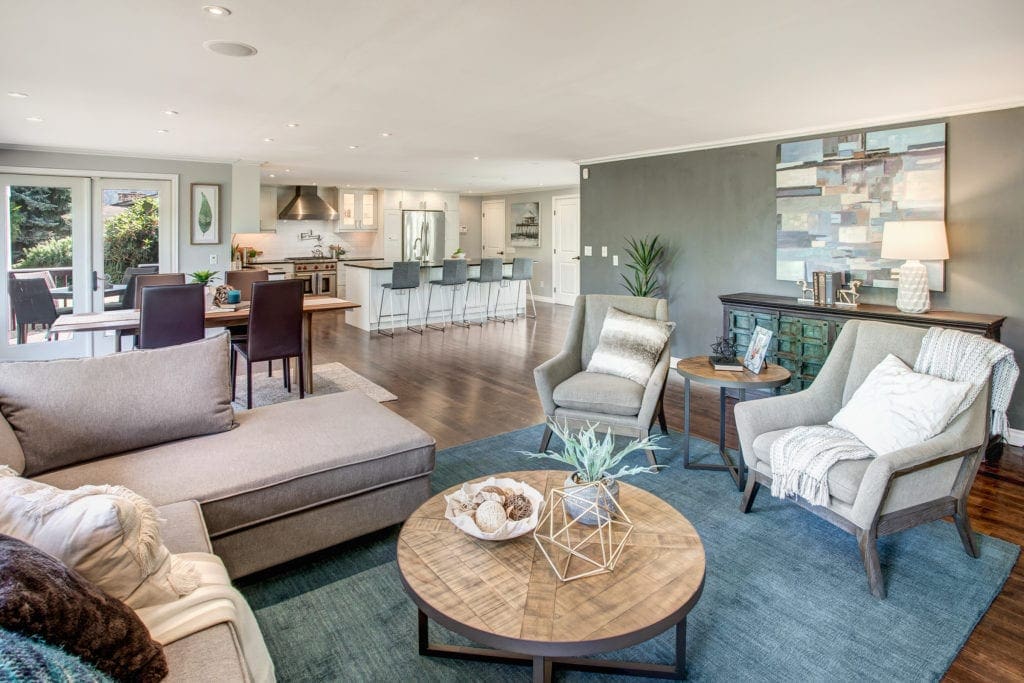 This is the perfect space for family gatherings or just a romantic dinner date. The massive kitchen island allows for quite a spread, and any cook will love all the room for prep. Then there are the stone countertops, dual sinks with subway tile backsplash, and wolf range with a fun pasta arm. It's a dream for anyone who likes to chef it up at home.
Turn around, and you have this huge living room that overlooks the backyard. The easy flow between these spaces and the entryway makes one feel instantly at home here. The big, open windows offer plenty of natural light and great views, too.
The Wrap-Around Deck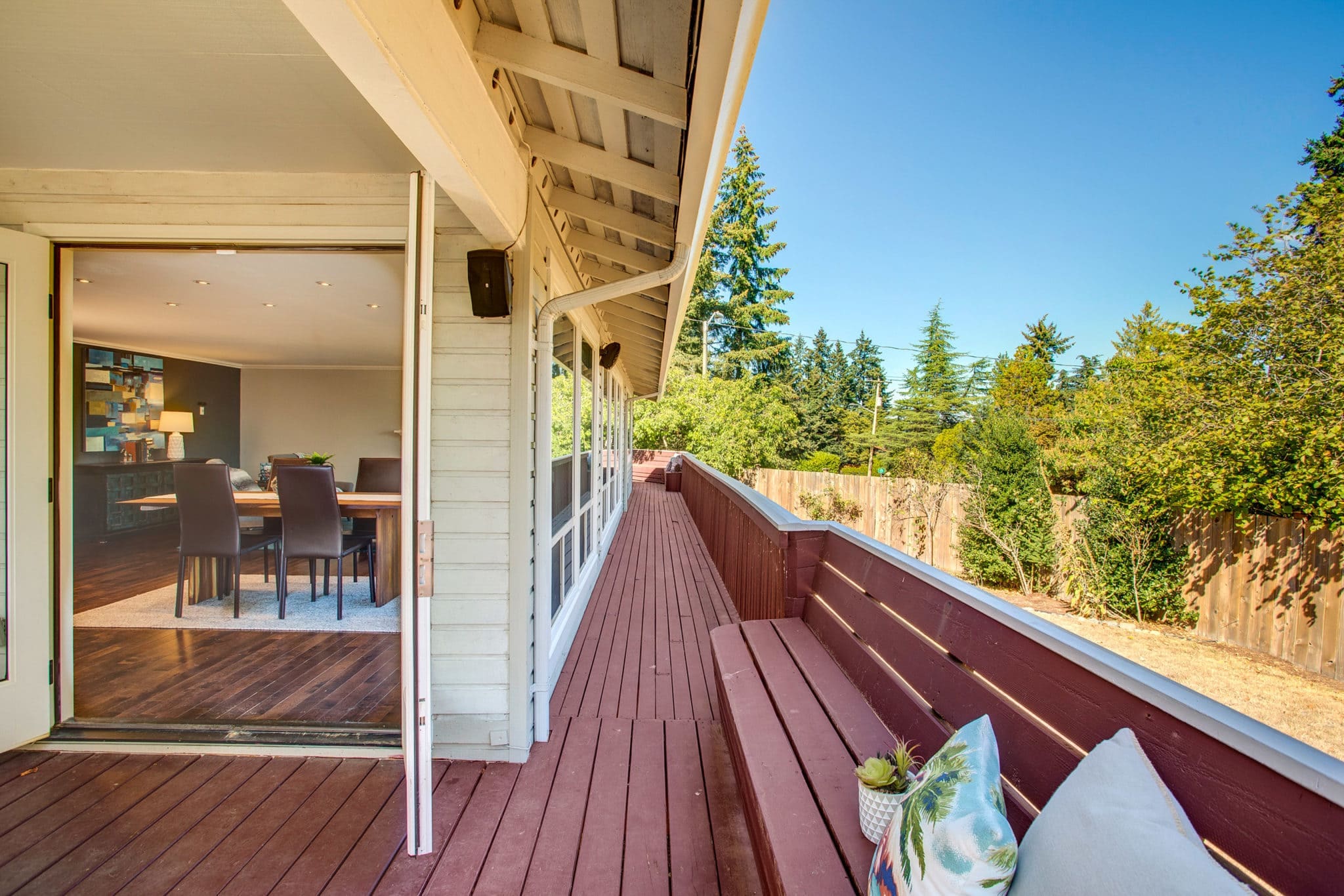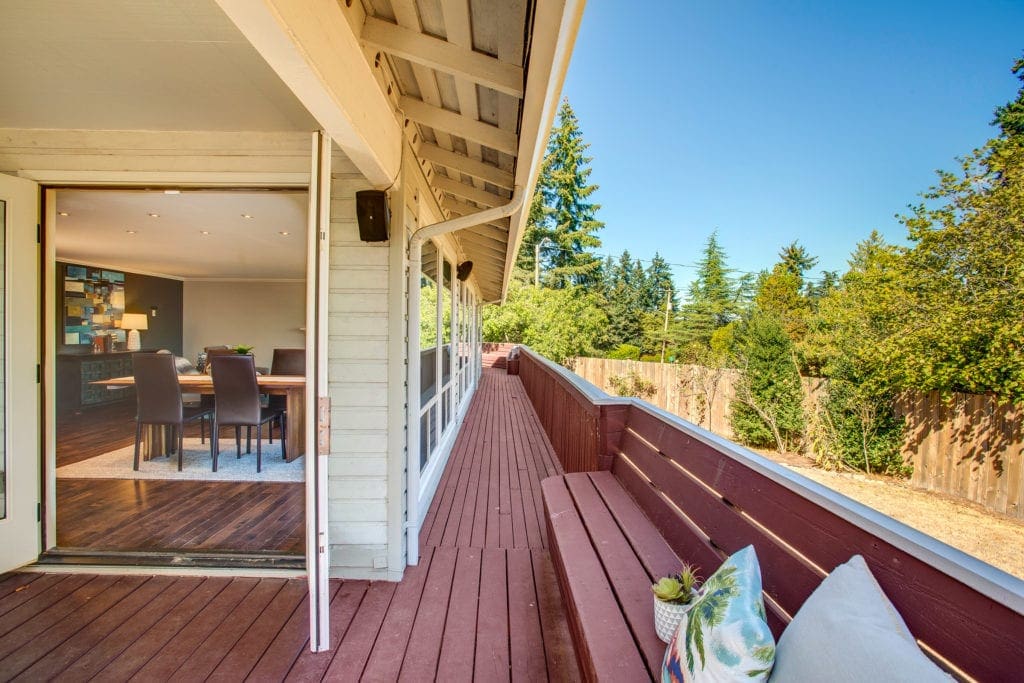 Naturally, when the weather is nice you'll want to be even more immersed in the surrounding natural beauty. The wrap-around deck of this Luxury Mid Century Rambler in Bellevue is perfect for that. From the living room, you can walk onto the covered part of the deck for outdoor dining or a late summer cocktail.
Want a sunny spot? You can chase the sun all day on this deck, as it wraps around the entire back of the house, overlooking the private yard.
Luxury Mid Century Rambler With A Big, Private Yard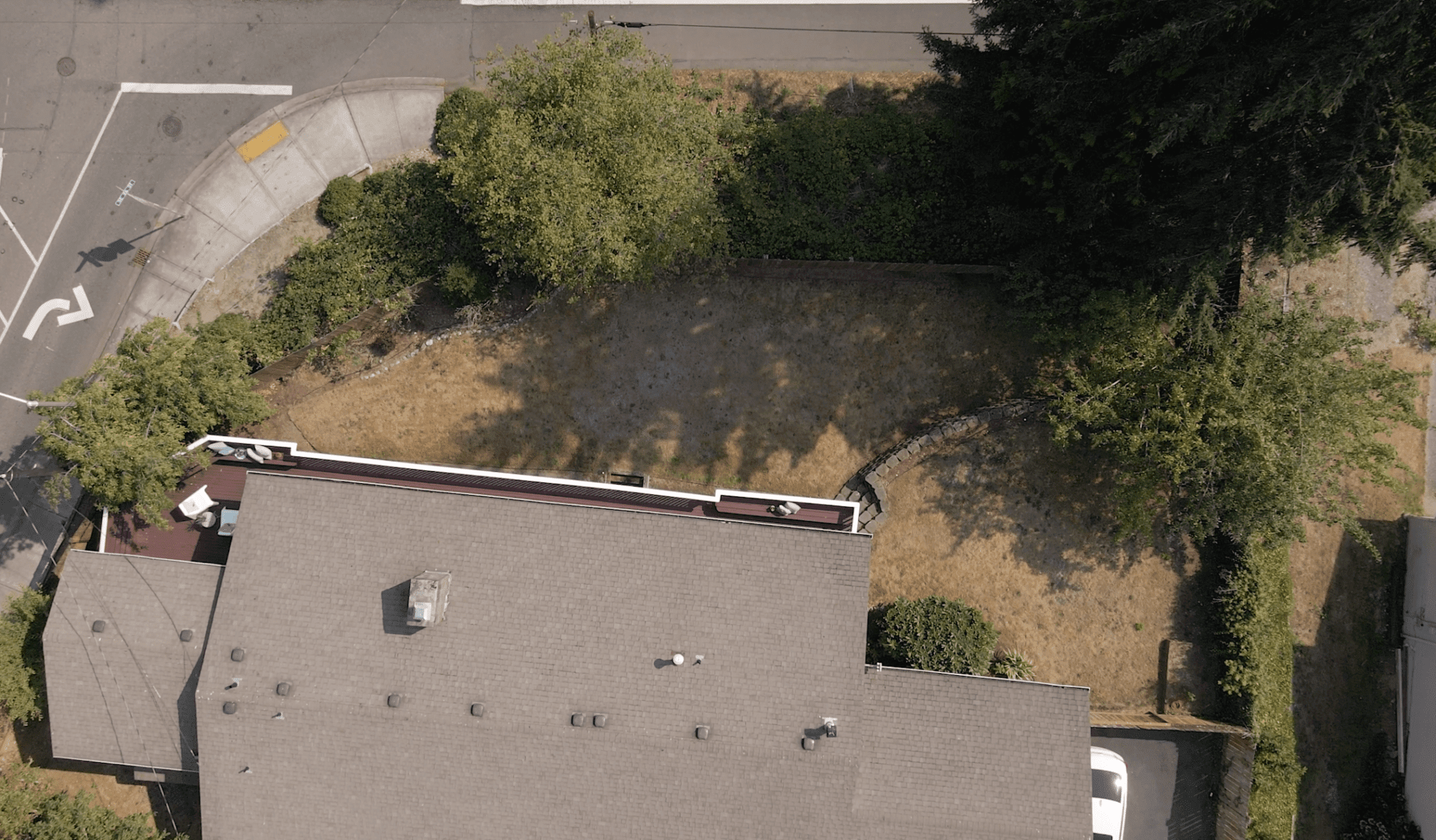 This yard is the perfect size for playing fetch with your dog, planting a victory garden, and more. There are mature fruit trees already, so you'll already be having a harvest at home. It's so serene.
In fact, this whole neighborhood is very quiet, and the house is set back from the road by a long driveway. (Hooray for no stolen packages.) You'll enjoy being surrounded by all this peaceful greenery even when you are indoors, thanks to those big windows in the living room, AND the master bedroom and den.
A Semi-Secret Bonus Room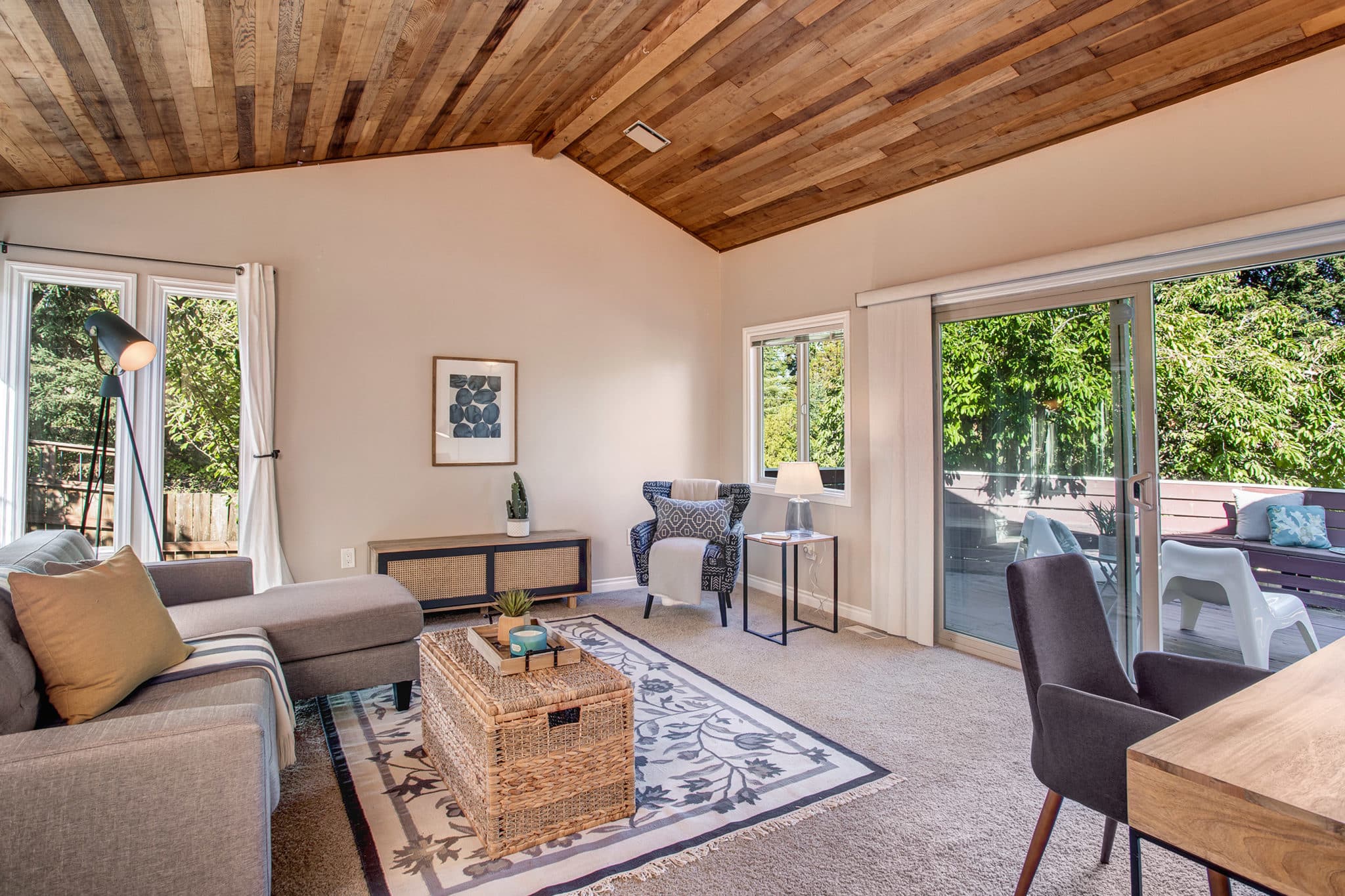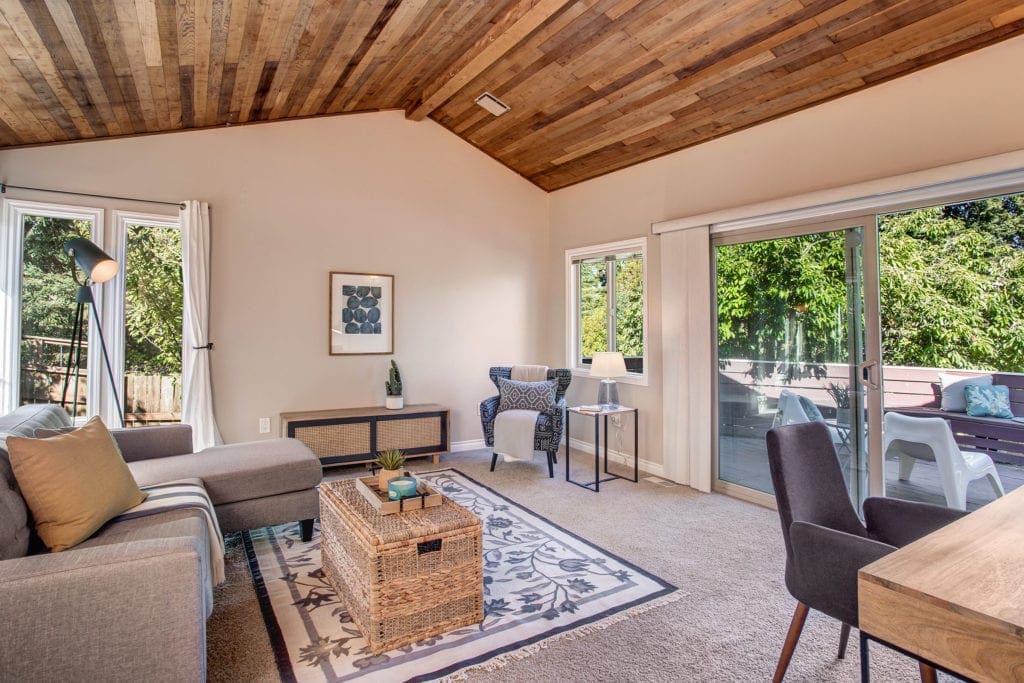 Now that most of us are working from home, it's becoming more and more important to have space for a home office. This home's interesting layout provides an awesome flex space on the other side of the main bathroom, separated from the home's regular activities. It isn't boxed in, though: It has a sliding door to the deck at back.
Don't need a home office or workspace? You can use it for a TV room, home gym, or even a fourth bedroom if you like.
Special Access To Lake Sammamish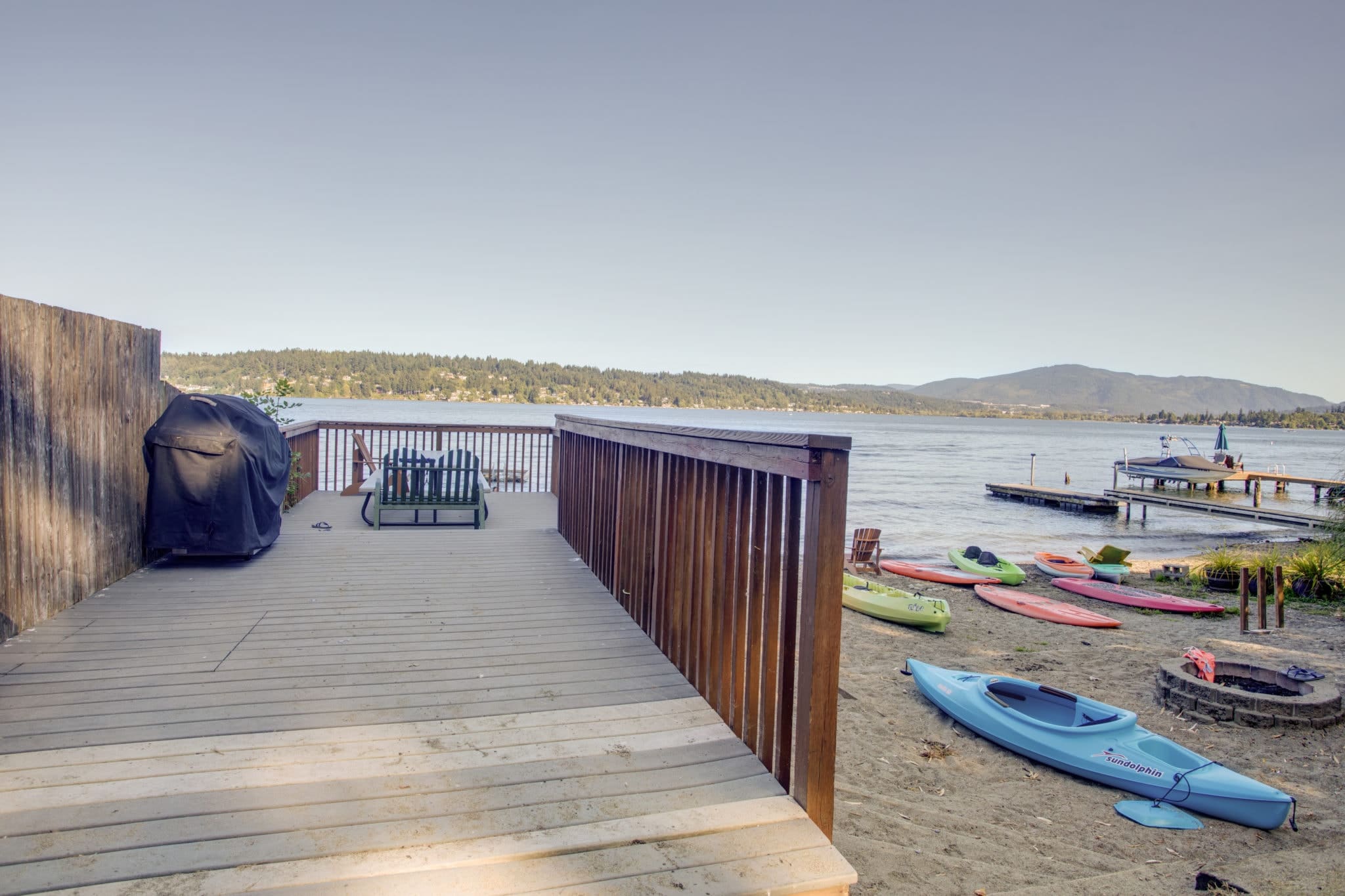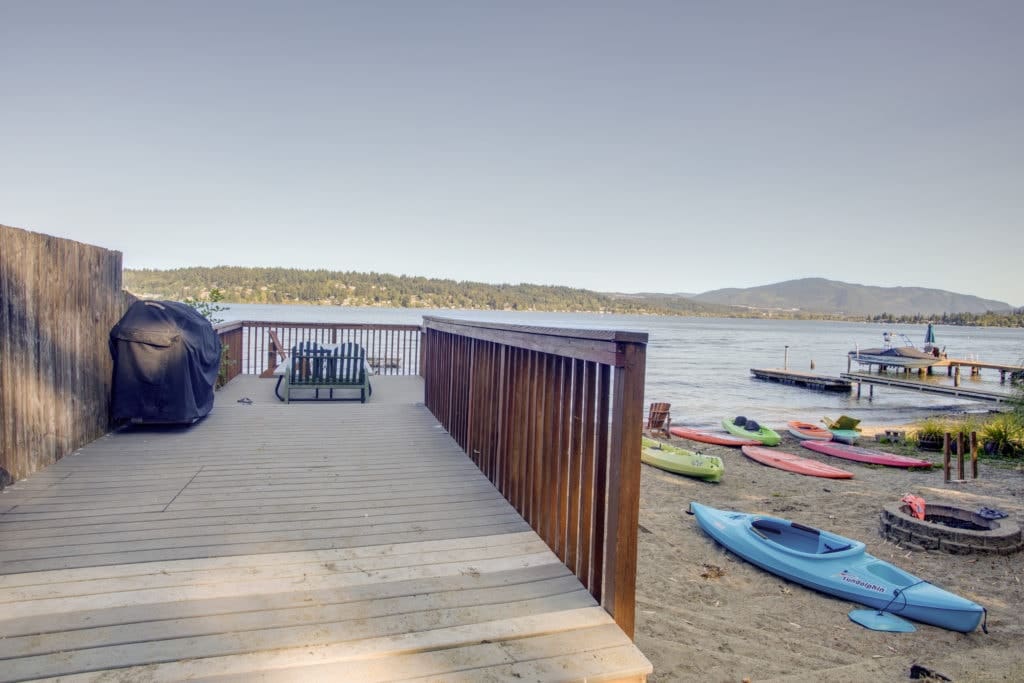 This Luxury Mid Century Rambler in Bellevue has access to the Sammamish Beach Club. Right on the waterfront, the club has a boat dock and even a play area for kids. If you like to stay active on the water, this is a fantastic place to do it, as the lake's waters are quite calm.
Of course, the lake isn't the only place nearby to get outdoors. This home also has easy access to Weowna Park Trails and the Sammamish River Trail. That'll take you straight to Woodinville, in case you want a little winery tour, too.
---
More About The Community: Bellevue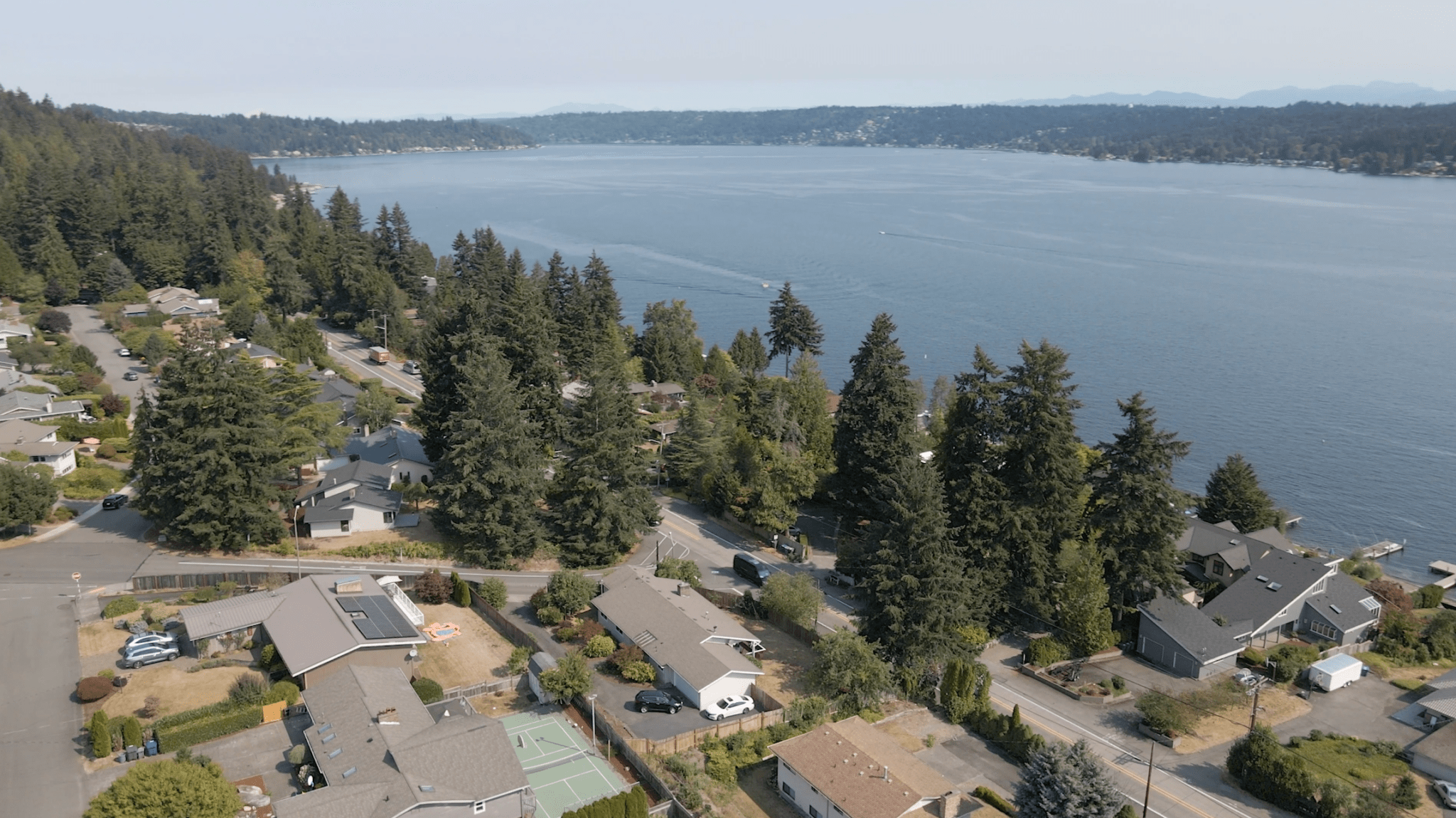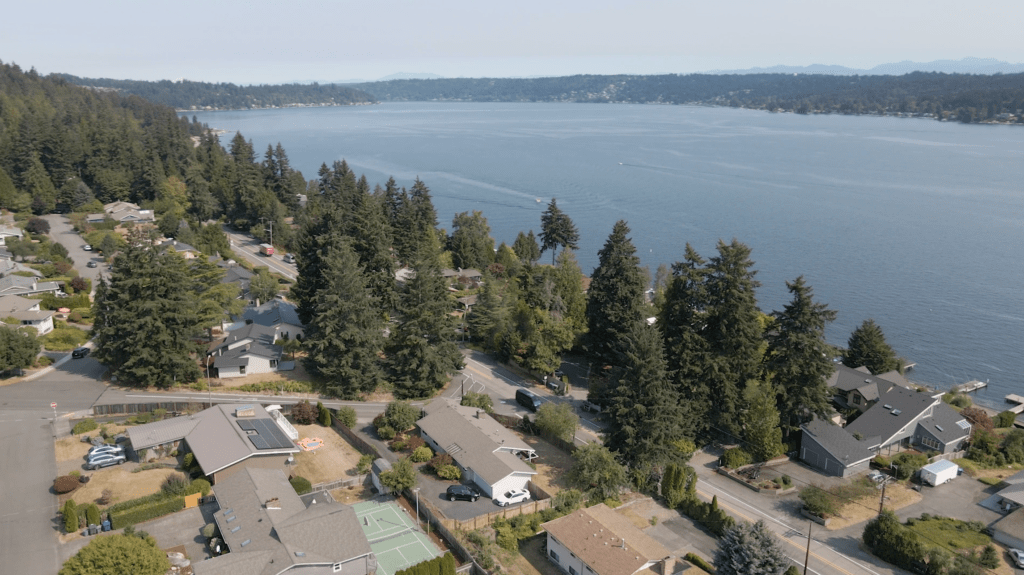 As of 2019, Bellevue promotes itself as a global and diverse city at the heart of the Eastside. Bellevue is home to some of the most innovative technology companies that started here, including Nintendo USA and Microsoft. Many think of Bellevue's downtown core when they think about the city, but its expanse includes urban and suburban areas alike, reaching the shores of West Lake Sammamish. Beyond the luxury shopping and bustle of its core, there are many unique spots and outdoor spaces to explore. With the East Link Extension in construction, light rail access will connect Bellevue to Seattle via Mercer Island over the next few years.
Explore more on our Seattle Neighborhood page for Bellevue.
---
Buying A Home in Seattle: A Crash Course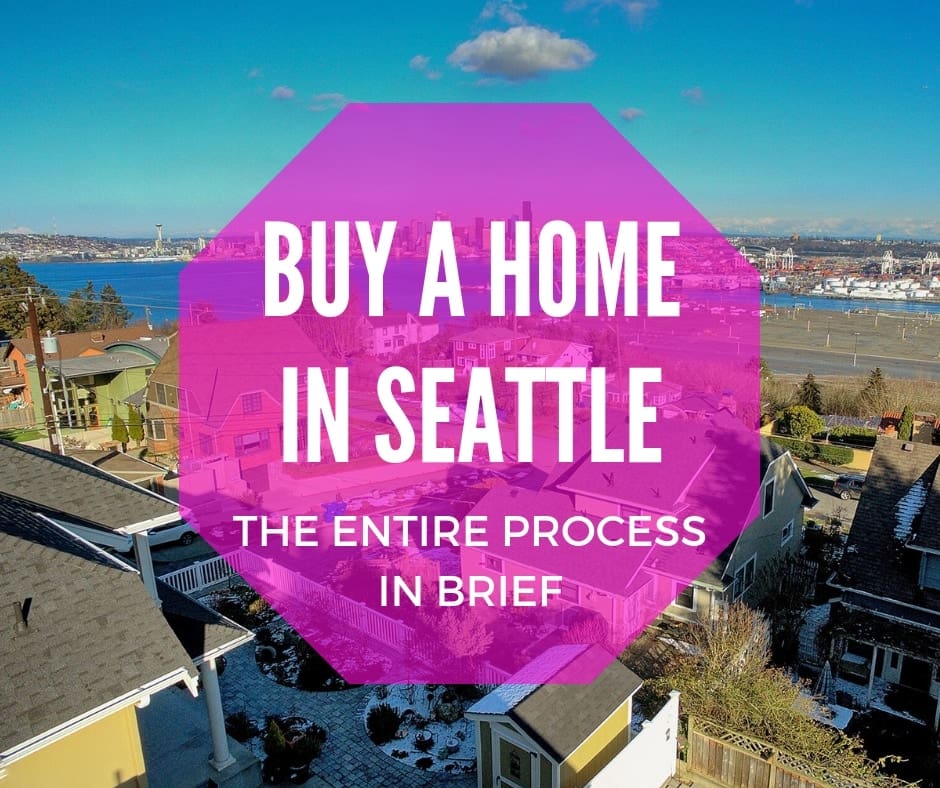 Have you checked out our Buyer's Page yet? It's full of instructional content and videos for Home Buyers, and we're still adding more. But if you want an all-inclusive crash course in one place, check out this blog post glossing the home buying journey in full.
Whether you are a first-time home-buyer, new to town, or buying up in Seattle Real Estate, our guide can keep you on track. (And as always, we're reminding folks that we're taking extra precautions to help folks safely buy a home in Seattle during Coronavirus.)
---
Take A Virtual Tour Of This Luxury Mid Century Rambler in Bellevue
Address: 2601 W Lake Sammamish Pkwy SE 
Square Footage: 1,820
Bedrooms: 3
Bathrooms: 2.25
Offering Price: $990,000