This Puget Sound View Mid Century Home is quintessentially Pacific Northwest. It is situated in the enchanting residential neighborhood of Three Tree Point in Burien, WA, just south of West Seattle. There are far more than three trees in the heavily wooded terrain here, but the point is clear. The land juts off at a sharp point into the Puget Sound, making for breathtaking views all around.
The slopes to the sound not only provide stunning vistas but a picturesque setting for northwest architecture, too. This Mid Century Modern is special a gem. So let's dive right in…
---
A Sound View Mid Century Modern Home: Our Top 5 Features
The Breathtaking Views of Puget Sound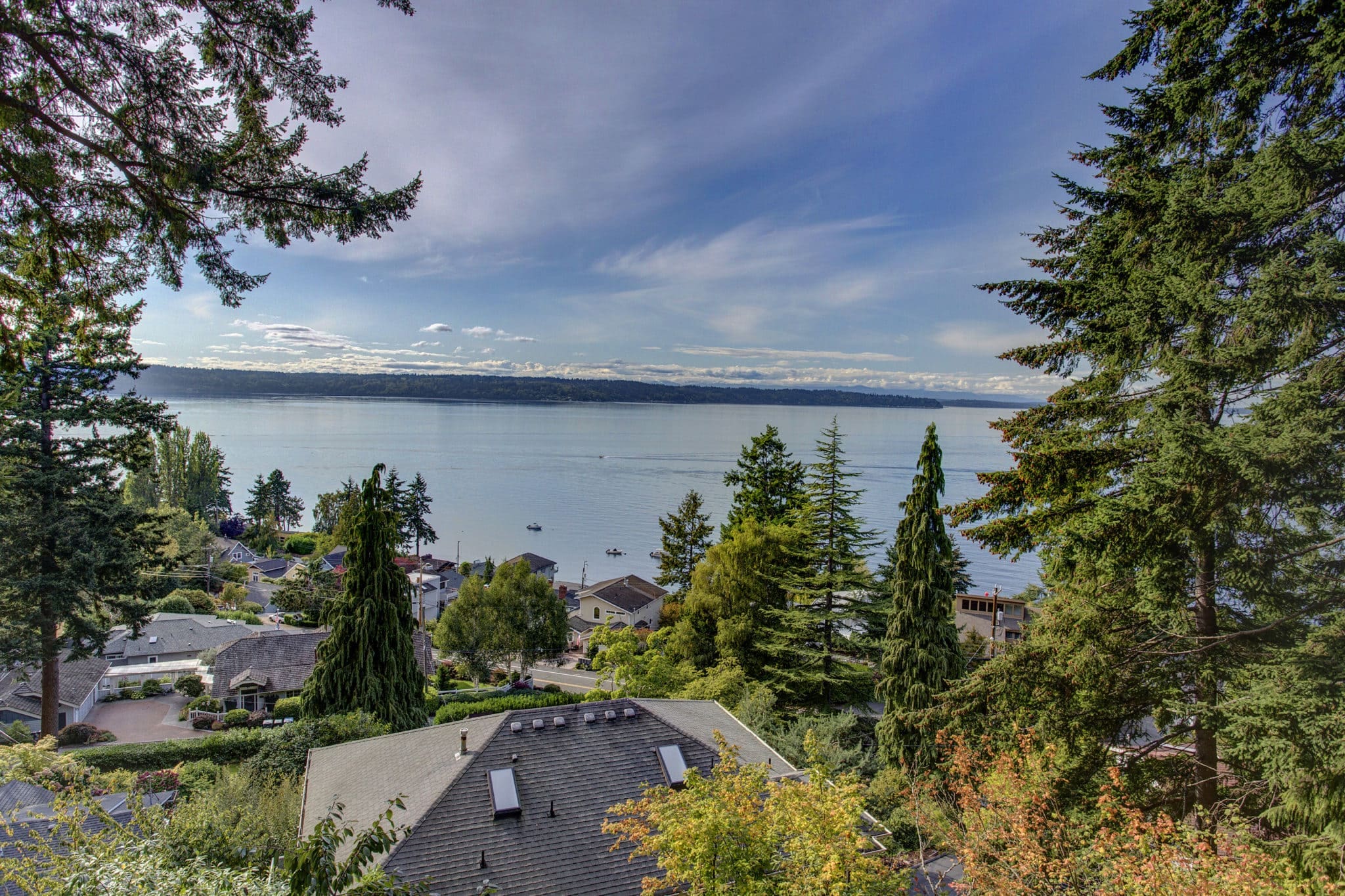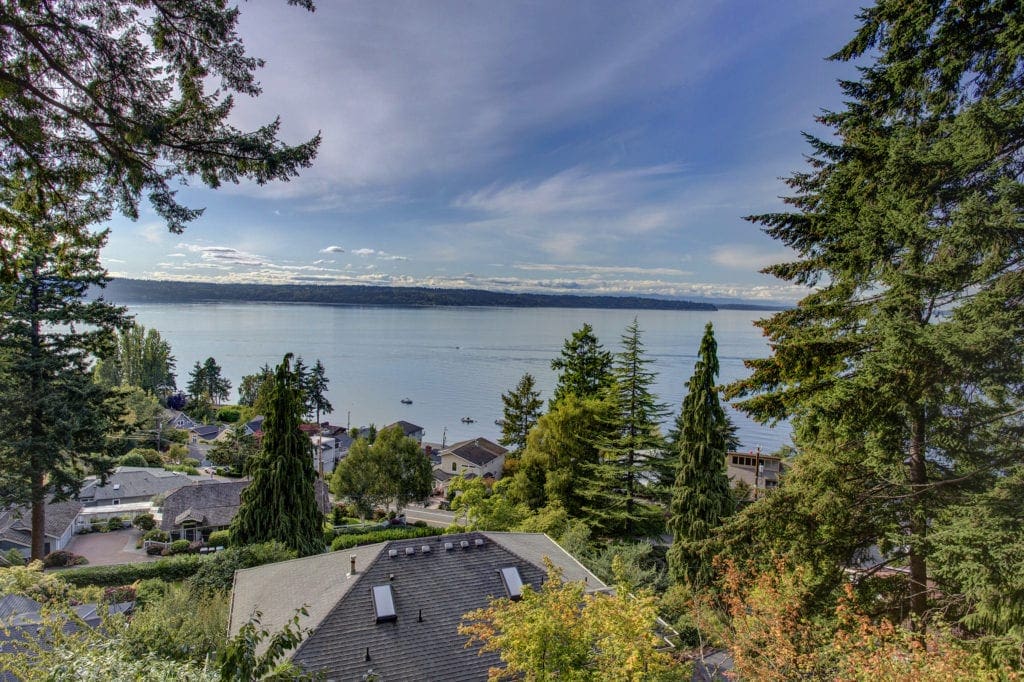 We'll start with the obvious: Here, you have the Puget Sound in all its glory. Grab your morning coffee and head outside. Relax and listen to singing birds or the barking of the local seal contingent. On those special days, you can catch a glimpse of playing Orca pods and there is always an array of boats to watch sail by. As the day winds down, pop a bottle of Syrah open and take in the glowing fall sunsets with your special someone.
In this Sound View Mid Century Modern Home, you have not one, but two full-length decks. Whenever you're ready for some wildlife/sunset time, you'll always have a front-row seat since this home has been perfectly designed for the view to take center stage, inside and out.
Unique Mid-Century Design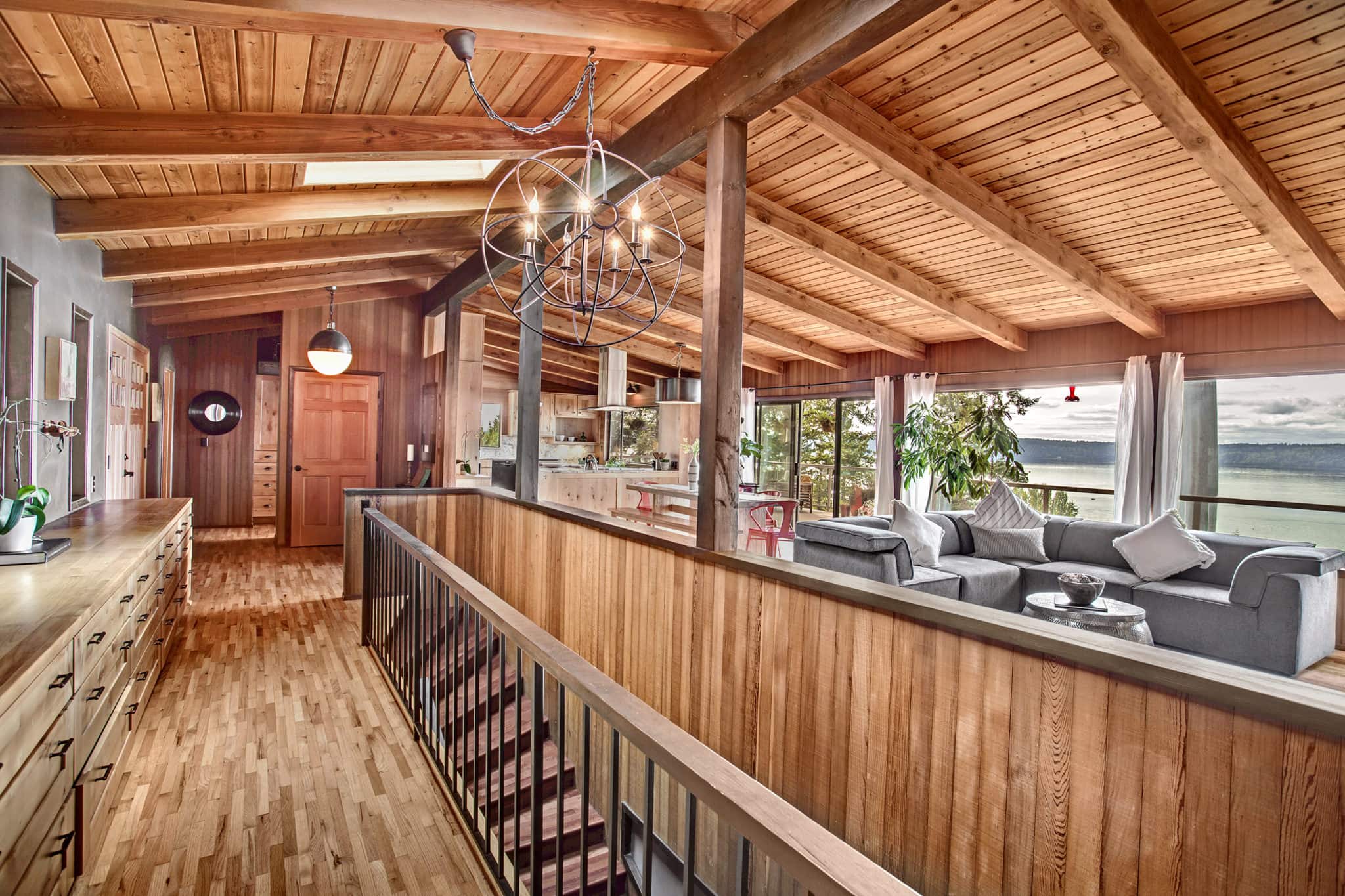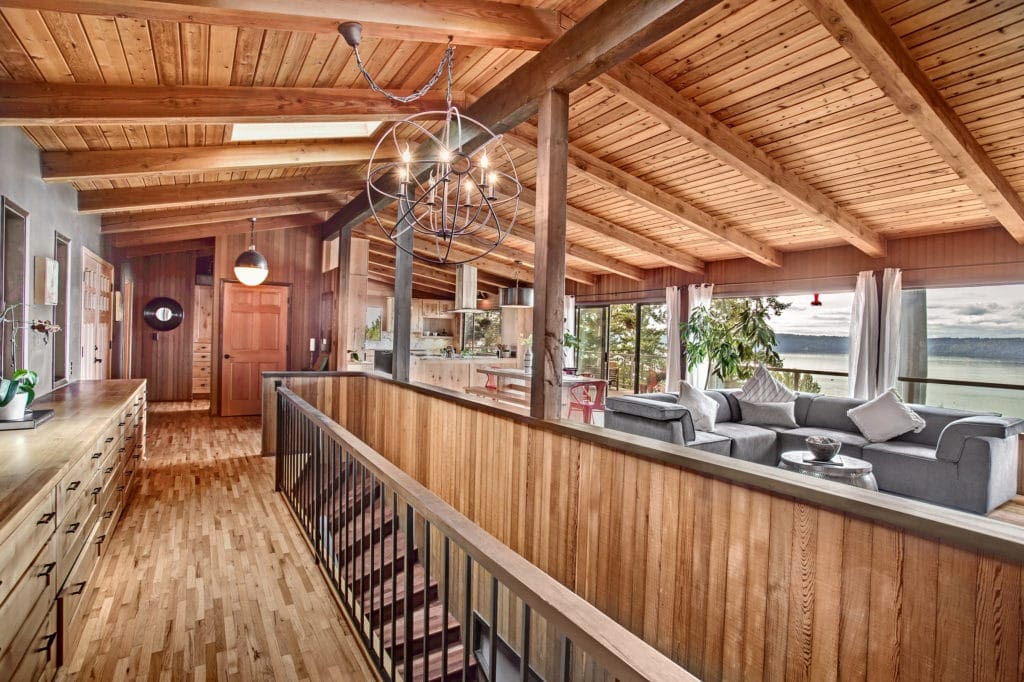 We've seen quite a few Mid-Century Modern homes over our years in Real Estate, and we remain obsessed. This is very much one-of-a-kind, and its design is simply incredible, inside and out. This home's superpower is that it is designed so you can enjoy the view from almost every room.
When you are ready to tear yourself away from the gorgeous view, you will be in awe of this homes remarkable modern details. From the vaulted wood beam ceilings to the bespoke front corridor built-ins, to the dramatic curved stairwell you will find more to love about this home every time you turn a corner.
Expansive Open Spaces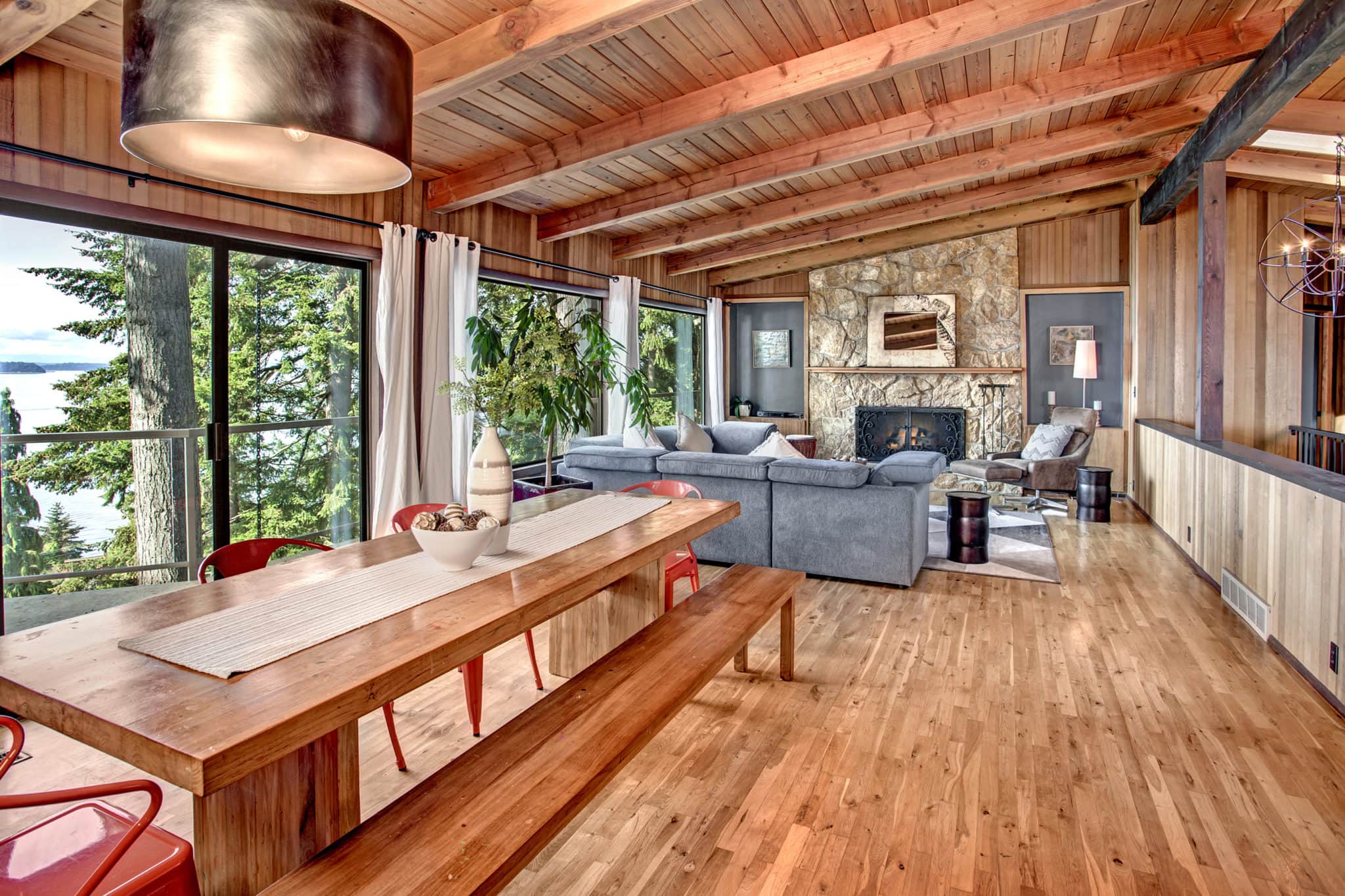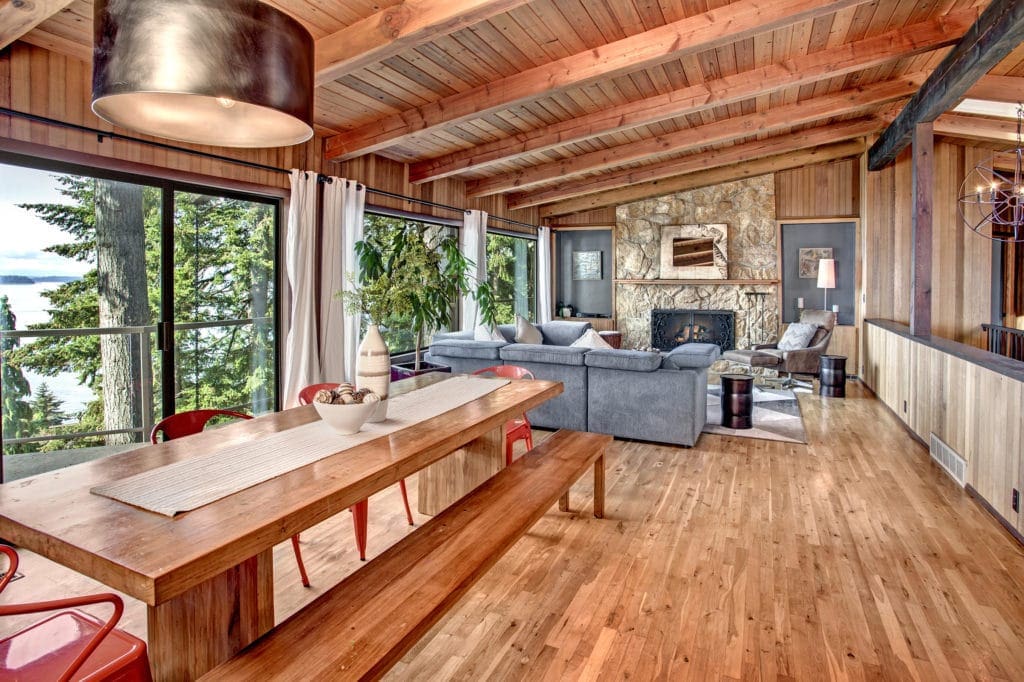 We talk about the "open concept" design all the time in real estate, and it is often a feature we revere in a home, especially in this day and age. This Puget Sound View Mid Century Home takes the concept of "open design" to the tenth degree.
The main living area is striking in its expansiveness – a home truly made for entertaining. The entryway leads directly into the dining area, with the spectacular treetop water view dead center.  To the left, the dining room is open to a gracious custom kitchen, hosting a plethora of storage, granite counters for miles, and of course, its own deck access. On the right, the dining area opens to a spacious living room. The central feature here is the floor-to-ceiling stone fireplace, ready for you to cuddle up next to with a good book and some hot chocolate on a chilly winter night. The vaulted wood beam ceiling, wall of windows, and 180-degree view all add to the already incredible feeling of openness.
Not One, But TWO Spa-Like Owners' Suites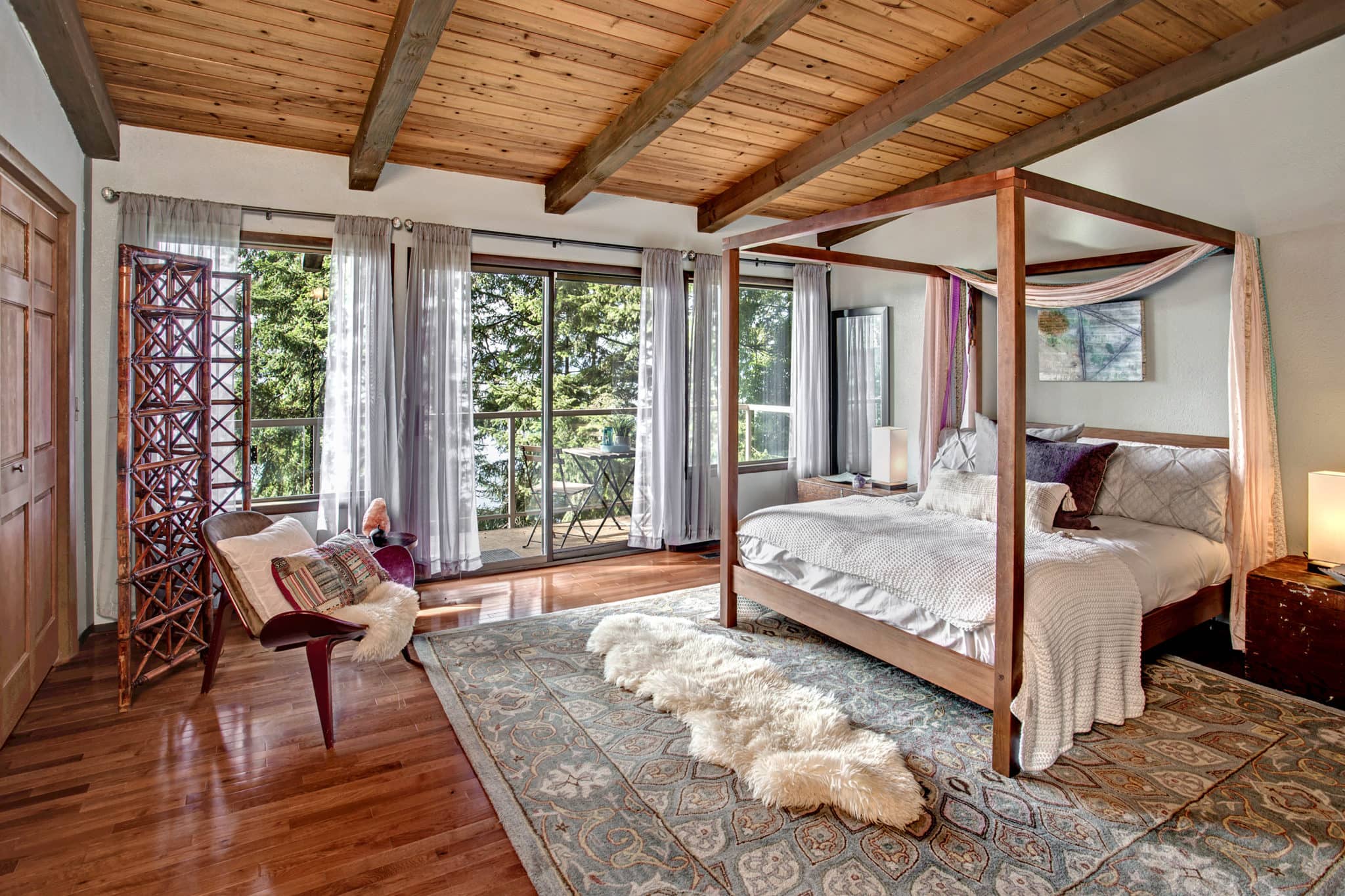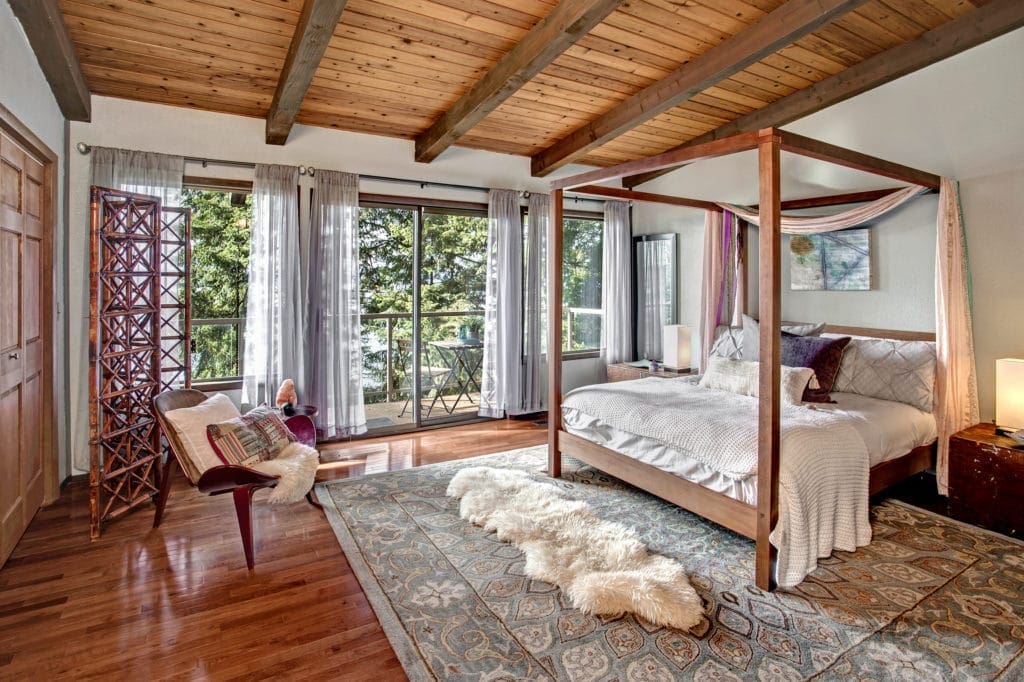 This Sound View Mid Century Modern has 4 bedrooms, including two full owner's suites: one upstairs, and one on the lower level. They come complete with spa-like bathrooms, deck access, and tons of closet space. (And views, views, views, of course!)
The upstairs owners' suite boasts an extra big bathroom with storage galore and a vanity fit for any Diva. The lower-level owner's suite boasts a massive walk-in closet, big enough for even the most energetic shopper to fill, and a second laundry area. Both are spacious enough to fit the grandest of King Size beds and still have room to spare. In this instance, size definitely matters.
Quaint Detached Cabin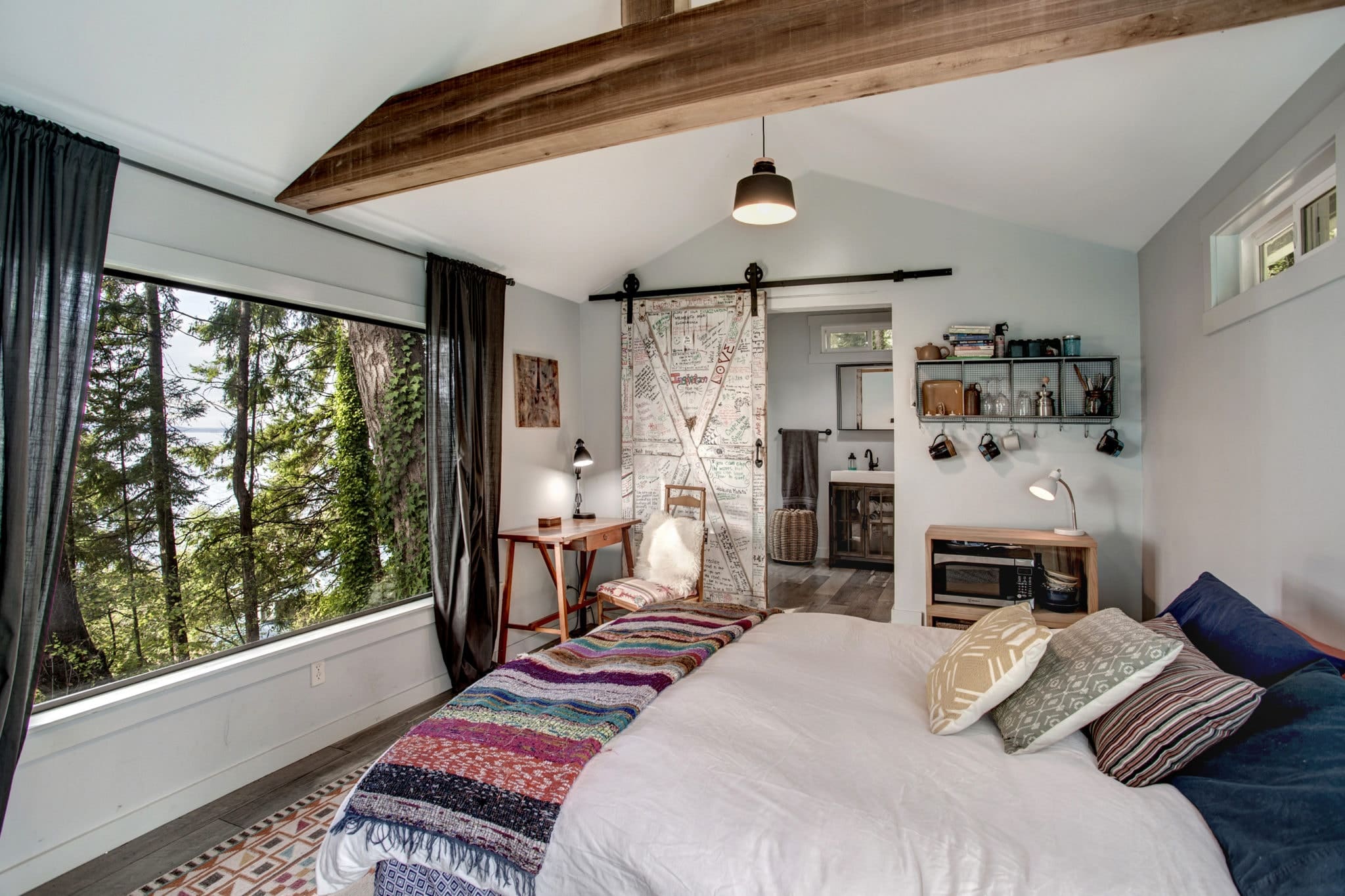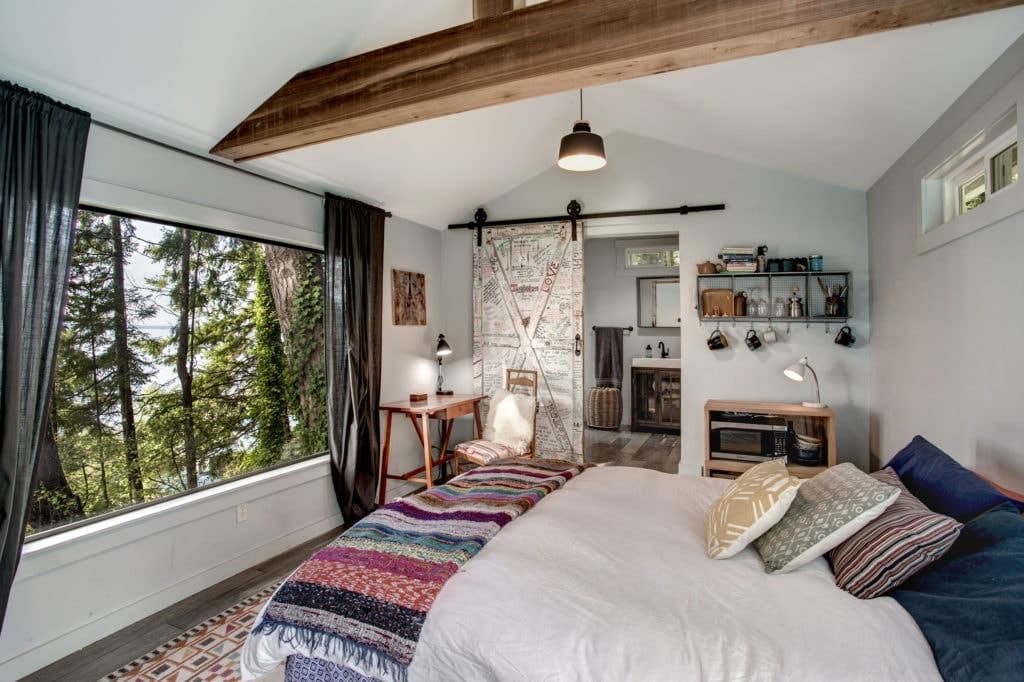 Take a short walk down a woodsy trail from the main house, and you'll find a perfectly charming cabin tucked on the hillside. The current owners of this Sound View Home have used this cutie one bedroom cabin on and off as a very short term Airbnb rental. But you can use this any way you desire.
Imagine what a dream it would be to have this extra private space for remote working, artistic projects, kid play space, or whatever you wish. Behind the cabin, there is still untapped yard space, currently housing a HUGE trampoline and small fire pit seating area. We love a good outbuilding, and this little gem adds that extra fabulous factor to an already remarkable home.
---
The Community: Three-Tree Point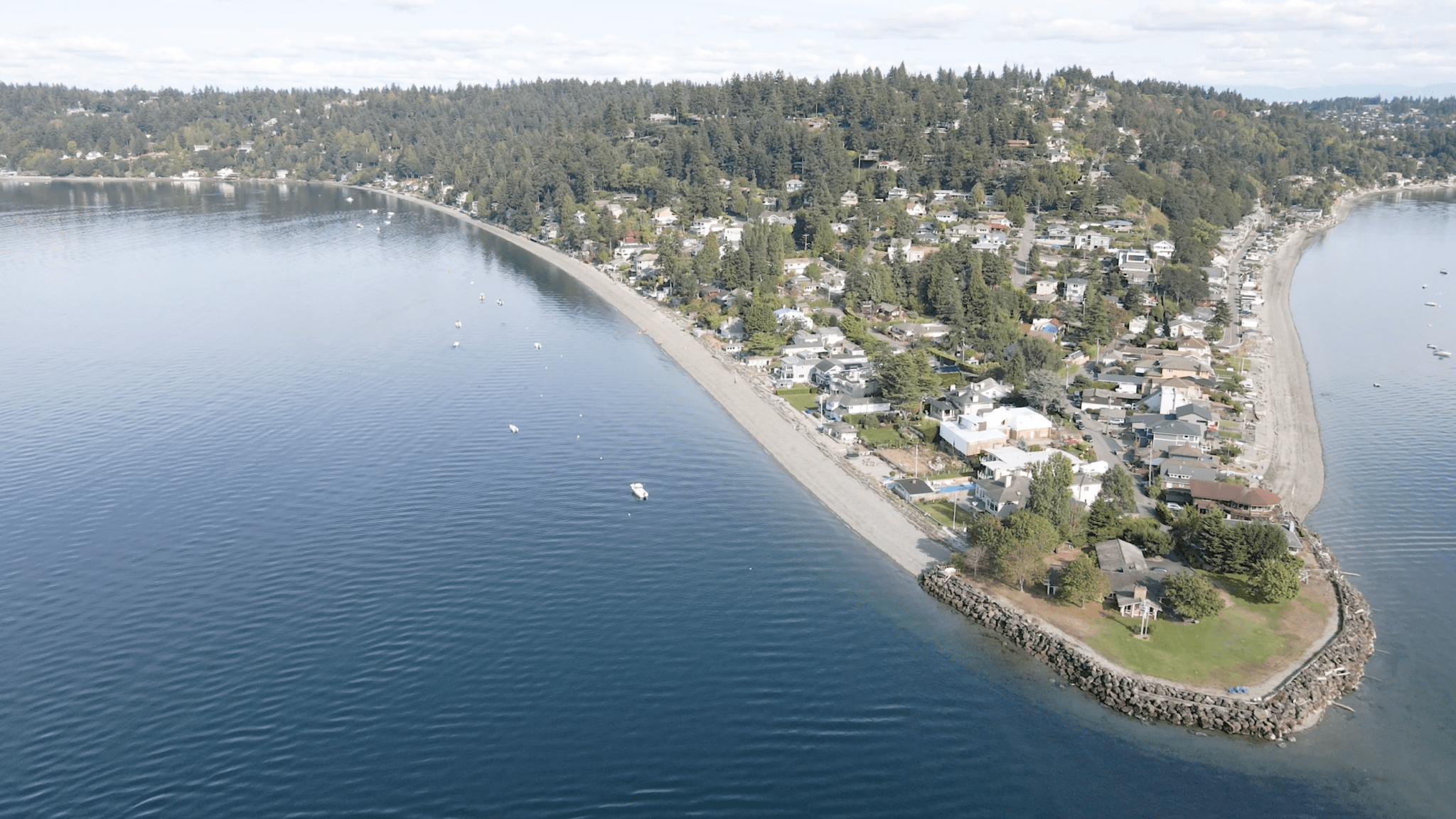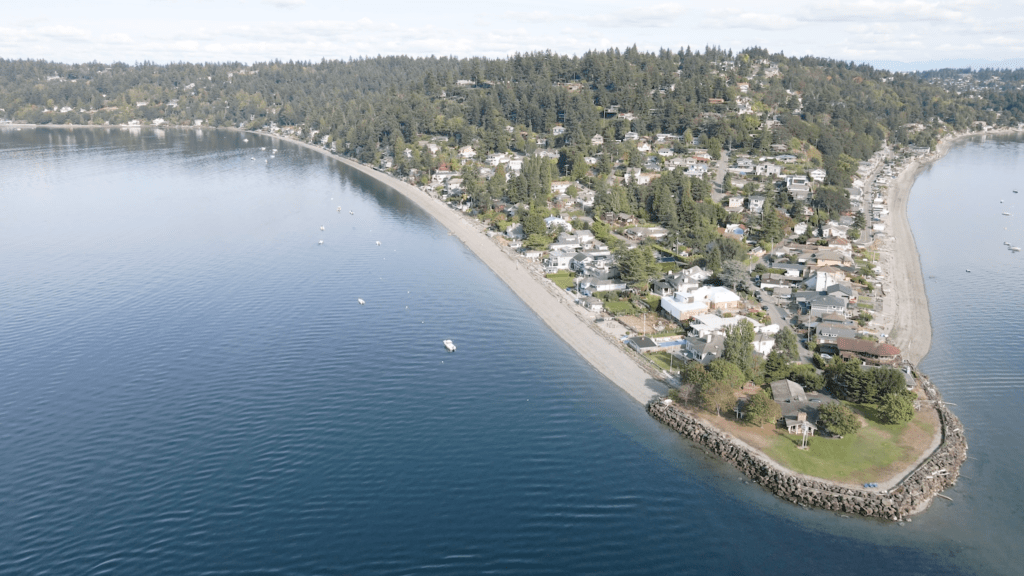 Three Tree Point has been rather tight-knit since its founding when the first summer homes were built there. As more permanent residents came, they established a clubhouse called The Cove in the 1910s. The clubhouse may be gone, but the sense of community remains.
The shoreline includes the Indian Trail, enjoyed almost exclusively by locals, as there is not a parking lot for access. Most of the folks coming from out of the neighborhood are scuba divers and fishers, as the point is a great spot for wildlife. Seahurst Park to the north has wooded and waterfront trails, steep climbs, and paved paths for urban hikers of all abilities.
And though it is surrounded by nature, Three Tree Point is a short drive to shopping centers, cafes, bars and more in downtown Burien.
---
Better Living With Outbuildings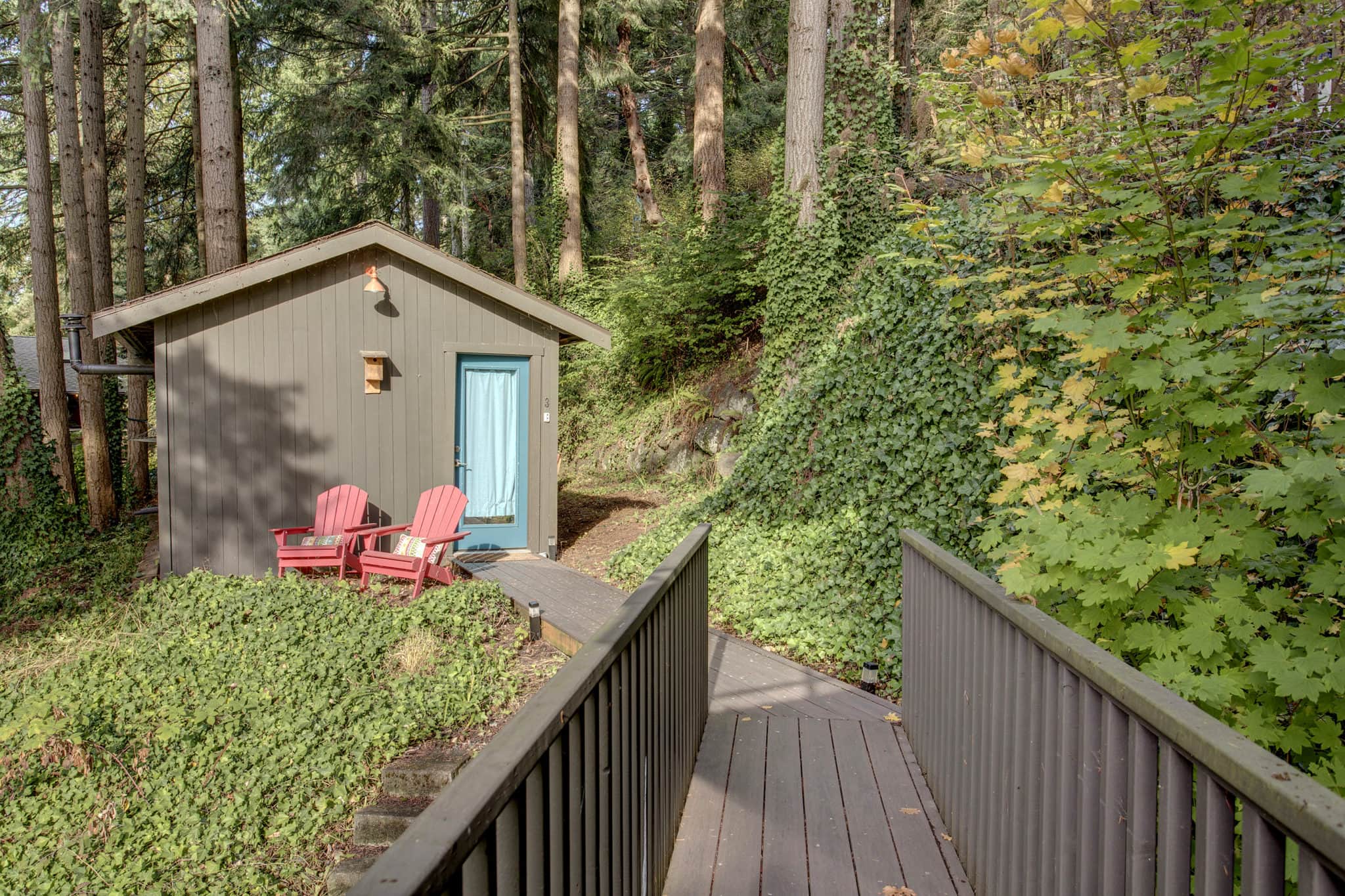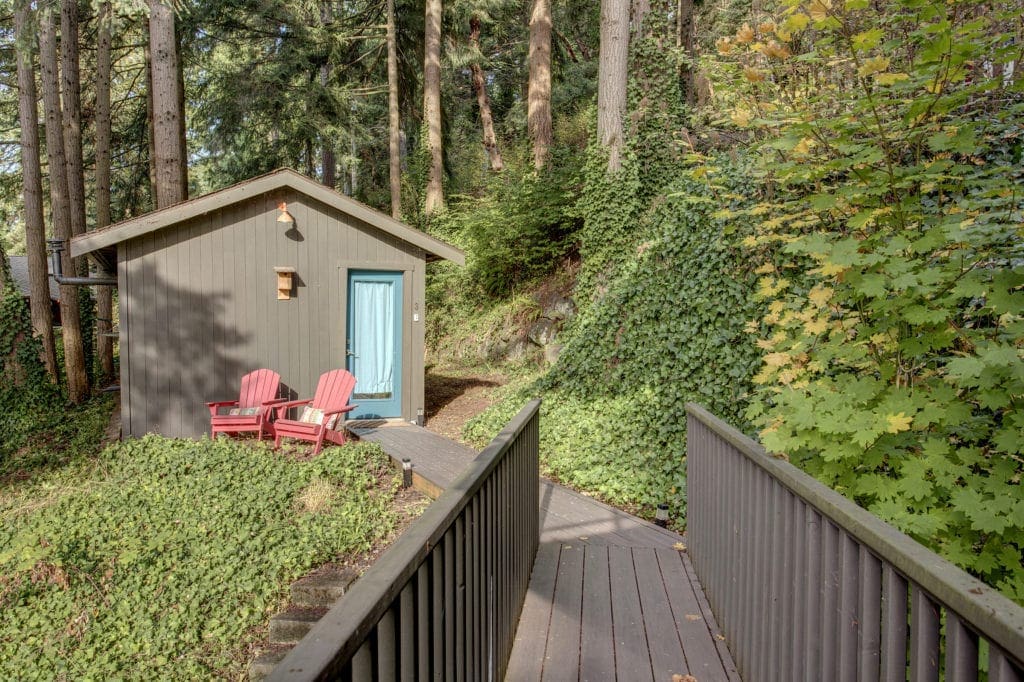 This Sound View Mid Century Modern Home really is so extra cool for us at Team Diva. We already described how much we LOVE great Mid-Century Mod design but we also LOVE a good outbuilding like the little cabin on this property. Outbuildings are a special part of real estate that really enhances how a home is used, and its value over time, too. We have written blogs about big outbuildings on large estates, and small outbuildings like backyard cottages. Read up, and get inspired.
And if you want more home buying tips, check out our Home Buyers' page. It's packed with buyer stories and guides, including our comprehensive Seattle home buying guide.
---
Take A Virtual Tour Of This Sound View Mid Century Modern Home
Address: 16823 33rd Ave SW
Square Footage: 4,040
Bedrooms: 4
Bathrooms: 3
Offering Price: $1,325,000