This Vintage Charmer in Phinney Ridge is our latest Diva Dwelling, and we just adore it. It feels so HOMEY, and we definitely need those vibes as we prepare to stay in more through the cold months. From the private backyard to the gorgeous dining room, sweet kitchen, and downstairs flex space, it's a home for all seasons whose style has stood the test of time.
Many homes we see from this era have layouts that keep things small and cramped. Even when they are remodeled, they are just not made to feel more open. This Vintage Charmer in Phinney Ridge is definitely an exception, as you'll see in this little virtual tour.
So let's begin! Here are our Top 5 features for this fab Phinney Ridge home.
---
Vintage Charmer in Phinney Ridge: Our Top Five
The Perfectly Quaint Kitchen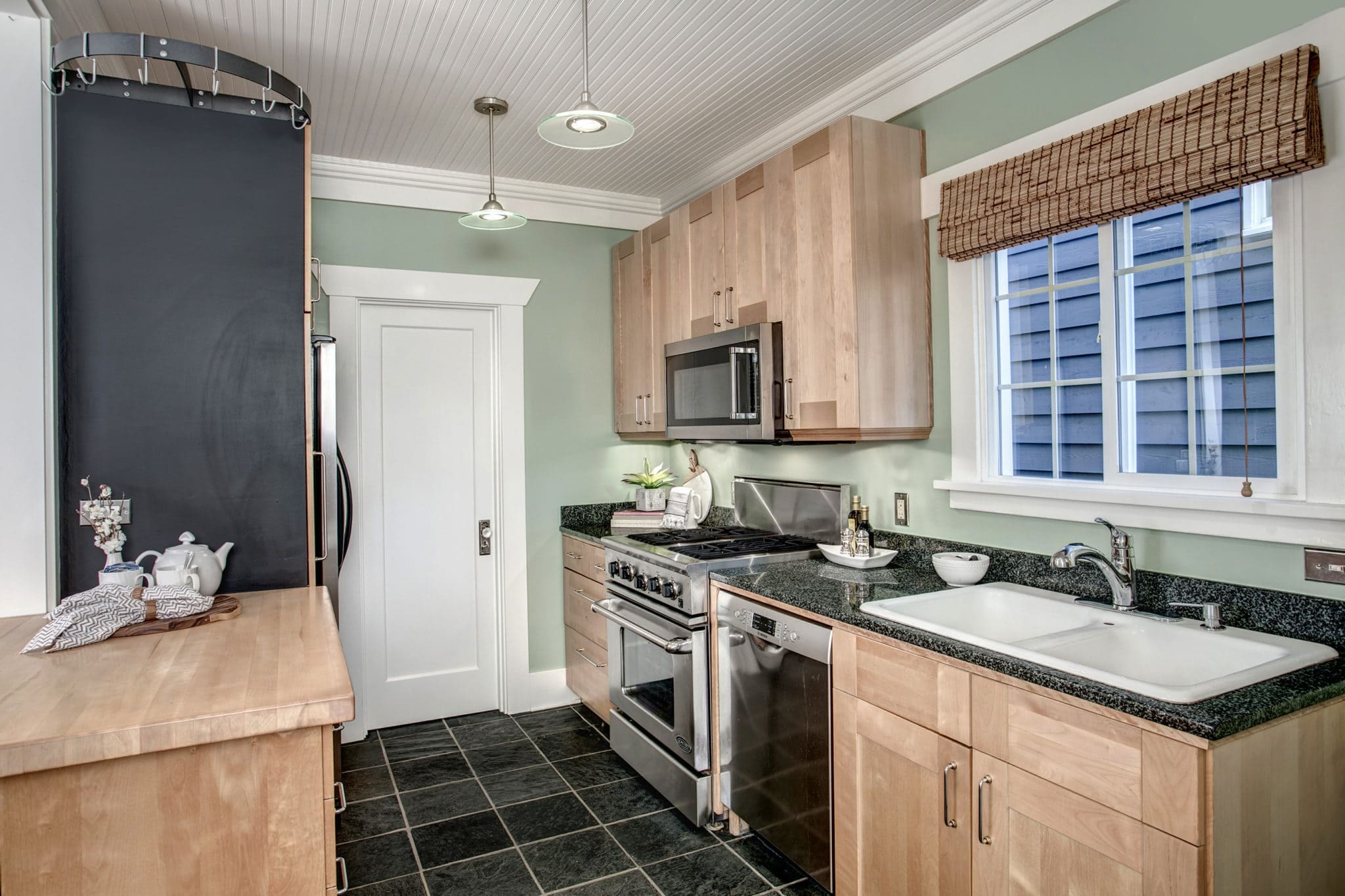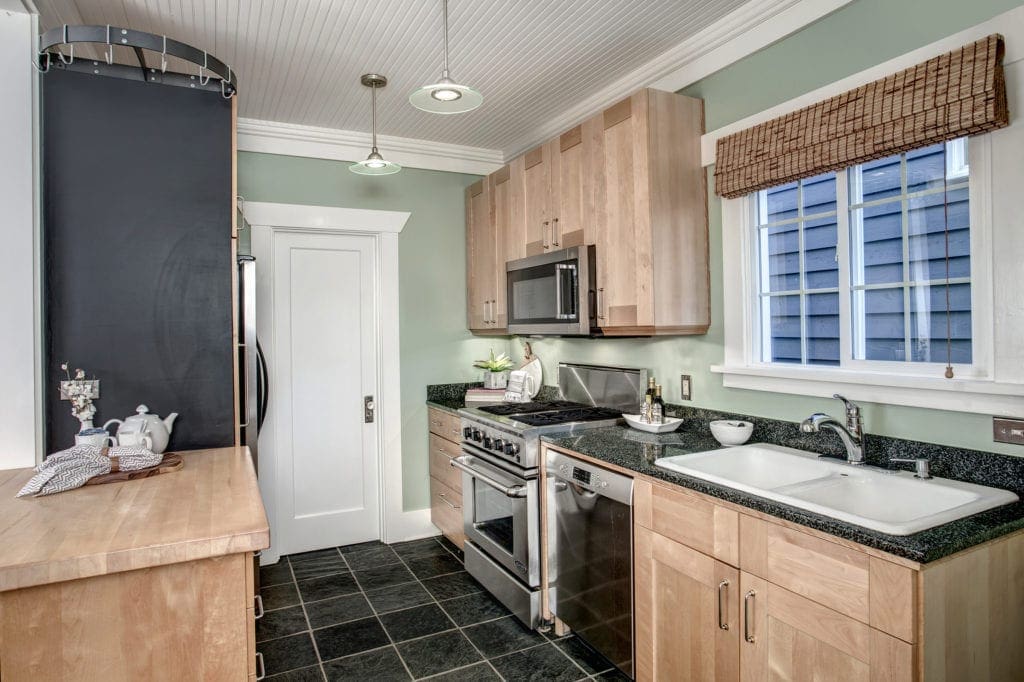 As we said above, this Vintage Charmer in Phinney Ridge was remodeled for better flow, and the kitchen is a great place to start to showcase that. It's wonderfully efficient without being cramped, and the updates feel completely in line with the era of the home. They are modernized but don't clash with the period style. The most recent appliance updates were the dishwasher and microwave in November 2017, and everything runs beautifully.
It's a fun, easy-to-use space that won't isolate from your dinner guests as you cook. And speaking of dinner guests…
The Dreamy Dining Room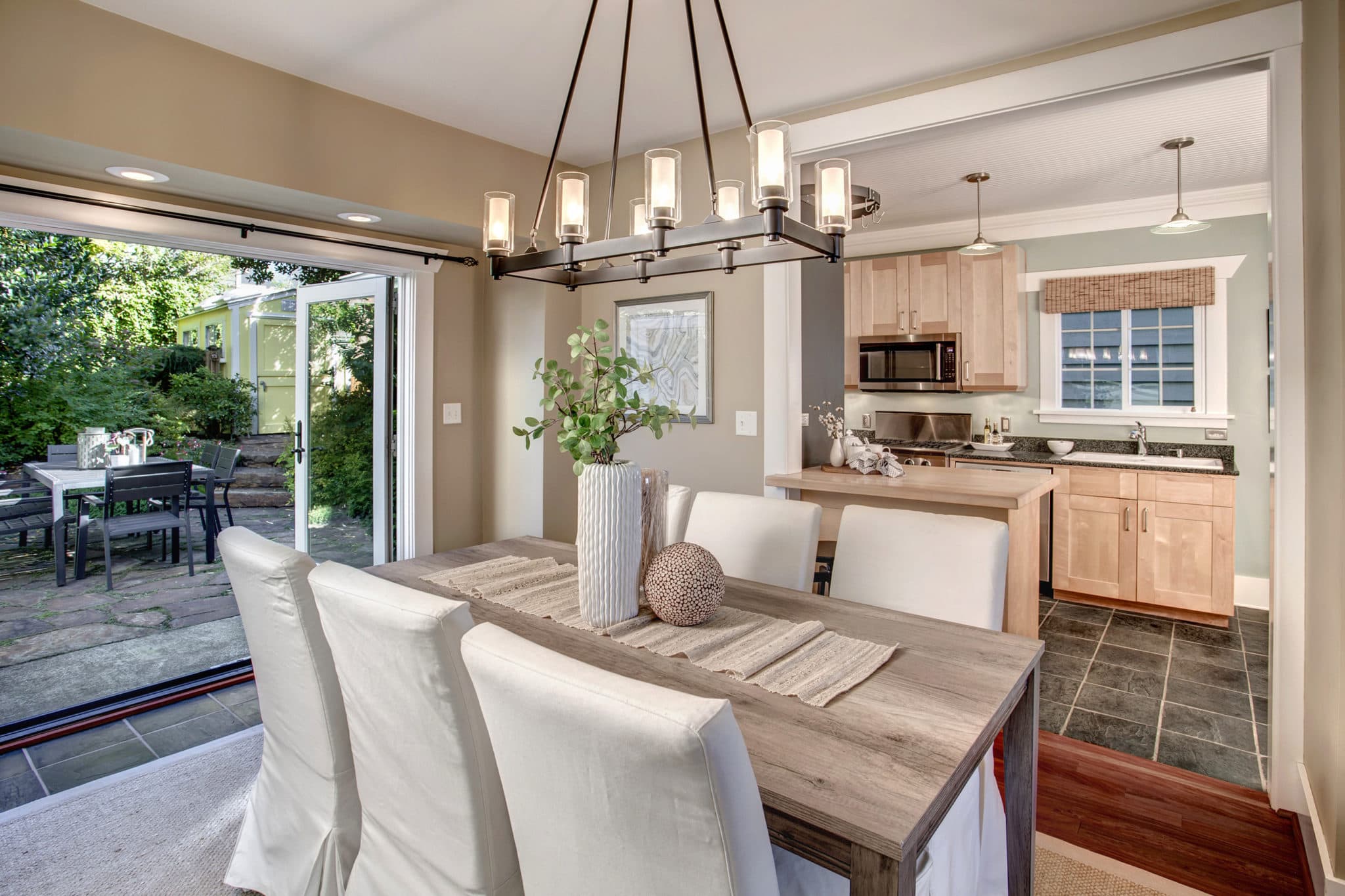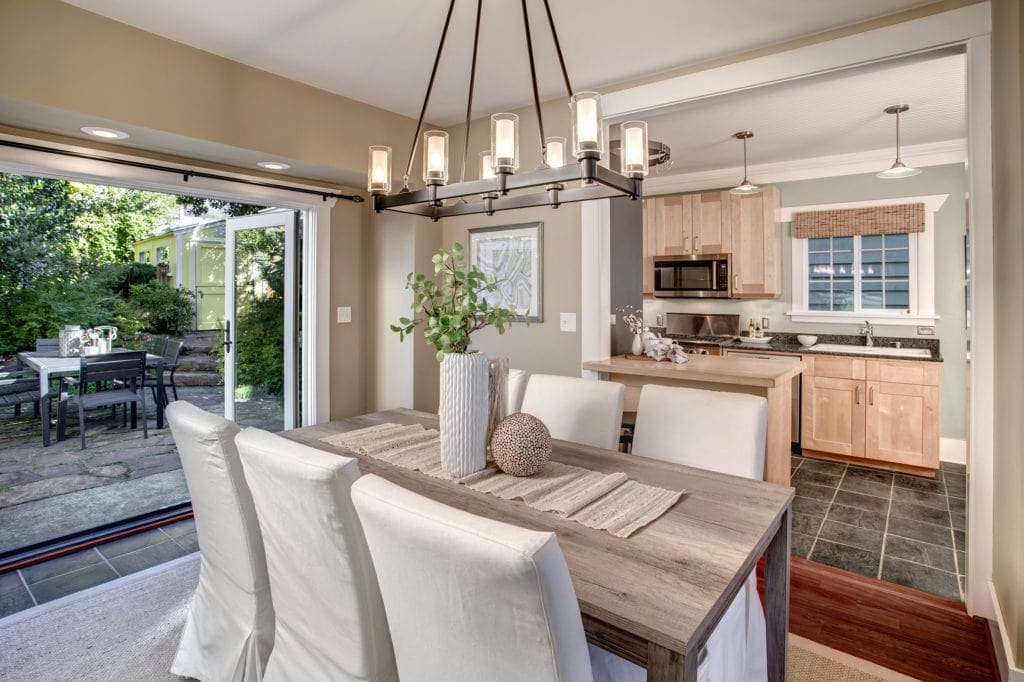 This dreamy room is basically the beating heart of this vintage charmer. Being open to the kitchen, the living room, and backyard patio, it's the supreme gathering place and perfectly sized. Not too big, not too small—just right. The gorgeous Anderson French glass doors allow ample, gorgeous light in when the sun is up. But given how beautiful and relaxed this space is, you'll be sitting around enjoying food and wine long after sunset.
The Gracious Garden Patio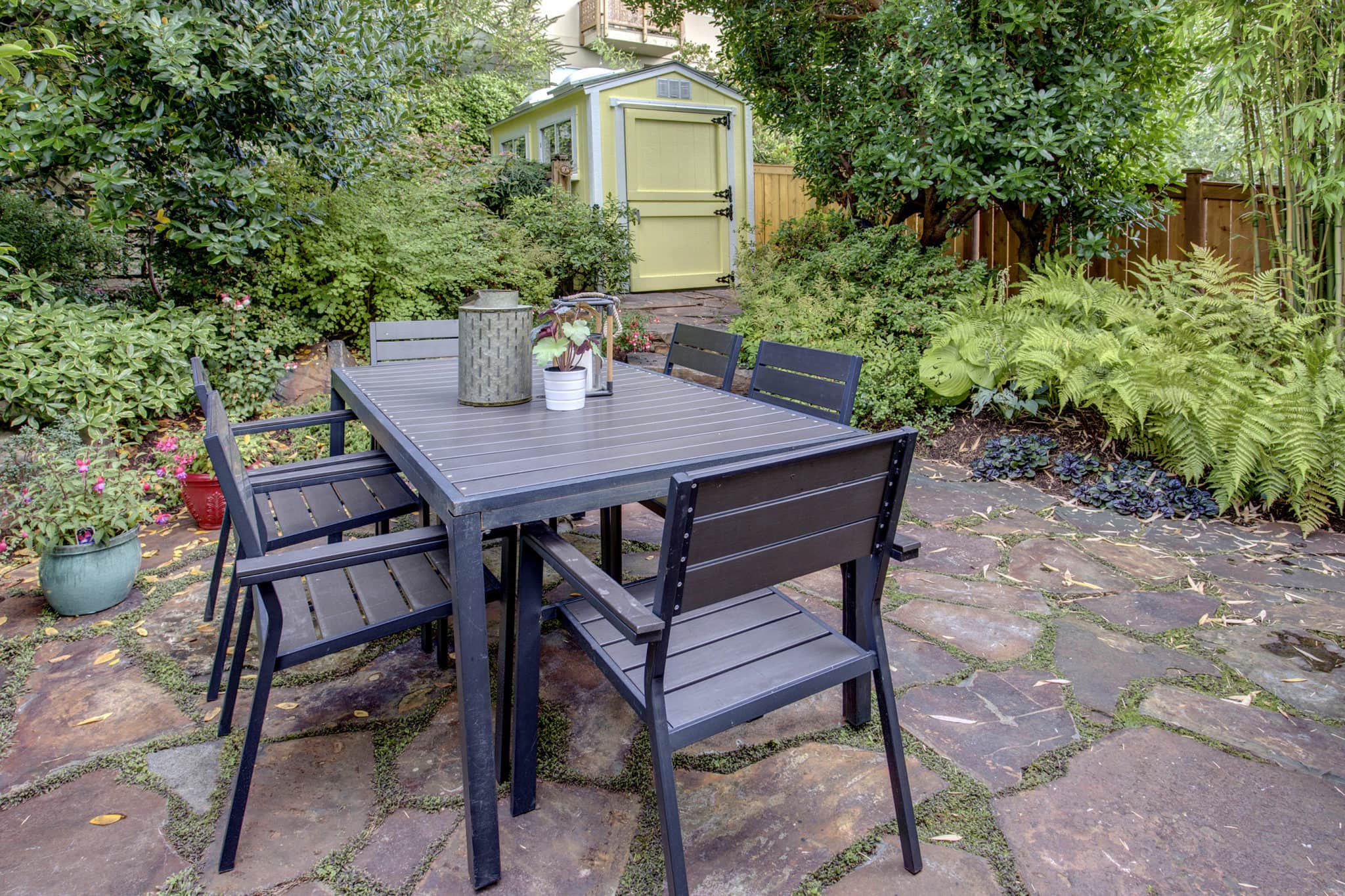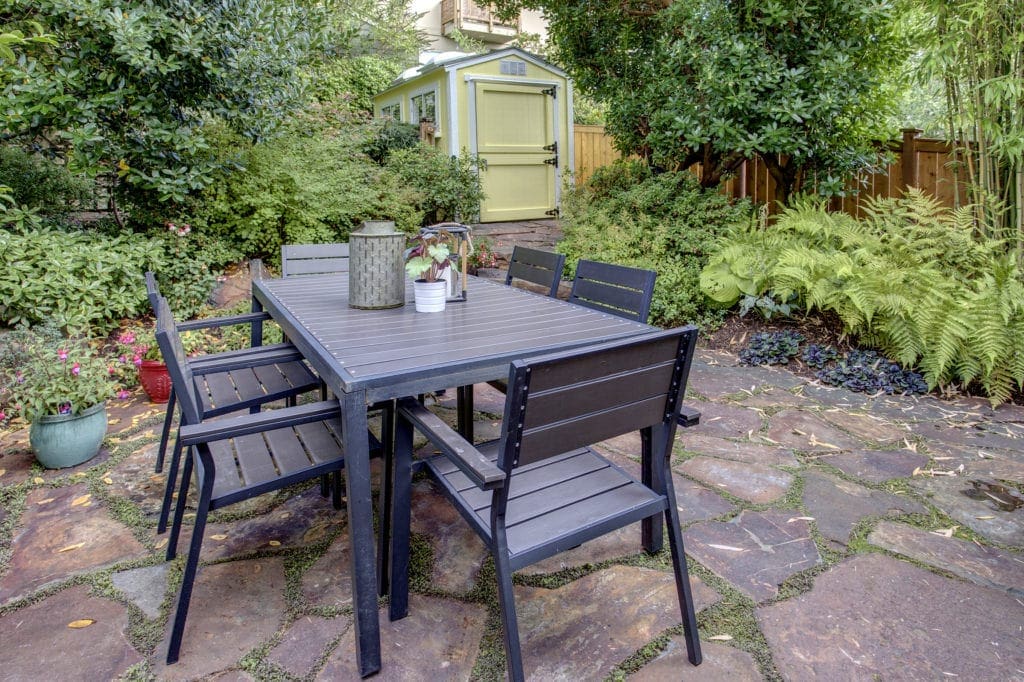 When the weather is warm, open those French Doors to the backyard garden patio and dine al fresco. The landscaped yard offers tons of privacy outdoors, and a picturesque backdrop to indoor activities, too. There is room enough for any kind of gathering you desire: a socially distanced BBQ, a small dinner party, or an intimate romantic date night with your special sweetie.
Tucked up from the patio is an adorable little shed that, amusingly, used to be a very, very large dog house. Now it's a great spot to store all your outdoor items. And if creativity strikes you, maybe you'll want to re-envision this small outbuilding into something new and different: a playroom, a she-shed, a crafting area. If you can dream it, you can create it.
Bonus: Thanks to the home being set up above the street, you'll also get great sunset views from the front porch. On those mild evenings, you and guests can take the sidewalk on the south side of the house to go to-and-fro outside. (And don't worry, as this house also has a mudroom with durable slate floors when the weather is a little rainier and you want to keep the house tidy.)
A Vintage Charmer in Phinney Ridge With Major Flex Space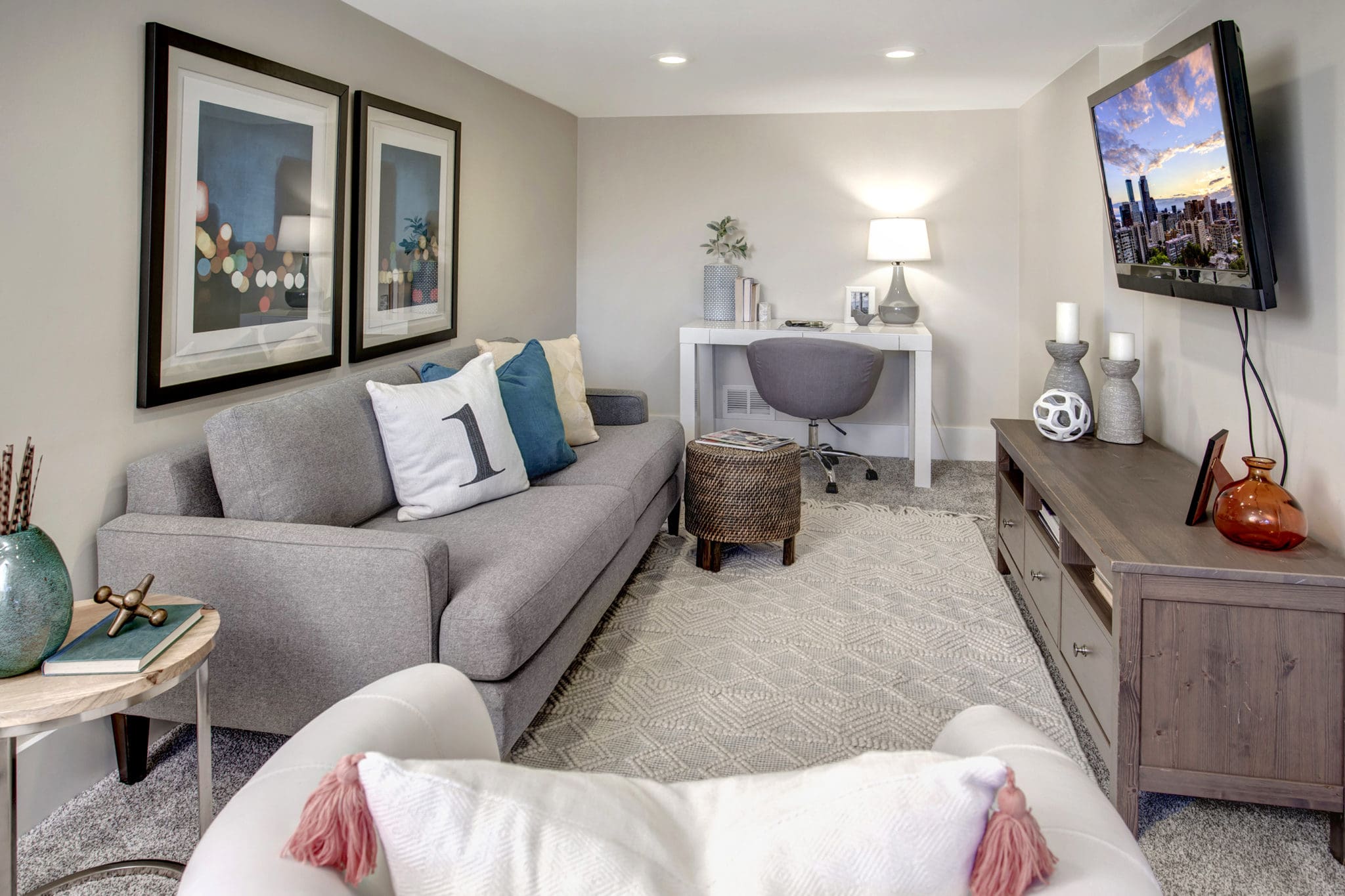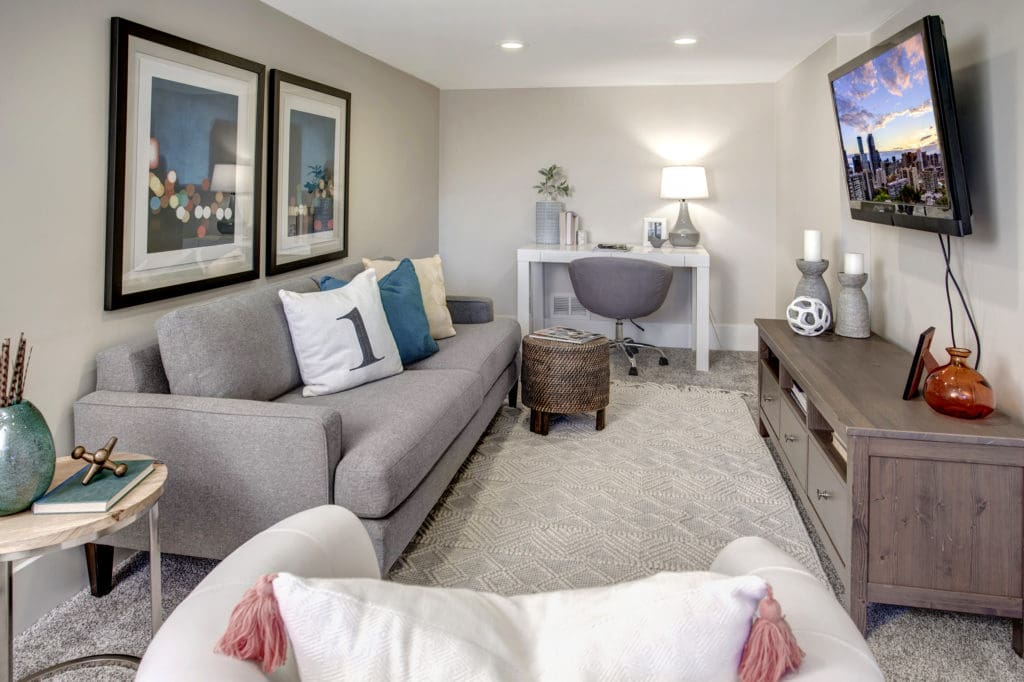 Everyone needs extra indoor flex space right now, and this Vintage Charmer in Phinney Ridge has all you need. The remodeled basement can easily be a guest bedroom, game room, and office space all at once. It's size and layout offer a multitude of uses and could be adapted month to month or year to year.
Maybe you need somewhere to hide for a while to snag some TV downtime or read a good book. Maybe you and your fetish for 1000 piece puzzles have been banished from the dining table and need to find a place to relocate. Or maybe you just need a quiet spot to make those Zoom calls for work. It's all handled here. Oh, and the TV is included – surprise!
Coveted Phinney Ridge Neighborhood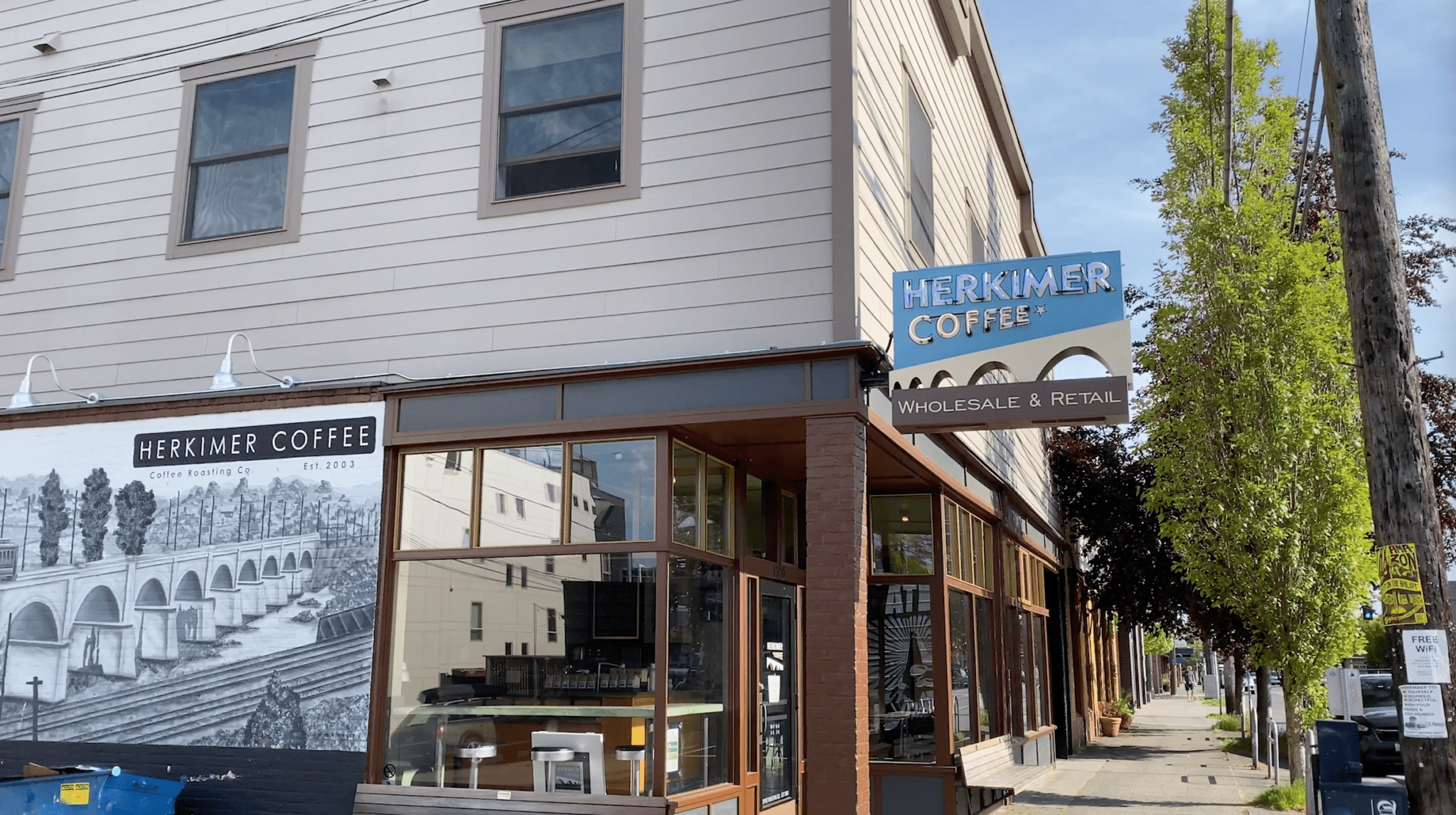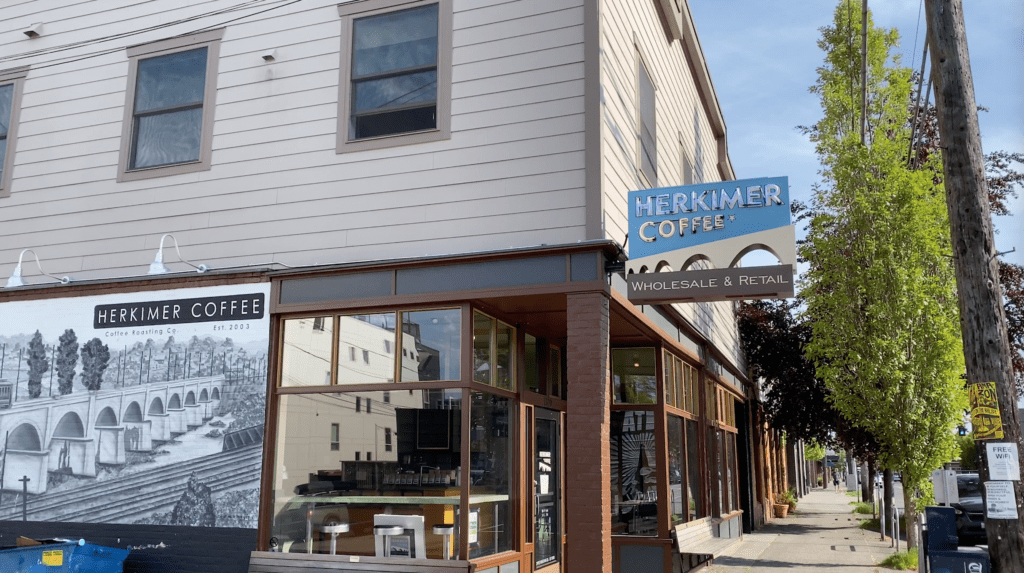 This Vintage Charmer in Phinney Ridge is on Sycamore, which is not a through-street. Hence, it's quiet but super close to everything that makes Phinney Ridge one of Seattle's most walkable and coveted locales.
From this Vintage Charmer, you have access to practical goods at Ken's Market and Greenwood Hardware. Grab some stellar coffee to go from Herkimer and Diva Espresso, and enjoy delicious dining from Windy City Pies and Oliver's Twist. For divine baked treats, look no further than Fresh Flours and A La Mode Pies. And to top it off, you are mere blocks from both Green Lake and Woodland Park.
All of this and more you can easily access without ever getting in your car. Even downtown Seattle is readily accessible with transit a few minute's walk away from your doorstep.
---
More About The Neighborhood: Phinney Ridge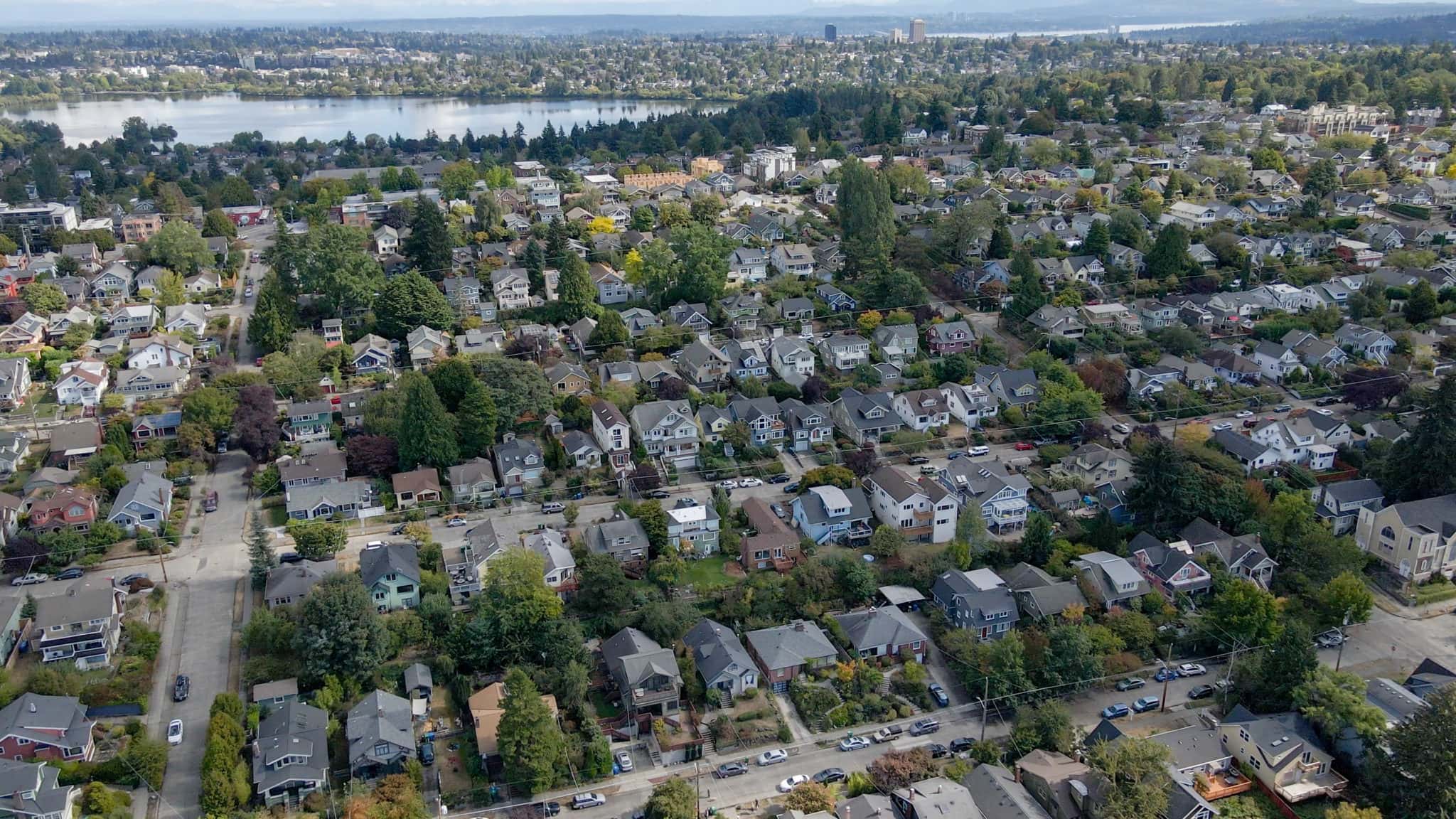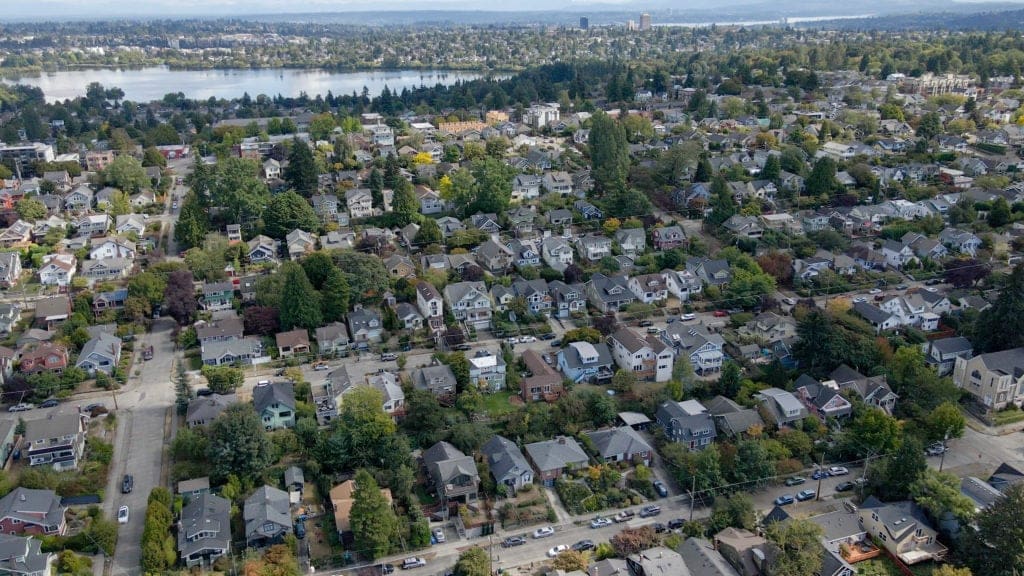 Phinney Ridge is known for its lovely tree-lined streets, lively commercial core, and sweeping western territorial and mountain views. It has tons of attractions, and it's surrounded by other great neighborhoods, too. If you enjoy biking, you are just minutes to Fremont, Ballard, and Greenwood. And if you absolutely need your car to get around… no problem. Access to Highway 99 is less than 5 minutes away!
There is definitely little doubt why many homebuyers flock to Phinney Ridge when it's time to make the move. Explore more on our Seattle Neighborhood page for Phinney Ridge.
---
Read Allll About Buying A Home in Seattle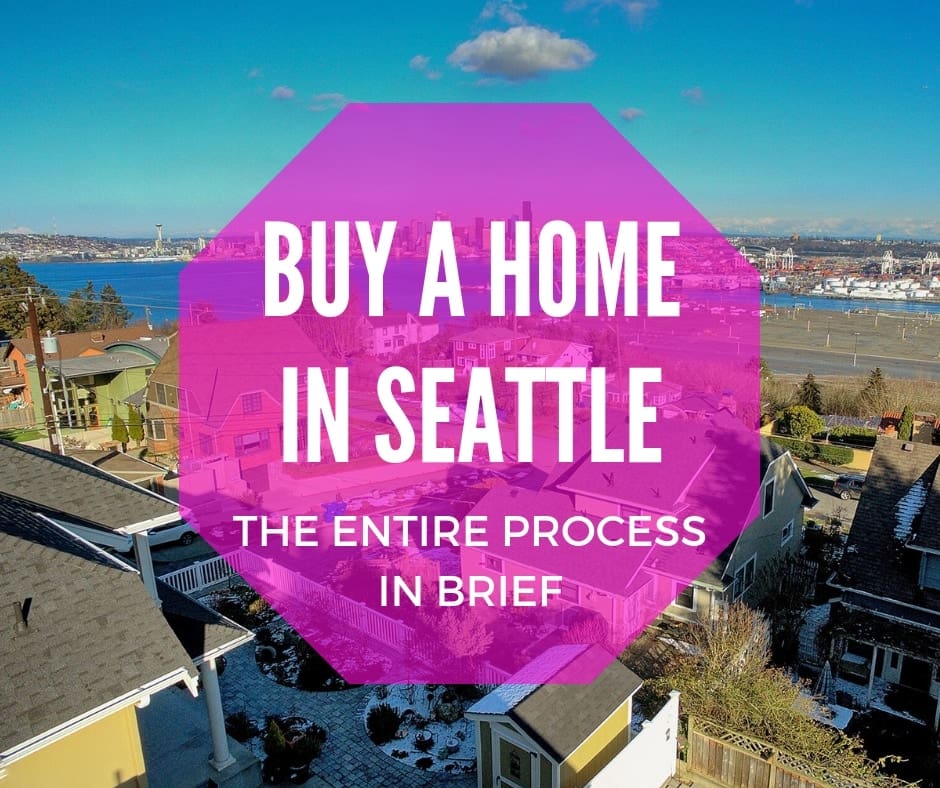 Want a masterclass in home buying? Check out this blog post glossing the home buying journey in full. In it, you'll also find links to our other articles that dive deeper into each step of home buying in Seattle (and beyond).
Whether you are a first-time home-buyer, new to town, or buying up in Seattle Real Estate, our Buyer's Page has the info you need. Check it out when you are ready to learn more.
---
Take A Virtual Tour Of This Vintage Charmer in Phinney Ridge
Address: 6528 Sycamore Ave NW
Square Footage: 1,670
Bedrooms: 3
Bathrooms: 1.75
Offering Price: $895,000