This Capitol Hill Corner Condo is all about maximizing sunshine in the day and good times at night. It has a dreamy location in The Midtown by Volunteer Park, a fantastic layout, and views and natural light galore.
If you're one of those folks who feel like we never had a summer, it's especially important to make the most of fall. But really, what we all want is a place where we can live our best life year-round. This Diva Dwelling is ideal, so let's take a five-point tour of our favorite features.
Capitol Hill Corner Condo: Our Fab Five-Point Tour
Top Floor Corner Location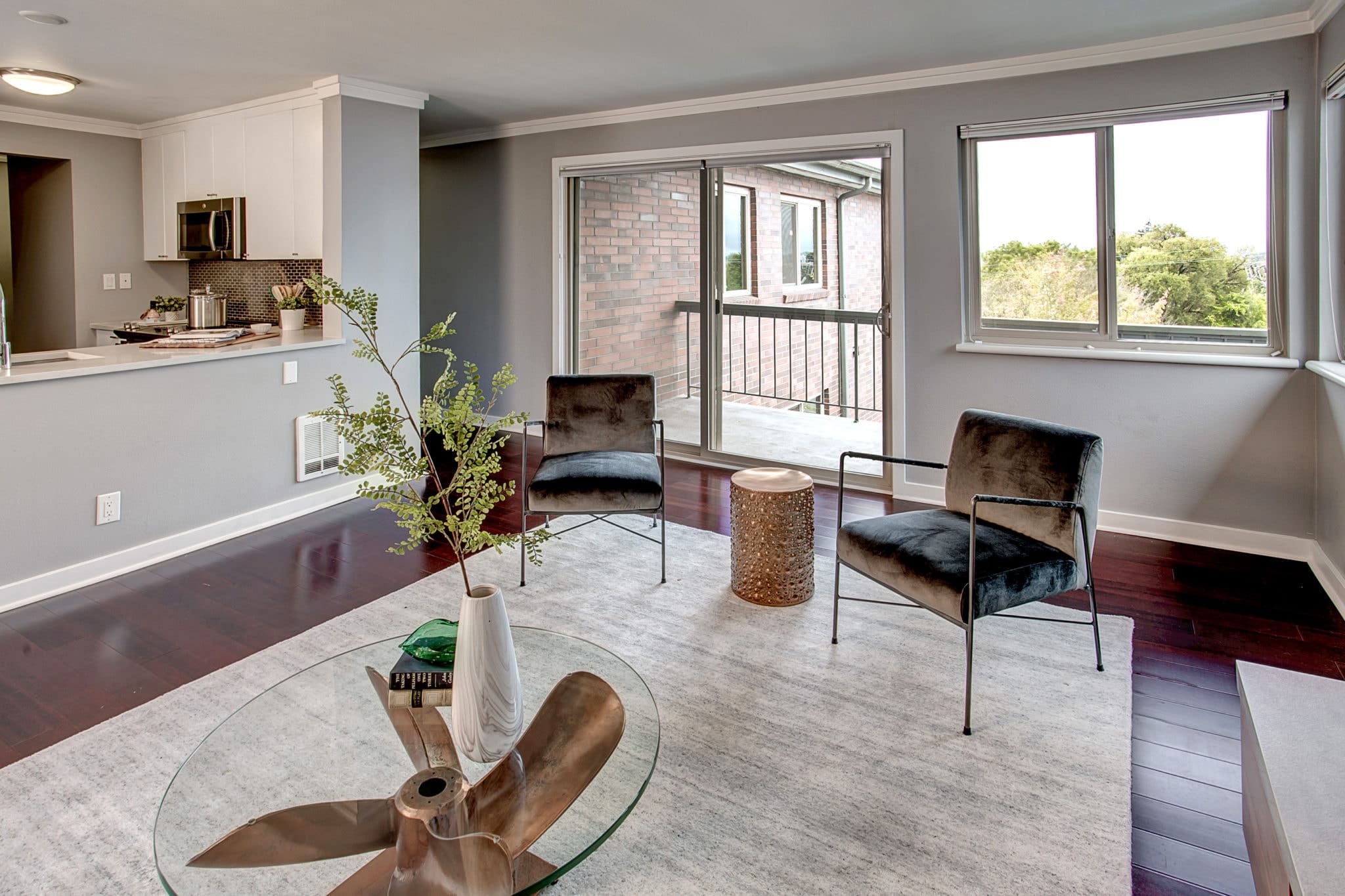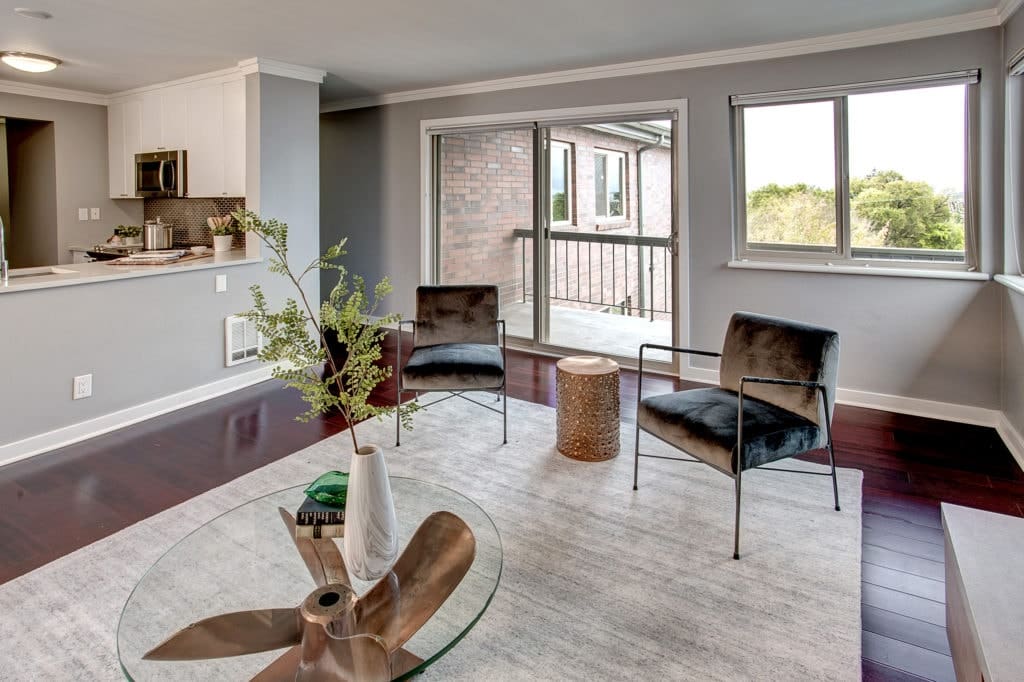 Let's start with how this condo is situated. Because when it comes to condos, location is about more than the address. In some buildings, it can be a headache to have upstairs neighbors, but not here. This Capitol Hill Corner Condo is on the top floor of The Midtown and it's the end unit, so no one will be busting a move overhead.
Having a corner condo also means sharing fewer walls with neighbors. In this case, you have only one small shared wall. You'll be sharing the rest with birds and treetops instead, and plenty of windows facing east and west. You'll get sunny morning light, and that warm late afternoon/ early evening glow, year-round. It's by far the most peaceful condo in the whole building—which is already in a quiet part of Capitol Hill.
PS: The current owners actually love the neighbors. The building is well established and everyone is friendly, so even though it may be a while before you get to know folks behind the masks, you can look forward to it.
Modern Look and Feel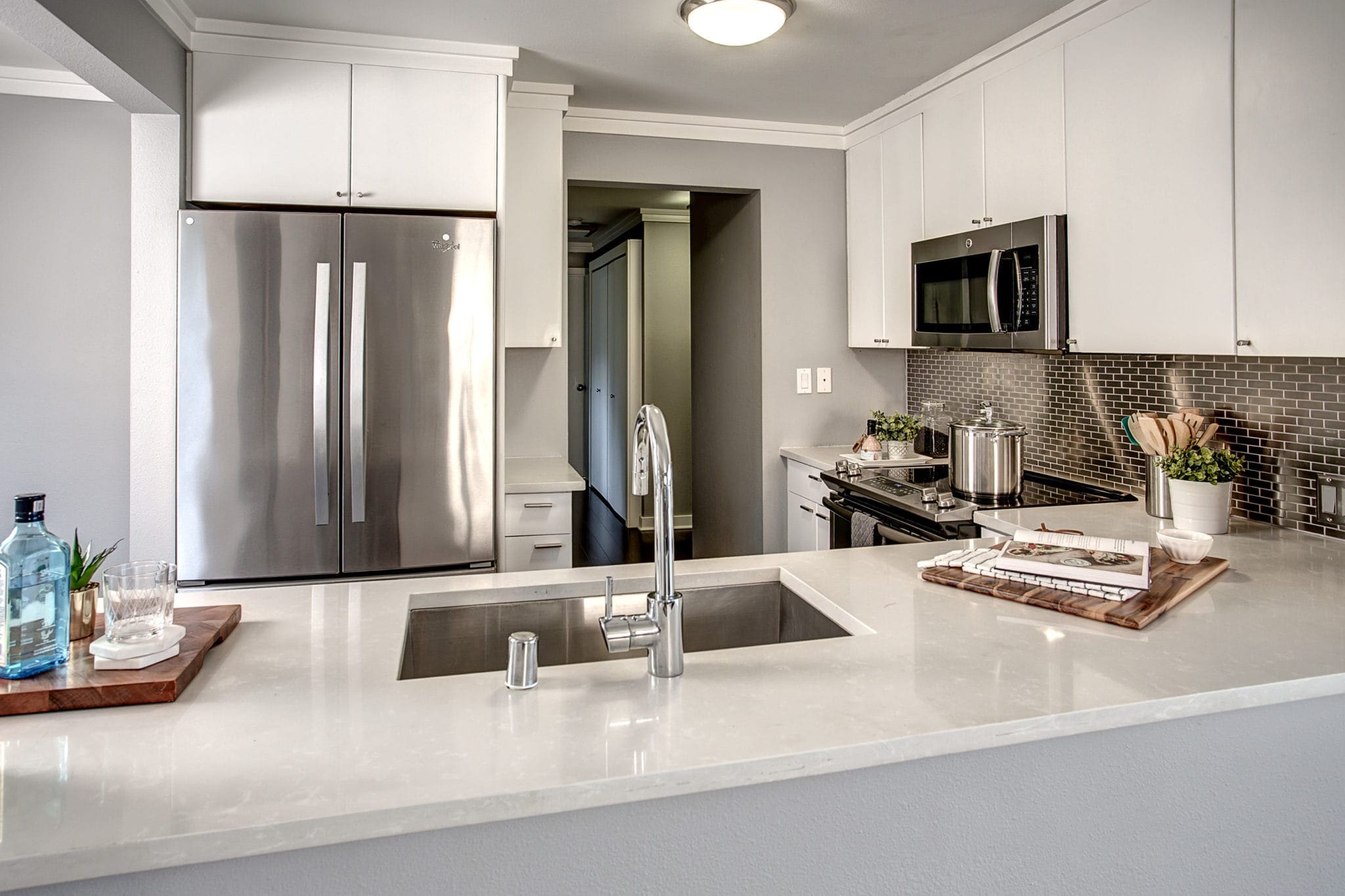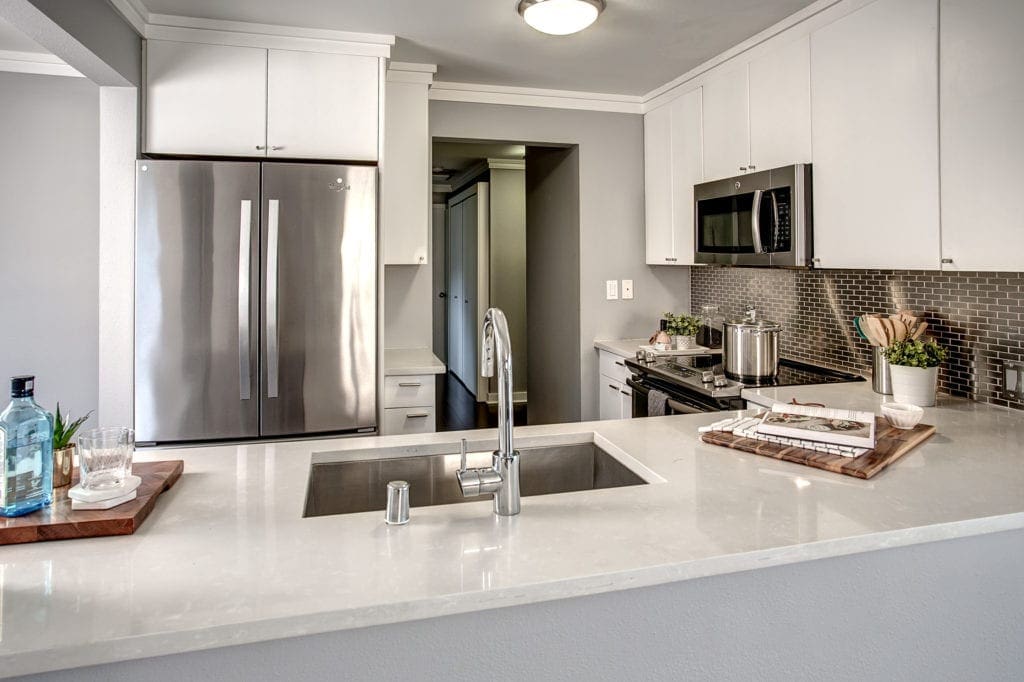 The current owners made some smart renovations in their time here. They expanded the laundry closet to make better use of the space, and it has a new full-sized washer and dryer. There is even significant storage space and adjustable shelving.
The kitchen in this Capitol Hill Corner Condo is especially modern and chic. The quartz countertops provide ample prep and serving space, and they look great with stainless steel appliances, white cabinetry, and LED light fixtures. In the dining room, they put in an Edison bulb light fixture in the dining room, and more LED lights in the updated bathroom. All of this with contemporary paint colors and hardwood floors give it a chic and decidedly modern feel.
Open Layout with Great Flow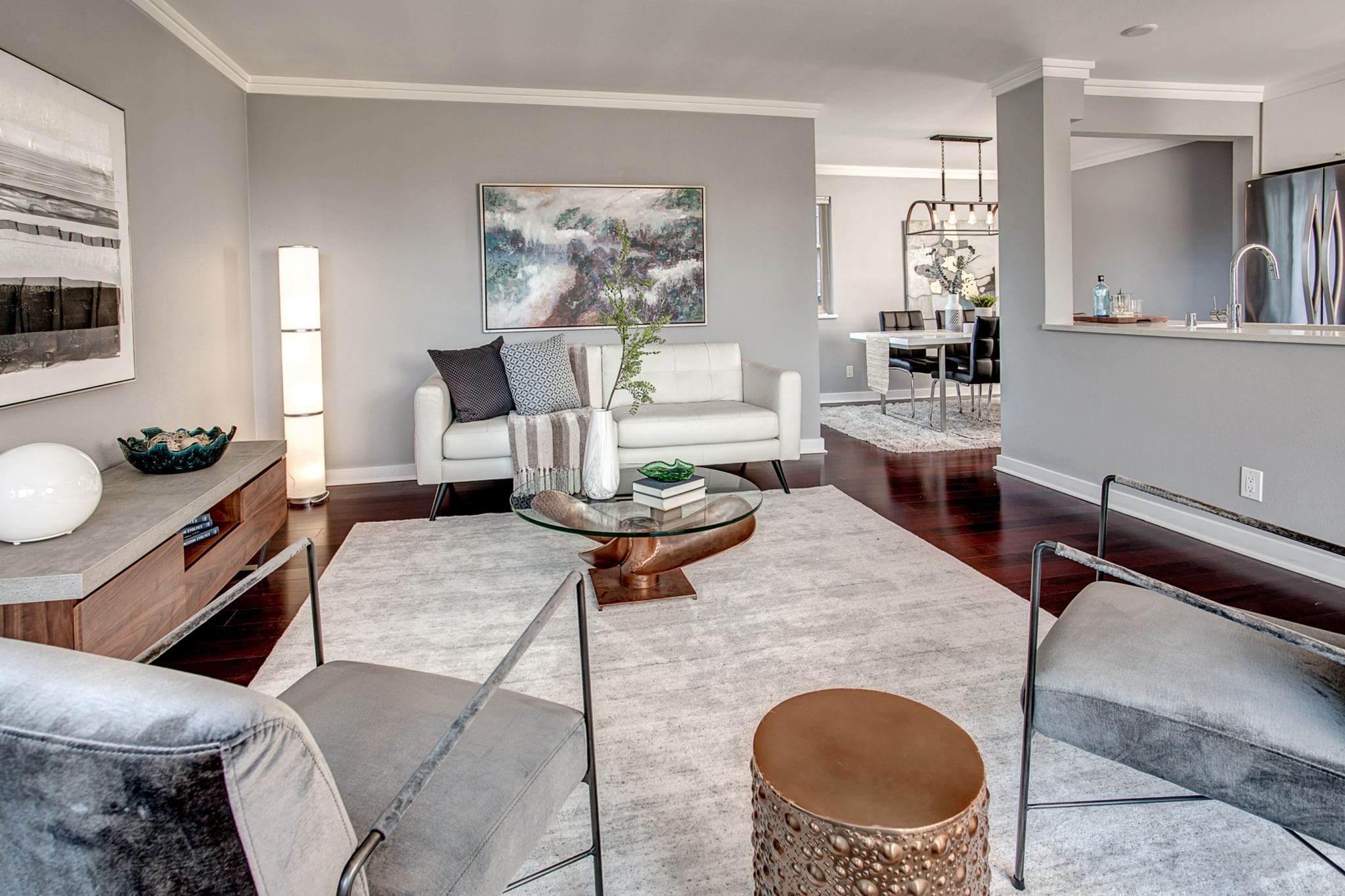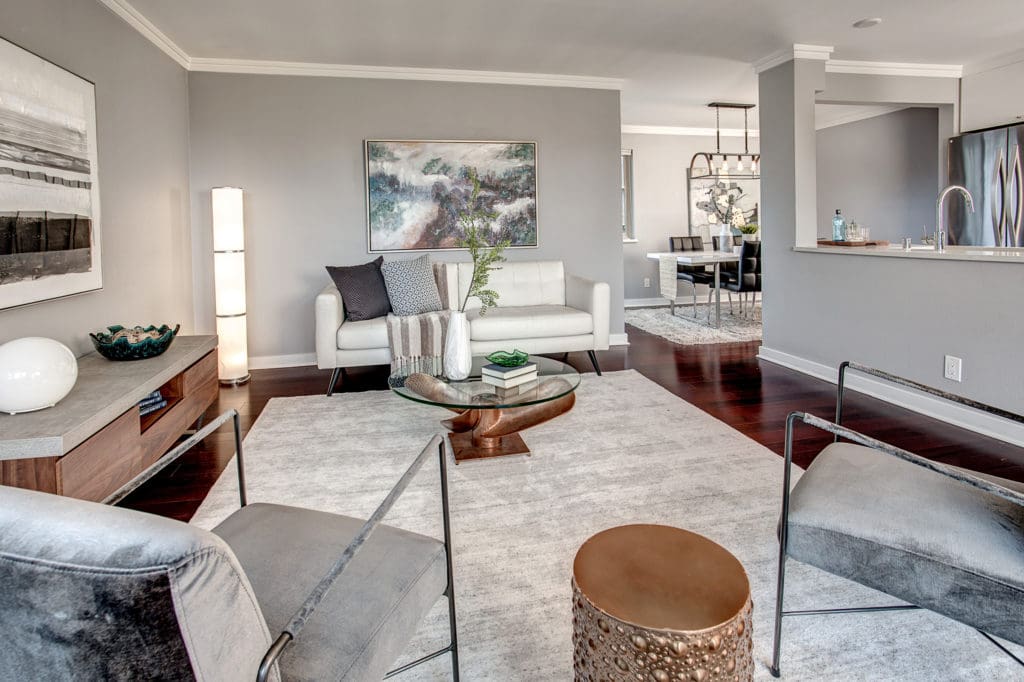 This home just feels so good, and that's something that isn't always the case, even when on paper the square footage is good. This Capitol Hill Condo's layout is super efficient: bedrooms and bathroom on one side of the condo, common spaces on the other, and the entry right in the middle.
And speaking of common spaces, we love the circular flow there. The living room opens to the dining room, which opens to the kitchen, which also opens back to the living room. It's perfect for entertaining or for just having space for one of you to chop while the other sautés. And then there is the deck…
A Capitol Hill Corner Condo With A Spacious View Deck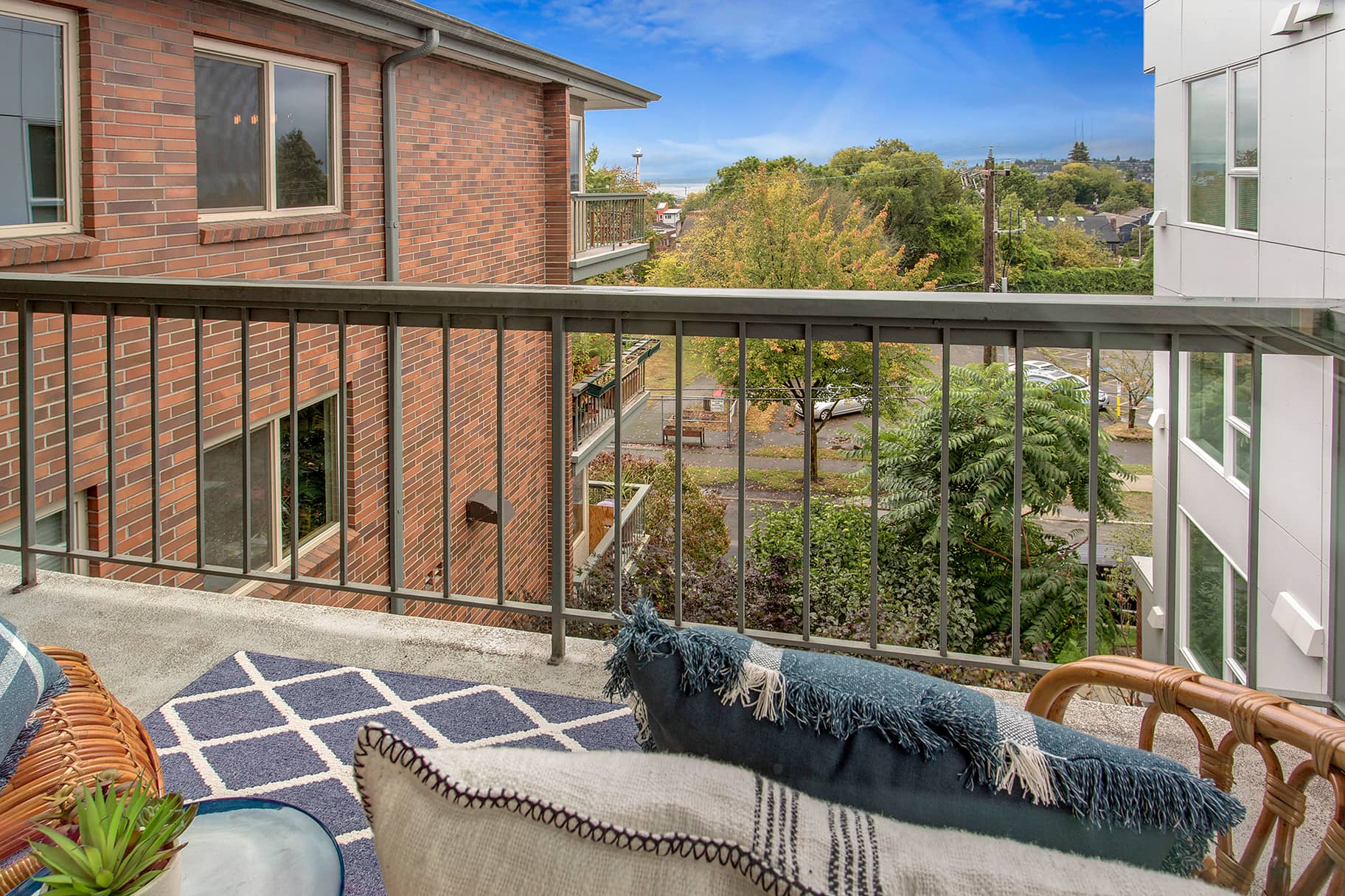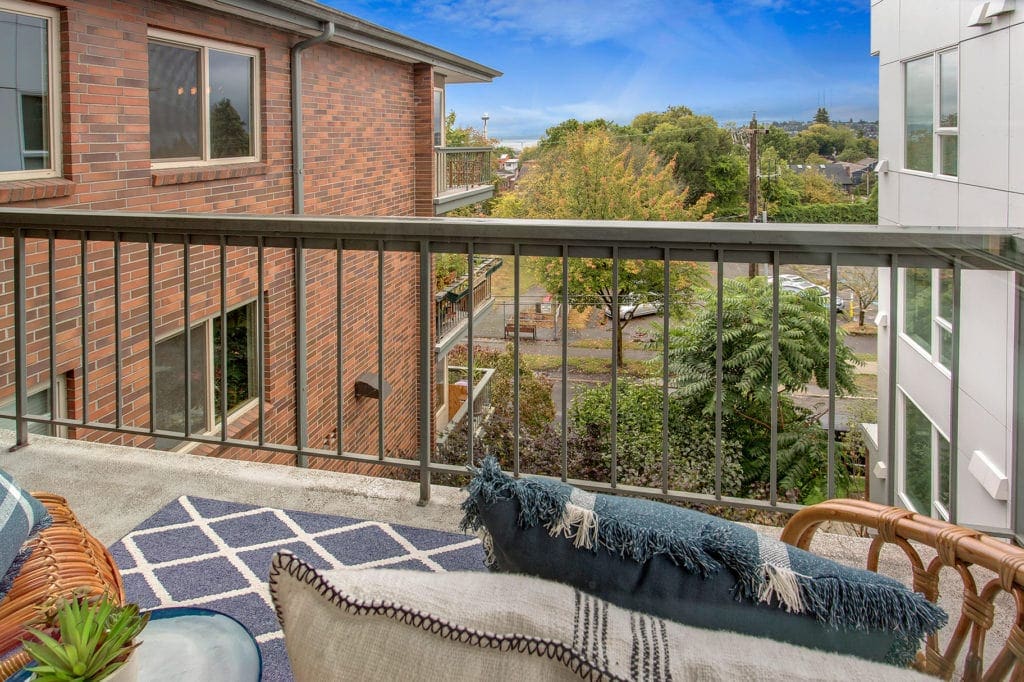 Any outdoor space is a premium these days, and lucky us, this condo has one heck of a deck. Western views, space for dining, and room for a little flower or herb garden—what more could one want?
With views of the Space Needle, Puget Sound, and the Olympic Mountains, it's an ideal backdrop for grilling, cocktails, and teleconferencing. This deck is a dreamy way to start and end your day, enjoying the sunlight sparkling on the mountains with your morning coffee or catching the sun's last rays at dusk.
A Prime Capitol Hill Location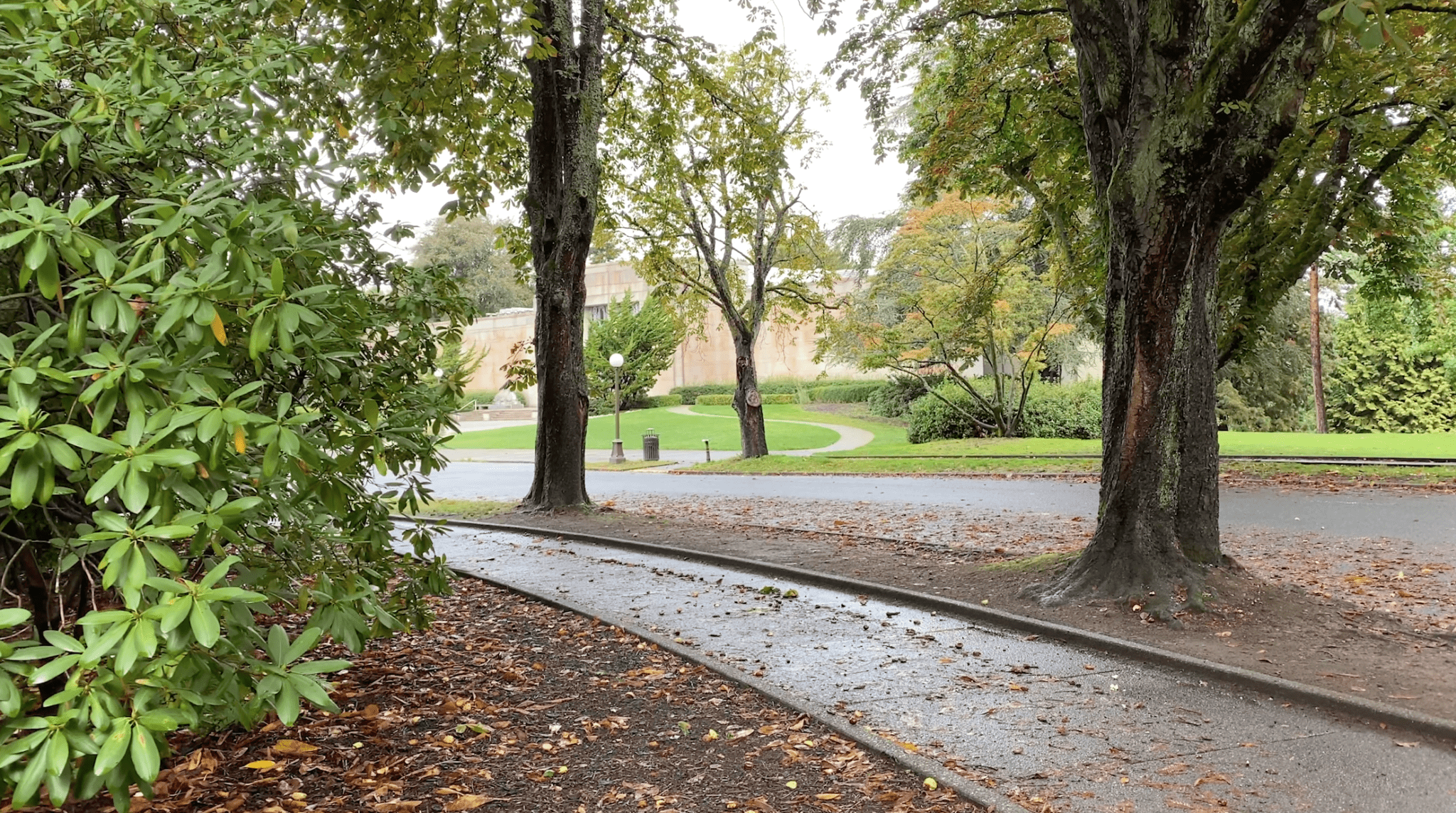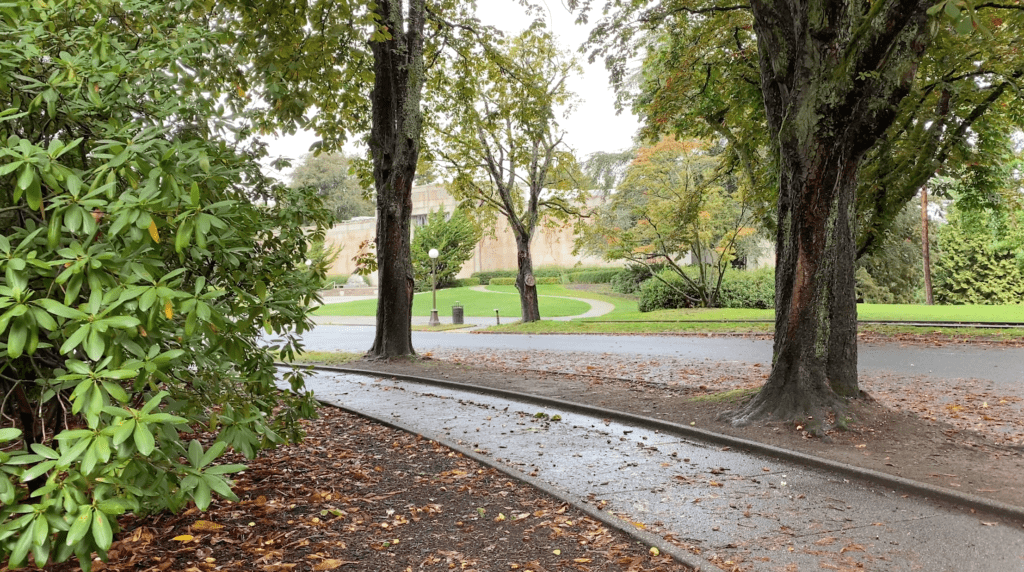 Capitol Hill is Seattle's urban core, the heart of the city, a neighborhood filled with parks, dining, and shopping. Even in these strange times, its diverse communities are staying true to their artistic roots. And when this is all over, you best believe it's going to be HOPPING.
In addition to great places to sip wine and chow down, this Capitol Hill Corner Condo is right be Volunteer Park. This park is a little jewel of the city, and not just for its quiet fields and wooded trails. It is home to the Seattle Asian Art Museum and the Volunteer Park Conservatory. That historic greenhouse is a dreamy retreat where something is always in bloom. Simply put, at this home, you will find the best there is to offer in every season.
---
More About The Neighborhood: Capitol Hill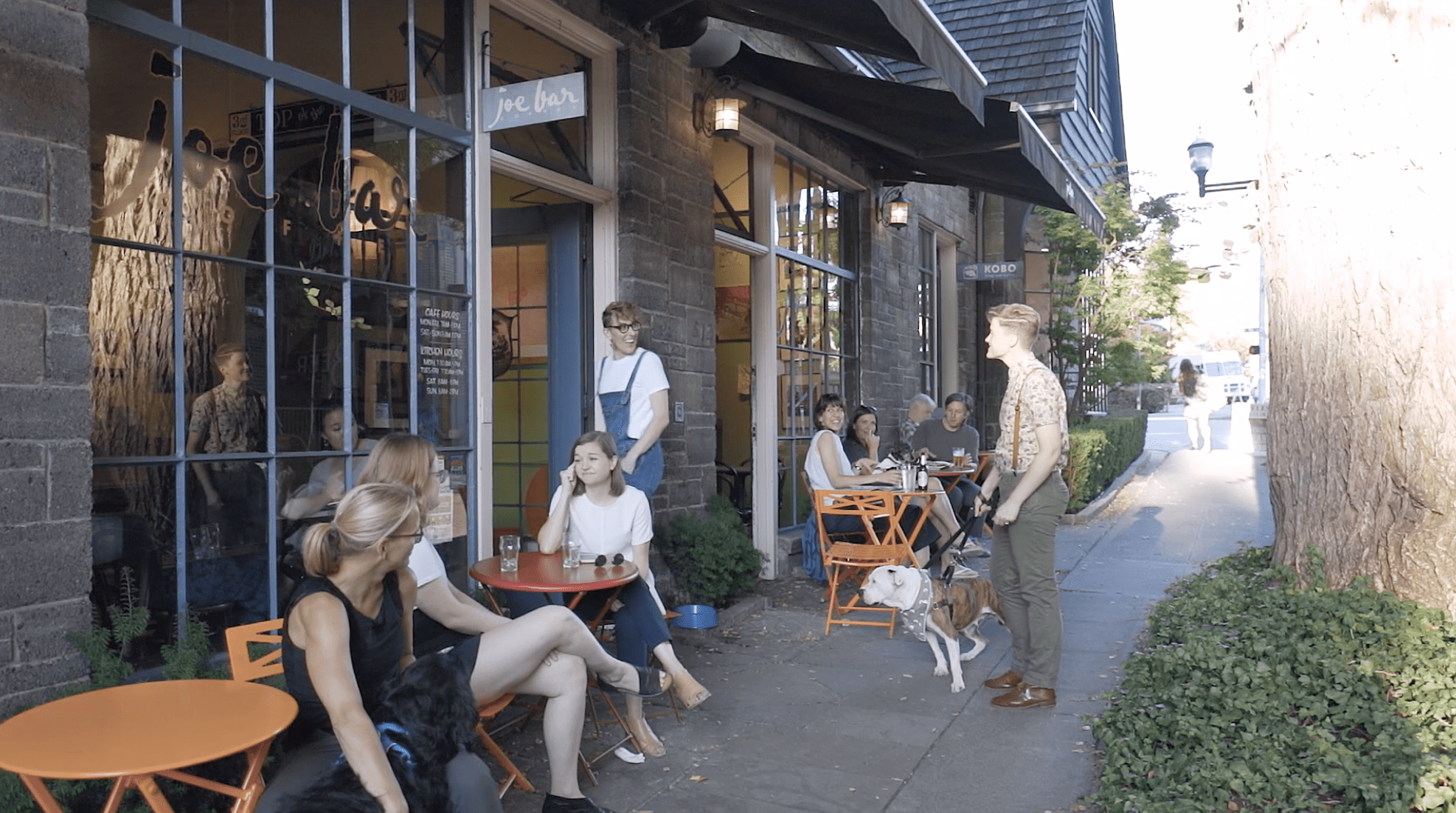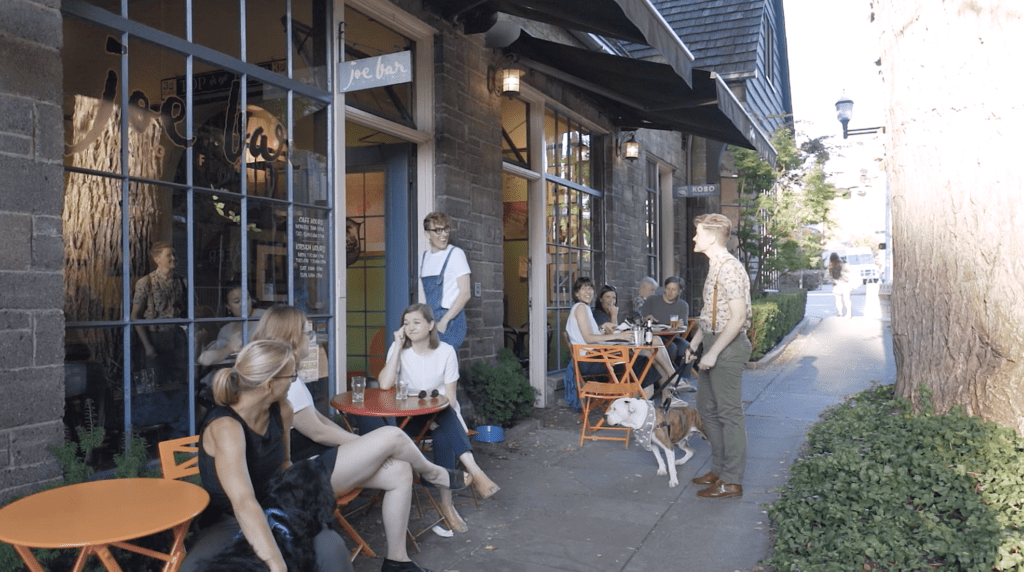 Even under quarantine measures, there are abundant options for take-out and dining in near this Capitol Hill Corner Condo. It's just blocks to a hopping part of 15th and places like Wandering Goose, Olympia Pizza, Jamjuree Thai and so much more. On Broadway, the current owners of this Capitol Hill condo especially love the lamb burger from Corvus, and around the corner is Joe Bar. Have a light breakfast outside, and then check out the sweet shops around the corner, especially the renowned KOBO.
And though it is so centrally located, The Midtown is on a quiet street with virtually no thru-traffic. When it's time to bed down, you won't be kept up by rowdy crowds…even when those wild summer days return.
Explore more on our Seattle Neighborhood page for Capitol Hill.
---
Check Out Our Seattle Home Buyers Guide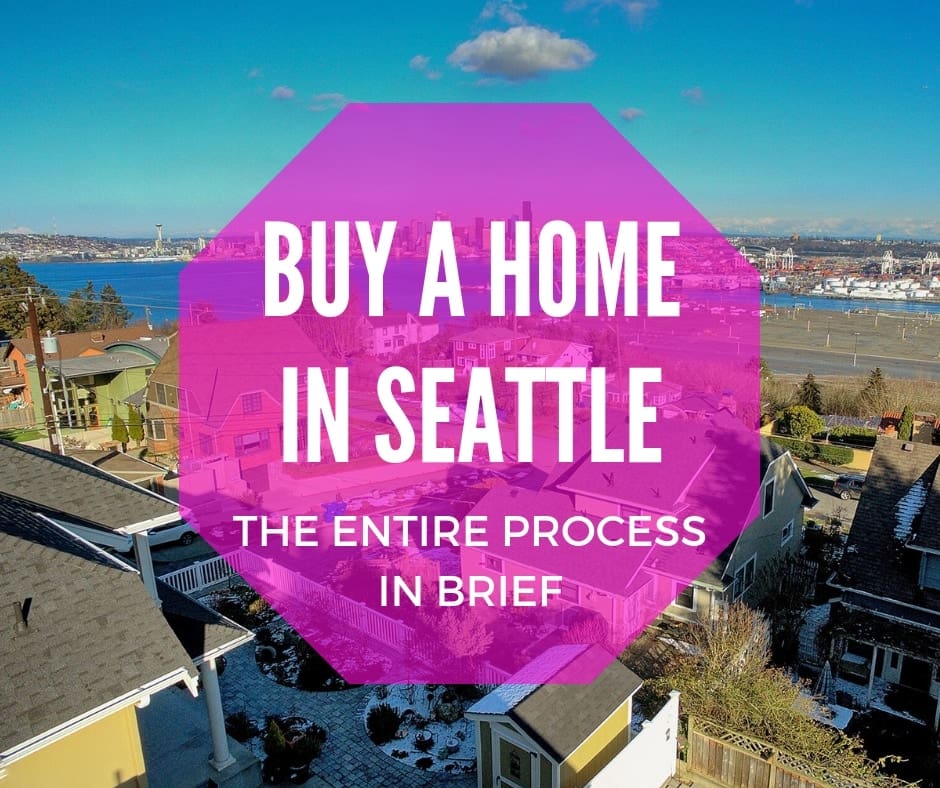 Read our guide to buying a home in Seattle for a comprehensive summary, of the process. Dive deeper into each section by checking out the other blogs linked within it. You'll be a pro in no time.
Want to browse all of our guides and home buying tips? Check out our Buyer's Page. You'll also get inspiring videos from Diva Dwellers, from first-time buyers to seasoned investors.
---
Take A Virtual Tour Of This Capitol Hill Corner Condo
Address: 732 11th Ave E #401
Square Footage: 947
Bedrooms: 2
Bathrooms: 1
Offering Price: $575,000

More Information