Seattle Midcentury Modern Homes are typically the post-war style 1940s homes you seen in large clumps all over the city. The midcentury modern ranch home has gone through phases of being seen as dated and squat to being prized for elegant simplicity. It still depends on whom you ask, but there are clearly plenty of fans out there. Just ask the publishers of Atomic Ranch, a magazine devoted to Midcentury Modern aesthetics and architecture.
Hands down our friend's house is one of the best Seattle Midcentury Modern Homes we have ever seen. And we are not alone. A few years ago, Atomic Ranch highlighted a kitchen remodel in the home of our friends Ron and Paul. The article was great, but no image can do justice to what a wonderful space they have made.
Here are just some of the many things that make this home a one-of-a-kind Seattle midcentury modern such a gem.
Seattle Midcentury Modern Homes Rarely Come With These Elements
Let's Start with the Garden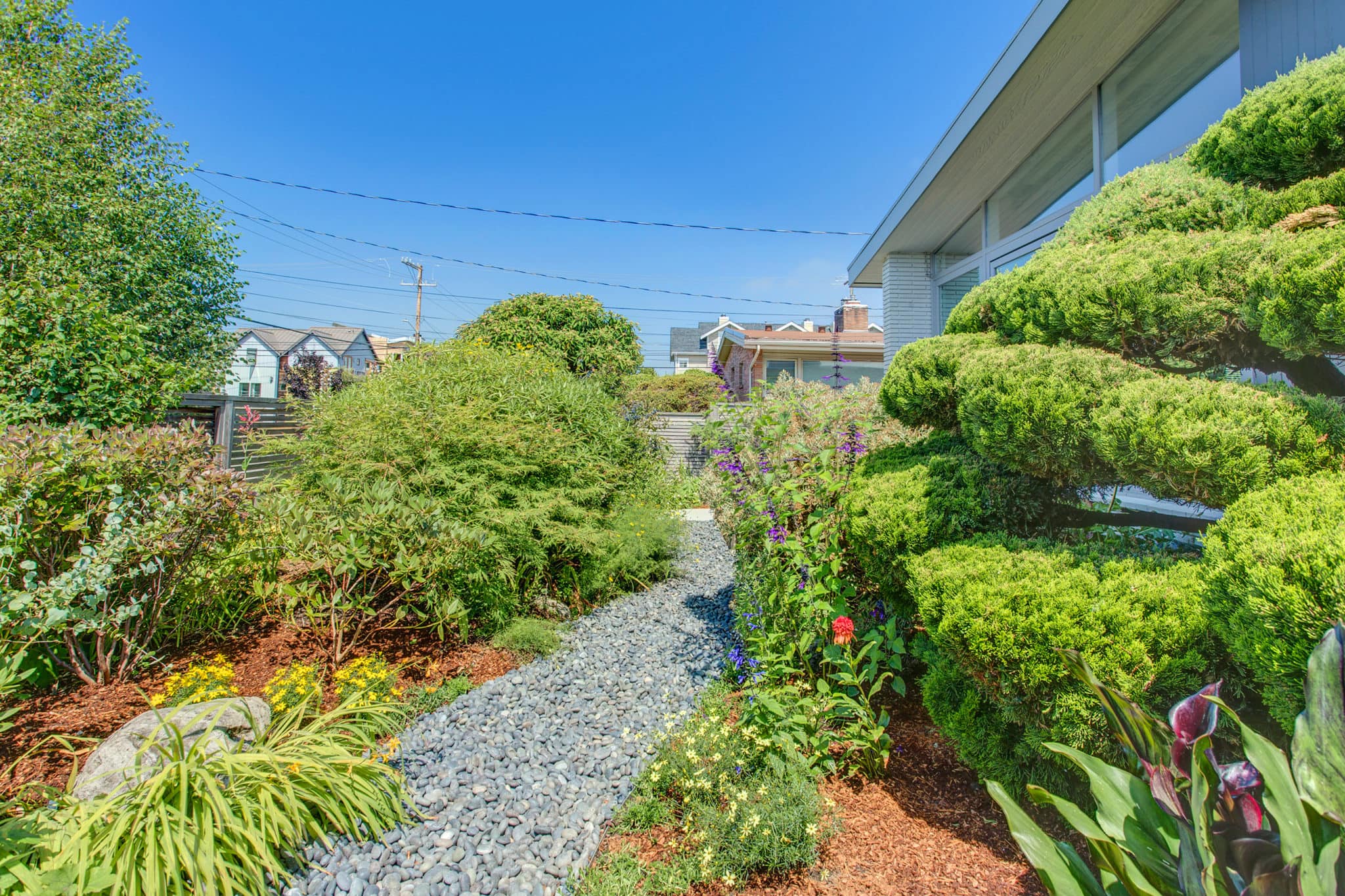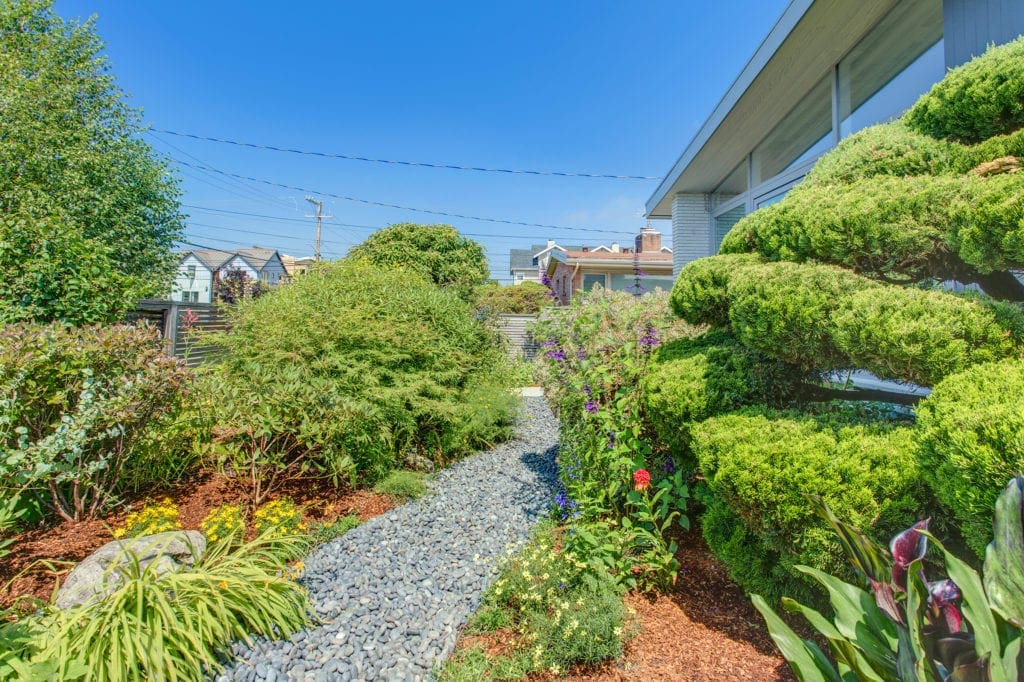 One of the homeowners is a well-known horticulturist who has done some phenomenal work around town, and his passion for creating living works of art extended to this home. A robust yucca outside the wooden fence surrounding the home is an immediate complement to the sleek lines of the house itself. It is balanced with sinuous, shrubby evergreens and textured ground cover lining the walkways of cement and decorative stone.
When you tour the home, you'll see motifs of heterotrophic plants in the art on the walls, but if you explore the garden you'll find planters brimming with pitcher plants and other bug eaters. We can't tell you all the varieties of living wonders surrounding the home, but it is indeed a wonderland.
That Kitchen, Though!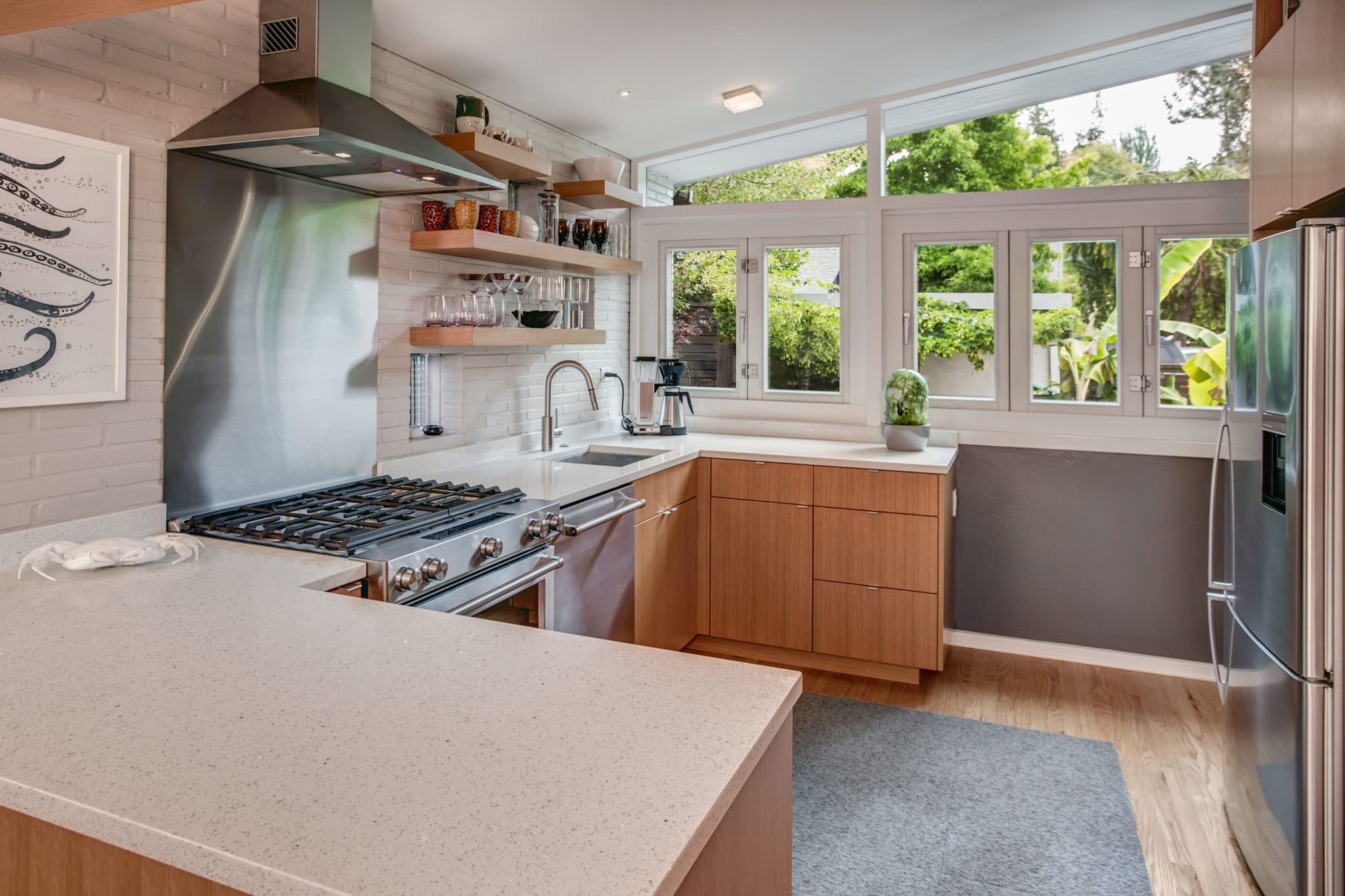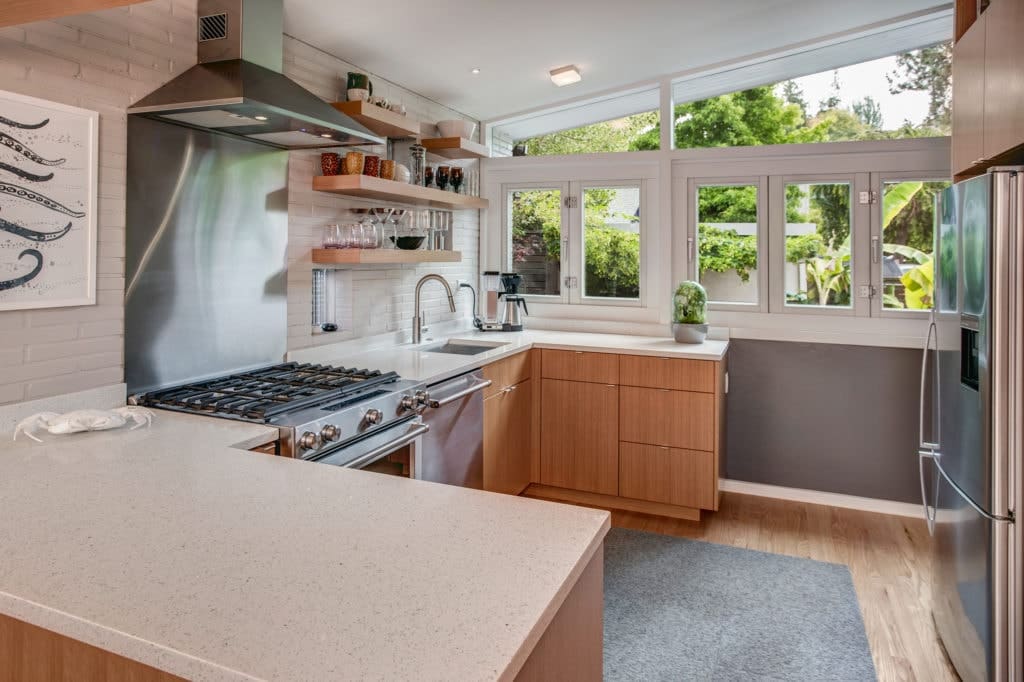 This custom kitchen is a dream for those who want to entertain. True to midcentury modern design, it is all about clean lines, stainless steel fixtures, and natural finishes. Inside the cupboards, you'll find floating shelves that glide in and out. They make it a breeze to store everything you need and access it without digging, and they even look stylish, too.
The kitchen update extended beyond the food prep area. Next, to the dining area and front door, there are more drawers with a sleek top perfect for setting up a little bar or hors d'oeuvres. They have truly maximized the front of the home in terms of both form and function.
The Wall to Ceiling Window Door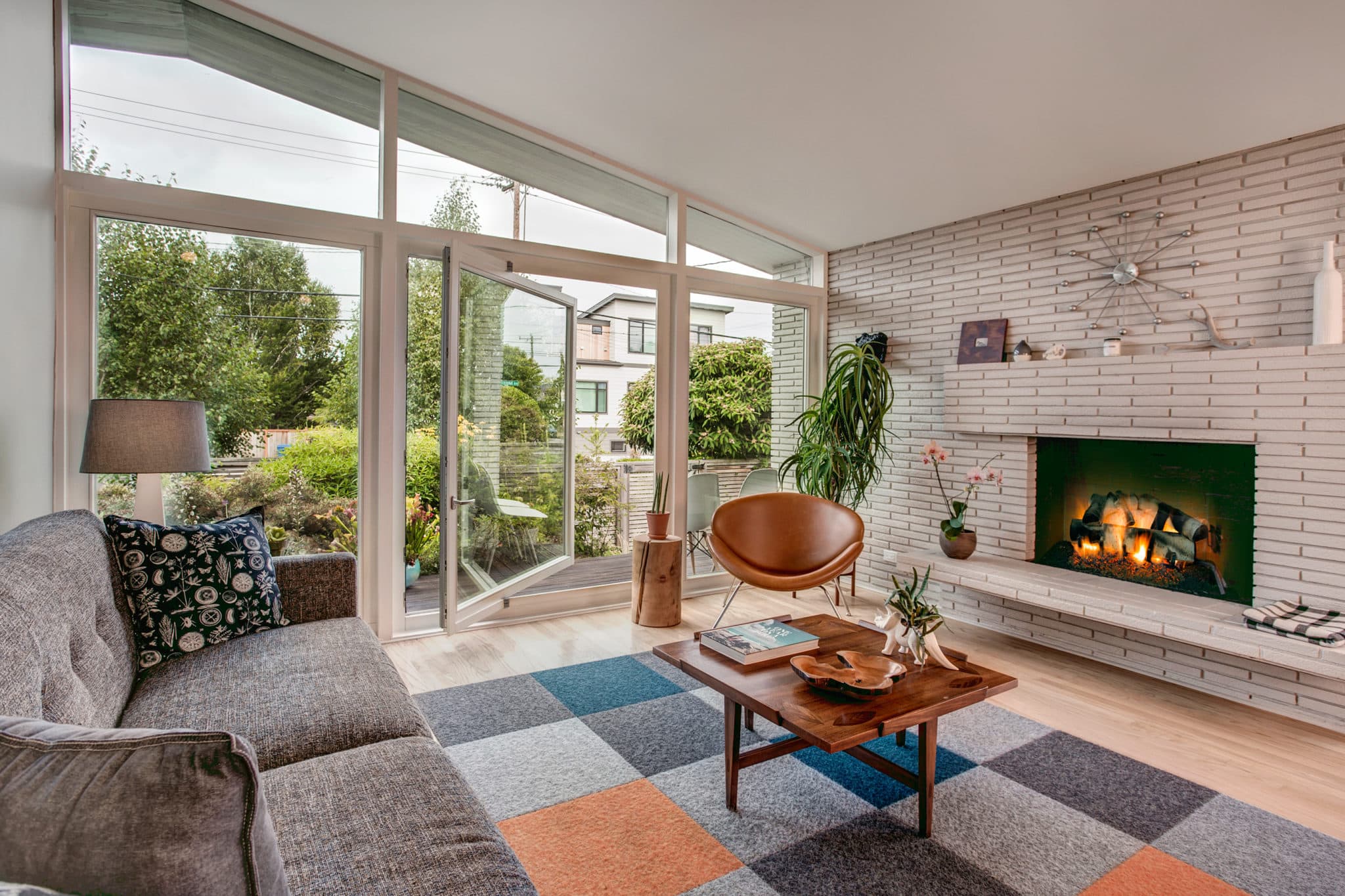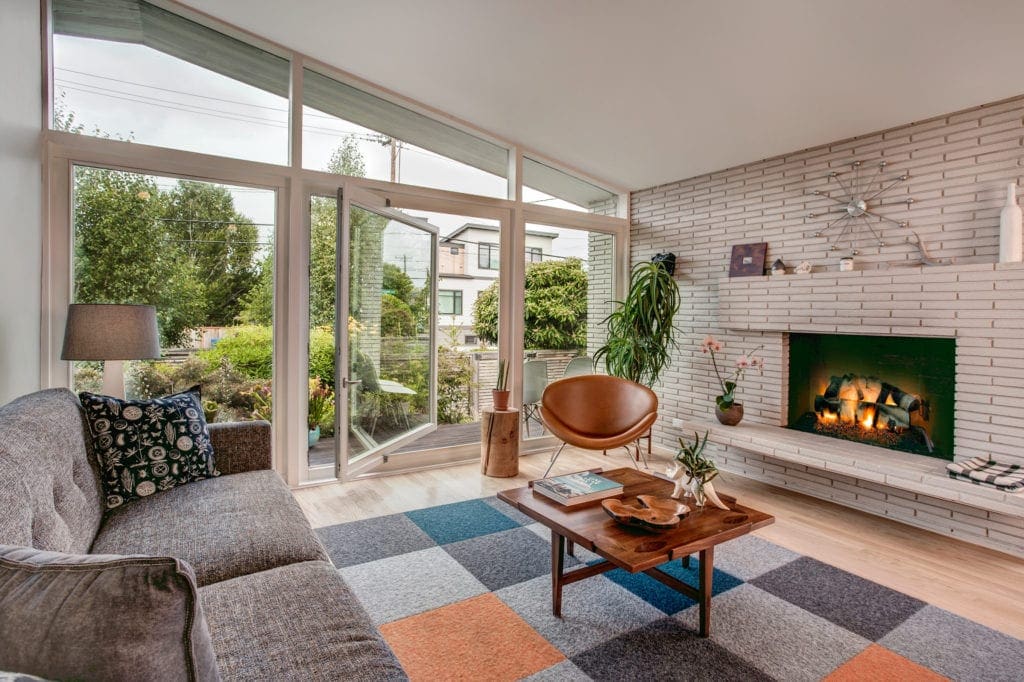 Many homebuyers covet Seattle midcentury modern homes for bringing the pane. (Basically, their rectilinear design and big windows capture a lot of light in a town that sometimes feels starved of it.)
The front of this unique house has western exposure, giving one plenty of light, especially in the summer. To keep things cool and fresh, Ron and Paul removed the original window and wall facing the front in the living area. Because of how consistent the design looks, you would never guess it. That is, you wouldn't guess it until you see the way the large central window opens out onto the tiered porch and garden. The quality of the work is fantastic, and it's a feature you just wouldn't find in a completely original MCM home.
The Ample Den Area Downstairs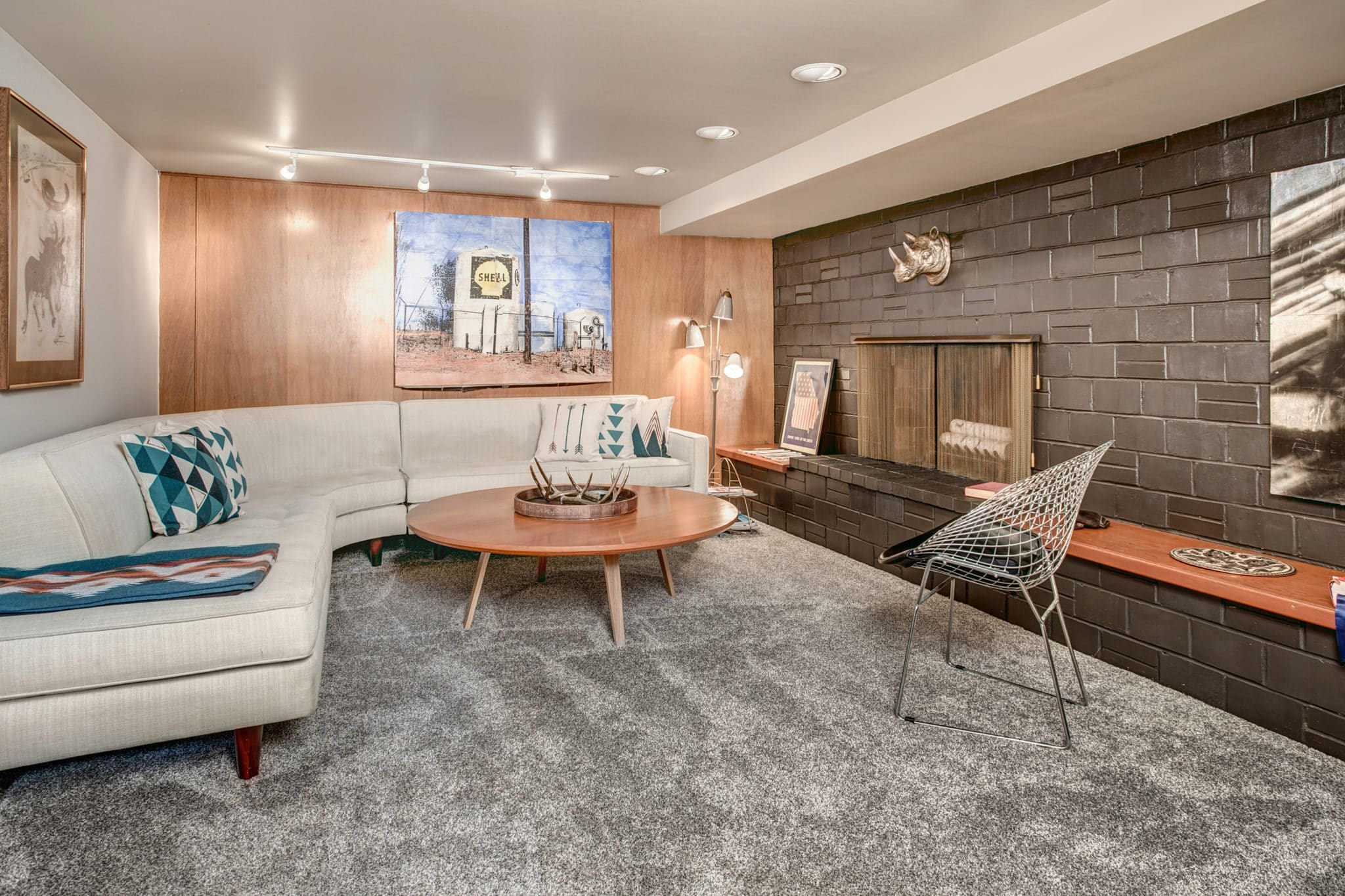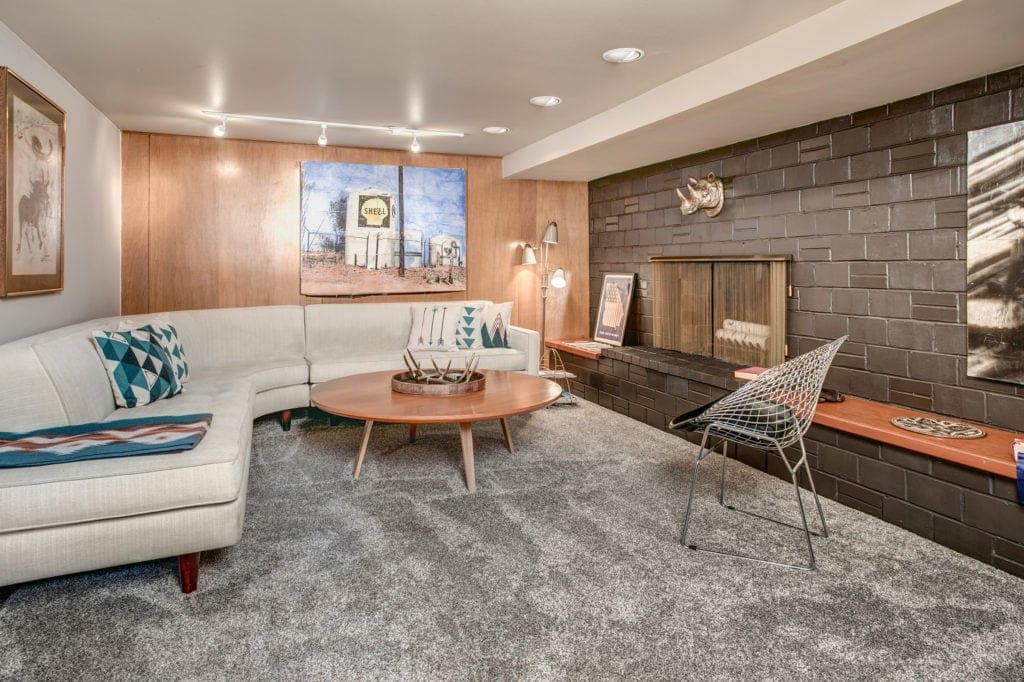 The lower level of the home takes up nearly the entire footprint of the house. It has a (dare we say) swank storage area, laundry room, a 2nd bathroom, a third bedroom, and a cozy retro rec room. If your vampiric side kicks in and you want to get away from all that gorgeous natural light upstairs, it's a perfect place to curl up with a book or Netflix-and-chill.
(Bonus: The room adjacent to the den and beneath the kitchen is the only unfinished room downstairs. If one so desired, one could make this into a kitchenette and thus have a full-fledged Mother-in-Law suite downstairs.)
Back California Style Patio and Accordion Window Bar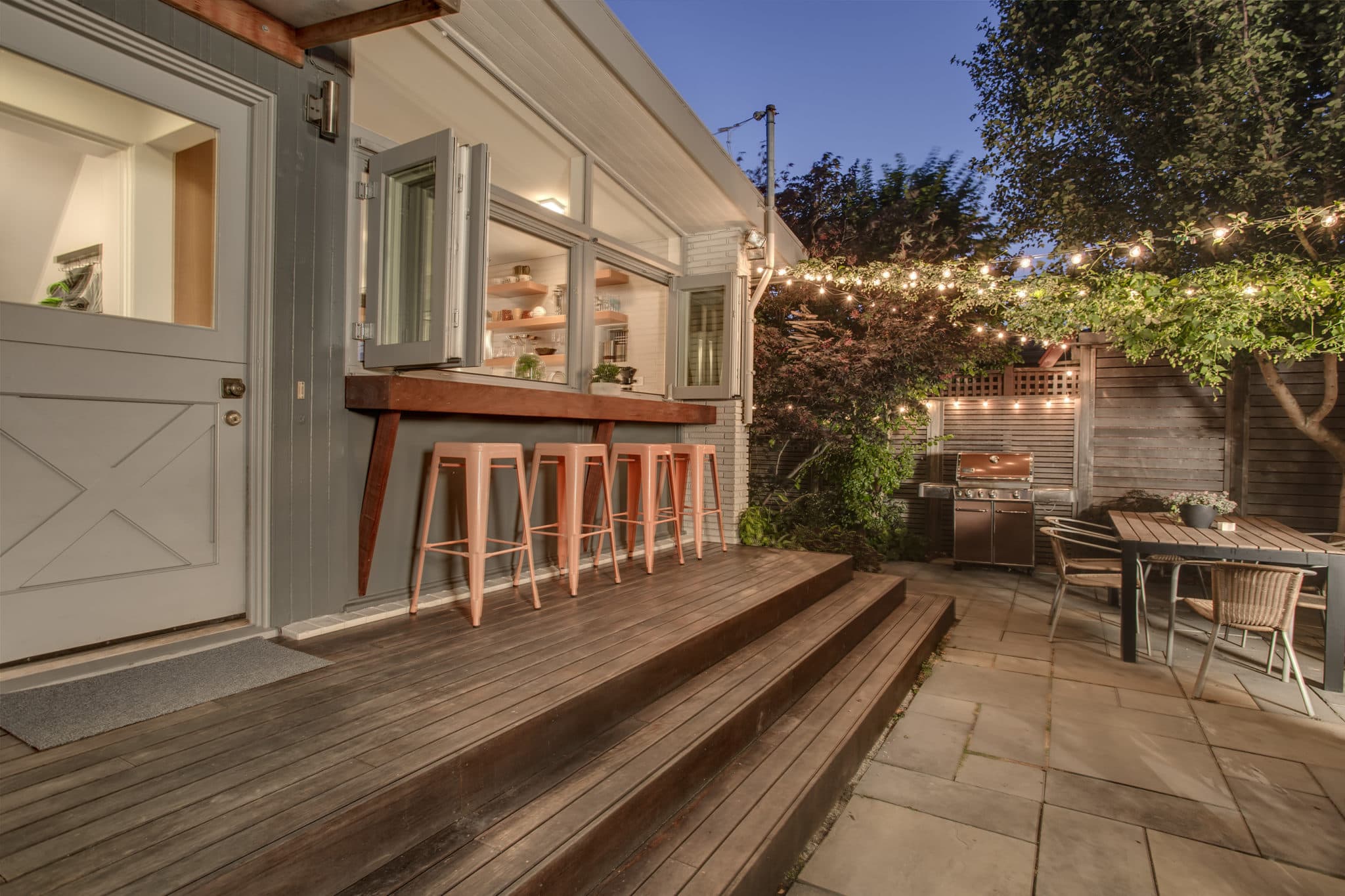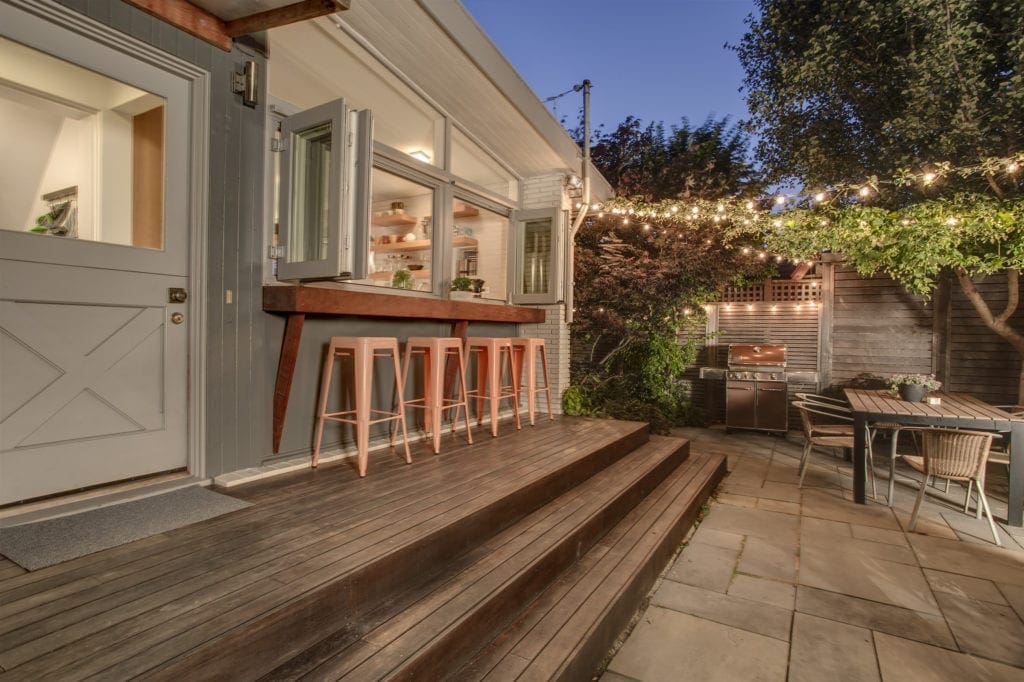 As we said above, this house is built for entertaining. This is especially true in warmer months when you can make full use of the gorgeous back patio. Flagstone and expert landscaping make it a natural oasis, enclosed by a sturdy wooden fence. (There is also a gate to the back drive.) If you are in the kitchen, you don't even need to walk outdoors to serve your guests. You can just open the windows and put out a tray of goodies on the bar while your guest mingle beneath string lights entwined with budding vines.
And Beyond the House, the Neighborhood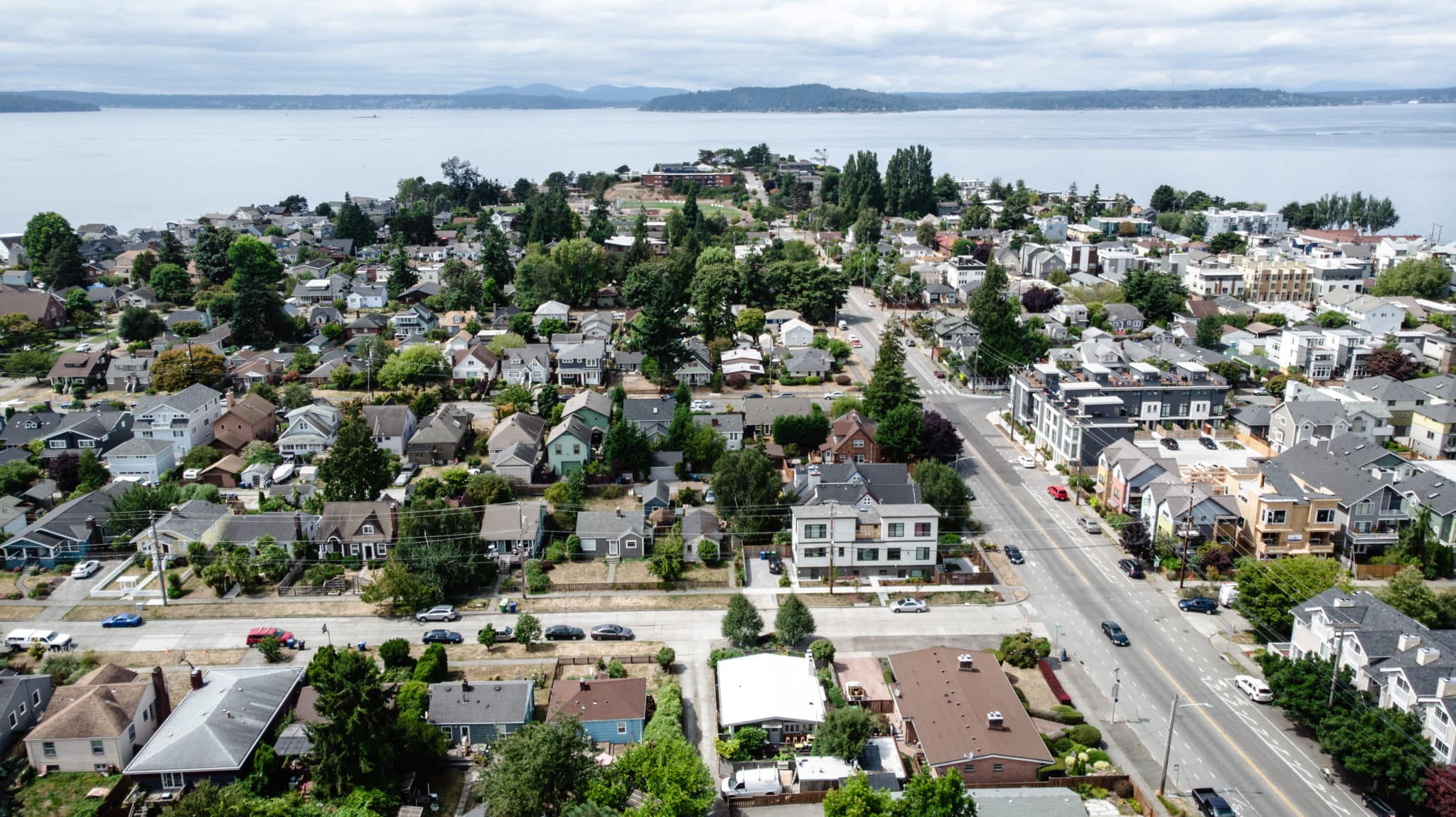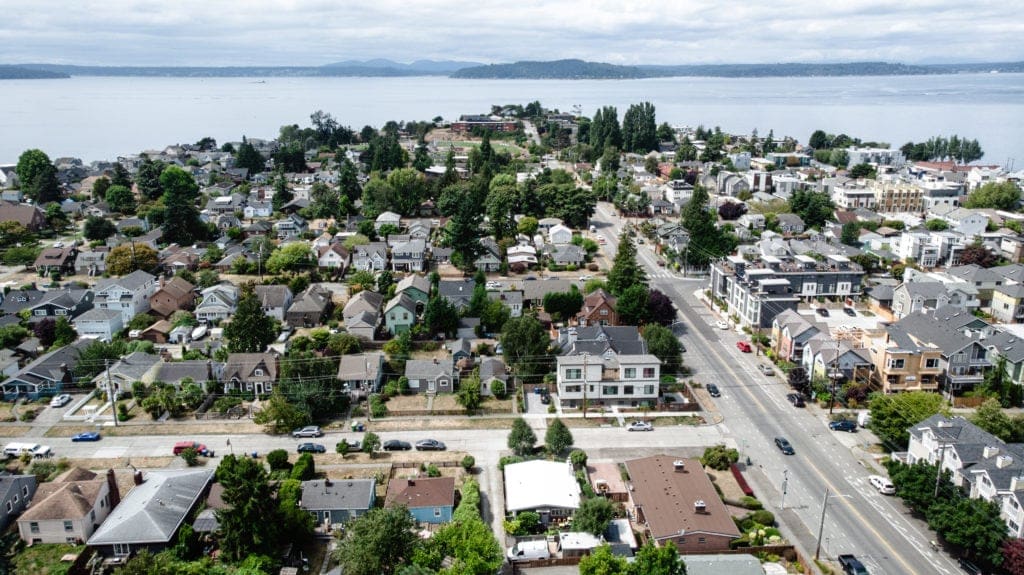 Not everyone who loves Seattle midcentury modern homes wants to be just a two-blocks from the beach. We sure hope that the next owners of this house love sweeping water views and skyline because this location has it all. And don't think that just because you are across from downtown it is impossible to get there. The water taxi is just a short walk, drive or bike ride away and crosses Elliott Bay in ten minutes.
There are other transit options that connect you with Admiral Junction and Alaska Junction if you don't want to drive to go shopping. And of course, there are the many eateries facing the water on Alki Beach. If you want a quiet residential area, but you love the resort-town energy of the beach, this location is ideal.