December is here and so is our latest Diva Dwelling: a North Admiral View Home inspired by Scandinavian design. It is perched high above Elliot Bay, so you know the views are majestic, but they are only one of the features we most love about this home.
A combination of gorgeous design, smart rebuilds, and wonderful outdoor spaces (and a sauna) make this home a joy year-round. (Not to mention the wonderful neighborhood in which it is located.) So let's dive into this quick virtual tour of our five favorite things.
North Admiral View Home: Our Top Five
Top to Bottom Rebuild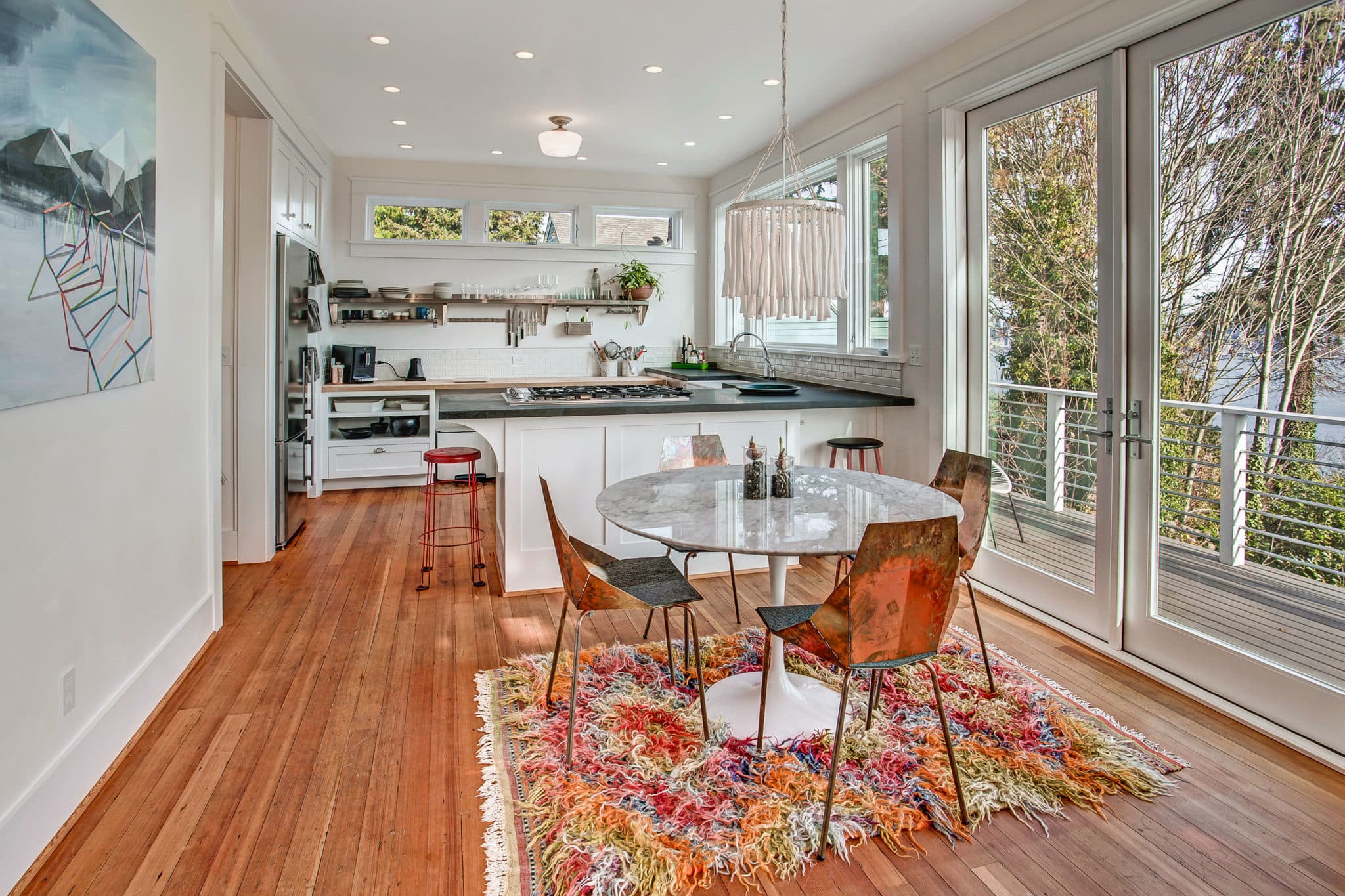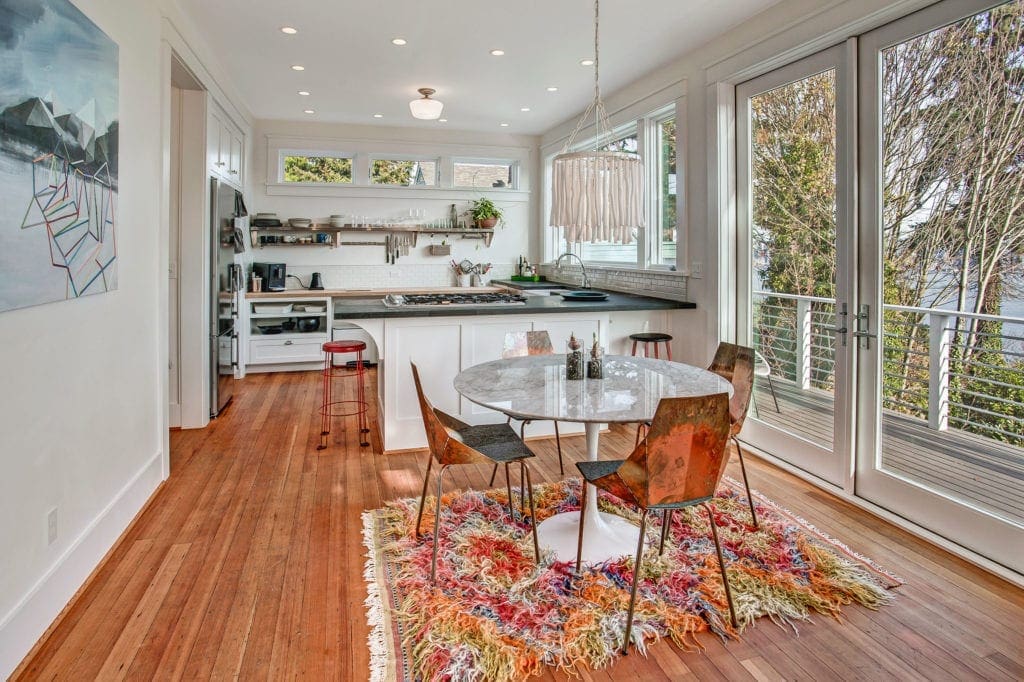 When our wonderful Diva Dwellers bought this home, it had recently been transformed from a modest house built in 1907 to the stunner it is today. This home was stripped to the frame, from bottom to top, and rebuilt in immaculate fashion. This North Admiral View Home is the pinnacle of craftsmanship. In over twenty years of real estate, I had never been at a comprehensive home inspection and had the inspector walk away without finding even one flaw—until this home.
No expense was spared, no corners cut, in ensuring this home would withstand the test of time and the elements. And because this home is perched hillside, having the highest quality Geotech and foundation work means everything. It's truly a stalwart and a wonder.
There are two dreamy bedroom suites upstairs, each with city views and private deluxe bathrooms. (The owner's suite bathroom even has a heated floor.) It's so cozy year-round, and simply gorgeous, too.
Scandinavian Inspired Design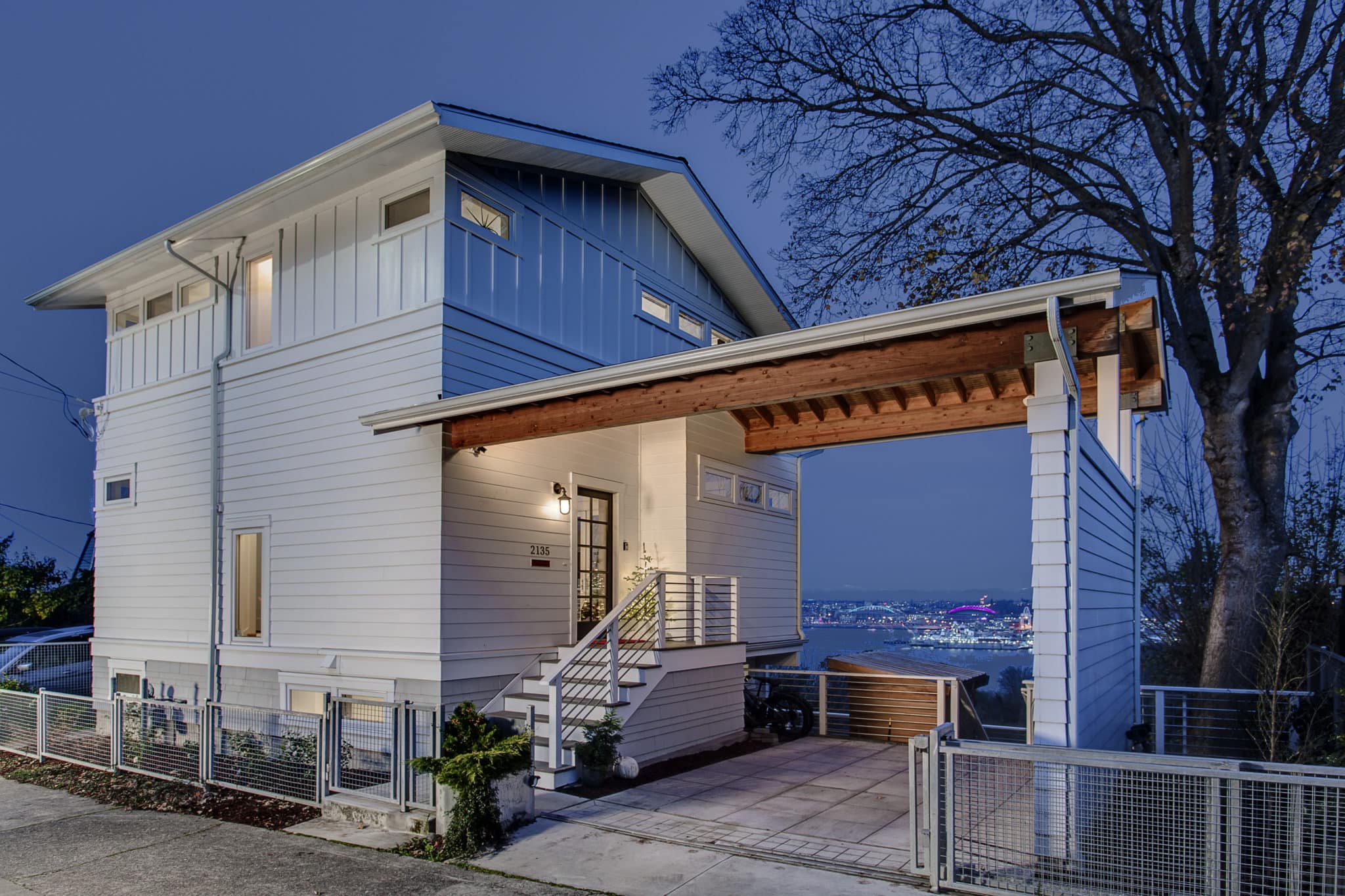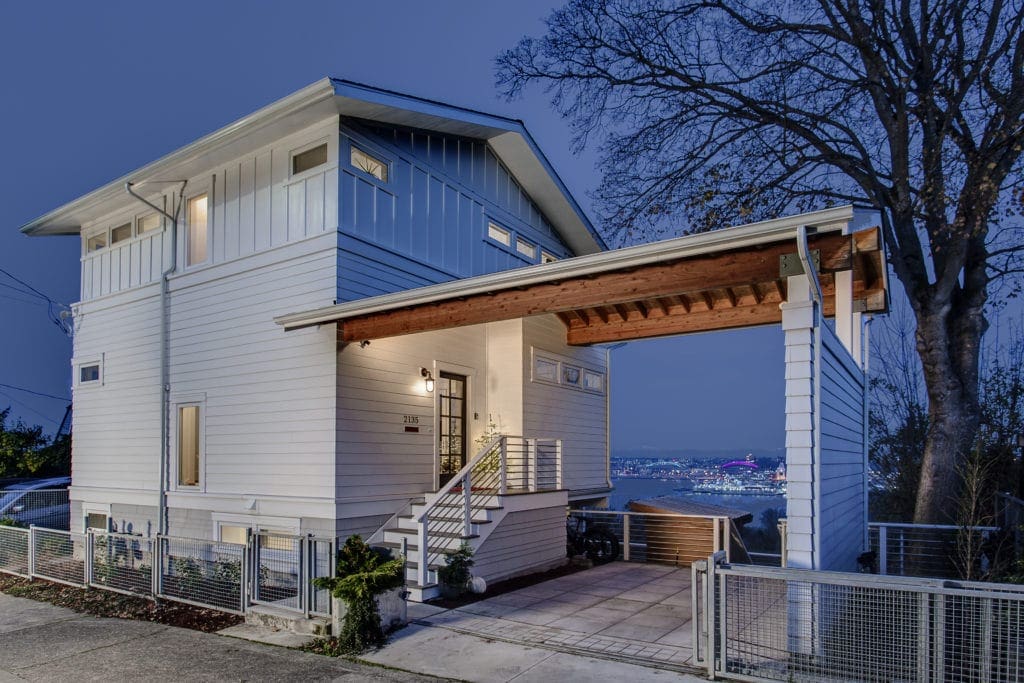 If you want glitzy bathrooms, busy media rooms, or flashy fixtures, this is not the place. This North Admiral View Home is designed for simplicity and functionality, with a focus on natural materials. Inspired by Scandinavian design principles, it is thoroughly modern and lets the surrounding natural beauty shine. Who needs all that distracting bling when you have beautiful spaces and stunning views to capture your attention?
The natural materials indoors are of superior quality, such as slate countertops, gorgeous cork floors downstairs, and pure pine floors upstairs. There is beauty in form, too. The perfectly organized kitchen, cleanly designed bathrooms, high ceilings with clerestory windows, and lovely uncluttered spaces are exquisite in their thoughtfulness. Again, this allows you to lead a chic, unencumbered life while focusing on the star of the show… the unique and stunning Seattle view.
The Unique North Admiral View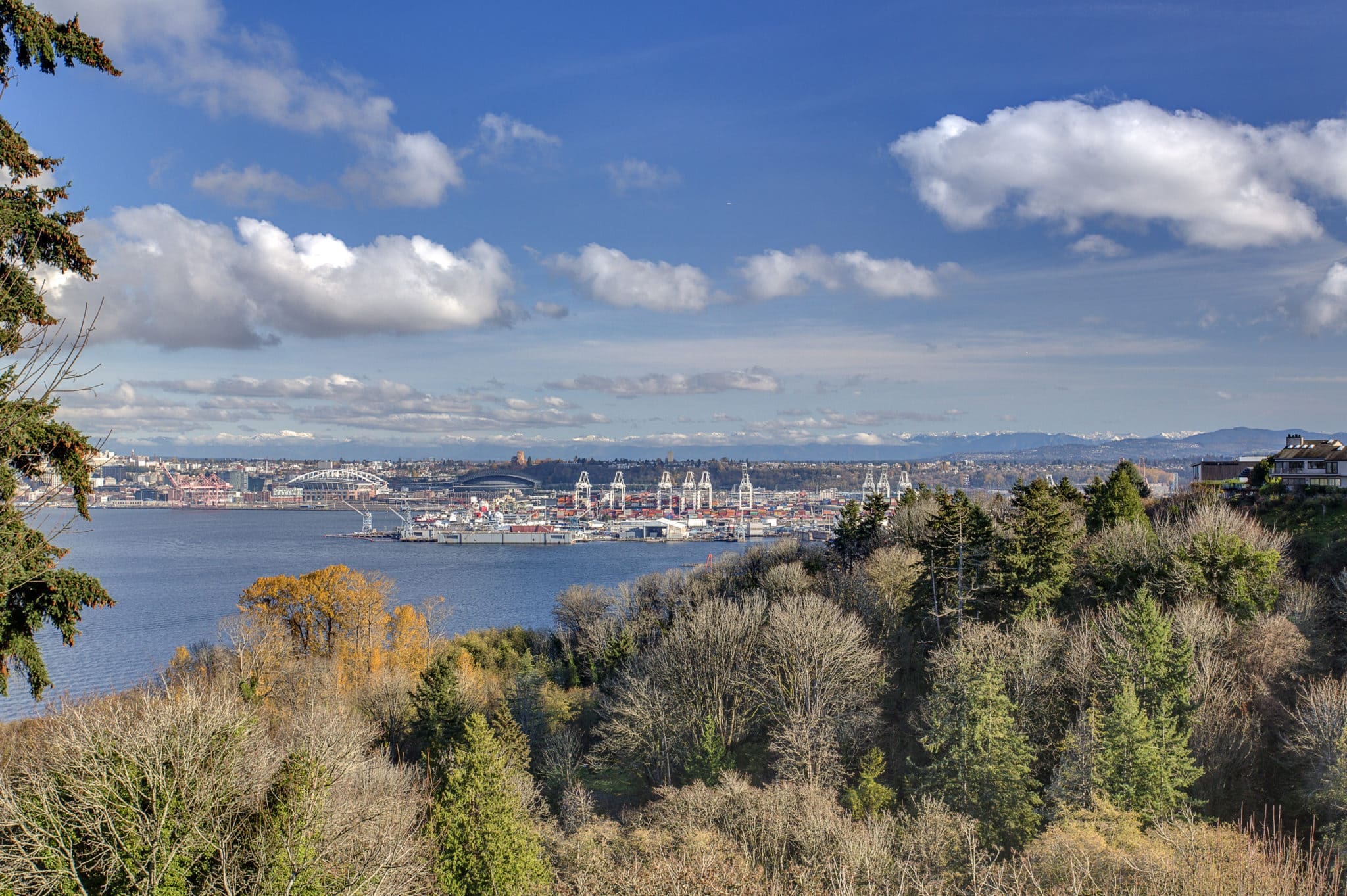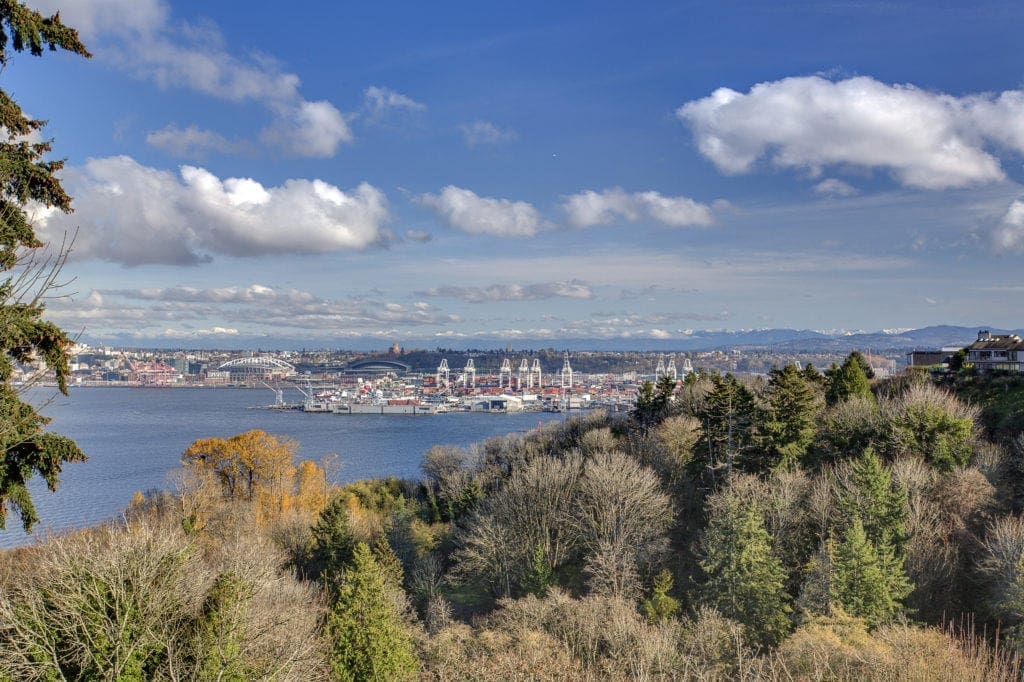 One might think that with a good view property, making that view the focal point is easy, but it's not. Capturing that view indoors often means overcoming physical obstacles, design challenges, and increased costs. Of course, when done right, the reward is sweet.
At this North Admiral View Home, nature is really all the art you need. Seattle is full of great views, thanks to its many hills and waterfronts, but this is unique. It faces east across Elliot Bay, toward downtown Seattle, framed by the lush greenery of North Admiral's wooded eastern slope. On brighter days, you will wake up bathed in sunlight, glowing over the city and on the water. And because you are tucked on the east side of the slope, you are protected from the lashing winter winds.
Watch the wildlife fly by in the morning, catch the ferries sailing in the afternoon, and by night you have twinkling lights of the port and city as your dinner time backdrop. It's endlessly dynamic and romantic.
Decks Galore to Enjoy Your View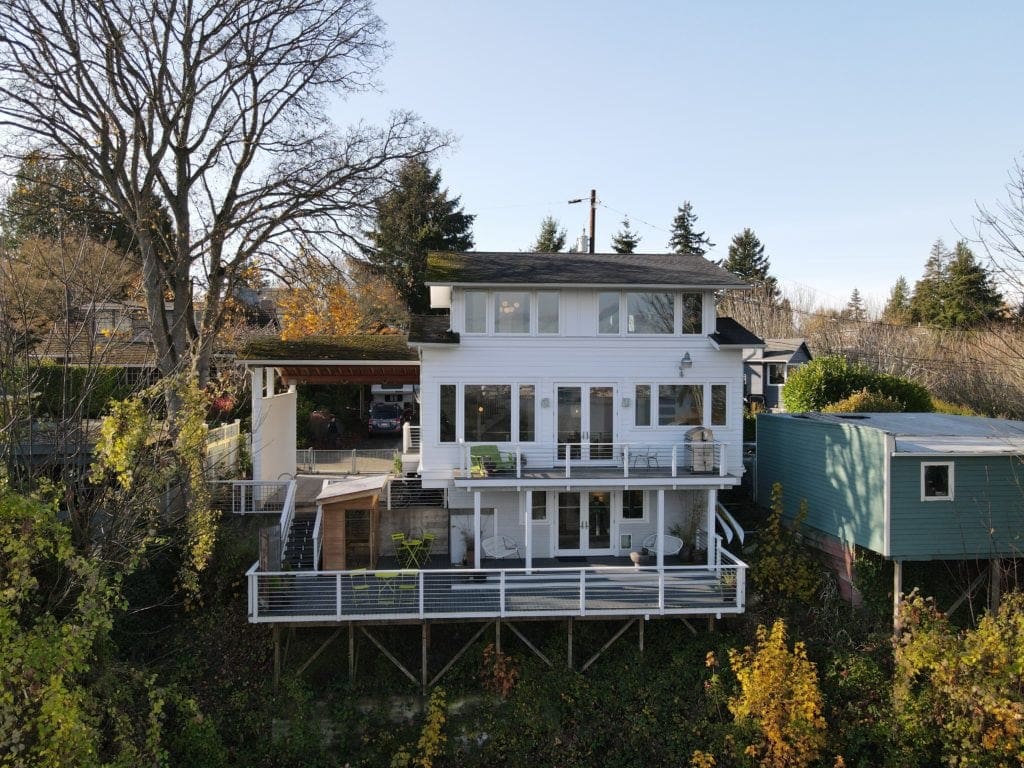 Getting this fabulous unobstructed view means perching yourself on a Seattle hillside, which usually means giving up yard space. Then again, who needs grass to mow or landscaping to maintain when you can have a grand view deck… or two?
The upper deck of this North Admiral View Home runs the full length of the main floor, with direct access from the dining room French doors. The open floor plan combined with this gracious deck means, from Spring to Fall you have double the entertaining and relaxing space. There are endless ways to enjoy your awesome view, alone or with a crowd (when circumstances allow). There's plenty of room for a gas grill, dining table, and small potted herb garden.
As if that wasn't enough, there's even more space on the lower deck. Head downstairs through the lower floor media room, out the French doors, and here you have deck number two. This lower deck offers space for lounging, socially distanced dining, gardening, and—the icing on the cake—a super swank Sauna. Grab a hot toddy, cuddle up with your honey to watch twilight descend on the city, and then hop into your private sauna and warm your bones before heading inside.
A Neighborhood Like No Other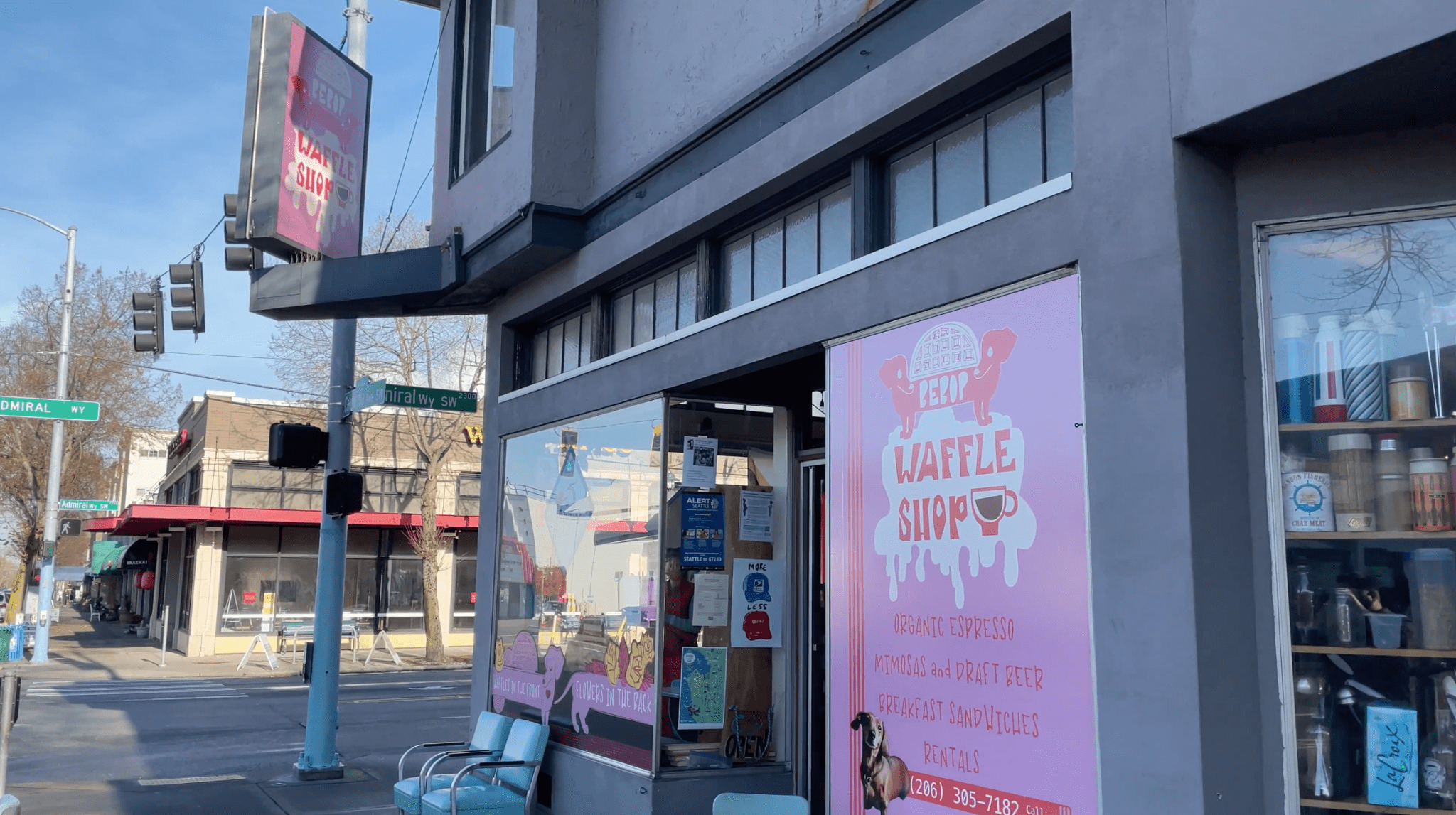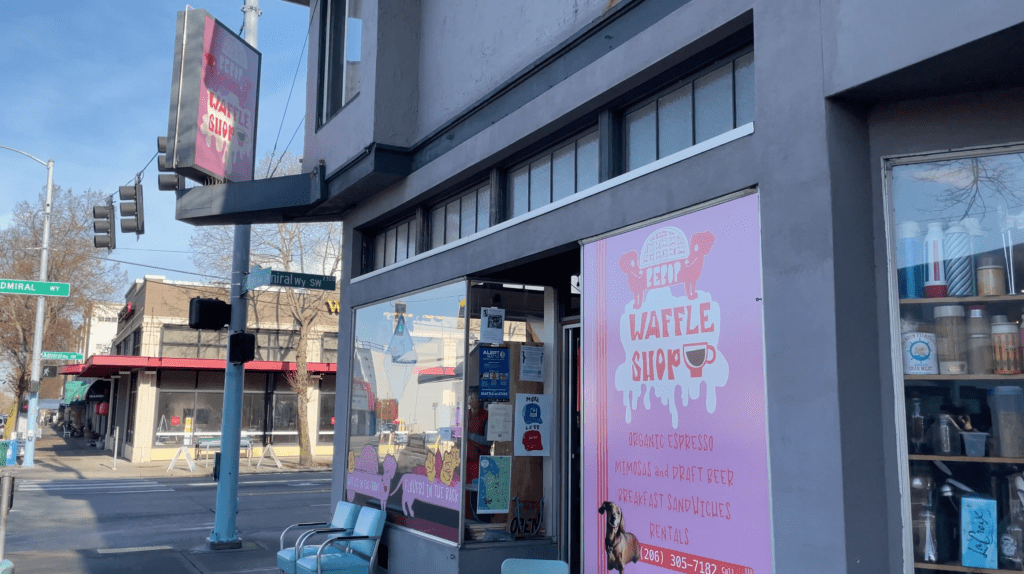 On top of having that unique view, North Admiral is truly a unique community. It is one of Seattle's finest neighborhoods, dotted with stunning 1920's and 1930's homes. Like this North Admiral View Home Diva Dwelling, many have unobstructed city and bay views, and well-kept facades along picturesque streets.
North Admiral has great walkability, and this home is within blocks of Metropolitan Market, great cafes like Admiral Bird, the Admiral Theatre, and the public library. Head downhill toward the water taxi and grab dinner on the deck at Salty's, or enjoy some awesome outdoor dining and fancy tropical cocktails at Marination Ma Kai. (If you know Team Diva well, you know that we are Marination Ma Kai fanatics.)
---
More About The Neighborhood: North Admiral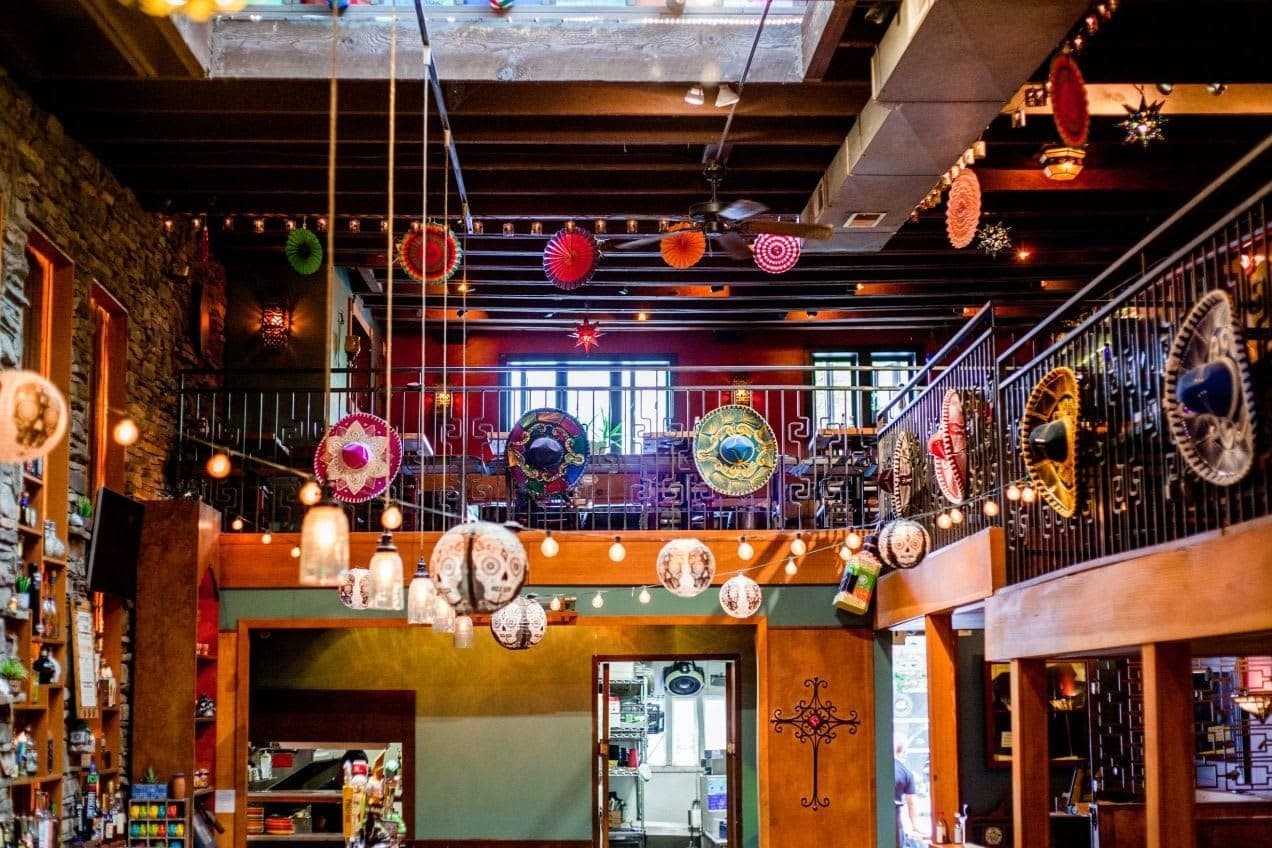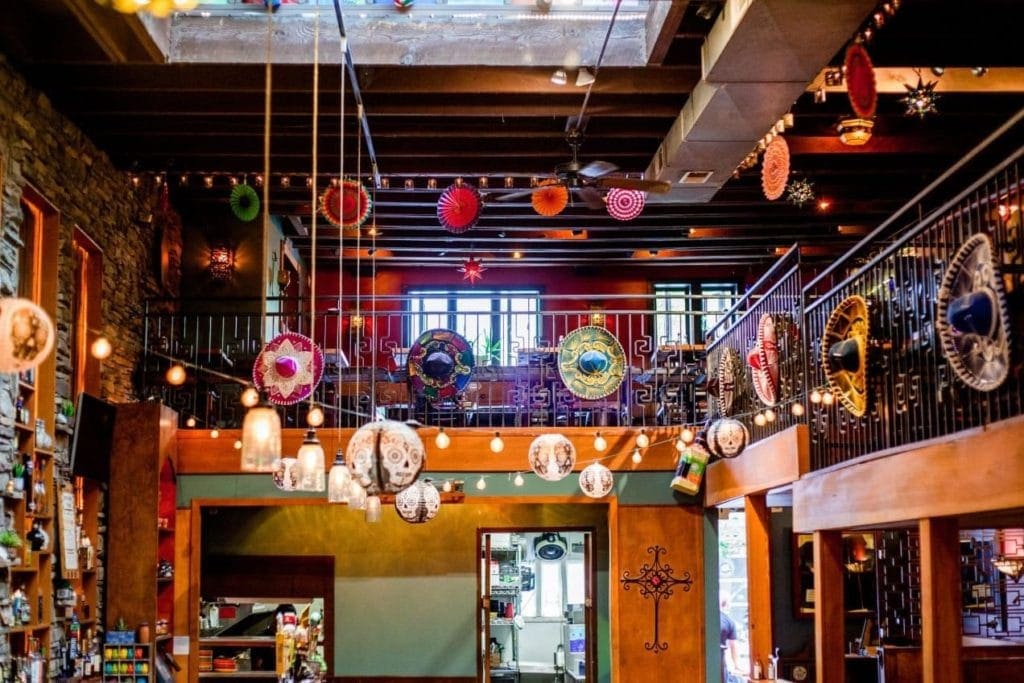 Before the West Seattle bridge went down, North Admiral was also known for easy access to downtown, by transit or personal vehicle. (Even by bicycle.) There has been a reason to hope that a solution for the bridge will come sooner than later, but in the meantime, North Admiral is still one of the better locations for downtown commuters, thanks to the water taxi.
This walk-on ferry is not just a rapid way downtown: It's also one of the most engaging and scenic ways to travel in Seattle. It gets you across Elliot Bay in about twenty minutes, right onto the downtown Seattle waterfront, right by Pioneer Square and several entrances to the transit tunnel.
But again, the real pleasures of this North Admiral View Home are in your own backyard. You'll find numerous bars and restaurants up and down California Ave, such as Mission Cantina, which was even featured in our 2018 article about under-the-radar West Seattle bars and restaurants.  Also on the list was Ephesus, which is just one of many great restaurants and bars along Alki, adjacent to Admiral. Naturally, we must not forget the great Alki Loop Trail for walks and bike rides.
---
A Guide To Buying A Home in Seattle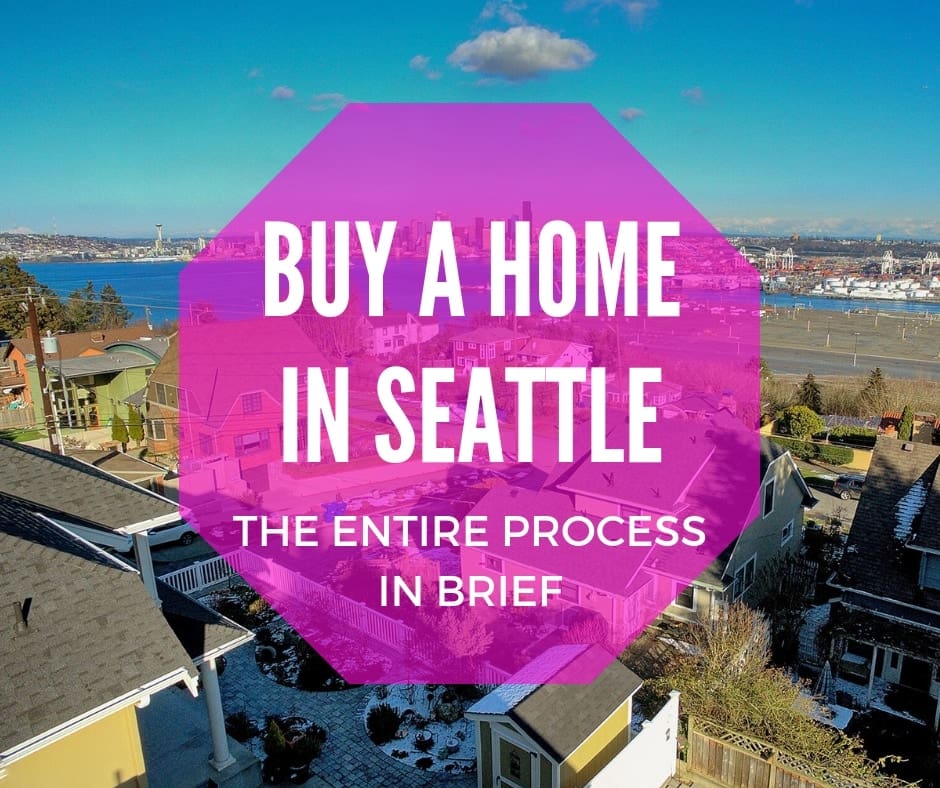 Read our guide to buying a home in Seattle. It's the culmination of dozens of other guides that go in-depth on each stage of the home buying process. This guide gives you a comprehensive summary and allows you to dive deeper into subjects.
If you want to read more, check out our Buyer's Page. You'll also get inspiring videos from home buyers of all stripes who won with Team Diva at their side.
---
More Information About This Home
Address: 2135 Arch Pl SW
Square Footage:
Bedrooms: 3
Bathrooms: 3
Offering Price: $1,465,000

Take a virtual tour of this amazing Diva Dwelling. It may not compare with the real thing, as you won't be able to see all the wonderful details and materials close-up. However, you will still be able to appreciate the amazing design that serves to frame these stunning views, inside and out, in the heart of a truly wonderful Seattle neighborhood.