Finding great restaurants outside the core areas is a really fun part of living in the city. Whether tucking into a tiny noodle house in the International District or getting the freshest seafood in Fisherman's Wharf by Magnolia, we all need a culinary adventure from time to time. Why not try out one of the many superb spots in West Seattle?
In summer especially, people flock to Alki Beach for the beach views, and there are some nice dining options there for sure. (La Rustica is one really fine example.) Salty's is a major destination diner for tourists (and longtime locals), but there is so much more to West Seattle dining. Here are five restaurants in West Seattle that may not be known much outside their neighborhoods, but are worth a trip.
Mission Cantina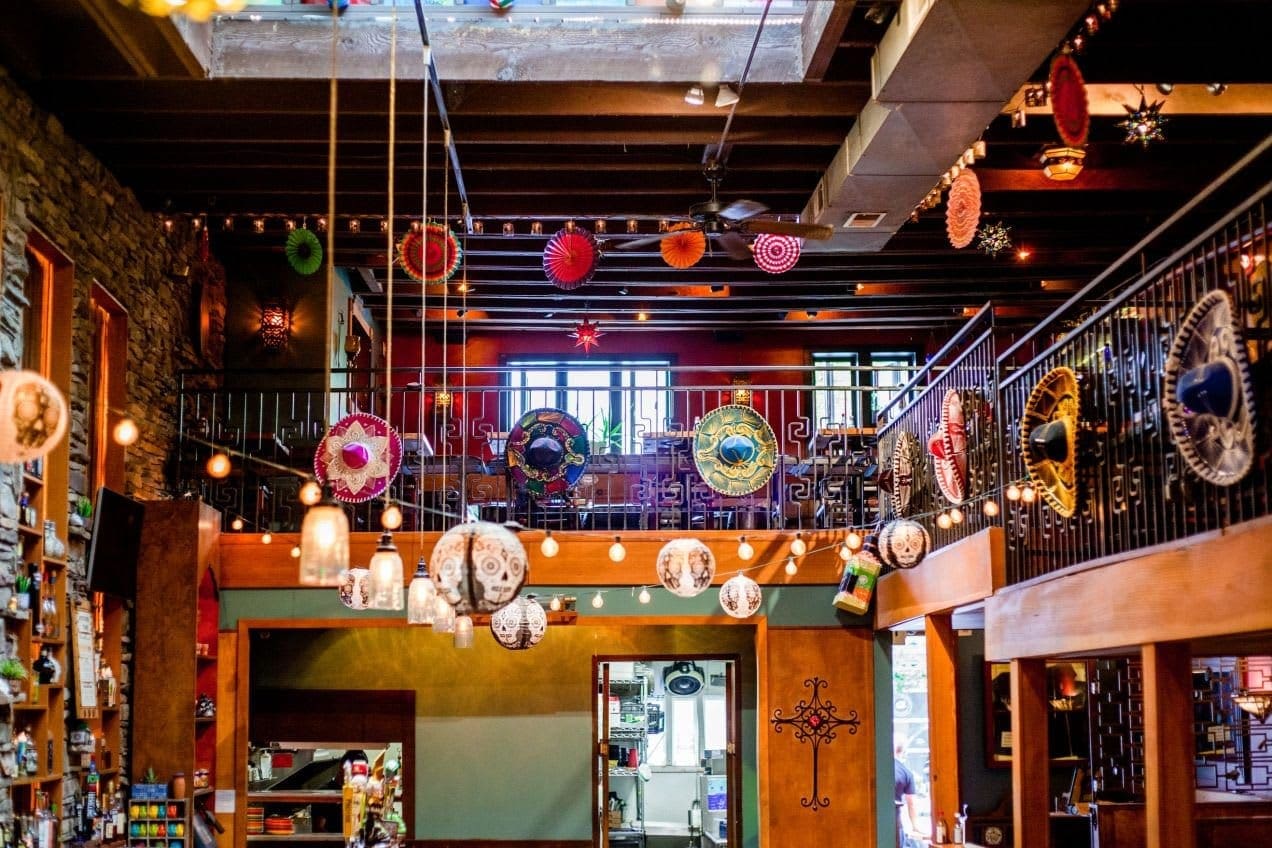 Tucked at the far end of California Ave, past the Admiral Theatre in Admiral Junction is Mission. This is another place that gets a 10 for atmosphere. The decor and design are faithful to its inspiration, an old Spanish mission. It has a great bar program, too, as you can see in the featured image of this post. Get a nice mezcal or tequila cocktail, or sip it straight. Their blog even tracks new agave liquors as they arrive in the bar.
To top it off, Mission is open for brunch on weekends, 10 am to 4 pm, with bottomless mimosas in 15 flavors (Mission Rum Punch mimosa, por favor) and a garnish bar for your Bloody Maries! Who could resist?
Buddha Ruksa
View this post on Instagram
We have some great Thai food in Seattle…and some not so great stuff, too. It can be hard to know in advance, and it's always so disappointing when you get a lousy one. From the outside, Buddha Ruksa doesn't look like much, but when you walk in, you know it's gonna be good.
In addition to having a yummy menu and specials, Buddha Ruksa has a fun atmosphere and friendly staff. If you like spice, don't be afraid to ask for some heat. If you like just a little kick, going middle of the road with the star rating ends up being just right every time. ?
Ephesus
View this post on Instagram
You don't see much Turkish food around town, and just adding a stamp to your culinary passport may inspire you to try Ephesus. It's a great date location for omnivores—so cozy and romantic. Kebabs and salads make for a very satisfying meal, but if you want something really hearty, go for the Toprak Guvec. They load an earthenware pot (Guvec) with seasonal veggies and your choice of meat (including a seafood combo). It's a perfect order for colder months.
Castillos Supermarket (and Taqueria La Fondita)
Beyond the high-end Tex-Mex fare at Mission, you can also get some of the best, most authentic Mexican food in Seattle if you head south to White Center. You just need to know where to look. Head to the back of Castillos Supermarket and order a la carte, or dig into the buffet (which changes dishes all the time). It's one of those best-kept secrets that locals love. Have a bite, and then take a big cup of Tamarindo to go while you do your grocery shopping.
View this post on Instagram
Bonus: A few blocks north, seek out the fabulous taco truck Taqueria La Fondita. You will wish we really did have a taco truck on every corner when you try their goodies. Five tacos for $7? Si! (And just so you don't end up scouring all of West Seattle for this kind of deal, find the truck at 100th St and SW 98th St.)
Salvadorean Bakery
View this post on Instagram

We've raved about this one in past blogs, but no food blog about West Seattle is complete without a shout-out to the Salvadorean Bakery. For over twenty years, this family-owned biz has been filling tummies with savory pupusas and sweet pastries. The guava stuffed buns are so, so yum. The restaurant is open for breakfast, lunch, and dinner. If you are craving soup on a cold day, they have some great options. We've never tried the traditional Sopa de Patas (made with beef feet, tendons, and tripe), but…it looks interesting.
Speaking of tradition, the bakery also has Day of the Dead treats, including sweet bread and sweets decorated like sugar skulls. They would look so cool at a Halloween party (even if that's a day early). ?
But seriously…get some of those pupusas!