Divaland folks know how much we love classic houses, and this charming 1940s Ballard home is hitting so many good buttons for us. We just love that it is on one of our favorite streets in Ballard, too: Mary Ave NW. Mary Ave and I have some type of symbiotic relationship. She is chock full of funky, unique, and charming homes and we have been fortunate enough to list them—three to be exact.
The neighborhood is just one great aspect of this home. Naturally, the vintage charm is a big one, as is the amazing corner lot yard, and the enormous space and potential throughout the home, especially in the kitchen and basement. Here are our top five reasons to love this Ballard gem.
Five Favorite Things About This Charming 1940s Ballard Home
It's often tough to narrow down these lists to just five items. And some of you in Divaland know we love well-preserved, vintage homes, so it was a challenge for this Diva Dwelling. If you feel similarly, then you'll definitely want to take the virtual tour by the end of this blog.
Let's start with the obvious: The 1940s Charm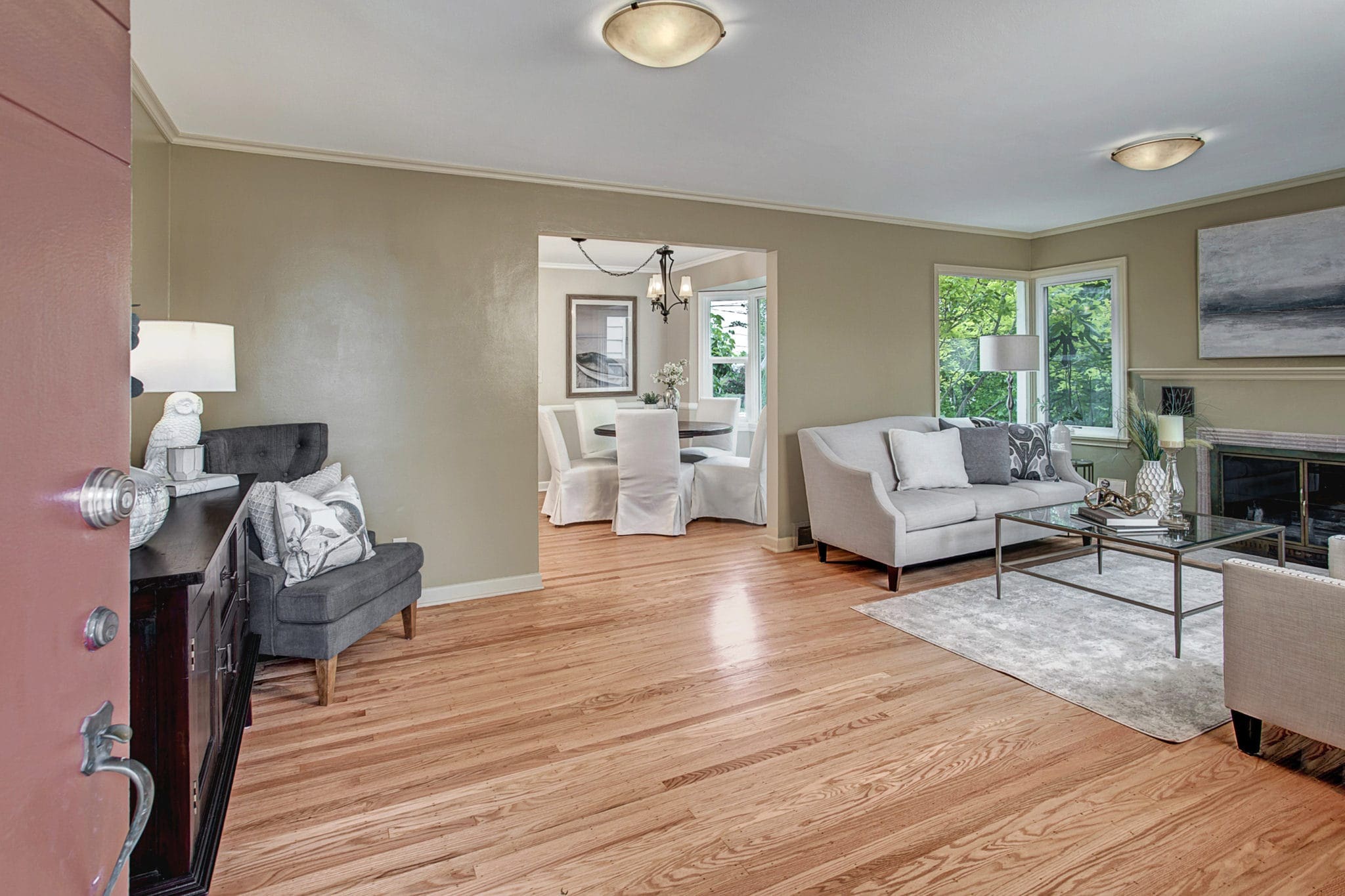 You can't really call a home "charming" and not have this as the #1 on your list of favorite things. But what do we mean? Well, simply put, there are so many great touches that you just don't see in homes anymore. Upstairs, you'll see original oak floors and a laundry chute to the spacious basement. (More on that later.) They didn't skimp on closet space back then, either, with one for every room.
In fact, while this charming 1940s Ballard home has a lot of hallmarks of the era, it still manages to offer more storage and open areas than one typically sees in older buildings. Case in point…
This Kitchen, And All Its Great Potential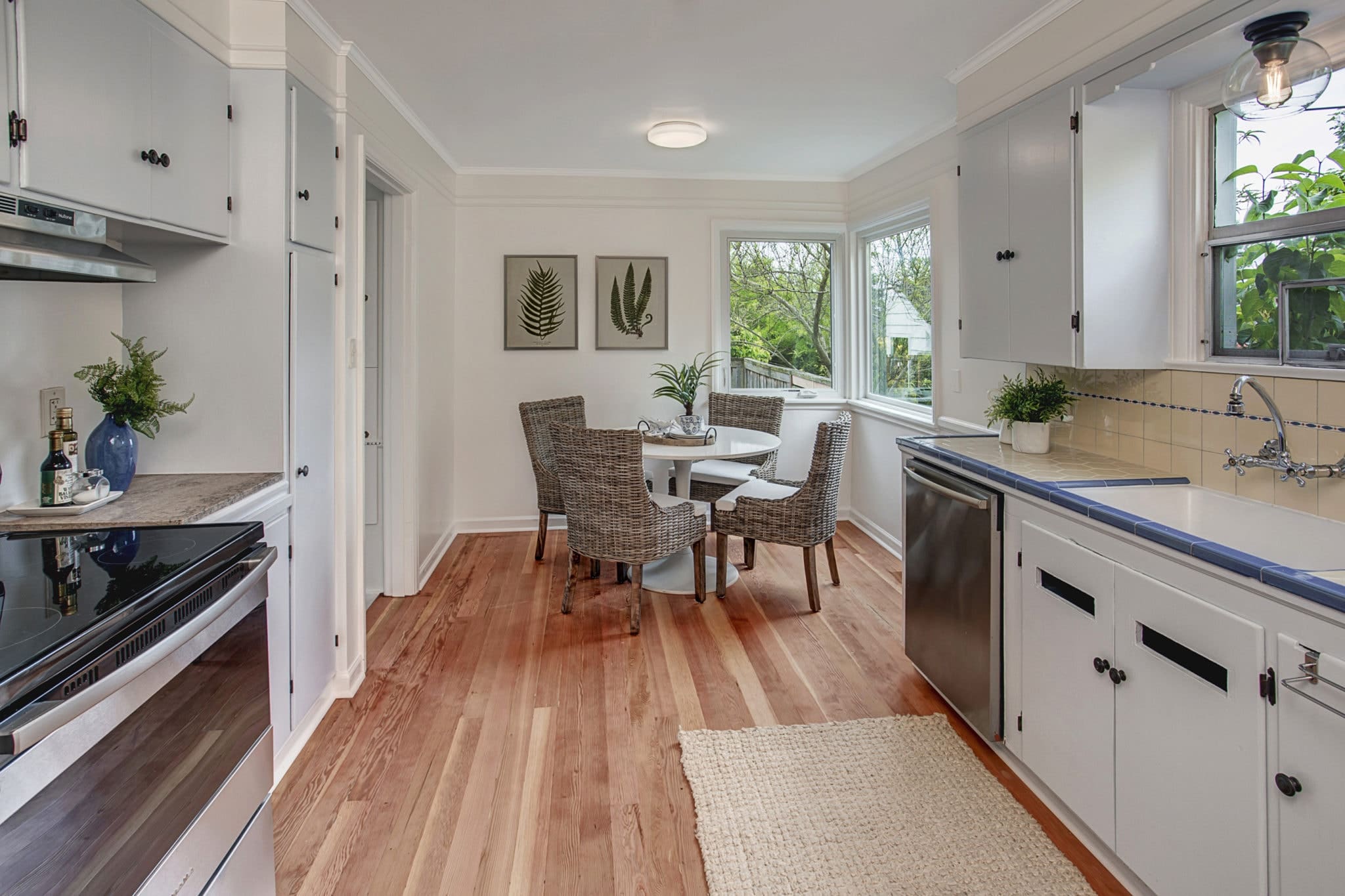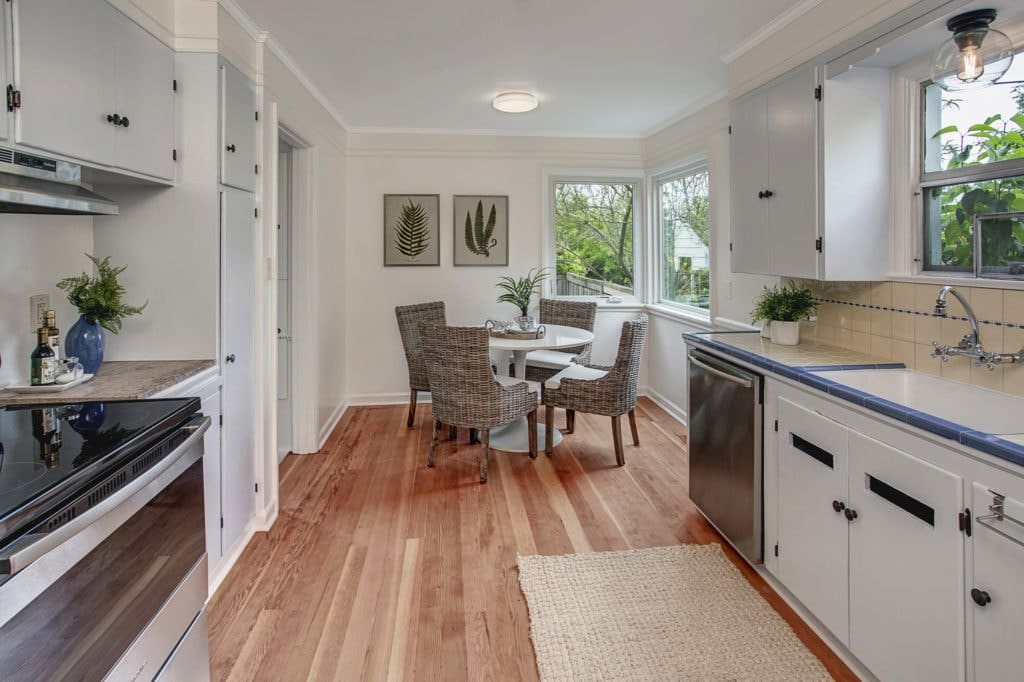 The current owners found well-preserved oak floors beneath a layer of very old linoleum. Sometimes the questionable choices of the 60s and 70s really do benefit us down the line. But again, what is extraordinary about this kitchen is the amount of space it has. The current owners used some of it for a breakfast table, where they could relax, eat, and read without using the formal dining space.
Is this kitchen updated? Nope. Does it have fancy countertops? Nope. They kept it cozy and true to the vintage style, but for folks with a more ambitious design for space, they have an amazing canvas to work with.
A Corner Lot With Room To Play And Grow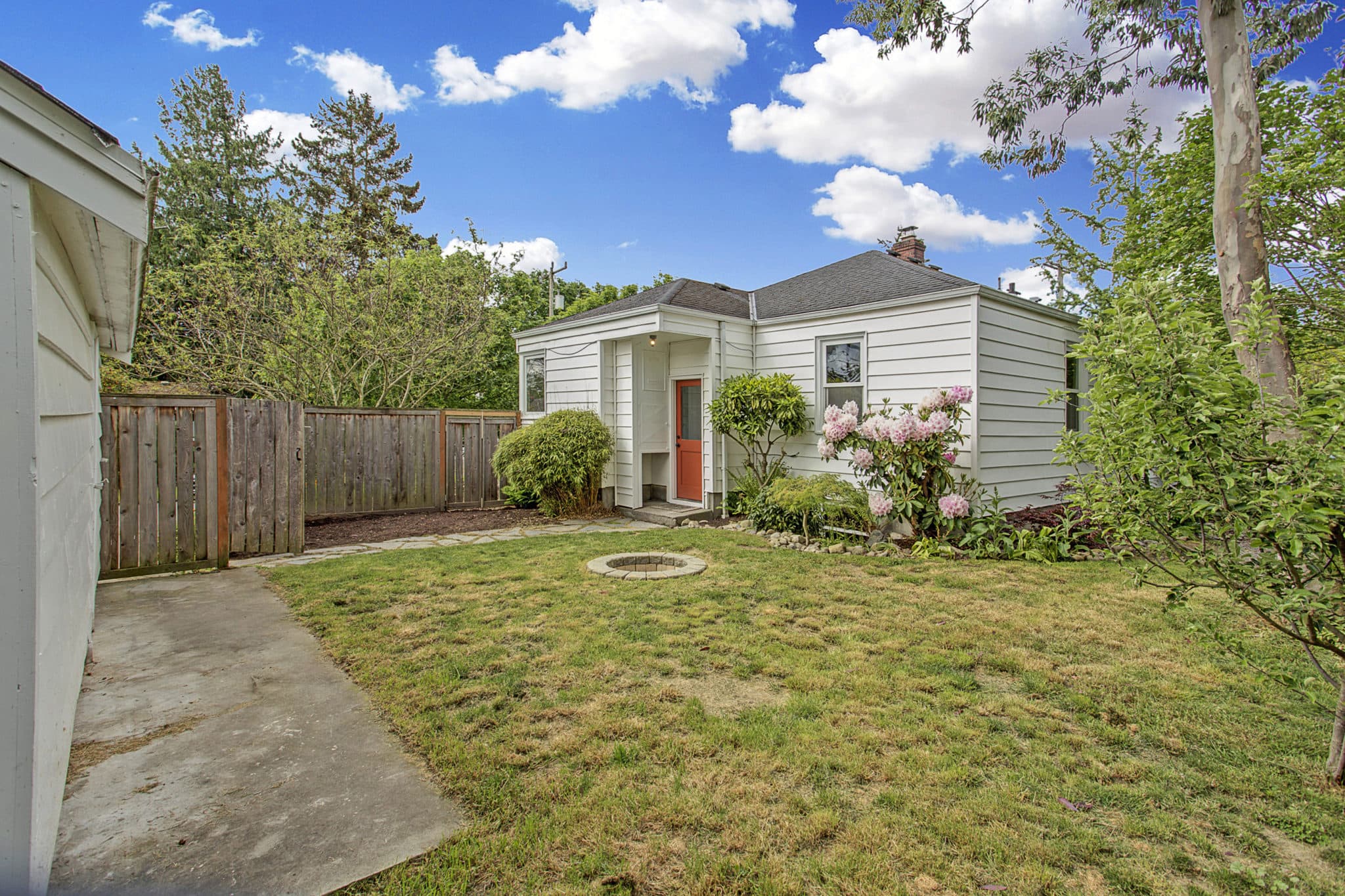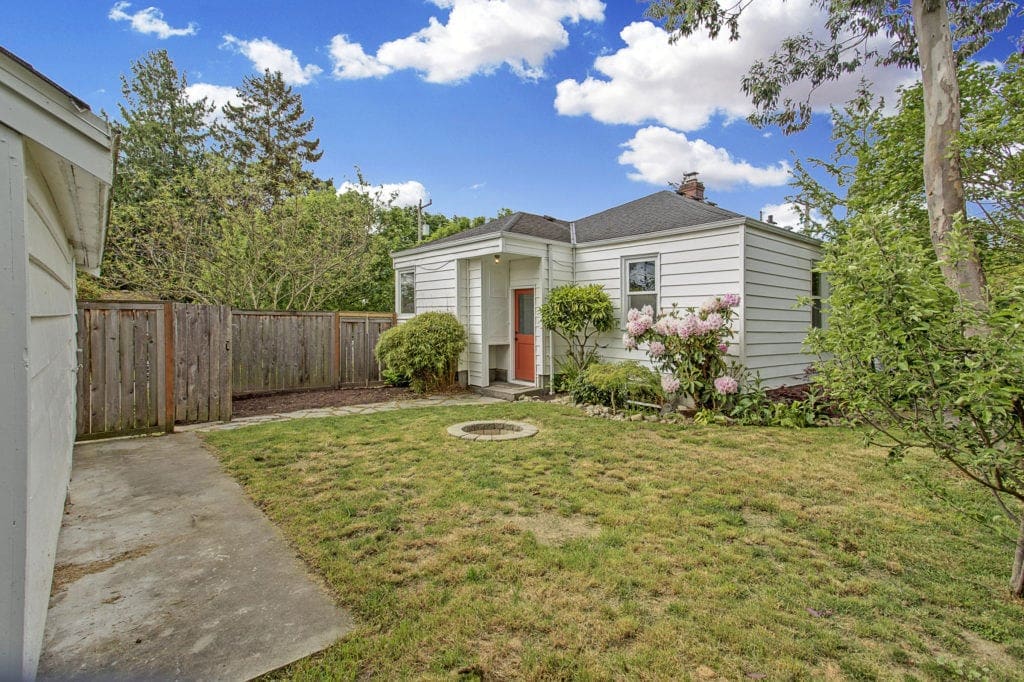 I love a corner lot home. The feeling of openness, the copious amounts of southern light that shines into this home makes it feel warm and inviting even on a dreary day. The current owners made sure it was just as inviting outside, too, by really developing the garden. They enlarged the yard, fenced it in, and reworked all of the landscaping, including a rock retaining wall and planters.
There is room enough to play with your dog or kids if you have little ones. And you will love the variety of fruits and edible plants that grow in abundance: figs, peaches, blueberry, rhubarb, hops, persimmon, bay, and more. This neighborhood is full of folks who love to garden, and walking around is sure to keep you inspired.
More on that in just a bit…first we need to finish talking about that basement!
A Charming 1940s Ballard Home With An Expansive Semi-Finished Basement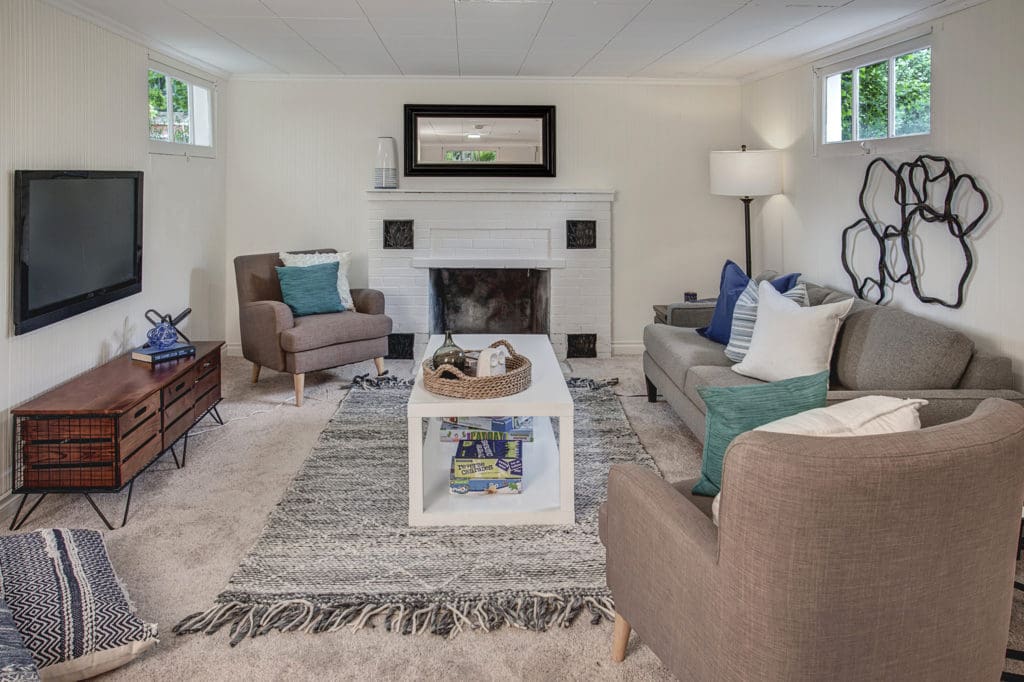 Space just keeps coming in this home. The basement has lots of it…and even a wine cellar. As it is semi-finished, there is so much potential for someone with a knack for design to transform the space. But it's already a major bonus as it is. There are a second 3/4 bath, a great room with its own fireplace, and a third bedroom!
Here We Are Again on Mary Ave
I love this street because it's so quintessentially Ballard, and just minutes to some of Ballard's coolest spots: The Fat Hen, The Dane, Delancey, and of course, Grumpy D's Coffee. This charming 1940s Ballard home is also close to Golden Gardens, Sunset Hill, and the Ballard Locks for a scenic outing. And when you need to do a big buy at the grocery stores, it's an easy drive to Safeway, QFC, Fred Meyer, Trader Joe's, and Ballard Market.
The current owners vouch for what a pleasure it is to jog in this neighborhood, and for the character of the neighbors. Folks have happily helped with their pets when they left town, and generally, just look out for each other. They'll miss these folks, but they like having the peace of mind that whoever lives next in this charming 1940s Ballard home will be getting a warm welcome.
---
Take A Look At The Layout
Get a sense of the layout of this home. Check out the gallery below:
---
Explore The Neighborhood: Ballard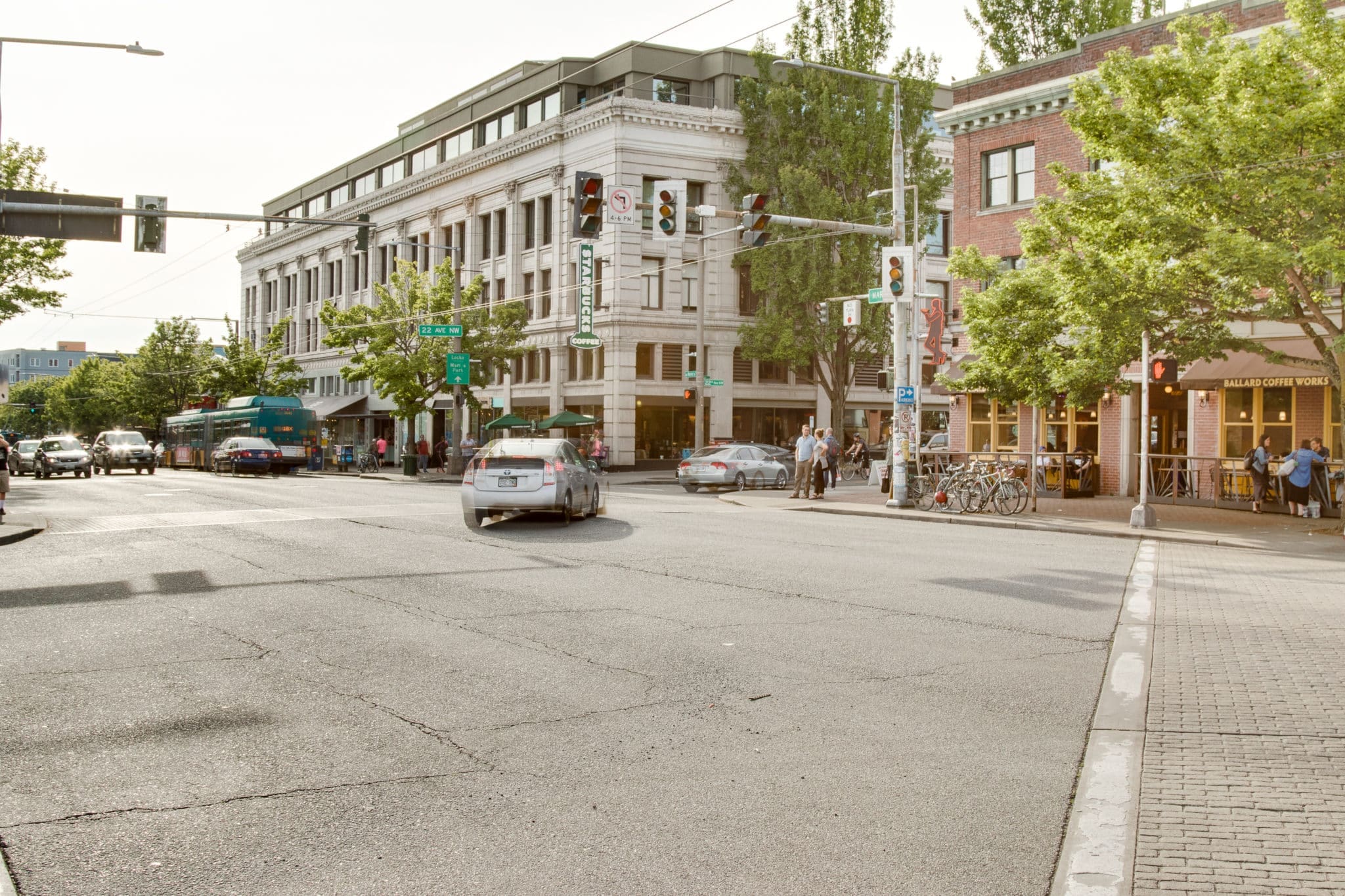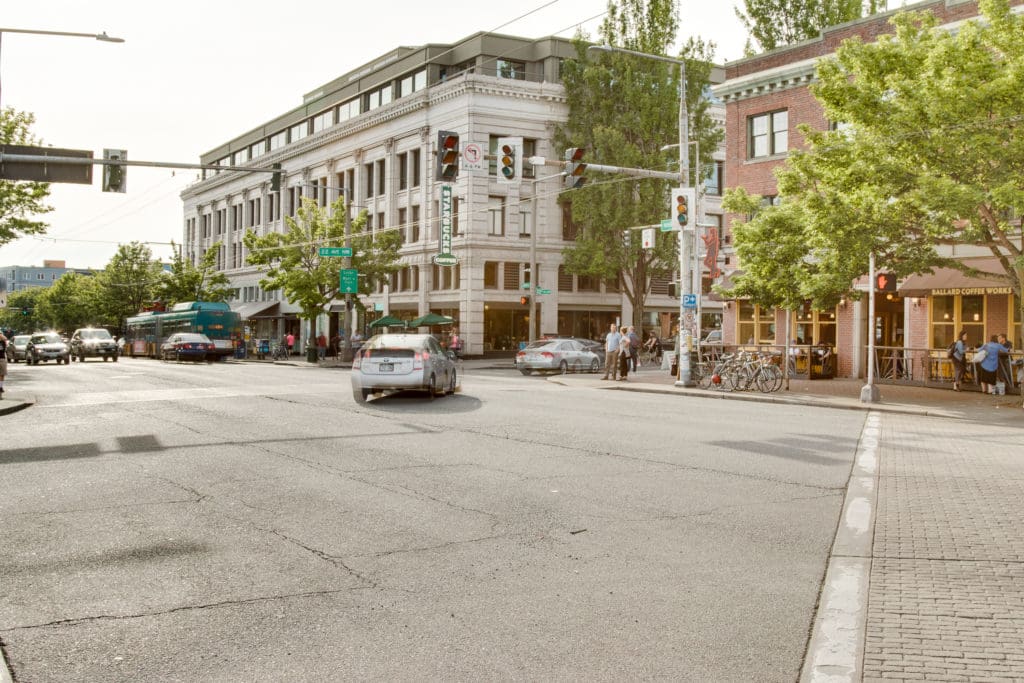 Ballard is a little world of its own, with its maritime legacy, old school streets, and boutiques, and new construction all mixed together. Despite all the bustle by the ship canal, the buffer of tall buildings keeps its northern, residential side nice and quiet. For those who want the convenience of strolling to shops, parks, the farmer's market, and a great library, it's a prime location. Even getting downtown is a breeze using the Rapid Ride and other express bus lines. Check out our Seattle Neighborhood page for more insights.
---
Tips On Buying a Condo in Seattle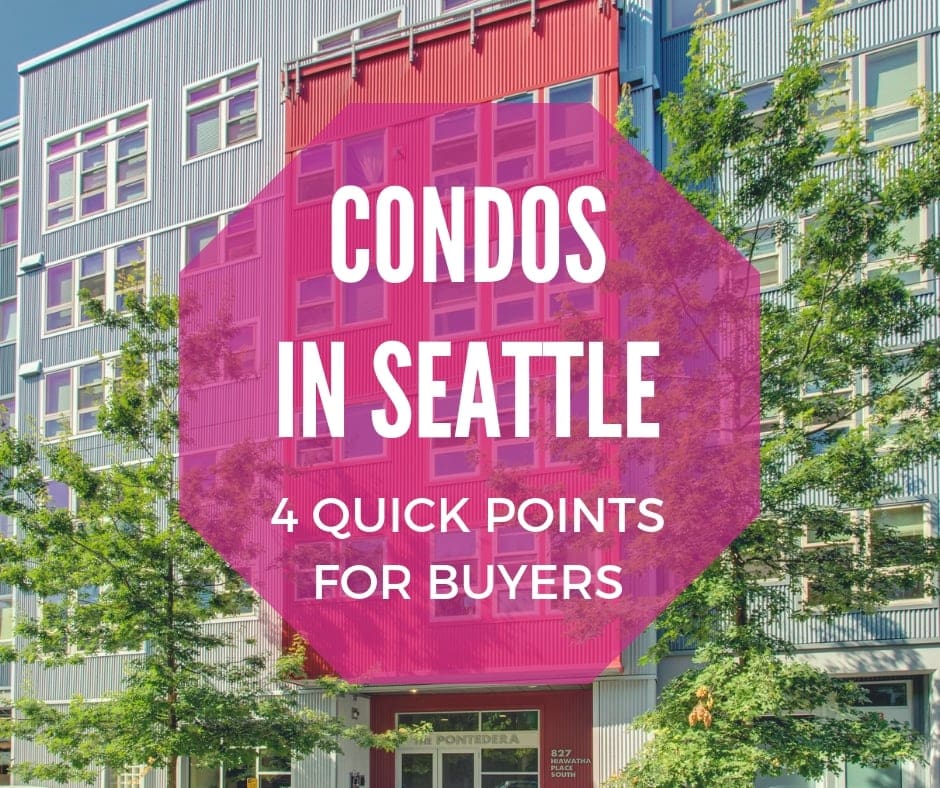 Buying a condo in Seattle is just as less involved as buying a detached home. But the paperwork and long-term considerations are different, so come in with a solid strategy. If you are buying a condo in Seattle, we've written a blog to get you started. In brief:
Identify Your Seattle Condo Buying Goals
Be Savvy About Your Purchase
Review the Condo's HOA and Financial Documents
Please Do an Inspection – No seriously. Do a freaking inspection!
Read the blog to get details on every step.
---
Take a Virtual Tour of This Charming 1940s Ballard Home

We hope you see why we love this charming 1940s Ballard home. And we are sure that others will appreciate its classic style, the simplicity and potential of its kitchen and basement, and its great lot and location. Join Diva Desk Dude Michael on Sunday, May 17th at 1030 AM as he goes live from our Facebook page from the home and gives you a tour.
Team Diva is committed to flattening the curve, if you are interested in seeing this home in person, please contact me, Kim V. Colaprete, for information on how you can see this home in person and find even more about it to love.
Home Details
Address: 7502 Mary Ave NW

Price: $725,000

Square Footage: 2,060

3 Bedrooms and 1.75 Bathrooms