It's not easy to find an older house that has been so perfectly preserved and updated as this Greenwood Tudor Home. Built in 1931, it strikes a perfect balance with original character and charm and modern convenience. The current owners have been very careful to respect the former while introducing the latter.
Let's dive deep into five points that made us fall in love with this stellar Tudor Home in the heart of Greenwood.
Our 5 Favorite Things About This Greenwood Tudor Home
We love that Seattle has such a varied housing market, where folks can find the ultramodern, minimalist block of their dreams, or a dreamy artisanal home. This Greenwood Tudor is definitely the latter. If you love artsy details and unique designs and have ever pined that "They just don't make them like they used to," then you have to see this house. It has simultaneously been gorgeously preserved and ingeniously updated.
The Vintage Charm (With Necessary Updates)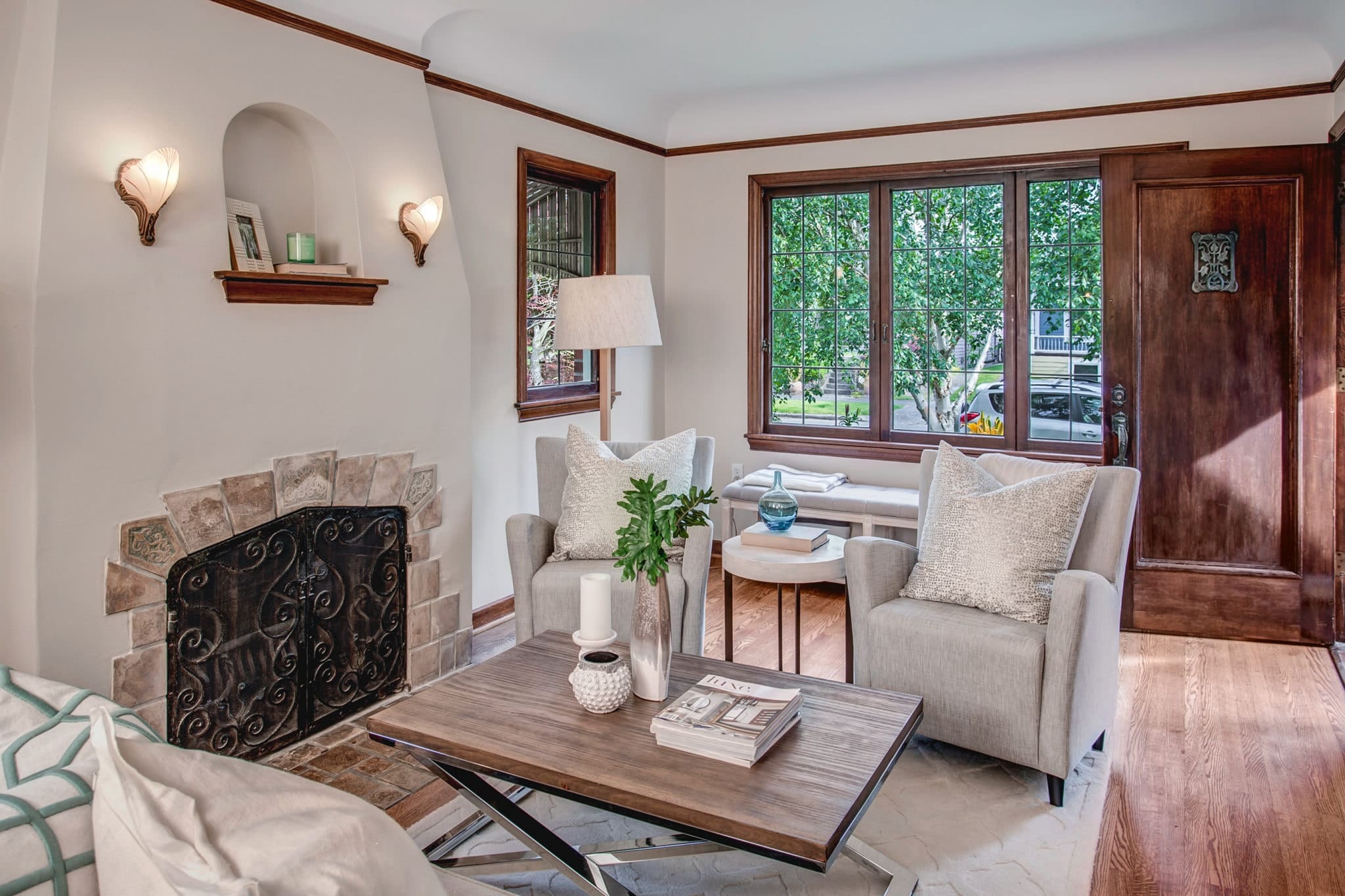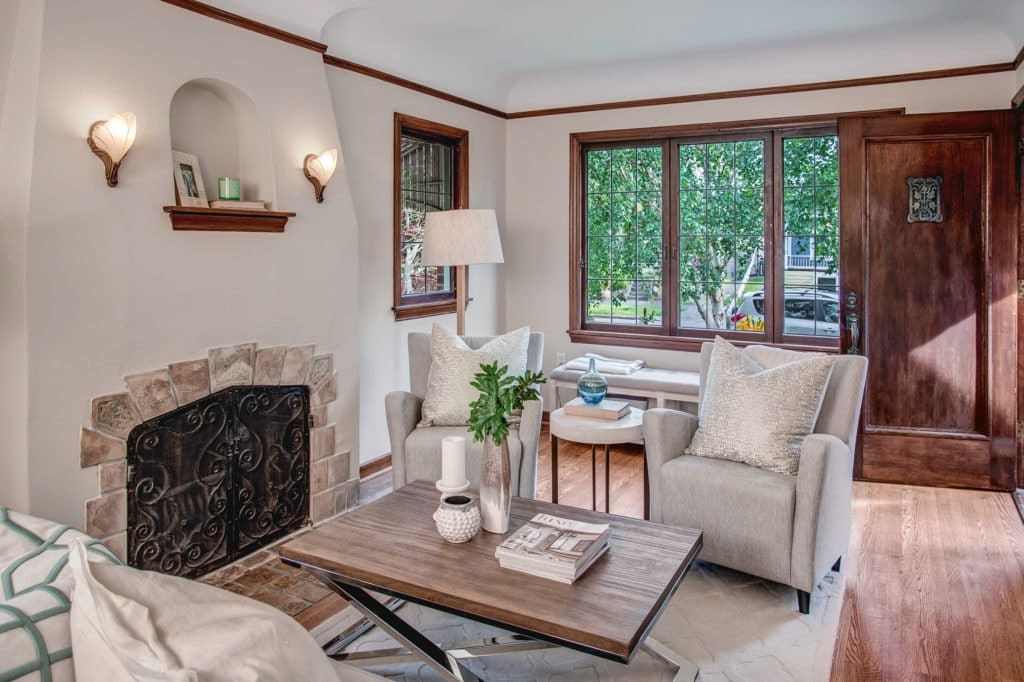 We'll start with one of the more obvious reasons to love this Greenwood Tudor Home: It's a 1931 Brick Tudor! You don't see many of these gorgeous homes and their artisanal touches in Seattle. Coved ceilings with original mahogany trim in living and dining rooms. A mission style fireplace with original art deco tiles and glass slipper shades. Throughout the main floor,  there's the gorgeous solid oak flooring and leaded glass pocket windows. Simply gorgeous.
Of course, aesthetics are key, but what about the structure? It's also solid, and the owners have done great updates, too. There is a new electrical panel and completely updated electrical throughout the home. In 2010, tuckpointing was done on the majority of the home and still looks fabulous. The attic has been recently re-insulated, and the upstairs bedrooms and bathrooms have all been updated. But there is one update in this Greenwood Tudor Home that stands out to our team…
A Brilliantly Updated Open Kitchen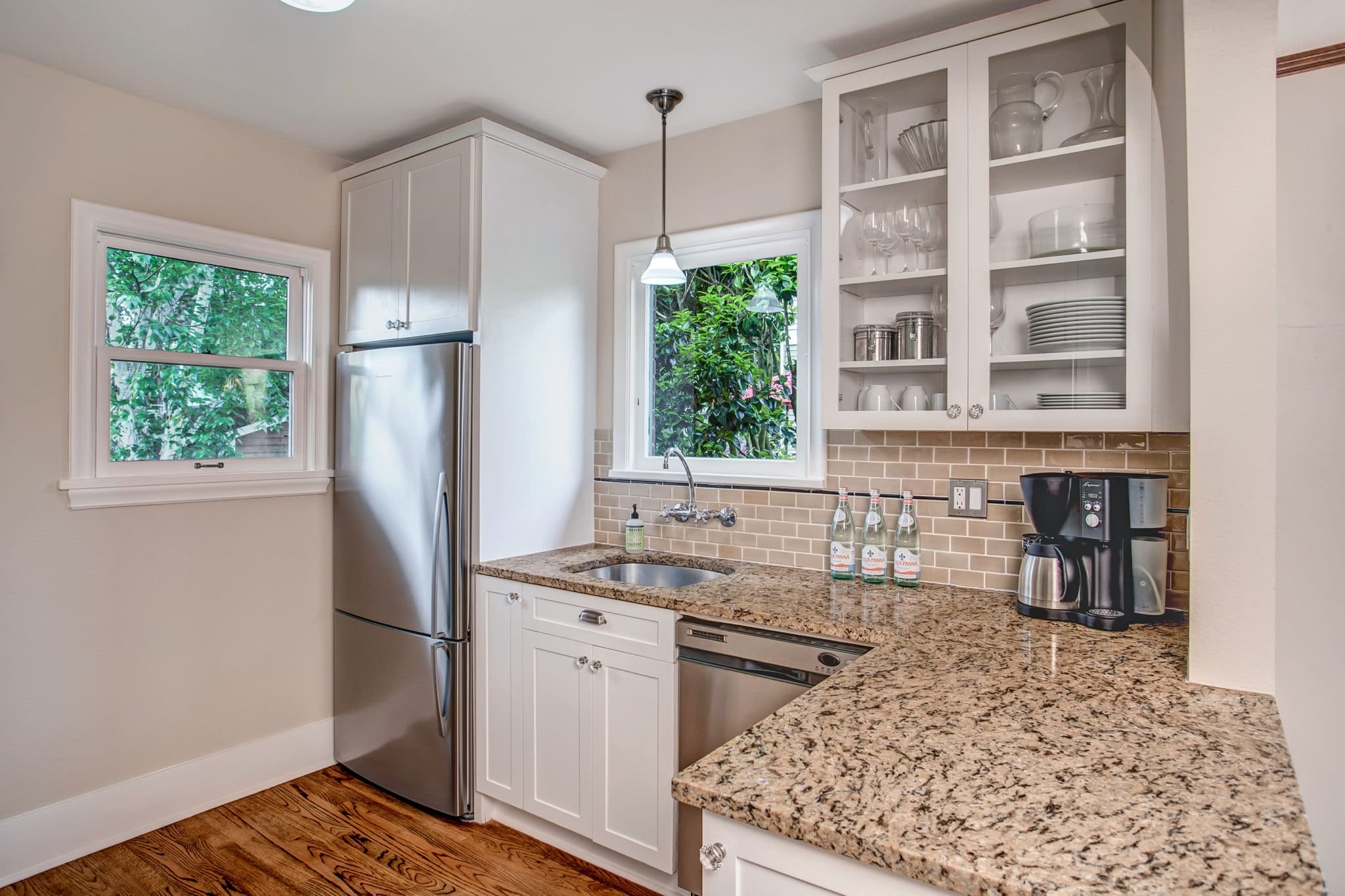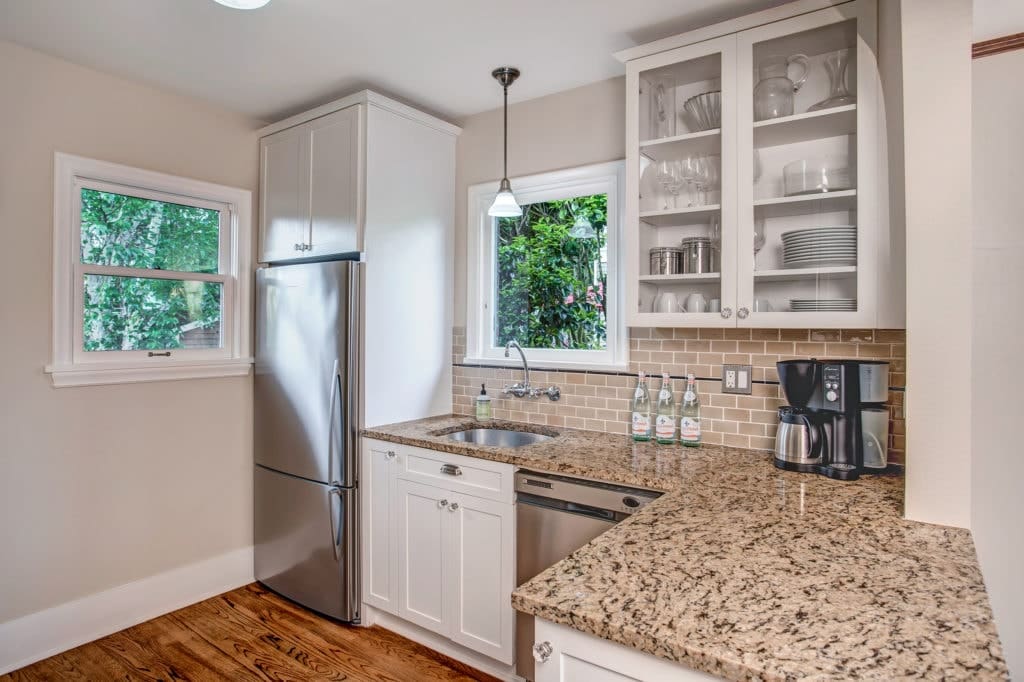 When the current owners bought this home, it still had the original 1930s kitchen. They did not want to disrupt the period style, so they modernized it while maintaining a consistent aesthetic. That alone was brilliantly done, but they also opened the kitchen to the dining room for more light and functionality. They did an amazing job, with granite countertops, new oak floors, and new cabinets. As for appliances, the induction stove and microwave are less than a year old.
This Greenwood Tudor Home simply demands a dinner party.
A Greenwood Tudor Home With a Spacious, Private Backyard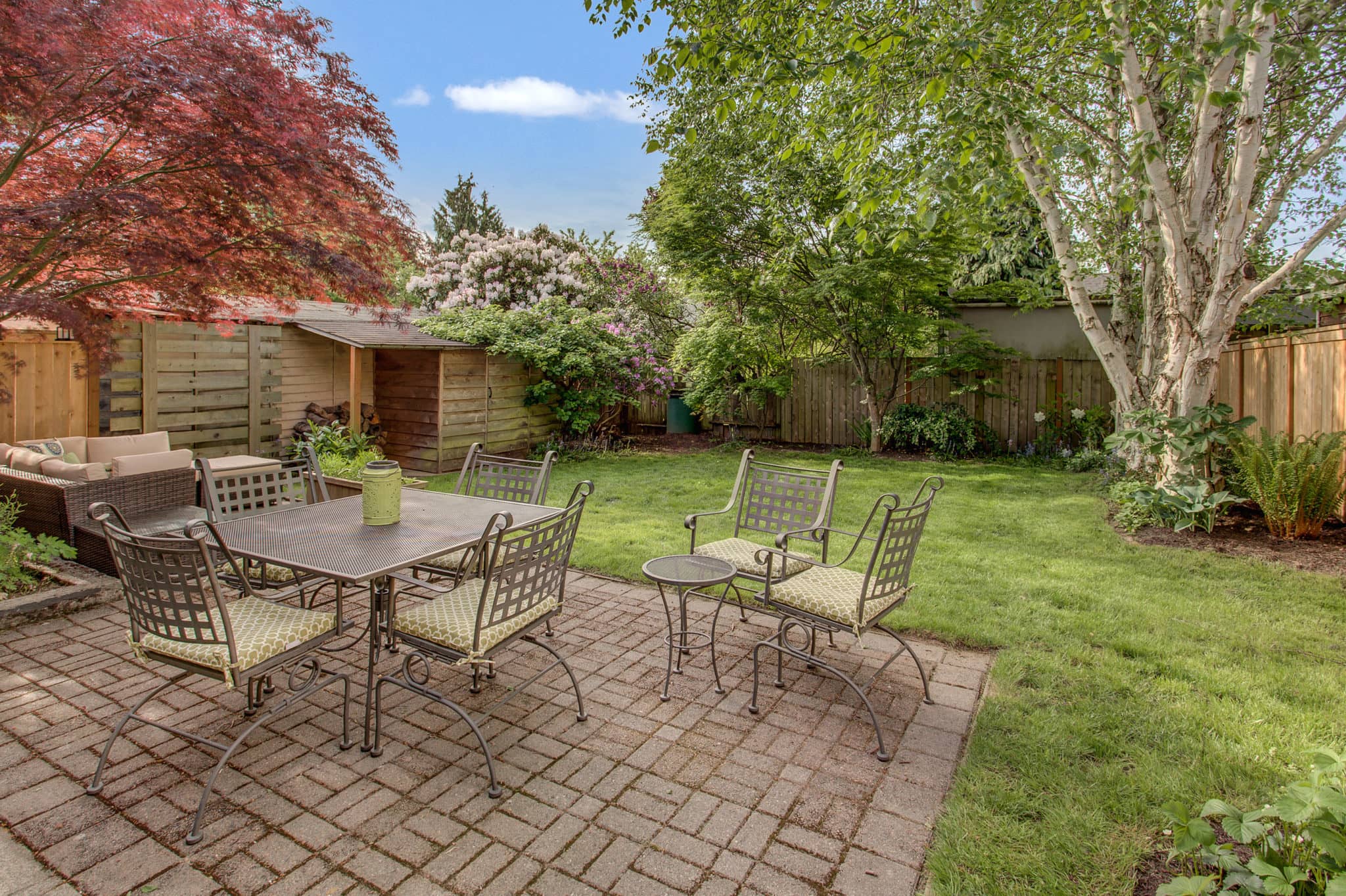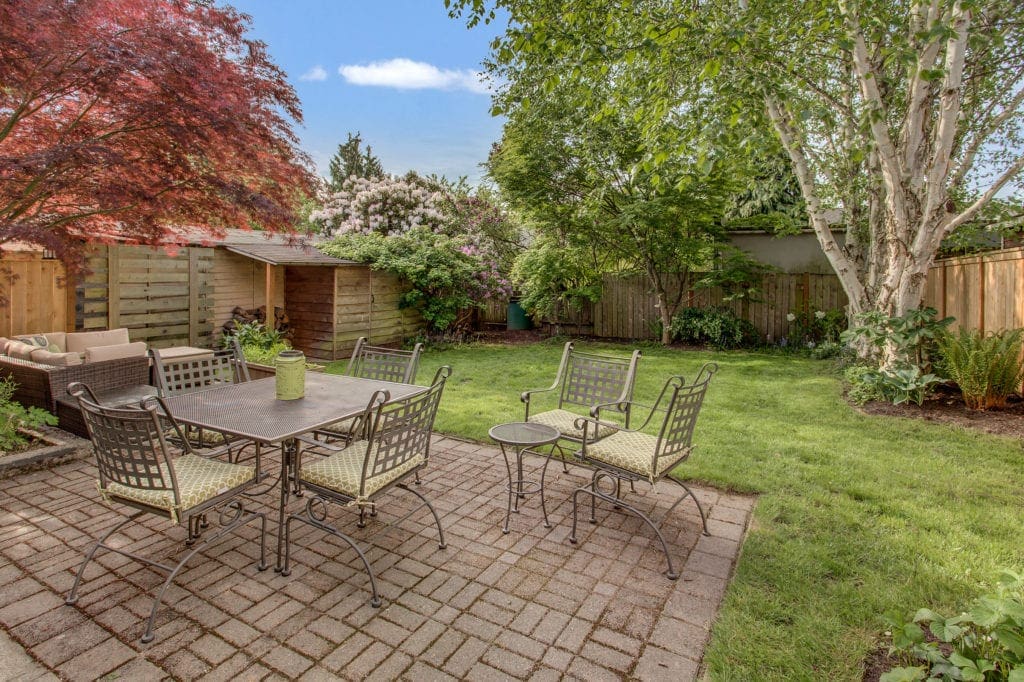 How awesome is this yard… It has plenty of room for playtime, entertaining, gardening, all the alfresco activities you could want. The mature trees and established landscaping includes a strawberry patch for your own summer harvest. There is a small patio for dining and BBQs, and even a shed to store your yard work tools and more.
If you need more storage, there is also a fully finished garage, with new custom-built solid wood carriage doors and recessed lighting. And because this home has also recently been repainted inside and out, it looks just as great from the outside as it does on the inside. You'll certainly want to enjoy it both ways when the sun is shining.
The Secret Flex Space Below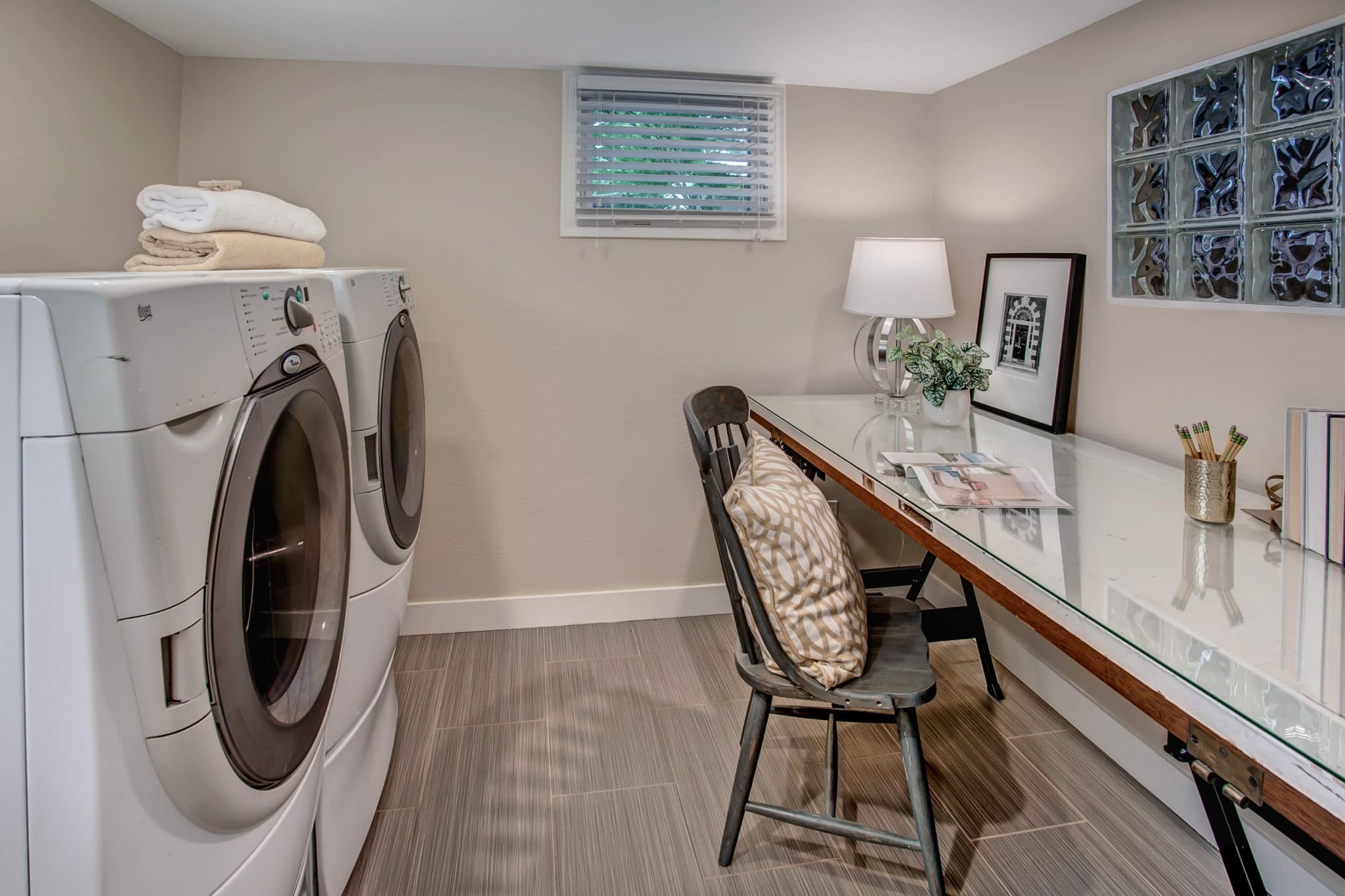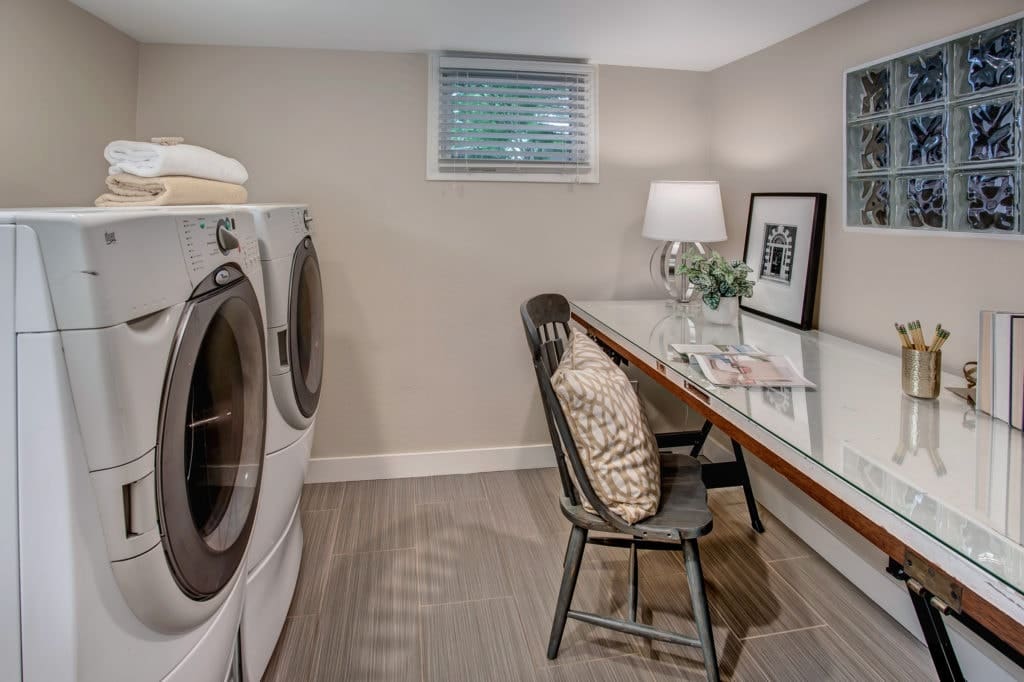 This Greenwood Tudor Home has a fully finished basement, with a TV room wired for surround sound. It even has a large luxurious bathroom with heated floors. Guests will admire the gorgeous vanity (Restoration Hardware), heated floors, and frame-less glass shower enclosure with large rain showerhead when they visit.
But the REAL treat of this downstairs space is just beyond the double doors in the bathroom: A whole new flex space. In previous iterations for the owners, this room has served as an office and a nursery. They now use it primarily as a spacious laundry room, but the options remain open. In the time of COVID when working at home is a must, it makes a great office space, Zoom conference room, or craft area.
The Picturesque Greenwood Neighborhood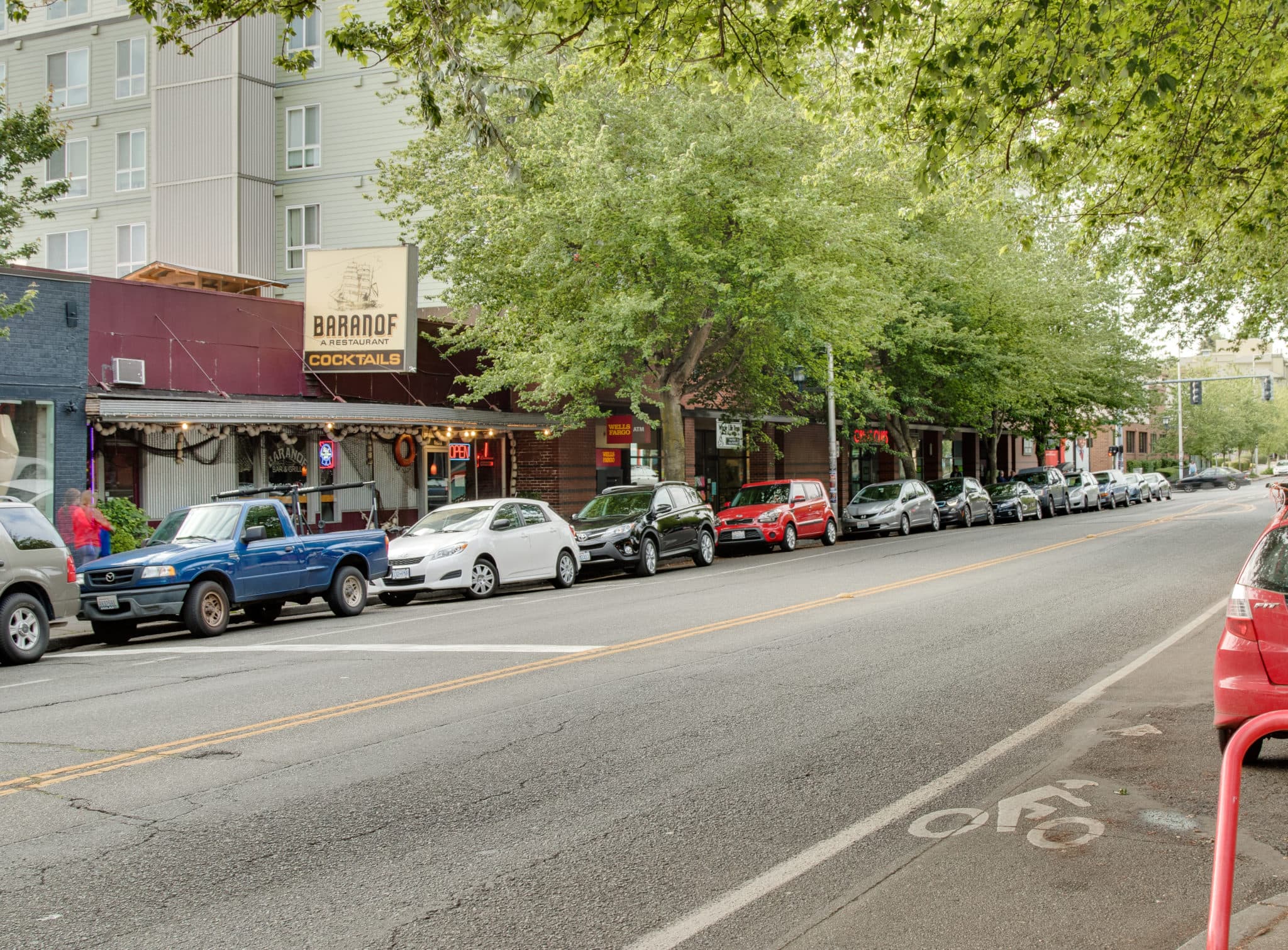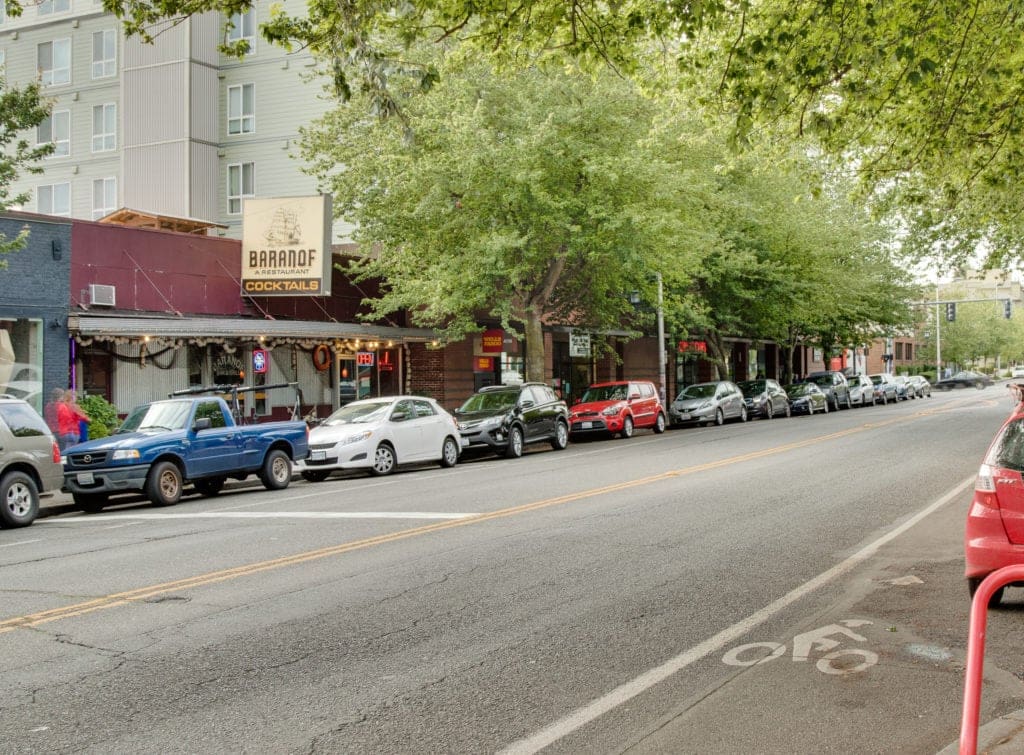 This Greenwood Tudor Home is mere blocks to the main street, Greenwood Ave. So many awesome places are a quick jaunt away, such as Ken's Market, Bluebird Ice Cream, and Diva Espresso. And we cannot omit Opus Co, owned by one of our fab Diva Dwellers and serving amazing food available for take-out. And when it's time to workout, Pilates, Yoga, Barre, CrossFit are all within walking distance.
The current owners have enjoyed being close to north end attractions like Green Lake, Woodland Park Zoo, the Ballard Ale Trail (with over 11 breweries), Carkeek Park and Golden Gardens. They also love that the public schools are stellar. (Whittier Elementary is a 9 out 10 on Great Schools. Ballard High is a 9 out of 10 on Great Schools.) For those with kids who worry about finding schools with resources and teachers set to handle this new era in education, there is peace of mind here.
Last but not least, you'll be very close to multiple bus routes. This Greenwood Tudor Home is one block away from the 28 express bus line and a short walk to the 5, both of which speed you downtown.
---
See The Layout Of This Home
Get a sense of this home's layout via the gallery below.
---
Explore The Neighborhood: Greenwood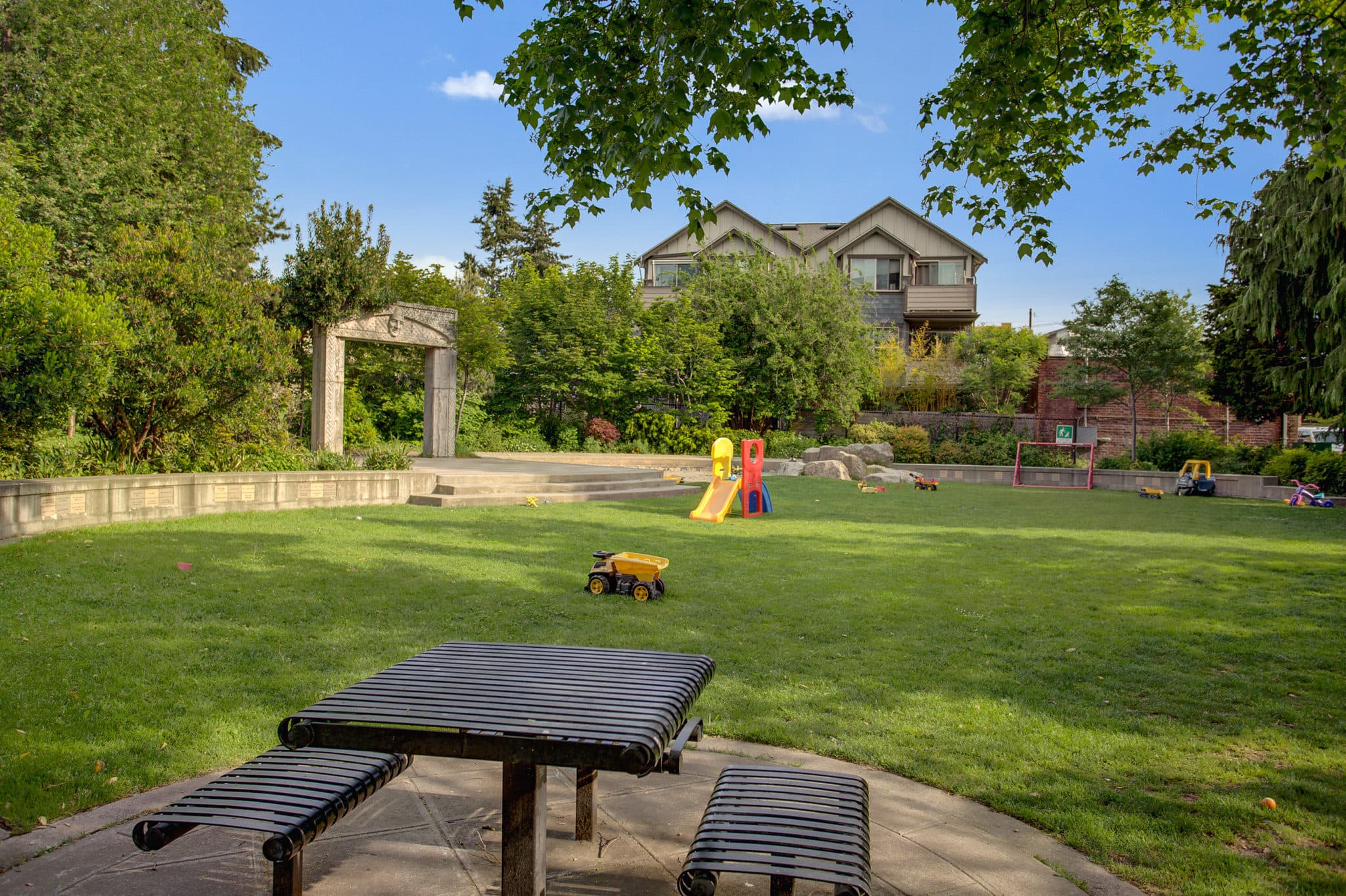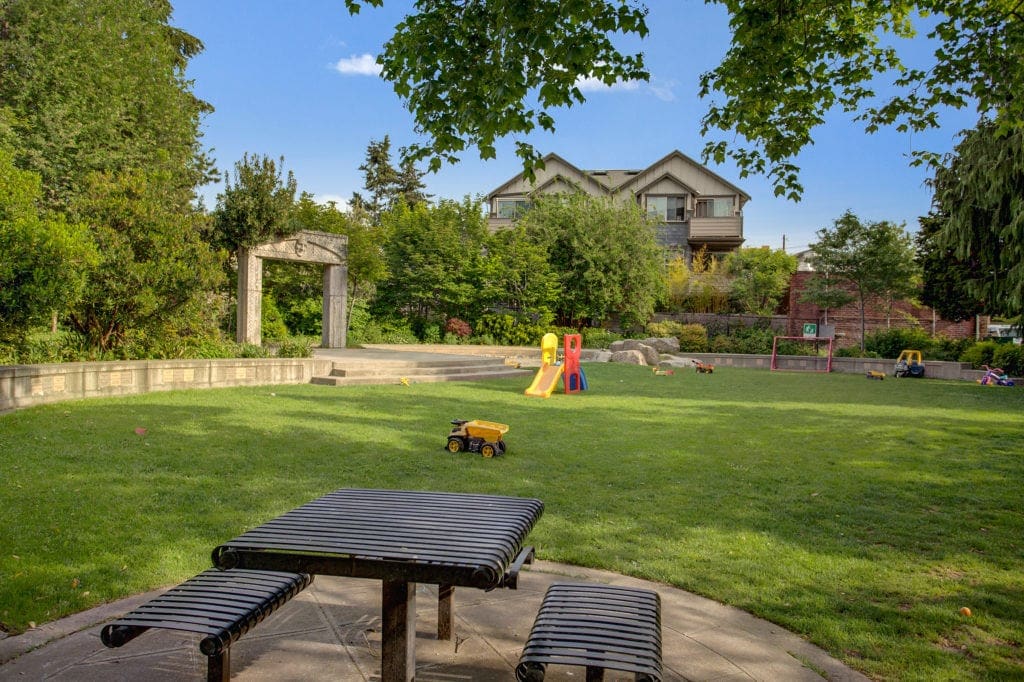 We just shared some of our favorite places in Greenwood, but the current owners have a list of their own. Just down the street from the home is Pocket Park. To the southwest of this Greenwood Tudor Home is Essex, Delancy, and The Fat Hen. Greenwood is also adjacent to Phinney Ridge, where they love visiting Cornuto, the 76th Street Ale House, indie coffee shops, and the Flint Creek Cattle Company. That's just six blocks away from the home.
In short, this spot is incredibly convenient and walkable, with other neighborhoods right beside you, too. Explore our Seattle Neighborhood page for more insights.
---
Buying A Home in Seattle: A Crash Course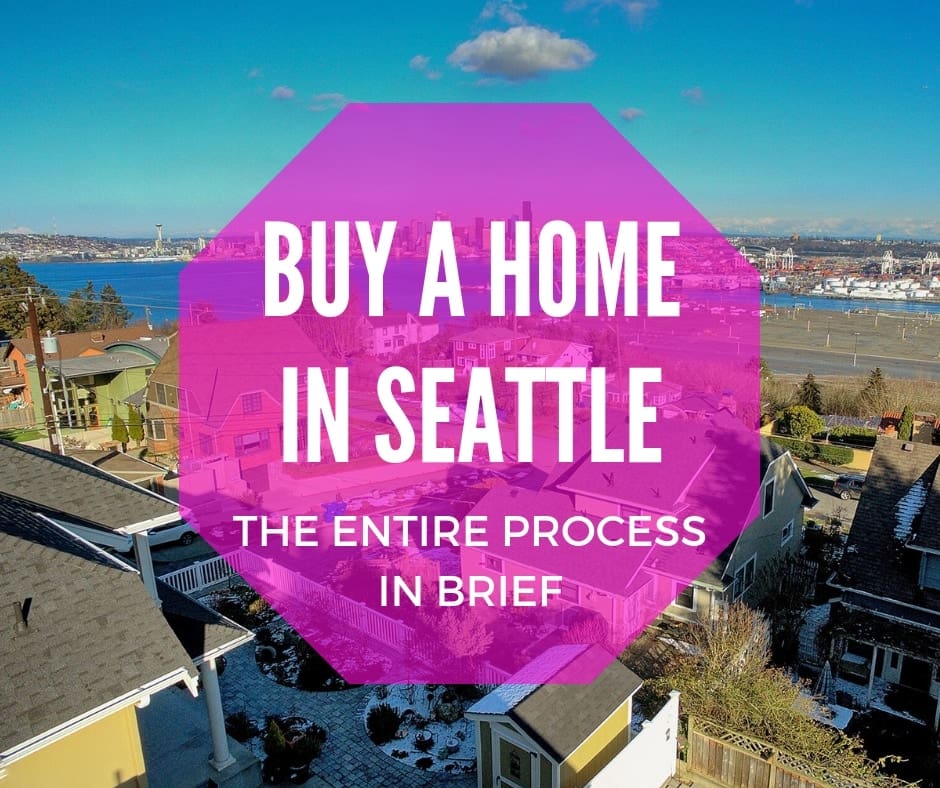 Buying a home in Seattle can be so intimidating. It's a very hot market, after all, even in unusual times. Don't sweat it, though. We have our own Buyer's Page loaded with instructional content and videos for Home Buyers. We also have this long blog post that gives you a rundown of the home buying journey in full. Whether you are first-time home-buyer, new to town, or buying up in Seattle Real Estate, it can keep you on track.
---
Take A Virtual Tour Of This Greenwood Tudor Home
Home Details Below 
Address: 643 NW 76th St
Price: $825,000
Bedrooms: 3
Bathrooms: 1.75
You have to see more of this Greenwood Tudor Home to really appreciate it. The beautiful craftsmanship and contemporary updates, the versatile spaces inside, and the gorgeous outside, all in an amazing neighborhood make it a true Tudor treasure. Join me, Diva Kim on Saturday, May 16th at 1030 AM for a live virtual tour of this home on our Facebook page.