I'm Kim Colaprete, Managing Broker with Team Diva at Coldwell Banker. My latest listing is in Capitol Hill, which is right in the heart of Seattle. This neighborhood is jam-packed with top-tier restaurants, craft cocktail bars, boutique shopping, and direct access to Downtown Seattle. Here the walk score, bike score, and transit scores are all in the 90s. It's the neighborhood many newcomers choose as their first place to rent and where many new homebuyers dream of putting down roots.
This stylish Capitol Hill condo also has a lot more going for it. It is a "true loft" condo—there are soaring ceilings, huge windows, and a lofted space. There is even a chic spiral staircase up to the loft. No rickety ladders here! The cherry on top is the secure parking space. In a neighborhood like Capitol Hill, an amenity like this is worth its weight in gold.
So as a first-time homebuyer, what can you buy in Seattle's Capitol Hill neighborhood for under $500,000? Keep scrolling to find out.
---
What Can You Buy in Seattle's Capitol Hill Neighborhood for Under $500,000? Let's Tour This Stylish Capitol Hill Loft & See!
I'm Kim Colaprete, Managing Broker with Team Diva at Coldwell Banker. Thank you for joining me to check out this stylish Capitol Hill loft! I am also excited to show you what you can buy in Seattle's Capitol Hill neighborhood for under $500,000. This loft is an excellent example of just that.
Seattle is known for many things: The Space Needle, Starbucks, and the Seahawks. We're also renowned for being one of the strongest real estate markets in the country. Here's a quick overview of what you need to know about real estate in Seattle's Capitol Hill neighborhood:
Quick Overview of Types of Homes in Seattle's Capitol Hill Neighborhood
Let's begin by talking about single-family homes in Capitol Hill. They are a hot, hot commodity in this area. Of the 680 or so properties that sold in the Capitol Hill neighborhood last year in 2021, only 123 of them were detached single-family homes. And the average price for snatching one of these Classic Capitol Hill beauties? $1.7 million.
As for townhomes in Capitol Hill? Well, they are certainly more prolific in this neighborhood than single-family homes. More than twice as many townhomes were purchased in Capitol Hill in 2021 than detached single-family homes. Townhomes roll in at an average price of about $980,000. These are definitely a more attainable option for many buyers.
Now, we started this conversation talking about what you can buy in Capitol Hill for under $500,000. This brings us to condos. This neighborhood is by far one of the best places in the city to own a condo. And with the average price point of condos in Capitol Hill hovering around $550,000, finding something fabulous under $500,000 is still a bit of a challenge. This brings us to this Stylish Capitol Hill Loft Home!
---
What Can You Buy in Seattle's Capitol Hill Neighborhood for Under $500,000? This Stylish Capitol Hill Condo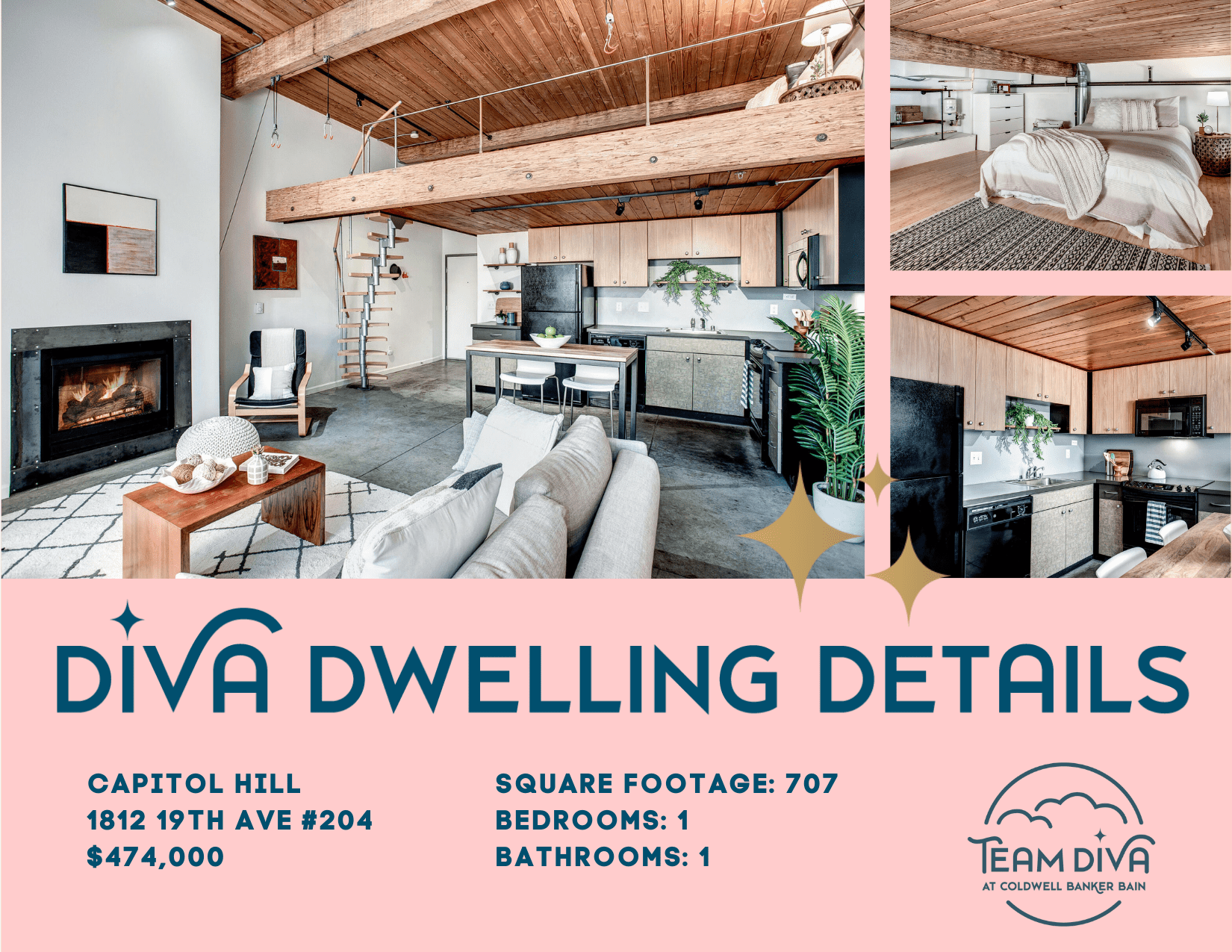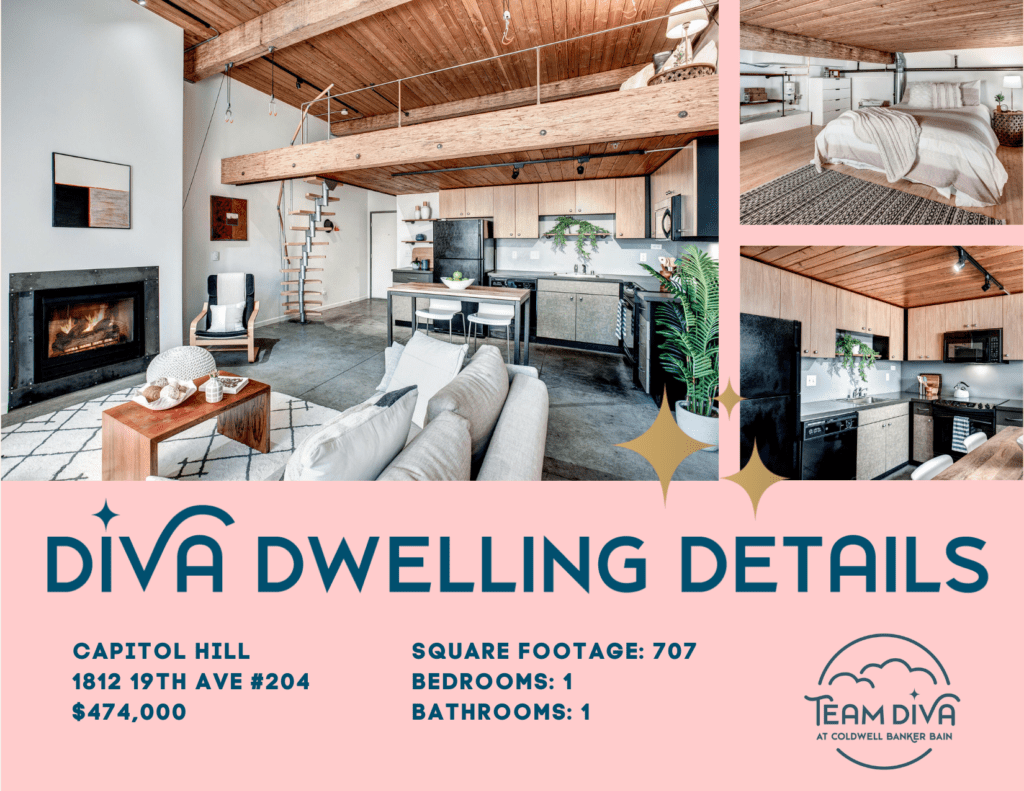 Thank you for joining me on a tour of this Stylish Capitol Hill Loft condo!
What can you buy in Seattle's Capitol Hill neighborhood for under $500,000? This condo is in 19th Ave Lofts the heart of Capitol Hill right off of Madison Avenue. This loft condo is listed under $500,000 and offers a superb combination of a unique space and a stellar location.
Keep reading to learn more about exactly why this Diva Dwelling is so special.
Stylish City Living is Yours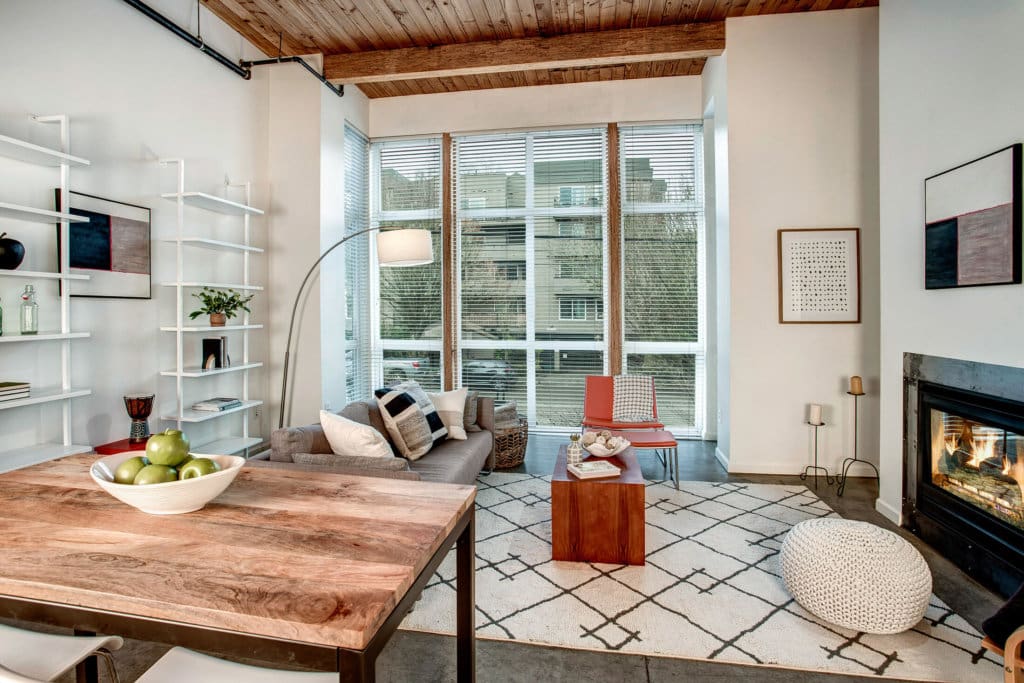 When I saw this condo is a "loft," I actually mean it. There are so many wonderful things to love about this true loft condo. The soaring ceilings and huge windows offer you room to breathe and captivate from the moment you step inside the welcoming space. I love the beautiful wood detailing balanced with the sleek polished concrete floors. You get a clean modern look without the cold, soulless vibe. It really is the ideal place to craft an amazing home base in the city.
Top-Notch Functionality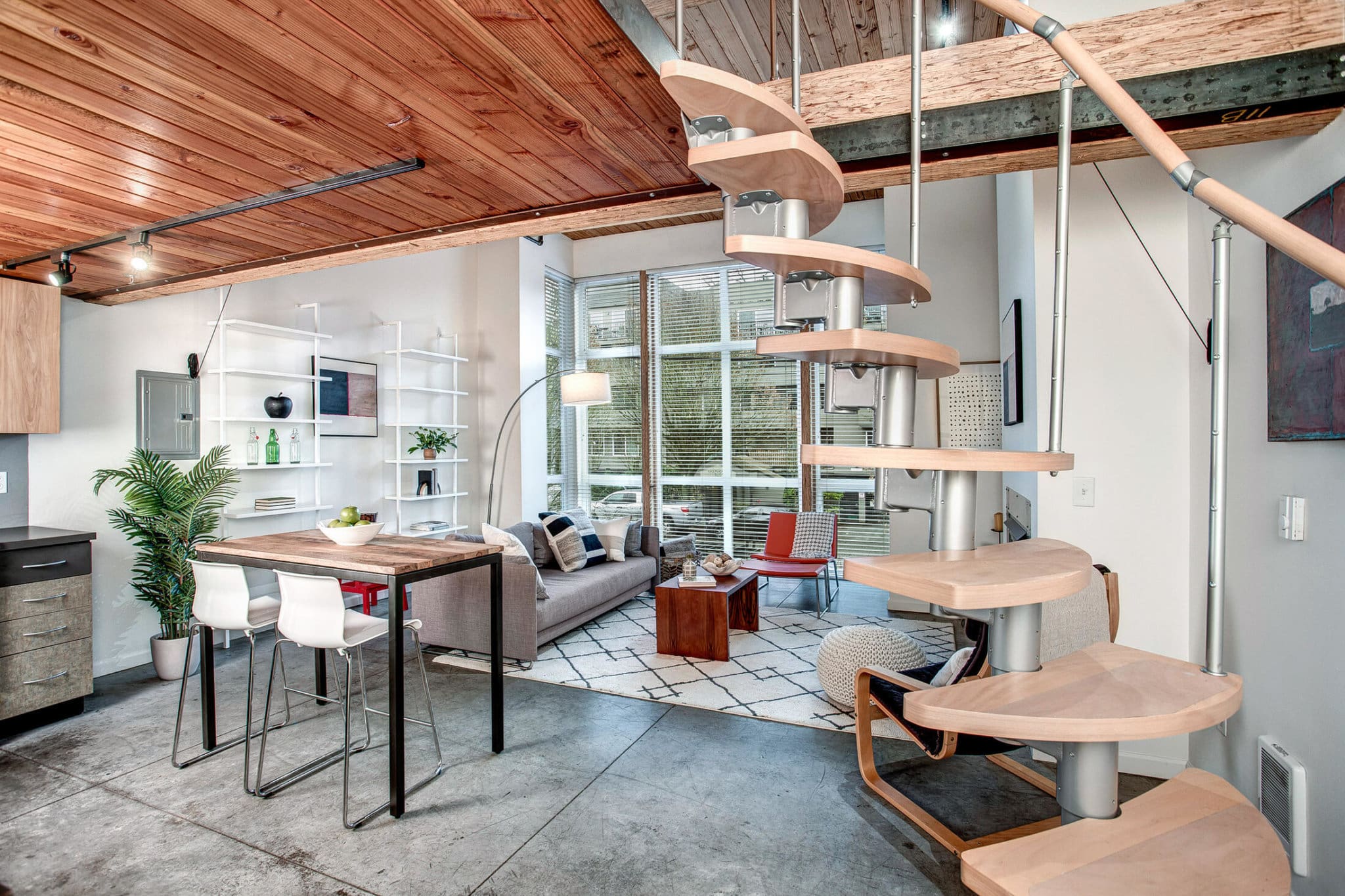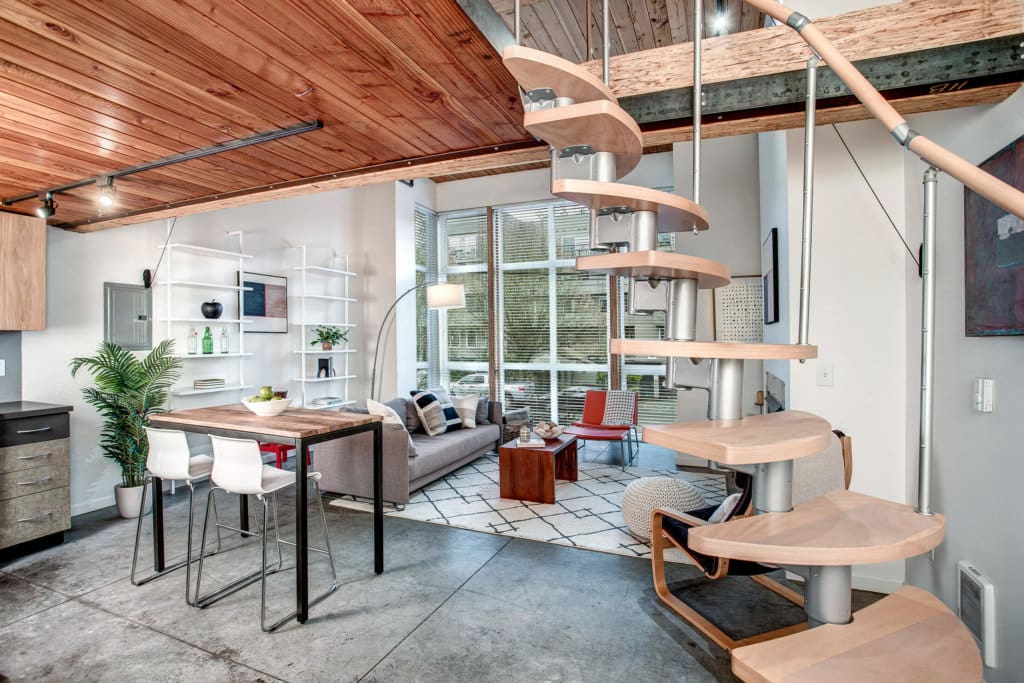 Check out this super chic spiral staircase! No rickety ladders here for you to crawl down with your booty hanging when it's time to pee in the middle of the night. Nope! Instead, you have this fantastic structural element added to your space while offering an effective way to get in and out of your loft bedroom day or night.
Secure Parking in Capitol Hill (Yes, You Read That Right)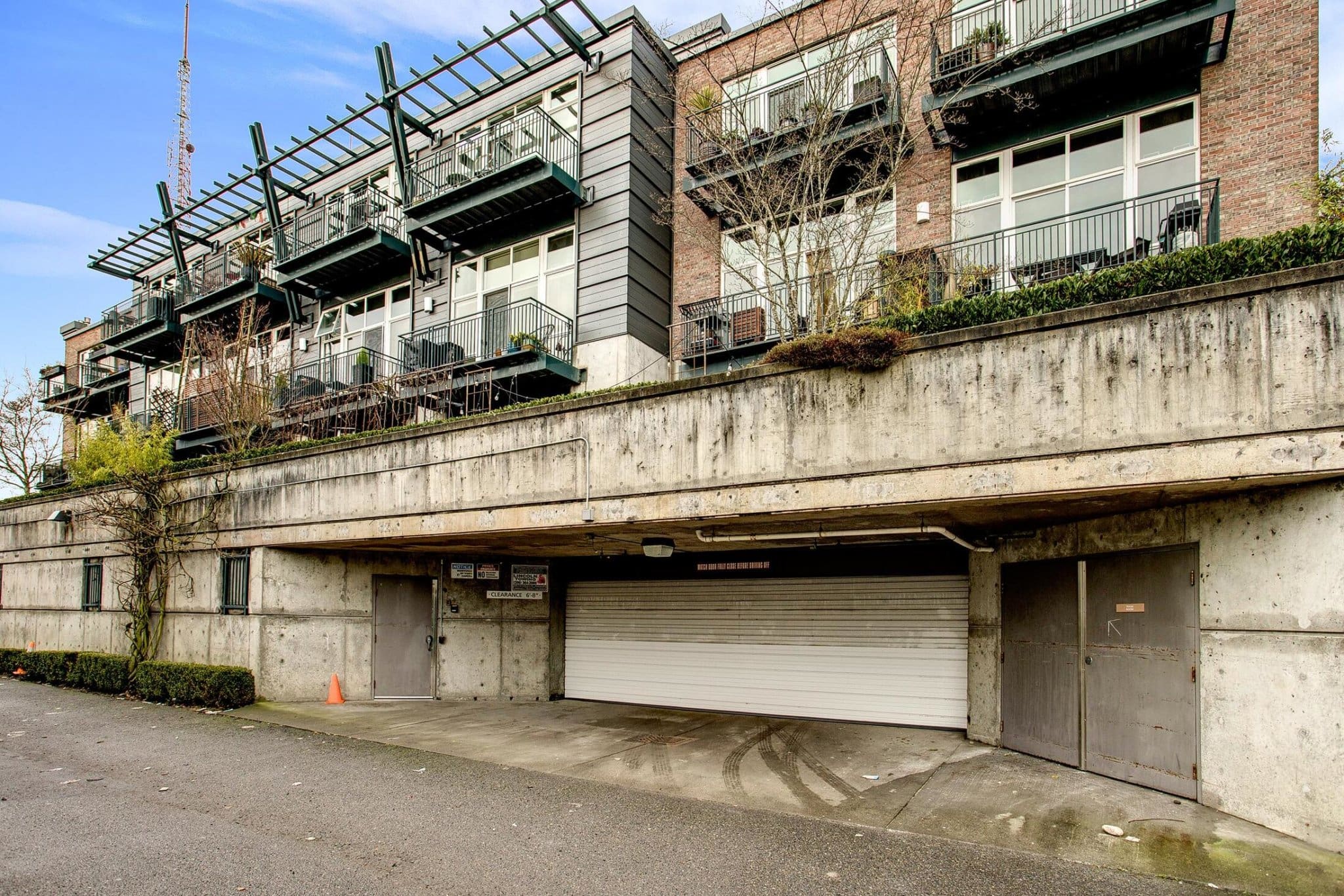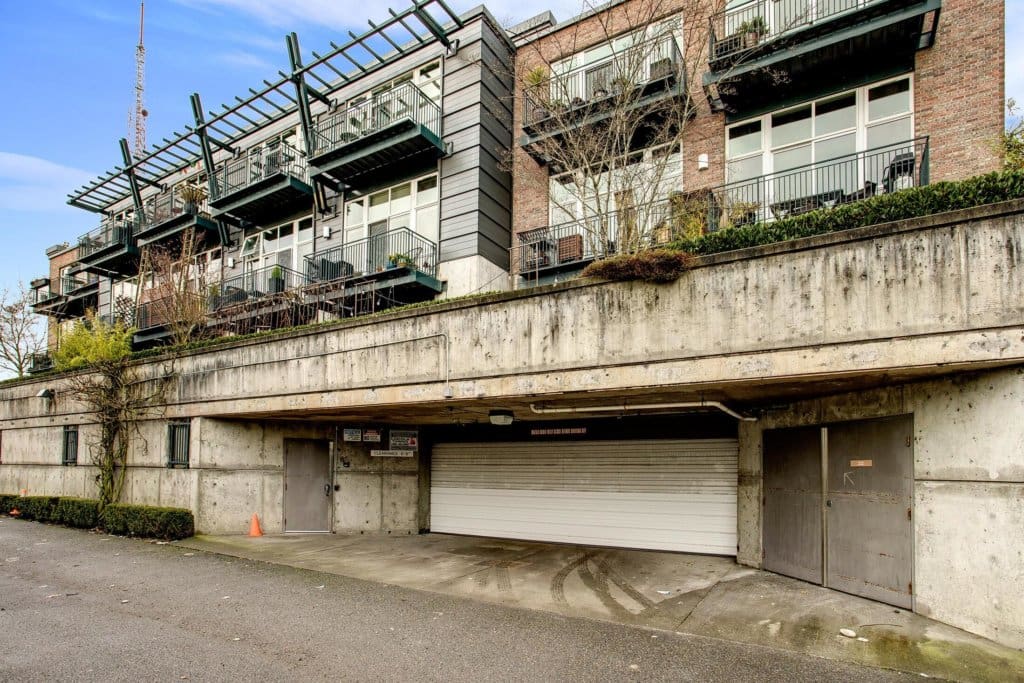 This home also comes with a secure parking space. Next time we get that wintry weather, you won't be the one out there scraping ice off your car with that old Library card you never used. And when a wonderfully warm day hits, leave the car securely parked, cause this location has a walk score of 92 and a bike score of 90.
What Can You Buy in Seattle's Capitol Hill Neighborhood for Under $500,000? Let's Take a 3D Tour
Team Diva takes every precaution, and then some, to make sure all of our homes are listed following all COVID precautions. It is our duty to ensure everyone's safety as you enter one of our listings. You can also feel free to take a virtual tour from the comfort of your couch!
Curious to learn more about our latest safety precautions? Read "Team Diva's COVID Safety Protocols for the Delta Variant" here!
---
Living in Seattle's Most Vibrant Neighborhood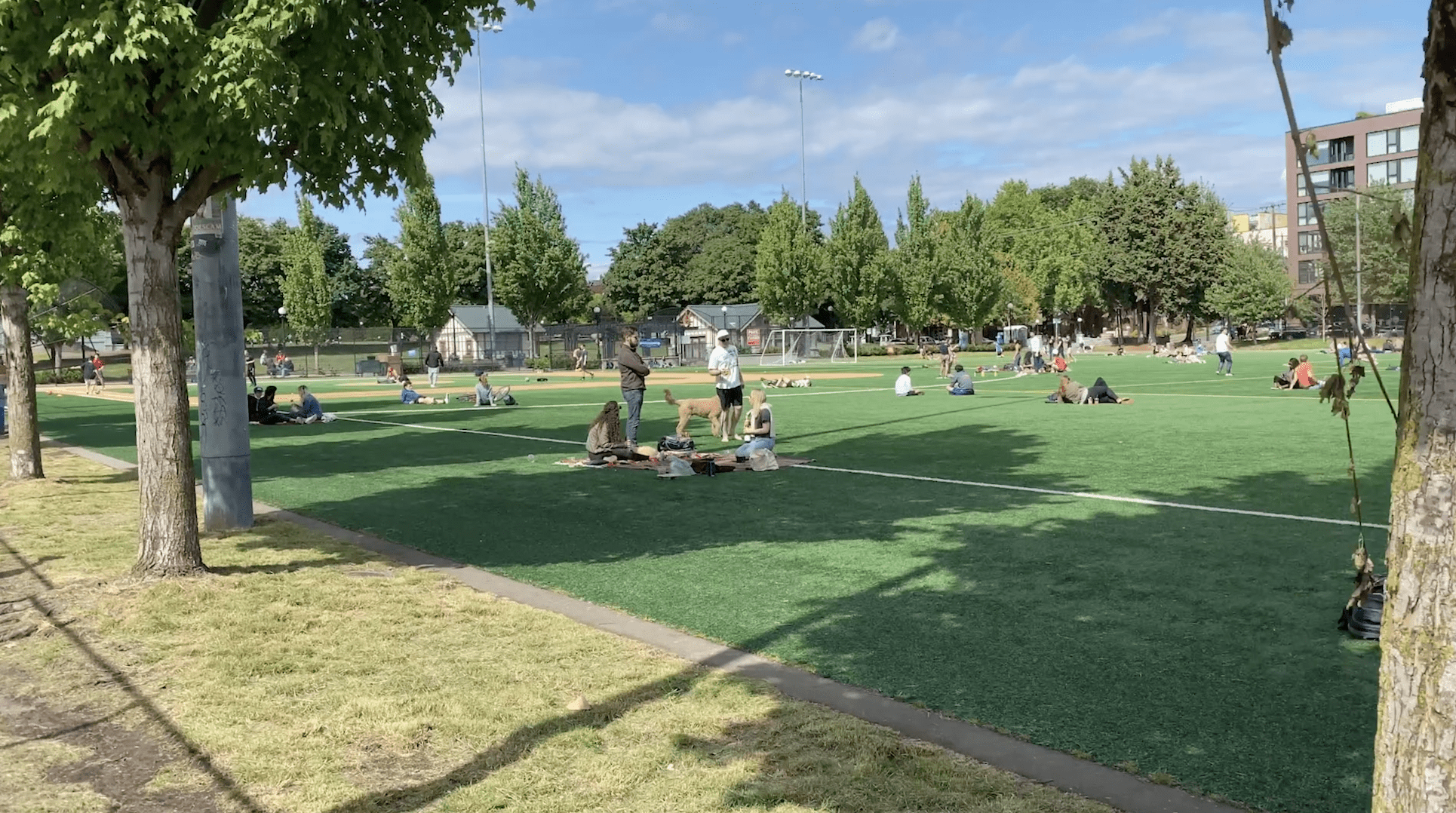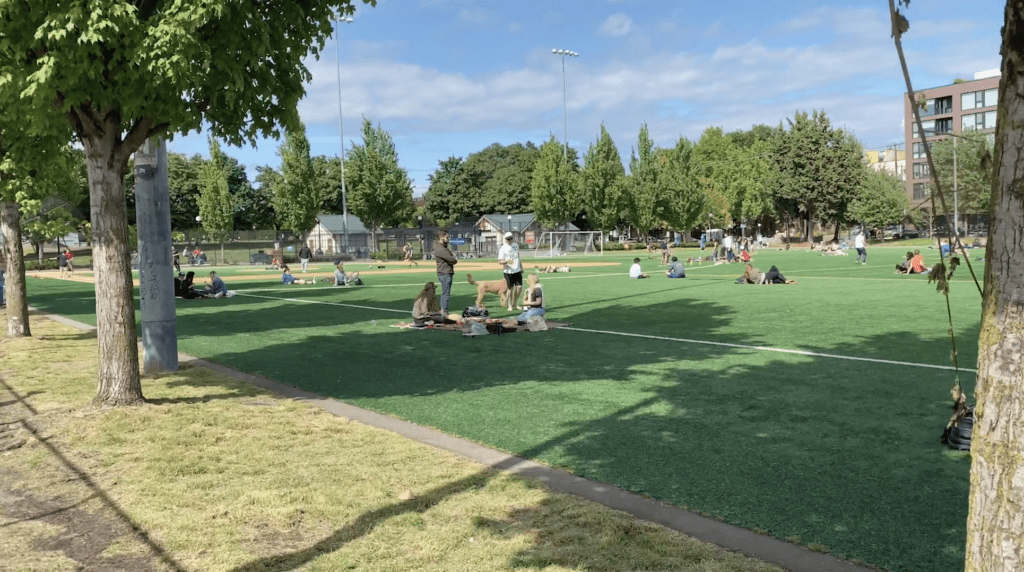 When it's time to take advantage of that walk and bike score, knowing where to go is key. Here on 19th and Madison you are perfectly positioned to take advantage of all that Capitol Hill has to offer, and you are also only minutes to two other wonderful neighborhoods, the Central District and Madison Valley. Each of these neighborhoods has its own quirky fun and fabulous options to offer for dining, shopping, and nightlife. And without going very far from your front door you will find easy access to transit if getting further afield is in order.
Diva Tips for Playing on the Hill
Convenience abounds in this location. There are literally three options for grocery stores; Safeway, Trader Joe's, and the Central Co-op are all only 4 blocks away. Between those three spots, you can pretty much find whatever you need to create a fab meal. Wait, you said you are not really into cooking? No problem. Just grab your vax card and your N95 mask and jaunt a few blocks in any direction to some of Seattle's most stellar restaurants. Whether it's Taurus Ox right up the hill on Madison, Monsoon just north on 19th, or Seattle's newest most celebrated restaurant Communion over on 24th and Union, living here you will never want for a fantastic place to dine.
Once you have finished that tasty meal, maybe it's time for an ice-cold brew at Chuck's Hop Shop, or a lovely glass of Syrah at Poco wine bar. Or maybe you need more than just a little nightcap and it's time to Dance Yourself Clean at Chop Suey on a raucous Saturday night. For even more late-night fun, why not venture into the mecca of queer-friendly clubs and bars. Diesel, Pony, Unicorn, and the Cuff Complex are all just minutes away.
This location has more than just food and fun to offer. For your more personal needs, there is the Capitol Hill Kaiser Permanente Campus and a Planned Parenthood nearby. When you are ready for "Me Time," get meditative movement in at Breathe Hot Yoga, which is literally just around the corner. Then give your pooch and yourself a romp through the gorgeous landscape of the Arboretum. It's a little further down the hill, but worth the hike.
Check out some of the other great Capitol Hill homes we've sold:
And Many More Homes on Capitol Hill
---
Buying A Condo In Seattle: 4 Key Considerations
Have you bought a condo before? If not, you should get a little information specific to the process, as is not entirely the same as for a detached home. From identifying your goals to conducting the right inspection, we cover four points that are crucial when buying a condo in Seattle.
Be a Smart Condo Buyer Guide
Identify Your Condo Must-Haves – Rentability, pets, parking, laundry, etc…
Buy in the Best Building in the Best Neighborhood You Can Afford – You are buying into a community. The majority of condo buyers want location above all else. The Bering is literally in one of the nicest locations on Capitol Hill.
Review the Homeowners Documents in Detail – This is extremely important for older buildings. As a community, everyone needs to pitch in and preserve the space.
Do a Home Inspection. Obviously!
This is just a starting point, and we have so much more to share about the home buying process. Browse our Home Buyer page for a comprehensive home buying education.
Check out the whole blog about what to keep in mind here after the jump >
---
Thank You For Touring Our Stylish Condo in Seattle's Capitol Hill Neighborhood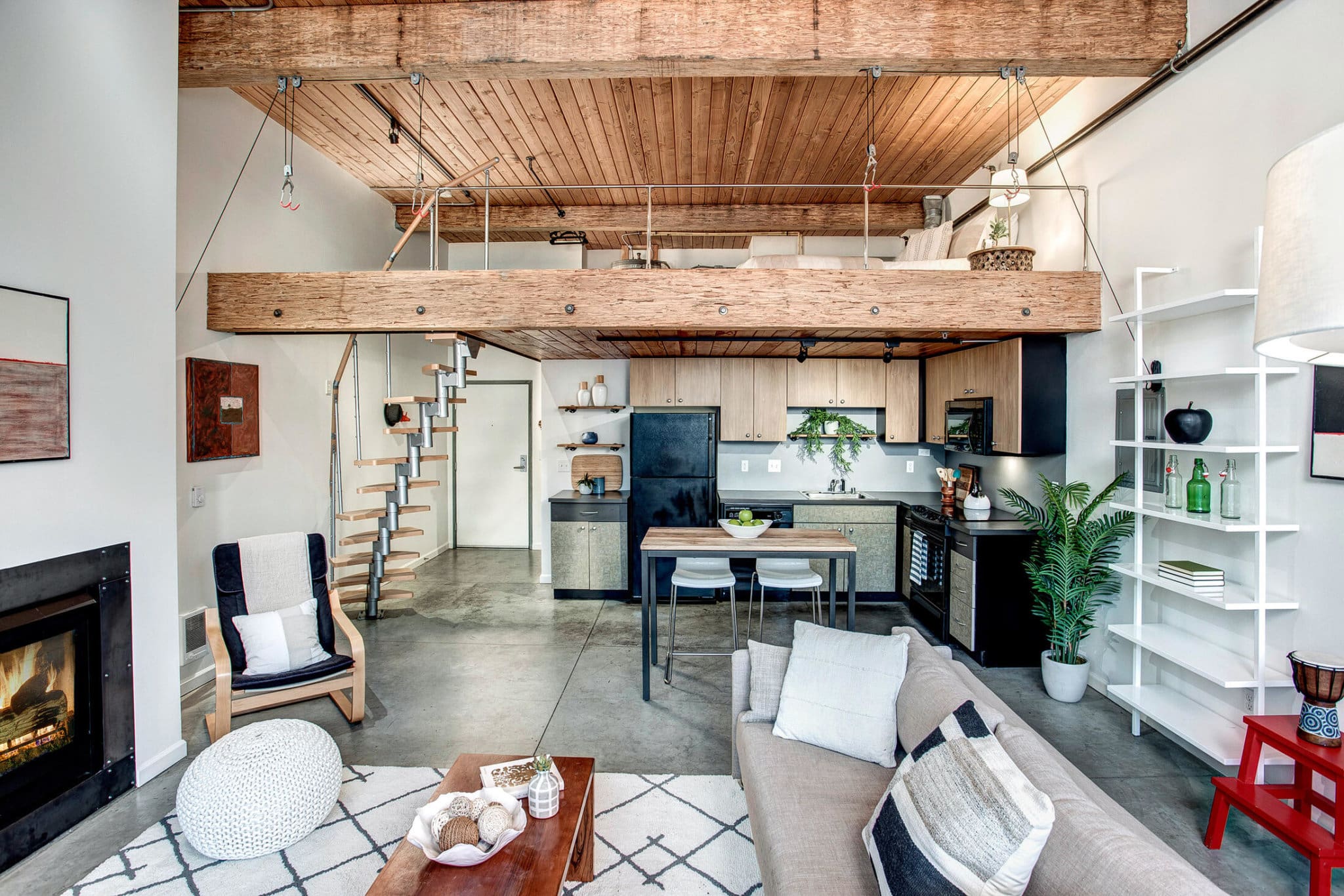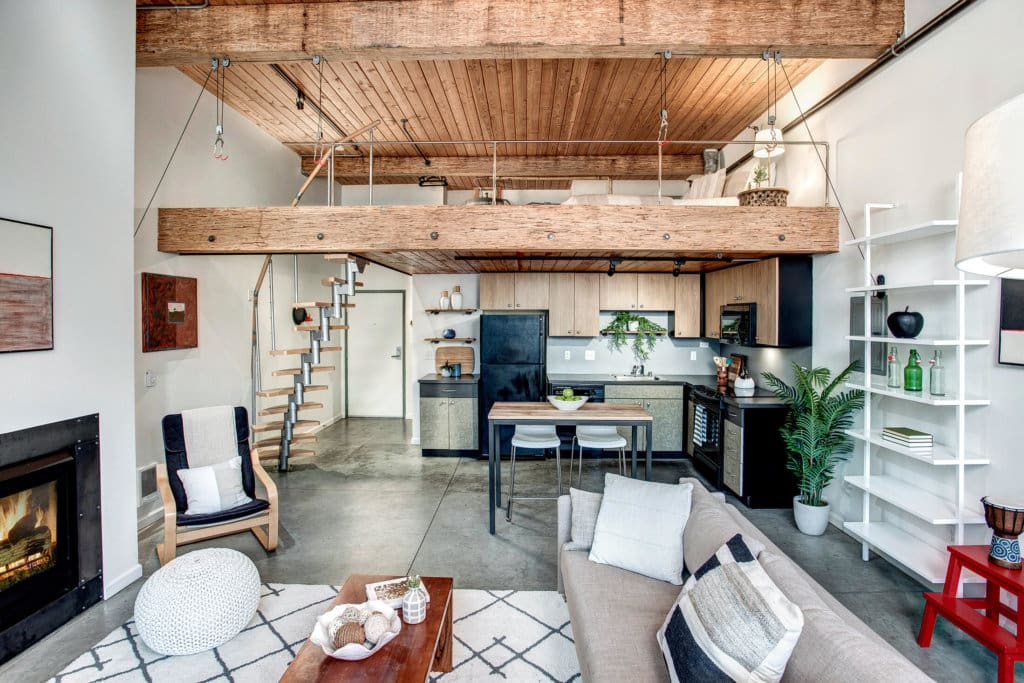 Thank you so much for joining me and touring this Stylish Condo in Capitol Hill! What can you buy in Seattle's Capitol Hill neighborhood for under $500,000? Well, you can get a stylish loft condo in the heart of Capitol Hill with a fantastic walk score, bike score, and transit score. You can live surrounded by excellent grocery stores, destination dining, boutique shopping, stunning parks, tons of nightlife, and so much more. Not only that but less than $500,000 will get you a stylish condo with captivating architectural elements (like soaring ceilings and a chic spiral staircase). Plus, you can even get a secure parking space.
All the Good Details
Address: 1812 19th Ave #204
MLS# 1879475
Square Footage: 707
Bedrooms: 1
Bathrooms: 1
Offering Price: $474,000
Ready to tour this Stylish Capitol Hill condo? Contact us today so I can show you how this condo offers the superb combination of a unique space and a stellar location.