Our latest Diva Dwelling is this rare Capitol Hill Classic Home, and we're so excited to showcase exactly what makes it so special. This is a community dear to a lot of folks, and one that has seen significant change over the years. This home has stood the test of time, and it has some features that are quite exceptional in one of Seattle's densest neighborhoods. Not to mention it has been an Outstanding Capitol Hill Airbnb which we go into more detail in its own blog and adding an extra level of future possibilities.
Let's Tour This Classic Capitol Hill Home with Kim and Michael
In this video, Kim and Michael highlight exactly what makes this classic Capitol Hill home truly extraordinary.  Our tour begins with a closer look at the sunroom, and then we head into the immaculately renovated kitchen that's perfect for entertaining. This Capitol Hill gem also comes with not one but three unique outdoor spaces, plus a two-car garage (which is such a rarity in Capitol Hill!). And finally, Kim and Michael talk about what they love most about the neighborhood—it's hard to beat a central location like this!
Our 5 Favorite Things At This Capitol Hill Classic Home
A Stunning Sunroom/Bedroom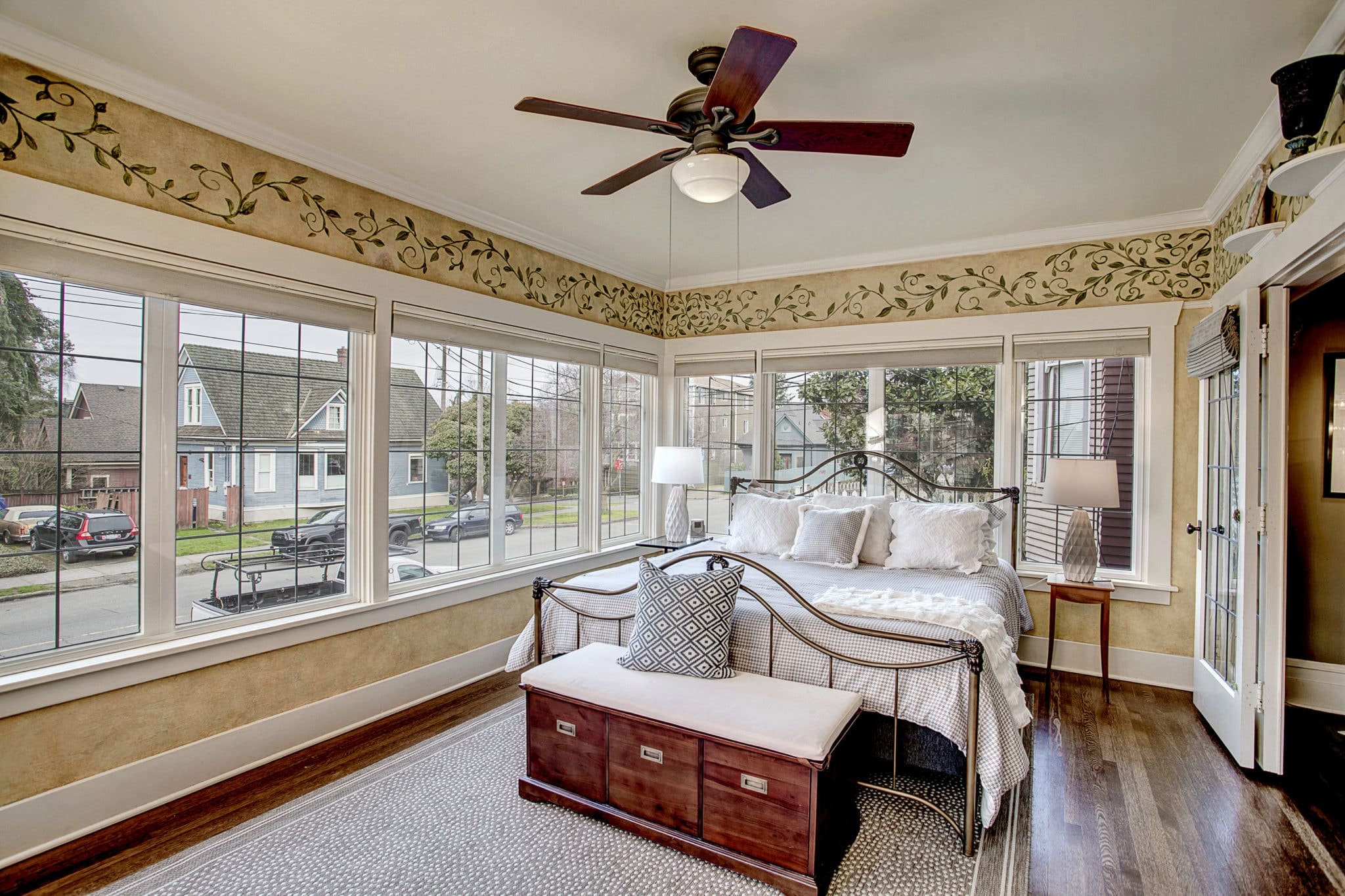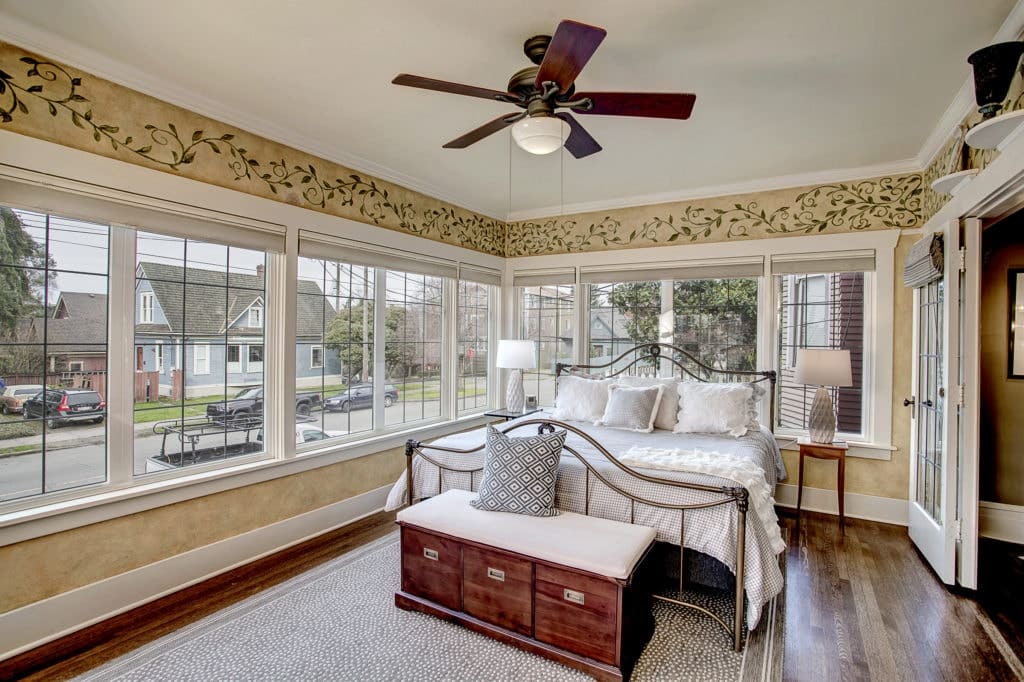 Let's start our tour of this Capitol Hill Classic Home with this spacious sun-soaked room. At first glance, you might think that the stunning, original leaded glass windows aren't really suitable for city noise or energy efficiency. Au contraire. They are protected by a unique custom system called "Indows." You can enjoy the abundant light year-round without the woosh of traffic or drafts.
It's up to you how you use the room. Put in a King bed and a lovely sitting area, and you have a luminous bedroom. Leave out the bed and expand the seating for a full sunroom—a rare luxury in this city. It's a wonderfully inviting space for you to gather for family game night or happy hour with friends. And of course, it will be wonderfully relaxing when it's just you and a coffee on lazy mornings or a cool drink on long summer days.
The Renovated Kitchen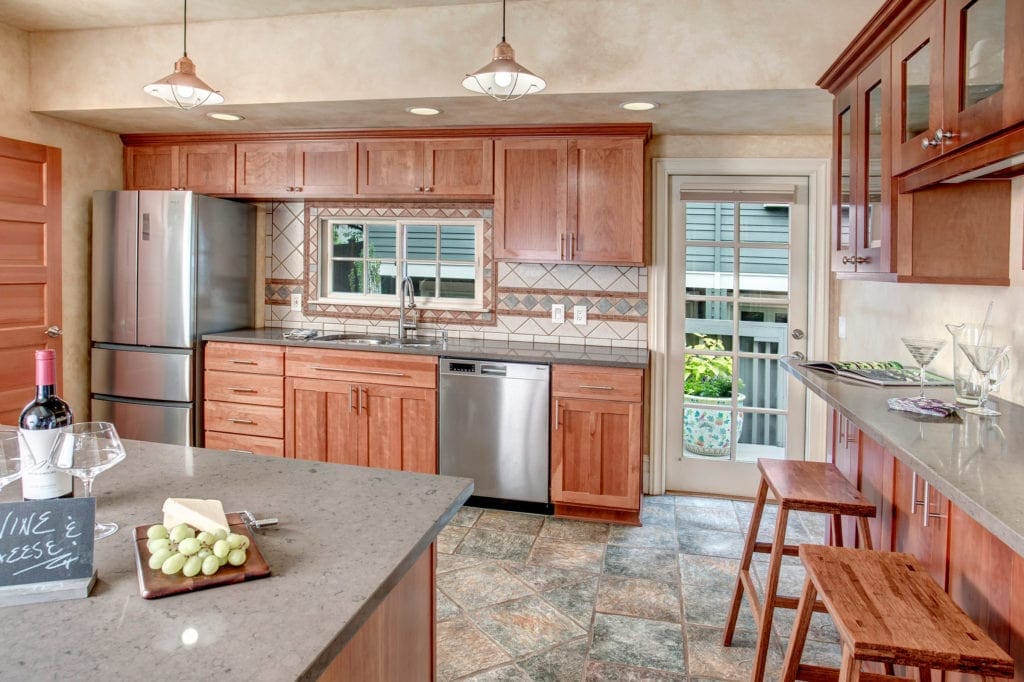 This Capitol Hill Classic Home has a renovated chef's kitchen with all the necessities: a GE Monogram professional gas stove; a new high-end swanky refrigerator and dishwasher; and an abundance of counter space.
It's just so homey, too. The sweet window over the sink peeks onto the back deck/garden, and its fabulous breakfast bar is a perfect perch in the morning. The built-in USB ports in the outlet keep your devices charged while you cook or work or just relax.
At cocktail time, use the ample counter space to put out a spread. You and your partner can whip up amazing meals and treats in this remodeled kitchen without competing for room to chop or mix or roll or decorate.
Three Unique Outdoor Spaces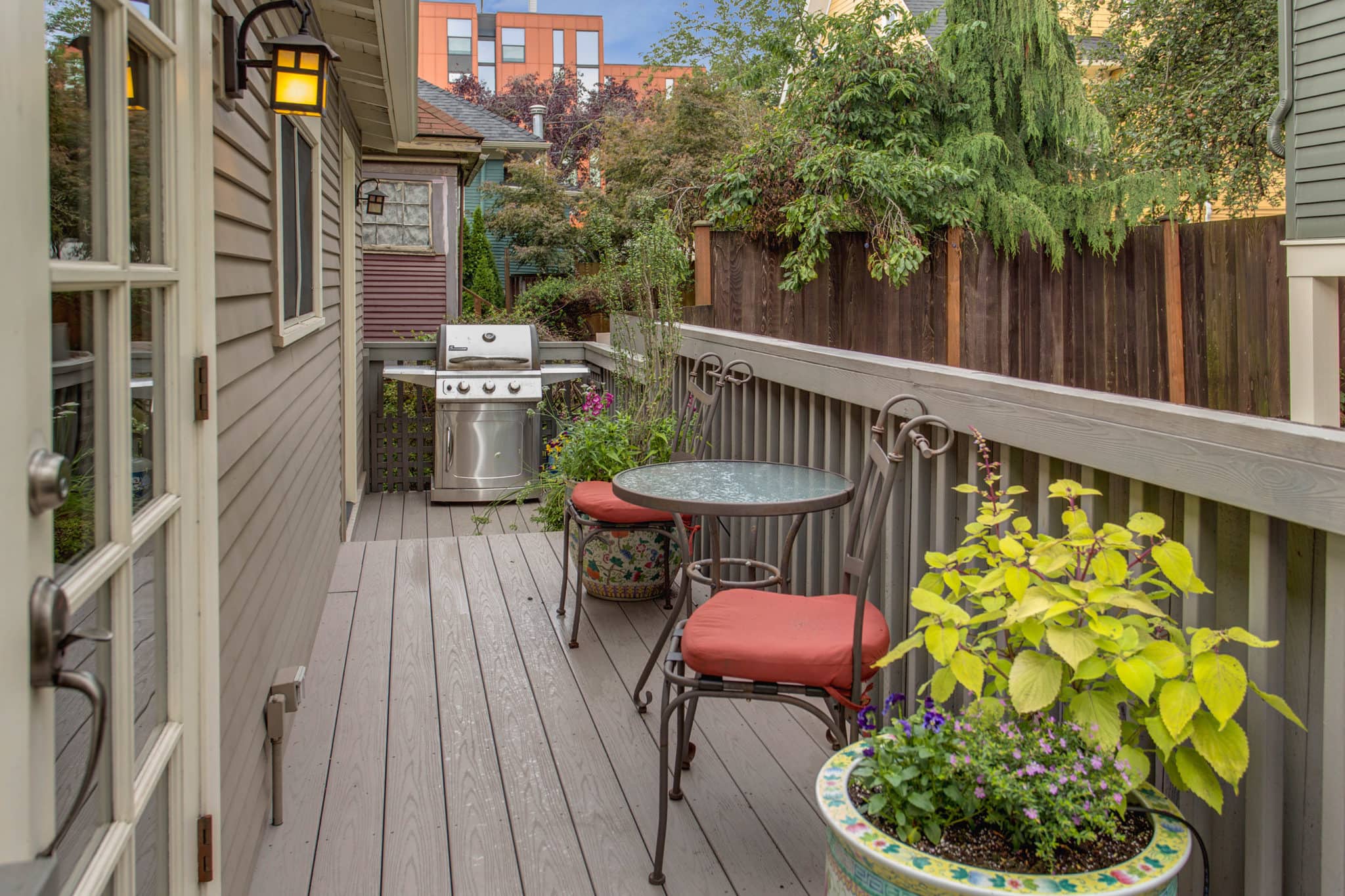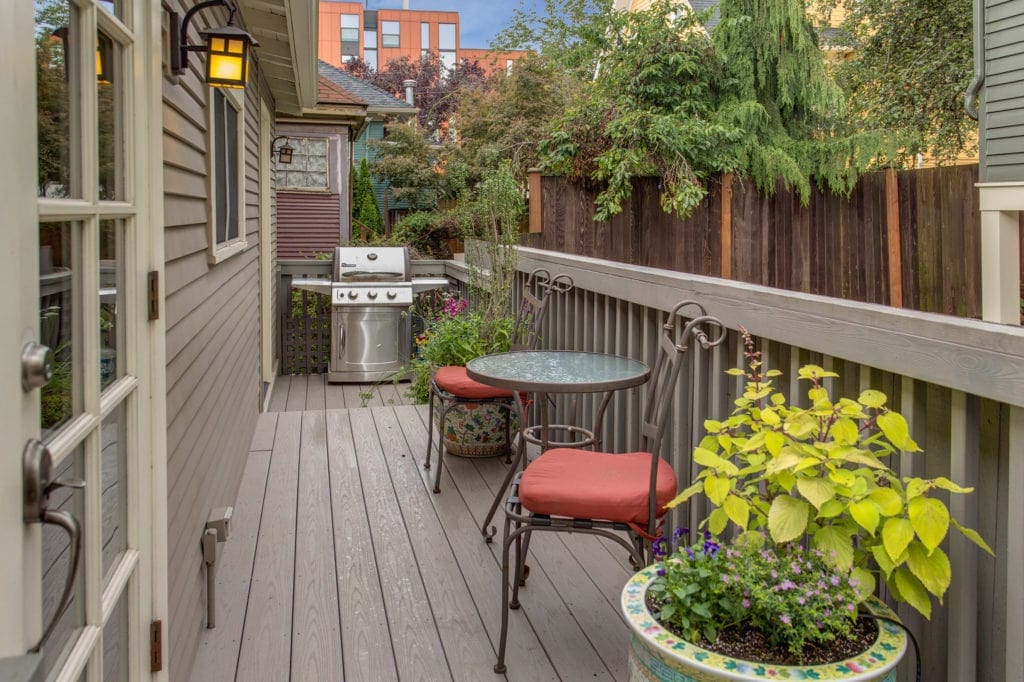 We are all craving outdoor time nowadays, and this Capitol Hill Classic Home has plenty. First, there is the charming covered porch, where you can sit and view the bustle of 12th Ave when you are in a more energetic mood. When you are ready for brunches, BBQs, and other alfresco events, chill out on the back deck. And last but not least, there is the side garden. It is quiet, private, perfect for pets, parties, and plants. Lots of them!
The garden is also an excellent spot for alone time or romantic relaxation with your sweetie. Each of this home's three outdoor vantage points offers a different way to enjoy the outdoors.
A Capitol Hill Classic Home With A Two-Car Garage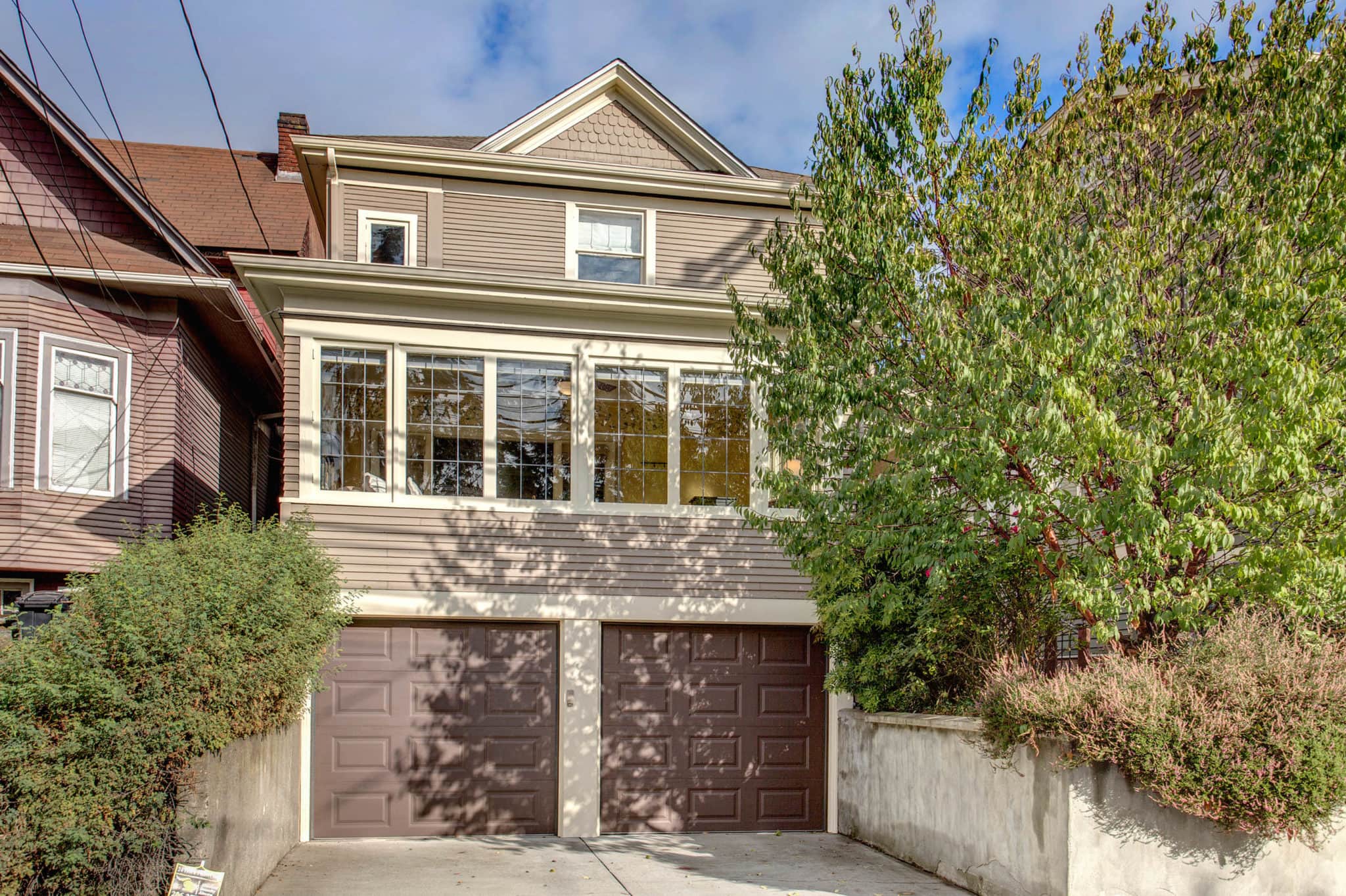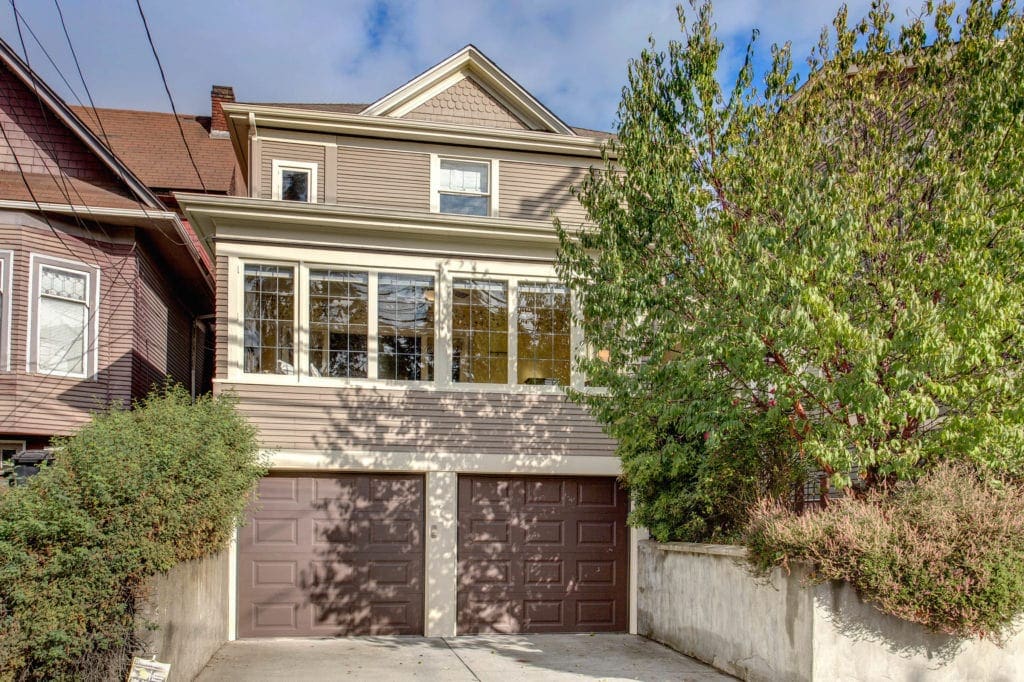 People familiar with Seattle's real estate market probably aren't expecting this. Capitol Hill is notorious for being a hard place to park, but not here! And this Capitol Hill Classic Home has a REAL two-car garage: full-sized cars, not two mini coopers. Add in the driveway, and you have additional off-street parking for guests. That makes four functional parking spaces in a neighborhood where parking is at a premium.
Now, you might be saying, "If I live in Capitol Hill, I won't need a car. Light Rail is just a few blocks away, and all the shopping I need is within walking distance." If you are one of those urban explorers that doesn't rely much on cars, your garage can be a workshop or studio. You could even do some work to convert it into another living space. You have the room, so use it however you please.
A Perfect Capitol Hill Address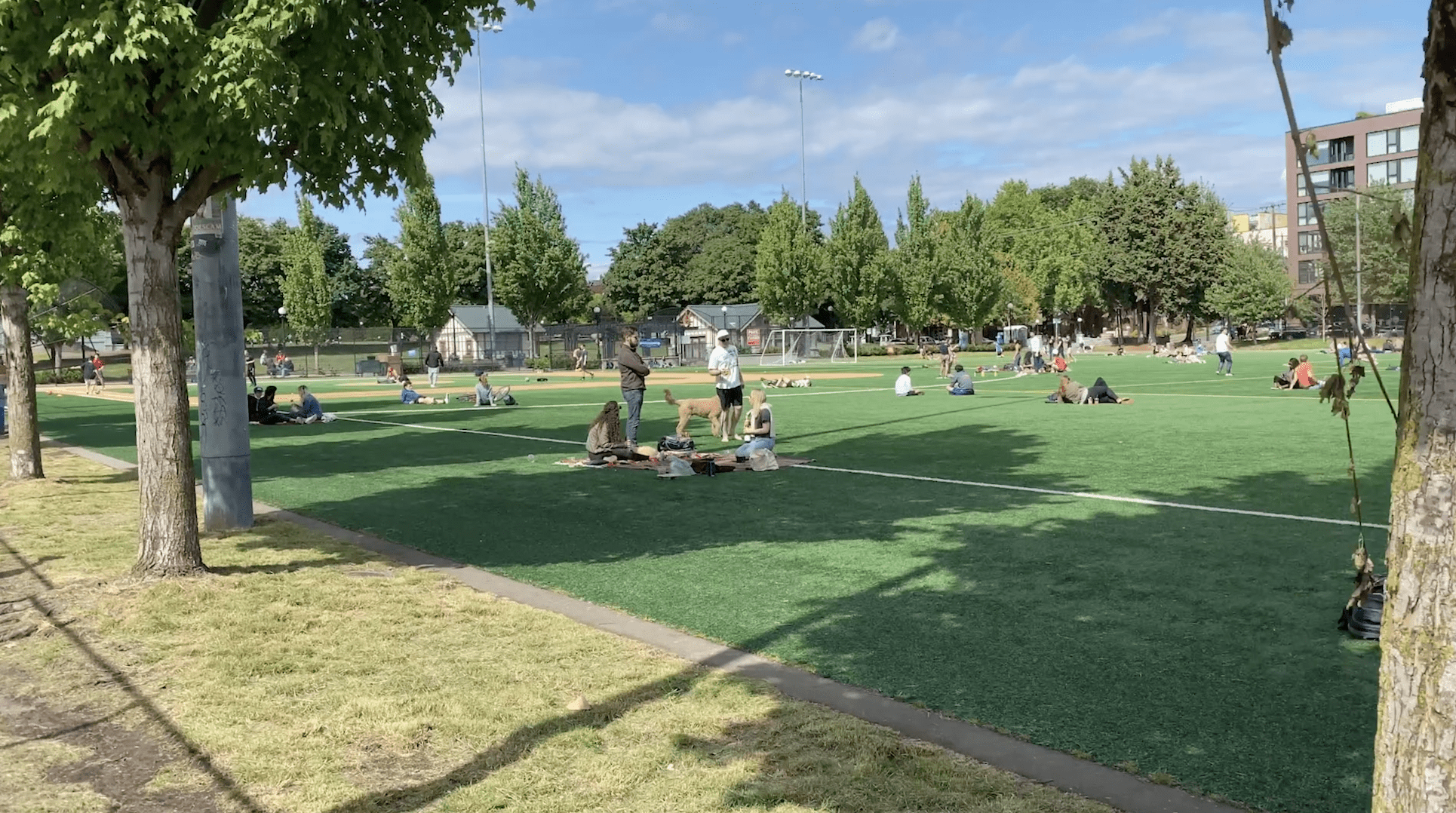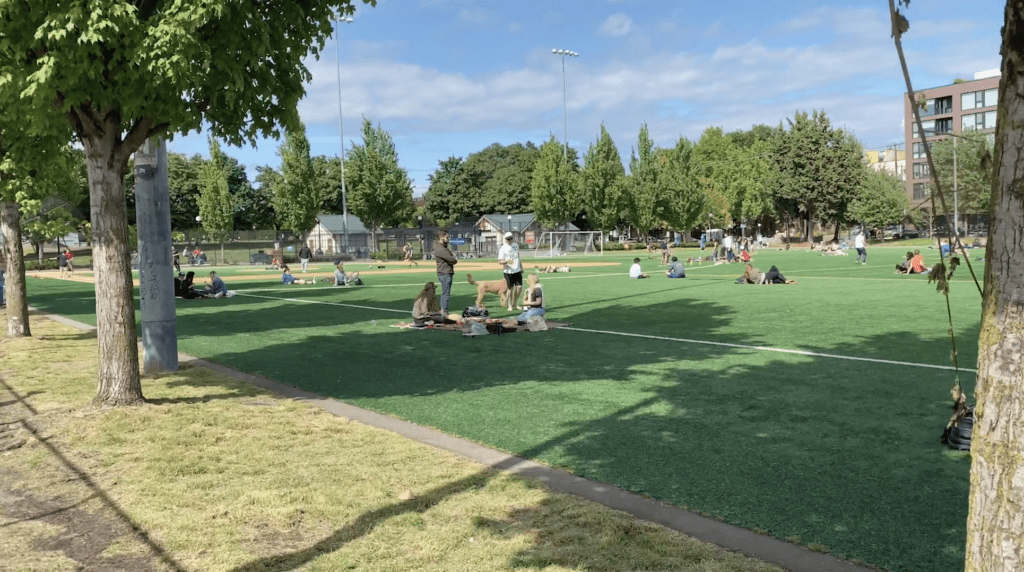 Capitol Hill was Seattle's inaugural Arts and Cultural District for good reason. It's an epicenter for performance, visual art, and nightlife. As things sloooowly return to normal, we're more excited than ever to see what comes next in this cultural hot spot, and this Capitol Hill Classic Home is just down the road from some of the coolest spots, such as 12th Ave Arts, Northwest Film Forum, and Photographic Center Northwest.
In Capitol Hill, you find a balance of nature and city life. Cal Anderson Park, just a few blocks away from this home, and Volunteer Park is within walking distance, too. (That park is also home to the beautiful Conservatory and newly remodeled Seattle Asian Art Museum.)
---
More About The Neighborhood: Capitol Hill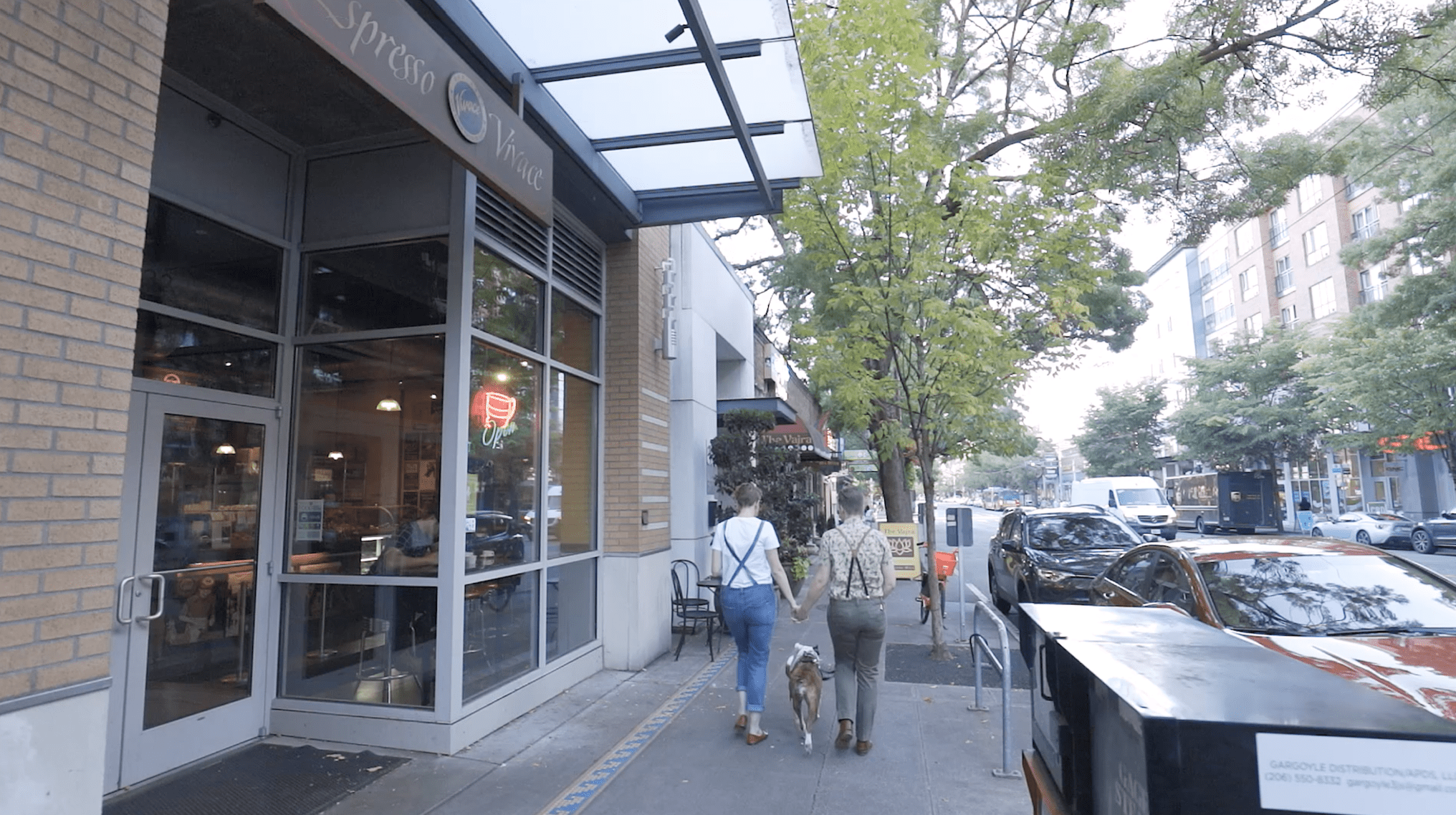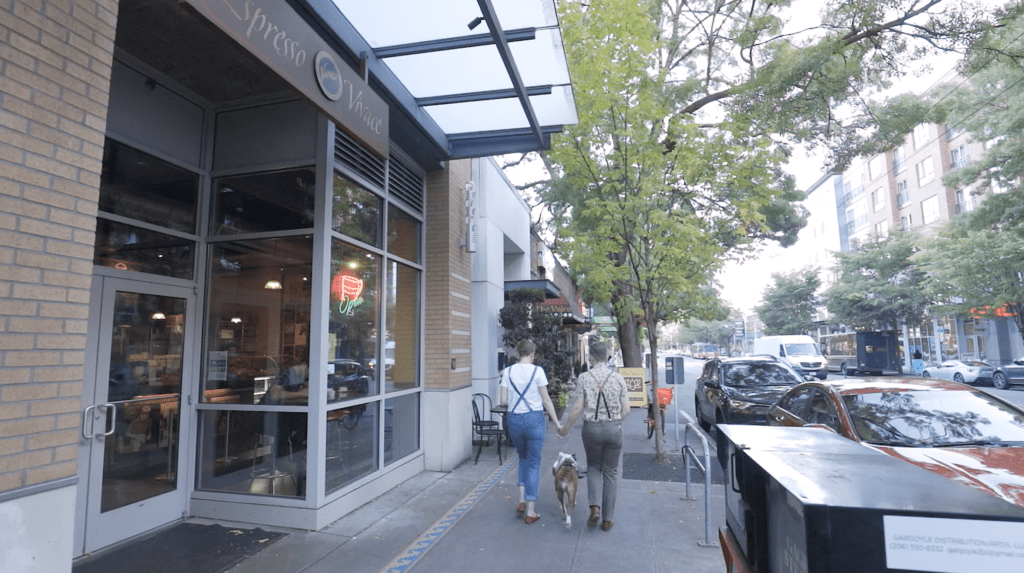 Team Diva's HQ was in Capitol Hill when we first started, so to say it is special to us is an understatement. We may get around the city a lot, but we still love the unique boutiques, shops, bars, and eateries of Capitol Hill.
Broadway, one of the major thoroughfares of Capitol Hill, offers an array of fabulous places like Olmstead, Altura, and, Rapport for food and drink. Hop to Crossroads and LifeLong Thrift Shop for cool vintage clothing finds. We hardly know where to begin when it comes to listing places on the Pike/Pine Corridor, or along Olive Way, or 15th Avenue, each of which has are their own hubs of activity.
And of course, 12th Avenue itself cuts straight down to First Hill, the Central District, and International District. Head down the hill to South Lake Union and Downtown for even more cultural venues, dining, and shopping. Capitol Hill truly is the central heart of Seattle.
Explore more on our Seattle Neighborhood page for Capitol Hill.
---
A Guide To Buying A Home in Seattle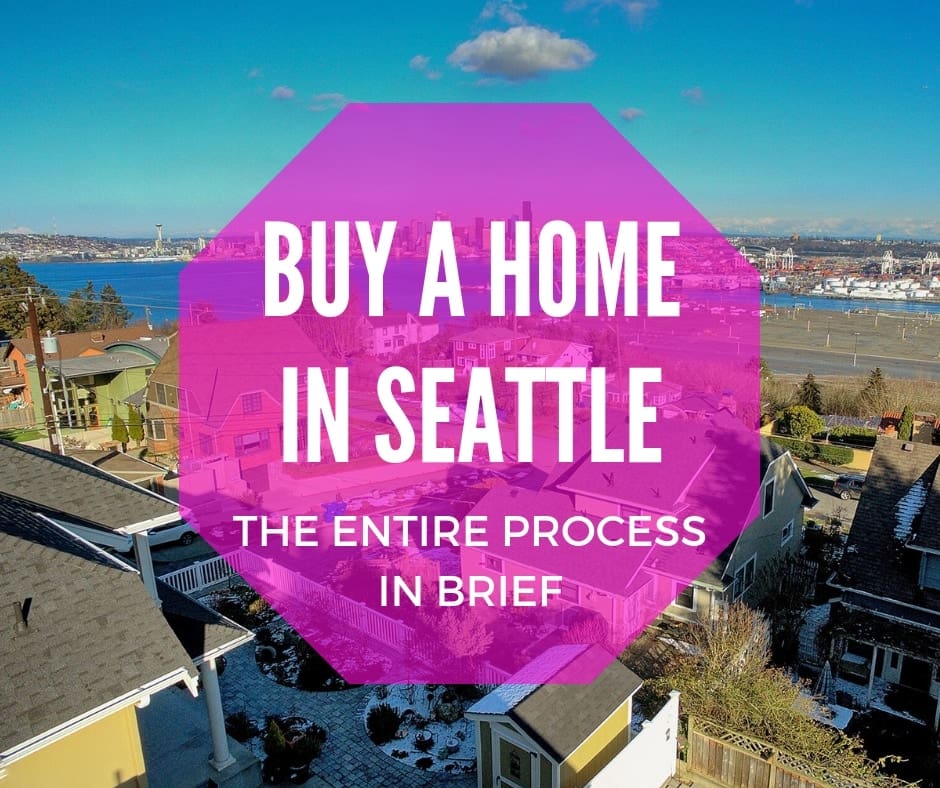 Read our guide to buying a home in Seattle. It's the culmination of dozens of other guides that go in-depth on each stage of the home buying process. This guide gives you a comprehensive summary and allows you to dive deeper into subjects.
If you want to read more, check out our Buyer's Page. You'll also get inspiring videos from home buyers of all stripes who won with Team Diva at their side.
---
More Information On This Capitol Hill Classic Home
Address: 226 12th Ave E
Square Footage:  1,941
Bedrooms: 3
Bathrooms: 1.75
Offering Price: $1,195,000

Ready to tour this Classic Capitol Hill Home in person? Contact the team so we can show you the dreamy sunroom, the immaculately renovated kitchen, the three unique outdoor spaces, the rare two-car garage, and of course the perfect Capitol Hill location!