When we see an MCM, we get a little starry-eyed, and this Mid-century Modern Condo in Capitol Hill definitely has us starstruck. Effortless living, mid-century modern roots, a spacious layout, outdoor getaways, and a fabulous Capitol Hill location are all yours with this move-in ready residence. This is a very special Diva Dwelling, and we're excited to share exactly why this condo is a must-see home.
Let's Tour This Mid-century Modern Condo in Capitol Hill with Roy 
Diva Dude Roy is the listing broker for this home. In this video, Roy shows off exactly why this Mid-century Modern Condo in Capitol Hill is such a stunner. Roy also knows this neighborhood like the back of his hand—he used to live right across the street for 5 years! His love for the neighborhood runs deep, and he looks back fondly on the days right after college when he lived in this popular Seattle community. 
---
Our 5 Favorite Features of this Mid-century Modern Condo in Capitol Hill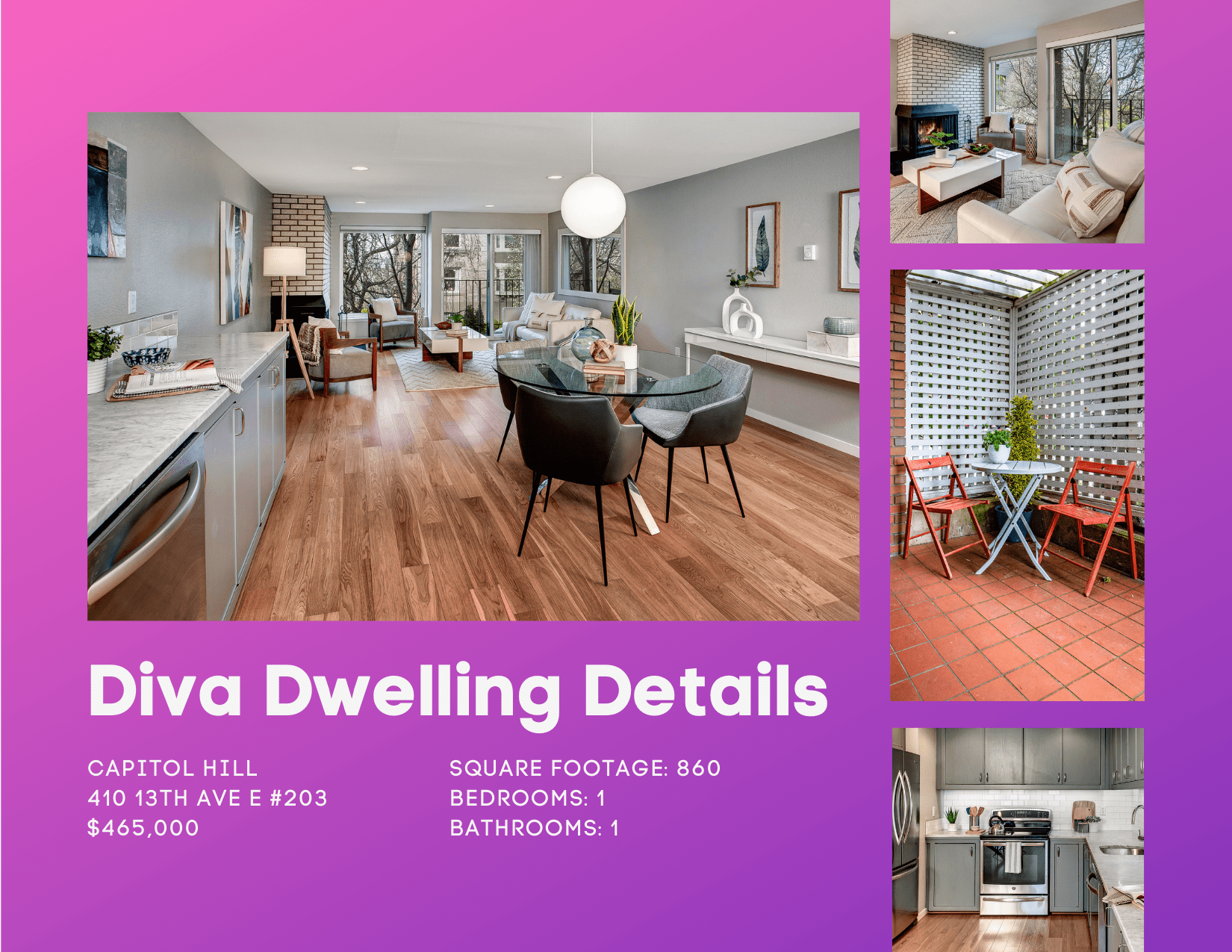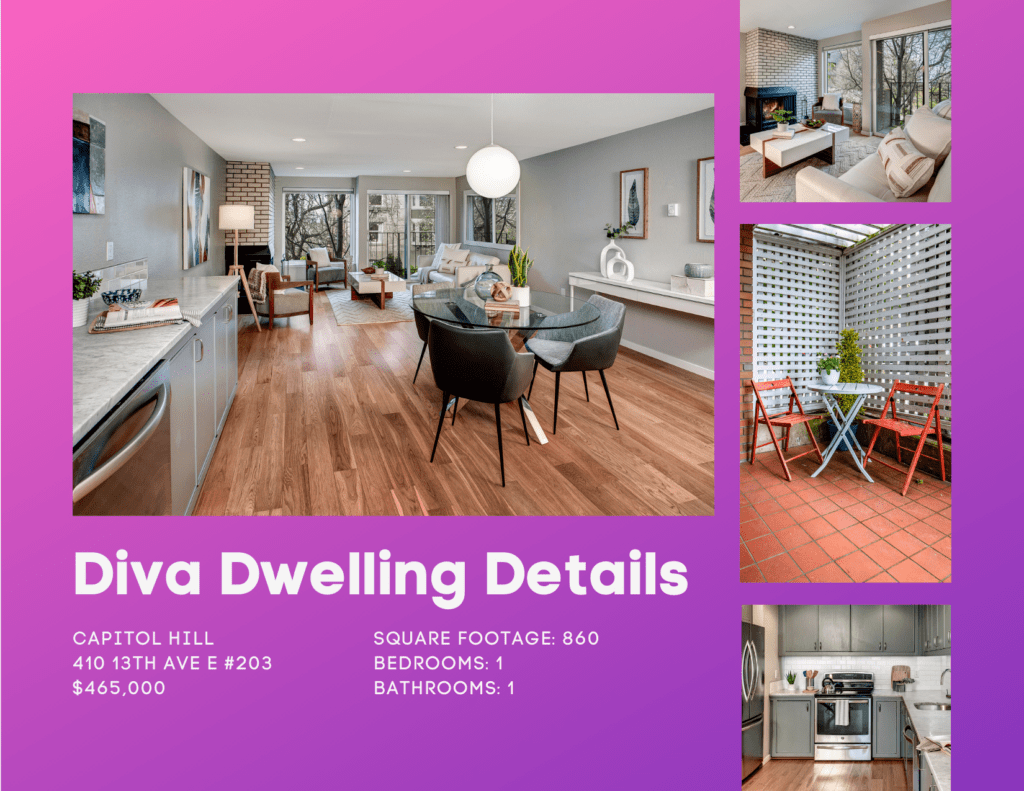 We can't wait to show you exactly what makes this Mid-century Modern Condo in Capitol Hill so special. in 2014 this condo was fully remodeled by Model/Remodel to feature modern conveniences while maintaining the mid-century charm. And yes, they are models who remodel! Every space of this home was given love and care to update it to what you see here, making it even more stunning.
Keep on scrolling and see all the beauty for yourself. Here are our 5 favorite features:
Go With the Flow: This Mid-century Modern Condo in Capitol Hill Offers Effortless Living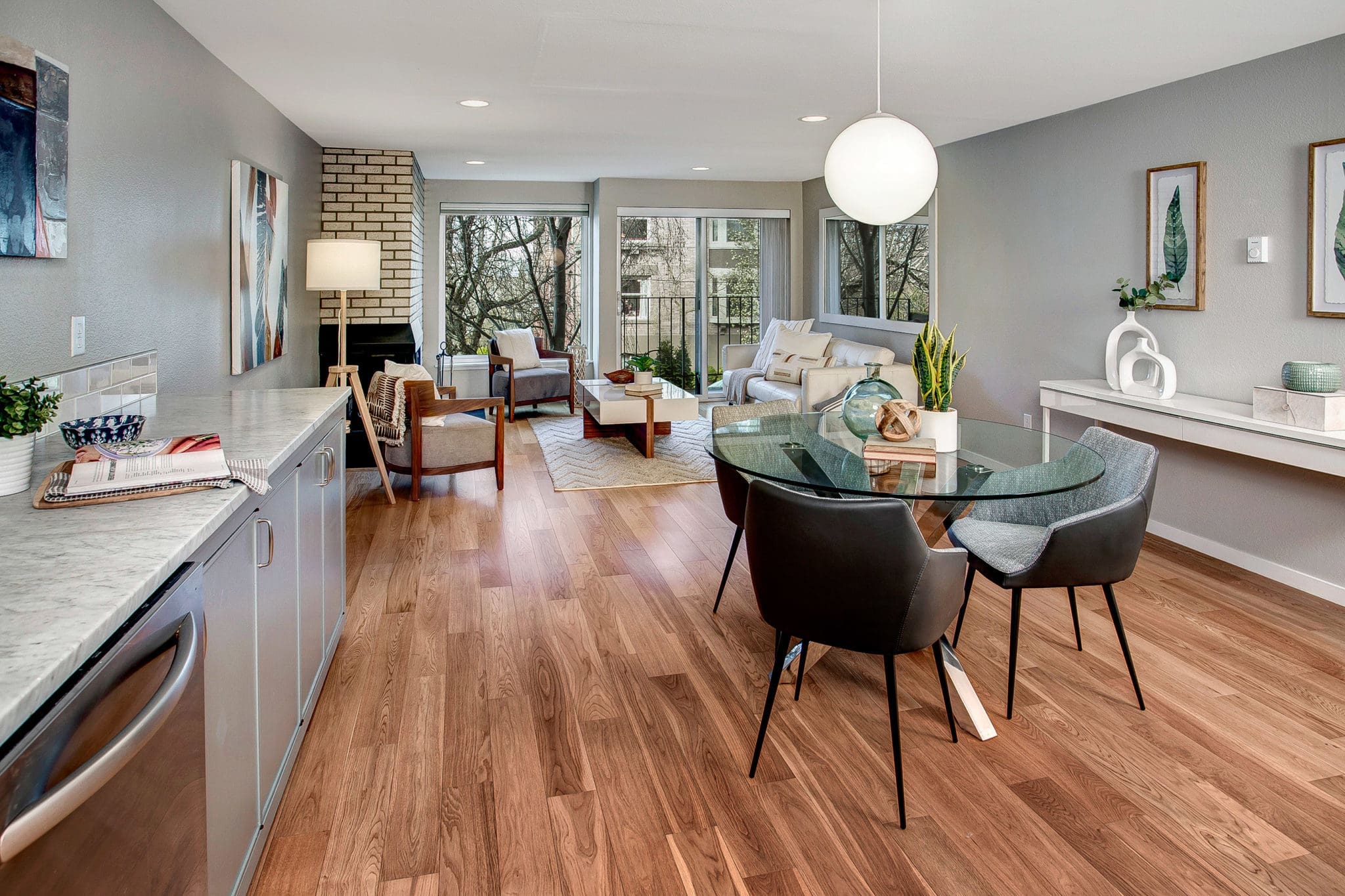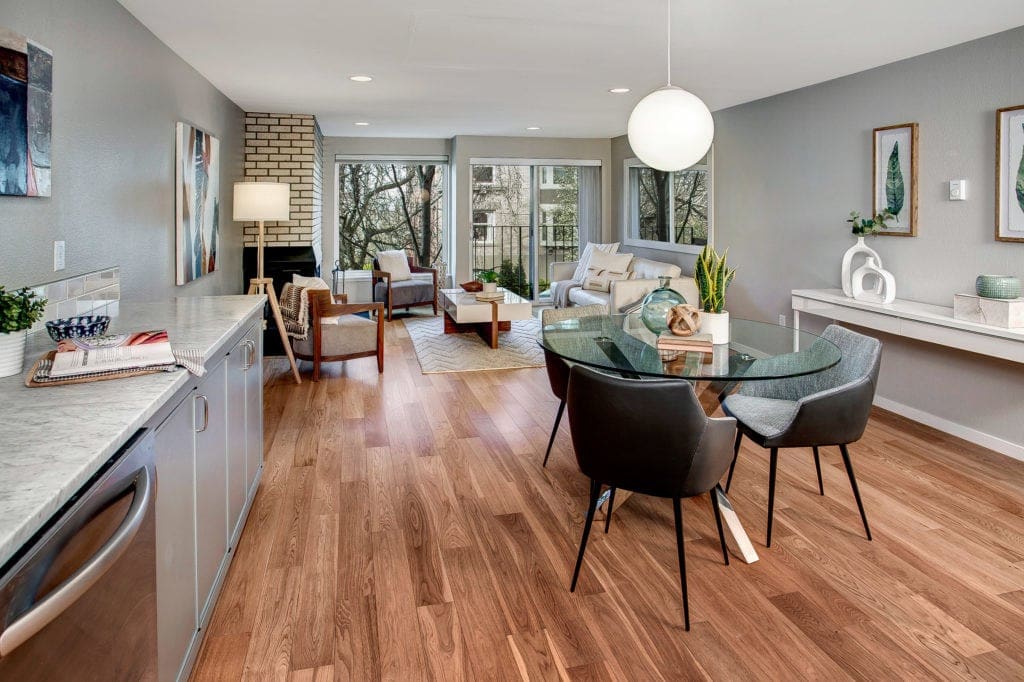 First-floor convenience with the privacy of a second-floor condo? Yes, please! Everything is seamless with this first-floor condo. Here you can park (yes, you have your own parking spot!), grab your groceries, and head straight into this home's kitchen. It's all on one level and you even have your own private entrance. Whether you're receiving deliveries or having friends over, you don't have to worry about the hassle of buzzing anybody in. Plus, since the condo is on a hill, the front of the condo is on the second floor yet you have the ease of a walkup off of the tucked away parking lot. 
Move-in Ready MCM Bliss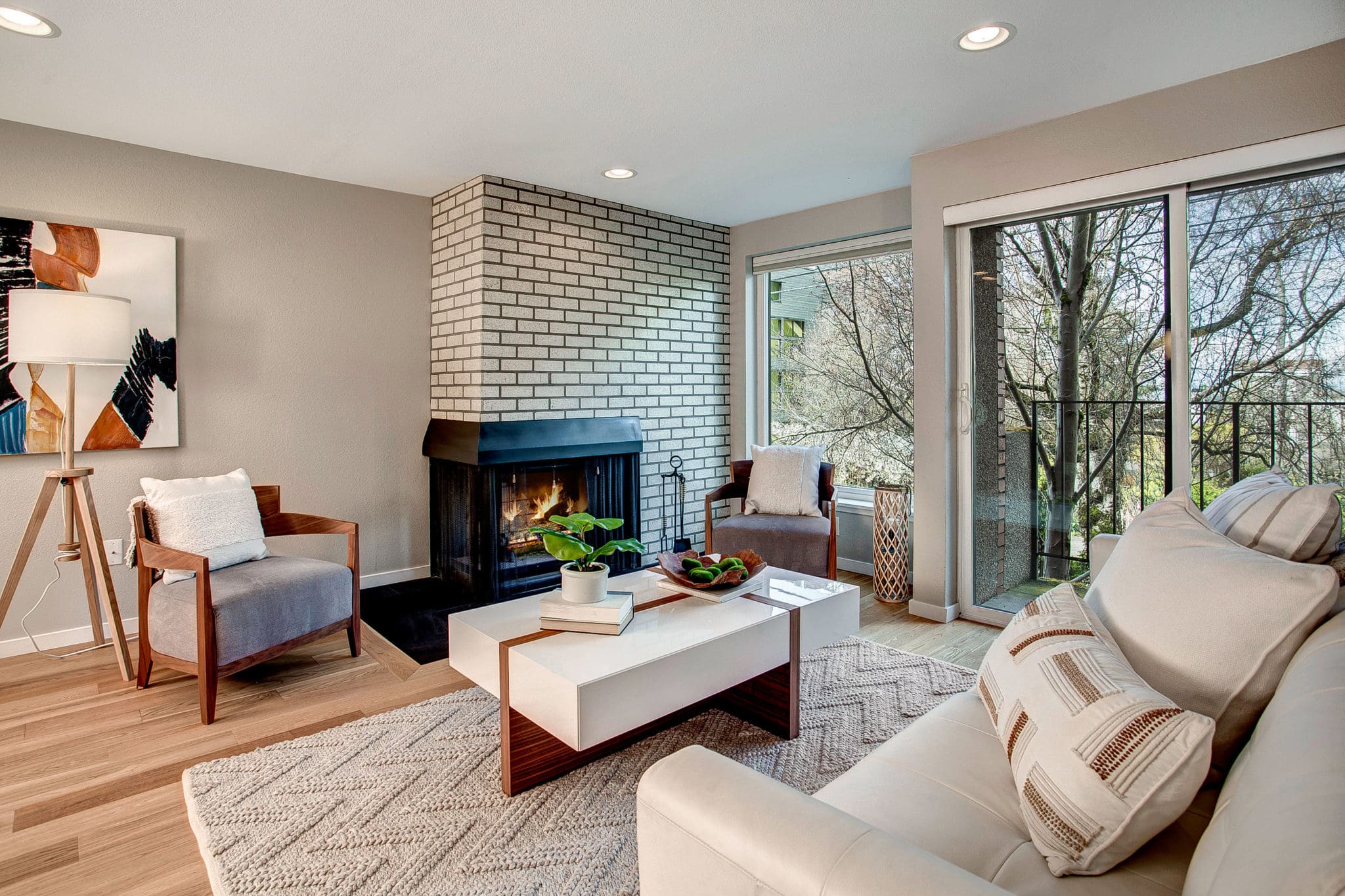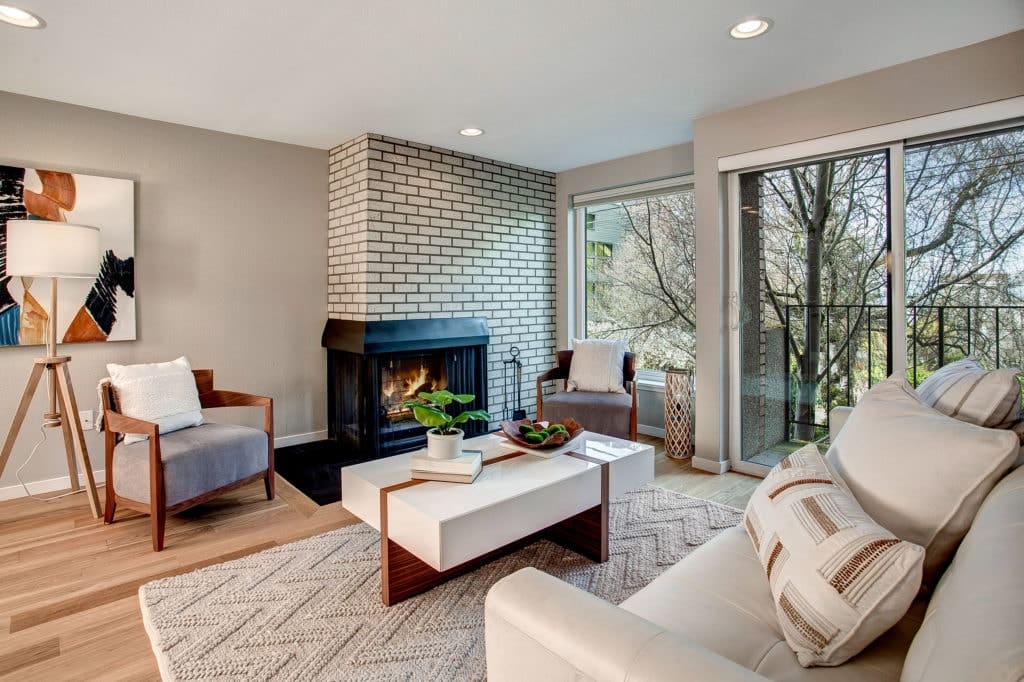 This condo is not just move-in ready, it's absolutely dialed in. When our Diva Dweller bought this condo, it was original 1969 through and through. Our savvy Diva Dweller worked closely with Model/Remodel to reimagine and refresh this Capitol Hill condo just a few years ago. They wanted to make sure and keep the mid-century charm intact while making smart contemporary upgrades. Exposed brick around the wood fireplace and original wood cabinets transport you back in time. Yet posh elements like marble counters, recessed lighting, new floors, new appliances, and more all bring this condo up to modern standards. 
In true 1960s fashion, this Mid-century Modern Condo in Capitol Hill still has all of the perks of its time. Accessible parking, effortless living, and a small building invite you to become part of a community with your neighbors. This MCM is so easy to fall in love with! 
Living Large on the Hill: This Condo Offers Spacious Living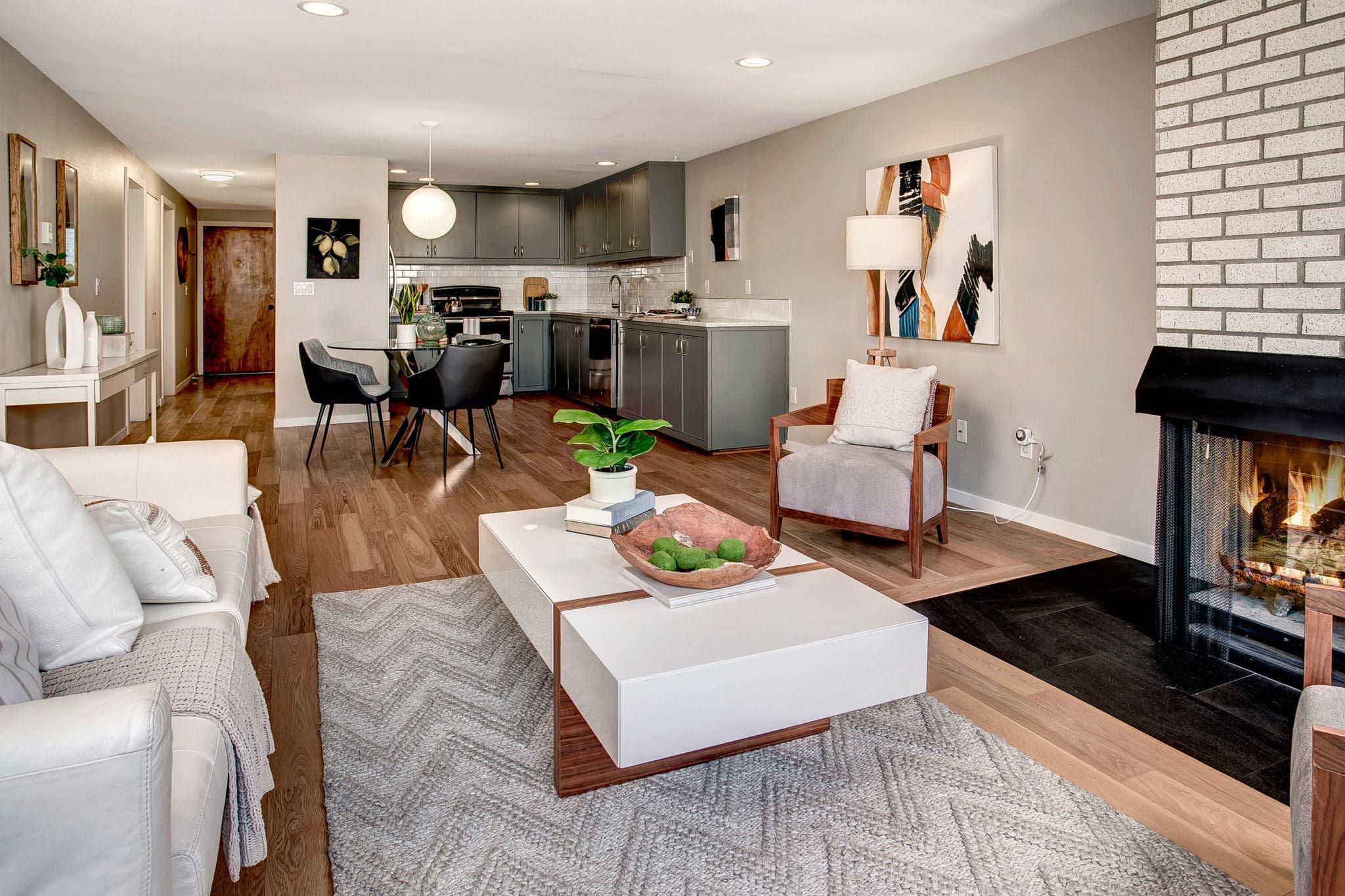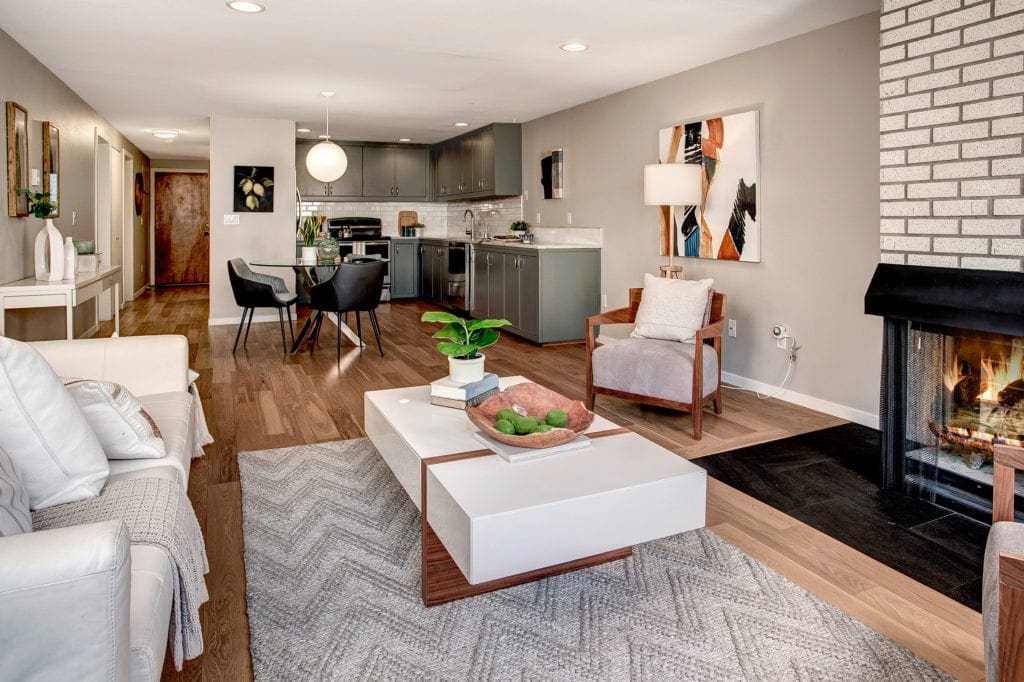 This condo is truly a 1-bedroom plus a den. With an 860-square-foot layout, this condo is large enough to live and work from home in, no problem. And you don't have to sacrifice having a dining room table or a giant couch—there is plenty of space for both! Love having friends over to whip up dinner while you sip on cocktails? There's space for your besties to gather here, too! 
We love that this condo is significantly larger than more 1-bedroom condos on Capitol Hill. You really can have it all here—the spacious layout makes it easy to entertain, there's space to park your car, and there's room to store your gear.
Two Outdoor Getaways Offer the Best in City Living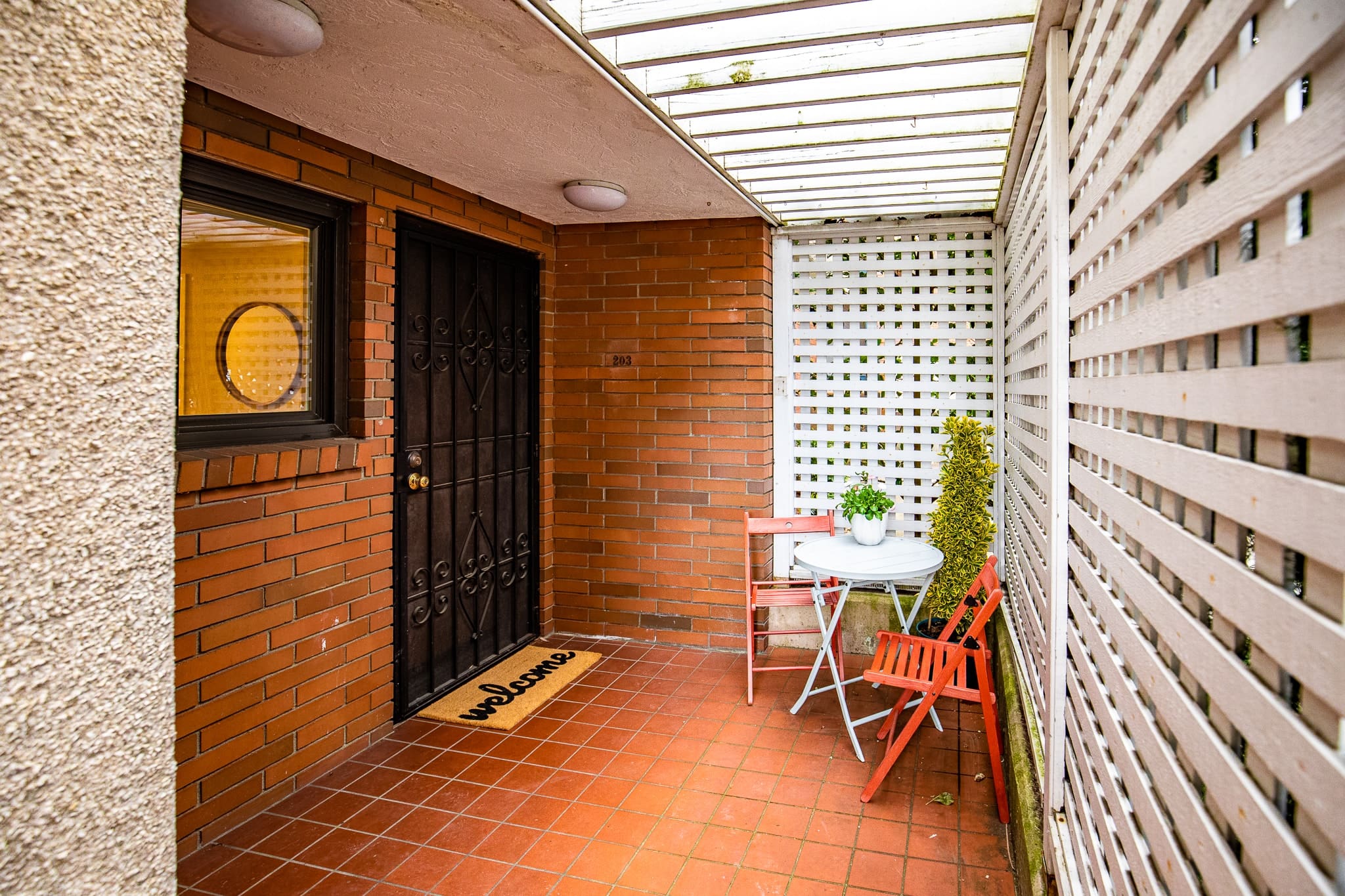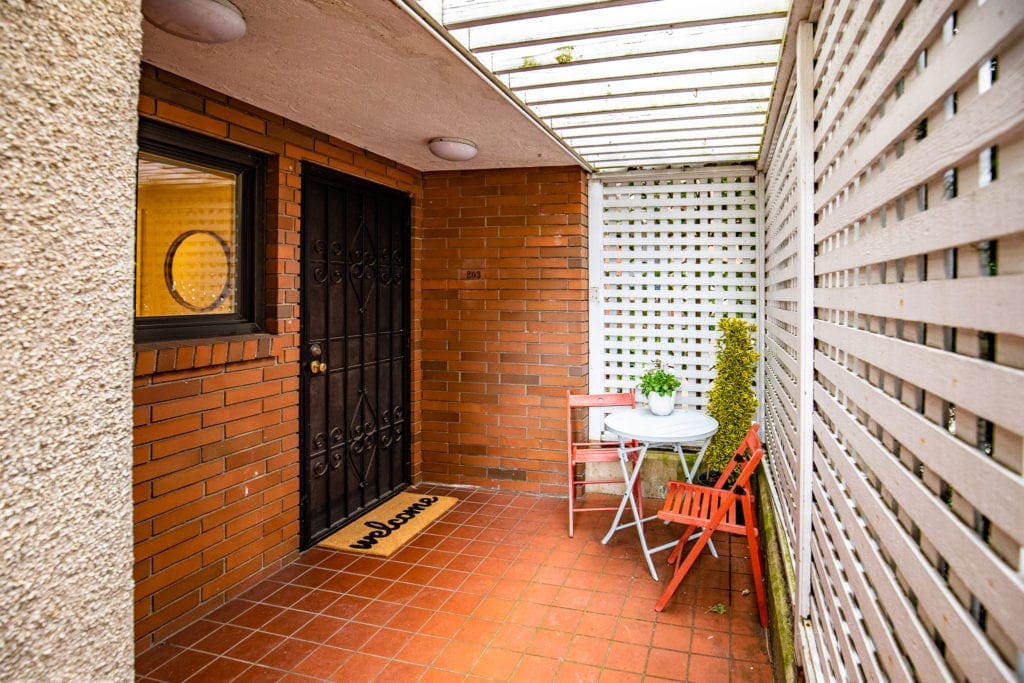 This Capitol Hill condo lets you feel like you're living in a treehouse. Light filters in through the lovely trees, giving you a gorgeous private oasis amidst the hustle and bustle of the hill. And in this home, you can open up both sides to maximize your livability. Favor the sun or the shade? You can have both all day long. Sip your morning coffee on the covered patio out front, then enjoy a glass of wine on the west-facing balcony while the sun sets over the neighborhood. 
Let's Take a 3D Tour, Too, So You Can Immerse Yourself in this Mid-century Modern Condo in Capitol Hill
Team Diva takes every precaution, and then some, to make sure all of our homes are listed following all COVID precautions. It's is our duty to ensure everyone's safety as you enter one of our listings, but feel free to take a virtual tour from the comfort of your couch.
Easy Access to Everything From This Fab Capitol Hill Location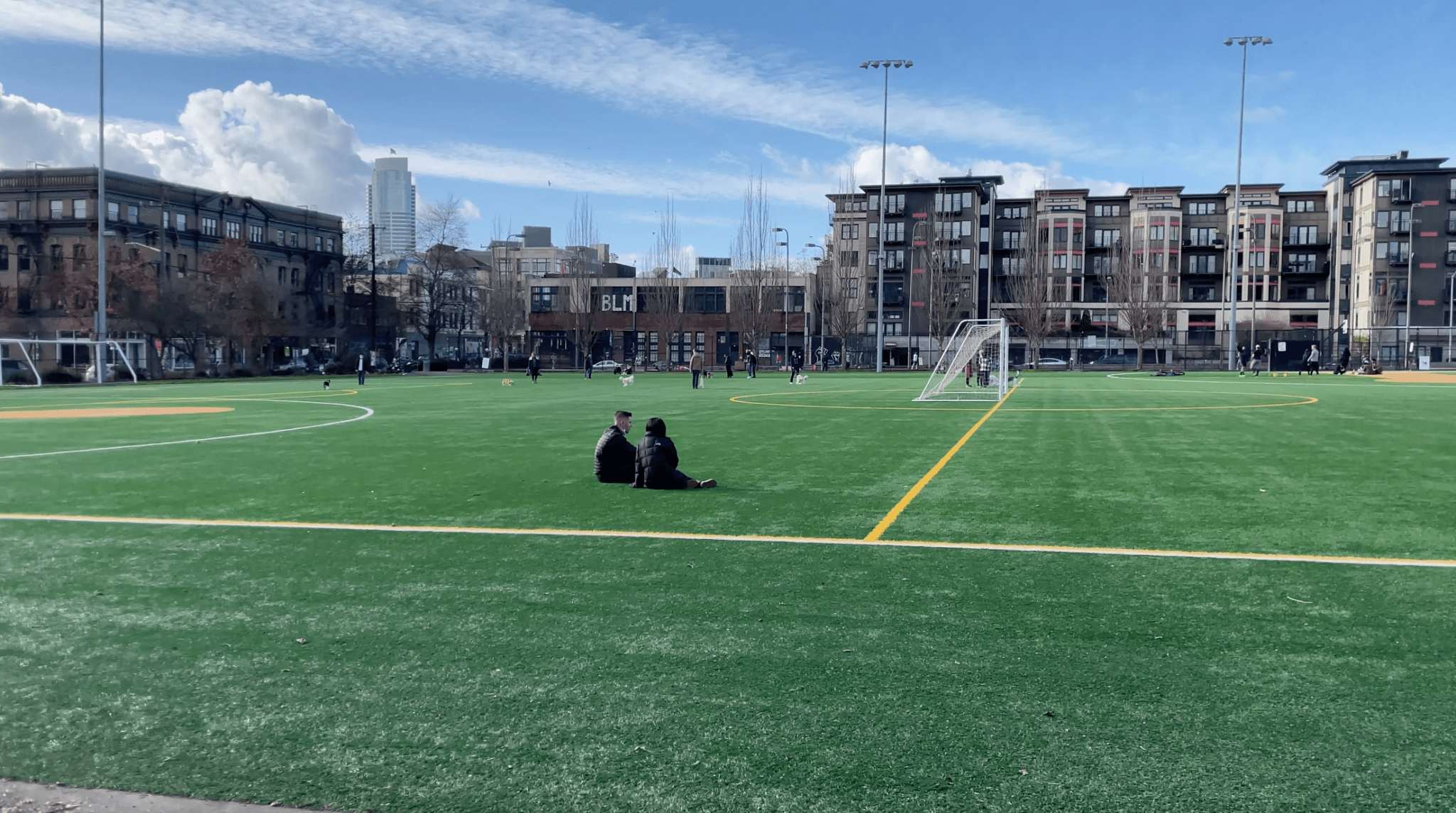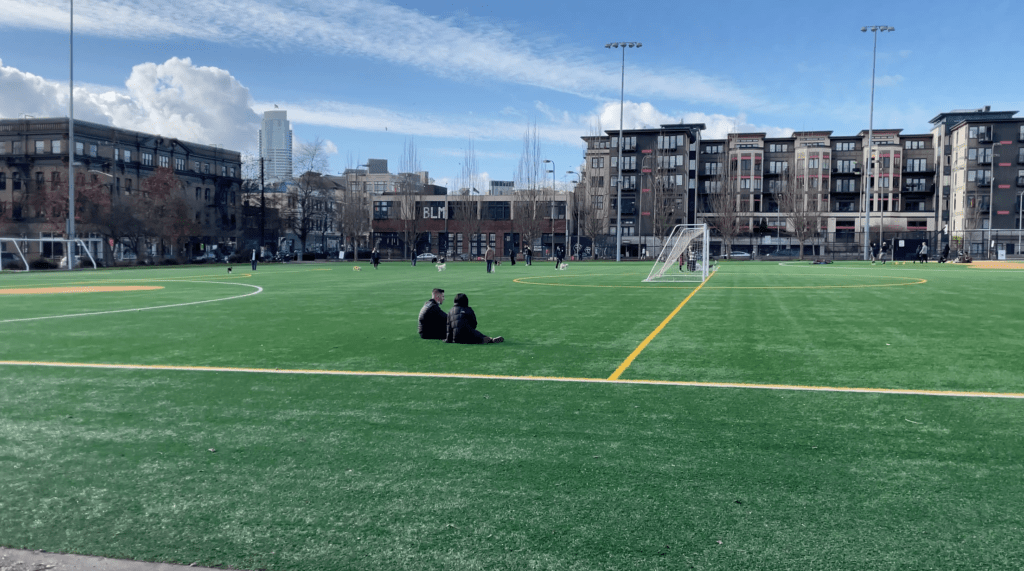 This condo is right in the heart of Capitol Hill. You are blocks away from 15th Ave, Broadway, and Pike/Pine. As shops and restaurants open up, even more, you'll be able to enjoy everything without needing a car to get to them (although you do get a parking space with the condo!). Take a stroll to Volunteer Park or play soccer at Cal Anderson. You're also only 10 minutes to the Capitol Hill Light Rail Station, opening up the city even more. 
In past videos and blogs, you've heard Roy go on and on about this neighborhood and that love stems from personal experience. Just after college, Roy lived across the street for 5 years! He still looks back fondly at those times. Roy remembers when the only burden he had was choosing which bar to meet friends at and which grocery store to shop at. Do we go out or should friends come over? You pick. 
This condo is in a small building, which also means you don't have the burden of "amenities" that you find with new construction. Do you need to pay extra for a media room, or business center? No! And you don't need a communal gym at home because your favorite one is down the street. Everything you want is down the street. If work from home switches back to work downtown, that's down the street, too!
Check out some of the other great homes in Capitol Hill we've sold: 
---
Buying A Condo In Seattle: 4 Key Considerations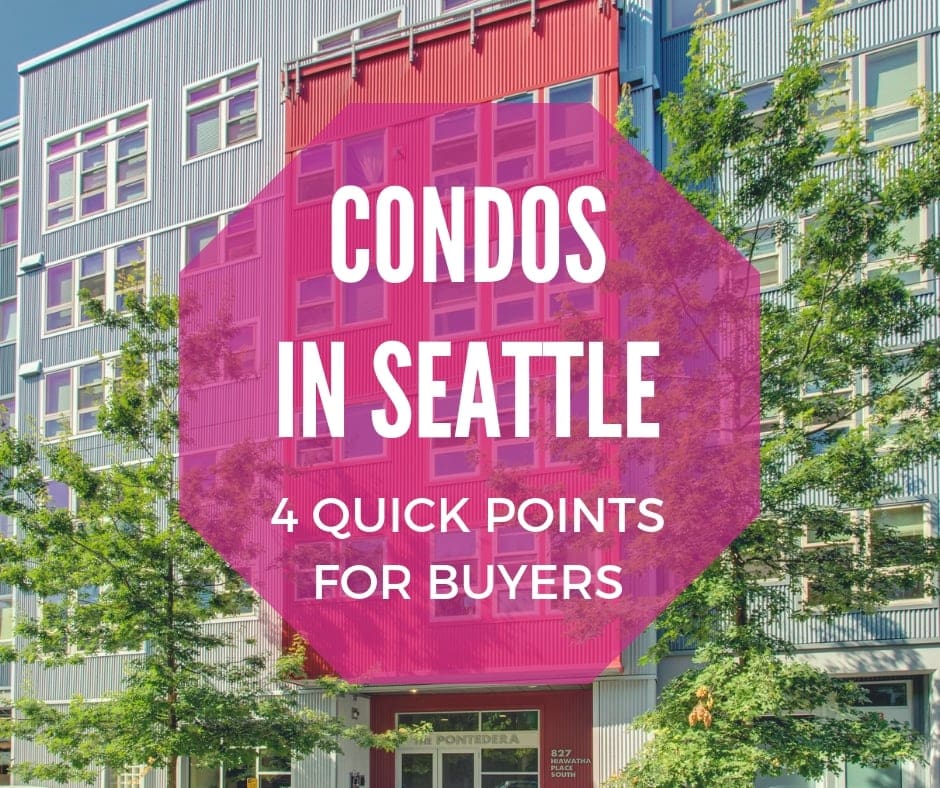 Have you bought a condo before? If not, you should get a little information specific to the process, as is not entirely the same as for a detached home. From identifying your goals to conducting the right inspection, we cover four points that are crucial when buying a condo in Seattle.
Be a Smart Condo Buyer Guide
Identify Your Condo Must-Haves – Rentability, pets, parking, laundry, etc…
Buy in the Best Building in the Best Neighborhood You Can Afford – You are buying into a community. The majority of condo buyers want location above all else. The Bering is literally in one of the nicest locations on Capitol Hill.
Review the Homeowners Documents in Detail – This is extremely important for older buildings. As a community, everyone needs to pitch in and preserve the space.
Do a Home Inspection. Obviously!
This is just a starting point, and we have so much more to share about the home buying process. Browse our Home Buyer page for a comprehensive home buying education.
Check out the whole blog about what to keep in mind here after the jump >
---
Thanks For Touring Our Mid-century Modern Condo in Capitol Hill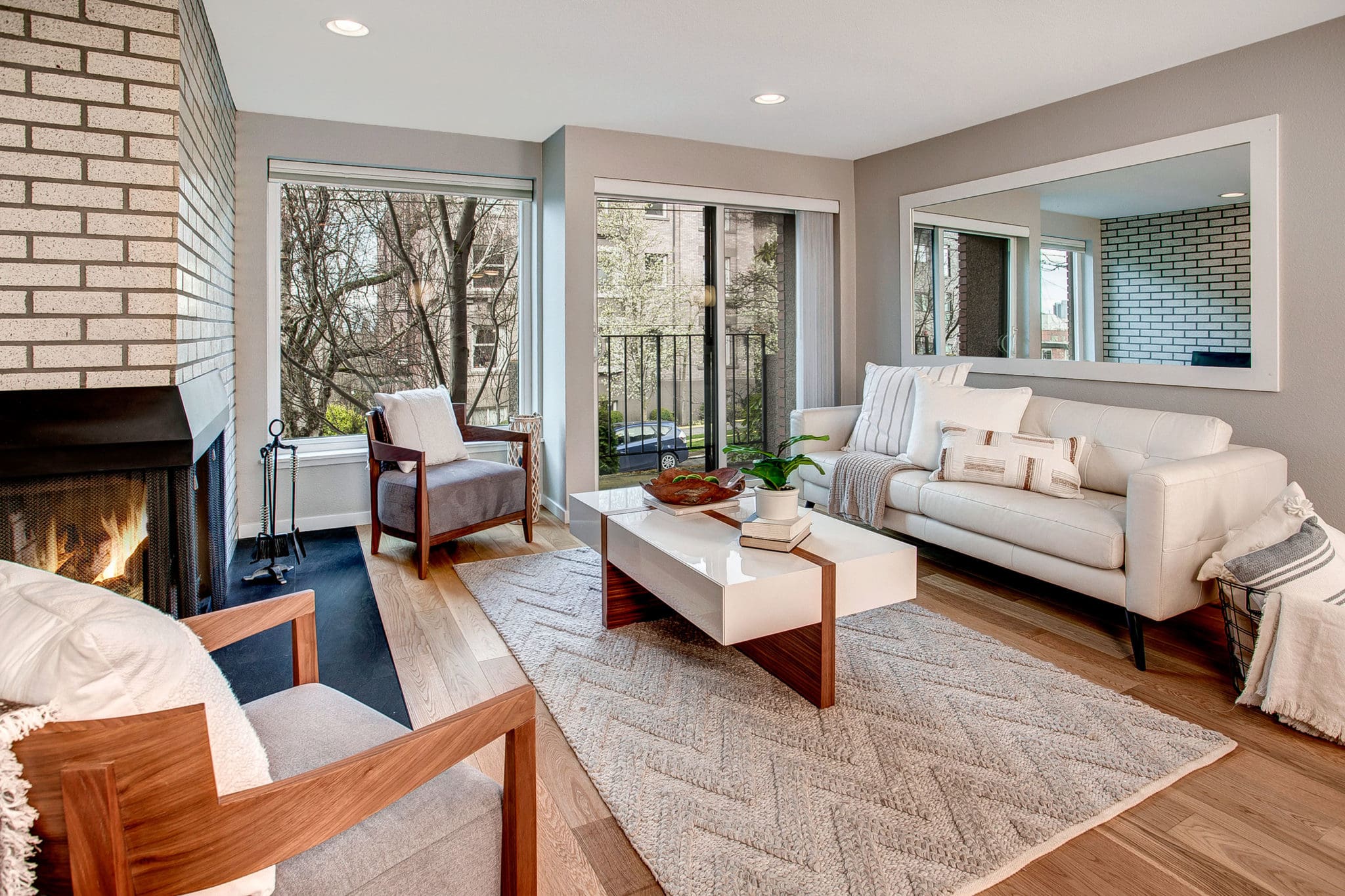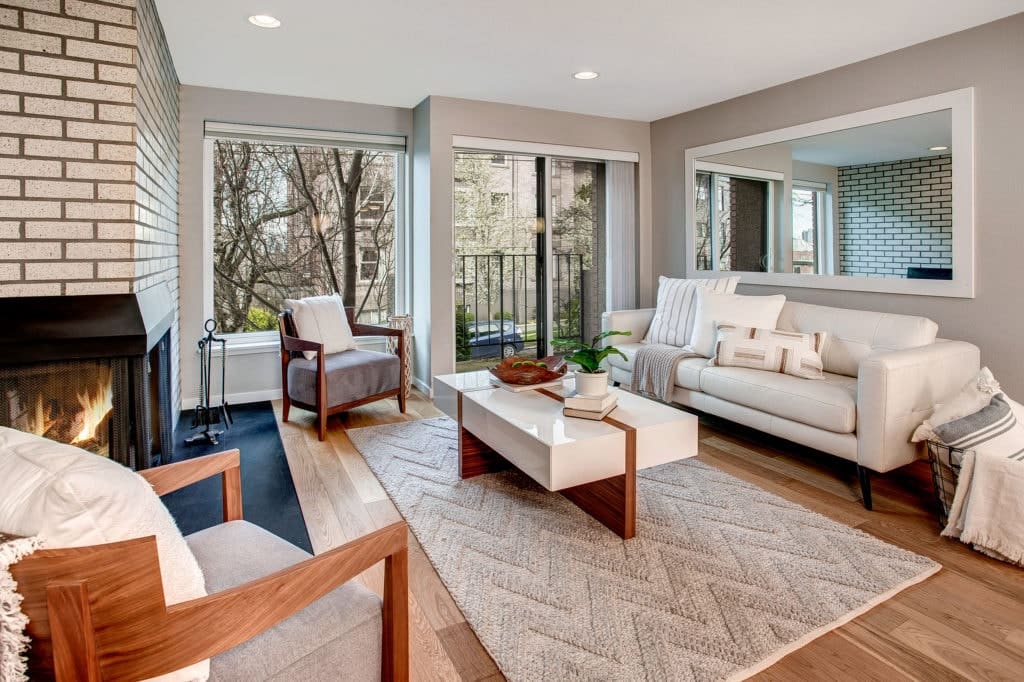 Thank you for taking the time to learn all about this Mid-Century Modern Condo in Capitol Hill! We are totally loving this Seattle condo's mid-century modern aesthetic, the spacious layout, the effortless living it provides, the outdoor getaways, and the incredible Capitol Hill location. 
All the Good Details
Address: 410 13th Ave E #203

Square Footage: 860

Bedrooms: 1

Bathrooms: 1

Offering Price: $465,000
Ready to tour this Mid-Century Modern Condo in Capitol Hill in person? Contact us today so we can show you our five favorite features about this home: the MCM aesthetic, the spacious floor plan, the easy living, the outdoor spaces, and the wonderful Capitol Hill neighborhood it's in.