Our latest Diva Dwelling—a Vintage Capitol Hill Condo at The Bering—has so much fantastic charm and character, it's hard to narrow a tour to just a top five. Fortunately, we also have lots of photos and the Matterport tour to give you a stronger impression. With that said, we have narrowed down its best features to a top-five for you.
Visit this Vintage Condo with Kim and Lindsy
In the video above Kim and Lindsy highlight so, much of the fabulous vintage charm found throughout the home. We start our list with a nod to the vintage style throughout this building. Capitol Hill is known for being the home of some of Seattle's most notable vintage buildings. From quaint 1920s Co-ops to illustrious 1930s Anhalts. And The Bering, on 14th and Thomas, definitely falls in the category of notable historic buildings.
Let's take a moment and really enjoy the listing team's Kim and Lindsy's favorite things about this Vintage Capitol Hill Condo at The Bering. Specifically, we are swooning on the vintage flair, spacious living area, bright corner unit, and that oh-so-important secure parking on Capitol Hill. And added bonus all of those built-ins!
Our Top Five Favorite Things For This Vintage Capitol Hill Condo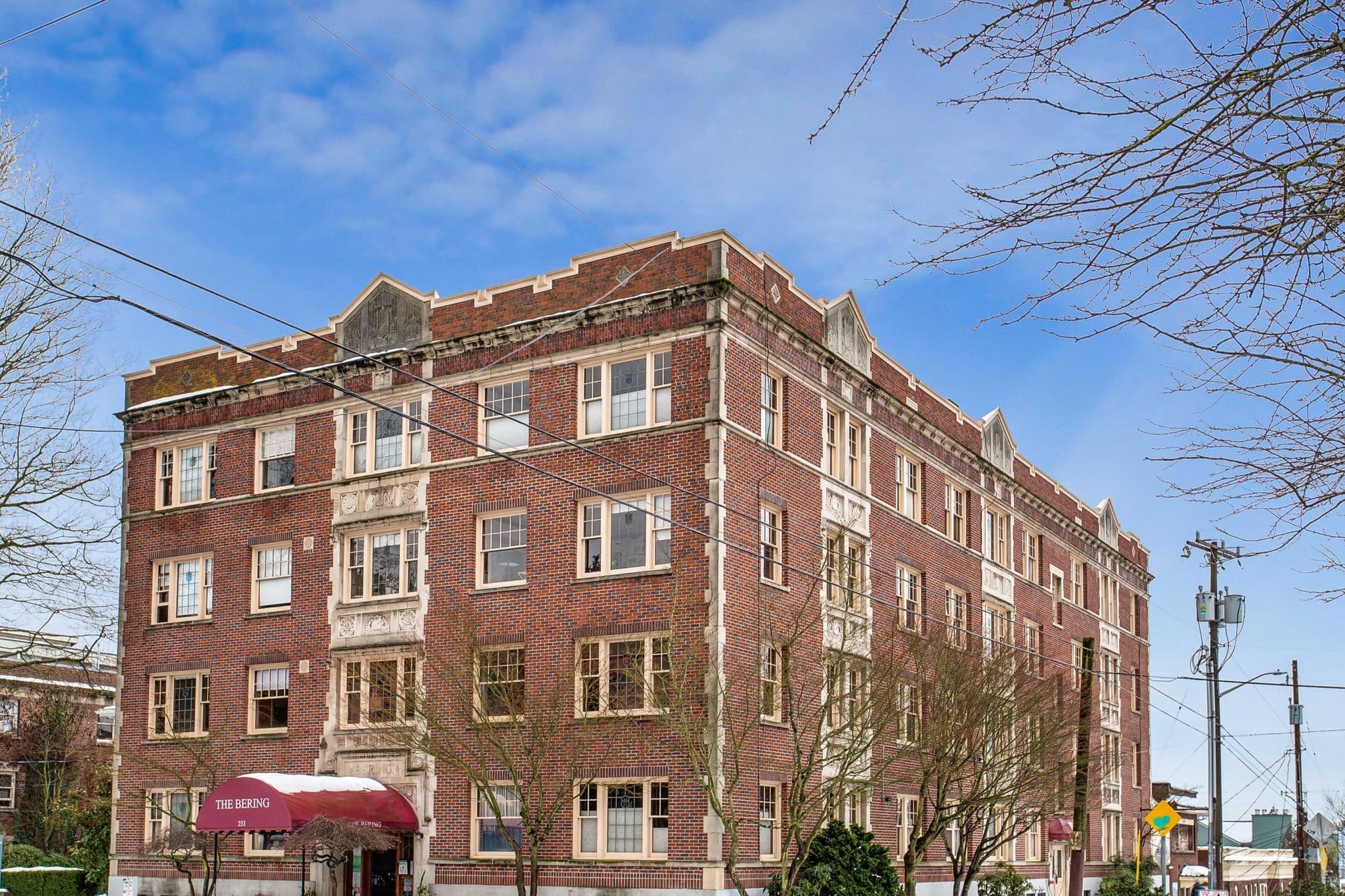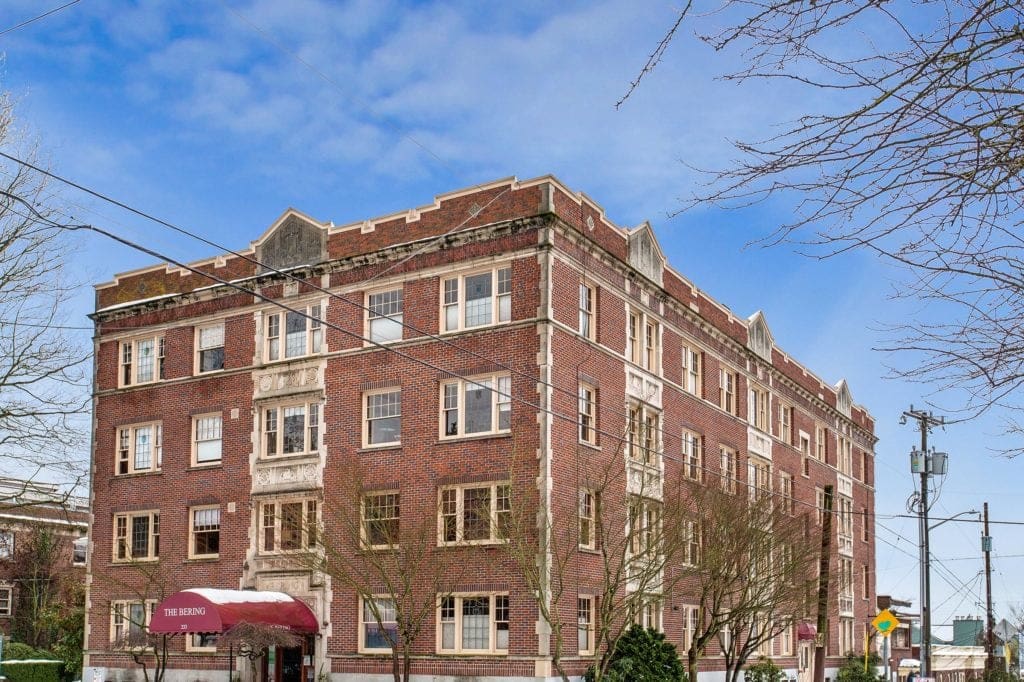 From The Bering, you can see forever. Sort of! Sitting at the top of Capitol Hill allows for stunning views to not only be seen from the building itself but even from being just around outside the building too. Take in a gorgeous sunset behind the Space Needle or see the fireworks of the Fourth of July or New Year's Eve light up the skies to the west while you sit above it all. Now let's dive in and really soak up the magic of this fabulous home.
An Abundance of Vintage Flair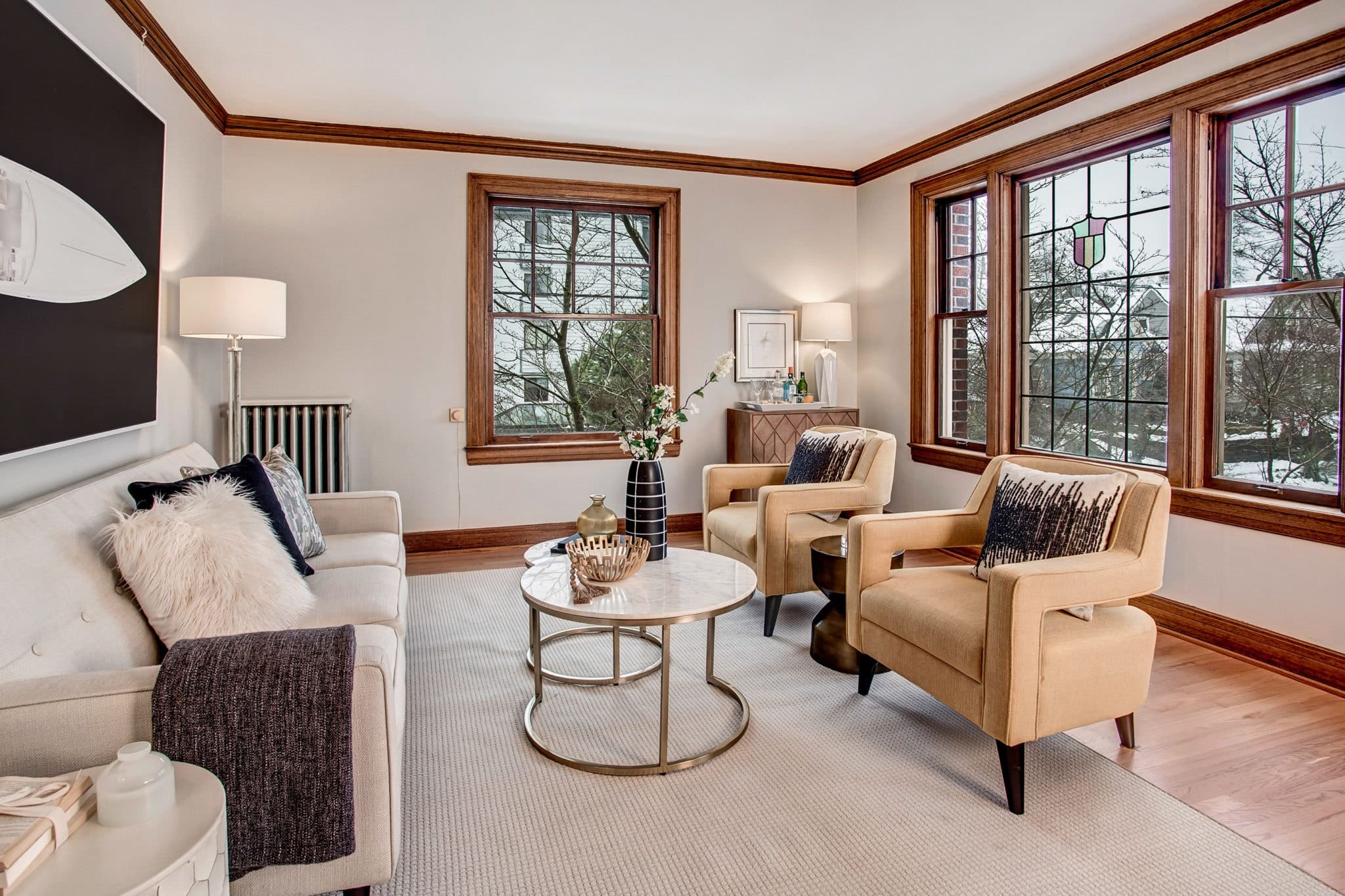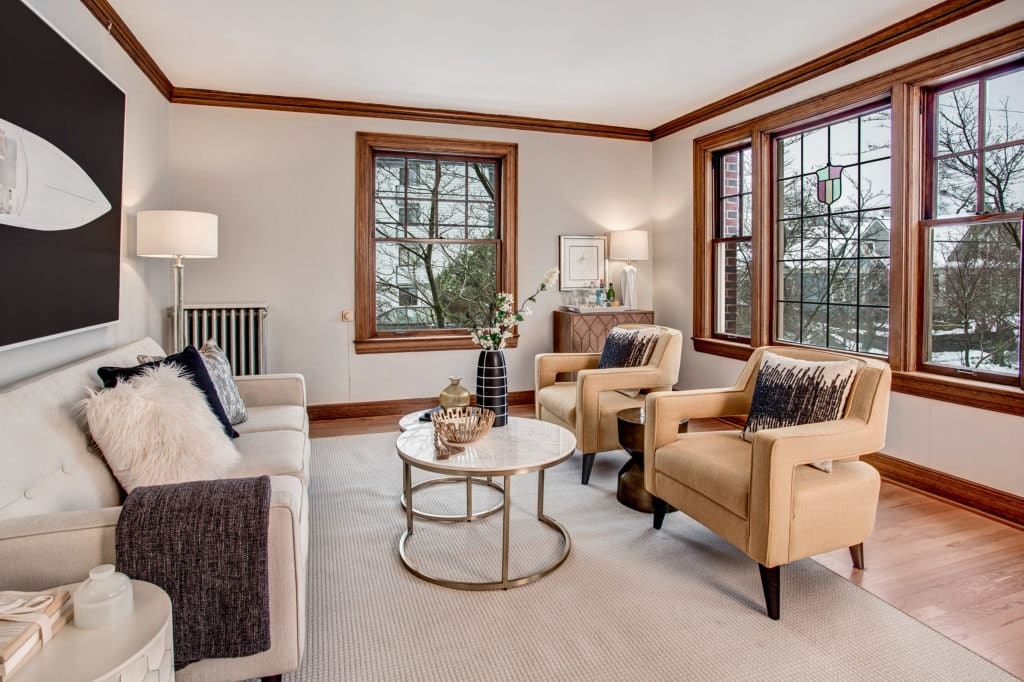 Many Seattleites embrace minimalist contemporary design trends, but there are equally as many who swoon for coved ceilings and mahogany trim. Those folks flock to historic buildings like The Bering and covet its vintage flair. The classic brick exterior, wood-paneled entry, and wrought iron stairwell enchant with their 1920s charm. Many people will fall in love with the building before they even enter the condo itself.
That classic warmth continues into the condo, too. Newly refurbished oak hardwood floors offer the perfect setting for your future decor. Original wood molding and trim throughout the home has thankfully been protected from any encounters with white paint for almost 100 years. Last but not least are the decorative leaded glass windows, which flood this home with light even on the darkest of days.
Spacious Living and Dining Room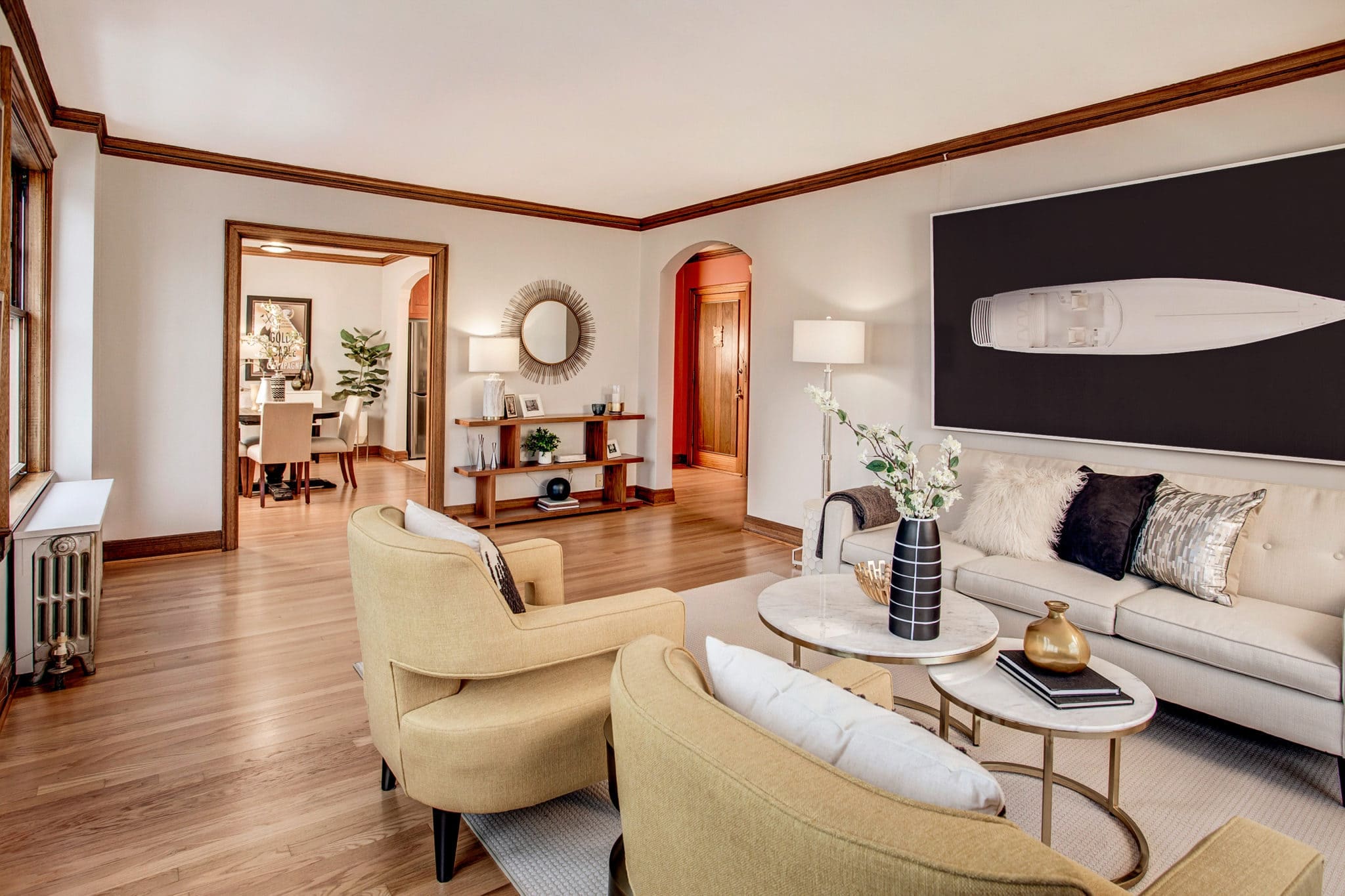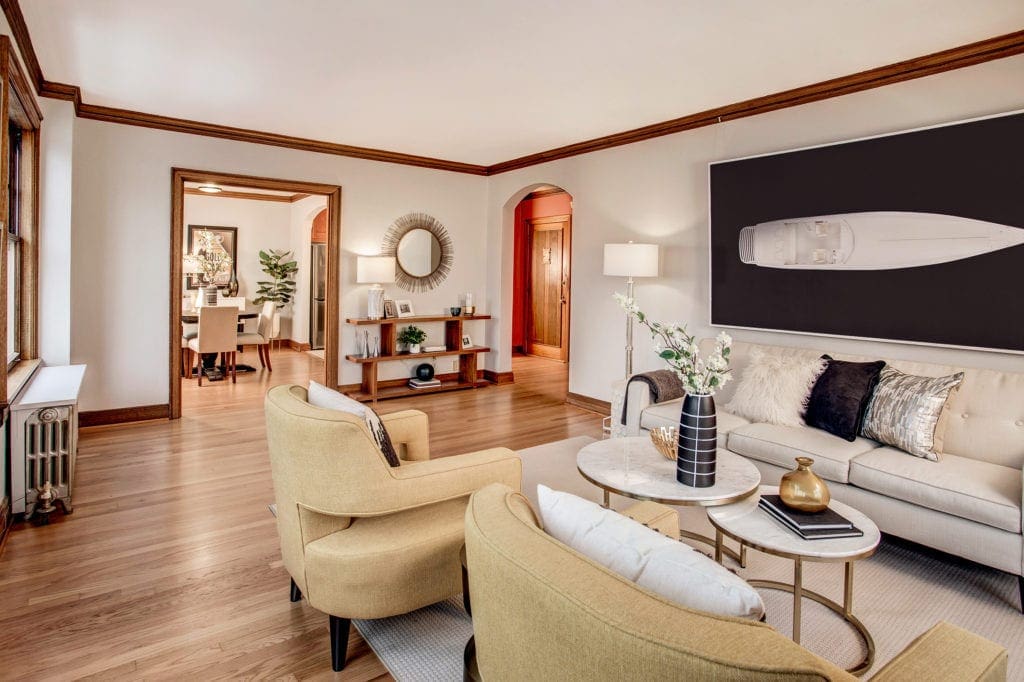 The current owners of this Vintage Capitol Hill Condo at The Bering refer to their living area as a cozy sanctuary in the middle of the city. The floor plan provides separation from the back and front of the condo, offering privacy and quiet even if you have two folks working from home (as many folks do during the pandemic). 
Space is certainly at a premium right now, so having an extra bedroom to use as a guest room, office, workout spot, or meditation den is something we could all use. You not only have an extra bedroom in this condo, but also tons of storage and built-in cabinets.
Perhaps best of all is the spacious living room and formal dining room. They are large enough for a socially distanced happy hour with your pod, or even a small dinner party or game night. And for those who aren't entertaining, we are sure that this ample space will still be put to good use.
Corner Unit Flooded with Light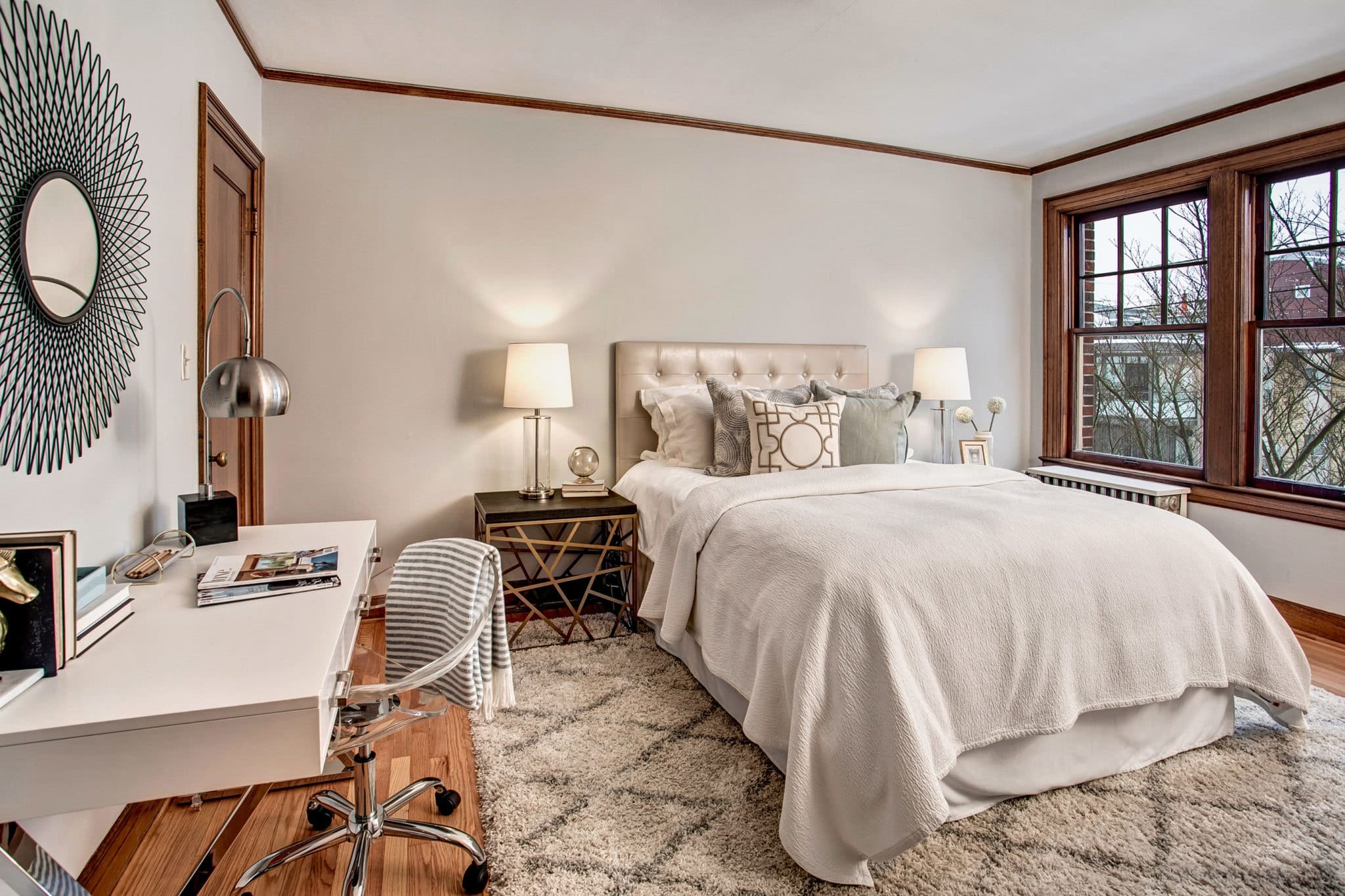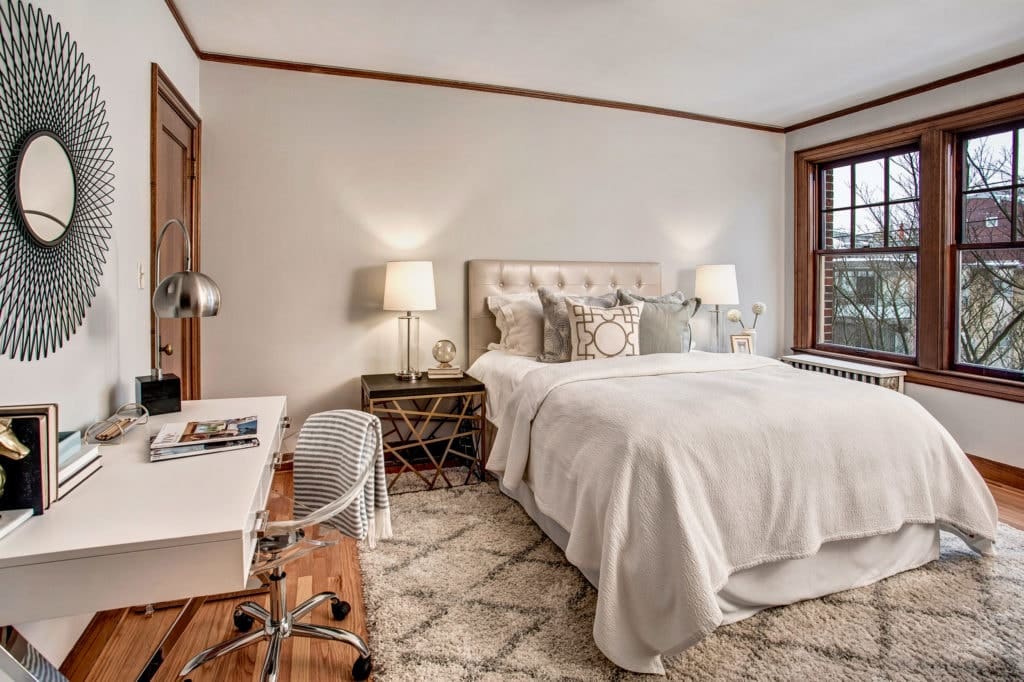 All the beautiful spaces in this Vintage Capitol Hill Condo are flooded light year-round. When we say flooded with light, we mean it. The original leaded glass windows are as plentiful as they are beautiful and allow the warm morning light to stream in across the living room and dining room and sparkle up those perfectly polished wood floors. Because The Bering sits on the NE corner of the block, and this is a North East corner unit, there are no buildings in the way of you getting all the light.
All of the windows can be opened from the top OR the bottom. The top opening is great in the summer to keep air moving, and it feels secure which is great if you have pets or little ones. The current owners say they'll also miss watching the maple leaves change from green to red to bright orange, right out the window.
Living in a corner condo doesn't only mean more light also means fewer shared walls, and that means more privacy. And in these times when most of us are working and playing at home, privacy is crucially important. That said, the current owners of this home rave about their great neighbors. They feel like a part of a community here and will miss their "Bering-mates," and hope the next residents will feel just at home.
Secure Garage Parking AND Close to Transit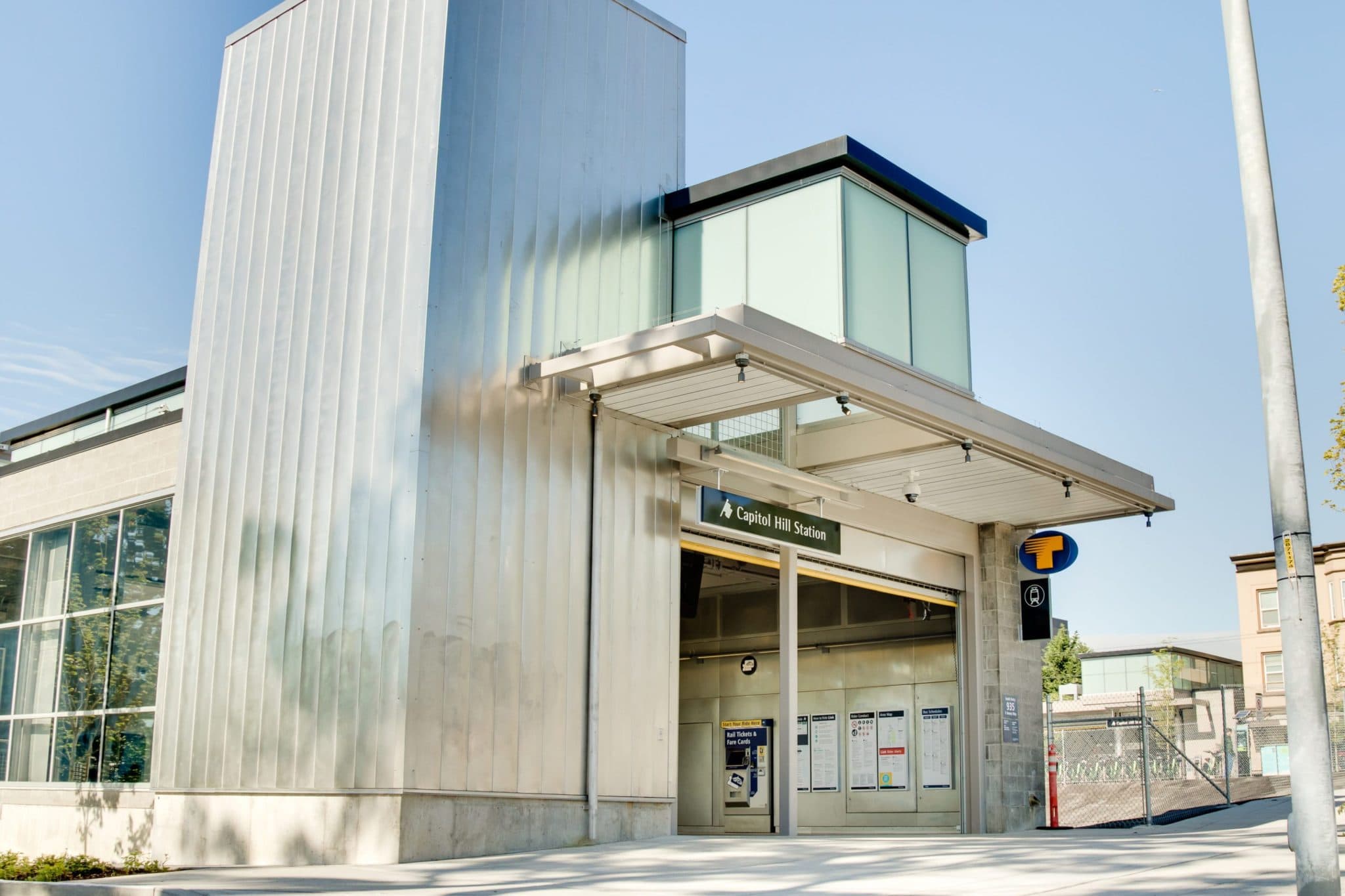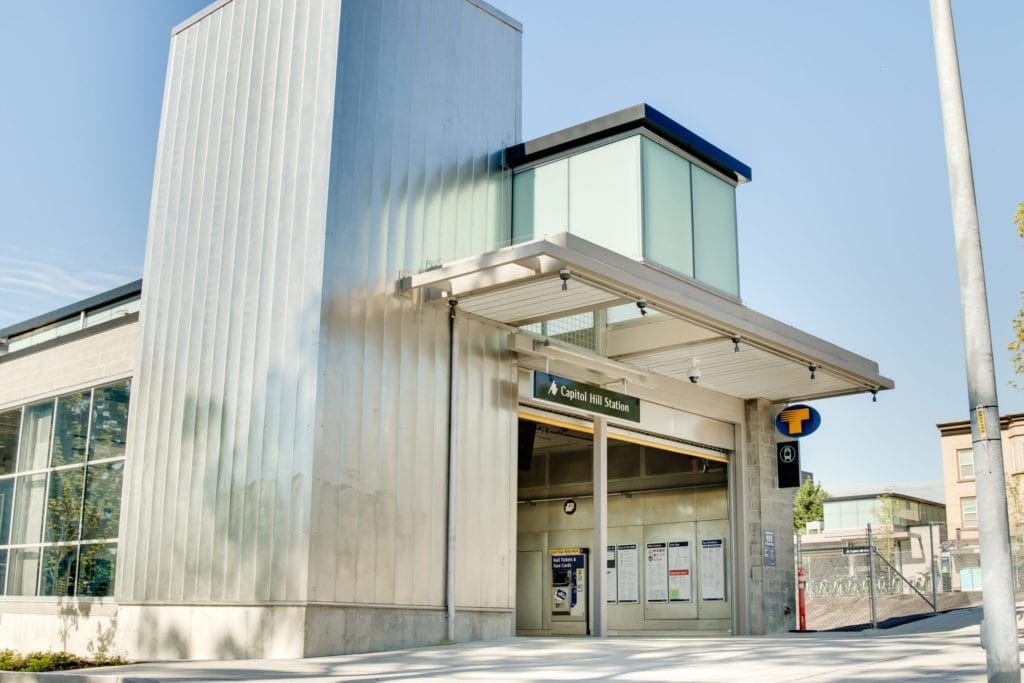 If you commute by car, then having a secure parking space on the hill is rather necessary. This building has extra goodies in its garage, though: bike racks and a storage unit. But will you need a car on Capitol Hill?
No, actually. The current owners of this Vintage Capitol Hill Condo never owned a car while they lived at The Bering.   They rented their spot to another owner in the building. If you need the space, it's yours. If you don't and you want a little income, that other resident would probably like to keep renting it. Also, you're minutes from the light rail and so many transit lines. You can get just about anywhere without a car.
The Most Walkable Neighborhood…Period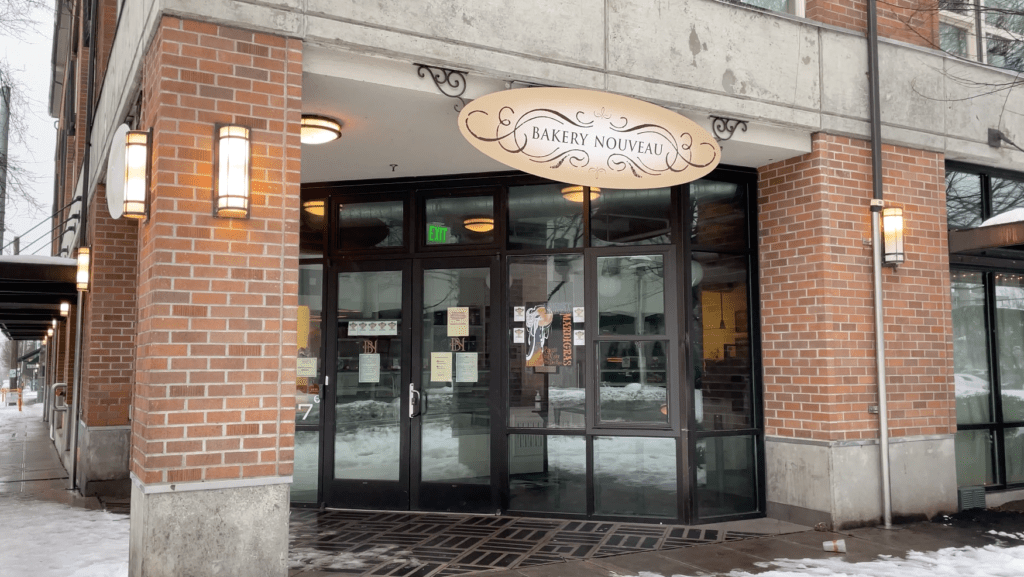 There's literally a grocery store across the street from this Vintage Condo at The Bering. You really can't do better for walkability or access to delicious food and excellent nightlife (under normal circumstances, of course). Just a block away on 15th is one of the best bakeries in the city, Bakery Nouveau, which is open for take-out during COVID. It's completely worth the short wait in line.
You will also find great spots on 15th like Smith for burgers and cocktails, Bamboo for delicious Pho, Spice Waala for Indian Street food, and Victrola or Ladro for coffee. And just a little further down the road, there is the wonderful Volunteer Park, its conservatory, and the Seattle Asian Art Museum. This is a quieter part of Capitol Hill, so despite being close to everything (and lots of transit options), The Bering is just tucked away from the major hubbub.
This Vintage Capitol Hill Condo truly is a gem, and we can't wait to share it with more folks who want to take a tour in person. Scroll down to get a preview tour via Matterport.
---
More About The Neighborhood: Capitol Hill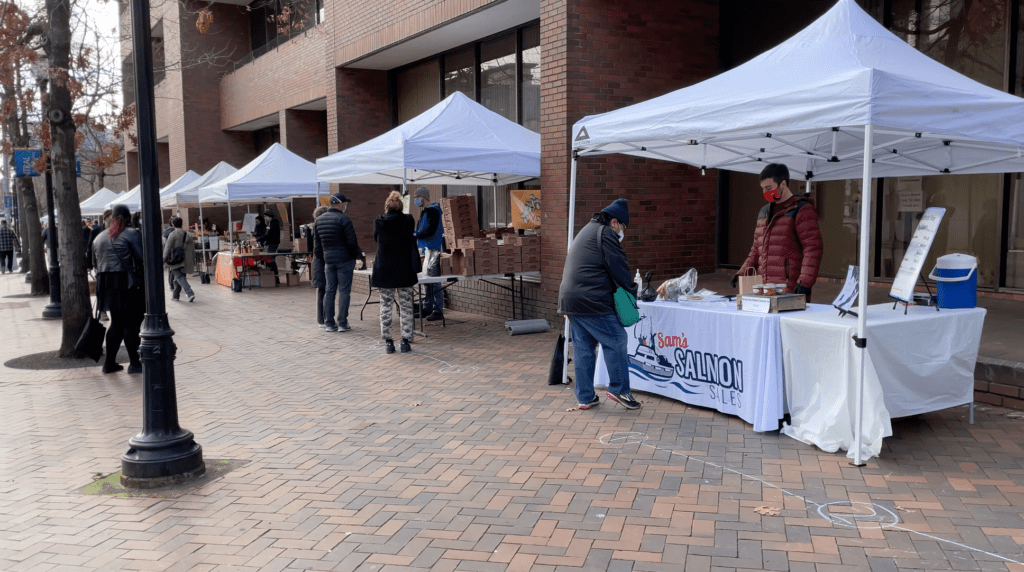 We've spoken over and over again about the wonders of Capitol Hill, and this condo is in a really stellar spot at 14th and Thomas. From this location, you can also easily get to all the places listed above, Broadway, Cal Anderson Park, and the Pike/Pine Corridor. It doesn't get much more central than this.
And with the light rail station only a few blocks away, getting from Capitol Hill to the U District, Downtown, or the airport is a breeze. This is why Capitol Hill is still one of the most desirable neighborhoods to call home in Seattle.
Explore more on our Seattle Neighborhood page for Capitol Hill. Get more inspiration:
Check out some of the other great vintage homes we have sold over the years on Capitol Hill
And so many more!
---
Buying A Condo In Seattle: 4 Key Considerations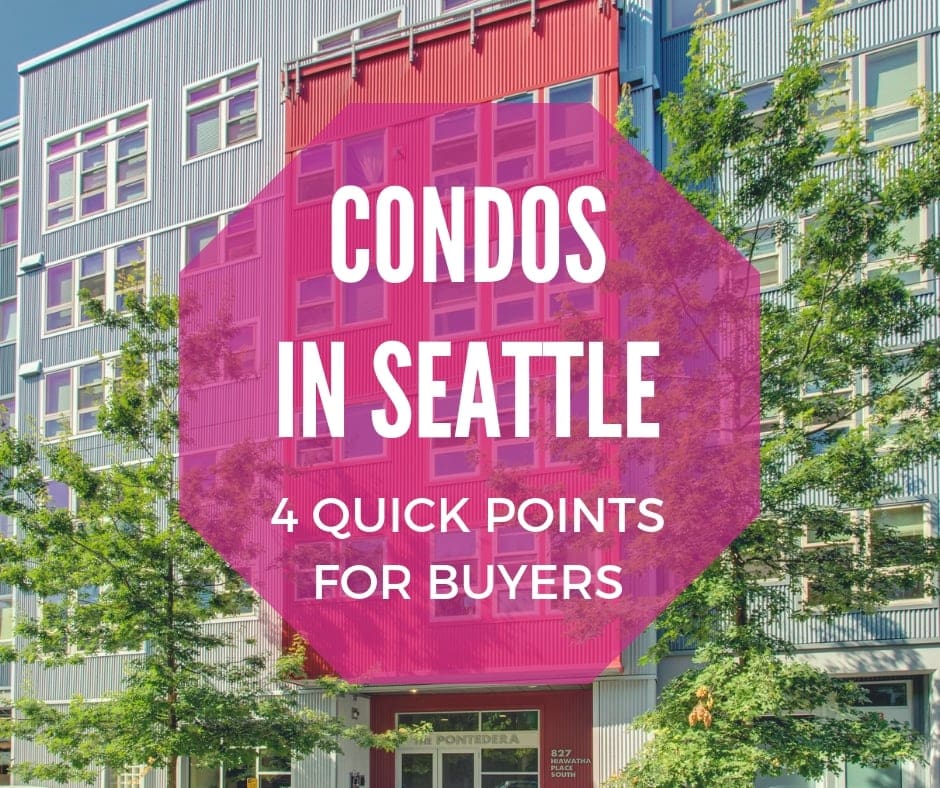 Have you bought a condo before? If not, you should get a little information specific to the process, as is not entirely the same as for a detached home. From identifying your goals to conducting the right inspection, we cover four points that are crucial when buying a condo in Seattle.
Be a Smart Condo Buyer Guide
Identify Your Condo Must-Haves – Rentability, pets, parking, laundry, etc…
Buy in the Best Building in the Best Neighborhood You Can Afford – You are buying into a community. The majority of condo buyers want location above all else. The Bering is literally in one of the nicest locations on Capitol Hill.
Review the Homeowners Documents in Detail – This is extremely important for older buildings. As a community, everyone needs to pitch in and preserve the space.
Do a Home Inspection. Obviously!
This is just a starting point, and we have so much more to share about the home buying process. Browse our Home Buyer page for a comprehensive home buying education.
Check out the whole blog about what to keep in mind here after the jump >
---
Thanks for Touring Our Vintage Capitol Hill Condo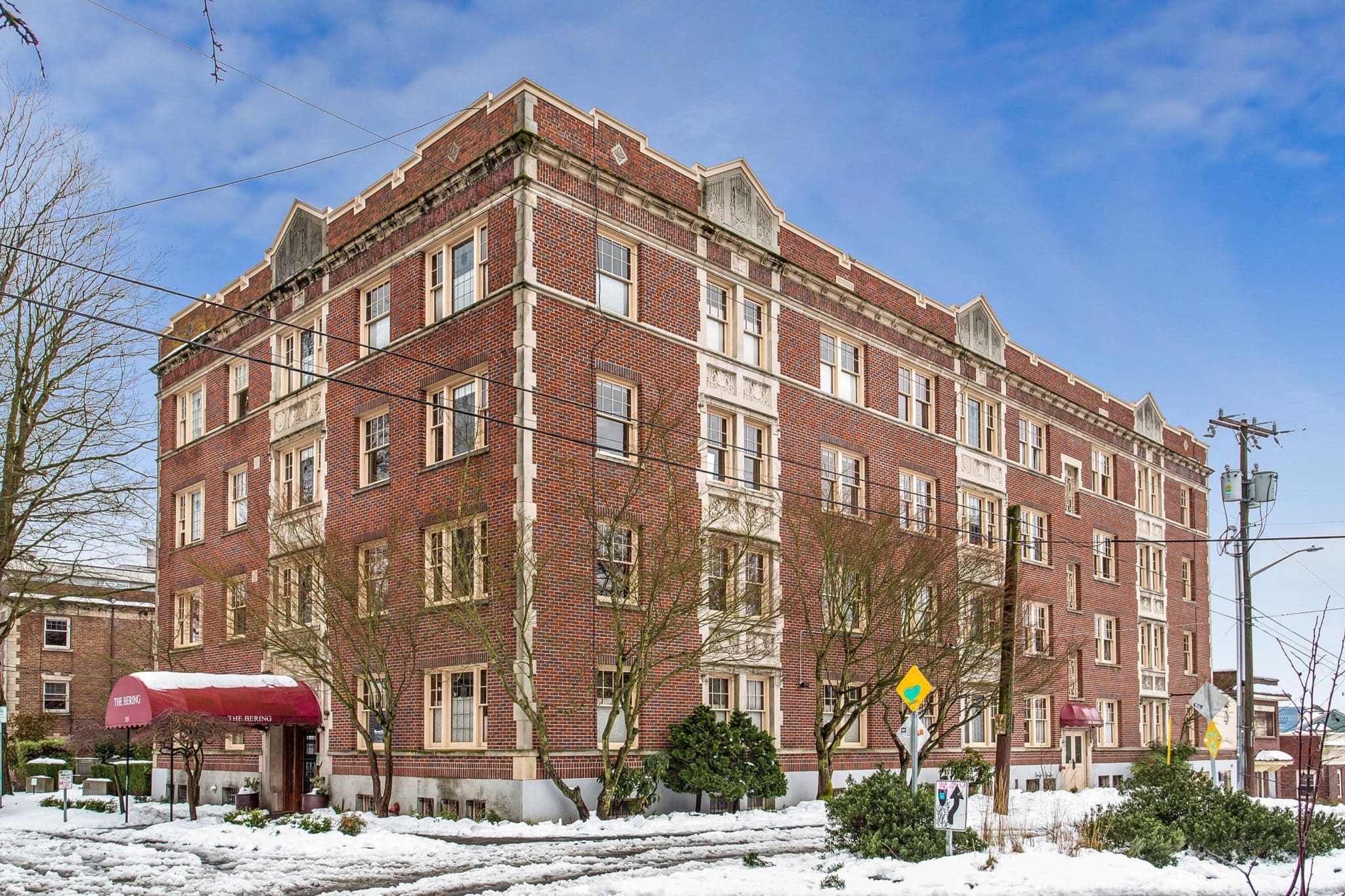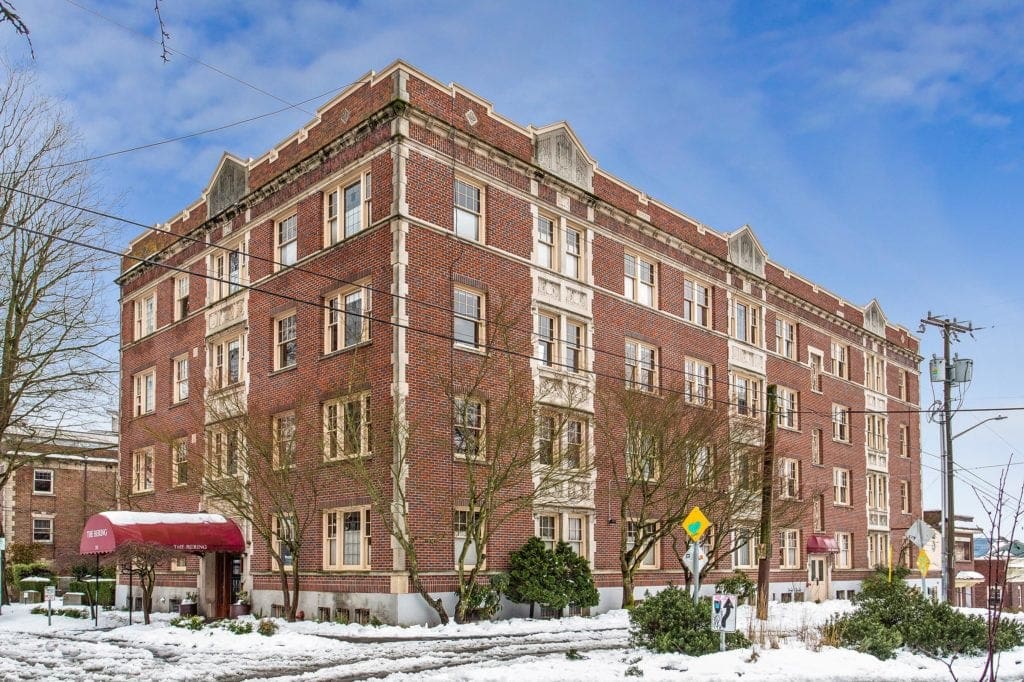 Thank you for taking the time to learn about this fantastic new listing to Divaland at The Bering. Chic 1920s urban living, nestled atop Capitol Hill and brimming with amazing neighbors who care deeply about this historic building.
All the Good Details
Address: 233 14th Ave E #201
Square Footage: 1,039
Bedrooms: 2
Bathrooms: 1
Offering Price: $659,000

Ready to tour the Bering and this Vintage Capitol Hill Condo in person? Contact the team and we can show you can appreciate the vintage details, huge living area, how bright the home is, and that oh-so-important secure parking on Capitol Hill. And added bonus all of those built-ins, leaded glass windows, and original kitchen!