Diva and performer Carson St. Clair has also kept busy making masks for folks during the pandemic. She has made over 700 masks, most of which she has been donating to folks. Carson St. Clair also trained to be a medic during the BLM protests. She has also done more photo work than video work and started a Patreon and Only Fans account to support her Burlesque. She also has done a few live streaming events and one in person outdoor event over the summer.
Let's dig into this juicy conversation with our very own Diva about being a performer in COVID, the What The Funk Festival, Summer of Protests, Benefits of Digital Performances, and more about Carson. 
Carson St. Clair is Our Guest On this Week's Roy and Kim Show
Catch up on the whole show on the video above. 
Carson started out her career by doing pinup photos for military vetran organization fundraisers. She was encouraged to start performing by others in the Burlesque community. She signed up for Miss Indigo Blue's school and get her titty twirling skills. From there the rest is infamy. 
What Does it Take to be a Seattle Burlesque Performer in COVID?
Hands down we all miss live audiences. The audience feedback loop is so important. Regardless the online space has become the new theatre. One of Carson's favorites is Burlesque Karaoke with Ruby Mimosa. It is pretty fun with a lot of the performers dishing in the comment section.
It has been a lot of fun getting a sneak peek into performers homes. Inga did a whole show in her shower. And Jamie Von Stratton has used all kinds of spaces in her home. From the garage to the rooftop. 
Ways you can help performers. Send them money!!! Tip online using PayPal, CashApp, and/or Venmo. You can also Like, save, and share performers content on Instagram which really helps independent performers streams. Buy tickets to virtual shows – even if you cannot watch.
What The Funk Festival
One of Carson' St. Clair's The What the Funk Festival is an all POC burlesque show in Seattle that is coming back this year (online or in person) in August. All of the performances are put to funk music. Performers come from all over the country. It is really impressive to see this show. More information: https://www.whatthefunkfest.com/
Seattle Summer Protests for Black Lives Matters Has Influenced a Mostly White Burlesque Community
Carson's partner is a trained combat medic. He trained Carson so the two of them could support the protests over the summer up at the CHOP. The influence of this work has really sparked conversations in the burlesque world to not showcase white, tall, skinny, and able bodied performers. There is less acceptance of tokenism in the performances and to really show a true diversity of performers in the shows. Leaders in these communities can no longer be comfortable with the lack of diversity not just in casting but also in the type of performances they support. 
The Move to Digital Performances Has Allowed More People to Access the Performances
The digital performances have really helped those who are on tighter incomes can see the shows. Or for those who have disabilities have more access to performance spaces because they are more accessible. It also allows for more people from all around the world see shows. Digital forum in some ways has opened up doors for both POC performers and for less mainstream art forms to gain support. 
"Burlesque is such a personal art form with no constraints already and it is easier adjusts to a digital medium than other art forms."
Digital performance has also been somewhat of an equalizer in that it has given a venue for those to perform and gain recognition who may not have had access to performance spaces before due to money or accessibility.
It also has made some "high brow" art forms more accessible to some folks who may have been denied access.
More About Seattle Burlesque Performer Carson St. Clair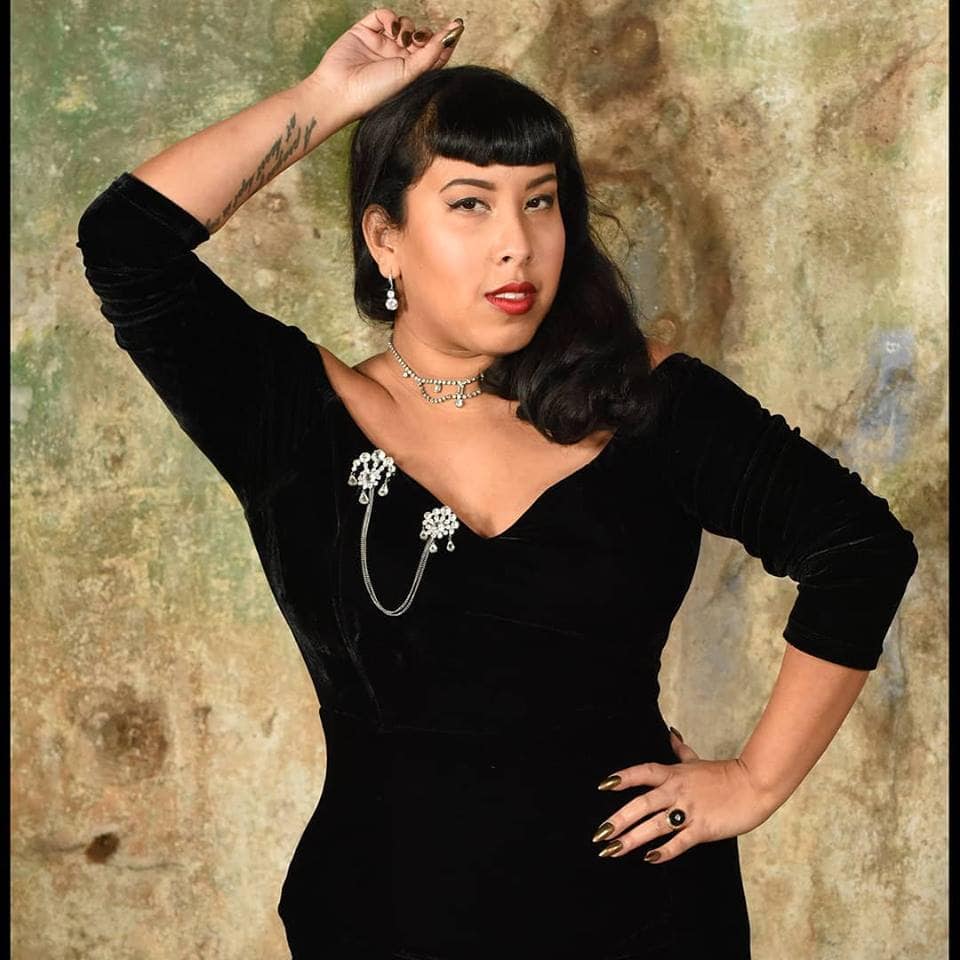 "A native of the Emerald City, Carson St. Clair has been on a stage almost her entire life. This multifaceted seductress brings over the top glamour to the stage.
After graduating Miss Indigo Blue's Academy of Burlesque in October of 2017 Carson has been seen entrancing audiences at Seattle's historic Pink Door, Moisture Festival, and the Oregon Burlesque Festival. In 2018 she completed an apprenticeship with the Emerald City Burlesque Revue under mentors Karmen Sutra & Jovie DeVoe. She is also 1/6th of Seattle's all POC ensemble Dark Diamonds Burlesque.
Known for her glamorous classic teases, she possesses curves that kill and a bump and grind style that will leave you quivering for more."
Carson's Favorite Shows and Events to Support Online
Catch up on Our Past Roy and Kim Shows
Thanks Carson St. Clair for being such an amazing guest and really giving us the reality of what is happening in our performermance community. We so appreciate your beautiful soul and your contribution to this world. What an amazing conversation about how we can support performers during COVID, cool new festivals happening this summer, how the summer protests have influenced the Burlesque world, and how digital performances have allowed more people to participate as audience members. 
More Shows to Catch Up On with Roy and Kim
60 Days Of Action: With  Chavi Hohm

Back To School Special: With Manuela Slye

The Big Summer Recap

Supporting BIPOC Candidates: With Joy Stanford and Mona Das

Seattle Real Estate From A Black POV: With Rocky Flowers

Being A Good Neighbor To Black Communities: With Marlon James

Education, Real Estate, And Equity: With Dave Jones
Next Show: Roy and Kim Show Celebrate the Team's Birthday on March 3rd
Join us on March 3rd for a group birthday party with Remington, Michael, Roy, and Kim. We will be online and chatting about all things birthdays and celebrating the winter Diva's birthdays.
Thanks Carson St. Clair for being our Diva! 
---
You can also listen to this episode of the podcast here:
Apple Podcast Link