Our 2021 Seattle Real Estate Market Forecast was our initial focus for this edition of the Roy and Kim Show. Naturally, there was an elephant in the room. Or rather, there was a rampaging elephant in the Capitol as the show went live. These are indeed interesting times, in our own Washington State, and the other Washington across the continent.
We're going to get through this crazy transition, and we are going to thrive, Divaland. So take a deep breath, relax, and let's dive into the ins and outs of the Seattle Real Estate Market.
---
The 2020 Seattle Real Estate Market Recap And 2021 Market Forecast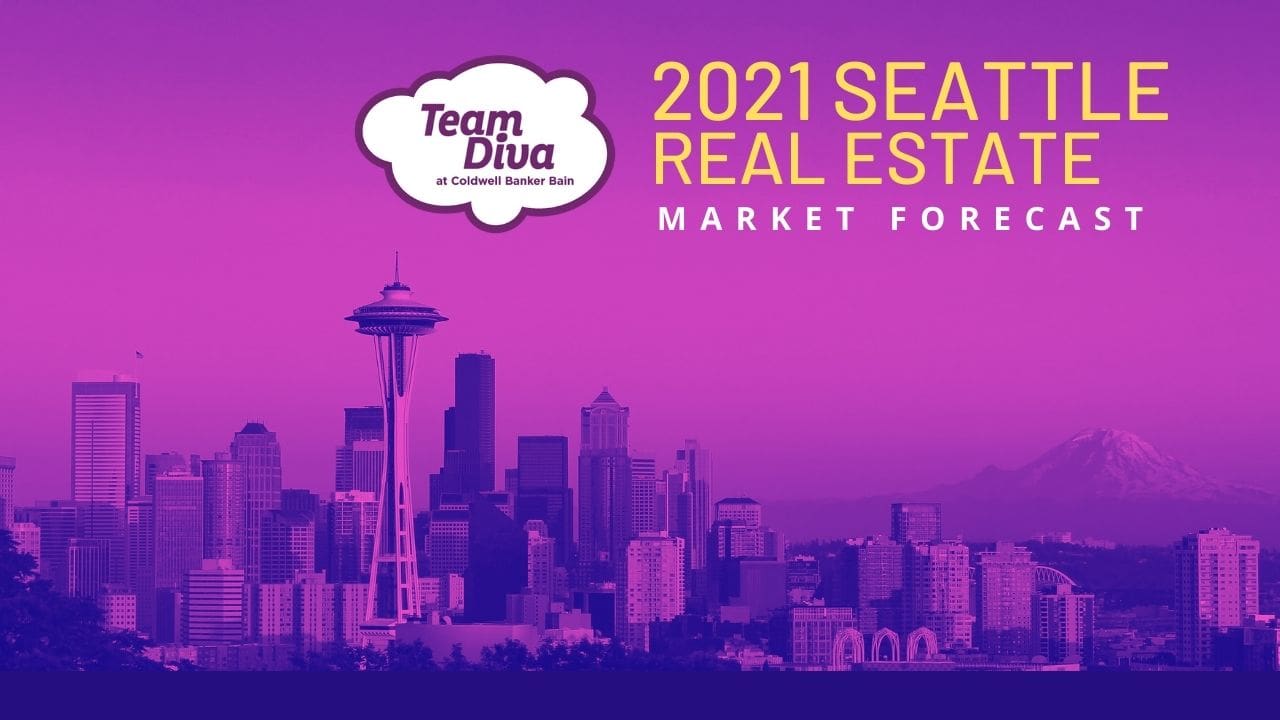 The Ups and Downs of a Market During Pandemic
The pandemic has had profound effects on real estate, both in how transactions are done and what is in demand. The market remains hot, and we don't see that changing in our 2021 Seattle Real Estate Market Forecast. Even once the pandemic is more under control, people will look at homes differently.
First, the how of selling a home in Seattle: Online marketing has become all-important. Fortunately for us at Team Diva, we've been ahead of the curve there for years, and we adapted so quickly that our virtual open houses became a model for agents across the country.
There was a stall in transactions as people figured this out, and then the market soared in spring. It plateaued in summer and stayed strong most of the year. Prices are up overall, but some parts of the market have seen more growth than others.
Average Prices in the Seattle Real Estate Market 2020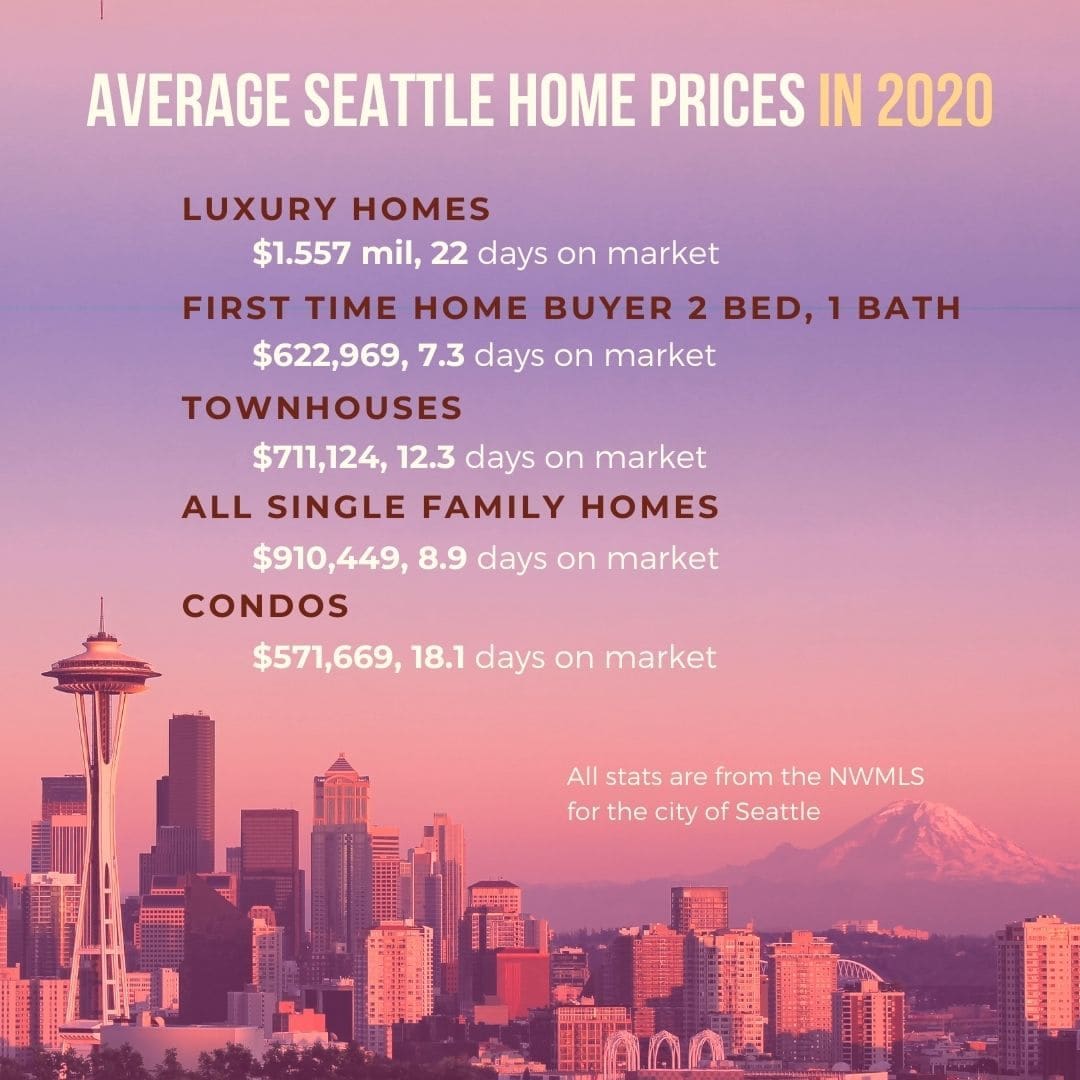 When it comes to the pace of transactions, we are seeing an incredibly fast market. You may see that luxury homes still list the longest, at an average of 22 days, but this is one of the fastest averages we have seen in years. Luxury homes are usually in the 50-day average. These averages include some homes that sit for months, so we are seeing luxury homes go into contract within a week or two of listing to bring that average so low.
Condos are the second longest average listing time, at 18.1 days on the market. Their average price at $571,669 reflects a somewhat softened market for condos in the last two years. The burst of new inventory is one contributing factor, as well as the pandemic itself. (We'll go into more detail there further down,)
Townhouses saw an inventory increase across Seattle. Our 2021 Seattle Real Estate Market Forecast sees demand remaining steady for these homes. Because Seattle didn't see a lot of townhome developments until the last decade or so, even those that are not new construction are quite recent. On average, townhomes are selling at $711, 124, and stay on the market 12.3 days.
2021 Seattle Real Estate Market Forecast: The Supremacy of Single-Family Homes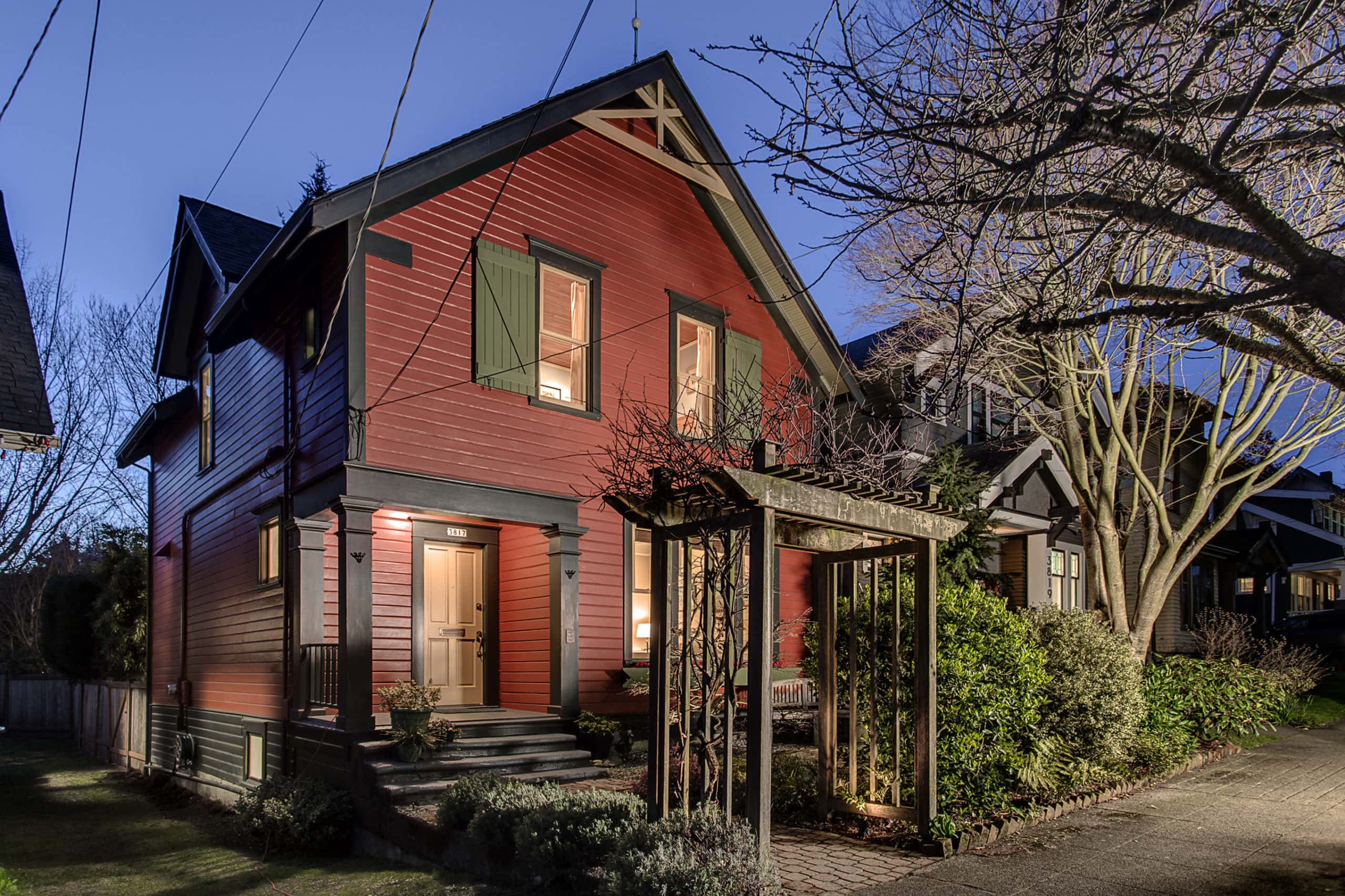 The big winners in this market have been in single family homes in Seattle. Their average price is up from $855,000 in 2019 to $910,449 in 2020. Not only has their value increased, but the transactions have been frenzied. The average for all single family homes was 8.9 days on the market in 2020.
There are a number of factors at work. For one, inventory is still low for these homes. It's even lower than 2019, though just a little higher overall than 2018. But the pandemic has put additional pressure on this market, as more people want larger spaces and an actual yard.
This is also why we think we have seen condo values creep up only slightly. As Roy explained on the Roy and Kim Show, condos are tied to communal living, and that troubles a lot of folks. Also, during a pandemic, the shared amenities are shut down or limited.
In A Pandemic Real Estate Market, Size Starts To Overrule Location
People feel like they need more space overall, especially when working from home. Kim feels it herself under pandemic, even though we are often on the go. "The space that I have at home is more important."
Single family homes provide more space, privacy, and sense of nesting that has become so valuable to people. Furthermore, while many businesses are shut down, or running at limited capacity, having a central location surrounded by dining and cafes and event spaces is less of a priority, meaning more folks are looking at strictly residential neighborhoods further from the city center.
In 2021, we expect this trend to continue, as many will continue to operate under the "what if" mindset that Coronavirus has brought. Bottom line: If you have a single family home and have been thinking of selling, now is the time.
First-Time Home Buyers in Seattle Face Hurdles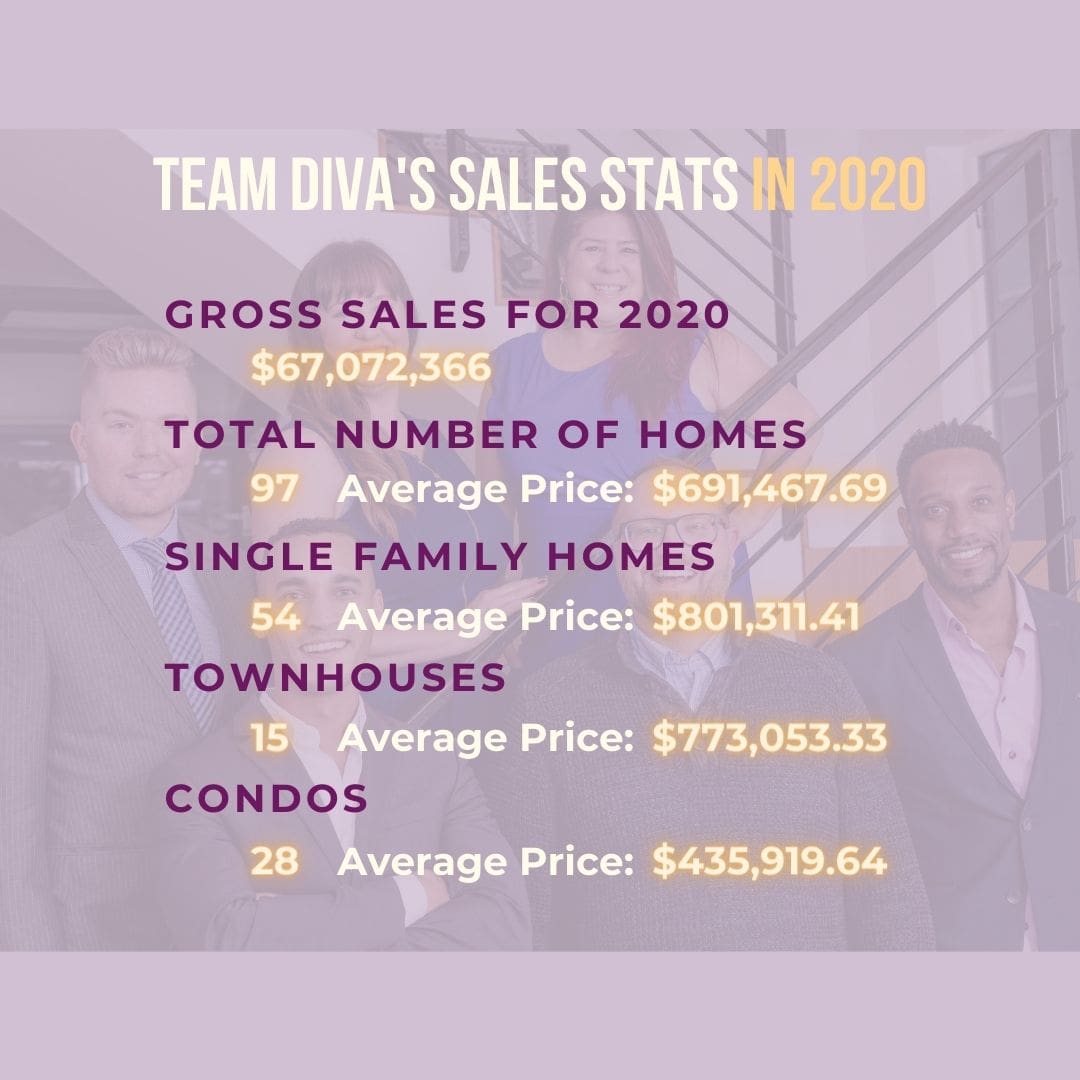 A sellers market for single-family homeowners isn't great news for everyone. For first-time home buyers, it's only getting tougher to break into home ownership in Seattle. With single-family homes averaging not far from the million mark now, it can feel strictly unattainable. And as Kim points out on the Seattle Real Estate Podcast, the average for FTB homes is $622k—not a bar that most people can easily meet.
This is contributing to an absolutely frenetic average listing period of 7.3 days on the market for homes sold to First-Time Buyers. As Roy puts it, from a realtors perspective, this means showing homes on Friday, looking at offers on Monday. Buyers have to be hyper-vigilant and prepared to make an offer to win in this market, so having an experienced agent is critical.
A Silver Lining For Home Buyers: Low Interest Rates
Interest rates are still at an historic low. If you have the cash to make a sizeable down payment, you can easily get a mortgage with interest rates below 3 percent.
Accepting seller provided inspections is the current reality.
It's getting harder and harder to find affordable single family homes in walkable neighborhoods.
Buying a condo now might be a very good idea because the market is saturated. This gets you in the door and allows you to start building equity.
What about the down payment? Because interest rates are way down, you don't need as much of a down payment to qualify for a good loan BUT you will need cash in hand to compete with other buyers.
Our 2021 Seattle Real Estate Market Forecast for First Time Home Buyers: It's not getting any easier, so if you are serious about buying a home in the next year or two, get started now.
Landlords and Investment Properties: Time To Sell?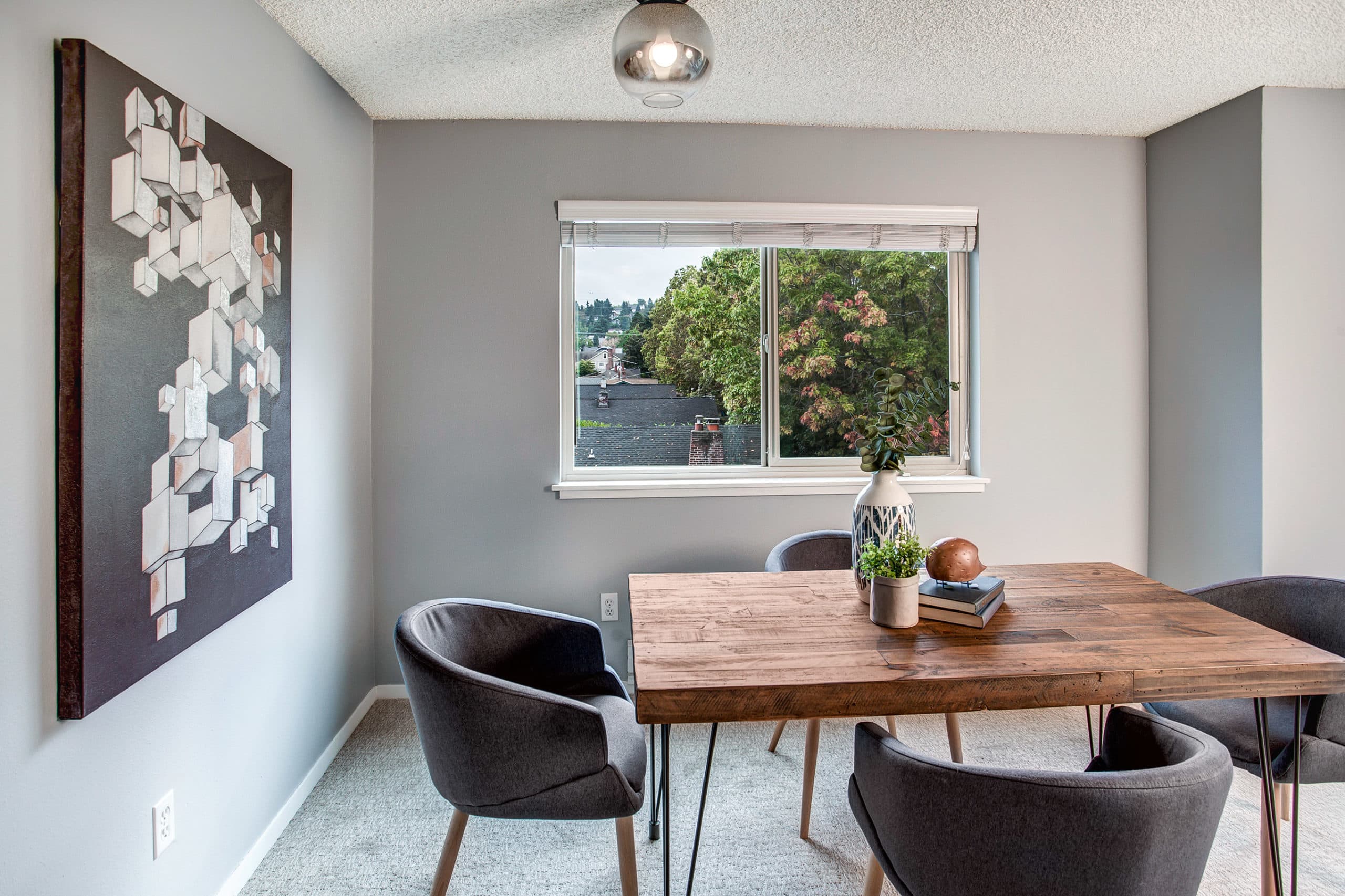 We have seen a sudden increase of calls from investment property owners thinking about selling. The rental market has softened, even though Seattle has more renters than homeowners for the first-time ever. The increase in apartments is the major contributing factor.
Some landlords are looking to put their equity in different markets, whereas others are just eager to take advantage of the hot market for single family homes. In the latter case, Kim points out that she has several clients who fit the bill, but are holding onto their homes as investments. They have lots of equity and a low mortgage, and they see values still increasing. Long-term, it makes sense to not sell yet.
If you have a lot of equity in your home, it might be good to hold on to it OR leverage some equity to upgrade between tenants.
Keep in mind buying a new investment property might be very hard due to the number of buyers looking for anything under $550,000.
These are big, personal decisions, and if you are mulling them over, reach out to us. We can't provide a 2021 Seattle Real Estate Market Forecast for landlords in general, but we can give some tailored advice.
The Rise of the Vacation Home
The other topic that we have been receiving plenty of calls about is buying a vacation home. The obvious reason is, of course, the pandemic, and people's need to get away. And, indeed, it may be the best choice for a lot of folks.
Kim and Chavi recently purchased a vacation home, and on the Seattle Real Estate Podcast, Kim calls it a lifesaver. They were routinely making trips out of Seattle to rental cabins before the pandemic. Having their own home away from home has been a game changer.
For other folks who often travel a lot, a year under lockdown has meant that travel money has often gone into savings or home projects. Roy remarks that as a realtor, you are always seeing your home as a possible sale. He's thought of the possibility of investing in a vacation home, but those savings from travel might be better used as part of a down payment when buying up a larger property.
There are a lot folks out there who want more home than they have now, but don't want a second residence. Vacation homes may not be right for them, but buying up in Seattle to get an actual yard or extra work space may be the best option.In 2021, our Seattle Real Estate Forecast sees a lot of this still happening in the first half of the year: buying up and buying vacation homes.
---
And Now… A Little About Politics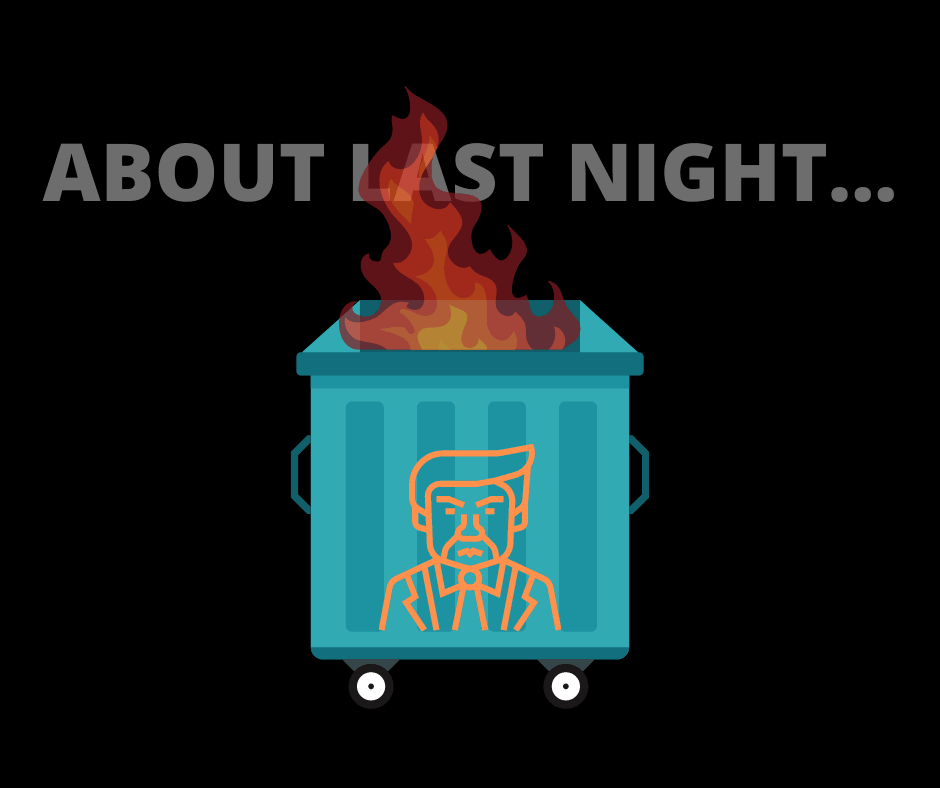 A lot of our Seattle Real Estate Podcasts in 2020 overlapped with our political activism and advocacy. We knew that going into 2021, this would not really change, even though the elections are over. The last few days have shown that, even though Trump is finally being shown the door, Trumpism is still infecting our country in terrible ways.
We know you have probably also been glued to the news, watching what unfolded in our nation's Capitol. We probably don't need to comment much on that, but we will say this: Progressive leaders are everywhere and have been ringing alarms about this for years. We all need to support diverse coalitions nationwide to push back against fascists everywhere.
Two HUGE Reasons to Celebrate in Georgia: Ossoff and Warnock Win
While Roy and Kim had their show yesterday, the race was officially called for John Ossoff. Meanwhile, Kelly Loeffler finally accepted the results from the night before, with Raphael Warnock winning. Georgia will be sending not one but TWO democratic senators to DC, including the state's first black U.S. Senator.
This could not have happened without years and years of grassroots mobilization to combat ongoing voter suppression by GOP leaders in Georgia. And you had better believe that this defeat will only cause voter suppression efforts to accelerate across the country. The GOP knows it can't win truly fair elections, and even when they lose, they don't accept the results, as we have now seen.
This week, in spite of everything, we are still celebrating these victories and gearing up for more battles to come. It should be clear to everyone now how imperative it is to support local progressive leaders within their own communities, to elevate the voices of women of color especially, and not expect them to keep saving this country from itself.
---
Listen To Previous Episodes Of Our Seattle Real Estate Podcast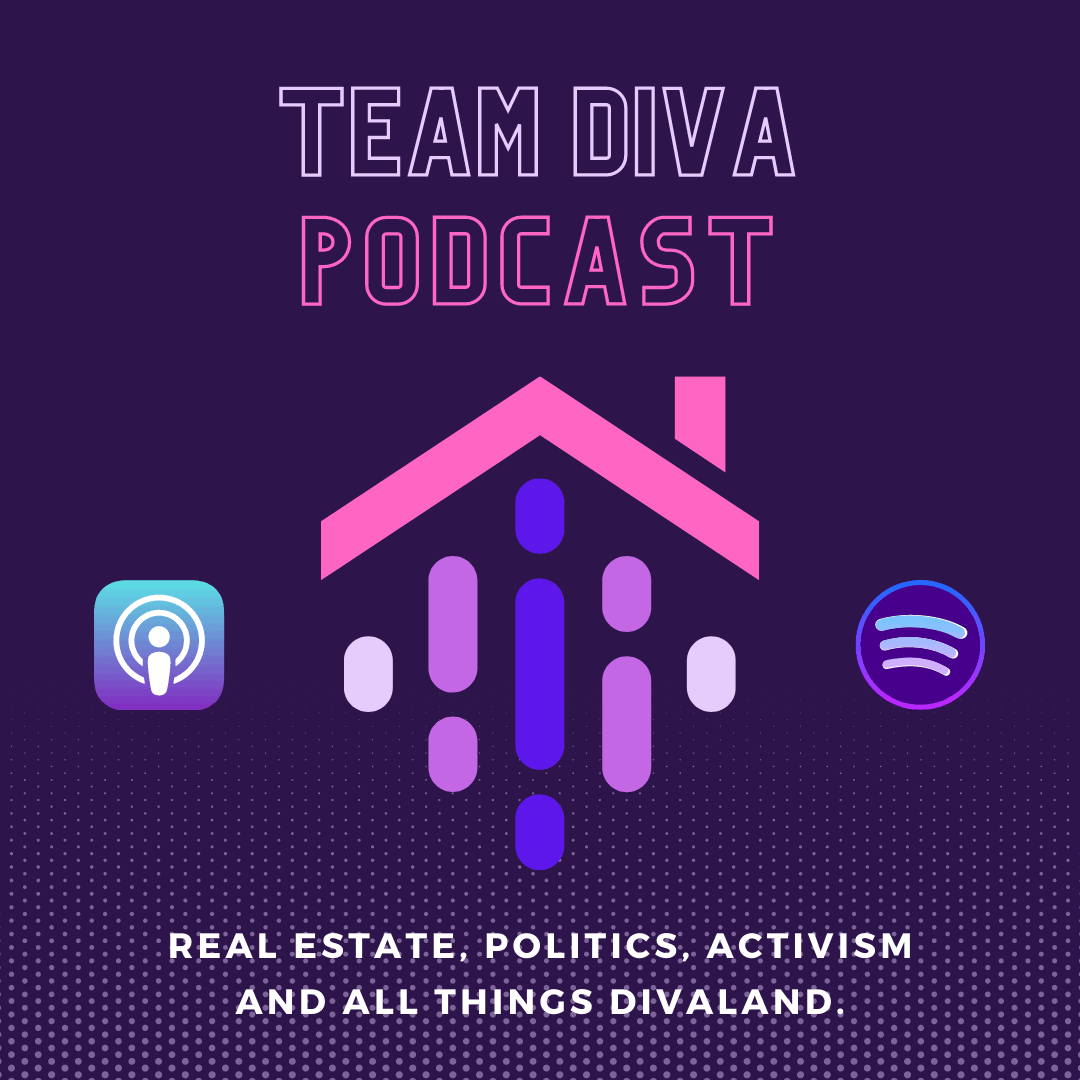 Check out previous episodes and recaps of the Team Diva Seattle Real Estate Podcast with Roy and Kim.
60 Days Of Action: Episode 7, With  Chavi Hohm
Back To School Special: Episode 6, With Manuela Slye
The Big Summer Recap
Supporting BIPOC Candidates: Episode 4 With Joy Stanford and Mona Das
Seattle Real Estate From A Black POV: Episode 3, With Rocky Flowers
Being A Good Neighbor To Black Communities: Episode 2, With Marlon James
Education, Real Estate, And Equity: Episode 1, With Dave Jones
---
Watch the full video of the first Roy and Kim Show of 2021 on YouTube for a a breakdown of our 2021 Seattle Real Estate Market Forecast.