For our 2020 Quarantine Shoppers Seattle Gift Guide, we asked ourselves two questions: "Where do we love to shop local?" and "Where will it be easy for people to find great gifts while shopping from home?" It was all important to us that these places also put an emphasis on locally produced goods.
Gift shopping during a pandemic can be daunting. We can't be together, so we want to be extra intentional in our gift giving. We hope this guide helps you do just that, and also support local businesses. We have already seen so many great local shops and restaurants close, and we want to do our part to support a few that we think are above the pale.
Team Diva's 2020 Quarantine Shoppers Seattle Gift Guide

We have to top our list with a piece of Team Diva History: The legendary boutique Retail Therapy in Capitol Hill. Our first big Team Diva fundraising party was held there. Our HQ was even based in the upper mezzanine of the shop when we were just getting started. But we aren't just keeping it in the family by starting our list with Retail Therapy.
Owner Wazhma Samizay is widely beloved for her hospitality, savvy eye, and great sense of humor. All of this is reflected in the eclectic mix of decor, toys, clothing and jewelry in Retail Therapy. You can cross a lot of names off your shopping list in this place, and support local makers, too.
Her gorgeous jewelry selection is sourced from local artisans, as are many of the clothes. For good friends and fam, we might recommend the adorable and fun locally made undies from Bobojan and Danial Webster.  And don't forget to grab sassy and witty cards to go with gifts (or just to send along to friends you haven't seen under quarantine). From the wry wit of local Sad Shop cards to spicy flirtation, Retail Therapy's card selection makes the average greeting card aisle look dreary by comparison. Shop now.

Local designer and artist duo fruitsuper emphasize fun and simplicity in their fantastic creations. And if you ever get the pleasure of meeting them, they are just wonderfully warm people, too. This comes through in their great gift selections, which they have savvily curated in a string of nine gift guides on their site.
Those guides are practically a gift in themselves to quarantine shoppers in Seattle. It's so much easier to browse for gifts in this format, and you'll probably end up adding to your own wish list, too. These local gift guides are organized by concept, such as Cozy Home, Kiddos and Home Chefs, and Stocking Stuffers. These are the kind of Seattle gift guides and items that allow you to be thoughtful without overthinking.
The last day to order for east coast deliveries before Christmas is December 15, and December 18 for the west coast. Shop now.

Longtime Divaland members know that we are big fans of Porchlight Coffee on Capitol Hill. However, many may not be familiar with their sister project, Porchlight Design Co. If not, you are in for a hyperlocal treat.
Porchlight Design has a fantastic selection of decor, accessories, books, and more, inspired especially by Seattle's own architecture and landmarks. We're big fans of mid-century design (another well-known fact among Diva Dwellers), and so are the folks at Porchlight. You can see it in designs such as the Oxbow Park Hat & Boots ornament, record Postcards (that actually play on turntables!), and photography books.
We could practically write an entire Seattle Gift Guide from this site alone. Bottom line, Porchlight's online store is a great way for quarantine shoppers to support local designers (and musicians) in one spot.

Another fabulous Capitol Hill Boutique on Capitol Hill, Ghost Gallery is a little more focused on esoteric goodies, wine, and art. It's a beautiful space, too, in case you really want to shop in person. You'll find it in Chop House Row, tucked behind Cupcake Royale. Owner Laurie Kearney curates the art in Cupcake Royale, too.
In Ghost Gallery, you'll find tons of gorgeous jewelry, candles, tarot cards, and other goods with an esoteric edge. And every holiday season, Kearney puts together a massive display of small-sized, affordable art. You can browse the selection on its online. There's too much for Kearney to put all of these unique objects online, so you'll have to mask up and see it all for yourself. (They also have some really cool, fashionable masks, by the way.)
To top it off, the shop also has a very well-curated selection of wines. For art lovers, wine lovers, and witches in your life, Ghost Gallery's selection is a complete Seattle Gift Guide on its own. Shop now.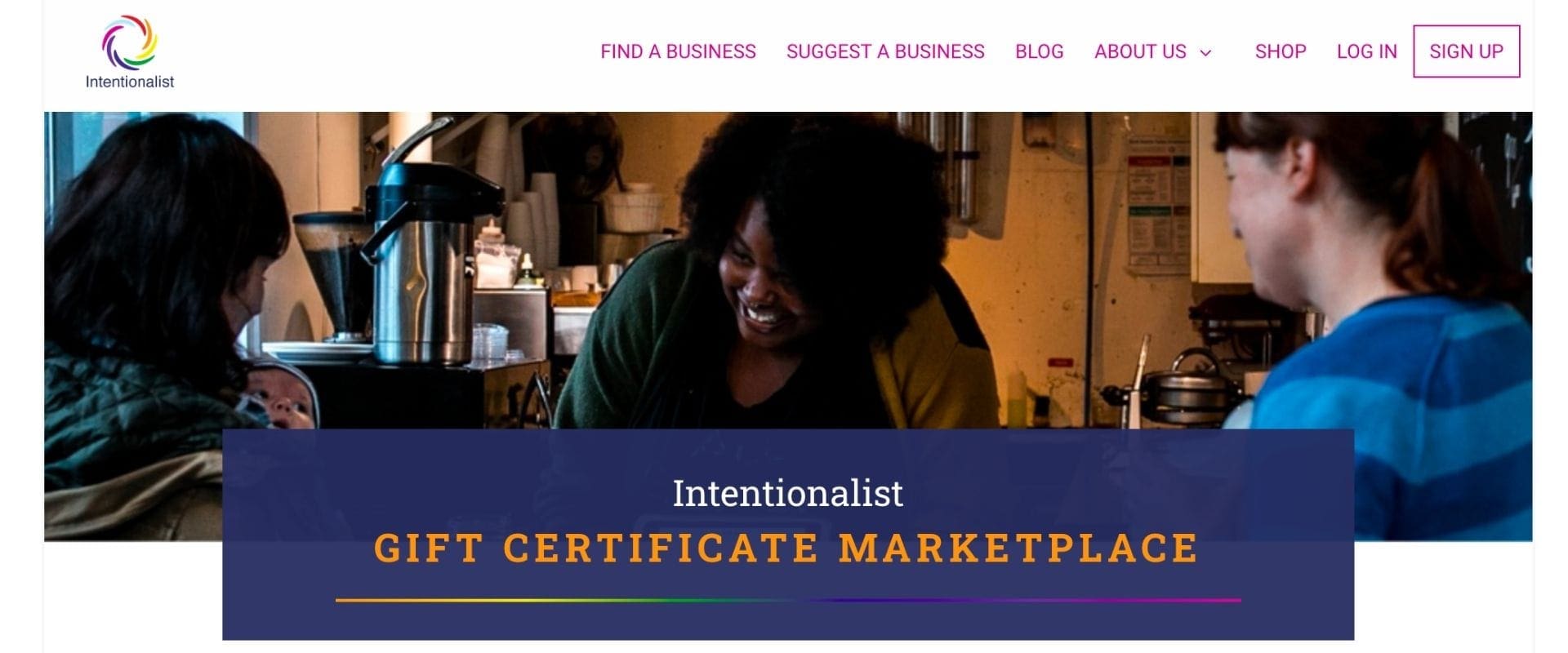 Some people think that gift cards are a last resort, but we beg to differ in a year like this. Part of what makes it hard for quarantine shoppers to buy gifts confidently is the realization that we may not know exactly what people need after being apart for so long. We're not in each other's houses, or going out to eat as much. But we still want to show that we care, so we hope for the best.
This year, we are all collectively aware of how precarious it is for small businesses, and gift cards are a great way of showing your support. And we can still be thoughtful and strategic in our gift card purposes, thanks to Intentionalist. The gift card marketplace is set up to help you find local businesses, and even be selective based on categories. Those include categories family-owned, woman-owned, black-owned, minority-owned businesses, and more.
Start browsing on Intentionalist now.
---
Helping Others: Warm Necessities Donation Drive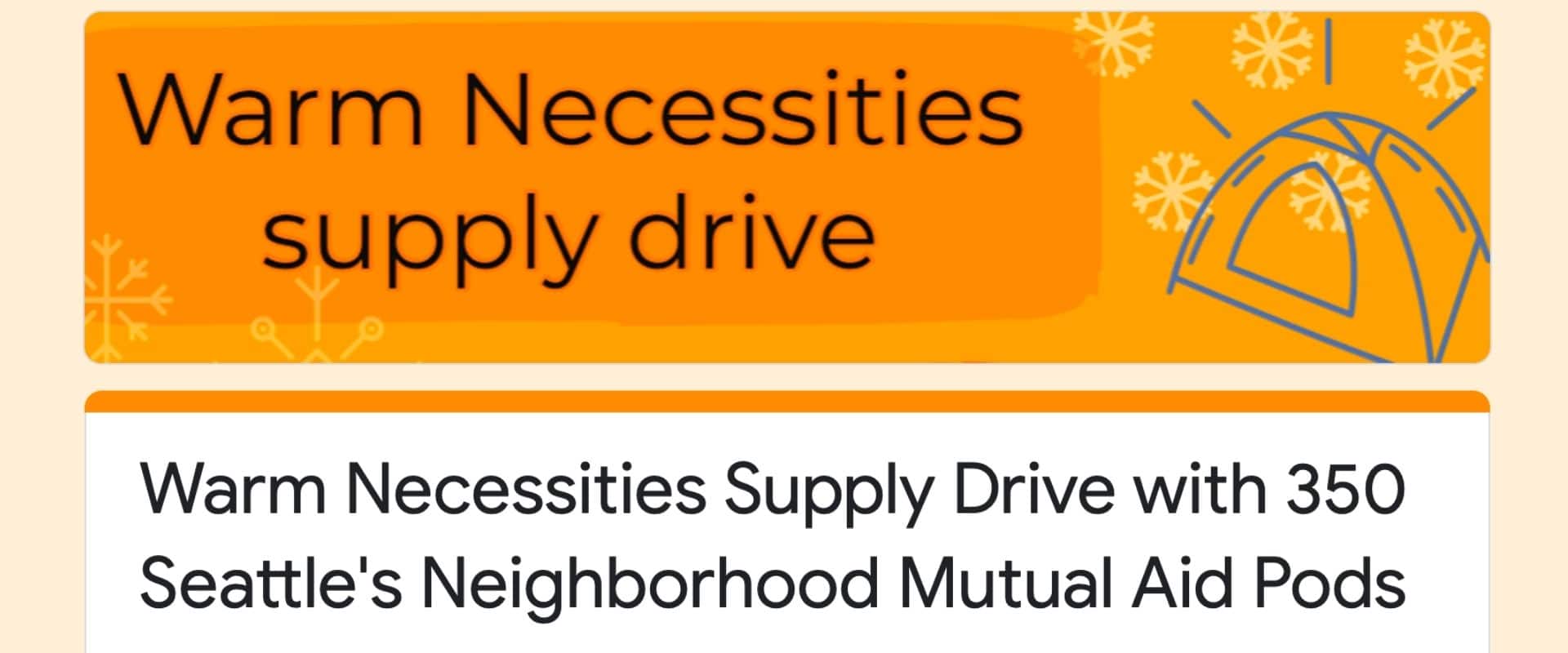 350 Seattle's Neighborhood Mutual Aid Pods are hosting a warm necessities supply drive through December 20. Mutual aid groups are doing direct outreach to unhoused communities across the city, as so many need urgent relief in these unprecedented times.
Do you have warm clothes or camping gear to share? Fill out this form to get the details on how you can donate! Read the full list of what Warm Necessities are accepting in clean, good condition. They include:
blankets
sleeping bags
tents
tarps
winter clothing
Drop-off sites can be found in West Seattle, South Seattle, Capitol Hill, Magnolia, Ballard, the U-District, Viewridge, Redmond, and more.
Spread the word?
Invite your friends, neighbors, and communities to the Facebook event.
Use this outreach toolkit to post in your local Buy Nothing group and other online channels.
---
Some Last Advice For 2020 Quarantine Shoppers
fruitsuper put together a page explaining the pitfalls facing small businesses during the 2020 holiday season. Suffice it to say, this year is especially weird for them for many reasons. You can read their full Small Business Support Guide here, but here are some highlights.
Social Media Love
Liking small businesses on social media is one of the quickest and most affordable ways to show some love. Saving and liking a post keeps it circulating to their audience and gets more eyes on it, based on algorithms. Sendings posts to a friend also help to boost reach beyond just the recipient. Comments and interactions of four words or more on most posts also ensure post-re-circulation. Beat that algorithm on behalf of small businesses: Show them some love today!
Write A Note
We at Team Diva love sending out notes of appreciation to our Diva Dwellers, and we LOVE receiving them. Mitt Romney may insist that corporations are people, too, but eh… we'll stick to small businesses, thanks. These are tough times, and simple gestures like this really make a difference to small business owners weathering them. Write a note of appreciation to the small businesses that make your community special.
Review and Share

Want to make your love note more public: Put out positive reviews. Whether via Google, Yelp, or Trip Advisor, can boost small businesses to the top of search engines and can counteract the trolling that they sometimes receive from the worst sort of customers. And don't just report the good news to the internet. Tell friends, upload pics of your new finds, and let others know when a small business goes out of their way for you.
Buy Direct From Makers And Restaurants
Found a product you love via a search engine or big-box retailer? Find the maker or a small business and buy from them directly. When ordering your favorite takeout, call directly. Cutting out the middle man from these transactions guarantees more of your dollars go to them and not the billionaires raking it in during this pandemic.
---
Thanks For Reading Our 2020 Seattle Gift Guide
As always, we wish you the happiest of holidays and a safe end to a very fucked up year. On that note, we hope that this gift guide inspires you to treat yourself a little, too. Some fun undies from Retail Therapy, tasteful knitted goods from fruitsuper, a cheery poster from Porchlight Design, and some candles from Ghost Gallery to set intentions for the new year… it's a recipe for a cozy and fabulous end to 2020.