If you have spent any time on our blog, you know we absolutely adore mid-century architecture and design. This Mid-Century Home in Bellevue checks all the boxes, and we are excited to share why this Diva Dwelling is a must-see gem! We are loving the split-level layout, the sunny living room, the fun romper room, the idyllic backyard oasis, and the fantastic Bellevue location. 
Let's Tour This Mid-Century Home in Bellevue with Kim 
Diva Kim is the listing broker for this Newport Hills home. In this video, Kim shares exactly what makes this Mid-Century Bellevue beauty so special. Indoors and out, you have so many options for daily living or entertaining to enjoy. Everyone will love coming over and enjoying all of the fun.
---
5 Must-See Highlights of this Mid-Century Home in Bellevue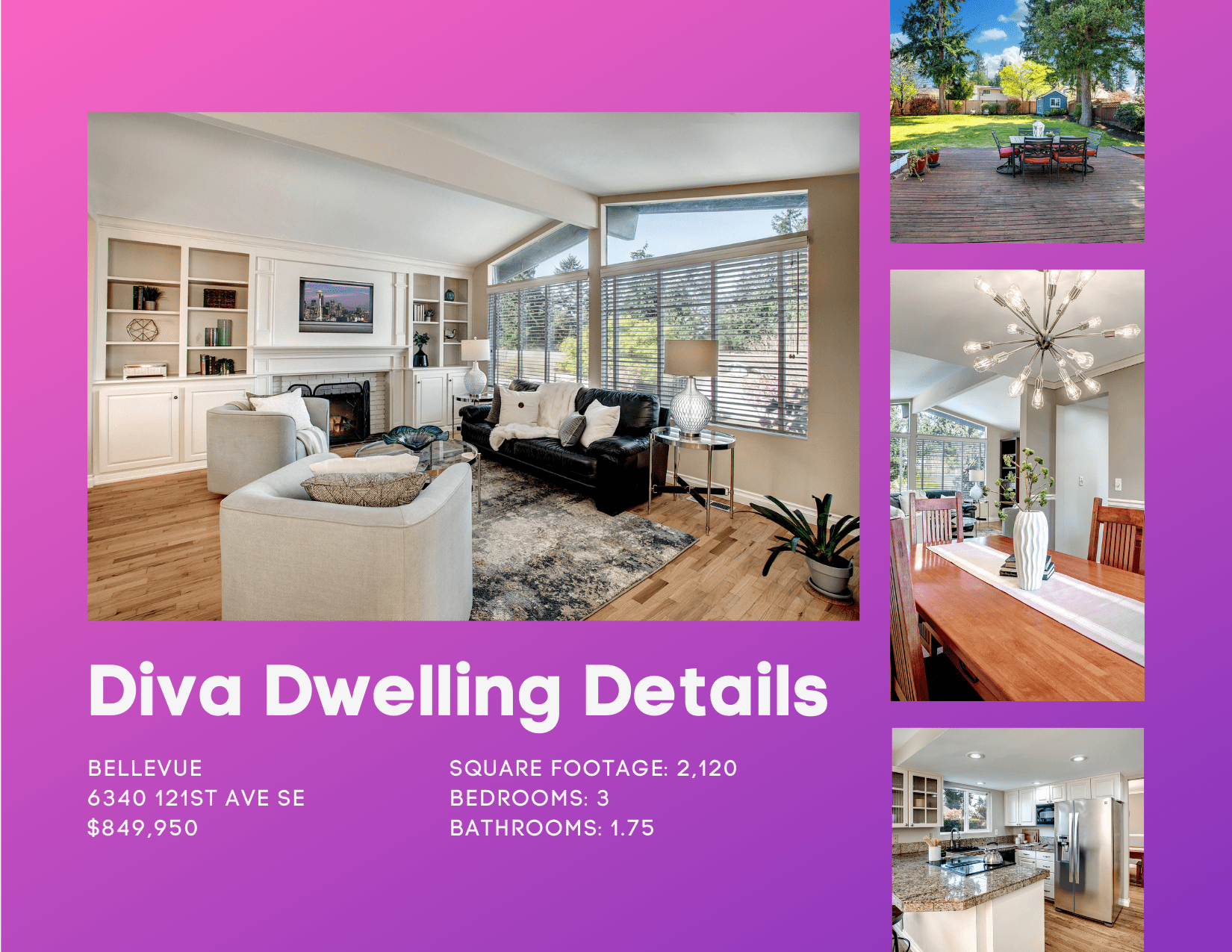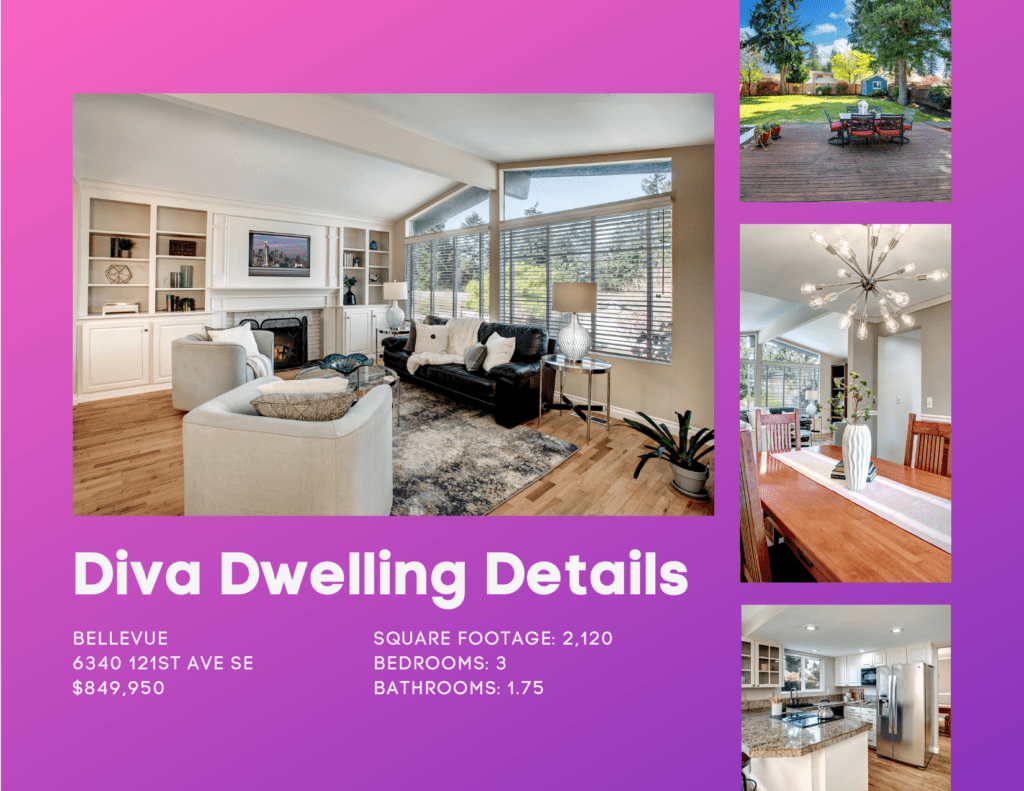 It's immediately evident that our Diva Dwellers have loved on their home big time—you'll find several smart updates ready to make your life easier. There's a centralized heater + cooler that you can control remotely from your phone, there's a pre-wired alarm system, and you've got a 1 GB internet connection (Yes your kiddo can do online learning while you are on your 10th zoom call for the day). And this is just the beginning! 
Take a moment to enjoy seeing all that this lovingly maintained and updated Mid-century Home has to offer: 
Split Level Goodness: This Mid-Century Home in Bellevue Offers the Ideal Layout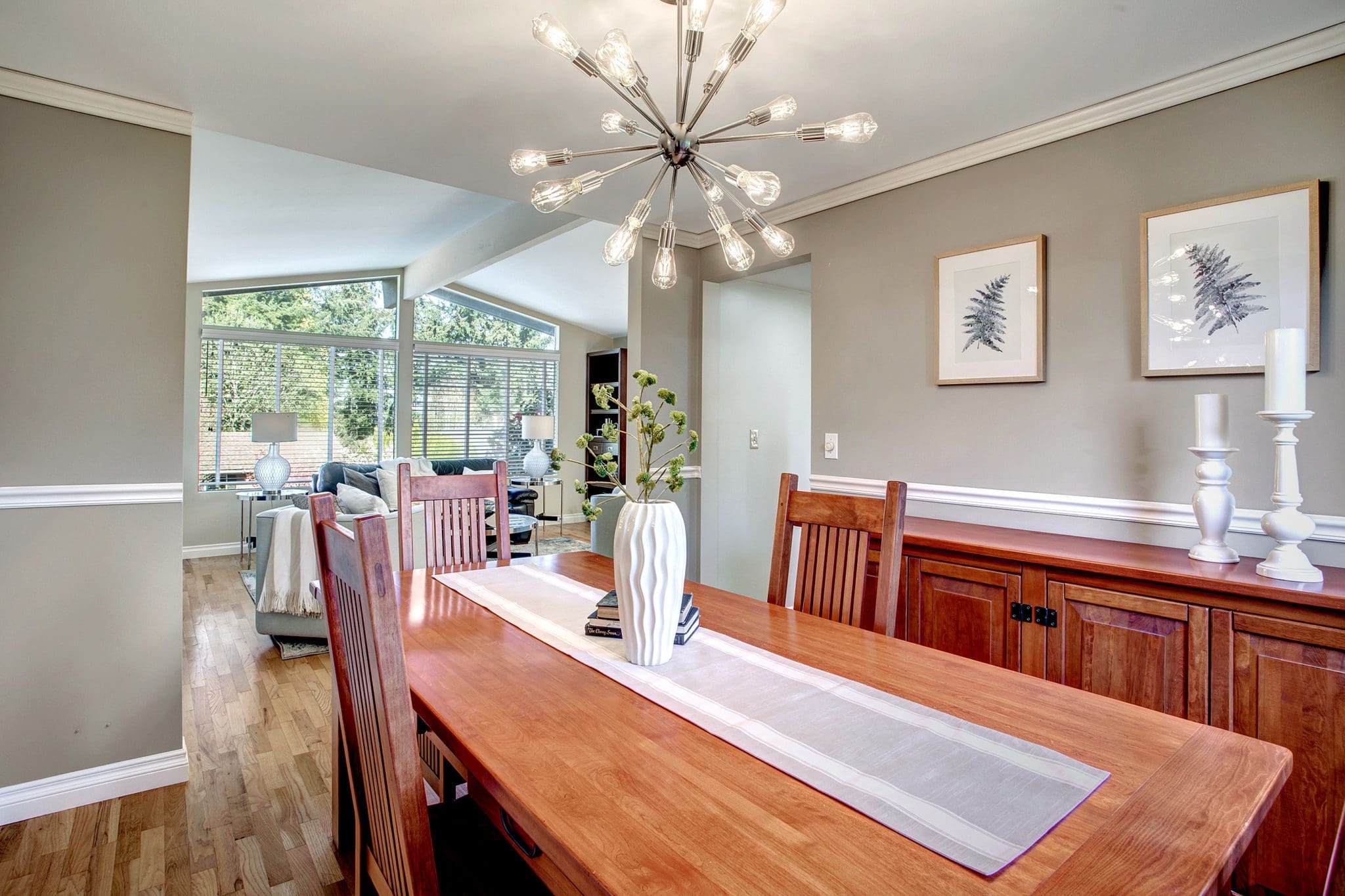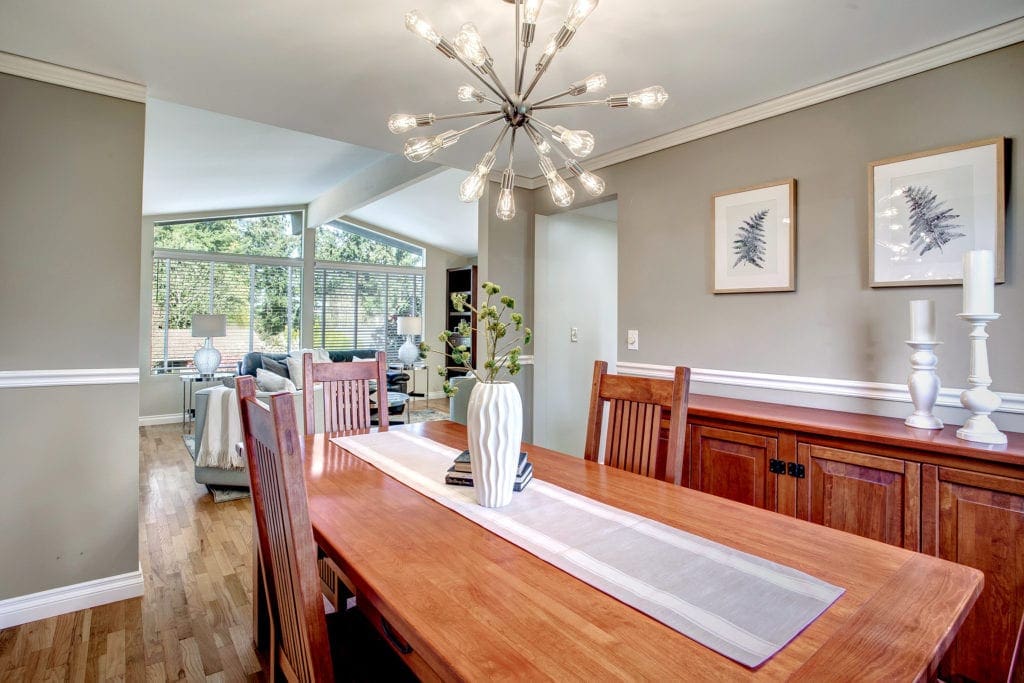 Diva Kim is definitely one of those folks who believe that Mid-Century split levels get a bum rap in the design world. Kim spent most of her youth in a suburban Jersey split-level home. She can tell you that they are truly amazing homes for every living and hanging out with friends. 
One of the very best design features you'll find in most mid-century homes is the definitive separation of bedrooms and common spaces. This split level is no different! The upper level offers a circular floor plan with an easy floor from the living room to the dining room to the kitchen. Entertaining is a breeze! Plus, there is direct outdoor access from the kitchen right to the massive backyard. 
As we've already noted, the bedrooms are well separated from common areas. If you're a night owl, your partner can still get their undisturbed beauty sleep in the owner's suite! And if you really want to go wild, this home also features a fantastic recreation room level. Endless possibilities await with this versatile space! This home also shows off two additional bedrooms and another full bath. You've got plenty of space to grow, and there's room for an extra home office, a craft haven, or just a place to stash your Star Wars collectibles if that's what brings you joy! 
Sunny Open Living Room is Ready for Entertaining Perfection in All Seasons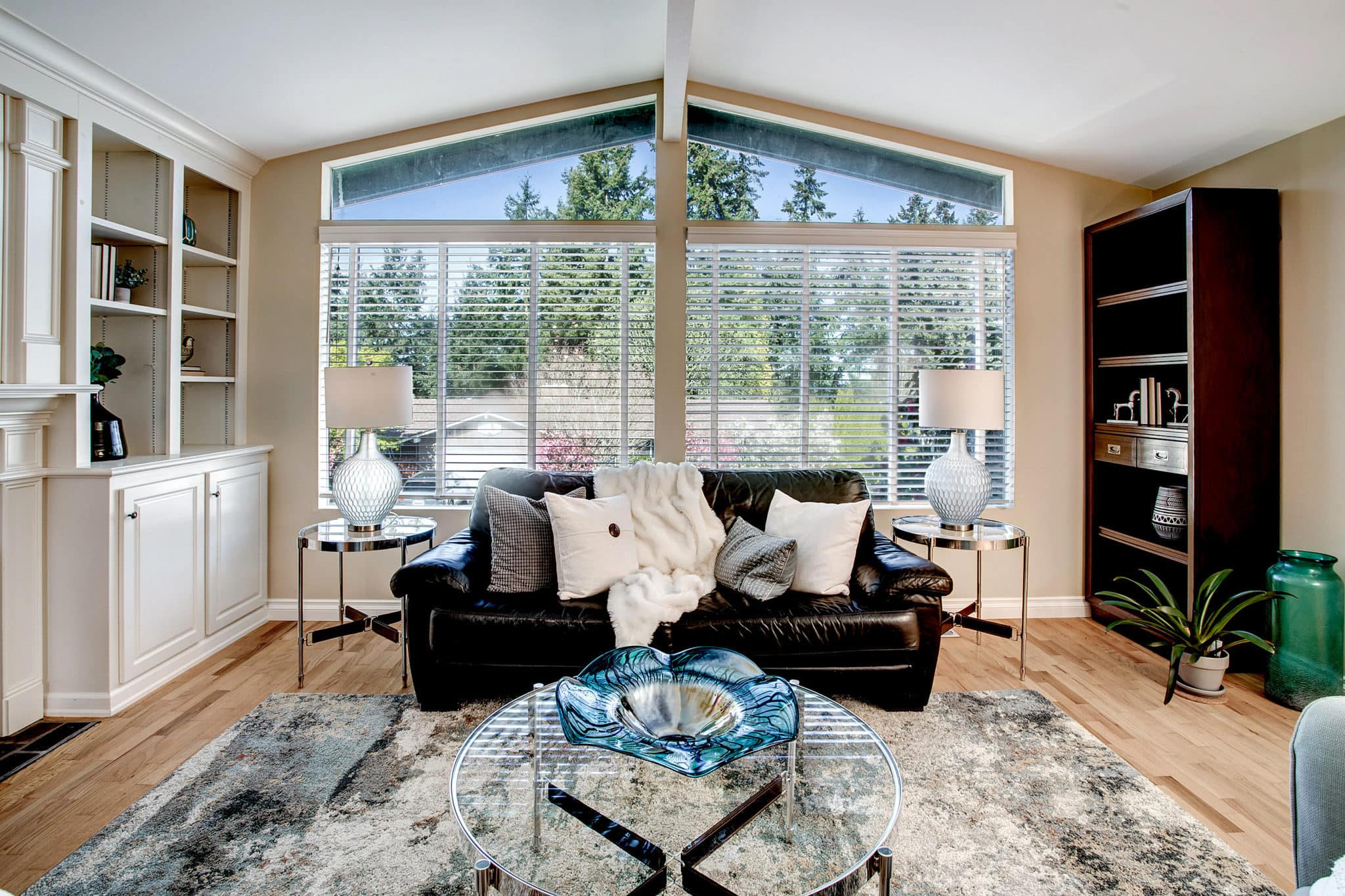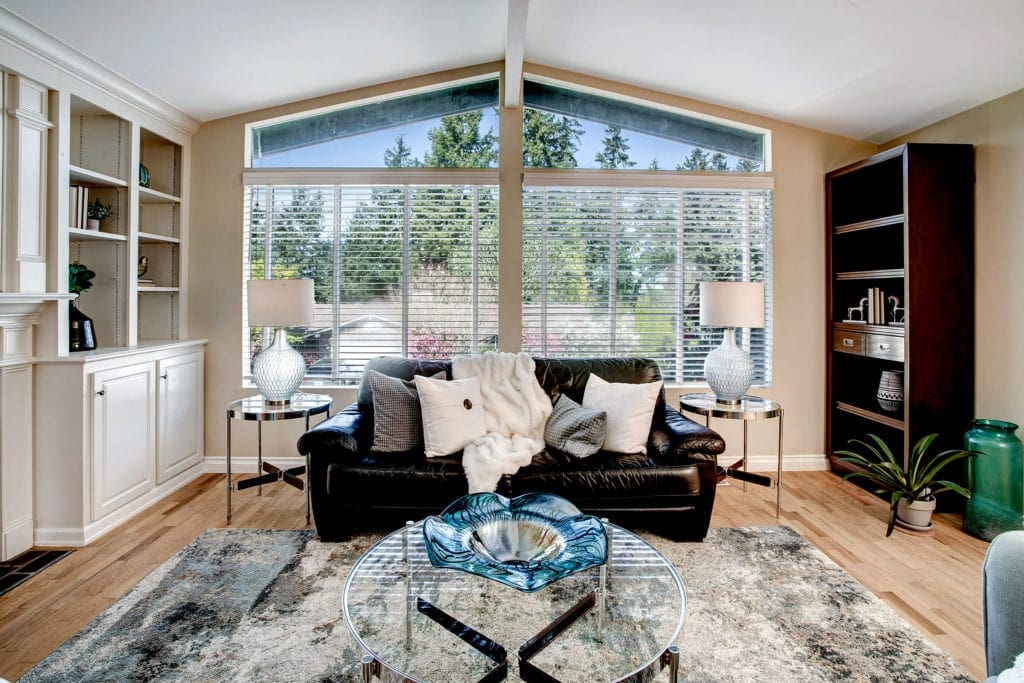 We are simply and completely in love with this living room. Light cascades in through a glorious wall of windows, and the way the home is situated is a big bonus! This home is perched high off the street, ensuring that the living room offers a lovely vantage point.  
The fireplace keeps you cozy on the chilliest of evenings, and we especially love the many bookshelves in the living room. Kim would personally love to see her vintage pottery collection grace these eye-catching shelves! And of course, the Divas love to socialize, so when we're touring a home we're always scoping out where to hang with your company. Well, we've found the perfect gathering space right here. Won't you join us for a wintry cup of cocoa snuggled up by the fire, or a cocktail after a summer's day filled with play? Cheers! 
Discover a Romper Room Perfect for Romping in this Mid-Century Home in Bellevue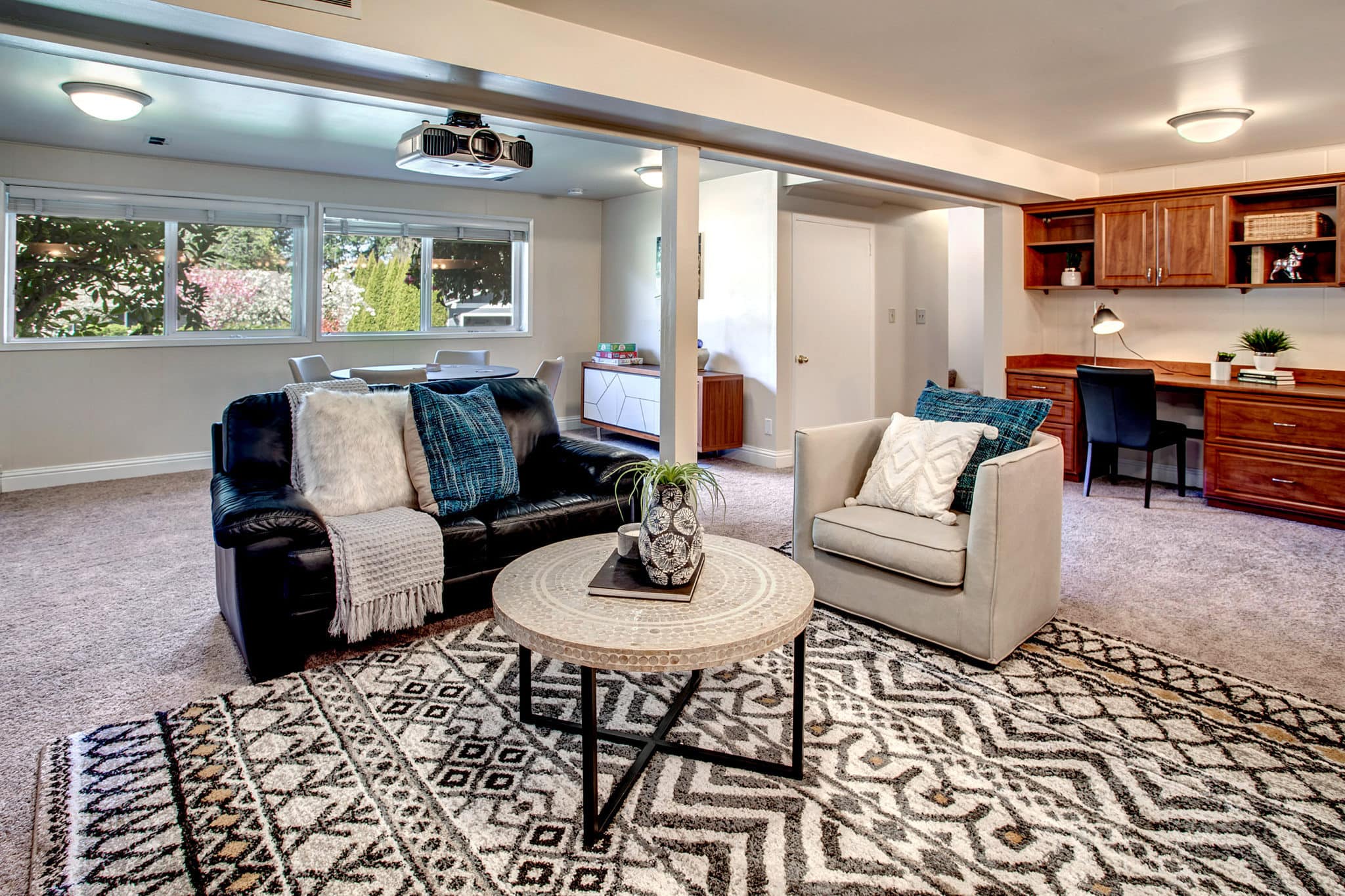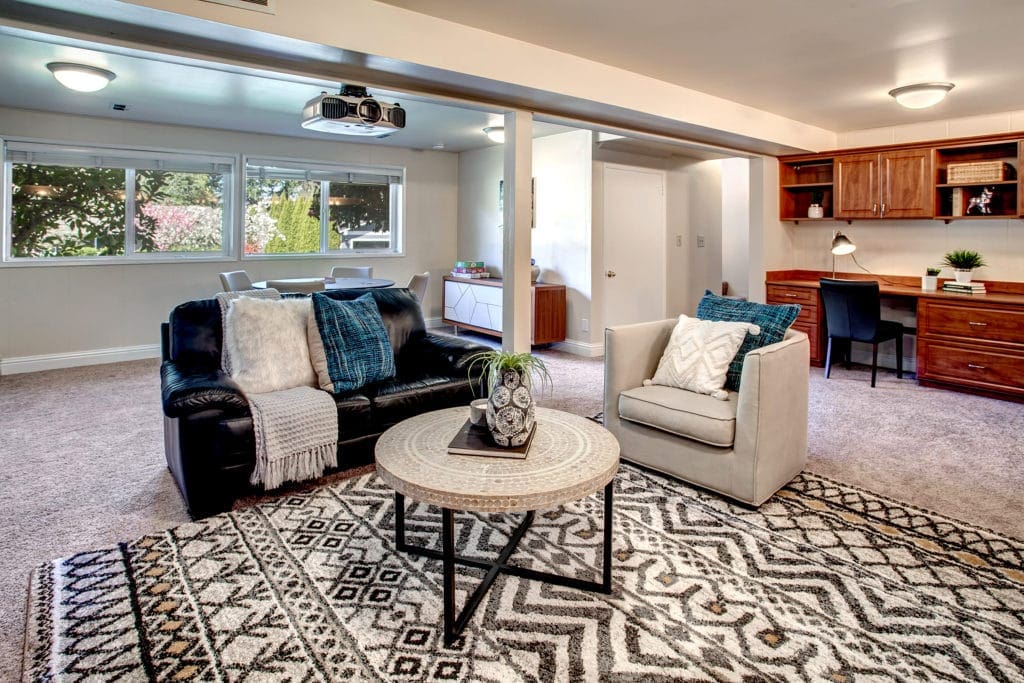 Who doesn't love a comfy, cozy, spacious basement that's ready for anything?! This romper room is designed for all types of activities and all that life brings your way. There is a massive built-in desk system ready for you and your partner to run your empire. There is a projector to help you enjoy movie marathons and Netflix binges. And there's tons of space for virtual and non-virtual gaming alike! If you're more of the analog game type, set up a table by the fireplace and bus out the mahjong tile or a Scrabble board. Now you've really got it made! Now, if you're the party animal type, this room is what dreams are made of! Push the furniture against the walls and get the dance party started. All you need is the disco ball. 
Beyond all of that, this funtastic basement space also includes a 2nd fireplace for snowy weather book reading. There's a huge storage closet to keep your disco lights and board games. And there's even a well-sized laundry room and access to the two-car garage. Pretty much everything you would want in a basement romper room is yours with this Mid-Century home in Bellevue! 
Backyard Oasis Ready for the Best Summer Ever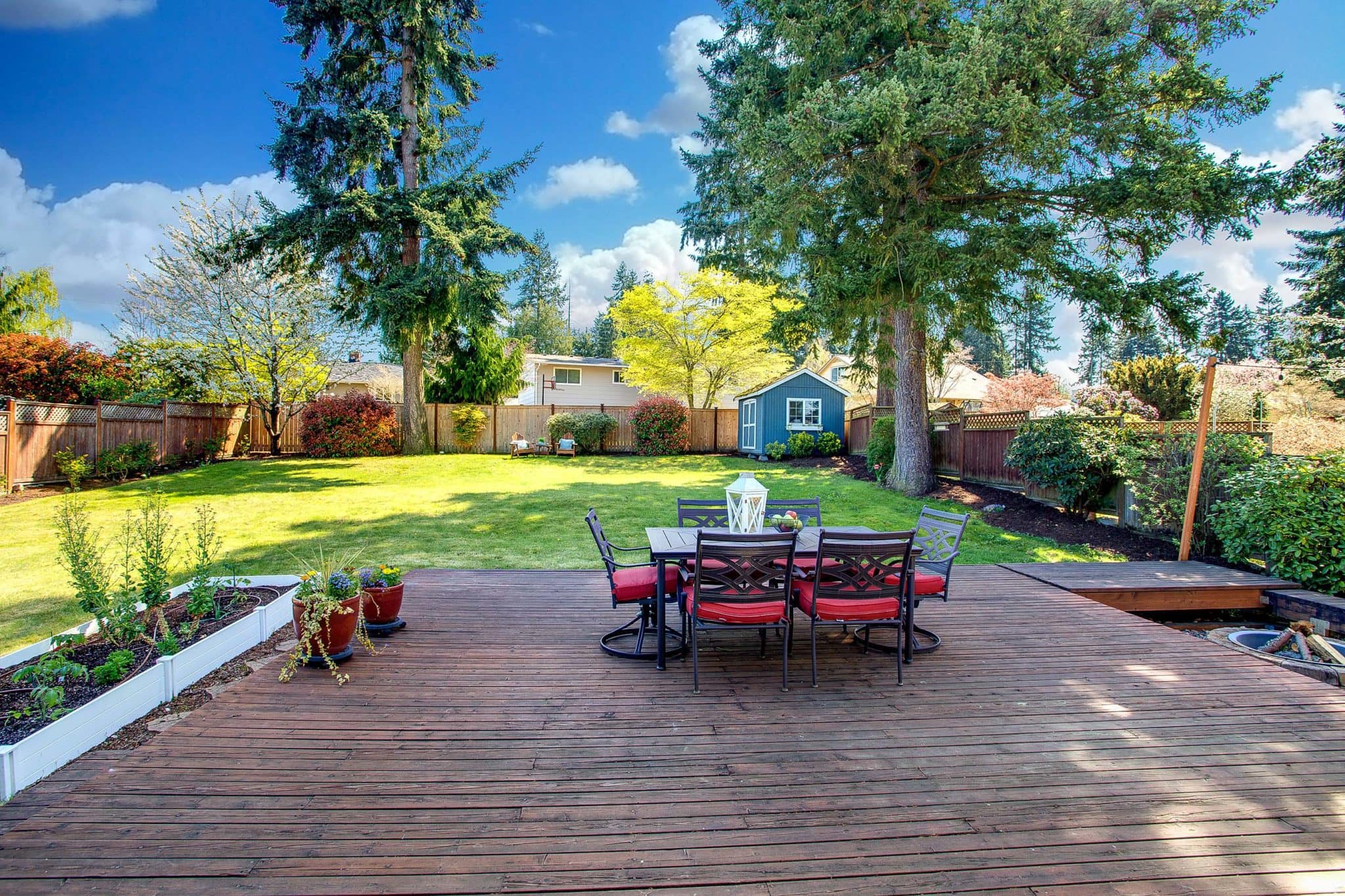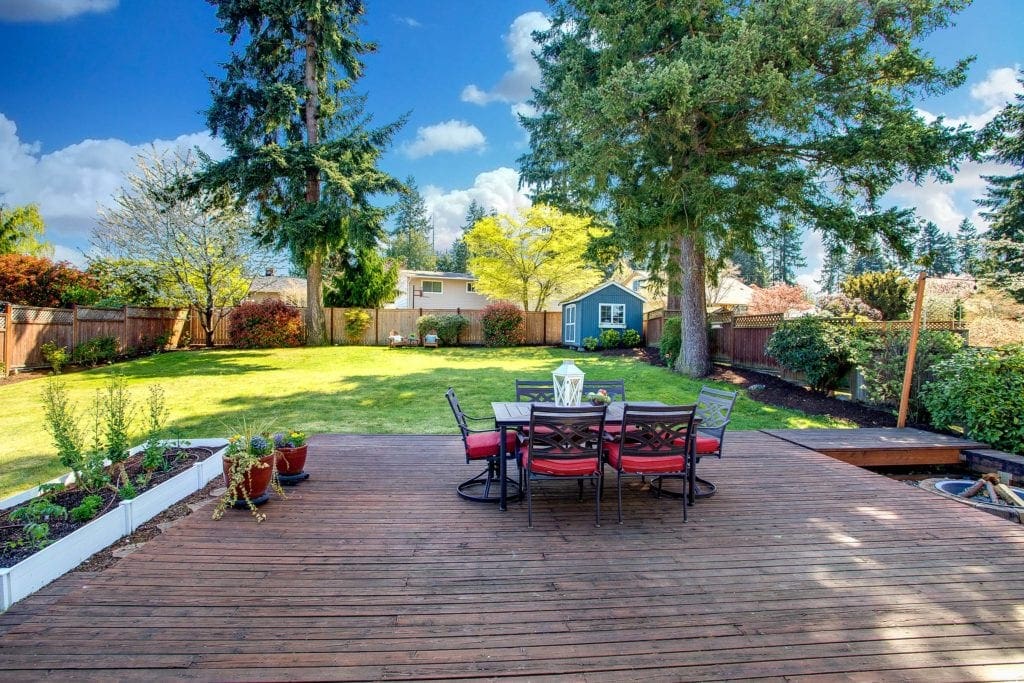 When you're ready for some fresh air or it's time for guests to meander outside, this home's layout makes it easy to take the party outside. The kitchen opens up right up onto the huge deck (which has recently been sanded and repainted!). There's more than enough space for sit-down dining, lounging, and barbecuing. Kick back and relax as you keep an eye on youths or curious pets, or just enjoy the peace and quiet! Plus, the backyard is perfectly situated—the house offers shade to the patio during the summer months. Genius! 
The expansive yard offers even more potential. In one corner, a fire pit is ready for gathering on cold evenings to cuddle with your honey or roasting marshmallows (or both!). The gardening area features a garden bed prepped for planting. Just think of the harvest you might have come fall—farm-fresh veggies coming right up! 
There's also a spacious play area where you'll find more than enough room for a play toy, lawn games, or teaching Fifi how to fetch. A backyard shed offers a convenient option for storing all of your backyard tools and toys, too! 
Team Diva takes your safety seriously. We take every precaution, and then some, to make sure all of our homes are listed following all COVID-19 safety precautions. It's is our duty to ensure everyone's safety as you enter one of our listings, but feel free to take a virtual tour from the comfort of your couch.
Nestled in Bellevue's Newport Hills Neighborhood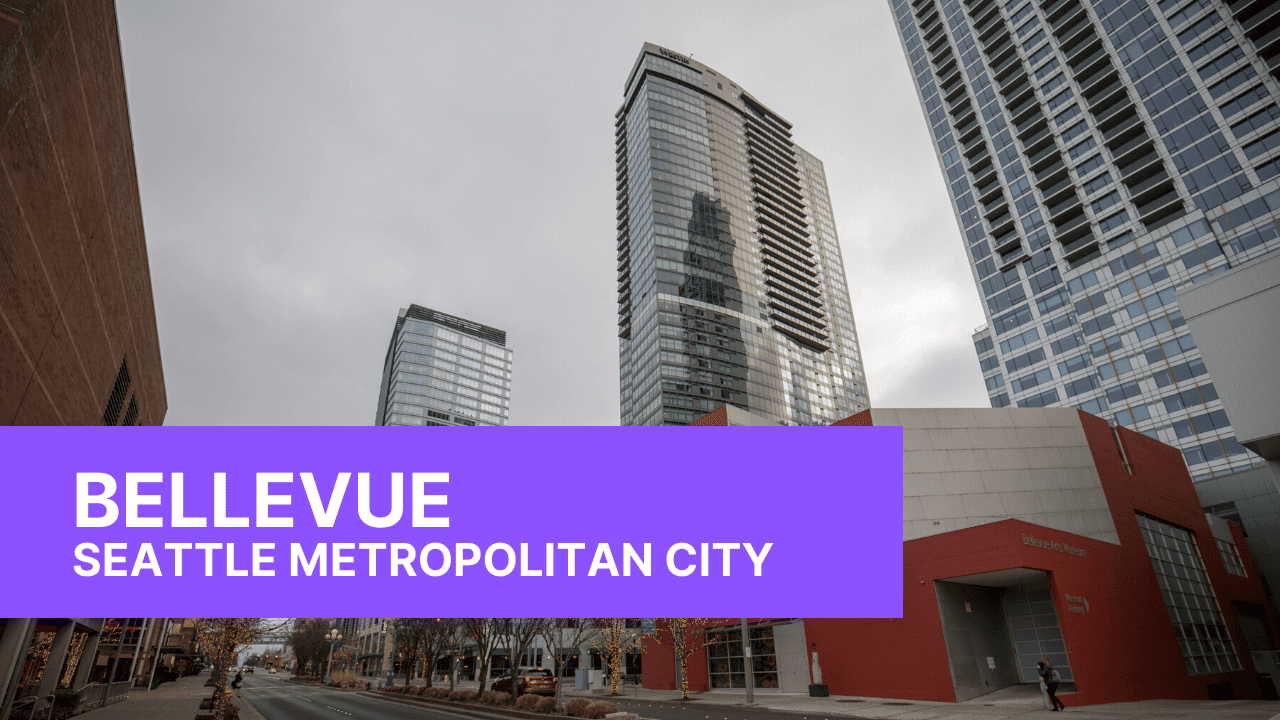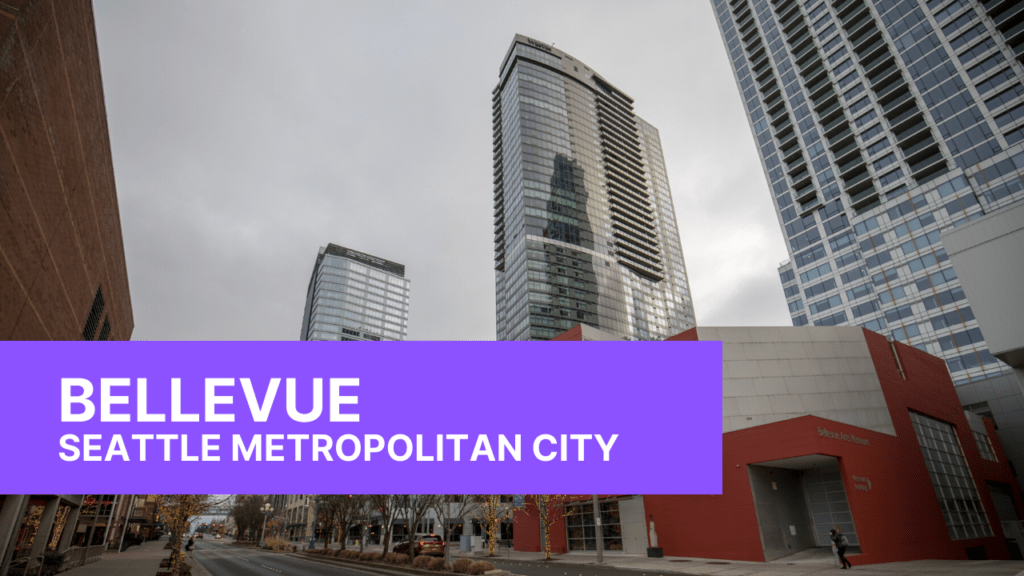 The Newport Hills neighborhood is situated just south of Downtown Bellevue and west of Newcastle. Our Diva Dwellers absolutely love this home's setting, from the friendly neighbors who stroll through the roads with their pets, to the fact that there is no HOA! 
This quiet, quaint area offers easy access to outdoor fun, especially to those who love hiking and golfing. You're merely minutes to both the Coal Creek Natural Area and a stunning array of trails in the Cougar Mountain Regional Wildland Park, which backs right up to the Newcastle Golf Course. (Yes, the great outdoors are basically right in your backyard!) And speaking of golf, The Golf Club at Newcastle offers captivating views from its Premier Golf Course and a swank clubhouse for drinking, dining, and events.
Golfing not your thing? No problem—head on up to the Newport Hills Swim and Tennis Club. They have a pool and tennis courts for members to use and offer lessons year-round. You can also sign the small ones up for Shark Camp this summer. Get them out of the house to meet new friends… something we all need to do after this past year!
There are also plenty of city amenities right at your fingertips. Grocery stores like Safeway and QFC are just less than one mile away, as are restaurants, bars, schools, and more. 
Check out some of the other great homes on the Eastside we've sold: 
---
How to Buy a Home in Seattle: The Entire Process in Brief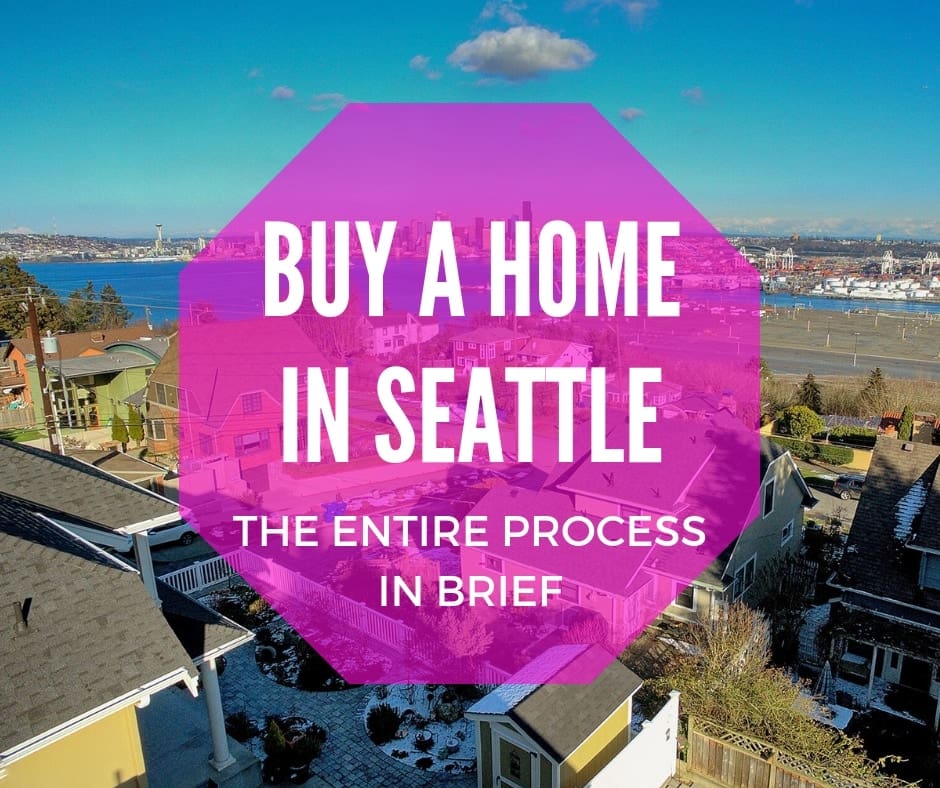 Let's get down and dirty. Owning a home in Seattle is an amazing experience and it can be fun. Do not listen to all of those cranky folks who think Seattle is not what it used to be and a middle-income owner cannot afford to buy a home in Seattle. Strap in, get yourself some strong Seattle coffee and learn how to be a smart and savvy home buyer in Seattle.
Steps For Buying a Home in Seattle
Find Your Guide: Find an agent that is super savvy and will be your ultimate navigator.
Choose Your Priorities: Size, Condition, Or Location?
Home Buyer Intake Process: Schedule a sit-down meeting with you and your real estate team to dive into what you want in a home.
Financing: Get your financial house in order.
Big Search: The big home search in Seattle
Making an Offer: Know what you need and how to prepare yourself to make an offer.
You Are In Contract: You've signed on the dotted line. Now… the hard work really starts.
Inspecting Your Home: What to look for, how to hire an inspector, and how to respond to the inspection.
Reviewing The Title Report: The title report is often the most overlooked portion of the buyer's review.
Reviewing the HOA/Resale Certificate (for Condos): …Also an overlooked portion of the buyer's review process.
Appraisal Process: Most homes are purchased with a home loan. The appraisal determines the final value by your lender for your home.
Final Loan Approval: All kinds of things can come up during the final loan approval process, so be prepared.
Final Two Weeks of the Process: Walkthrough, inspection resolution, and (for god's sake) do not make a huge purchase on a credit card.
Signing Your Final Homeowner Documents: You made it!
Closing Day: You get the keys and access to your home.
This is just a starting point, and we have so much more to share about the home buying process. Browse our Home Buyer page for a comprehensive home buying education.
---
Thanks For Touring Our Mid-Century Home in Bellevue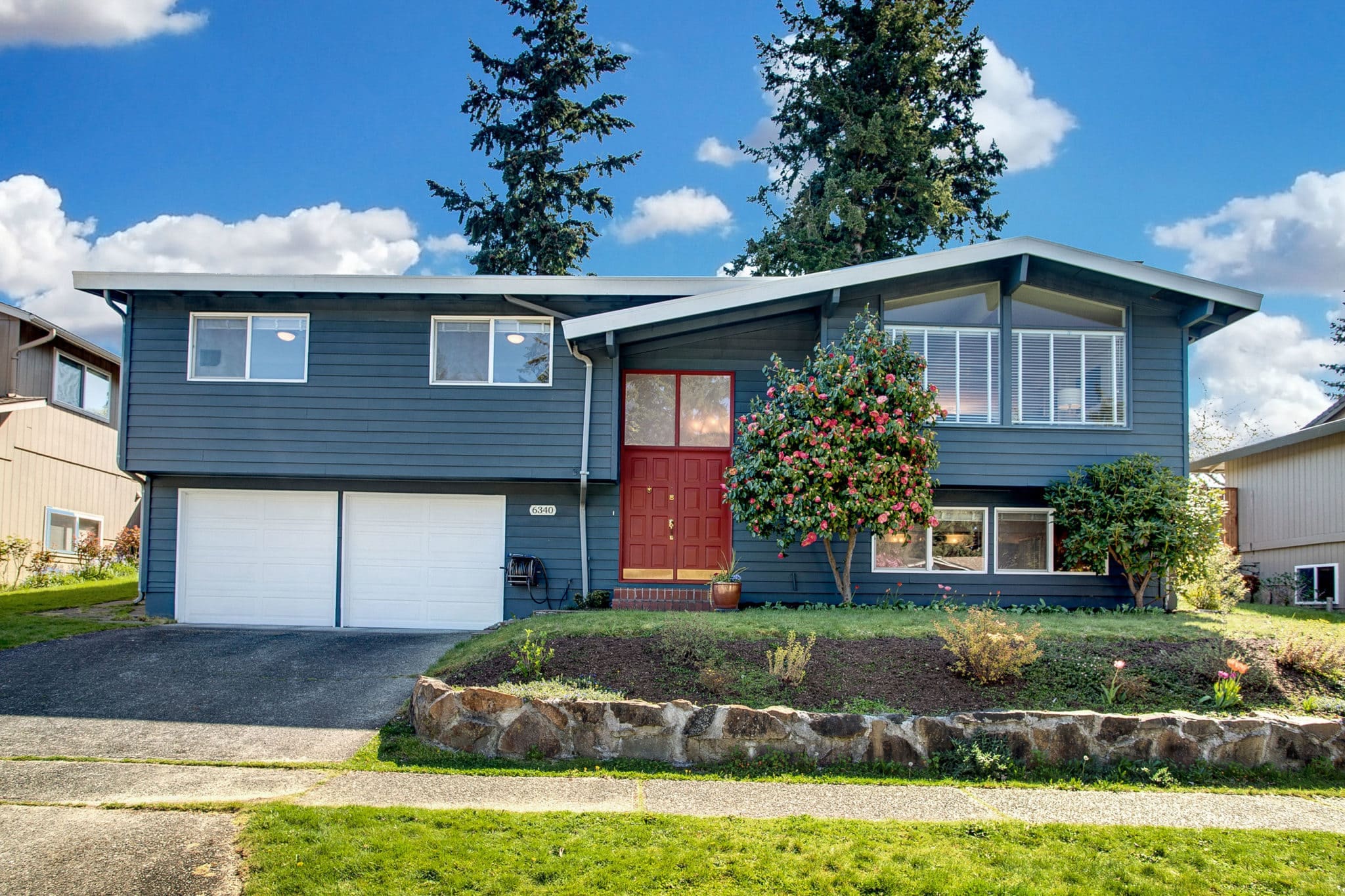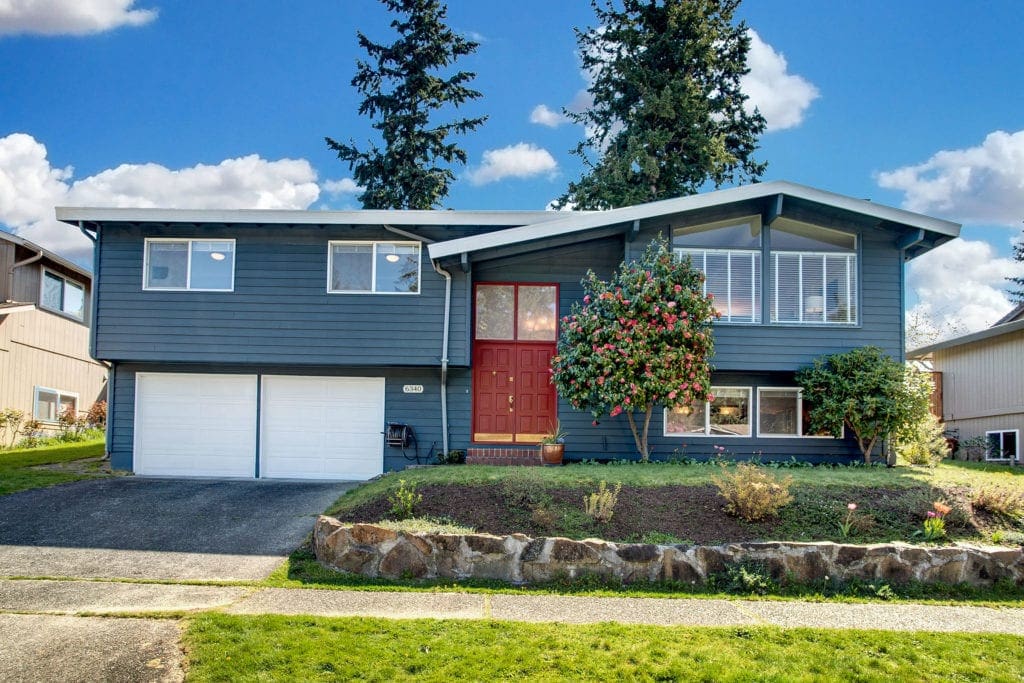 Thank you for taking the time to see what makes this Mid-Century Home in Bellevue so dreamy! We can't wait for you to see the split-level layout, the lovely living room, the romper room, the backyard oasis, and the fantastic Bellevue neighborhood all in person! 
All the Good Details
Address: 6340 121st Ave SE

Square Footage: 2,120

Bedrooms: 3

Bathrooms: 1.75

Offering Price: $849,950
Ready to tour this Mid-Century Home in Bellevue in person? Contact us today so we can show off this home's 5 must-see highlights including the split-level layout, the sunny living room, the romper room, the backyard oasis, and Bellevue's Newport Hills Neighborhood.