This cottage gem is nestled where Ballard, Fremont, and Phinney Ridge converge. This Diva Dwelling lets you have immediate access to not one but three of Seattle's most popular neighborhoods. But you don't even have to leave home to bask in all that this Charming Cottage in Ballard has to offer. This move-in ready cottage has it all whether you're spending time at home relaxing, hosting all of your besties, or spending time connecting with nature in your garden. 
We are totally vibing with this Ballard home's cottagecore vibes right now. What exactly is "cottagecore," you may ask? Cottagecore has of course always been around in some form but it became a real "trend" around 2019. Cottagecore is about being cozy at home, using natural elements in decor (like house plants), and vintage touches galore, just to name a few of its hallmark qualities. 
When you first set eyes on this Charming Cottage in Ballard, you'll immediately see why we're talking about cottagecore here. From large wood-framed windows to beautiful hardwood floors, this space is sure to inspire cozy hangouts and a refreshing, slower pace. When you're home, this picturesque setting makes it easy to let the hustle and bustle melt away! 
Tour This Charming Cottage in Ballard
Remington Stokes and Kim Colaprete are the listing brokers for this Charming Cottage in Ballard. In this video, Remington is sharing exactly why he adores this super sweet cottage. Not only is the community of Ballard one of Seattle's most desired neighborhoods, but this home-sweet-home is the perfect spot to launch all of your adventures from! Tune in to get the deets. 
---
Our 5 Fave Things About this Charming Cottage in Ballard 
Join us as we show off our 5 fave things about this Charming Cottage in Ballard. Inside and out, this home is adorable and welcoming. With so many spaces to enjoy everyday living or entertaining your loved ones. Plus the established gardens mean you will enjoy seeing and smelling stunning blooms all spring and summer.
Embrace Simple Living with this Cottage's Easy Layout and Timeless Design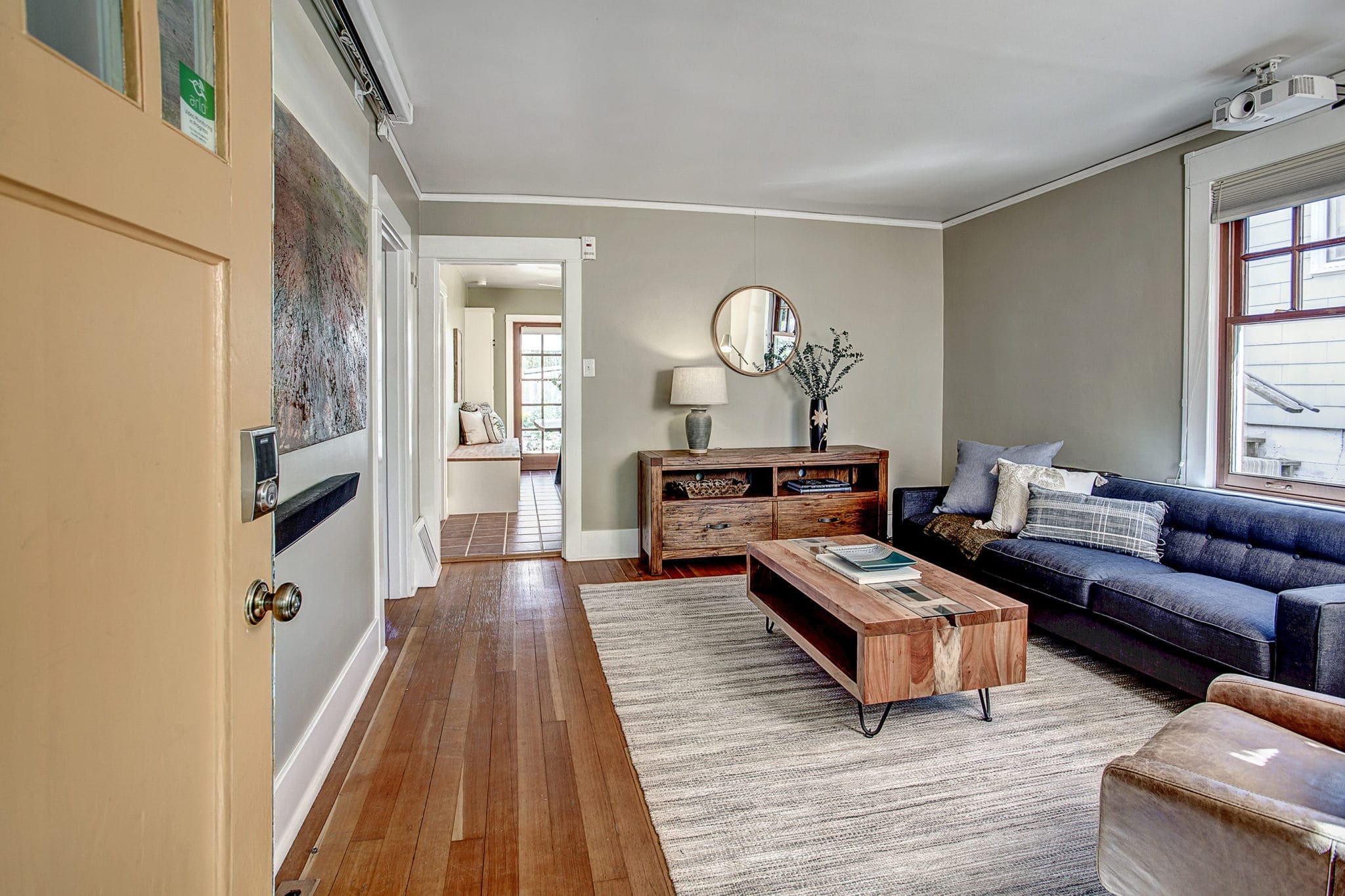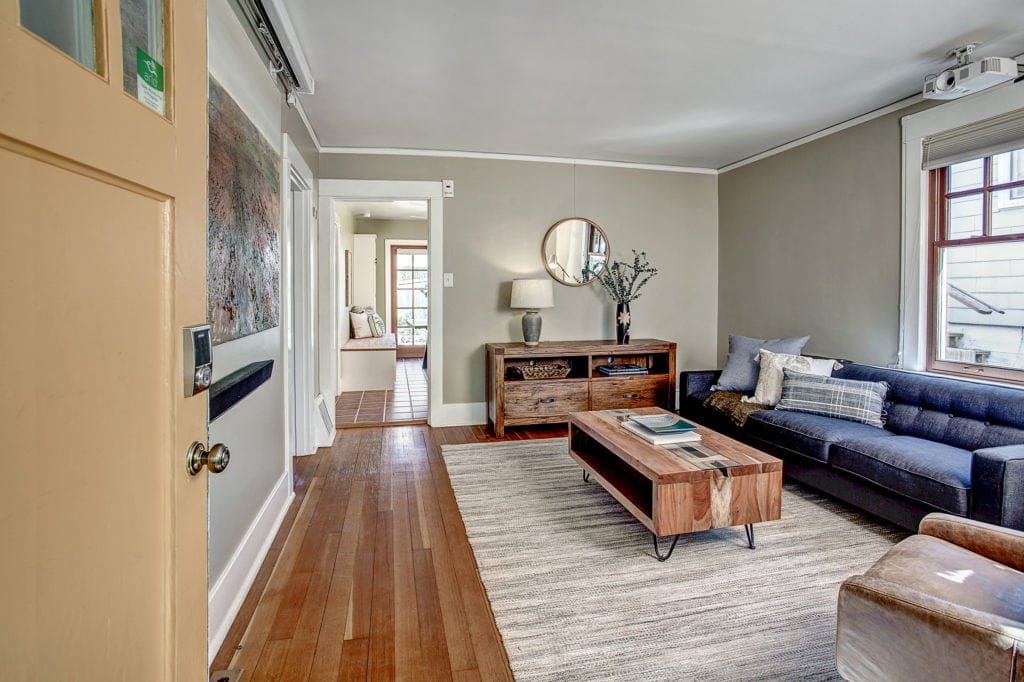 One of this cottage's top features is its smart layout and design. This home has no wasted space, and yet offers easy flow. The entry and living room seamlessly transition into the kitchen, which effortlessly flows out onto the deck and backyard. Throw open windows and open up the doors to keep everyone cool and let the breeze carry in the sweet scent of blossoming flowers. Ah—pure bliss! 
The west side of the home is where this cottage's bedrooms and bathroom are tucked away. We love that this home's entire layout still feels cohesive even while providing privacy and separation of space. You can set up a home office where you can work away in peace and quiet, or hang out in the living room and be a part of the day's happenings. You get to choose! 
Farm to Table Flow: Large Kitchen Transitions Right into the Sweet Backyard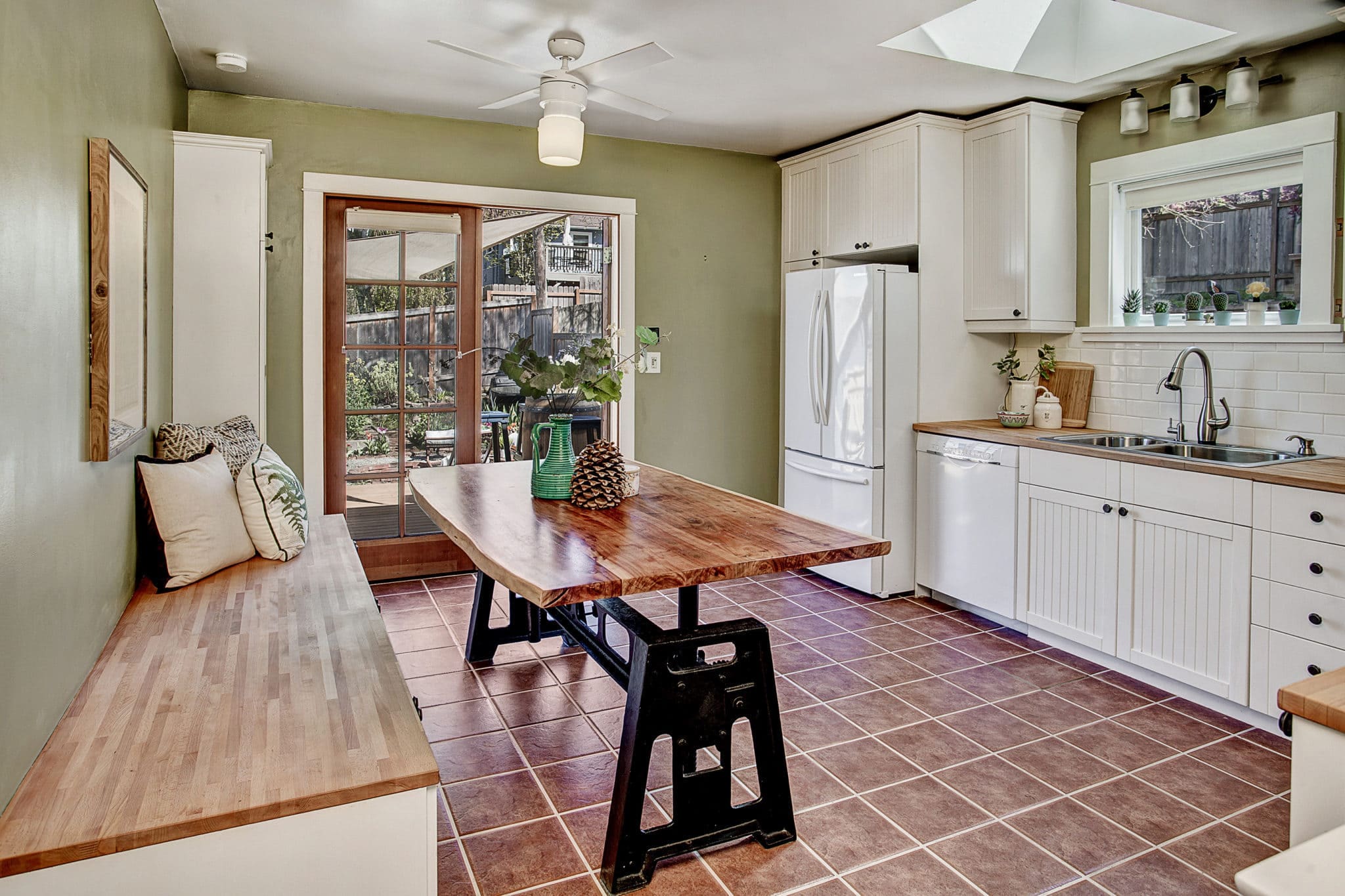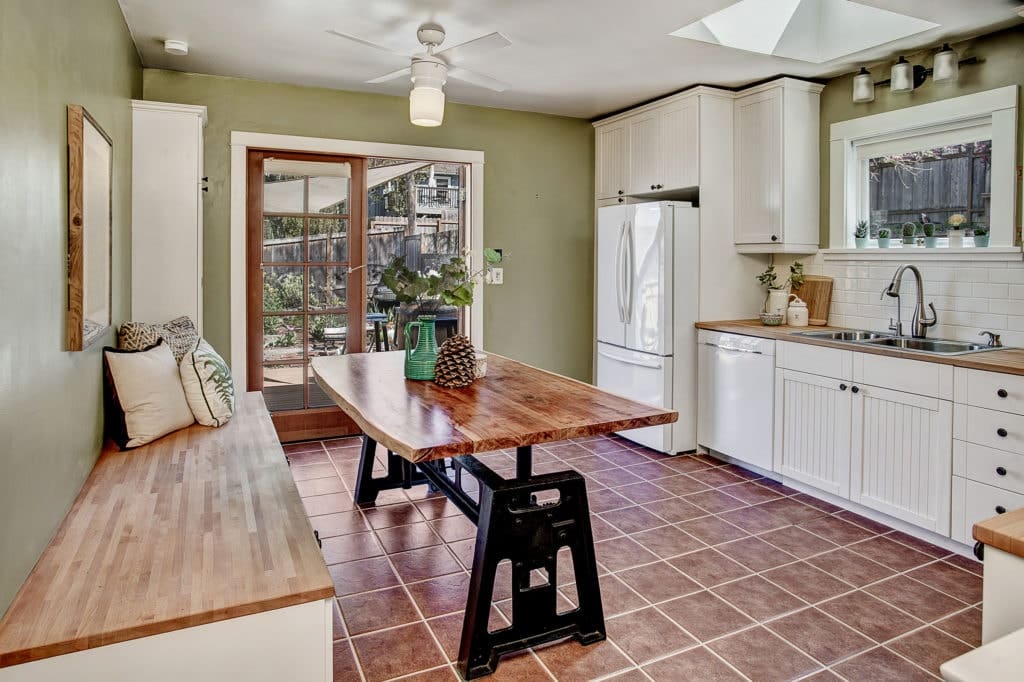 This spacious kitchen is ready for all that life brings your way. New appliances promise that this cottage comes with everything our modern Diva Dwellers expect. A Samsung refrigerator, a Bosche dishwasher, a double oven range, GE gas, and GE range hood all ensure efficiency. Whip up homemade feasts and enjoy the bounty from your garden as often as possible. The kitchen even offers built-in seating, but you can easily up your guest count by adding your own dining table and a few extra chairs. 
French doors swing open into your backyard oasis. A gorgeous deck overlooks the backyard, and you can set up comfy patio furniture and a grill to cook up delicious eats at your next barbecue get-together. The backyard is your own haven for entertaining, but this dynamic space can be put to work, too. Our Diva Dwellers loved home beekeeping from this space, and you'll also find tons of delicious edible plants and herbs here as well. There's a sour cherry tree, blueberries, huckleberries, sage, rosemary, oolong tea, lavender, echinacea, and hops. Put your green thumb to work and add your own favorites into the mix! 
As evening approaches enjoy great views and sunsets over the Olympic Mountains. You can also gather around the fire pit to roast marshmallows and stay toasty warm. 
Charming Cottage in Ballard Offers Picture-Perfect Curb Appeal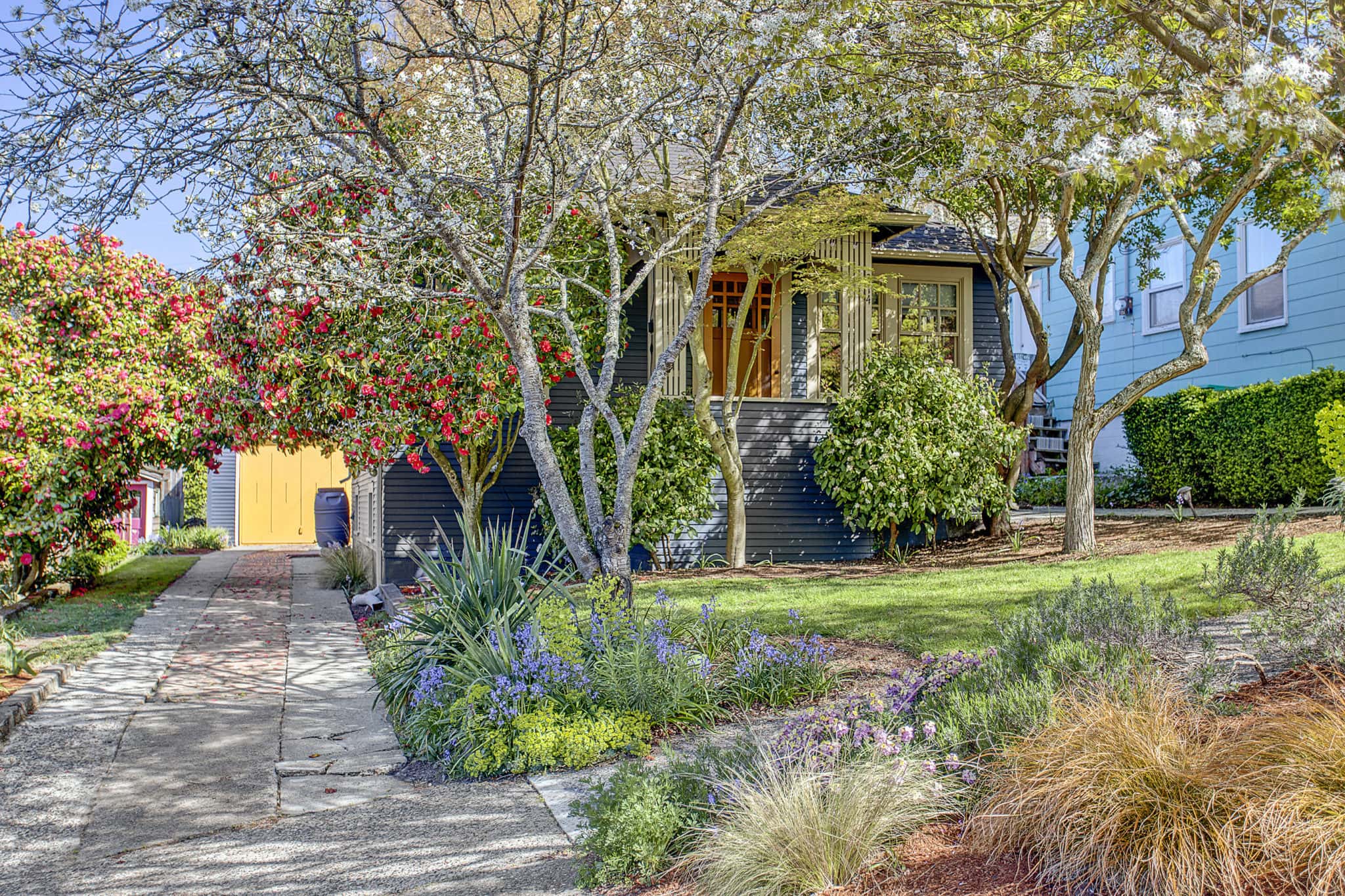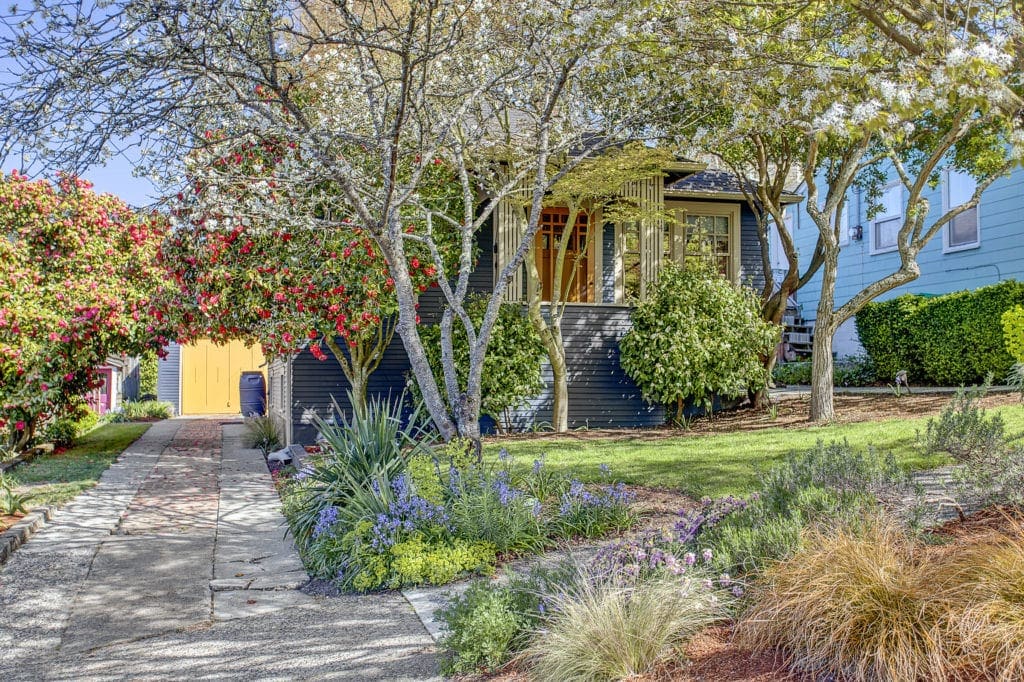 Nestled on a quiet, peaceful street where you can enjoy everyday living, this cottage is close to city convenience yet you have a sense of seclusion. Mature trees in the front yard provide privacy, and you even have a relaxing space to hang two hammocks from. The trees also shade the house on warm summer days. 
Gorgeous blossoms surround the cottage, adding even more picturesque beauty to this storybook scene. Flowering plants here bloom from March to October, and you can enjoy 5 different varieties of La Conner tulips, a camellia tree, a magnolia tree, crocus, bluebells, daylily, daffodils, iris, gladiolus, Fuschia, peony, dahlias, columbine, heather, and astor. 
Fabulous Flexibility Awaits! Discover Basement and Garage Storage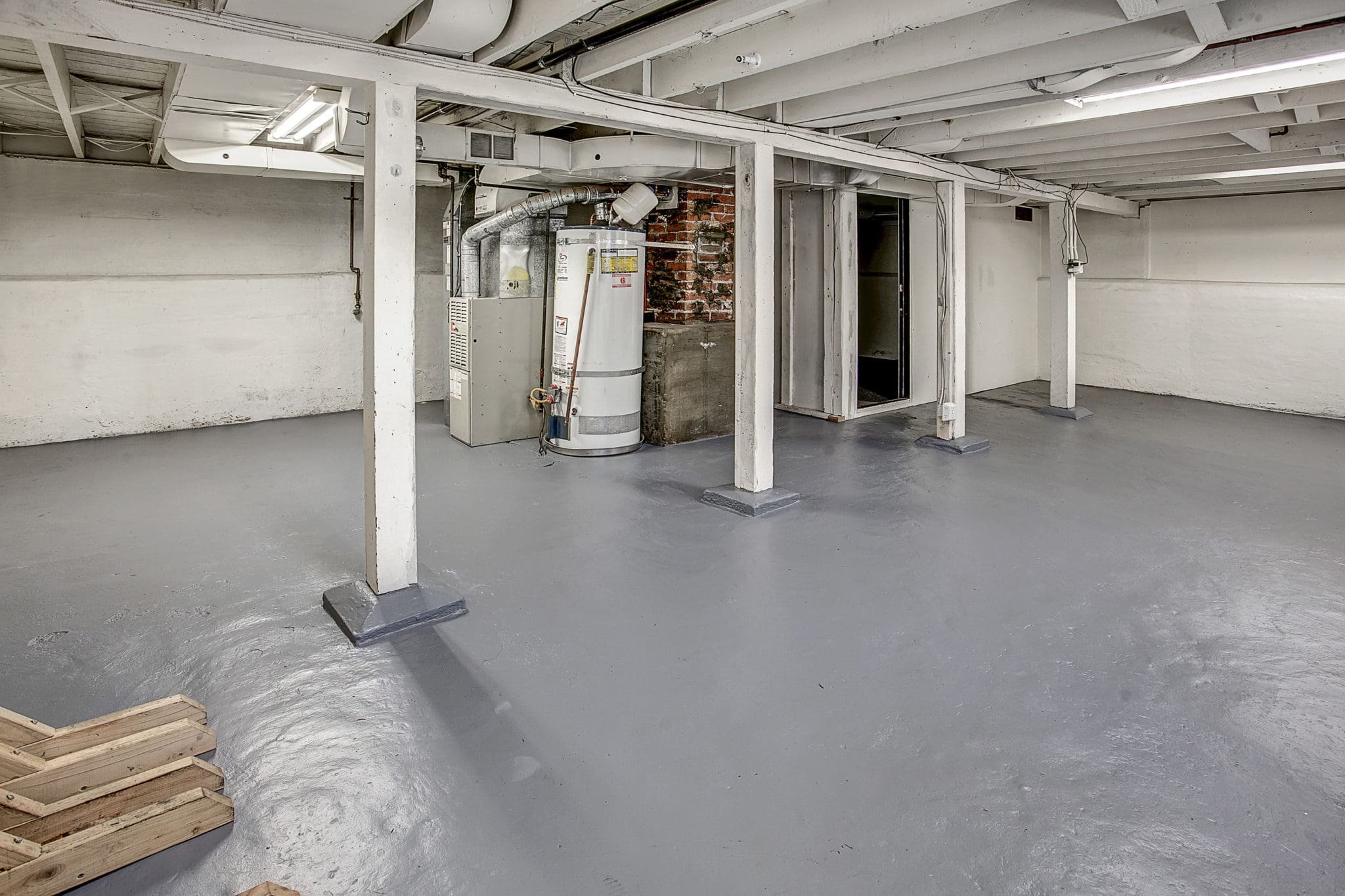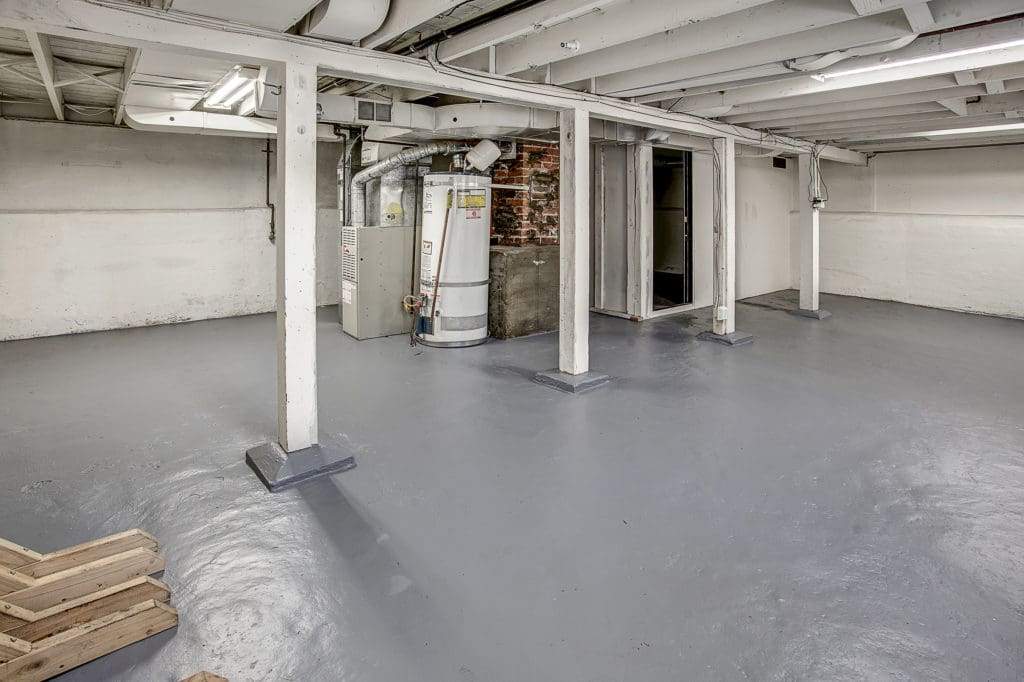 This cottage has room to grow. Plenty of workspace and storage can be found in the basement. Dreaming about having a designated area for hobbies? Set up a craft area or an art studio. Or you might just use the extra room for storing bikes and kayaks for sunny adventures. The garage offers even more room—park a vehicle and use the space for organizing gardening tools. 
Team Diva is serious about keeping everyone safe. We take every precaution—and then some—to make sure that all of our homes are listed following all COVID-19 safety rules and guidelines. It is our duty to ensure everyone's safety as you enter one of our listings. We always want you to be able to get the feel for a home while staying safe as possible. So take a moment and enjoy this virtual tour from the comfort of your couch! 
Charming Cottage in Ballard is Nestled in Prime Seattle Location and Neighborhood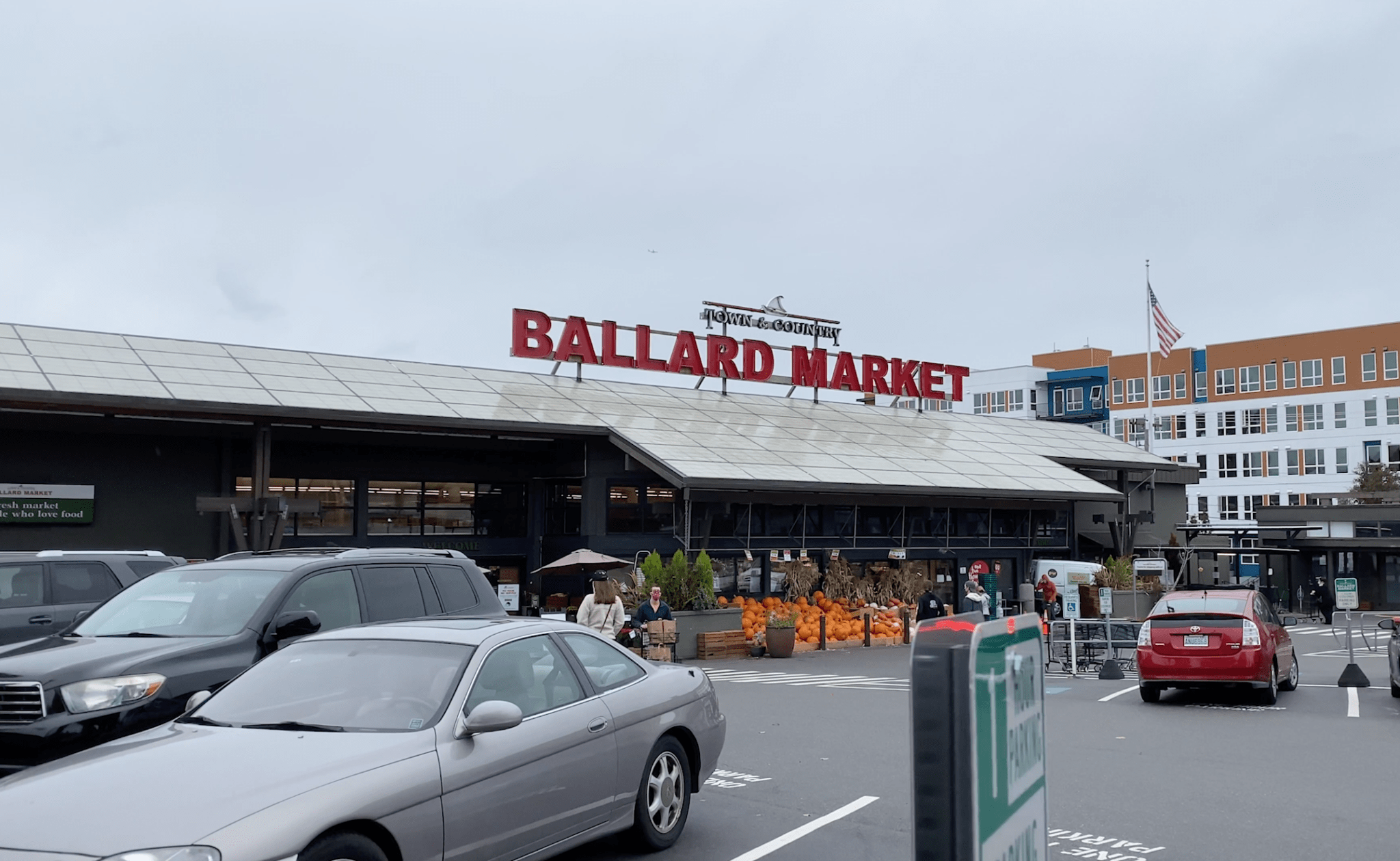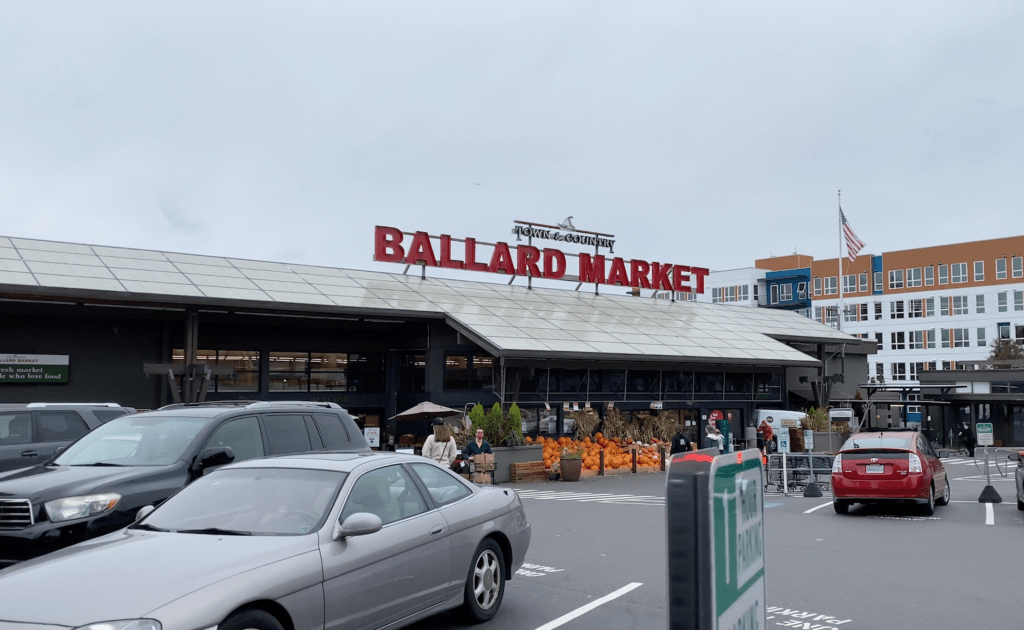 This charming cottage is nestled right where Ballard, Fremont, and Phinney Ridge meet. This means you have easy access to each neighborhood, all without having to deal with any of the congestion of being in the center of these popular Seattle neighborhoods. Everything you might need here is a stroll away, and you have quick access to several grocery stores including PCC, Ballard Market, Trader Joe's, Fred Meyer, and more. 
Love exploring the city's beer scene? You're in luck. There are 16 breweries (yes, you read that right) within a mile that will keep your growlers and pint glasses full. A few of our favorite breweries here include Fremont Brewing, Hale's, and 4Bs. Plus, there's plenty of restaurants and food trucks nearby. Schmaltzy's Delicatessen is a delicious modern twist on the deli, grab burgers to go from Giddy Up, or a pie from Frelard Pizza Co. Get to know your new neighbors over a beer or nibble! 
Check out some of the other fabulous homes we've sold in Ballard: 
---
How to Buy a Home in Seattle: The Entire Process in Brief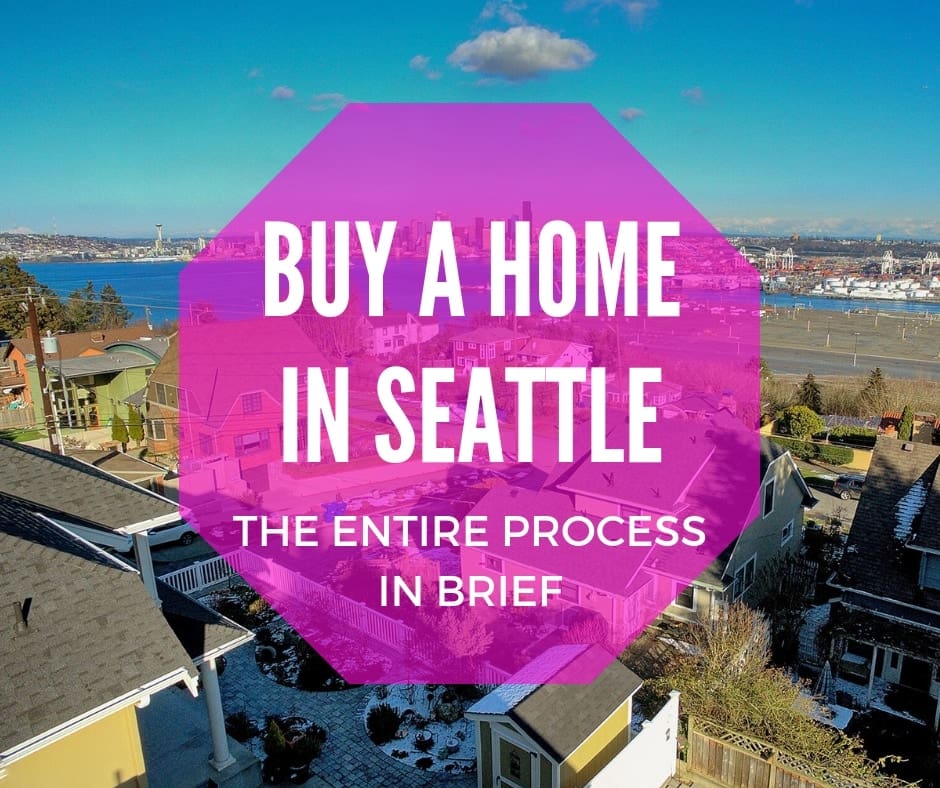 Let's get down and dirty. Owning a home in Seattle is an amazing experience and it can be fun. Do not listen to all of those cranky folks who think Seattle is not what it used to be and a middle-income owner cannot afford to buy a home in Seattle. Strap in, get yourself some strong Seattle coffee and learn how to be a smart and savvy home buyer in Seattle.
Steps For Buying a Home in Seattle
Find Your Guide: Find an agent that is super savvy and will be your ultimate navigator.
Choose Your Priorities: Size, Condition, Or Location?
Home Buyer Intake Process: Schedule a sit-down meeting with you and your real estate team to dive into what you want in a home.
Financing: Get your financial house in order.
Big Search: The big home search in Seattle
Making an Offer: Know what you need and how to prepare yourself to make an offer.
You Are In Contract: You've signed on the dotted line. Now… the hard work really starts.
Inspecting Your Home: What to look for, how to hire an inspector, and how to respond to the inspection.
Reviewing The Title Report: The title report is often the most overlooked portion of the buyer's review.
Reviewing the HOA/Resale Certificate (for Condos): …Also an overlooked portion of the buyer's review process.
Appraisal Process: Most homes are purchased with a home loan. The appraisal determines the final value by your lender for your home.
Final Loan Approval: All kinds of things can come up during the final loan approval process, so be prepared.
Final Two Weeks of the Process: Walkthrough, inspection resolution, and (for god's sake) do not make a huge purchase on a credit card.
Signing Your Final Homeowner Documents: You made it!
Closing Day: You get the keys and access to your home.
This is just a starting point, and we have so much more to share about the home buying process. Browse our Home Buyer page for a comprehensive home buying education.
---
Thanks for Touring Our Charming Cottage in Ballard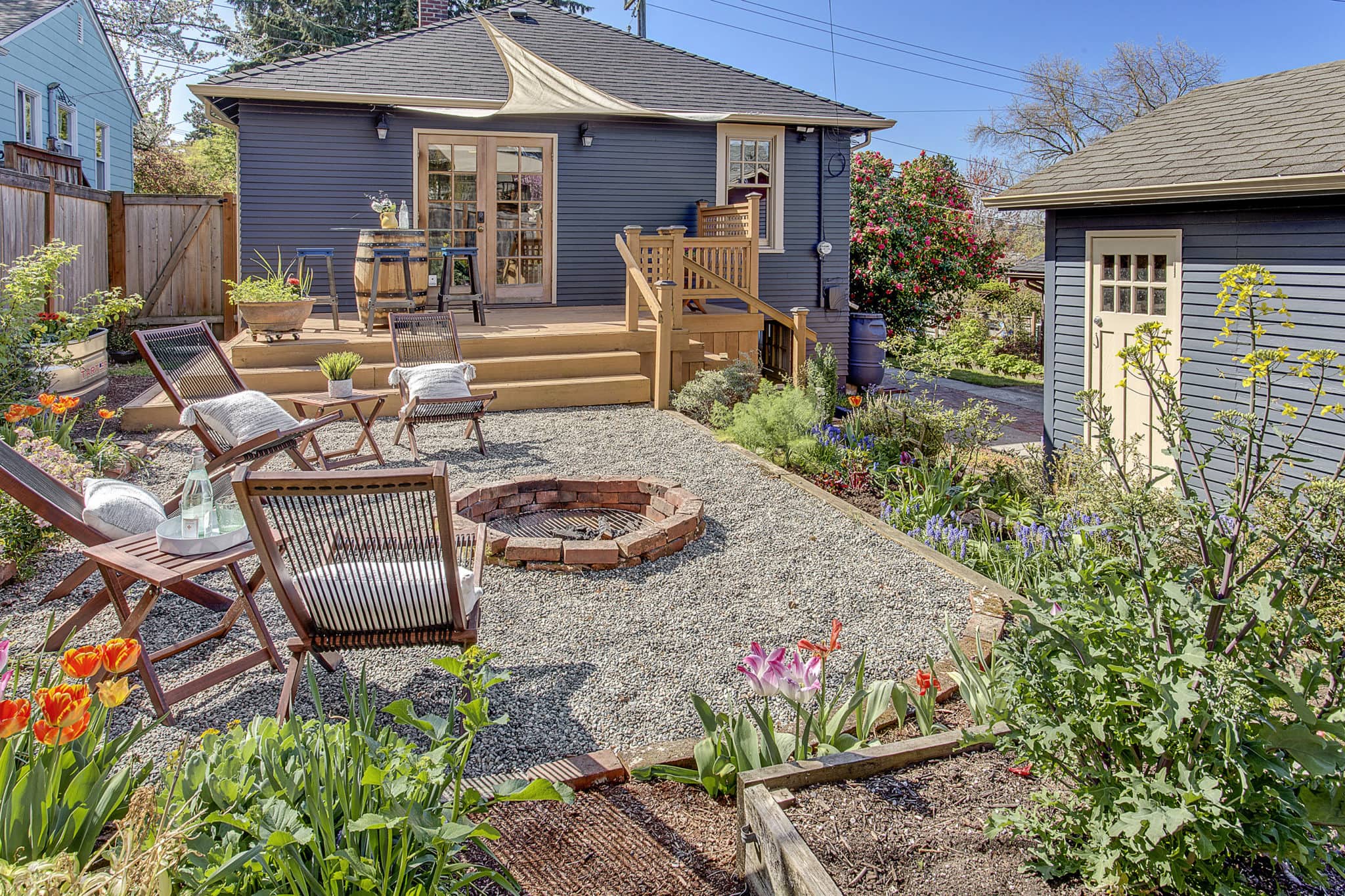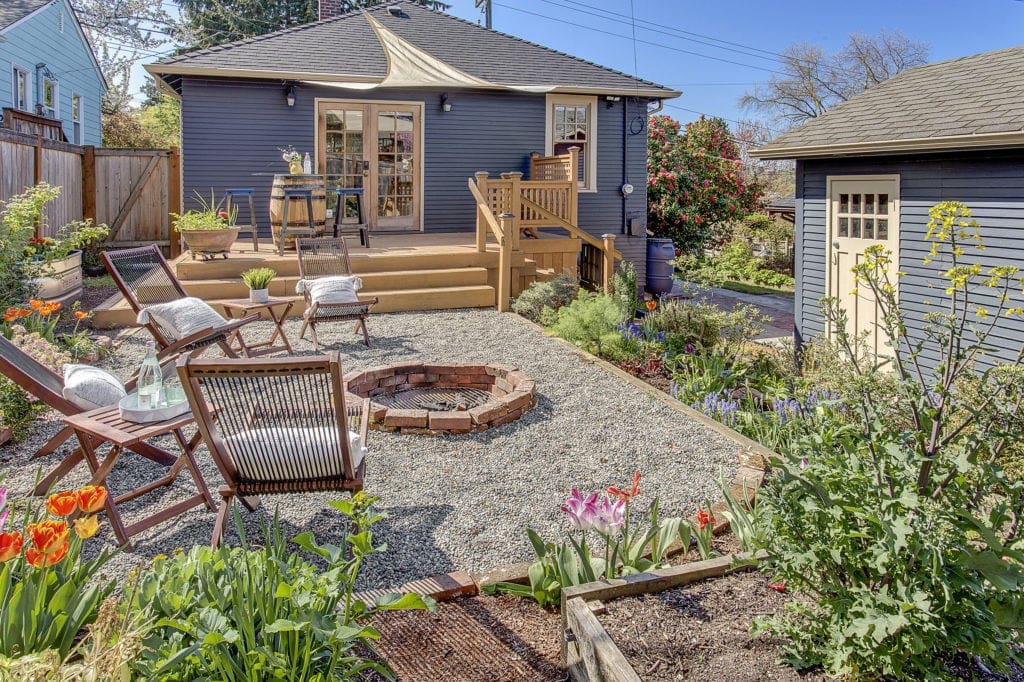 Thank you for taking the time to learn all about our Charming Cottage in Ballard! We absolutely adore this home's cottagecore vibes. A few of our favorite features include this cottage's flowing layout, its large kitchen and backyard access, the flexibility in the garage and basement, the picture-perfect curb appeal, and its idyllic location. 
All the Good Details
Address: 314 NW 46th St

Square Footage: 1,440

Bedrooms: 2

Bathrooms: 1

Offering Price: $785,000
Ready to tour this Charming Cottage in Ballard in person? Contact us today so we can show you our five favorite features in this home, including its flowing layout, its large kitchen and easy backyard access, the garage and basement, the eye-catching curb appeal, and its fantastic Ballard location.