This 1920s Magnolia View Home offers a truly rare combination of convenience, comfort, privacy, and potential. This move-in ready Magnolia home lets you live the life you've been dreaming about—entertain and relax with ease thanks to sweet, dialed-in spaces ready for your personal touch. Enjoy private outdoor living, all while being in an excellent Magnolia location in one of Seattle's largest and most beautiful neighborhoods. And finally, discover inspiring potential—there's room to grow and build your dream lifestyle here!
Let's Tour This 1920s Magnolia View Home 
Lindsy Russell-Mitchell and Kim Colaprete are the listing brokers for this Diva Dwelling. In this video, Lindsy is sharing exactly what makes this 1920s Magnolia View Home so dang special. 
There is so much to admire—we dare you not to fall in love once you set eyes on this 1920s-built beauty. Join us as we show off this home's incredible city and harbor views, its private backyard patio space, the incredible natural light, the inspiring potential, and the convenient and charming Magnolia neighborhood.
---
5 Fave Highlights of this 1920s Magnolia View Home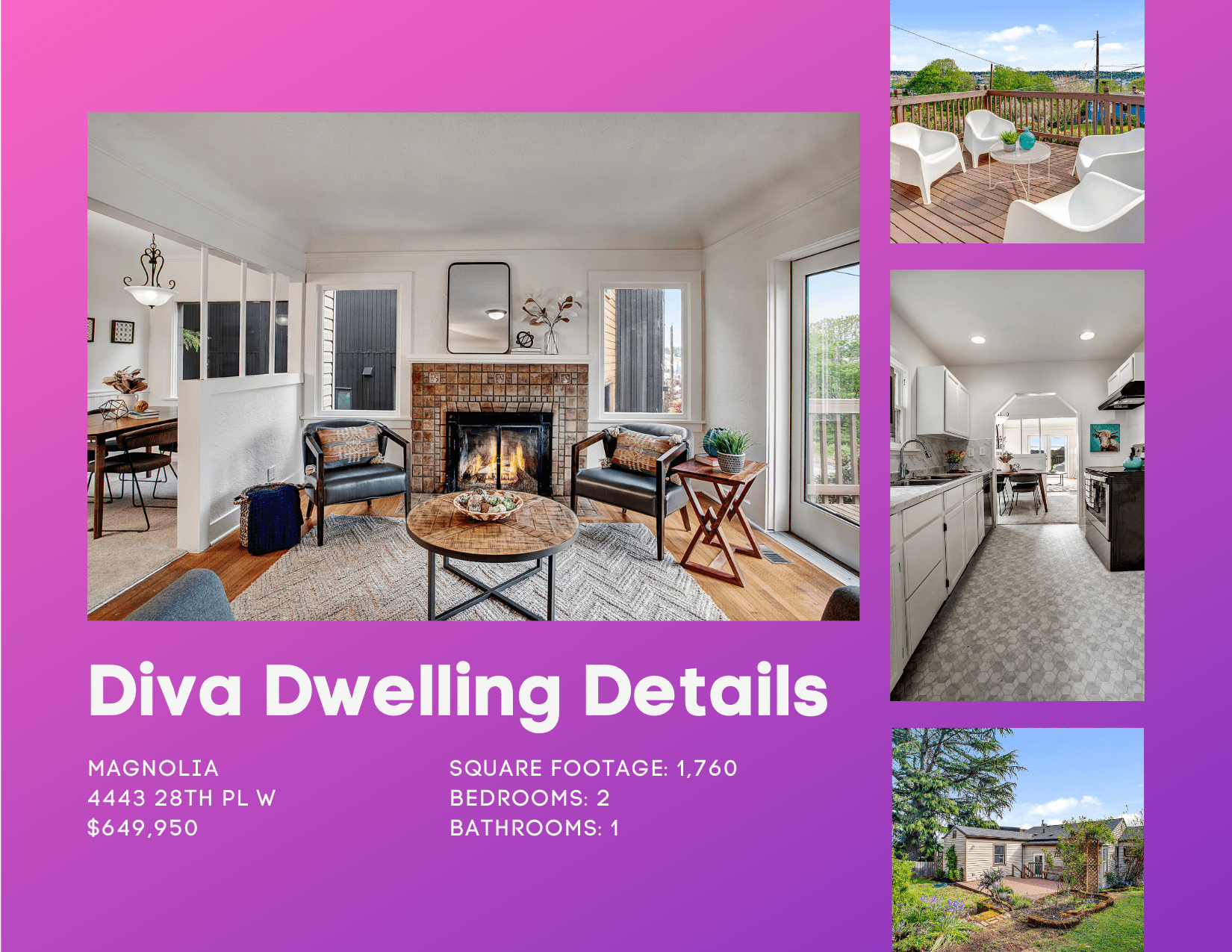 We are so thrilled to share this 1920s Magnolia View Home! If this 100-year-old house could talk… oh the stories it would tell! And while this move-in ready residence is brimming with vintage character, it packs a punch with smart upgrades. A brand new washer and dryer are all yours, plus all new kitchen appliances including the stove, microwave, fridge, and dishwasher. This home even comes with smart light bulbs with multi-color options for when you want to instantly change the mood.
Own a piece of Seattle's history with this timeless treasure that's ready for its next chapter! Here are our 5 fave highlights of this 1920s Magnolia View Home: 
Spectacular City and Harbor Views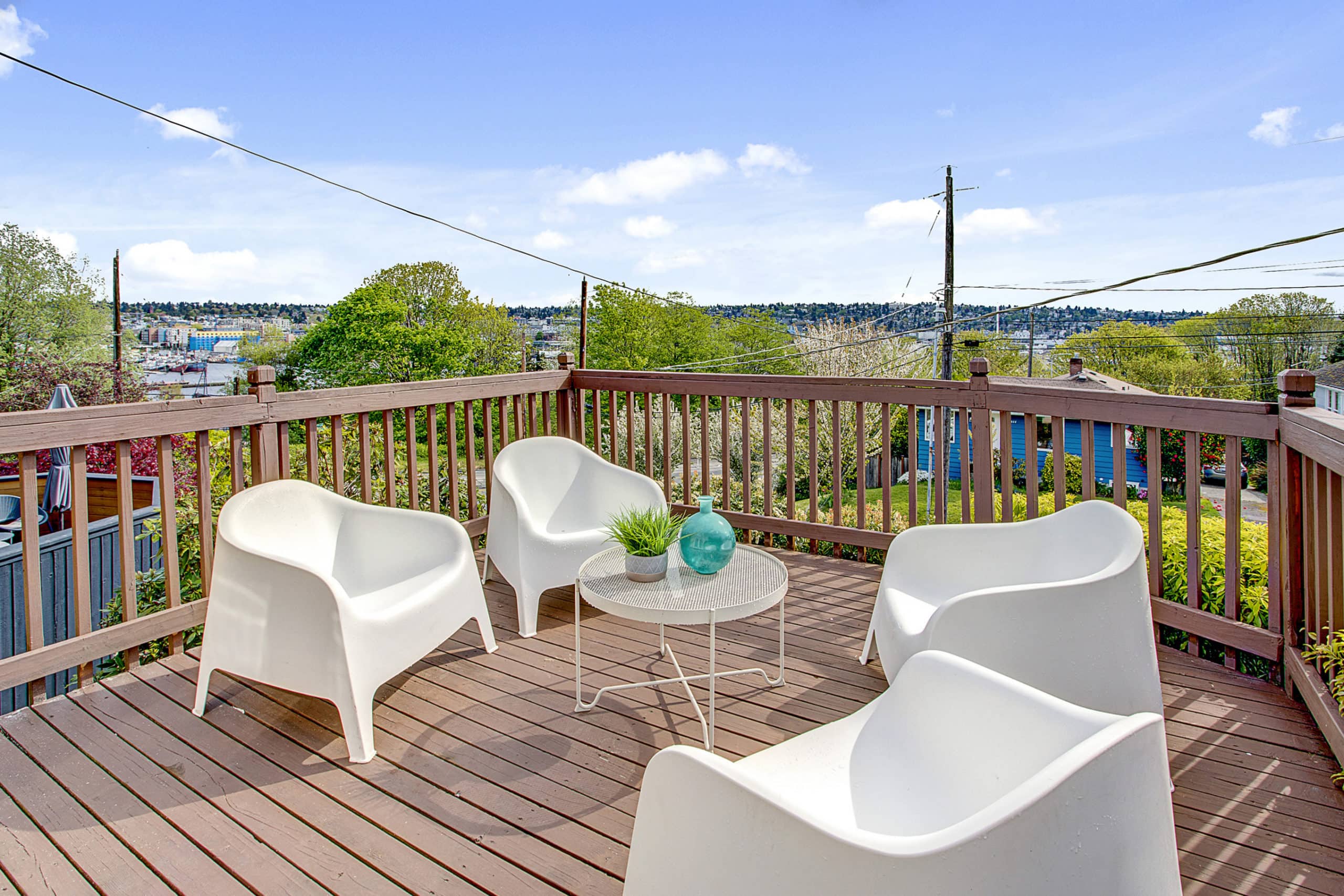 This Magnolia home-sweet-home impresses as soon as you head up the front steps. Incredible city and harbor views immediately delight. Views of Ballard, Queen Anne Hill, Downtown Seattle, Fisherman's Terminal, and more all offer a scenic backdrop no matter what you're up to. And the Insta-worthy sunrises and sunsets are absolutely breathtaking! 
Just off the main living room, French doors swing wide open onto your patio deck. Here you've got the best seat in the house to watch the sun come up over the mountains in the morning while sipping on coffee. And here's a quick tip from our Diva Dwellers: These stunning views can be admired not just from the deck patio, but from the main living room and the first bedroom as well. 
This 1920s Magnolia View Home Has its Own Private Backyard Patio Retreat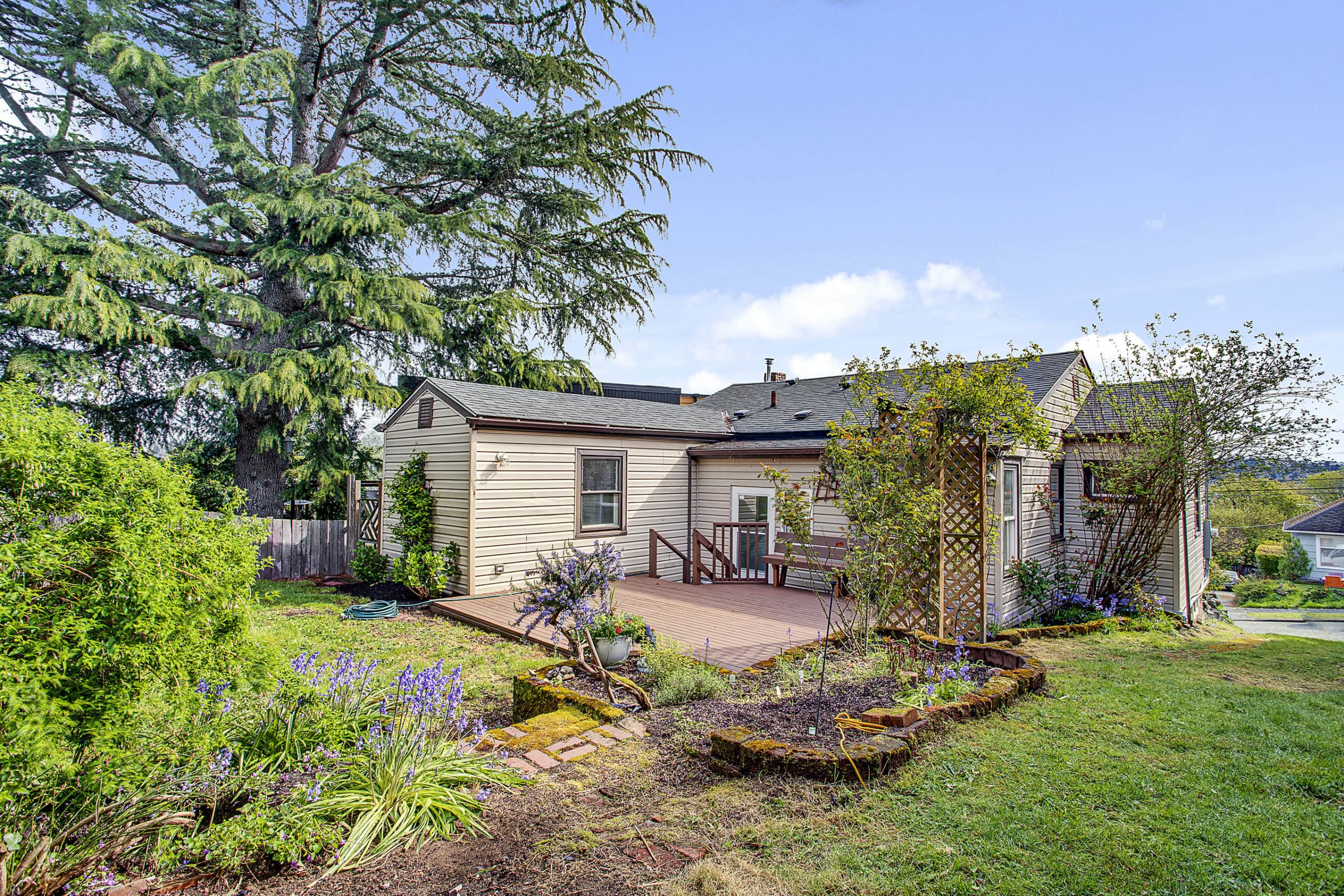 We love it when our Diva Dwellings offer both city convenience AND privacy. There is nothing better than having your own secluded oasis while having highly desired city amenities at your fingertips. This 1920s Magnolia View Home comes with its own private backyard and a spacious patio deck. During the spring and summer, the backyard blossoms with greenery and flowers. Established roses, hydrangeas, a juniper bush, and more let you feel like you're in your very own secret garden. Our Diva Dwellers also grew many herbs and veggies in the lovely garden beds—just imagine adding fresh ingredients to dinner at your next al fresco hangout! 
Spend the summer entertaining in style thanks to patio perfection, and have fun adding your own personal touches to this outdoor retreat. When you're not having your besties over for hangouts, spend quiet afternoons putting your green thumb to work. Or just sunbathe on a comfy lounge chair and listen to birds singing while your worries melt away—pure bliss! 
Awash in Rejuvenating Natural Light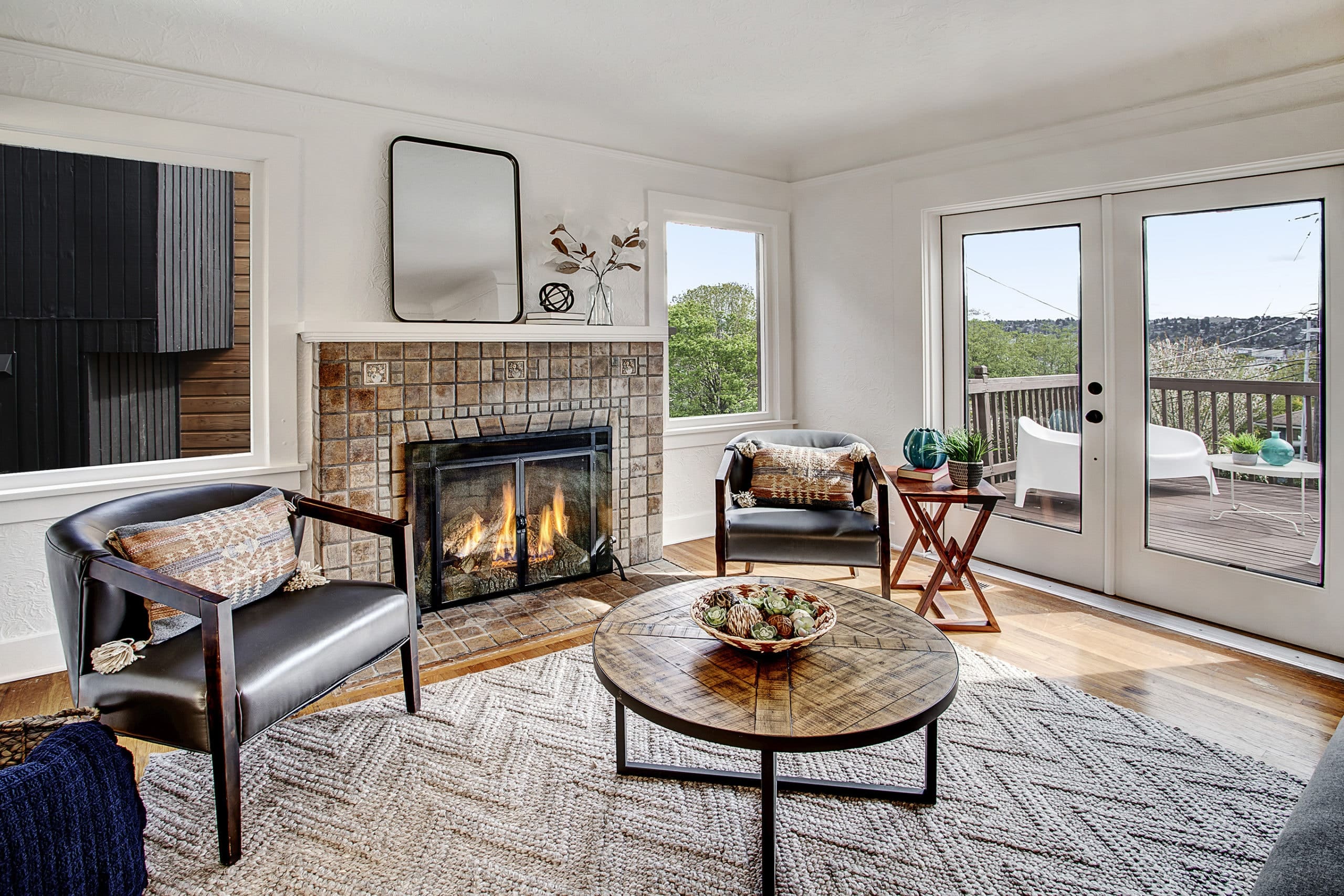 This 1920s Magnolia View Home is absolutely awash with natural light. If you've lived in Seattle for a while now, you know how big of a deal this is! Us Seattleites take every opportunity possible to soak up the sun and get our Vitamin D. With this Magnolia home, you don't have to worry about catching rays; huge windows throughout let the sunlight cascade in. In the morning you get eastern light, during the day you get northern and southern light, and finally at the end of the day, the back of the house has western sun exposure. 
Our Diva Dwellers love basking in golden hour on the patio or in the living room. The way the sun shines down at this time creates glistening, golden reflections from the buildings on the far side of town is absolutely majestic. Golden hour also means that the eye-catching hues of the gorgeous oak hardwood floors become even more captivating. Magic! 

Potential to Expand Awaits in This 1920s Magnolia View Home 
Finding an amazing house is one thing, but finding an amazing house with potential flex space is a total game-changer. The times we're in have really shown us how having versatility in your home can be so important. Well, this 1920s Magnolia View Home is filled with opportunities to expand and grow with your unique needs. 
Upstairs you have over 900 square feet of living space, 2 bedrooms, one bath, and a large kitchen. The partially finished basement offers even more dynamic space. In the basement, you'll find over 700 square feet of space, with a finished bonus room ready to get you started. Let your imagination get to work and dream up what you'll use this square footage for! Maybe you'll add a second bathroom, or create a mother-in-law suite? Or maybe you'll create the ultimate hangout with an entertainment center. The previous owners used the space as a pottery studio and office, and they used the workbench for building, art, and 3D printing. Let the creativity flow and make it your own!
Team Diva takes every precaution, and then some, to make sure all of our homes are listed following all COVID precautions. It's is our duty to ensure everyone's safety as you enter one of our listings, but feel free to take a virtual tour from the comfort of your couch.
---
Magnolia Neighborhood & Quick Access to Surrounding Areas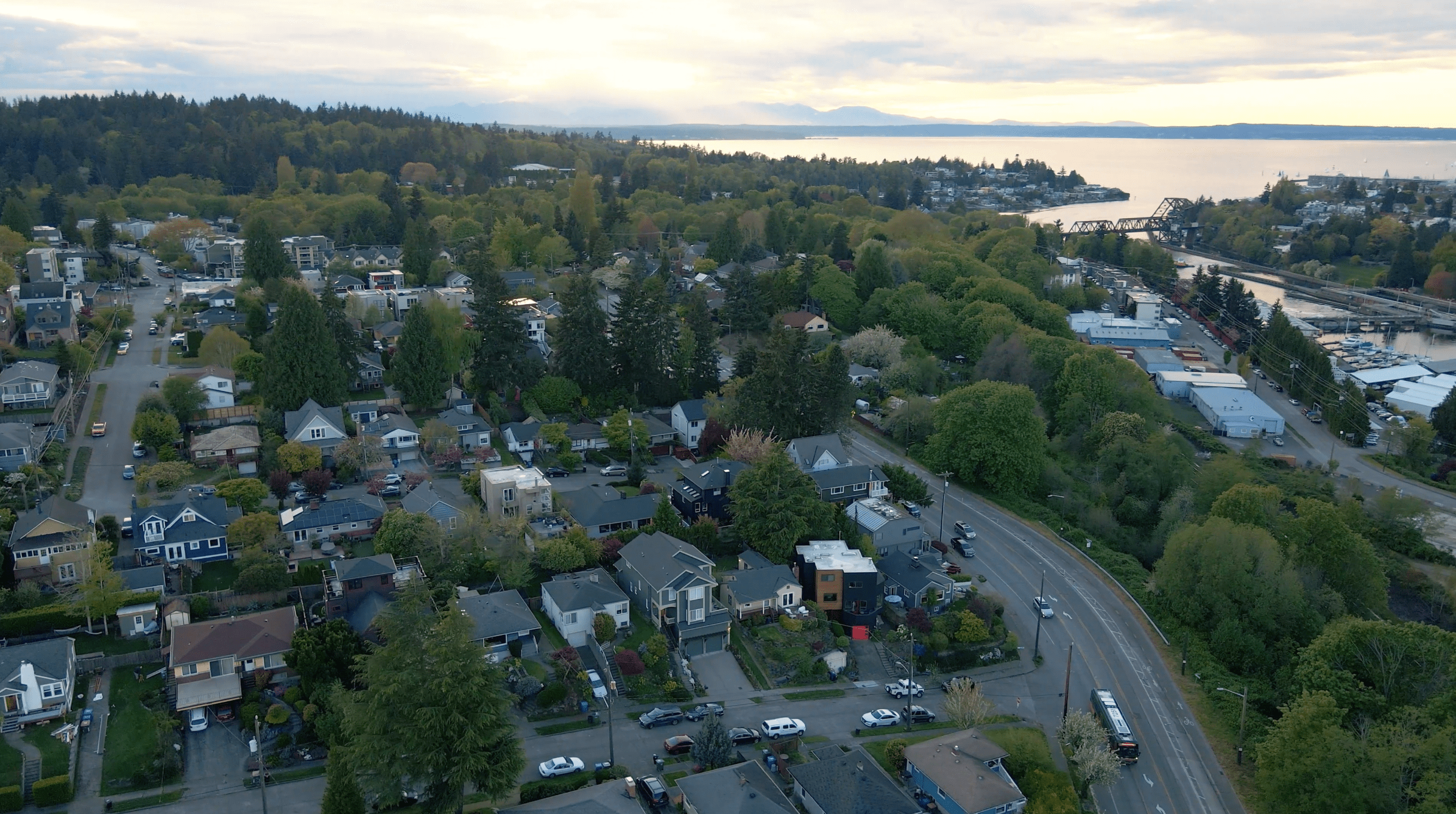 Not only is Seattle's Magnolia neighborhood known for its epic views, but its history also runs deep! This home is only 6 blocks from the historic Discovery Park (formally the US Army's Fort Lawton). Discovery Park includes 534 acres of natural parkland, a historic lighthouse, and extraordinary views of both the Olympic and Cascade mountain ranges. And if you're lucky, you might get a peek at some of the park's eagles and their nests! 
Metropolitan Market is close by and has everything you need in a pinch. This home is also just a short walk to local restaurants, Discovery Espresso Coffee Shop, a yoga studio, the post office, and two breweries! Ballard, Downtown Seattle, Fisherman's Terminal (the best fresh seafood is here!), and Frelard Pizza in Fremont are all wonderfully close by as well. 
Check out some of the other great Magnolia homes we've sold:
---
How to Buy a Home in Seattle: The Entire Process in Brief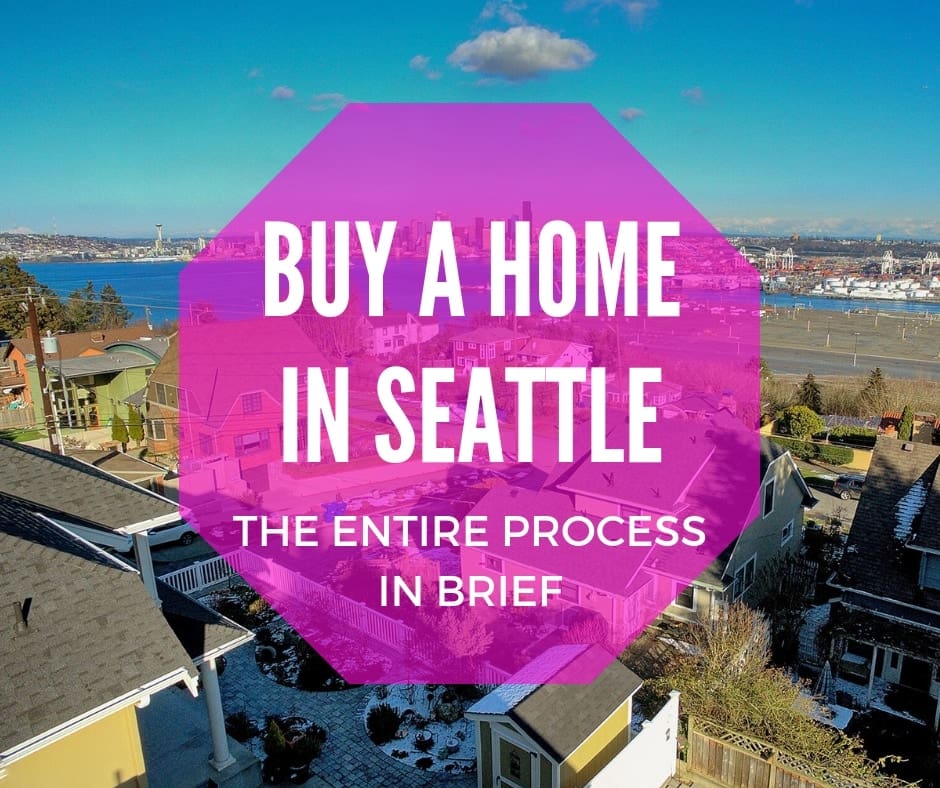 Let's get down and dirty. Owning a home in Seattle is an amazing experience and it can be fun. Do not listen to all of those cranky folks who think Seattle is not what it used to be and a middle-income owner cannot afford to buy a home in Seattle. Strap in, get yourself some strong Seattle coffee and learn how to be a smart and savvy home buyer in Seattle.
Steps For Buying a Home in Seattle
Find Your Guide: Find an agent that is super savvy and will be your ultimate navigator.
Choose Your Priorities: Size, Condition, Or Location?
Home Buyer Intake Process: Schedule a sit-down meeting with you and your real estate team to dive into what you want in a home.
Financing: Get your financial house in order.
Big Search: The big home search in Seattle
Making an Offer: Know what you need and how to prepare yourself to make an offer.
You Are In Contract: You've signed on the dotted line. Now… the hard work really starts.
Inspecting Your Home: What to look for, how to hire an inspector, and how to respond to the inspection.
Reviewing The Title Report: The title report is often the most overlooked portion of the buyer's review.
Reviewing the HOA/Resale Certificate (for Condos): …Also an overlooked portion of the buyer's review process.
Appraisal Process: Most homes are purchased with a home loan. The appraisal determines the final value by your lender for your home.
Final Loan Approval: All kinds of things can come up during the final loan approval process, so be prepared.
Final Two Weeks of the Process: Walkthrough, inspection resolution, and (for god's sake) do not make a huge purchase on a credit card.
Signing Your Final Homeowner Documents: You made it!
Closing Day: You get the keys and access to your home.
This is just a starting point, and we have so much more to share about the home buying process. Browse our Home Buyer page for a comprehensive home buying education.
---
Thank You For Touring Our 1920s Magnolia View Home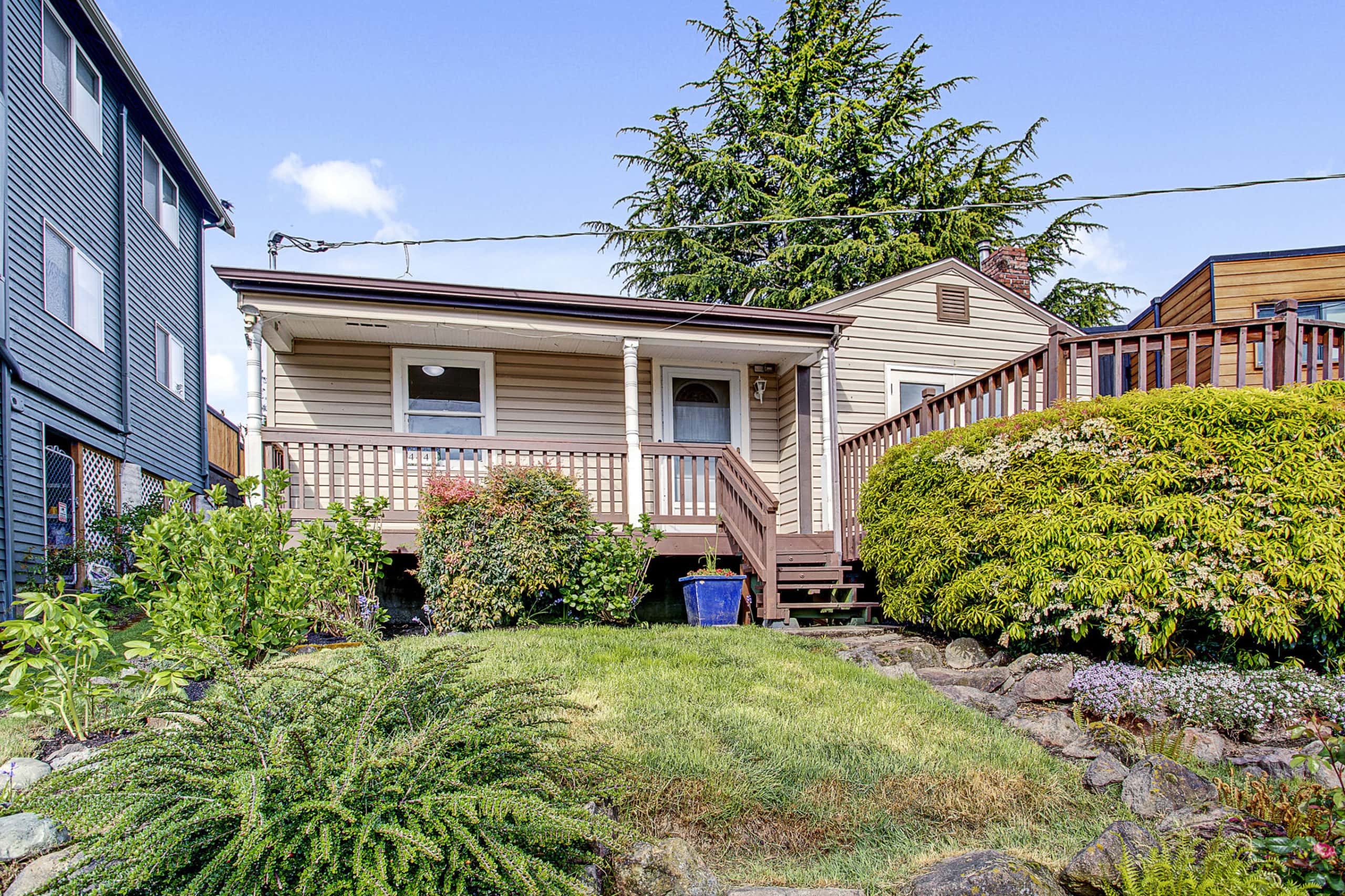 Thank you for taking the time to learn all about this 1920s Magnolia View Home! We are so excited to showcase this home's incredible city and harbor views, its private backyard retreat, all of its beautiful natural light, the potential to expand, and of course, the picturesque Magnolia neighborhood. 
All the Good Details
Address: 4443 28th Pl W

Square Footage: 1,760

Bedrooms: 2 

Bathrooms: 1 

Offering Price: $649,950 
Ready to tour this 1920s Magnolia View Home in person? Contact us today so we can show you the spectacular city and harbor views, the private backyard patio space, all of the beautiful natural light, the incredible potential to expand, and the lovely Magnolia neighborhood!