I'm Kim Colaprete, Managing Broker of Team Diva at Coldwell Banker Bain and Seattle's unique home specialist. I'm excited to show you where you can buy a renovated Mid-century home for $1 million in Seattle! They say good design is timeless. And In this Diva's opinion, there is nothing more well designed than a Mid-Century Modern Home. 
So, what neighborhoods can you buy a renovated Mid-Century home in for $1 million in Seattle? Keep scrolling to find out! 
---
Where Can You Buy a Renovated Mid-Century Modern Home for $1 Million in Seattle? 
I'm Kim Colaprete, Managing Broker of Team Diva at Coldwell Banker Bain and Seattle's unique home specialist. Thanks for joining me! In this video, I am going to share which Seattle neighborhoods have Renovated Mid-Century Modern Homes for around $1 million. I am also going to give you a tour of this Renovated Mid-century Modern Home. 
Now, I may be a little biased because I own two Mid-Century Moderns. But when you think about it, these homes were truly designed for ease of living. The open floor plans, clean lines, the focus on simplicity. And if you want a home built for entertaining, well, there is nothing like a mid-century modern home! (Trust me – I throw a LOT of parties!)
But hold on. Before I show you this fabulous home, let's check out some Seattle neighborhoods best known for finding cool mid-century homes. Let's also take a look at how they stack up price-wise.
Where Can You Buy a Renovated Mid-Century Modern Home for $1 Million in Seattle? 
First to bat is Seattle''s Magnolia neighborhood! This quiet Seattle neighborhood is chock full of mid-century homes. And if you want to find a renovated 3-bedroom home here, you'll be spending about $1.3 million. 
Next up is Northwest Seattle. Seattle neighborhoods like Broadview, Ballard, and North Beach are incredibly popular and known for having a bevy of mid-century view homes. In this locale, a non-view Mid-century will cost you about $1.2 million. Sprinkle in a Puget Sound view and some mountains, and you can add another $400k to that price point.  
Jet across the city to the Northeast neighborhoods of Wedgwood and View Ridge. In this part of Seattle, a renovated mid-century modern will run you a cool $1.4 million.
And last but not least, one of my favorite Seattle neighborhoods—my neighborhood—Seward Park. We bought in this area because of all the affordable mid-century modern homes we could find back in 2005. Well now, one of those homes will cost you about $1.35 million! Thanks for the equity boost Seward Park!
So now back to our original question: 
---
Where Can You Buy a Renovated Mid-Century Modern Home for $1 Million in Seattle?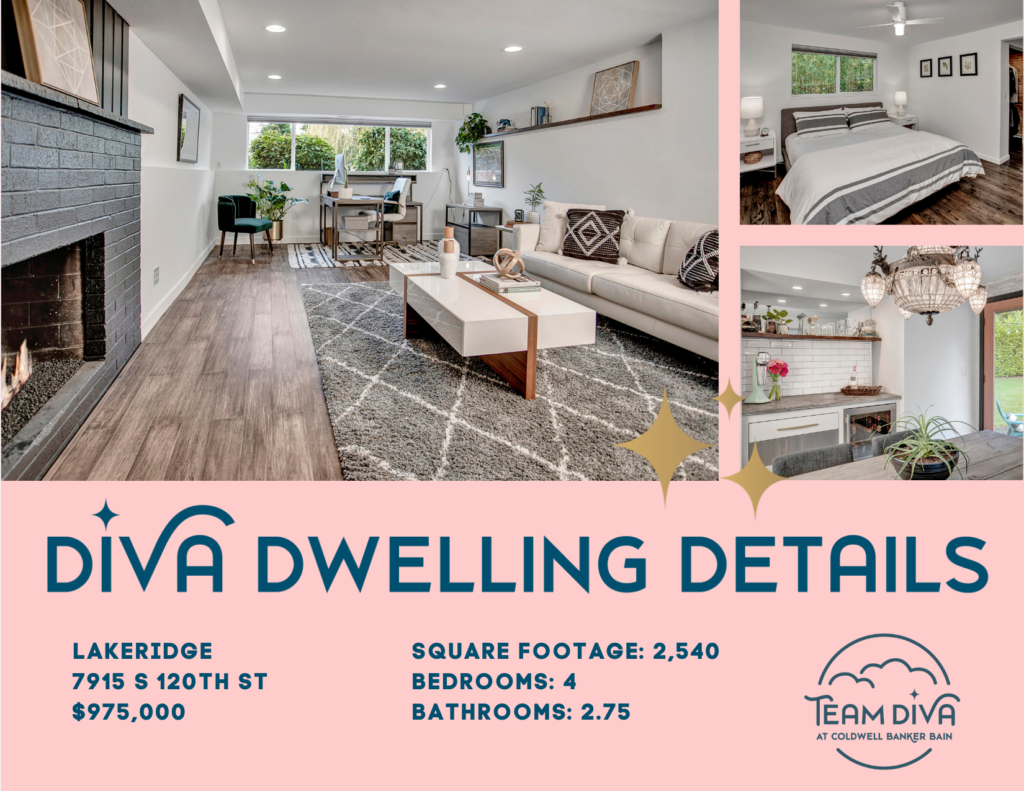 The answer is here in Seattle's Lakeridge neighborhood! I'm so excited to share this Renovated Mid-Century Home with you. As you already know, I totally love Mid-century homes. And this one is super special. 
The Renovation Journey on This Mid-Century Home in Seattle, WA for $1 Million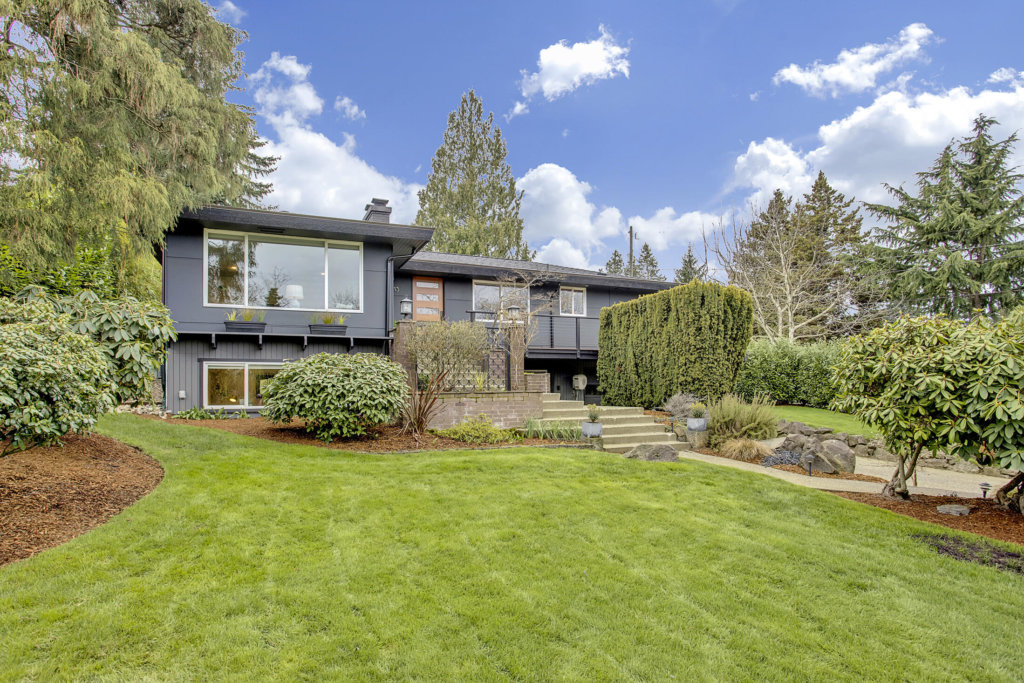 Today I'm here in the gorgeous renovated Mid-Century Modern million dollar home in Seattle's Lakeridge neighborhood. Let's chat first about the renovation journey of this Mid-Century Modern home. When our sellers bought this home in 2015 it was a bit of a mess. I mean, you would not even recognize this as the same property now. Our sellers stripped the home inside and out, moved walls, and updated almost every stitch of wiring. 
From top to bottom and all the way around, this home has been leveled up. And our folks left no stone unturned and spared no expense. This South Seattle Renovated Mid-Century home is now sporting a new roof, new gutters, new hardy plank siding, new landscaping, a new gas line for the fireplaces and stove, and AC! Yep. The next time the temperature is as hot as this sizzling Seattle Market, you will be cool as a cucumber in this swanky home. 
The Dreamiest Kitchen Ever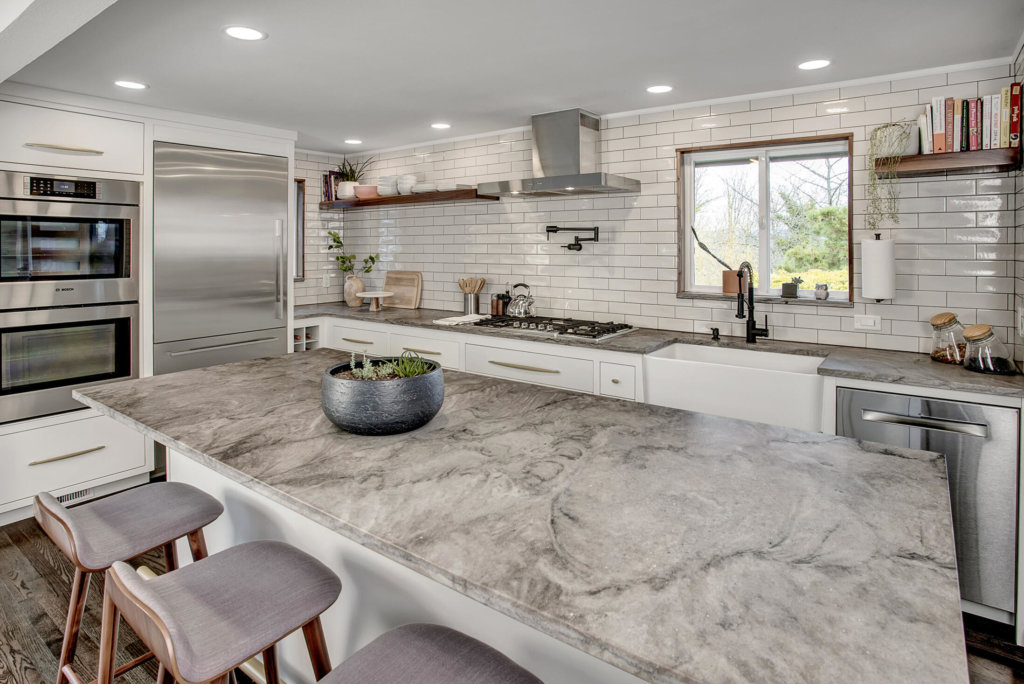 So let's talk about one of my favorite features of this mid-century home: This to-die-for kitchen! Now I know I already mentioned that my folks spared no expense when renovating this mid-century modern. That could not be more evident than in this kitchen. The central focus of this space are these custom hand-built kitchen cabinets, complete with heavy-duty pull-out sliders and soft-close features. The distinctive quartzite counters pair absolutely perfectly with these stunning cabinets. Plus, check out the leather-textured finish on these counters. A super cool modern touch. 
I also absolutely love the simplicity of open shelving. The choice of solid walnut is a great nod to the mid-century style. And to top it all off are these sleek high-end Bosch appliances. Who would not want to host a sexy cocktail party or create a feast with friends in this beautiful kitchen? 
The Perfect Party Patio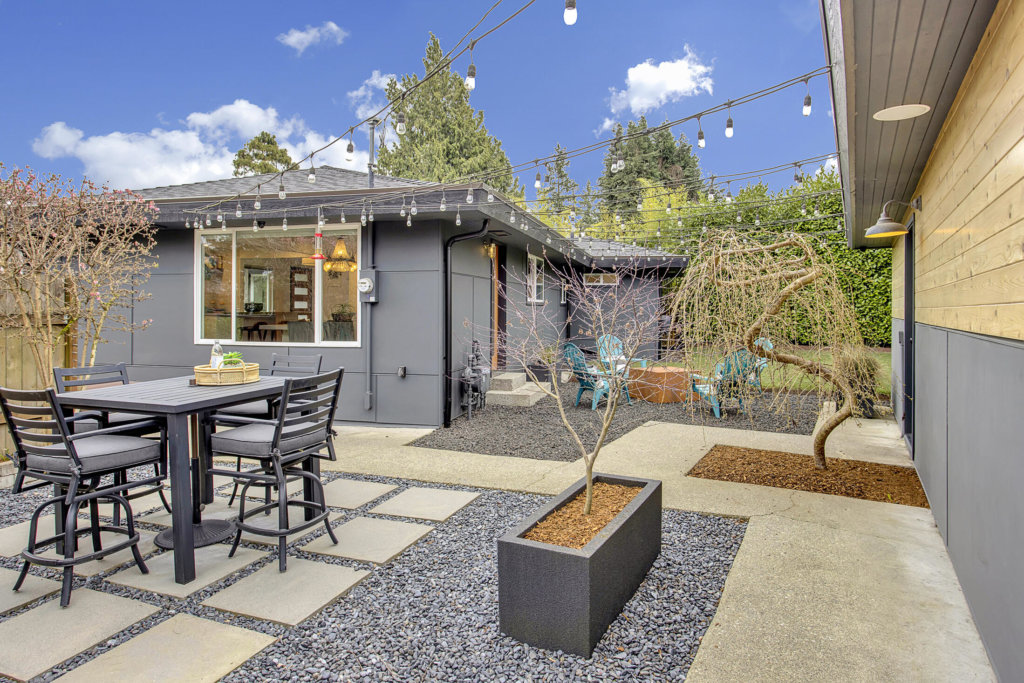 When you enter this Renovated Mid-Century Modern Home, you immediately notice the great flow from space to space. This sunny kitchen flows right into the dining room and out to the spacious party patio and backyard. I call this the "party patio" because it is truly perfect for outdoor entertaining. There is a super cool built-in outdoor gas fireplace to keep you warm on those cool Spring nights with no fuss and no muss. No propane tanks to fill or wood to buy. 
There is also a private space for dining and soon you will be surrounded by Wisteria, blooming tulips, and blossoming trees. Beyond the patio is a lush lawn ready for you to fulfill your lawn game dreams, play fetch with your pooch, or set up the slip and slide when the Summer heat kicks up. And then, there is the party garage…
The Multifunctional Detached Garage
So this home has not just one garage but TWO. One attached garage and this detached building, which can function as a garage and so many other things. Use this space for a workshop, an office space, a game room, or all three. I mean there is a ridiculous amount of room in this detached garage. You can park your Tesla and still have room for gaming, working, and tinkering. I think this space really needs a foosball table. Right? Or maybe a ping pong table. 
I can also envision the next owner of this home adding some huge Nano doors to open it up to the yard or patio. I can also imagine new owners converting this space to maybe an art studio or Airbnb. Or whatever your heart can envision! 
Where Can You Buy a Renovated Mid-Century Modern Home for $1 Million in Seattle? Let's Take a 3D Tour
Team Diva takes every precaution, and then some, to make sure all of our homes are listed following all COVID precautions. It is our duty to ensure everyone's safety as you enter one of our listings. You can also feel free to take a virtual tour from the comfort of your couch!
Curious to learn more about our latest safety precautions? Read "Team Diva's COVID Safety Protocols for the Delta Variant" here!
---
Lakeridge – Seattle's Best Kept Secret for Amazing Mid-Century Lake View Homes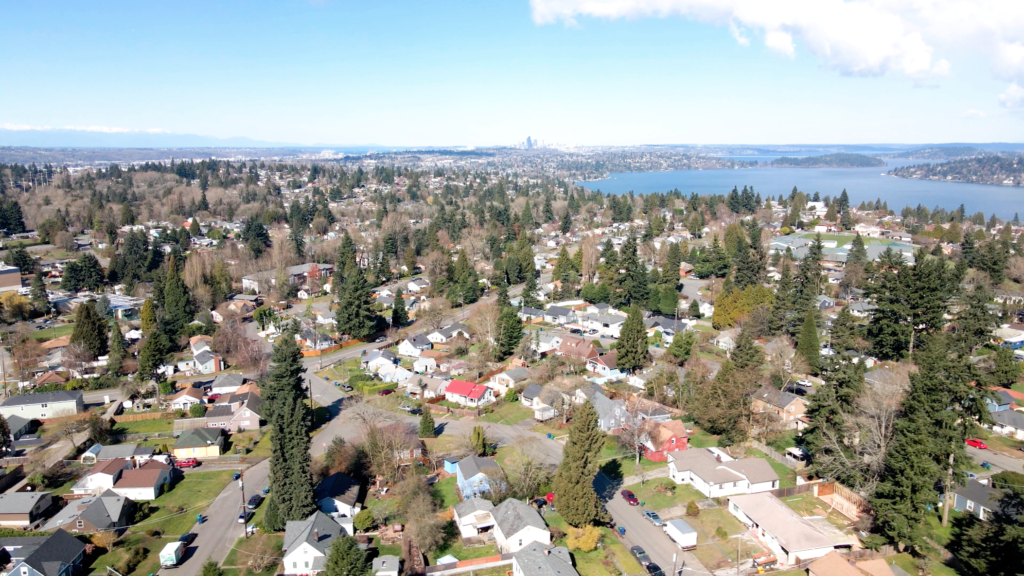 Now that we have talked about where you can buy a Renovated Mid Century Modern Home for $1 million in Seattle, let's chat more specifically about Seattle's Lakeridge neighborhood.
This neighborhood is one of Seattle's best-kept secrets. Its sprawling sunny lots are brimming with mid-century modern homes. Spacious ranch homes, custom-designed split levels with sweeping views of Lake Washington, and, of course, this stunning renovated 1960s rambler like this one.
This home is also just minutes from one of Seattle's most beautiful places, Kubota Gardens. This 20-acre park is filled with wonderful walking paths for you and your pooch, benches for quiet contemplation, and grassy areas for picnicking. If parks are not your thing, no worries. Become a member of the Lakeridge Swim Club where you can swim your troubles away from May to September.
Awesome as this kitchen is, some days you just don't feel like cooking. You can head over to Rainier Ave and hit up Pizzeria Pulcinella for some delicious Neapolitan style Pizza. Or go to Stone House for a killer brunch. And if you are looking for more diverse dining options, it's only 5 minutes to Downtown Renton. There you can find yummy Indian fare at Naan N Curry. Enjoy a fancy Rat Pack-style Steak and Martini dinner at the infamous Melrose Grill. Or just grab a quick coffee at Boon Boona.
Check out some of the other great South Seattle homes we've sold:
---
How to Buy a Home in Seattle: The Entire Process in Brief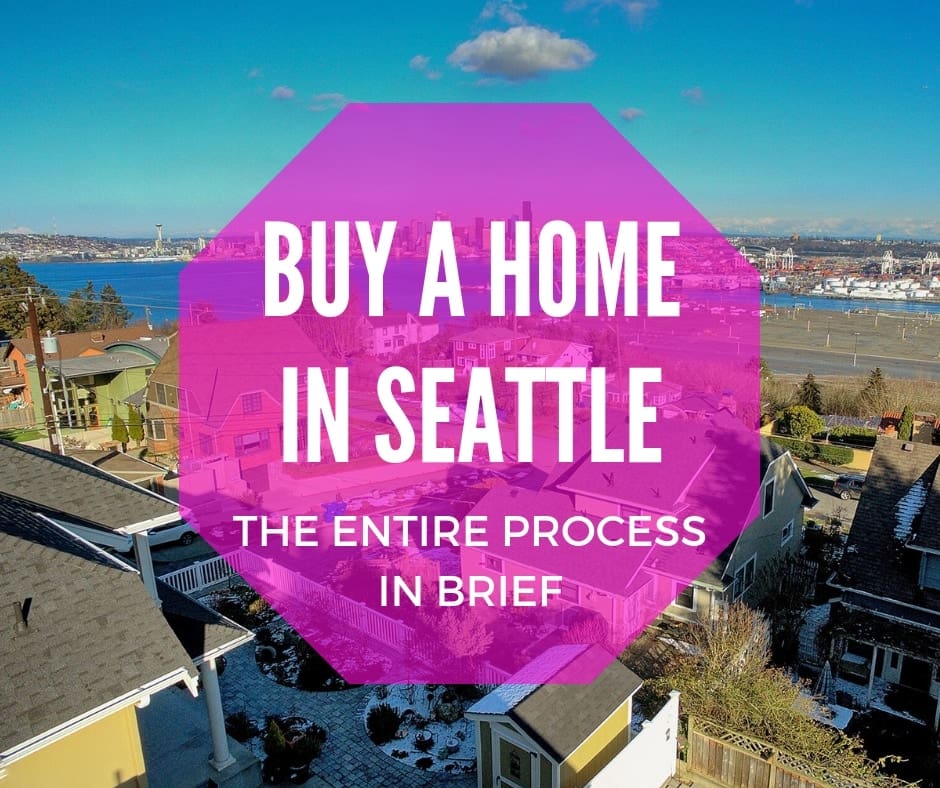 Let's get down and dirty. Owning a home in Seattle is an amazing experience and it can be fun. Do not listen to all of those cranky folks who think Seattle is not what it used to be and a middle-income owner cannot afford to buy a home in Seattle. Strap in, get yourself some strong Seattle coffee, and learn how to be a smart and savvy home buyer in Seattle.
Steps For Buying a Home in Seattle
Find Your Guide: Find an agent that is super savvy and will be your ultimate navigator.
Choose Your Priorities: Size, Condition, Or Location?
Home Buyer Intake Process: Schedule a sit-down meeting with you and your real estate team to dive into what you want in a home.
Financing: Get your financial house in order.
Big Search: The big home search in Seattle
Making an Offer: Know what you need and how to prepare yourself to make an offer.
You Are In Contract: You've signed on the dotted line. Now… the hard work really starts.
Inspecting Your Home: What to look for, how to hire an inspector, and how to respond to the inspection.
Reviewing The Title Report: The title report is often the most overlooked portion of the buyer's review.
Reviewing the HOA/Resale Certificate (for Condos): …Also an overlooked portion of the buyer's review process.
Appraisal Process: Most homes are purchased with a home loan. The appraisal determines the final value by your lender for your home.
Final Loan Approval: All kinds of things can come up during the final loan approval process, so be prepared.
Final Two Weeks of the Process: Walkthrough, inspection resolution, and (for god's sake) do not make a huge purchase on a credit card.
Signing Your Final Homeowner Documents: You made it!
Closing Day: You get the keys and access to your home.
This is just a starting point, and we have so much more to share about the home buying process. Browse our Home Buyer page for a comprehensive home buying education.
---
Thank You For Checking Out Where You Can Buy a Renovated Mid-Century Modern Home for $1 Million in Seattle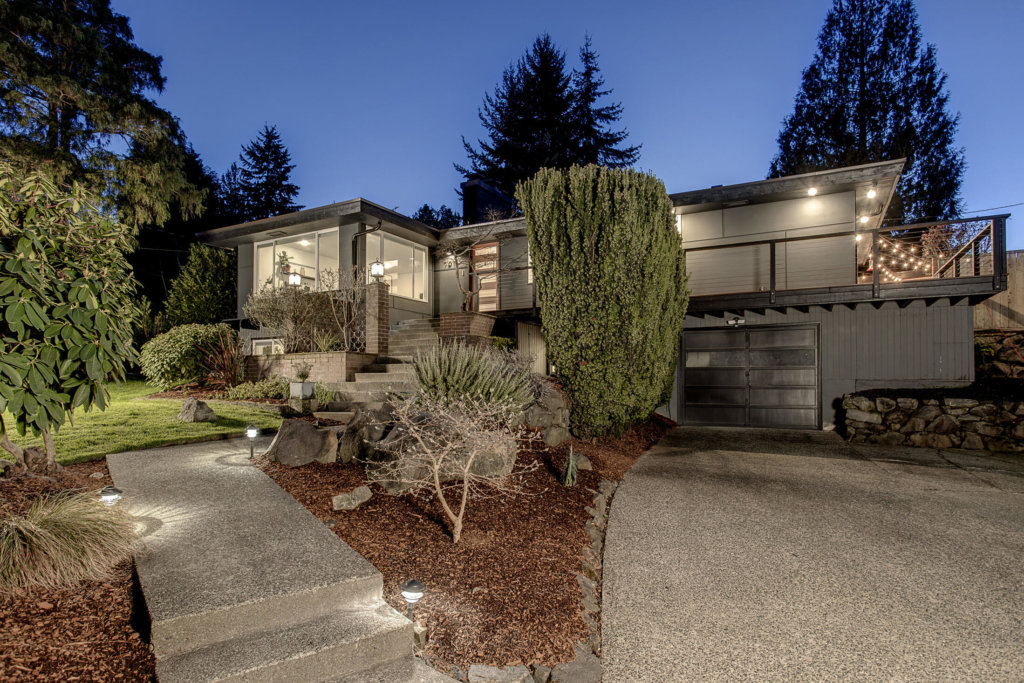 So, now you know exactly where you can buy a Renovated Mid-Century Modern home for $1 million dollars in Seattle. It is right here in South Seattle's Lakeridge neighborhood! Not only that, but this Mid-Century Modern is absolutely brimming with updates. Our Diva Dwellings completely transformed this Mid-Century Modern! It has the dreamiest kitchen ever, the perfect party patio, and an amazing multifunctional detached garage. 
I'm Kim Colaprete with Team Diva at Coldwell Banker Bain in Seattle, WA saying ciao for now! 
All the Good Details
Address: 7915 S 120th St, Seattle, WA 98178 

MLS# 1901731

Square Footage: 2,540 

Bedrooms: 4

Bathrooms: 2.75 

Offering Price: $975,000
Ready to tour this Renovated Mid-Century Home? Contact us today so I can show you this Renovated Mid-Century Modern Home in South Seattle's Lakeridge neighborhood!