We are so excited to show off this Rainier Valley farmhouse. It's not every day that a 100-year-old house comes along, and this Diva Dwelling is really something special! This farmhouse is absolutely brimming with quintessential farmhouse charm. It also shows off a large, updated kitchen, and comes with great potential thanks to the huge basement. The lush, private backyard is also not to be missed, and we also love the location—this farmhouse is right around the corner from Othello Light Rail Station. 
Let's Tour This Rainier Valley Farmhouse 
Meet Lindsy Russell with Team Diva at Coldwell Banker Bain. Working with Kim Colaprete to list this home, she can't wait to show you exactly why we are crushing on this Rainier Valley farmhouse. First of all, this Diva Dwelling shows off an abundance of charm and it will not disappoint old house aficionados with its many original details. We are also big fans of a large functional kitchen, and this one is sure to inspire days of canning summer fruit and holiday baking. 
One of our favorite things about this Rainier Valley farmhouse is also the incredible 800+ square foot basement. There is even a kitchen, bedroom, bathroom, plus a separate entry so you can rent it out or let guests have their own private space. We are also totally in love with the lush yard… you can enjoy having tons of outdoor space, yet you're super close to city conveniences! For example, the Othello Light Rail Station is only half a mile away. A farmhouse in the city is a total dream come true.  
---
Top 5 Fave Features of this Rainier Valley Farmhouse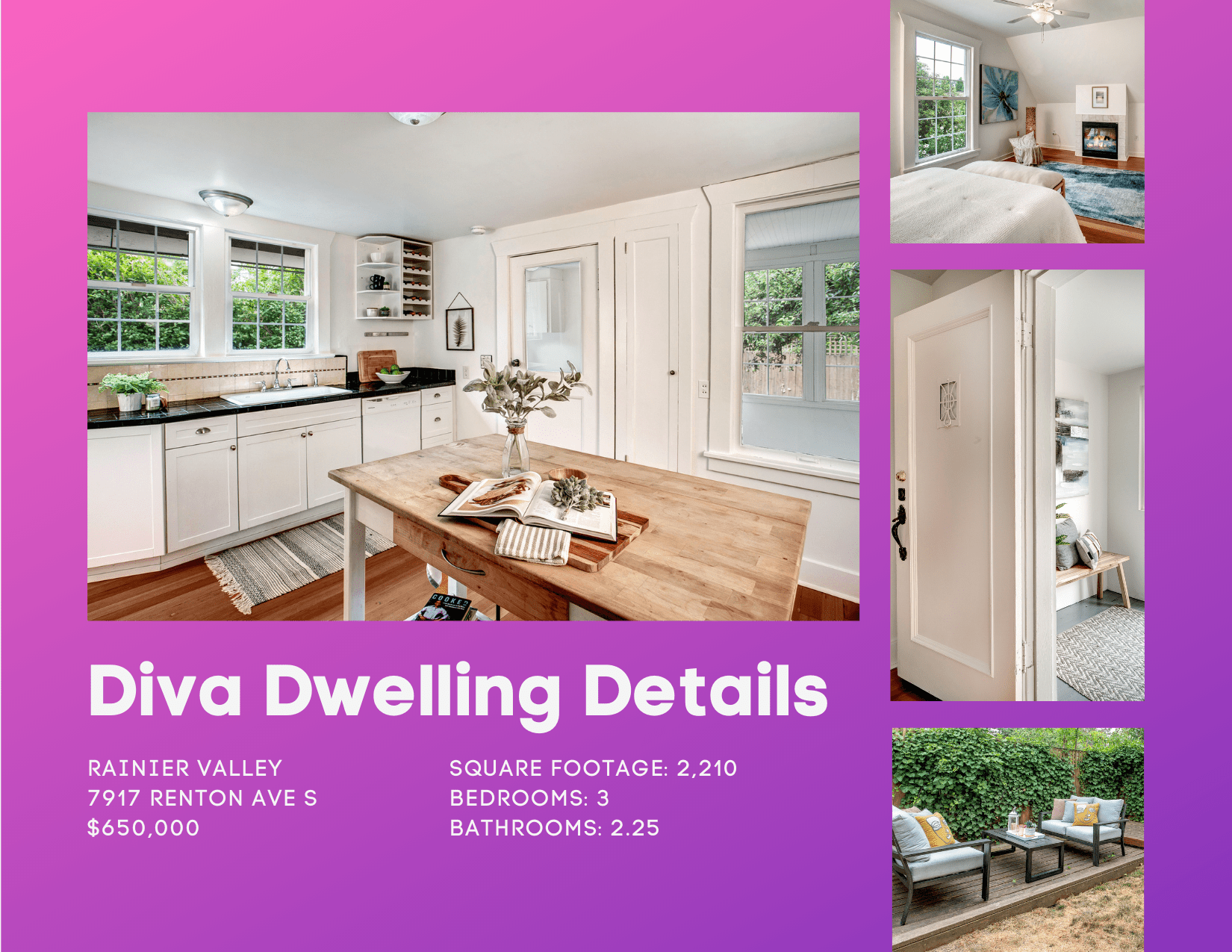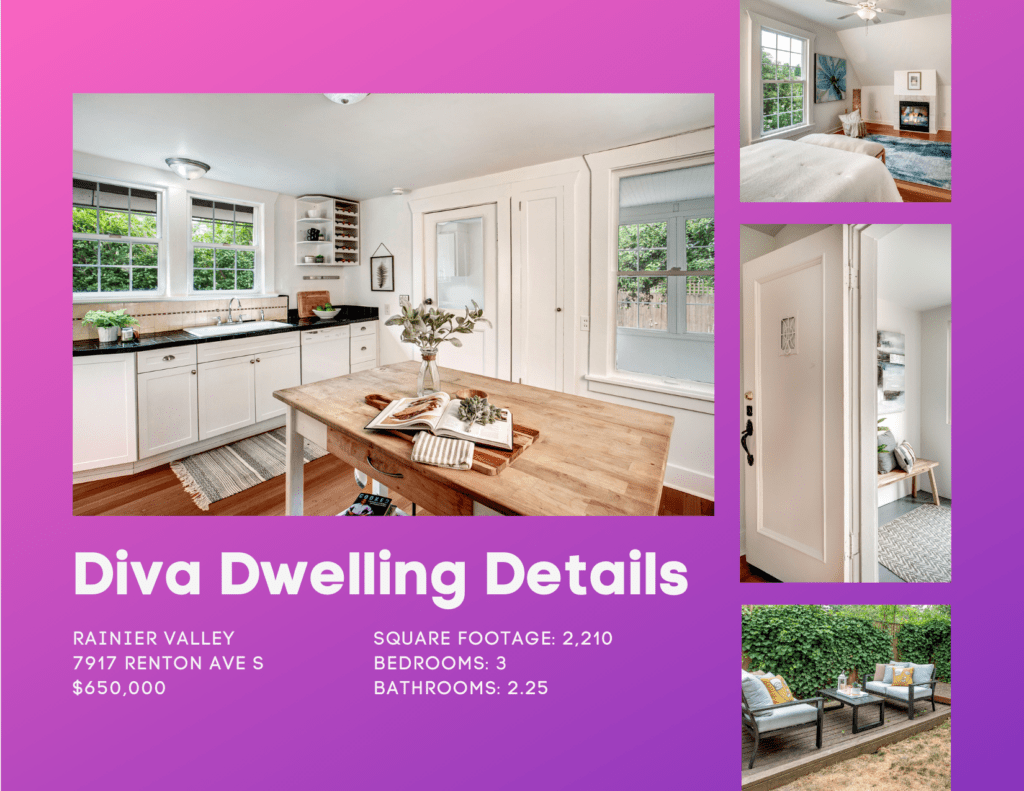 Thank you for joining us on a tour of this Rainier Valley farmhouse! Join us for a deep dive into the many things that make this Diva Dwelling such a rare opportunity. 
Old Farmhouse Charm & Character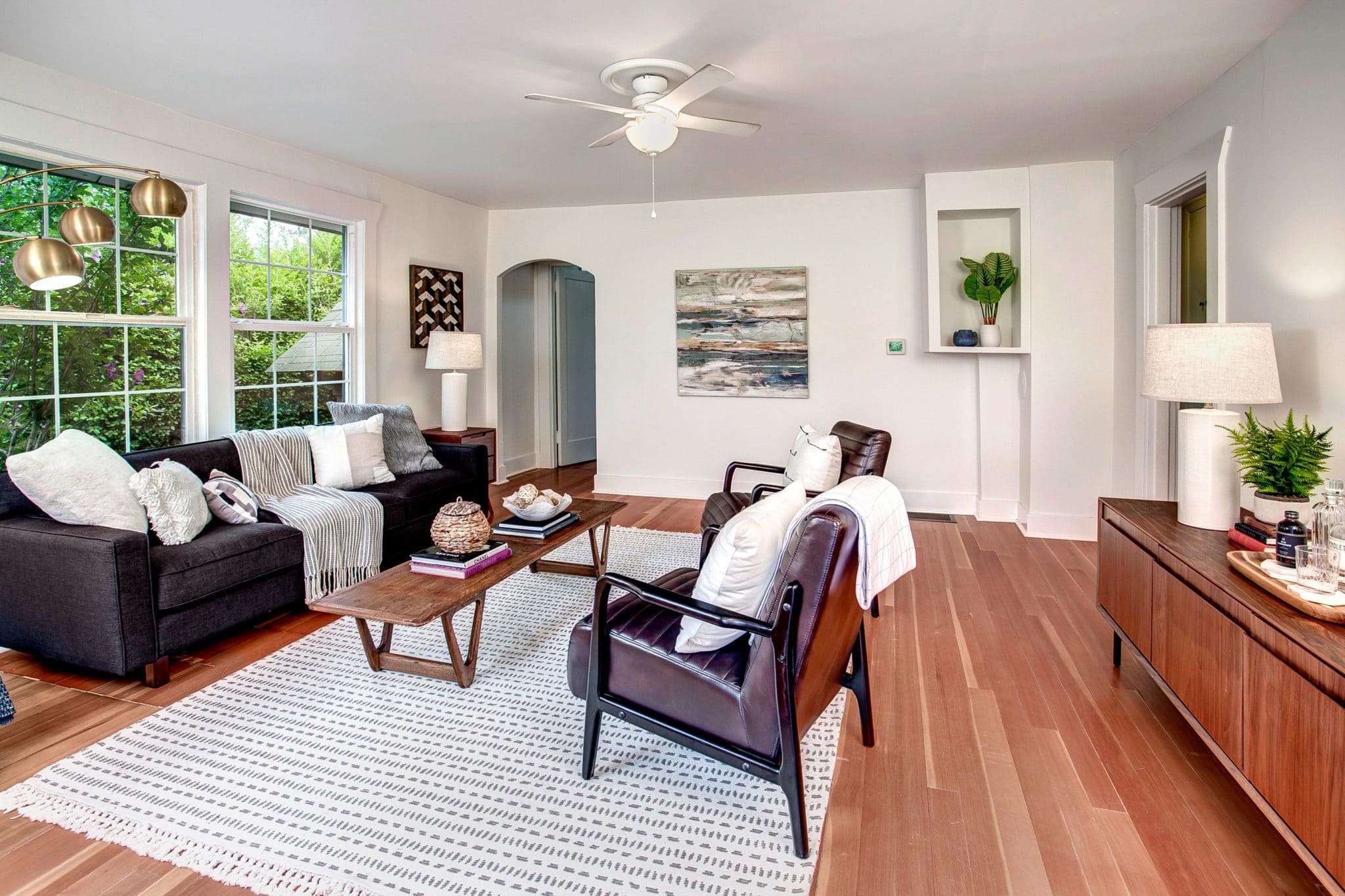 This Rainier Valley Farmhouse is full of charm and character and you'll find gorgeous original details aged to perfection. Original pine hardwood floors, original doorknobs, and the beautiful archway between the kitchen and dining room are just a few details you won't want to miss. 
From the moment you step inside, the large living room delights and flows into the spacious kitchen and dining area. The layout wraps around and seamlessly transitions from one space to another. Also, the hallway guides you past the main floor bedroom and brings you back around into the living room. Entertaining friends and family is a breeze thanks to the ideal layout, and large windows throughout let in lots of natural light. Discover a bright and airy atmosphere that's energizing and a joy to spend time in! 
Another major highlight is the fireplace in the owner's suite; what a cozy retreat! In addition to the bedrooms upstairs, there is even a space for an office, or perhaps a quiet corner to read and get your zen on. The upper bathroom has also been thoughtfully remodeled. 
Large Functional Kitchen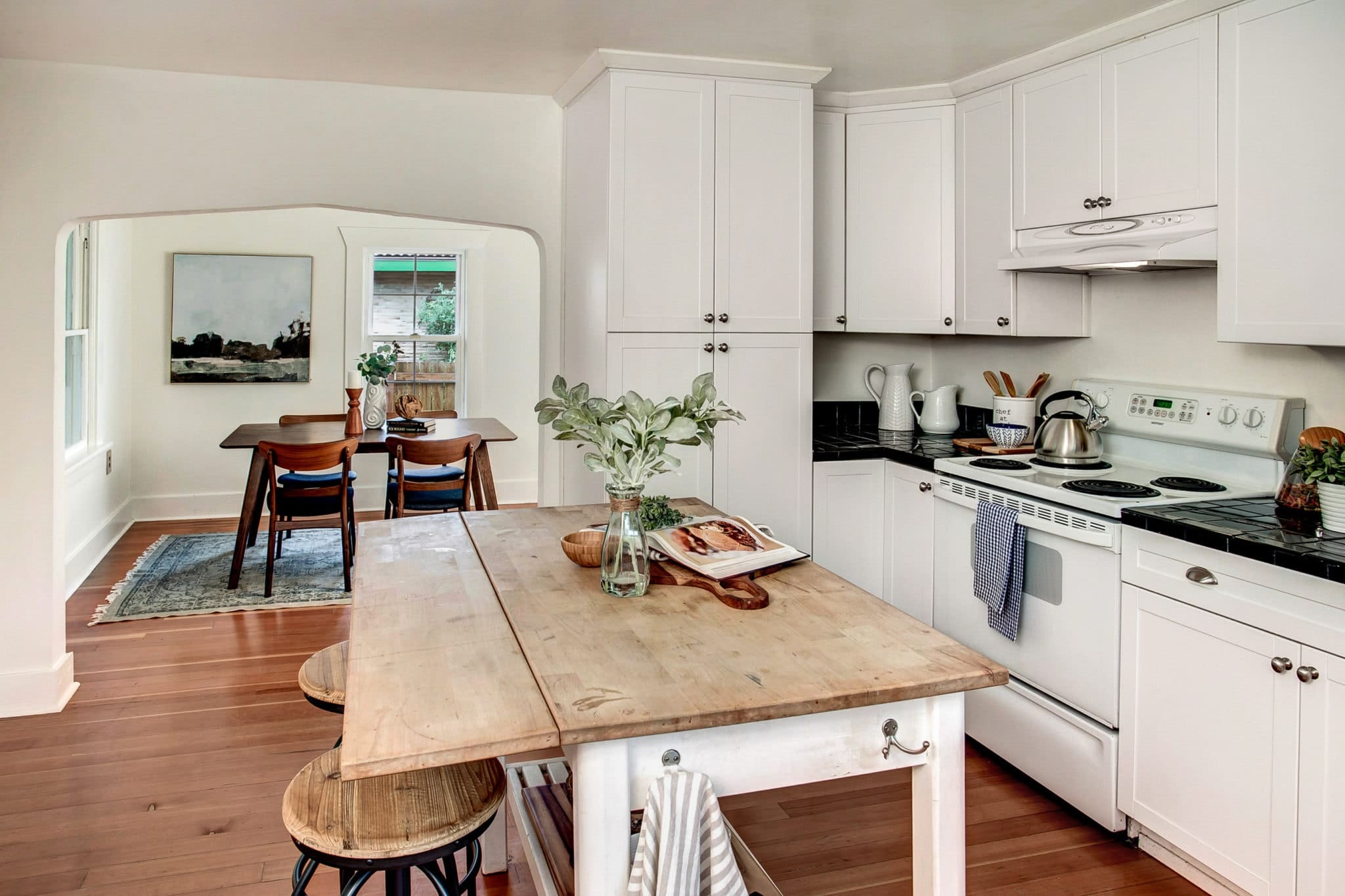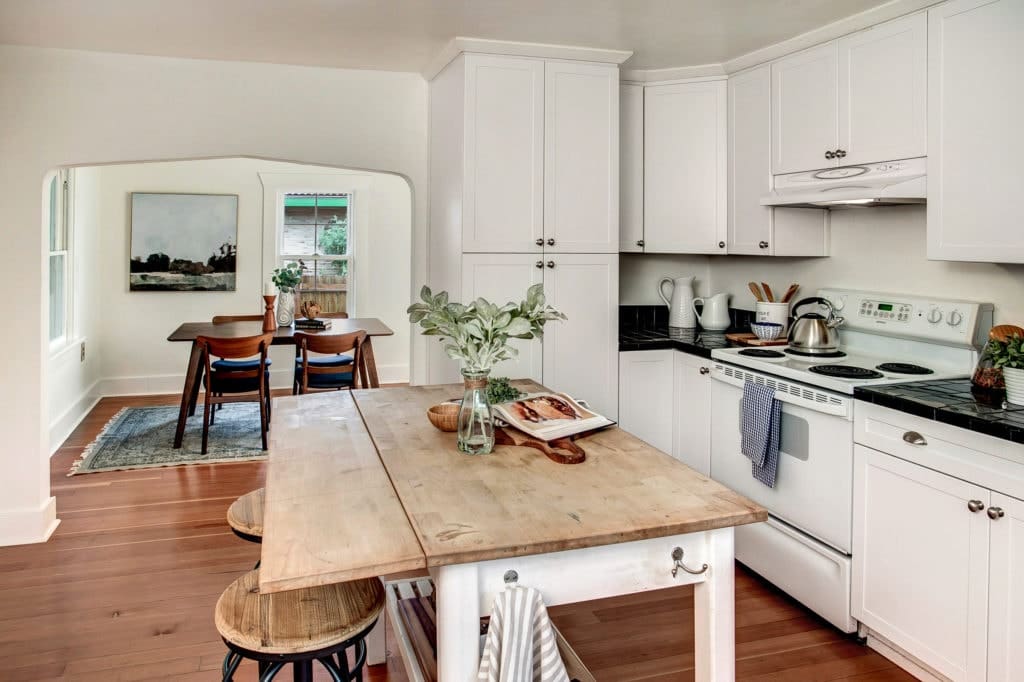 Let's be real: A home's kitchen is almost as important as the entire house. So much time is spent in the kitchen, and we love the fact that this kitchen has been updated. This farmhouse's kitchen is sure to inspire summers filled with canning fruit and a holiday season that's packed with baking marathons. It's also held onto some of that sweet Rainier Valley farmhouse charm with its original tile backsplash. 
This farmhouse's kitchen is also so flippin' spacious! At the far end, there is room for a large dining table so everyone can comfortably gather. There's also tons of storage for every cooking gadget you can imagine. Just off the kitchen, there is also a spacious mudroom. It is perfect for those extra projects or a big Costco haul.
Lush Private Backyard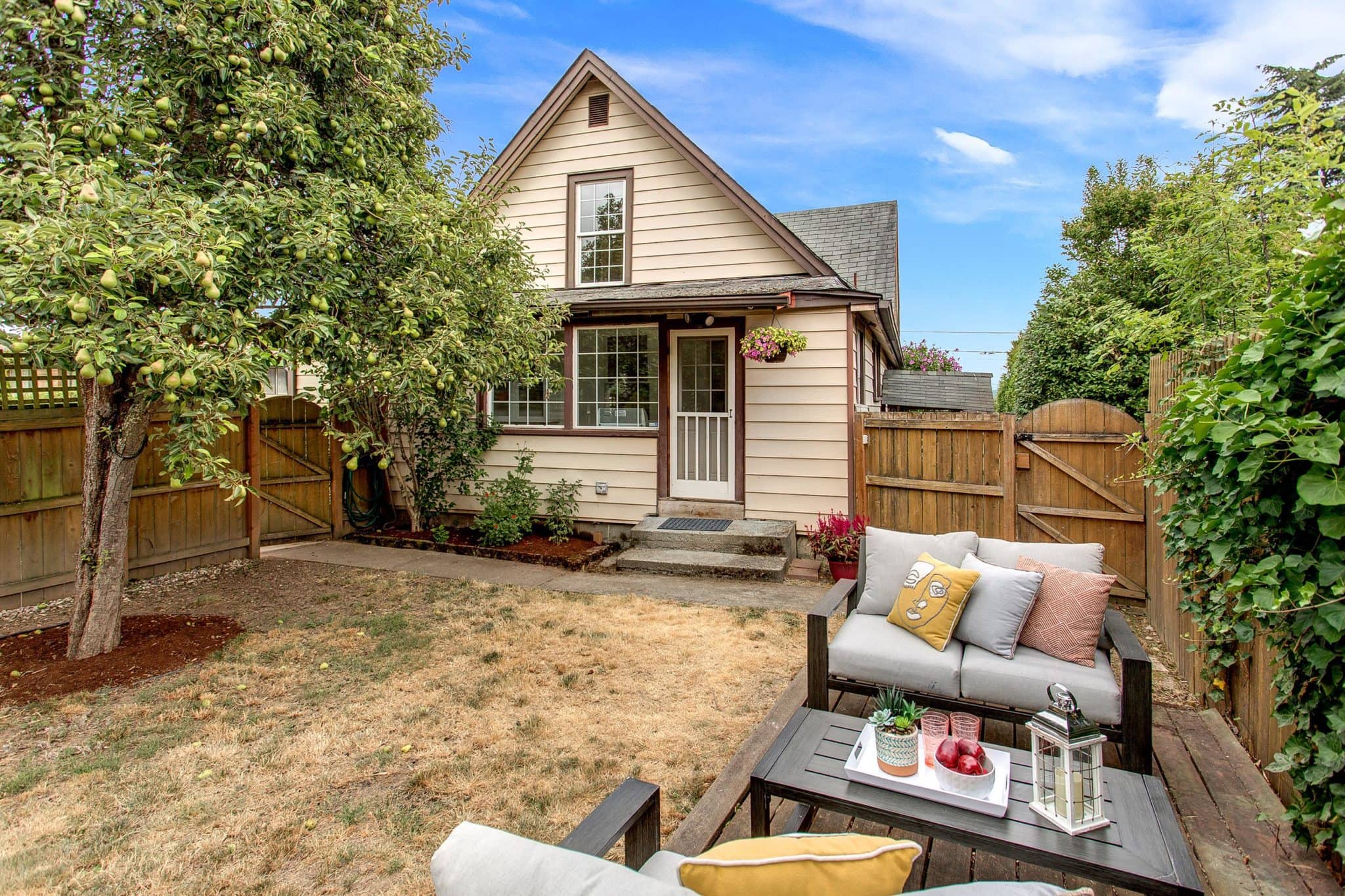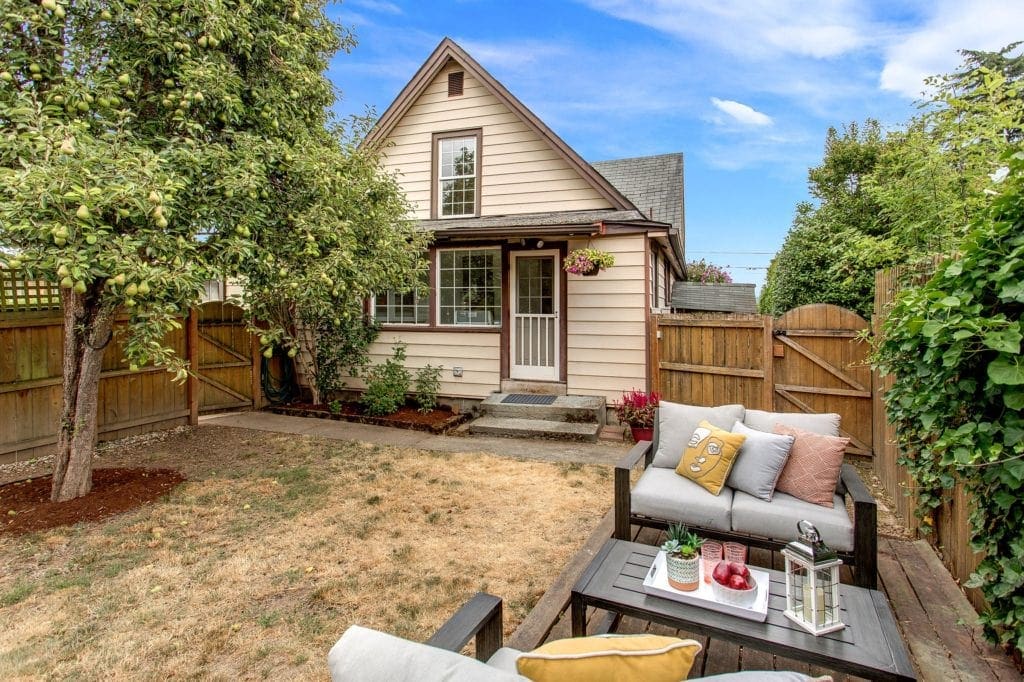 Let's be honest. Many of us came out of quarantine with a renewed appreciation of having private and easily accessible outdoor space. And frankly, all of us are yearning for more space these days! It's important to have a place to step outside, get a dose of vitamin D, and have a chance to be active. This Rainier Valley Farmhouse has just that. Not only does it have a good-sized front yard, but you should see the backyard.
Out in the back yard, the garden is lush, private, fully fenced, and has plenty of room to garden. We can totally see a cookout with folx grilling up something yummy on the BBQ. We're envisioning sunny days spent hanging out in the fresh air and catching up on all of that neighborhood gossip, playing with pets, and enjoying each other's company after such a long year. 
This Rainier Valley Farmhouse Even Has a Basement with a Separate Entry
After this heatwave, we were all envious of our friends who had basements. They were legit camped out enjoying that cool air while everyone else was hot hot hot. Well, we are loving the fact that this Rainier Valley Farmhouse home features an almost completely finished over 800-square-foot basement. It is even ready with space for a kitchen, bedroom, bathroom AND it has a separate entry! Think about it! This basement creates the option for potential rental income, a place to park family members who like to come and visit, and/or a spot to have a separate work from home space. 
---
Let's Take a 3D Tour, Too, So You Can Immerse Yourself in This Rainier Valley Farmhouse 
Team Diva takes every precaution, and then some, to make sure all of our homes are listed following all COVID precautions. Even though many people are getting vaccinated, we know that not everyone is ready to venture out just yet. It's is our duty to ensure everyone's safety as you enter one of our listings, but feel free to take a virtual tour from the comfort of your couch.
Can't Beat this Rainier Valley Farmhouse Location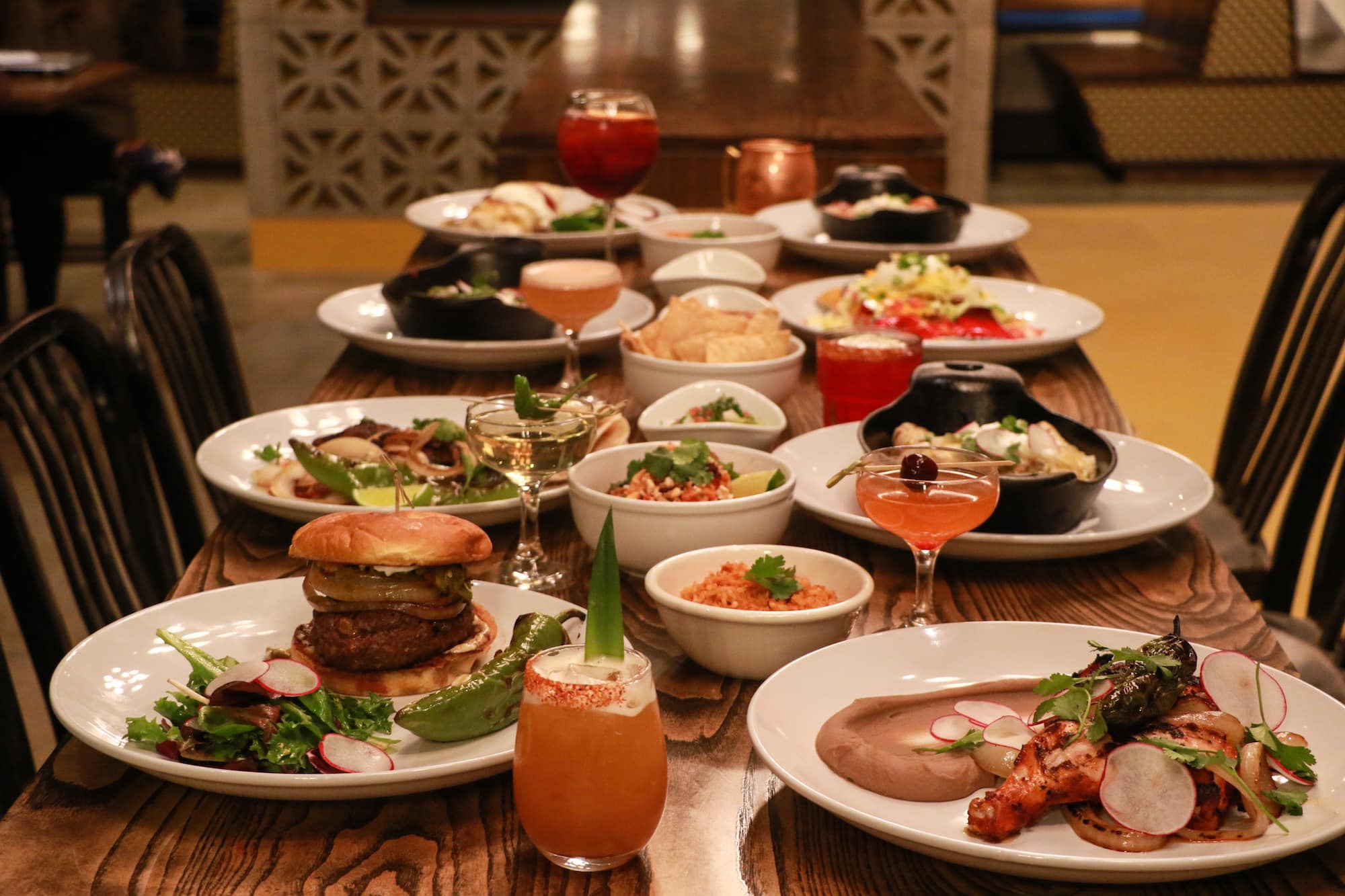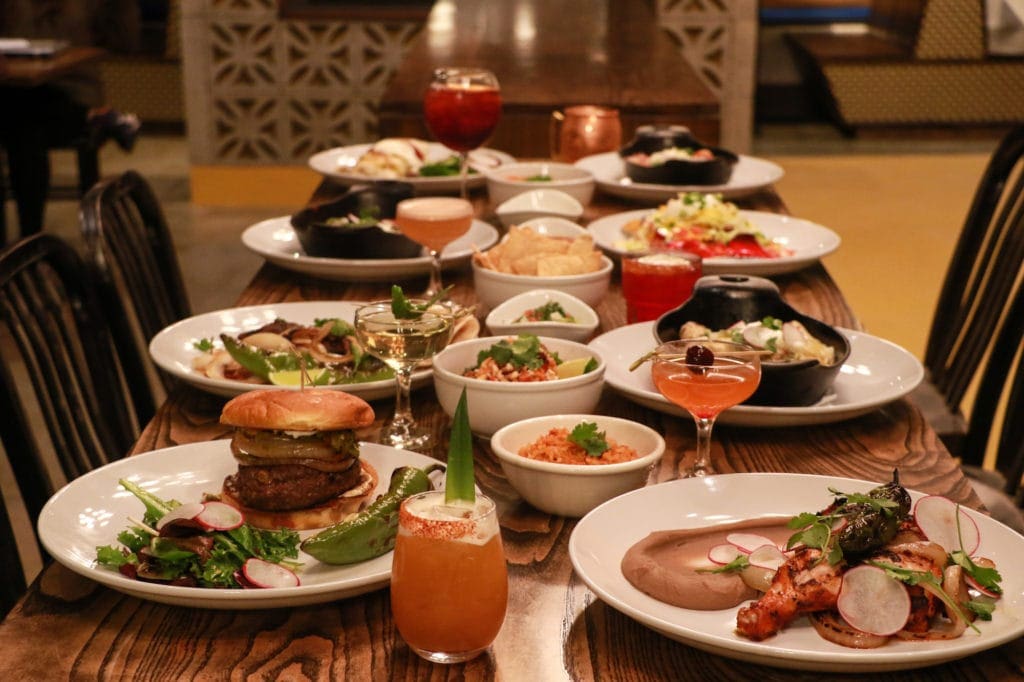 This Diva Dwelling lets you have tons of space and a yard… AND it's a quick hop, skip, and a jump to the Othello Light Rail Station (it's half a mile away to be exact). This makes it super easy to get almost anywhere in the city without a car. Lindsy also especially loves how much Othello Park and Pritchard Beach have developed since she was a kid growing up nearby. This home is also less than a mile away from one of our favorite parks, the exquisite historic park Kubota Gardens. 
In addition to all of this, you are only blocks away from the Seattle Public Library, the Rainier Beach Community Center, and so many great restaurants. Check out our friends' spot Bang Bang Kitchen! You will also find many independent markets full of spices, injera, and other delectables in Rainier Valley. 
Check out some of the other great Rainier Valley homes we've sold: 
---
How to Buy a Home in Seattle: The Entire Process in Brief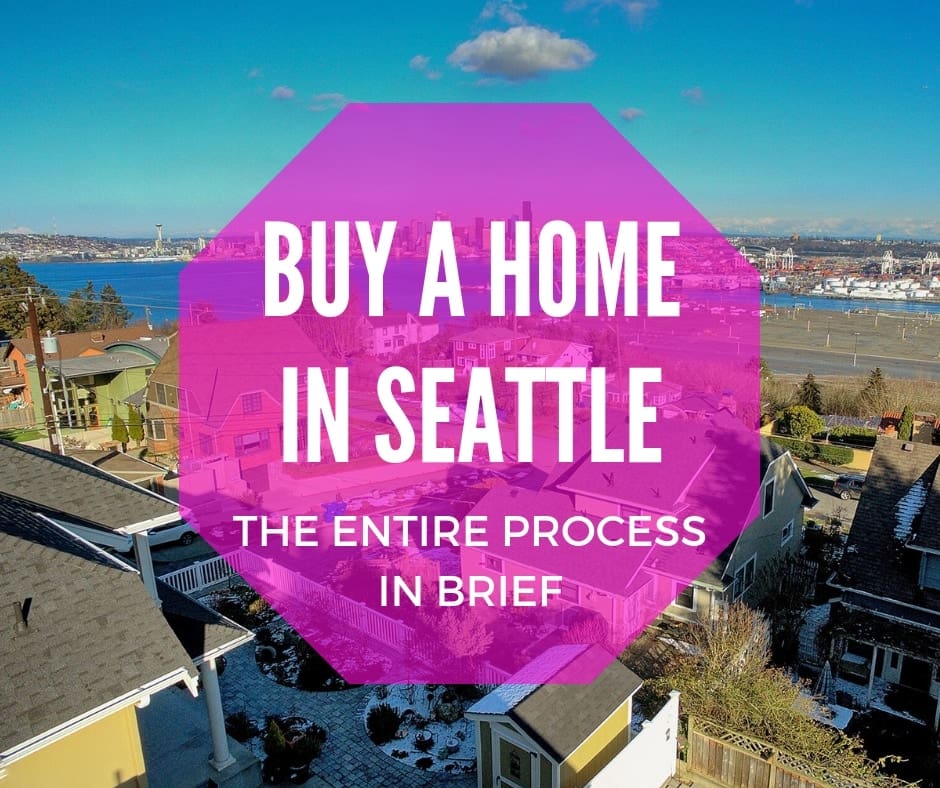 Let's get down and dirty. Owning a home in Seattle is an amazing experience and it can be fun. Do not listen to all of those cranky folks who think Seattle is not what it used to be and a middle-income owner cannot afford to buy a home in Seattle. Strap in, get yourself some strong Seattle coffee and learn how to be a smart and savvy home buyer in Seattle.
Steps For Buying a Home in Seattle
Find Your Guide: Find an agent that is super savvy and will be your ultimate navigator.
Choose Your Priorities: Size, Condition, Or Location?
Home Buyer Intake Process: Schedule a sit-down meeting with you and your real estate team to dive into what you want in a home.
Financing: Get your financial house in order.
Big Search: The big home search in Seattle
Making an Offer: Know what you need and how to prepare yourself to make an offer.
You Are In Contract: You've signed on the dotted line. Now… the hard work really starts.
Inspecting Your Home: What to look for, how to hire an inspector, and how to respond to the inspection.
Reviewing The Title Report: The title report is often the most overlooked portion of the buyer's review.
Reviewing the HOA/Resale Certificate (for Condos): …Also an overlooked portion of the buyer's review process.
Appraisal Process: Most homes are purchased with a home loan. The appraisal determines the final value by your lender for your home.
Final Loan Approval: All kinds of things can come up during the final loan approval process, so be prepared.
Final Two Weeks of the Process: Walkthrough, inspection resolution, and (for god's sake) do not make a huge purchase on a credit card.
Signing Your Final Homeowner Documents: You made it!
Closing Day: You get the keys and access to your home.
This is just a starting point, and we have so much more to share about the home buying process. Browse our Home Buyer page for a comprehensive home buying education.
---
Thank You For Touring Our Rainier Valley Farmhouse!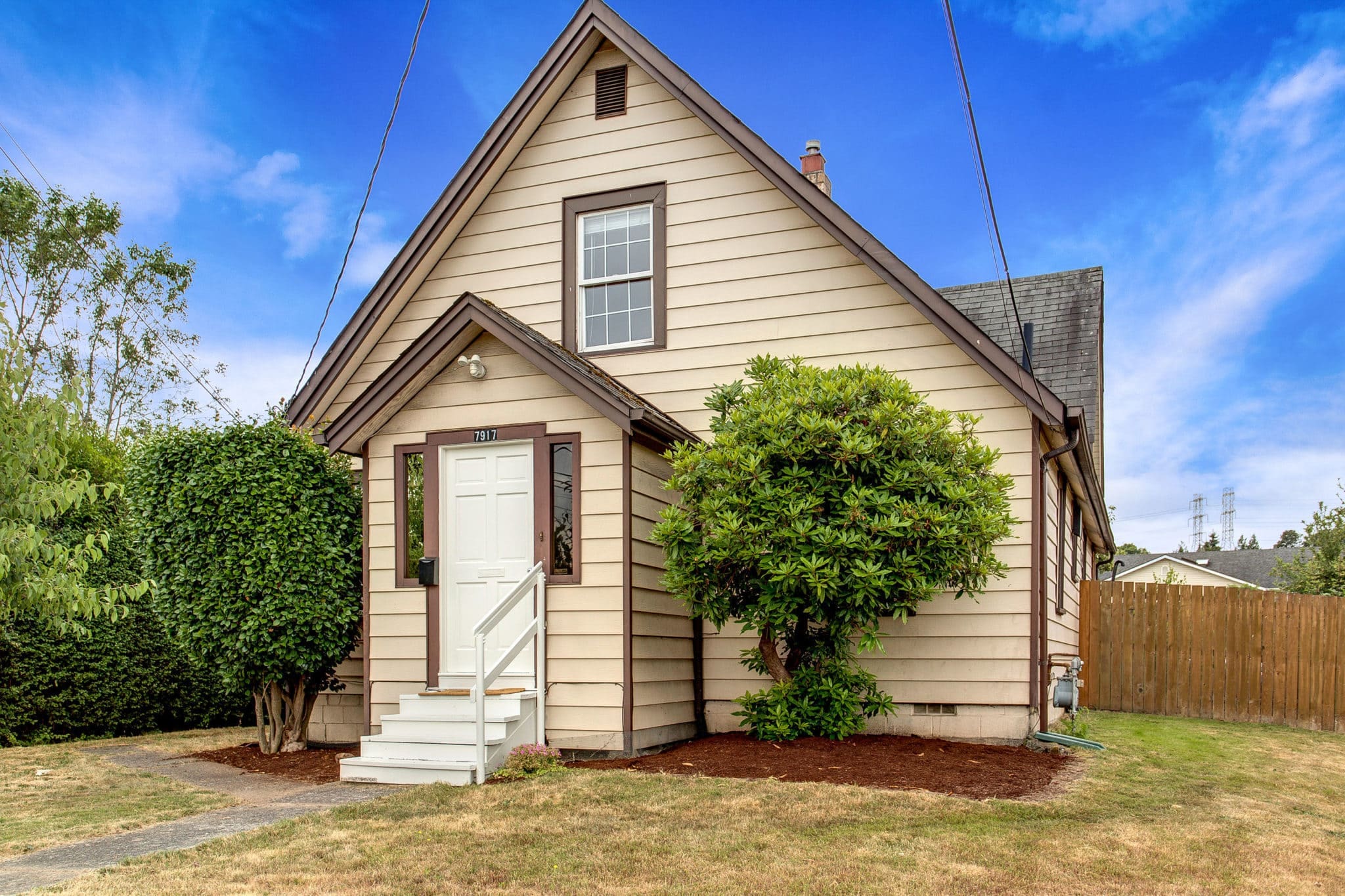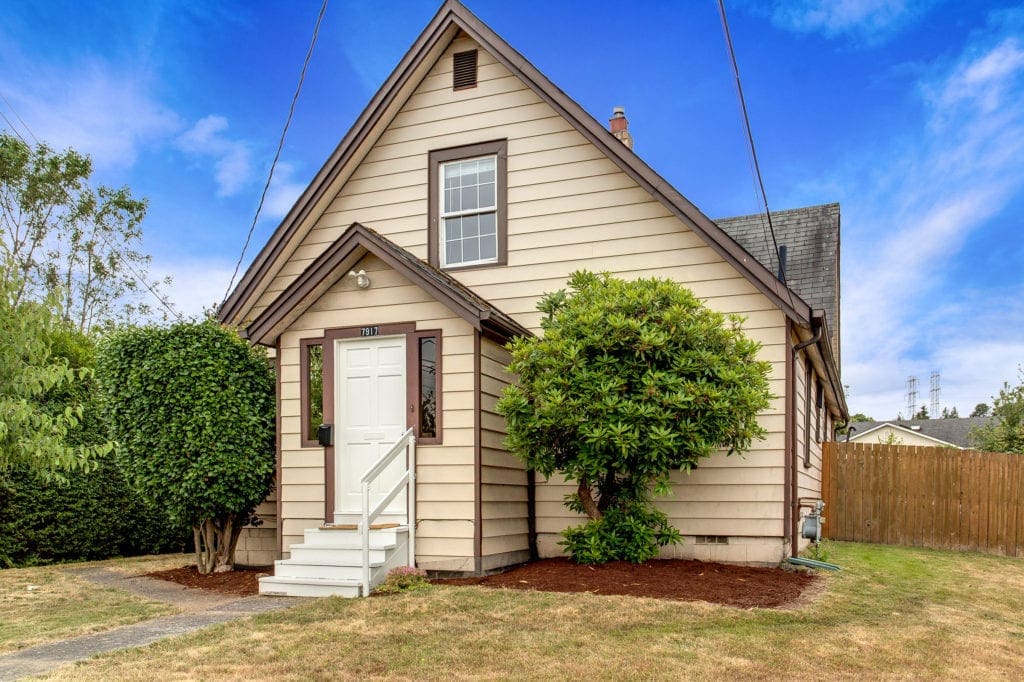 Thank you for taking the time to learn all about this Rainier Valley Farmhouse! We are so thrilled to show you exactly why we are loving this Diva Dwelling. This 100-year-old Seattle farmhouse is brimming with charm and character, and its layout has a great flow. We also love a big, functional kitchen, and this home also has tons of versatility—a huge basement has its own separate entry and living potential. Then of course there is the lush outdoor setting and super convenient Rainier Valley location! 
All the Good Details
Address: 7917 Renton Ave S Seattle, WA 98118

MLS# 1811949

Square Footage: 2,210

Bedrooms: 3 

Bathrooms: 2.25

Offering Price: $650,000
Ready to tour this Rainier Valley farmhouse in person? Contact us today so we can show you how this Diva Dwelling is filled with charm, has a great functional kitchen, features a huge basement, and includes a lush outdoor setting in a fantastic Rainier Valley location.