I'm thrilled to be showing you this Traditional Craftsman Maple Leaf Townhome today. It's not every day that a townhouse like this comes along in Seattle. One of this Diva Dwelling's top highlights is the fact that there is soooo much natural light thanks to southern-facing windows. There are also 3 large bedrooms, which is a big benefit of townhomes built in the early 2000s! 
Additionally, this townhome also has a couple more big perks that you don't see often with new construction—each level of this home also has a bathroom AND there are vaulted ceilings. This home isn't just some boring box! This townhouse is also ready for all of the seasons—there's an in-wall hydronic heating system for an energy- and cost-efficient way to keep things cozy in the winter. And large windows you can open provides great airflow on warmer days.
I also love all that the Maple Leaf neighborhood has to offer. Maple Leaf is a picturesque area and it offers great commuting options for getting around the city. 
---
Let's Tour This Traditional Craftsman Maple Leaf Townhome
I'm Remington Stokes with Team Diva at Coldwell Banker Bain, and in this video, I'm sharing a personal tour of this Traditional Craftsman Maple Leaf Townhome. I'm excited to share in this video tour exactly what makes this townhouse so special—join me to see this Maple Leaf townhouse treasure! 
This townhouse has one of Seattle's most enviable features in abundance, and that's natural light. The bright and cheerful atmosphere is thanks to southern-facing windows so you can take advantage of natural light no matter the time of year. This house is also ready for all seasons thanks to its in-wall hydronic heating system and great airflow. The fact that this home was built in the early 2000s also comes with some unique benefits, including 3 large and spacious bedrooms, vaulted ceilings, and a bathroom on each level. 
Thanks for following along! If you'd like to see more of our home tour videos, be sure to subscribe to the Team Diva at Coldwell Banker Bain Youtube channel. 
---
The 5 Best Features of this Traditional Craftsman Maple Leaf Townhome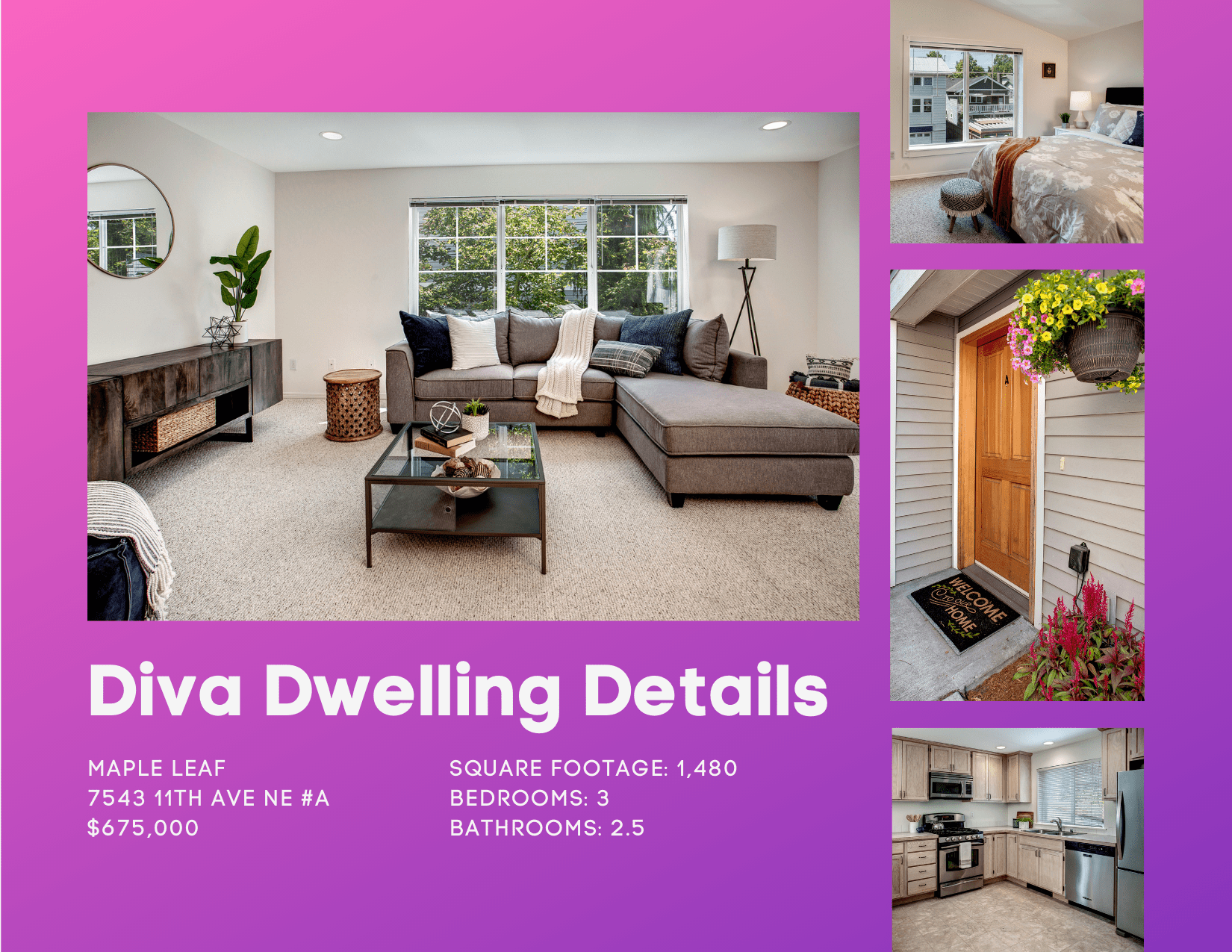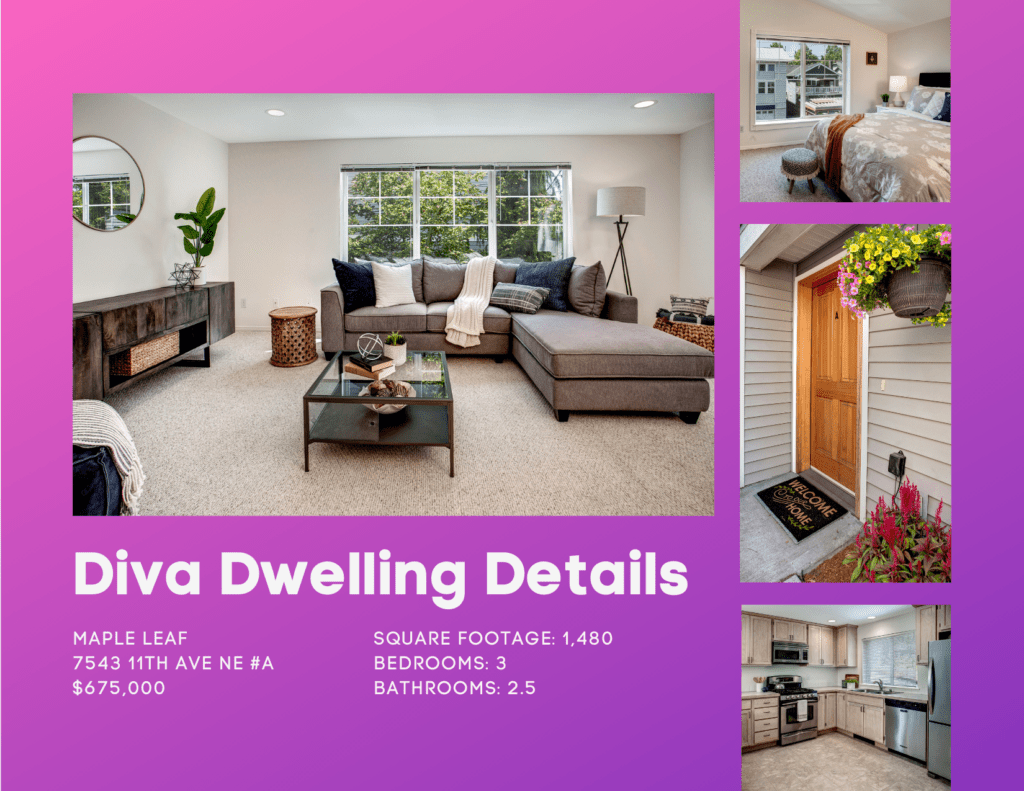 Thank you for joining me on a tour of this Traditional Craftsman Maple Leaf Townhome! Keep scrolling to learn more about what makes this Diva Dwelling so special. 
Rejuvenating Natural Light Throughout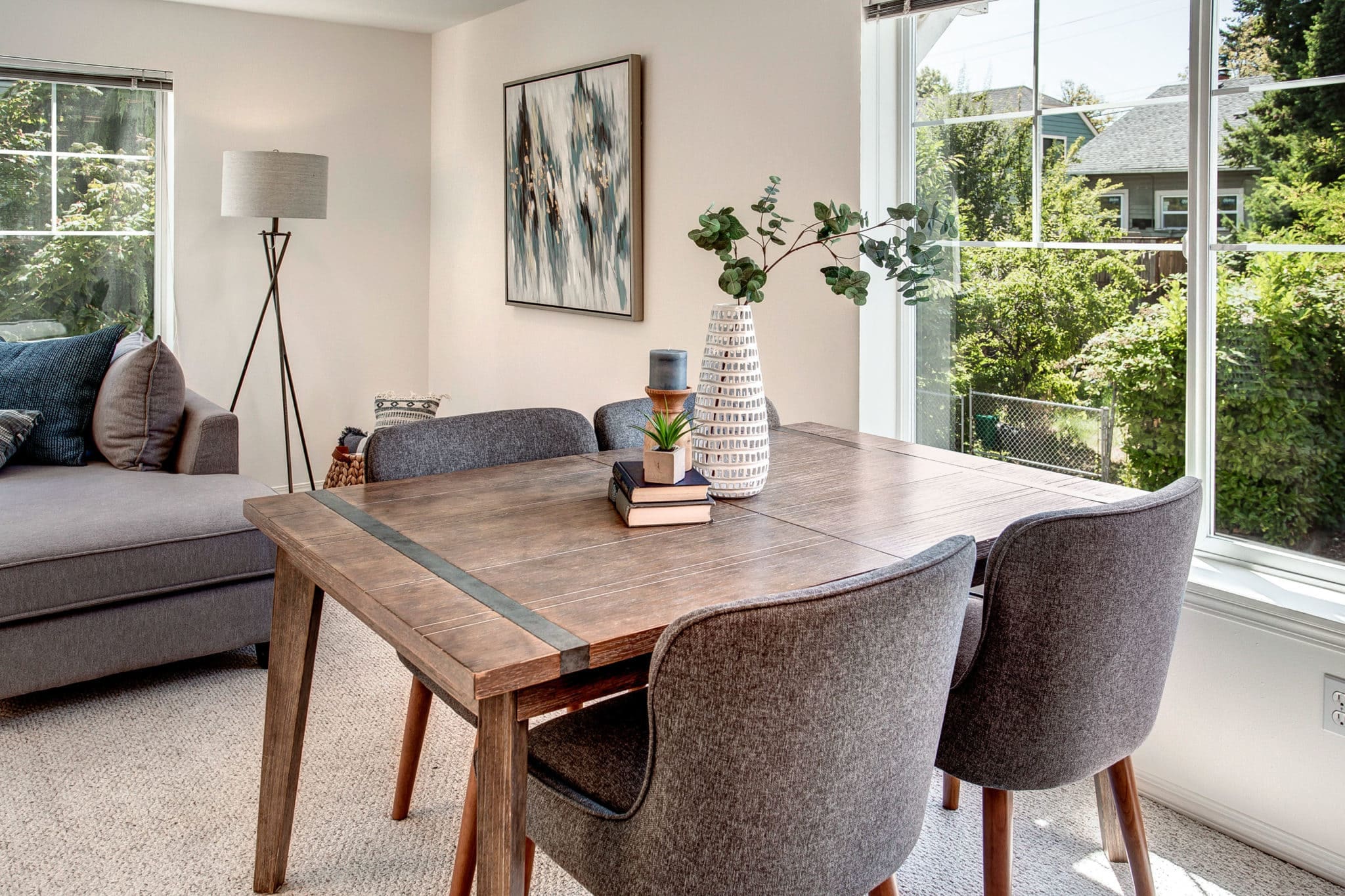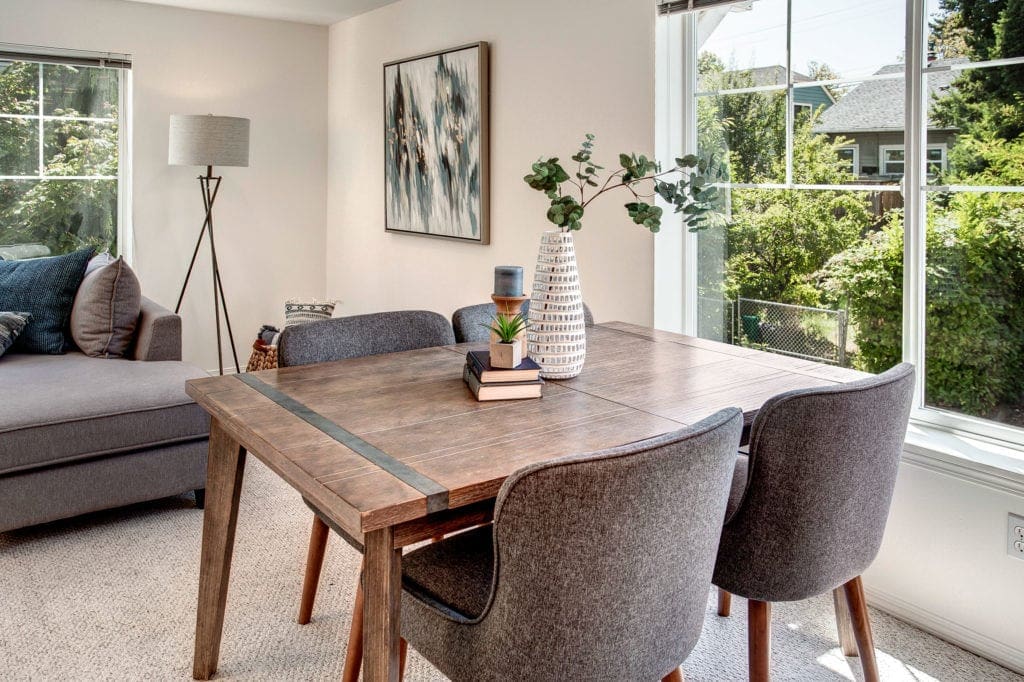 One of the best and most noticeable features of this townhome is the abundance of natural light. This townhouse is conveniently an end unit, and this means it has windows on 3 sides with southern, western, and northern exposure. The large southern exposed windows will especially help you through even the greyest of Seattle's winter months! 
You'll also find that this home's layout provides the most sun from the late mornings through the evening sunsets. This creates an envelope of light and brightness you can bask in! 
3 Large Primary Bedrooms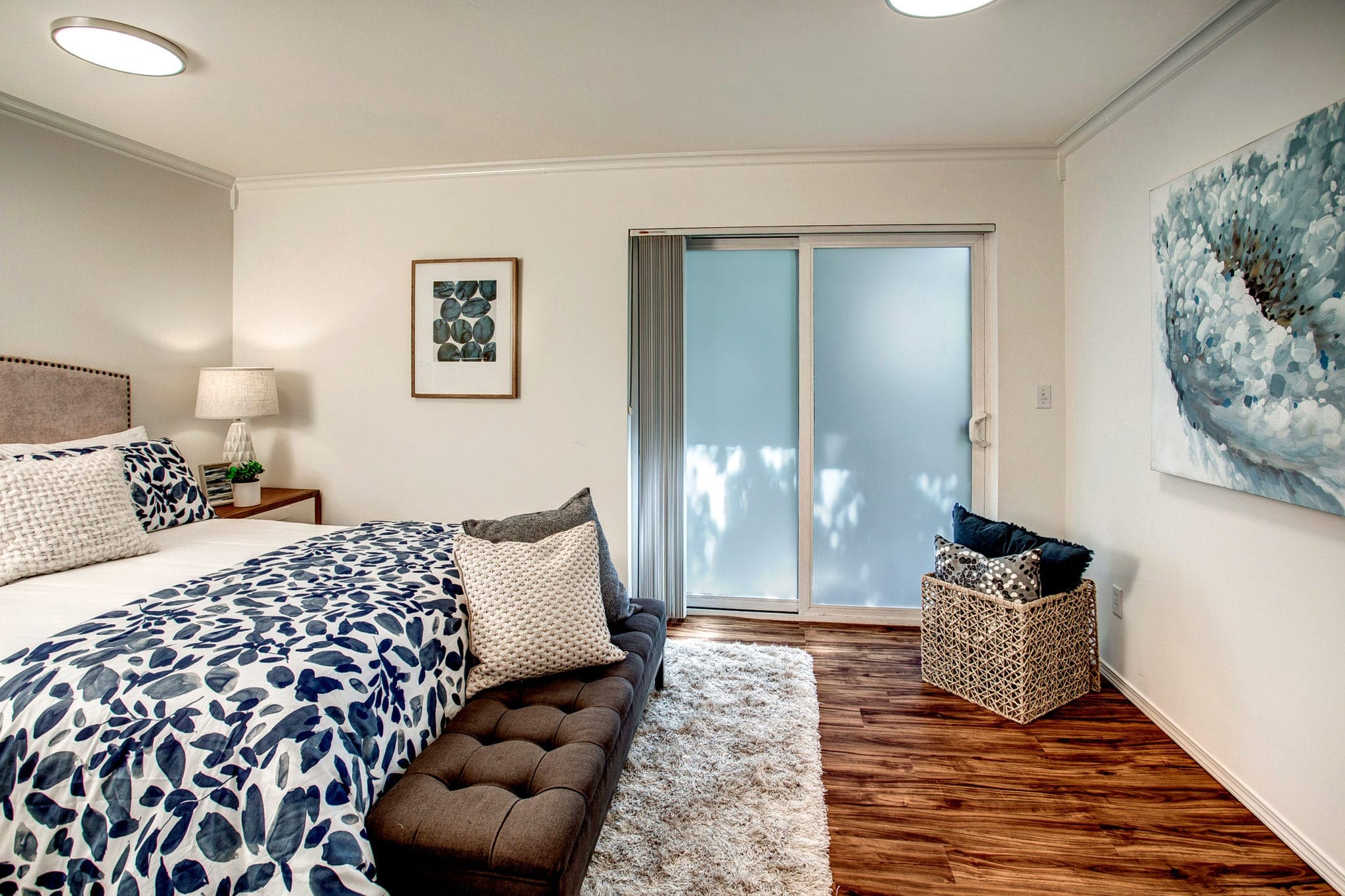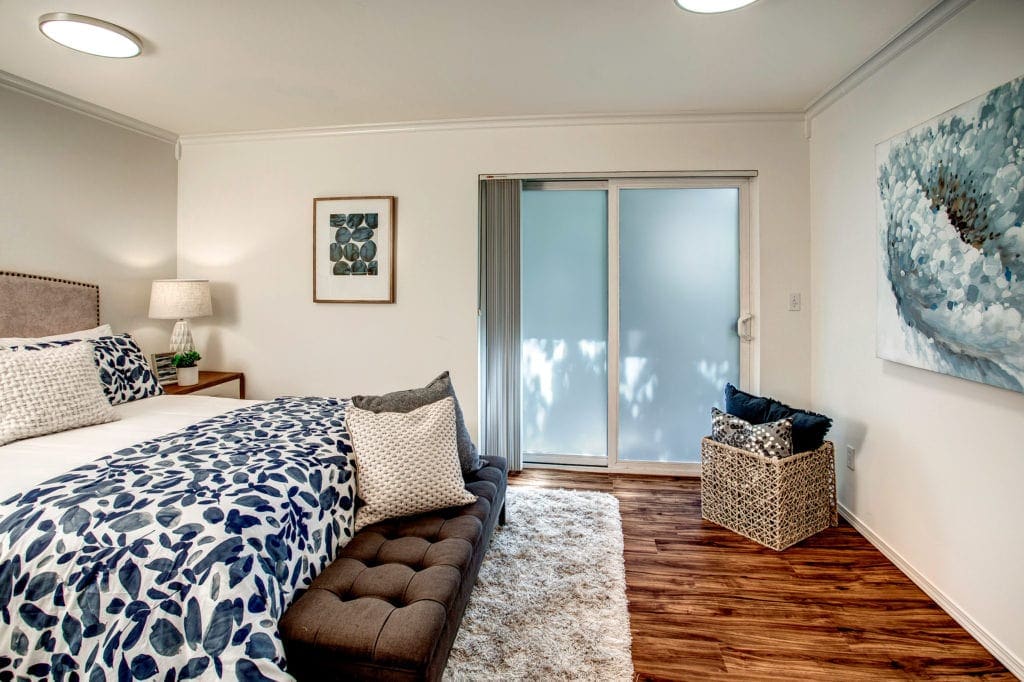 A unique feature of townhomes built in the early 2000s are the expansive bedrooms with ample space. In new construction these days, it's not uncommon to find townhomes that are just a bit too narrow, which means that the bedrooms aren't very spacious and are just too cramped. 
Well, not with this home! This townhouse has 3 large bedrooms. The lower bedroom with a full bath just around the corner provides a great multi-functional use, including a guest room, office, or entertainment space. And the spacious primary rooms on the top floor provide enough space for all of your bedroom necessities!
This Traditional Craftsman Maple Leaf Townhome Also Has Vaulted Ceilings and a Bathroom on Each Level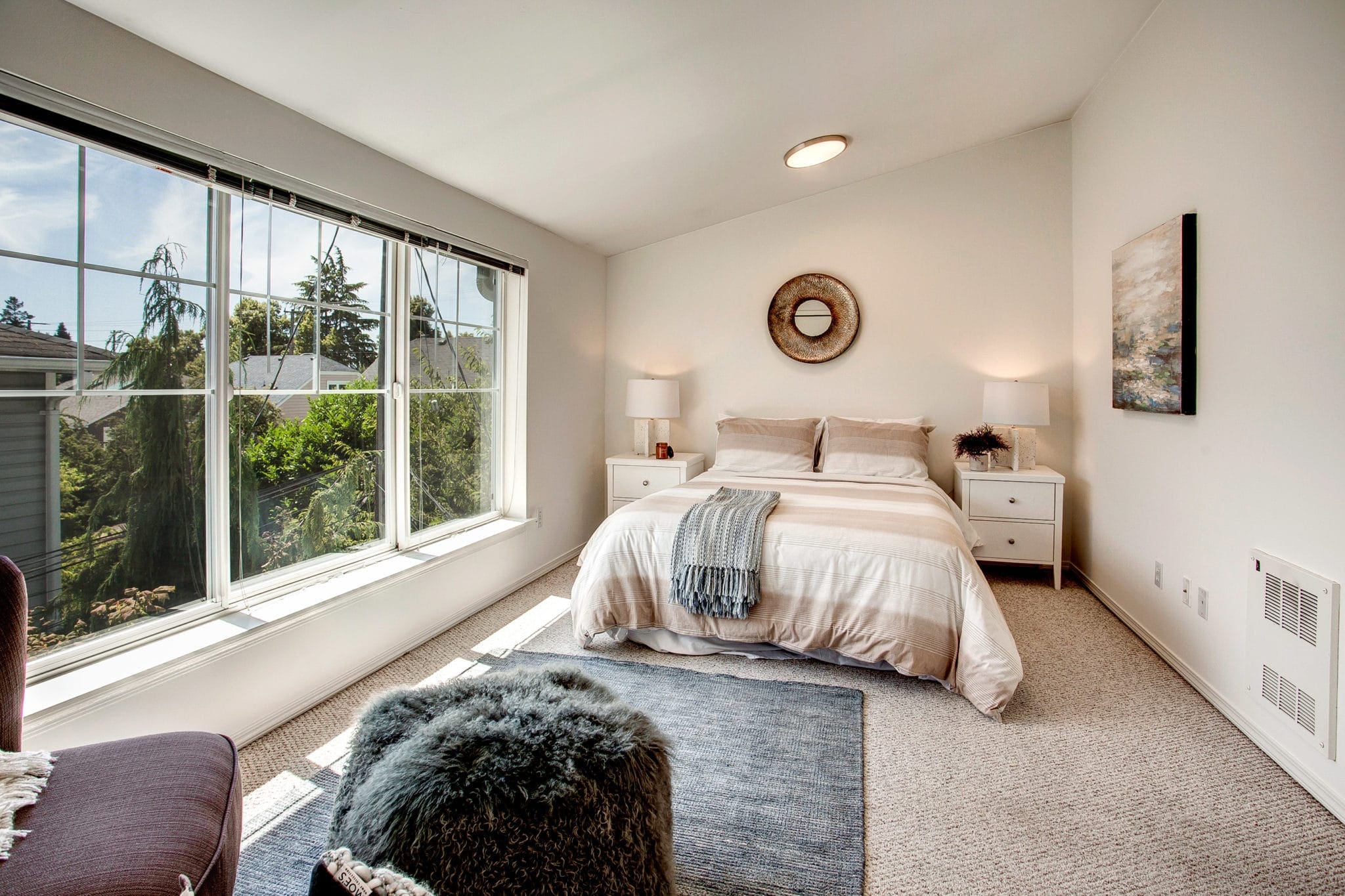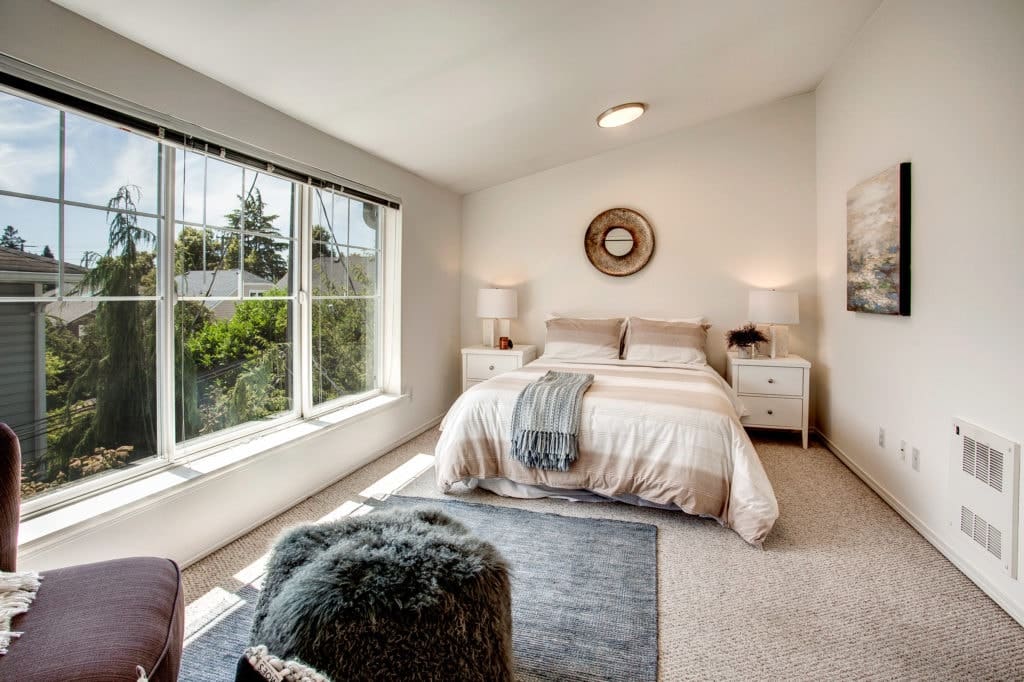 A feature that is unique to the traditional Craftsman townhome-style are the expansive vaulted ceilings. This enhances the space to feel open and airy and also helps provide and enhance the light on the upper floor. 
A secondary feature that you often do not see with the new construction townhomes is having a restroom on every level. This Traditional Craftsman Maple Leaf Townhome has full bathrooms on the lower and top-level, and a half bath on the middle floor. This definitely reduces your stair count and creates easy access for guests and residents alike! 
The Hydronic Heating System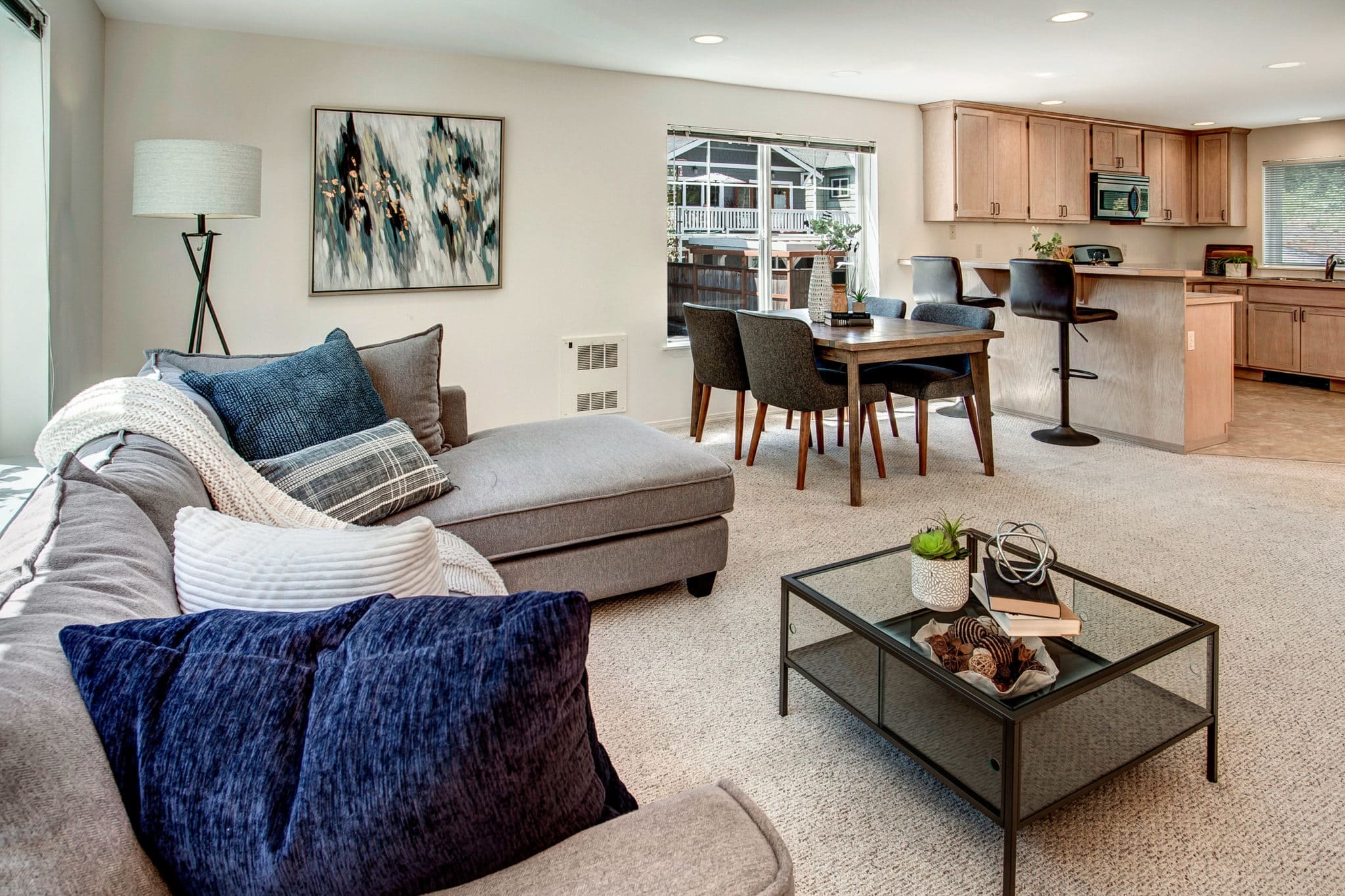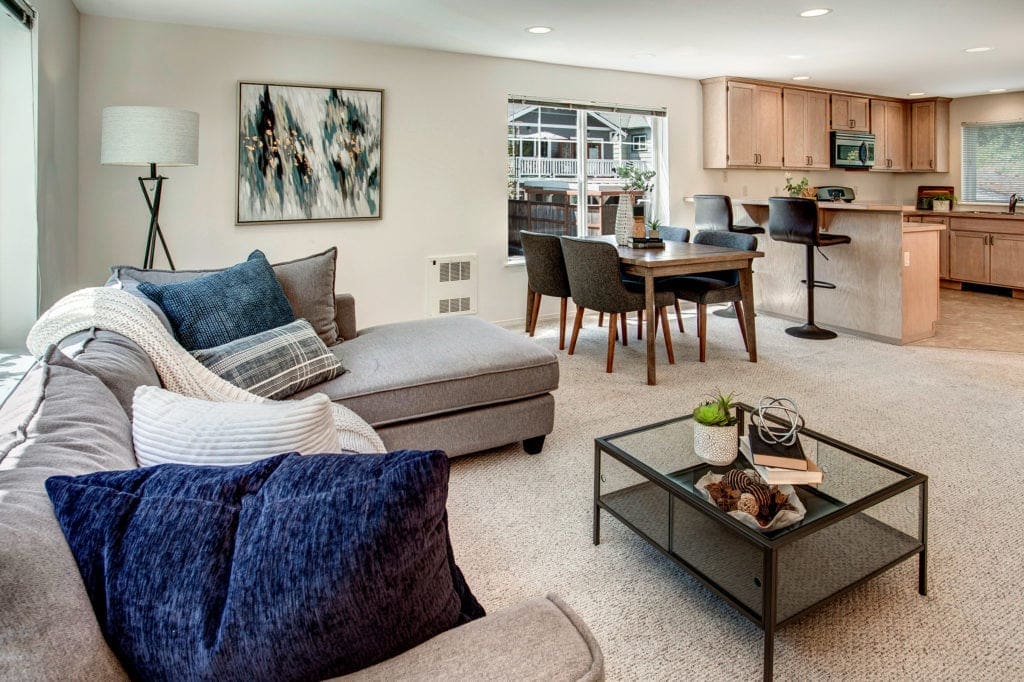 The in-wall hydronic heating system creates an energy-efficient, cost-effective way to comfortably heat the home during those cold winter months. But this townhouse is ready for warm summer days, too. Opening the large windows throughout the home will provide sufficient cooling throughout the warm summer days. As we know, we are constantly having at least one heatwave during the summer. Furthermore, the lower bedroom stays extremely cool as well.
Let's Take a 3D Tour, Too, So You Can Immerse Yourself in This
Traditional Craftsman Maple Leaf Townhome
Team Diva takes every precaution, and then some, to make sure all of our homes are listed following all COVID precautions. Even though many people are getting vaccinated, we know that not everyone is ready to venture out just yet. It's is our duty to ensure everyone's safety as you enter one of our listings, but feel free to take a virtual tour from the comfort of your couch.
What's it Like to Live in Seattle's Maple Leaf Neighborhood?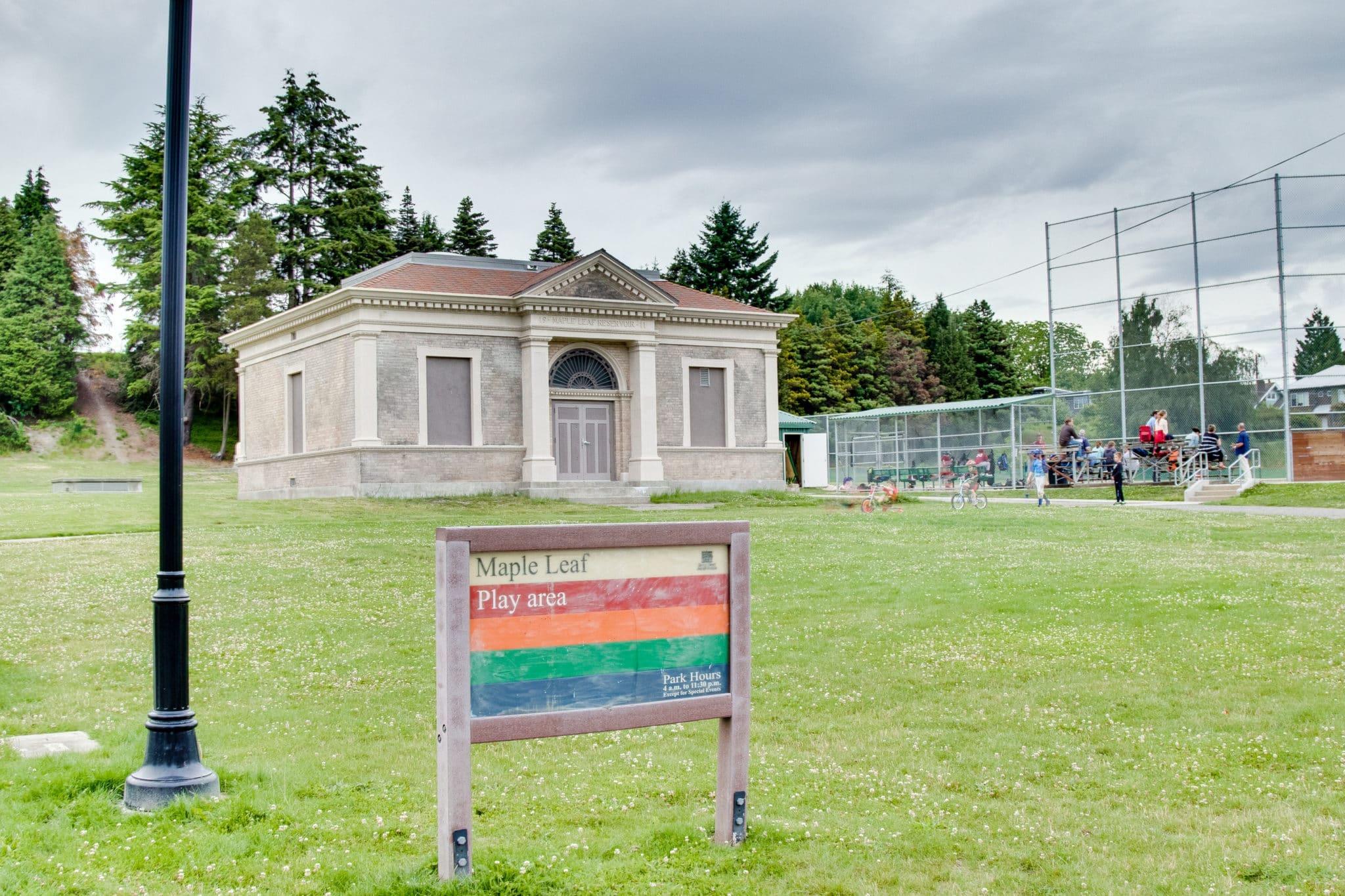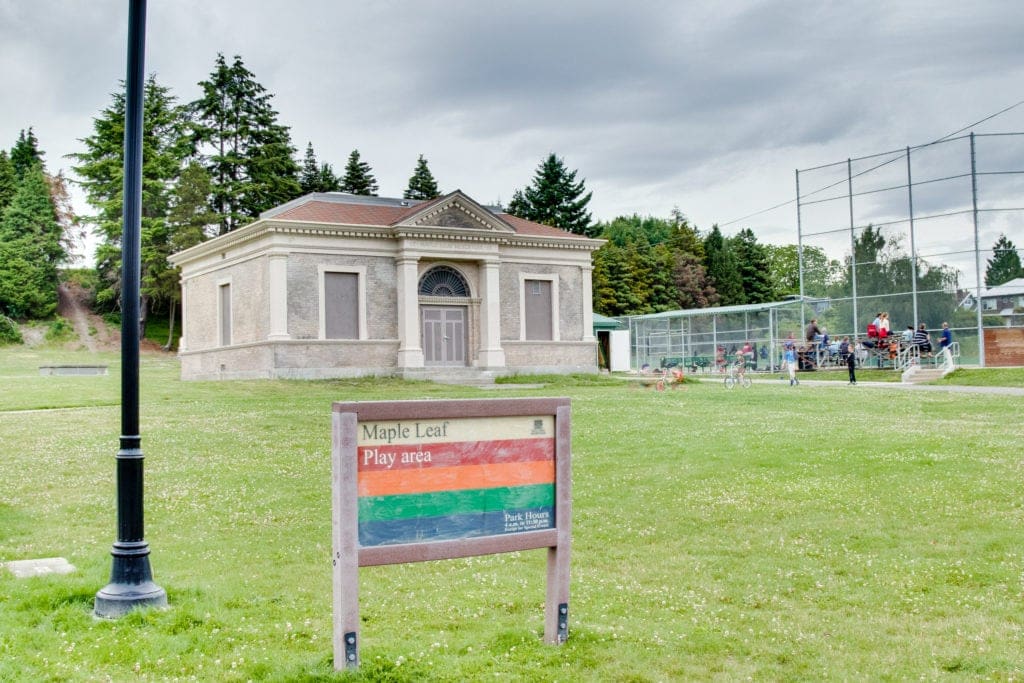 The neighborhood of Maple Leaf is a picturesque area within Seattle that boasts an eclectic array of home styles ranging from farmhouses to new construction and traditional townhomes. The location is ideal for access and proximity to central Seattle, North Seattle, and the Eastside via the 520 Bridge.
This Traditional Craftsman Maple Leaf Townhome is tucked back from the street providing peace and quiet. However, you still have easy access to freeways and transit with a bus stop two blocks away. I-5's express lane entrance is also just 2 blocks away. Maple Leaf also affords access to Green Lake, the U-District, U-Village, and Northgate! This North Seattle neighborhood is central to many of the city's top destinations. 
One amazing feature coming down the pike is the new Link Light Rail station in Roosevelt. The Roosevelt Light Rail station is scheduled to open in October of 2021 (yes, just a couple of months away!) connecting the current system all the way up to Northgate. This is only 10 blocks away and provides a car-free, traffic-free way to head into Downtown Seattle or even all the way to SeaTac International Airport. 
Check out our other great Maple Leaf home we've sold: 
---
Learn More About Buying a Townhouse in Seattle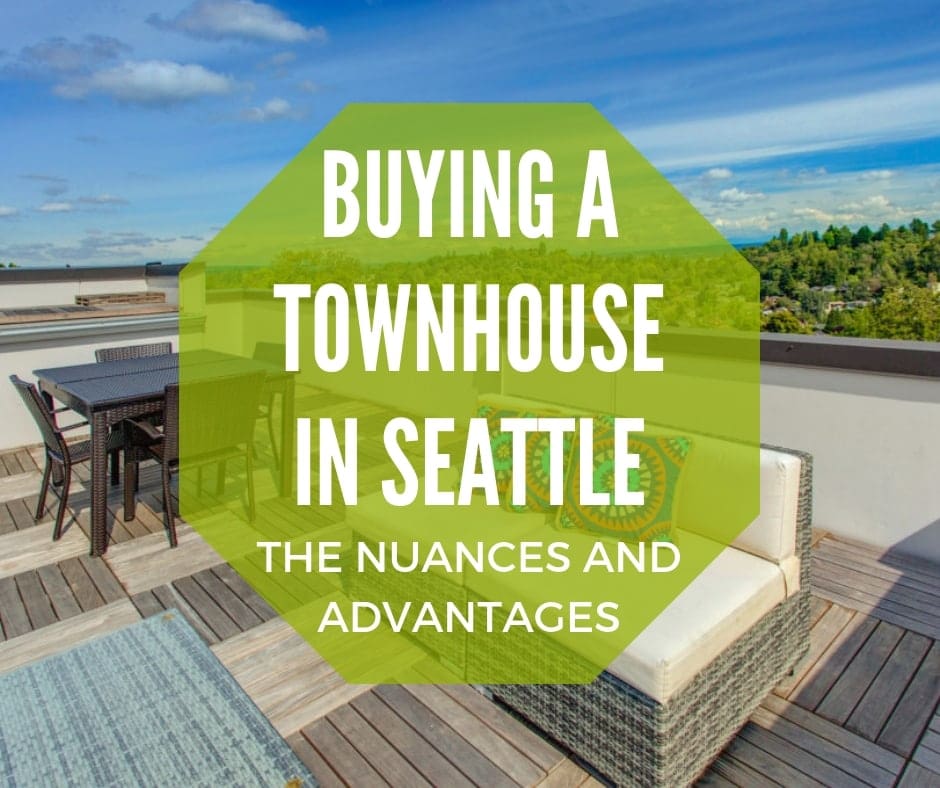 Neither a condo nor a detached home, a townhouse is its own animal in the world of real estate. And to win when it comes to buying a townhouse in Seattle, you need to know the particulars.
Fortunately, buying a townhouse is no more complicated than a condo or detached home. In some ways, it can be less complicated than either. That may be one reason why they are becoming more common in Seattle, as one answer to our need for greater density. They are especially prominent in Seattle's more walkable neighborhoods, which we love, of course
We have a blog that breaks down the ins and outs of buying a townhouse. Check it out, as well as our massive How To Buy A Home in Seattle Guide, which covers the process for all sorts of properties.
---
Thank You for Touring Our Traditional Craftsman Maple Leaf Townhome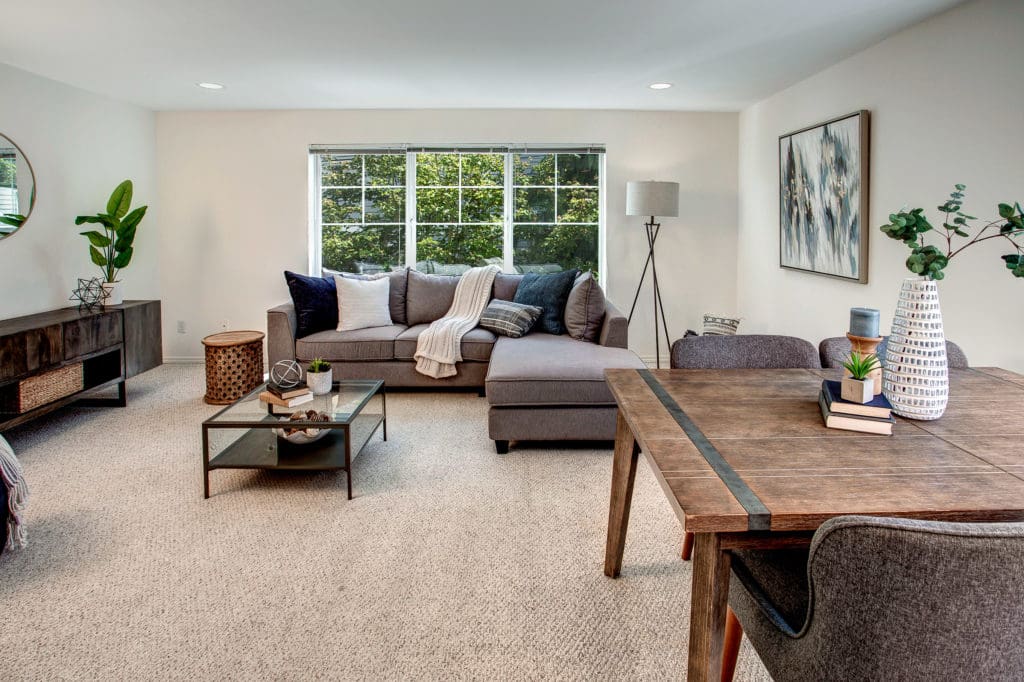 Thank you for taking the time to learn all about this Traditional Craftsman Maple Leaf Townhouse! I'm so glad you stopped by so I could show off this home's natural light, the 3 large bedrooms, the vaulted ceilings, and the hydronic heating system. I'm also excited to show off the Maple Leaf neighborhood in Seattle and what makes it so great! 
All the Good Details
Address:

7543 11th Ave NE Unit A,

 98115

MLS# 1815030

Square Footage: 1,480

Bedrooms: 3 

Bathrooms: 2.5 

Offering Price: $675,000
Ready to tour this Traditional Craftsman Maple Leaf Townhouse in person? Contact me today so I can show you this Diva Dwelling's wonderful natural light, its 3 large spacious bedrooms, its fabulous vaulted ceilings, and hydronic heating system, and the Maple Leaf neighborhood.