Team Diva is so excited to be celebrating National Pi Day at A La Mode Pies in West Seattle! Of course, no one needs an excuse to pick up your favorite pie from your neighborhood pie maker. But we are taking this opportunity to give Divaland an inside look at one of our very favorite pie spots—A La Mode Pies in West Seattle. Our friends and Diva Dwellers Chris and Melih own A La Mode Pies. In addition to the West Seattle location, there is an A La Mode Pies in North Seattle on Phinney Ave across from the Woodland Park Zoo, too. There is also an A La Mode Pie in Ballard just one block off of Market Street. 
The Divas first met Chris when he was selling his co-op at the
Lorington on Capitol Hill
. His bestie was also listing her co-op with the Divas. A connection was formed and years later Chris opted to use the Divas and Roy to sell his amazing home in North Seattle. And he used Roy to buy his amazing home in West Seattle with his partner Melih.
During the many house moves, Chris also founded Ala Mode Pies by opening his first shop in Phinney. Melih eventually joined the partnership in life and in business. And together they now have three locations around the city. Ala Mode Pies has been our go-to pie shop. And honestly, it is not even a loyalty thing to our Diva Dwellers. This is the best goddam pie in town. Cake is overrated. But Pie is eternal. Everyone loves pie.
Anyway, if you haven't heard of Pi Day, we gotta say you have been missing out. (Pi Day is on March 14 because = 3.14!) But no worries. A slice from A La Mode Pies will fix that right away. We are so excited for you to check out A La Mode Pies! 
---
Team Diva Celebrates National Pi Day at A La Mode Pies in West Seattle 
I'm Chavi Hohm with Team Diva Real Estate at Coldwell Banker Bain. Thanks for joining me to check out A La Mode Pies! Meet my friend and Diva Dweller, Chris Porter. Chris is the owner of A La Mode Pies, and A La Mode Pies has 3 locations in Seattle. There's one in West Seattle, one in Phinney Ridge, and one in Ballard. In this video, we're at the West Seattle location. Here is my interview that I did with Chris of A La Mode Pies: 
What is Pi Day like at A La Mode Pies? Apparently, it is one of your busiest days of the year! 
Chris: It is. Yes, it is. Pi Day it's 3.14. So, you know, every single engineer, every mathematician, everyone in town is celebrating this day. It turns out to be our busiest day of the year. And really, it's just a game of survival. I mean, so many people come in for slices. We will sell thousands and thousands of slices in just a 10-hour period.
So we're just slinging and gunning, we're just going for it! You got to love being a pie maker in the nerdiest town on the West Coast. There's a lot of excitement to be the owner of a pie shop. The one who came up with the recipe and put together the idea. It's so exciting to see that many people lining up for your product. It's one of the few times a year where you really kind of realize that things have grown beyond you. There's a lot to appreciate! 
We've heard there's a very popular pie at A La Mode Pies that is also an award-winning pie. Do you want to tell us which pie that is?
Chris: Our French apple pie is considered by The Seattle Times as being the best apple pie in Seattle. And rightfully so. It's one of our most popular. We use only the best ingredients. It's handmade every single day. And I would say of all of our pies, it's the kind of pie that you could have in the morning, in the afternoon, or the evening and not really feel bad about it.
How do you know the Divas?
Chris: I met the Divas over ten years ago. You were selling my neighbor's condo at the time. I met you kind of as both of us were selling our condos at the same time. So I had a really rare experience of being able to look at my realtor and really compare my realtor to what you guys were doing just across the hall. And I will say that it was incredible what you guys did.
I think you did a video for social media. You were talking about it. There were open houses happening all the time. And even though my condo did sell first, it looked really nice. But I will say that it was that experience that made me realize that who you have representing you matters. Who you have selling your space really matters because there are agents that are going to do just enough. And then there are agents that are really going to think outside of the box and do so much more.
How did you and your hubby Melih meet?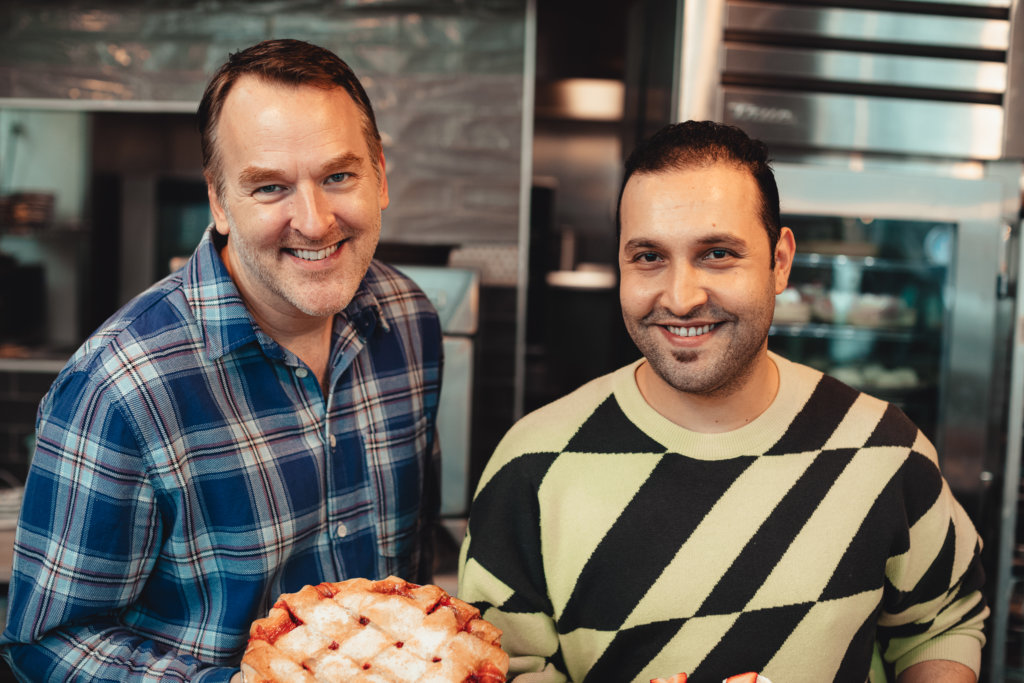 Chris: We met five years ago and you know, like a lot of small businesses, it takes a village. We quickly found that we enjoyed working together. So he is the business manager and we complement each other's strengths. I mean, he's really good with the numbers and really wants to dig in and understand all the nuts and bolts of things. It allows me to focus more on things like, are we serving the best pies in Seattle? Are my employees happy, and are we capitalizing on certain things happening, and just all that. 
There's other stuff that goes along with it, too. And I will say having a partner that you trust and that you can kind of go through it alongside has made a huge difference. I mean, it's truly changed this business. It used to be this business started out with just me. It started out kind of just out of my kitchen, but it quickly grew beyond something that I could just handle on my own. I think having a partner that supports you to the extent to which I'm supported… well, the sky's the limit.
Tell us why you think you're a quintessential Diva Dweller. Obviously, you have Impeccable taste! 
Chris: Obviously. Impeccable taste. I think it helps to have an honest conversation when you're walking through a house. And unfortunately, you only get those kinds of conversations when you trust the people that you're walking through with. And part of the bonus of working with certain people over a long period of time is you really trust their opinion. They're going to tell it to you straight. And I've been very thrilled with every purchase that we've made and every house that I've lived in. I look forward to continuing that.
Why did you decide to become Seattle's best pie maker? You had a life before pies! 
Chris: I mean, truthfully, do you ever do anything to be the best? I mean, really? Well, I knew that I loved baking; I grew up in the kitchen baking. Primarily, I made pies growing up, and I made lots of other things, too. And I knew I wanted to open a bakery that did one thing really, really well.
And that's kind of what we've achieved. I mean, we have an extensive menu. It's all made the same day and using the best ingredients. Our pies are made using care. It's supposed to mimic what grandma would bring to the table. And I think we do a really good job of that. So I'm really proud that we've won the awards that we've won and that it's grown into what it has. I think I just had blind faith going into it that it was all going to work out okay. And thankfully it has. 
Tell us more about A La Mode Pies! This West Seattle location is not your first location.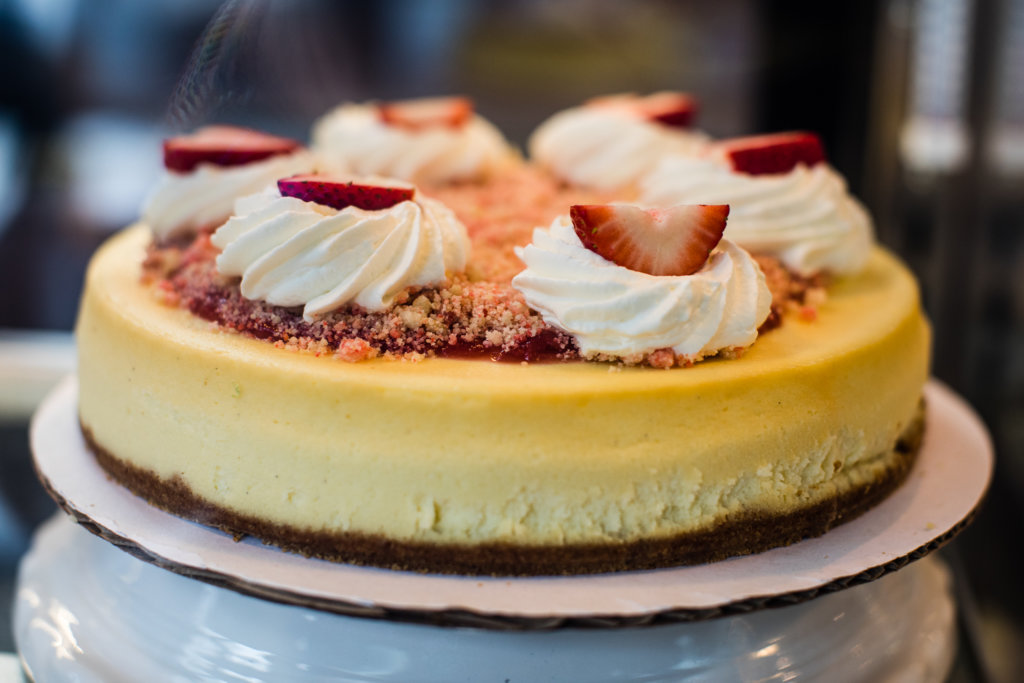 Chris: First, I opened the Phinney Ridge location, which is kitty-corner to the zoo. I opened it 11 years ago, and I love that location and am very proud of it. I opened our West Seattle location in 2016, and I just opened Ballard back in October. It's a gathering place for the community. It's a place where you can come and you always get to choose between one of ten different varieties on the menu each day.
Anywhere in town where you can get that assortment of pies by the slice and you can get a boozy milkshake, you can get a chicken pot pie, you can get anything pie-related. And it's just a happy, lovely place to be. I mean, it's pie! What's not to love?
Okay, so you have a big day coming up. Tell us how you will celebrate National Pi Day at A La Mode Pies. 
Chris: Well, we started planning for Pi Day about a month ago. Already all the kitchens are prepping up, preparing more items, kind of getting ready. I will personally prepare for Pi Day by sleeping for about three days. Then we will start overnight production starting this weekend as Pi Day is on Monday. You can bet that all of my bakers will be very excited to have Pi Day over. I mean, it takes a lot of coordination to get ready for that many people to show up all at the same time.
Do you have a favorite pie?
Chris: I do have a favorite pie. Well, our signature pie is the Blue Hawaiian. The short story behind it is there was a day about 15 years ago when I decided to quit my corporate job. And I went home that night and I made the Blue Hawaiian. It was the first pie that I almost ever made. And I like to say every pie here kind of grew out of the creativity of that pie. So I would say Blue Hawaiian. Blueberries, crushed pineapple, toasted coconut. Perfect.
It's also Team Diva's favorite pie. Like, literally anytime someone's like "bring pie," I'm like, well, I'm making a trek to West Seattle and getting the Blue Hawaiian. So I love that it's like your liberation pie.
Chris: Yes. I mean, it's just it reminds me of the humble beginnings it was taking, having the courage to take kind of a right-hand turn in your life. And so to develop a product that happened around that same time that you can kind of reference back to. It reminds me of why I'm doing this and what I love about it.
---
Thank You For Celebrating National Pi Day at A La Mode Pies in West Seattle with Team Diva!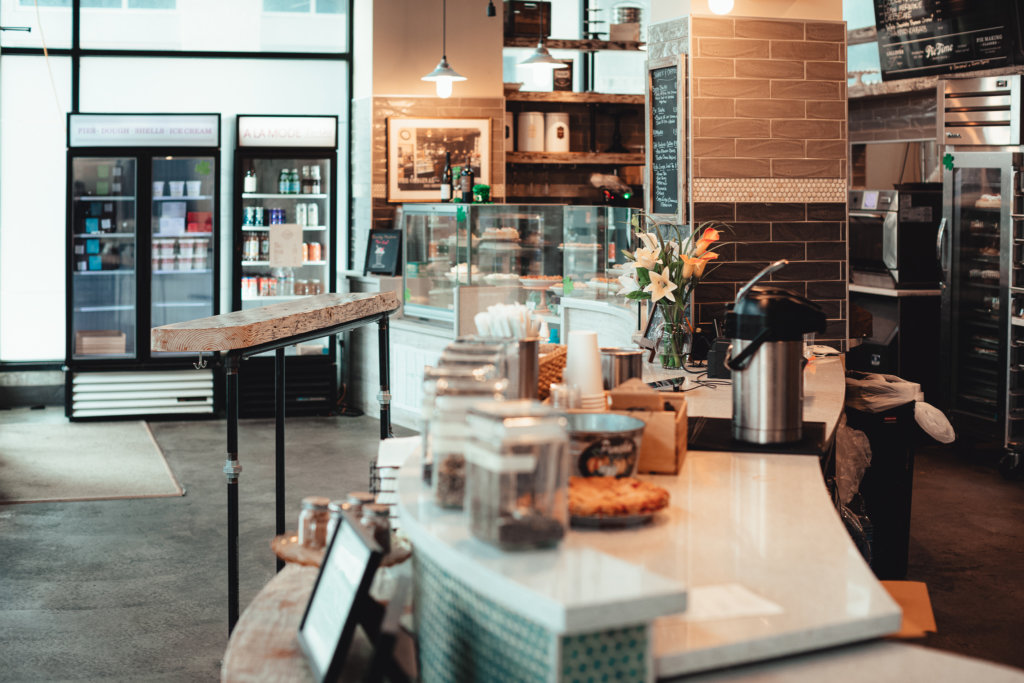 Thank you so much to Chris Porter, owner of A La Mode Pies, for giving Team Diva a behind-the-scenes look! Of course, we love celebrating National Pi Day. And really, we are ready to celebrate with pie any chance we get, hah. In addition to serving up delicious sweet and savory pie, A La Mode Pies has several other offerings. A La Mode Pies can cater your event (a wedding pie would be amazing!). You can learn how to make pie in one of A La Mode Pies' pie-making classes. A La Mode Pie even has nationwide shipping so anyone in the U.S. can experience the goodness for themselves. And of course, you can give someone a gift card to A La Mode pies so they can choose their own special pie of the day.
Follow A La Mode Pies in Seattle on Facebook and Instagram for updates on the latest pie flavors, pre-ordering for holidays, and of course beautiful pics of pies. I'm Chavi Hohm with Team Diva Real Estate at Coldwell Banker Bain. Thanks for joining me and my friend Chris Porter to check out A La Mode Pies! 
Catch Up With Other Diva Dwellers
We have had such a fun time learning more about our Diva Dwellers' holiday traditions. In case you missed it the first time around, here are a few stories about celebrations happening in Divaland:
We love this series, and we hope it brings you joy!