Hey there everyone! I'm Roy Powell with Team Diva Real Estate at Coldwell Banker Bain. I am so excited to be back with you today for Coffee with Roy to talk about the March 2022 Seattle real estate market! I help buyers and sellers make their home dreams a reality. And once a month, I make a cup of coffee and share some insights about the Seattle real estate market.
This market is still wild and we haven't even seen the first day of spring. So, I think it's a perfect time to talk about what the right strategy is if you want to buy a house in this wild Seattle real estate market. But first, let's talk coffee! 
Roy, What Kind of Coffee Are You Drinking Today?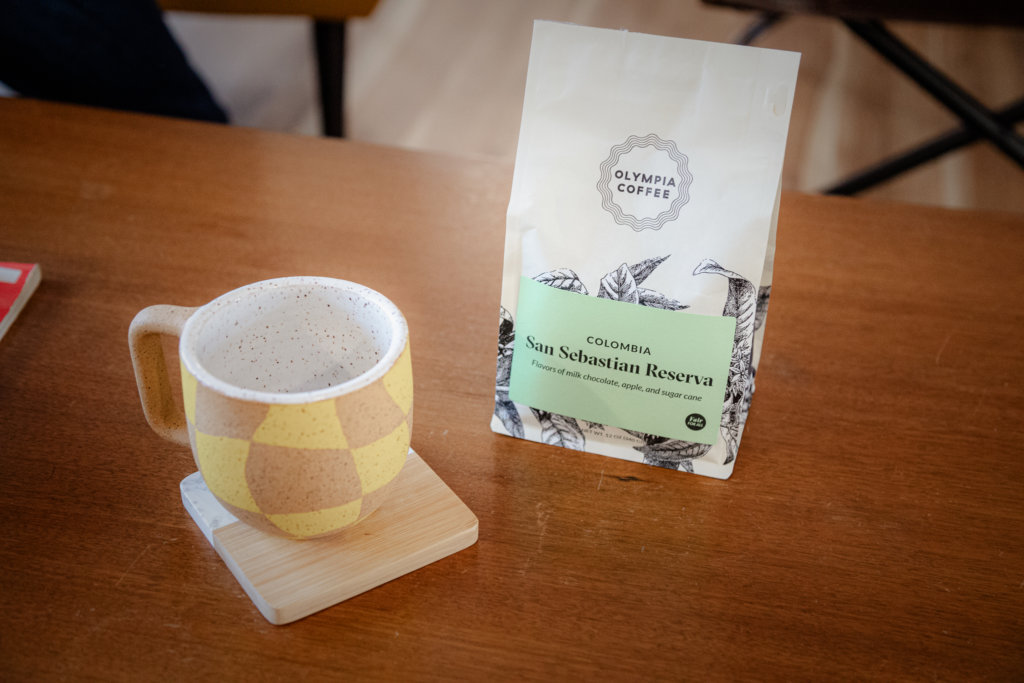 Today's coffee is San Sebastian Reserva Blend from Olympia Roasters. It's a light, bright, drinkable, and the perfect pairing for a wet March morning. We are super busy these days with the Seattle real estate market and that doesn't leave a ton of time for fancy coffee. So I'm here at home today making coffee in my kitchen with a Moccamaster Drip Coffee machine. This was a housewarming gift from Rocky a few years back and I use it every day. 
---
Coffee With Roy: March 2022 Seattle Real Estate Market Update
Now that we have some coffee, let's start by talking about demand rate to measure how the Seattle real estate market is doing. In last month's Coffee with Roy video, I shared that the demand rate can change neighborhood by neighboorhood and day by day. Let's look at what the March Seattle real estate market brings us for our report today. For a full refresher, check out last month's video breaking down why demand rate is so important. 
Below is a Breakdown of the March 2022 Seattle Real Estate Market Update
Luxury Homes: Today, Luxury Single Family Homes ($3M or above) are at a demand rate of 2.83. This is very much a buyer's market. If you are looking for luxury homes, there are plenty to pick from. An Even Market. 
Single Family Homes: Today, Single Family Homes are at a demand rate of .40 which is way down from last month. This means there are roughly 2 and a quarter buyers for every single-family home in Seattle. EXTREME Sellers Market. 
Condos: Seattle Condos are at a demand rate of .75 which is also down a little bit from last month. This translates to just over one and a quarter buyers per condo. Moving into a Sellers Market. 
Basically, in Seattle, you need a really good strategy if you are thinking about competing for a Single Family Home. Right now there are homebuyers and home shoppers. Are you going to be a shopper or a buyer? We came up with a guide on how to win a multiple offer if you want to be a winner in today's Seattle real estate market. 
What Is It Like To Work In Seattle's Current Real Estate Market? 
Now let's get down to the new business of what it looks like to work in this Seattle real estate market. We have been working with a ton of buyers over here at Team Diva and everyone has been experiencing a frustrating lack of overall inventory.
Single-family homes that are new to market are selling for 20% – 40% over asking!
This lack of inventory is currently pushing the trend of single-family homes new to market selling for 20% – 40% over asking. And it's not just a specific neighborhood area. We are seeing this trend across the Puget Sound area. So swapping for a different location does not exactly get us away from this trend. I've seen this trend show up as far north as Everett and as far south as Olympia. 
How Do You Navigate a Real Estate Market Like This in Seattle?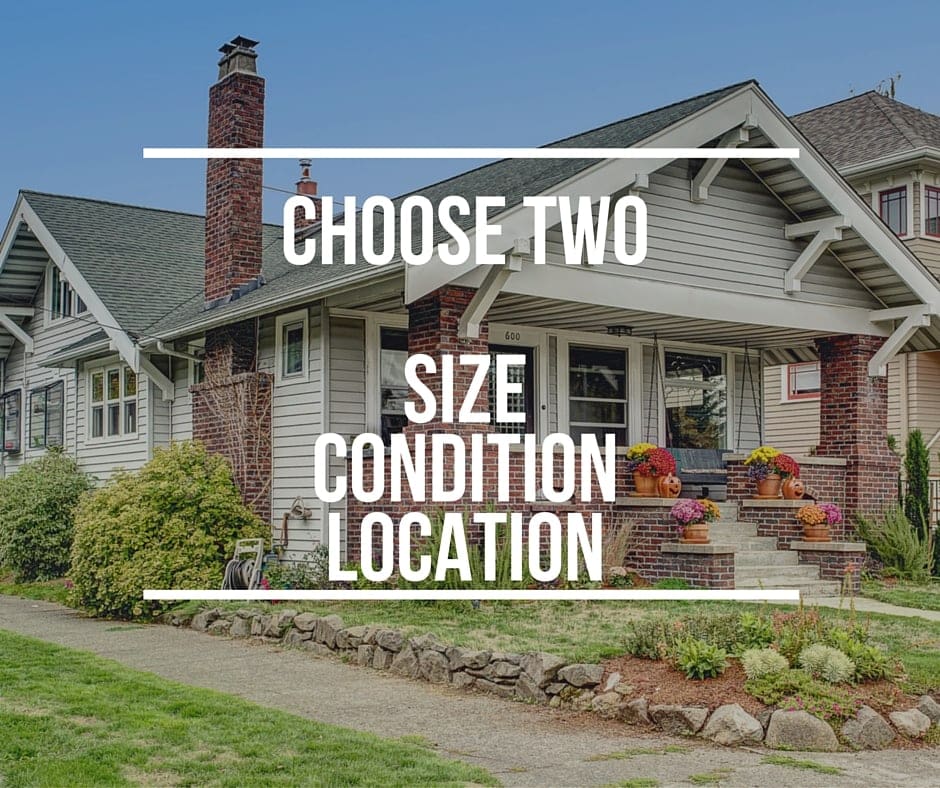 My pal Kim says "Size, Condition, Location: Pick Two." 
Well, in this market sometimes you need to pick even just one and stick with it. The goal is to get a house that fits your needs right now. Your first home doesn't need to be your forever home. And frankly, the cost of housing is trending up at a very quick pace. We need to make sure the price you are willing to pay fits the cost of the home you want. 
If you are a first-time home buyer just making the move from renting to owning, this can be a big enough step for now. You don't necessarily need to go from a 1-bedroom apartment to a 4-bedroom house when maybe a 2-bedroom condo will work for the next few years. Or maybe in order to stay in the location you want, we need to consider townhomes instead of single-family homes.
Another example is how everyone wants a mother-in-law space, but how often does your mother-in-law actually come to visit? Is that time enough to justify spending an additional $200,000? Sometimes the answer is yes, but you need to think about what it is for you.
Before You Go Anywhere Start Here and Educate Yourself About the Process
Video Series – How to Buy a Home in Seattle
In a market such as this, you should really carefully consider your priorities before turning down a great option. 
Strategies to Help You Navigate The March 2022 Seattle Real Estate Market As a Buyer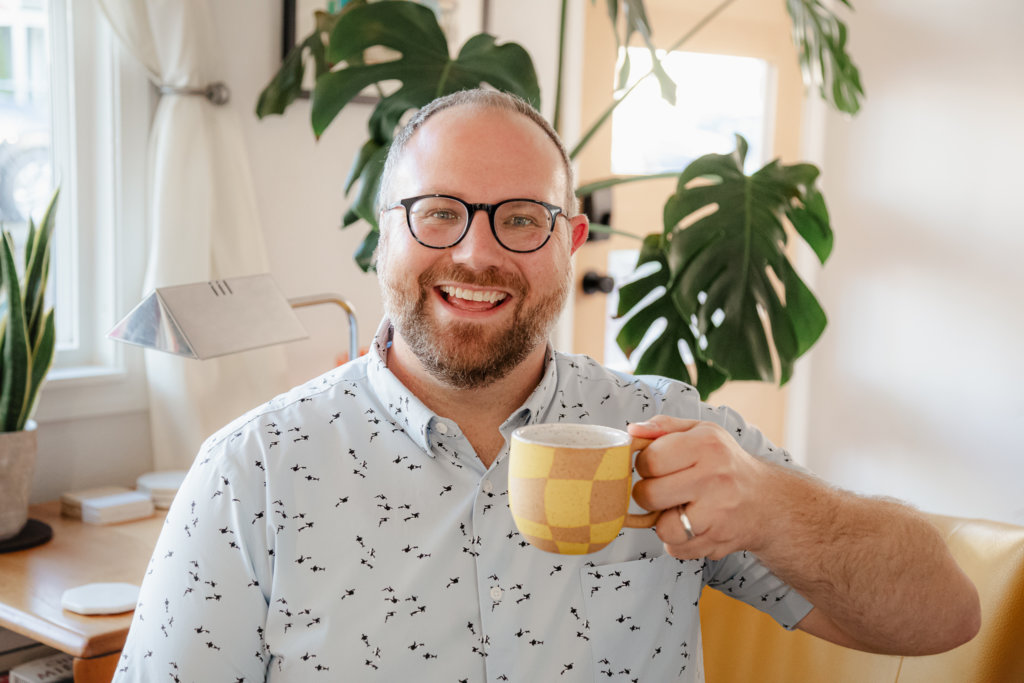 Winning homebuyers are using one of the following methods. They are chasing the market. Using the Shotgun approach. Wait and pounce strategy. And/or the wait and see strategy. All of which do work. Some are more effective than others.
So, let's talk about a few strategies to help you navigate this market as a buyer:
Option One: Chase the Market 
The first strategy that I see the most people take is the "chase the market" strategy. This means you are trying to win every pretty house that comes on the market. You are racing from new listing to new listing as soon as they pop up to try and get in an early offer or to try to compete with the other 10+ offers.
Don't get me wrong, this strategy can work. But truthfully, you need a lot of money, and you have to be ready to put yourself in very risky situations. This might include things like waiving your financing, title, and inspection contingencies. This strategy is not for the faint of heart. It can lead to more news articles about millennials having buyer's remorse just after closing. We don't want that. We want to be making educated decisions and not getting caught up in an auction mentality. 
Option Two: Shotgun Approach
This next strategy is kind of a wild one. I call it the shotgun approach. When we look at an overall market we see that not every home sells for a ton of money over asking with 10's of offers. Some are unicorns and some are not. With that information, you could adopt the strategy of writing on every house at your price point.
If you were to write on every single home in your price point the odds are that you would win 10% of all those homes at or near the asking price. The home you win may not be very fancy, and this strategy may lead to very quick burnout. However, it's one approach that some buyers take. I personally wouldn't bet on a 10% odds of winning in the Seattle real estate market. Just saying.
Option Four: Wait and Pounce Strategy
The next strategy is the Wait and Pounce Strategy. Maybe your down payment isn't as competitive against other buyers who are able to waive financing. I suggest you breathe and don't get amped about every single alert for every new home that comes to market. Instead, we set up a search for homes that have been on the market for more than 10 days.
Offer review dates are set up to push all buyers to compete against each other. When buyers don't like the pressure, they don't write. For homes that don't receive any offers on review day, their price goes from "List price + 20%" to "Just list price." The longer it's on the market the more likely you will be able to win a home. I love this strategy for a lot of my clients right now. This strategy takes time and we don't always have homes to see every week. But as a market grows in inventory, some homes slip through the cracks. If you don't believe me, I'm happy to put you in touch with lucky clients for who this has worked. 
Sometimes if a home has been on the market for a long time, we can even schedule our own inspection of the home. This way you know exactly what you are buying and you don't have to only use the seller-provided inspection. 
Option Five: Wait and See Strategy
If the above options aren't working or they just don't sound like the type of market you want to take part in, that is ok. If you want to sit it out for a while that is not a problem. Not every market is hot forever but keep in mind that while you wait, prices (and interest rates) will go up.
All I ask is that you continue to save as much money as you can. While you are stepping away from the market, try on your new mortgage payment for a few months. Put the difference between your new mortgage lifestyle and your current lifestyle into a high return savings account and save, save, save. 
I'm not going to throw out tropes of avocado toast and lattes, but give me a call, and let's get you pre-approved! We can get you set up with a lender that will help you navigate which bills to pay down and which debt to let float so that we can get you to where 2023 is your year!   
---
Thank You For Watching Coffee with Roy: March 2022 Seattle Real Estate Market Update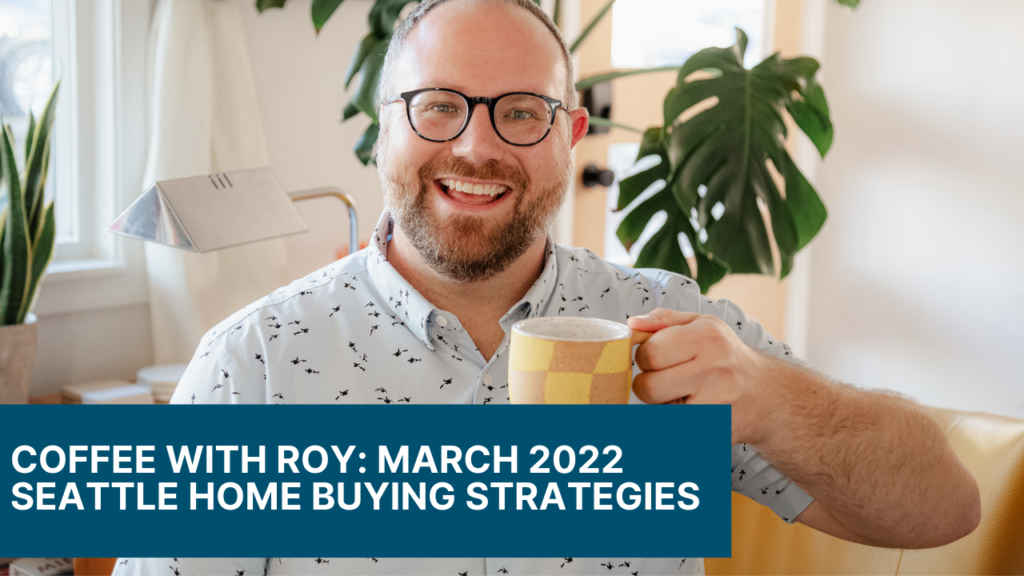 So there are my top strategies for how to navigate this current Seattle real estate market as a buyer. There are a lot more nuances than I'm really able to share here. But just know that I am here for you as is the rest of Team Diva to help you navigate the best time and strategy for finding your next home. 
Previous Episodes of Coffee With Roy:
Thank you for sharing a cup of coffee with me. If you have someone who can benefit from this info, share this blog post and the video with them. If you have something you want to know more about, let me know!  
I'm Roy Powell with Team Diva Real Estate at Coldwell Banker Bain. If you have any questions at all, I'm happy to chat. You can reach out to me at 206-786-3884 and follow me on Instagram and Facebook.