Join, me, Kim V. Colaprete with Team Diva of Coldwell Banker Bain to see what her 5 favorite things about this home are. Chavi Hohm with Team Diva of Coldwell Banker Bain is also joining Kim. Watch the video tour below to learn more about exactly why Kim and Chavi have fallen in love with this Lake View Seward Park Contemporary. The kitchen, the dining/living room, the basement flex space, the updates, the outside view deck, and the community are all ready to impress!
Let's Tour This Lake View Seward Park Contemporary
I'm Kim V. Colaprete with Team Diva at Coldwell Banker Bain, and in this video, Chavi Hohm with Team Diva of Coldwell Banker Bain is joining me. We are showing off our 5 favorite things about this Lake View Seward Park Contemporary. As you can see from the very beginning of this video, we are head-over-heels for this Seward Park beauty. Yes, Chavi suggests we buy this Diva Dwelling for ourselves and it's really not a bad idea!
In this video tour, we're showing off the huge kitchen that's the heart of the home. It's filled with love and that's immediately evident as soon as you step foot into it. Chavi and I are also offering a closer look and the living/dining room that's perfect for entertaining, and you know a Diva loves throwing a fabulous party. The outside view deck is ready for party time, too, but you can also just kick back, relax, and admire the views of Lake Washington and Seward Park here. This Lake View Seward Park home also includes an excellent basement flex space. We've all learned how important versatile square footage is in the last year +. And then there are some very smart updates included in this Diva Dwelling, too. Oh! We've also included a bonus favorite thing. The community! Watch the video tour and keep scrolling.
---
5 Favorite Things About This Lake View Seward Park Contemporary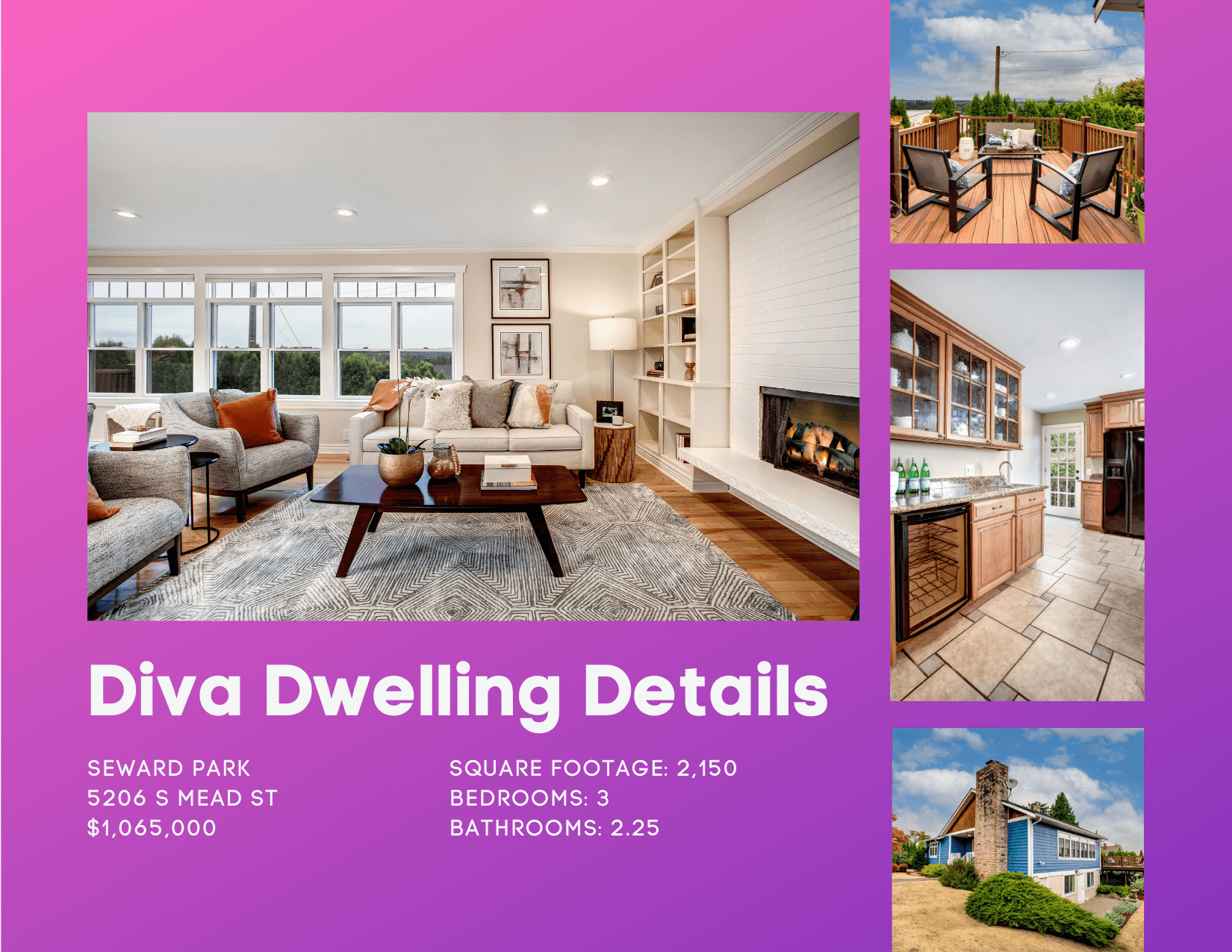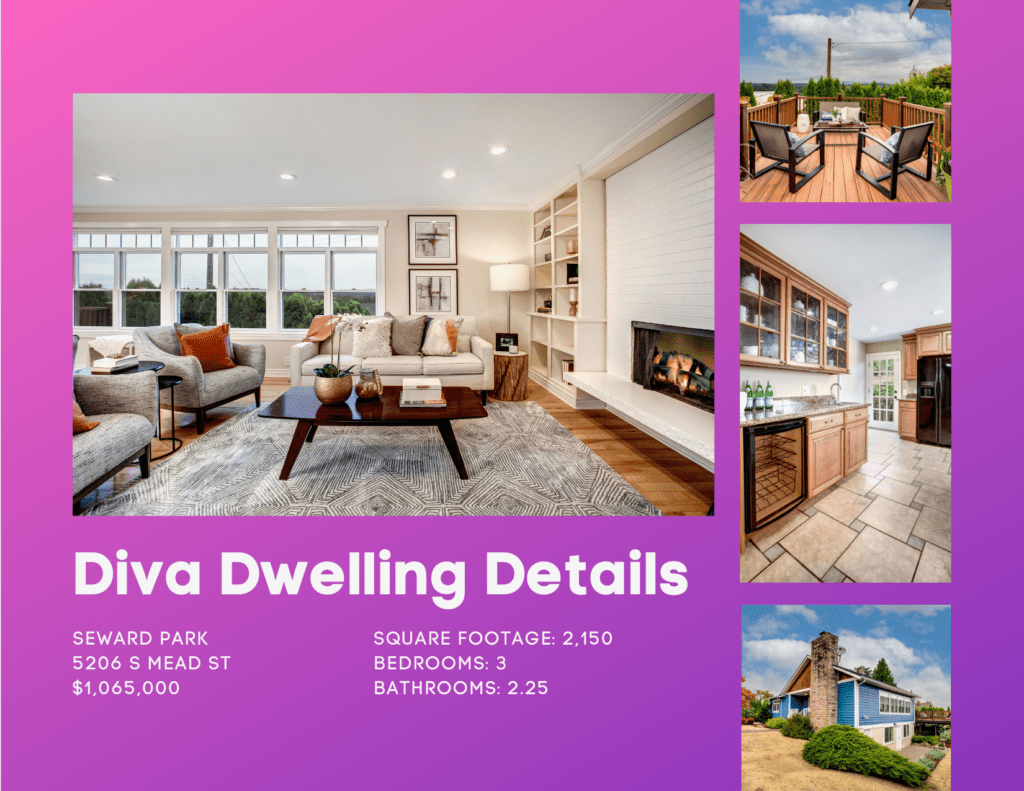 Thank you for joining me on a tour of this Lake View Seward Park Contemporary! I'm thrilled to show off my very favorite things about this Diva Dwelling.
This Kitchen is the Heart of the Home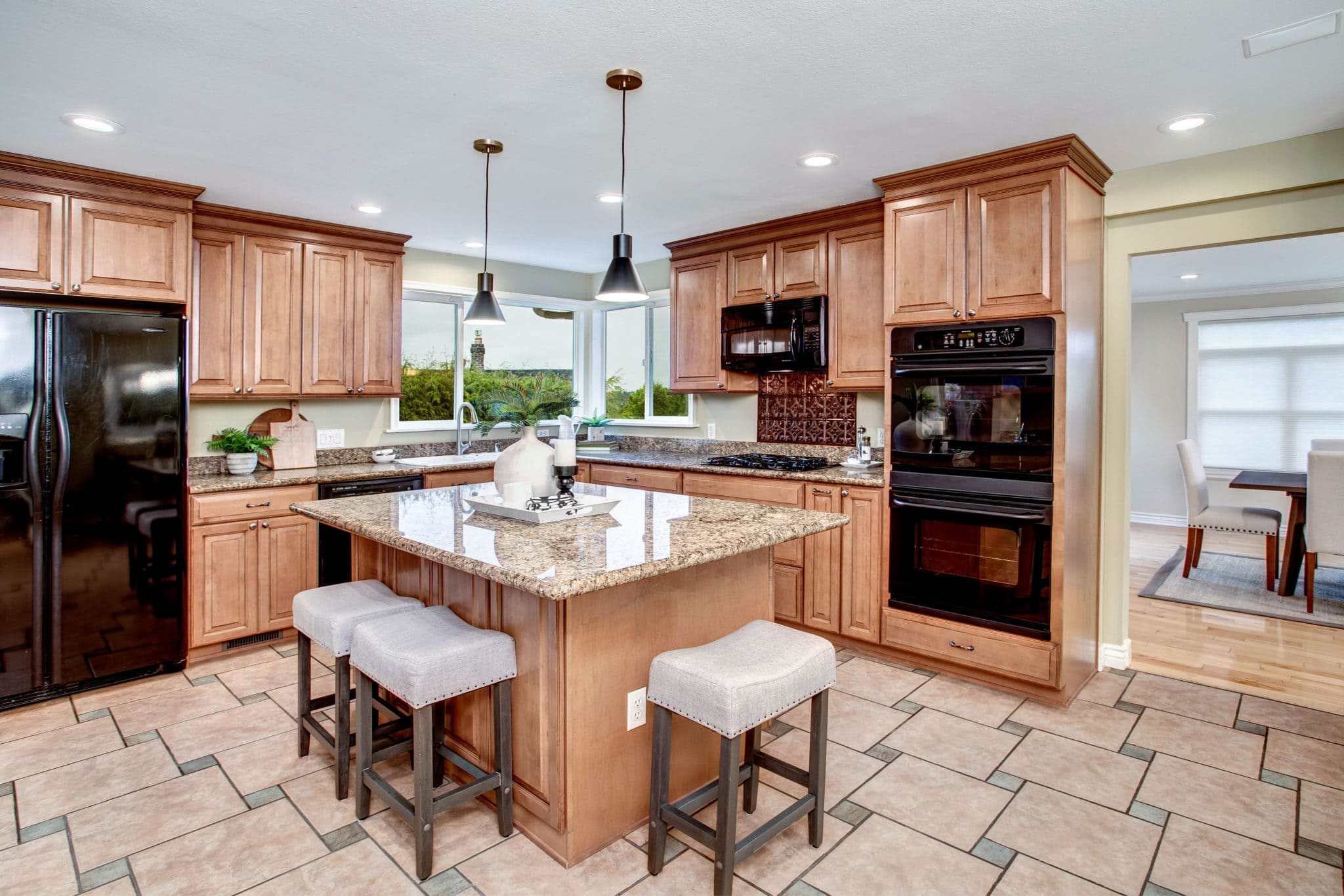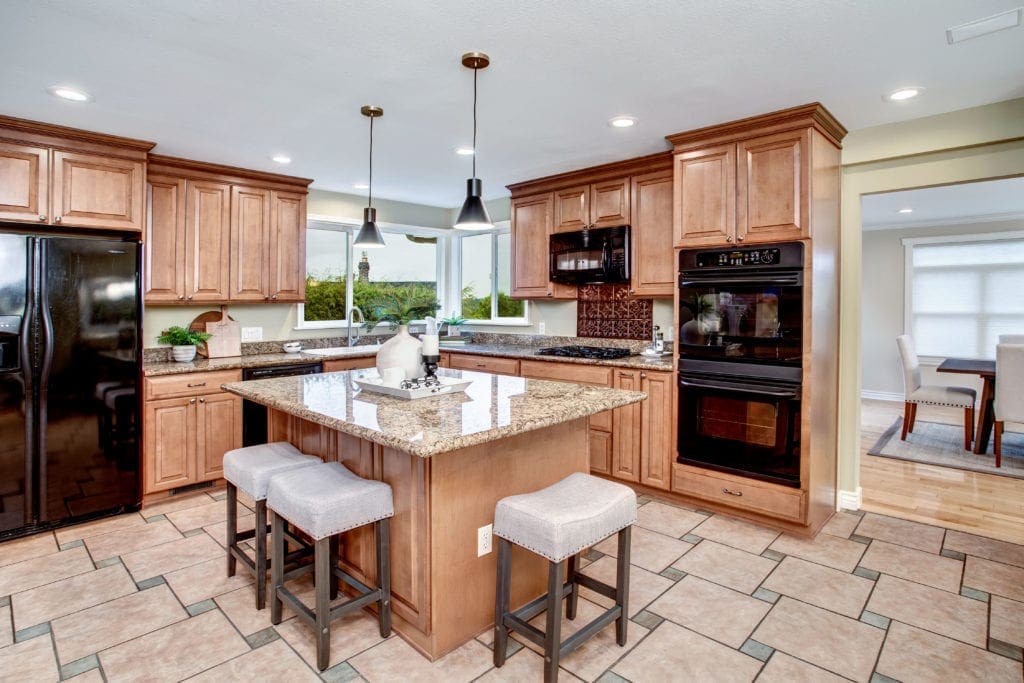 This incredible kitchen is the literal heart of this home. And it is HUGE. You can easily host 10 folks in the space and never feel cramped. Now, I really want to talk about this glorious kitchen island. First—I'm in love. I can totally see this counter filled with a bevy of hors d'oeuvres and pre-dinner cocktails. Then, check out the wine fridge—it is so convenient. It is perfect for storing all my Locus wines and Fatcork Champagnes so when guests arrive, I don't have to scurry to the basement.
Oh, and can I tell you how I squealed when I found the secret spice cabinet next to the gas range?! I'm just completely in love with this kitchen. I can really see why the owners said that the kitchen is the heart of this home. There is a lot of love here!
The Dining/Living Room is Ready for Easy Entertaining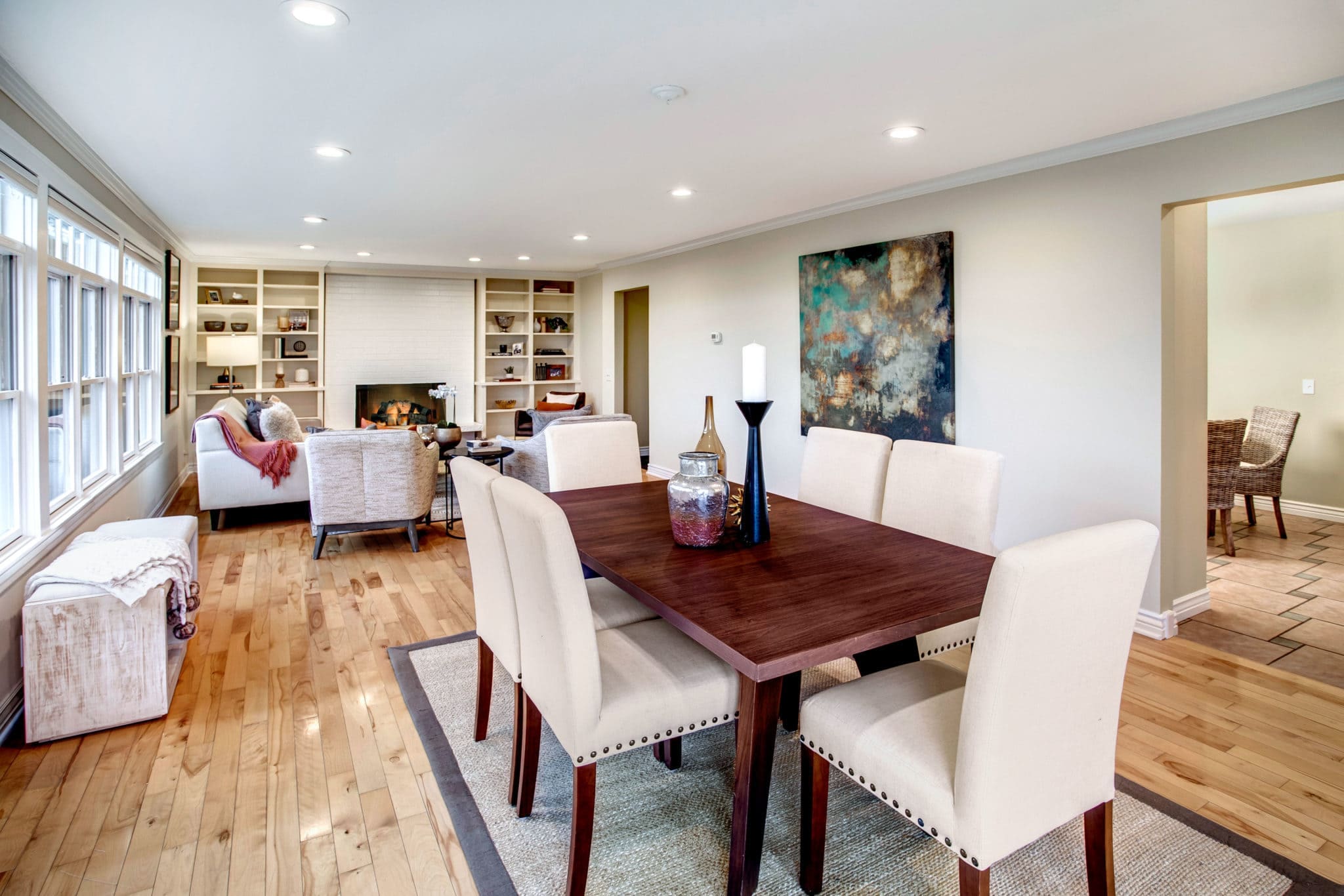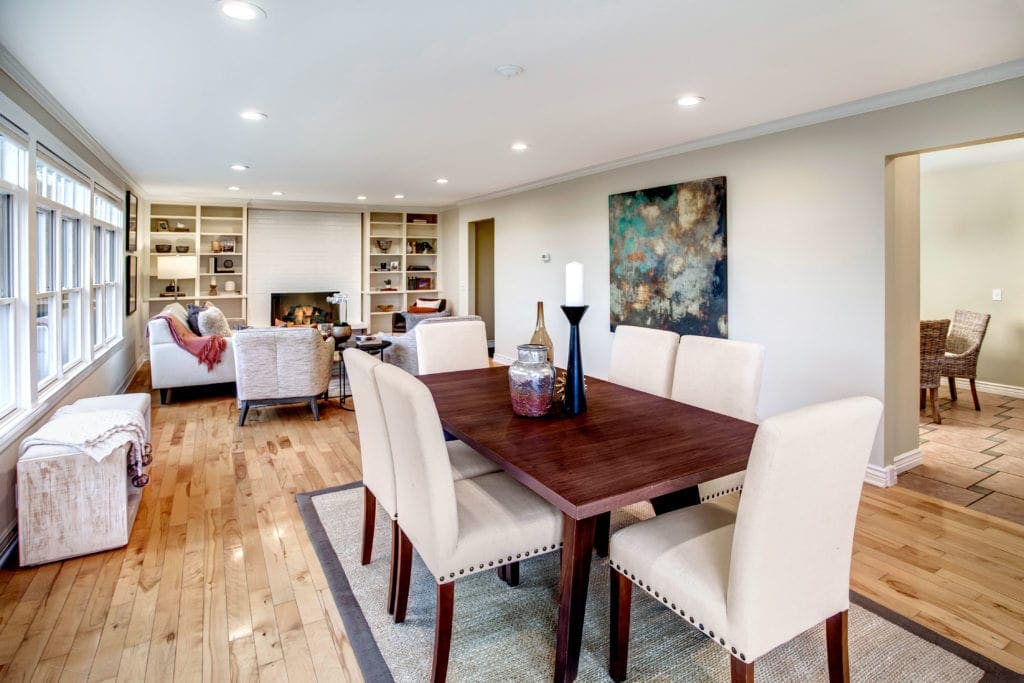 Now that we have raved about the kitchen, we must show off this lovely living and dining space. It has a very similar layout as Lake Diva, which is also a 1970s designed home. The flow of this home is, once again, excellent for entertaining. Having that natural flow from sitting around the dining table to easily lounging in the living room is a feature we love about our lake home and one we don't have at our current Seattle home. Even if you are not the entertaining type, being able to enjoy a lake view and a roaring fire while you're eating dinner or playing cards is such a joy.
I also love the way our sellers described waking up to the sunrise over the Cascades and trees of Seward Park while drinking their morning coffee. These windows and the view are what living in Seattle is all about!
This Lake View Seward Park Contemporary Has Coveted Basement Flex Space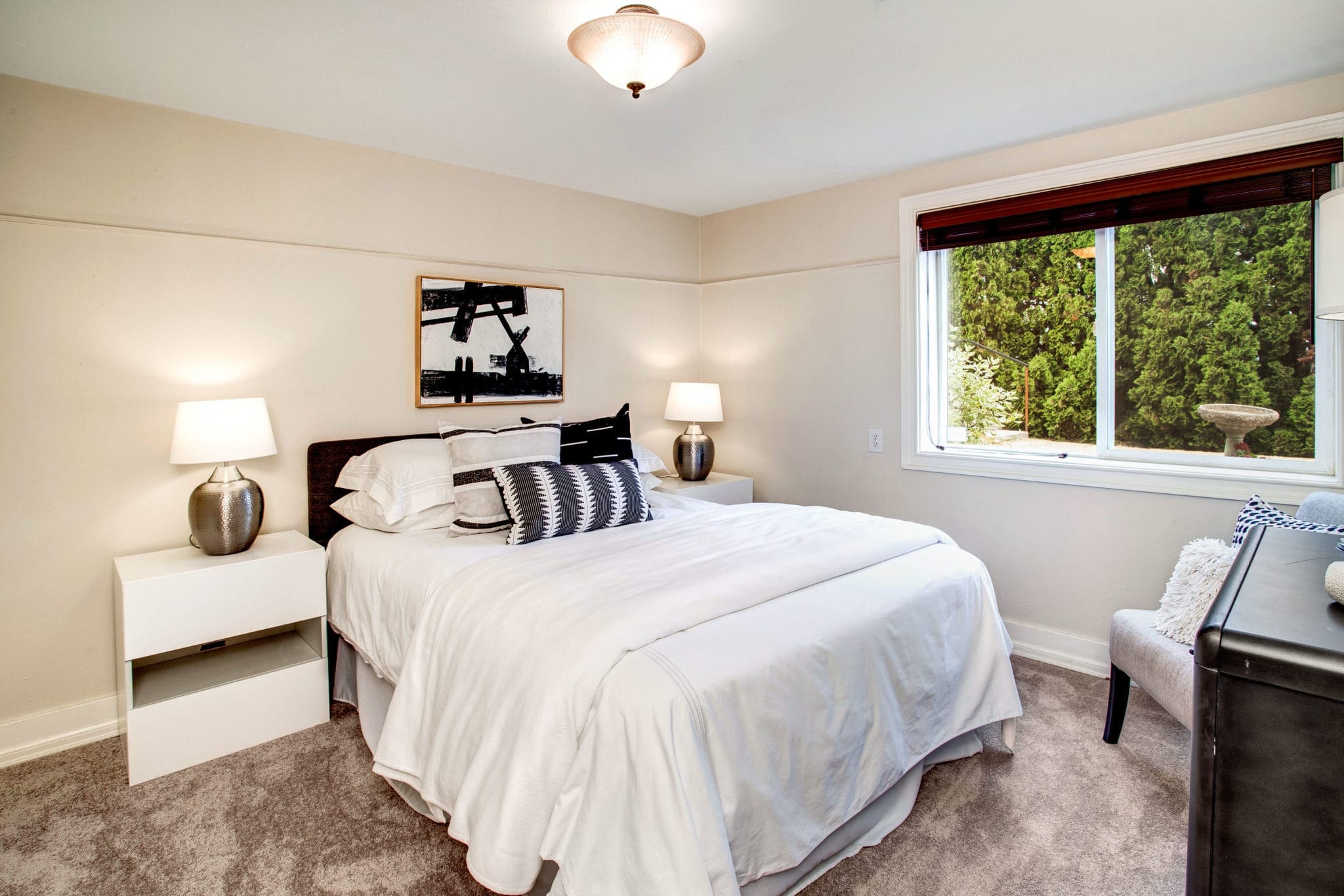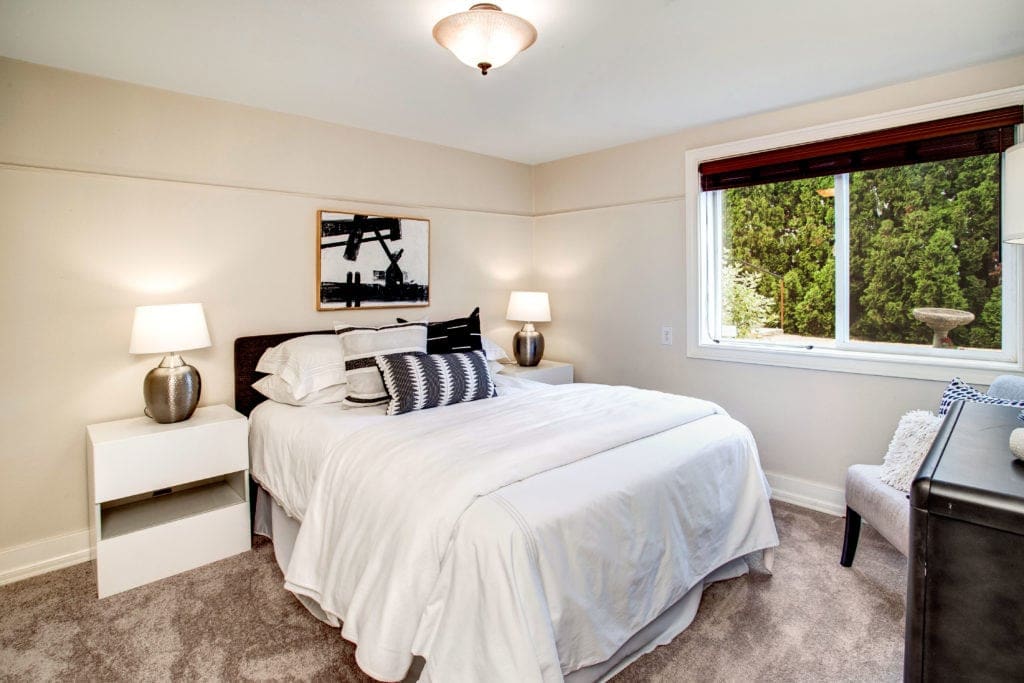 I am a big fan of a separate guest suite. And with so many of us working from home these days, having space that is separate from the main living area is so important for our sanity. This basement is fully finished with a cozy rec room, and separate bedroom and bath. It even has a separate entrance. Frankly, any of us with kids coming back from college will love this aspect. And most importantly, it has a high ceiling for tall gals like Chavi!
The Updates Ensure You Can Move Right In Without A Care!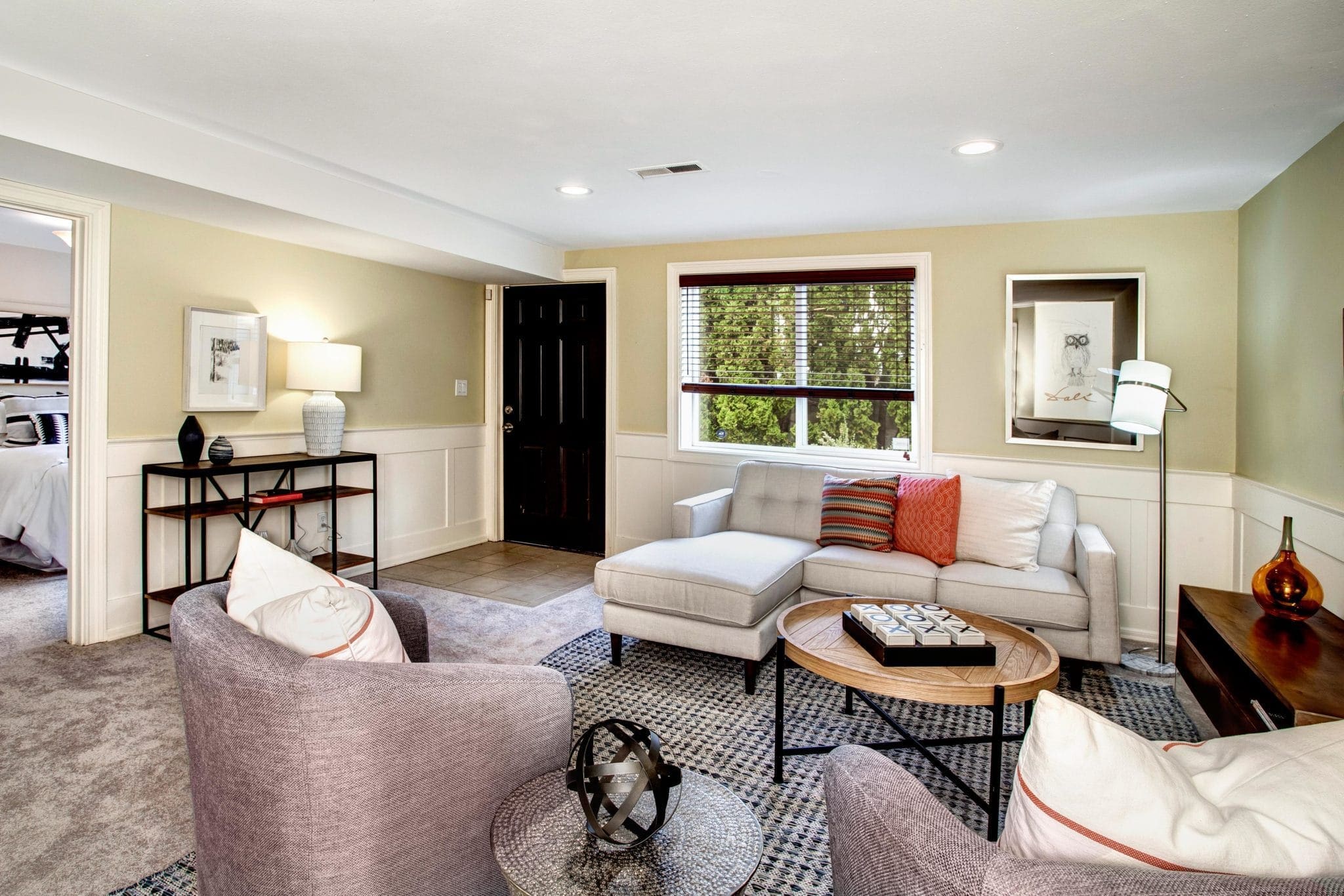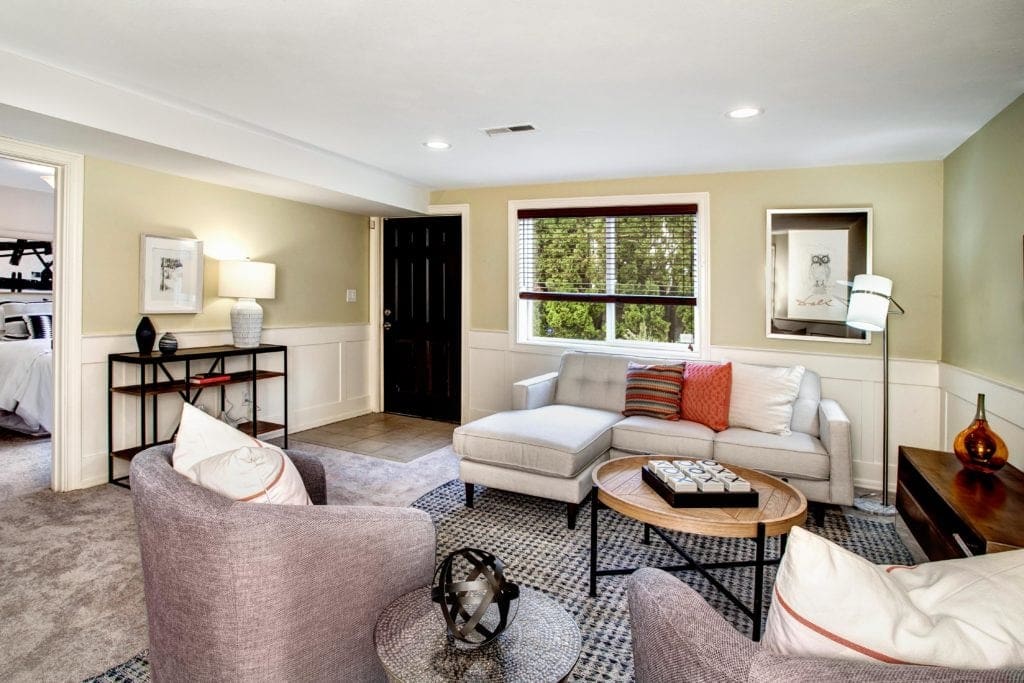 We also HAVE to mention that not only have all the systems been updated in this home, but it also has air conditioning! Summer may be over, but global warming is not going anywhere. When we hit those 100 degree summer days next July, you and your posse can play games, watch movies, and literally "chill out" in this fabulous basement.
This Lake View Seward Park Contemporary Even Has a View Deck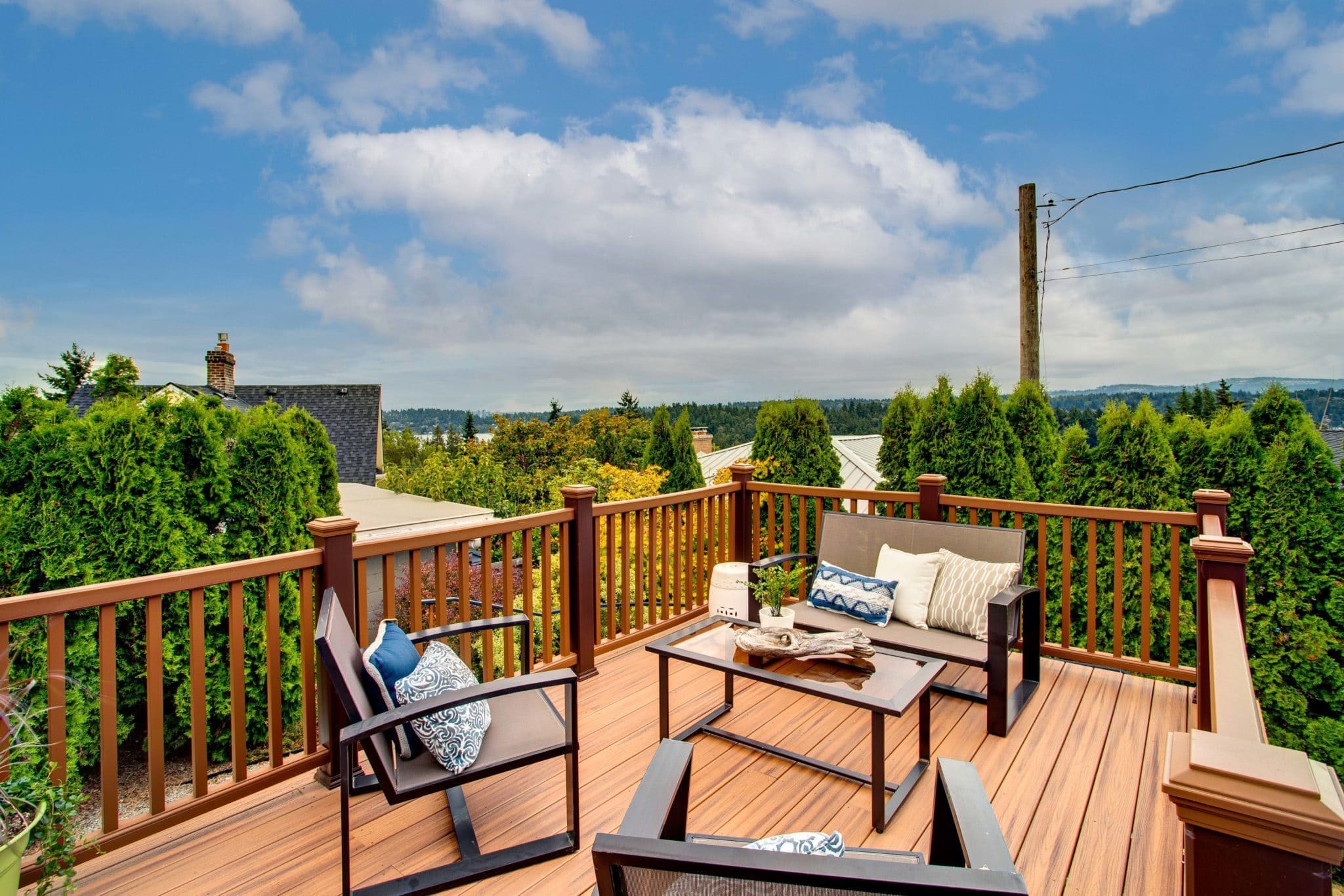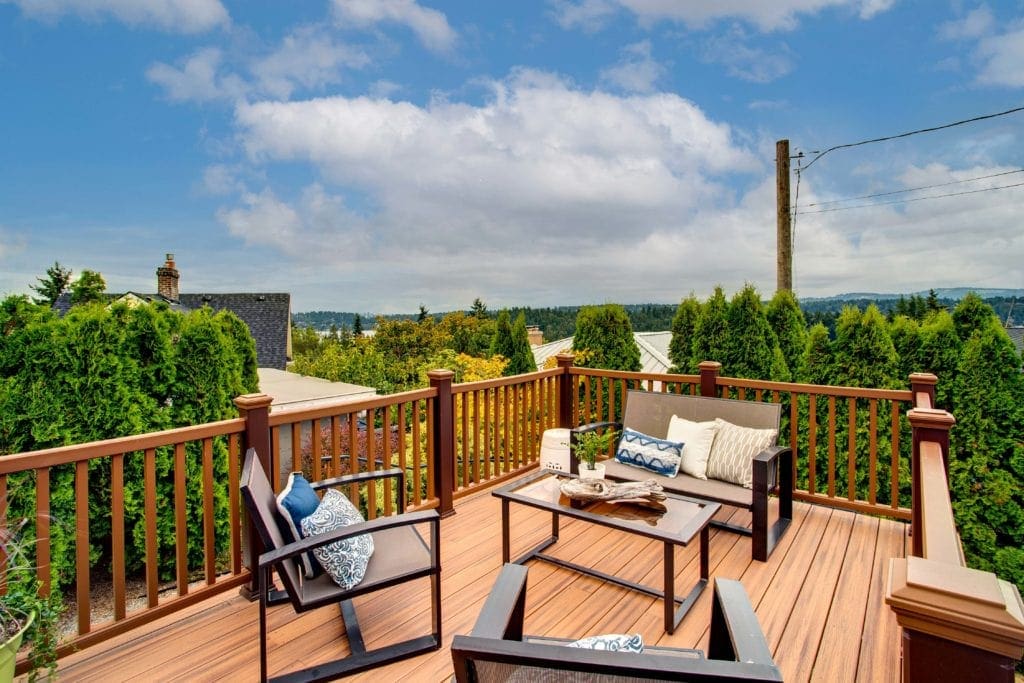 Now, this is a property deck. I love how the French doors open right from the dining room out onto the deck—it effortlessly expands your living space. It's perfect for those summer days when you spontaneously want to dine outside or just let the fresh airflow. Kick back on the deck, open up some Locus wine (my fave), and admire the peaceful view of Lake Washington and Seward Park any time you want. Oh, and the picturesque views of the privacy, professionally landscaped yard are pretty sweet, too!
This deck is just one of the many upgrades the sellers made over the years they owned this home, and the next lucky Diva Dwellers sure are in for a treat. Especially because so many of us only spend time with our friends outside these days. Having a space like this makes hanging out with our vaxxed posse feel just a little safer. Cheers!
Let's Take a 3D Tour, Too, So You Can Immerse Yourself in this Lake View Seward Park Contemporary
Team Diva takes every precaution, and then some, to make sure all of our homes are listed following all COVID precautions. It is our duty to ensure everyone's safety as you enter one of our listings. Feel free to take a virtual tour from the comfort of your couch!
Curious to learn more about our latest safety precautions? Read "Team Diva's COVID Safety Protocols for the Delta Variant" here!
Bonus Love! Seattle's Seward Park Community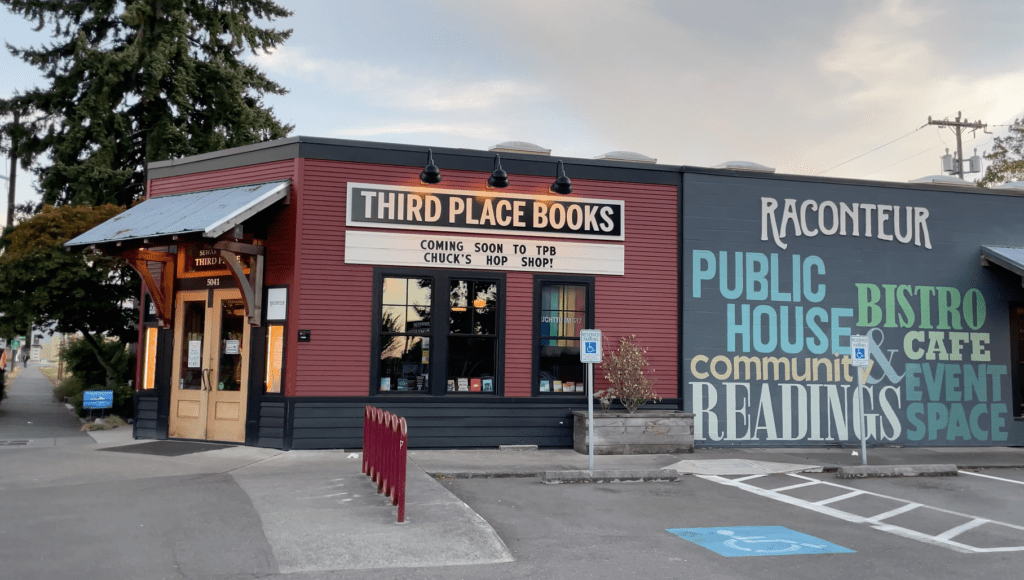 Ok, so we usually only do top 5 highlights on our Diva Dwellings, but this Lake View Seward Park Contemporary truly has so, so much going for it. I had to add some bonus love! Seattle's Seward Park community is something special. I'll keep it brief. First off… living in this cute cul-de-sac would be totally lovely. Our clients talk about how all the folx hang out and drink wine together. How fun!
This Diva Dwelling is also so close to Pizzuto's. If I lived here it would be so tough for me to not be there eating chicken parmesan every night! Chavi and I would also definitely be shopping for the dogs at Ideal Pet Shop all the time. And we'd be buying books at Third Place Books. Of course, we'd also be on frequent strolls down to Seward Park for afternoon walks. Chavi also reminded me how close it is to Columbia City—there's so much to do and see here, too.
---
How to Buy a Home in Seattle: The Entire Process in Brief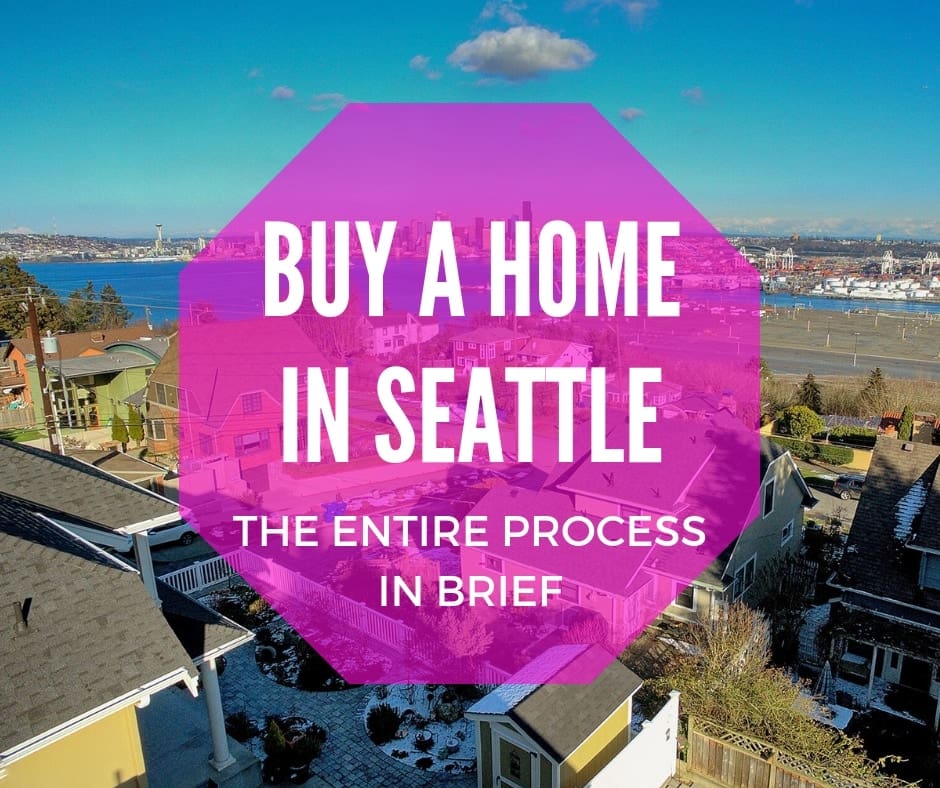 Let's get down and dirty. Owning a home in Seattle is an amazing experience and it can be fun. Do not listen to all of those cranky folks who think Seattle is not what it used to be and a middle-income owner cannot afford to buy a home in Seattle. Strap in, get yourself some strong Seattle coffee and learn how to be a smart and savvy home buyer in Seattle.
Steps For Buying a Home in Seattle
Find Your Guide: Find an agent that is super savvy and will be your ultimate navigator.
Choose Your Priorities: Size, Condition, Or Location?
Home Buyer Intake Process: Schedule a sit-down meeting with you and your real estate team to dive into what you want in a home.
Financing: Get your financial house in order.
Big Search: The big home search in Seattle
Making an Offer: Know what you need and how to prepare yourself to make an offer.
You Are In Contract: You've signed on the dotted line. Now… the hard work really starts.
Inspecting Your Home: What to look for, how to hire an inspector, and how to respond to the inspection.
Reviewing The Title Report: The title report is often the most overlooked portion of the buyer's review.
Reviewing the HOA/Resale Certificate (for Condos): …Also an overlooked portion of the buyer's review process.
Appraisal Process: Most homes are purchased with a home loan. The appraisal determines the final value by your lender for your home.
Final Loan Approval: All kinds of things can come up during the final loan approval process, so be prepared.
Final Two Weeks of the Process: Walkthrough, inspection resolution, and (for god's sake) do not make a huge purchase on a credit card.
Signing Your Final Homeowner Documents: You made it!
Closing Day: You get the keys and access to your home.
This is just a starting point, and we have so much more to share about the home buying process. Browse our Home Buyer page for a comprehensive home buying education.
---
Thank You For Touring Our Lake View Seward Park Contemporary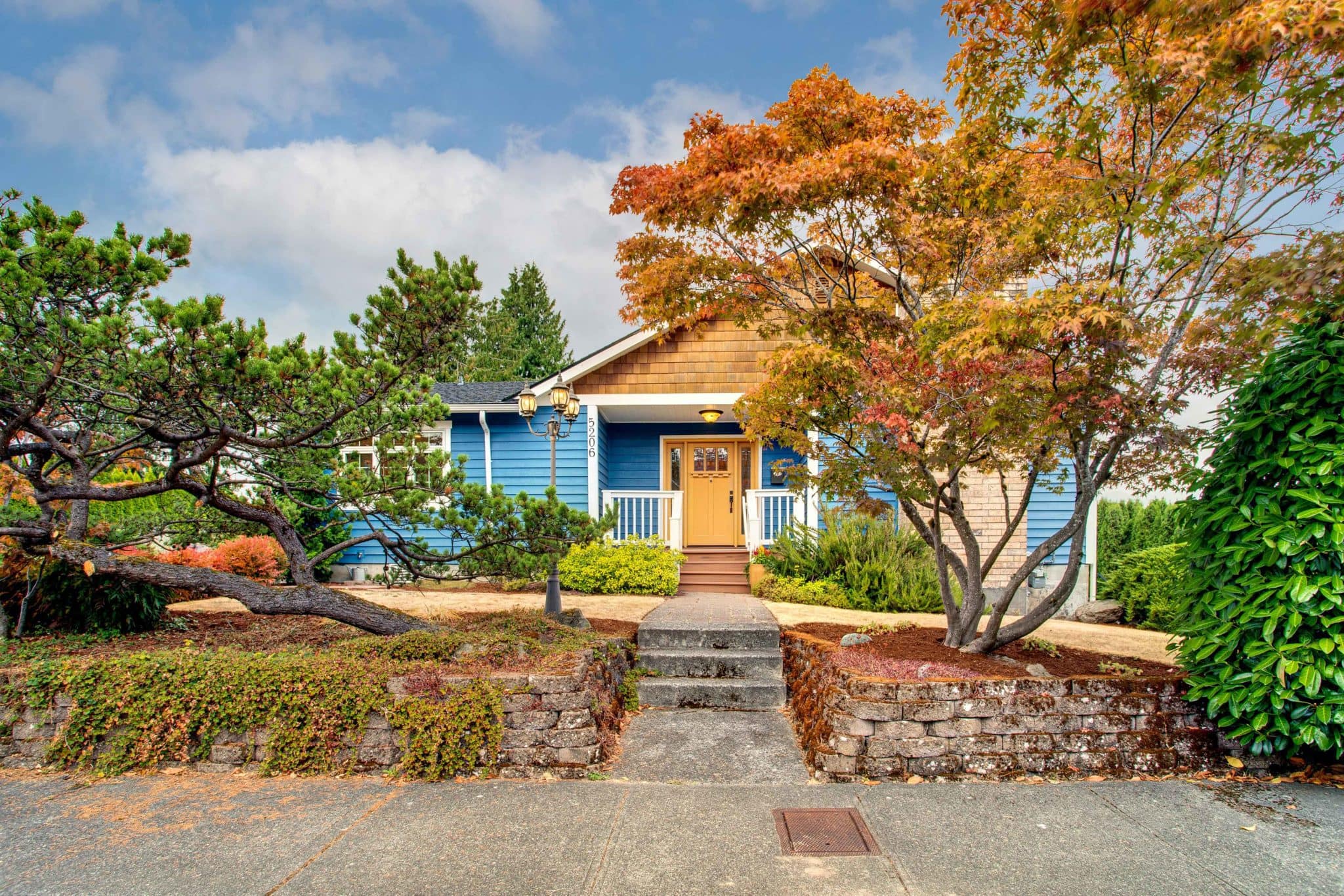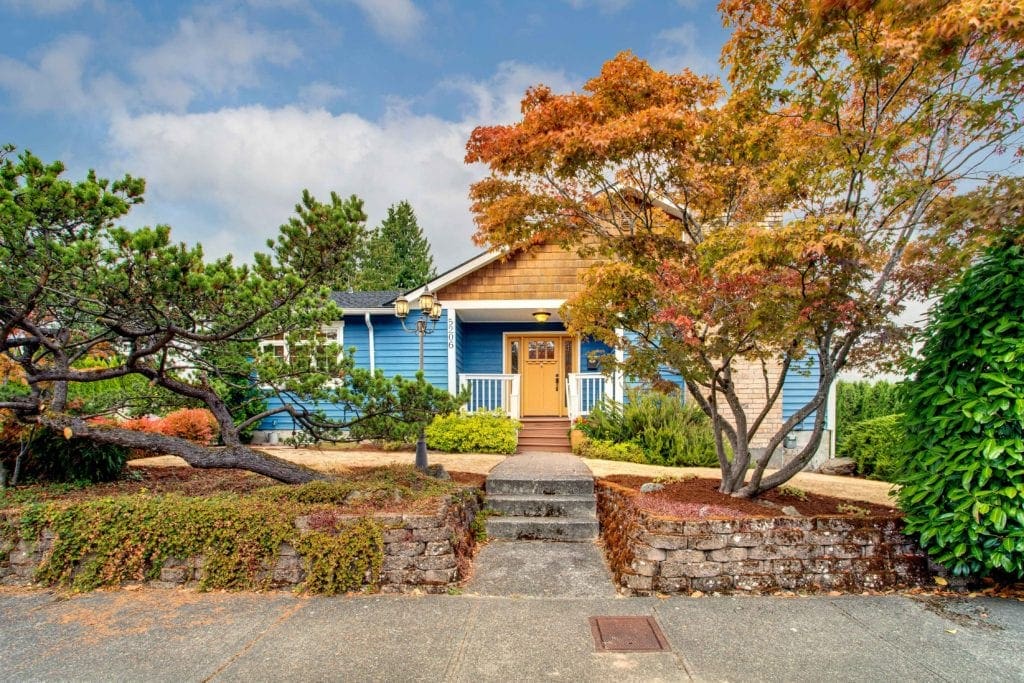 Thank you for taking the time to learn all about this Lake View Seward Park Contemporary! I'm so glad I could show you exactly why this Diva Dwelling is on the list of home us Divas would want to buy. The kitchen, living/dining area, and deck with a view are all perfect for entertaining and relaxing. The basement flex space and the updates promise convenience. And of course, Chavi and I just love the Seward Park community!
And yes this home is absolutely fabulous. So want to help me tell our Divaland folks why this house makes it on the list of homes we Divas would want to buy?
All the Good Details
Address: 5206 S Mead St, 98118
MLS# 1839518
Square Footage: 2,150
Bedrooms: 3
Bathrooms: 2.25
Offering Price: $1,065,000
Ready to tour this Lake View Seward Park Contemporary in person? Contact us today so I can show you this Diva Dwelling's kitchen, living/dining area, view deck, basement flex area, updates, and Seward Park community!