This remodeled West Seattle bungalow is extra special for Diva Dude Roy Powell. It's currently owned by some of his very close friends who completely transformed the home. Looking nothing like it did when they first bought it. They did all the hard work of stripping at least half the home down to its studs so they could reimagine what a 1940s post-war bungalow could truly be! My, my—they truly outdid themselves. We are so excited to share this vintage home that shines like new. 
Also: how convenient that this remodeled bungalow in West Seattle is right in Roy's own neighborhood! Roy is an expert on West Seattle, and in addition to showing off why he adores this timeless treasure, he'll be showcasing why this Seattle neighborhood is so lovely. 
Let's Tour this Charming Remodeled Bungalow with Roy
Roy is the listing broker for this West Seattle home. He loves being able to show off his best friends' bungalow, and he's loving the fact that his latest Diva Dwelling is right in his own neighborhood. If you've got a question about living here, Roy brings his first-hand experience and expertise to the table. 
Let's dig in and see why we're in love with this starter home in West Seattle. This bungalow beauty boasts a fully remodeled kitchen and living area, there are updated systems that promise peace of mind, you'll find a big backyard getaway, it's the ideal first home, and it's situated in a picturesque little neighborhood you'll love to hang out in. 
Top Five of Our Favorite Things About This Remodeled Bungalow in West Seattle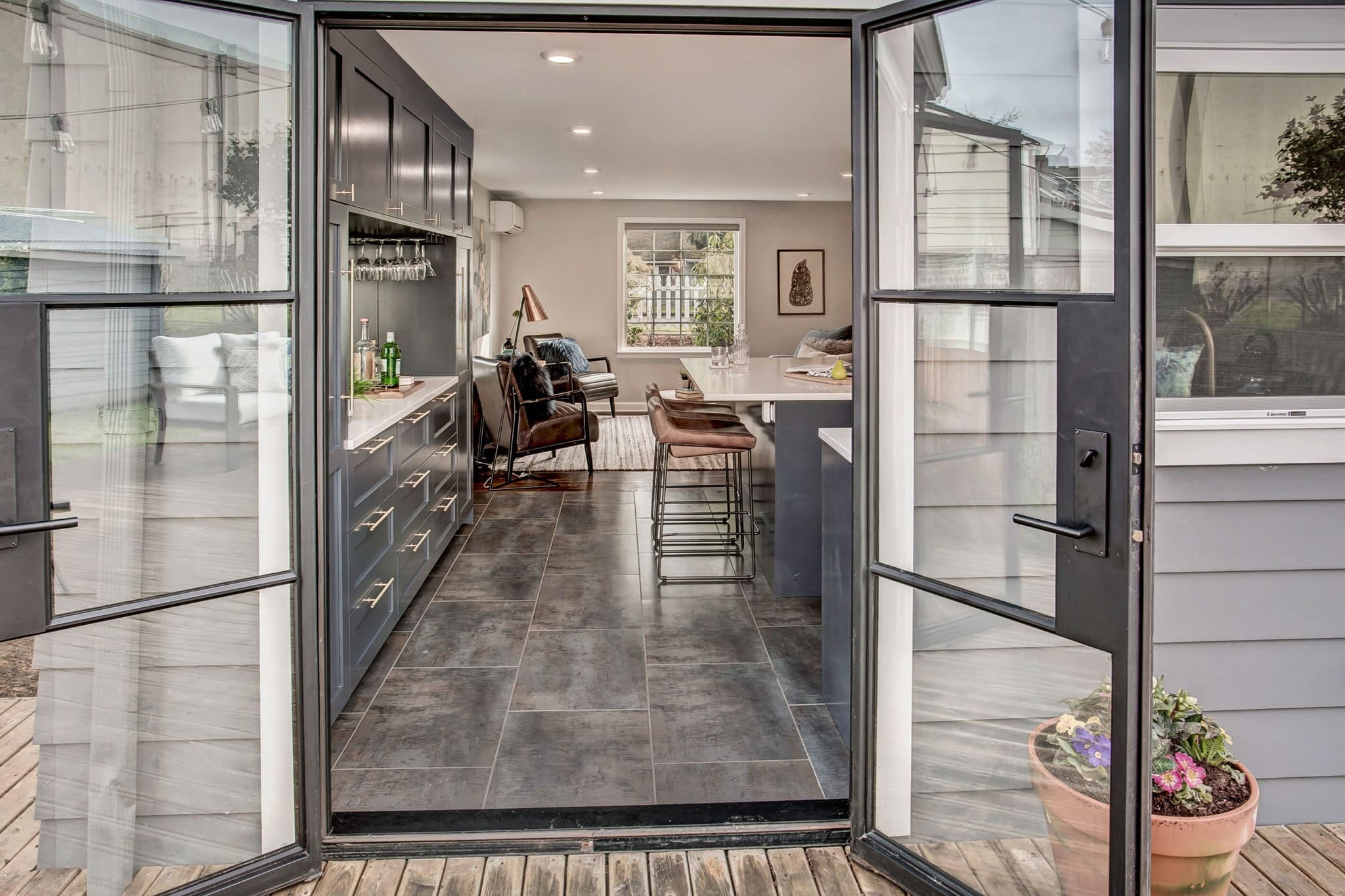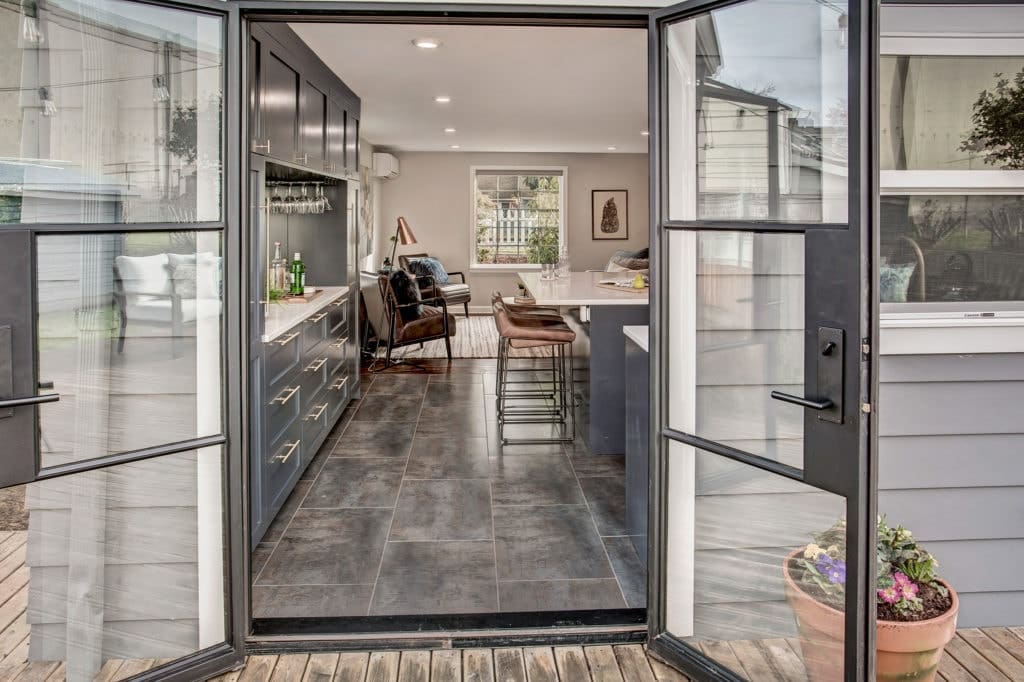 If you follow Roy on Instagram, you already know how much he loves living in White Center, right on the edge of Highland Park in West Seattle. He absolutely adores all of the 1940s bungalows in the neighborhood. These homes are built rock-solid, and when they are remodeled (like this Diva Dwelling has been), it can lead to years of easy enjoyment. 
This particular neighborhood was originally built to serve as housing for Boeing employees, and in the past 80 years, it has been reimagined time and time again. Today you'll see a ton of construction happening in the area, but if townhouse living isn't quite your cup of tea, this remodeled bungalow in West Seattle could be the perfect fit for you! 
A Fully Remodeled Kitchen & Living Area Ready for Easy Entertaining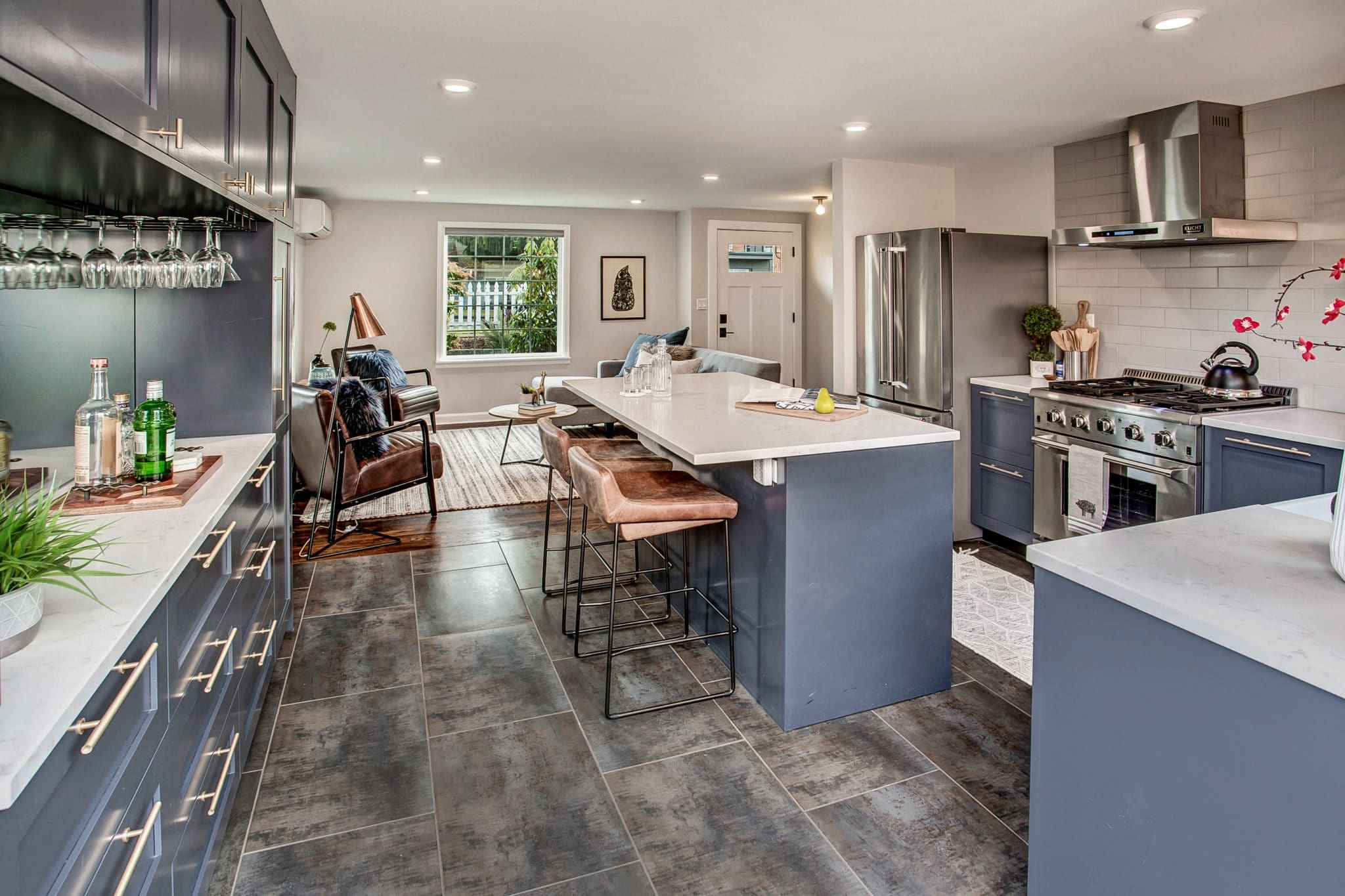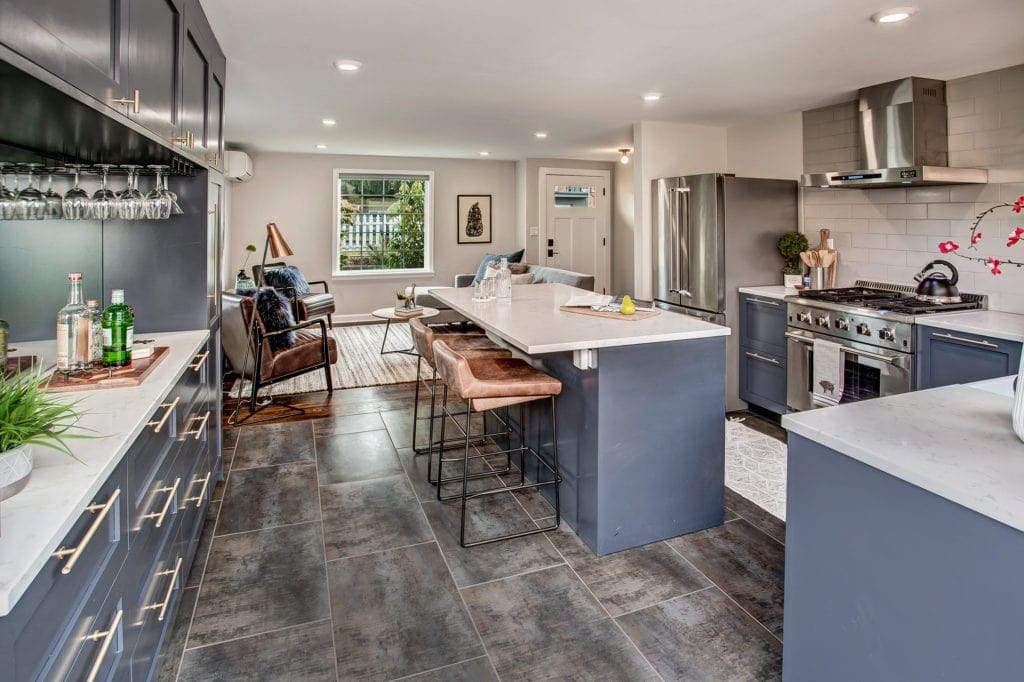 The remodeled kitchen and living area are ready to impress. We are so excited to see how this turned out. When our Diva Dwellers first bought this home a few years ago, it looked so different. They knew they wanted to create a home with a seamless flow from the living room to the kitchen and out to the backyard, and they did exactly that. They created an atmosphere absolutely perfect for entertaining, especially during the summer. 
Over the course of several months, our Diva Dwellers transformed this cute little bungalow into an open floor plan where the kitchen and living room take center stage. Imagine spending evenings in the kitchen sipping on wine and prepping appetizers, then gathering around the kitchen island with your besties to catch up! Head into the backyard to warm up by the fire while the stars go down, letting your doggies run free in the yard… it's 100% dreamy.
Updated Systems in this Remodeled Bungalow in West Seattle Promise Peace of Mind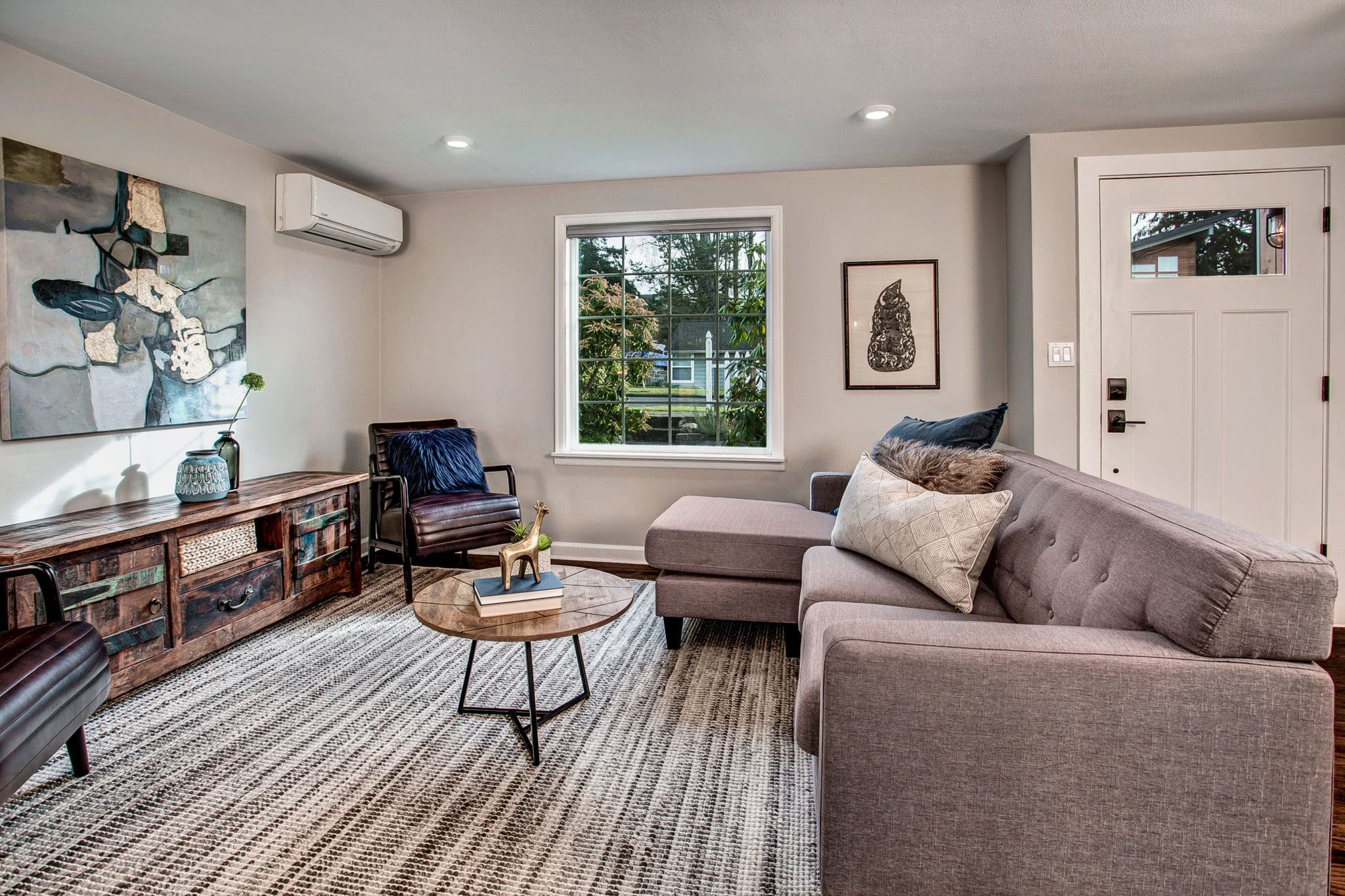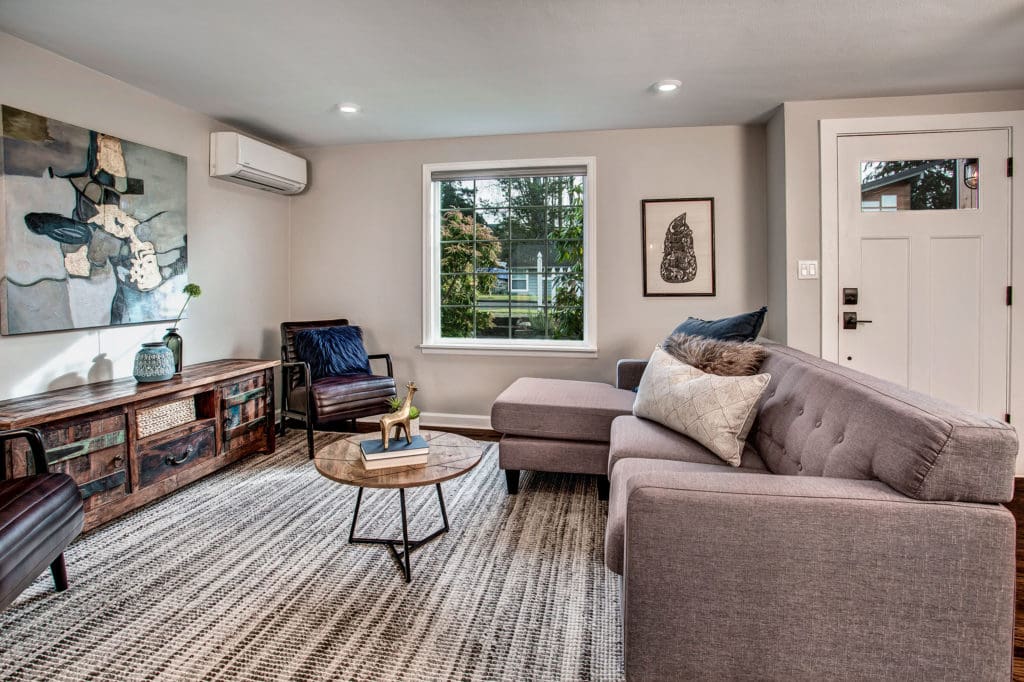 Roy's friends bought this home a few years ago intending it to be their forever home. They proceeded to infuse each space with thoughtful design and care, and this bungalow has been completely transformed. It truly looks nothing like it did when they first bought it. These Diva Dwellers did all of the hard work of taking about half of this home down to its studs. From there they reimagined it, helping this 1940s post-war bungalow reach its full potential. 
They moved the laundry to the second bedroom and moved the hot water tank to the outside of the house. Our Diva Dwellers installed all new appliances. They also took the opportunity to install a ductless heat pump that heats and cools the home year-round. You can move right in and not have to worry about a thing (other than how to decorate and make it truly your own!). 
A Big Backyard is Ready for Fresh Air Bliss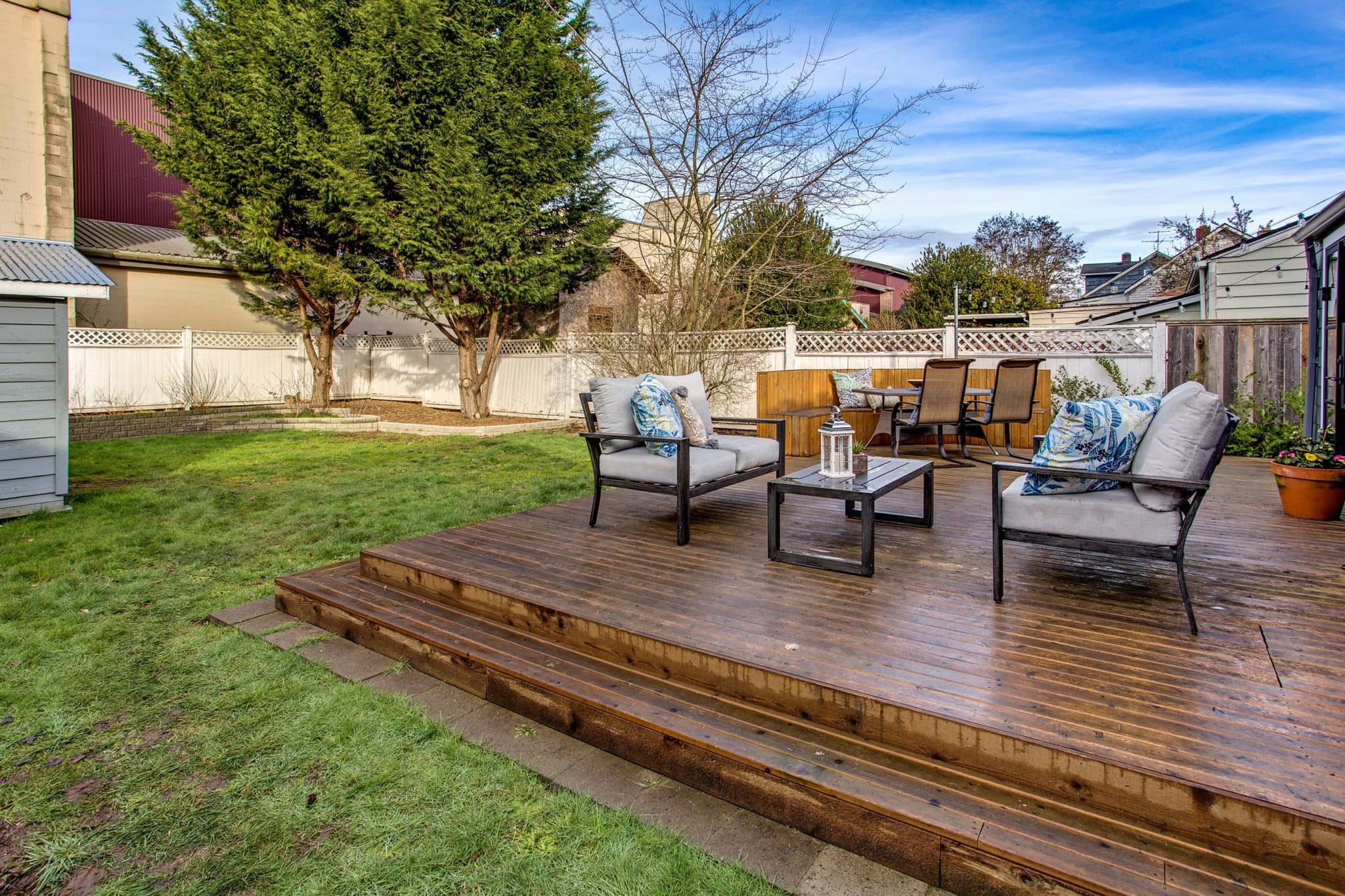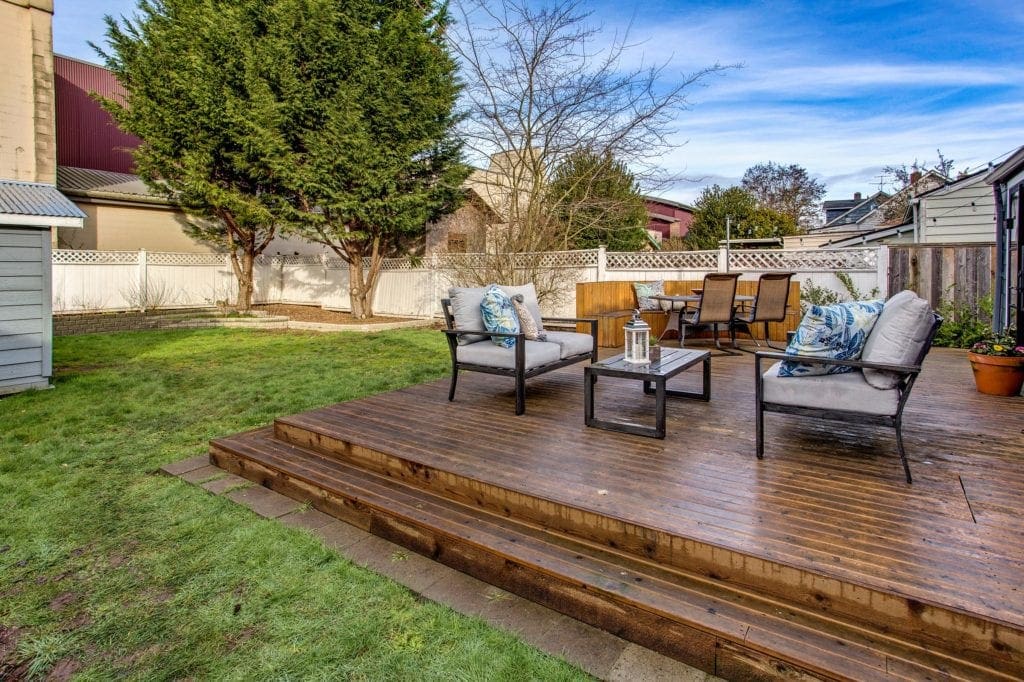 Custom-built French doors swing open to reveal the backyard getaway. A large back deck is entertaining central, with beautiful built-in seating and plenty of room for your next soirée. Our Diva Dwellers loved hosting backyard barbecues and outdoor movie nights here. You've also got just enough yard that you can let pets explore and put your green thumb to work if you want. At the same time, it's still low-maintenance enough that you can spend more time having fun. 
Get Your Foot in The Door, First Time Diva Dwellers!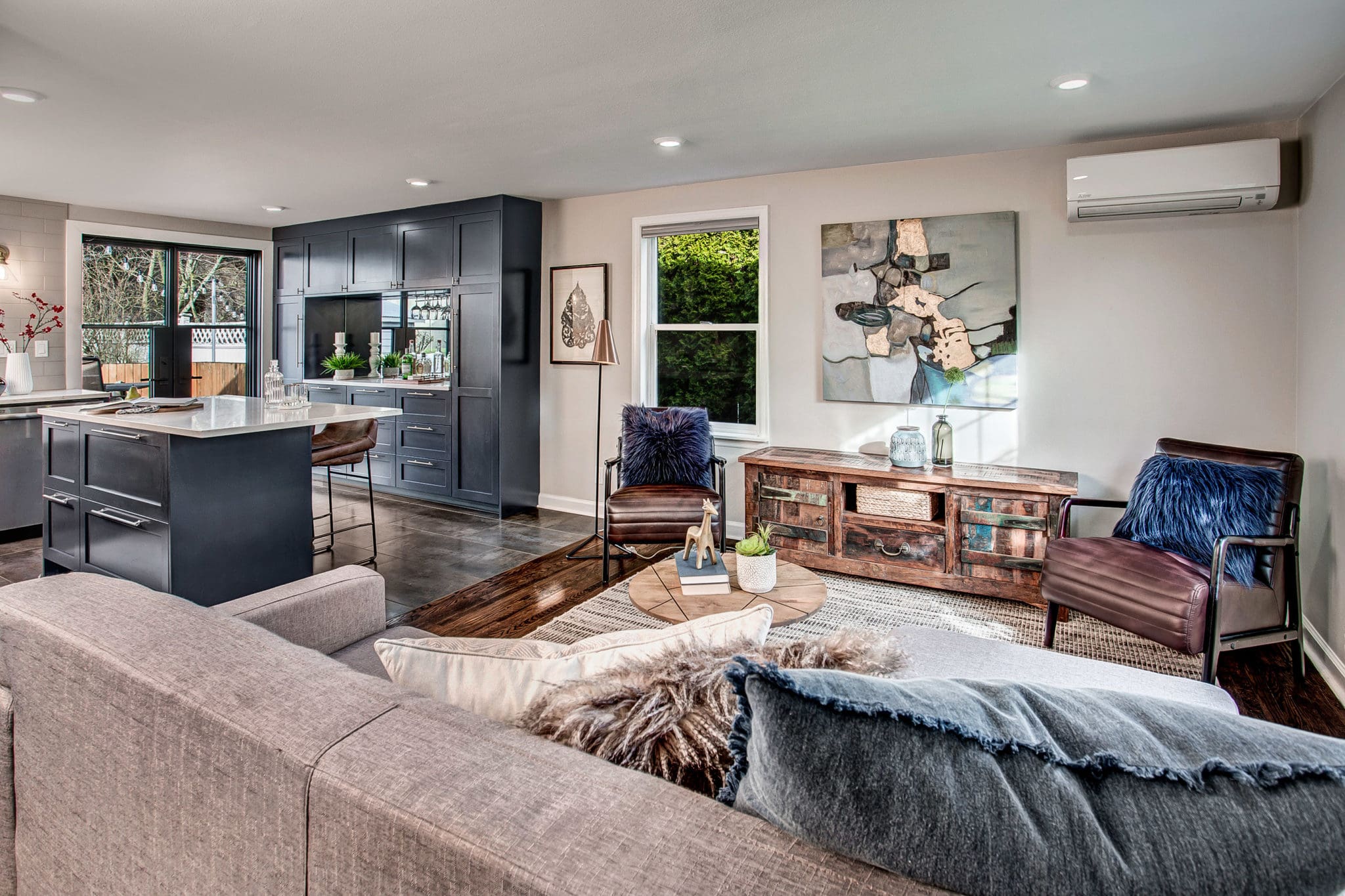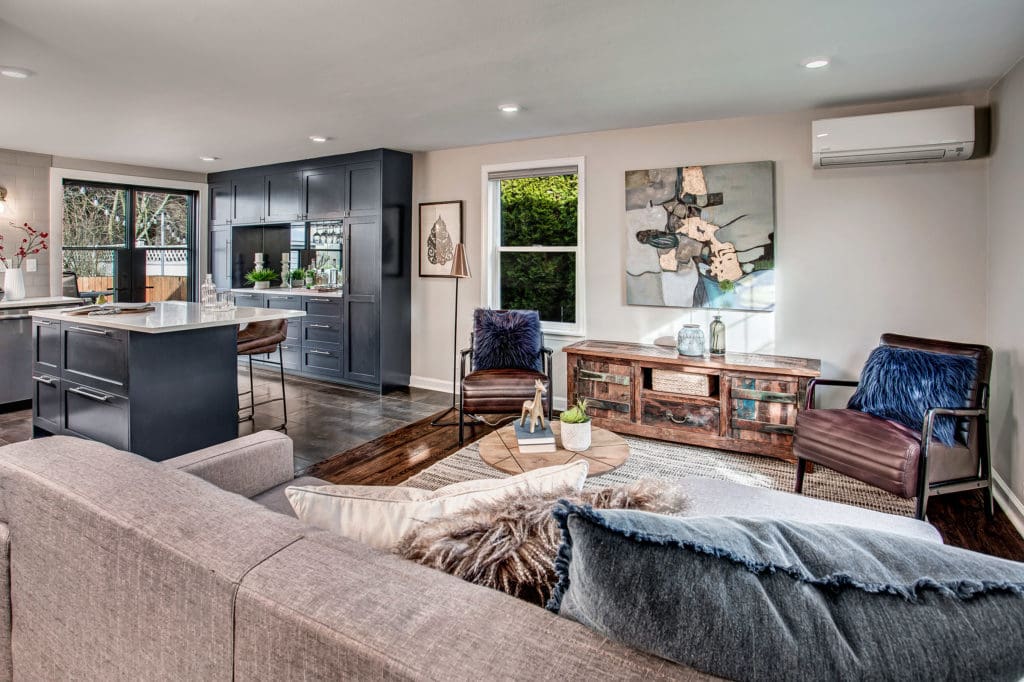 When you're moving from an apartment or a condo, it can be a real challenge to find a fresh one-floor home that has ALL of the modern touches you could ask for. This remodeled bungalow in West Seattle truly delivers. It's an ideal, one-of-a-kind gem for someone looking to stop renting AND get a yard all while putting down roots in an amazing Seattle neighborhood. Win, win, win. 
Team Diva takes every precaution, and then some, to make sure all of our homes are listed following all COVID precautions. It's is our duty to ensure everyone's safety as you enter one of our listings, but feel free to take a virtual tour from the comfort of your couch.
---
Cocktails, Coffee, Commuting— Right Around the Corner in White Center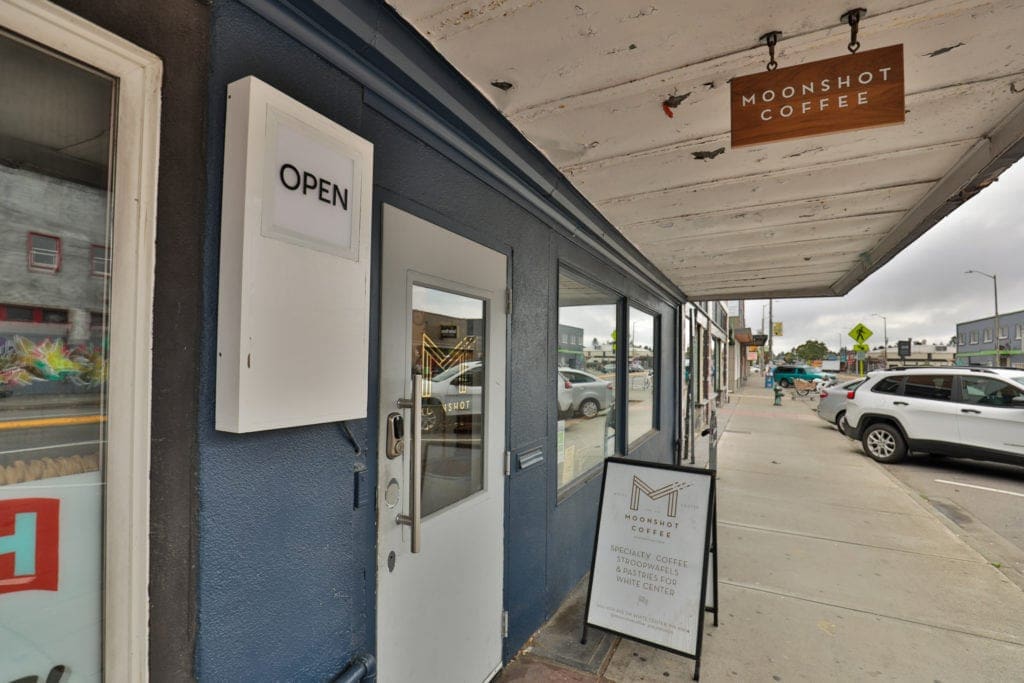 We all love this neighborhood. You can get nearly everything you might need or want right around the corner. If you're not in the mood to cook, all of the great restaurants, cafes, and bars of White Center are only a few blocks away. Stop by Moonshot for a heavenly cup of coffee, grab a burrito from Roy's favorite taco truck at 14th & 97th, or pick up a sweet treat at Fresh Flours. A few of his other favorite spots for food include Salvadorian Bakery, Bok a Bok, Proletariat Pizza, Drunky Two Shoes, Taqueria La Fondita, El Catrin, and Anju. When you're in the mood for a beer, head to Beer Star, Future Primitive, Can Bar, or Blu Grouse, and stop by Lumberyard or BoomBox (both queer bars) for cocktails. 
You can eat your way through the neighborhood but there's more to it than that! Southgate Roller Rink is a local icon. Stop by Nepantla Cultural Art Center or The Plant Store, and stock up on groceries at Hung Long Asian Market or supplies at McLendon's. You'll also find easy commuting options thanks to the Rapid Ride and other buses that will take you straight into Downtown Seattle. White Center really does have it all. 
Take a moment to explore our West Seattle neighborhood guide and our White Center neighborhood guide to see what else we love about these Seattle neighborhoods! 
Check out some of the other great
West Seattle
homes we've sold
---
How to Buy a Home in Seattle: The Entire Process in Brief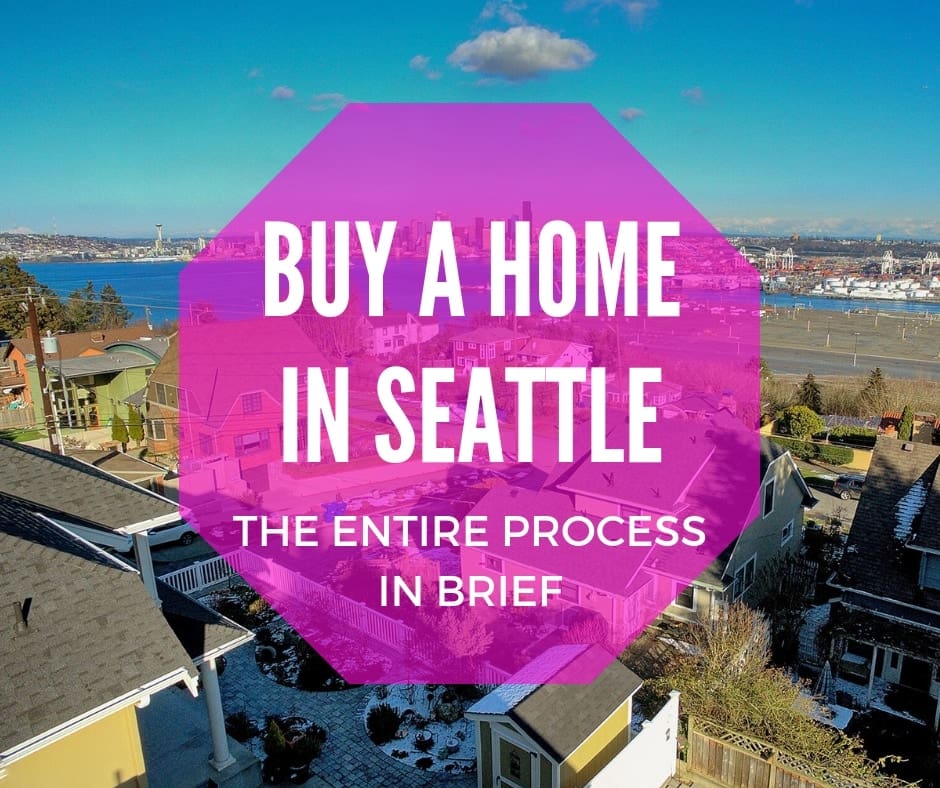 Let's get down and dirty. Owning a home in Seattle is an amazing experience and it can be fun. Do not listen to all of those cranky folks who think Seattle is not what it used to be and a middle-income owner cannot afford to buy a home in Seattle. Strap in, get yourself some strong Seattle coffee, and learn how to be a smart and savvy home buyer in Seattle.
Steps For Buying a Home in Seattle
Find Your Guide:

Find an agent that is super savvy and will be your ultimate navigator.

Choose Your Priorities:

Size, Condition, Or Location?

Home Buyer Intake Process:

Schedule a sit-down meeting with you and your real estate team to dive into what you want in a home.

Financing:

Get your financial house in order.

Big Search:

The big home search in Seattle

Making an Offer:

Know what you need and how to prepare yourself to make an offer.

You Are In Contract:

You've signed on the dotted line. Now… the hard work

really

starts.

Inspecting Your Home:

What to look for, how to hire an inspector, and how to respond to the inspection.

Reviewing The Title Report:

The title report is often the most overlooked portion of the buyer's review.

Reviewing the HOA/Resale Certificate (for Condos):

…Also an overlooked portion of the buyer's review process.

Appraisal Process:

Most homes are purchased with a home loan. The appraisal determines the final value by your lender for your home.

Final Loan Approval:

All kinds of things can come up during the final loan approval process, so be prepared.

Final Two Weeks of the Process:

Walkthrough, inspection resolution, and (for god's sake) do not make a huge purchase on a credit card.

Signing Your Final Homeowner Documents:

You made it!

Closing Day:

You get the keys and access to your home.
This is just a starting point, and we have so much more to share about the home buying process. Browse our Home Buyer page for a comprehensive home buying education. 
---
Thanks for Touring our Remodeled Bungalow in West Seattle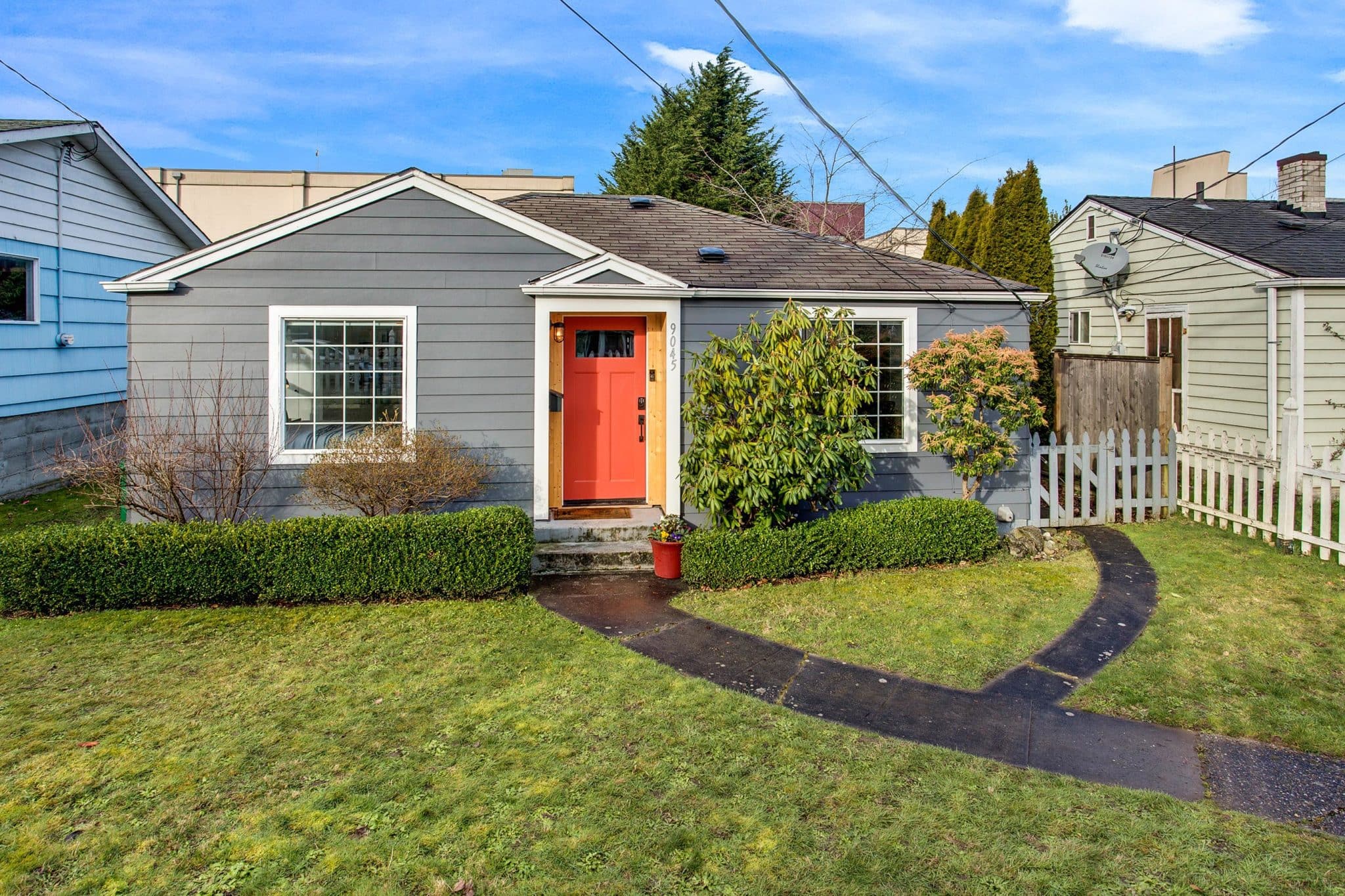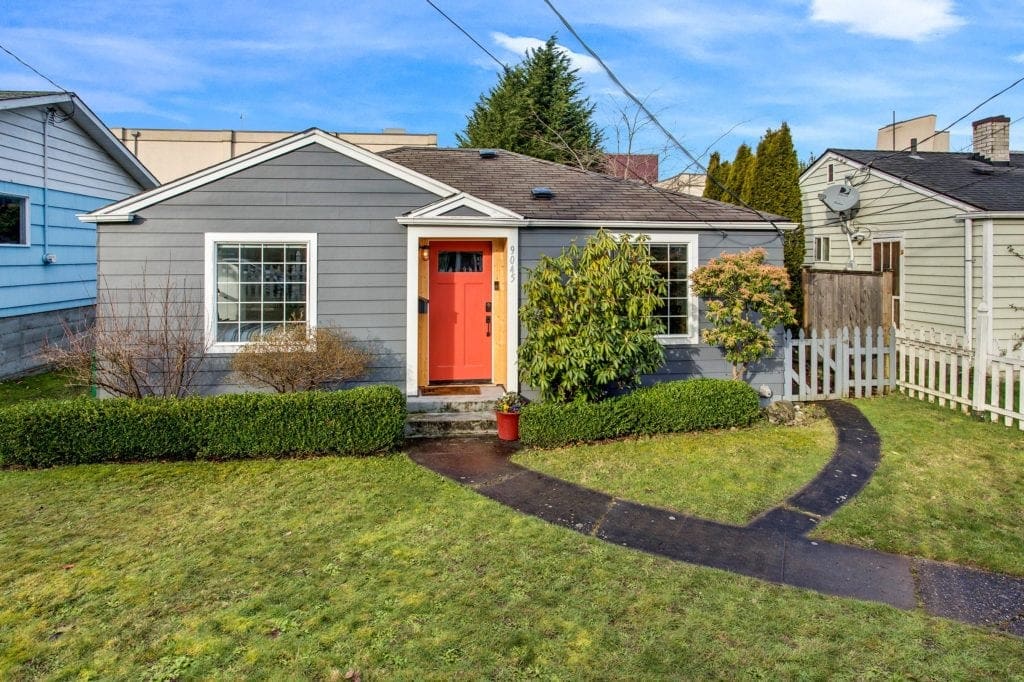 Thank you for taking the time to learn all about this remodeled bungalow in West Seattle! The completely transformed kitchen and living room, the totally updated systems, the big backyard, the first-time Diva Dweller potential, and the charming neighborhood 
All the Good Details
Address: 9045 15th Ave SW
Square Footage: 720
Bedrooms: 2
Bathrooms: 1
Offering Price: $475,000
Ready to tour this Remodeled Bungalow in West Seattle in person? Contact the team so we can show you the gorgeous fully remodeled kitchen and living room, the smart updated systems that make life so easy, the big backyard oasis, all of the highlights that make this Diva Dwelling the perfect first home, and of course why we love West Seattle!