Do you need to sell a condo in Seattle in 2023? Ok in this guide we are going to give you some real talk about what is needed to actually sell your condo this year. Overall we are optimistic about the condo market. We think the call to have more people start working in person will increase the demand for condos. But in many ways, this market is still digging its way out of the Pandemic. In this guide we are going to go into detail about what it takes to sell a condo in this market and we have some advice from the team.
5 Steps on How to Sell a Condo in Seattle 2023
We asked the team what advice they are giving to their clients on how to sell a condo in Seattle 2023. And here is what they said:
It's crucial to make sure your HOA is in stellar shape.
Know the financial situation of the building you are selling in.
The competition for selling a condo is going to be fierce. Get your condo looking pretty, present it well, and make sure it's priced competitively.
staging of some kind is always mandatory
In this blog, we are sharing the expertise and advice that our team members are sharing with their clients as they prepare to sell a condo in Seattle in 2023. We're also sharing a detailed step-by-step guide on how to successfully sell a Seattle condo.
Start Here – How to Sell a Home in Seattle in 2023 Video
Kim gives you special advice on how to sell a home in Seattle. There is a reason why we sold ALL of our listings during the Fall of 2022 market. They followed our Diva Difference listing process. Kim spills all of her secrets in this video.
Next – Download Our Home Seller Guide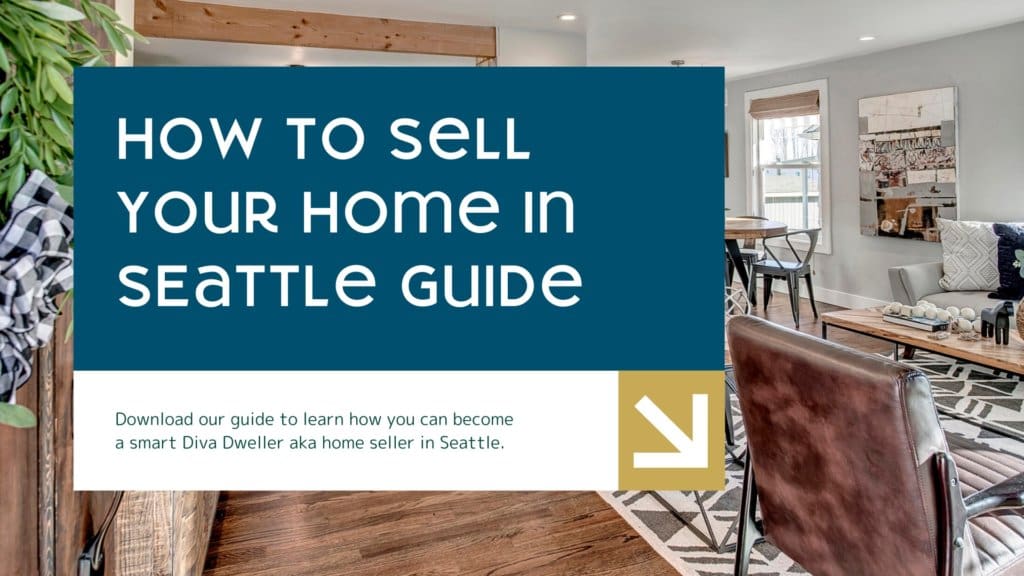 Next Check Out The Advice From Our Team Below
Our team has some things to say!!!
---
Tips From Team Diva on How to Sell a Condo in Seattle in 2023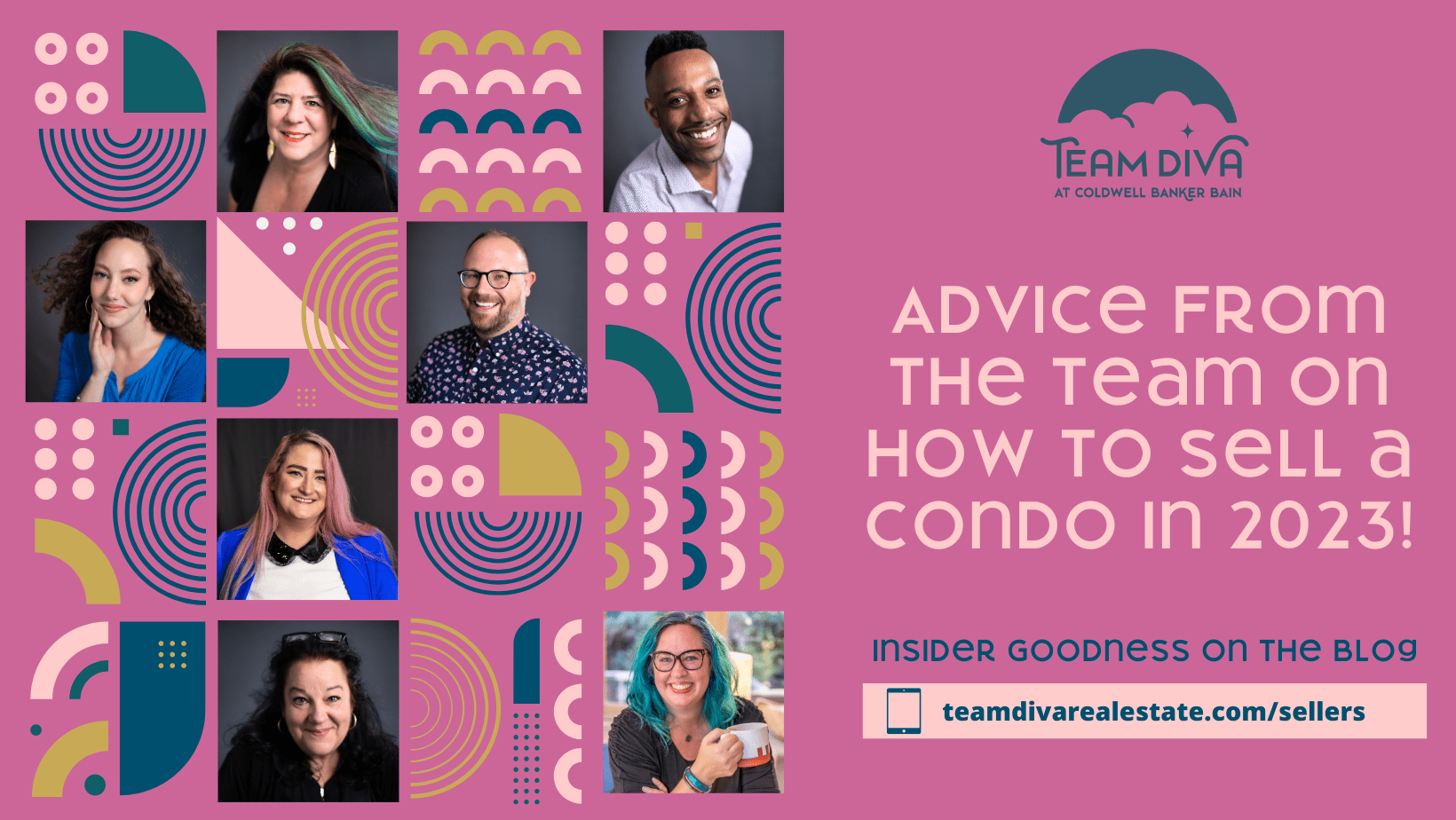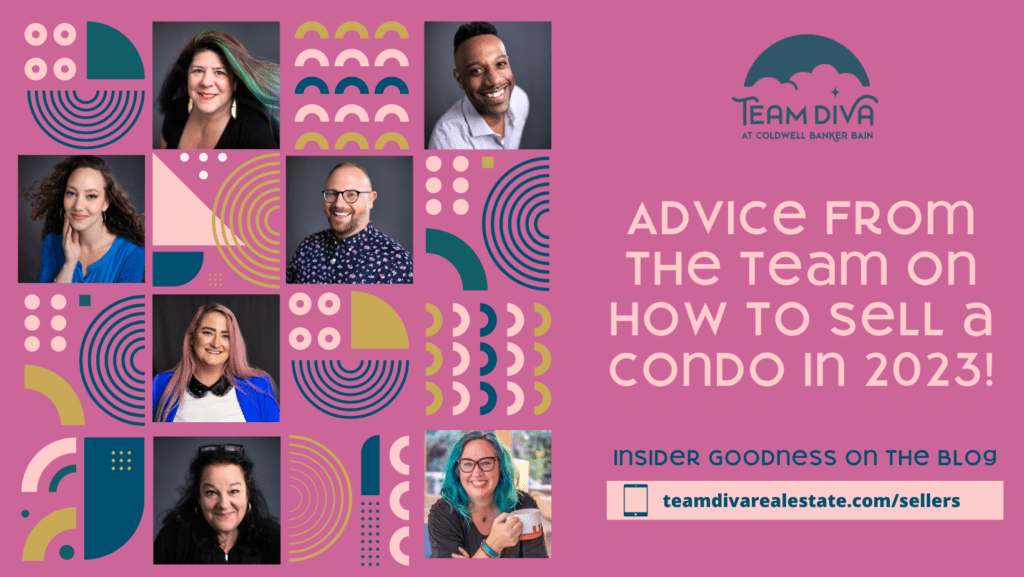 Each of our Team Diva team members works with both condo buyers and sellers throughout Seattle and King County. Because of this, we have real-time market knowledge; we're always actively working with buyers and sellers. This also means that we know about market trends before they're "officially" reported. And since we also work with condo buyers, we know exactly what they're looking for in a condo, and therefore we know how to best prepare your condo to sell. 
Here's the advice that our Team Diva brokers have about selling a condo in 2023:
Kim Colaprete's Advice for Selling a Condo in Seattle in 2023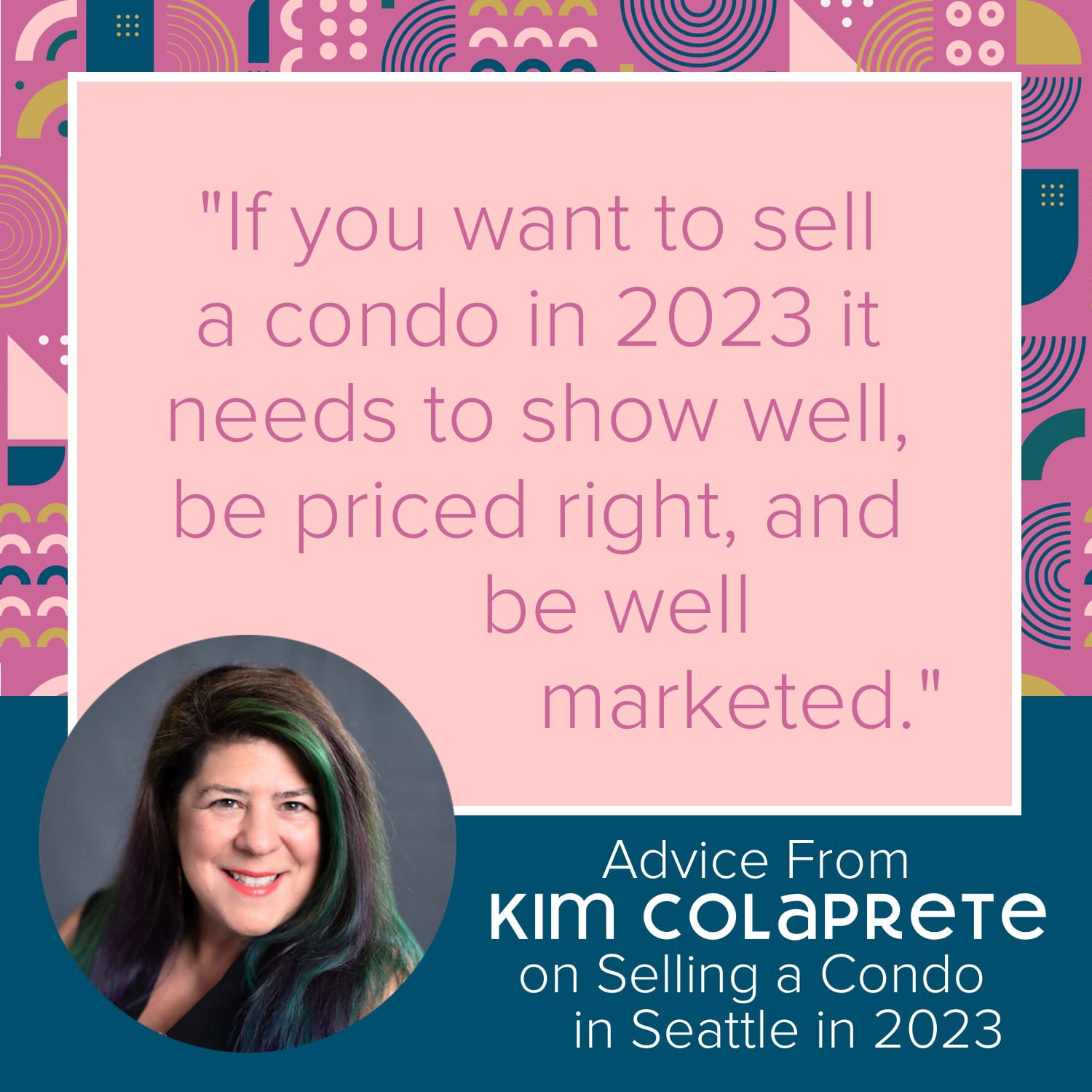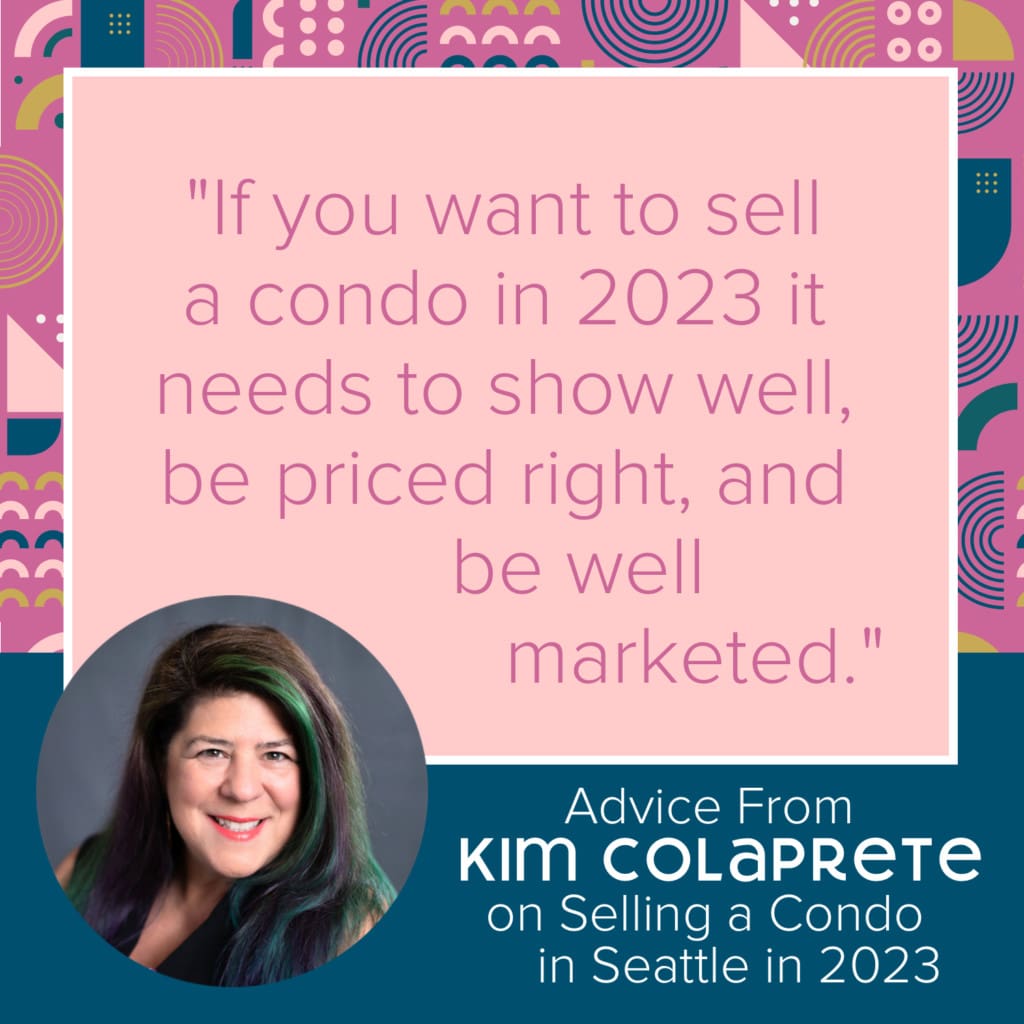 "Know your condo building inside and out since when you sell a condo, you are also selling the building. As of right now (December 2022) the demand rate for 1-bedroom condos in Seattle's urban core is at 5.0. That's 5 months of condo inventory. This is probably not going to change much in the next few months. If you want to sell a condo in 2023 it needs to show well, be priced right, and be well-marketed. And, you also need to make sure your HOA is in stellar shape. Find out if there are any issues in your building, and work like hell with the rest of the HOA and owners to get them addressed and/or corrected. A well-funded, pro-active HOA means a more desirable place to live for future homeowners. And that's a huge plus in any market." – Kim Colaprete 
Rocky Flowers' Advice for Selling a Condo in Seattle in 2023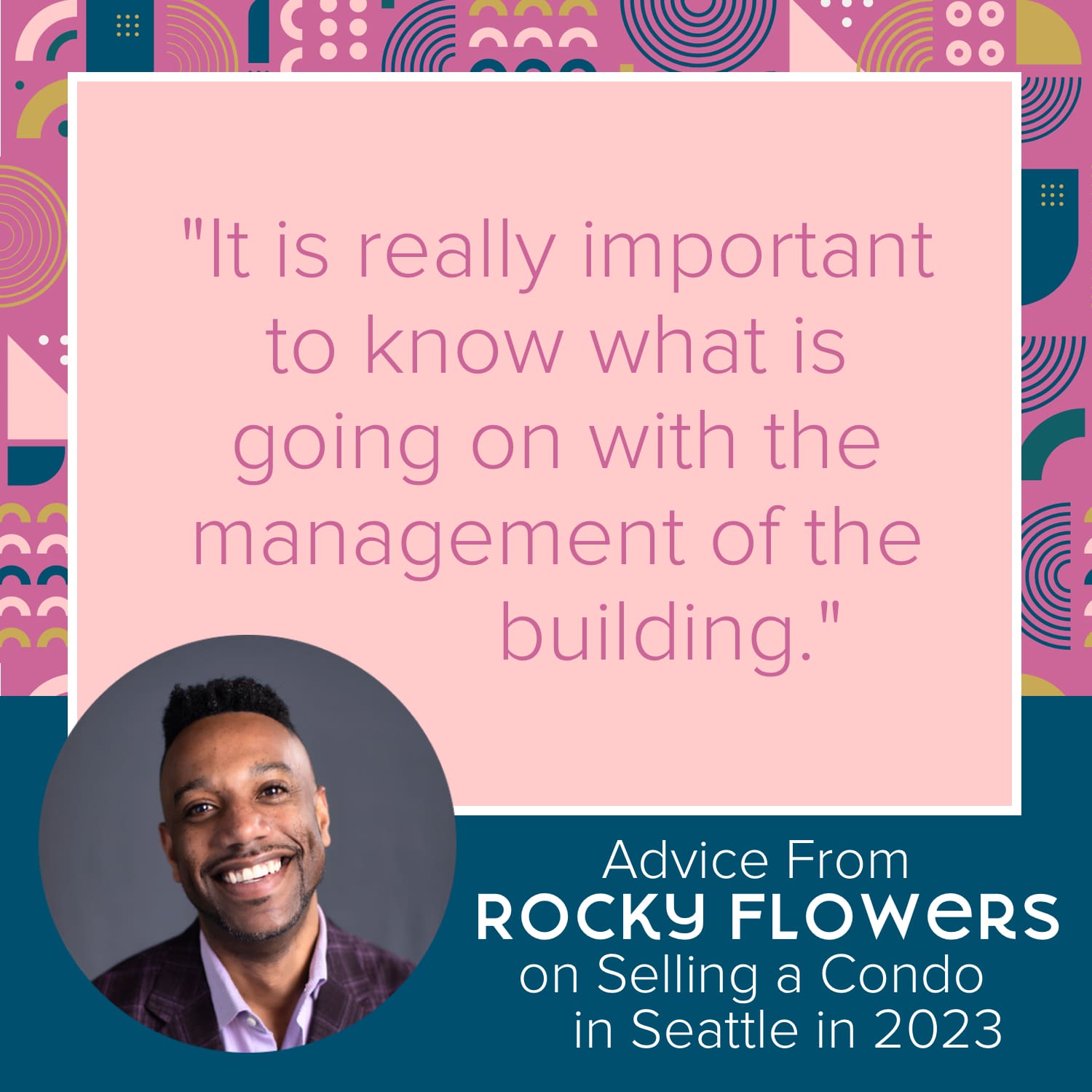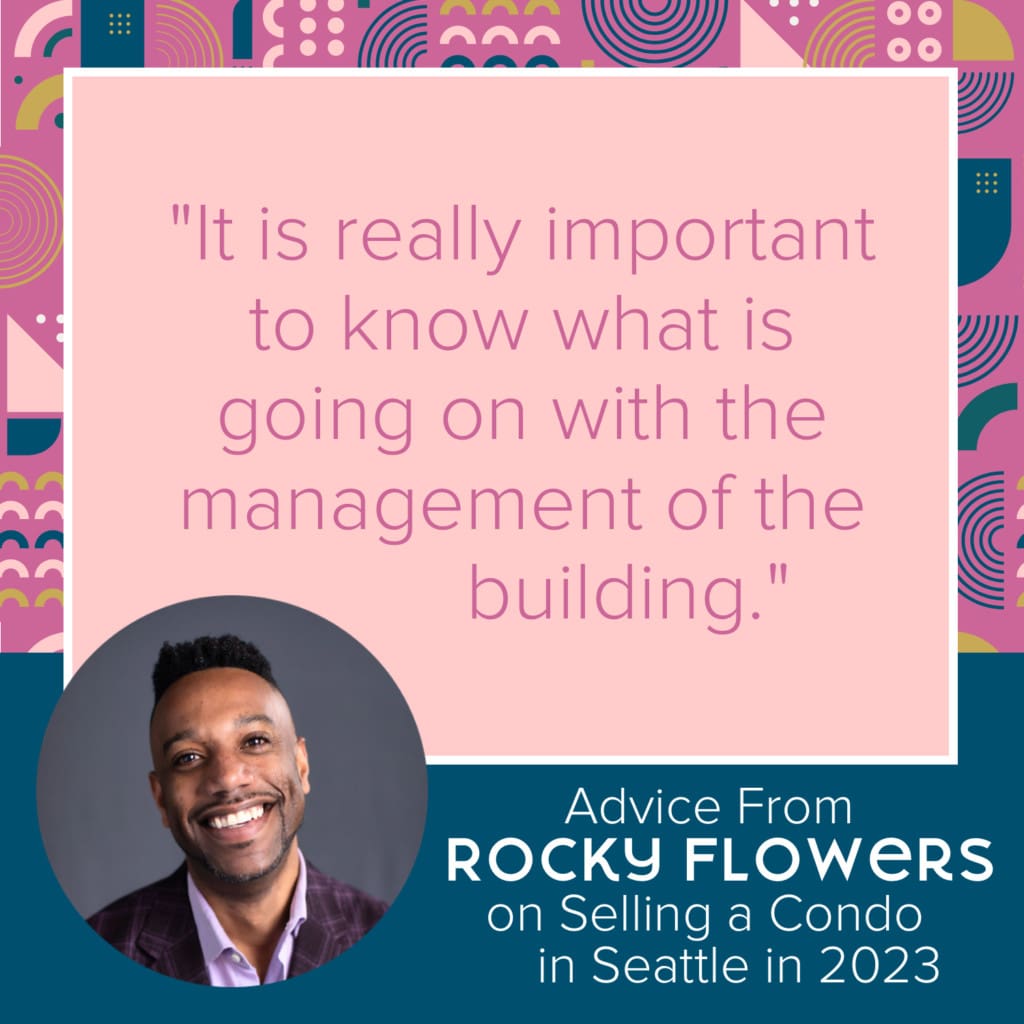 "You should find out what you can about the operations of your building. A lot of condo owners move in and don't really get involved with the community. It is really important to know what is going on with the management of the building. Every condo building has a board that is making decisions on behalf of all the owners in the building and unless you are going to association meetings, you will be out of the loop on what's going on. You don't want to get in contract with a buyer only to find out there is a $20k special assessment that needs to be paid. There could also be things like rule changes, construction projects, or even litigation. The more you know, the more you can be proactive about these things." – Rocky Flowers
Roy Powell's Advice for Selling a Condo in Seattle in 2023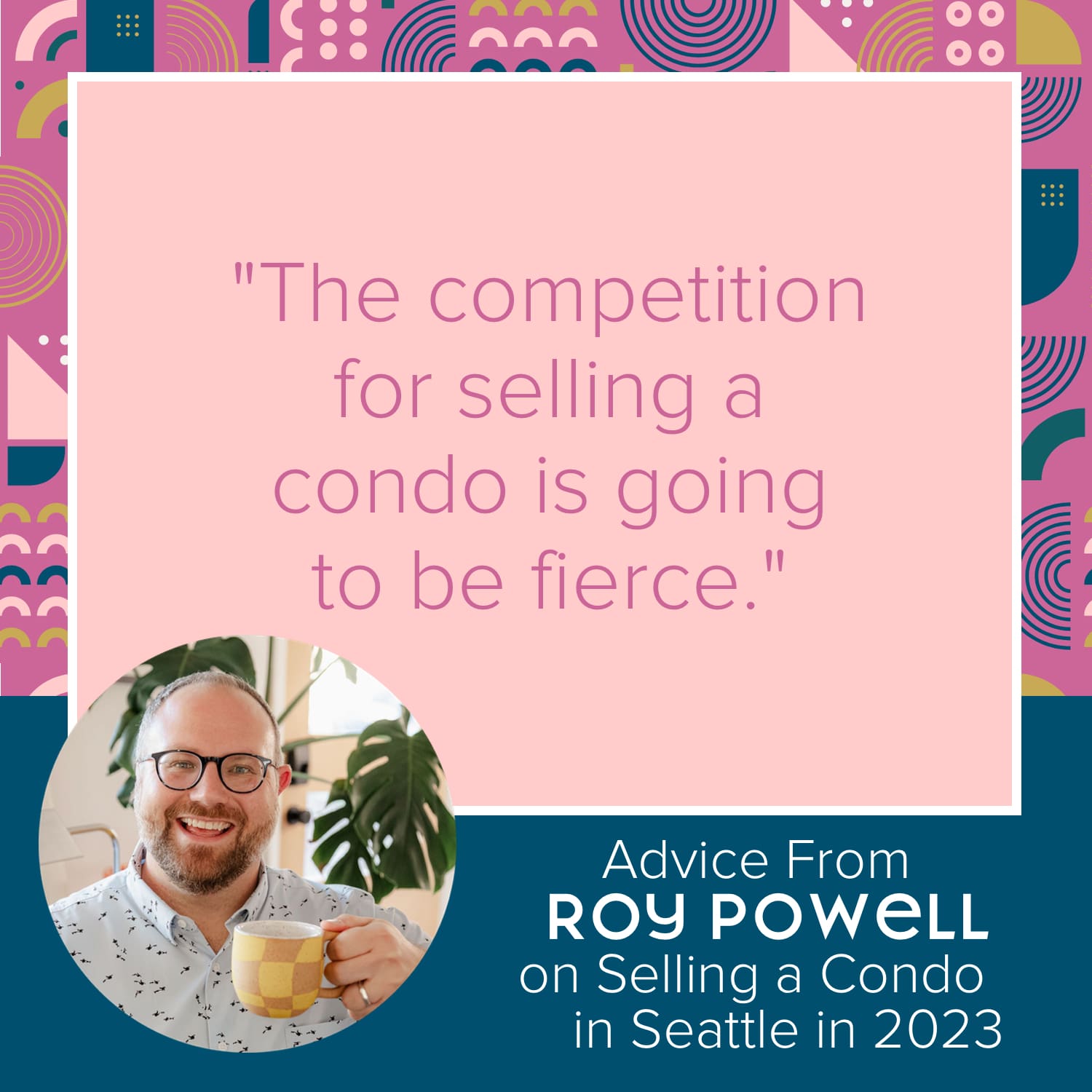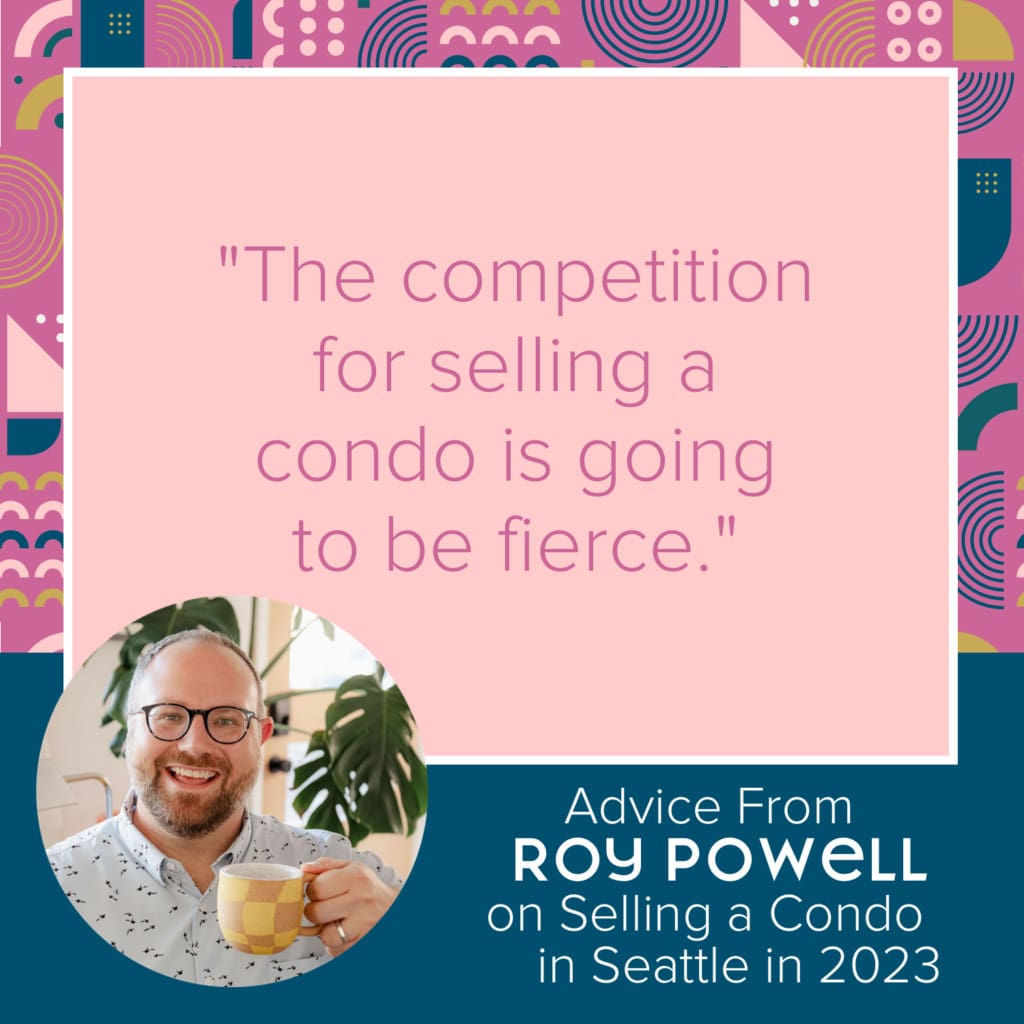 "The competition for selling a condo is going to be fierce. The easy part will be making your condo pretty and to die for. The harder part will understand the condition of the HOA and who is doing what inside the building this year. Pay extra attention to your HOA meetings. I've had a lot of experience outselling the competition (even within the building), and it comes down to the same three things: Get your condo looking pretty, present it well, and make sure it's priced competitively." – Roy Powell
Lindsy Russell-Mitchell's Advice for Selling a Condo in Seattle in 2023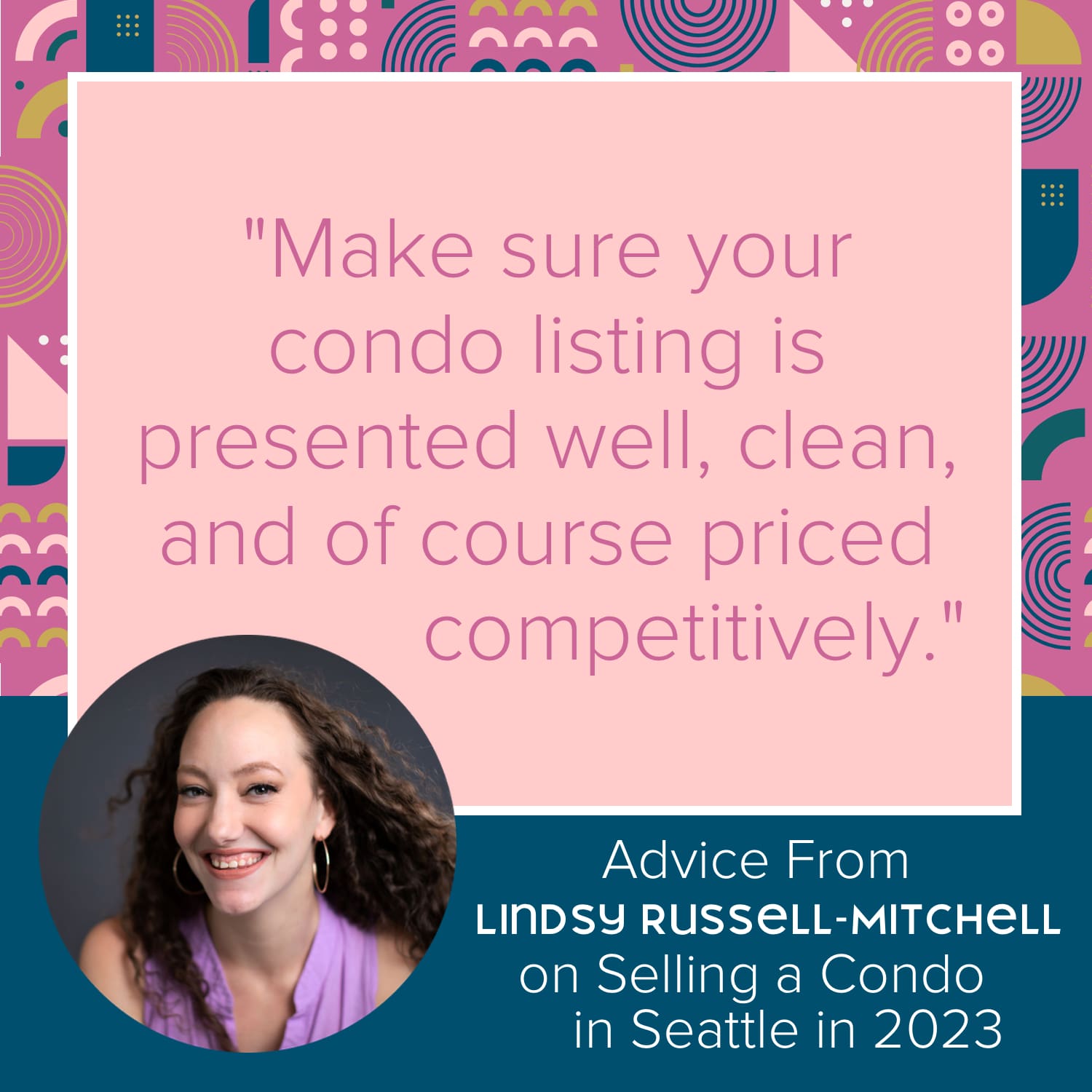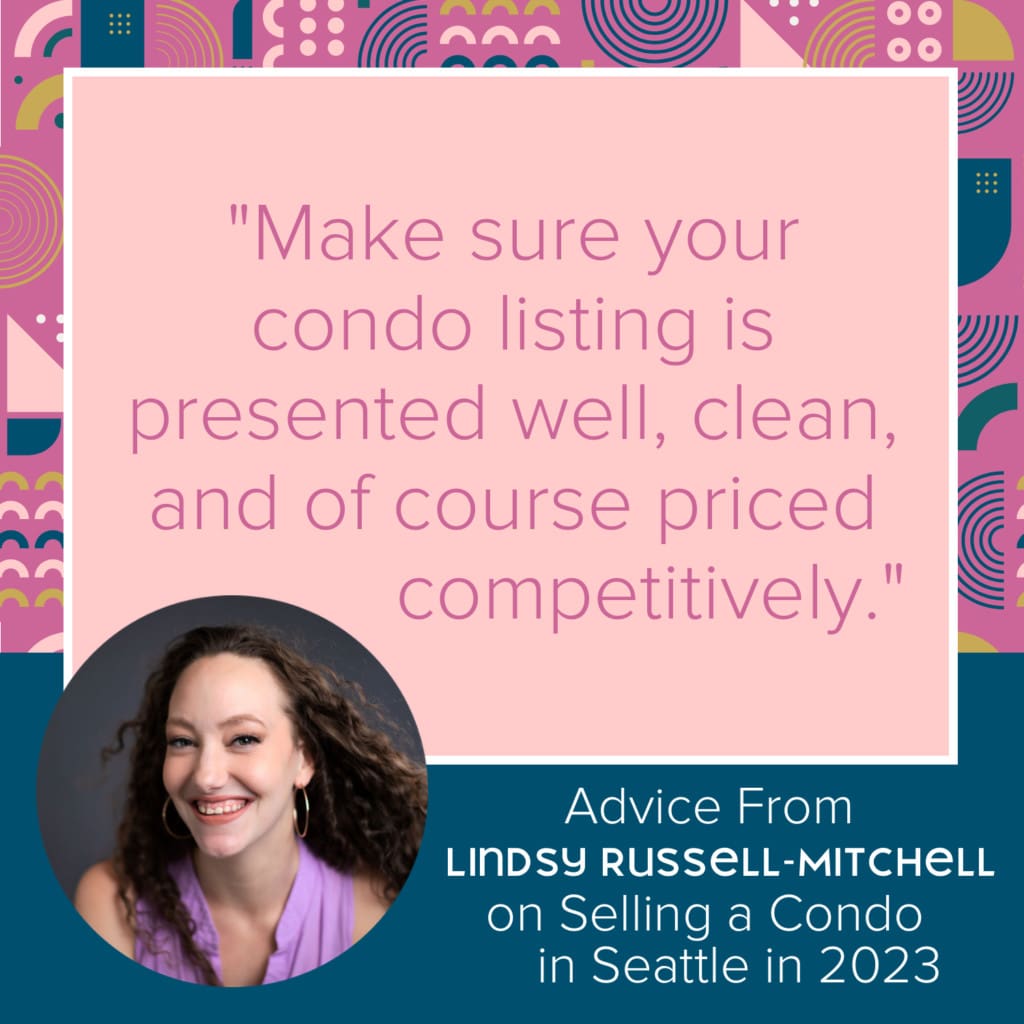 "It might take some work to stand out in the 2023 condo market, which is currently sitting on 5 months of inventory. Just like with selling a single-family home, at Team Diva we fix what's broken, deep clean, stage, and market the heck out of that Diva Dwelling! Know the building and get the Resale to potential buyers quickly and have HOA contacts ready to answer questions when they come up. Tour other listings in the building to be able to speak to the competition. Make sure your condo listing is presented well, clean, and of course, priced competitively." – Lindsy Russell-Mitchell 
Donna Burns's Advice for Selling a Condo in Seattle in 2023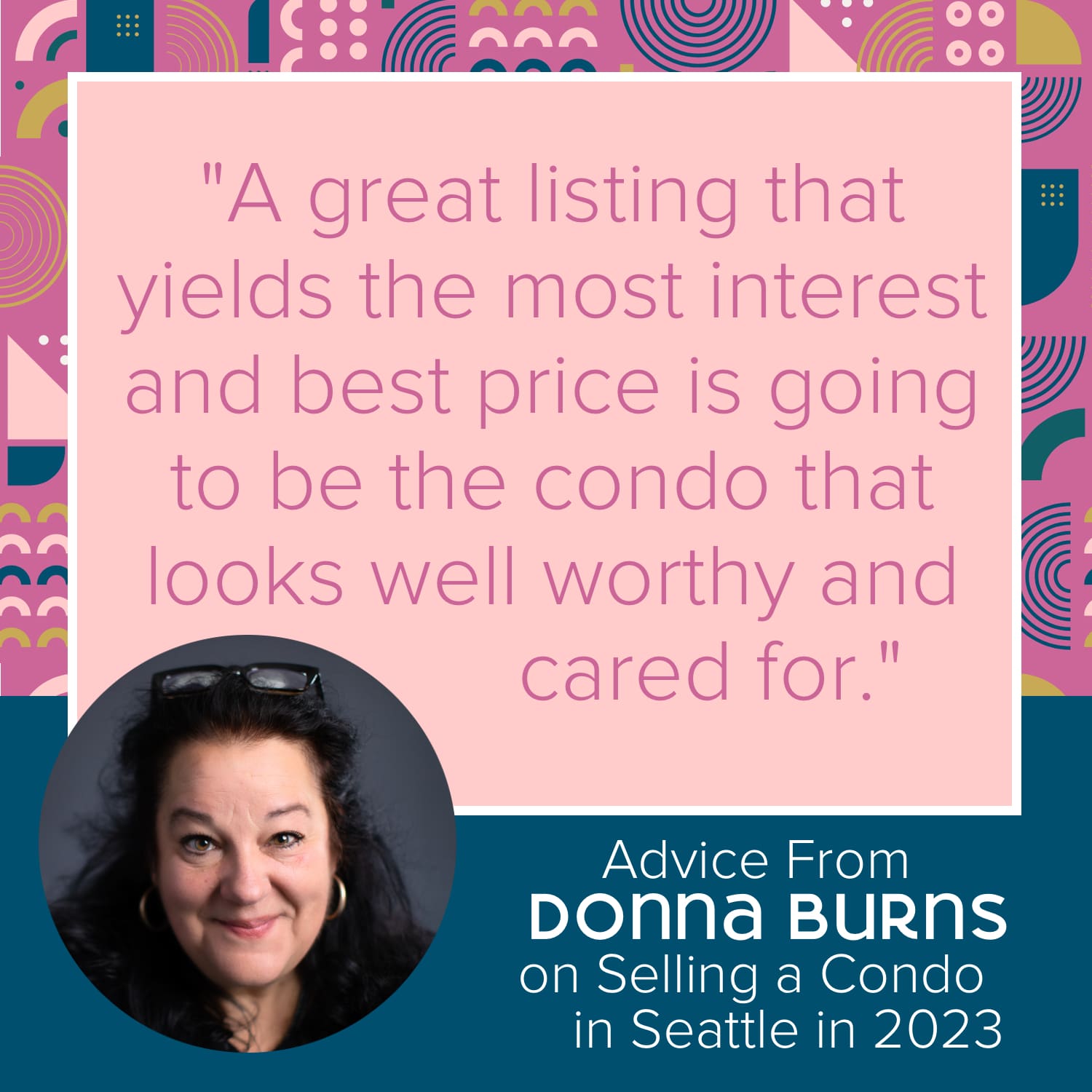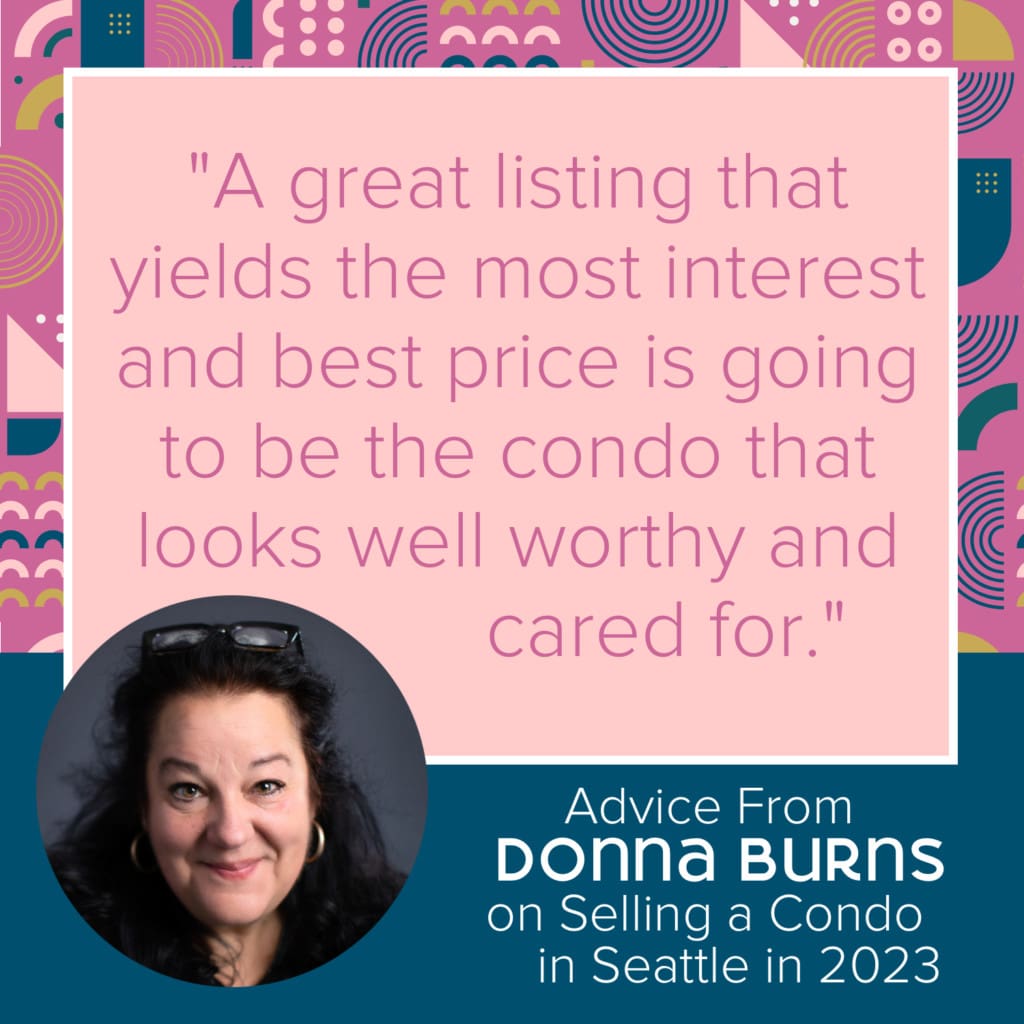 "A great listing that yields the most interest and best price is going to be the condo that looks well worthy and cared for. At Team Diva we believe that presentation is absolutely everything with a listing! Really great photos are a must since most of the time they're the first point of contact with a condo; but it has to look beautiful in real life as well! First and foremost it needs to be VERY CLEAN and SMELL clean. In addition, staging of some kind is always mandatory, whether it be a full condo furniture in the style of the building, or a few added pieces to accentuate already well outfitted spaces." – Donne Burns
Hannah Wilson-Hillard's Advice for Selling a Condo in Seattle in 2023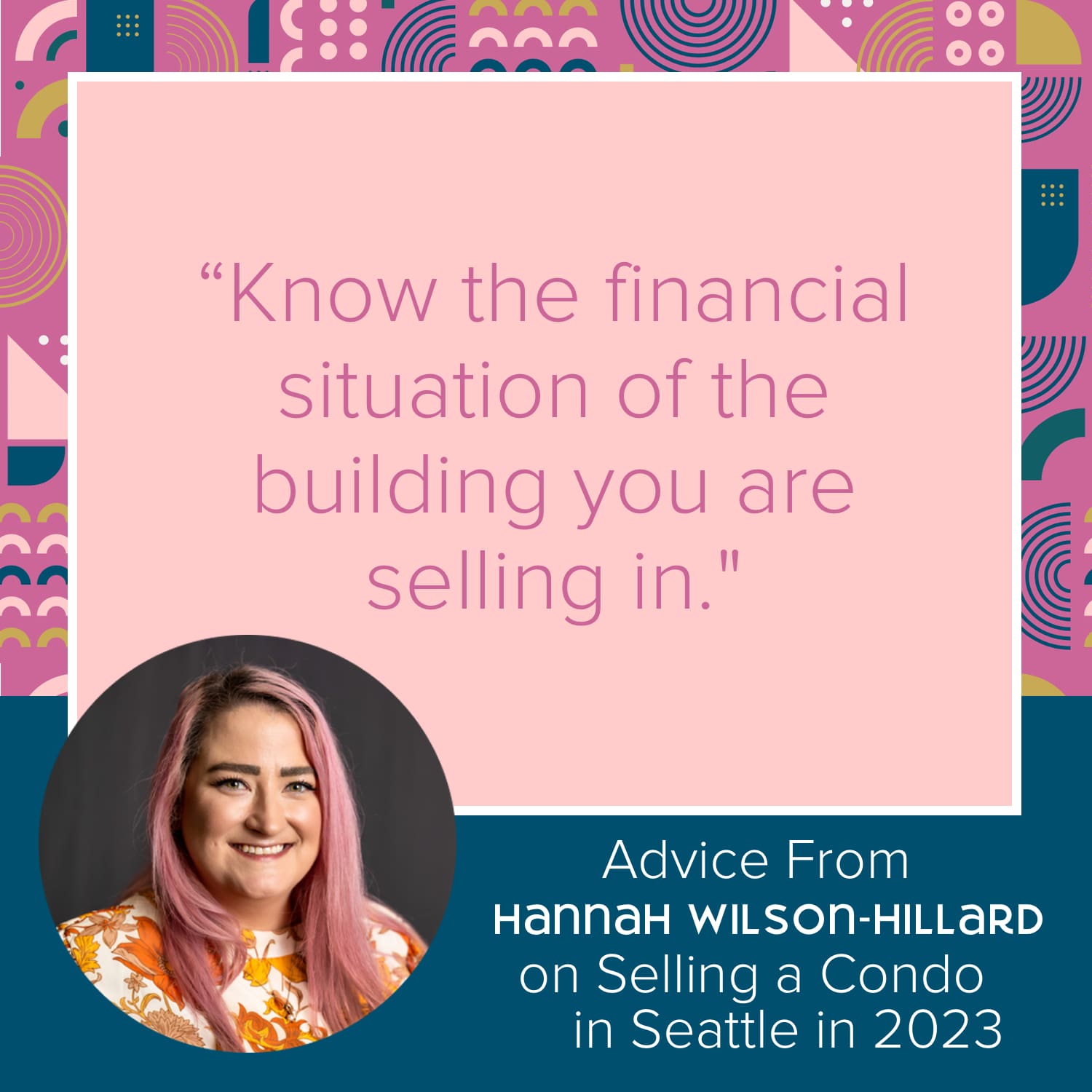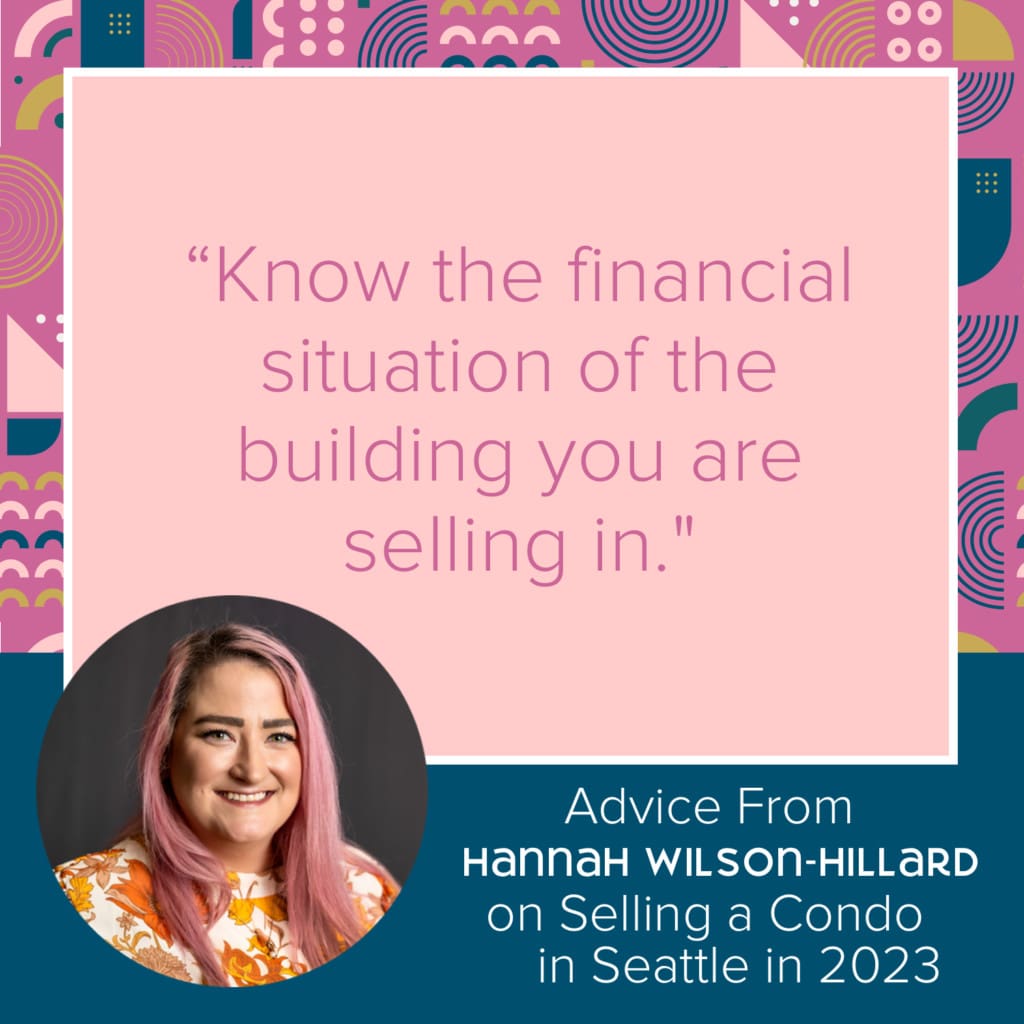 "Know the financial situation of the building you are selling in. Is there a special assessment? What big projects are coming down the pipeline? What does the reserve look like? Order that resale certificate so that interested buyers can make informed decisions which will make them more likely to write an offer. " – Hannah Wilson-Hillard
---
How to Sell a Condo in Seattle 2023 Detailed Guide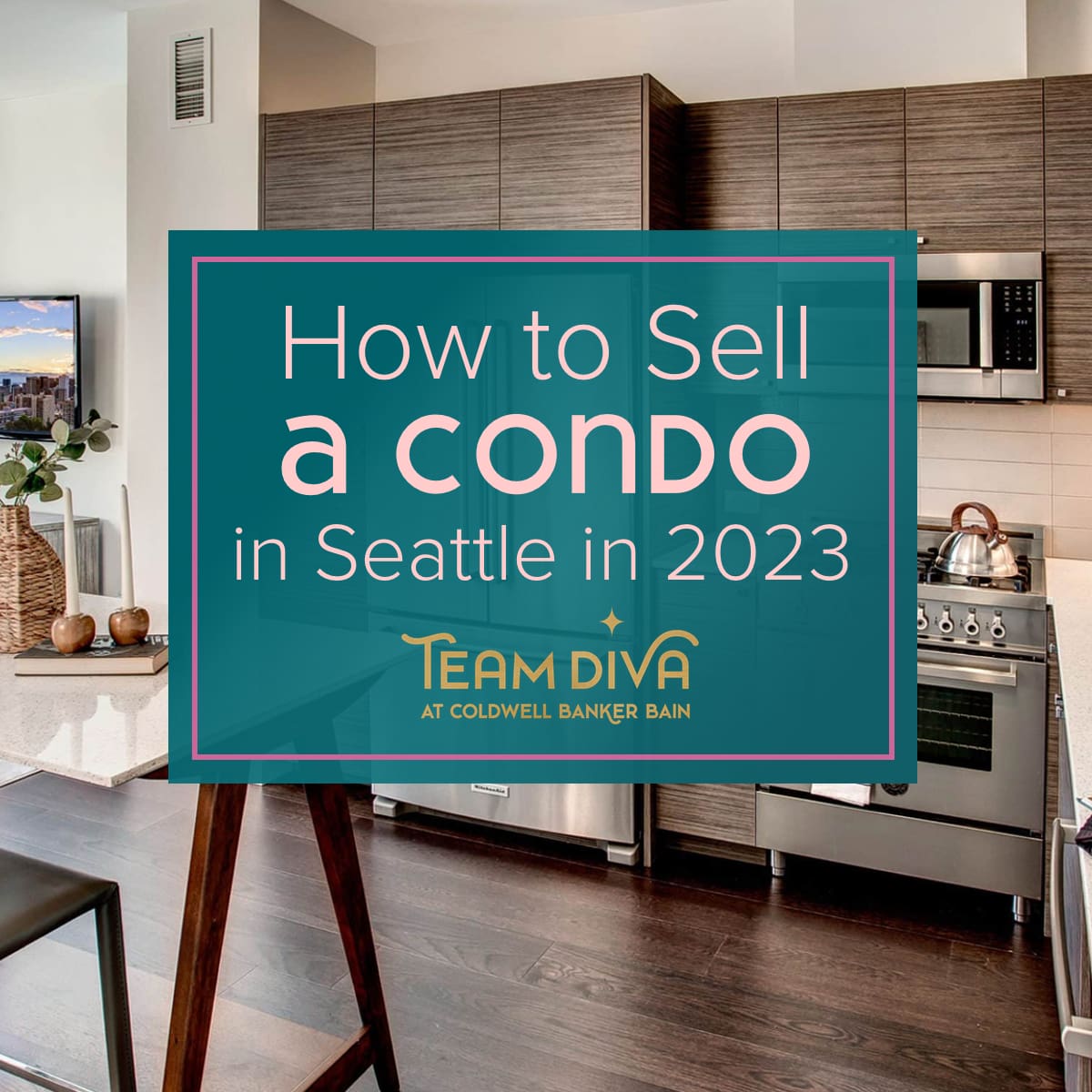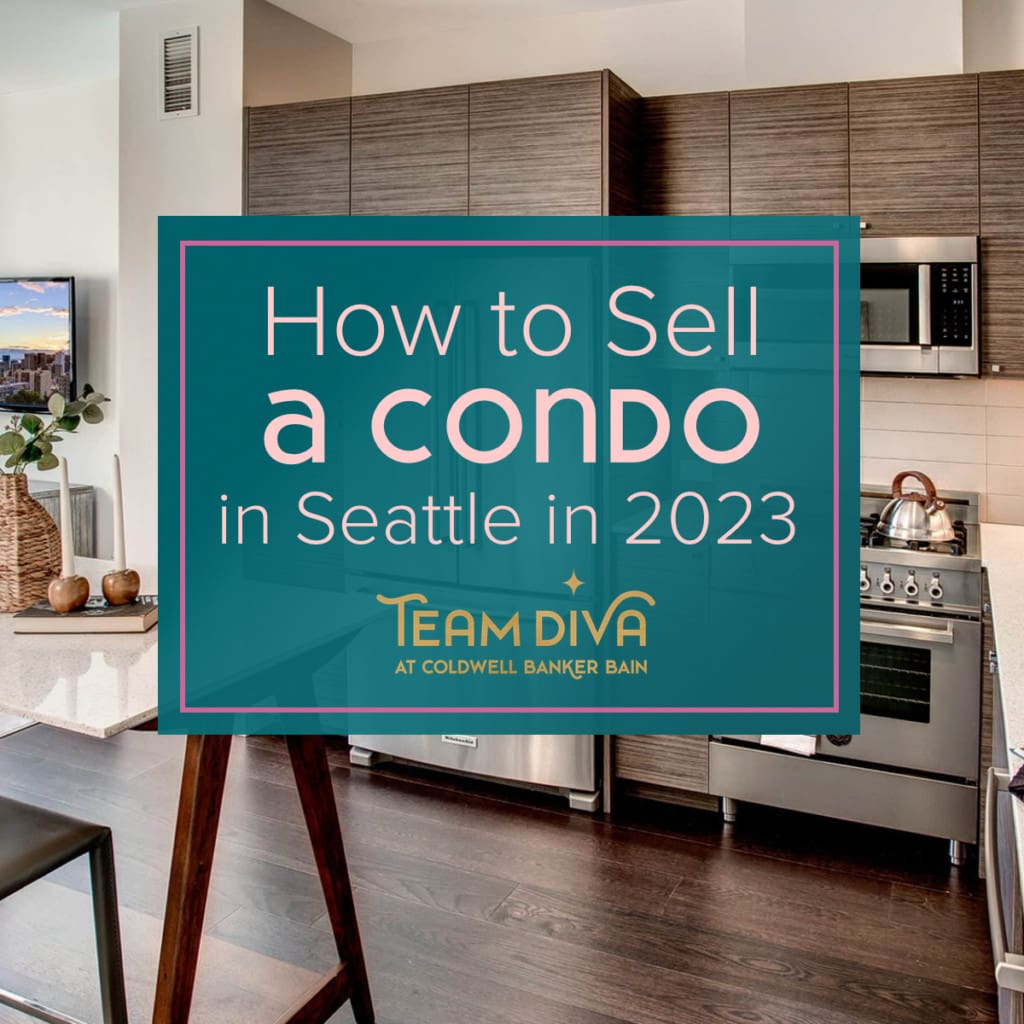 Ok now let's dive into the actual steps of what it takes to sell a condo this year.
5 Steps on How to Sell a Condo in Seattle 2023
The Team Approach
Preparation is Key
Finding Out the Home's Story
Creating and Implementing an Effective Marketing Strategy
The Team Diva Method of Negotiation
Step 1: The Team Approach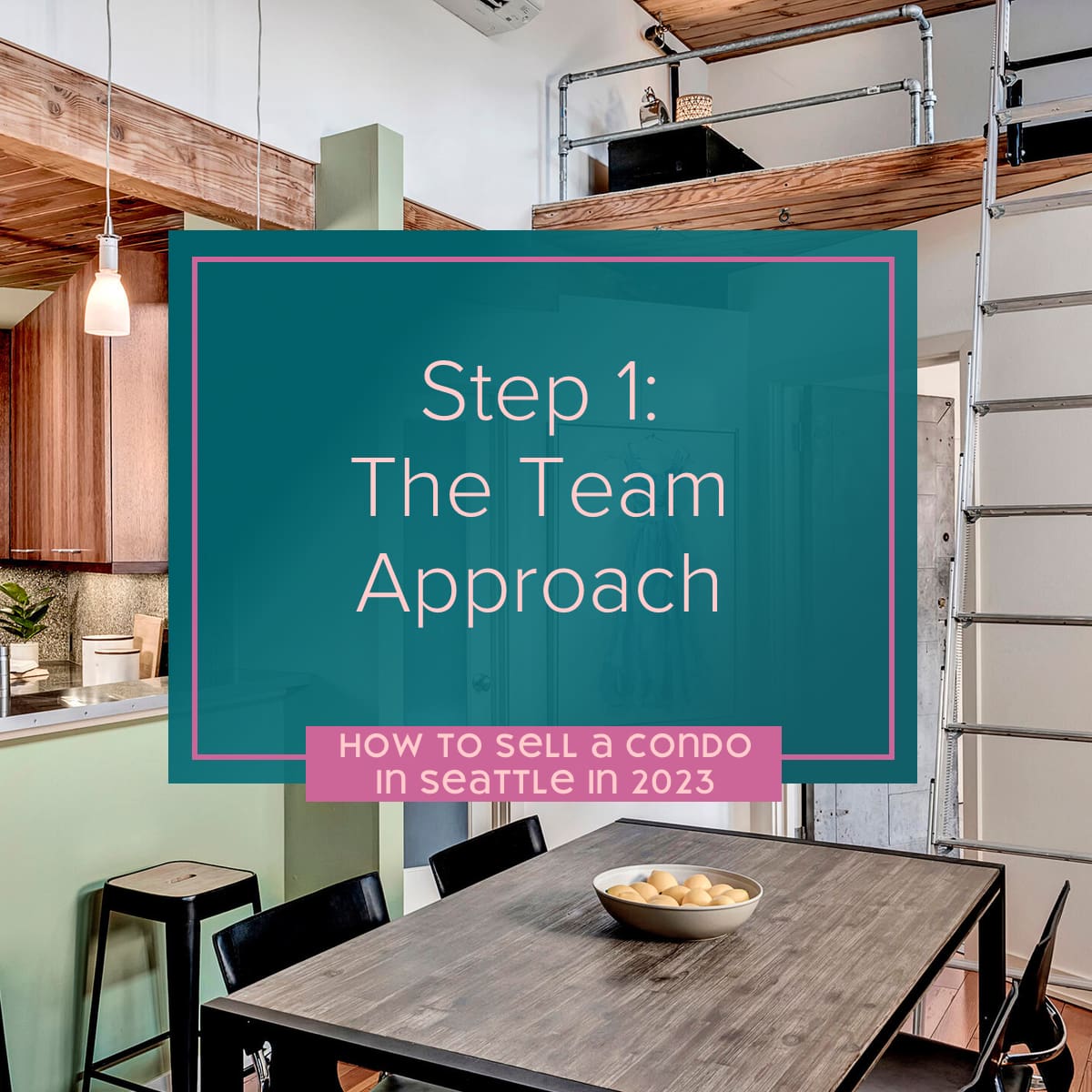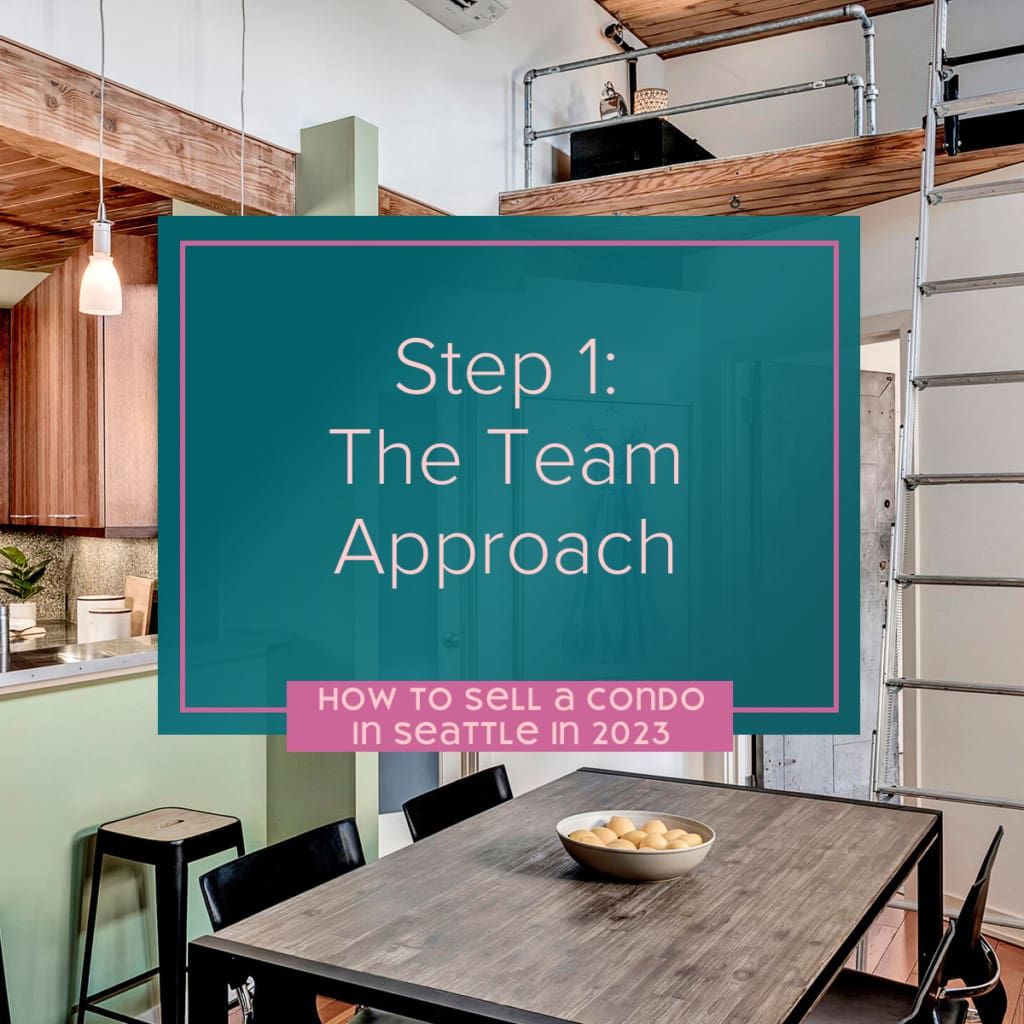 Team Diva team members work as a true team. When you are getting ready to list your condo, the team lead determines the work that needs to happen before the condo is listed. This includes working with the sellers to learn the condo's story, as well as identifying the overall potential listing price range for the seller to analyze. We also work together to coordinate timelines, vendors for any work that needs to be done, and everything else that goes into listing a home!
In addition to our core team members, we have a well-honed team of vendors who understand the look and feel of a Team Diva listing. Here is a breakdown of our extended team:
Team Diva's Listing Extended Team
Lead Listing Team Member
Listing Coordinator
Contractors for the Big Work
Painters
Landscapers
Handy People
Flooring Specialists
Stagers
Photographers
Videographers
3D Tour (aka Matterport tour)
Content Creators
Social Media
And more as the listing requires it!
How does this team approach apply to condos?
Listing a condo is not like listing a typical single-family home. Our team fully understands what it takes to navigate a building's requirements to get work done in a condo unit. We also know how to work with a property management company to get the necessary HOA documents for potential buyers. And, our team is well-versed in coordinating the tricky challenges that can arise in understanding the rules and regulations of each building.
Preparation-is-Key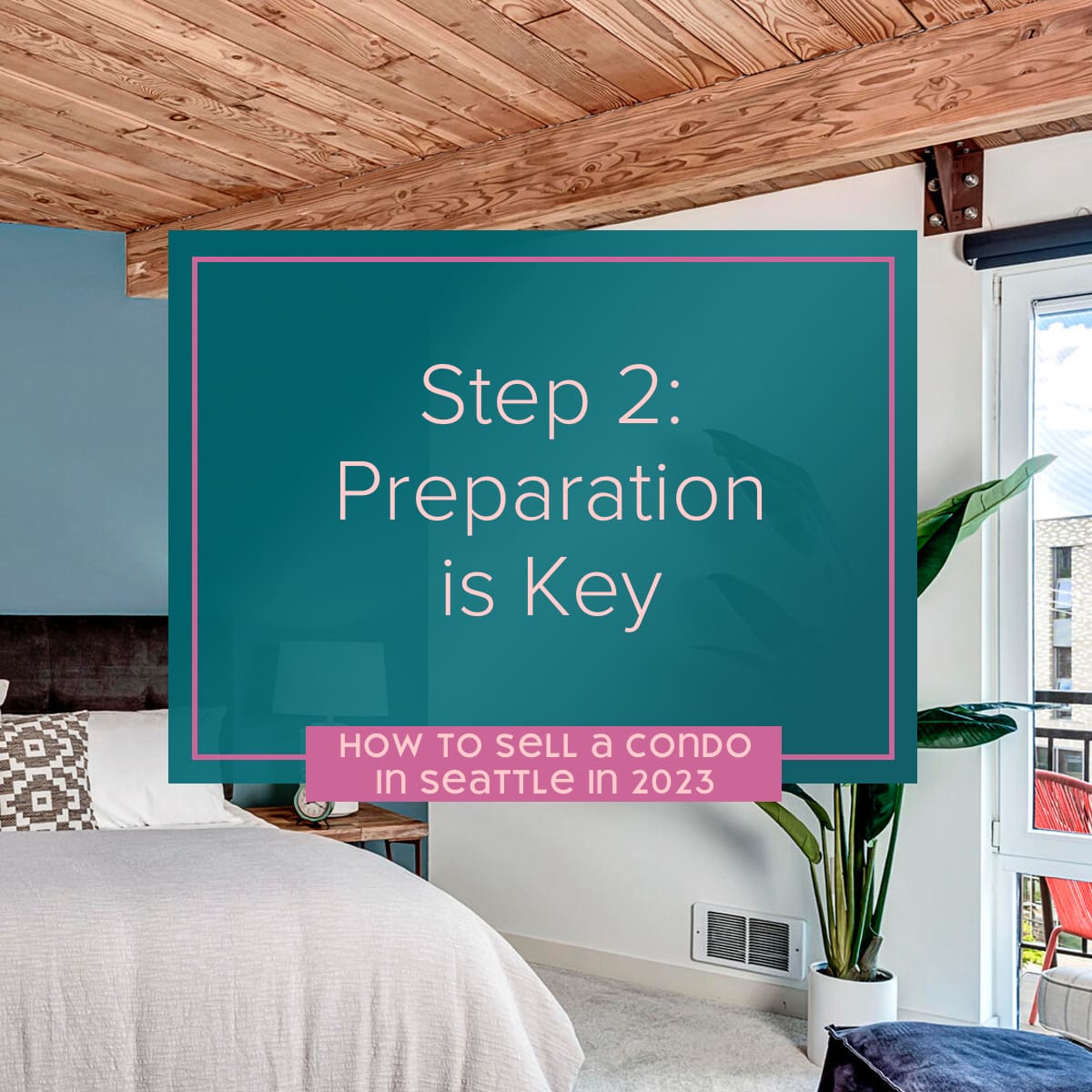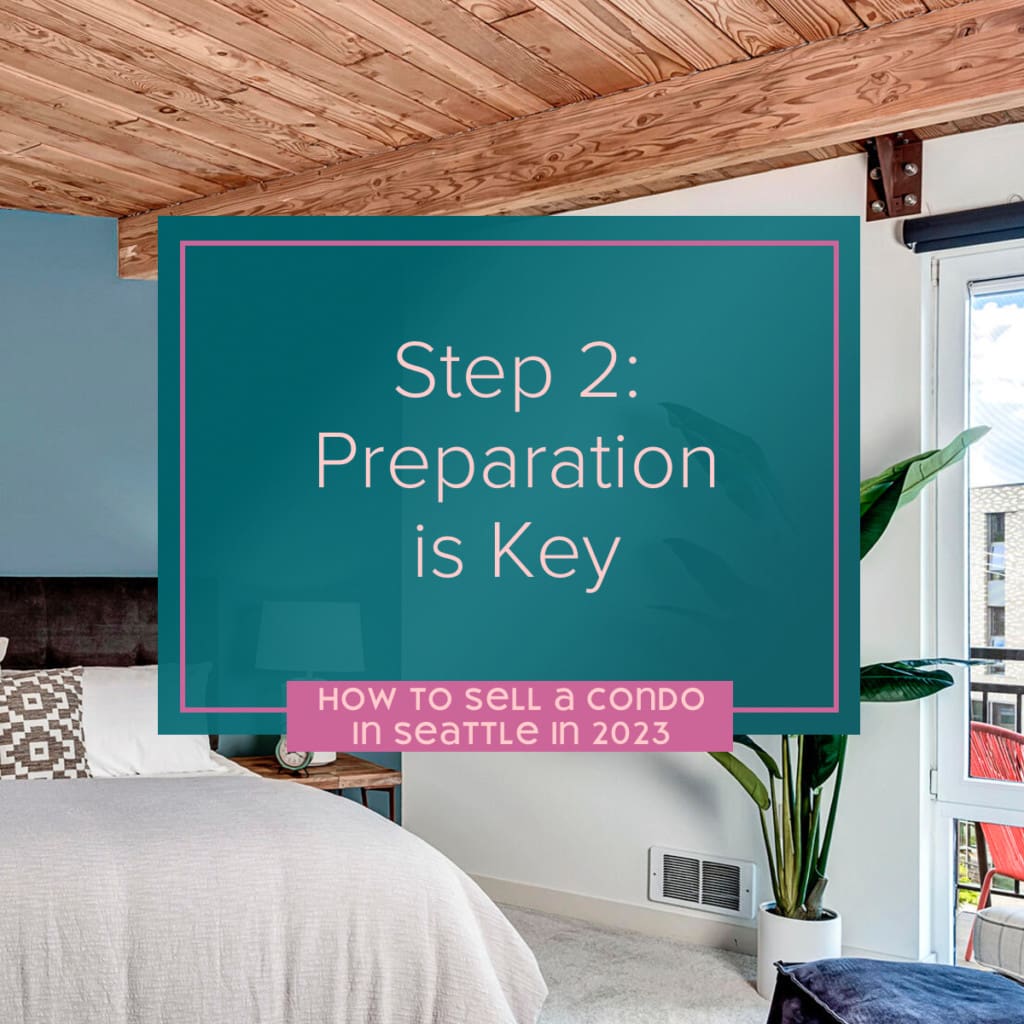 For every single one of our seller clients, we make a custom list of Home Sale Prep Details. This prep list is given to our Listing Manager, and they run with it. With each of our condo listings, our goal is to help buyers visualize themselves living in the condo. We also want them to fall in love with it, from the moment they see it online and open the door to take an in-person tour. Your condo needs to attract the perfect buyer with every aspect of its presentation.
Examples of Listing Preparation Work for a Condo
Getting the HOA Documents
New Carpet
Deep Clean
Windows Cleaned
New Paint
Changing Out the Appliances
Making Sure the Hot Water Heater is Installed Correctly
Fixing Cabinets
Staging the Home
Working with the HOA to Fix its Finances (read our blog about selling the Morgan condo)
And soooooo much more!!!!
Get Educated About the Process
We always provide a listing checklist for our sellers. But a generic checklist only works if you live in a place where every home looks the same. Here in Seattle, a highrise in Belltown will need to be prepped differently than a historic co-op on Capitol Hill. You can gain a more thorough understanding of our preparation methods; learn about our "Fix What's Broken" and  "Make It Pretty" processes! 
How does the preparation process approach apply to condos?
Time and time again, we see condos get ignored when it comes to preparation. And in many cases, condos actually need the Diva treatment even more than other types of homes. The majority of condo buyers are either first-time homebuyers with fewer resources, downsizers who don't want to do any work, or investors. All three of these major groups need to be impressed with that turn-key, move-in-ready feel. In other words, that carpet you think is still good but has a few wine stains has got to go! 
Step 3: Finding Out the Home's Story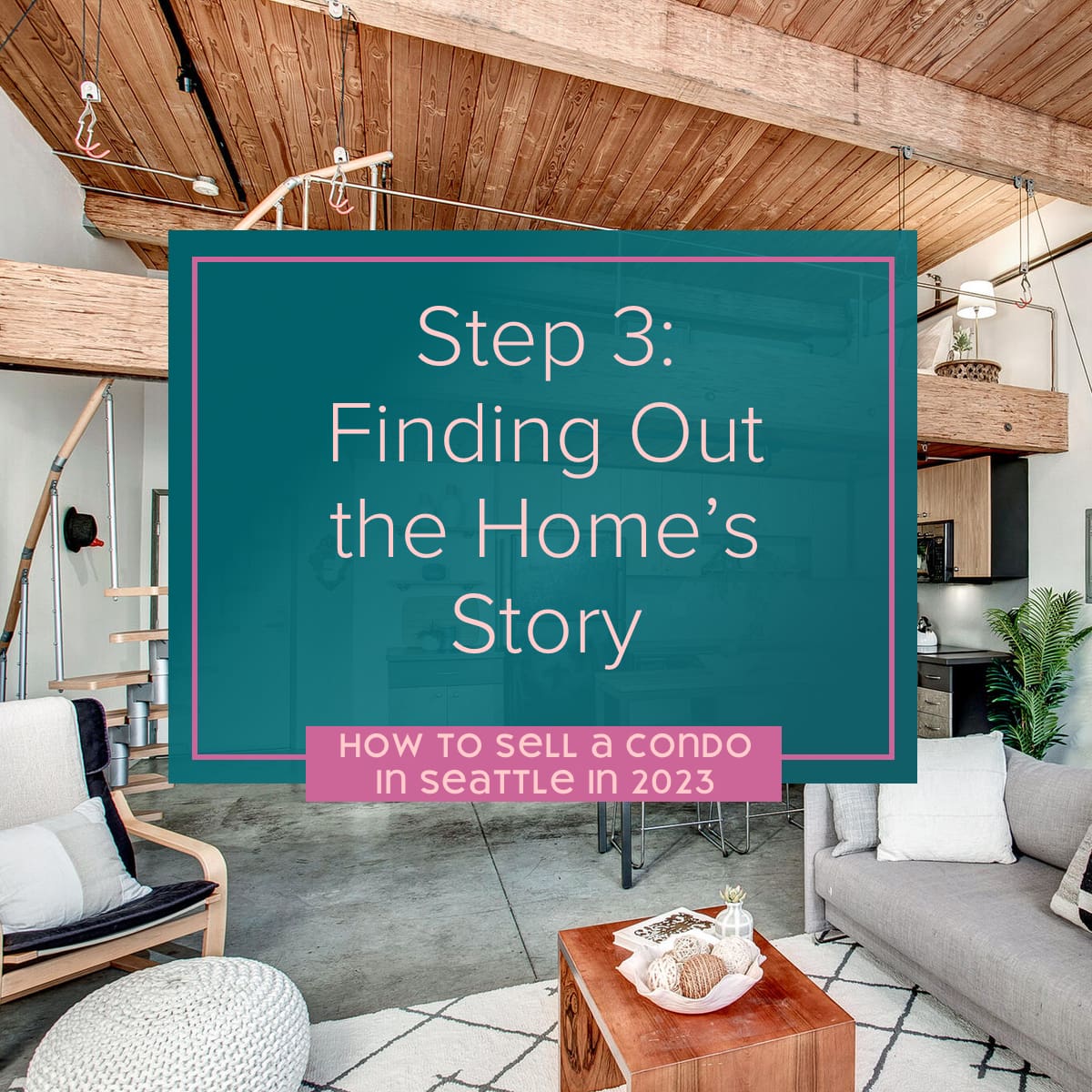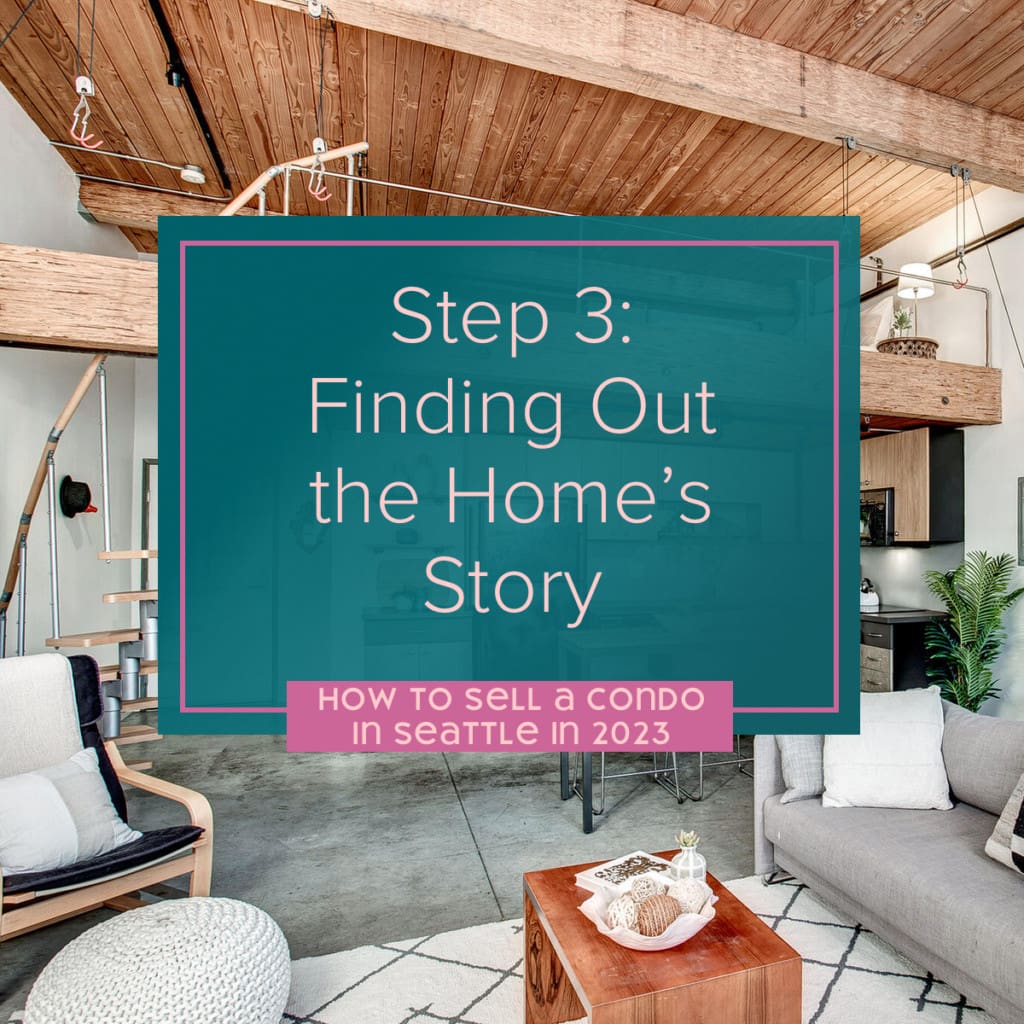 We are able to distinguish our condo listings from the competition in large part because we spend time learning the condo's "home story." In our experience, it's essential to dig deeper. You have to do more than just take pretty photos of a condo and put it on the market.
Ask yourself…
What is unique about this condo?
Why is the neighborhood so special?
What is amazing about the building?
From there you can construct a beautiful story about the home. Here are a few of our favorites:
Step 4: Creating and Implementing an Effective Marketing Strategy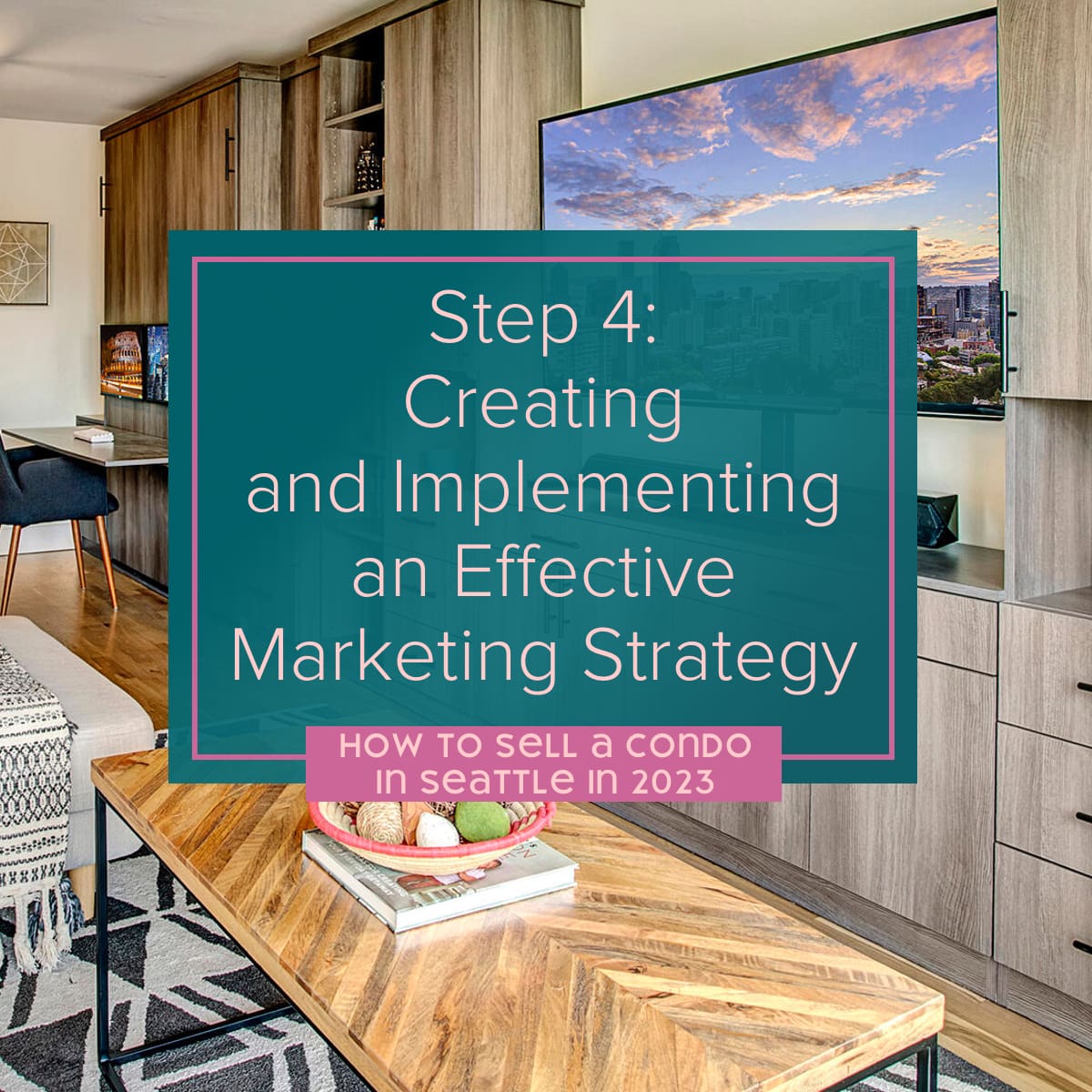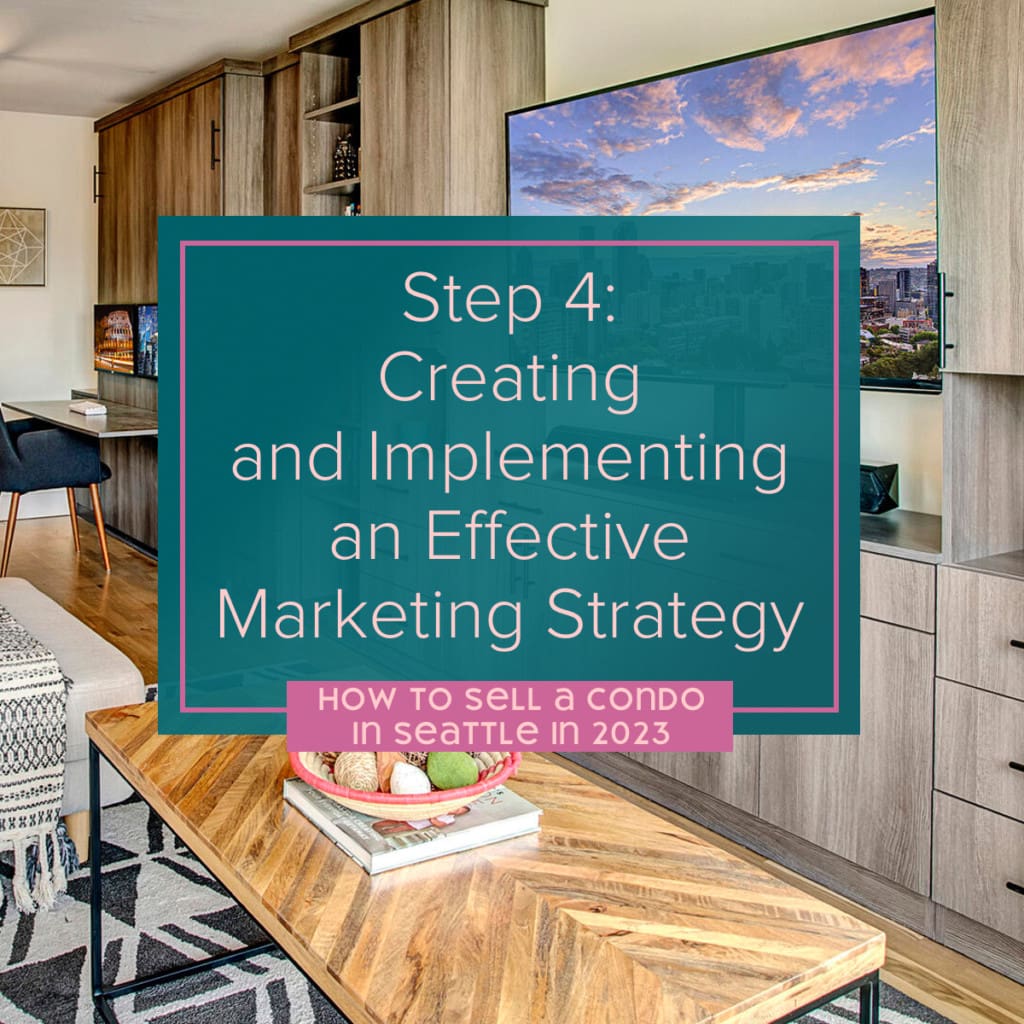 Team Diva's marketing strategy for every single listing is much more than just a "for sale" sign out front and some pretty photos. Our marketing plan is a massive undertaking, and it includes visuals, content, social media, an entire online strategy, email marketing, and of course, good old-fashioned relationships. We have been recognized nationally for our knowledge and use of online marketing tools. Our extensive marketing also means that our listings (aka Diva Dwellings) are typically seen by a larger number of homebuyers than others. 
Check out our extensive blog about our Online Marketing Strategy.
Step 5: The Team Diva Method of Negotiation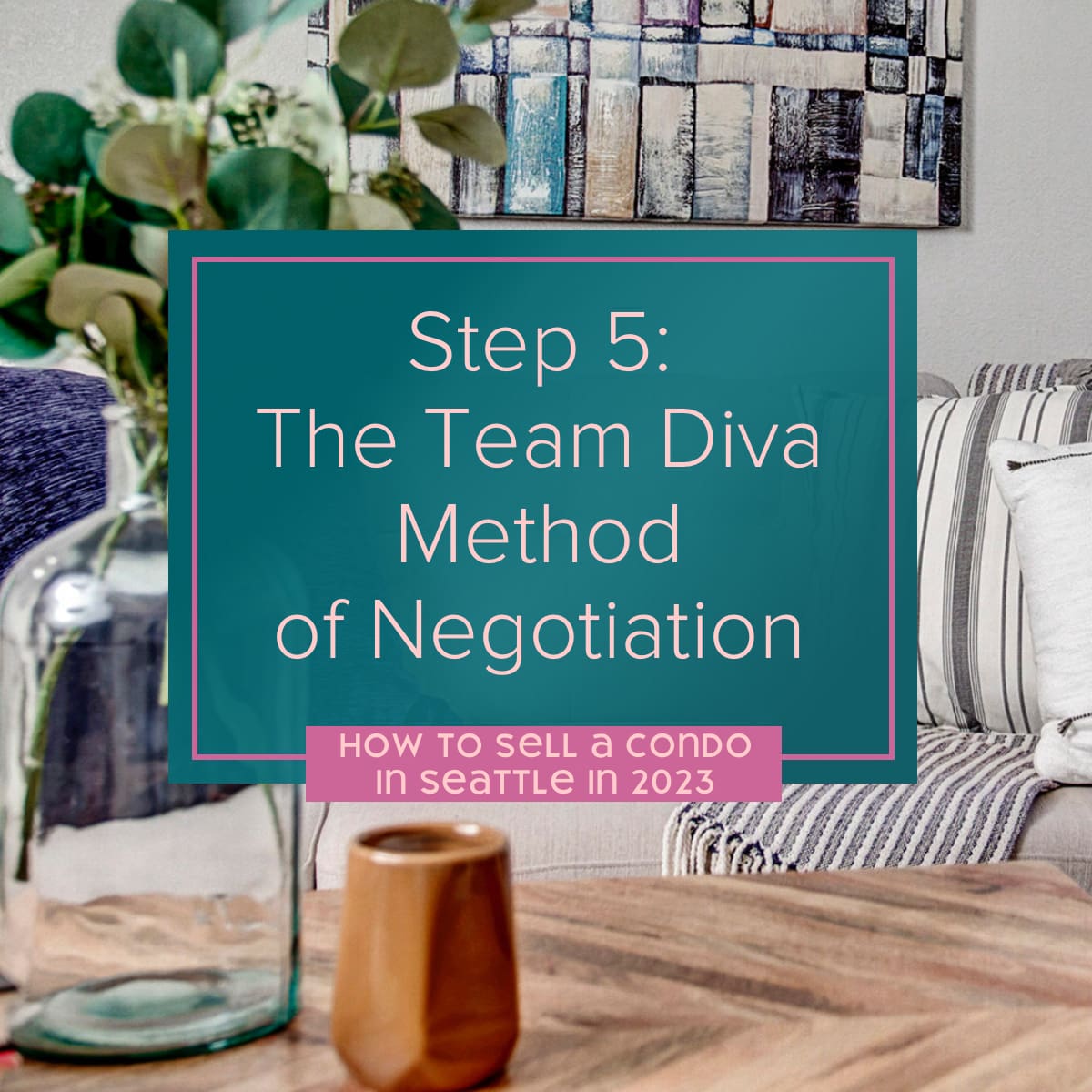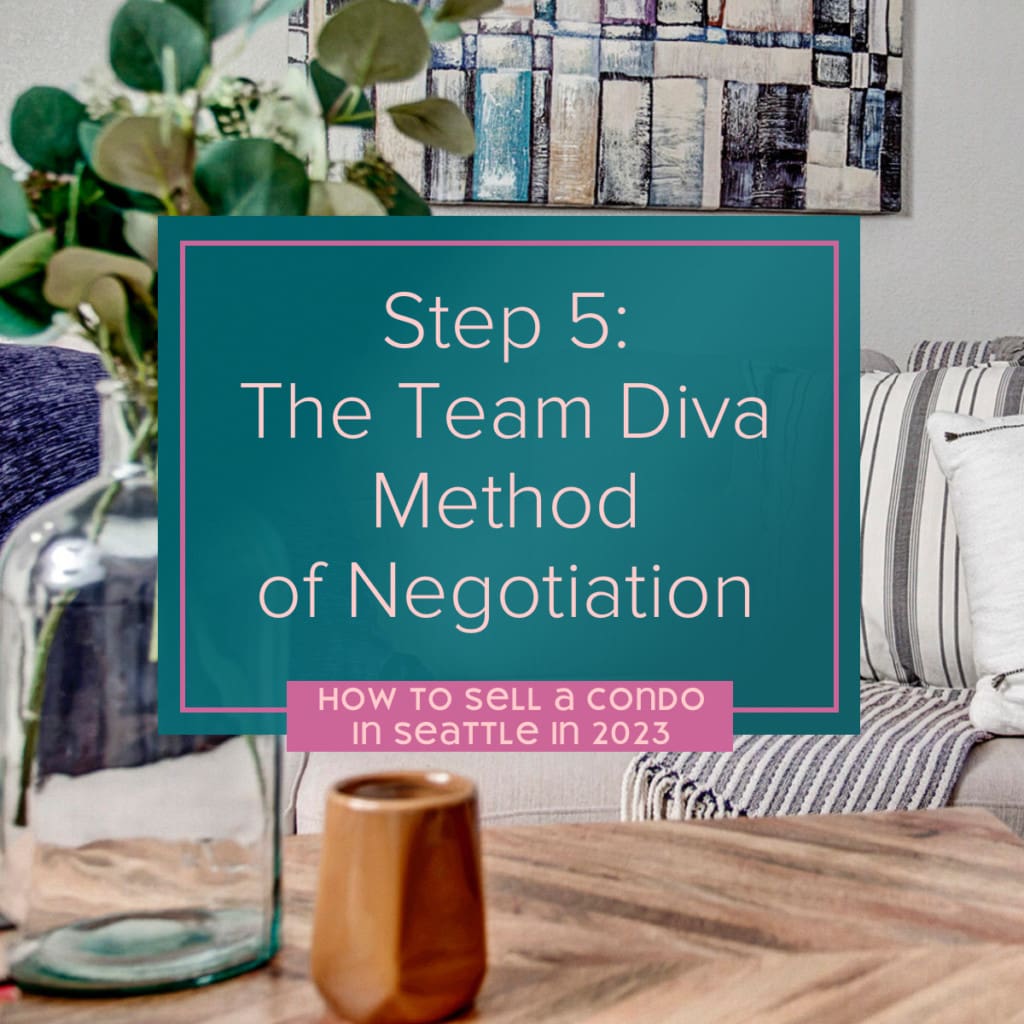 Our method of negotiation is this: We make sure that ANY barrier that could be a sticking point in the sale of a condo is removed BEFORE the condo even goes on the market. This may feel counterintuitive, but think about it: You don't want to give a potential buyer any reason to walk away from the transaction. You also want to avoid giving the buyer a reason to ask for repairs.
Here are just a few of the things we are thinking about BEFORE we list a condo:
Does the condo association have any issues we need to know about? Would any of these issues (lawsuits, special assessments, financial issues, etc.) scare away a buyer?
Does the condo need repairs?
Is the hot water heater old?
Team Diva's negotiation strategy is to get the best buyer upfront. This means that we make sure the home is picture perfect. We also know all of the issues that might be going on in the building. From here, we can negotiate from a side of strength. Many condo sellers come up short when they take an "all or nothing" approach, and this is especially true when condo inventory is high and there is lots of competition with other condos. Do the hard work upfront, get the best buyer, and work through any issues that come up during the transaction. This is the secret to our success with selling Seattle condos!
---
Thank You For Browsing Team Diva's Definitive Guide on How to Sell a Condo in Seattle 2023
Are you ready to chat with a team member and get the process started to sell your condo? We are here to help.
Learn More About Selling a Condo in Seattle in 2023
We have a ton of additional resources for home buyers. Be sure to check out the following:
Watch Kim's Video About How to Sell a Home in 2023
Download our home seller guide
Be a Smart & Savvy Home Buyer & Seller in 2023
Check out our home buyer and seller guides for 2023:
We are here to help. Our team understands that this process can take a year or two. And we are more than willing to give you a personalized plan to get the ball rolling. Feel free to contact us directly at thediva@teamedivarealestate.com or call/text 206-271-0264.