Selling a luxury home in Seattle in 2023 needs an update. Over the last Fall we did a tour of luxury homes on Capitol Hill to figure out why these homes were not selling. Meanwhile all of our listings did sell. And many of these homes only had a few showings. What was the difference? Why did the luxury real estate market inventory balloon? And why didn't real estate brokers have the ability to pivot their marketing and relationship efforts to adjust to the new market?
In this blog, we are going to go into detail about what it takes to sell a luxury home in 2023. And yes you probably have already heard us preach the Diva Difference process. The process works. And many brokers have gotten out of prepping a home for sale with care these last few years. Let's get started!
Start Here – Kim's Insider Guide on how to Sell a Home in 2023 Will Get You Started
And check out our very indepth blog about every step of the home selling process in 2023. Below we are only going to dive into the items that are specific to the luxury home market.
Download Our Guide And Get Nerdy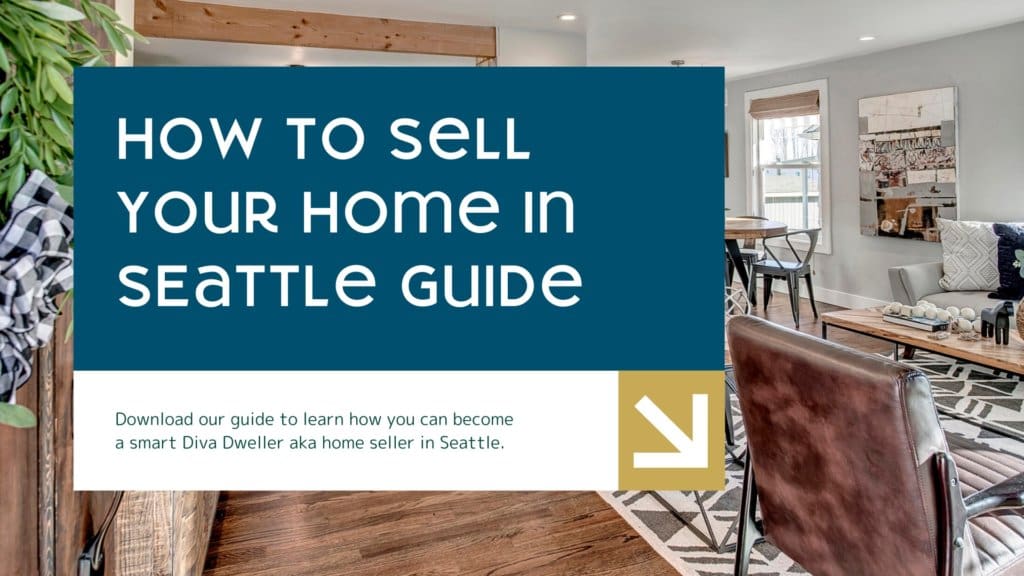 In our seller guide, we go into detail about the whole process. And what it takes to prep a home to sell in this market.
Check Out Our Advice From Our Team on How to Sell a Luxury Home in Seattle in 2023
We asked the team what advice they are giving to their clients on how to sell a luxury home in Seattle in 2023. And here is what they said.
Perfection is the Name of the Game: Buyers want as close to perfection as possible AND they want it at a great price.
What Makes Your Home Unique? Your luxury home is unique and special, but we also need to highlight what makes it practical and easy to live in.
Upgrade the Right Way: Spending money on upgrades? Avoid high-dollar fluff upgrades and instead opt for upgrades that will get you the most ROI.
Patience: Luxury buyers will wait for the exact right thing, so be patient.
Pricing is Crucial: You need a solid pricing strategy. This is absolutely crucial.
Stage With a High-End Stager: Use high-end staging that fits the character of the home.
Jump Ahead and Read Through How to Sell a Luxury Home in 2023 Guide Below
Tips From Team Diva on How to Sell a Luxury Home in Seattle in 2023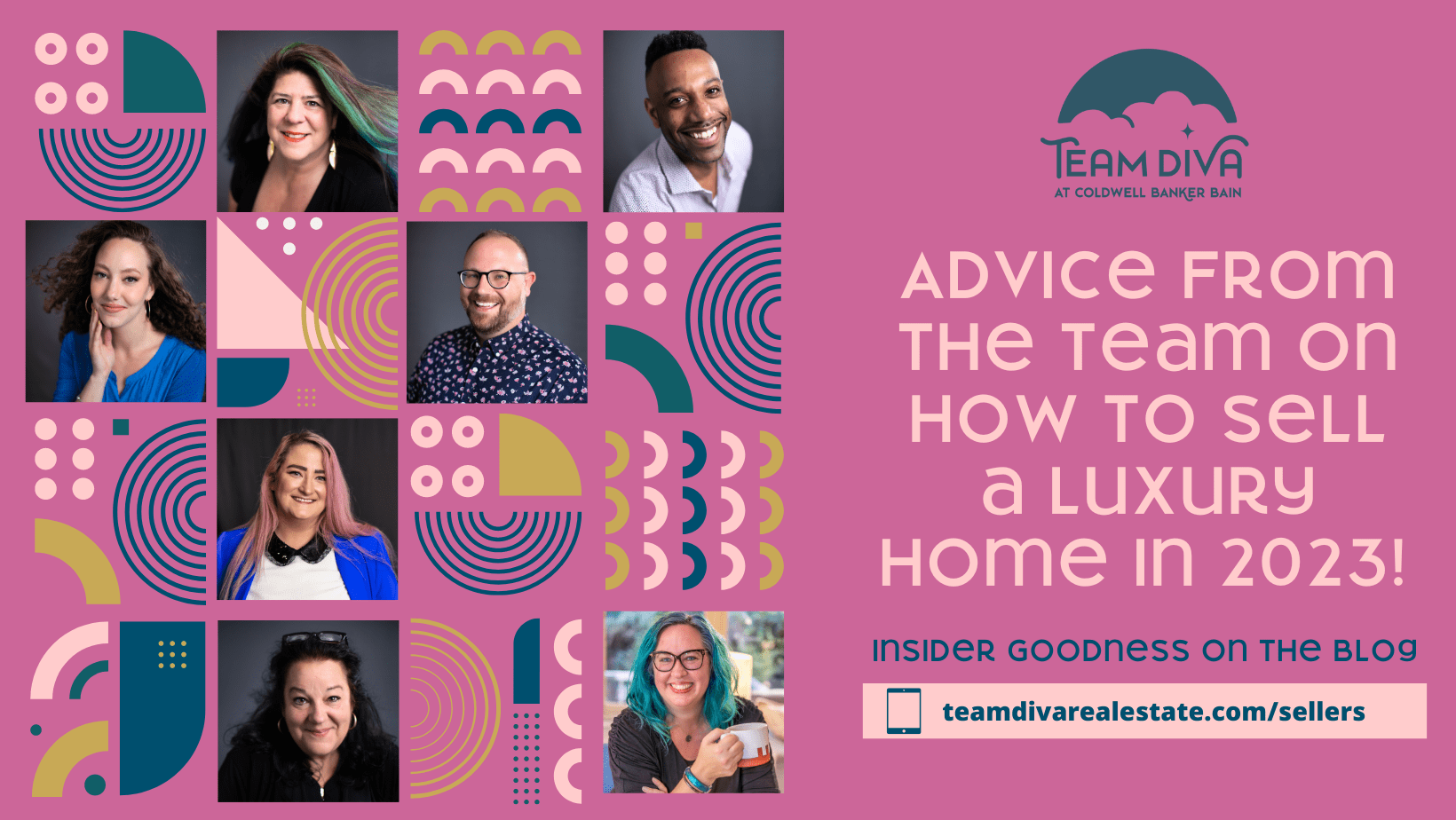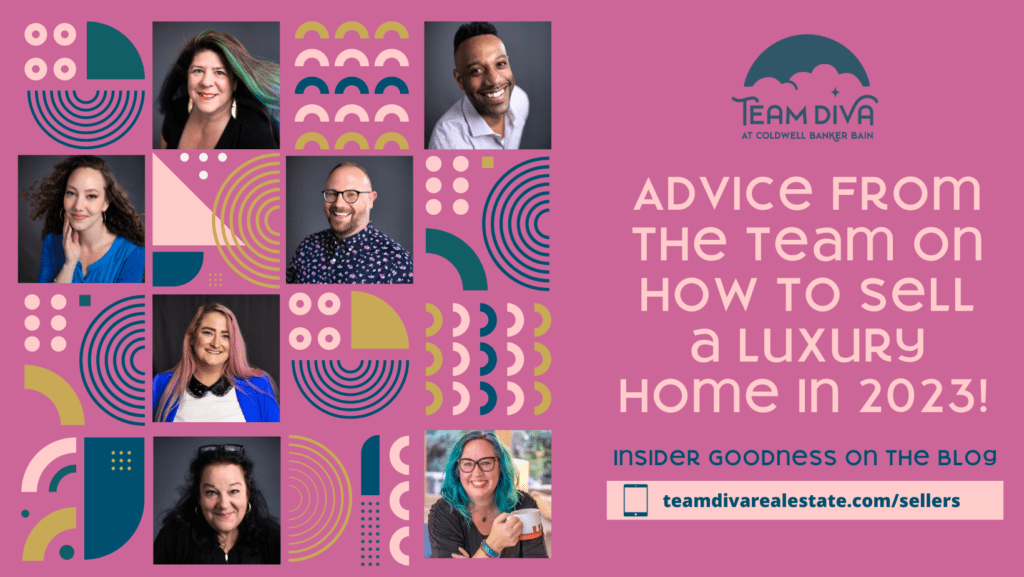 Team Diva members work with luxury home buyers and sellers in several neighborhoods throughout Seattle and King County. Our brokers have real-time, in-depth market knowledge because we are always actively working with buyers and sellers. This means that we also consistently know market trends before they're "officially" reported. Our team members know exactly what you need to do to sell your luxury home this year!
Here's the advice that our Team Diva brokers have about selling a luxury home in 2023:
Kim Colaprete's Advice for Selling a Luxury Home in Seattle in 2023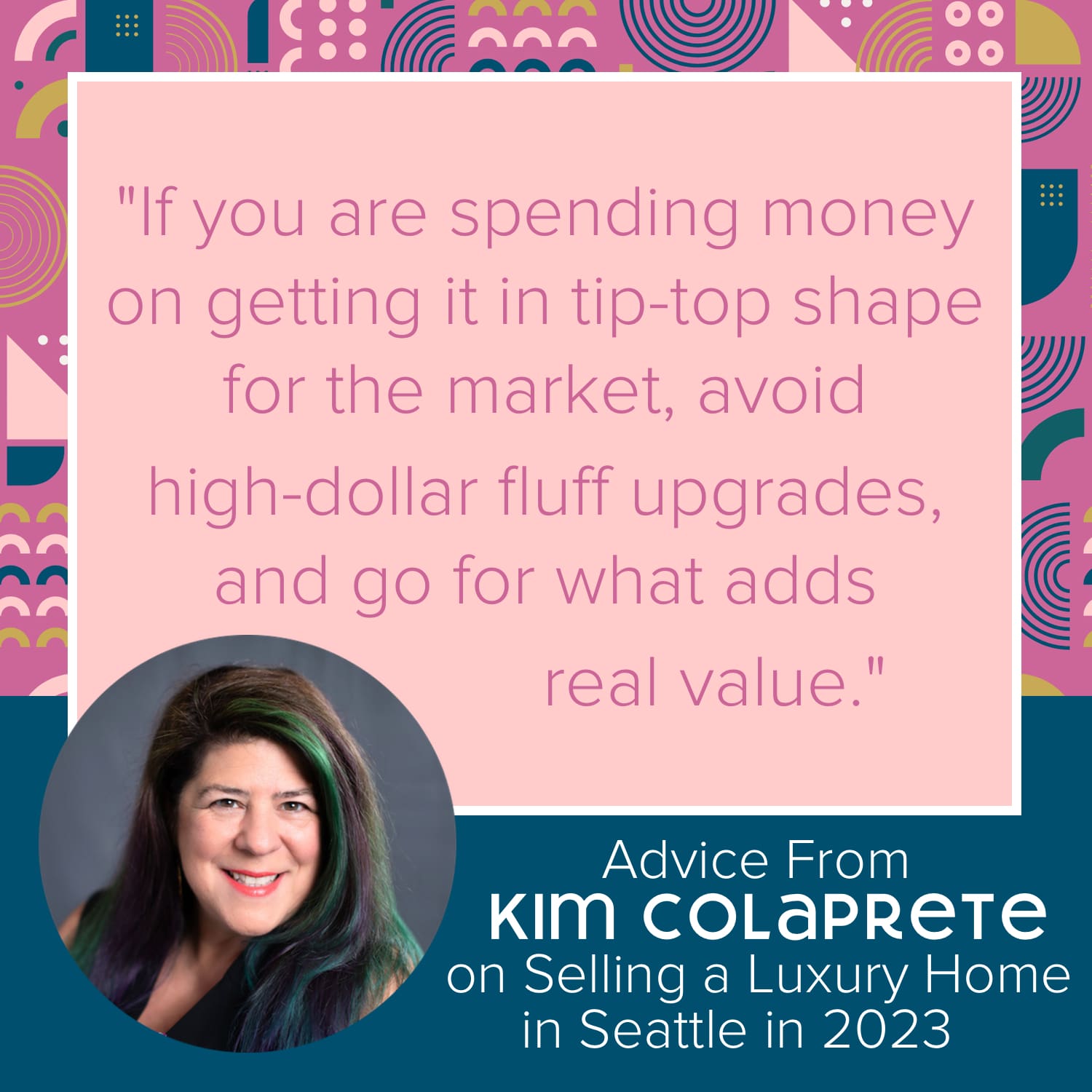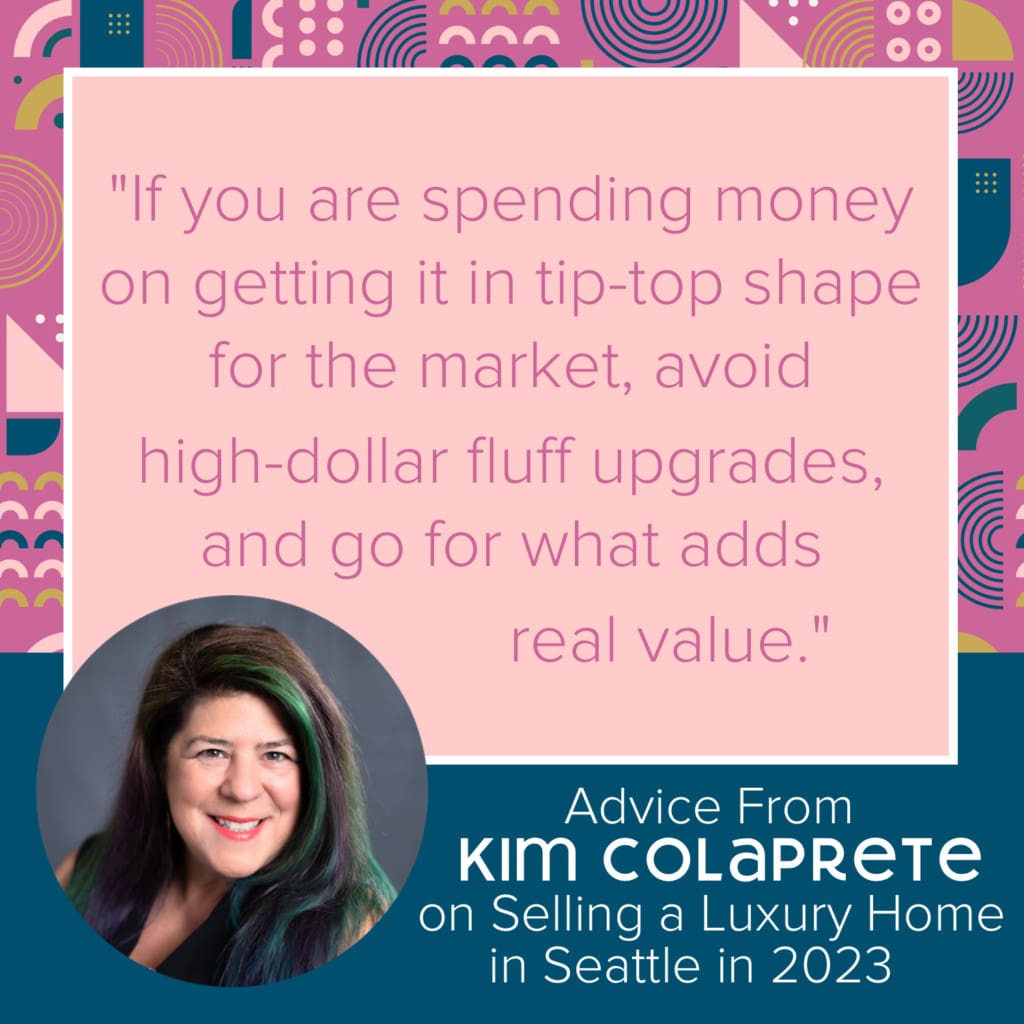 "My advice for selling a luxury home is similar to selling a non-luxury home, with one big difference: You need to kick up the presentation even more. With Seattle sitting at about 3 months of inventory in the over $1.5 million market, buyers want as close to perfection as possible, AND they want it at a great price. Sure, your home is unique and special, but ramp up on what makes it practical and easy to live in. If you are spending money on getting it in tip-top shape for the market, avoid high-dollar fluff upgrades, and go for what adds real value. Add or upgrade a bathroom over splurging on a fancy La Cornue Range or a Sub-Zero Wine Cooler. Spend money on making your luxury home desirable to as many buyers as possible. You will need all the buyers you can attract!"
– Kim Colaprete
Rocky Flowers' Advice for Selling a Luxury Home in Seattle in 2023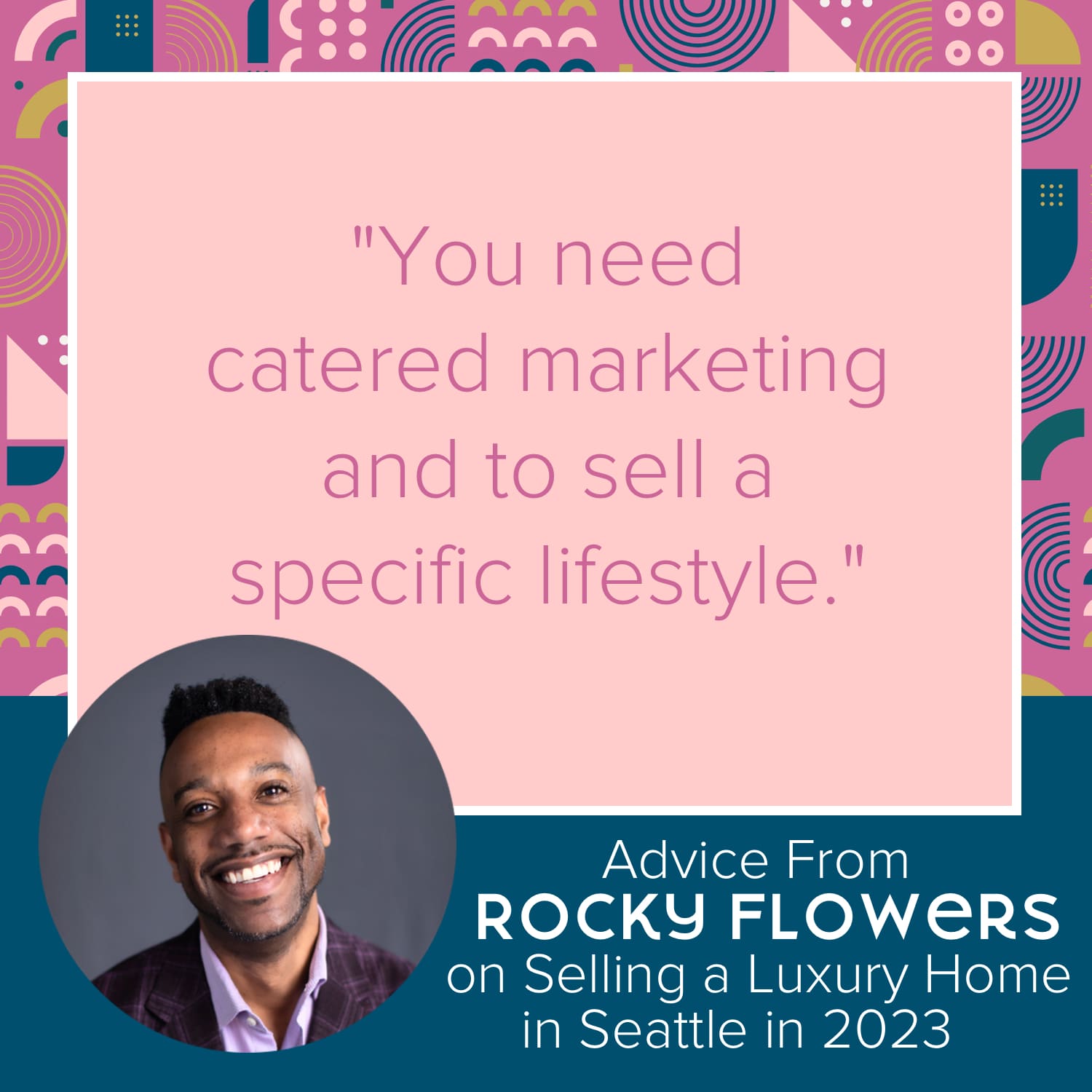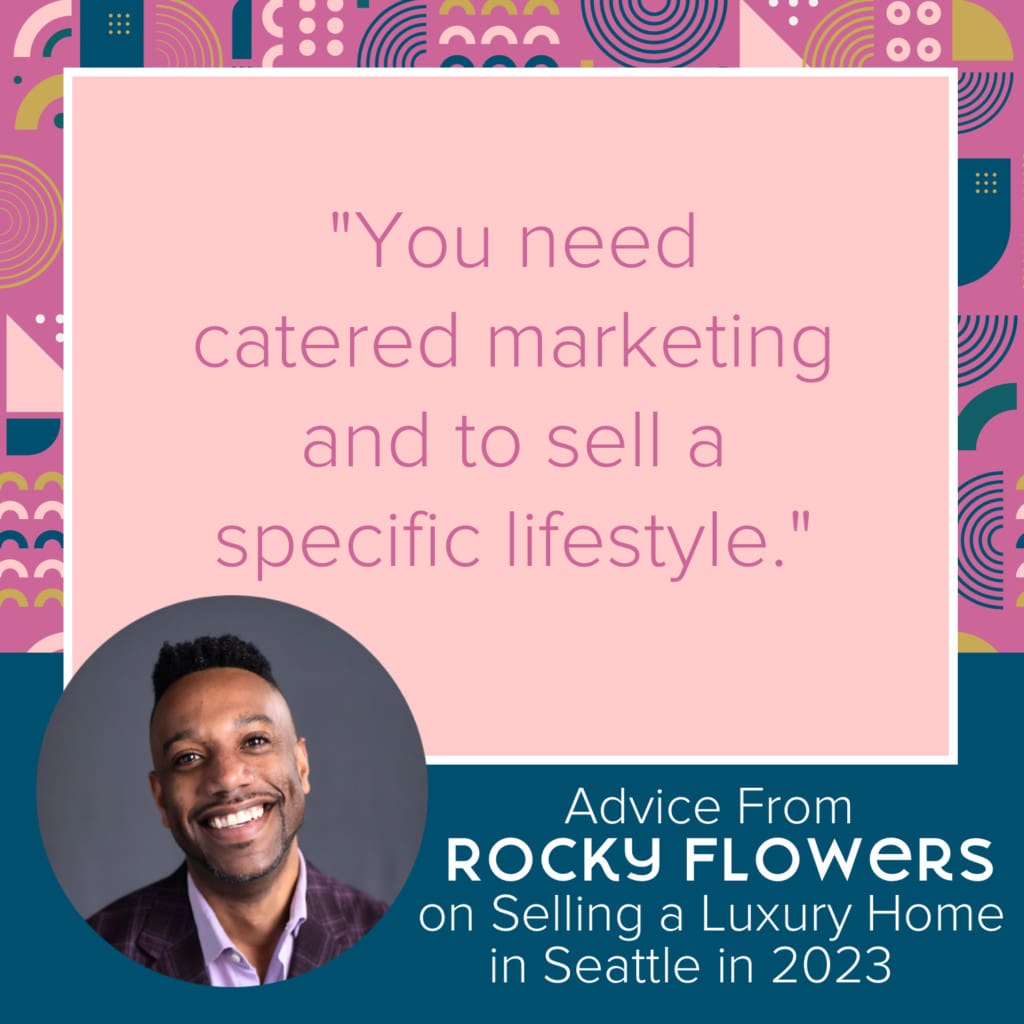 "In my opinion, the biggest difference in the luxury market is the price point. Luxury or not, yes we are selling homes, but more importantly, we are working with people. Get yourself in the mindset of being able to work in a market with people that may have a different idea of what your home is worth. So aside from more catered marketing, and selling a specific lifestyle, the same rules apply to homes in the regular market because you are dealing with people."
– Rocky Flowers
Roy Powell's Advice for Selling a Luxury Home in Seattle in 2023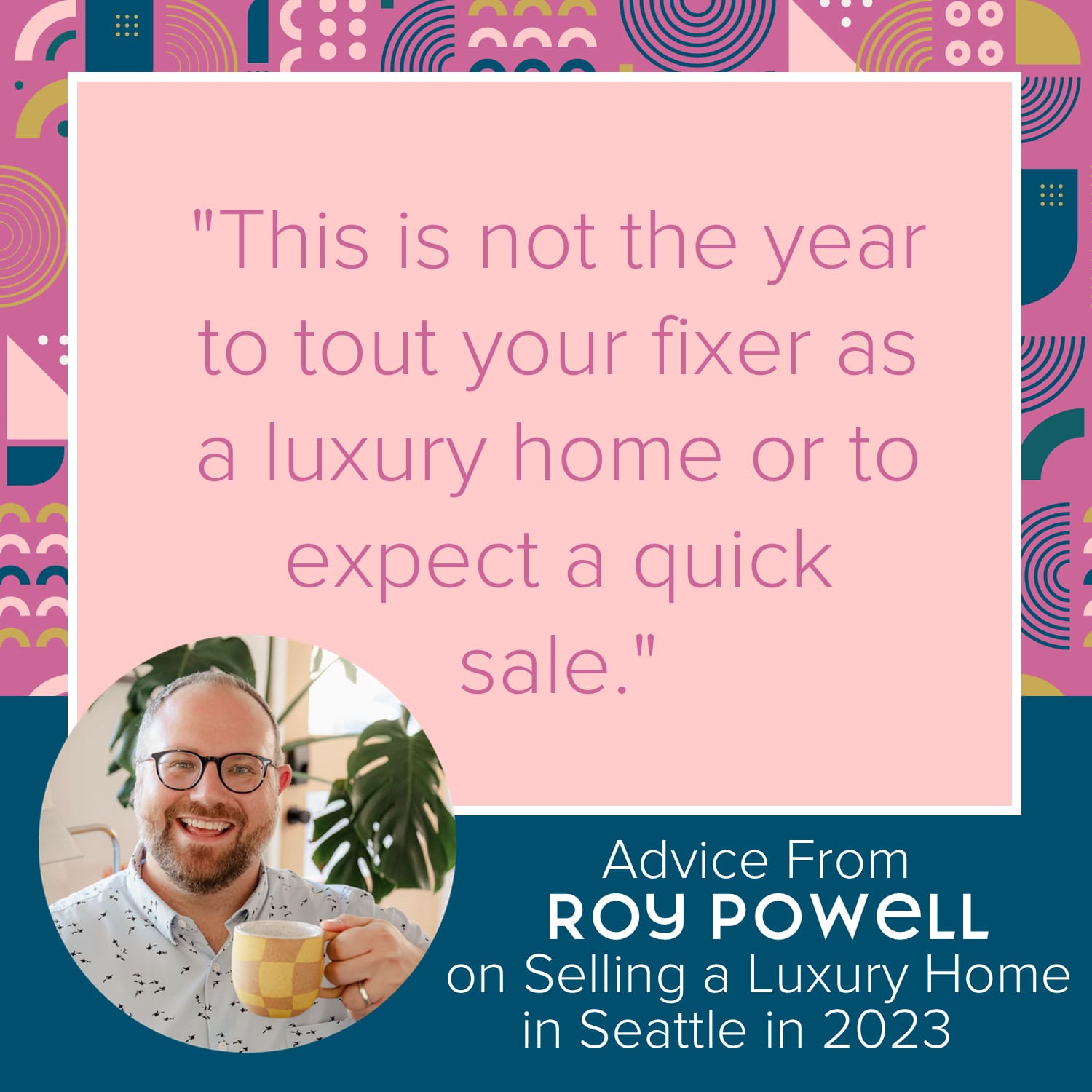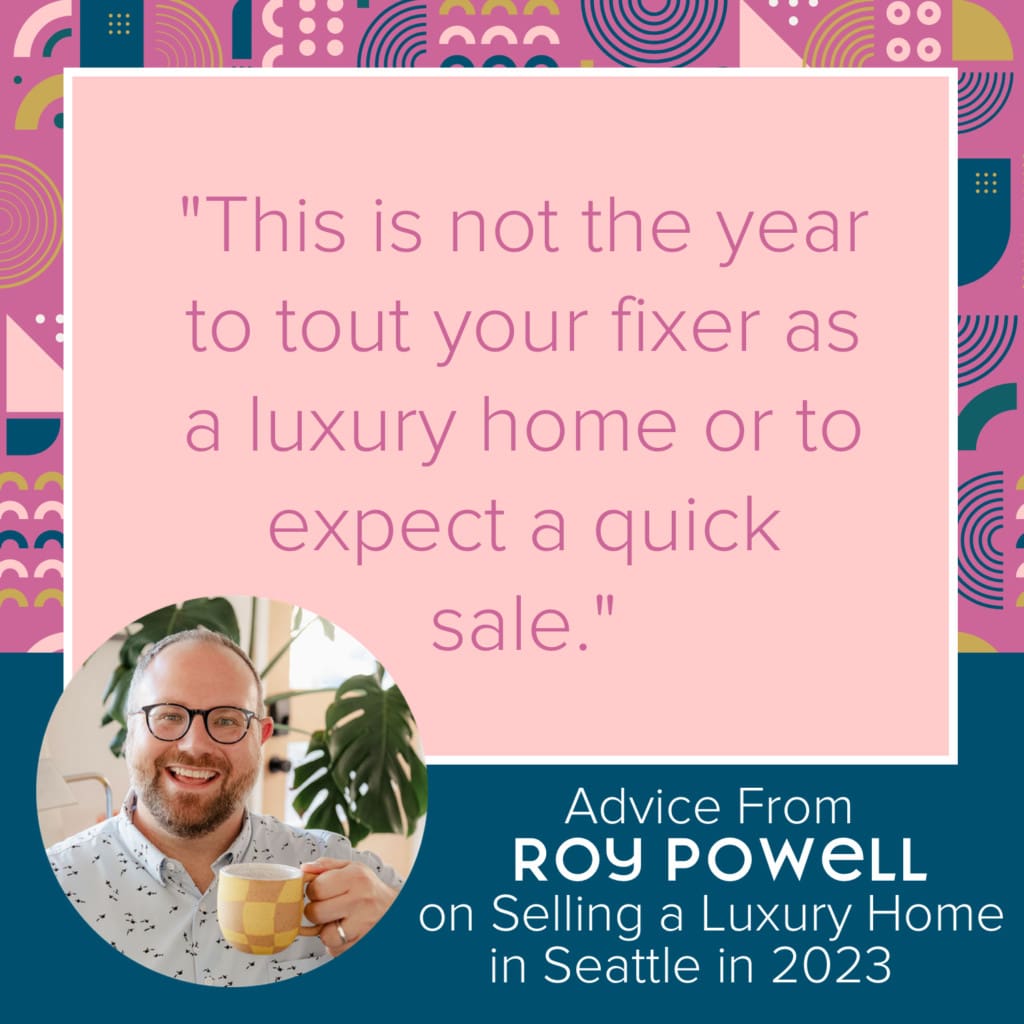 "Luxury buyers want something unique and rare. They also want a great experience. For this combination, buyers will wait for the exact right thing. This is not the year to tout your fixer as a luxury home or to expect a quick sale. This is the year to work with a broker who loves your home, communicates well with everyone, and is willing to make this experience great for you and the buyers. Trust me; patience will pay off."
– Roy Powell
Lindsy Russell-Mitchell's Advice for Selling a Luxury Home in Seattle in 2023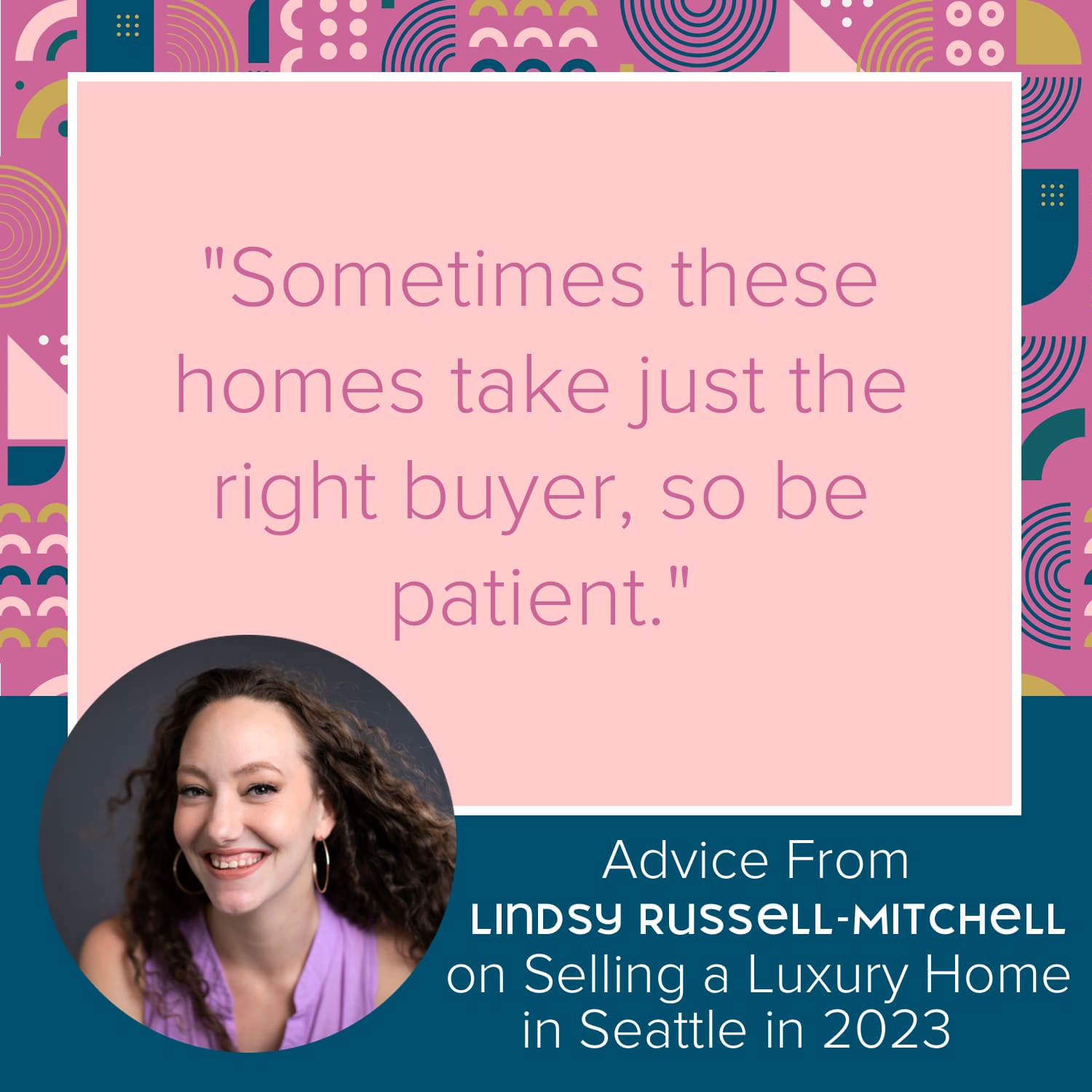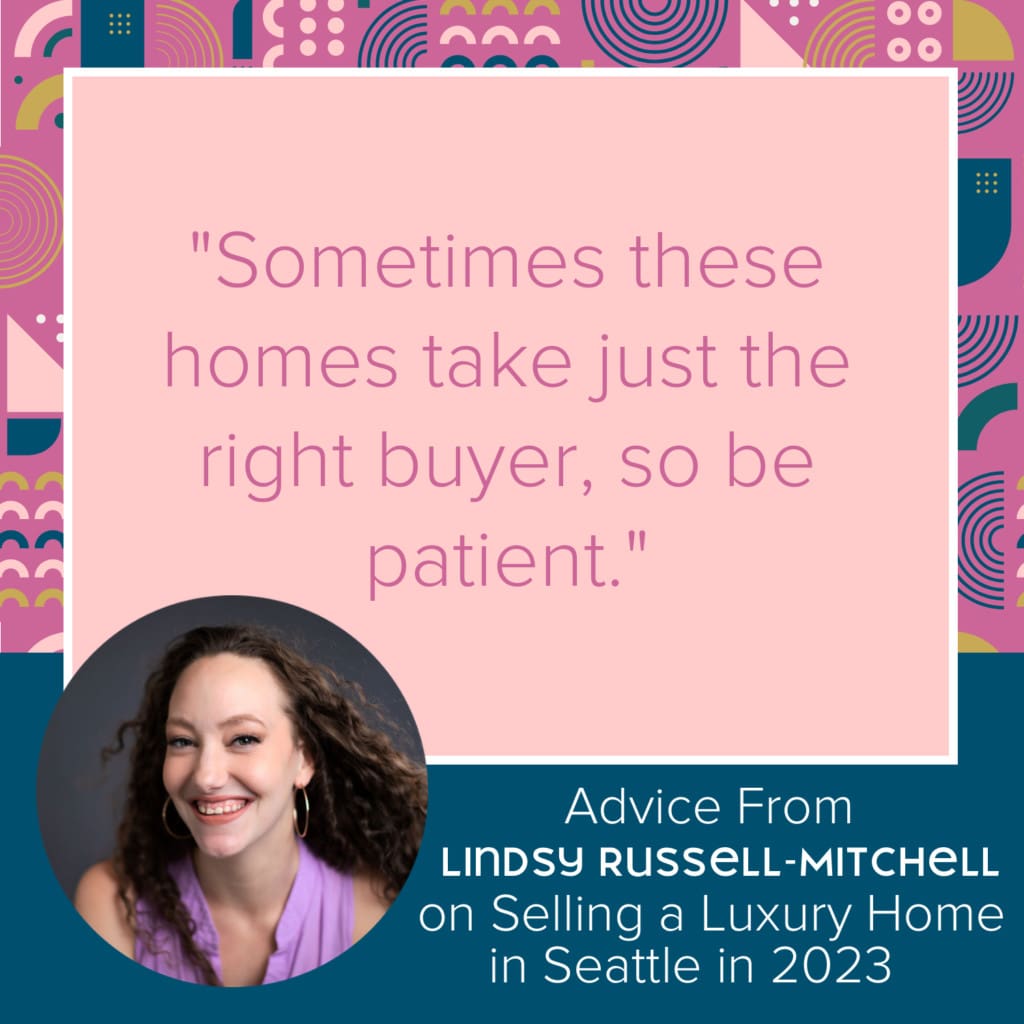 "Selling a luxury home isn't too different from a typical single-family home sale except for even beefier marketing tactics. These luxury homes are rare and unique, so marketing all aspects of the home to as many folks as possible is important in this market. Sometimes these homes take just the right buyer, so be patient. Make sure your broker is on their A game in terms of presentation of the home, communication with sellers/potential buyers, and can speak to the unique qualities of the luxury home. In this market, no two homes are the same, so make sure it's priced accordingly and the marketing is superb to get folks in the door!"
– Lindsy Russell-Mitchell
Donna Burns's Advice for Selling a Luxury Home in Seattle in 2023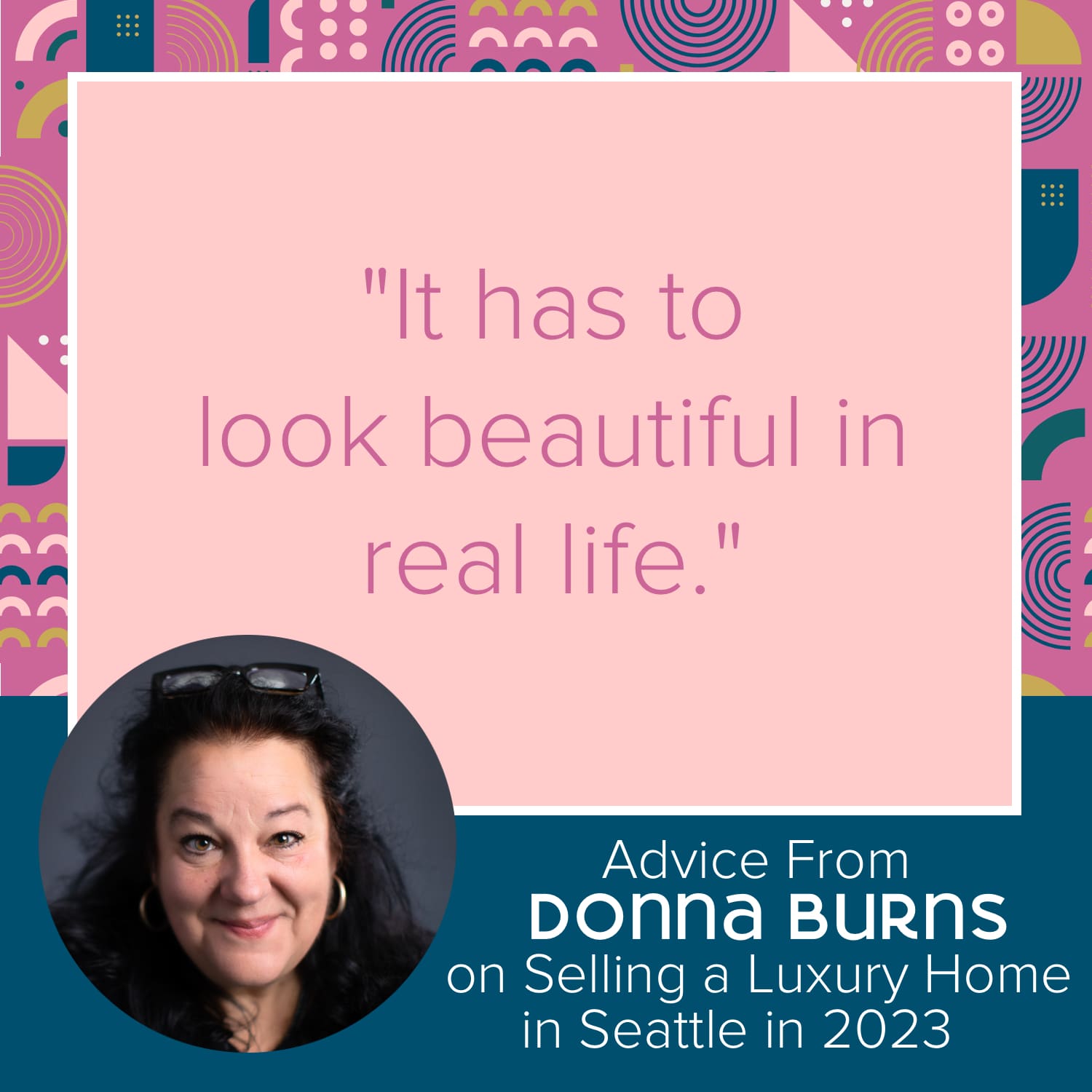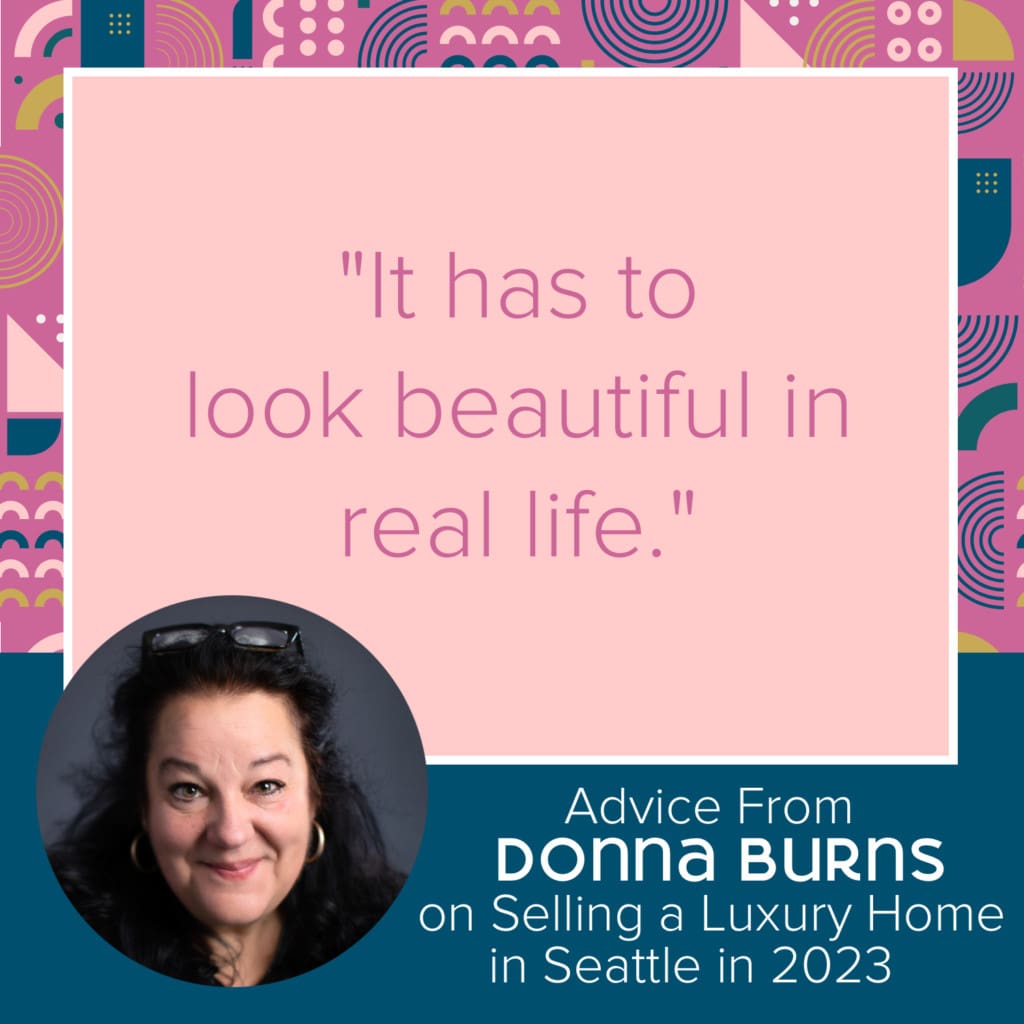 "A great listing that yields the most interest and best price is going to be the home that looks worthy and cared for. At Team Diva, we believe that presentation is absolutely everything with a listing! Really great photos are a must, since most of the time they're the first point of contact with a house, but it has to look beautiful in real life as well! First and foremost, it needs to be VERY CLEAN and SMELL clean. In addition, staging of some kind is always mandatory, whether it be a full house of furniture in the style of the home or a few added pieces to accentuate already well-outfitted spaces. We always clean and beautify the exterior and believe that 'curb appeal' is super important, so keep in mind the old adage 'you gotta spend money to make money,' and go the extra mile for your listing!"
– Donna Burns
Hannah Wilson-Hillard's Advice for Selling a Luxury Home in Seattle in 2023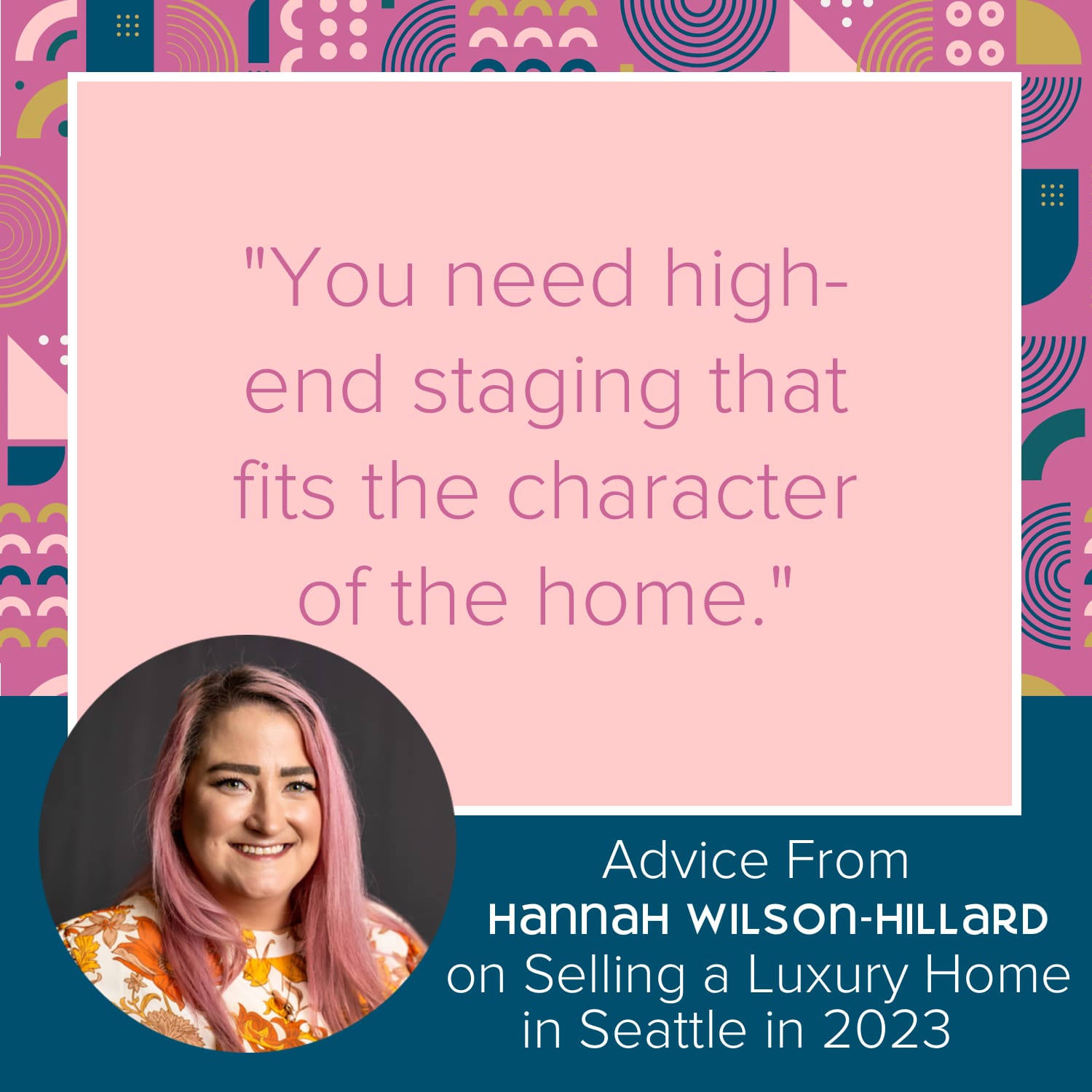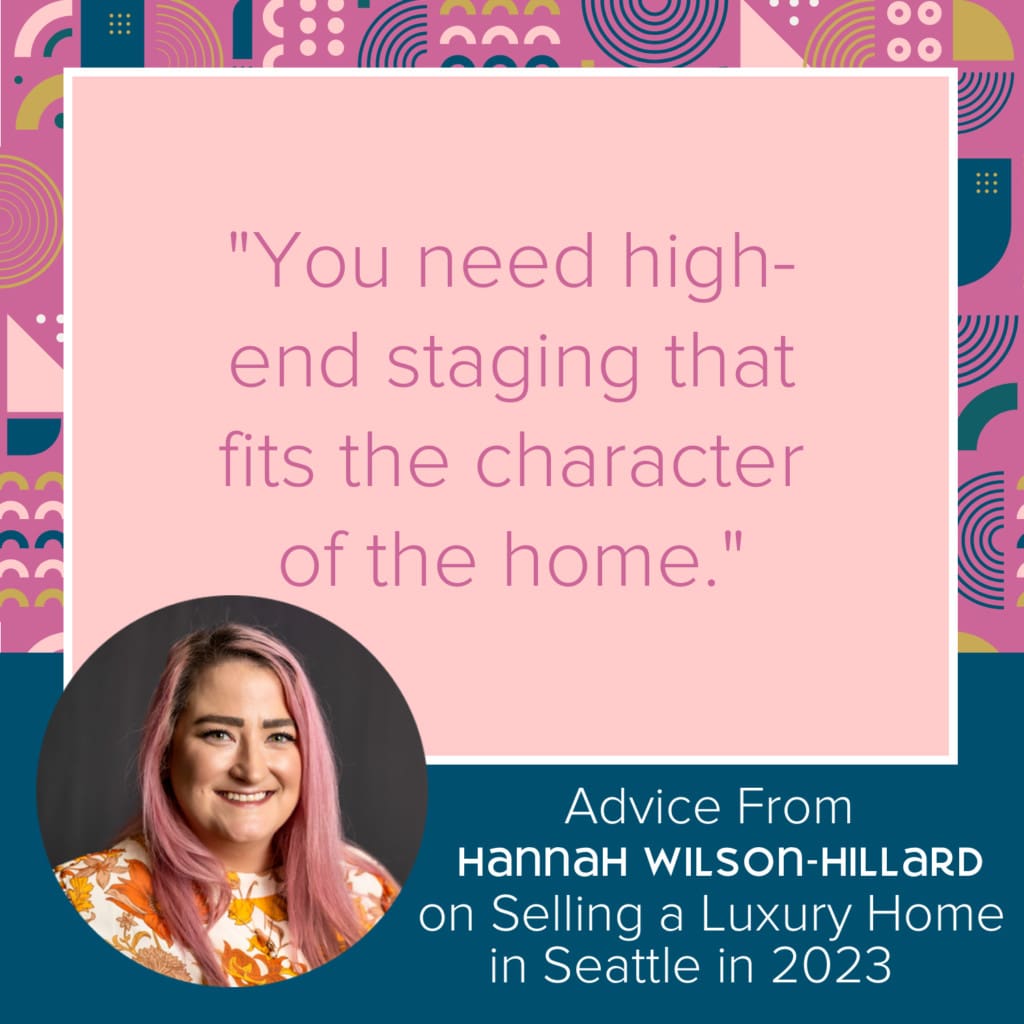 "This is going to come down to pricing strategy, high-end staging that fits the character of the home, and of course marketing the heck out of it (as Chavi would say)."
– Hannah Wilson-Hillard
---
How to Sell a Luxury Home in Seattle 2023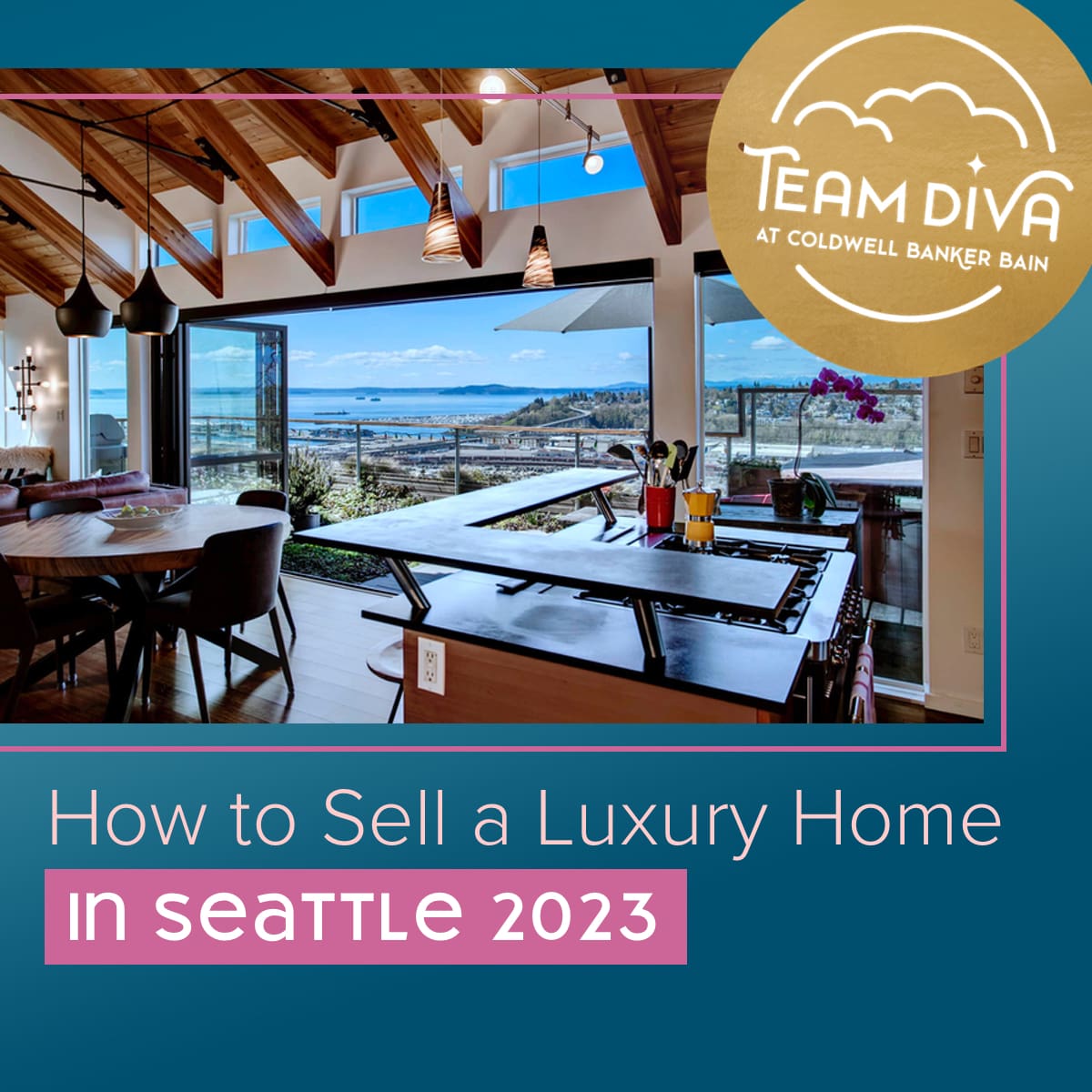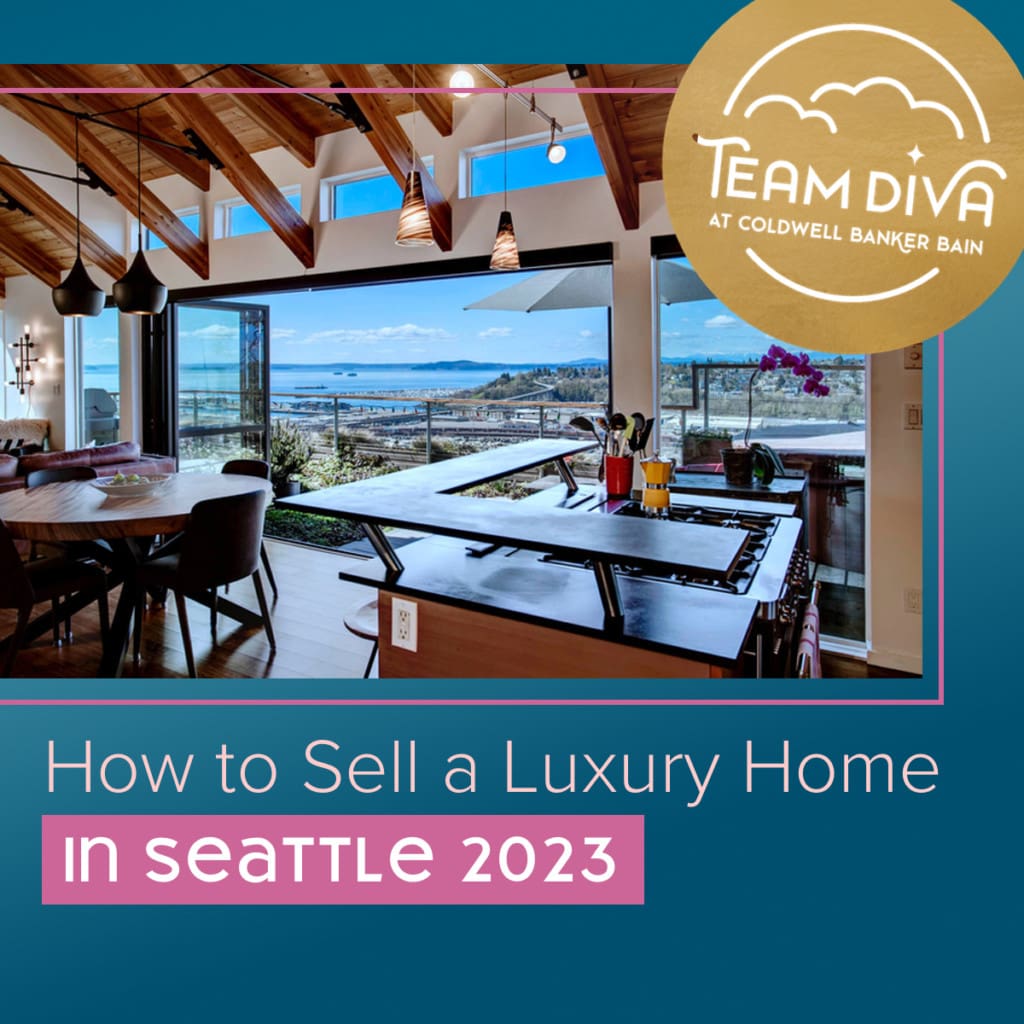 Selling a luxury home in Seattle this year is going to require some key skills from listing brokers. One is patience, two is resources, and the most important skill is to have a prep team who can make any home sparkle! Below are the specific steps we have been using to sell luxury homes in Seattle.
Five Steps for Selling A Luxury Home in Seattle
Do In-depth Global & Local Real Estate Market Research for the Home
"Get Real" Conversation on Getting Your Home "Market Ready"
Get Personal About the Details & Unique Aspects of Your Luxury Seattle Home
Specific Marketing Strategy for the Home
Implement a Comprehensive Online Digital Marketing Strategy
Bonus Step: Center the Seller in the Negotiation Process
Step 1: Do In-depth Global & Local Real Estate Market Research for the Home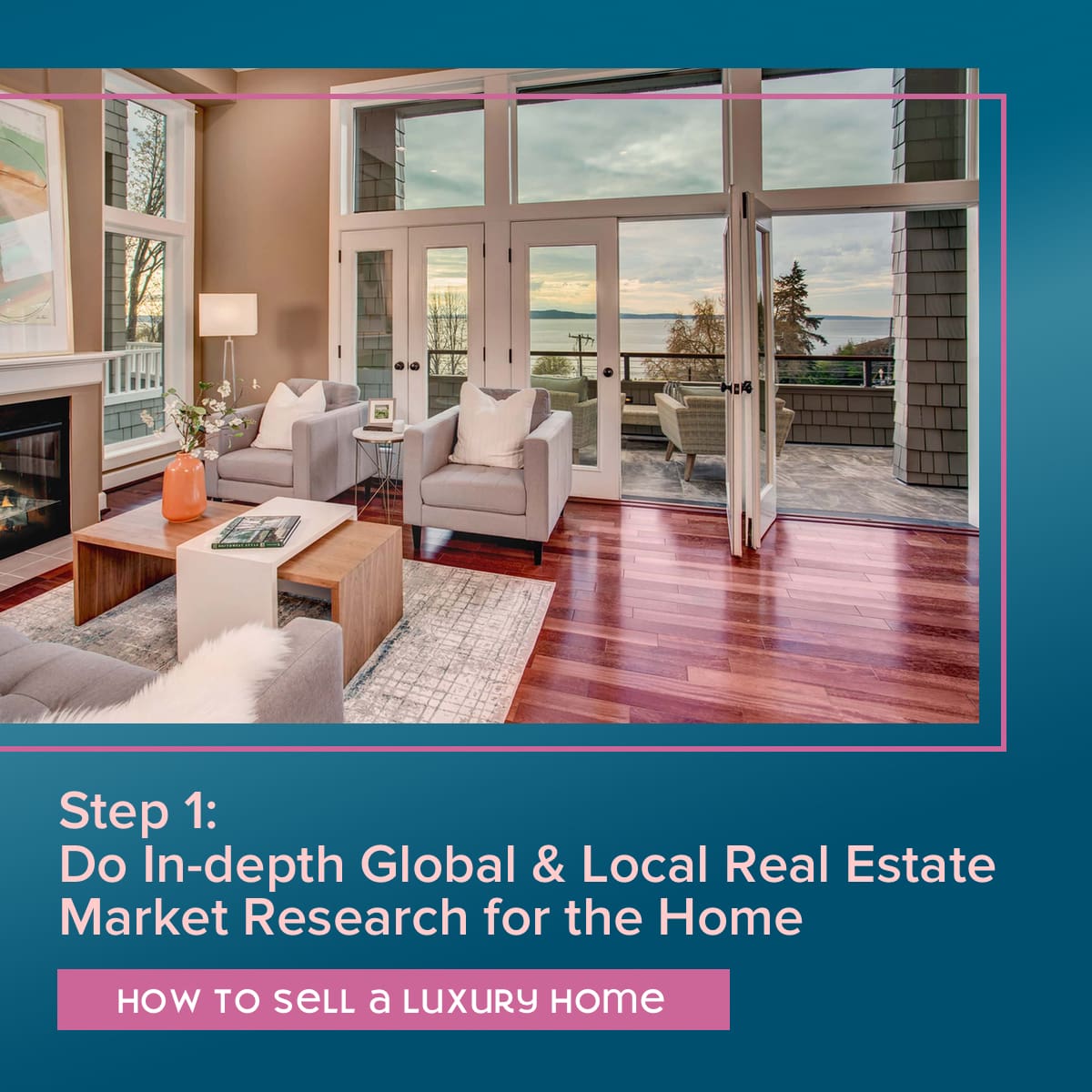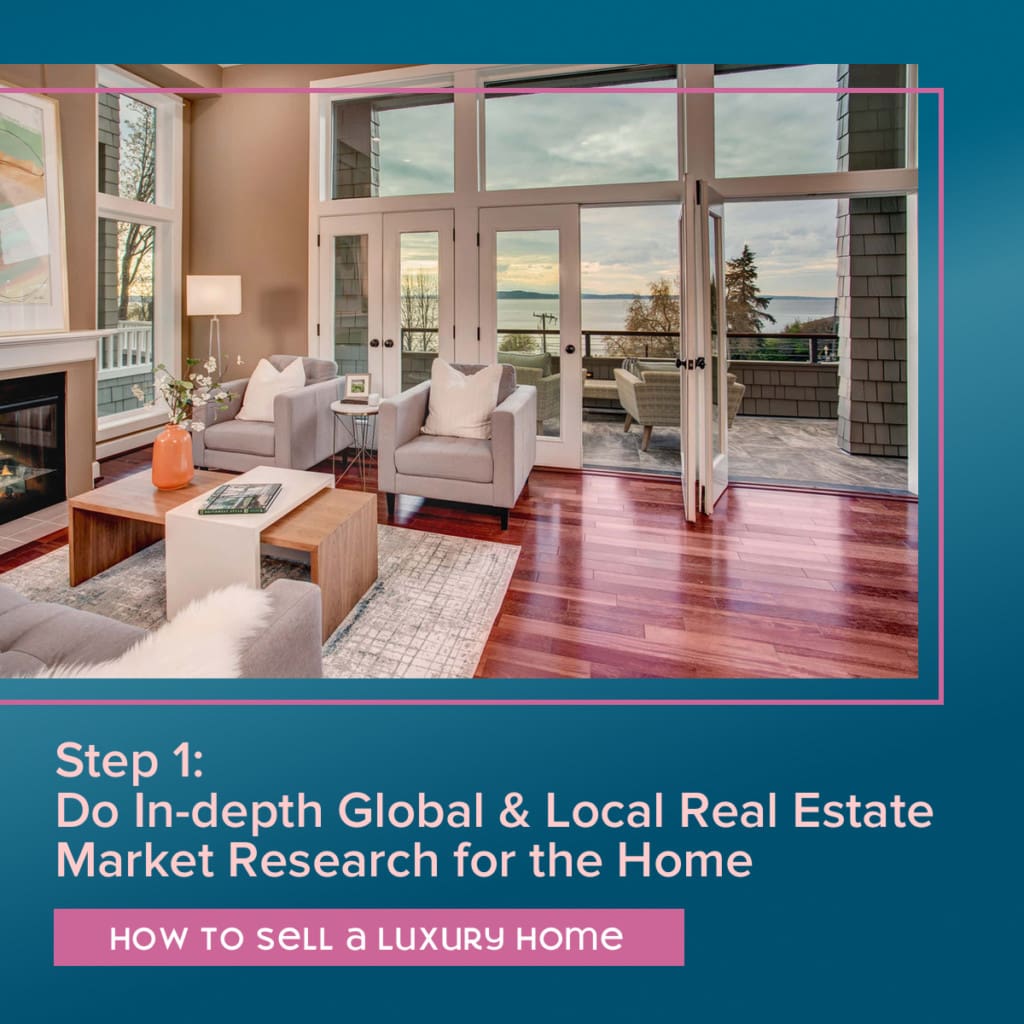 The luxury real estate market is much more susceptible to local and global changes than homes that are at or below the median price point. (In Seattle, this includes homes that are about the $800k – $1.1M range.) It's absolutely crucial to keep a close eye on the shift in demand from week to week. Anything priced above that $1M range will require a thorough deep dive into the numbers. It's also essential to have historical knowledge of the market, both on a macro and micro level.
Markets Shift Quickly and Our Team is Designed to Pivot When Needed
After decades of experience, we know how much changes in interest rates, conventional loans, jumbo loans, the stock market, inflation, etc. can all impact our luxury market. And because we are consistently working with buyers and sellers, we are tuned into what's happening "on the ground" in Seattle's real estate market, as well as the Greater Seattle Area. And of course, we've got our eye on what's happening economically on a global scale, too. In fact, we are even frequently interviewed by both local and national news publications to offer our insight and expertise on the market!
Now, when we say "in-depth," we really mean it.
Knowing the Market is Key to Creating a Selling Strategy
Successfully selling your luxury home requires more than just general market data. Each neighborhood and even micro-neighborhood in Seattle is different. And we take the time to analyze exactly what's happening with the specific luxury market that your home is in. Over time, we've learned that many agents simply won't do much market research beyond what they'd do for an average home. They might look at comps, but we frequently encounter agents who don't look at more subtle trends to inform their clients' decisions.
Step 2: "Get Real" Conversation on Getting Your Home "Market Ready"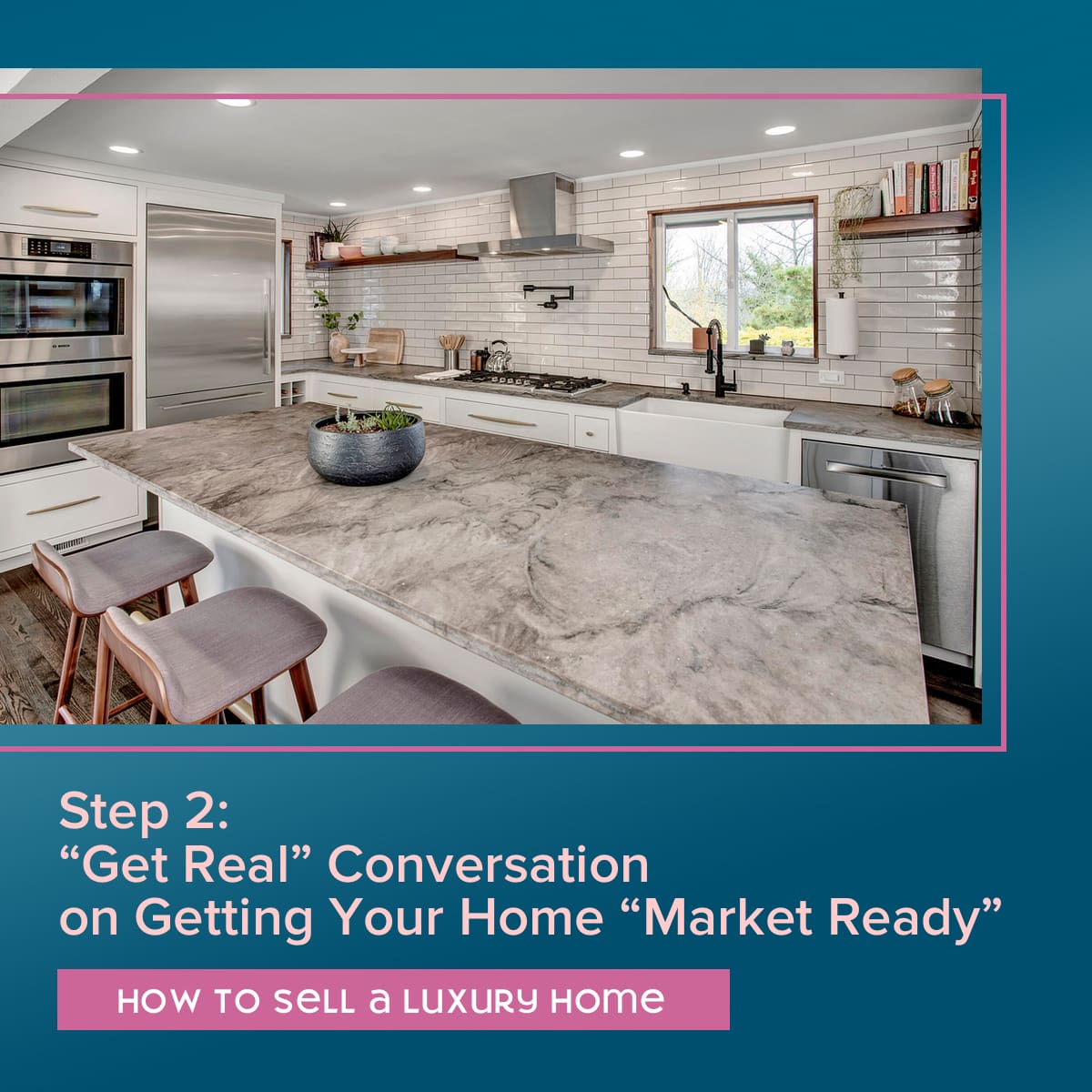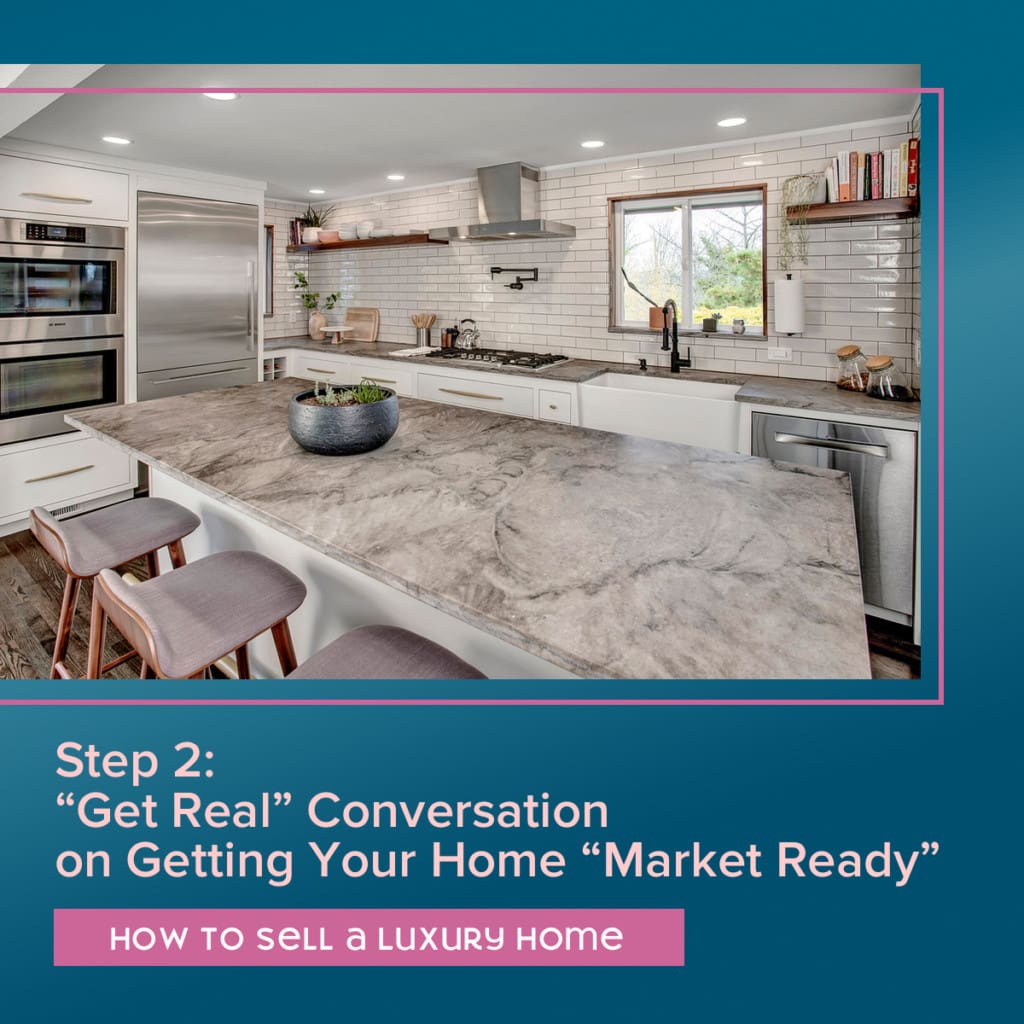 During the Fall 2022 real estate market we got a first hand look at what this high interest rate real estate market was going to look like. Our team sold EVERY one of their listings. While others stayed on the market. Kim details out exactly what it took to make this happen in her blog How Do You Sell a Home in a Down Market?
Every Home We List Has a Prep List Implemented by Our Team of Contractors and Marketers
One of the things our clients love most about Team Diva is that we actually work as a team. And rarely do we walk into a home without finding something we can move, change, or update in order to attract the ideal buyer. When you're getting your home "market ready", Team Diva is not afraid to "get real" in our conversations about how to best do this! We know that selling our clients' homes for top dollar means we need to be willing to have tough conversations about prep work.
Know the Market
Because we help our clients buy homes as often as we sell homes, our entire team is consistently in touch with the current zeitgeist of buyers in the market. Team Diva has a thorough understanding of what buyers want to see in a home, AND we know what buyers are looking for to get them from the "like" to "love" to "must have" stage. And of course, having buyers fall in love with your home is key to selling it for top dollar!
The Team is the Diva Difference
It's also important to know that when you work with us, you're not only working with our team of expert real estate agents. You also get access to a whole network of professionals to ensure that you experience the full Diva Difference. We have landscapers, painters, photographers, videographers, home stagers, and a long list of other professionals who know and understand the standards we set for every one of our listings. And they are ready to get your home in spectacular shape! We will get your luxury home looking as fabulous as ever for listing day!
Step 3: Get Personal About the Details & Unique Aspects of Your Luxury Seattle Home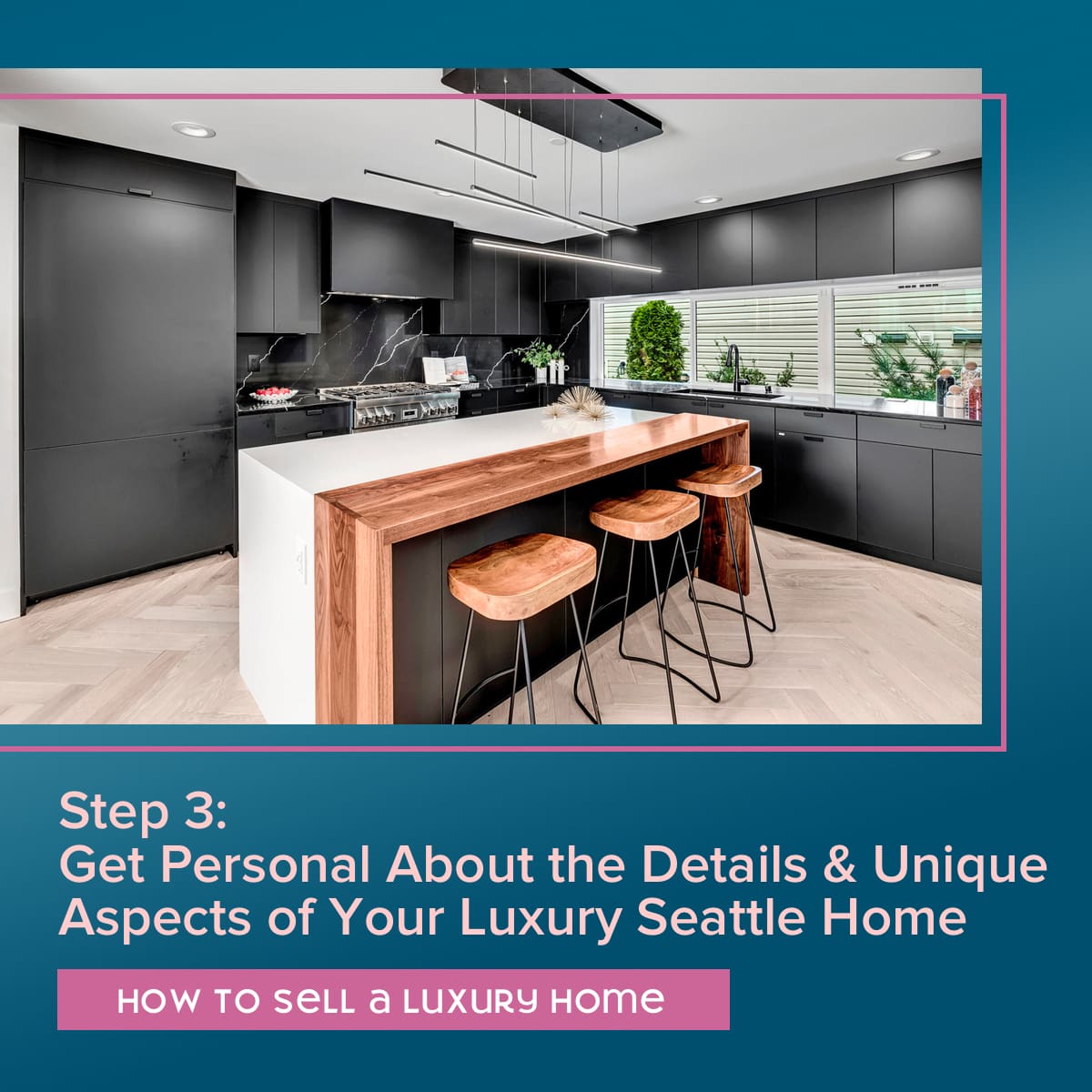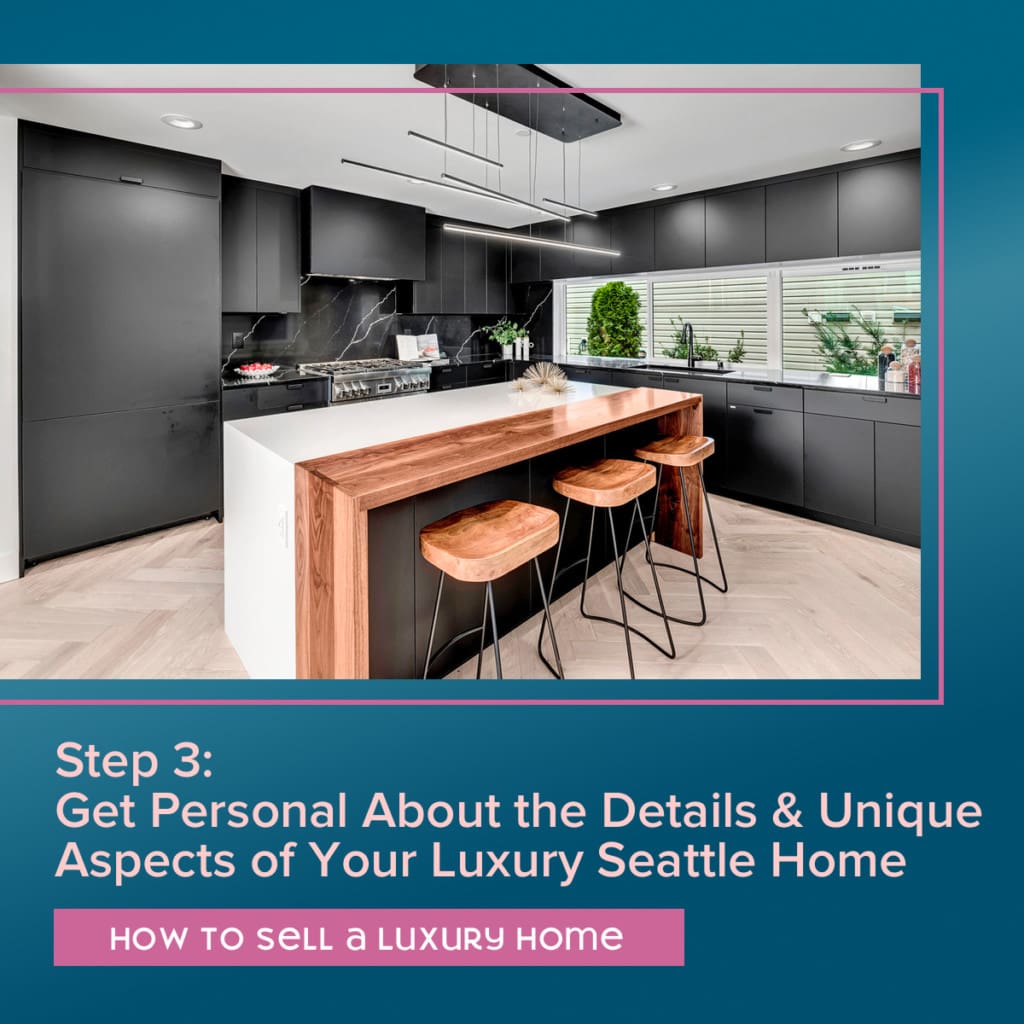 We know that our sellers have invaluable, intimate knowledge about their homes. We also believe that it's so important to truly convey what makes your luxury home so special. Part of selling a luxury home is getting to know it on a personal level, which is one reason why we spend extra time to include you, the seller, in the process of marketing your home.
In our marketing, we focus on why our client has loved their home—not just what we see as real estate agents. This process begins when we send our sellers an email survey. This survey prompts sellers to spend some time thinking deeply about their home and neighborhood, and what they love most about it all. During this process, we get to learn about how our sellers actually live in the home, specific details about custom upgrades, interesting history about the home, and much more. All of this additional information helps us create marketing that's not just "real estate speak." It's "home lover speak," too!
If we didn't ask the deeper questions, then we would never have known that you can whale watch from the deck at this Mid-Century View Home in Three Tree Point. And we would never have learned that this Wallingford Farmhouse was a neighborhood icon with colorful local history. We love these details, and so do potential buyers. These types of stories help to create an emotional connection with buyers. It's these little details that help people fall in love with a home that they may only see once before deciding to make an office.
Step 4: Specific Marketing Strategy for the Home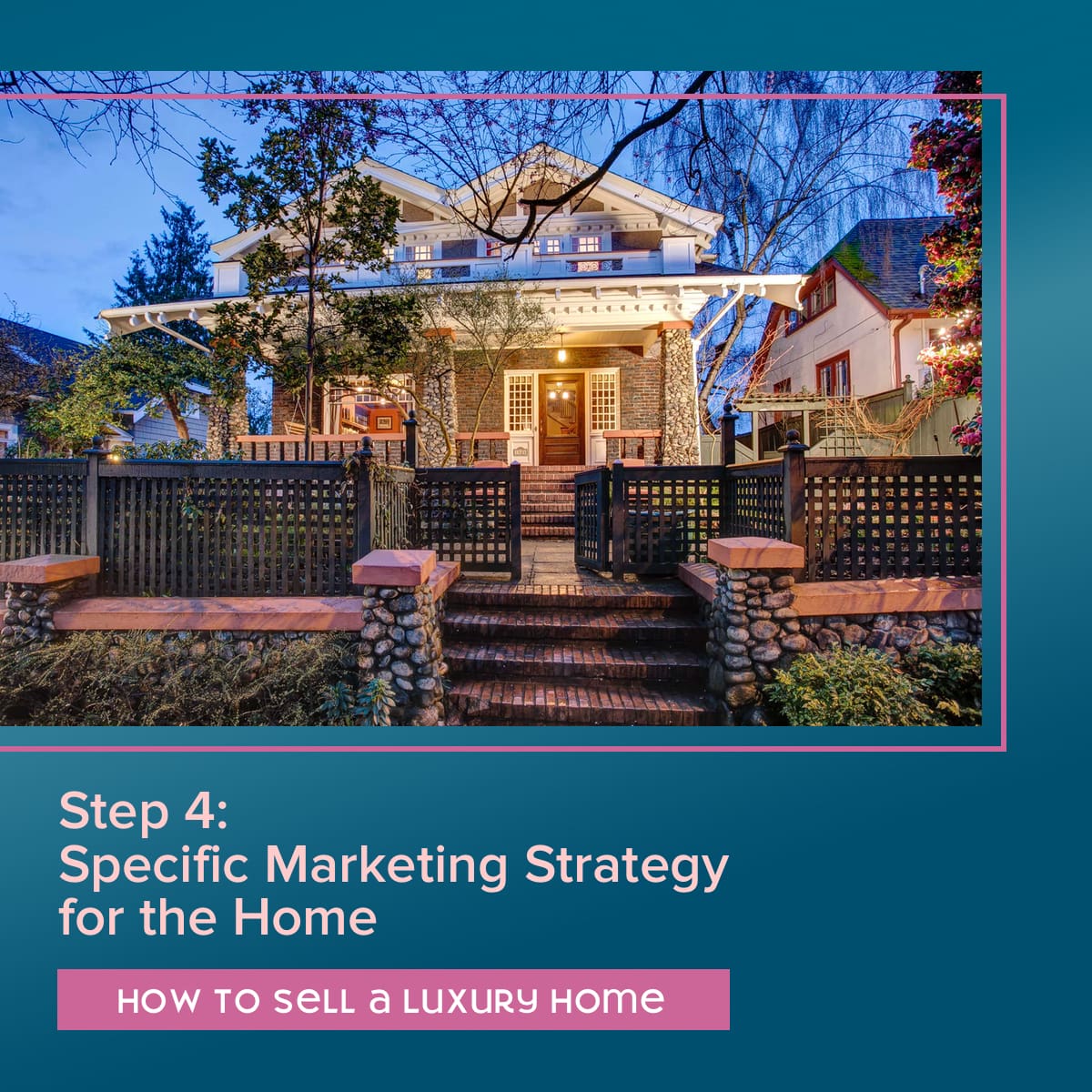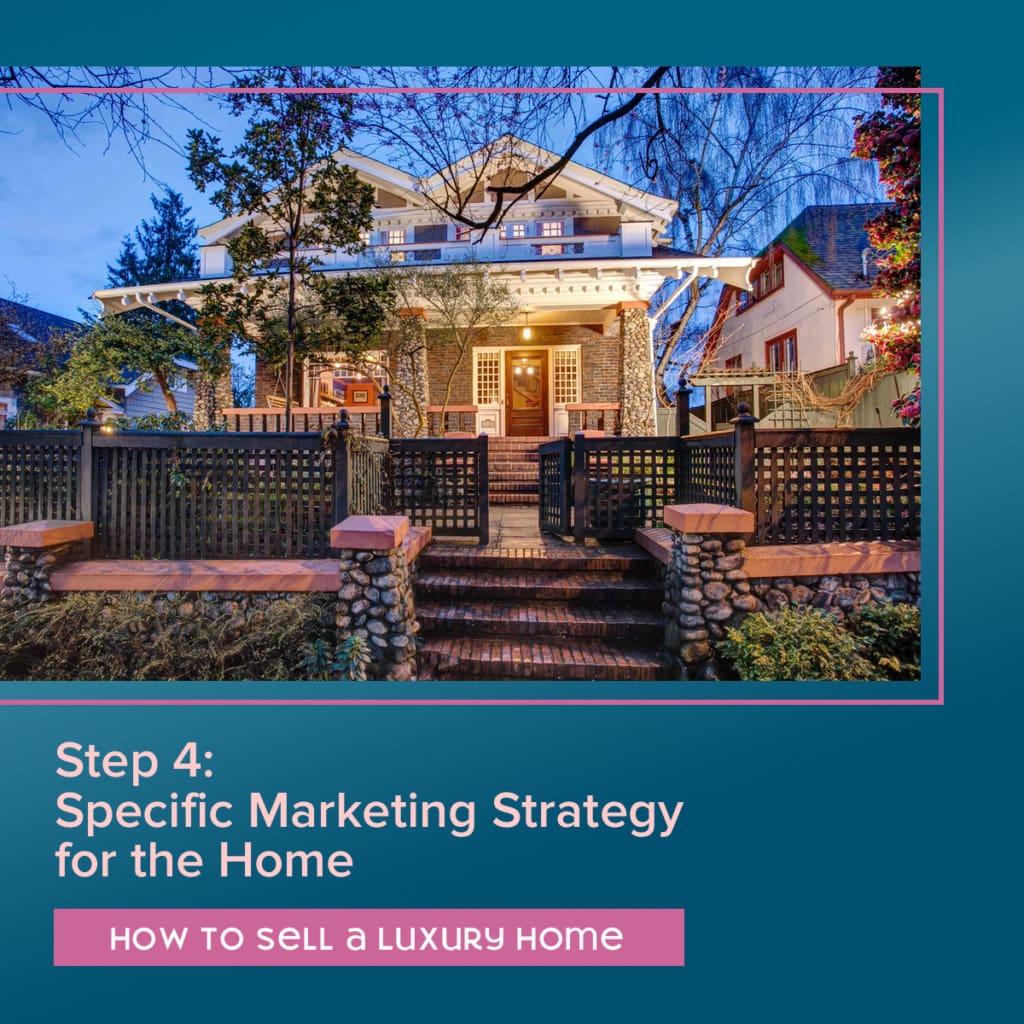 Your luxury home deserves a fully customized, luxe marketing plan. To create a marketing plan that is worthy of your home, we'll first need to start by prepping your home. This might include fresh paint, new carpet, updated lighting, a yard refresh, and more. Then, it's time for us to connect you with one of our favorite professional home stagers. Professional staging will ensure that your home is featured only in its best light, and staging helps buyers see how they can truly make the most of each space.
Video, 3D Tour, and So Much More
Once the home is staged to perfection, it's time for "lights, camera, action"! In addition to professional photos (plus drone shots!) of your home, we'll also create a 3D tour and your very own personalized Team Diva video. When it comes to selling a luxury home, there cannot be any skimping on the marketing. For example, most other agents do the bare minimum package of 30-40 photos, but we do 60-70 photos to make sure buyers are getting as much info as possible. Whether it's twilight shots, drone shots, or both, we always go the extra mile and spend the extra money to get the very best pics of your home! We also create a customized lifestyle video that showcases what it's like to live in and entertain in your home, and in your neighborhood. Team Diva makes sure to not only show off the home itself, but the lifestyle and access it affords residents.
Video tours are crucial for luxury properties. Many of Seattle's luxury buyers are relocating from out of the area, which means they are using whatever is available online to decide if it's worth it to hop on a plane to see the home in person.
Does This Type of Marketing Really Work?
In general, Team Diva sells their homes above the market average. And when markets shift suddenly like a Pandemic Shutdown we still sell homes. One example is that we sold one of our DivaLux listings to buyers who had never actually seen the home in person. The buyers watched our custom lifestyle video, explored our 3D tour, and viewed our 60+ photos. They sent their real estate agent to confirm their thoughts and bought the home without ever stepping foot inside it.
That's the power of developing a smart marketing strategy!
This brings us to our next point:
Step 5: Implement a Comprehensive Online Digital Marketing Strategy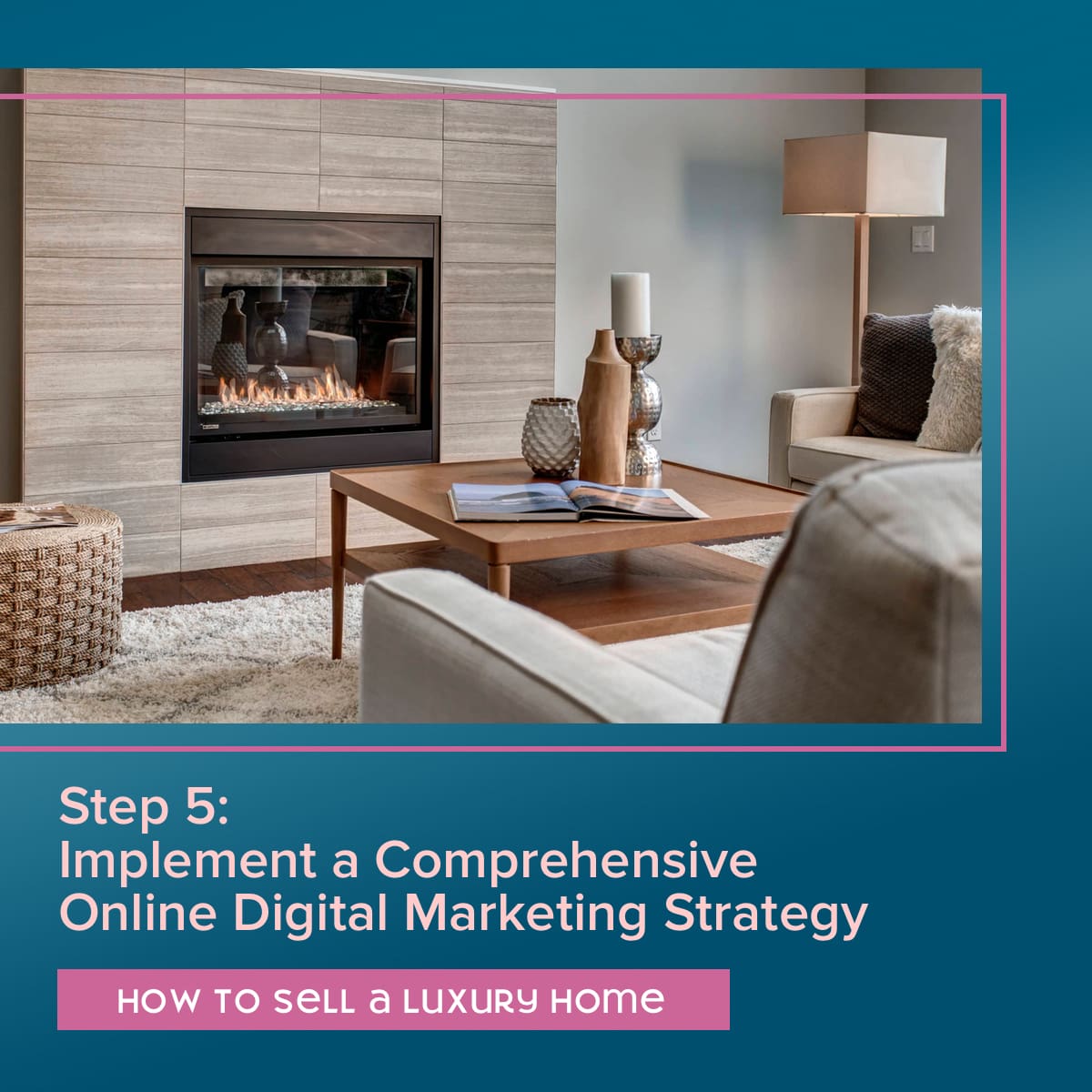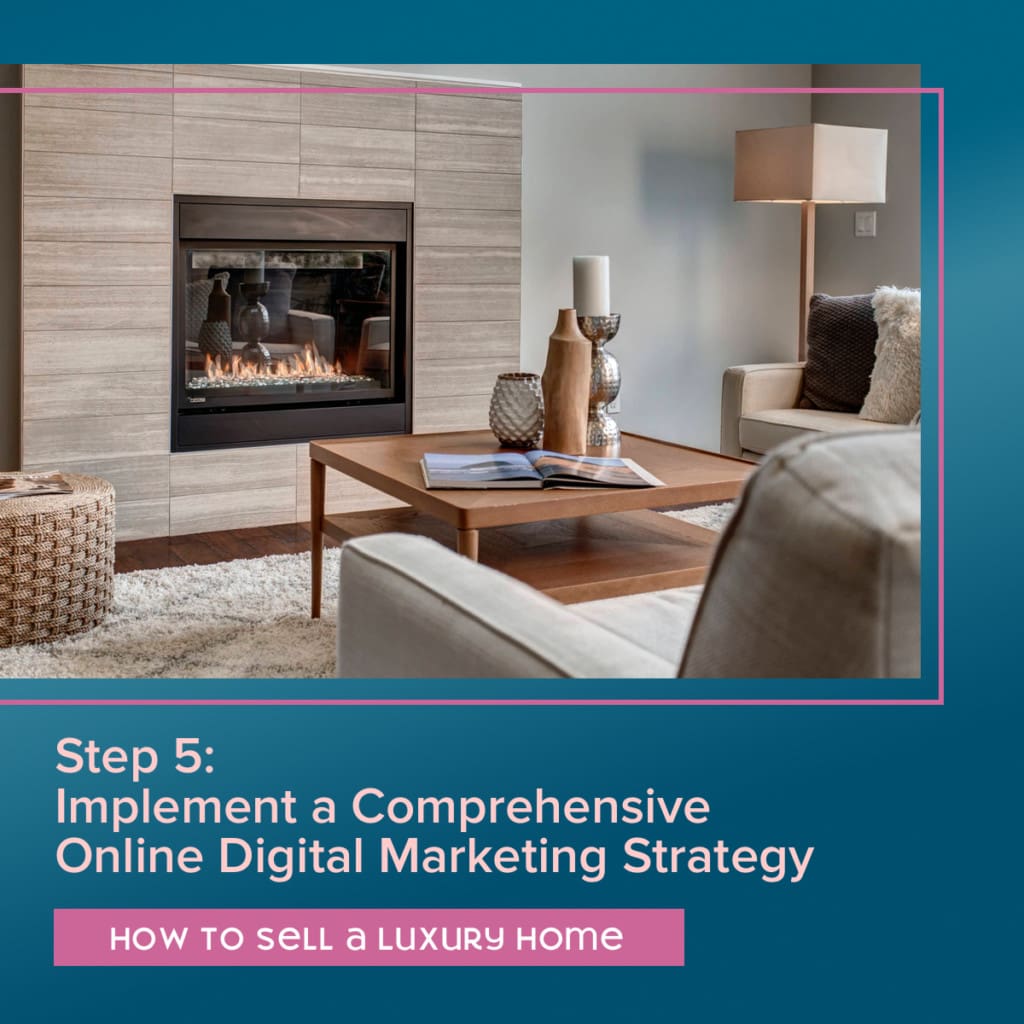 Creating beautiful marketing is pointless if you don't have the means to showcase and distribute it. Team Diva has a robust online presence. For starters, we host all of the gorgeous virtual content we've created on a custom listing page on our Team Diva website. We also create SEO-rich blog posts with embedded lifestyle video tours to offer potential buyers a closer look at what makes the home special; we leave no stone unturned. This also includes a neighborhood page, highlighting the perks of your specific location.
What Do We Do With This Content?
We take all of this content and share it on our active and engaging social media channels, where we have a large and active audience. Your luxury home will also get in front of thousands of realtors, Team Diva clients, friends, family, and fans via our email marketing.
Team Diva gets your luxury home listing as much exposure as possible! To us, marketing your home is so much more than posting the requisite 40 photos on the MLS and slapping a flyer in your home. It's a creative endeavor that we embrace with a passion, and we are constantly bringing YOUR listing to the next level.
Homes Stay on the Market Longer And the Need For a 3-6 Month Content Plan is Key
Patience is critical in a market like this one. For every buyer, there are eight homes on the market. That means you have to constantly reinvent how to present the home. We write new blog content regularly, create new informational videos, and connect with our community. Consistency is key! Each piece of content is part of a cohesive whole, so we are able to catch people when they are most interested in the home.
It's all about telling the right story to the right audience. And we call our audience Divaland. Divaland is a huge network of passionate folks who love real estate, activism, and the arts. We stay in touch with everyone through a weekly email newsletter and the top social media platforms. The community building aspect of this is its own reward, but it also reaps big rewards for our listings. This trove of content allows us to supercharge our lux listings with unbeatable SEO. That means more eyes on YOUR luxury home when you list with Team Diva.
Bonus Step: The Diva Negotiation Skill Set
People and their properties are complex. Real estate is complex. And we don't often brag about how good Kim and the rest of our team are at problem solving the many complex issues that come up during a transaction. But we are going to toot that horn right now! Kim has been in business for over 20 years and has pretty much seen everything that could go wrong in a transaction. And the rest of our team are smart and savvy agents in their own right!
It takes a true professional to not only solve issues that come up but to ensure the seller is fully protected throughout the process. And that is the Diva Negotiation Skill Set!
---
Thank You For Browsing Team Diva's Definitive Guide on How to Sell a Luxury Home in Seattle 2023
Our goal this year is to transform the luxury home market by introducing a whole new way of presenting a home on the market. Many of the processes of selling a home is antiquated in general. But specifically in the luxury market there is a lot of room for improving how a home is presented for the market, how it is marketed, and the type of detailed knowledge a seller deserves to know to make a smart decision. And in these areas is where we shine!
Learn More About Selling a Luxury Home in Seattle in 2023
We have a ton of additional resources for home sellers. Be sure to check out the following:
Be a Smart & Savvy Home Buyer & Seller in 2023
Check out our home buyer and seller guides for 2023:
We are here to help. Our team understands that this process can take a year or two. And we are more than willing to give you a personalized plan to get the ball rolling. Feel free to contact us directly at thediva@teamedivarealestate.com or call/text 206-271-0264.