Buying a house in Seattle in 2023 is going to be a different experience than the last ten years. One of the most obvious reasons is that interest rates are back up to the same levels they were before the Great Recession. And prices have actually been super stable in the city of Seattle (whereas they are going down in the suburbs, new construction, and the condo market). How is this going to impact Seattle homebuyers in 2023?
In this comprehensive guide, we have everything you need to be a smart home buyer this year. Start with the video that Rocky just did, check out the personal on-the-street advice from the team, and then deep dive into every step of the home-buying process.
Start Here – Rocky's Video About How to Buy a Home in Seattle in 2023
Next – Download Our Diva Dweller Buyer's Guide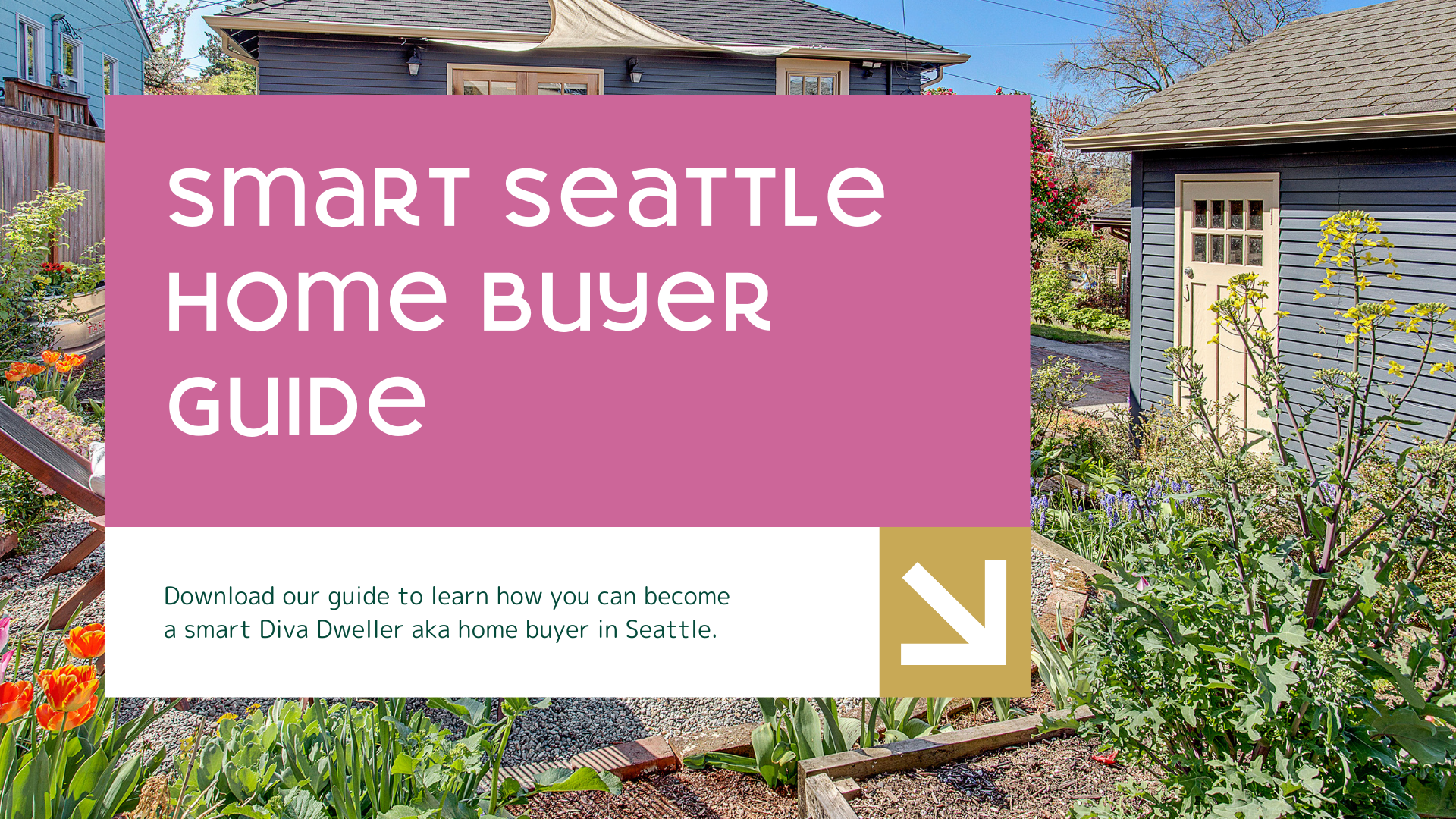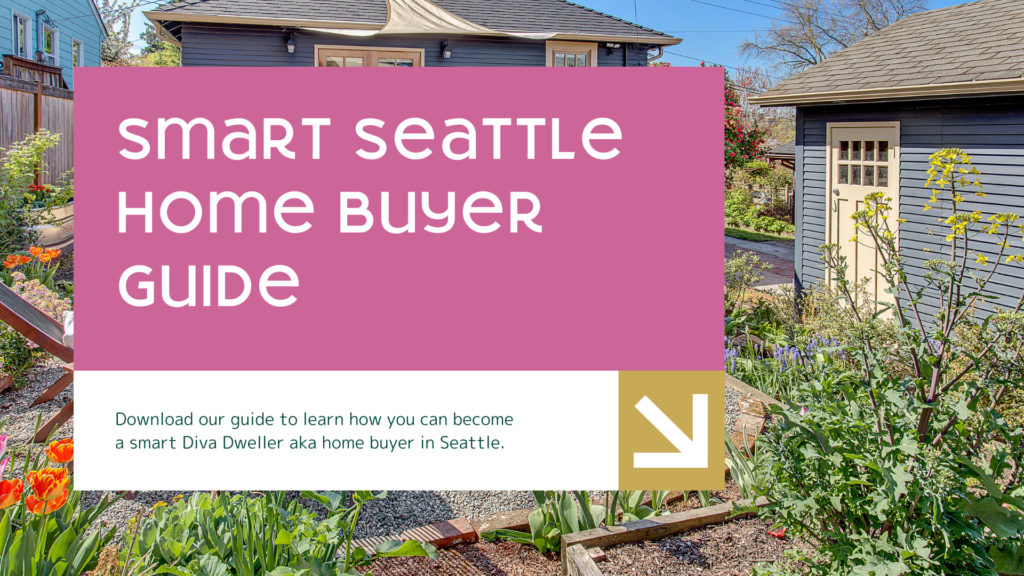 Read The Advice From the Team
We asked the team what advice they are giving to their clients on how to buy a house in Seattle in 2023. And here are the highlights of what they said:
Negotiate: Make a low offer. Buyers will be able to get their closing costs paid and negotiate on inspection items.
Opportunities for Great Deals on New Construction: New construction will be offering huge incentives to buyers in 2023.
Rents Should Decrease: Apartment rents will be coming down as more new construction rental projects come available.
That Home is Cheap For a Reason: Cheap doesn't mean good.
Below the team goes into depth with advice on how to take advantage of this market. There are rare moments in Seattle's real estate market where you can buy a home and negotiate on all of your contingencies.
Check Out All of the Steps to Make Sure You Become a Diva Dweller at the End of this Blog
Now onward to the advice from our top-producing experts in Seattle's real estate.
In this blog, we are going to share the advice our team members are sharing with their clients as they prepare to buy a home in Seattle in 2023, give you a ton of detail about how to buy a house, and break down more advice if you are buying a luxury home, house or a condo.
---
Tips From Team Diva on How to Buy a House in Seattle in 2023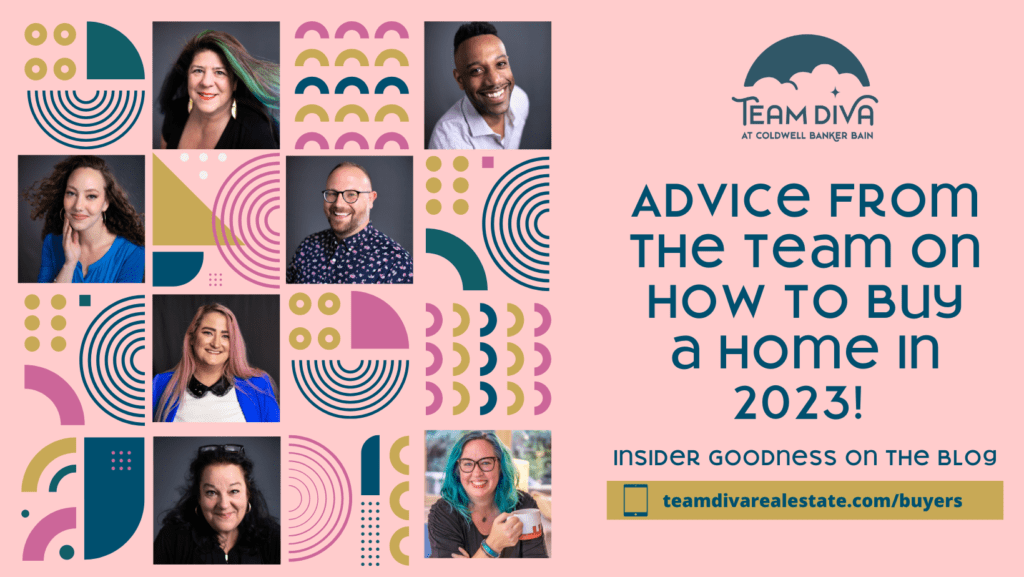 Our Team Diva team members work with both buyers and sellers in several neighborhoods throughout Seattle and King County. We all have real-time market knowledge because we are always actively working with buyers and sellers. We consistently know about the market trends before they are even "officially" reported. This also means that our team members know exactly what buyers need to do to successfully buy a house in 2023.
Here's the advice that our Team Diva brokers have about buying a home in 2023:
Let's dive in and learn from the best!
Kim Colaprete's Advice for Buying a House in Seattle in 2023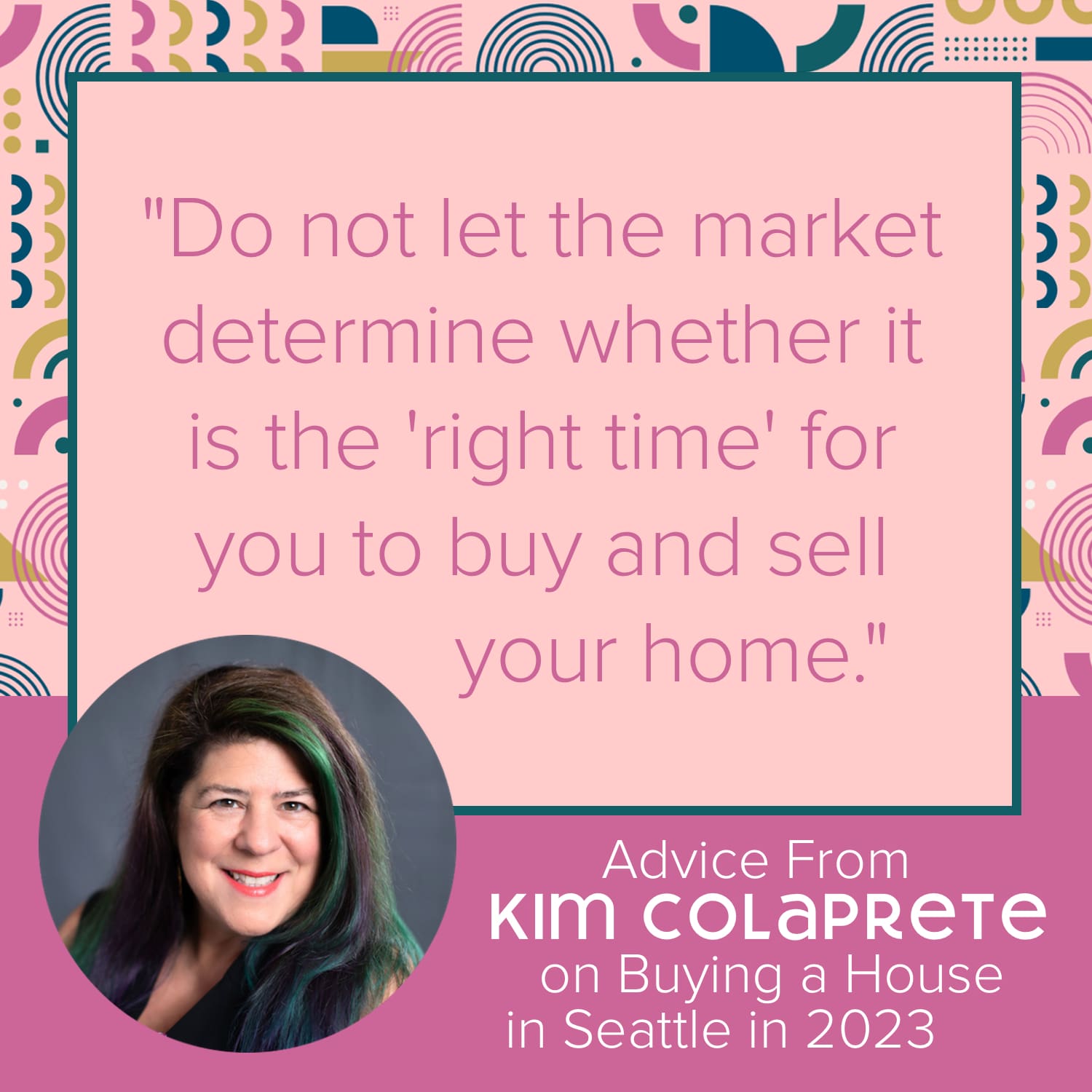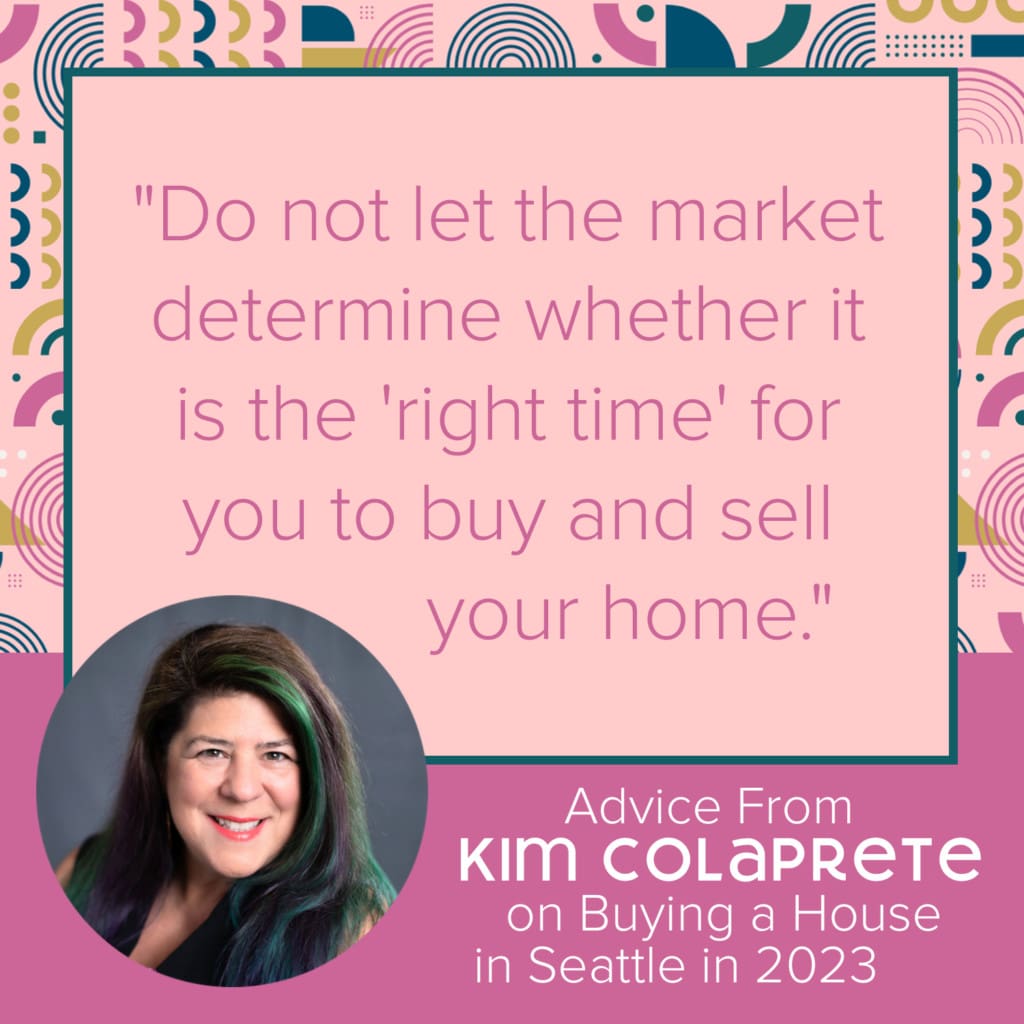 "Here is my overall tip for anyone buying any type of property in 2023: Do not let the market determine whether it is the "right time" for you to buy and sell your home. If it's the right time for you and your family and it works for you financially – then it's the right time. Specifically, regarding buying a single-family home – this is a market where you, the buyer, get to negotiate. And not just on sale price. In this market, you, the buyer, can do a full home inspection, investigate and get bids on the repairs, and negotiate! Whether it's negotiating for the seller to make the repairs, pay part of your closing costs, or reduce the price – now is the time."
– Kim Colaprete
Rocky Flowers' Advice for Buying a House in Seattle in 2023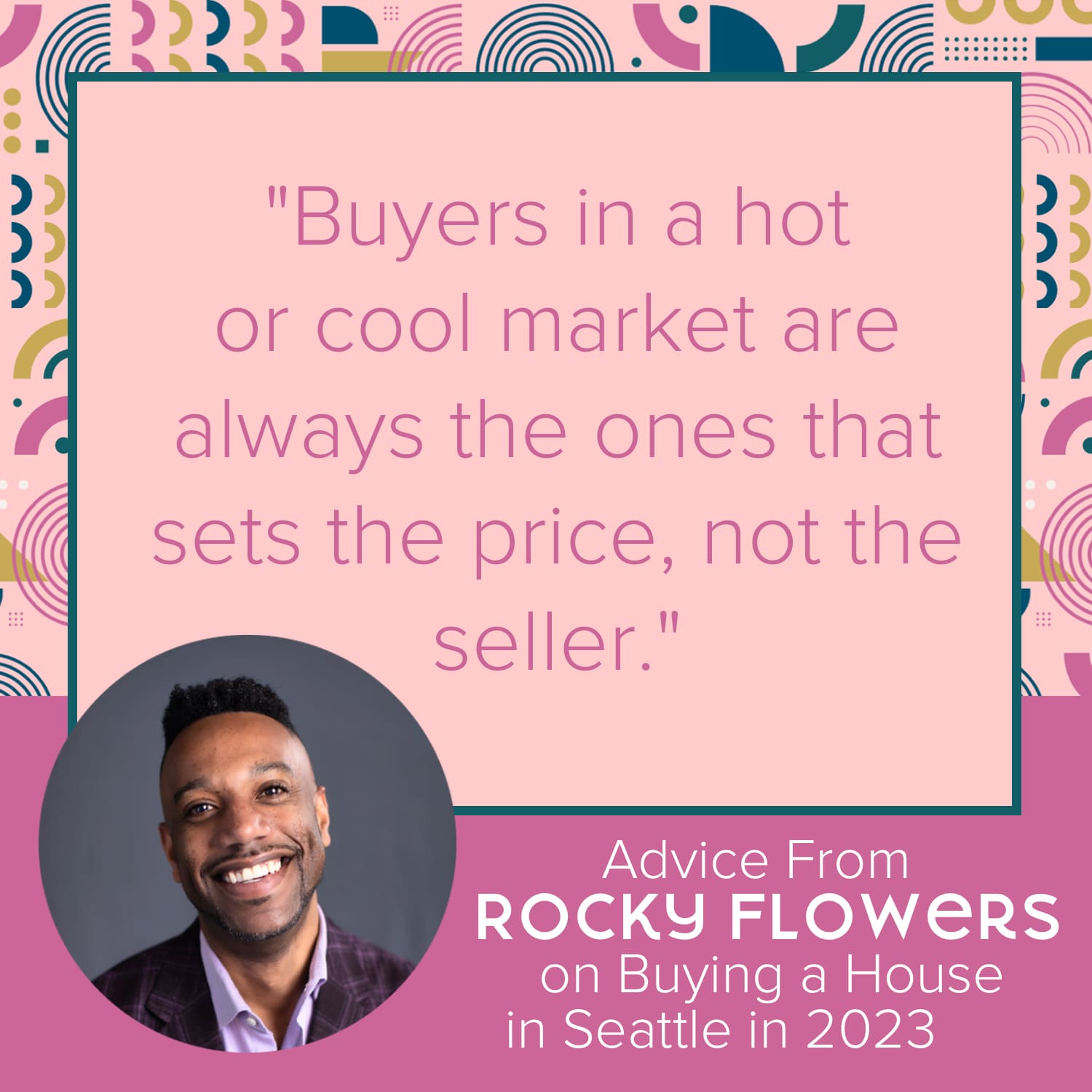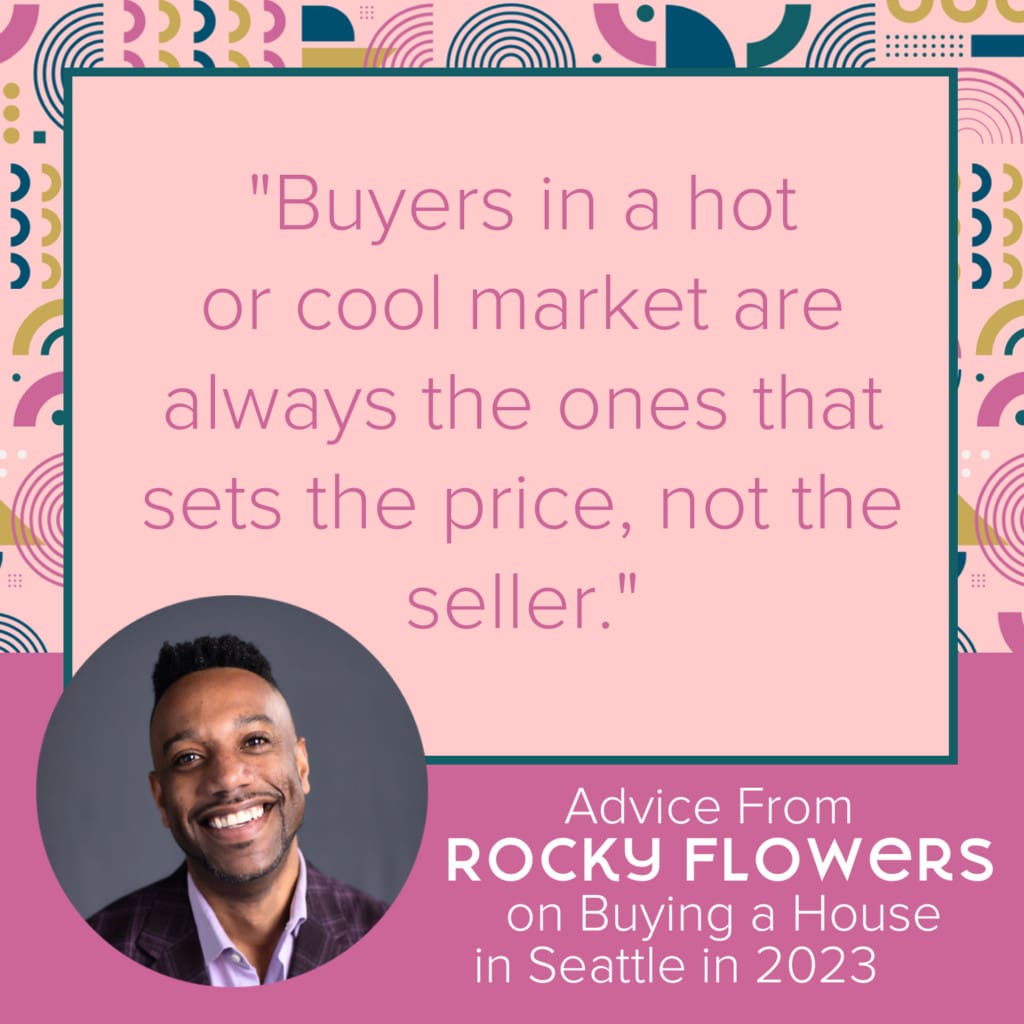 "Do not be afraid to make a low offer. The list price is the price that a seller would like to sell their home for. It does not mean it is the bottom line for what they are willing to sell it for. Buyers in a hot or cool market are always the ones that sets the price, not the seller. If you miss the opportunity to make an offer eventually someone else will make it and you will have missed your opportunity."
– Rocky Flowers
Roy Powell's Advice for Buying a House in Seattle in 2023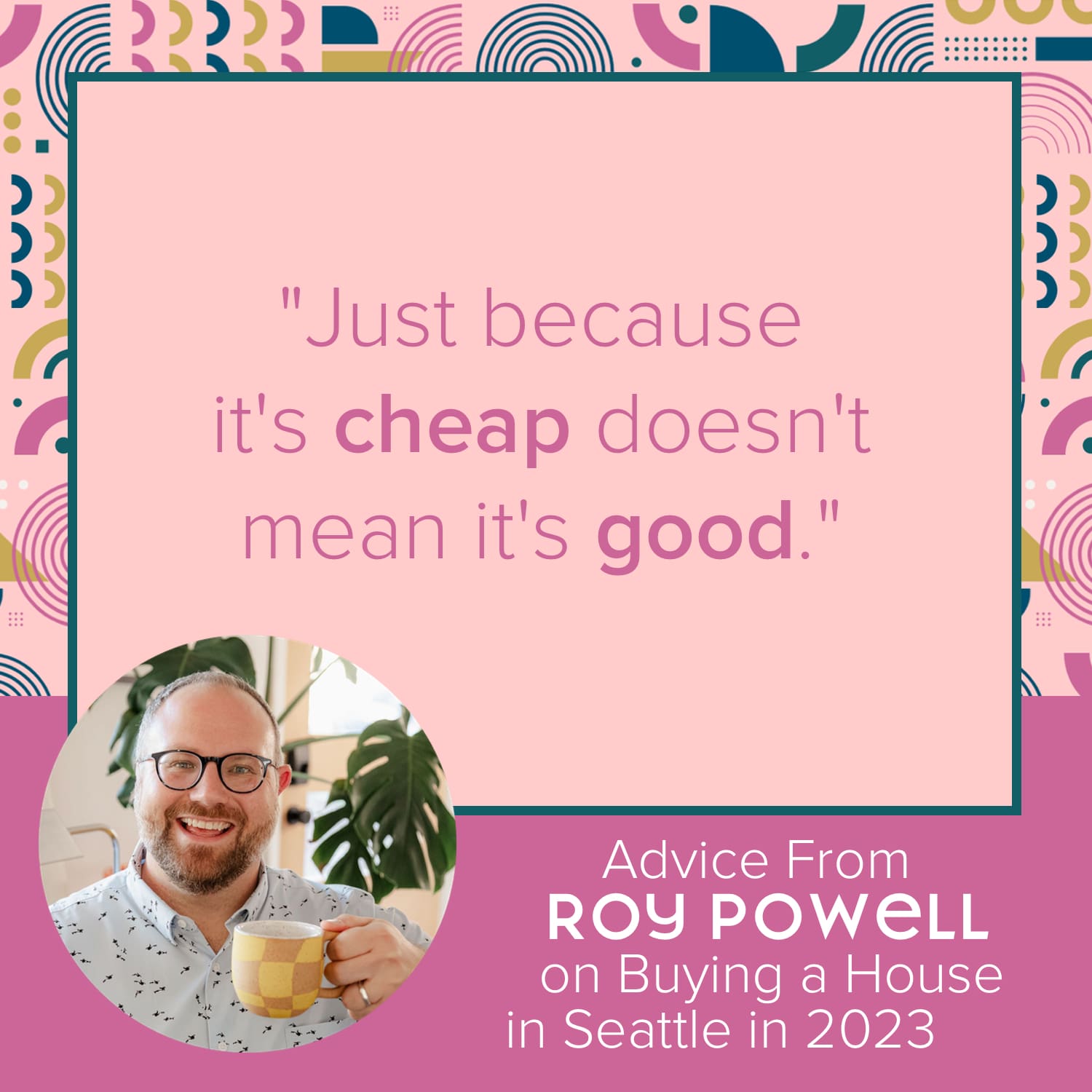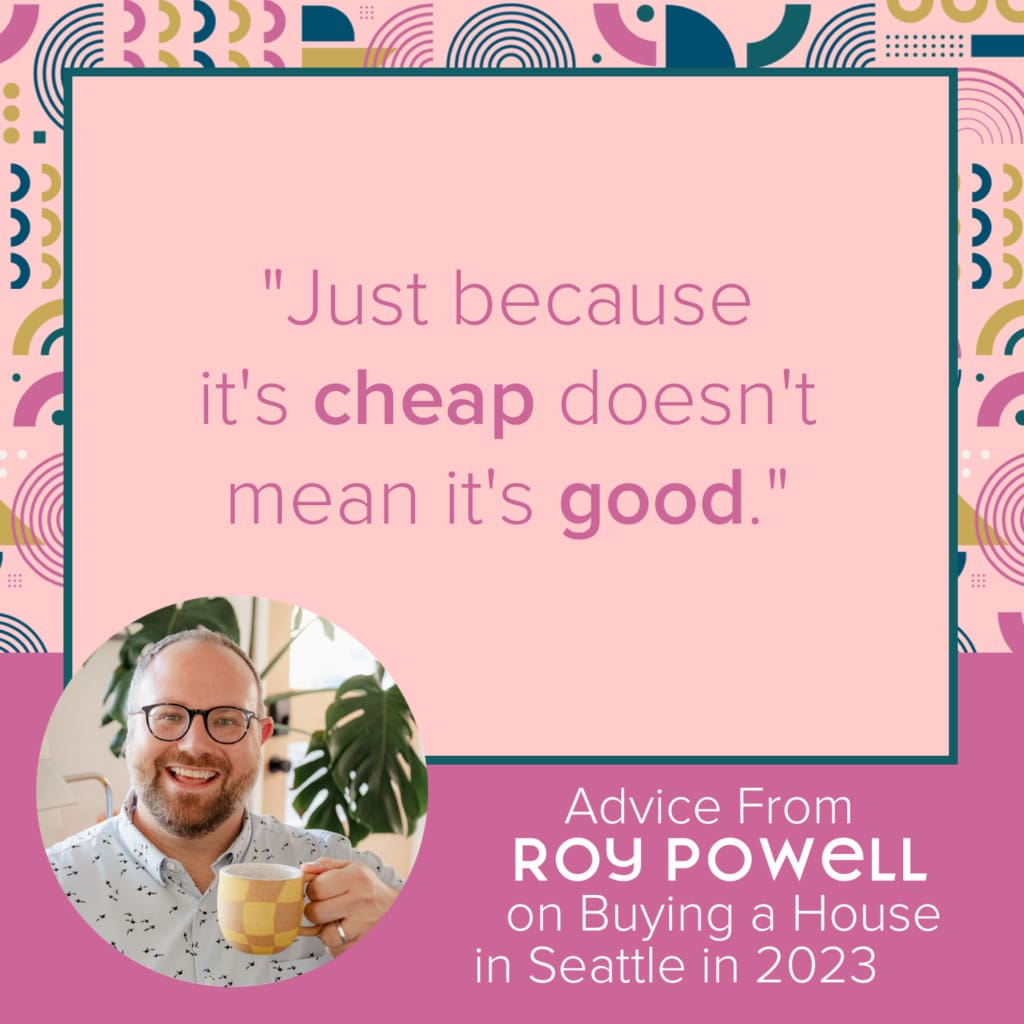 "Yes, more homes will sit for longer than they did last year, and yes, you will be able to do your due diligence as a buyer (inspections, financing contingencies, etc.), but just because it's "cheap" doesn't mean it's "good." If you are buying now, make sure you are looking for quality. Homes priced at a value will move quickly so please don't sit on the sidelines until the perfect home comes along. Prep now so you know exactly what you can afford and where/what that looks like. I think some homes will come down in price but overall demand will keep pace with supply."
– Roy Powell
Lindsy Russell-Mitchell's Advice for Buying a House in Seattle in 2023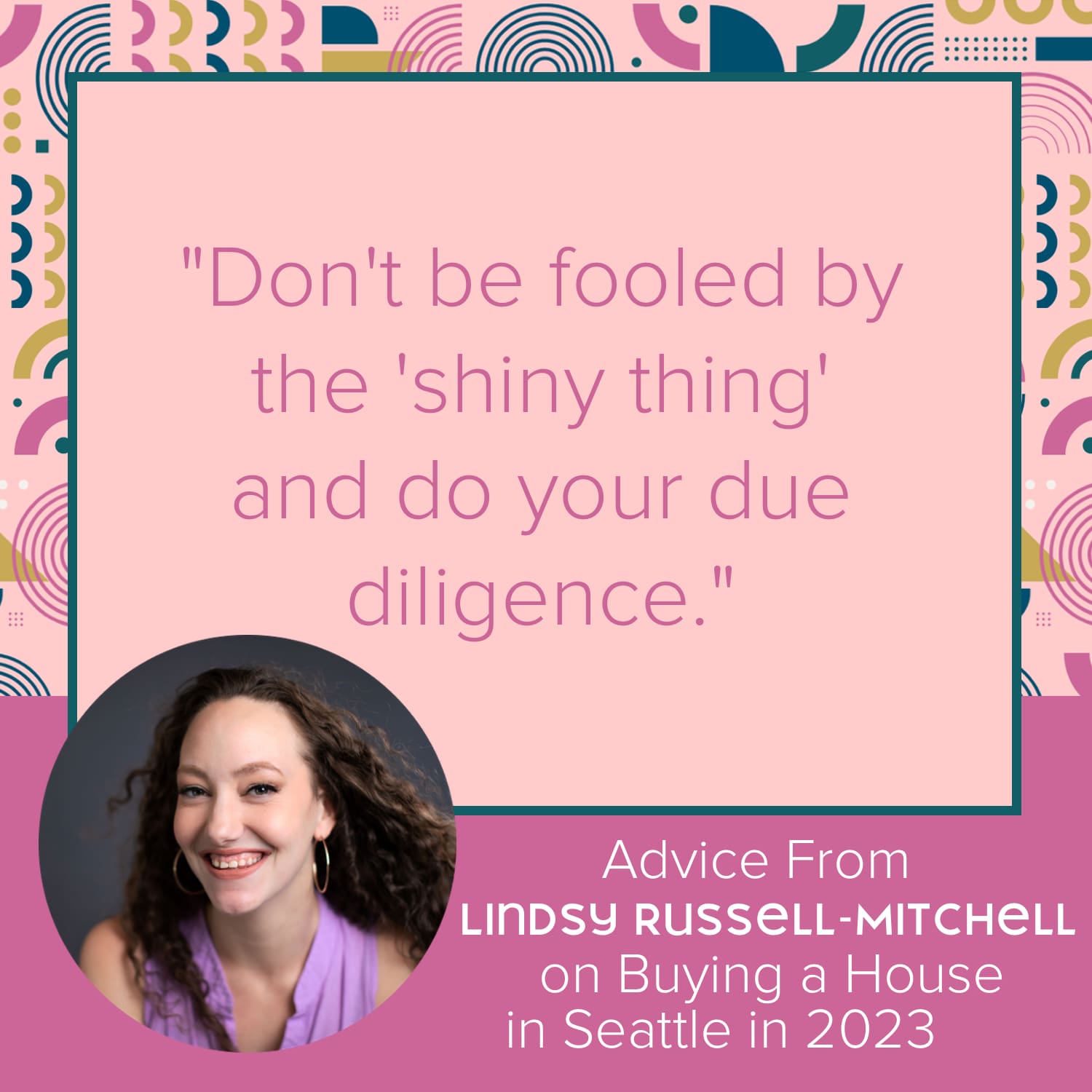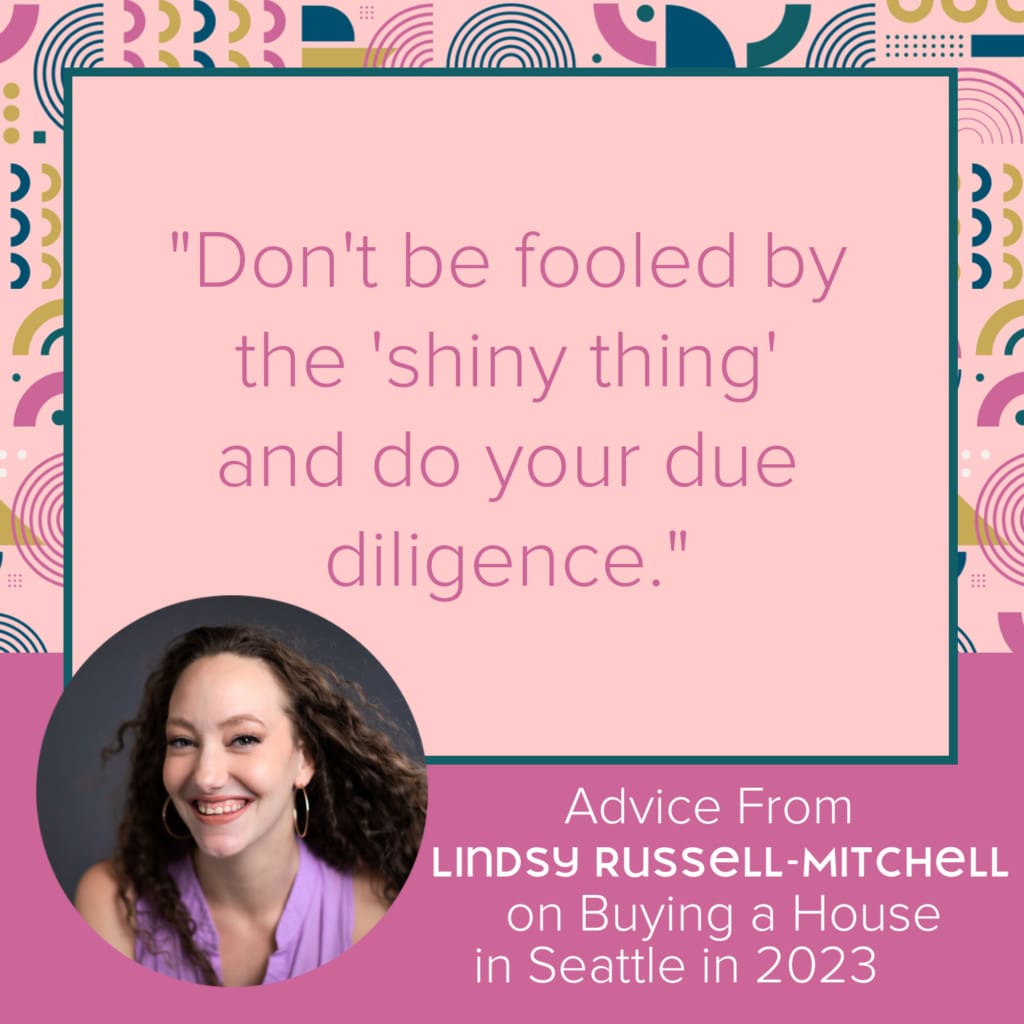 "Don't be fooled by the "shiny thing" and do your due diligence. With increased inventory and prices dropping buyers are able able to write offers with contingencies like an inspection to understand what you are buying. Be flexible about what you are looking for but at the same time understand the non-negotiables. Make sure your review documents like the title report, understand the zoning, review seller disclosure of the home, and ask questions. As a first-time buyer or someone new to Seattle, it's important to work with a broker who knows how to move in this ever-shifting market and someone who has connections (electricians, contractors, ect) that go far beyond the sale of the home!"
– Lindsy Russell-Mitchell
Donna Burns's Advice for Buying a House in Seattle in 2023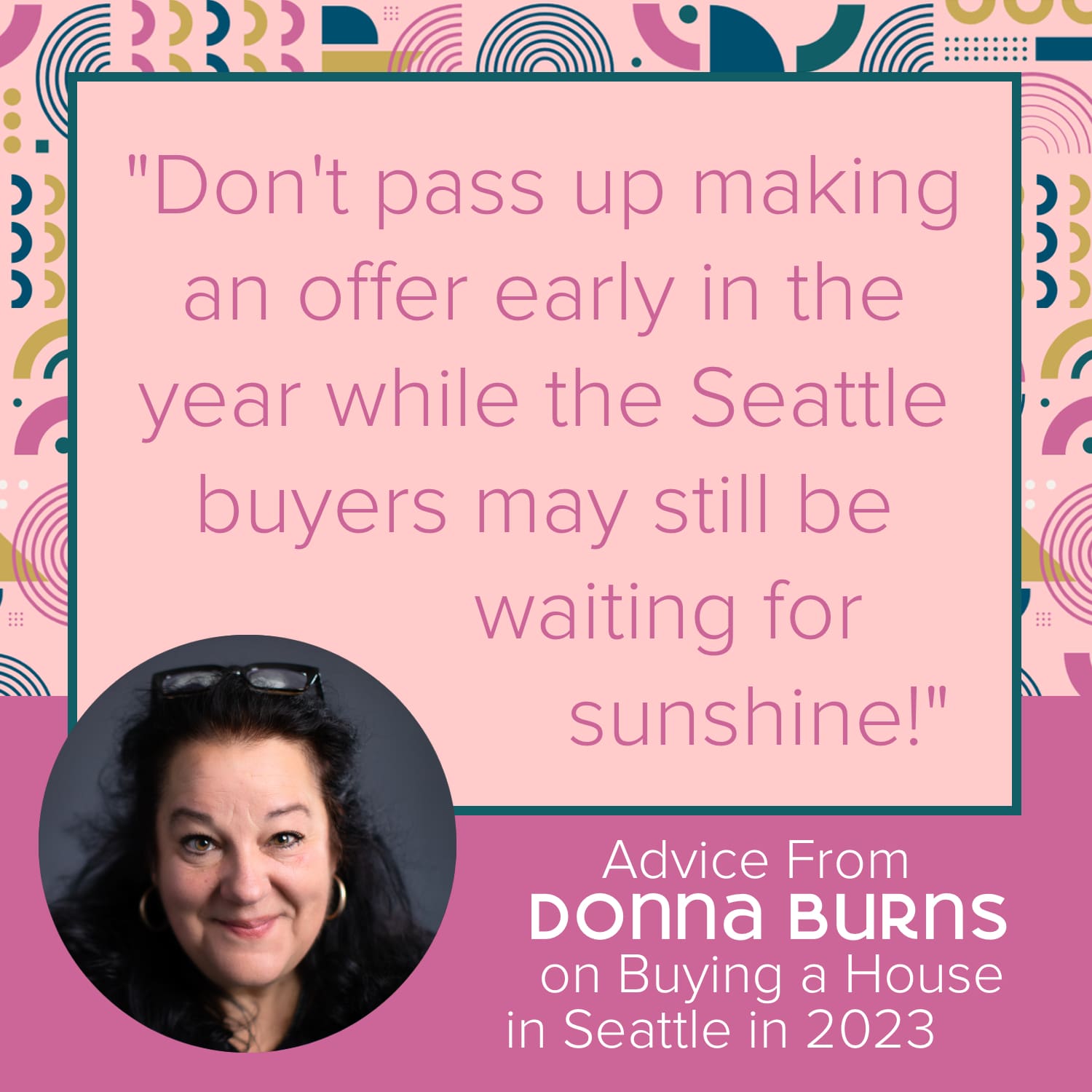 "'JUST DO IT.' (It's not just about shoes!) Universally the housing market is historically fickle and truly unpredictable. If you want to buy a house, it's the right time to buy a house. Seattle will remain a hot market and desirable place to live so don't get caught up in waiting for the "right time"! Be aware of opportunities for deals in slower times; be prepared to tour houses on Super Bowl Sunday and while everyone else may be away on Spring Break! Don't pass up making an offer early in the year while the Seattle buyers may still be waiting for sunshine!"
– Donna Burns
Hannah Wilson-Hillard's Advice for Buying a House in Seattle in 2023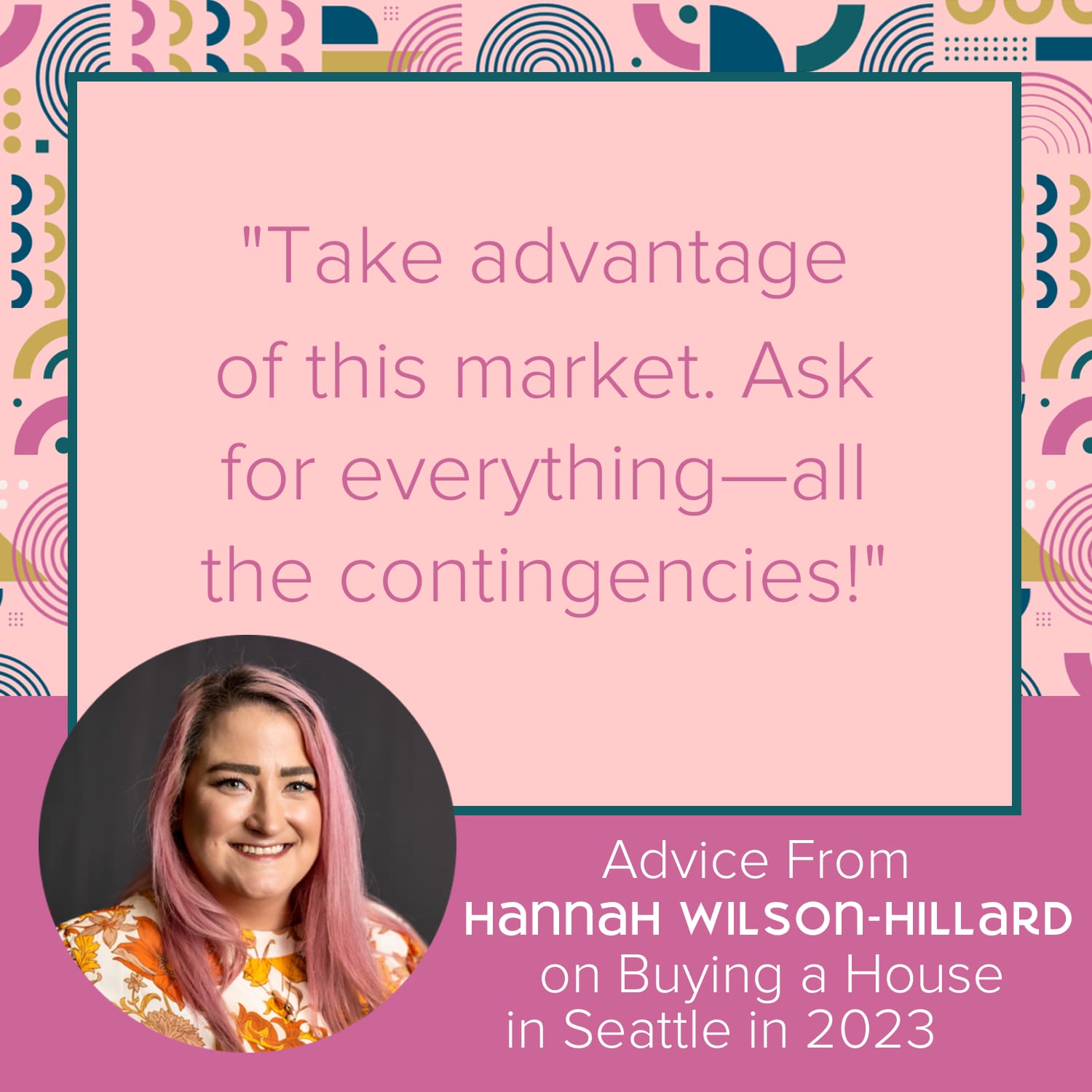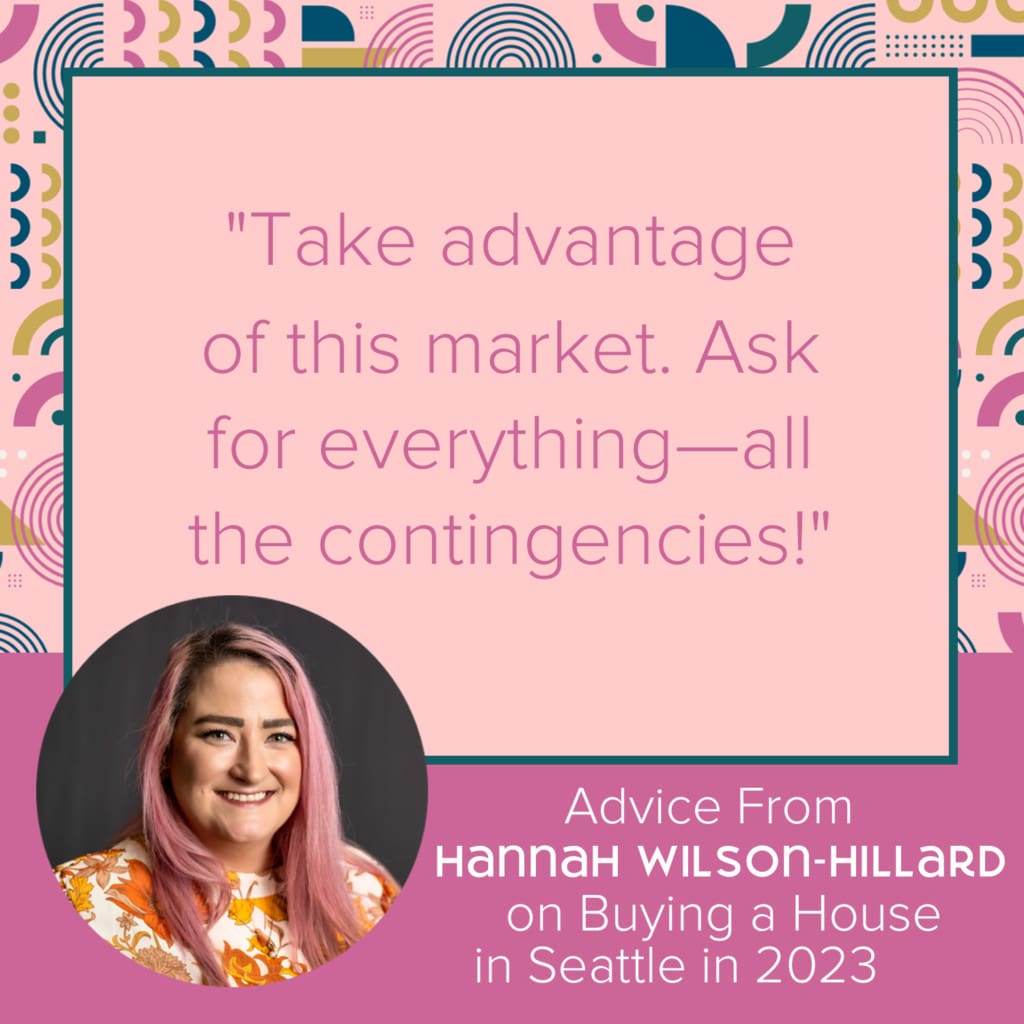 "Take advantage of this market. Ask for everything—all the contingencies, lower than asking purchase price, and seller concessions! Talk with your lenders about any potential interest-rate buy-down programs they offer. The worst-case scenario is that we end up negotiating and meeting somewhere in the middle. The best-case scenario is we get an amazing deal that would have never been possible in the last few years. If you don't ask, you won't get it! The squeaky wheel gets the grease!"
– Hannah Wilson-Hillard
Now below let's dive into the steps on how to buy a house in Seattle in 2023 that will make sure you are able to take advantage of this rare opportunity in Seattle.
---
How to Buy a House in Seattle 2023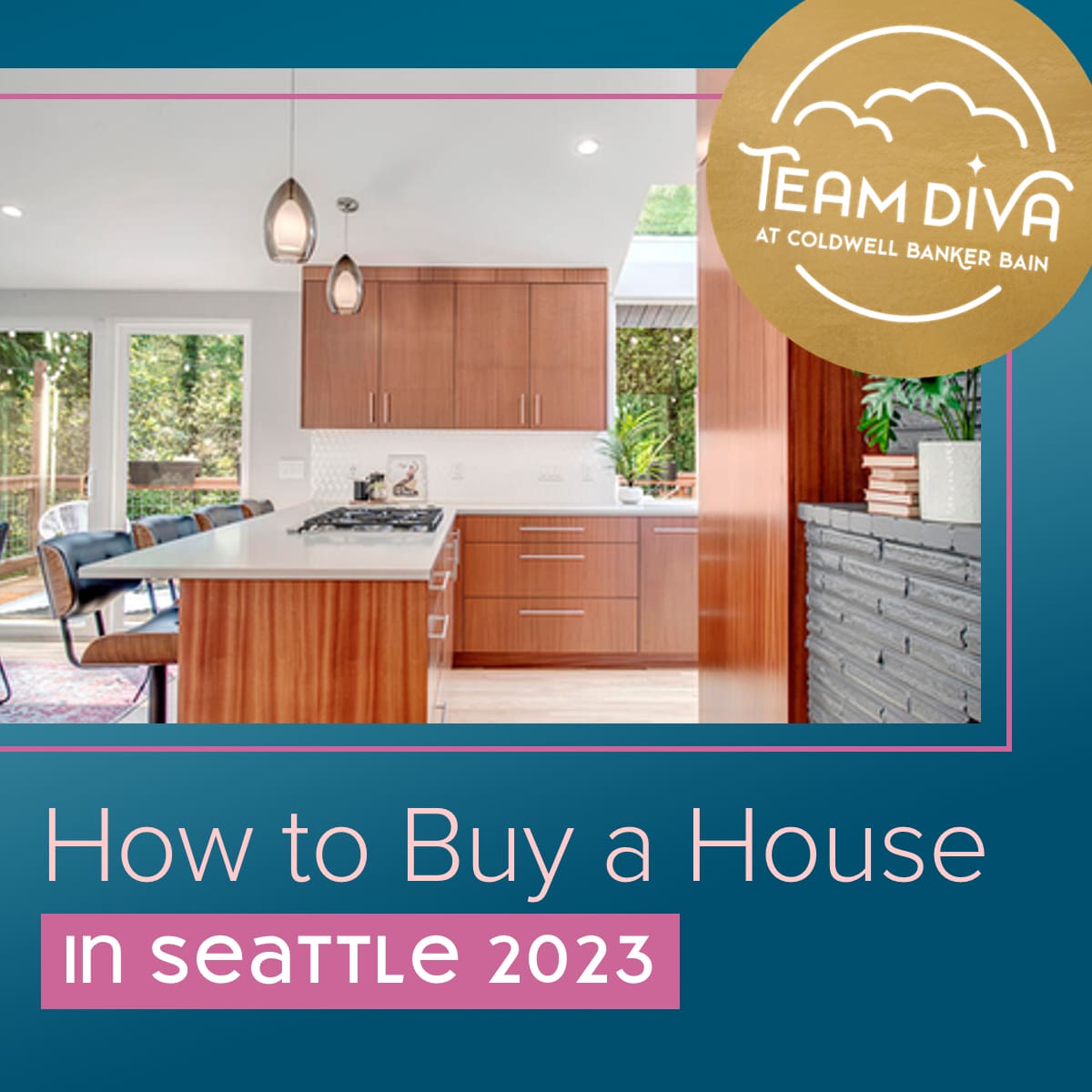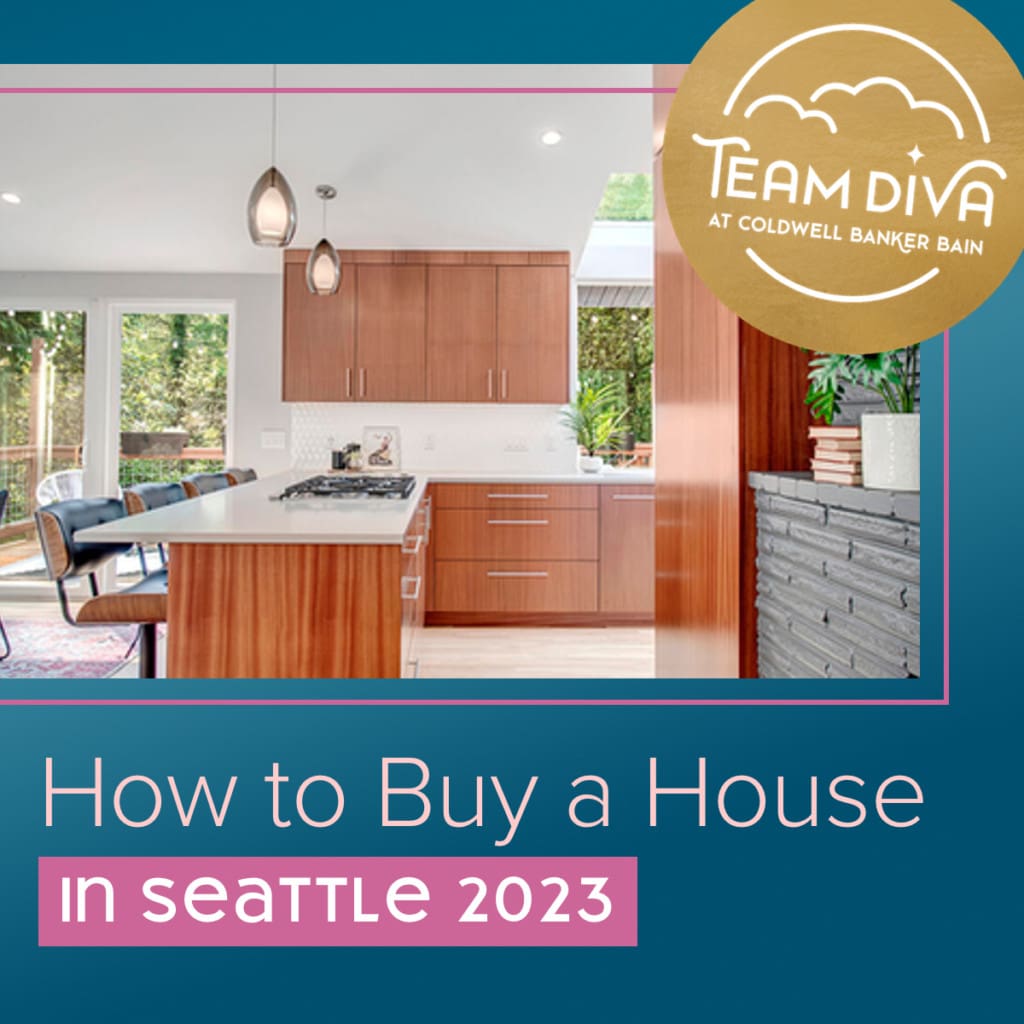 Are you ready to become a smart and successful home buyer in 2023? In this guide, we show you how to approach the home-buying process, step by step!
Start Here with Rocky's Video on How to Buy a Home in Seattle
15 Steps on How to Buy a House in Seattle
Let's dive in!
Step 1: Find A Broker Who is Going to Be There For You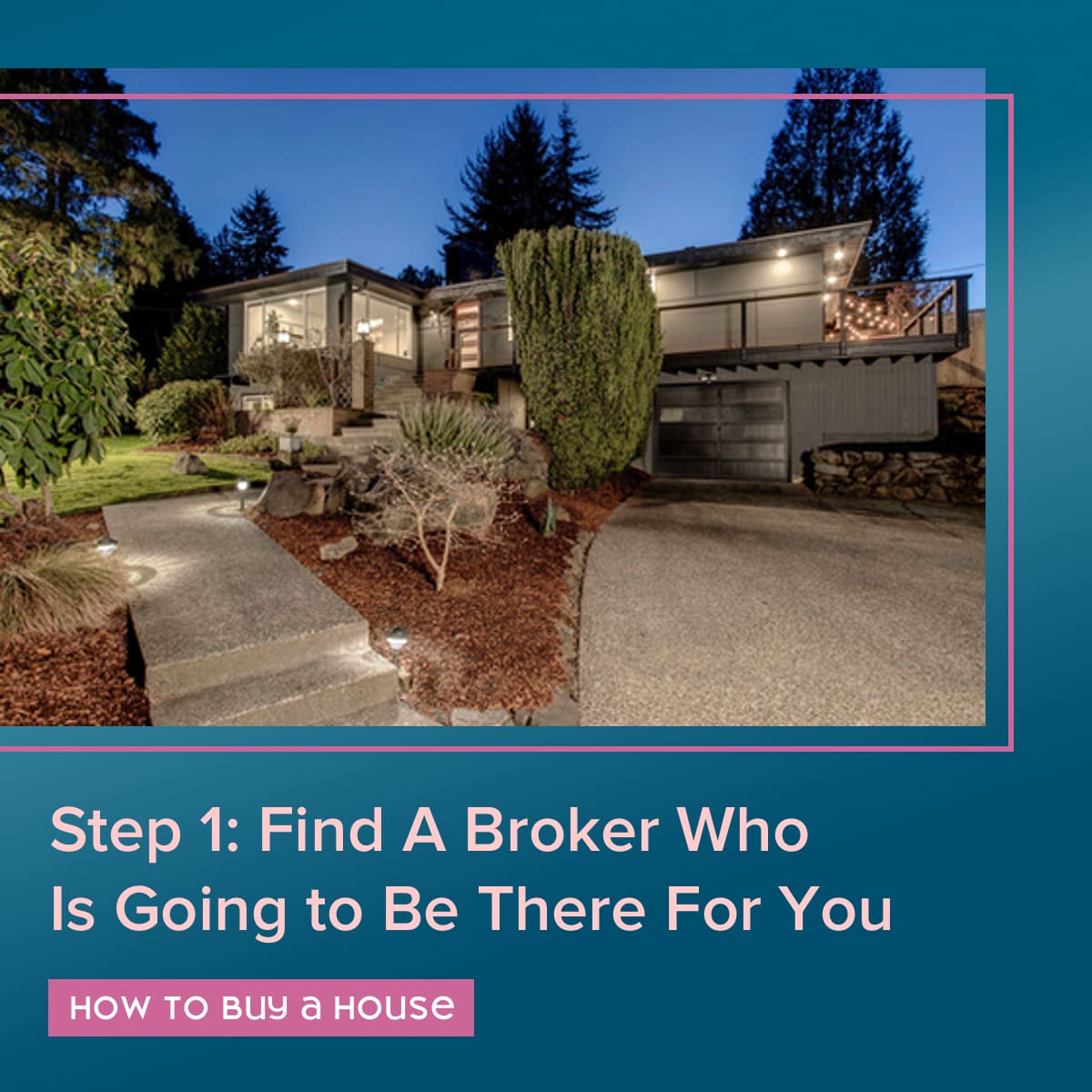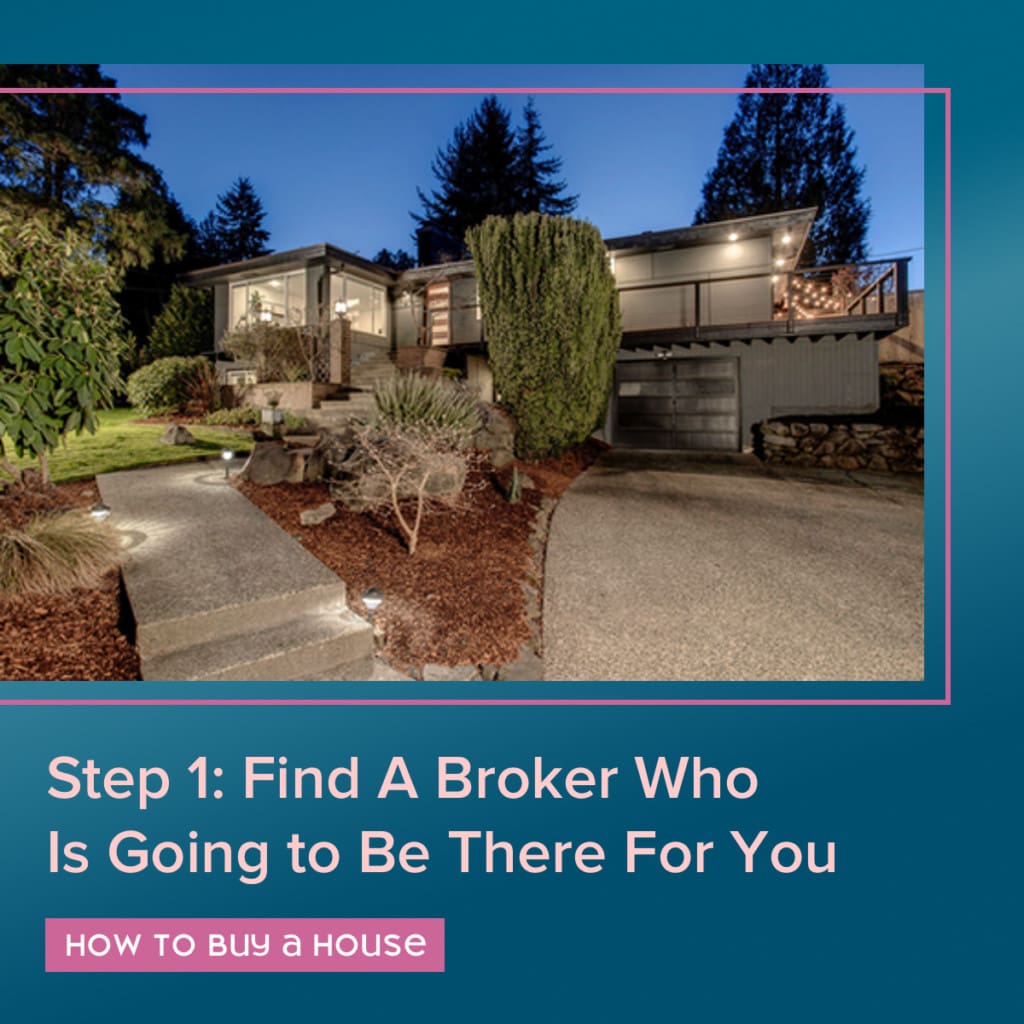 An excellent home-buying broker will be able to do what it takes to make magic happen for you as a homebuyer! There are a lot of real estate agents out there. And sometimes—depending on the market—there are more licensed real estate agents then there are homes to sell. Do you want an experienced agent who is ready to hustle for you, be professional, and get the job done? You can, but you need to do your research first. Read online reviews, and choose someone who aligns with your values. For example, Team Diva is deeply committed to helping our larger community. And our favorite clients have the same passion! Check out Making the Match: Finding a Real Estate Agent in Seattle for tips that will set you on the right path.
Step 2: Choose Your Priorities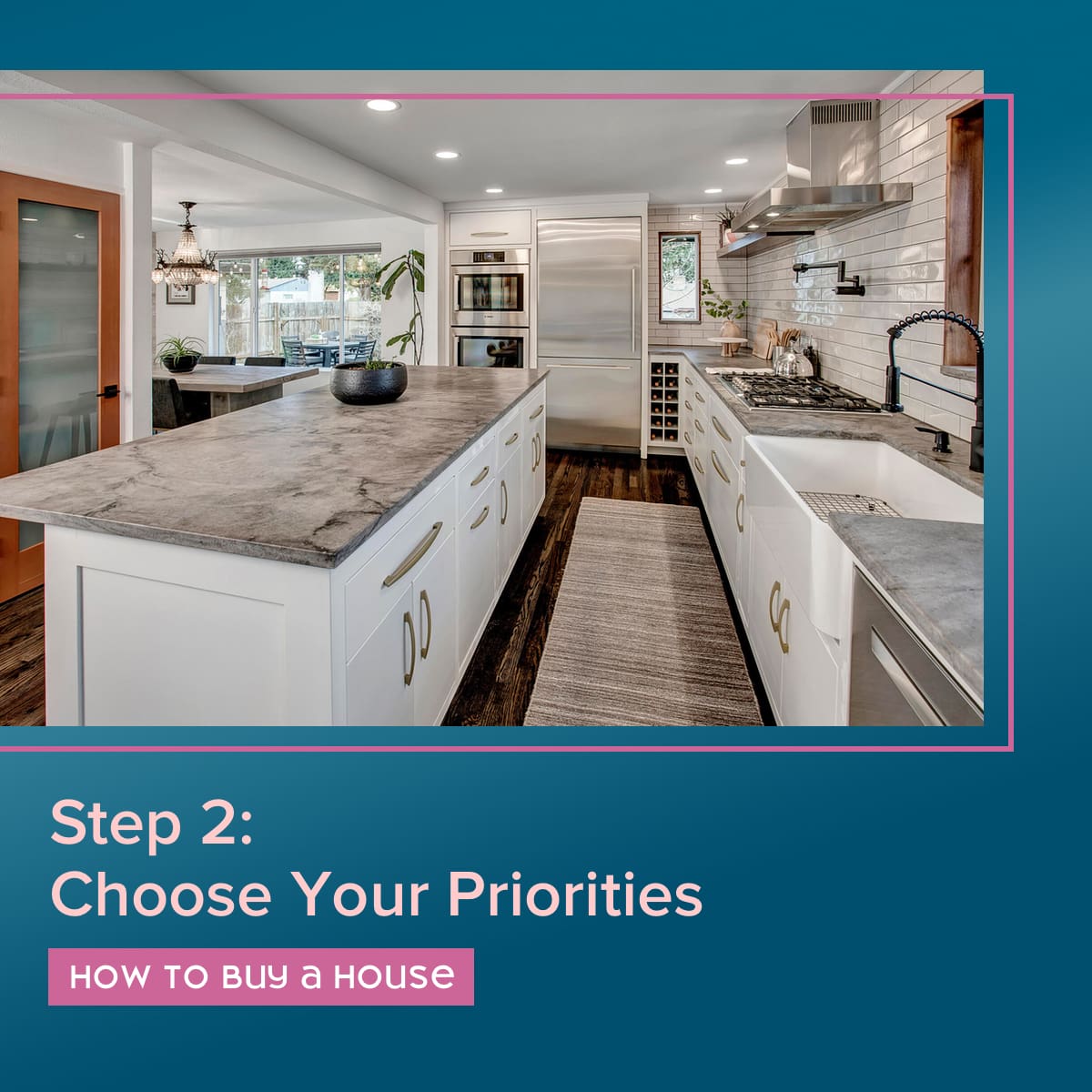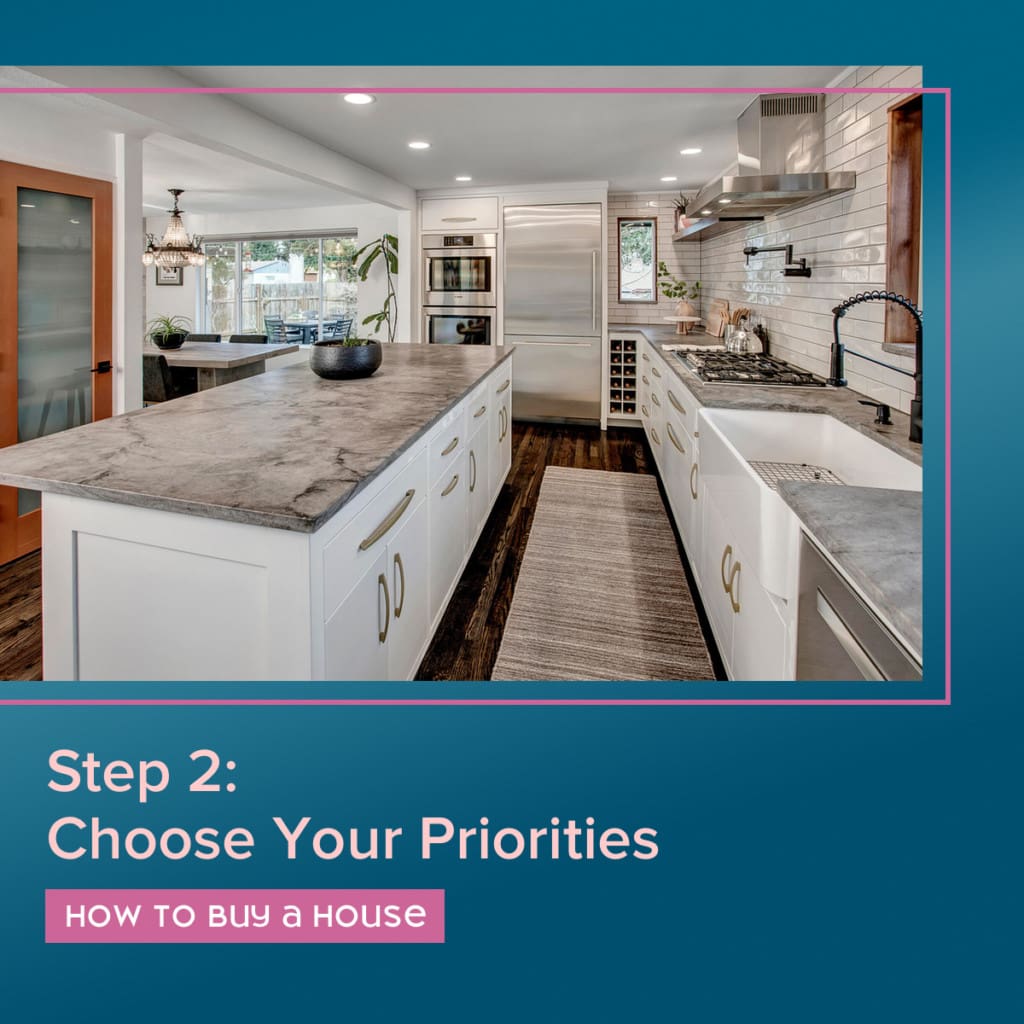 Most home buyers think "priorities" mean how many bedrooms and bathrooms are in a house. But smart Seattle home buyers know that priorities go much deeper than this. Deeper than a typical home search will let you dig into! We have a system that we like to call "Size, Location, and Condition." And, well… you can only choose two. Choosing these 2 priorities will refine and support you throughout the process, and help you as you learn how to buy a house in Seattle.
Here is exactly what we mean by "Size, Location, and Condition":
Size: Bedroom Count, Square Footage, Room Size
Location: Walkable Neighborhood, Schools, Commute Time, In The Country
Condition: Brand new, Dated But Functional, Obsolete Systems
To dive even deeper into this topic, check out our blog "Size, Condition, and/or Location: Home Buying and Investing Your Way in Seattle."
Pro-Tip: Most of our home buyers (aka Diva Dwellers!) choose location as their very top priority. Then size and condition become a compromise.
Step 3: Do a Home Buyer Intake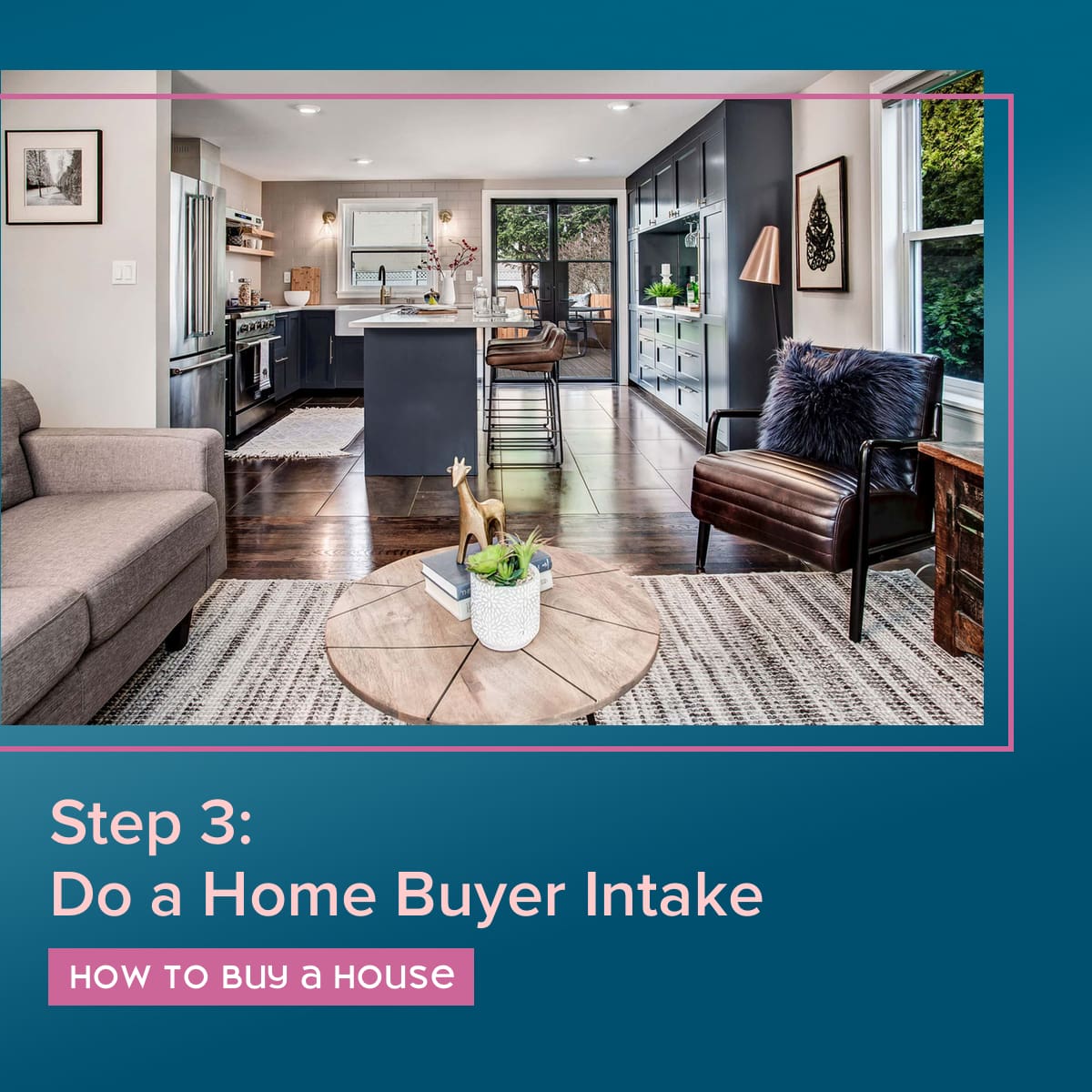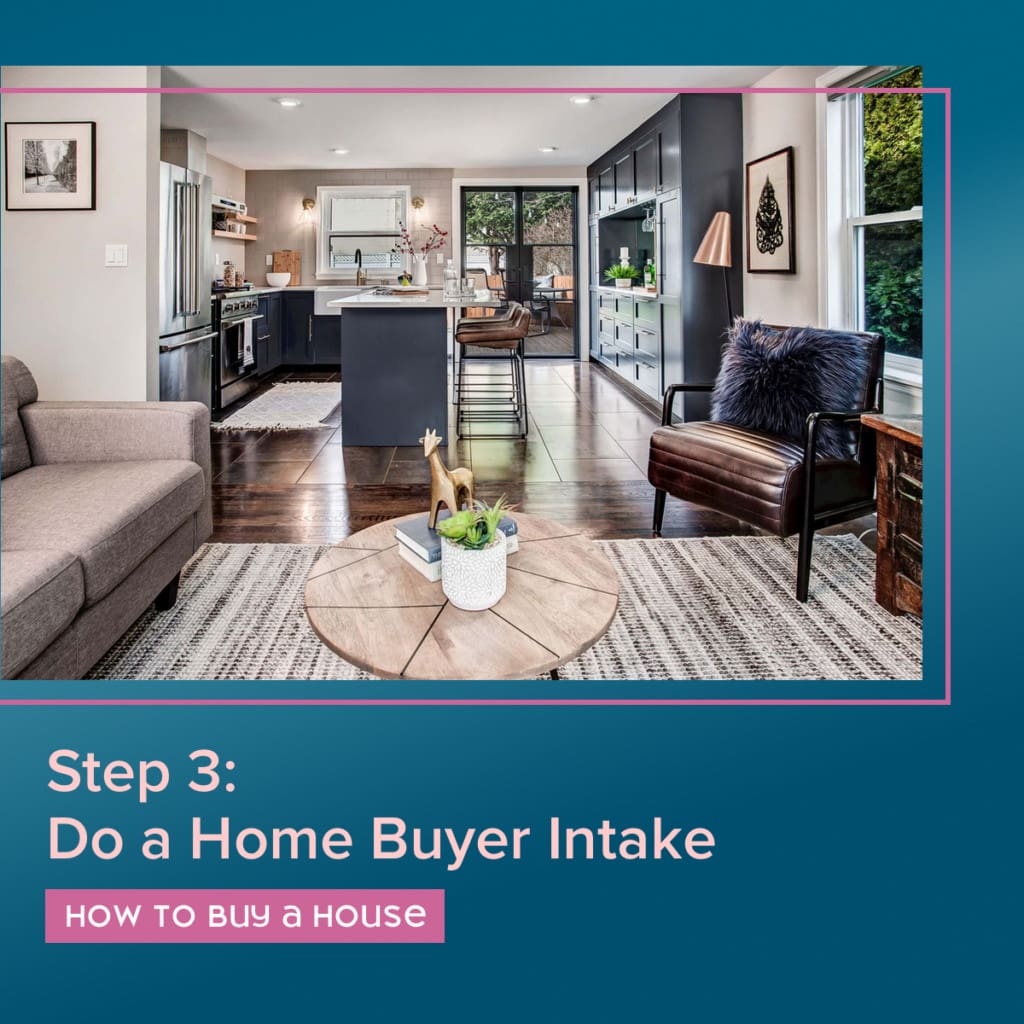 If you start working with a real estate agent and they're going to show you a house without doing a detailed buyer intake, that's a red flag. They are not interested in getting to know you and your wants/needs on a deeper level. And this means that they are not going to dig into your priorities. If we don't know what your priorities are, we won't be able to help you make a smart home buying decision. Roy and Kim shared their in-depth knowledge about what a home buyer intake looks like in a video a few years back.
Pro-Tip: Our buyer intake process typically lasts for an hour to an hour and a half. During the intake, we learn about your priorities and we also educate you about the home-buying process.
Step 4: Get Your Financing in Order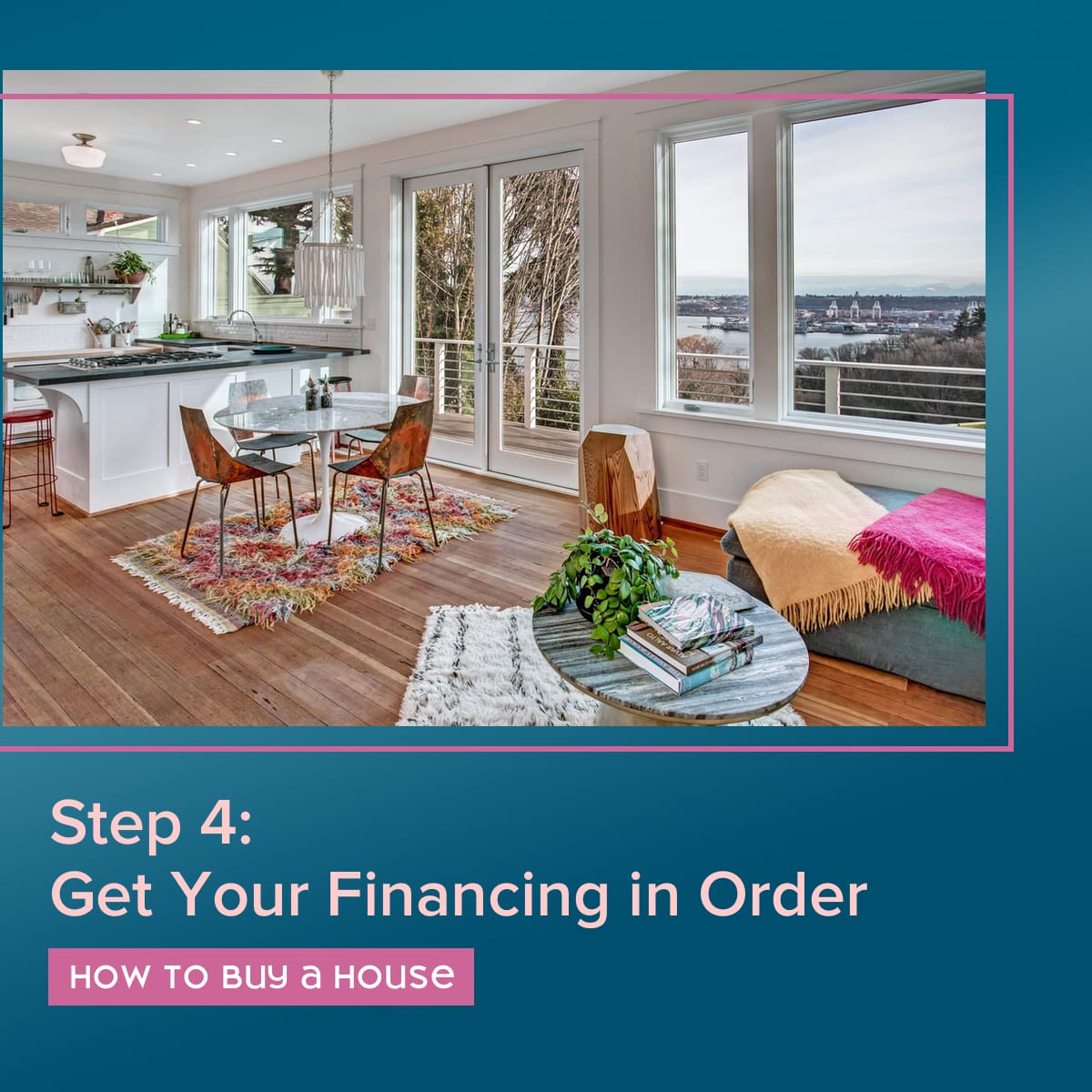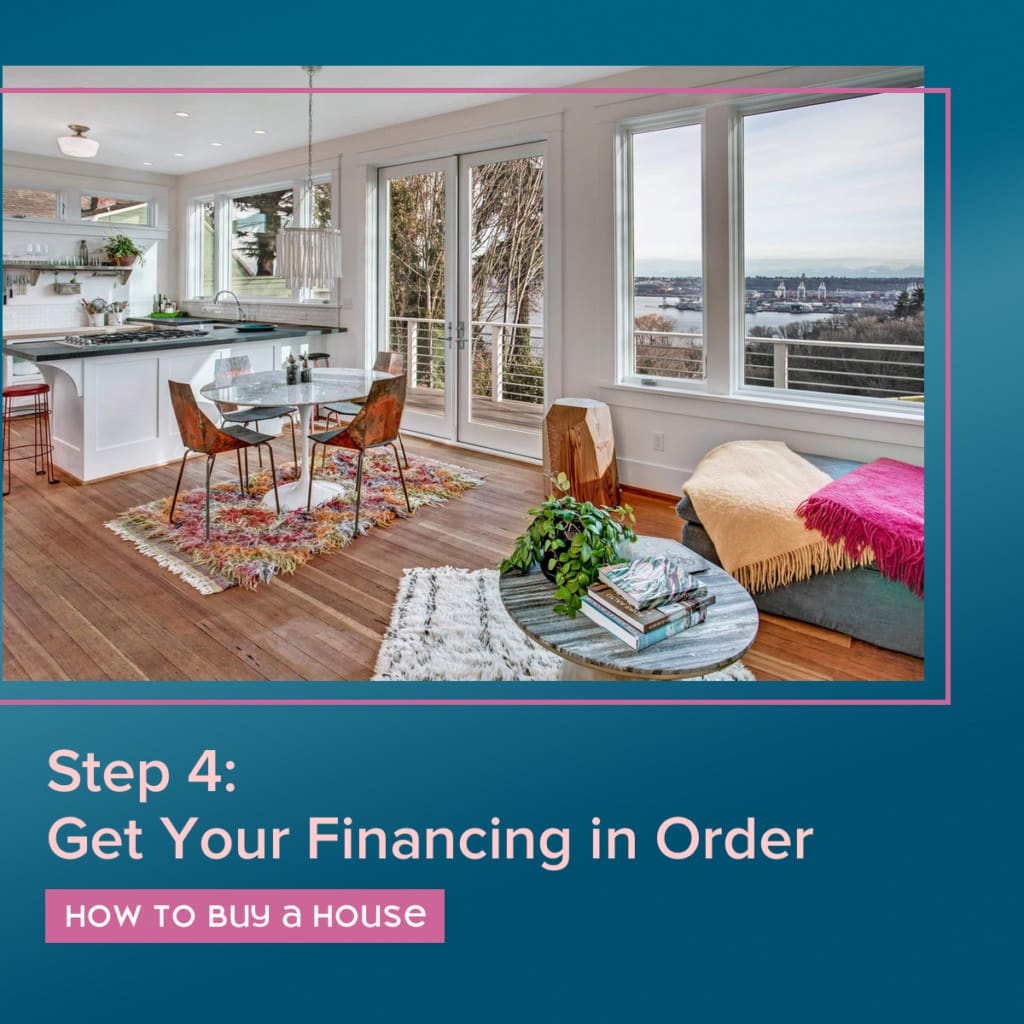 This is the very first step! Get your financing in order, and this includes you, cash buyers! This also includes buyers who are getting cash from family members. Cash is complicated when buying a home, FYI! And getting financing for your home when mortgage rates are quickly changing can also be complicated.
We will not show you a home until we have a good idea of what you can afford. And what if you want to buy a totally fixer upper, but you don't have extra cash on hand to fix the home once you buy it? We want to help you make a smart buy. Many of us on the team have PTSD from the Great Recession. This experience inspired us to make a huge commitment to helping our clients make smart buys. A big part of this means buying a home that you can truly afford.
Cash is Complicated: Get Your Financing in Order
Pro-Tip: Many people don't realize this, but it is essential that you work with a really good lender. Do not fall for a lender who is advertising click-bait rates online. We have seen buyers get into tricky situations because they used a shady lender. We know the best people who are going to be there for you throughout the home-buying process, and we are happy to make recommendations for which lender to use.
Step 5: Search for a Home Smartly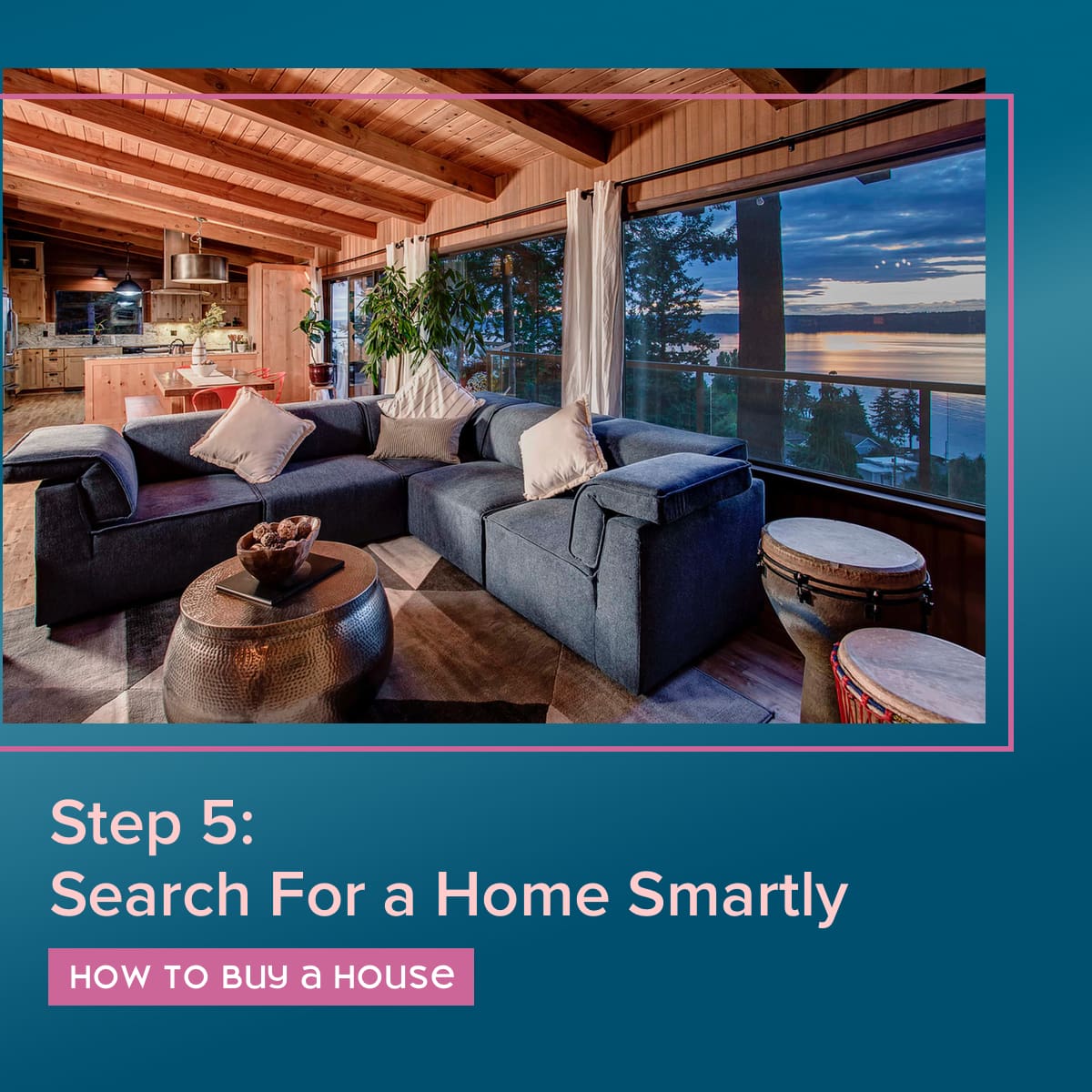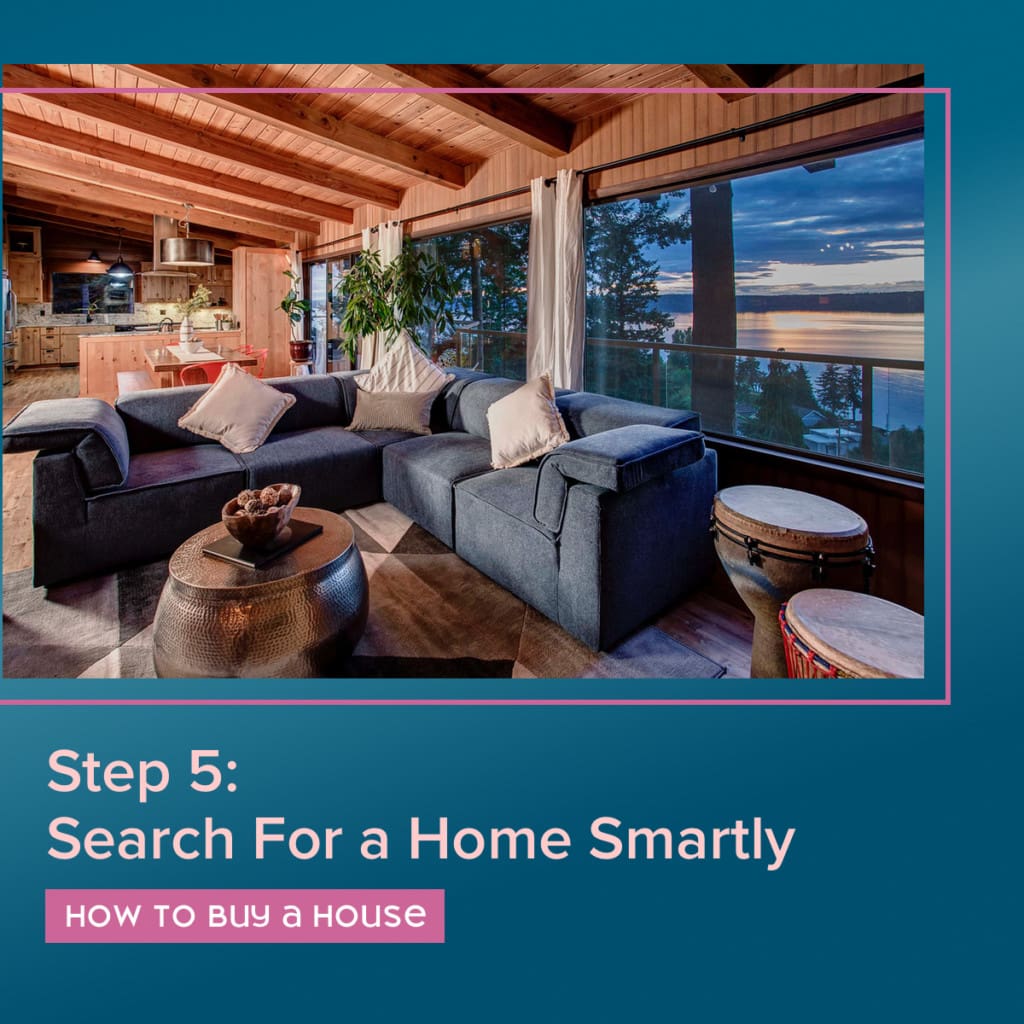 Having a smart home search process means that you are looking at homes that fit the priorities set during the intake process. For example, if you prioritized side and location, and suddenly you want to go look at a fixer (which represents the condition categories), we will have some questions. Or if you want to offer on a home that is super popular, we will talk about the risks of overpaying for a home. It's very easy to get trapped into a herd mentality while looking for a home. But luckily, our clients are forward-thinking and truly focused on their top priorities. As a result, our buyers make smart decisions.
Check out our Diva Dweller story "Successful Seattle Homebuyers Diva Dwellers Alison and Joe." Every home process this family has made was actually against the grain of what most home buyers do. But as a result, every sale they made resulted in multiple offers. They started off in a condo, and ended up buying a home in one of the nicest neighborhoods in Seattle.
Pro-Tip: We always tell our clients to buy the best house in the best neighborhood that you can reasonably afford. And this philosophy has a long-term benefit as you are growing your home equity.
Step 6: Making a Strategic Offer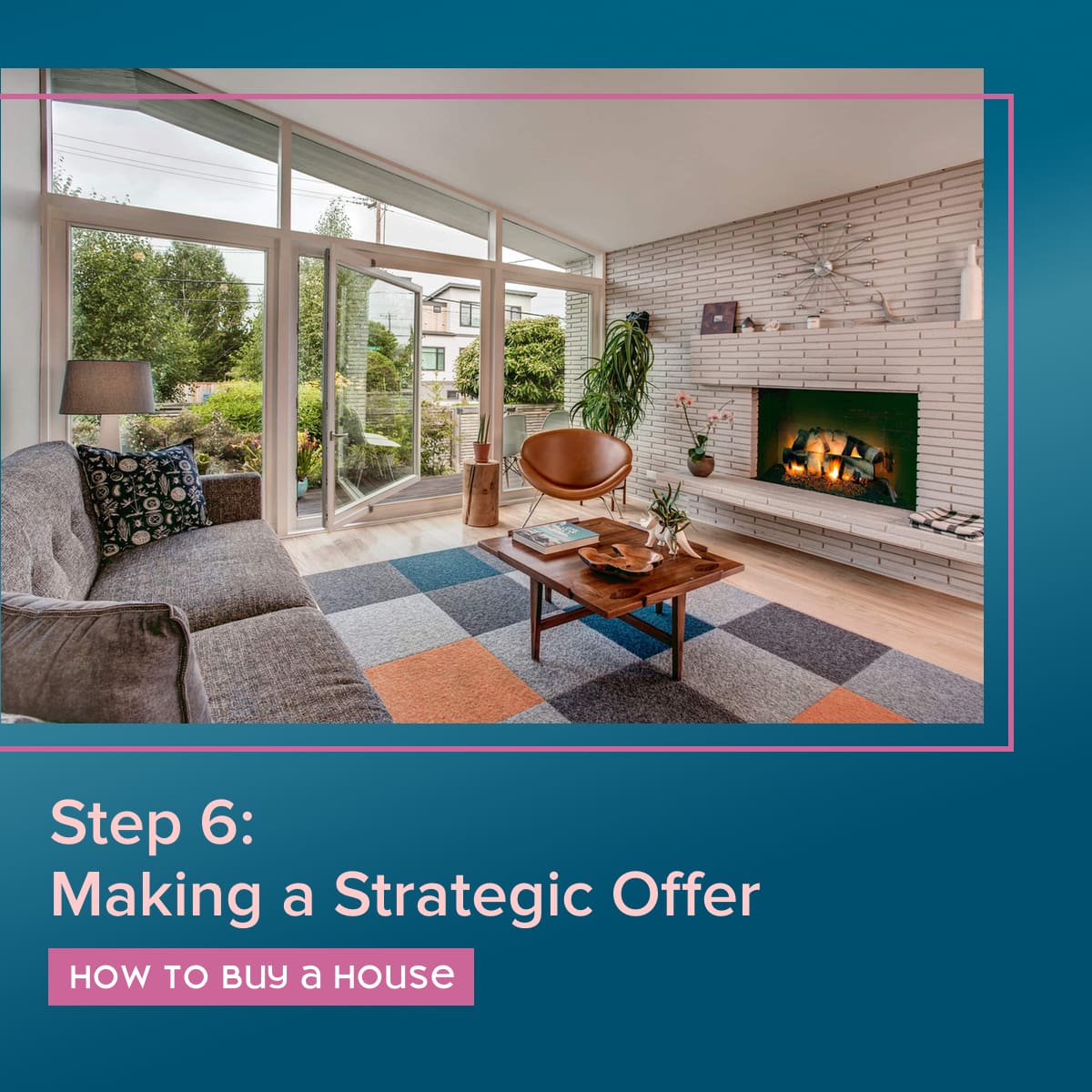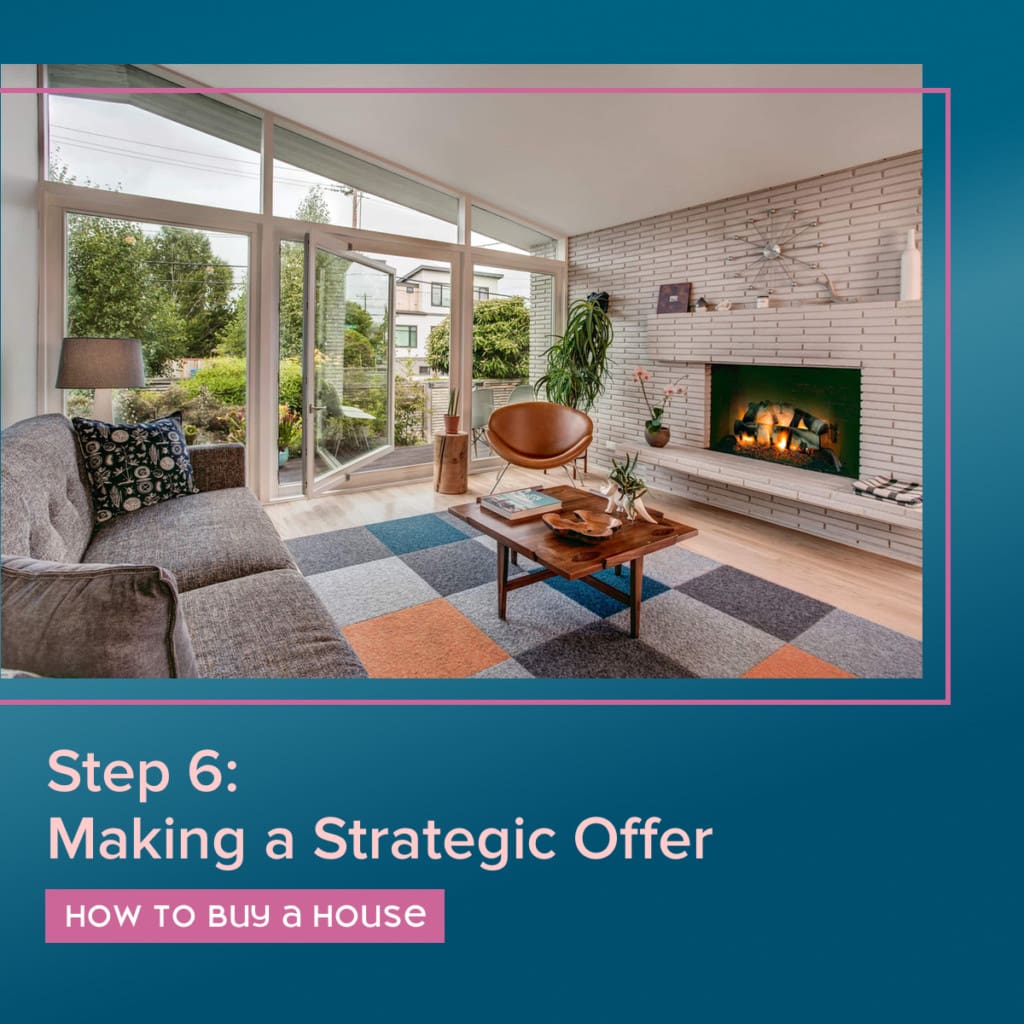 What exactly is a strategic offer? Well, first you have to ask a few things: Are we looking at a multiple offer situation? An estate sale? Did the home miss its offer review date? Are you in love with a condo that has a special assessment coming soon? All of these variables come into place when we craft a strategic offer on a home.
The one constant factor we will look at is the Demand Rate. Each month, we release Coffee With Roy | Seattle Real Estate Market Update, which is a video episode and accompanying blog post. In this series, our team member Roy goes into detail about the current demand rate. If demand is up, the home prices are going to go up. If demand is down, then we are heading more into a buyers market. In general, it's been a sellers market in Seattle for the past 20 years, except for a few years during the Great Recession.
Step 7: Mutual Acceptance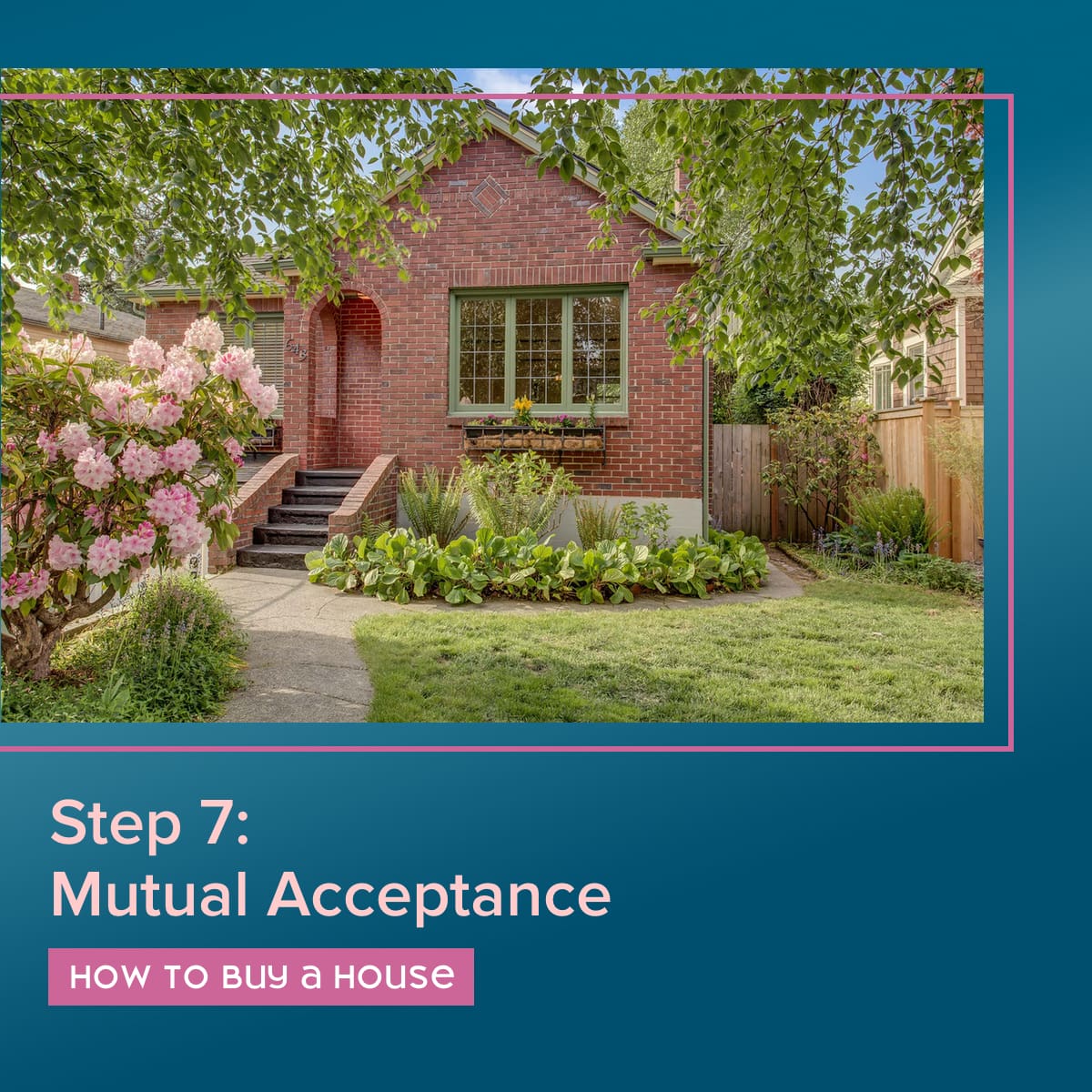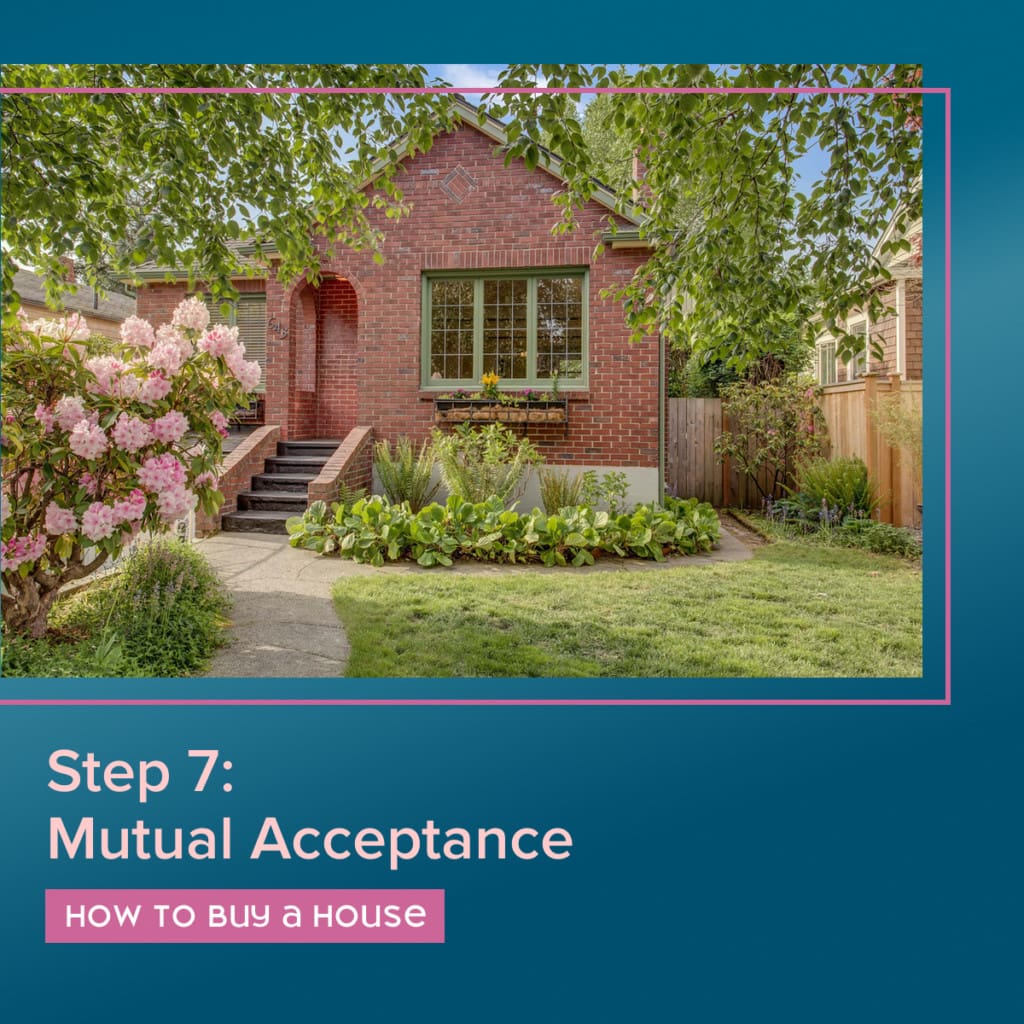 At this stage, you have a signed contract to buy a house in Seattle! Most people think that the search process is the most active part of the home buying process. But in reality, it's when you and the seller have signed a contract. This is when the real work begins!
Here are the timelines for your contingencies on the contract:
(Note: This is for a standard contract, and not for one that was one in a multiple offer.)
Inspect The Home: This typically occurs five days from mutual acceptance of the contract
Review The Title Report: This typically happens five days from receipt
Review the Home Owners' Associations Documents (condo): This typically happens five days from receipt
Lender's Appraisal of the Value of the Home (if you are getting a loan): About two weeks into the contract
Final Loan Approval: Around 21 – 30 days into the contract
Final Walkthrough: The weekend before closing
Signing Your Final Paperwork: A day or two before closing
Closing Day: You get the keys
If you are buying a home in a multiple offer situation, then many of these contingencies will be waived. You can get a better sense of what it really takes to win a multiple offer situation on a home in our guide, Win A Multiple Offer in Seattle in 2022 Using the Team Diva Method.
Pro-Tip: Be sure to work with a lender who has you fully approved through underwriting BEFORE you get into contract. We have seen too many well-intentioned home buyers shop their loan around. Typically, they end up with a lender who closes late, an appraisal that comes in super low, and they lose the house. And/or other issues arise that risk the buyers earnest money. It's not worth it!
Step 8: Pest and Structural Inspection of the Home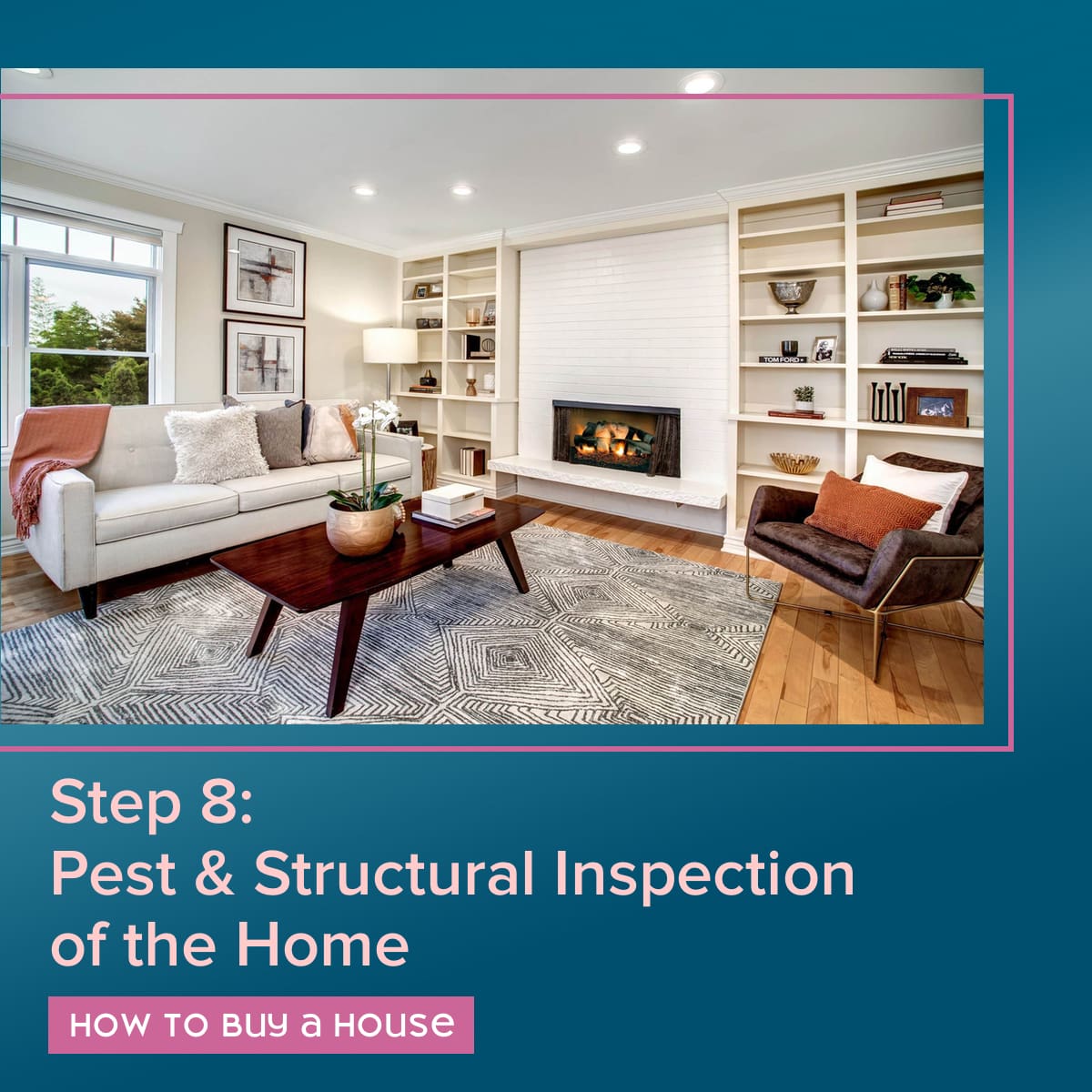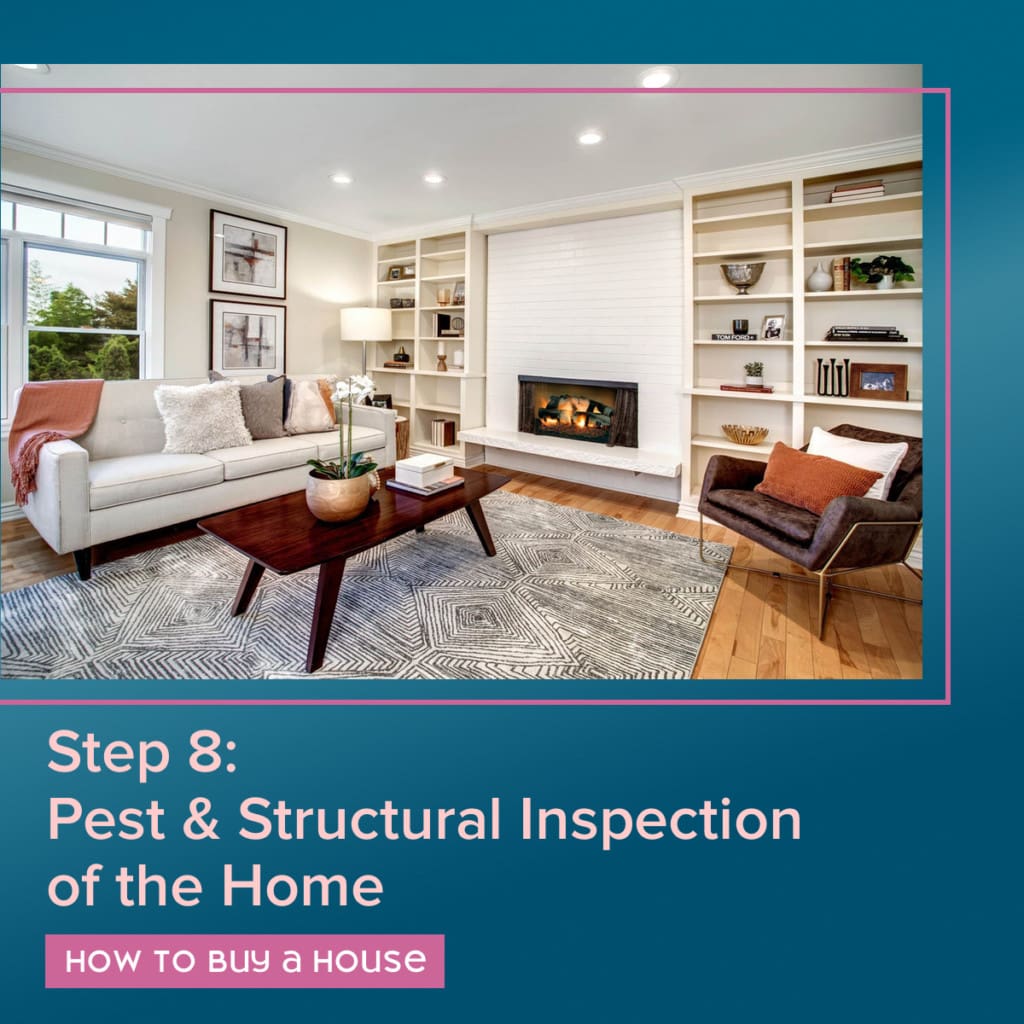 Team Diva members have been in hundreds of homes during our combined careers. And we all know that a home inspection not only gives you an idea of what is challenging in a house, but it also teaches you how to take care of the house. Even if sellers provide an inspection report, do your own due diligence on the home.
Rocky has a great perspective on how to approach the inspection process. Check out his blog "Prepare Yourself for a Pre-Inspection". We are also super nerdy about inspections; learn more and read "Inspecting Your New Diva Dwelling."
Pro-Tip: As soon as you enter a home, head to the basement to check out the major systems. This includes the hot water tank and furnace, and you also can see if there's any water damage. These details will tell you so much about a house, and you can do this before you fall in love with the general aesthetic of a home.
Step 9: Review The Title Report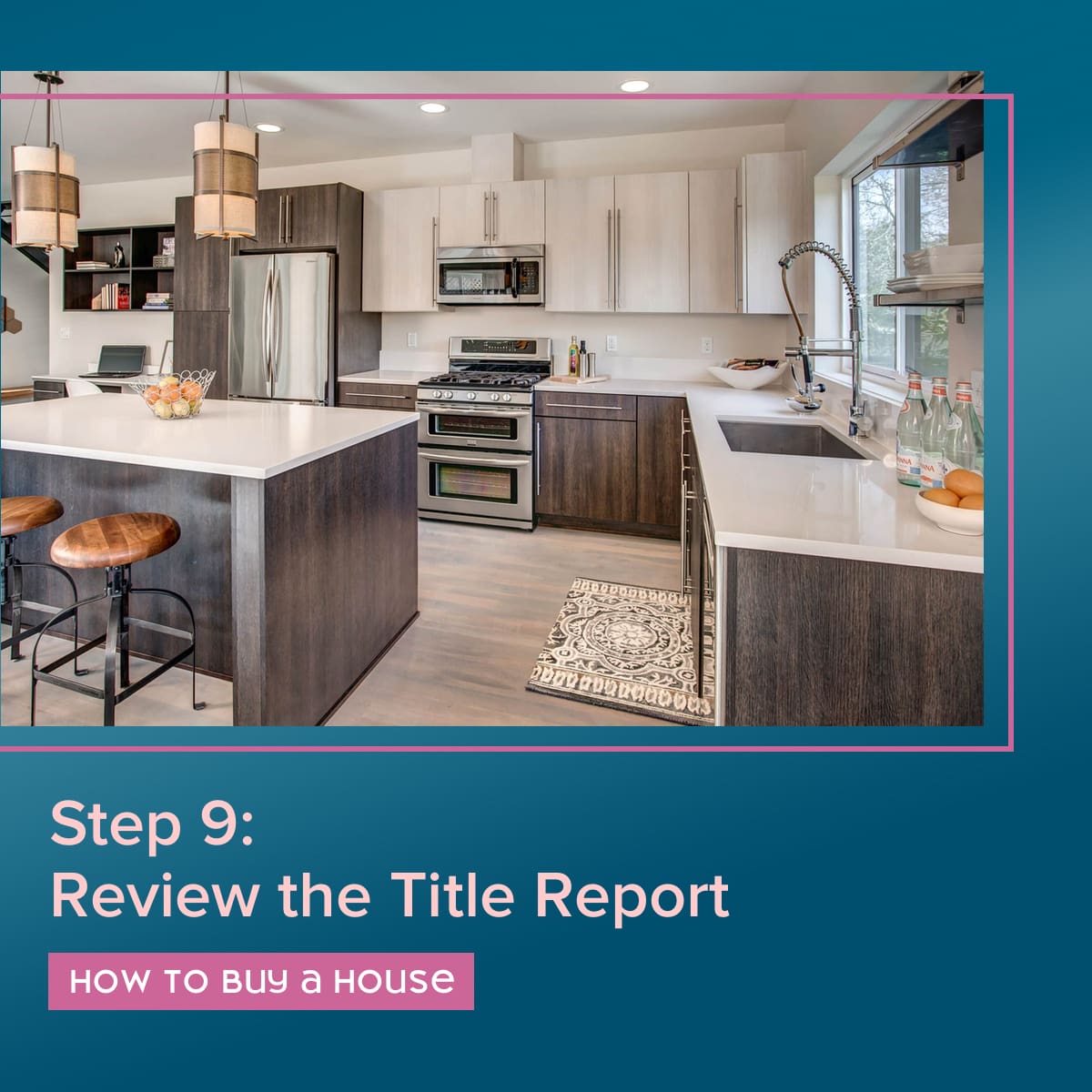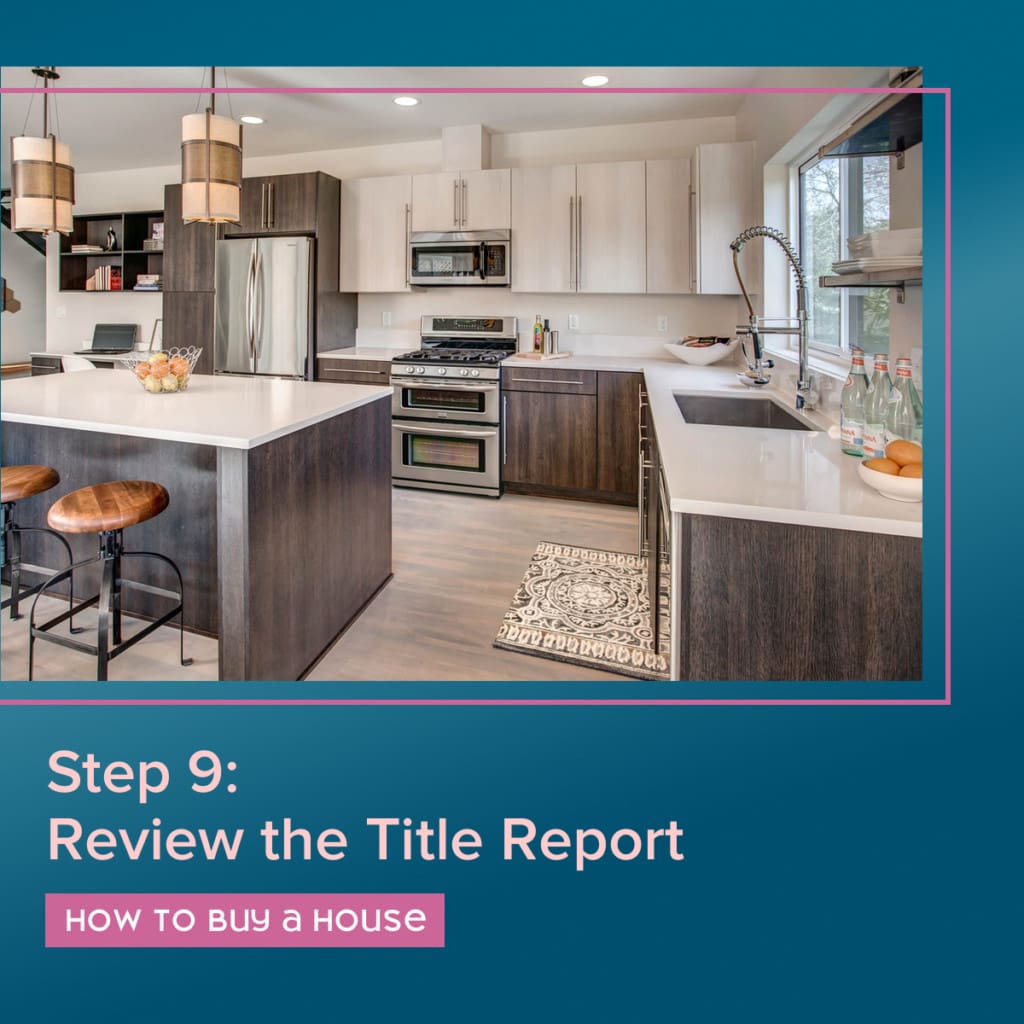 The Title Report is one of the most important documents in the process. This document also happens to be the least reviewed by home buyers. But please, do us all a favor and read the entire report. This report includes many references to your property, who has rights to the land, and other crucial details. We have had situations where the City of Seattle's main sewer line ran through the entire property. Or, a neighbor's fence was on the property, and it actually prevented the home from getting full title insurance coverage. If you're buying a home in a multiple-offer situation, you also have to review this document before making an offer.
Of course, we will not leave you to figure this all out on your own. A few years ago, Chavi did a very detailed video about the title report. We even have a blog, "Reviewing Your Title Report." Please read this; it will really help you better understand this document. Really!
Pro-Tip: Call your title representative; they are an expert on title reports. They will be the ones providing insurance for you and your lender, so they better know what's in the report!
Step 10: Review the HOA/Resale Certificate (for Condos)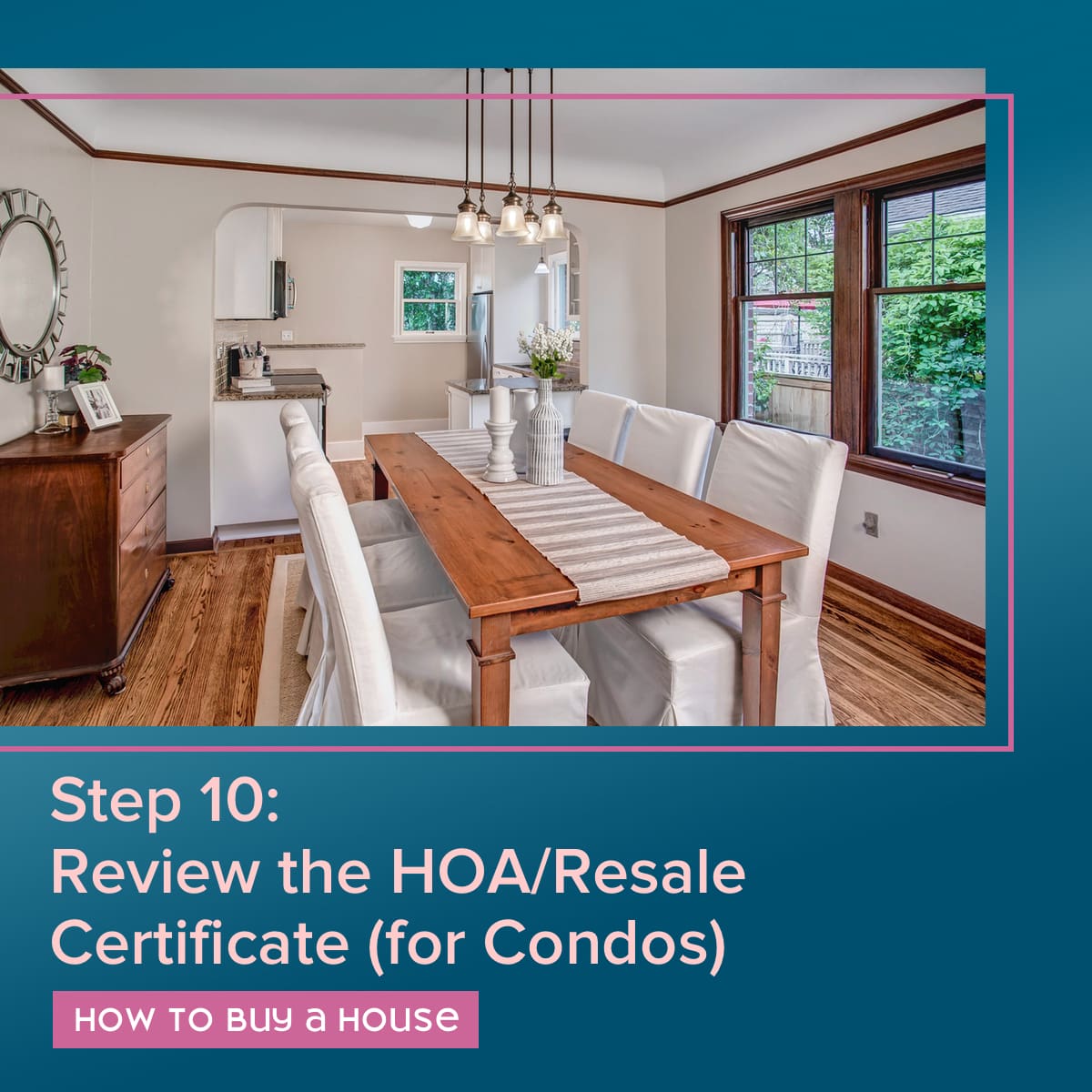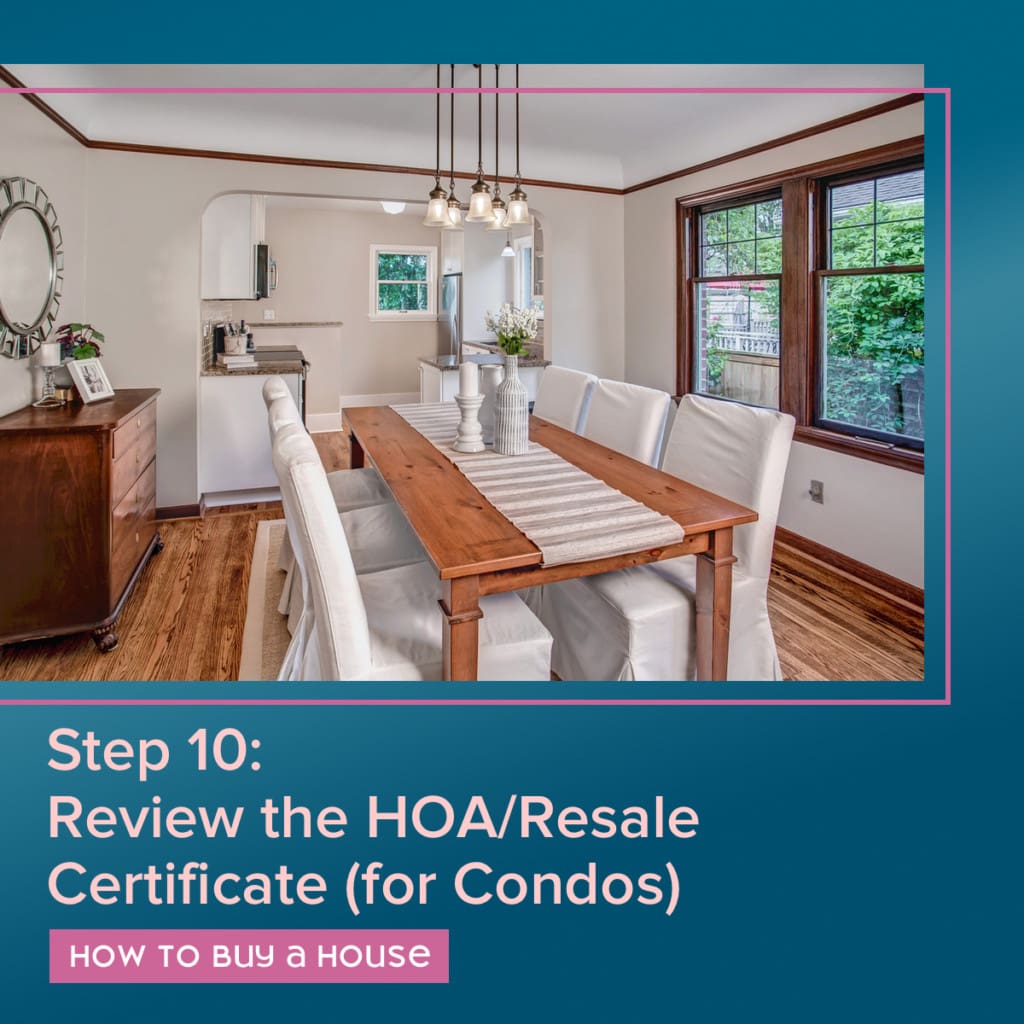 Now, this guide is for buying a detached single family house. But we wanted to take a moment to share a little bit about condos. (For even in-depth info on condos, read "How to Buy a Condo in Seattle in 2023.") With condos, the seller has a legal obligation to provide the buyer with the Homeowners Association documents and Resale Certificate. These legal documents will show how the building is being managed and supported. And there is a reason why many of our condo buyers become board presidents! They know more about how a healthy building should be operated.
Be sure to check out our blog "Condo Diva Dwellings: Reviewing a Resale Certificate."
Pro-Tip: Read all of the condo association and board minutes. This will give you an idea of the dirty laundry that is being hidden in the financial documents.
Step 11: Appraisal Process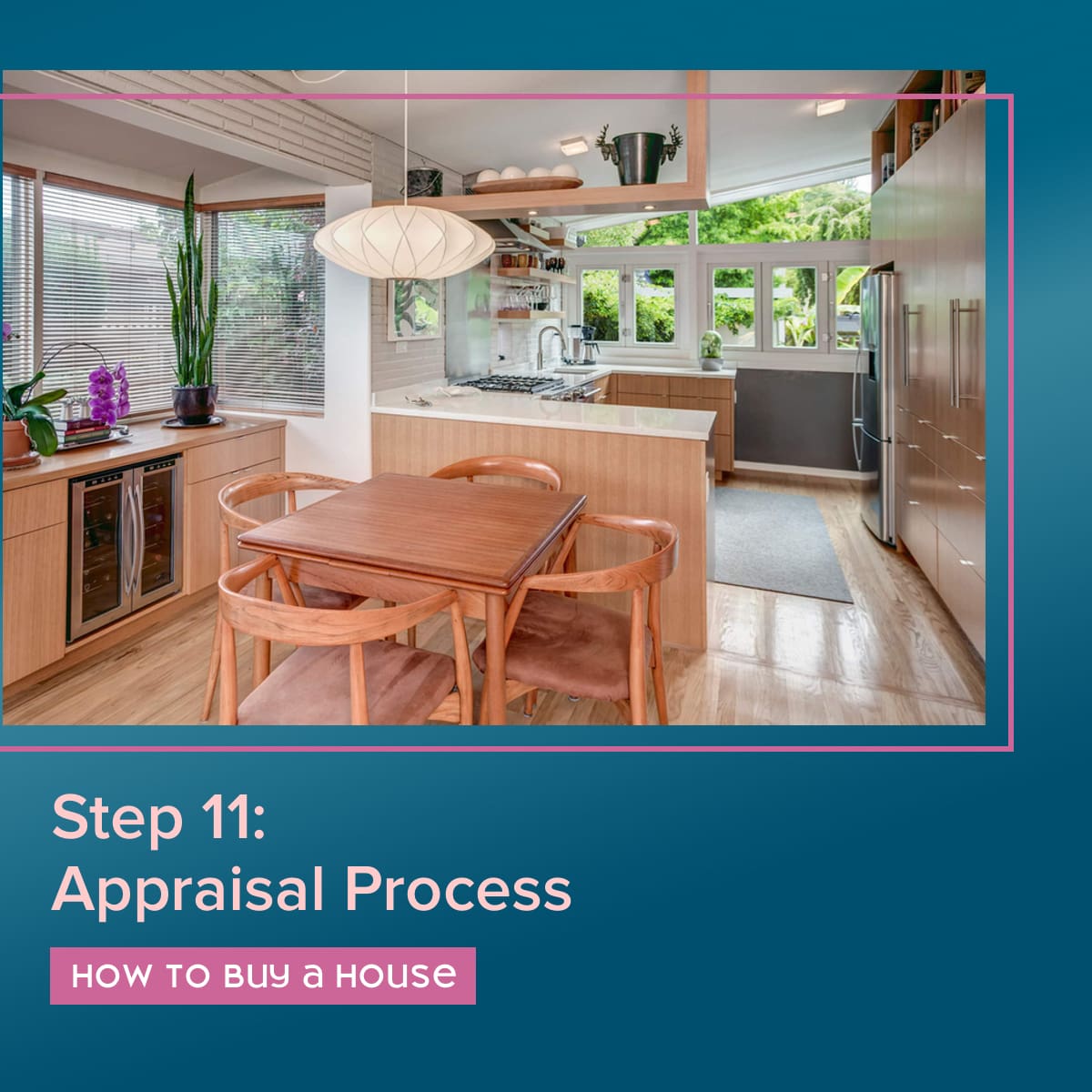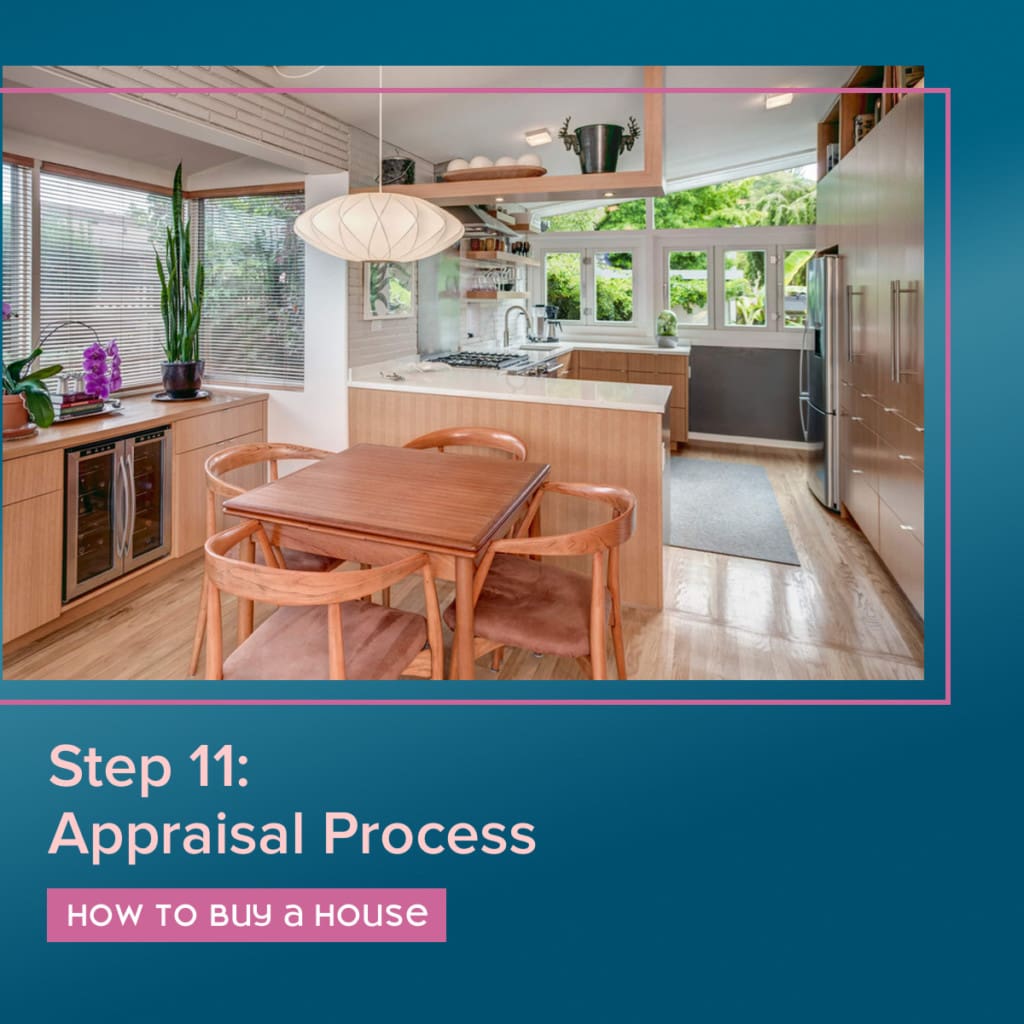 The lender's appraisal will determine the overall value of the property, and this information is important for your home loan. The appraiser needs to see two home sales within a one-mile radius of the home you're buying in order to determine its value. In a fast-paced market, there will be recent sales that haven't closed, and these prices will be higher than recent closed sales. Recent deals in the contract are what we call "market value." Basically, market value is determined by what someone is willing to pay for a home. Whereas appraised value is what the bank can use to determine overall value. These are two totally different things.
In a super competitive market, many of our buyers have to waive the appraisal, or come up with money in case of a low appraisal to win a home. Check out our very detailed blog "Guide to Waiving Appraisal to Win a Multiple Offer in Seattle" to learn more.
Pro-Tip: We always create a list of comparable properties and provide it to the appraiser. We want to do as much prep work as possible and help the appraiser. The last thing we want is to have an appraisal come in low, and for our buyers to have issues with the seller.
Step 12: Final Loan Approval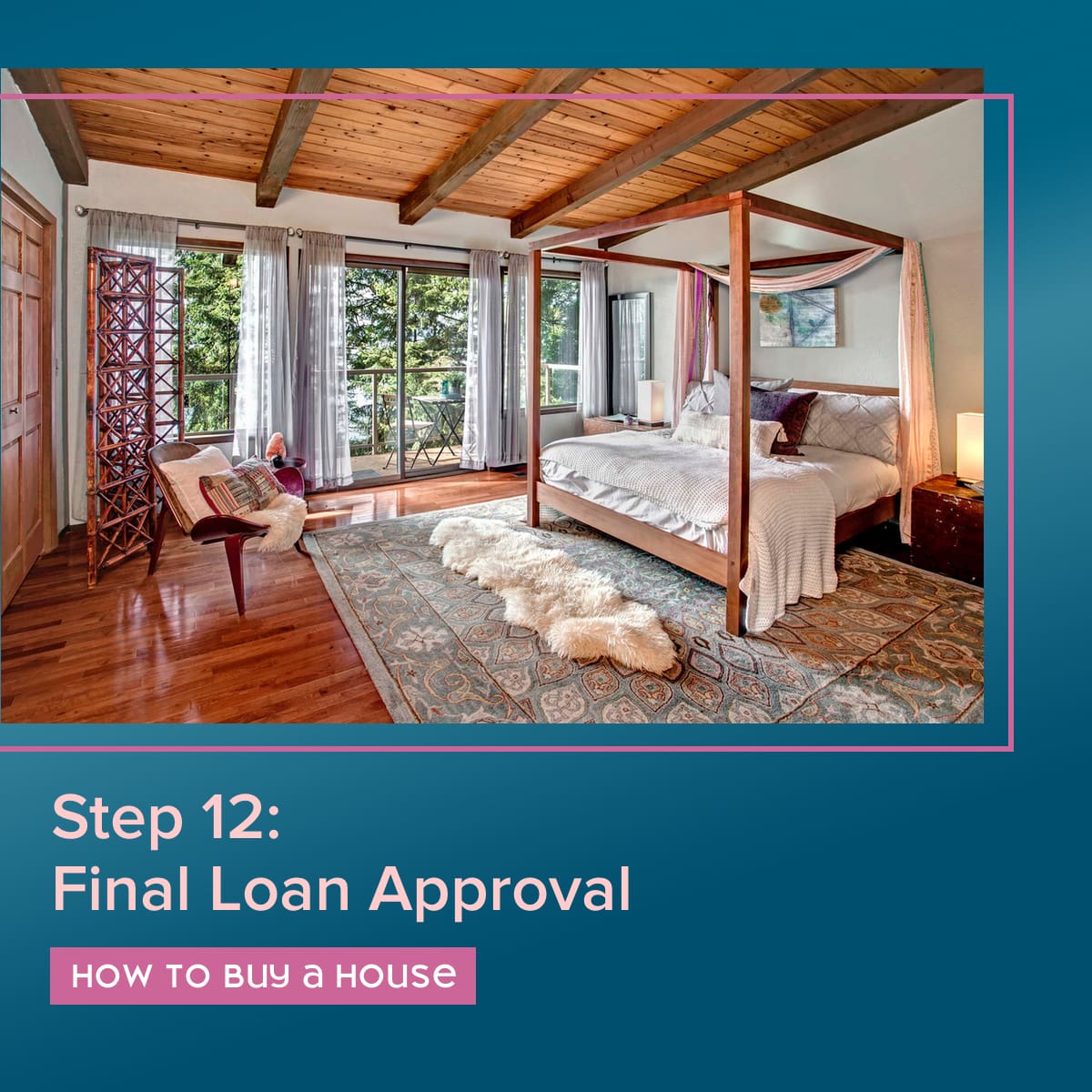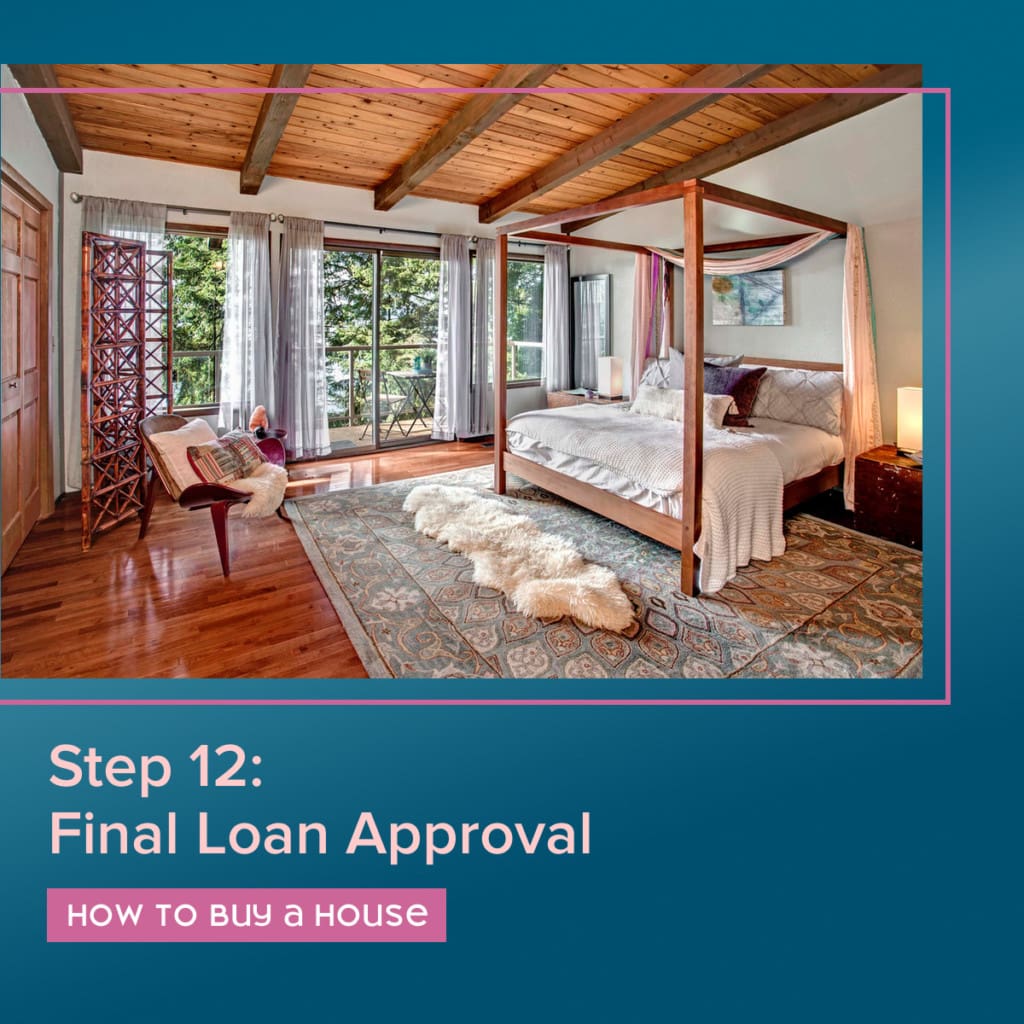 Once the inspection is finalized, the lender is doing the bulk of the heavy lifting in your deal. Generally, once the appraisal comes back to the lender, the entire loan file goes into underwriting for the final approval. At this time, you will be asked to provide several additional forms by the underwriters. Underwriters are the final gatekeepers who make sure the loan can be approved by the investor or Fannie Mae and Freddie Mac. This is only able to happen if the file is in order, the buyer has the ability to purchase the home, and the home is in a lendable state.
Pro-Tip: Be available and send necessary items to the lender as soon as possible. It's also possible you will be asked for the same document a couple of times. Just keep a file prepped and ready to go, so you can send the info to whoever needs it, when they need it.
Step 13: Final Walkthrough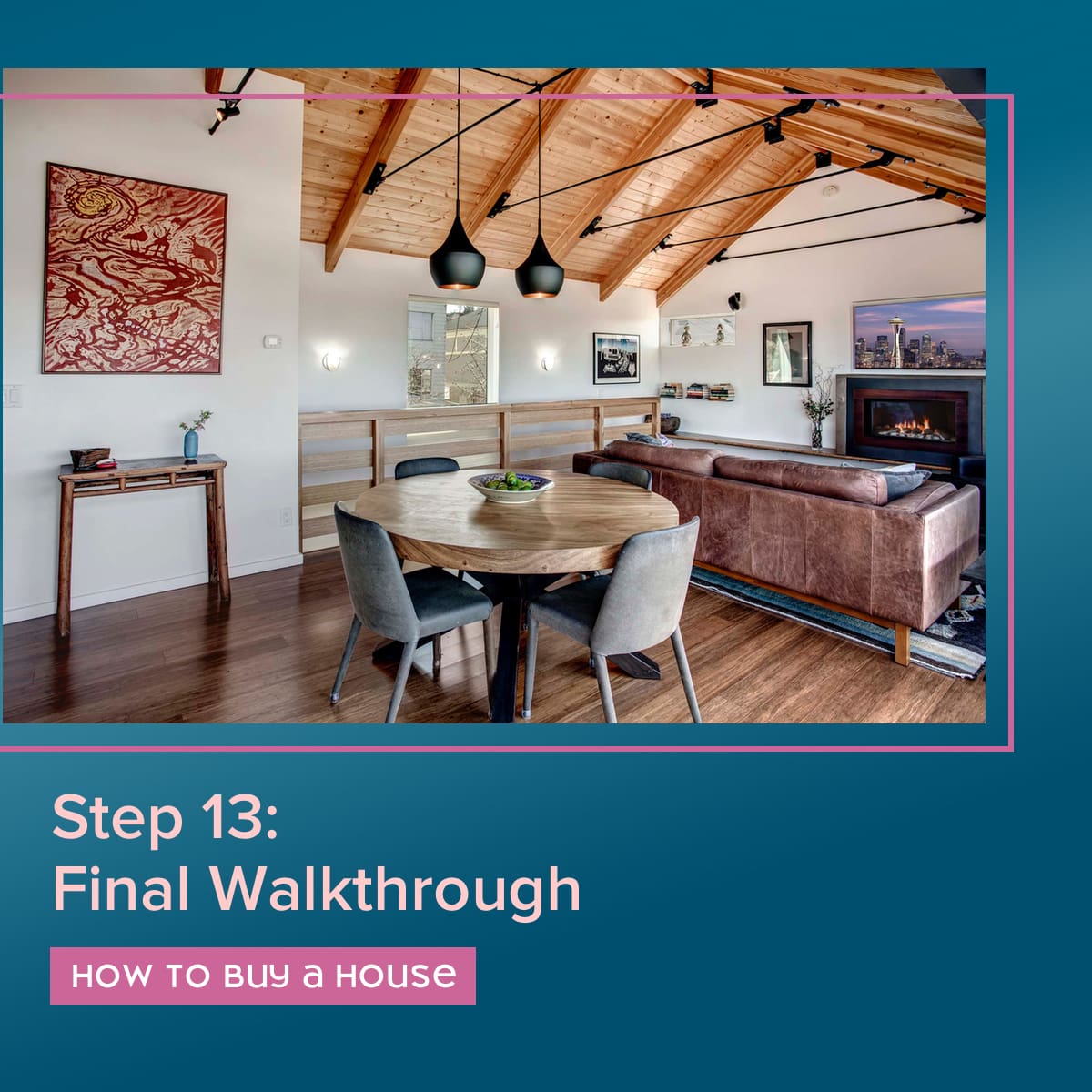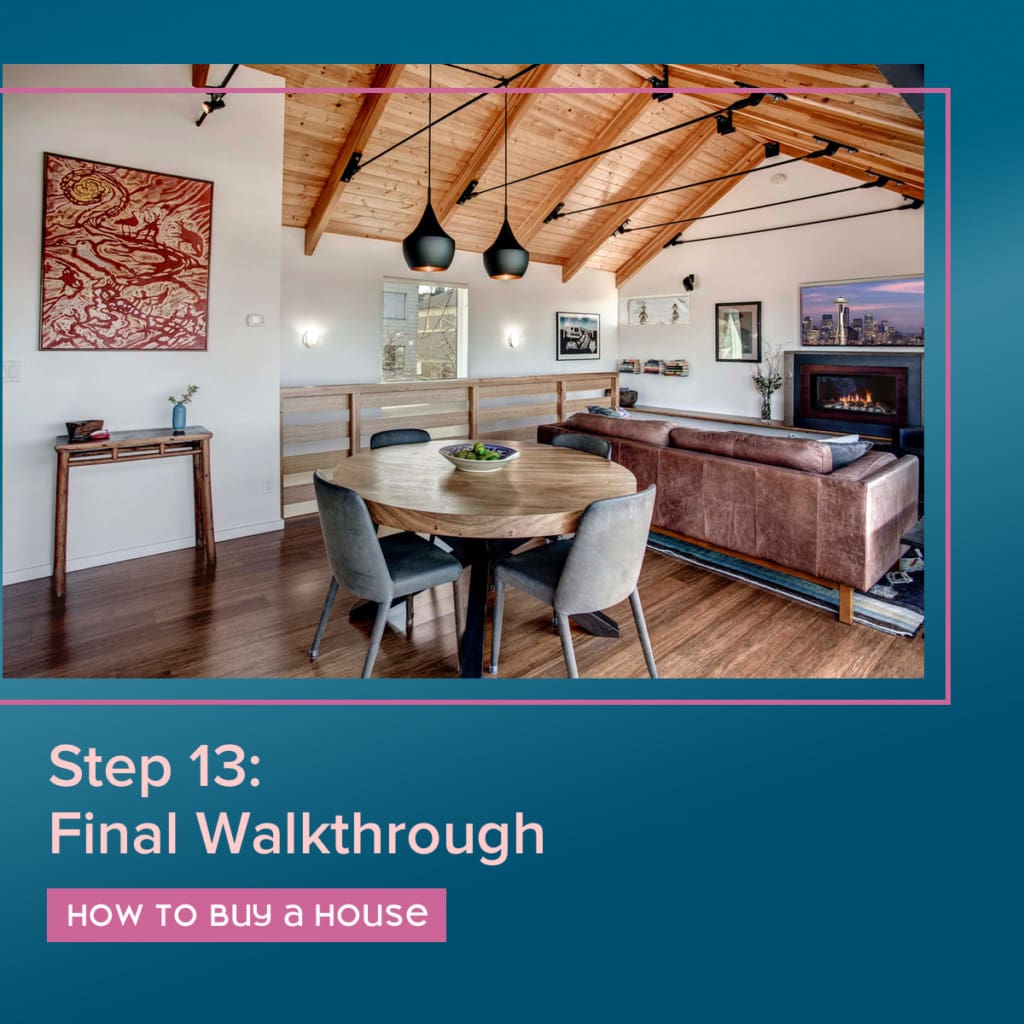 A buyers' walkthrough is mandated by the contract. Doing a walkthrough of the home gives you the opportunity to ensure that the home is in the same state as when you last saw the property in person. If you are lucky enough to negotiate on an inspection item, the walkthrough is your opportunity to re-inspect the work that has been done.
This step is super important. We have seen hot water heated break down, an entire basement flood, and on one occasion… a crow died inside the house. (Read Team Diva's Inspection Horror Stories for the details.) Oh, and one time, a seller only did half of the repairs because they just didn't feel like doing more work. Basically, skipping the walkthrough will be at your own expense. Check out our blog Diva Dweller You Are Almost to the Finish Line of the Home Buying Process for more details.
Pro-Tip: Take your inspection report and the seller disclosure form to the walkthrough. This information will give you a clear idea of what you need to look for during the walkthrough.
Step 14: Signing Your Documents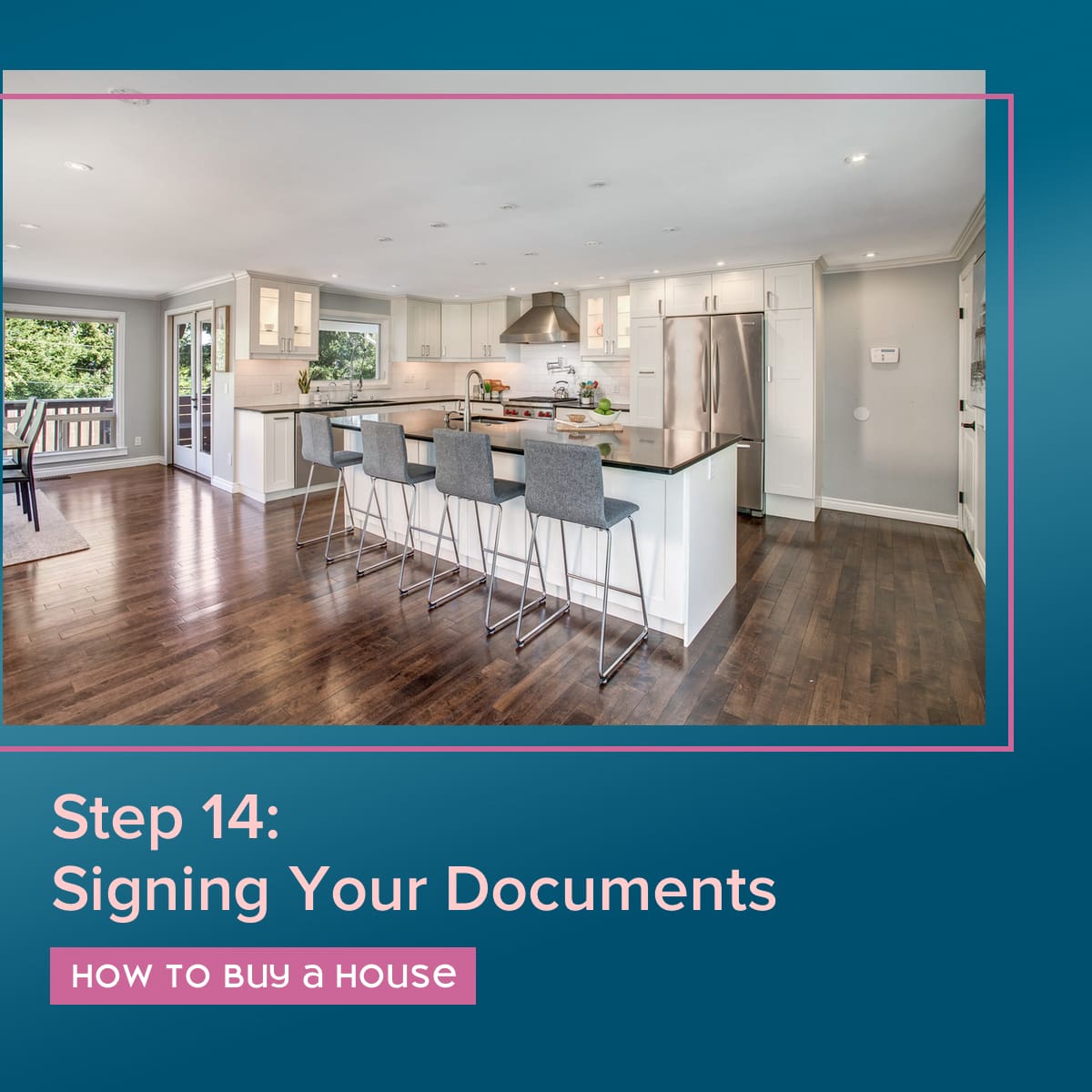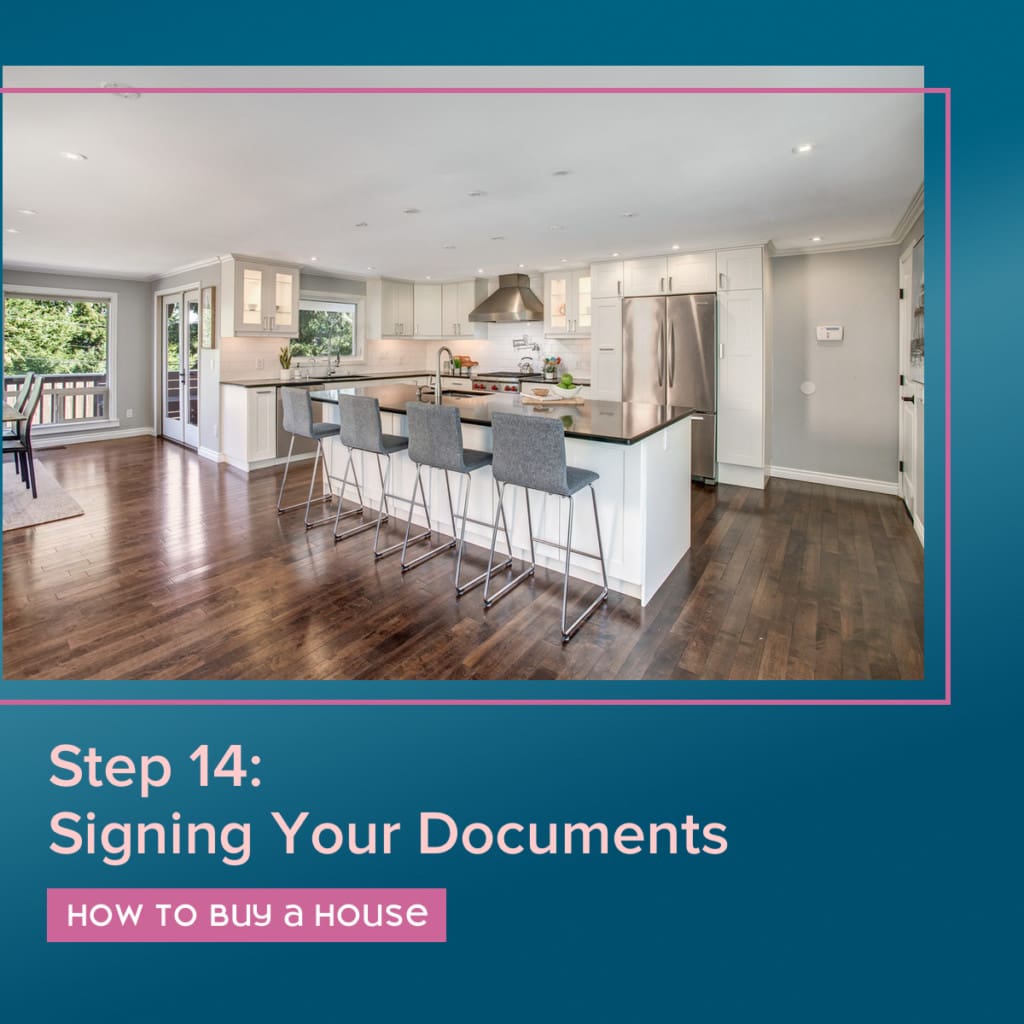 Whew—you made it! At this point, your loan has been approved and the documents have been released to escrow. This is when the process becomes way more fluid. Escrow will give you about a 24-hour to two-day notice before you need to sign your final documents. What is escrow? Escrow is a neutral third party. They are responsible for managing the transfer of the paperwork and funds for a sale of a home. There are several different parties that escrow has to interact with while making a sale happen; it is kind of shocking!
In Washington state, signing happens a couple of days before closing. At this time, you need to be ready to receive and wire the final amount of money needed for your down payment and/or closing costs. Our advice during this phase is to be flexible. Let your boss/employer know you will need to take time off from work to sign final documents.
Pro-Tip: Escrow really needs you to fill out your closing disclosure documents as soon as they send them. Any delays will impact your ability to close on time.
Step 15: Closing Day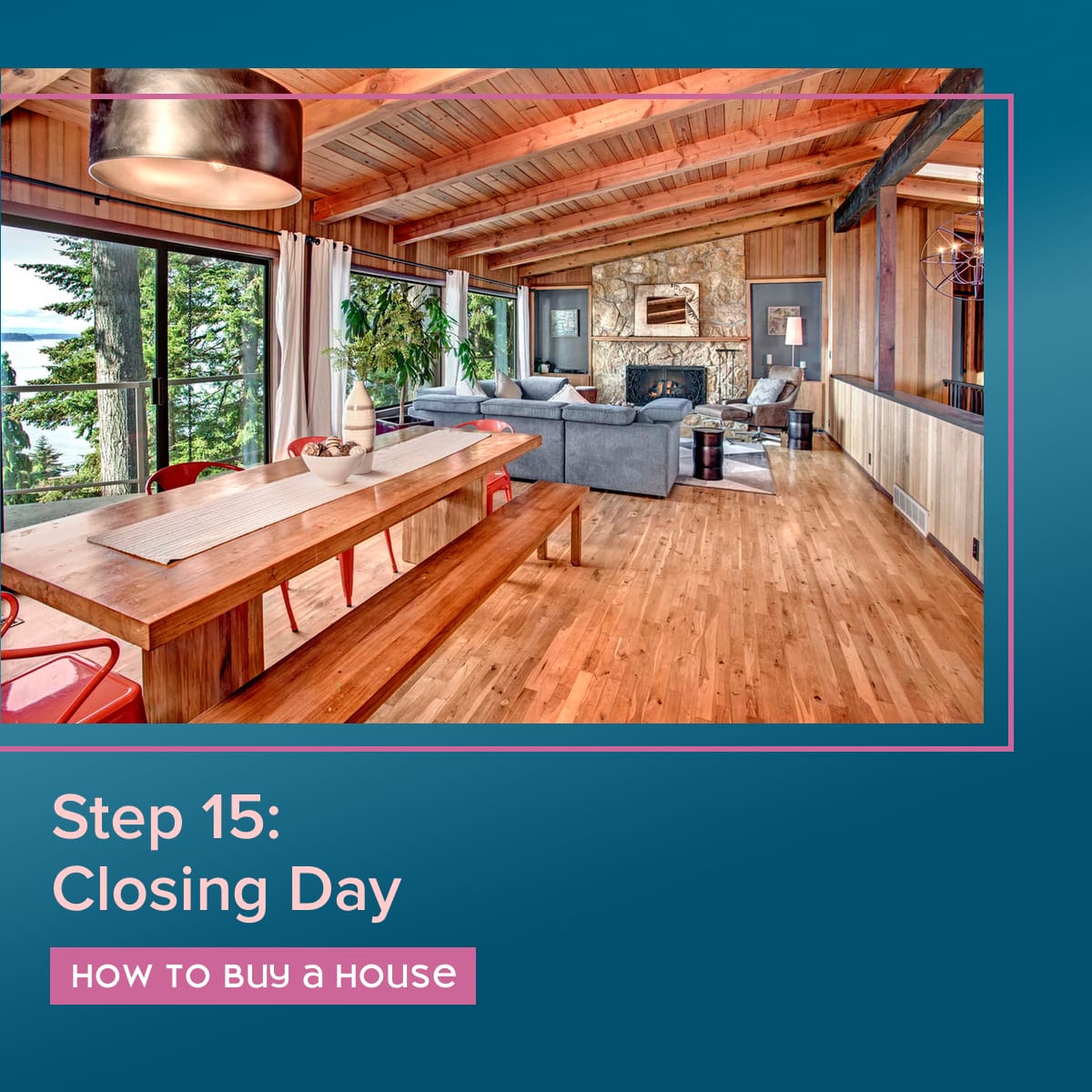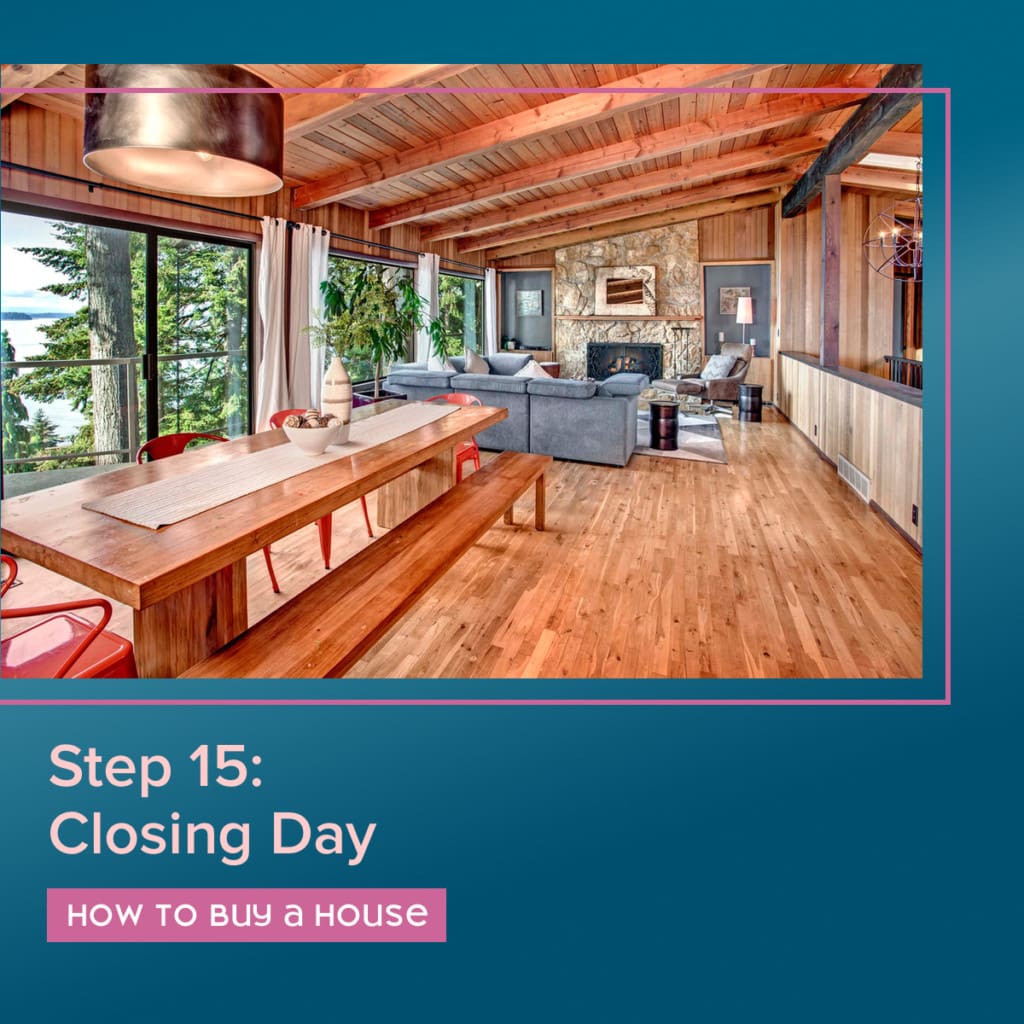 Congratulations! You are closing on your home. At this step, we will be sending you a closing email as soon as we have the recording numbers. In the email, we will also include all kinds of details about how to set up your utilities, get a security system, and so much more. And obviously, we will also be getting you your keys. Congratulations on making these big wins happen!
We look forward to seeing you out and about. Invite us to your parties and we will show up!!!
---
Thank You For Browsing Team Diva's Definitive Guide on How to Buy a House in Seattle 2023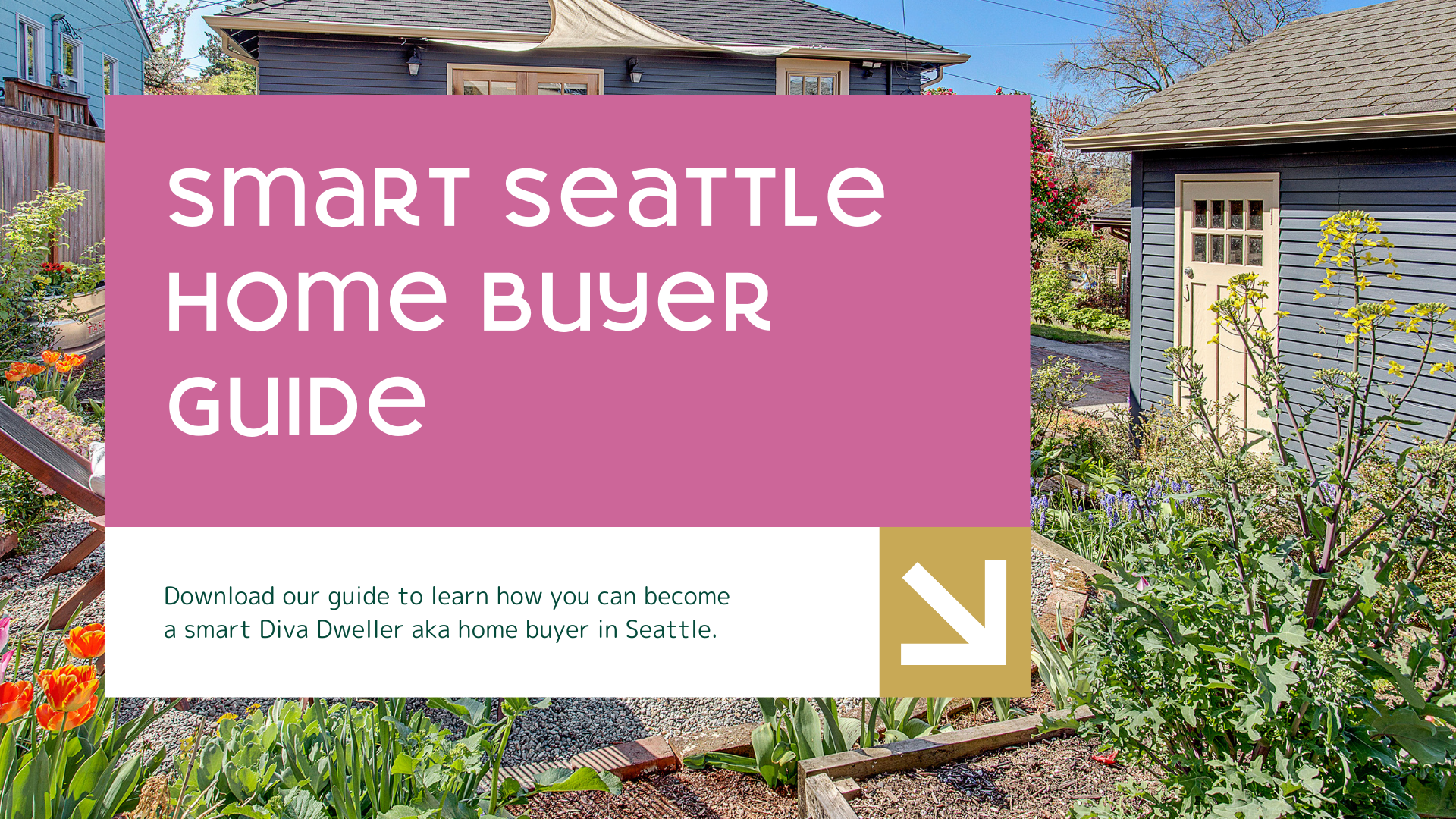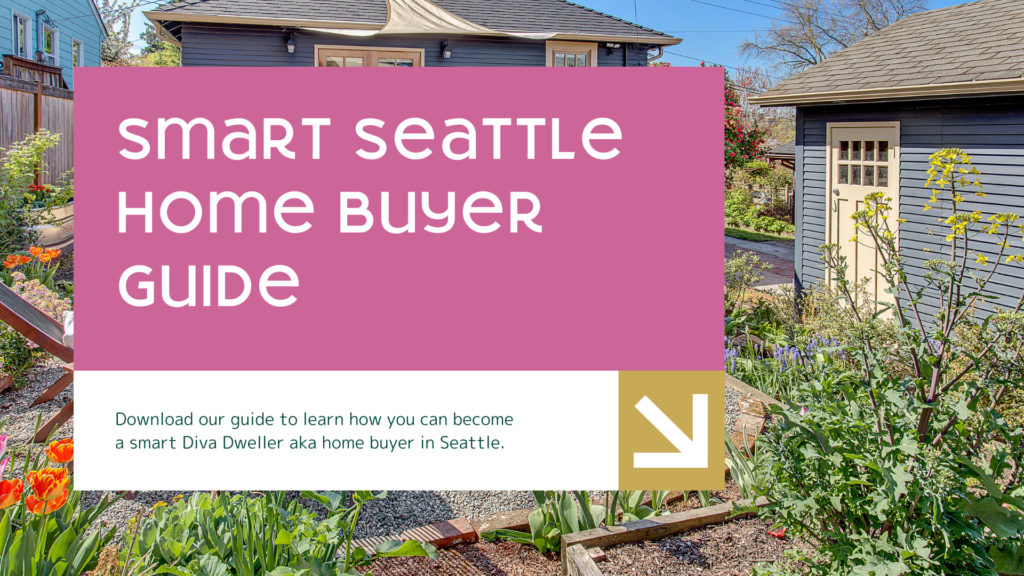 How do you buy a house in Seattle in 2023? Buying a house this year is going to be different than buying a house in the last ten years. One of the big reasons for this is the fact that interest rates are back up to the same levels they were before the Great Recession. Prices have actually been super stable in the city of Seattle, while prices are going down in the suburbs, with new construction, and in the condo market.
Learn More About Buying a House in Seattle in 2023
We have a ton of additional resources for home buyers. Be sure to check out the following:
Be a Smart & Savvy Home Buyer & Seller in 2023
Check out our home buyer and seller guides for 2023:
We are here to help. Our team understands that this process can take a year or two. And we are more than willing to give you a personalized plan to get the ball rolling. Feel free to contact us directly at thediva@teamedivarealestate.com or call/text 206-271-0264.