Pre-inspecting a home is becoming the norm in Seattle. I'm personally not a fan of pre-inspections, but it's the way the game is played in our market. It costs a buyer upwards of $750 every time they have to pre-inspect a home, and not all buyers win the first house on which they place an offer.
Pre-inspection costs can add up fast, so you really need to be smart and savvy during this part of the process. Sellers are the ones to decide whether or not they are allowing pre-inspections, and most now expect that a buyer will pre-inspect their home and just remove that as a contingency when they submit their offer. Here are some things you can do to set yourself up to win the home when you need to do a pre-inspection.
Prepare Yourself for a Pre-Inspection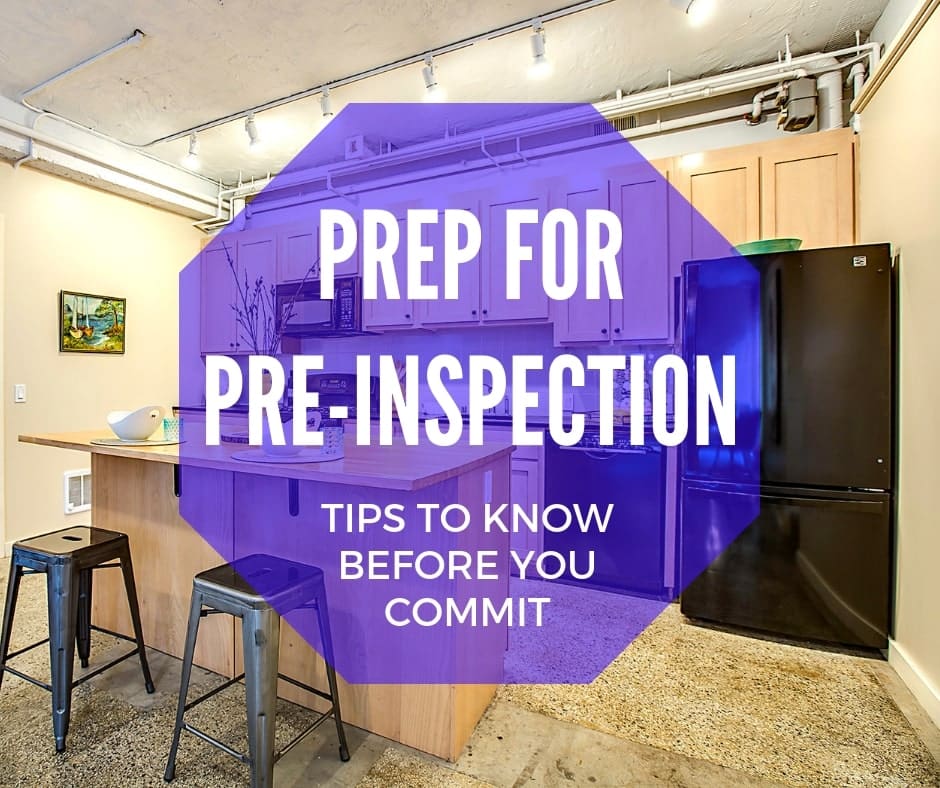 Prepare Your Cash 
A typical home inspection can run between $250 to $1000 depending on size and location. Some inspectors may have a surcharge for conducting inspections on the weekend. You may also need additional inspections if the inspector finds issues outside of the scope of a regular home inspection. Common examples of additional inspections are the foundation, roof, and pest inspections. Unless you are buying a condo or co-op, investing in a sewer inspection will be necessary as well. Sewer inspections will run you about $250-300. And please don't even think about saving money by NOT doing a sewer scope. Sewer problems can be spendy so it's best to discover them before you own the home.
Tip: Use a sewer inspector that only does inspections, not the work. This way they will not try to upsell you work you may not need. 
Do Your Due Diligence
Review all the information available about the home before you spend money on an inspection. Look over the title report and the resale certificate if it is a condo, to make sure you are aware of any restrictions. Search the police website for sex offenders. Make sure there is not a serious offender too close for comfort. Is this home in the school district you were hoping for? Better to do that neighborhood review now. Equally important is reviewing The Seller Disclosure Form. The seller disclosure form is your first look at the seller's knowledge of defects. The seller may have disclosed a leaky roof or flooding basement that may be a deal breaker for you. All this information is free for you to review so take advantage of it. It's best to gather these easy answers before you spend your cash on a pre-inspection.
Tip: Send your inspector the seller disclosure before the inspection.
Hire A Qualified Inspector 
Your home inspection is where experience really matters. My advice is to find a home inspector who has hands on experience building homes, apartments, or condos. Experienced inspectors are going to truly understand proper construction techniques. They can differentiate between developers/owners who have invested money and time into doing quality work, from those that cut corners for churn and burn projects. They will also be able to spot those "dad" jobs or do-it-yourself projects that should have had qualified contractors completing the work. Most importantly, your inspector should be licensed by the state. Having your uncle's best friend who used to do contract work "inspect" your home is probably not the best idea. They might be a good 2nd pair of eyes but having someone who is officially licensed is always best. Lastly, they should not only be inspecting the home, but they should also be educating you as to the best care and maintenance of the home during your ownership.
Understand You Are Buying As-Is
If you are doing a pre-inspection 99% of the time you won't be able to negotiate on anything you find. Since multiple-offer are almost a given in the current Seattle market, the pre-inspection is for you to educate yourself on what you need to do to take care of the house during your ownership. It allows you to plan for maintenance or issues that may come up down the road. It's also your opportunity to figure out if this house has too many issues for you to move forward. If it does – just walk away.
Yes, it sucks spending $750 on a pre-inspection only to find out the house is a piece of crap that you won't buy. But what's worse is not doing a pre-inspection and buying a home that winds up needing tens of thousands of dollars of unplanned, unexpected work just to live in comfortably.
How bad do you want it? 
Go big or go… back to your studio apartment. Why would you spend your money on pre-inspections if you are not going to give your all to win your home? Sometimes people want to pre-inspect but don't want to pay over list price. You are throwing your money away if you do this. I'm not saying to be foolish and to escalate your price to some outrageous figure. A good agent will analyze the home and neighborhood and suggest a sensible offer that will get you closest to the win. It's a fine line between paying top dollar for a property and paying ridiculously over market value. Figure out the top dollar number for this house and then decide if it fits into your budget. If so then you are probably ready to commit to a pre-inspection.
Pre-inspections may not be the ideal for a buyer, but more and more they are becoming a part of the home buying process. The key is having a good real estate team helping you navigate through the process. Team Diva has been on hundreds of inspections with our winning buyers. Contact us to help you with your home purchase.