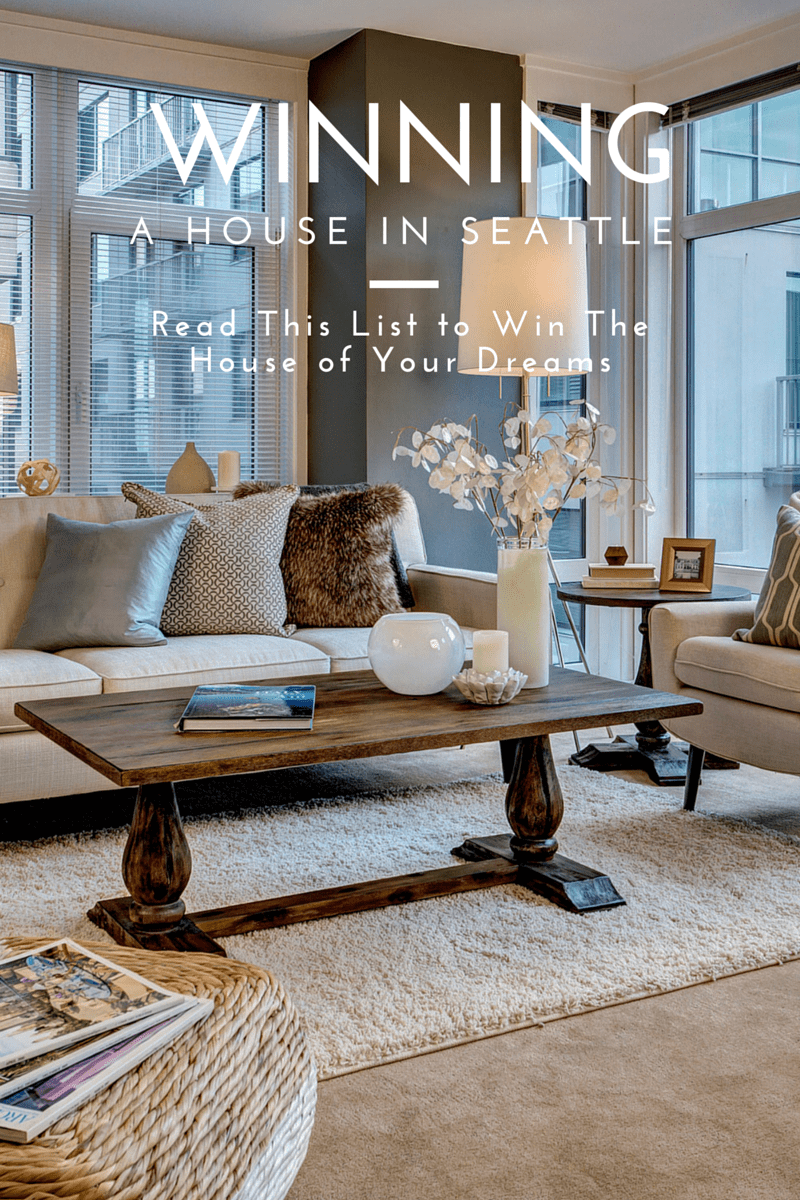 Over the weekend we were at our dear friends' house for a fabulous birthday party. We got to chatting with another real estate professional, who works the east side, about what she is seeing in this market. It is all about buyers and winning a multiple offer. What does it take these days? Winning a multiple offer is pretty intense out there for anyone looking to win a good house. But don't you worry. Team Diva faces every obstacle and forges a path for our smart and savvy home buyers!
Below is a quick run-down of what we are seeing and how you can win a "Multiple Offer" in Seattle right now!
Appraisals are a Huge Deal Right Now
Looks like this spring is shaping up to be another season of appraisals coming in below the list price. Same thing happened this time last year. Basically, what this means is that "Comparables" have not caught up with the market. Appraisers came out as the bad guys back in 2006/2007. So guess what?
Appraisers are EXTRA conservative in this market!
Appraisers MUST have comparable homes (known as "comps" in realtorese) in order to appraise a house. It does not matter if there were ten offers for the house at the winning price. If there are no "comps," then the bank cannot lend the agreed-upon purchase amount for the house. They will only lend on the amount the appraiser determines the value.
So what is the blow-back for our beleaguered buyers? In order to win an offer, the seller wants some protection in case of a low appraisal. Some buyers are waiving their financing addendum all together. And others are just simply stating they are willing to close the gap between the appraised value and the final offer price. E.g. The appraisal comes in $10,000 lower than the price…so the buyer offers to pay the $10,000 at closing!
Outside of appraisals what else does it take to win in this market?
How to Win a Multiple Offer in Seattle in 2016
Winning houses is all about reviewing everything you can about a house BEFORE you submit an offer. Basically, you need to have the best terms on offer day, and the only way to do that is to prep your self.  Here is a quick list of what you should review and prepare.
Write a Love Letter for the Home: Quickly describe who you are, why you love the home, what you might have in common with the sellers and why you are the best buyers for the home. Ask us for a sample, because our Diva Dwellers know how to write winning letters.
Team Diva Evaluates the Listing Broker's List to Sale Price Experience: Every listing broker has a style of how they present houses, and typically they average out on their list to sale price. Team Diva ended 2015 with an Average of 7% over asking price for our Diva Dwellings. Some brokers do more and some do less.
Neighborhood Average List to Sale Price: Occasionally you get a not-so-hot listing broker in a HOT neighborhood and unexpected fireworks can happen. What is the average list to sale price of a neighborhood? We can tell you that the Freelard (Fremont/Ballard) area was averaging about 9% last year, so just assume you have to come in at least 9% over asking if you are making an offer in this neighborhood.
How Quickly Can You or Your Lender Close on the Home: Cash is only king if it is on par with an offer that requires financing. TRID has had a huge impact with Mortgage Brokers, forcing them to extend their closing timelines. Lenders who work directly with a bank can close faster. And what do sellers want? Efficiency. Sellers and their brokers want to work with a lender that they know can close the transaction and close it quickly.
Review the Title Report: Our team will get you a copy of the title report and put you in touch with the title company. Review and be prepared to waive the title contingency once offer day comes around.
Review the Seller Disclosure Statement: Our team will get you a copy of the seller disclosure statement. Bring it with you to the pre-inspection and make sure you understand everything the seller has disclosed. At the inspection. Have the inspector check out anything that you might have questions about on the form.
Review Paragraph X: Paragraph X gives the buyer additional time to review all of the marketing remarks, seller disclosure statement, inspection, etc for accuracy AFTER the home goes into contract. Technically the buyer can use Paragraph X to get out of the contract. Hence listing brokers want it waived in a multiple offer situation.
Conduct a Home Inspection: Let's get a sewer and a home inspector at the home ASAP to review every portion of the house. And if you win the house we want you to bring the inspector back to do a written report. This is a critical component of the home buying process. Make sure you understand in detail the type of home you are making an offer on and if the issues are something you can address. Remember: No house is perfect.
Low Appraisal Preparation: As we mentioned above, sellers are looking for offers that are willing to close the gap in case of a low appraisal. E.g. The final offer price is $800,000, but the appraised amount comes back at $775,000. The lender can only lend on the $775,000 amount. Luckily, Coldwell Banker Bain has written an addendum that helps to protect the buyer and limits the amount a buyer has to come up with in addition to their down payment. The addendum states the buyer is willing to make up XX Amount in case of low appraisal. It could be $10K, $20K, etc. Your choice!
Seller Rent Back: Some sellers need to sell their homes in order to buy their next properties. As a result they cannot move out of the home right away and need to "Rent Back" the home from their buyers. Coldwell Banker Bain does have an addendum that protects the buyer and the home in case the seller does not vacate at the final date or damages the home.
Educate Yourself: Read these blogs and understand in detail how to review a title report, what a home inspection looks like and more importantly how to win a Multiple offer.
Team Diva will do everything possible to make sure you have the information you need to make the best offer in this environment. 
We are here to help. Our team understands that this process can take a year or two. And we are more than willing to give you a personalized plan to get the ball rolling. Feel free to contact us directly at thediva@teamedivarealestate.com or call/text 206-271-0264.