What does it even mean to be "Waiving Financing to Win a Multiple Offer in Seattle?" In this very detailed guide, we are going to dive into Waiving Financing to Win a Multiple Offer. The risks and the rewards. 
First step: Download our guide on how to win a multiple offer in Seattle. 
Now let's get going on what is happening in this market that requires folks to waive their financing to win a multiple offer.
Our team is getting a lot of buyers looking for a competitive advantage in this extreme seller's market. Homes are selling significantly over the asking price and most homes are getting multiple offers. Some buyers are trying to make their offers more attractive by having few or no contingencies. Basically, sellers want a "Unicorn Buyer." The Divas did a whole blog and video about this. But basically, a Unicorn Buyer is someone who is so confident in themselves as a buyer that they will not give themselves a way out of the deal using a contingency. Ane one of the major contingencies is the financing contingency. 
What is a Financing Contingency?
A contingency is a provision for the buyer for an unforeseen event or circumstance that allows them out of the contract. In any contract, there are timelines that are meant to help the buyer of a home have time to do their due diligence in reviewing the home and getting a home loan. A contingency allows the buyer a way out of the transaction with their earnest money if they find something they do not like OR if they cannot get financing. 
One of the contingencies for the buyer is getting financing for the home. Including getting the home appraised along with actually financially qualifying for a home loan.
Guide to Waiving Your Financing to Win a Multiple Offer in Seattle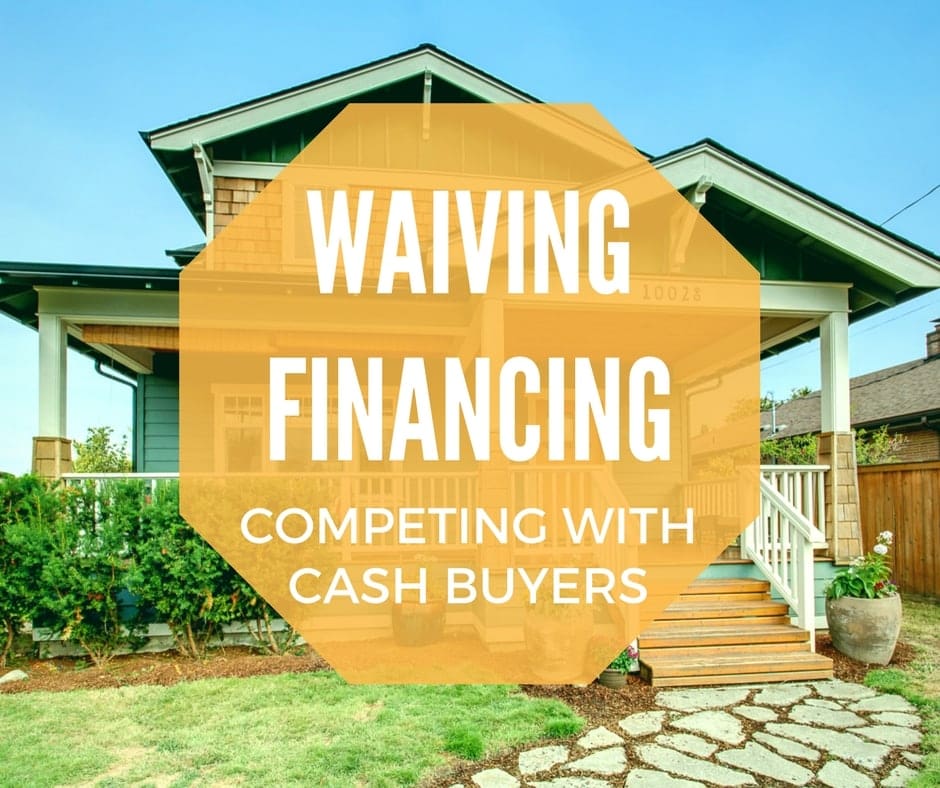 Let's dive into this very detailed guide about waiving your financing in order to win a multiple offer in Seattle in 2022. The bottom line is if you want a home in Seattle you have to go above and beyond what you think you should have to do to close the deal. And part of this is waiving part or preferably all of your financing contingency.
What Does Waiving Your Financing Contingency to Win a Multiple Offer Mean?
There is a lot of cash in Seattle. Or cash-heavy home buyers who are putting down 30% or more on their home loan. Sellers want these buyers. How do you compete? One of the standard ways to compete right now for buyers who are able is to waive their financing contingency.
Waiving the financing contingency means a buyer waives or limits their ability to walk away from the purchase and sale of their home in the case the home doesn't qualify for a home loan. A home qualifies for a home loan by the bank by the buyer being qualified and the home value also has to qualify. The buyer who waives their financing contingency is acknowledging that they are risking losing their earnest money in order to buy this house because they are confident in their ability to move forward.
You are promising to buy the home no matter what when you waive your financing contingency. And in the very real chance that the appraisal will come in low, you are saying you have enough cash in reserve to make up the difference. You, the homebuyer, are a confident Diva Dweller. 
Risks of Waiving Financing to Win a Multiple Offer in Seattle
A big risk of not having financing or appraisal contingencies in your offer is that you could lose the home and your earnest money. And one of the most critical items is that you need to have is the extra cash on hand to make up the difference of a low appraisal. 
Our parent company Coldwell Banker Bain uses an advisory called "Buyer in a Seller's Market." It lays out the risk pretty clearly. We are going to go through the 2022 Advisory below. 
Example of Conditions/Contingencies and Some Considerations for Buyers
Financing Conditions in the Financing Addendum 
A Financing Condition conditions the sale on the buyer obtaining a loan and if the buyer is unable to obtain a loan, the contract terminates and if the buyer has complied with the contingency terms, the buyer is entitled to a return of the earnest money.
Without this condition, if the buyer cannot close because a loan is not approved, the buyer forfeits the earnest money.
Appraisal Condition in the Financing Addendum
An appraisal condition allows a buyer to terminate the contract if the lender's appraisal is less than the purchase price and the seller does not either reduce the purchase price or provide an appraisal at the purchase price that the lender accepts.
Without this condition, a buyer may be unable to close and the seller keeps the earnest money, or loan type, amount, interest rate, or buyer contribution may change in order to cover the purchase price.
How Can You Fail Financing When Buying a Home in Seattle?
The reason you would fail financing is as follows.
Laid off or lose your job.
Your downpayment is coming from a gift from a family member and they decide to not help you.
The stock market tanks and all of your cash for your downpayment are in the market.
Credit issues pop up that you were unaware of previously.
You are married to someone who has credit issues.
Forgot that you were still married to someone and it complicates your financing.
Unpaid income taxes.
Foreclosure, short sale, or bankruptcy on your record that you did not disclose to the lender upfront.
Home does not appraise for the purchase price and you do not have the cash available to make up the difference.
Are You a Good Candidate to be Waiving Financing to Win a Multiple Offer in Seattle?
The bottom line is that you need to have this conversation with your lender to see if you are a good candidate to be waiving financing to win a multiple offer in Seattle.  See our questions below.  Many of our homebuyers are putting lower down payment amounts and do not have the extra cash to make up the difference for a low appraisal. With these folx, we are revisiting the Size, Condition, and Location conversation.
However, if you have 20% to put down on a home. And you have enough money to make up the appraisal you are a great candidate to win a house in Seattle.
Please note: VA and FHA buyers are unable to waive their financing contingency because their loans require the sellers to pay for a portion of their closing costs.
Talk to Your Lender About Waiving Financing to Win a Multiple Offer
It is extremely important to discuss with your lender what risk they see for your specific file before you make a decision. I would ask questions such as:
Am I a good candidate for waiving my financing contingency?

Based on our buying ability, how much money does this home need to appraise for?

How does an appraisal work? 

Have you been seeing any issues with appraisals in this marketplace coming in low lately? 

Are there any other risks I should be considering as we consider waiving financing or waiving appraisal?  
What if I am overpaying? Isn't the appraisal supposed to determine the value of the home?
The answer is no! Market value is what someone is willing to pay for a home. And the legal parameters for someone doing an appraisal are super restrictive. Meaning that the banks require at least two sample homes that have sold at the same price. They use these sample homes to calculate the appraised value. The market value is determined by what the market can handle. Twenty people making an offer on a house determines market value. And typically there are too few comparable properties for the appraised value to match the market value.
Sellers want a buyer who understands that they are buying a home at market value and have the capacity to close the transaction.
What if You Can Waive Financing But Not the Appraisal?
Yes, you can waive financing because you are confident in your employment, downpayment funds, and ability to purchase the home. But keep an appraisal addendum or come up with a limited amount in case of a low appraisal. Not everyone is able to waive the full financing addendum. Here are some options for managing the appraisal.
You keep the appraisal addendum but waive financing.
You can limit the amount you are able to come up with in case of a low appraisal.
Questions To Ask Yourself About Waiving Your Financing to Win a Multiple Offer in Seattle
Here is a quick couple of questions to ask yourself. Make sure that you are grounded in the reality of what it takes to buy a home here in Seattle.
Am I comfortable with waiving all of my financing? 

OR am I comfortable with everything but the appraisal?

 Do I have additional funds to put toward a low appraisal? 

 How much? 

 Where are my down payment funds coming from (stocks, bonds, bonus, cash, etc…)? 

 How much are my gift funds for my down payment?

Have I moved those purchase funds into cash for my downpayment?

 How much money am I putting down for the loan on the home?

Worst case scenario what would be the max amount I in case of a low appraisal (talk to your lender)?
Bonus Information: Competing Against Cash Offers By Waiving Your Financing
Several years ago we wrote a Competing Against Cash Offers By Waiving Your Financing blog. Waiving financing has been a big part of the Seattle real estate market since 2017. Hence it the process we go through.
---
How Do You Win a Multiple Offer in Seattle in 2022?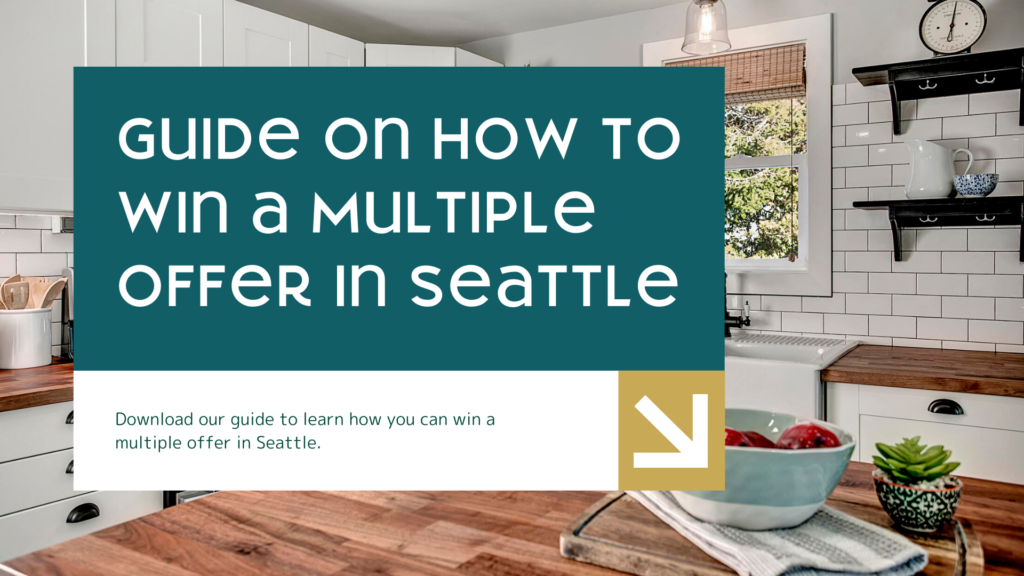 Waiving financing and having a plan to deal with the appraisal has been Are you ready to win a multiple offer in Seattle? Then download our guide and get the process started.
Below are the steps it takes to win a house in Seattle right now
Choose a Team That Will Prep You for the Market
Size, Condition, and/or Location
Pre-Inspect the Home/Waive Inspection
Waive Title Review
Put Down a Minimum of 5% of the Purchase Price for Earnest Money
Release Earnest Money to Seller at Mutual Acceptance
 Starting and Final Price
Escalation Amounts
Waive Appraisal or Have a Plan for Coming Up With Cash In Case of a Low Appraisal
And Obviously Waiving Financing
Waiving your financing is uncomfortable a hard truth if you want to win one of those unicorn homes in Seattle. Remember Team Diva is always here to help you answer questions and get this process started for you.
We are here to help. Our team understands that this process can take a year or two. And we are more than willing to give you a personalized plan to get the ball rolling. Feel free to contact us directly at thediva@teamedivarealestate.com or call/text 206-271-0264.