What can you buy for $800k in Seattle's Ballard neighborhood you ask? As you probably already know, Seattle's Real Estate Market is off-the-charts HOT. Homes are selling fast, closing quickly, and the cash is flying. And Ballard is one of the hottest neighborhoods in the city right now. What can you buy for $800k in Seattle's Ballard neighborhood? This spacious townhome in Ballard is the perfect example of what you can buy at this price point in Ballard. 
To learn more about the real estate market in Seattle's Ballard neighborhood, keep reading.
---
What Can You Buy For $800k in Seattle's Ballard Real Estate Market?
Kim here and I am the Managing Broker of Team Diva at Coldwell Banker Bain. And I am here to let you know "What Can You Buy for $800k in Seattle's Ballard Neighborhood." I'm excited to show you this spacious townhome in Ballard, which is an excellent example of what $800,000 can get you in this neighborhood. 
But before I show off this townhouse, I wanted to take a moment to dive into Ballard's current real estate market. Real Estate in Seattle is like playing a game of musical chairs. Instead of having 5 chairs and 6 players, there are 5 chairs and 50 players. Dang! That's a lot of sore butts. Plus, every week this real estate game forces prices up and up and up.
Now, I'm sure some of you are thinking "WHAT!? There is no way I can buy a home in Ballard for $800,000. EVERYTHING in Ballard was at least $1 million!" Ok, true—the prices in Ballard have gone through the roof and into outer space in the past few months. But I'm here to tell you that yes. YES! You can buy a home in Ballard for $800,000. And it comes in the form of a modern move-in ready townhome right in the heart of this fabulous neighborhood.
How Much Do Different Types of Homes in Ballard Cost? 
First, though, let's chat about some neighborhood stats. Right now, inventory in Ballard is incredibly low for all single-family homes, and demand is REALLY high. Back to our musical chairs analogy: Right now in Ballard, there are approximately 47 musical chair players and only 11 chairs. Ouch! Aka, there are literally 47 buyers for 11 available homes in Ballard. Ouch again. 
Here are some of the stats: 
Luxury Homes: A luxury updated 3-bedroom home in Ballard will run you about $1.91 million.
Detached Single Family Homes: If you are looking for a single-family home in Ballard that's a little more modest, you are still paying around $1.2 million.
Townhomes: Currently, the average price for a townhome in Ballard is hovering right around $999,000.
Condos: And finally, condos in Ballard are about $637,000. 
Ok, I know what you're thinking. You were right. Everything IS $1 million or more. So what can you buy for $800K in Seattle's Ballard Real Estate Market?
Luckily for Divaland, You Can Buy This Spacious Townhome in Seattle's Ballard Neighborhood for $800,000!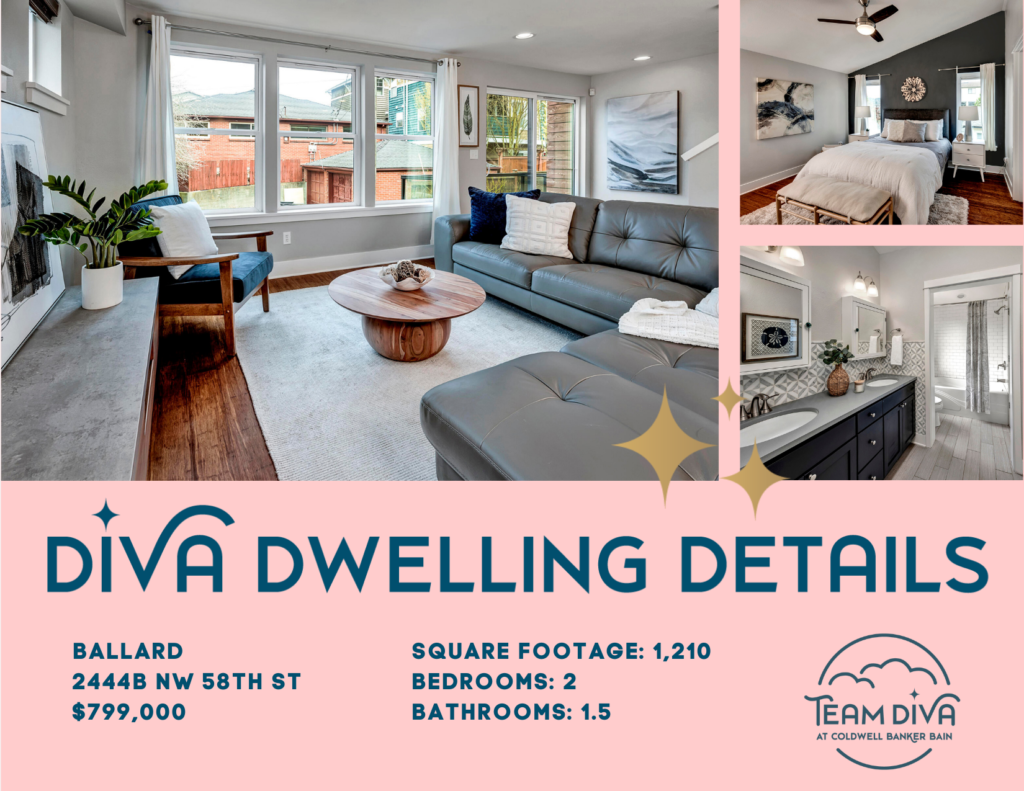 There are several things I am loving about this spacious townhome in Ballard. You know a Diva loves a party, and I love to play hostess. So, I am really appreciating the spacious open living room and all of the entertaining potential! The kitchen is also super important—it's often the heart of the home, AND having a beautiful and highly functional kitchen when entertaining is a necessity. This home's kitchen even has a gorgeous handmade kitchen island at the center of it all. And finally, my third favorite thing about this spacious townhouse is the patio. Yes, I am ready for summer! 
Our Seller Loved Hosting Parties Thanks to this Home's Spacious Layout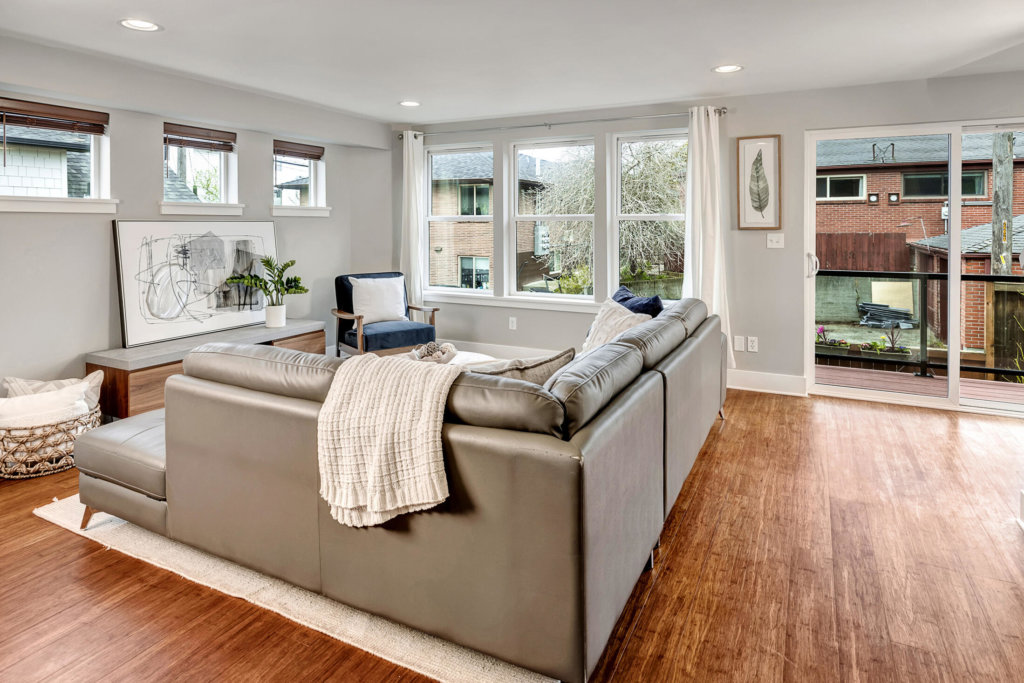 One of the things our Diva Dwellers loved most about this home was hosting parties all year round. They threw many large Friendsgivings and barbecues over the years. The spacious open living room was perfect for gatherings! Throw a rad dinner party, get a rousing game of Exploding Kittens going, and get ready to make your own years of memories here. 
There's a Pretty Sweet Updated Kitchen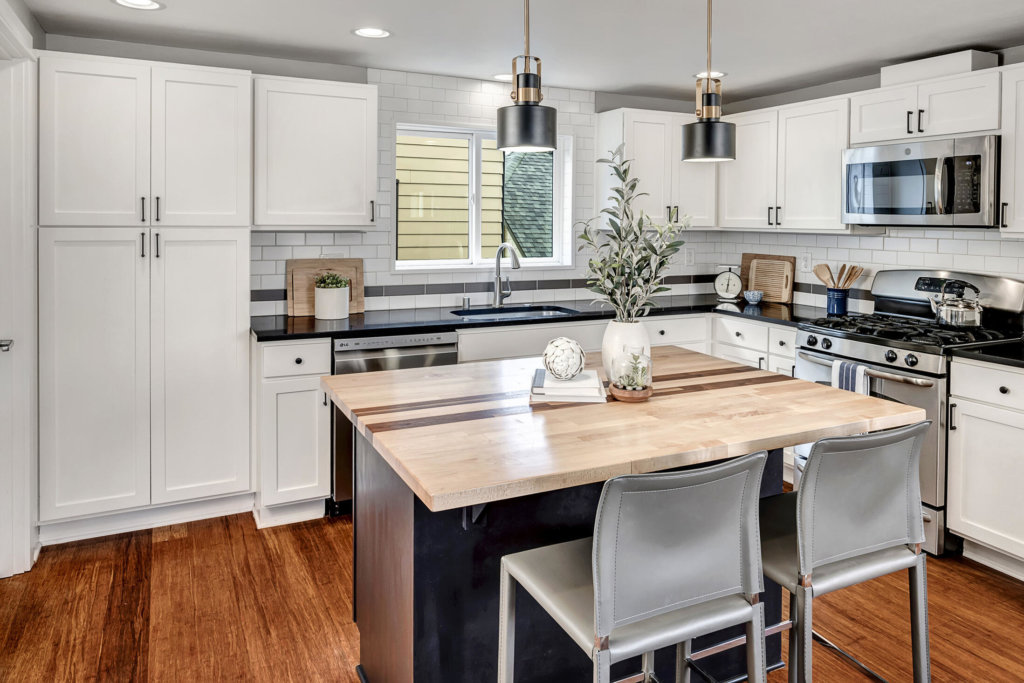 This kitchen practically shines like new, and I love the welcoming vibes here. First, let's start with the updates. There's a new kitchen sink, an updated dishwasher, and microwave, new counters, and nearly all fixtures have been replaced as well. The kitchen is also wired for under cabinet lighting for extra ambiance, and a gas stove is at the ready. In my opinion, however, the real star of the show is the handmade island butcher table crafted from maple and walnut wood. It makes the space feel warm and inviting and is a wonderful place to share a meal or work during the day.
Summertime Perfection Awaits Out on the Private Brick Patio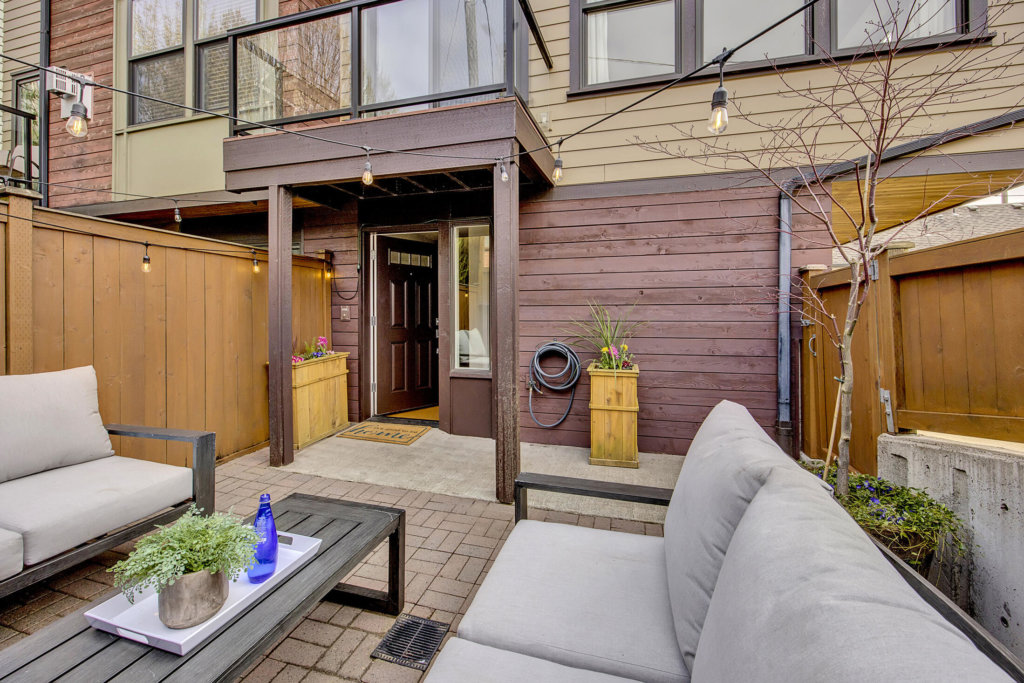 I can't wait for the rest of this wintry weather to finally burn off so we can start really enjoying spring and summer! This patio is the perfect place to make the most of warm weather. It's a private and friendly place during the summer, and our Diva Dwellers have loved entering through the garden space all year round. Lounge out in the fresh air, throw a-rockin' summer BBQ, and enjoy sunny afternoons gardening. 
More Details About the Home
MLS #1908015

Address: 2444 B NW 58th St

Listing Brokers: Kim V. Colaprete

Square Footage: 1,210

Bedrooms: 2

Bathrooms: 1.5

Parking: Attached Garage
More details on the listing page >
Floor Plans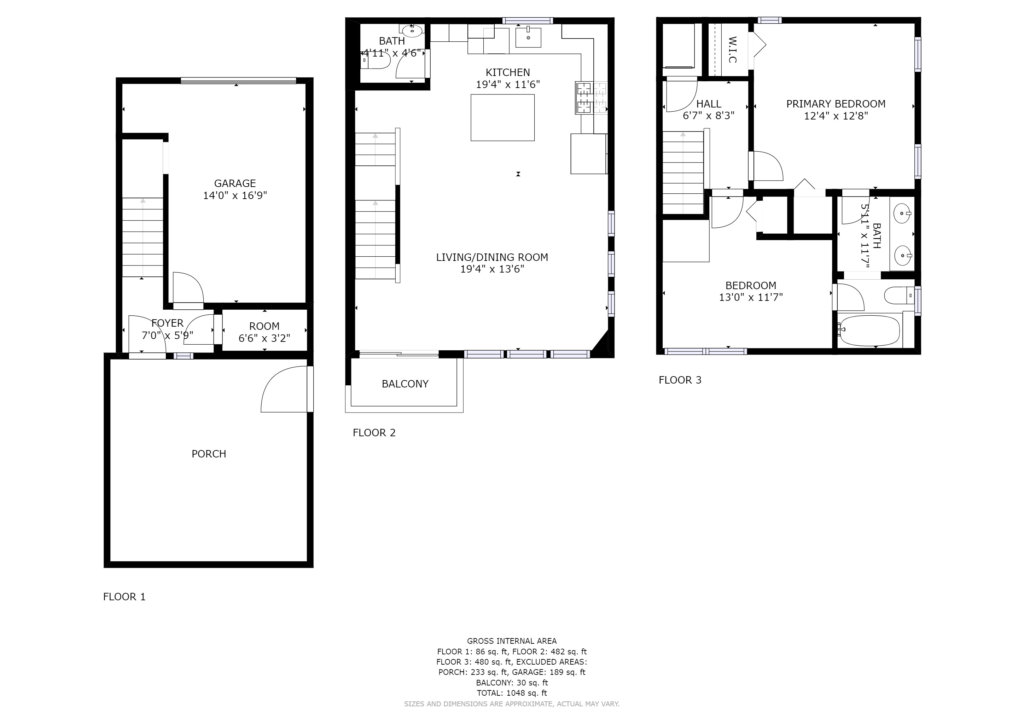 What's It Like to Live in Ballard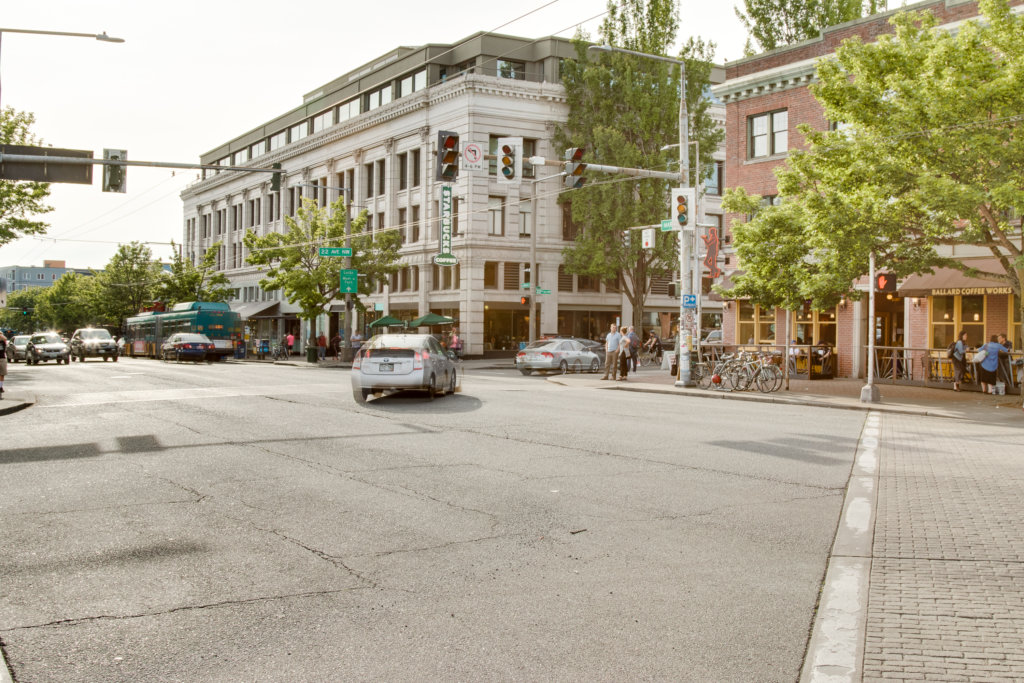 While this spacious townhome is close to the heart of Ballard, the street it's on is extremely quiet. Our Diva Dwellers have loved meandering over to one of many nearby parks or shopping at the Farmer's Market on Sunday Morning. Grab some coffee or food from Venture Coffee Co., Cafe Besalu, or Scooter's Burgers, all right around the corner! Then you can take your little picnic to check out the nesting Herons at the Locks. 
One of the best things about living in Ballard is all of the fantastic restaurants. Ballard has some of the top restaurants in all of Seattle. There is Spice Waala for killer Indian street food and La Carta de Oaxaca for amazing mole. Try Cafe Munir for delish Lebanese food, and Delacey for some of the best freaking pizza you will ever have! When you're more in the mood to cook at home, QFC is literally only 2 blocks away. Talk about urban convenience! 
Check out our Ballard neighborhood guide for more detail.
---
How to Buy a Home in Seattle: The Entire Process in Brief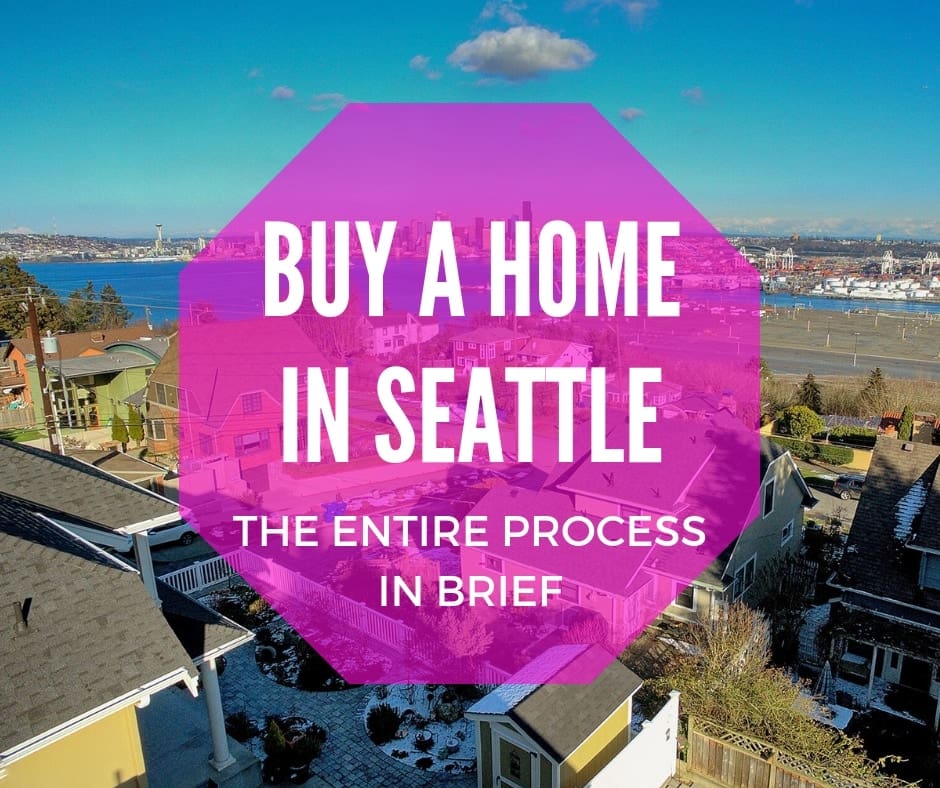 Let's get down and dirty. Owning a home in Seattle is an amazing experience and it can be fun. Do not listen to all of those cranky folks who think Seattle is not what it used to be and a middle-income owner cannot afford to buy a home in Seattle. Strap in, get yourself some strong Seattle coffee, and learn how to be a smart and savvy home buyer in Seattle.
Steps For Buying a Home in Seattle
Find Your Guide: Find an agent that is super savvy and will be your ultimate navigator.
Choose Your Priorities: Size, Condition, Or Location?
Home Buyer Intake Process: Schedule a sit-down meeting with you and your real estate team to dive into what you want in a home.
Financing: Get your financial house in order.
Big Search: The big home search in Seattle
Making an Offer: Know what you need and how to prepare yourself to make an offer.
You Are In Contract: You've signed on the dotted line. Now… the hard work really starts.
Inspecting Your Home: What to look for, how to hire an inspector, and how to respond to the inspection.
Reviewing The Title Report: The title report is often the most overlooked portion of the buyer's review.
Reviewing the HOA/Resale Certificate (for Condos): …Also an overlooked portion of the buyer's review process.
Appraisal Process: Most homes are purchased with a home loan. The appraisal determines the final value by your lender for your home.
Final Loan Approval: All kinds of things can come up during the final loan approval process, so be prepared.
Final Two Weeks of the Process: Walkthrough, inspection resolution, and (for god's sake) do not make a huge purchase on a credit card.
Signing Your Final Homeowner Documents: You made it!
Closing Day: You get the keys and access to your home.
This is just a starting point, and we have so much more to share about the home buying process. Browse our Home Buyer page for a comprehensive home buying education.
---
What Can You Buy for $800k in Seattle's Ballard Neighborhood? 
Now you know exactly what the real estate market in Seattle's Ballard neighborhood is like right now. What can you buy for $800k in Ballard? You can buy this upgraded, move-in-ready townhome in Ballard for $800k! Of course, I love all that the Ballard neighborhood has to offer—restaurants, outdoor attractions, and the farmers market are a few of the neighborhood's highlights. This home is also brimming with amenities to adore—from the living spaces and the brick patio ready for entertaining to the beautiful, updated kitchen. 
What else can you buy in Seattle?
West Seattle – What Can You Buy For Under $700K
Ready to tour this Spacious Townhome? Contact us today so I can show you this Spacious Townhome in Seattle's Ballard neighborhood!