I'm Rocky Flowers with Team Diva at Coldwell Banker Bain, your expert, and educator for making your dream of homeownership come true. North Seattle is full of stunning beaches, parks, lakes, and restaurants. This area of Seattle also features homes for any budget with easy access to the Seattle core and beyond. 
So, what can you buy in North Seattle for around $600,000? Thanks to the pricing diversity of North Seattle neighborhoods you have plenty of options. Buying a home in North Seattle will help you make inroads into the Seattle housing market and allow you to start building your wealth and stability.
So, what types of homes can you buy for around $600,000 in North Seattle? Let's take a look at the current market here in North Seattle. Keep scrolling to find out.
---
What Can You Buy in North Seattle For Around $600,000? Let's Tour This Adorable North Seattle Home & See! 
I'm Rocky Flowers with Team Diva at Coldwell Banker Bain. Thank you for joining me as I show off this Adorable North Seattle Home! I'm also excited to share with you more about North Seattle's housing market. What type of home can you buy in North Seattle for around $600,000? This Adorable North Seattle Home is a great example of a home you can buy at this price point. 
In this video, not only am I giving a tour of this Adorable North Seattle Home, but I'm also sharing some important info about North Seattle's housing market. 
Home prices have been on the rise in the Seattle area for over a decade with just a few short periods of flat sales. This has translated into great difficulty for first-time homebuyers to penetrate the Seattle housing market. With the average price of a home in Seattle being over a million dollars, first-time home buyers have had to make adjustments on size and location. They have also learned to take baby steps in order to get their foot into their first home. As I have said before: The key to being happy in your home is buying the best home you can afford in the neighborhood you love. 
Fortunately, there are neighborhoods like North Seattle you can totally fall in love with, that have affordable but still adorable homes in exciting and vibrant areas.
Keep reading for info on North Seattle's real estate market broken down by condos, townhomes, and single-family homes: 
What is North Seattle's Real Estate Market Like Right Now? What Can You Buy in North Seattle For Around $600,000?
So, what can you buy in North Seattle for around $600,000 dollars? Well, many buyers have decided to start their climb to homeownership by beginning with a condo purchase. North Seattle has proven to be an opportunity for buyers to pay less to live in the neighborhood that they wish to be in. With the average condo in North Seattle priced at around $475,000, this can be the opportunity for many buyers to transition from renter to owner. However, condo life is not for everyone. If condos are not for you, that's perfectly okay—you can step it up in North Seattle, too. 
The natural progression in many cases is townhomes. Some people prefer them to condos because they usually don't have homeowners' dues. But more and more people are using them as a stepping stone, or that baby step, to graduate to a single-family home. In North Seattle, the average price for a townhome is around $750,000. This price tag is still out of range for a large segment of buyers. 
It's even more daunting when you look at the average price for single-family homes in North Seattle. That number is in line with the rest of Seattle, hovering at just over $1,000,000. But not to worry—there are plenty of beautiful "first" homes that can fit your needs and your budget. Live in your first home while you build up to your forever home, start building your investment portfolio, or just stay put and enjoy the home that works for you. 
---
What If You Are a First-Time Buyer And Your Budget is Around $600,000? What Can You Buy For Around $600,000 in North Seattle?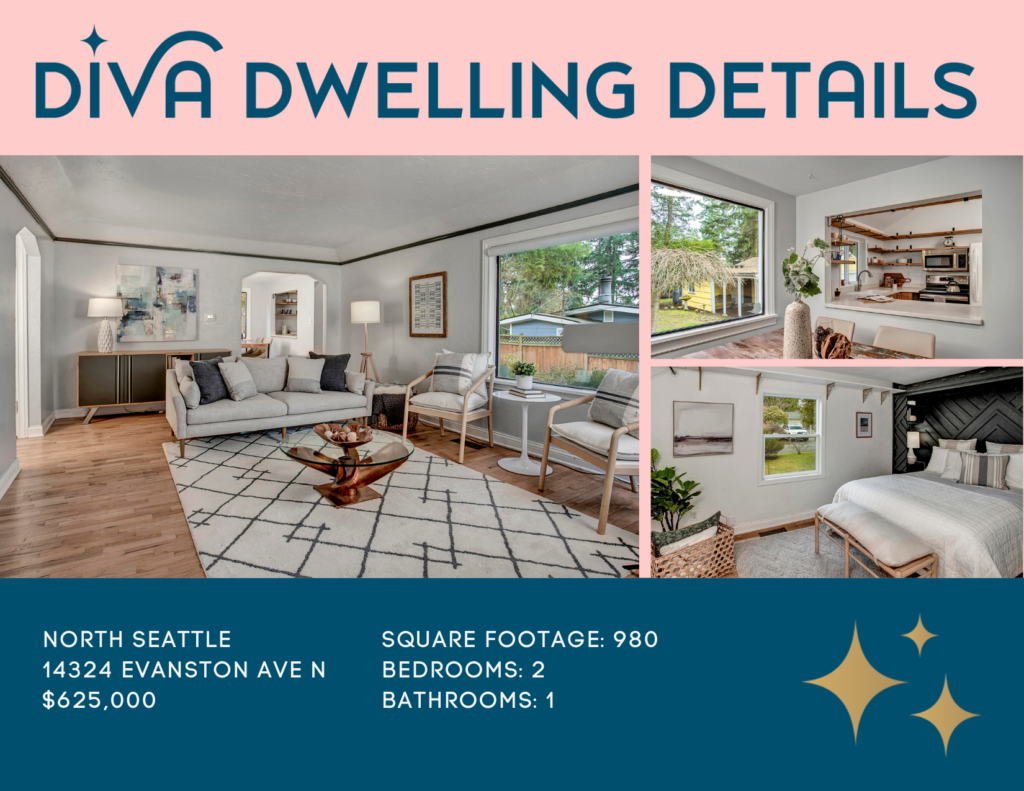 This brings me to this perfectly lovely home that I have been dying to talk to you about. The price of this amazing North Seattle home is only $625,000. As you can see, getting your foot into a home like this is an affordable way to break into the North Seattle market. I helped my friends purchase this charming home several years ago… as their very first home. Over the years it has been improved upon with upgrades and additions, as any good caretaker should do. But more importantly, it's been the place where they have built memories with friends and family they will cherish forever. Let me tell you about some of the things this family has loved about their North Seattle Home. 
Bright Sunny Lot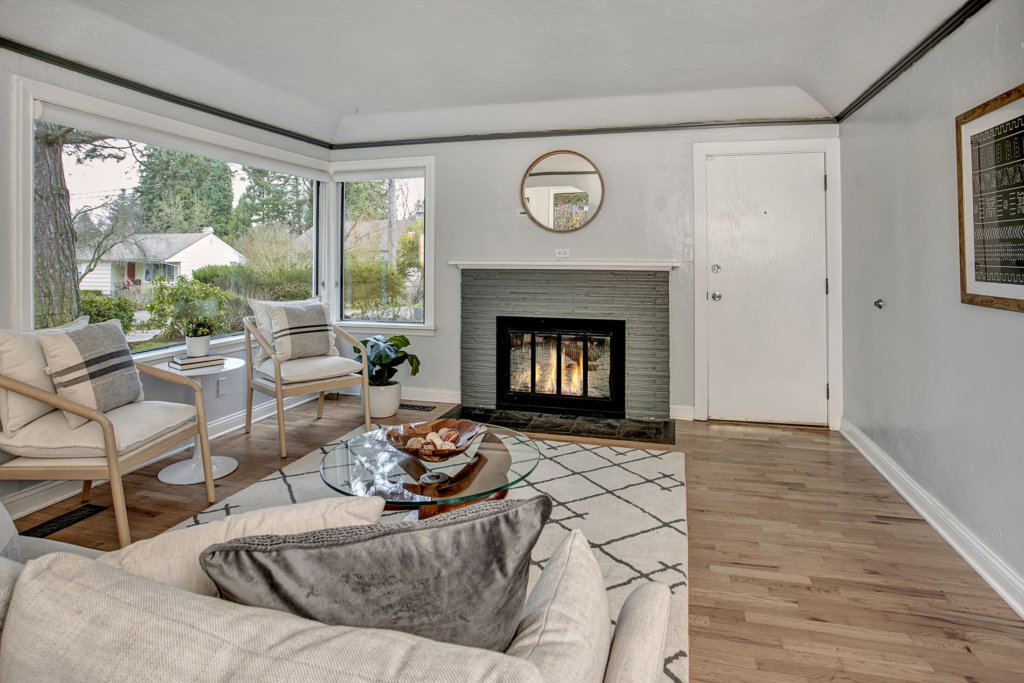 I'm from Seattle and know it well. So I know it's not the dark and gloomy place many out-of-the-area people think it is… At least not always. This Adorable North Seattle Home faces due west, and we Seattleites know this is key to getting great light. In this home, you will want to keep those curtains open and let the sunshine through the large south- and west-facing picture windows. You and your plants are going to thrive as mother nature brightens your soul and your home. 
Original oak hardwoods throughout the house add a layer of warmth no matter the time of year. Old-world details such as the wood-burning fireplace and the built-in picture hanger molding remind you this is a home with history. A bonus feature for a home this size is the dining area with room to spread out at mealtime. 
It's the dead of winter right now, but the next owners of this home are going to be delighted by what currently lays dormant in the ground right now. Tulips, daffodils, and other flowers will be blooming in the garden in just a few short months, bringing smiles and cheer to your life. Along with sunlight and flora, the character and charm of this house and the surrounding canopy of majestic trees give you the feeling you are in a cottage nestled on the edge of the woods. 
Many Home Improvements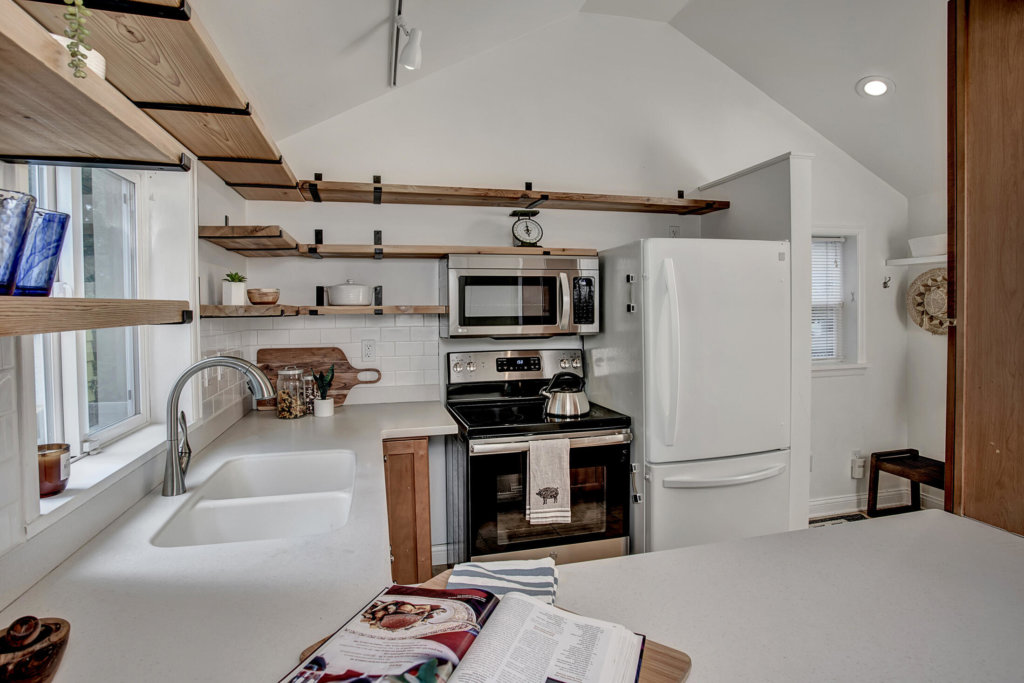 Think back to when I said these caretakers have improved upon this North Seattle Home. Well, you are in for a treat, because the decisions they made have only enhanced the living experience here. Whether the improvements are functional, aesthetic, or just plain practical, the new caretakers are going to be fortunate to realize the benefits. One thing a lot of first-time homeowners don't have top of mind is that homes need to be maintained. Upgrading and/or replacing systems and appliances is a part of home ownership. This home has the benefit of recently having a new furnace and brand new main water line installed. Those are two major expenses the next caretakers won't have to worry about. They have also upgraded the water heater system to operate safely and efficiently. 
But then there is the fun stuff. While the kitchen was added and upgraded by previous owners they overlooked or undervalued the simple, modern convenience of a dishwasher. I know it is pretty standard in homes built today but not all homes of this age and price come so well-equipped. The current owners rolled up their sleeves and brought this kitchen into the 21st century by adding the dishwasher and installing open shelving with new tile to maximize space and incorporate a modern aesthetic.
Home Office Space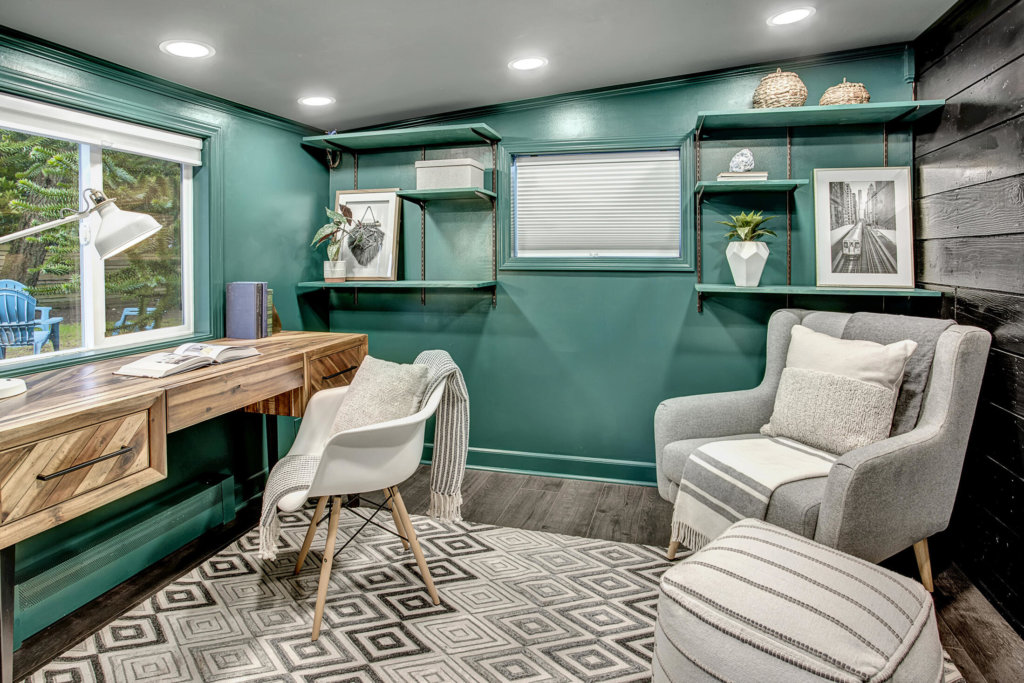 Times change, and for the last two years we have been dealing with a world crisis that has changed our way of life. There are two things that today's buyers are consistently looking for that weren't as important before. I'll start with the first: office space. Not everyone can sacrifice a bedroom to substitute as office space. Sometimes you have to think outside of the box and make the space you have available work for you. When the need arose for these homeowners for a home office, they once again rolled up their sleeves, and converted some extra space near the garage into a spiffy home office giving them a 30-second commute. Fully heated and insulated this space is wired to be the perfect office away from the office. You and the rest of your household can enjoy the privacy and comfort of a professional office space onsite. 
Dreamy Outdoor Space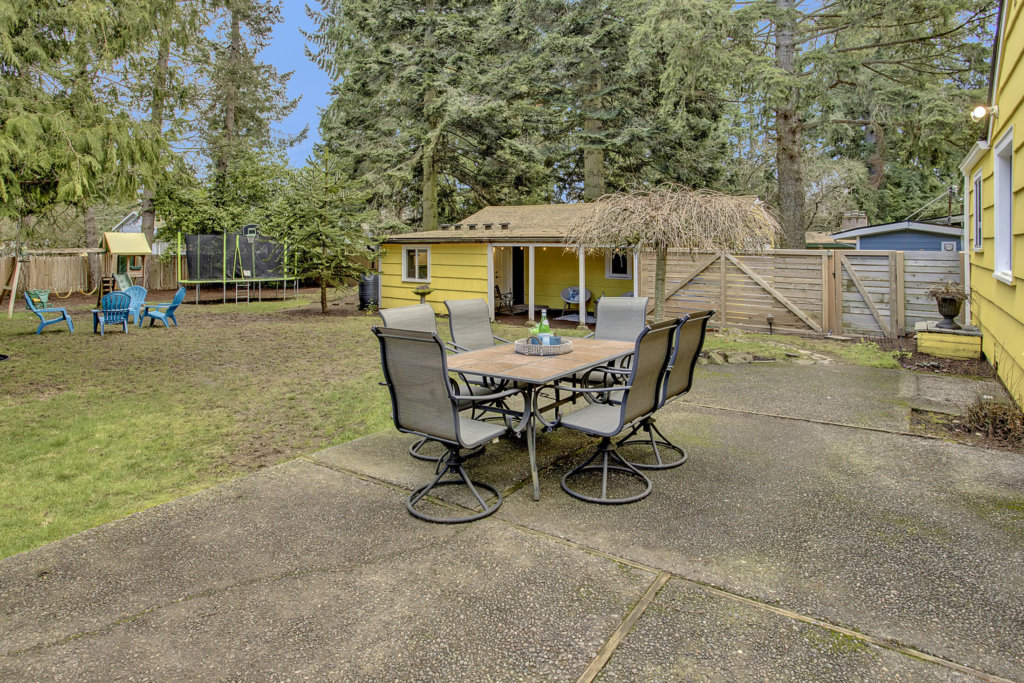 Now earlier, I said there were two things that have been in high demand from buyers the last couple of years. The first being the office space I just talked about, the second is outdoor space, really, of any kind. Outdoor space is one of the amenities this property has an abundance of. The house itself sits on a quarter acre. And the yard has room for just about any activity. 
In the front of the house is truly a gardener's paradise. Let your imagination fly. The backyard is not only perfect for entertaining but is a playground for the young and old at heart. The property is the perfect place for warm weather get-togethers. The patio space is ideal for picnics, and casual evening dinners year round. One of the best activities is to share stories and laughs around the firepit, whether it's in the chill of winter or on some of those wonderful Seattle summer nights. One of my personal favorite memories here was when the owners hosted a "Summer Olympics" of field games with sack races, human hungry hippo, and so much more. The property also includes plenty of parking and a 2-car garage that is easy to set up as a workshop. 
What Can You Buy For Around $600,000 in North Seattle? Let's Take a 3D Tour
Team Diva takes every precaution, and then some, to make sure all of our homes are listed following all COVID precautions. It is our duty to ensure everyone's safety as you enter one of our listings. You can also feel free to take a virtual tour from the comfort of your couch!
Curious to learn more about our latest safety precautions? Read "Team Diva's COVID Safety Protocols for the Delta Variant" here!
---
Lovely North Seattle Location Surrounded by Nature & Convenience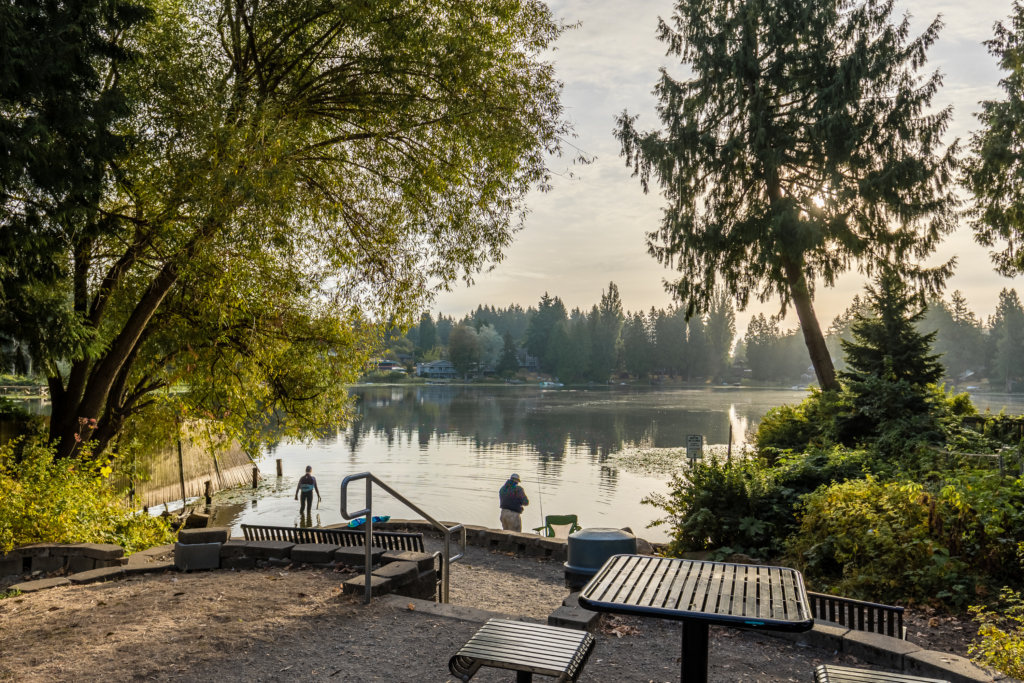 Location is always a factor. North Seattle is an area of the city that is hard to beat. Some of the great things about the immediate neighborhood are its parks. The Bitter Lake P-Patch is just a few blocks away and is a great place to take a stroll and meet your neighbors to trade gardening tips. The nearby Llandover Woods Walking Trail is a beautiful trail with many opportunities to spot native wildlife such as the Pileated Woodpecker or even mountain beavers. For those golfers out there, the Seattle Golf Club is blocks away so you can make just about any t-time. Carkeek Park and Green Lake are the perfect places to ride your bike and enjoy the water and catch Seattle's famously beautiful sunsets. 
What is equally important about any location is accessibility. This North Seattle home is close to great transit, as several bus routes including the E Line are just a few blocks away. Aurora/Highway 99 gives you direct access to national and local businesses such as Lowes, Safeway, and Sprouts Farmers Market. Tasty restaurants such as Saltoro and El Camion are great for an exciting evening with great food. I-5 is five minutes away so if you have to commute north or south it's a total breeze. Not only is the Northgate area the center and heart of North Seattle with all of its shopping, business, and restaurants. But it is home to the latest extension of the light rail and is a gateway to all the Seattle area has to offer. 
Check out some of the other great North Seattle homes we've sold:
---
How to Buy a Home in Seattle: The Entire Process in Brief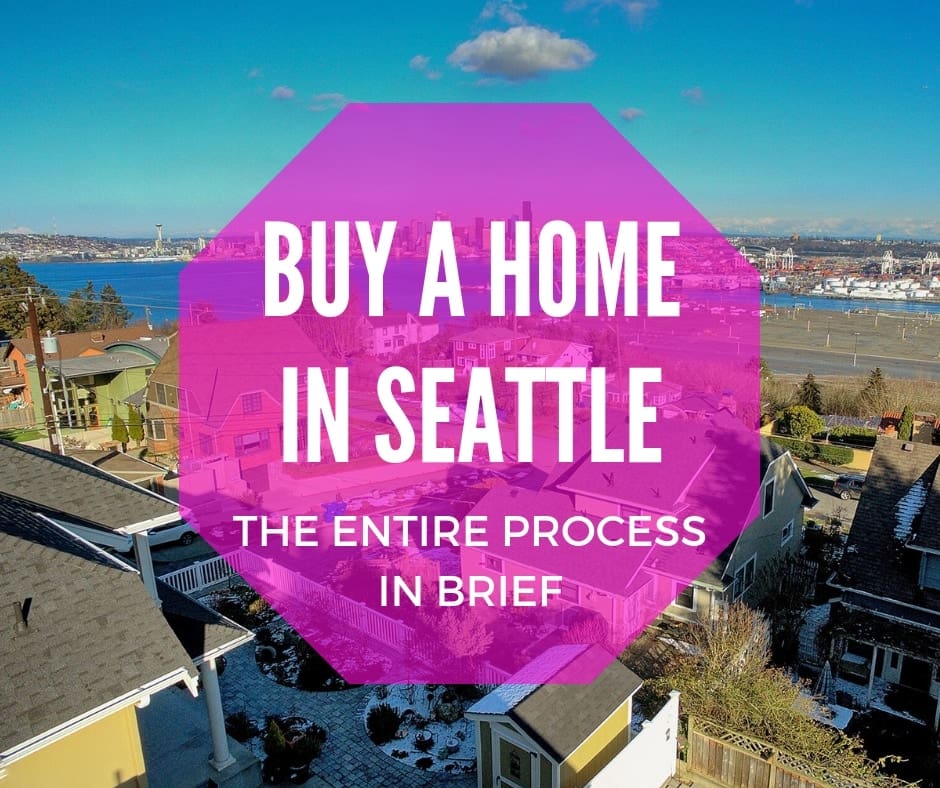 Let's get down and dirty. Owning a home in Seattle is an amazing experience and it can be fun. Do not listen to all of those cranky folks who think Seattle is not what it used to be and a middle-income owner cannot afford to buy a home in Seattle. Strap in, get yourself some strong Seattle coffee and learn how to be a smart and savvy home buyer in Seattle.
Steps For Buying a Home in Seattle
Find Your Guide: Find an agent that is super savvy and will be your ultimate navigator.
Choose Your Priorities: Size, Condition, Or Location?
Home Buyer Intake Process: Schedule a sit-down meeting with you and your real estate team to dive into what you want in a home.
Financing: Get your financial house in order.
Big Search: The big home search in Seattle
Making an Offer: Know what you need and how to prepare yourself to make an offer.
You Are In Contract: You've signed on the dotted line. Now… the hard work really starts.
Inspecting Your Home: What to look for, how to hire an inspector, and how to respond to the inspection.
Reviewing The Title Report: The title report is often the most overlooked portion of the buyer's review.
Reviewing the HOA/Resale Certificate (for Condos): …Also an overlooked portion of the buyer's review process.
Appraisal Process: Most homes are purchased with a home loan. The appraisal determines the final value by your lender for your home.
Final Loan Approval: All kinds of things can come up during the final loan approval process, so be prepared.
Final Two Weeks of the Process: Walkthrough, inspection resolution, and (for god's sake) do not make a huge purchase on a credit card.
Signing Your Final Homeowner Documents: You made it!
Closing Day: You get the keys and access to your home.
This is just a starting point, and we have so much more to share about the home buying process. Browse our Home Buyer page for a comprehensive home buying education.
---
What Can You Buy For Around $600,000 in North Seattle? Thank You For Taking Our Tour To Find Out!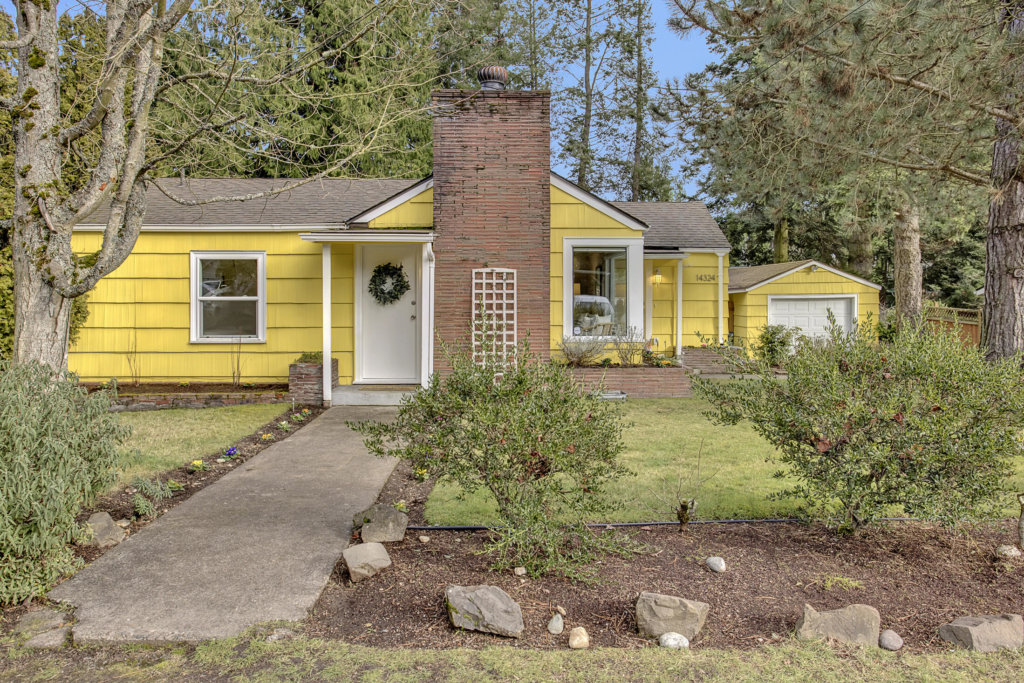 Thank you for spending your time with me in this cute and affordable North Seattle Home. I'm privileged to be able to show what you can buy for around $600,000 in North Seattle. If you're familiar with North Seattle's real estate market, you can see why this Diva Dwelling is such a rare find at the price point. Not only is this Adorable North Seattle home on a sunny lot with great outdoor space, but it also features many home improvements and even a home office. Thanks so much for tuning in and checking out this North Seattle home with me today! 
All the Good Details
Address:

14324 Evanston Ave N

MLS#

1884382

Square Footage:

980

Bedrooms:

2

Bathrooms:

1 

Offering Price:

$625,000 
Ready to tour this Adorable North Seattle Home? Contact us today so I can show you how this single-family home checks all of the boxes of what the classic North Seattle buyer is looking for!