This Green Lake Townhome is in a great location that will soon be even more in demand. The old adage "location location location" in real estate is really about the investment potential. At Team Diva, we match make home buyers based on their priorities, and the location is just one of the big three (Size, Condition, Location).
That said, when we see a property that is a great investment, we take notice. The expansion of light rail around Seattle is creating hot spots, where residences will see the increased value and new businesses will develop. In some cases, buyers will be playing a waiting game. At this Green Lake Townhome, the location is already stellar.
Let's Tour this Fab Green Lake Townhome 
It's easy for Rocky to gush about this fab Green Lake townhome—what's not to love? The townhouse itself is a stylish, comfortable place to live, and you've even got your very own cute outdoor getaway that's ready to be transformed. But not only do you have your own private spaces to hang out in—a whole world is right at your fingertips thanks to this townhome's prime Green Lake location.
---
A Five-Point Look At This Fab Green Lake Townhome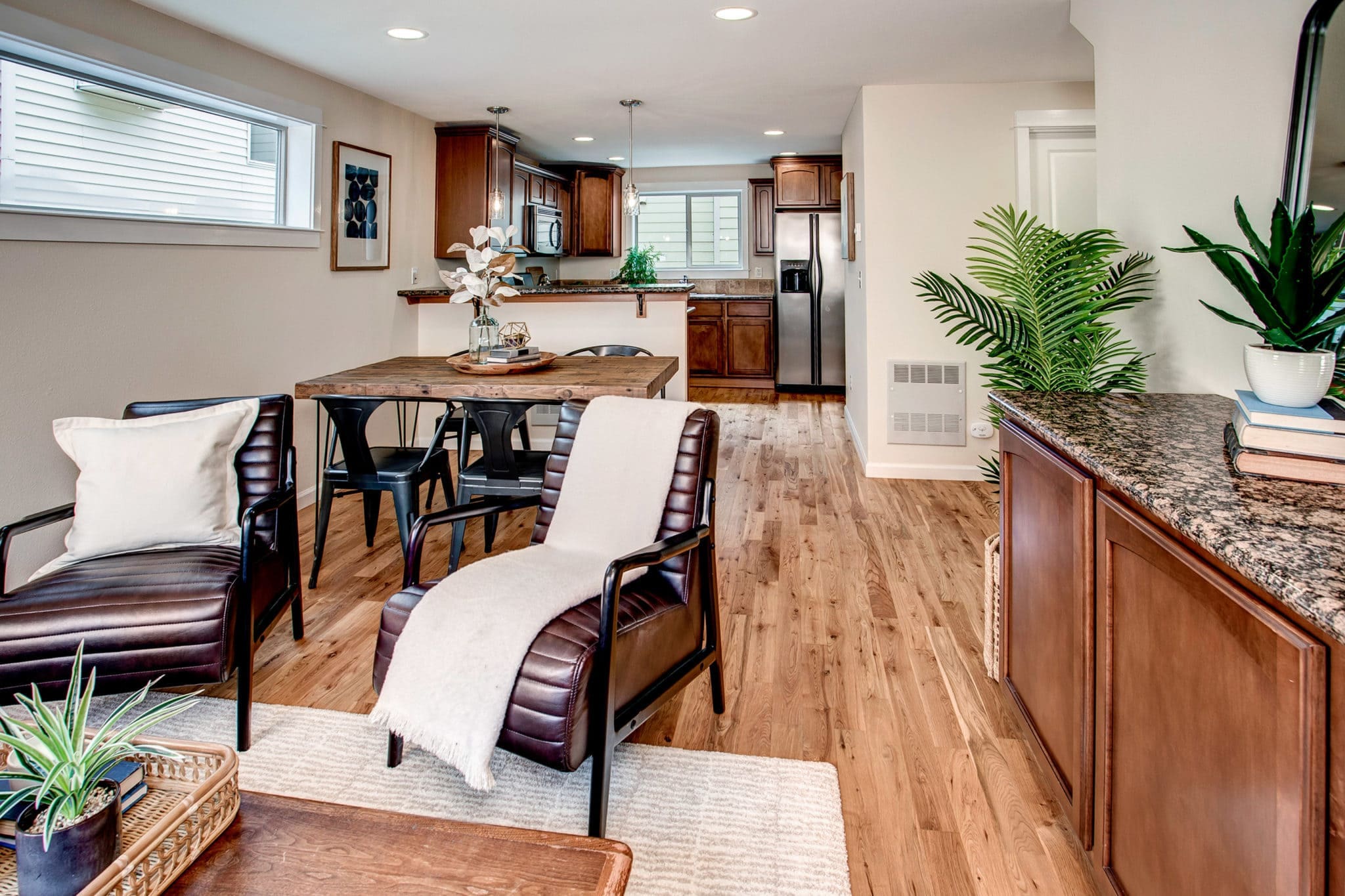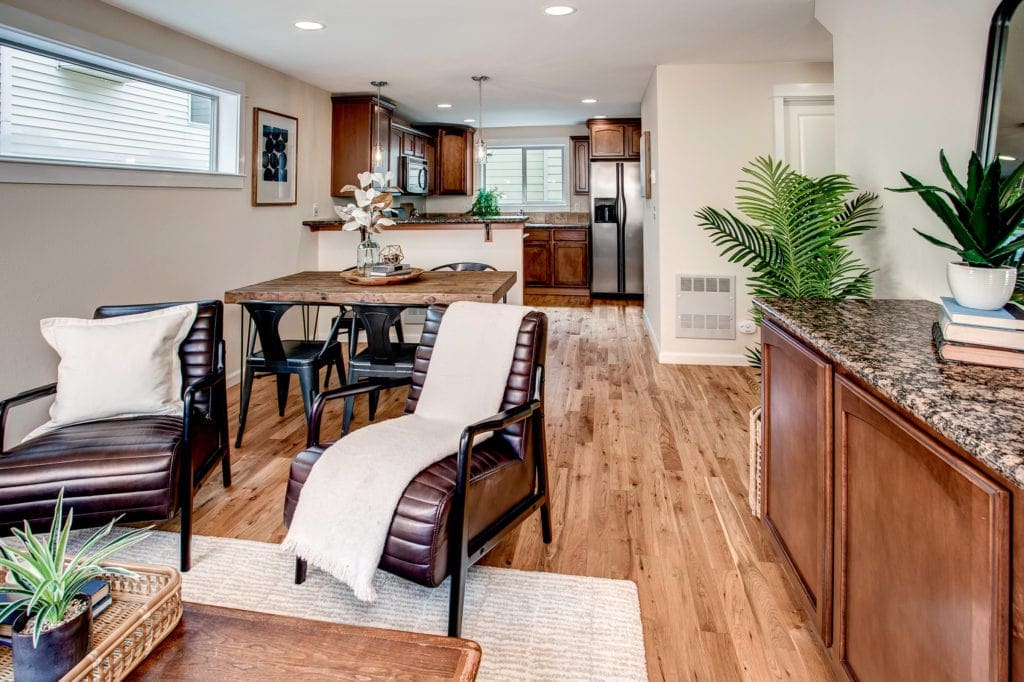 From the moment you arrive home, this Fab Green Lake Townhome delights. This urban beauty has its own attached garage that you can easily access from the alley, so you don't have to worry about finding a parking space! If you've lived in Seattle for a while, you know that finding parking can be a challenge, so having a spot all to yourself is a true luxury.
After your stress-free arrival, the rest of this townhome promises easy living and space for all that life brings your way. Here are 5 of our favorite things about this Seattle townhome:
Relax & Entertain Right From the Comfort of Home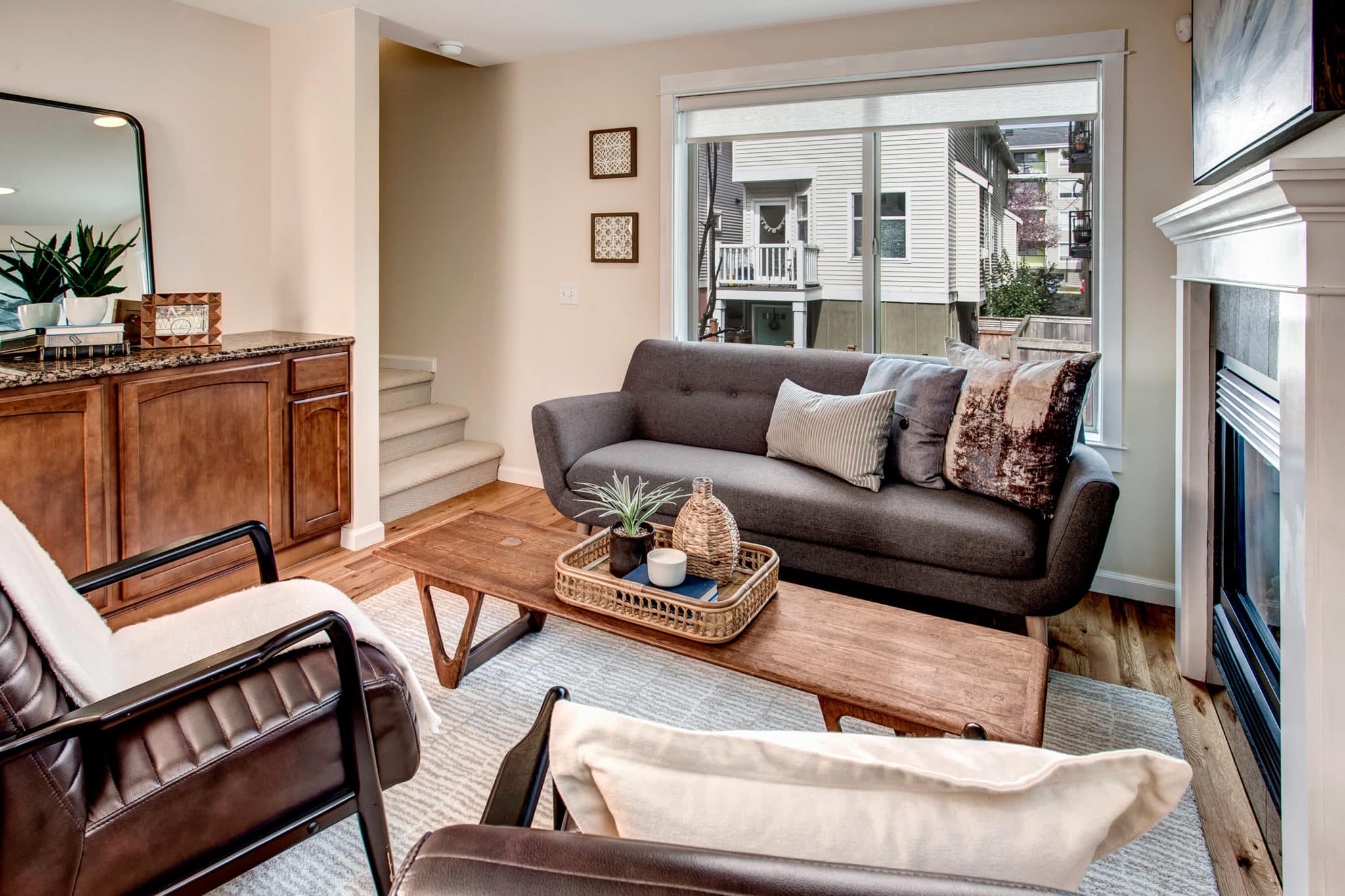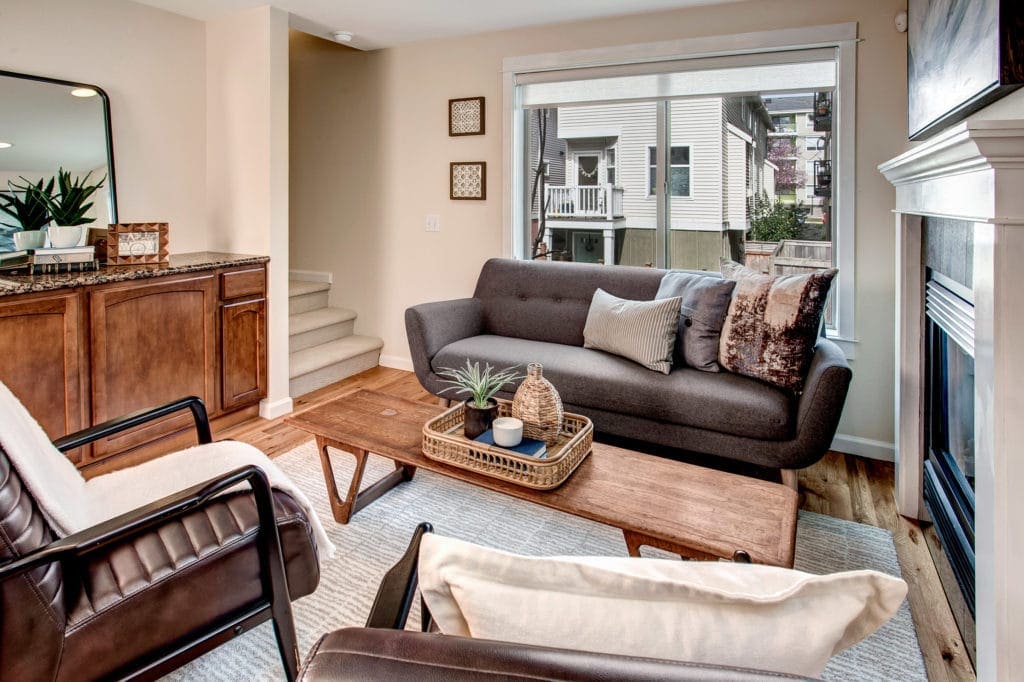 Okay! Let's talk about this house. We absolutely love the open layout on the main floor of this Green Lake Townhome. It will be so wonderfully cozy in cooler months, thanks to the gas fireplace in the living area. And when you are receiving guests, this setup is great for entertaining and cooking up a feast.
This kitchen is fully equipped with stainless steel appliances and granite counters. The large pantry has plenty of room for dry goods, supplies, and gadgets. The arrangement allows for perfect flow from the kitchen, to the dining area, to the living area.
Two Bedrooms Ensure Ease & Flexibility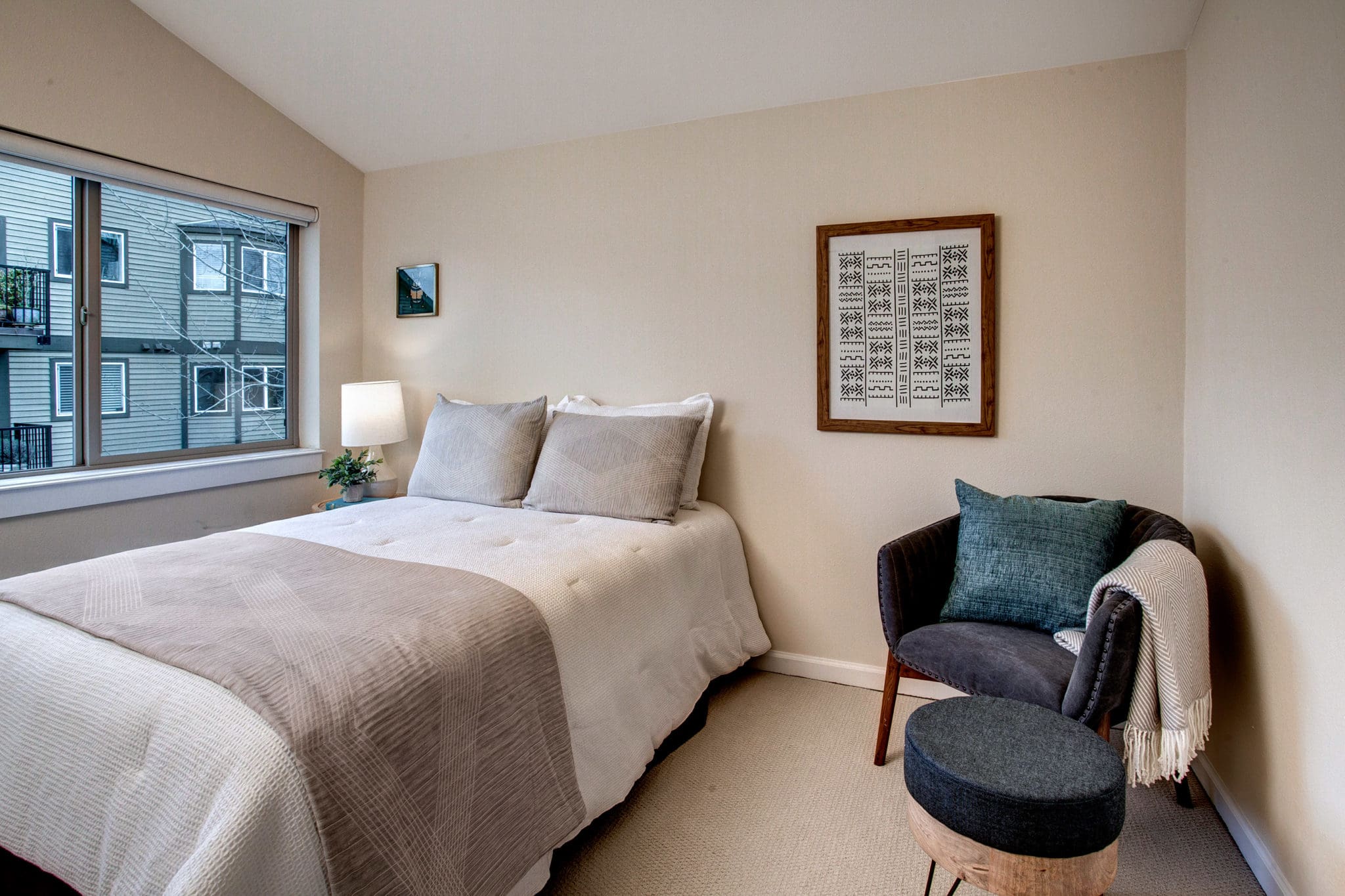 One big lesson many of us learned from quarantine has been that private workspaces at home are a definite must! The second bedroom in this Green Lake Townhome is large enough to do double duty as a guest room and office space.
Flex spaces are a wonderful surprise in any home. We love dreaming up what we would do with them and we've seen so many variations to fit the needs of the person creating it. What would you do with this space?
A Natural Space in Your Own Backyard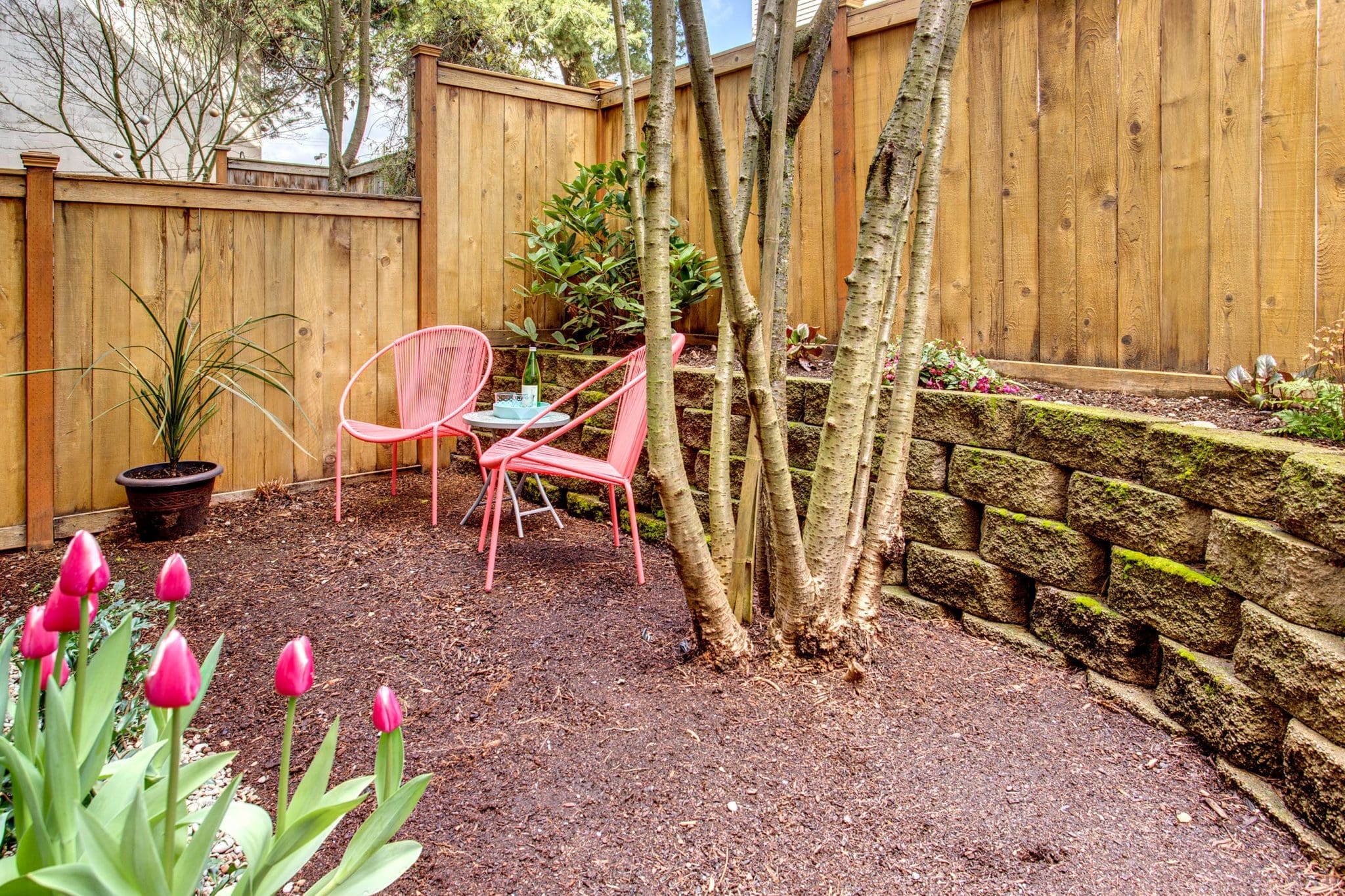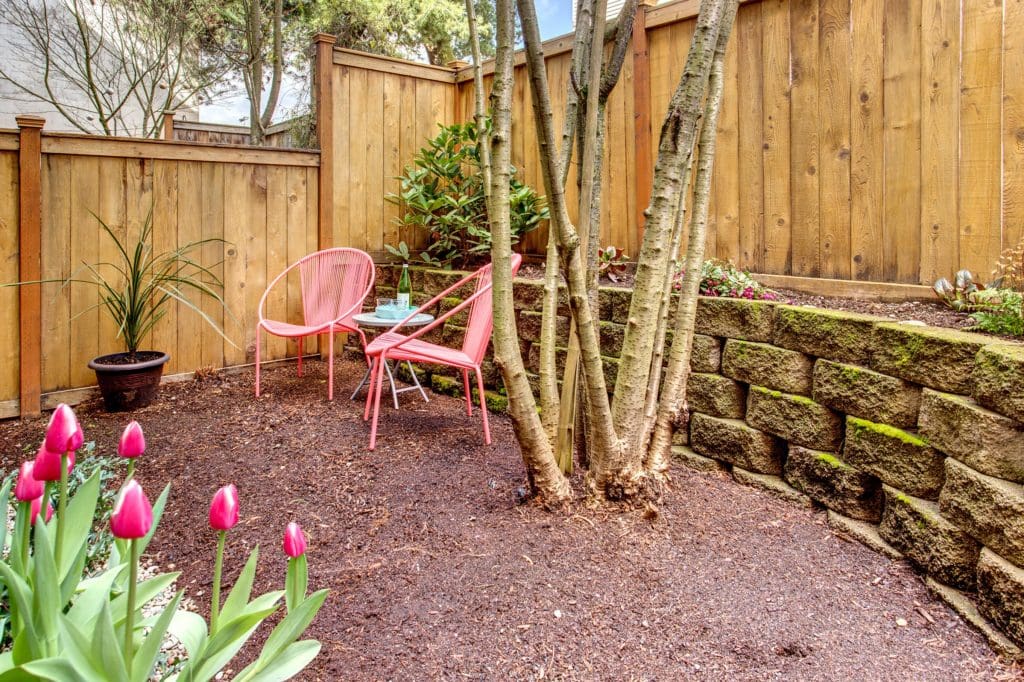 Not everyone wants to maintain a huge yard, and that is part of the appeal of condos and townhomes. However, quarantine has also taught many of us the importance of having a little outdoor sanctuary. Pandemic or not, having a natural space where you can enjoy al fresco dining, read a book out in the fresh air, or do some container gardening is a major perk of any living situation!
This Green Lake Townhome has a wonderful private shade garden at back. It's mostly mulched and easy to maintain, but you could easily put in some shade-loving blooms and herbs. Open the door in the spring and summer and let the fresh air in, and take your morning coffee out in just your bathrobe.
This Fab Green Lake Townhome is Connected to it All Thanks to the Light Rail, Coming Soon!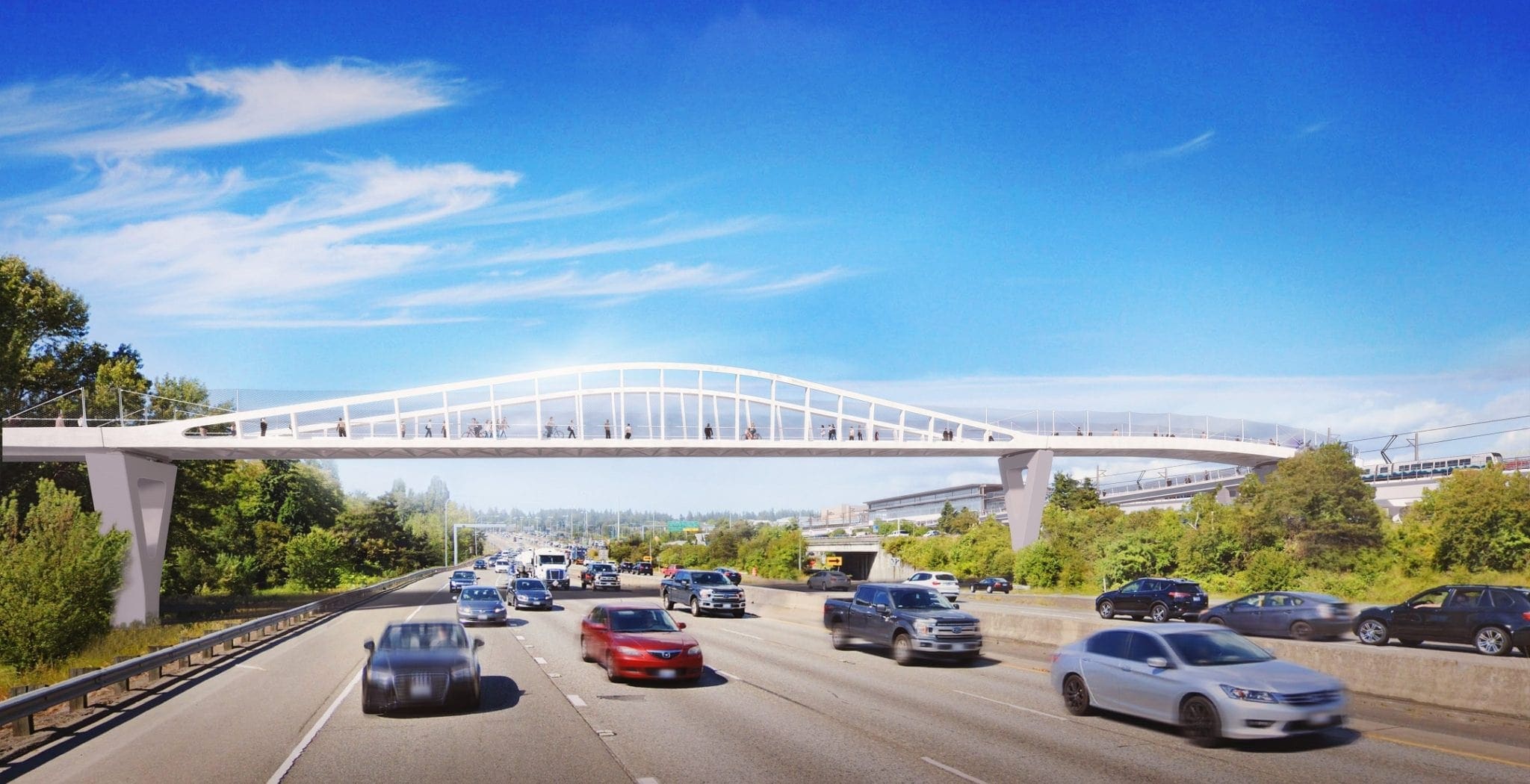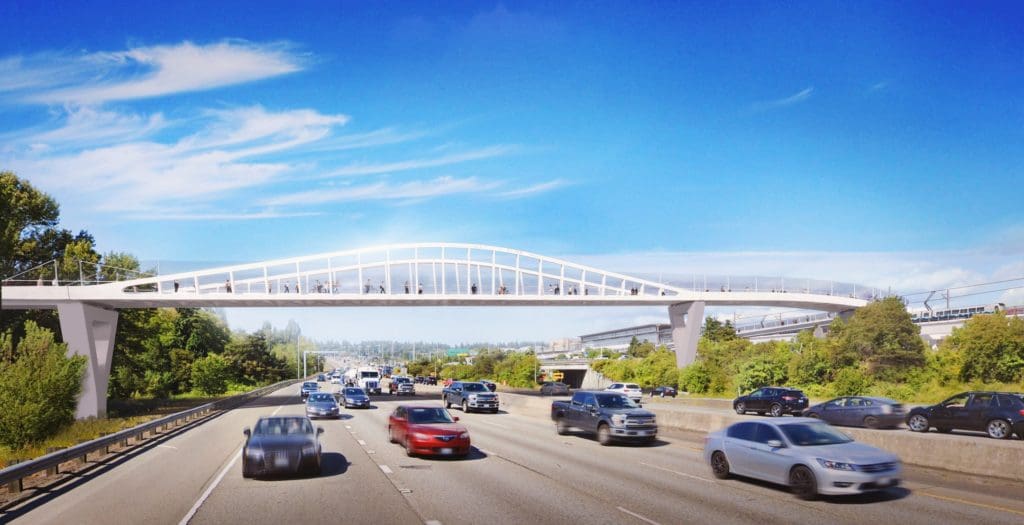 Let's take a little reverse approach and talk about the near-future buzz in this location, and then talk about the present. The demand for homes around transit hubs is only rising in urban areas. People are trying to drive less, walk more, and maybe even avoid using a car in town altogether. The light rail system is expanding north and south AND east and west, making every hub all the more desirable.
This Green Lake Townhome is just a few blocks from the future Northgate Pedestrian Bike Bridge, which will connect neighborhoods across I-5 to the new Northgate Light Rail Station opening in late 2021. This fast, easy way downtown (and beyond), will be a game-changer for North Seattle residents, and you'll be just the right distance from it.
An Already Stellar Green Lake Location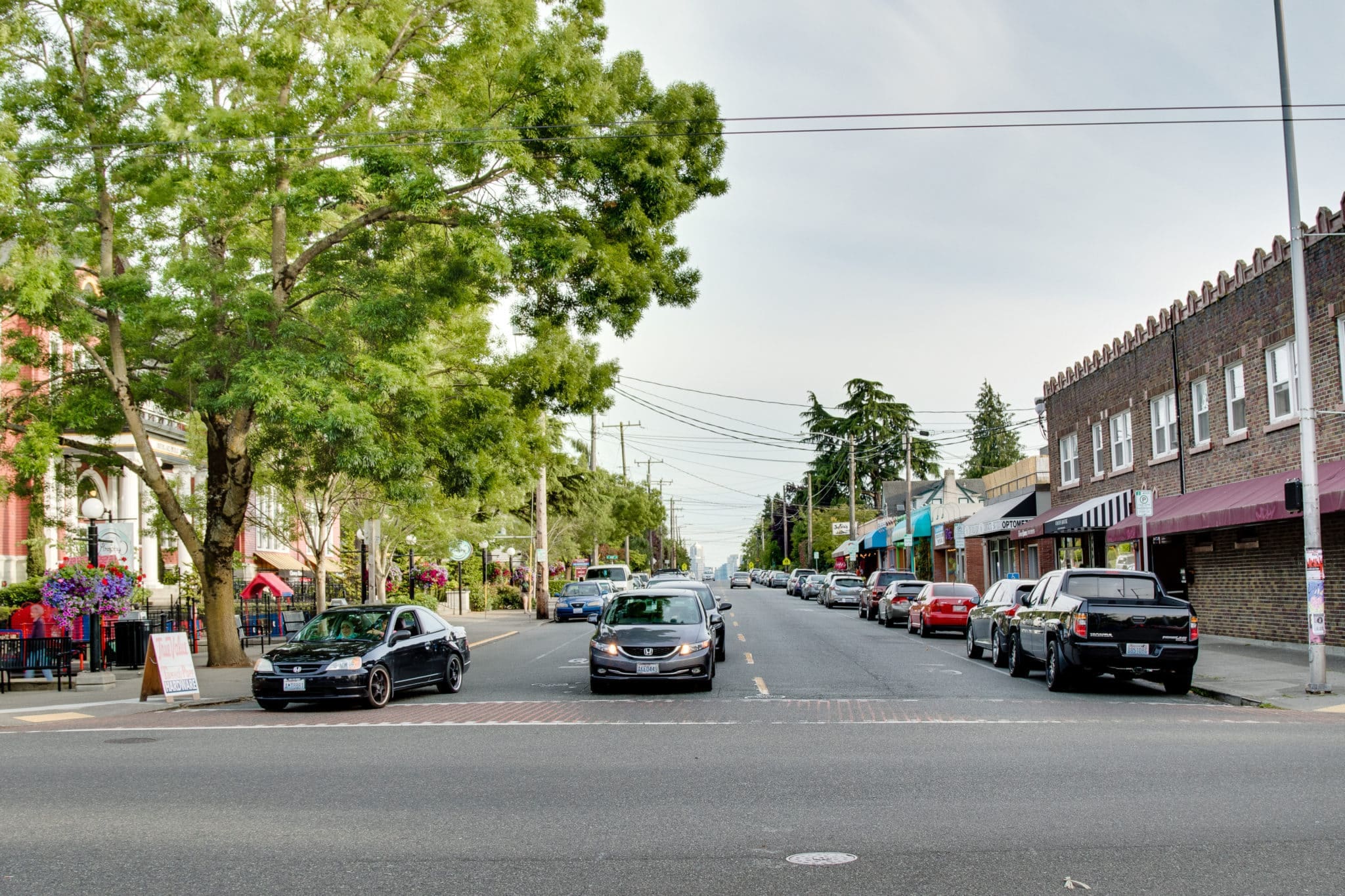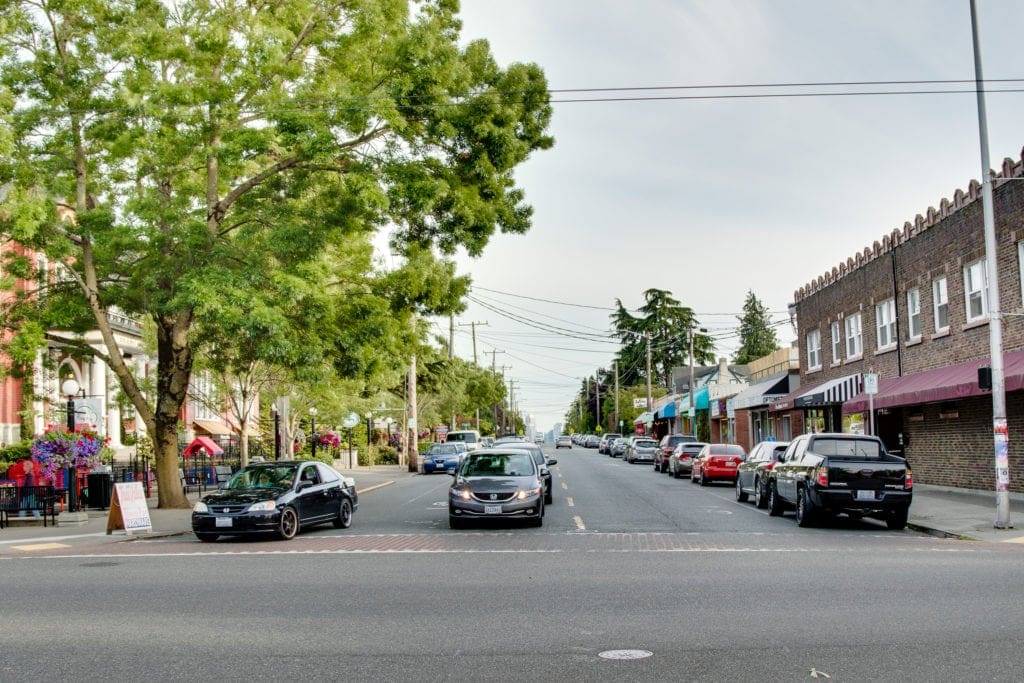 For every listing, we spend time talking about the highlights of the neighborhood. We'll rave more about Green Lake itself in a bit, but this location really is about more than its immediate surroundings.
There is so much destination dining and shopping north of Lake Union. The whole area is dotted with commercial hubs and charming main streets, each with its own attractions and charm. Because his Green Lake Townhome is centrally located, you have easy access to all of it.
For central Seattleites, Wallingford, Ballard, and of course Northgate itself are some of the major destinations. A lot of folks have yet to explore the boisterous scene in Greenwood or the small-town vibes of Maple Leaf.
And that's just the commercial side of it. There are parks and outdoor activities galore in every direction… although Green Lake itself is hard to beat for a quick outing.
Take a Virtual Tour of This Fab Green Lake Townhome
Team Diva takes every precaution, and then some, to make sure all of our Diva Dwellings are listed following all COVID-19 safety precautions. It's is our duty to ensure everyone's safety as you enter one of our listings, but feel free to take a virtual tour from the comfort of your couch.
---
More About The Neighborhood: Green Lake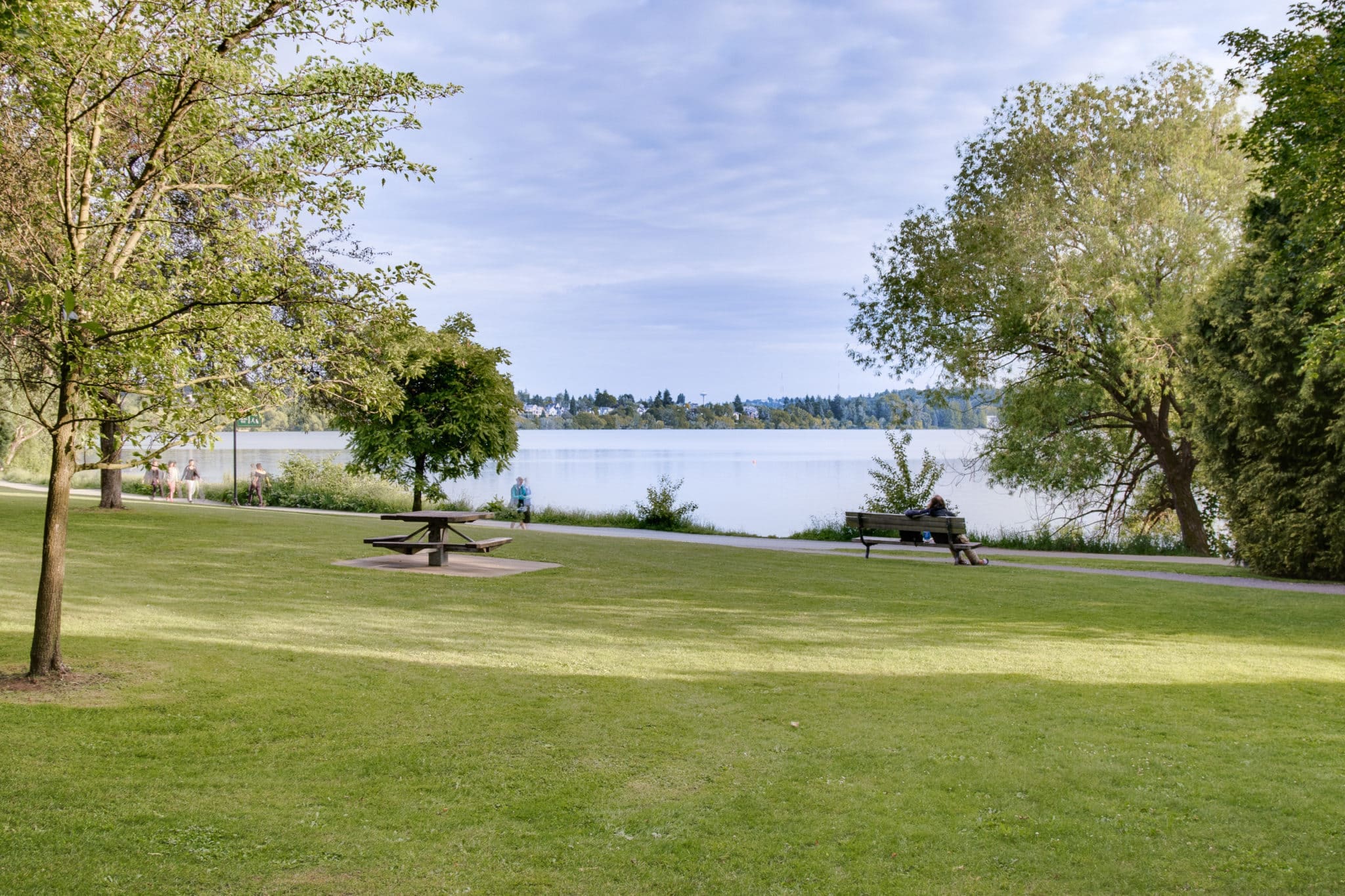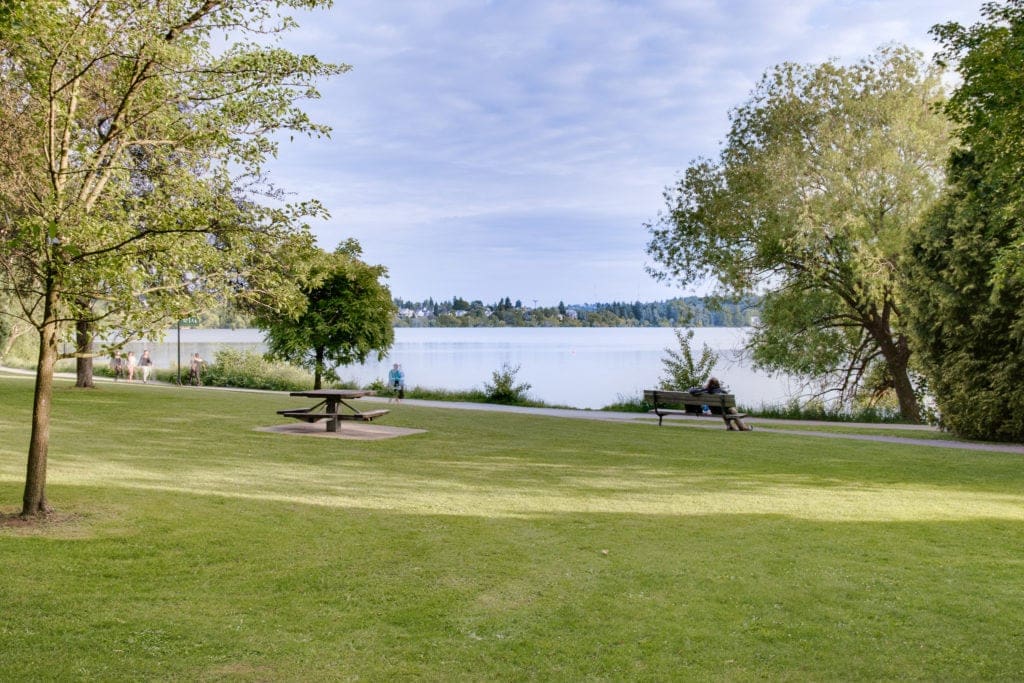 Green Lake is a favorite destination for Seattleites in warmer months for many reasons. There are tennis and basketball courts, soccer and baseball fields. The big paved loops around the lake itself are a perfect place to stroll, rollerblade, or jog. The ample grassy surroundings have large play areas and shady knolls and pavilions for picnics. There are boat launches for folks who want to get on the water, and places to dive in for people who want to get in. (Yes, Green Lake is in fact rated safe to swim in, though some people balk at the idea. And because it is shallow and small, it is warmer compared to many other regional lakes.)
Even in cooler months, there are activities at the Green Lake Community Center in the park. Residents come for the gym, indoor swimming pool, and regular events. Green Lake Park is contiguous with Woodland Park, too, surrounding the Woodland Park Zoo, the fantastic rose garden, huge off-leash dog play areas, and more.
And indeed, there is so much more to check out in Green Lake's shops, cafes, bars, and eateries. Forza Coffee is famed for its gourmet espressos, and Nell's for gourmet cuisine. For more casual digs, try TangleTown Public House or Tapas Lab.
---
Get The Deets On Buying A Townhome In Seattle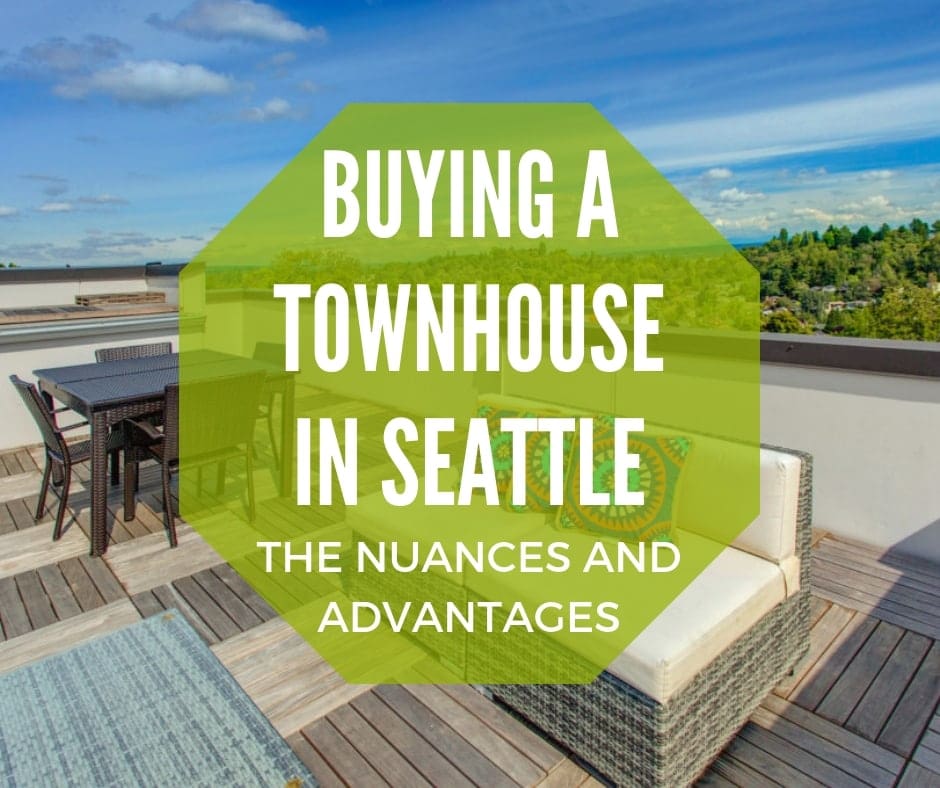 From a process standpoint, buying a townhome in Seattle is no different than buying a Single Family Home. However, the joint maintenance documents found in your title report require additional review. Read our blog post on the nuances of buying a townhome so you can complete the transaction confidently.
When you are done with that, our Seattle Home Buying page will let you read up about lots of other related topics.
---
Thanks for Touring Our Fab Green Lake Townhome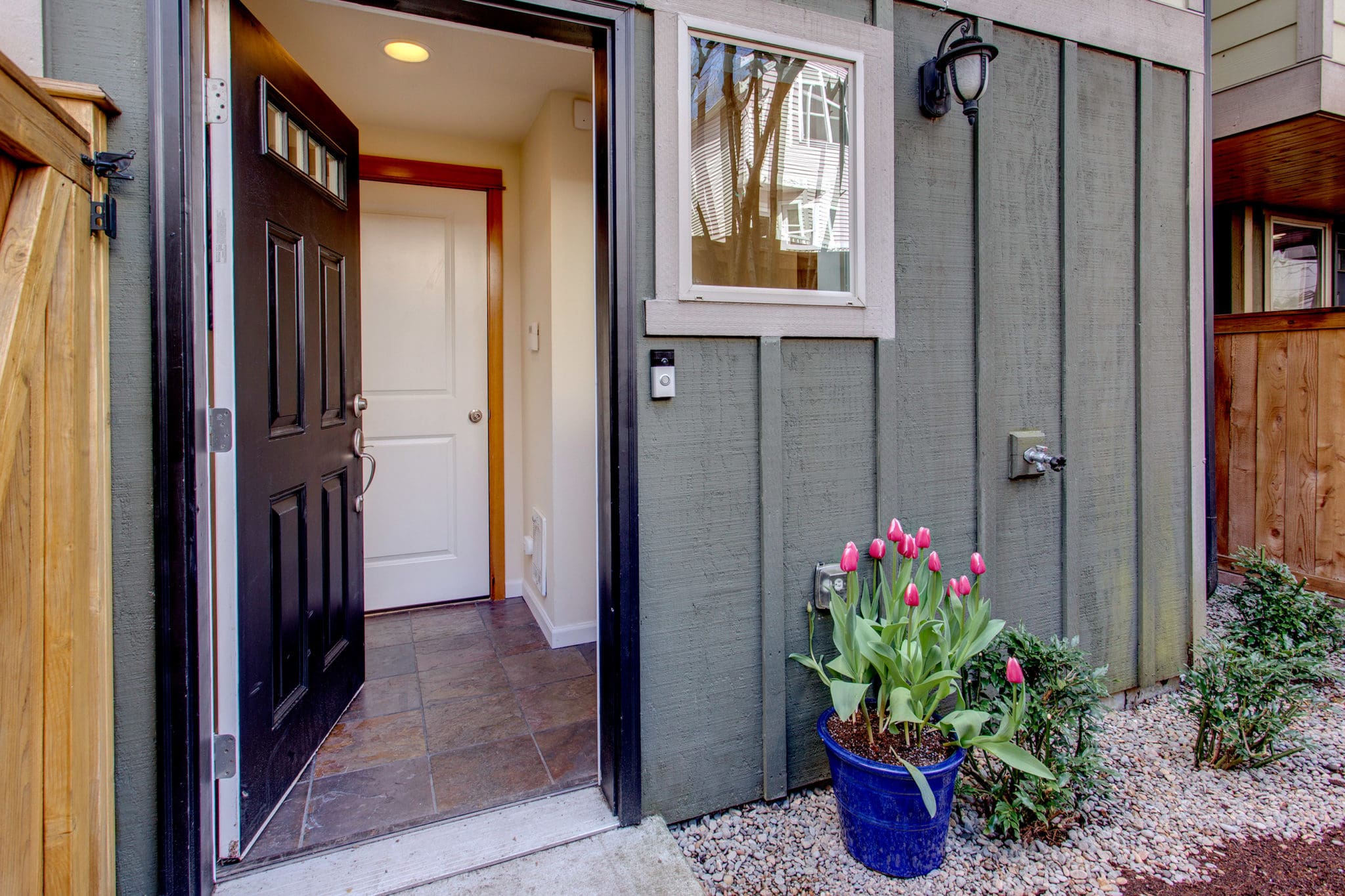 Thank you for taking the time to learn all about this fab Green Lake townhome and its comfy living spaces, the flexibility its 2 bedrooms affords, its lovely outdoor space, the excellent transit options, and its stellar Green Lake location. 
Address: 1122 N 92nd St #C
Square Footage: 920
Bedrooms: 2
Bathrooms: 1.5
Offering Price: $495,000

Ready to tour this Fab Green Lake Townhouse in person? Contact us today so we can show you my five favorite features about this home: the great layout, the 2 bedrooms, the lovely outdoor natural space, the incredible access to transit, and the Green Lake neighborhood that's packed with top-notch amenities.