Welcome to wonderful Wedgwood! This well-established Seattle neighborhood is packed with tree-lined streets, unique mid-century homes, and small restaurants, cafes, and coffee shops. And tucked away in Wedgwood is our newest Diva Dwelling. Join me to explore this Mid-Century home's best features; the grand living room, its spacious entertaining deck, the woodland-style backyard, and, last but not least, the expansive owner's suite.
Let's Tour This Wedgwood Mid-Century Home
As most of you may know, I absolutely adore Mid-Century homes, and this Wedgwood retreat is no exception. Check out this video, hosted by yours truly, Kim Colaprete with Team Diva at Coldwell Banker Bain, for an in-depth tour of this Mid-Century home. 
This video tour gives me a chance to really show off my top favorite features of this Diva Dwelling. Those who love to entertain are really in for a treat—a grand living room and a spacious entertaining deck await! Host get-togethers all year long with ease. When you need to relax, spend time out in the woodland-style backyard; keep things simple, or put your imagination and green thumb to work. And finally, unwind in your expansive owner's suite (and don't miss the perfect home office nook!). I also love the Wedgwood neighborhood—it's one of Seattle's best-kept secrets! 
---
5 Highlights of this Wedgwood Mid-Century Home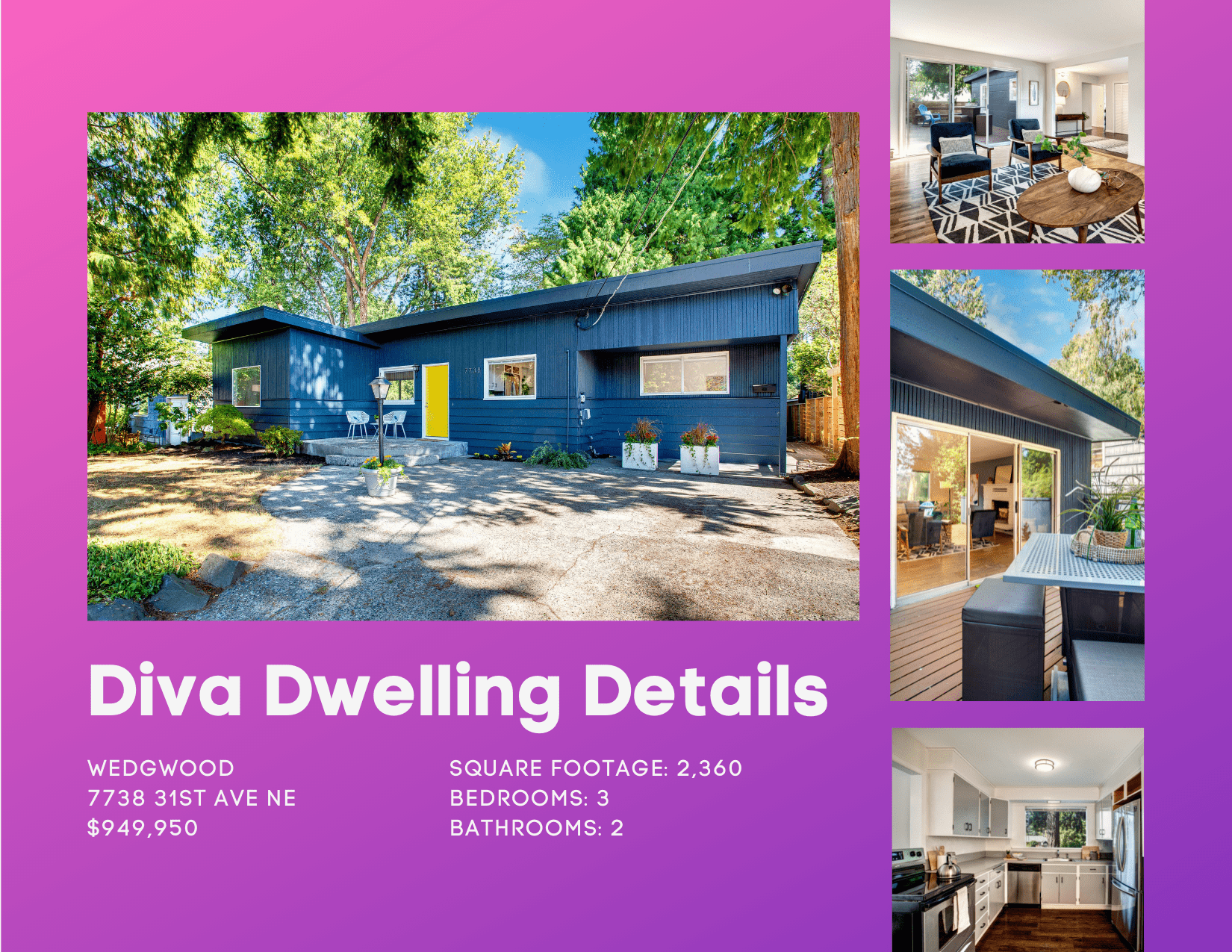 Thank you for joining me on a tour of this Wedgwood Mid-Century Home! Keep scrolling to see the 5 major highlights of this Diva Dwelling full of possibilities.
Grand Living Room is Ready For it All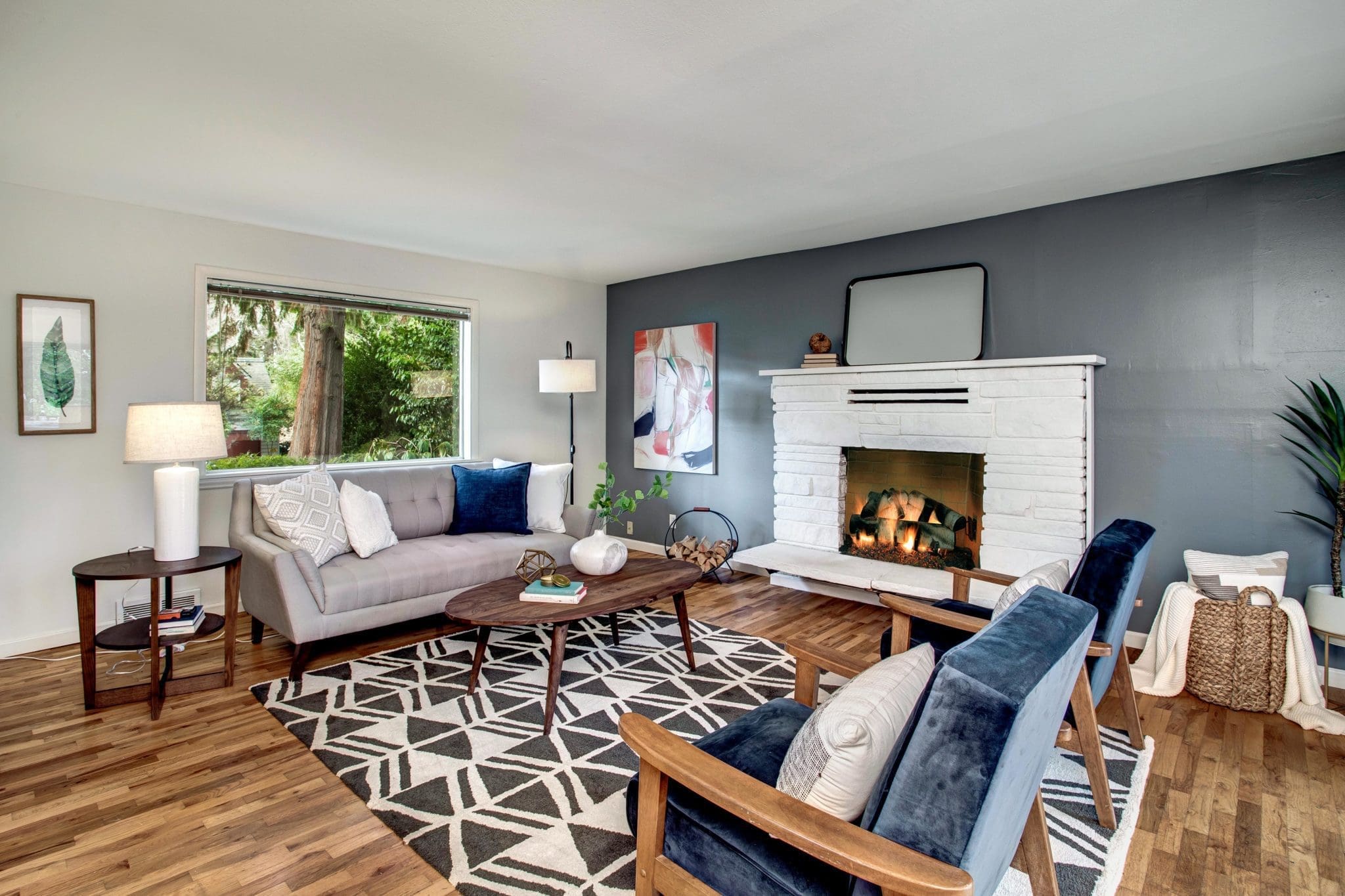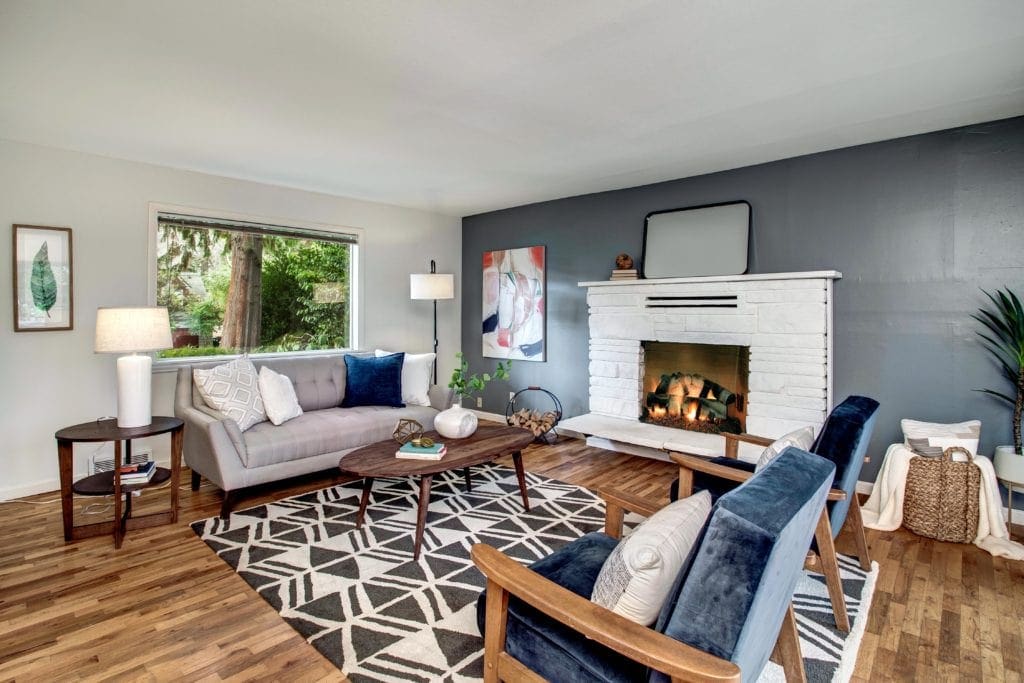 Having a gracious living room is a huge plus for most homeowners. This grand living room is ready for anything and everything — there's space for couch cuddling, game playing, TV watching, and hosting gatherings. A wood-burning fireplace is at the center of it all, ready to warm your bones on chilly winter nights! Who wouldn't love to get a blazing fire going and warm up some hot cocoa to watch the first snowflakes begin to fall? Or simply spread out on the couch on those down-pouring days for some binge TV watching. Maybe set up the card table for a rousing game of Uno.
Regardless of how you choose to spend your time, there is plenty of space to relax, gather, and enjoy! Before hot cocoa and blazing fire season set in, you have direct access to the spacious deck and woodland backyard to soak up the last bit of warm weather fun.
Let's Talk About This Wedgwood Mid-Century's Spacious Entertaining Deck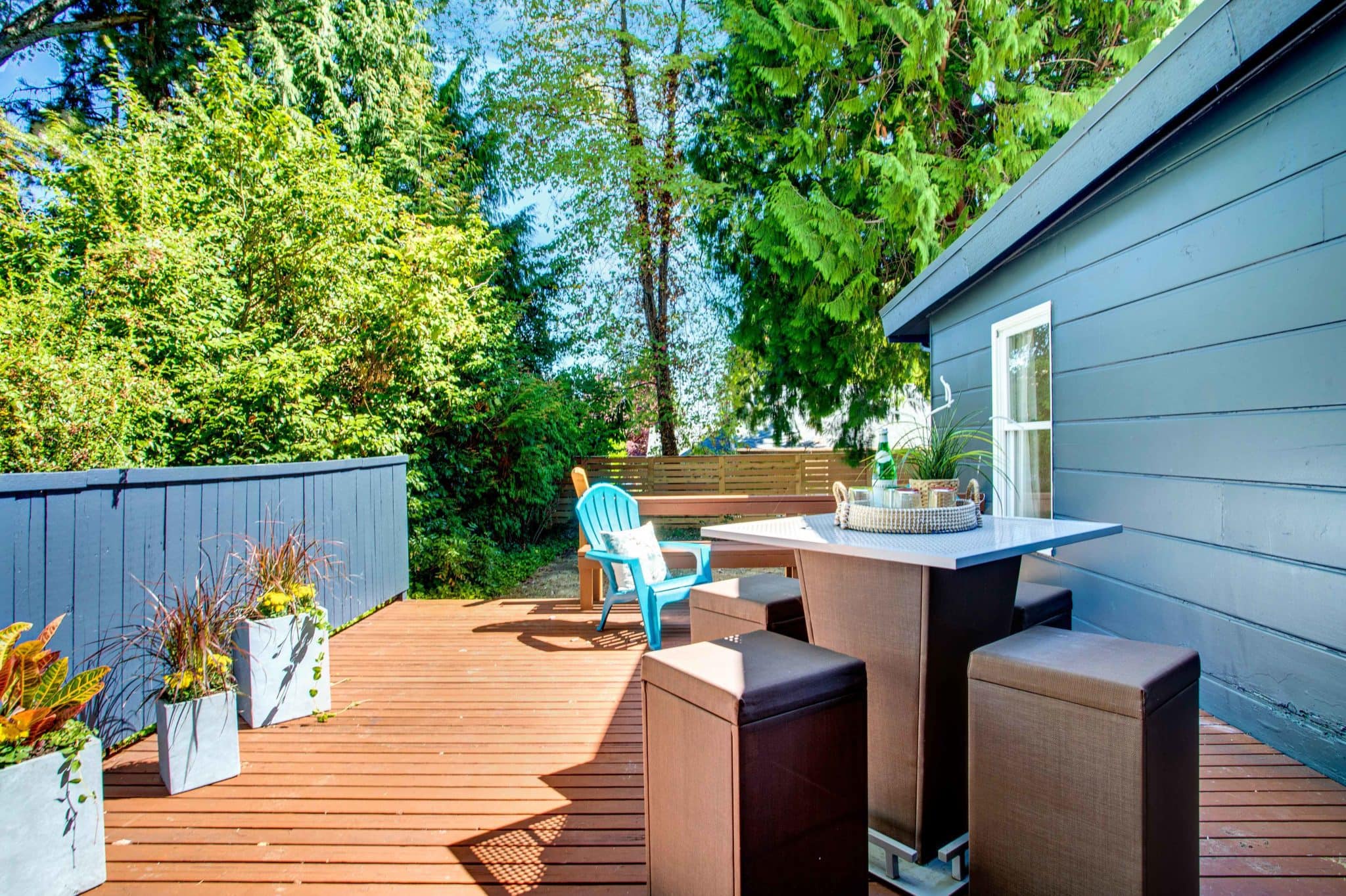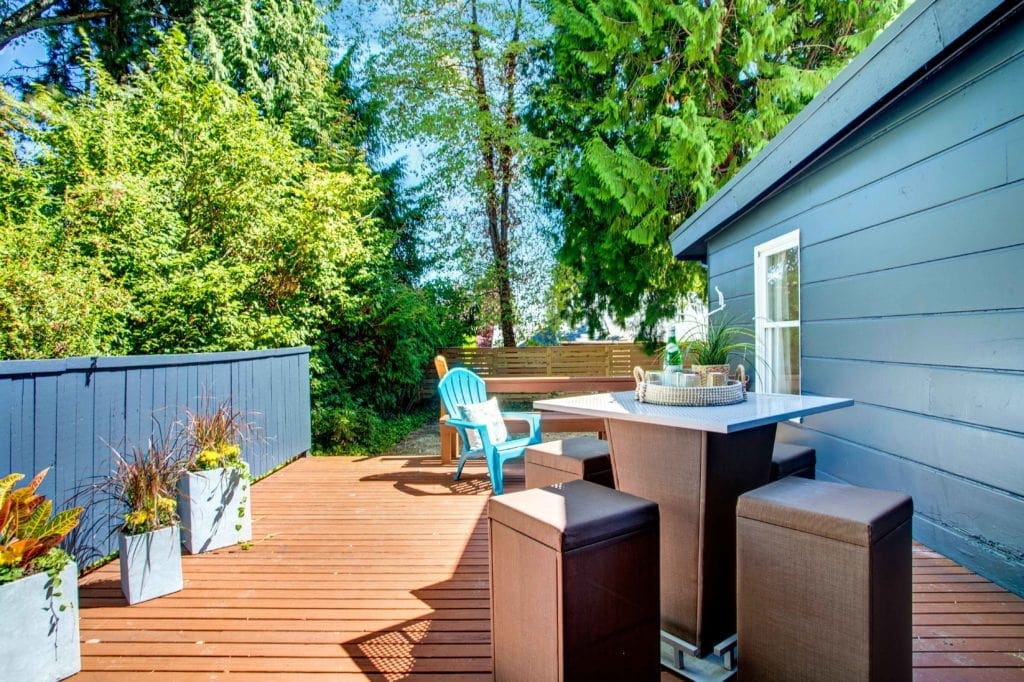 This Diva loves a good BBQ! Well, actually, this Diva loves all kinds of parties. This deck is perfect for any style of outdoor event or gathering you can imagine. Summer has yet to give up the last of its warm, sunny days, so you can move right into this Wedgwood home, gather your vaccinated posse, and light up the Webber. And if you're not ready for social gatherings, this deck is still a lovely spot for relaxing with your morning coffee, sitting down to an alfresco dinner, or having happy hour Rosé. Enjoy the last moments of beautiful weather by spending as much time outside as possible on this amazing deck.
When you're ready to spread your wings and need a little more space for your outdoor fun times, there is a whole woodland paradise yard ready and waiting. More on this Pacific Northwest getaway in a moment! 
Storybook Woodland-Style Backyard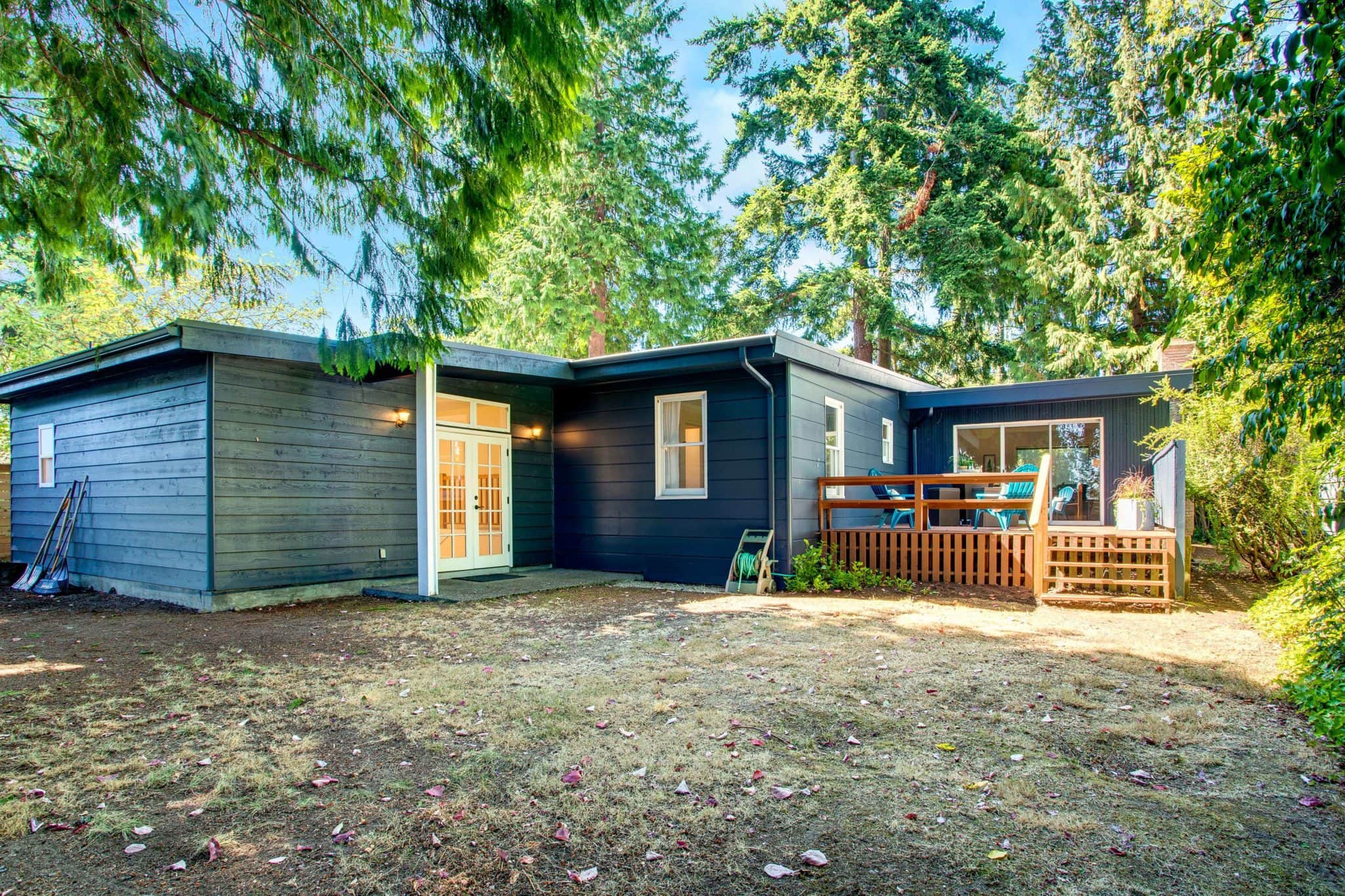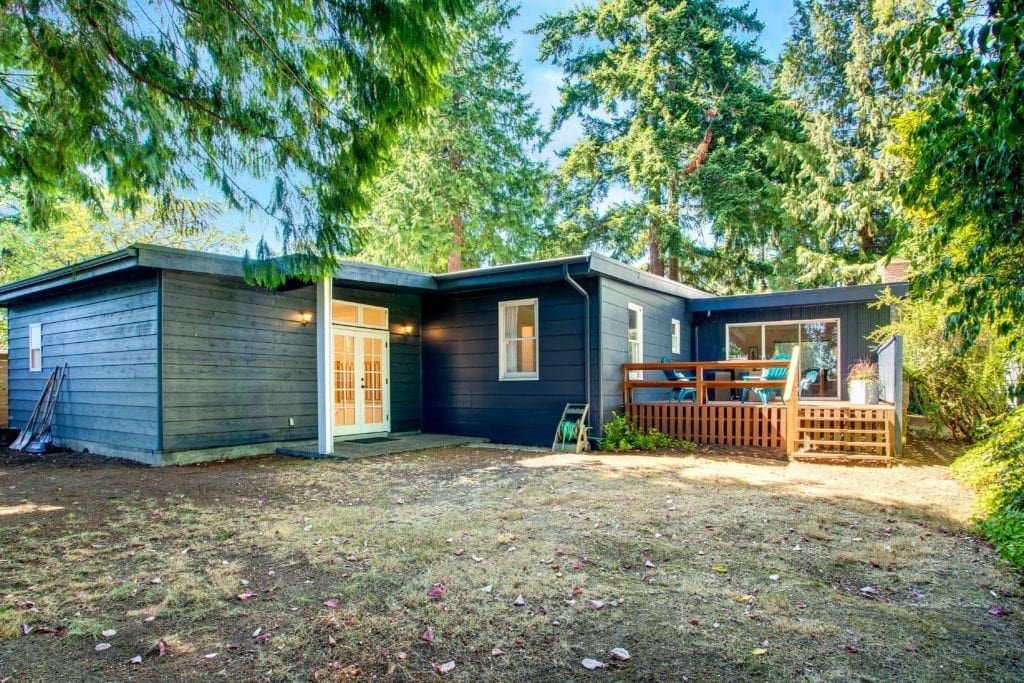 This backyard might not have much in the landscaping category, but it does offer huge possibilities and a boatload of privacy. I love the peaceful woodland feel of this yard and its tall trees that offer a great spot for a treehouse or a tire swing. (Speaking of tire swings, this house has one – feel free to give it a go when you tour this home!) 
There is space aplenty to throw around the frisbee or the ball with your furry friends. Craft an amazing woodland wonderland for you and your household to enjoy every day. Add a shed for storage, or a studio space to escape for some personal time. However, you choose to use this space you have your own Pacific Northwest sanctuary without having to leave home-sweet-home! 
Rest & Rejuvenating in The Expansive Owner's Suite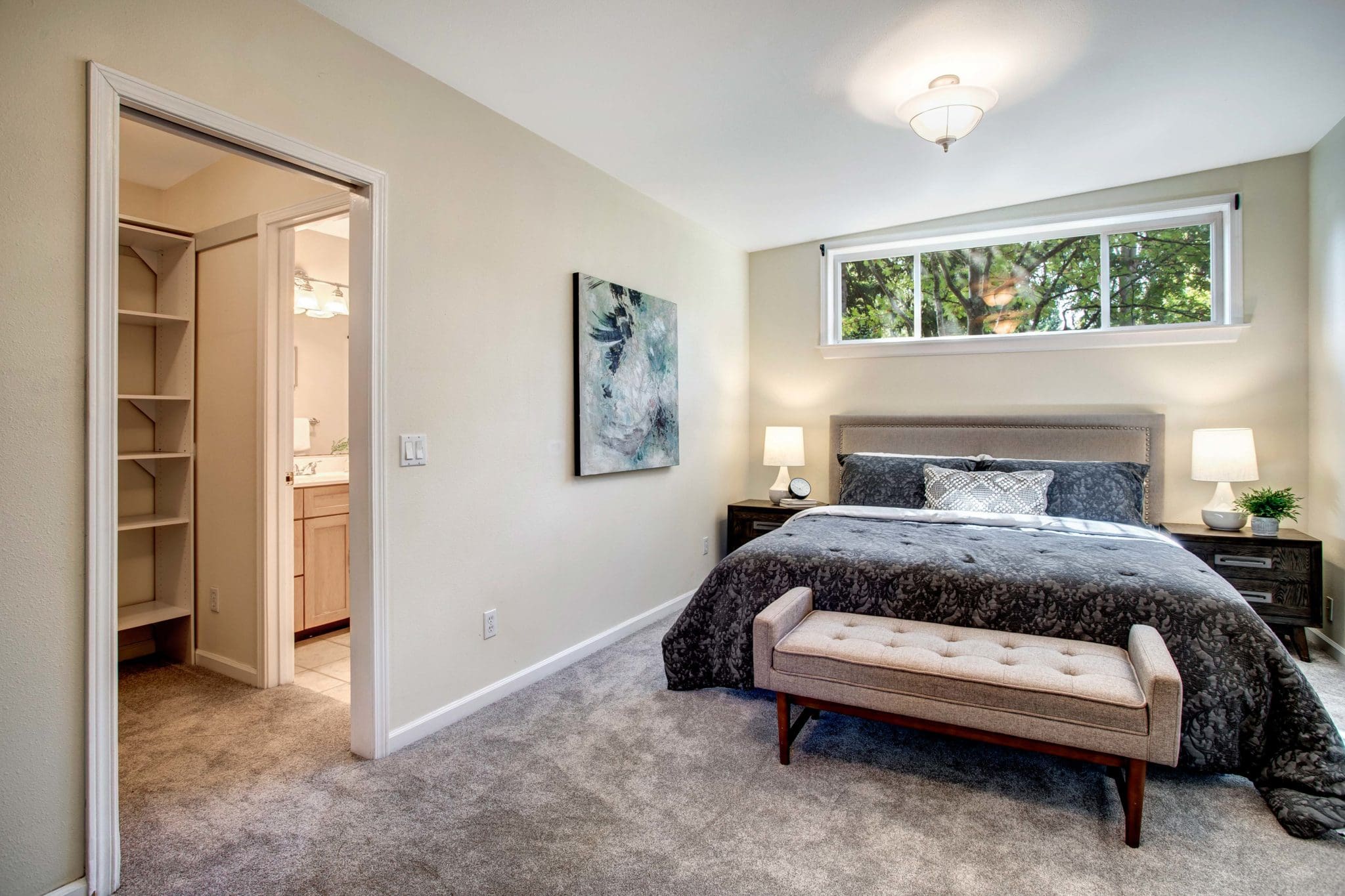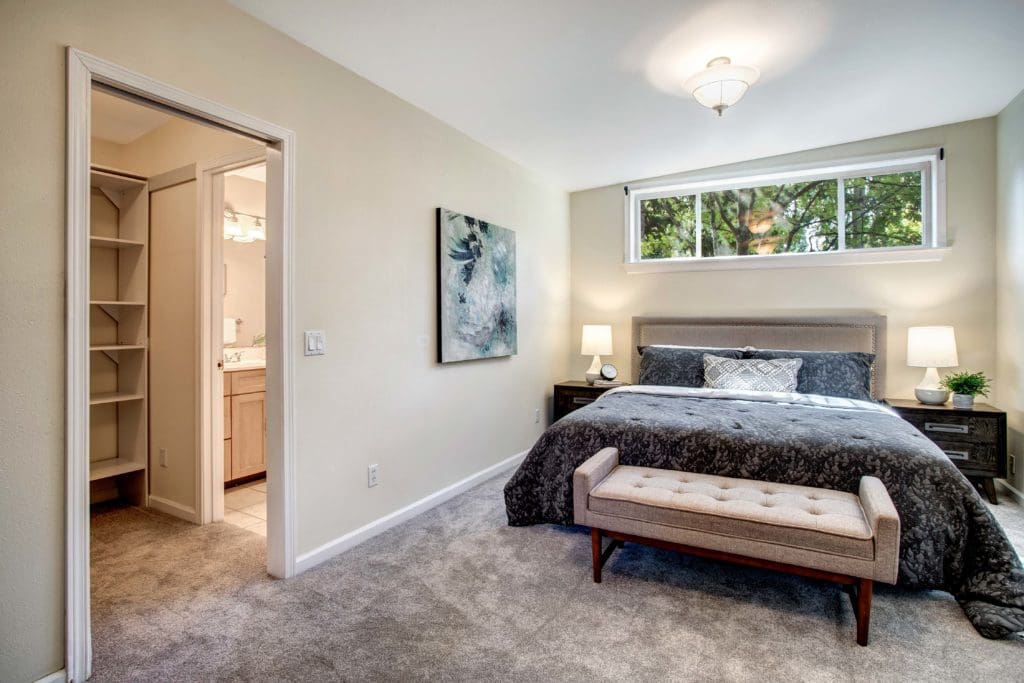 Close your eyes and envision a fabulous owner's suite with a huge walk-in closet, an en suite bathroom, soaring ceilings, and space for a king-sized bed. Now, open your eyes, and voila!—here you are. This owner's suite has all of this and more. The vaulted ceiling gives this owner's suite an incredibly open and airy feel so you can drift off into dreamland in style. 
There is also a small entry office space that is separate enough from the bedroom, so one of you can be clacking away on the computer while your partner is deep in slumber. And as if that wasn't enough, there is also direct access to the secluded backyard, with a small covered patio just for you. 
Let's Take a 3D Tour, Too, So You Can Immerse Yourself in this Wedgwood Mid-Century Home
Team Diva takes every precaution, and then some, to make sure all of our homes are listed following all COVID precautions. It is our duty to ensure everyone's safety as you enter one of our listings. Feel free to take a virtual tour from the comfort of your couch! 
Curious to learn more about our latest safety precautions? Read "Team Diva's COVID Safety Protocols for the Delta Variant" here!
---
Wonderful World of Wedgwood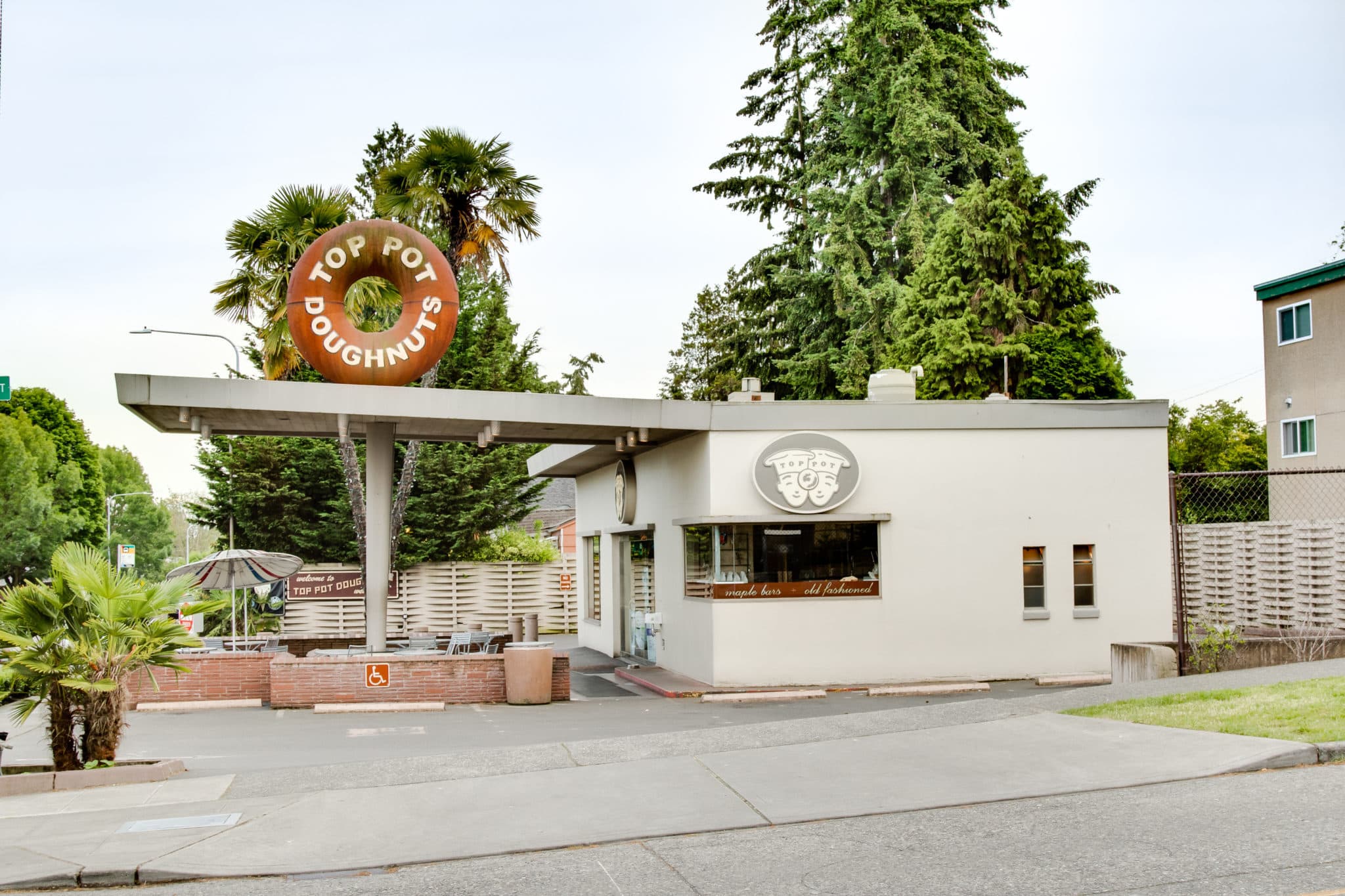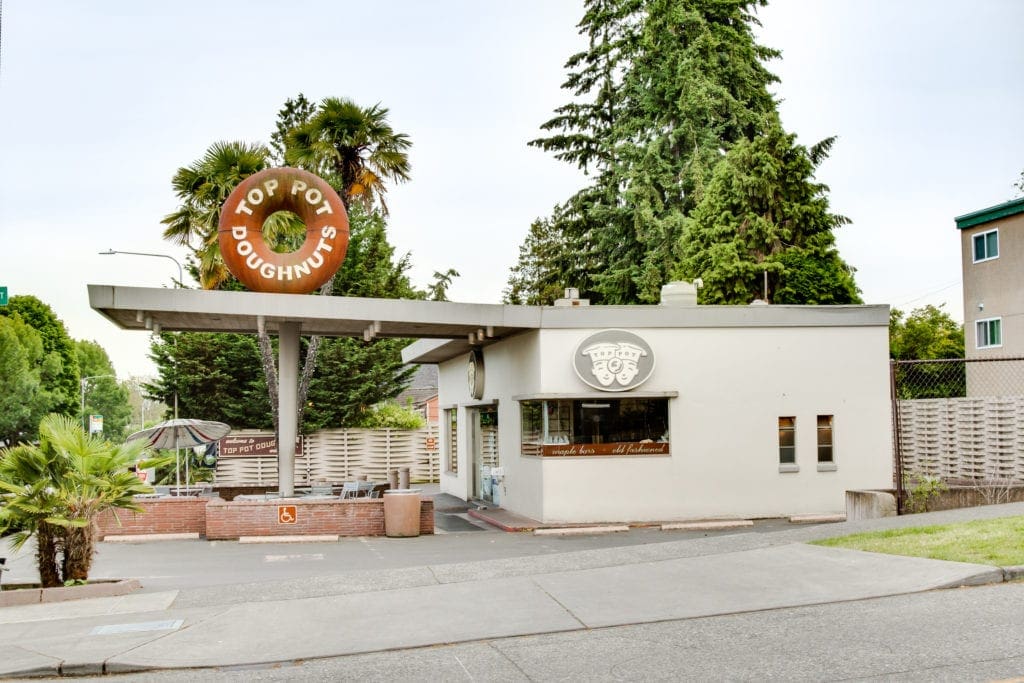 Wedgwood is one of Seattle's best-kept secrets. Tucked in the northeast corner of Seattle, Wedgwood offers some of the prettiest wooded lots you can find in the city. You'll also find an array of unique mid-century homes, like this one, and a bevy of cool local finds. Head just a few blocks east to 35th Ave NE and visit Grand Central Bakery, a Seattle staple for yummy bread, baked goods, and sandwiches. Jet a few blocks south and you'll find another Seattle icon, Top Pot Doughnuts. Their classic glazed old-fashioned are the best! 
Looking for more than sweets? Pop up north and stop into either Wedgwood Broiler for steak and a martini, (their patio is open and ready for you!) or for a more casual adult time, grab a beer and some pizza at the Fiddler's Inn. There are cool local places to hang out all up and down this main drag.
Beyond the local fare, Wedgwood is literally a hop skip and a jump to Matthew's Beach, the Burke Gilman Trail, and Magnuson Park. You can let your inner sporty spice out whenever you feel the urge! 
---
How to Buy a Home in Seattle: The Entire Process in Brief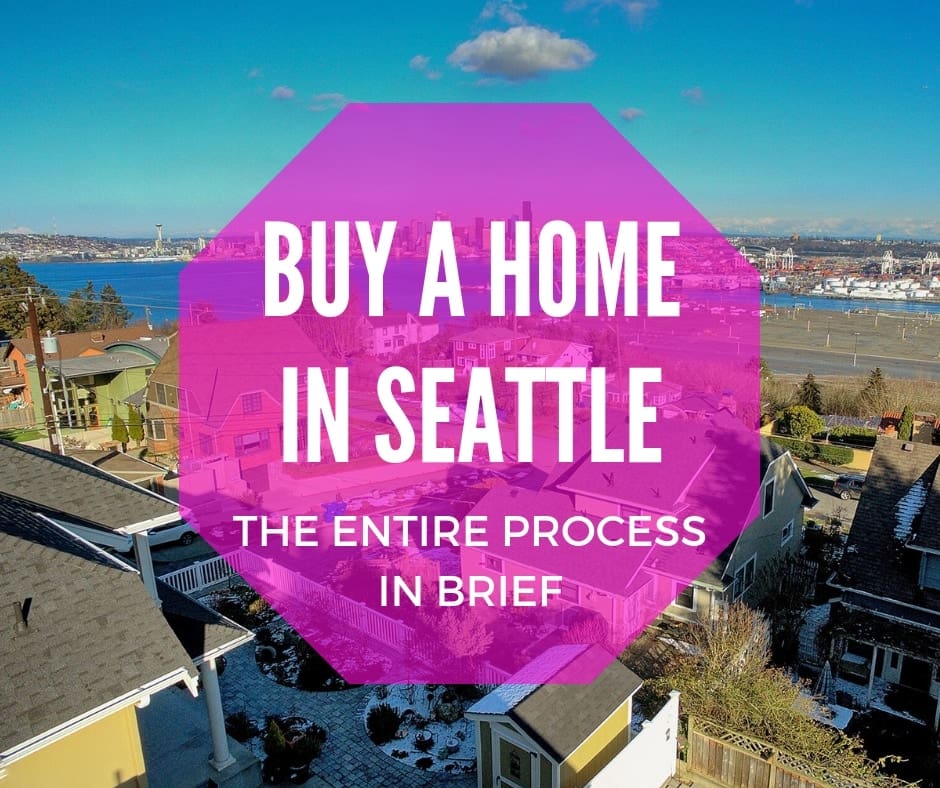 Let's get down and dirty. Owning a home in Seattle is an amazing experience and it can be fun. Do not listen to all of those cranky folks who think Seattle is not what it used to be and a middle-income owner cannot afford to buy a home in Seattle. Strap in, get yourself some strong Seattle coffee and learn how to be a smart and savvy home buyer in Seattle.
Steps For Buying a Home in Seattle
Find Your Guide: Find an agent that is super savvy and will be your ultimate navigator.
Choose Your Priorities: Size, Condition, Or Location?
Home Buyer Intake Process: Schedule a sit-down meeting with you and your real estate team to dive into what you want in a home.
Financing: Get your financial house in order.
Big Search: The big home search in Seattle
Making an Offer: Know what you need and how to prepare yourself to make an offer.
You Are In Contract: You've signed on the dotted line. Now… the hard work really starts.
Inspecting Your Home: What to look for, how to hire an inspector, and how to respond to the inspection.
Reviewing The Title Report: The title report is often the most overlooked portion of the buyer's review.
Reviewing the HOA/Resale Certificate (for Condos): …Also an overlooked portion of the buyer's review process.
Appraisal Process: Most homes are purchased with a home loan. The appraisal determines the final value by your lender for your home.
Final Loan Approval: All kinds of things can come up during the final loan approval process, so be prepared.
Final Two Weeks of the Process: Walkthrough, inspection resolution, and (for god's sake) do not make a huge purchase on a credit card.
Signing Your Final Homeowner Documents: You made it!
Closing Day: You get the keys and access to your home.
This is just a starting point, and we have so much more to share about the home buying process. Browse our Home Buyer page for a comprehensive home buying education.
---
Thank You For Touring Our Wedgwood Mid-Century Home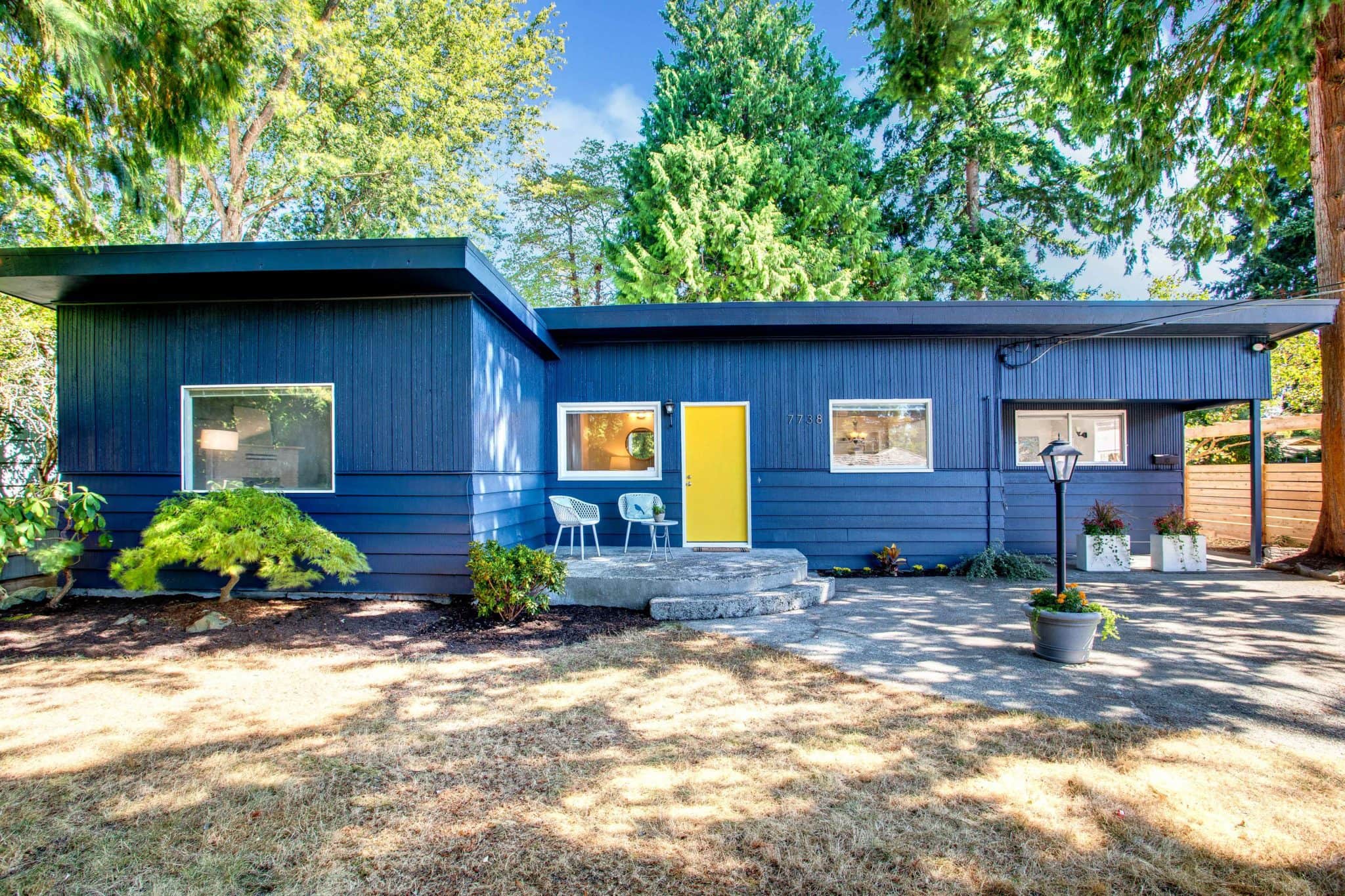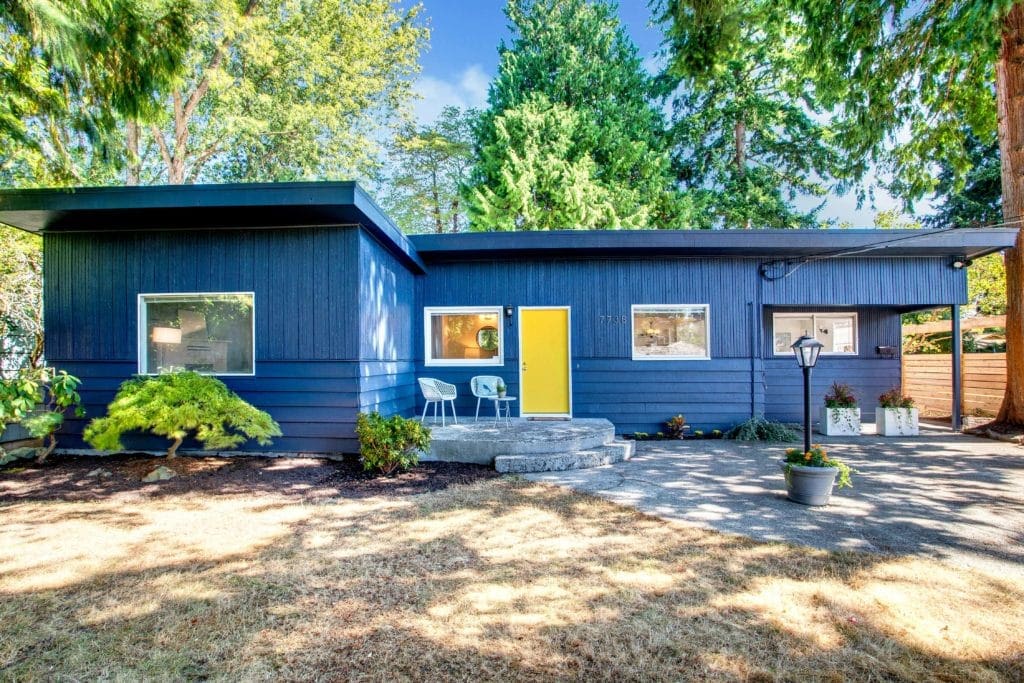 Thank you for taking the time to learn all about this Wedgwood Mid-Century Home! I'm so excited to show off all of this home's highlights, plus its potential! From the grand living room to the spacious entertains deck, you'll find plenty of space to host and relax. When it's time to unwind, you have your very own expansive owner's suite to kick back in! And the woodland-style backyard offers a Pacific Northwest sanctuary to enjoy as well, all in the charming Wedgwood neighborhood. 
All the Good Details
Address: 7738 31st Avenue NE, 98115

MLS# 1835661

Square Footage: 2,360

Bedrooms: 3 

Bathrooms: 2 

Offering Price: $949,950
Ready to tour this Wedgwood Mid-Century Home in person? Contact us today so I can show you this Diva Dwelling's grand living room, the spacious entertains deck, the expansive owner's suite, the woodland-style backyard, and the wonderful world of Wedgwood!