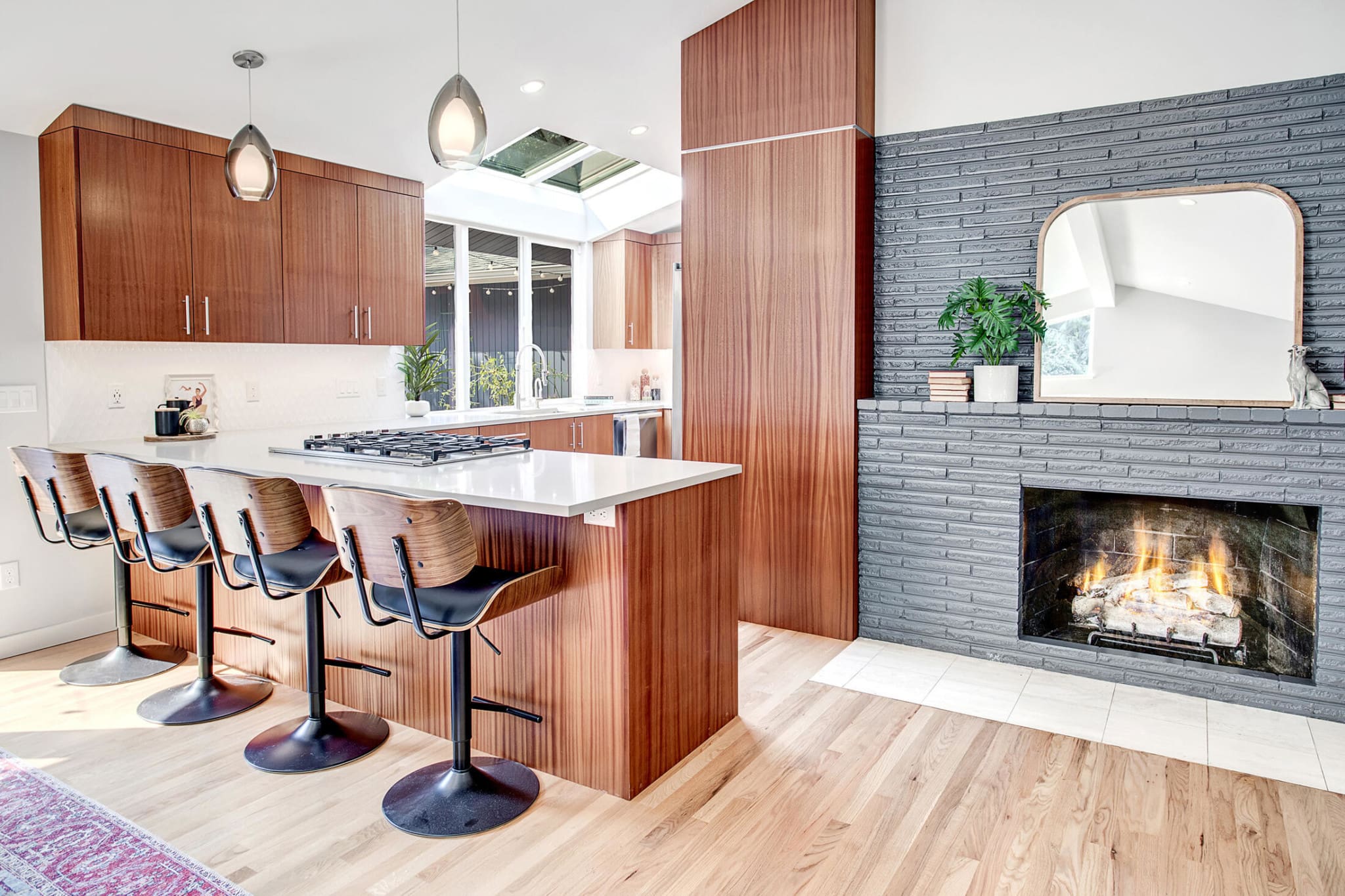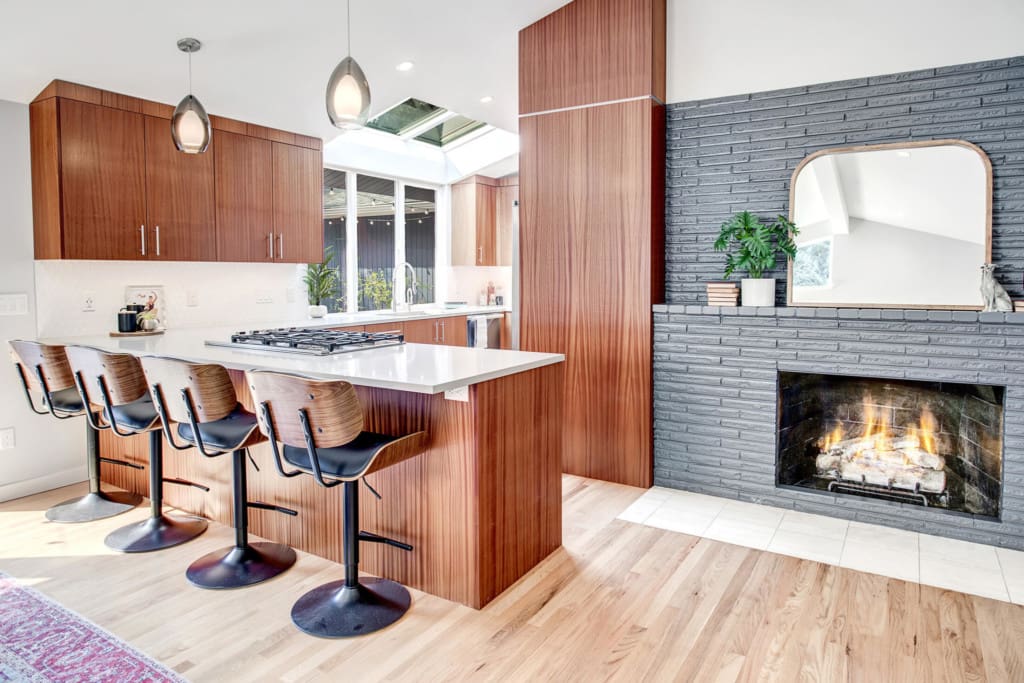 Are you ready to buy up to your dream home and want to know how to buy a luxury home in Seattle in 2023? One of the markets that have seen the biggest opportunity for homebuyers in 2023 is the luxury home market. Buying a luxury home is definitely a different process than buying a traditional Seattle home. And yes for those of you who are moving here from the midwest the idea that a home priced at $1,000,000 feels like a luxury. But that is just average in Seattle. In this guide, we are going to give you some tips and tricks on what you need to know when buying a luxury home in Seattle.
We asked the team what advice they are giving to their clients on how to buy a luxury home in Seattle in 2023. And here is what they said:
Be Practical: This is the time to combine luxury with practicality. Focus on getting a home with a great yard, a timeless view, or walkability, as these things will not just be valuable to you, but to buyers down the road.
What is on Your List? Make sure your list of must-haves is clear so that you don't end up buying more than you need.
Luxury Market Deal Season: In 2023, we hear that the luxury market may see an even greater slowdown, so it may be the time to get a fair price without a lot of competition.
There Are Still Multiple Offers In This Market: If the home is priced right and in a super desirable neighborhood, you may still end up competing, but instead of competing against 10+ other offers, it's likely only going to be a couple other offers.
In this blog, we are sharing all of the advice from our team members about buying a luxury home in Seattle in 2023. This is the advice that we are giving to all of our clients this year!
Start Here – Download Our Diva Dweller Buyer's Guide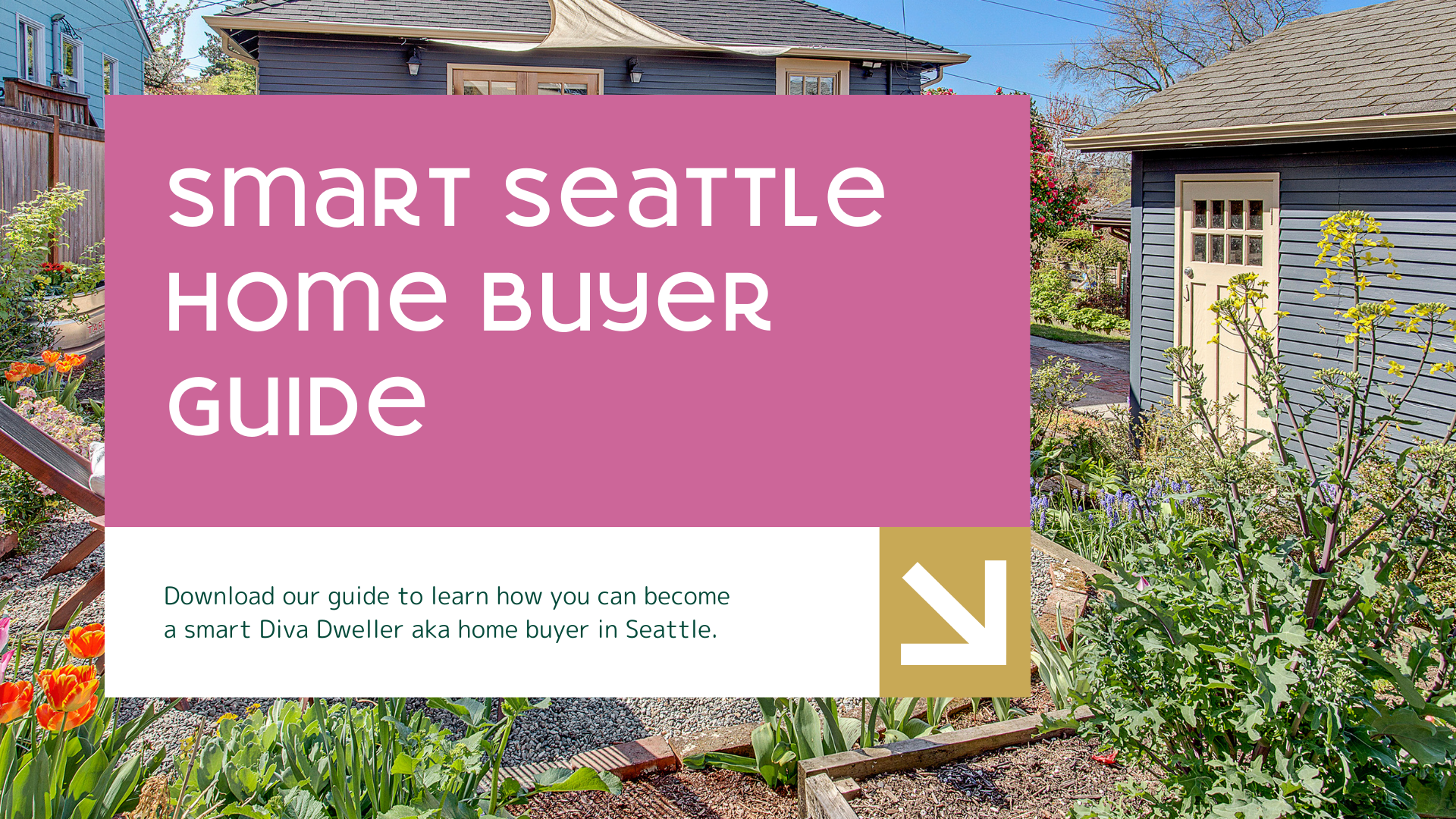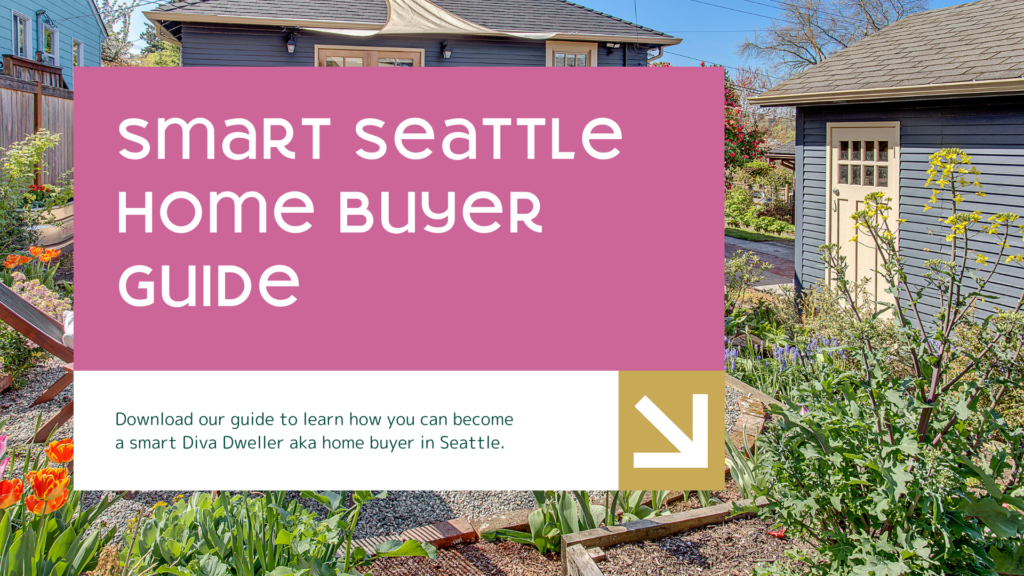 Check Out Rocky's Video on Tips on How to Buy a Home in Seattle in 2023
Now that you have the basics let's dive into the advice the team has for buyers who are interested in buying their forever home.
---
Tips From Team Diva on How to Buy a Luxury Home in Seattle in 2023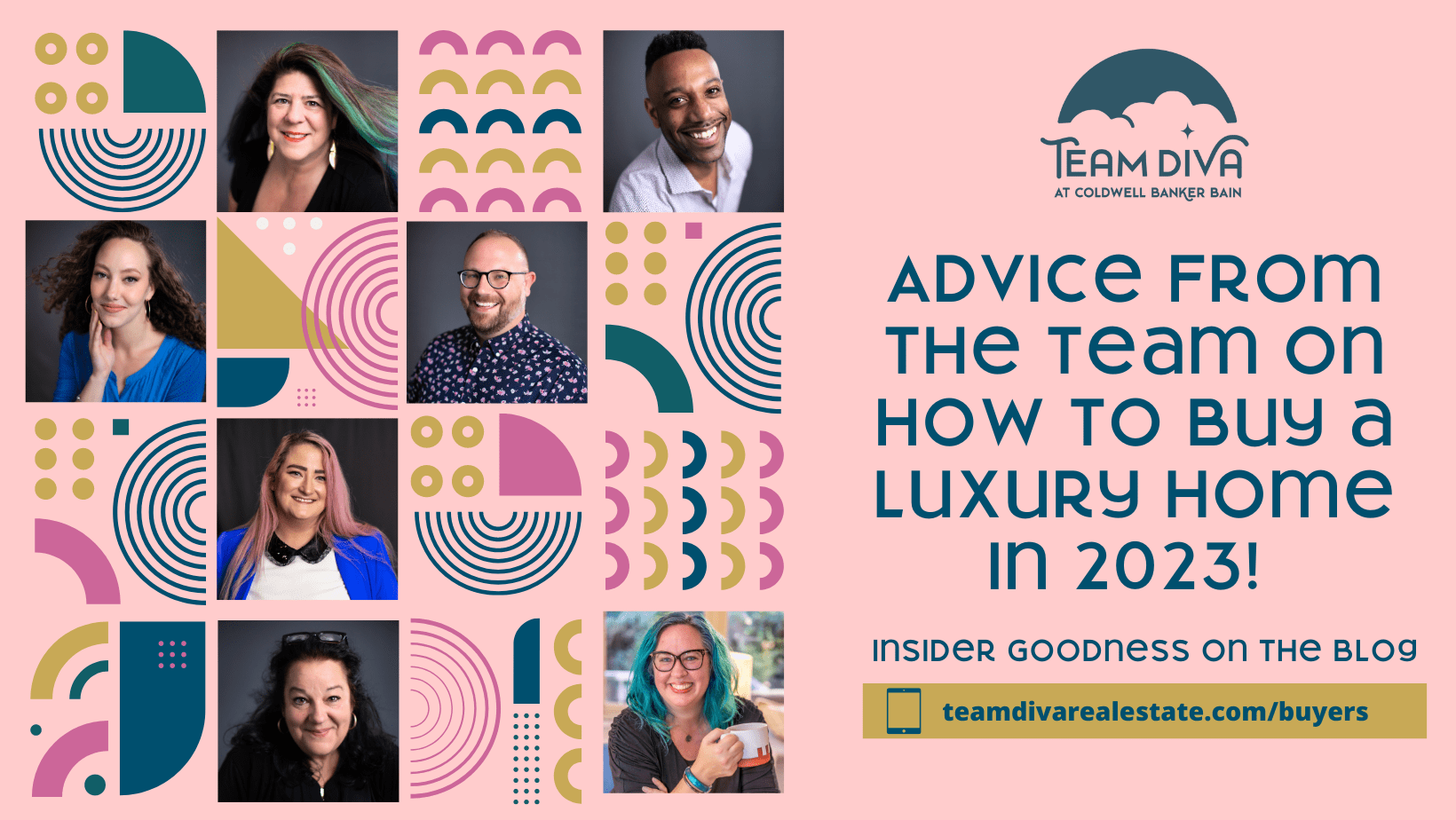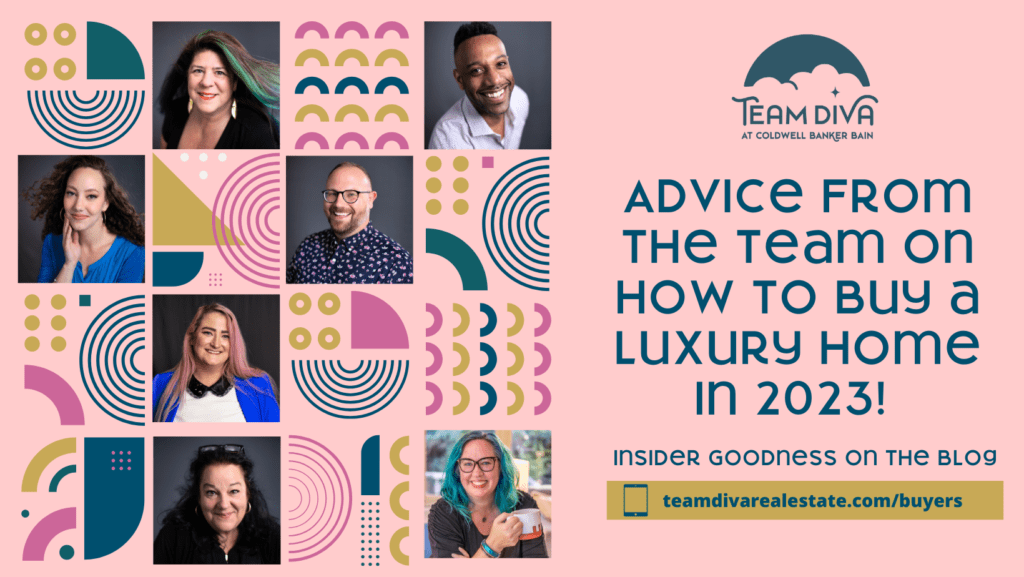 Our team members work with both buyers and sellers of luxury homes, and we work with clients throughout Seattle and King County. Because of this, we have in-depth, real-time marketing knowledge—we're always actively working with buyers and sellers, so we consistently know about market trends before they are even "officially" reported. All of this is to say that our Team Diva team members know exactly what buyers need to do to successfully buy a luxury home in Seattle in 2023.
Here's the advice that our Team Diva brokers have about buying a home in 2023:
Kim Colaprete's Advice for Buying a Luxury Home in Seattle in 2023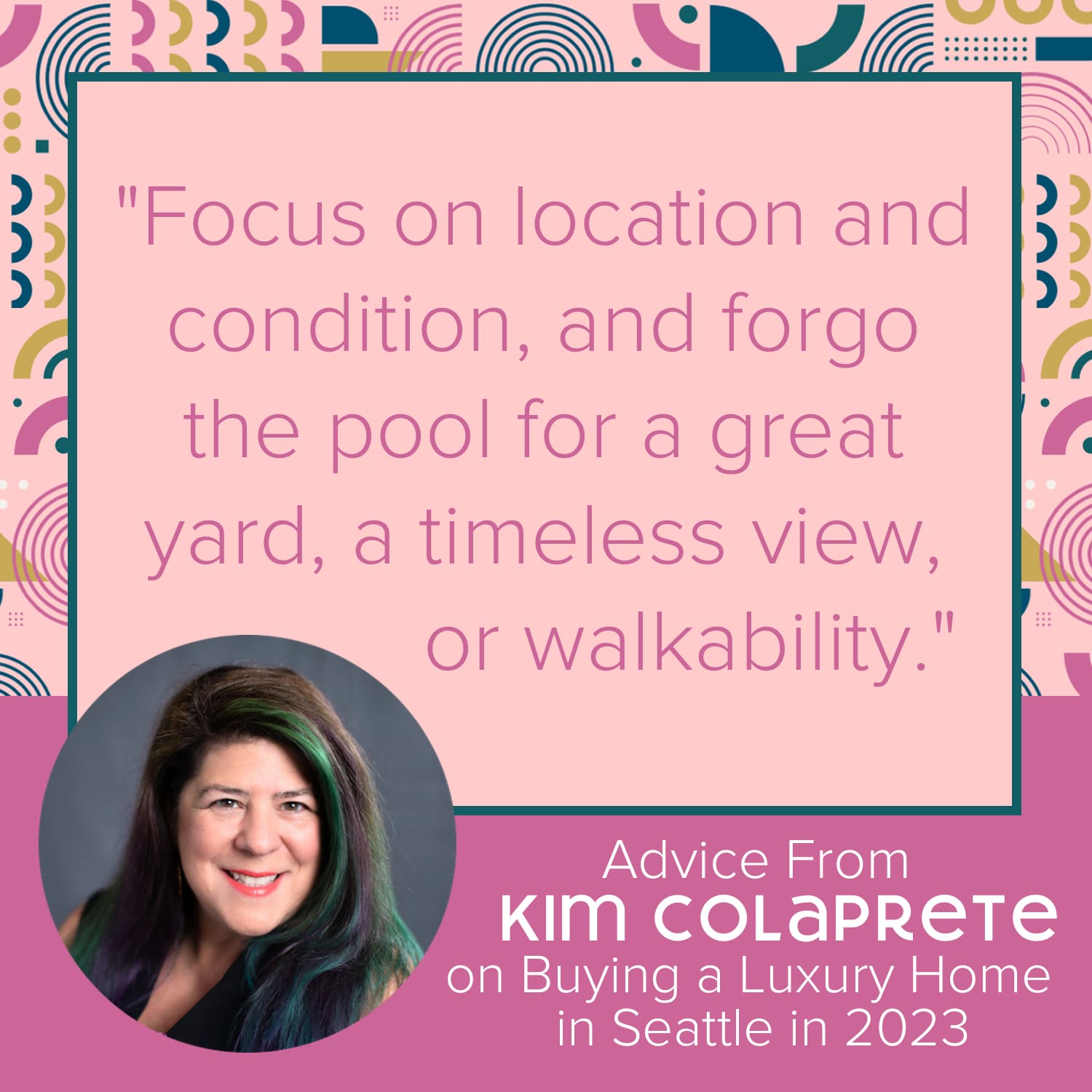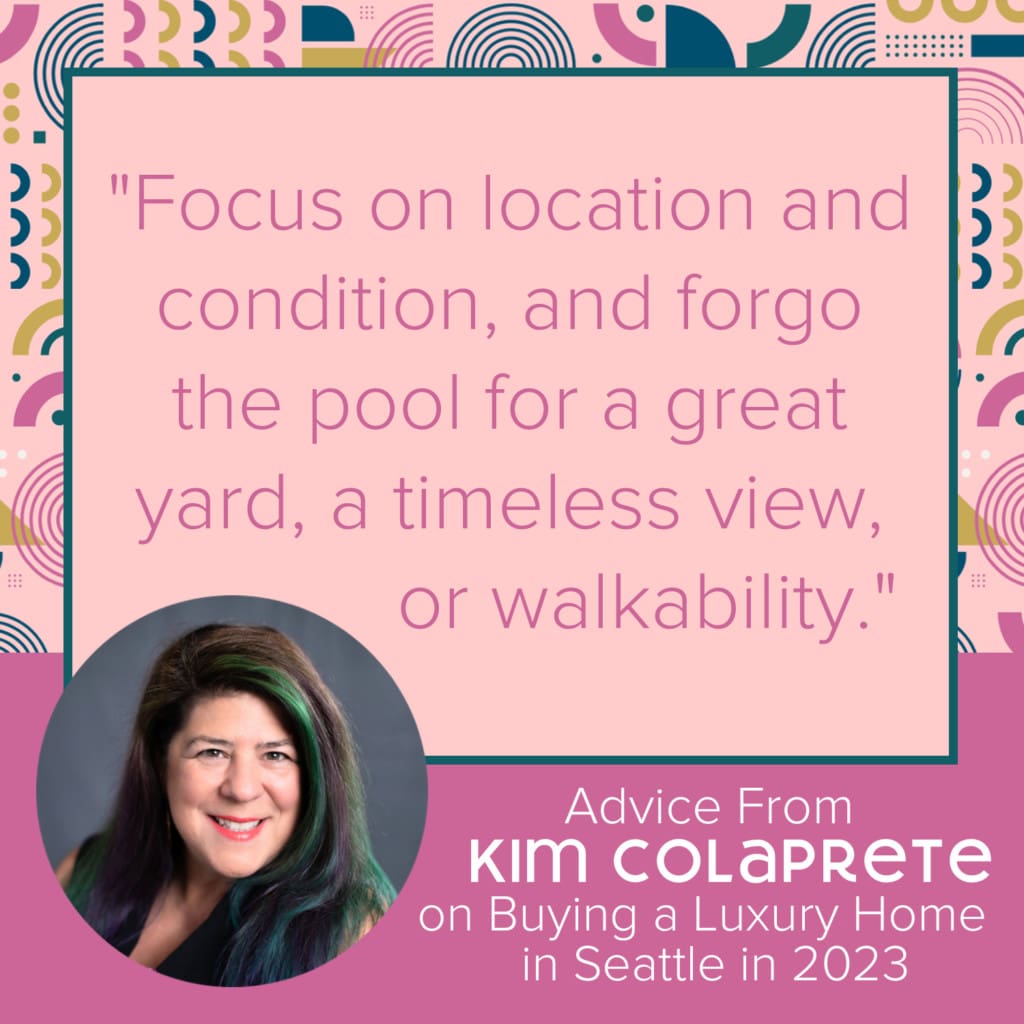 "This is the time to combine luxury with practicality. Sure you can spend $5 million and get a home with the ginormous pool, but why? You'll rarely use that pool, even if you can afford to heat it. This is NOT Palm Springs, folks. Focus on location and condition, and forgo the pool for a great yard, a timeless view, or walkability. These items will not just be valuable to you, but to buyers down the road." – Kim Colaprete
Rocky Flowers' Advice for Buying a Luxury Home in Seattle in 2023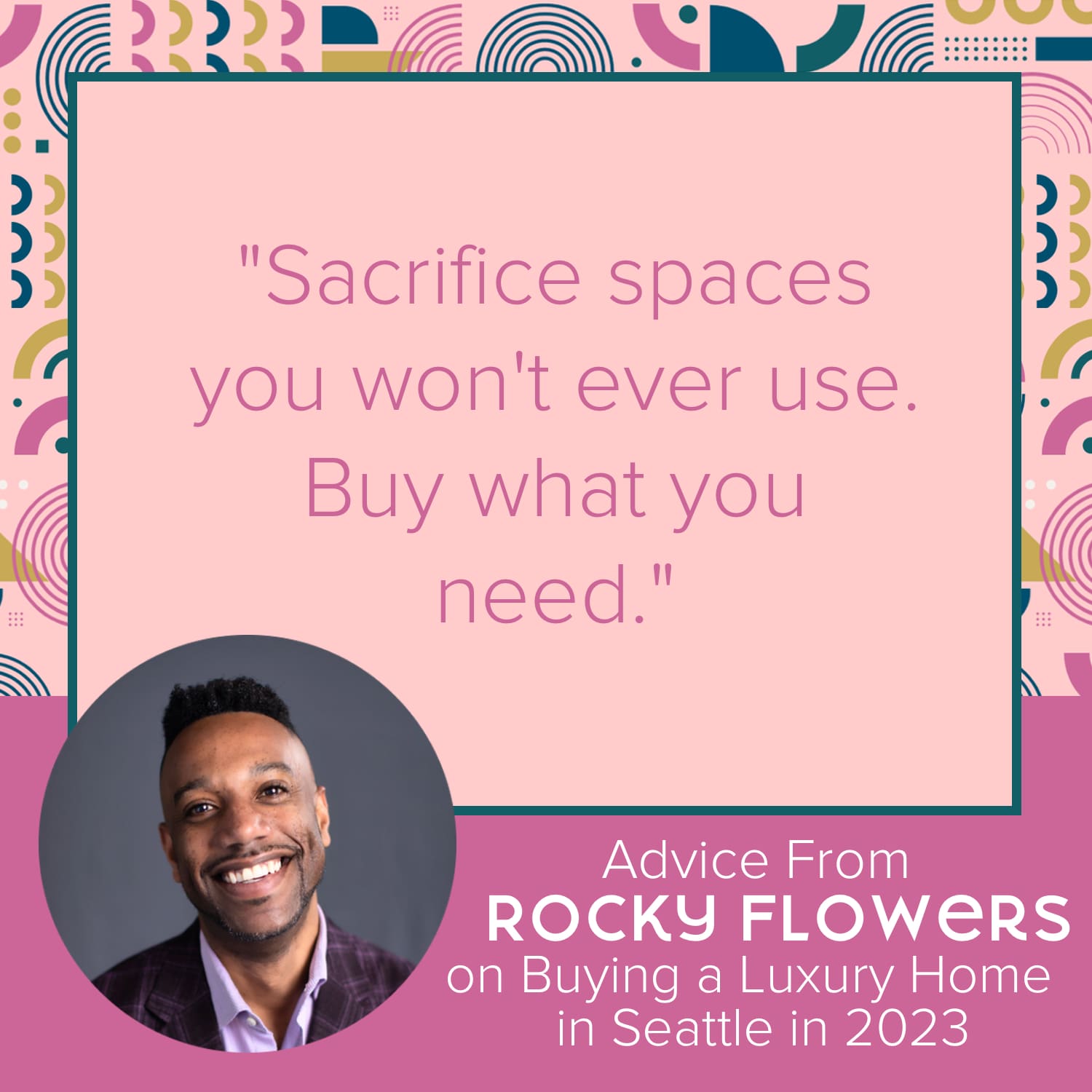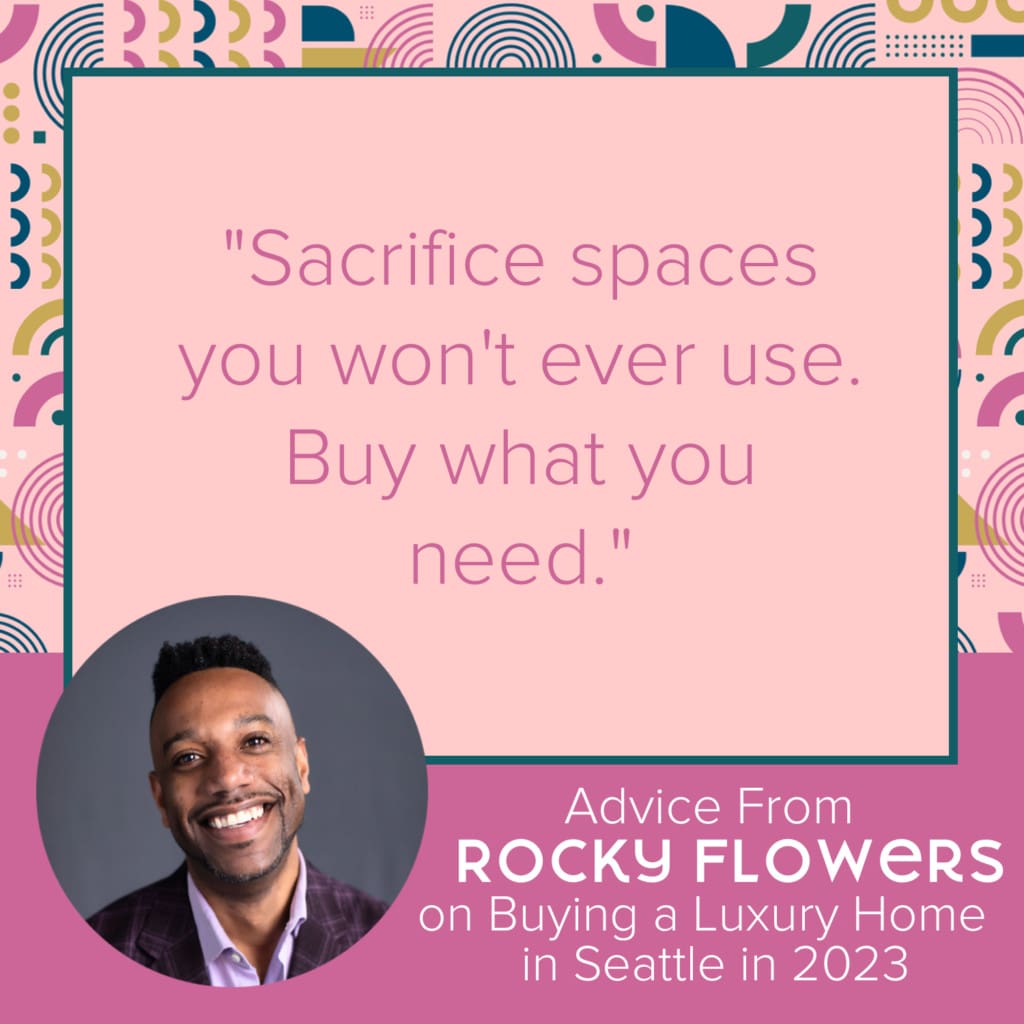 "You will be able to buy a more luxurious and comfortable home if you sacrifice spaces you won't ever use. Buy what you need. There is no sense in paying for rooms or amenities that you are never or rarely going to use." – Rocky Flowers
Roy Powell's Advice for Buying a Luxury Home in Seattle in 2023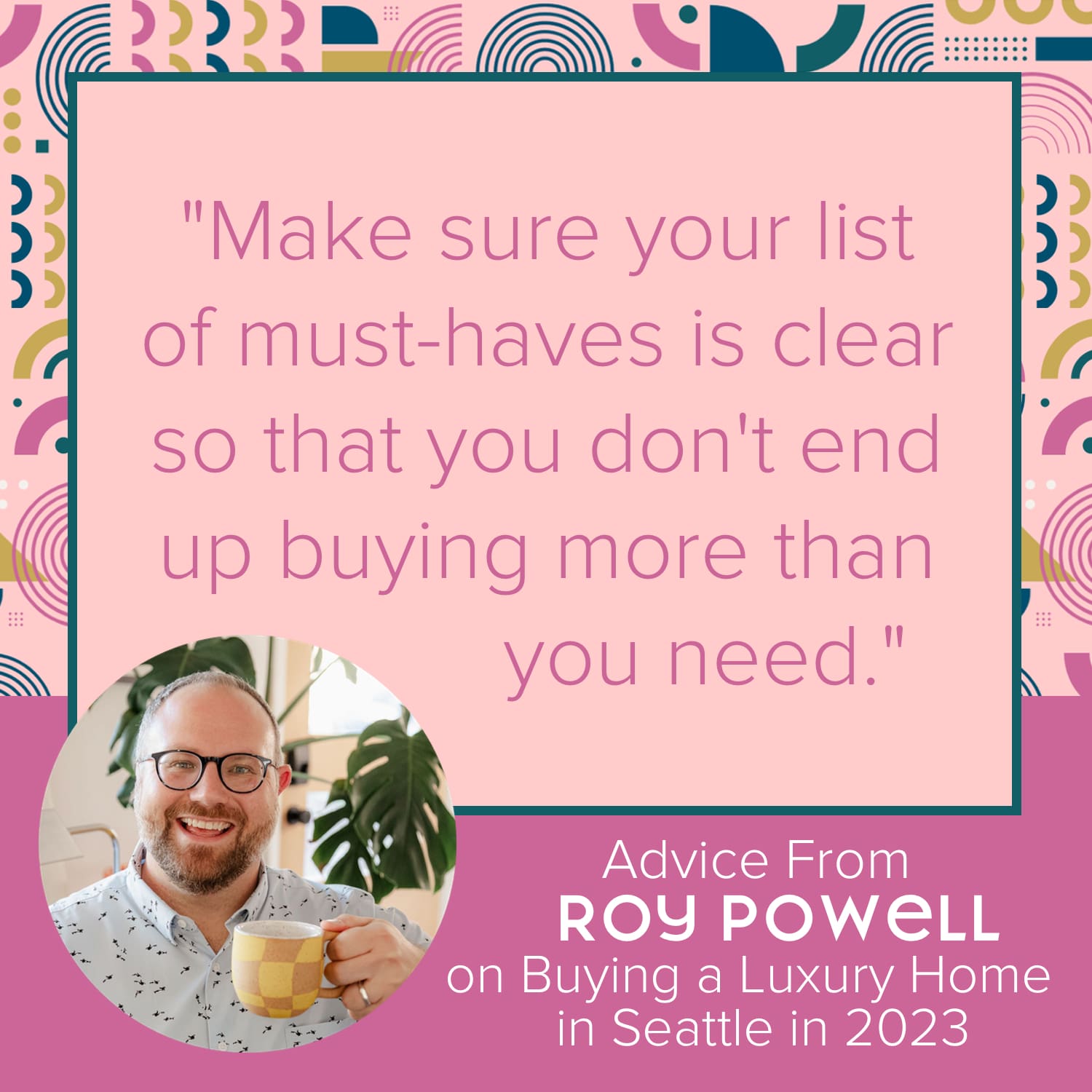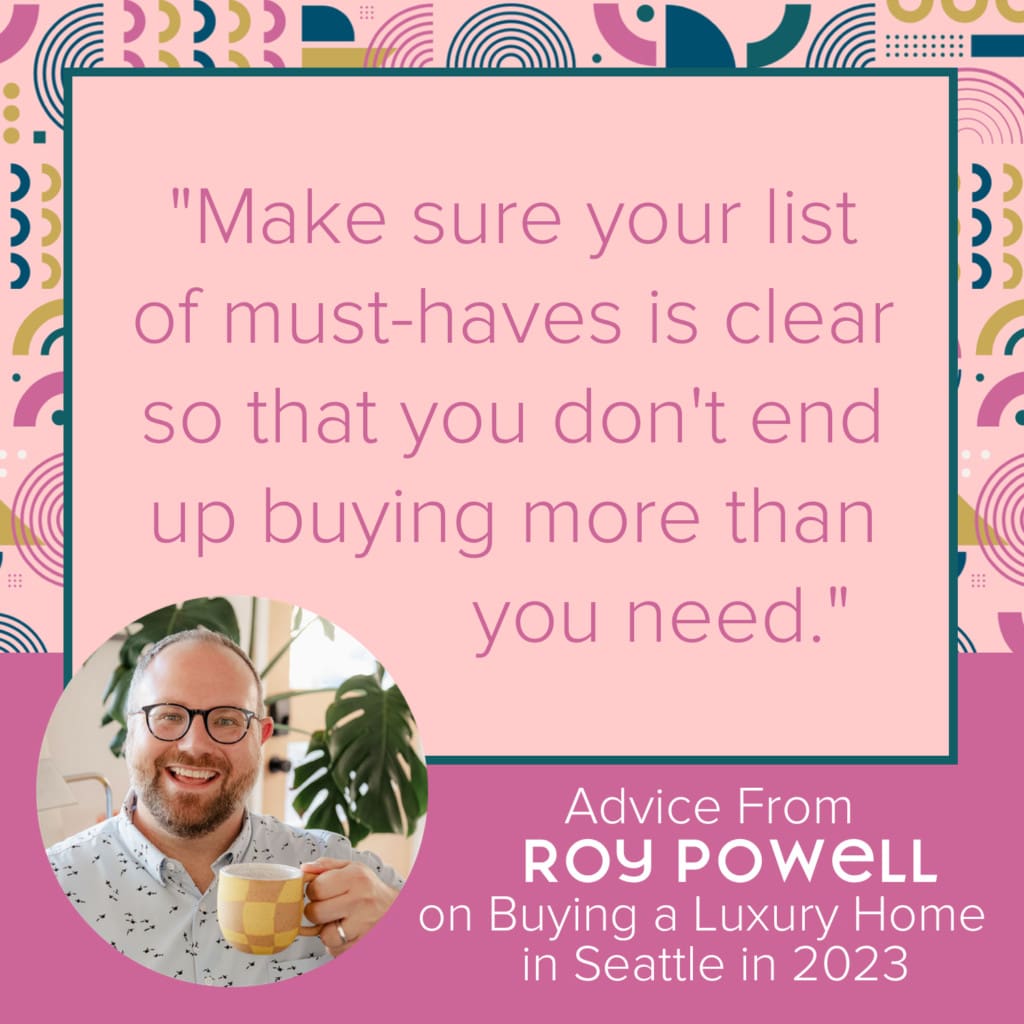 "If you are looking for luxury, great! This sector will likely see the biggest decline in prices overall. Make sure your list of must-haves is clear so that you don't end up buying more than you need. True luxury homes are one of a kind, so make sure you are working with a Realtor who can help you understand what it takes to maintain and care for a luxury home. " – Roy Powell
Lindsy Russell-Mitchell's Advice for Buying a Luxury Home in Seattle in 2023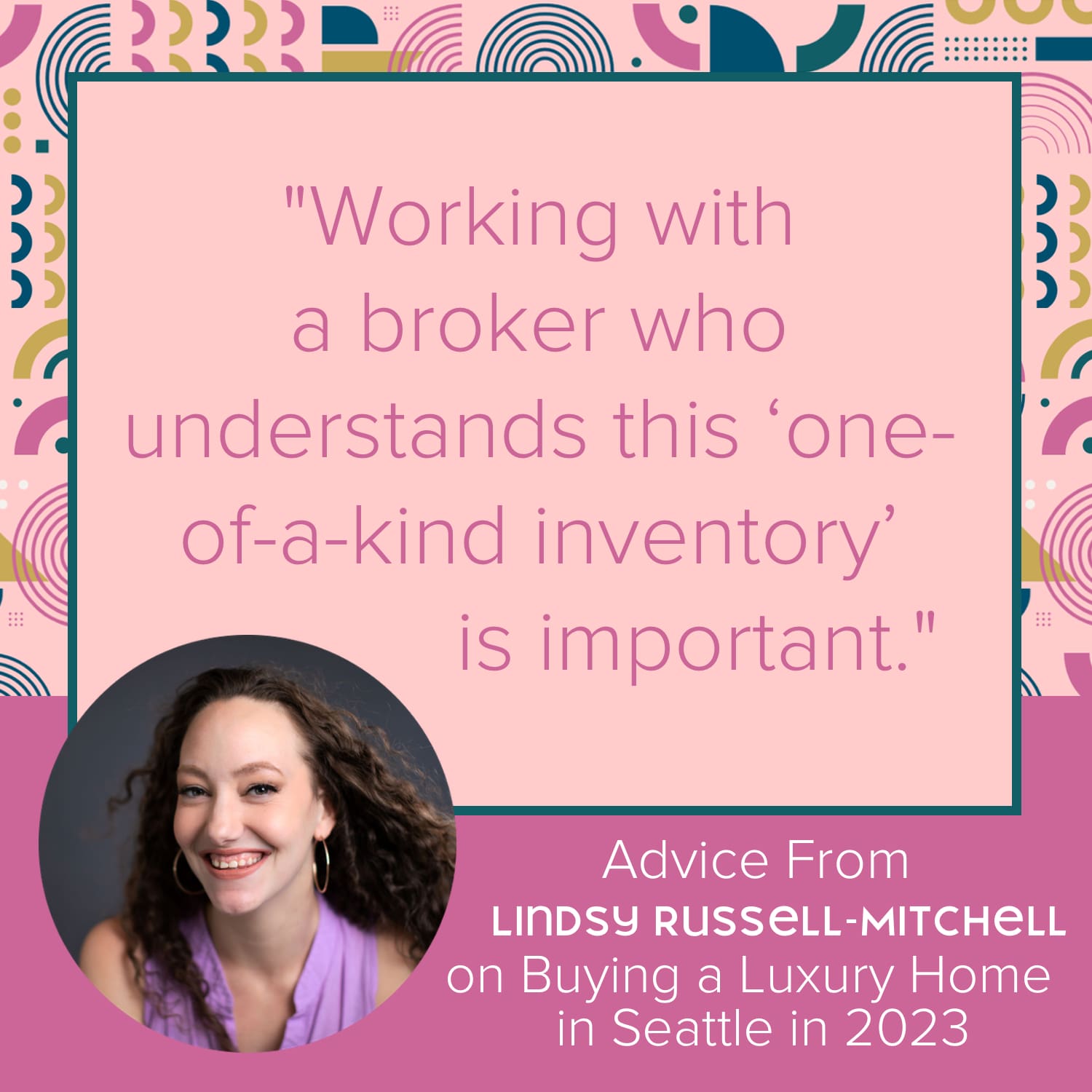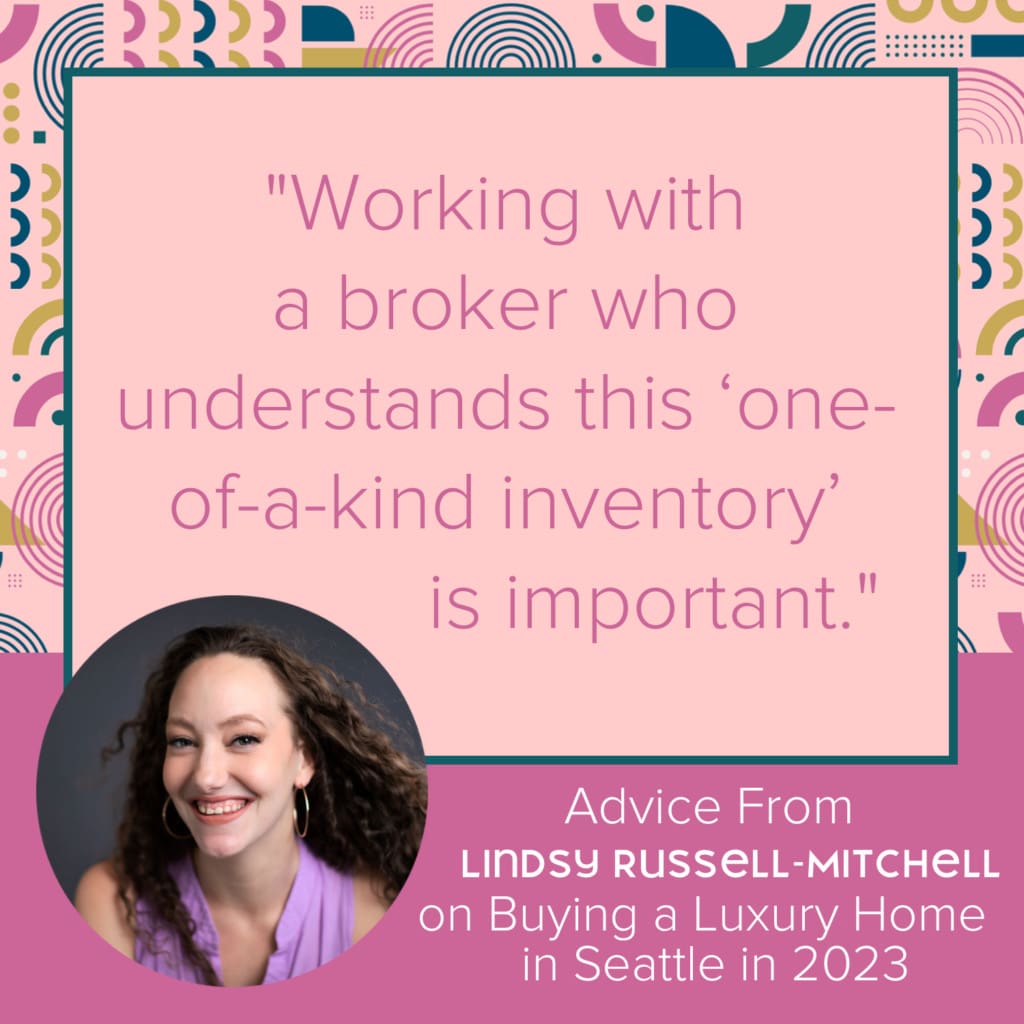 "We most definitely have our share of luxury homes in and around the Seattle area. I suspect in 2023 we will see a decline in these specific home prices as they can be viewed as 'specialty' or 'unique.' If this is something that's been on your radar, now is a good time to check your options. Be clear about what you're looking for and what you're willing to spend. Working with a broker who understands this 'one-of-a-kind inventory' is important to be able to not only negotiate the sale, but also maintain the luxury home for years to come." – Lindsy Russell-Mitchell
Donna Burns's Advice for Buying a Luxury Home in Seattle in 2023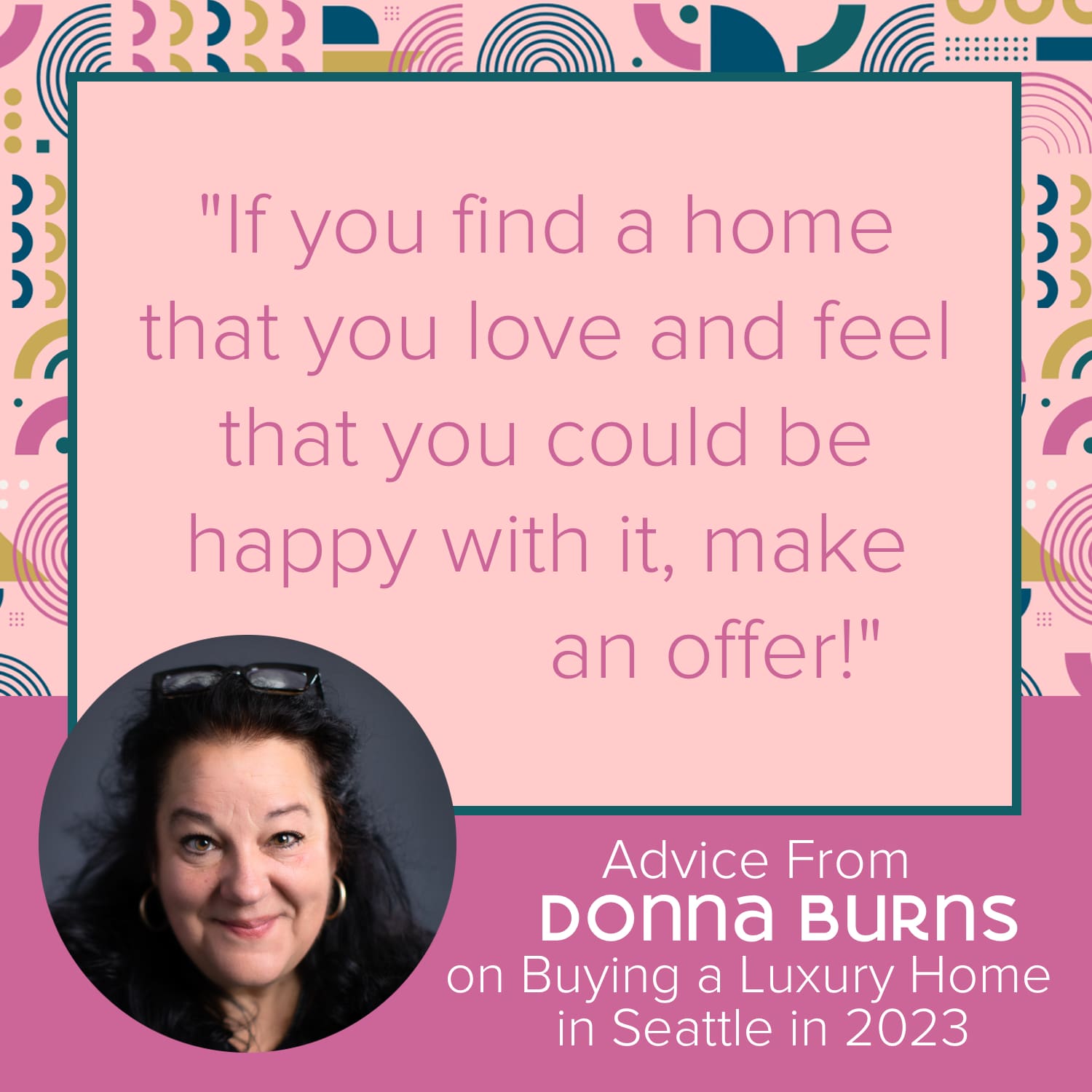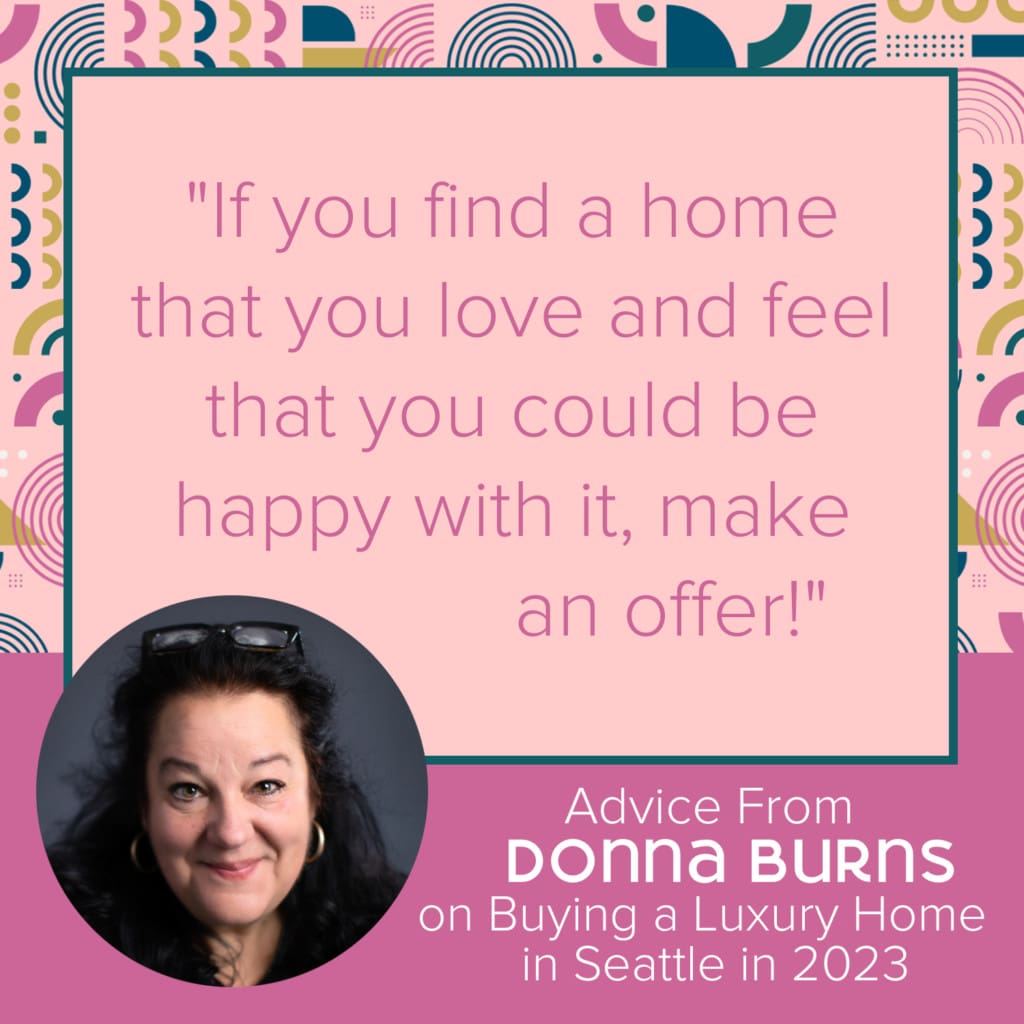 "In 2023 we hear that the luxury market may see an even greater slow down, so it may be the time to get a fair price without a lot of competition. I'd say the same thing about buying a 'luxury' home as I would about all properties: If you find a home that you love and feel that you could be happy with it, make an offer!" – Donna Burns
Hannah Wilson-Hillard's Advice for Buying a Luxury Home in Seattle in 2023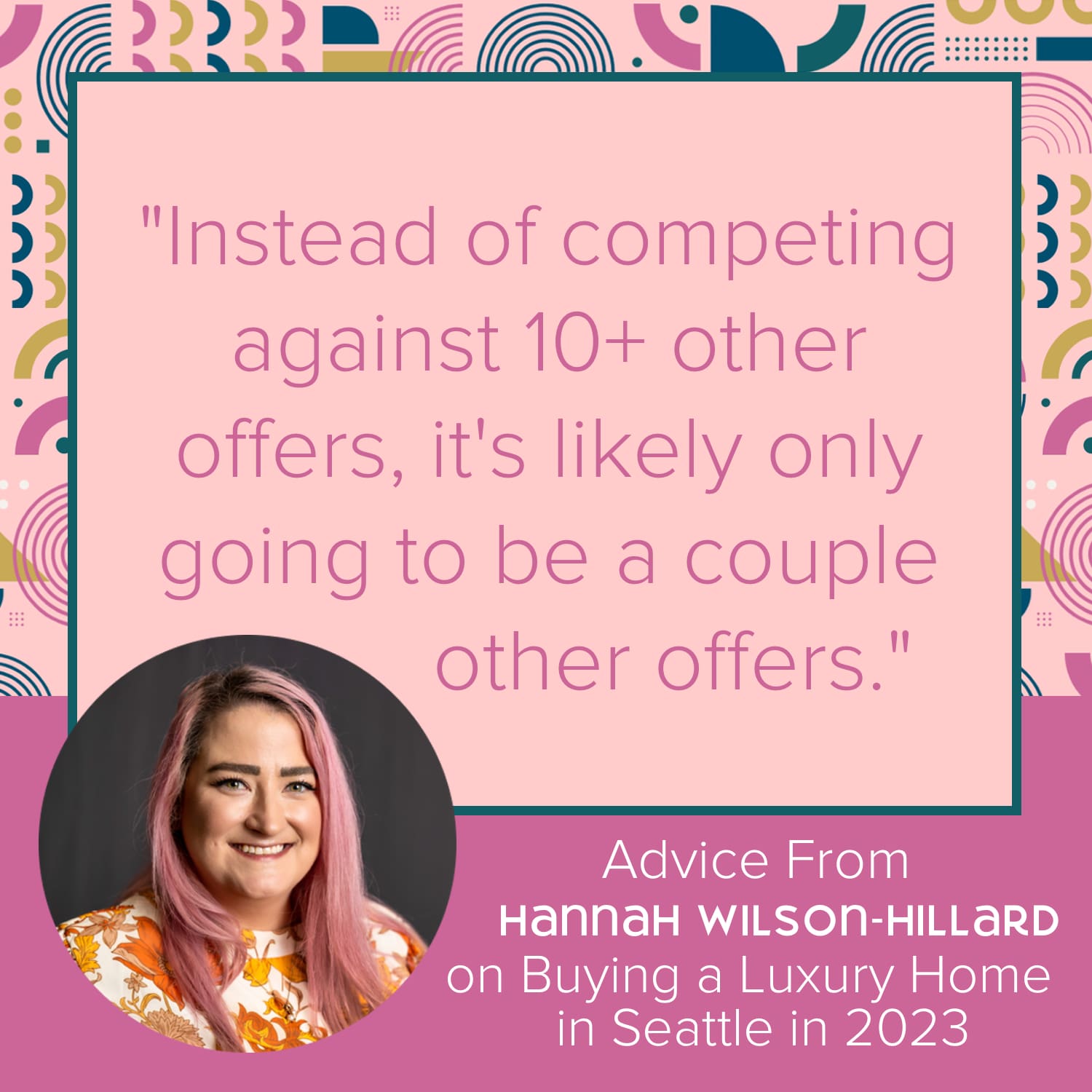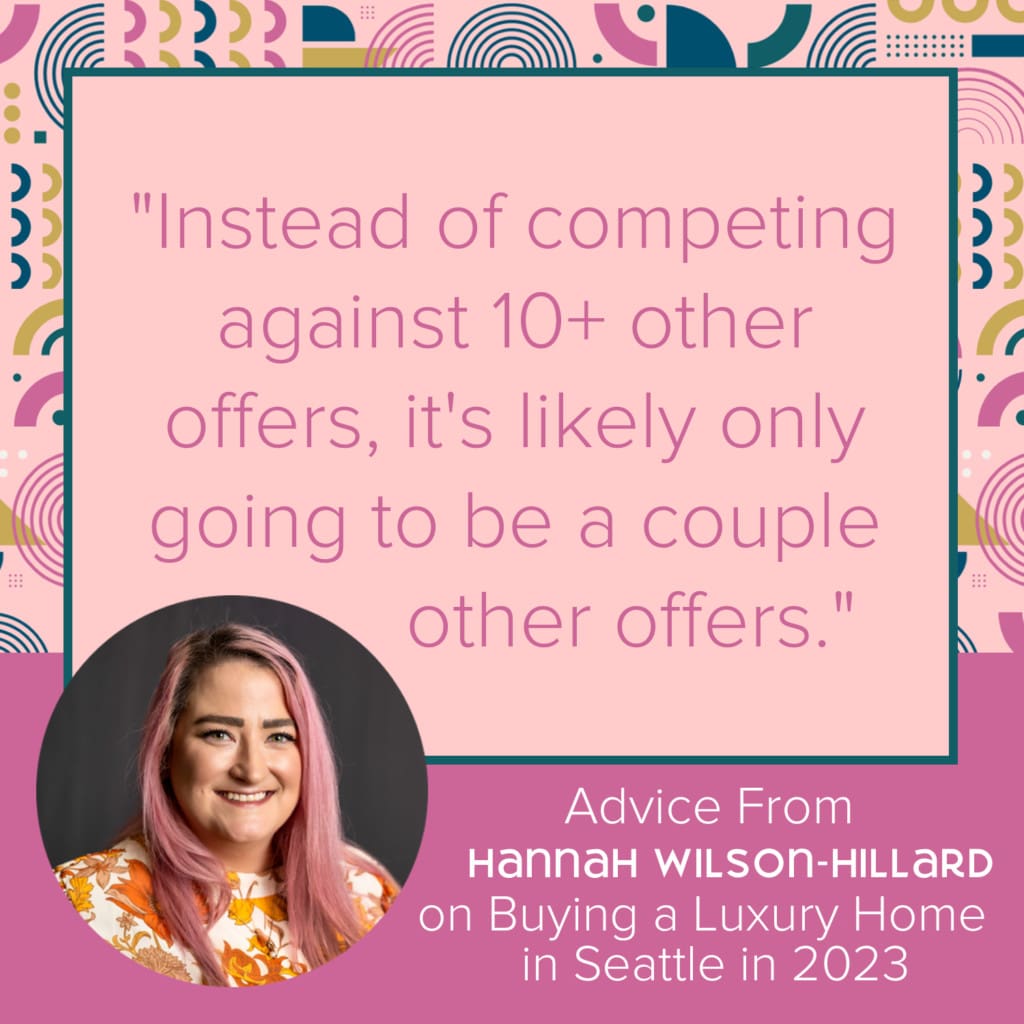 "Go for it! While the recent interest rate increases may have lowered a buyer's buying power, we are seeing price decreases and that homes are lasting on the market longer. This creates a great opportunity for buyers; gone are the days of no contingencies and offering 100s of thousands over asking price. Keep in mind that if the home is priced right and in a super desirable neighborhood, you may still end up competing, but instead of competing against 10+ other offers, it's likely only going to be a couple other offers." – Hannah Wilson-Hillard
---
How to Buy a Luxury Home in Seattle 2023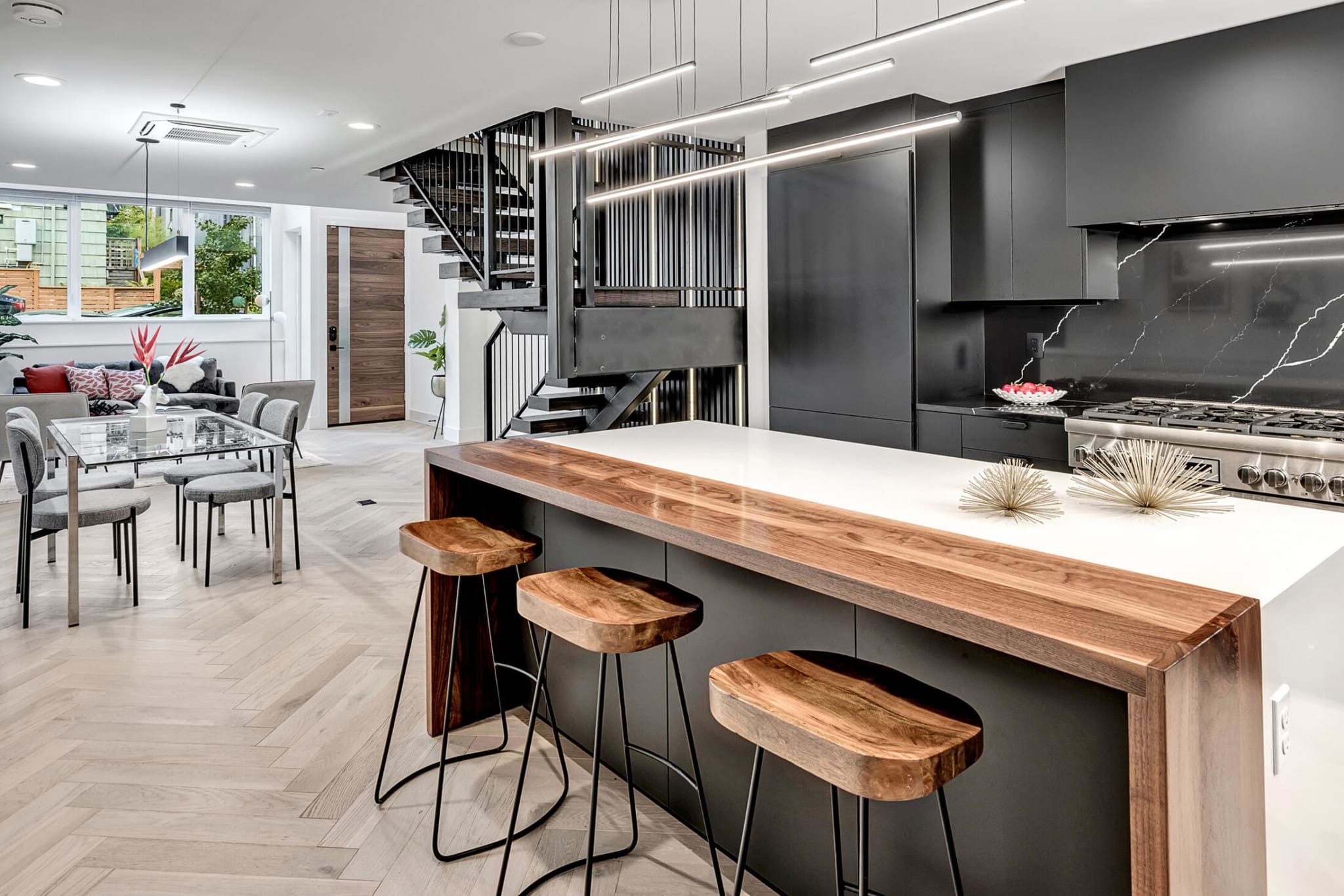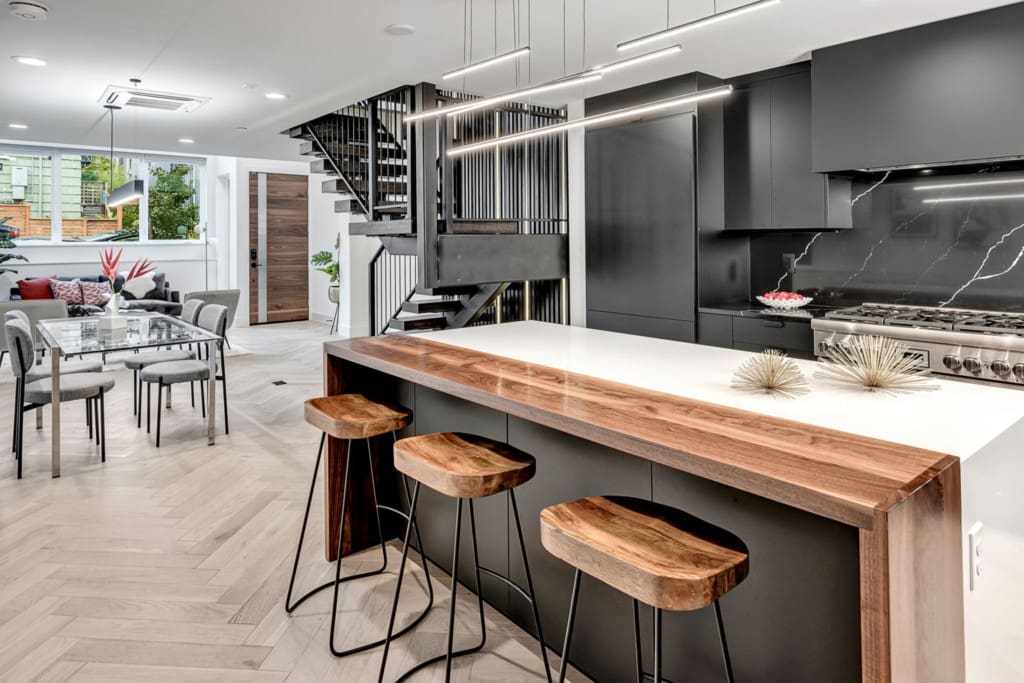 Tips How to Buy a Luxury Home in Seattle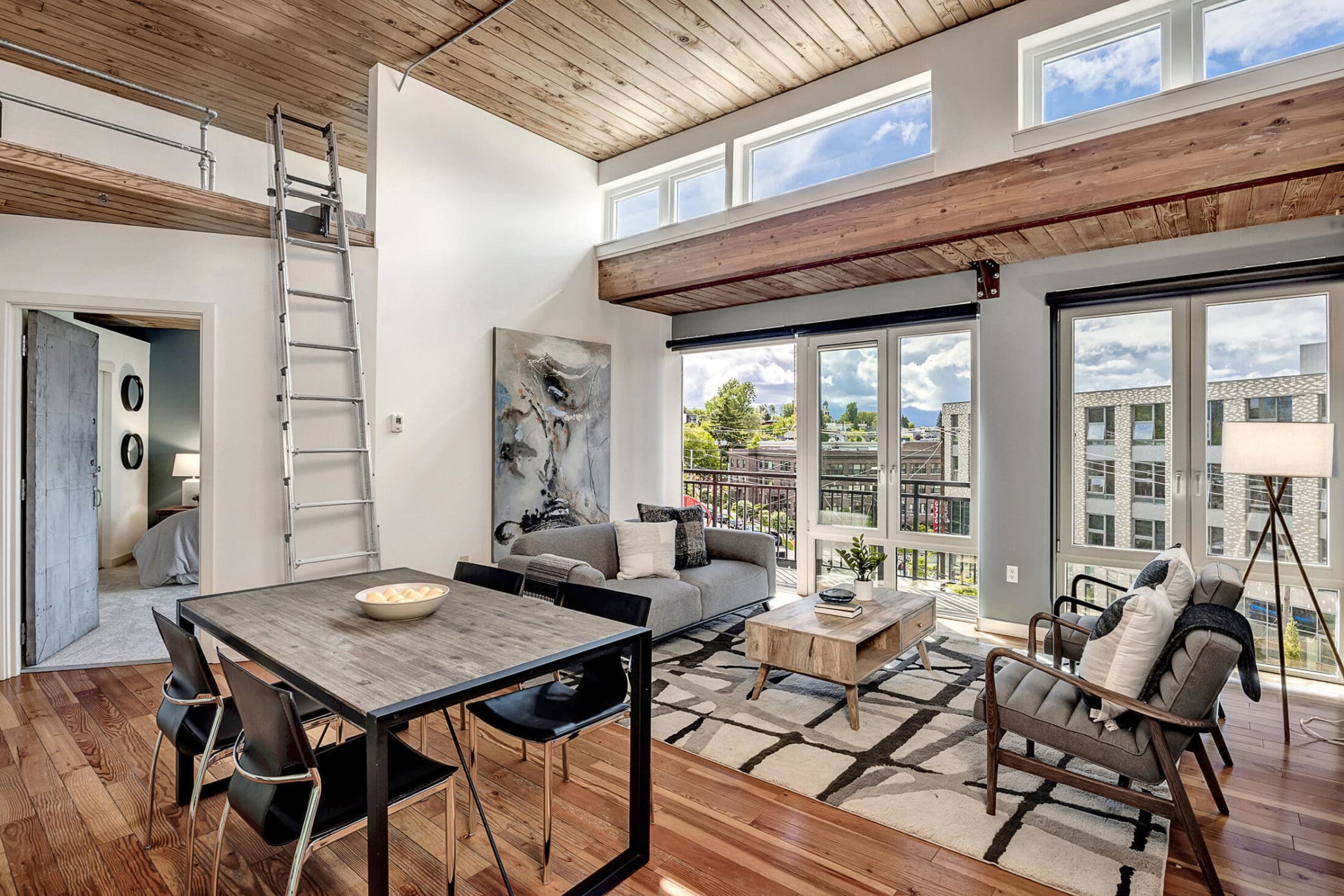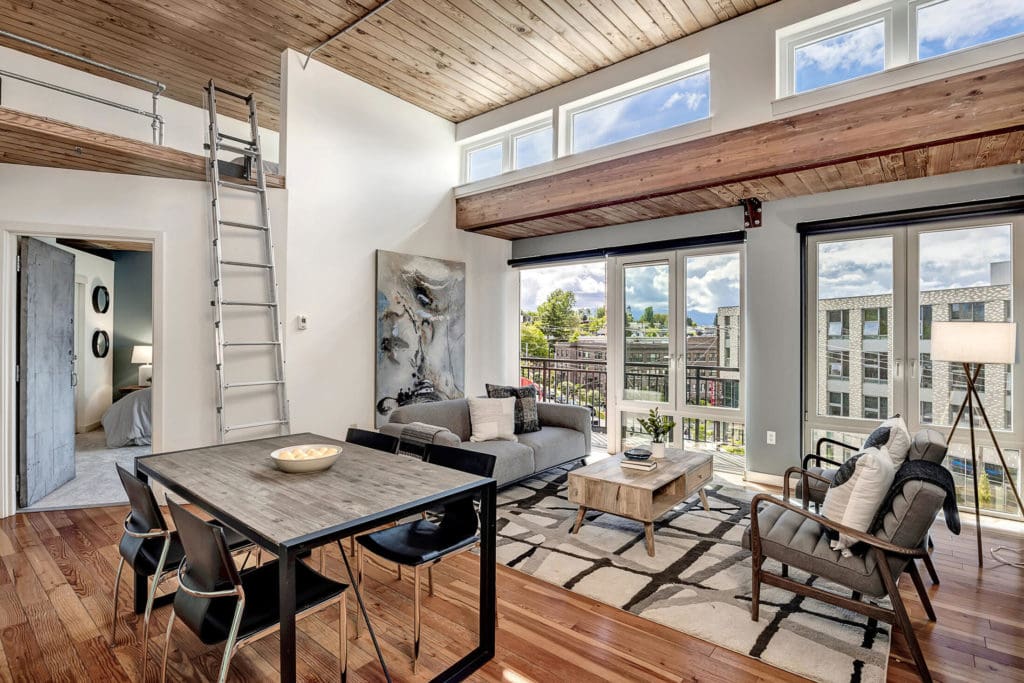 In general, the process of buying a luxury home in Seattle is almost exactly like buying a traditional home with a few very important differences. Title review, inspections, lending, waterfront issues, and a few other items are what sets this whole process apart. Check out our blogs below to get really into the nitty-gritty of the process. And once you are done check out our how to buy a home details below.
How to Buy a Home in Seattle
Team Diva has a tried and true process for successfully buying a single-family home in Seattle. You'll find a quick outline of the 15 steps below, but for details on each one, check out our blog "How to Buy a Home in Seattle 2023."
Find A Broker Who is Going to Be There For You
Choose Your Priorities
Do a Home Buyer Intake
Get Your Financing in Order
Search for a Home Smartly
Making a Strategic Offer
Mutual Acceptance
Pest and Structural Inspection of the Home
Review The Title Report
Review the HOA/Resale Certificate (for Condos)
Appraisal Process
Final Loan Approval
Final Walkthrough
Signing Your Documents
Closing Day
How is Seattle's Luxury Real Estate Market Different Than the Rest of the Nation
If you're new to Seattle, you've probably noticed a couple things. First, the majority of the single-family homes for sale in Seattle come with a luxury price point, but they are just "regular" homes. This is especially true when you compare us to "luxury" homes throughout the rest of the nation. Here in Seattle, our average price point is almost $1 million, which would certainly be considered expensive or luxury by most Americans.
Second, things are pretty casual around here. Most of our region's wealth has been created in the last 30 years or so by tech giants like Microsoft, Amazon, Expedia, and more. And as it happens, this new tech money usually does not show off its cash in cars, watches, and suits. Instead, you will find a city of millionaires driving used cars.
One more tip: Only real estate brokers use the word "luxury" in reference to real estate. Everyone else calls these homes things like "view homes" or "waterfront properties."
More information here >
What Types of Luxury Homes Exist in Seattle?
When it comes to housing styles, Seattle is a fascinating place. Take the Madison Park neighborhood, for instance. In just one neighborhood you will see a class Tudor next to a luxury waterfront condo next to a brand new modern home. And in some neighborhoods like Briarcliff and Laurelhurst, you'll find older, classic stately homes. The same is true for Millionaire's Row in Capitol Hill. For homes in these classic neighborhoods, you should plan on spending $3-4 million.
Seattle is also home to luxury condos. In Belltown, you'll find high-rise luxury condos with jaw-dropping views of the Space Needle. A few of our favorite penthouse condos have private rooftop decks, and we also love a condo with easy access to the city. Plus, the lifestyle that many of these luxury condos afford cannot be beaten. One interesting note is that a lot of Seattle's luxury condos do not have any full-time residents. Many of these condos are viewed as investments by their owners. And to buy a penthouse-style condo home in Belltown or Downtown Seattle, plan on spending $1.3 – $4 million.
How is Buying a High-End Home Different From Other Home Buying Processes?
Overall, buying a luxury home or a typical single-family home in Seattle is going to be the same process. Be sure to check out our blog "How to Buy a Home in Seattle 2023," and download our Home Buyer's guide if you'd like to learn more.
However, there are some nuances to buying a luxury home that you should keep in mind. The biggest difference between buying a luxury home versus a more standard home in Seattle is how listing brokers interact with the buyer's team. Jany listing brokers will insist on meeting potential buyers at the home. Additionally, prior to touring many of the homes, you have to prove that you have the cash on hand to purchase the property.
Buying a Mansion, Waterfront, or High-End Single Family Home
Here is our checklist of things you should keep in mind when buying a luxury home in Seattle:
Home Inspection: You should plan on doing an extensive inspection of the home. It's possible you'll need special permission to do siding inspection. And if it's a horse property or a more rural property, you also might need outbuildings inspected. Plan on the inspection taking at least 8 hours.
Geo-Tech Review: You'll find many of Seattle's view homes built into Seattle's notorious sliding hills. A geo-tech review is a must!
Extended Title Insurance: Most home sales come with ALTA title insurance. However, we are big believers in getting Extended. This way, you will know exactly where the boundaries of your property are. Extended title insurance is also especially helpful for waterfront properties. Also, know that some rural areas do not even offer Extended title insurance. Check-in with your title representative to learn more about these options!
Conduct a Survey of the Property: Did you know that the vast majority of Seattle homes don't have a property survey recorded? Unfortunately, this means you should assume that your neighbor's fence is on your land. Now, this gets super sticky when the garage is built on a neighbor's property. This happens often with older homes in historic neighborhoods (which are where you'll find many luxury homes in Seattle). Get this all cleaned up before closing!
Dive into more information here >
Buying a Penthouse Condo
When you're buying a penthouse condo in Seattle, here are a couple of things to keep in mind:
Does the Building Have Any Pending Work Coming Soon? Nothing will crash an investment in a building like having the building fully wrapped because the siding wasn't correctly installed. You absolutely must read the HOA documents. And if you would like a lawyer to review the documents, we have a recommendation for you.
Where Are the Secret Pockets of Luxury Homes and Communities In and Around Seattle?
Now that you know more about how to successfully buy a luxury home in Seattle in 2023, how do you find these exclusive communitie? We've put togethers a short list of the Seattle neighborhoods where you can find luxury homes. There are many more neighborhoods that could be added to this list, but we wanted to give you a better sense of where these areas are located. And excuse the upcoming commentary… What can we say, we do like to give our opinions about the different neighborhoods!
Millionaire's Row on Capitol Hill
There is a little pocket in North Capitol Hill that's nestled along Volunteer Park, and this beautiful area is called Millionaire's Row. It is now a registered historic landmark district.
Broadmoor in Madison Valley/Madison Park
Not many people in Seattle even know about this secret pocket of vintage luxury homes. And frankly, it seems that the founder and current owners like it this way. Broadmoor is a gated community in the middle of Seattle. It was originally built with racial and social exclusionary covenants which discriminated against everyone from Jews to BIPOC communities. These restrictions are now illegal, but sometimes the founding vibe of a neighborhood continues into the present day.
Madison Park
Stunning luxury homes are sprinkled in and around the business district of Madison Park. In this area, you'll find charming 1920s cottages right alongside modern homes. We love to get brunch and dinner in Madison Park, and touring homes in this area is always amazing. For some reason, it seems like every home in Madison Park has a library—which we love!
Washington Park
Did you know that Seattle has a tennis club? Well, it does, and the neighborhood along the hill that's near the club is known as Washington Park. Many of these homes show off stunning views of the Cascades and Lake Washington. You'll also find some of the most architecturally significant homes in the city here.
Denny Blaine
Many people are surprised to learn that Seattle has a secret nude beach. Yes, really! There is a public beach on Lake Washington that's tucked away in this super exclusive neighborhood. Somehow, the community and the public beach seem to work it out. Regardless, this neighborhood is filled with stunning homes, and each one is unique unto itself. (We also know there is a big Democratic funder in this neighborhood. The whole area gets shut down a couple of times throughout the year during fundraising season!)
Pritchard Island
Tucked away in South Seattle, there is a little secret island called Pritchard Island. Most of the homes here are waterfront properties and offer stunning views of Lake Washington. Shockingly, it is one of the most affordable waterfront luxury home communities on Lake Washington. You may even see a Diva or two walking their dogs in this community!
Briarcliff in Magnolia
A joke amongst some people in Seattle is that if you want to find a Republican in the city, you have to go to Magnolia. More specifically, Briarcliff. It's one of those areas with the highest reported incomes in Seattle. Many of the homes in the area are designed in that "classic mansion old-world charm" way. This neighborhood is also close to many of the docks in the area—you know the docks where all of the stunning sailboats are!
Webster Point in Laurelhurst
Laurelhurst is located directly east of the U-District, and it has a little peninsula that juts out into Lake Washington called Webster Point. This area was originally developed around 1900 by wealthy Seattleites to create a community surrounding the Seattle Golf Club. The homes are jaw-droppingly stunning. The peninsula is conveniently situated so you get a huge view of Lake Washington and Mt. Rainier. And today, many of the homeowners are industry leaders or CEOs at many of Seattle's tech companies.
Olympic Manor
Hands down, Olympic Manor is one of our favorite North Seattle communities! It is a sort-of gated community just north of Ballard, and is super close to Greenwood. This area has some absolutely stunning mid-century homes with views of the northern Puget Sound, and the best holiday lights are in this community!
Blue Ridge
Blue Ridge is right around the corner from Olympic Manor. And oh my goodness… The views! The mid-century homes! Once again, here you will have these incredible full-western views that also show off the Olympic Mountains. We love this area as well.
View Ridge
This little micro-neighborhood in North Seattle has one of the best-rated elementary schools in the entire district. And you guessed it—View Ridge is named after the breathtaking views. Do you want a view of Puget Sound? Then this is where you want to live!
Admiral District
You'll find many exclusive view neighborhoods with stunning homes in West Seattle, but one of our favorites is the Admiral District. We love this neighborhood in part because almost every home provides residents with a view of Puget Sound, the city, and the Cascade Mountains. Metropolitan Market is also close by, which is the perfect place for foodies to shop.
Beach Drive
Not many people talk about Beach Drive when they mention Seattle's exclusive luxury enclaves. But Beach Drive is nestled in the western area of West Seattle, and these waterfront homes are spectacular. They offer views of the Puget Sound and each home is unique. If you get an opportunity to tour one of these beauties—take it!
The Highlands
Located just north of Seattle, The Highlands was originally built by the Olmsted Brothers. These are the same brothers who are responsible for many of our stunning parks and greenways throughout Seattle (and Central Park in NYC!). The Highlands is easily one of the most exclusive communities in our region. Historically, you had to know someone to even buy into the community. And still, you have to be approved by the community and pay an additional $25,000 initiation fee to buy into the community. (The community does say that it's committed to diversity… but we will just think about generational wealth and keep our thoughts to ourselves on this one.)
Inverness
We have talked about all of the historic communities with mansions in Seattle, but what about our mid-century view homes? Lucky for you, Inverness is home to these amazing view homes in North Seattle. From the 1950s onward, architecturally significant homes were built here. However, the way the neighborhood was originally developed unfortunately led to long-term soil instability in the area. Make sure you hire a Geotech professional if you're interested in one of these homes.
Parts of the Eastside
If you're learning more about how to buy a luxury home in Seattle in 2023, you may also want to consider homes on the Eastside. The majority of the homes that are easy commuting distance to Microsoft in Redmond and tech headquarters in Bellevue are considered luxury-priced homes. But the following areas are where you will find truly exceptional homes:
Hunts Point
Medina
Clyde Hill
Beaux-Arts
Bridal Trails
Woodinville
Juanita
Mercer Island
Here is the whole blog here: Where Are the Secret Pockets of Timeless Homes and Communities In and Around Seattle?
---
Thank You For Reading This Very Detailed Guide on How to Buy a Luxury Home in Seattle 2023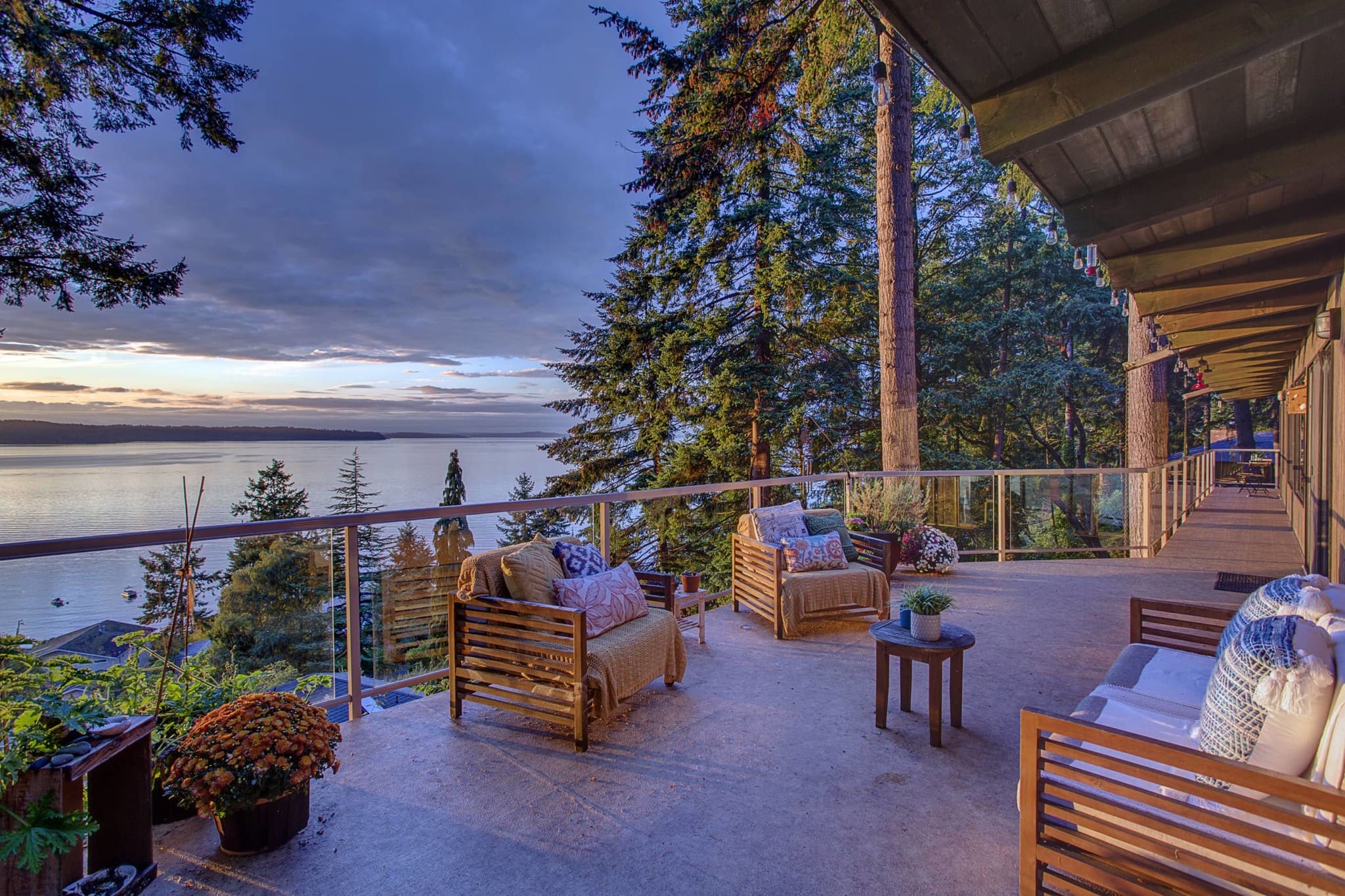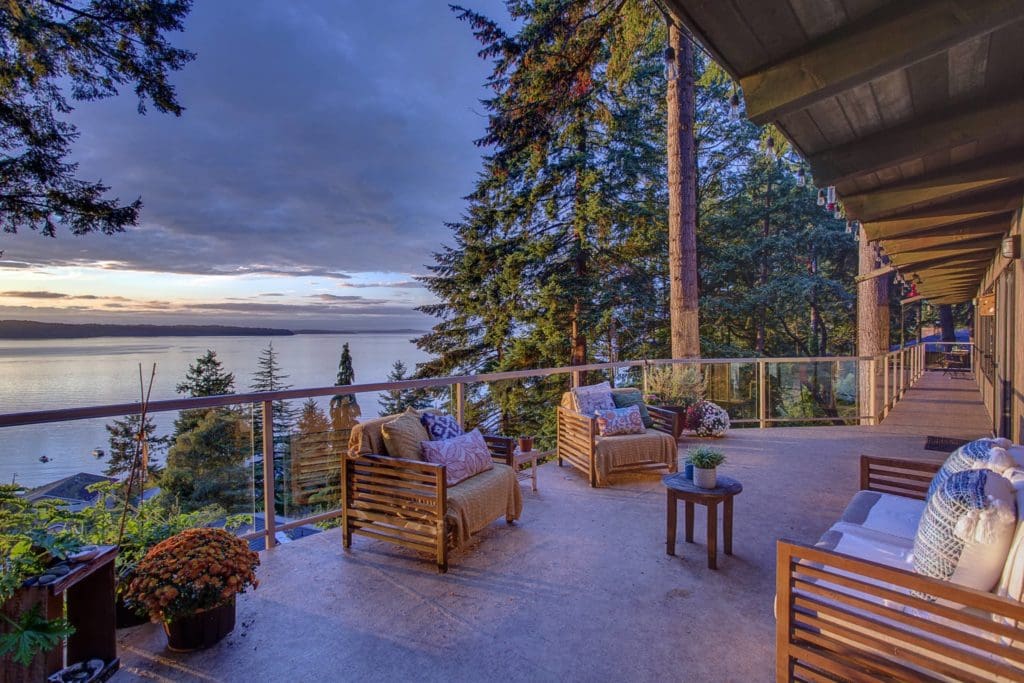 Learn More About Buying a Luxury Home in Seattle in 2023
We have a ton of additional resources for home buyers. Be sure to check out the following:
Be a Smart & Savvy Home Buyer & Seller in 2023
Check out our home buyer and seller guides for 2023:
We are here to help. Our team understands that this process can take a year or two. And we are more than willing to give you a personalized plan to get the ball rolling. Feel free to contact us directly at thediva@teamedivarealestate.com or call/text 206-271-0264.