Want to know how to sell a home in Seattle? More importantly – do you want the Team Diva secret on why our homes sell for more money than neighboring houses. In this blog we are going to take you behind the scenes and give you all of our secrets on what you need to know on "How to Sell a Home in Seattle."
Before we get started, know that we have written super detailed blogs about the entire process of selling a home. Start here if you are extra nerdy and want all of the nuggets. Check out "How to Sell a Home in Seattle"
Ten Steps to How to Sell a Home in Seattle

Let's dive into the guide below and make sure you have all of the details you need to be a super smart and successful home seller. 
Guide to How to Sell a Home in Seattle
Start with our video How to Sell a Home in Seattle above to get a good feel for how this process works. Kim goes into a ton of detail. And then dive in below with all of our steps.
Step One: Choose a Listing Broker That is a Good Fit for You!
This is a very intimate process and you need to make sure you are matching up with someone who can take care of your biggest asset. Lucky for you we have a blog that goes into detail about questions you can ask a broker to see if they are a good fit for you. Dive deep into Questions to Ask a Listing Agent Before You Hire to Sell Your Home.  
Pro-Tip: Just because the listing broker works a certain neighborhood really well doesn't mean they are the best for you. We often get calls from people who have unique homes to sell because they know our online marketing will bring unexpected buyers to their home. 
Step Two: Conduct a Detailed Home Walkthrough with your Listing Team. 
At Team Diva we have our listing manager, Michael Jouver who is in charge of all of our vendors and supporting the listing brokers. All of us take Michael with us to do a very detailed walkthrough at the home. The Walkthrough determines everything that is needed to get your home market-ready. And when I say "detailed" – this Diva means detailed (Don't get Kim started on those boob lights again! Check out Kim's Pet Peeves – Bad Lighting). Then Michael takes that list and works with you to schedule all of the vendors. Everyone from the cleaners, landscapers, interior designers, stagers, and handypeople. And for those of you who want all the good stuff check out our blog How to Prep Your for Sale in Seattle or watch the video on YouTube.  
Pro-Tip: A good listing team will provide you with a very detailed list to help you sell your list. Anyone who says you don't need to do anything is afraid of conflict and will be a pushover during the negotiation phase. 
Step 3: Fix What's Broken 
This is the most important step no one ever talks about. We had a big old grand house on Capitol Hill that would have only sold for $700k – maybe $800k if we did nothing. We had a long conversation with the seller and he decided to fix what's broken. It took time. In the end, he made a $20,000 investment and ended up selling the home for just under $1.1Million. Check out Roy's video of the before and after photos of this home so you can get a feel for the process.
Want more detail about what we mean by Fix What' Broken  – well we have a blog cause that's what we do. Tap that link First Time Home Seller Fix What's Broken and get educated.  
Pro-Tip: Just recently we won a home that had zero offers because the home sellers wanted everyone to buy the home that was as-is. Aka they didn't want to fix what was broken. Don't be on the receiving side of buyers who want to negotiate because you didn't want to get to work. It is no fun!!!
Step 4: Make it Pretty 
This is key to how you sell a home in Seattle. We want your home show at the top of the class! To be inspirational. As soon as someone walks through your door we want them to sit down, settle in, and fall in love. Beyond the fresh paint, new carpeting, and updated lighting there is Staging. Staging is the foundational block of what it takes for us to market your home. We know staging costs money and it feels like it is useless. But over and over again we see the real results when our clients stage their home. Check out our blog Staging Your Home Will Help it to Sell for More Money.
Pro-Tip: Just recently we sold a home in Seward Park during a lull in the market. And to our surprise, it sold for 26% over asking. We went back to figure out why our home (which didn't have that Seward Park view) did so well. And what we figured out is that we used a high-end stager. Check out the whole story at Just Listed | Just Sold Seward Park View Home. 
Step 5: Market the Heck Out of It
Team Diva is unique because we have a whole marketing team behind us. So when it's Lights, Camera, and Action time – we make sure your home hits all of the points. And we are constantly innovating. How do we make sure people are paying attention to your home? In the Home Seller Guide, we have a whole list of what we do compared to other average brokers and to other top brokers. Our philosophy is that Selling Your Home Requires an Effective Online Marketing Strategy.
Pro-Tip: Use the search engines and investigate potential listing brokers. Are they doing interesting or unique things in their marketing? Are their photos inspirational? Or are you bored looking at their marketing?
Step 6: Strategically Pricing Your Home
Our goal is to always be super strategic about pricing your home and to not always assume that a home is going to sell in multiple offers. The key item we use to determine the price is the Demand Rate. If you watch any of the "Coffee with Roy" monthly videos you will hear him talk about Demand Rate every time. In his first version of the Coffee With Roy series, he explains how we use the Demand Rate when listing a home for sale. Check out the blog and video Coffee With Roy | February 2022 Seattle Real Estate Market Update. Knowing your neighborhood Demand Rate gives us an inside track to how the market is trending right before we list your home – not how it was two months ago. Check out our blog How Do You Price a Home to Sell in Seattle for more detail. 
Pro-Tip: There are two reasons why a home doesn't sell in Seattle. The top reason is that the home is overpriced. And the second is that there is something wrong with the home. We dive deeper in Why is My Home Note Selling in Seattle blog. 
Step 7: Diva Marketing Go Time
From day one on the market – it's Go Time. We will be sending out our email marketing, publishing the blog post, uploading the video on YouTube, crafting and posting Reels on Instagram, posting photos on Facebook, etc… And basically doing whatever it takes to make those buyers fall head over heels for your home. A little secret that we don't talk about a lot is that we are also marketing your home to other real estate brokers. Many of these brokers have buyers who know us and will bring their buyers to view your home. 
And clearly – we get results!
Does Our System Work?
Just saying!!!
Pro-Tip: Make sure you share, like, and comment on all of the content that is being produced for your home. It pushes the algorithm to make sure others see your home before others. 
Step 8: Evaluating Offers
Not all offers are equal. Our seller in West Seattle was super strategic. She received a ton of offers but wanted to be sure that the winning buyer wasn't just the highest price but also able to close on the home. That is where we work with you to make sure you know all the ins and outs to evaluate multiple offers when we get them. Our team is extremely well trained to look for weak spots in potential offers. And we get them all buttoned up before we sign the final deal. Want to make sure your home is prepped to receive multiple offers? Check out our Guide to Getting Multiple Offers on Your Seattle Home in 2022
Pro-Tip: The highest offer is sometimes not the best offer. I know that one is hard to swallow. But for real. Be smart about the offer you take on your house. A while ago we wrote Seller Education Evaluating Offers During Multiple Offer Season. And we send it to our clients right before we chat with them about the offers they have received on their house.
Step 9: Your Home Is In Contract!
Don't think the hard work stops once we are in-contract. We still have to close this baby. That means passing the inspection and the home appraisal. And in case there are any market hiccups keep the buyers in the contract. Luckily for you, we have a guide for each step of the final part of how to sell your home in Seattle. Check out our blog Seller Education Final Closing Process and Guide. 
The Contractual Stage
And make sure you and the home are ready for closing!
Pro-Tip: Have a plan of where you are going BEFORE you list your home. Buyers get scared quickly if the sellers do not know where they are going when they put the home on the market. 
Step 10: Closing Day!!!!! 
We did it. Congratulations! Time to transfer all the important documents and keys to the buyer and celebrate!
And – if you are moving on to your next Seattle home. You can be sure we will be scheduling a Buyer Intake ASAP so we can get Phase Two of this party started! 
Pro-Tip: Of course, we have a blog if you need advice about buying your next home. Check out Moving Up How to Buy Another House While Owning a Home in Seattle. 
---
You Did It! You Read the Guide on How to Sell Your Home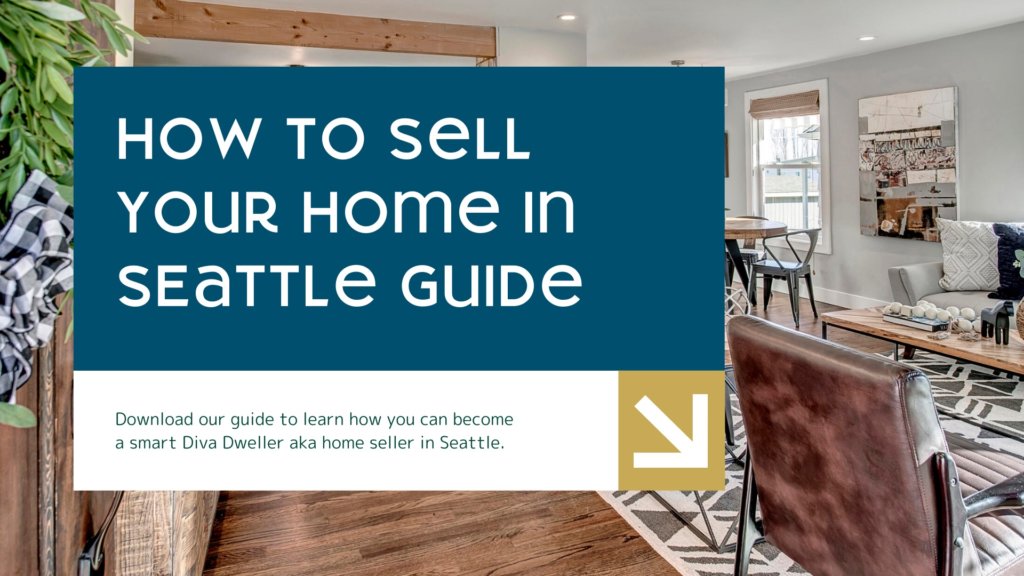 The comprehensive guide on how to sell a home in Seattle has been read in its entirety. One more time here is those steps.
Now it is time to take that next step and contact the Divas. Or get nerdier if you need to. Below are a few more guides we have for you.
More Guides On How to Sell Your Home in Seattle
How to Sell a Townhouse (coming soon)
We are here to help. Our team understands that this process can take a year or two. And we are more than willing to give you a personalized plan to get the ball rolling. Feel free to contact us directly at thediva@teamedivarealestate.com or call/text 206-271-0264.