Why is my house not selling in Seattle? Seattle is typically a really hot market. Even during the slow down, Seattle still weathered the financial crisis better than other real estate markets. Regardless, every once in a while you see a home that just will not sell. And it is tough when this happens to you. So why is your house just sitting on the market?
Hands down, the culprit is Price, Condition, and/or the Marketing of the home.
Let's dig into what's going on and figure out why your home is not selling in Seattle's hot real estate market.
The Three Reasons Why Your Home is Not Selling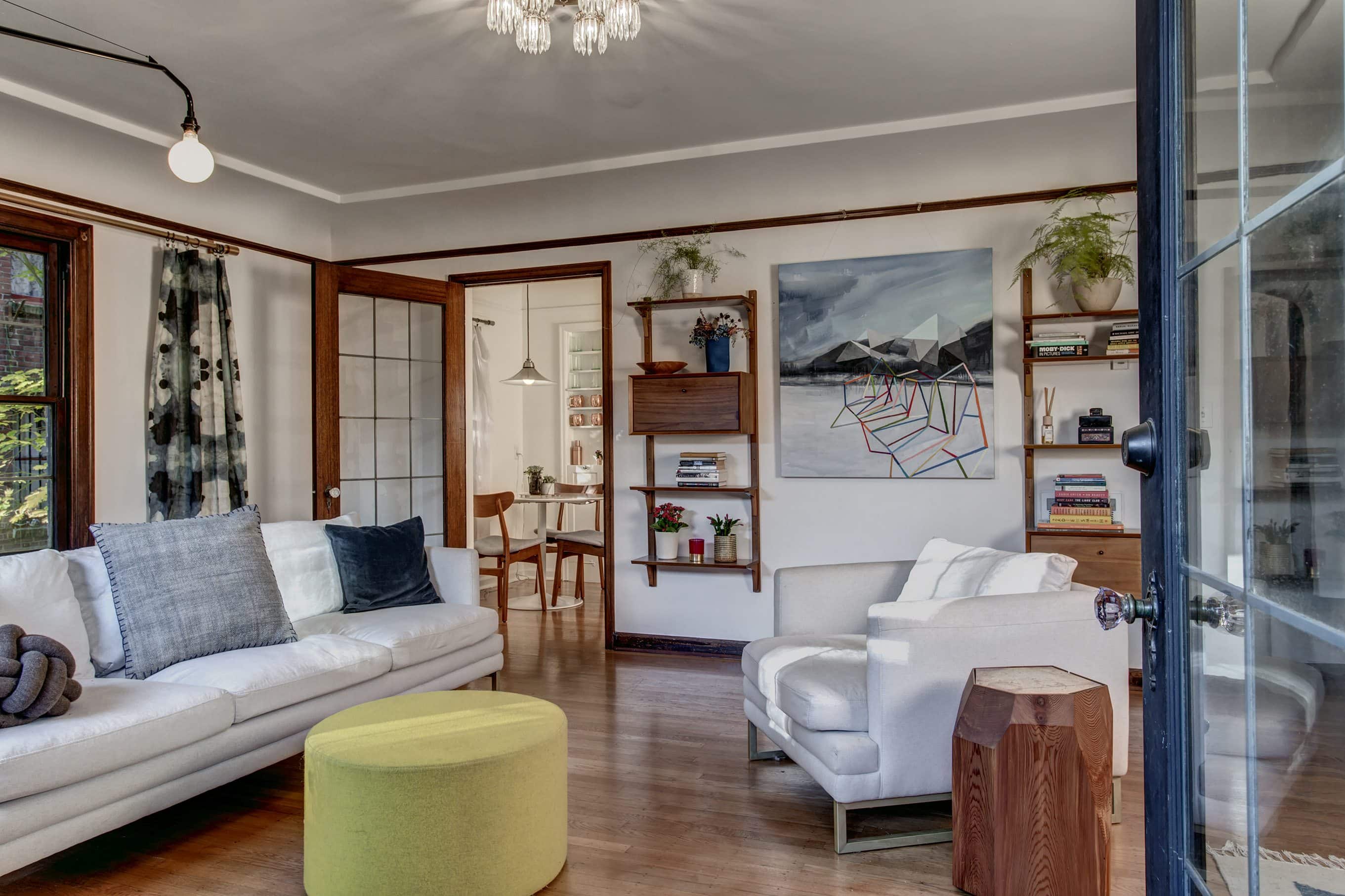 Most Realtors will say it is a price issue when a home does not sell. And sometimes this is the case. And other times it a simple issue of staging, presentation, and/or marketing. Typically when a house does not sell at Team Diva, we dig into the condition of the home first, then we look at the marketing, and if that is still not an issue then we look at the price. Because when you adjust the price it has to be a dramatic enough change to get you a whole new set of buyers. Changing the price has to be the last resort.
Is It Price?
Pricing a home is an art, it requires intuition, and sometimes we have to take out our ego around the idea of valuation.
For instance, you did all of this work on the home and it is amazing. But the market shifted suddenly and you still have to move. At Team Diva, when we price a home we do an initial analysis, and then right before we list the home we pull new numbers. Regardless, the seller still chooses the price, and sometimes that price is more about emotion around the home than the actual value.
Other times, there was an appraisal and it tells you one thing, but the market is clearly not listening to the appraiser. We get it!
Team Diva's Analysis of a Home Before It Goes on the Market
Demand Rate – The demand rate is a real-time look at inventory. We look at the number of actives and compare them to the number of pending homes. It shows us if we are in a buyer's market or seller's market. Each one shows where you need to price a home.
Pending Sale Prices – We call the listing agents to get a feel for where the pending sale prices are going. Are homes selling over or under asking?
Time of Year – Some neighborhoods do best in the Spring. And some types of homes do better in the late Fall. Check out our blog to see when is the best time to sell your home. 
Average Days on Market – Luxury homes notoriously take a bit longer to sell than, for example, a three-bedroom, two-bath home in Ballard. Knowing how long it will take to sell your home is critical. Jump on over to our blog about "How Long It Takes to Sell My Home" and see if this is one of the issues you are experiencing.
Unique Home Variable – There are times we have what we call a "Collectors' Home." This home is a tangerine amid mediocre apples. It is a singular style in a neighborhood surrounded by beige boxes. It is a loft home in Pioneer Square. It is a view craftsman in Rainier Beach. It is a smaller mid-century modern home in Alki. Rare homes that do not have exact comps require creativity and marketing to quantify a price for the home.
Sometimes, conditions change suddenly and the price isn't right overnight. Inventory can pop up, and suddenly you have the highest-priced home in the neighborhood. A home not selling right away in that case is frustrating, and makes good marketing all the more important.
Is it Condition?
The condition of the home could be one of two things: staging or deferred maintenance, aka "Fix What's Broken." We have had sellers tell us that their first listing agent told them to not do work on the home. And as a result, it scared buyers away.
The other issue can be staging. Staging can make or break your home. It can transform a beige boring home into something regal. And, conversely, it can make a home look uninspired, not at all aspirational. We have completed studies of homes and there is a direct correlation to final price and staging.
Time to Up The Staging to Get Your Home Sold?
FROM OUR BLOG ON STAGING YOUR HOME
For a thirty day period in May, there were 157 single-family homes sold in West Seattle. I threw out eight properties because they were teardowns or in such bad condition that staging would not have helped in the marketing. The results:
28 Unstaged/Vacant homes sold for 5% over list price

19 Poorly Staged/Owner-Occupied Homes  sold for 4% over list price

102 Staged Homes sold for 8% over list price
Here is the whole blog about Staging Your Home For Sale >
Time to Fix What's Broken To Get Your Home Sold?
Team Diva has a checklist of items that we check in a home to ensure that it is market-ready. Sometimes you have to take a home off the market and make repairs. And then you can go back on the market with confidence that there are no issues for nervous buyers.
The other issue is that you might need to make some minor renovations to get the price you need. Think Bathrooms or a Light Kitchen renovation. Kim wrote an amazing blog that digs into the right renovations you need to do to maximize your home's value.
But Start Here – Here is our Fix What's Broken general list.
Is It Marketing of Your Home?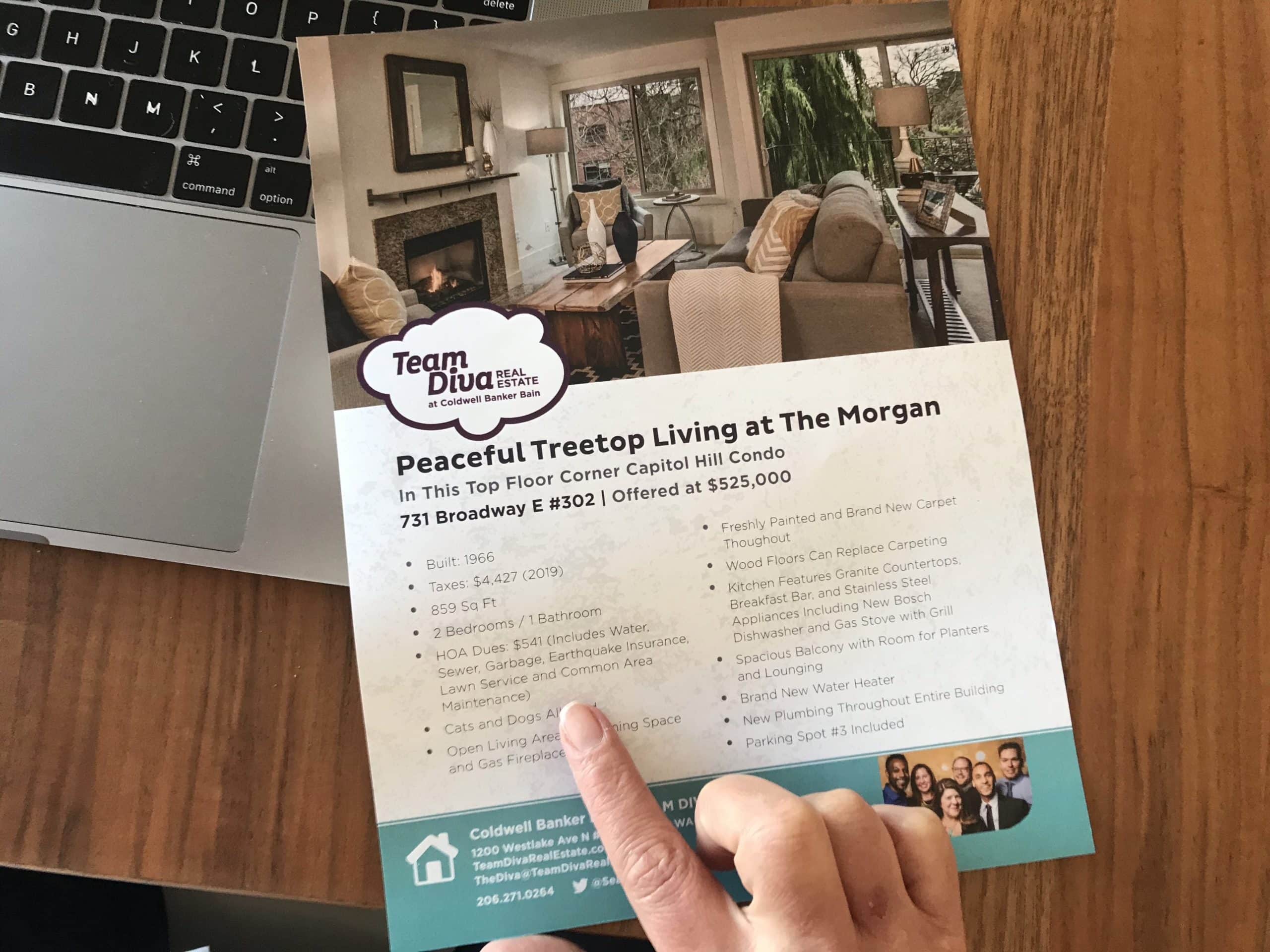 Typically when someone comes to Team Diva, after a canceled listing experience with another agent, the minimum effort was made on the marketing of the home. A lot of agents have been coasting through good marketing and have not taken the extra steps to learn new marketing processes. Team Diva is always learning new ways to market homes online. And we have an incredible follow-up system for showing agents.
Here is How Team Diva's Marketing Stacks Up to Other Seattle Agents
| | | |
| --- | --- | --- |
| Team Diva's Listing Marketing | Other Top Rated Agents | Average Seattle Agents |
| Listing Prep Manager | They Do the Prep Work Themselves | No Prep |
| Professional Staging | Professional Staging | Not Staged |
| Aerial Drone Photography | Aerial Drone Photography | No Drone Photography |
| Aerial Drone Video | Aerial Drone Video | No Drone Video |
| Sunset Photography | No Sunset Photography | No Sunset Photography |
| Video Shot for YouTube SEO | Video of the Home | No Video |
| 45 Photos Online | 25 Photos Online | 15 Photos Online |
| Specific Blog for the Listing | No Blog For the Listing | No Blog For the Listing |
| Facebook Photos | Facebook Photos | Facebook Photos |
| Facebook Video | Facebook Video | No Video |
| Instagram Post | Instagram Post | No Instagram Post |
| Instagram TV Video | No Instagram TV Video | No Instagram Video |
| Email Marketing | Some Email Marketing | No Email Marketing |
| Custom Printed In-Home Flyers | Printed Flyers From Their Office | Flyers From the MLS |
| Cultivated Open House Managers | Someone From Their Office | Minimal Open Houses |
Team Diva is passionate about pushing the edges of online marketing to get results for our home sellers. The results of our intense focus means our homes typically sell for more money and in less time than the Seattle average.
Check out more in our how to choose a top-rated listing agent blog >
Questions to Ask a Listing Agent Before You Hire Them to Sell Your Home
Need More Information About How to Sell a Home Using the Team Diva Process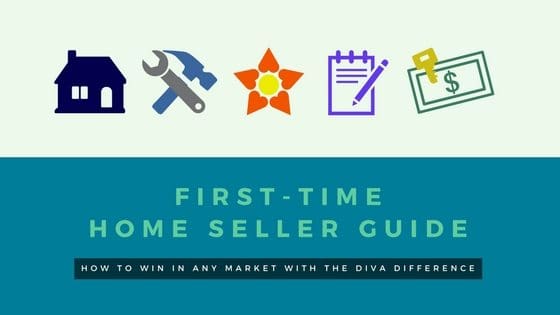 Check out Team Diva's First Time Home Seller Guide and get your home back on the market and sold. This blog post is filled with juicy nuggets to help you overcome any issue your home is experiencing and get it sold.
---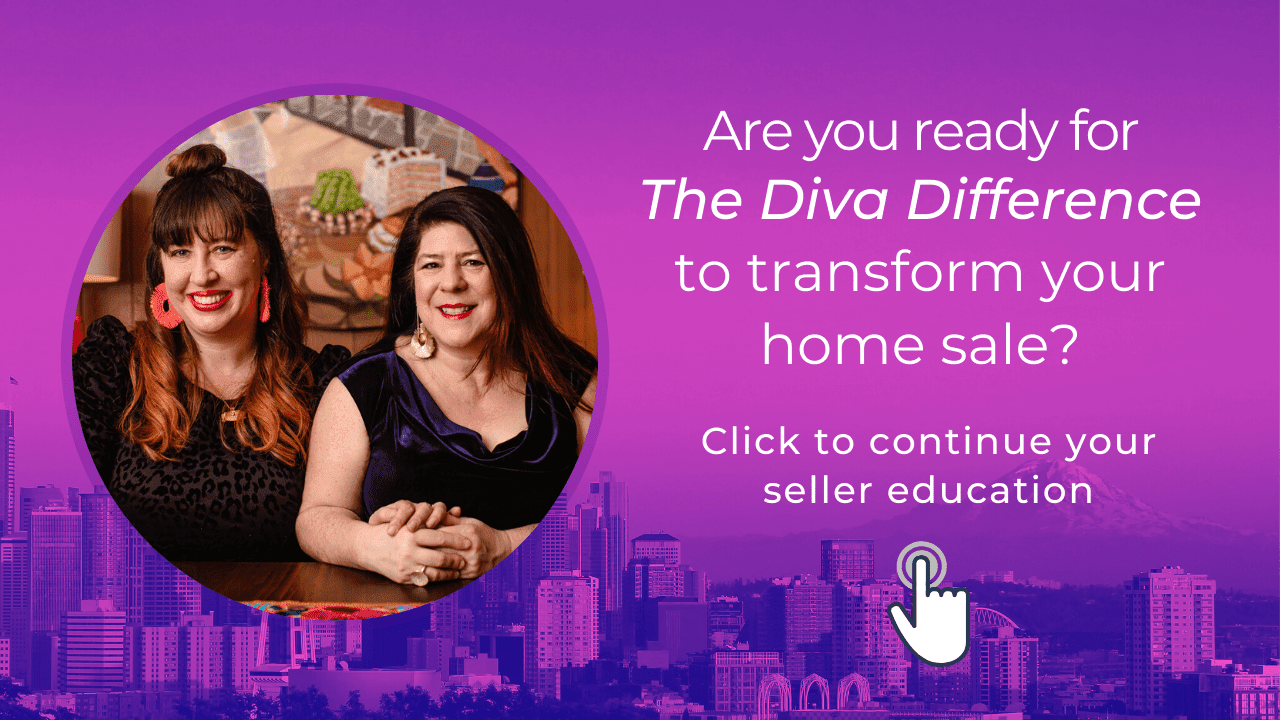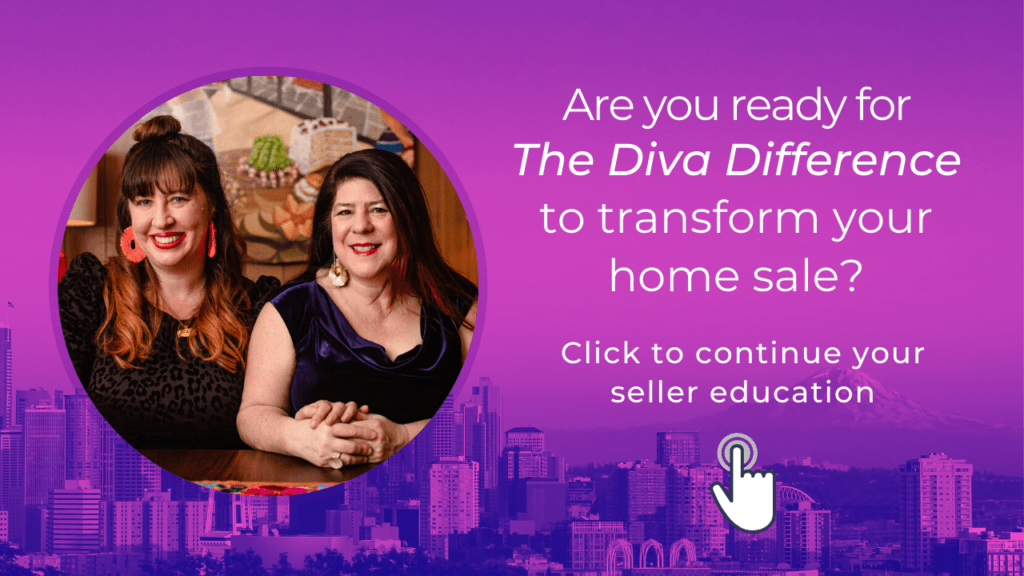 We are here to help. Our team understands that this process can take a year or two. And we are more than willing to give you a personalized plan to get the ball rolling. Feel free to contact us directly at thediva@teamedivarealestate.com or call/text 206-271-0264.