Hot market or not, there are key steps every seller should take to prepare their home for sale. For Team Diva, getting your home market-ready is as easy as 1, 2, 3! We know exactly what you need to do, and we are here to teach you how to prep your home for sale in Seattle.
What is Team Diva's secret sauce for selling homes quickly and for the most money possible? We follow a dialed-in process that we call "The Diva Difference."
How to Prep a Home for Sale in Seattle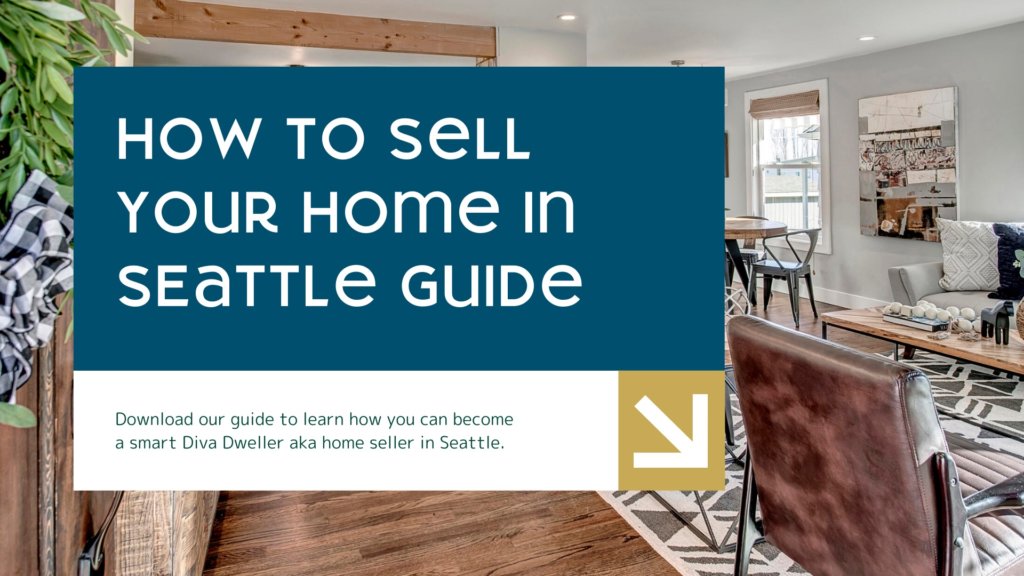 Or the Diva Difference as we like to call it.
Fix What's Broken

Make it Pretty
Stage That House
You know us. We are all about over-educating our Diva Dwellers. So of course, we have a guide on how to prep your home for sale. Click here to sign up for our smart Seattle home seller guide! 
We at Team Diva consistently get a higher list-to-sale price for our sellers than the Seattle average.
Why do our sellers have this much success? Because our sellers embrace our Diva Difference process, which will turn any home into a Unicorn Home! 
---
3-Step Process for How to Prep Your Home For Sale in Seattle
We are here at this wonderful 1920s Bungalow in Seattle's Ballard neighborhood. Roy and I just listed this home, and we are excited to show off this charming space. It is also the perfect opportunity to show you how to prep your home for sale in Seattle using our Diva Difference process.
Step Number 1 – Fix What's Broken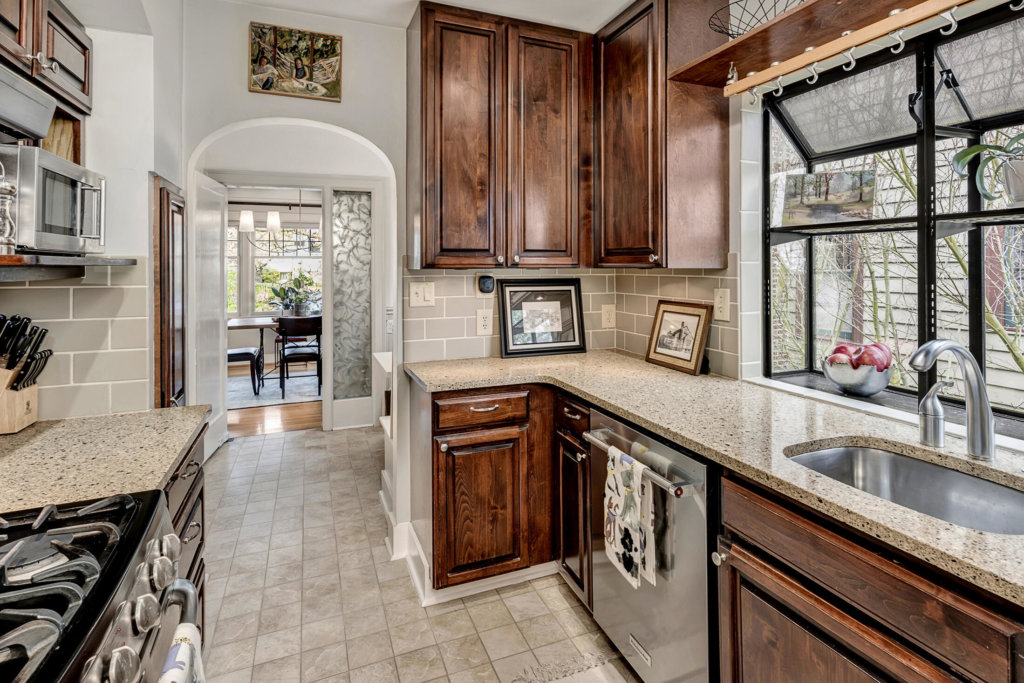 Our sellers bought this home with NO competition and a full inspection contingency. So guess what? We found ALL the problems the sellers chose NOT to fix and negotiated closing costs back to address those items. Do our sellers want to be in the same position when they go to sell? Hell no. 
Repairs = problems = less money for YOU when you go to sell your home.
As our Ballard sellers prepped this home for sale in Seattle, they fixed many things over the years. Now, this home boasts so many updates.
All the Cool Updates the Sellers Made When Prepping this Home for Sale
a newly lined sewer line

a new hot water heater

a newer dishwasher

a new dryer

a fully functioning bathroom skylight
Our sellers have done all the "boring" work for the new buyers so they don't have to. And with how hard it is to find contractors today, this is a huge win for buyers! 
Be boring. Don't make costly seller mistakes. Here is a handy guide to help: Costly Mistakes Sellers Make When Prepping their Home for Sale
Step Number 2 – How to Prep Your Home for Sale in Seattle? Make it Pretty!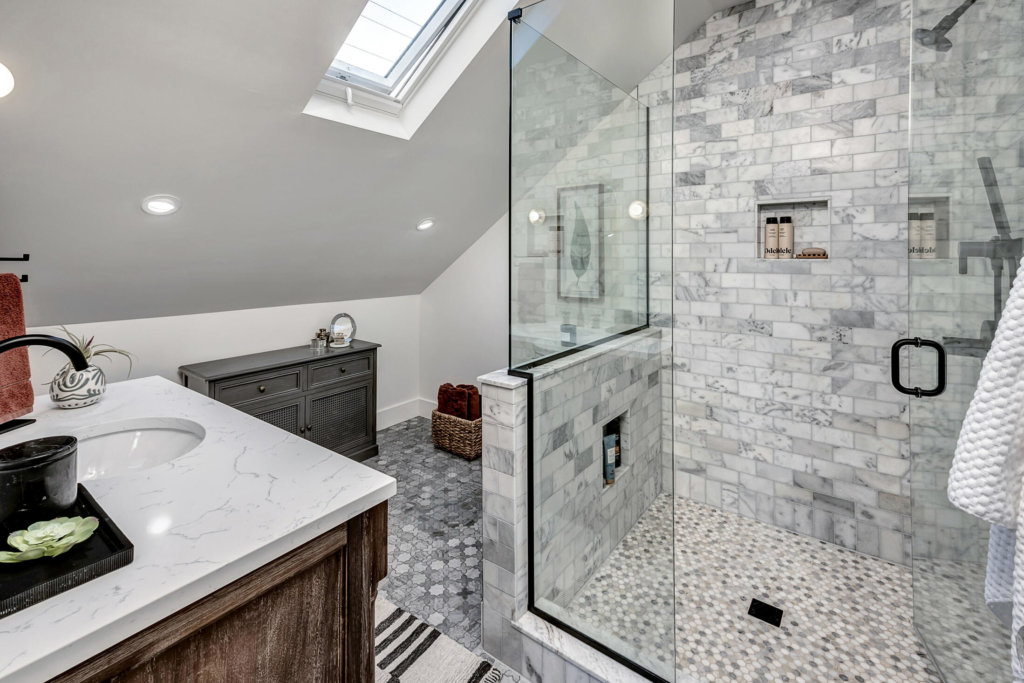 Ok, so what the heck do we mean by "make it pretty"? Well, this means addressing those cosmetic fixes that make your home look worn and tired. 
Upgrading your home while you live there is never a bad idea. The sellers of this fab Ballard Bungalow gave their primary suite bathroom a huge facelift. This means they not only reap the benefits when they sell, but they were able to enjoy this stunning space while they owned the home, too. 
How do you know what to fluff or not fluff? Well, that's where we come in. We always start by doing a walk-through of your home to identify any red flags we see.
Remember that downloadable Home Seller Guide I mentioned earlier? In there you will also find a list of suggestions for what to do to make your home look photo-ready.
These sellers took all our delicious Diva advice when prepping their home for sale in Seattle. On top of doing the "not so pretty work," our clients also: 
Had the home freshly painted, including the trim work and doors

Installed brand new carpeting throughout the upstairs 

Made sure all the lighting in the home was picture perfect

Spruced up the yard
Don't forget that curb appeal. Your home has to look as delightful outside as it does inside!
Step Number 3 – Staging!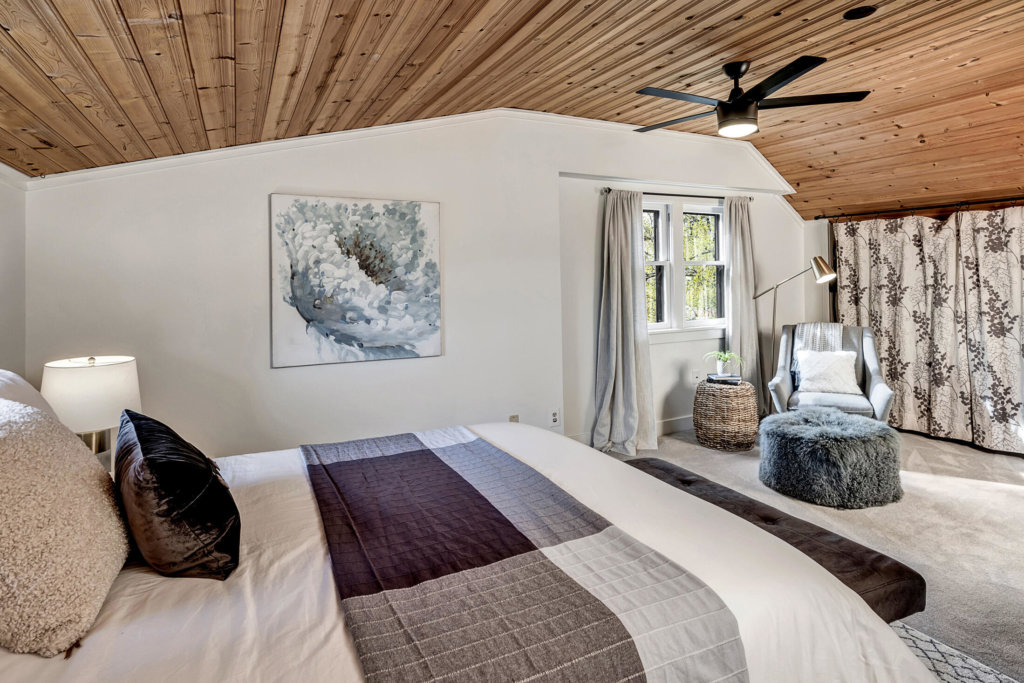 Listing a poorly staged or vacant home is a HUGE no-no in this Diva's book. If your agent is not suggesting you Stage or Restage your home, then assume they are NOT planning on doing their best marketing. 'Cause, you can't have one without the other! 
We know not every seller has the ability to move out completely and have their home staged before they list. But—sorry not sorry—that's no excuse.
When our sellers decided it was time to list, they also realized they would not be able to move twice. Still, we were able to work with our sellers to "Restage and In-Fill Stage" their home to make it show beautifully from floor to floor and room to room. If  you would like to learn more about what this process might look like, check out our blog "Moving Up: How to Buy Another House While Owning a Home in Seattle." 
How to Prep Your Home for Sale in Seattle: Here's How to Make Your Home Divariffic Pretty Checklist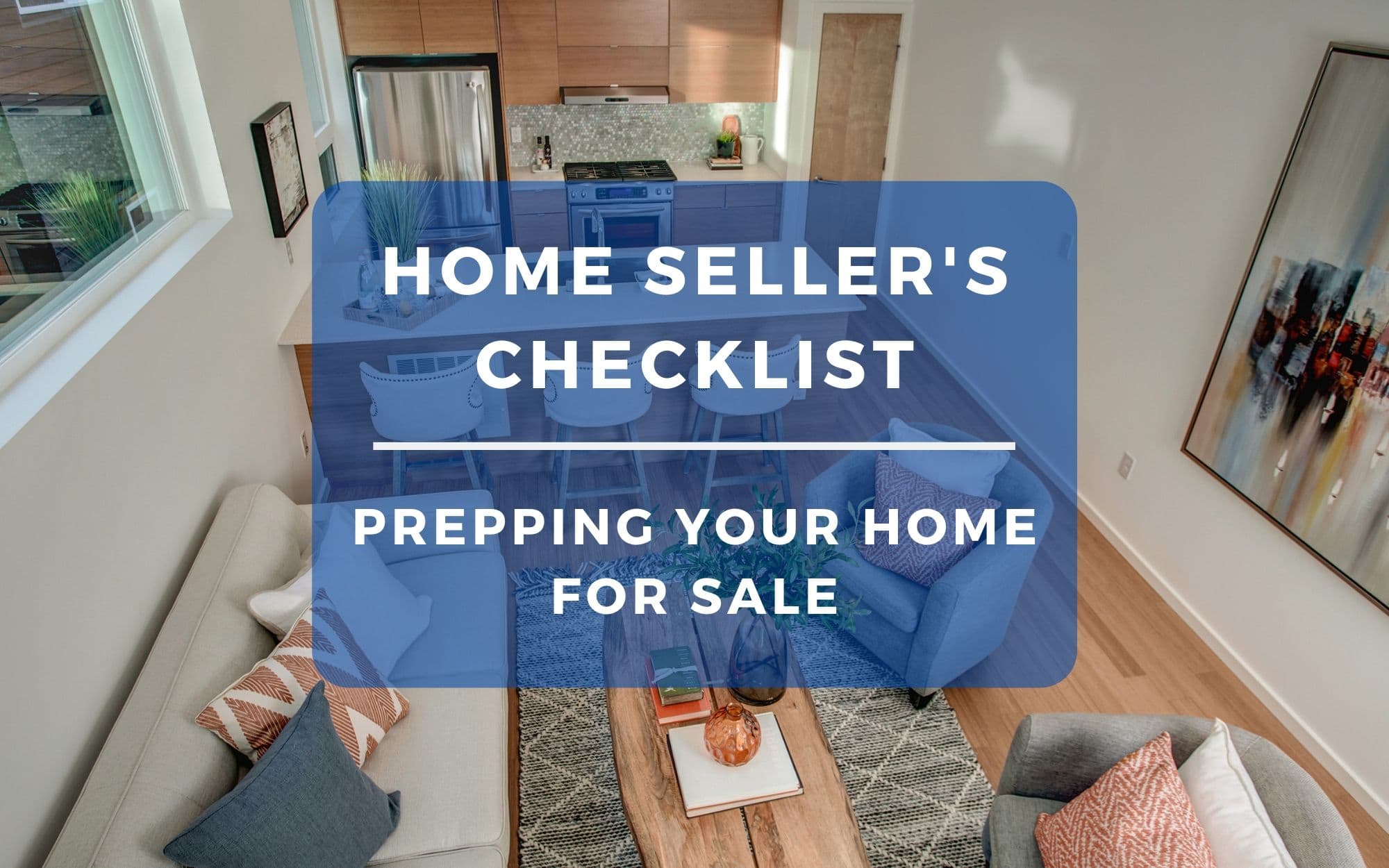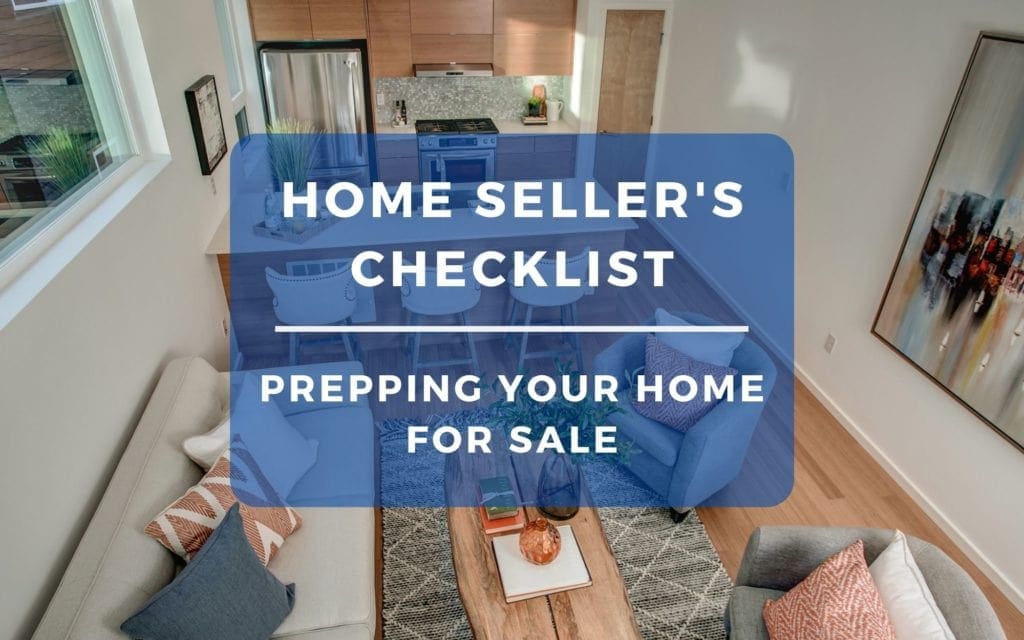 We put together this Home Prep Checklist so you can get started preparing your home for the listing day!
How to Prep Your Home for Sale Quick Checklist
First Step: DECLUTTER. Purge and Pack. Closets, counters, drawers, bedrooms, bathrooms… everything!

Reorganize bookshelves to make them look as tidy and sharp as possible.

Put out some throw pillows to provide pops of color and texture in living areas.

Put black mulch and fresh flowers in the front yard to make photos pop. 

A beautifully planted flower pot strategically placed makes it look like you went the extra mile.

Update old light fixtures or update fixtures for continuity of design.

Remove dead or lackluster plants. 

Update outdated bathroom and kitchen fixtures.

In the bathroom, put out an orchid and fresh towels to give it that "spa" feel. If you can't decide on a towel color, go with classic white.

Make the master bedroom luxurious.

Set the dining room table. 

Clean all of the windows inside and out.

Redo the caulk around the tub, toilets, and sinks.

Clean and/or replace the carpets.

Refinish hardwoods if possible.

And check in with The Divas for other todos! 
There is more on the blog
---
Guide to Getting Multiple Offers On Your Seattle Home in 2022
When we prepare your home for listing day, we go all out. In this video, Kim and Chavi are sharing exactly how to make sure you get multiple offers on your Seattle home in 2022. Of course, every seller wants to get multiple offers on their Seattle home. Our very first listing of 2022 received 20+ offers, and it sold for 37% more than any other home in the same neighborhood!
To receive multiple offers and sell your home for over asking, you need to find Unicorn buyers. Your dream buyers. And these Unicorn buyers are the type of buyers who will drop everything, bid $400,000 over asking, release earnest money, and give you 60 days of rent back for free. But Unicorn buyers aren't going to spend time looking at a dump of a house. They want the amazing Diva Dwelling they're been dreaming about for all of COVID. Unicorn buyers need a Unicorn house! And this guide is going to make sure you sell your home for multiple offers in Seattle in 2022 using the Diva Difference.
Read "Guide to Getting Multiple Offers On Your Seattle Home in 2022" here! 
---
More Details About the Home Mentioned in the Video and This Blog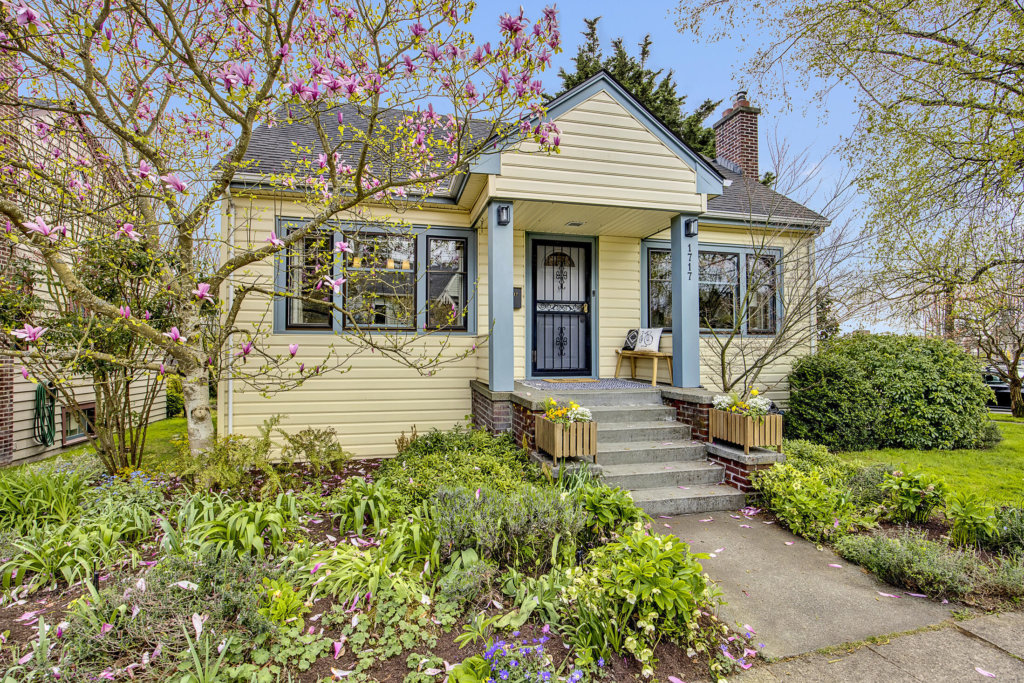 We are so excited about this Newly Listed, Diva-Prepped Ballard Bungalow! Click here for all of the details about this Diva Dwelling.
Home Details
Listing Team: Roy Powell and Kim V. Colaprete 




MLS: 1914768




Price: $1,090,000⁠




Address: 1717 NW 67th St, Seattle, WA 98117⁠
You can also check out my blog post and video "What Can you Buy for $800,000 In Ballard?" to get more information about the Ballard and all it has to offer.
---
More Information About How to Prep Your Home for Sale in Seattle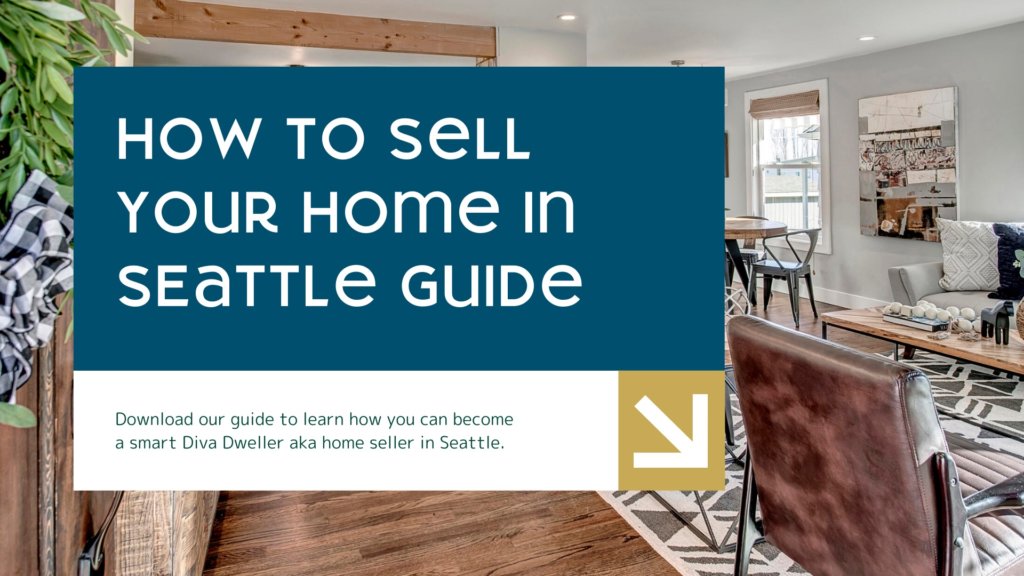 Prepping a home for sale in Seattle is super easy if you have a little Diva know-how. In this blog and in the video we talked about the three main steps. Fix What's Broken, Make it Pretty, and Stage that House.
How to Prep a Home for Sale in Seattle
Or the Diva Difference as we like to call it.
Fix What's Broken

Make it Pretty
Stage That House
More Detail on the Blogs About How to Prep a Home for Sale in Seattle
We are here to help. Our team understands that this process can take a year or two. And we are more than willing to give you a personalized plan to get the ball rolling. Feel free to contact us directly at thediva@teamedivarealestate.com or call/text 206-271-0264.