If you're a first-time homebuyer or you're ready to downsize, this Classic Arbor Heights Bungalow is ready to make your dreams come true! This easy-to-maintain home is practical, yet offers the opportunity for you to customize to your heart's content. The fully fenced backyard is also ready for your unique vision of home-sweet-home to become a reality. And if you already know me, you know how much I adore West Seattle—I'm so excited to show off this neighborhood and all of its perks. 
Let's Tour This Classic Arbor Heights Bungalow
I'm Roy Powell with Team Diva Real Estate at Coldwell Banker Bain. I'm your Southwest Seattle specialist and I cannot wait to show you exactly what I love about this Classic Arbor Heights Bungalow. 
I also always love an opportunity to talk about why I love West Seattle. I love living here, working here, and hanging out here in my free time! There are not only great city amenities to explore (dining, shopping, entertainment—we have it all), but an abundance of outdoor spaces await as well.
---
5 Not-to-Miss Faves of This Classic Arbor Heights Bungalow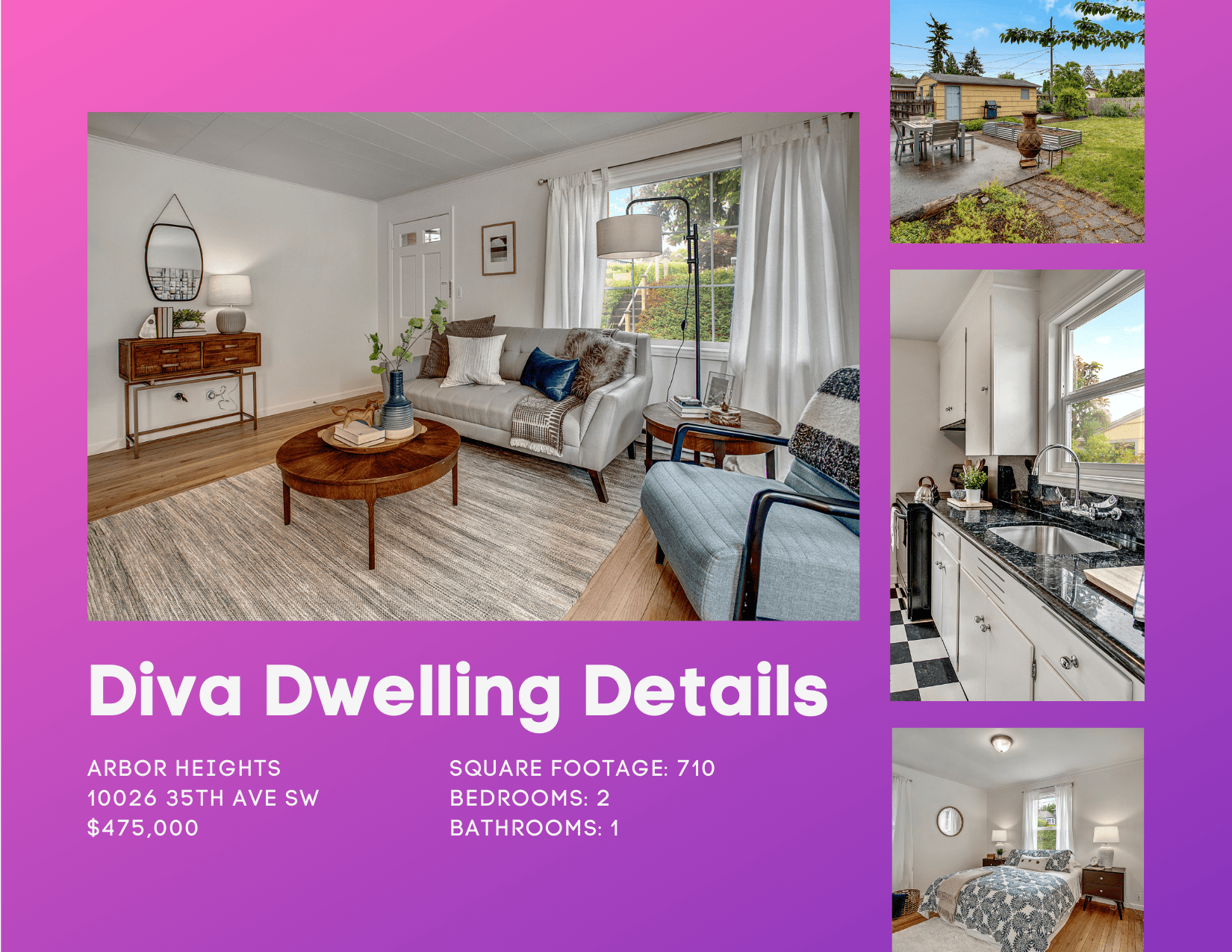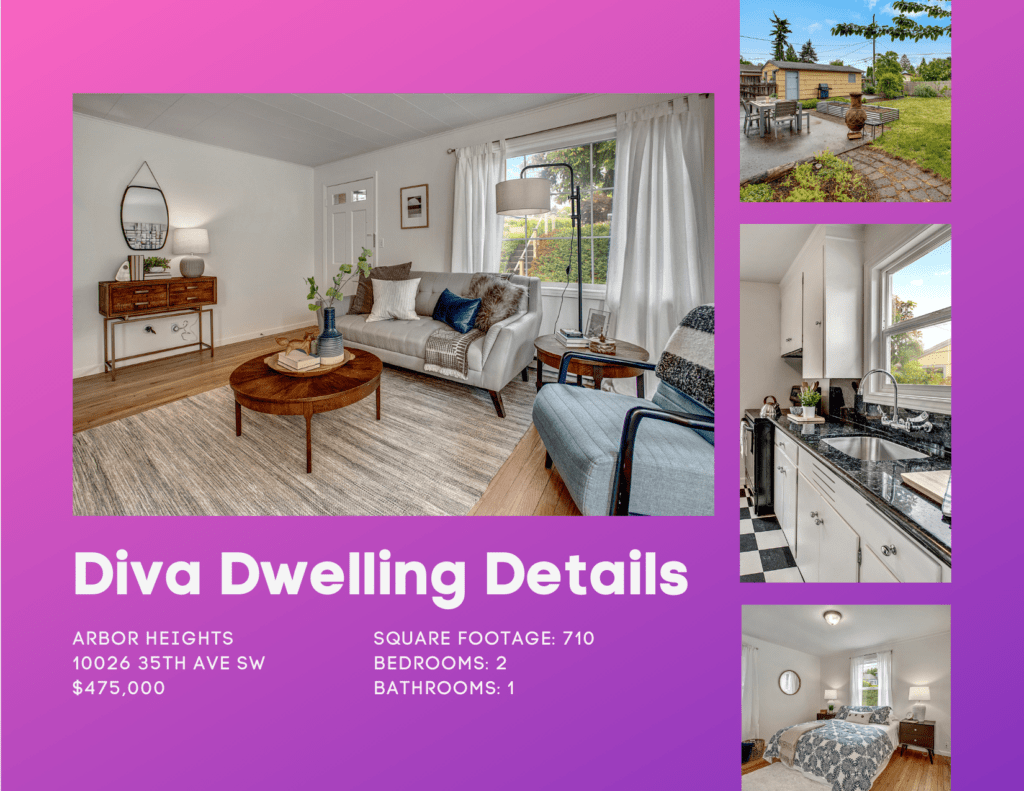 Thank you for joining me on a tour of this Classic Arbor Heights Bungalow! Keep scrolling to see what makes this Diva Dwelling so special from the inside out. 
First-Time Home Buyer? This Diva Dwelling is Practically Perfect in Every Way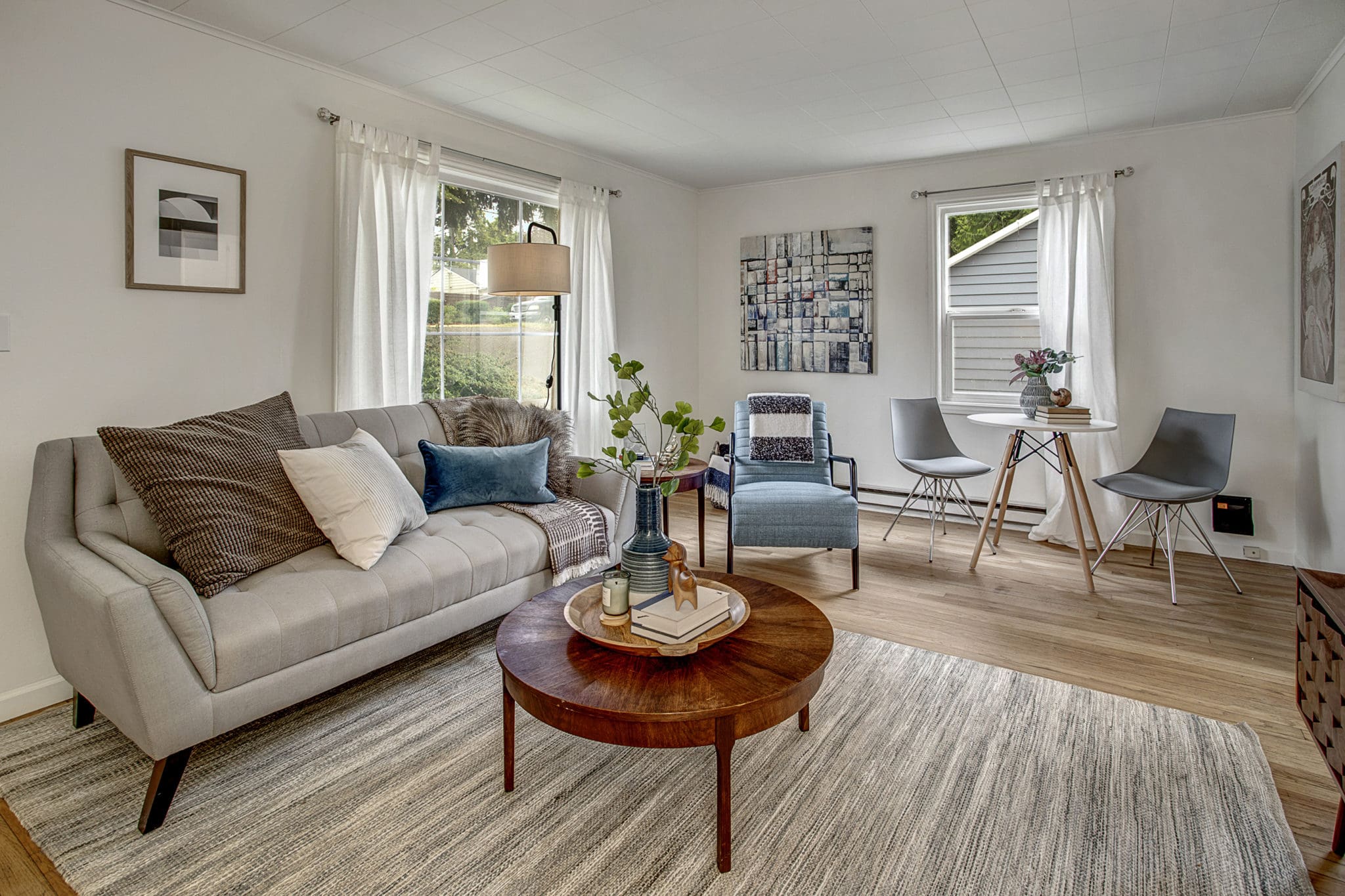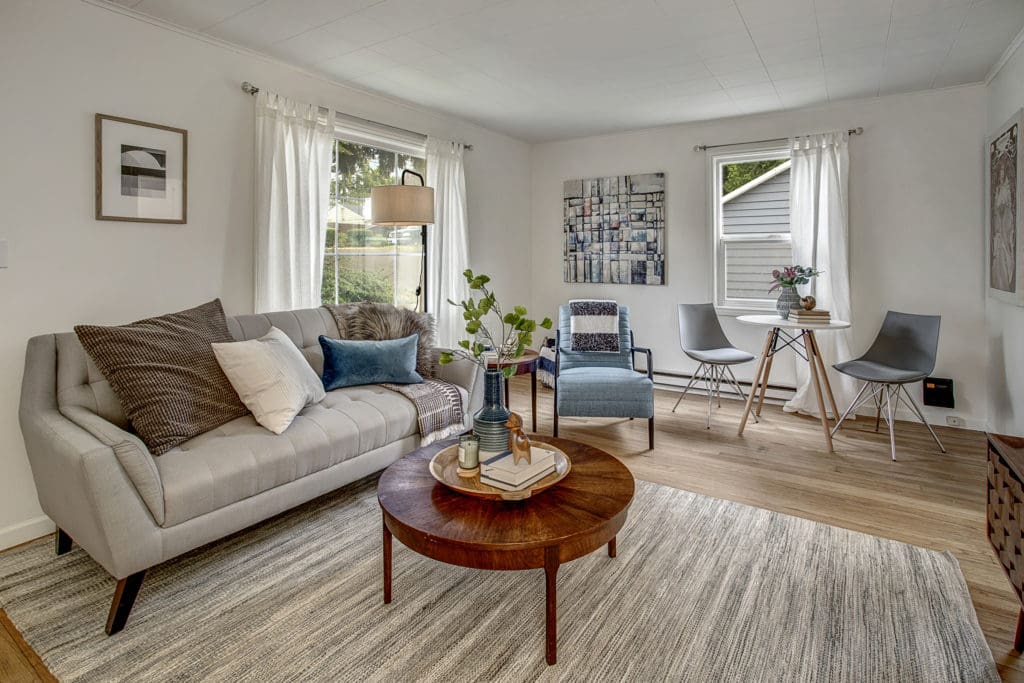 This cute little house is an awesome, affordable option for a first-time home buyer or someone downsizing who wants to stay in the city limits. Seattle isn't getting cheaper anytime soon and finding a nice solid home like this one built in 1942 can be tough. I love these homes because they are super dependable, simple to maintain, and very easy to make your own. 
You have just enough space for everything you need, and yet not a ton of extra rooms to clean. This home is simple, straightforward, and practical. That practicality means you can enjoy living here, instead of feeling like you manage a neverending list of home projects. 
Garage Offers Incredible Versatility in This Classic Arbor Heights Bungalow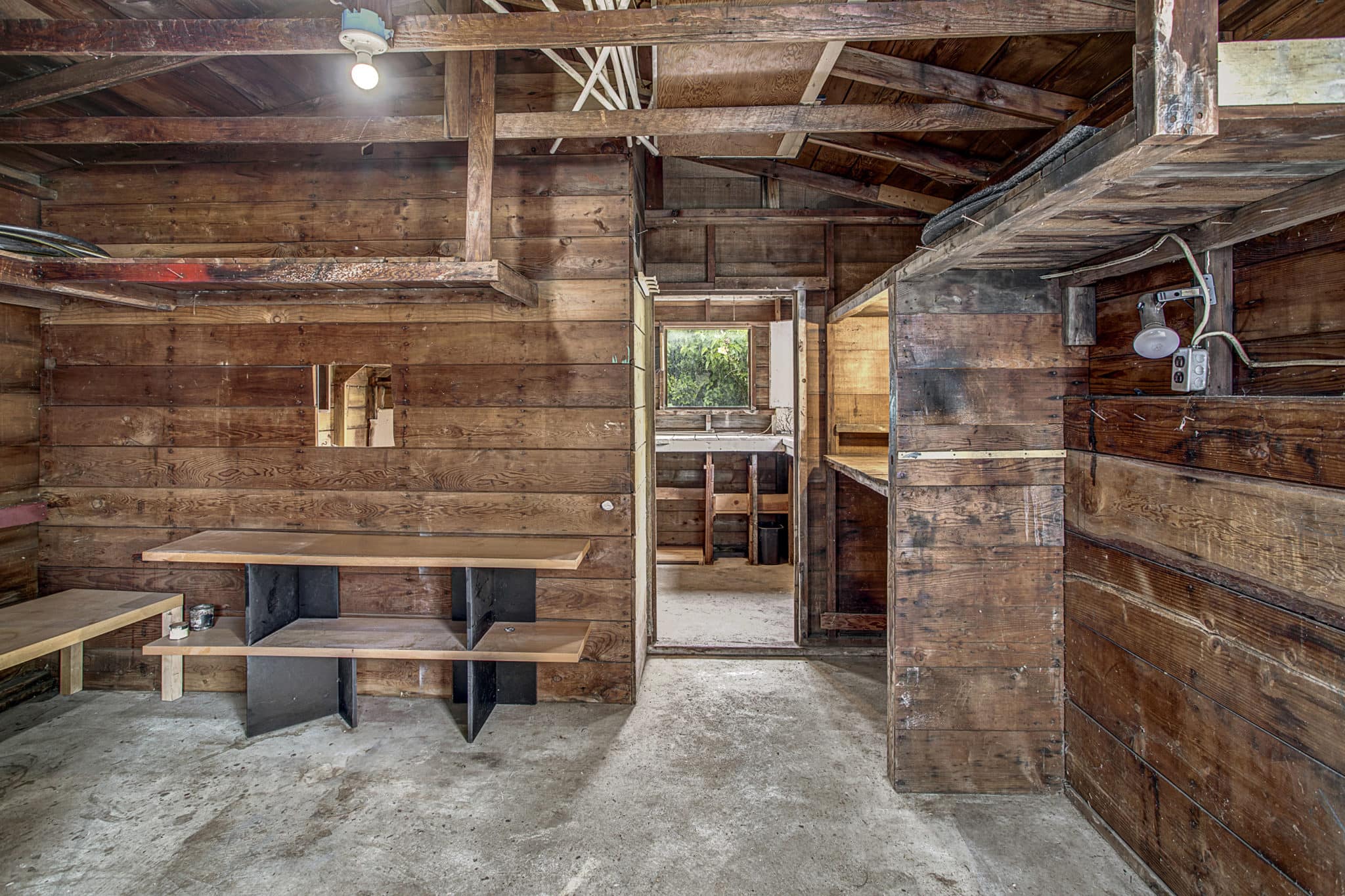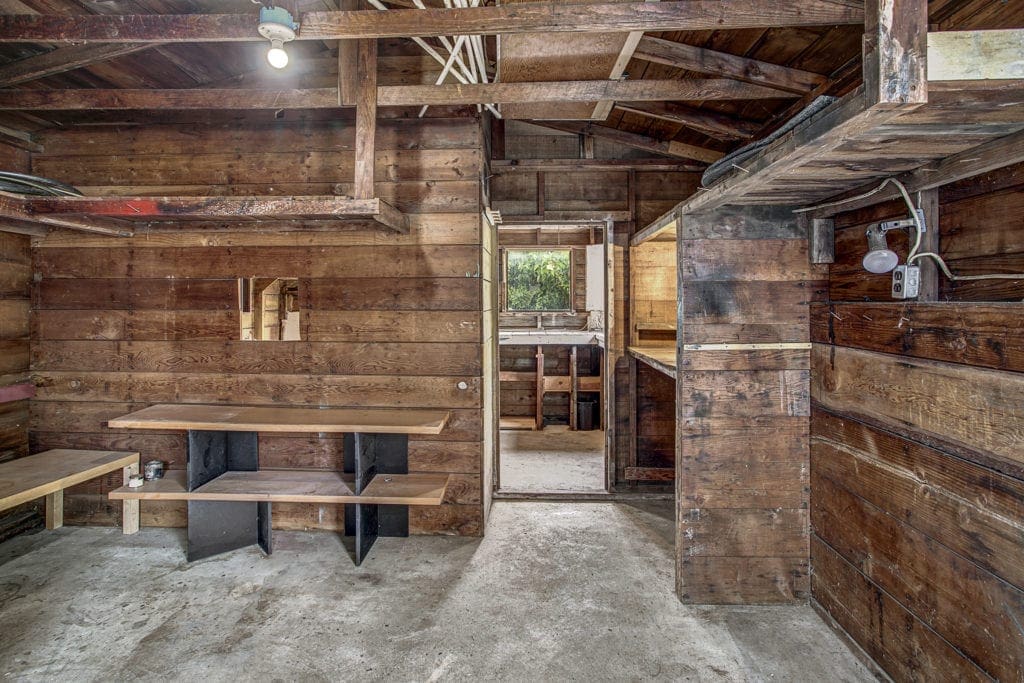 While this Classic Arbor Heights Bungalow is move-in ready, there are tons of things you can customize and make your own. For example, this garage is all set to be the HQ for your new hobby. Looking to get into model building, or need storage for your new canning or homebrew obsession? Or maybe you want to insulate the whole space to make an at-home recording studio. A home gym or a home office are other great options. This garage is a blank slate that's ready for you to make your dreams come true! 
Fully Fenced Backyard is Ready for Your Imagination to Get to Work!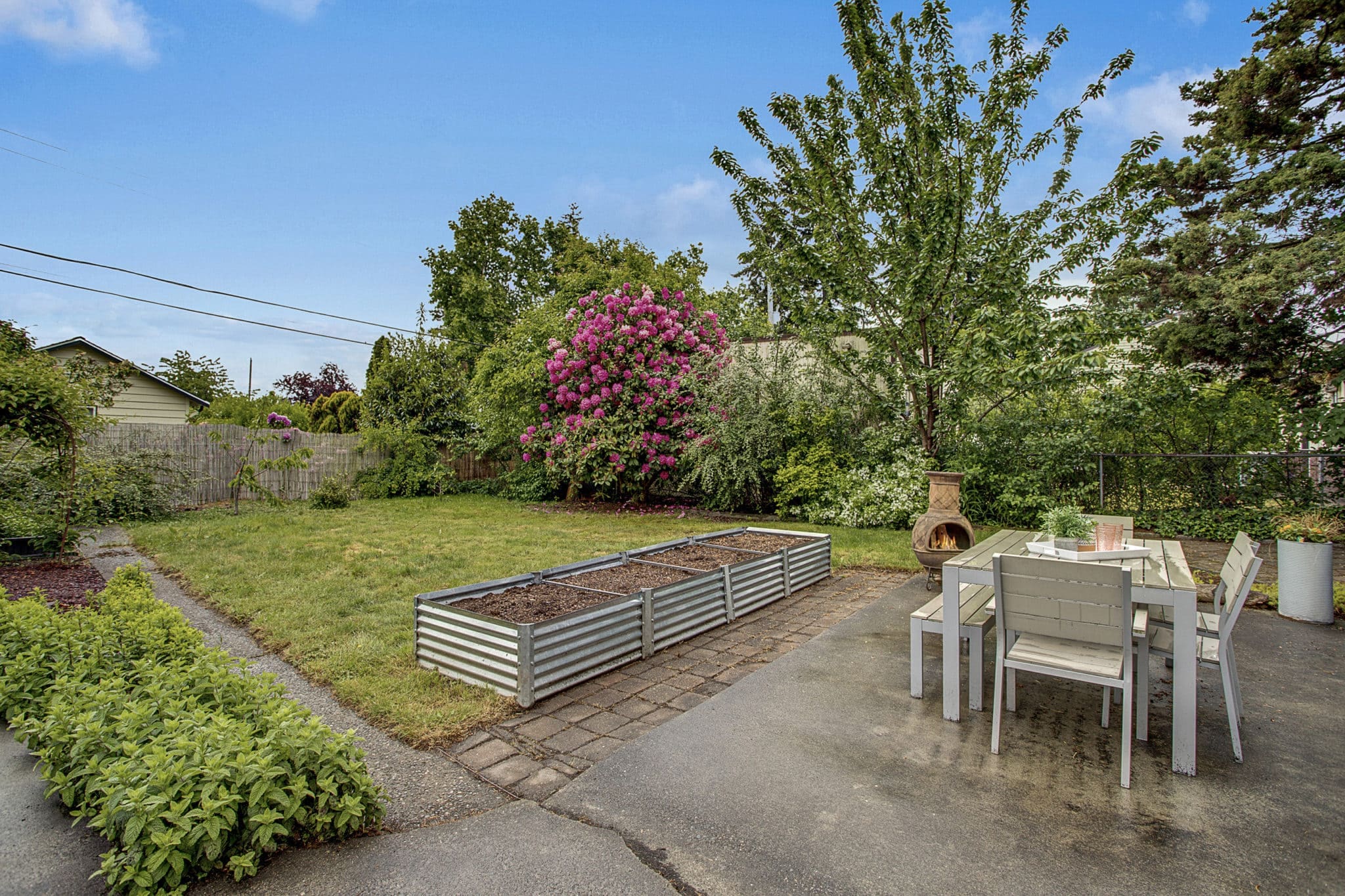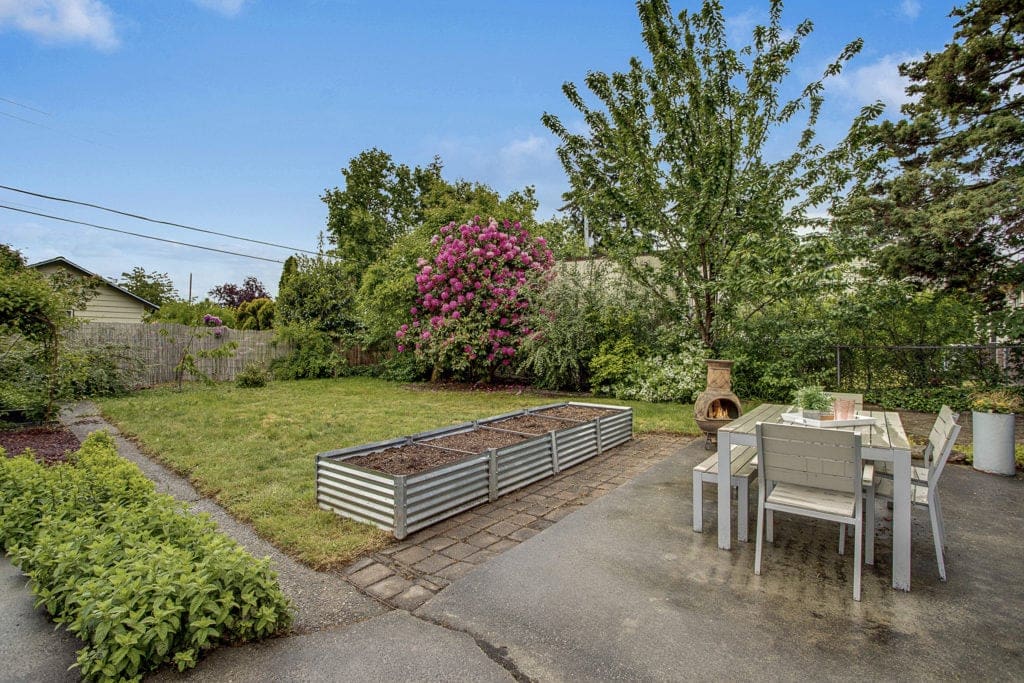 Entertaining, gardening, relaxation, and play are all in your future thanks to this Diva Dwelling's backyard. First of all, the yard is fully fenced so you can let your furry friend out to run and play without having to worry about them wandering far. (I know one big motivation for me when I bought a home was to get my dog a yard.) And when you want to have your besties over and entertain outdoors, this backyard is all set up to BBQ or just gather around the fire with cocktails! 
Of course, this backyard gem is especially a treat for those who love to garden. If you haven't given your green thumb a chance yet, who knows—you may discover a new passion once you start to enjoy this garden's bounty! There are already several edible plants here to enjoy. One Dwarf Asian pear tree, one dwarf cherry tree, and one semi-dwarf cherry tree, one Italian Plum tree, one red columnar apple tree, one yellow columnar apple tree, one rhubarb plant, and non-invasive blackberries offer a sweet harvest. There are also many beautiful non-edible plants as well, including two mature cedars, one lilac, one mature pink rhododendron, one mature Douglas Fir, one weeping pussy willow, St. John's Wort along the front yard slope, Hebes and small palms in the front beds, and Pieris japonica by the back door. Also, a raised metal bed is filled with organic soil and ready to plant for summer, and 4 smaller raised beds in the back are waiting to be cultivated as well! 
Team Diva takes every precaution, and then some, to make sure all of our homes are listed following all COVID precautions. Even though many people are getting vaccinated, we know that not everyone is ready to venture out just yet. It's is our duty to ensure everyone's safety as you enter one of our listings, but feel free to take a virtual tour from the comfort of your couch.
What's It Like to Live in Seattle's Arbor Heights Neighborhood?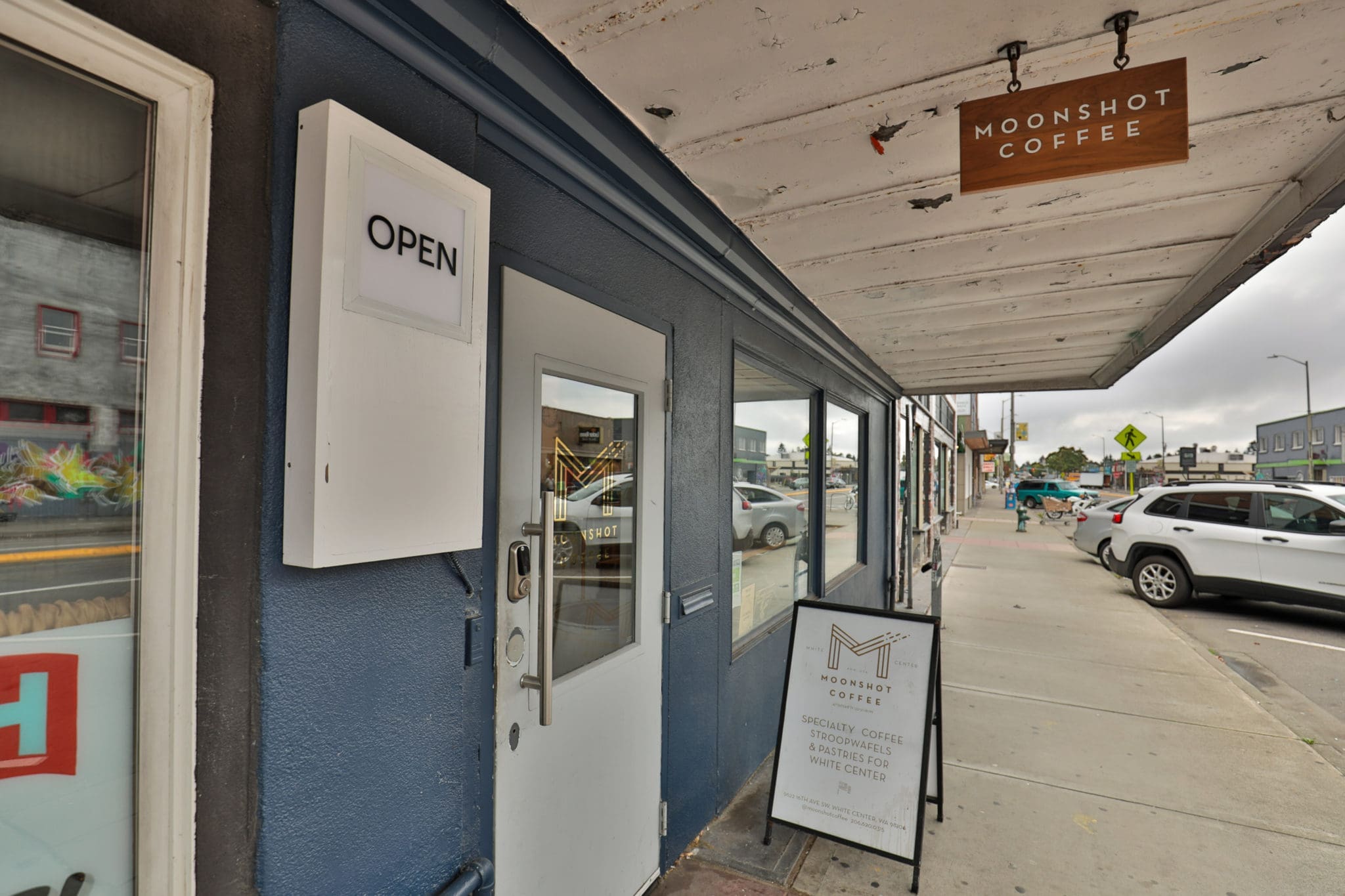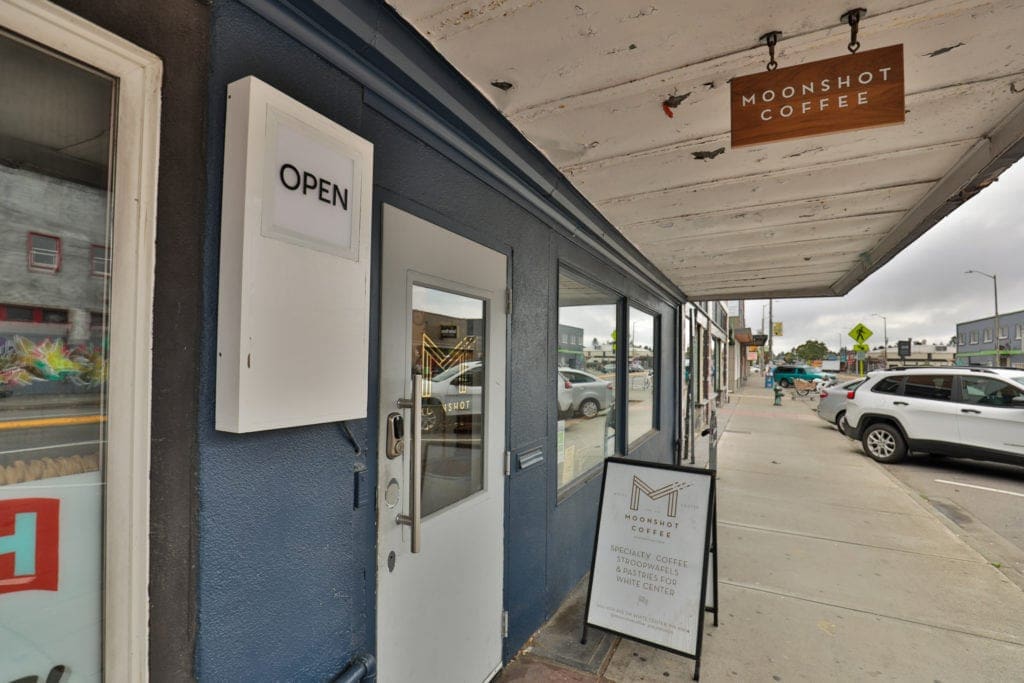 Here in Arbor Heights, you have easy access to Downtown Seattle. You're a few blocks walk to the main drag of White Center, and if you know me, you know I LOVE White Center. As COVID restrictions loosen up you will see that Arbor Heights has everything you need to be a walkable neighborhood. Great restaurants, superb coffee, local markets for fresh veggies, specialty ingredients, and meats that you can't find at the big box stores. 
On top of all that, you have awesome bars, a roller rink, and a bowling alley. These are all good reasons that people are moving to the most affordable corner of Seattle. On a typical weekend, you can stop by Meat the Live Butcher, Lee's Produce, and Beer Star to get all the necessary parts of an awesome backyard BBQ. Or maybe you can grab a new game from the Missing Piece to play with friends.  
There was a lot of grumbling when the West Seattle Bridge closed about a year ago, but those of us that live near the southern border of the city learned pretty quickly that we have everything we need and more right here.
A Neighborhood Ready for Outdoor Adventure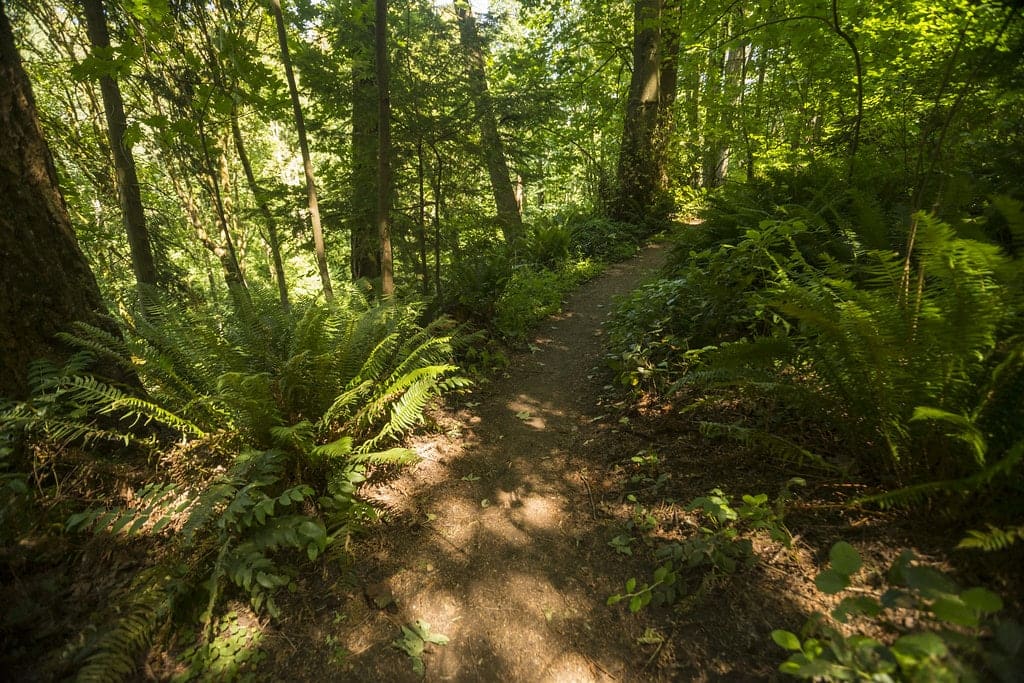 One of the top reasons why people love living in Arbor Heights is how easy it is to enjoy the outdoors. And not just that, but accessing Pacific Northwest destinations beyond Seattle is super easy, too. Just up the street is the ferry over to Vashon and the Olympic Peninsula. But if you want to hike a little closer to home, there are awesome nearby parks, like Fauntleroy Park. Grab the dog and head out for a stroll, either in the woods or out into the neighborhood to see all the cool mid-century homes. If you see me and Peppercorn make sure to stop and say "hi!" 
Check out some of the other great West Seattle homes we've sold:
---
How to Buy a Home in Seattle: The Entire Process in Brief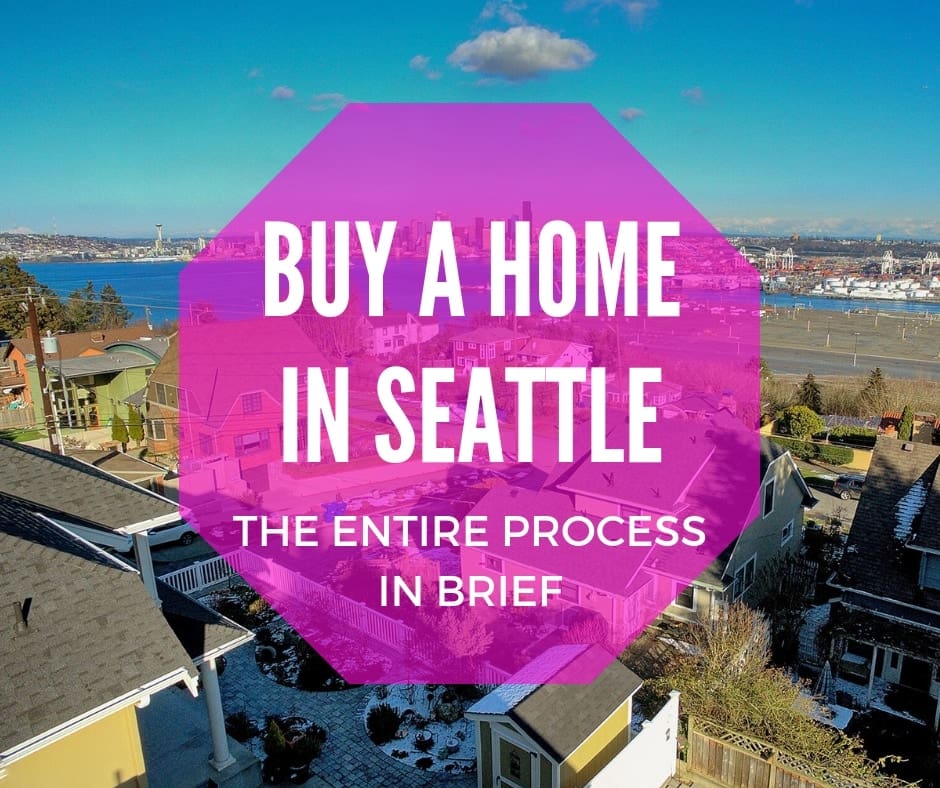 Let's get down and dirty. Owning a home in Seattle is an amazing experience and it can be fun. Do not listen to all of those cranky folks who think Seattle is not what it used to be and a middle-income owner cannot afford to buy a home in Seattle. Strap in, get yourself some strong Seattle coffee, and learn how to be a smart and savvy home buyer in Seattle.
Steps For Buying a Home in Seattle
Find Your Guide: Find an agent that is super savvy and will be your ultimate navigator.
Choose Your Priorities: Size, Condition, Or Location?
Home Buyer Intake Process: Schedule a sit-down meeting with you and your real estate team to dive into what you want in a home.
Financing: Get your financial house in order.
Big Search: The big home search in Seattle
Making an Offer: Know what you need and how to prepare yourself to make an offer.
You Are In Contract: You've signed on the dotted line. Now… the hard work really starts.
Inspecting Your Home: What to look for, how to hire an inspector, and how to respond to the inspection.
Reviewing The Title Report: The title report is often the most overlooked portion of the buyer's review.
Reviewing the HOA/Resale Certificate (for Condos): …Also an overlooked portion of the buyer's review process.
Appraisal Process: Most homes are purchased with a home loan. The appraisal determines the final value by your lender for your home.
Final Loan Approval: All kinds of things can come up during the final loan approval process, so be prepared.
Final Two Weeks of the Process: Walkthrough, inspection resolution, and (for god's sake) do not make a huge purchase on a credit card.
Signing Your Final Homeowner Documents: You made it!
Closing Day: You get the keys and access to your home.
This is just a starting point, and we have so much more to share about the home buying process. Browse our Home Buyer page for a comprehensive home buying education.
---
Thank You For Touring Our Classic Arbor Heights Bungalow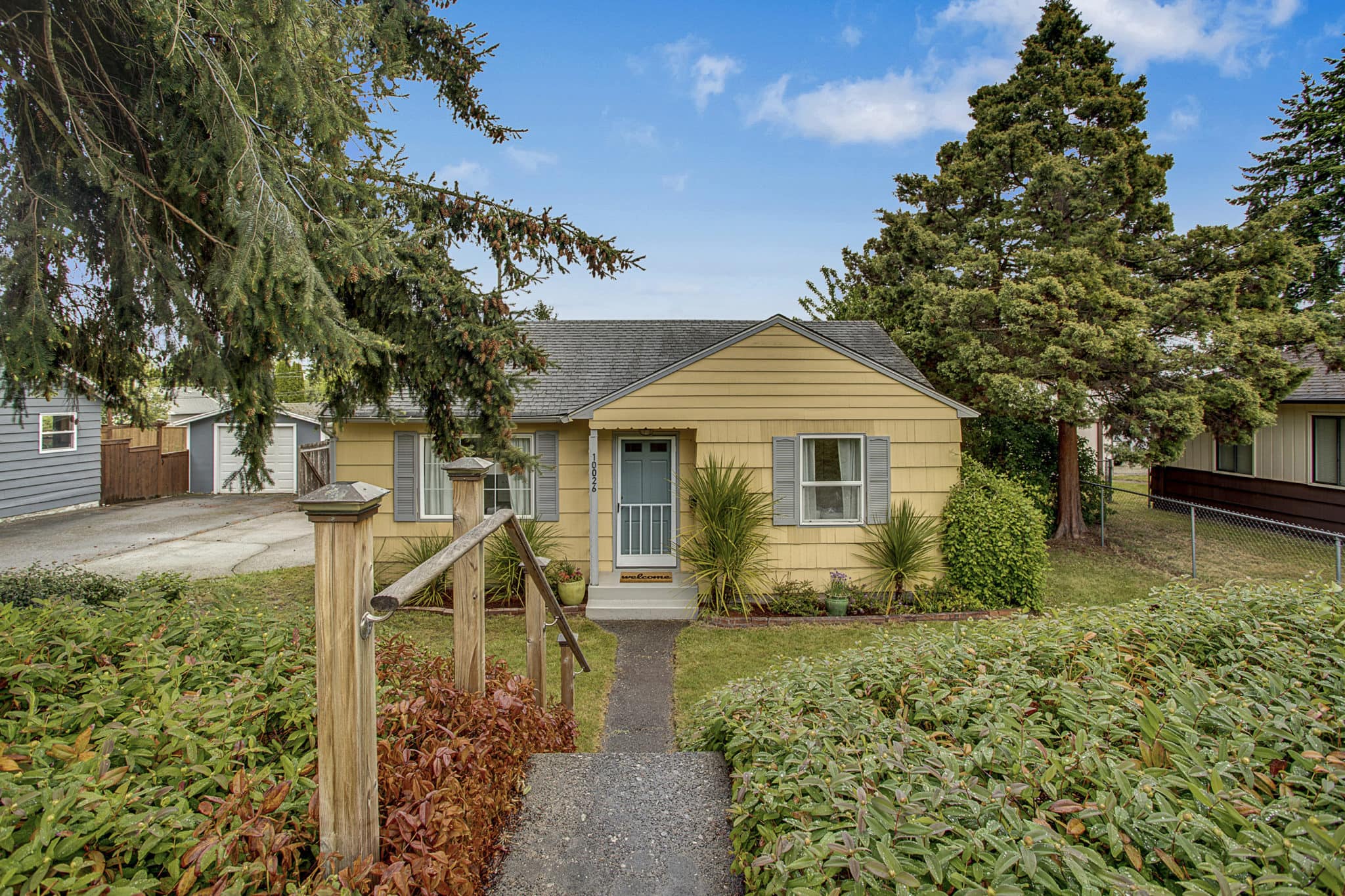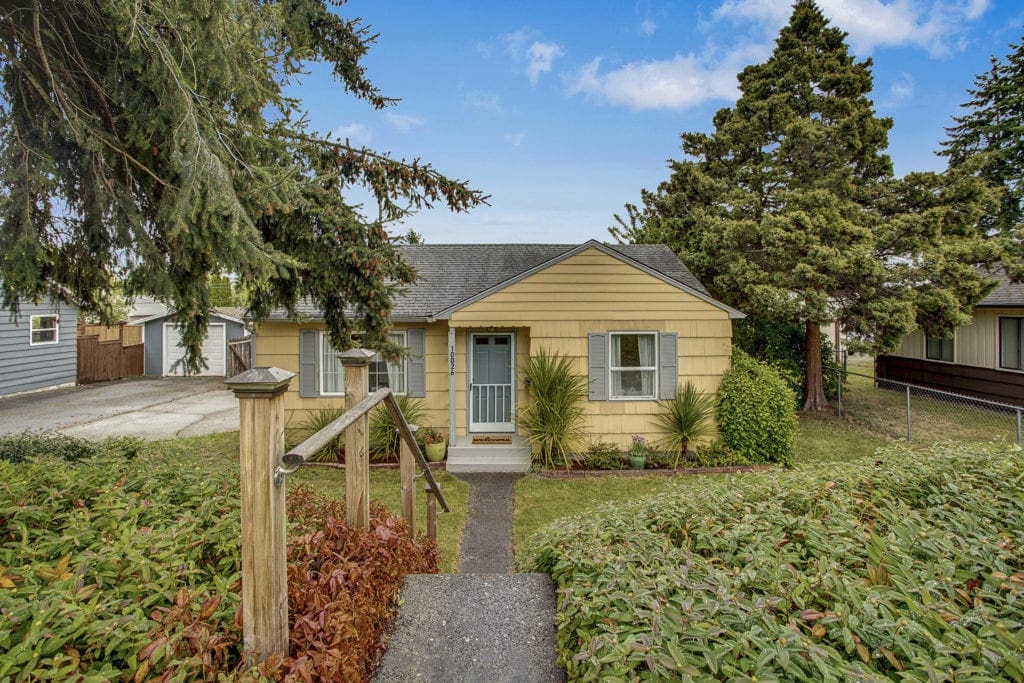 Thank you for taking the time to learn all about this Classic Arbor Heights Bungalow! I am so excited to share the many perks of this home, including how practical and low-maintenance it is, as well as all of its potential. I also love how much possibility there in the fully fenced yard, and how this scenic neighborhood expands the opportunity for outdoor living. Yet you're wonderfully surrounded by city amenities! 
All the Good Details
Address: 10026 35th Ave SW, Seattle, WA 98146

MLS# 1783603

Square Footage: 710

Bedrooms: 2 

Bathrooms: 1 

Offering Price: $475,000
Ready to tour this Classic Arbor Heights Bungalow in person? Contact us today so I can show you how this affordable home offers practical living yet customizable space and a lovely backyard getaway, all in a wonderful West Seattle location.