They don't make 'em like they used to, they say, and this Arbor Heights Rambler was built to last. Of course, all homes need proper care and maintenance, and this one has received all that and more. From stunning updates inside and out to a beautiful mature yard, it's a real gem.
Let's take a look at the five features (or rather "suites of features") that we love most about this classic home.
5 Things We Love About This Arbor Heights Rambler
The Stellar 2018 Upgrades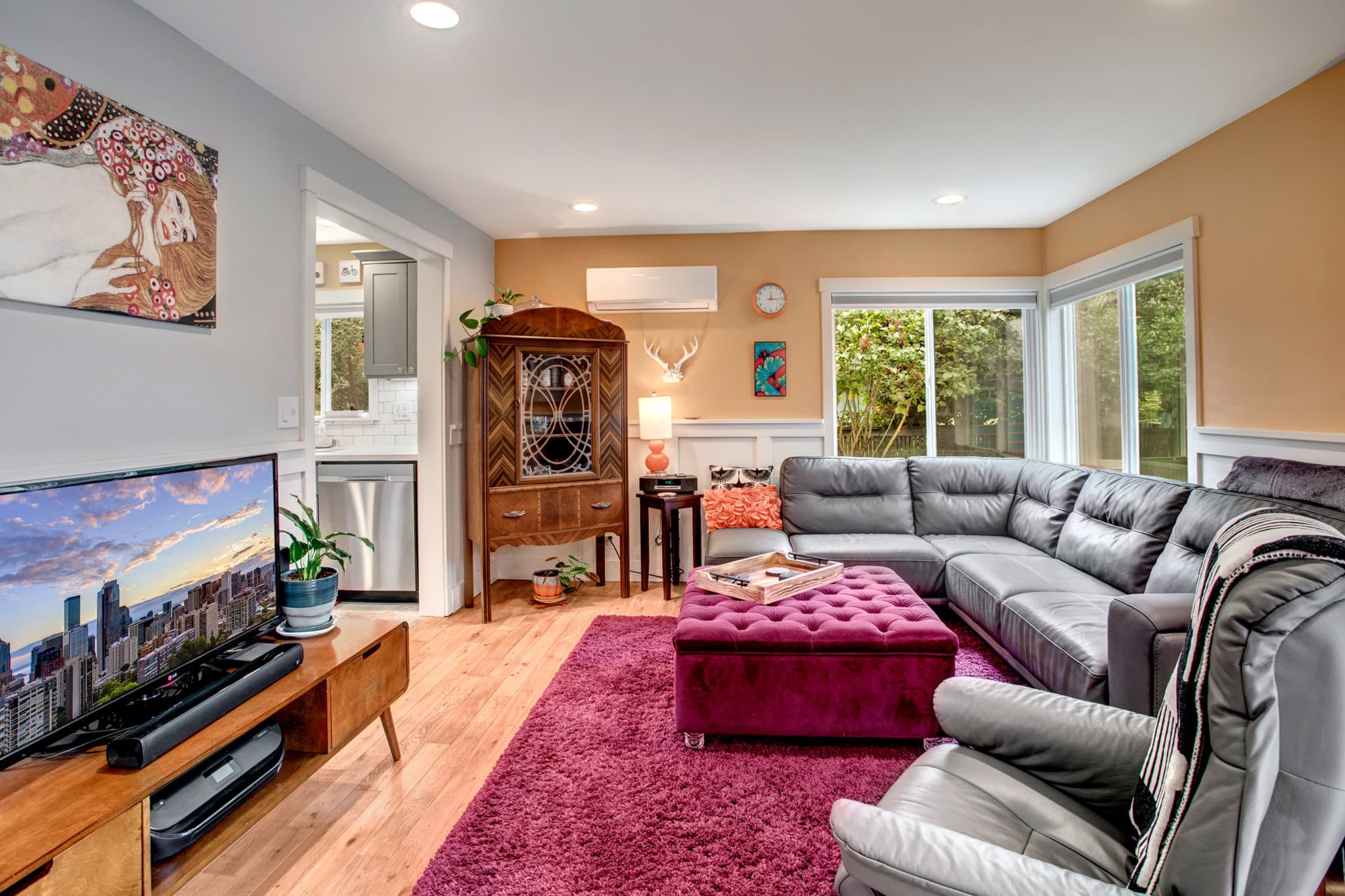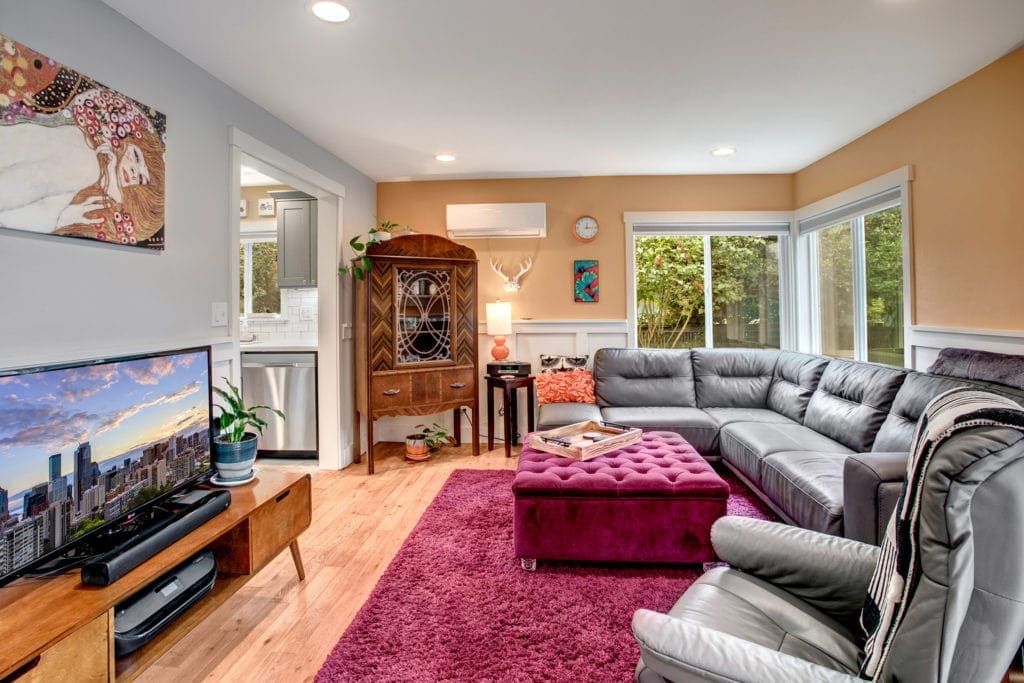 This Arbor Heights Rambler had great bones when the current owners moved in, but it needed modernizing. The entire home was remodeled to the studs, including a new roof. The whole exterior has been made more durable and beautiful, thanks to concrete plank siding.
Inside, the kitchen has been updated with new floors, cabinets, quartz countertops, and beautiful stainless-steel appliances. Behind the walls, updated plumbing and electrical systems will stay low maintenance and worry-free for years to come.
And speaking of systems, the best upgrade may just be the heat pump and AC. It will keep you warm in the winter, and completely cool in the summer. Double-paned windows also added in 2018 keep the home energy efficient, even when you keep them uncovered for lots of natural light.
The Fantastic Layout And Kitchen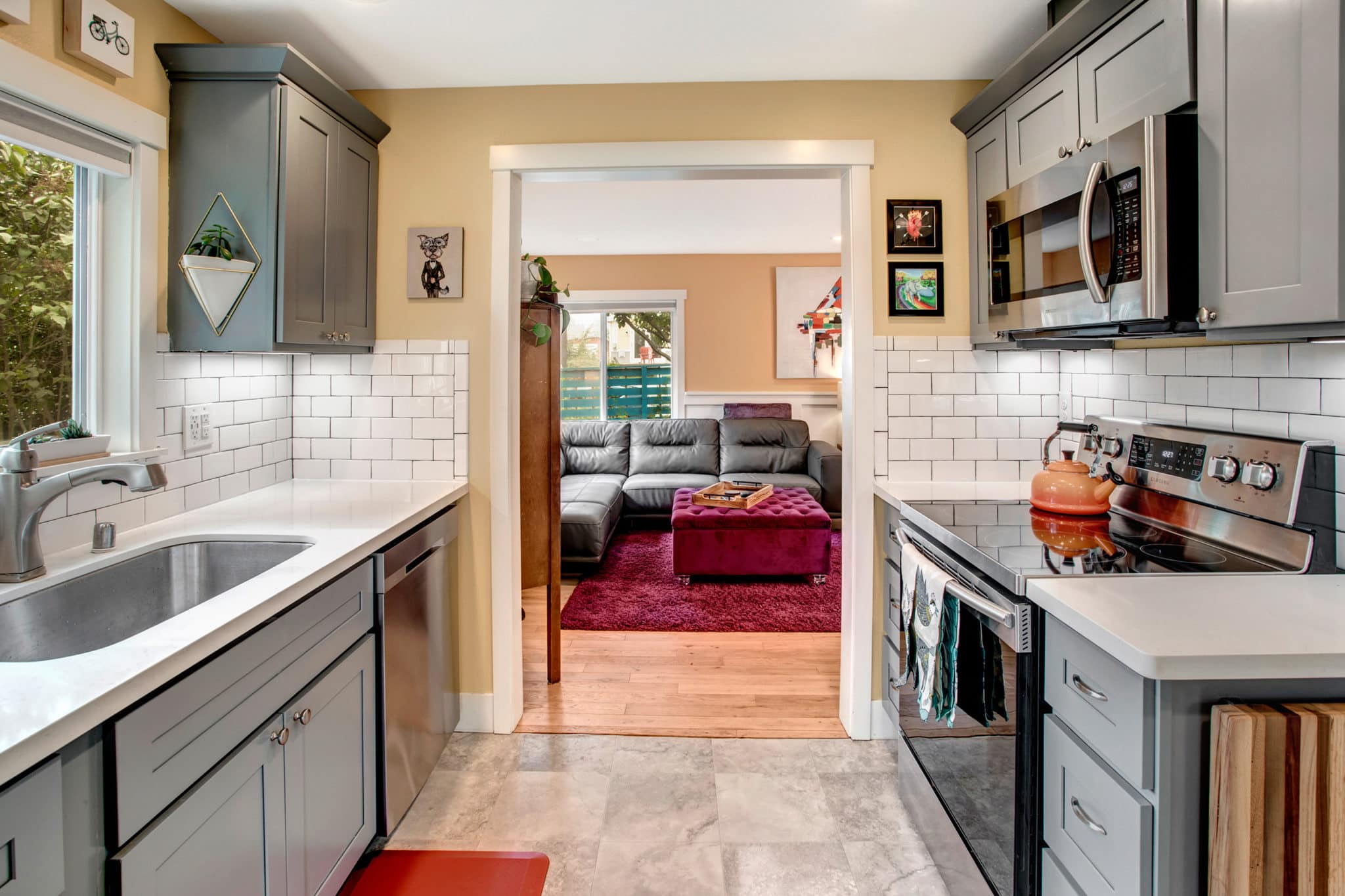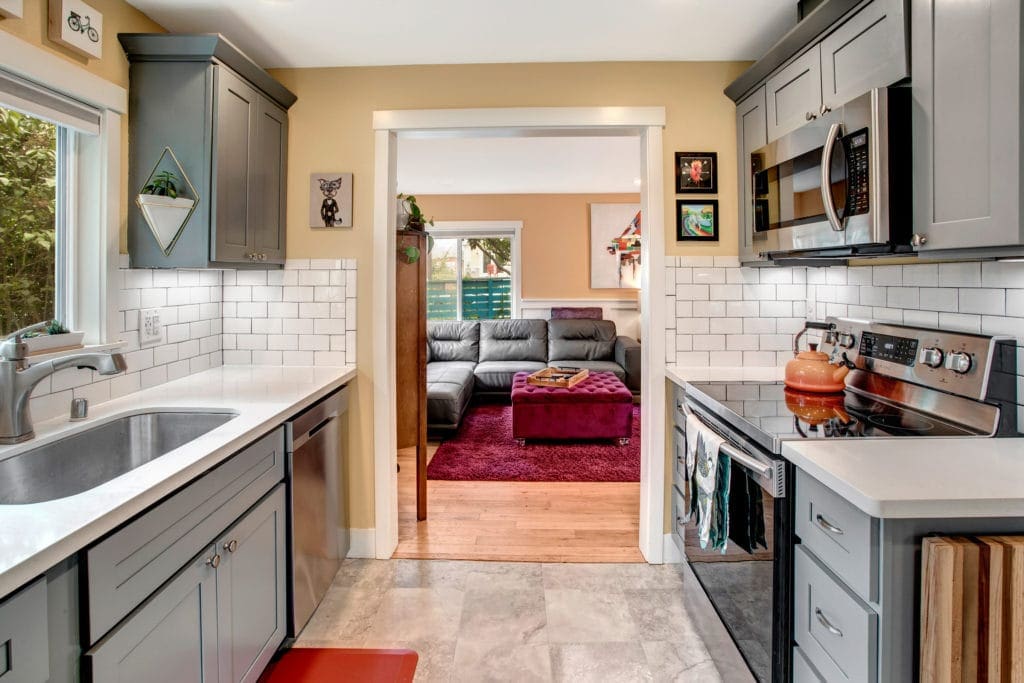 This Arbor Heights Rambler seamlessly blends its living areas, as well as its great design touches. One of our personal favorites is the classic wainscoting in the living room and bathroom. The paint, the tile, even the under-the-cabinet LED lighting in the kitchen have a fresh, chic, and inviting look.
And the kitchen really is the heart of entertaining, so more on that: It has lots of custom shelving and cabinets, so whatever gadgets and ingredients you need can be stowed easily, and retrieved in a snap. The owners also have set aside space where they have put in a butcher block. We recommend doing the same, as it adds even more counter and workspace.
Bonus: The big basement has plenty of room for even more storage, and the perfect temperature for a wine collection, too. The current owners used the basement for storage, and even made a craft room in the basement, too.
The Sunroom And Spacious Deck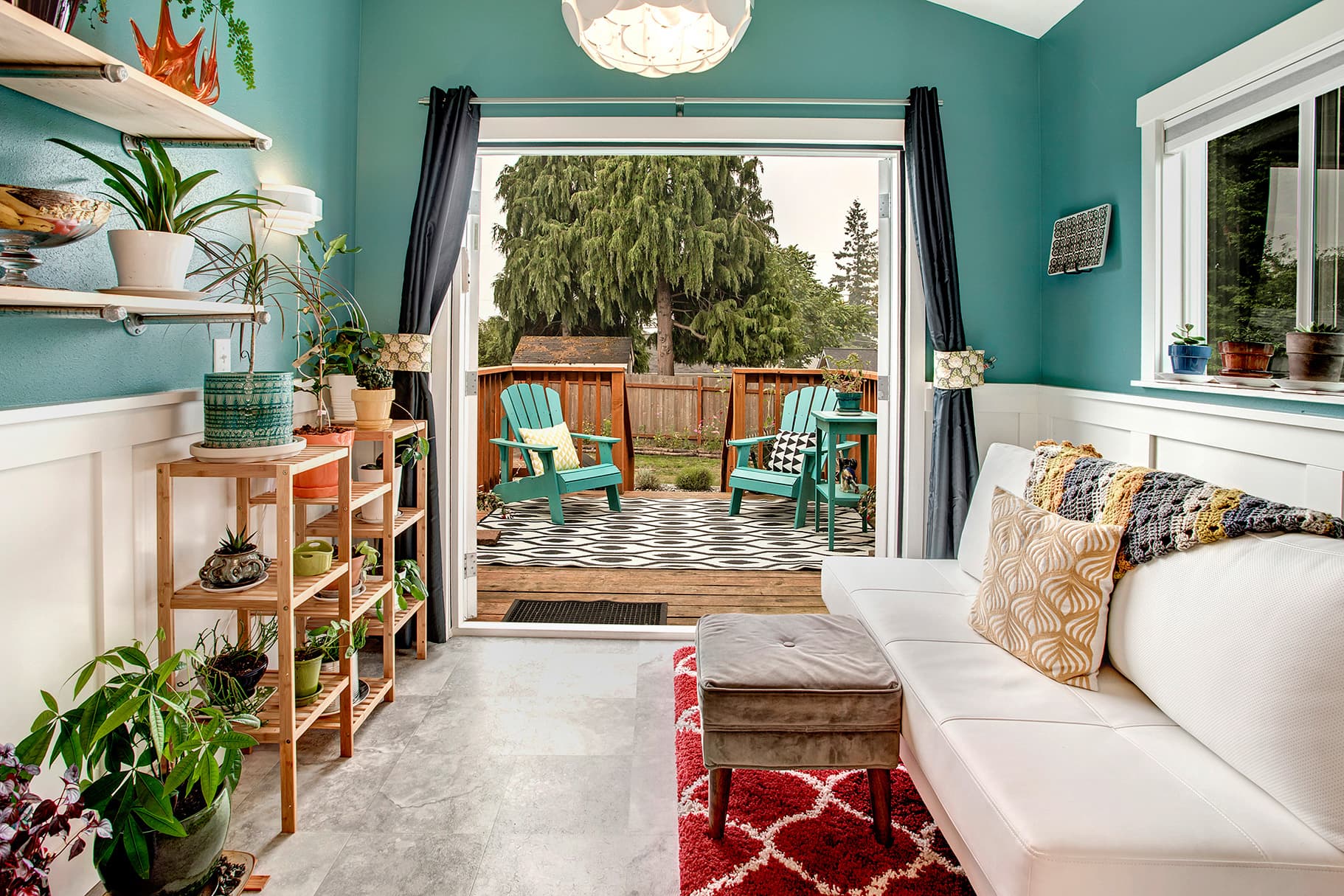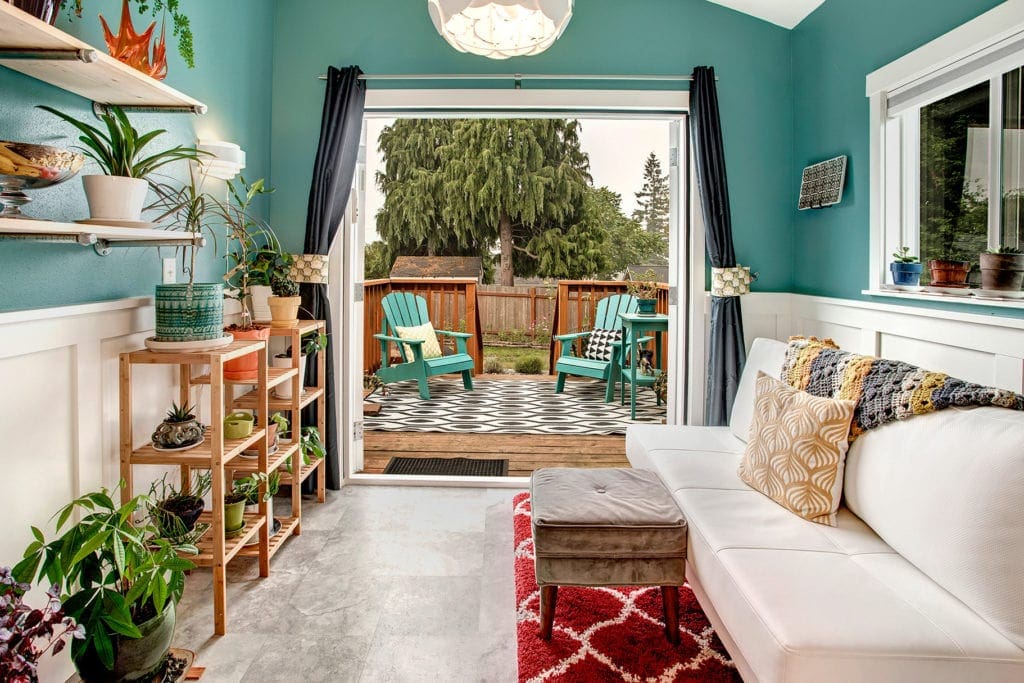 The seamless movement between spaces even extends to the outdoors, thanks to the gorgeous sunroom. The current owners of this Arbor Heights Rambler spend a lot of time there. It gets the most lovely light, the french doors to the deck admit a refreshing breeze.
Step out onto the deck and get a view of Mt Rainier on clear days, but still enjoy real privacy. It's a "sanctuary," in the words of the current owners, thanks largely to the custom privacy fence and large evergreens surrounding the backyard on all sides. These trees are not on this home's property…but a lot of other plants and trees are…
The Mature Yard And Outdoor Garage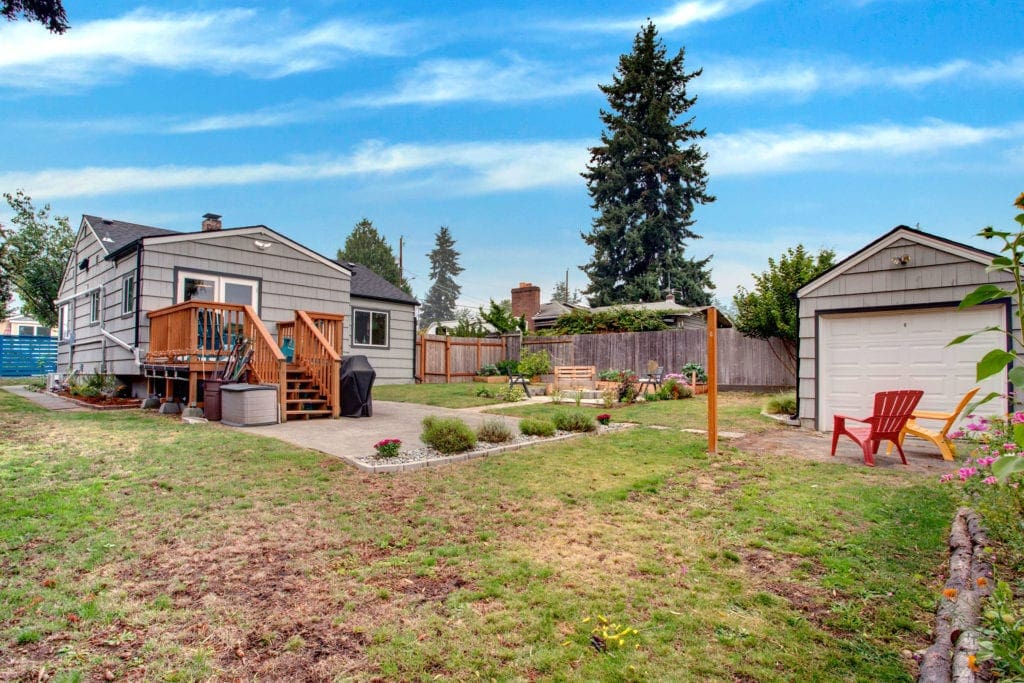 The prettiest tree on this block is a massive cherry tree in the yard of this Arbor Heights Rambler. It turns into a massive pink cloud in April. But that isn't the only thing blooming in this mature yard. There are flower and food gardens and custom garden beds. An intricate rain collection system for irrigation is fed from the gutters into four rain barrels tucked under the deck.
There are spots for sun-lovers and shade-lovers around the house, and you won't just be hanging out in the back. There is a fab private patio in the front yard, too.
The Neighborhood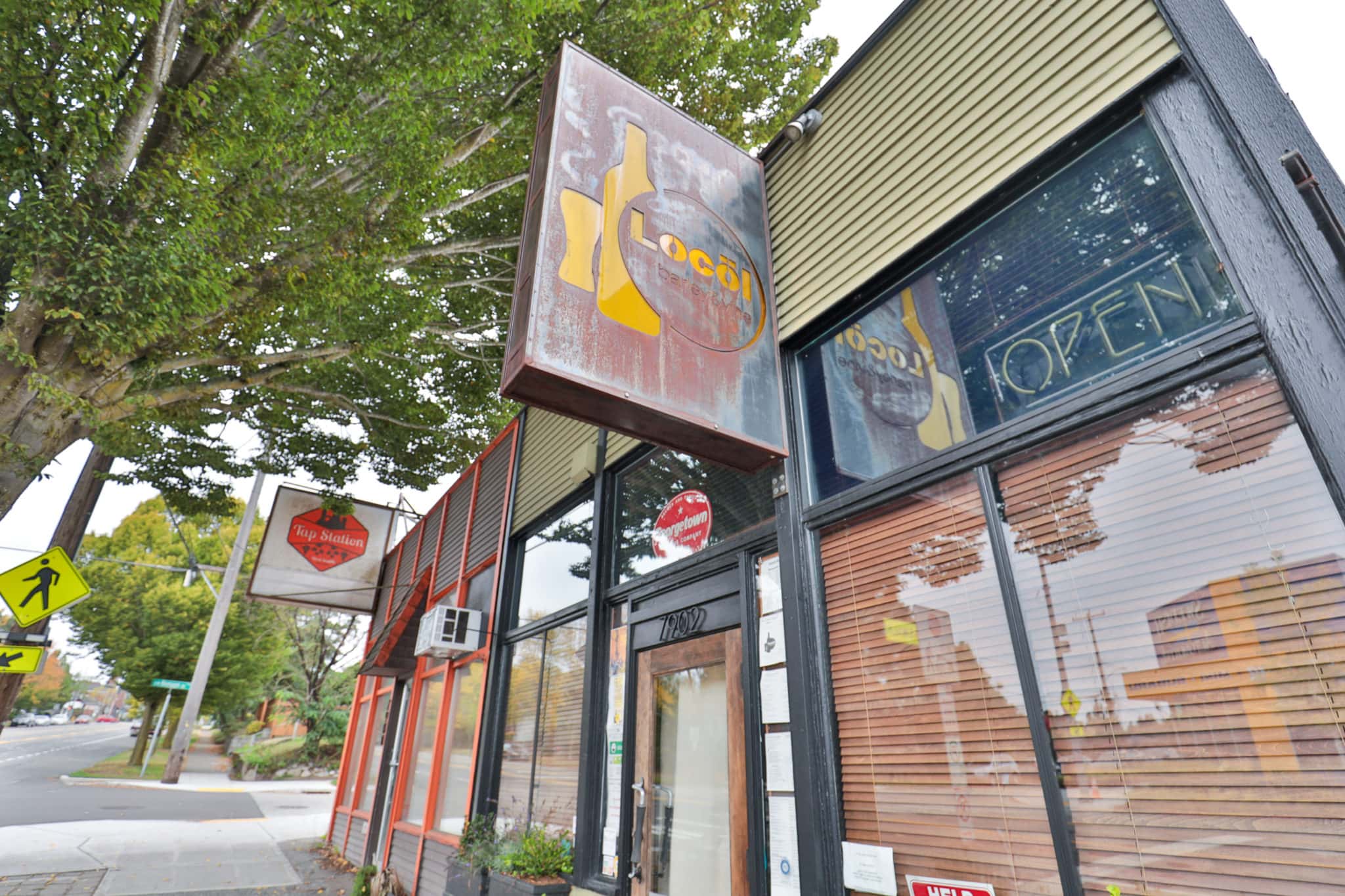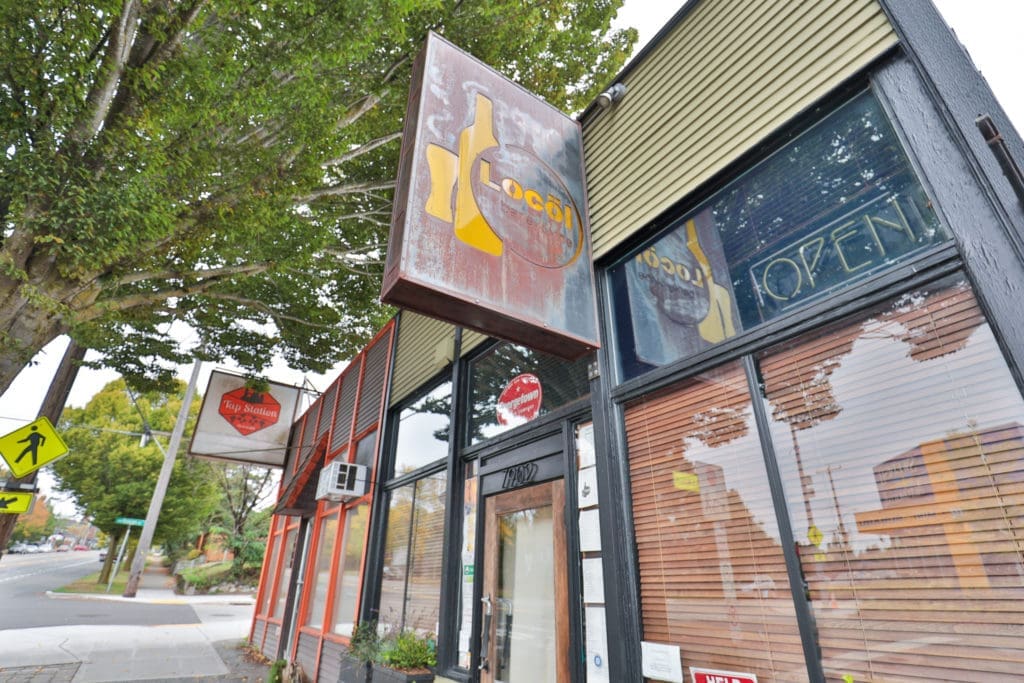 West Seattle is known for its homey feel. People know each other, and they look out for each other. This has been exactly the experience of the current owners since moving in. And for folks with small kids, being really close to Arbor Heights elementary is a big bonus.
Though Arbor Heights may be a quiet part of town, you won't feel isolated here either. There is nearby shopping at Westwood Village and nightlife in White Center. And when it's time to get on the highway, Arbor Heights has an advantage over northern parts of West Seattle affected by bridge closures. It is much closer to the 1st Avenue bridge, where most people are crossing the Duwamish these days. This means easy access to Highway 99, heading north and south.
---
More About The Neighborhood: Arbor Heights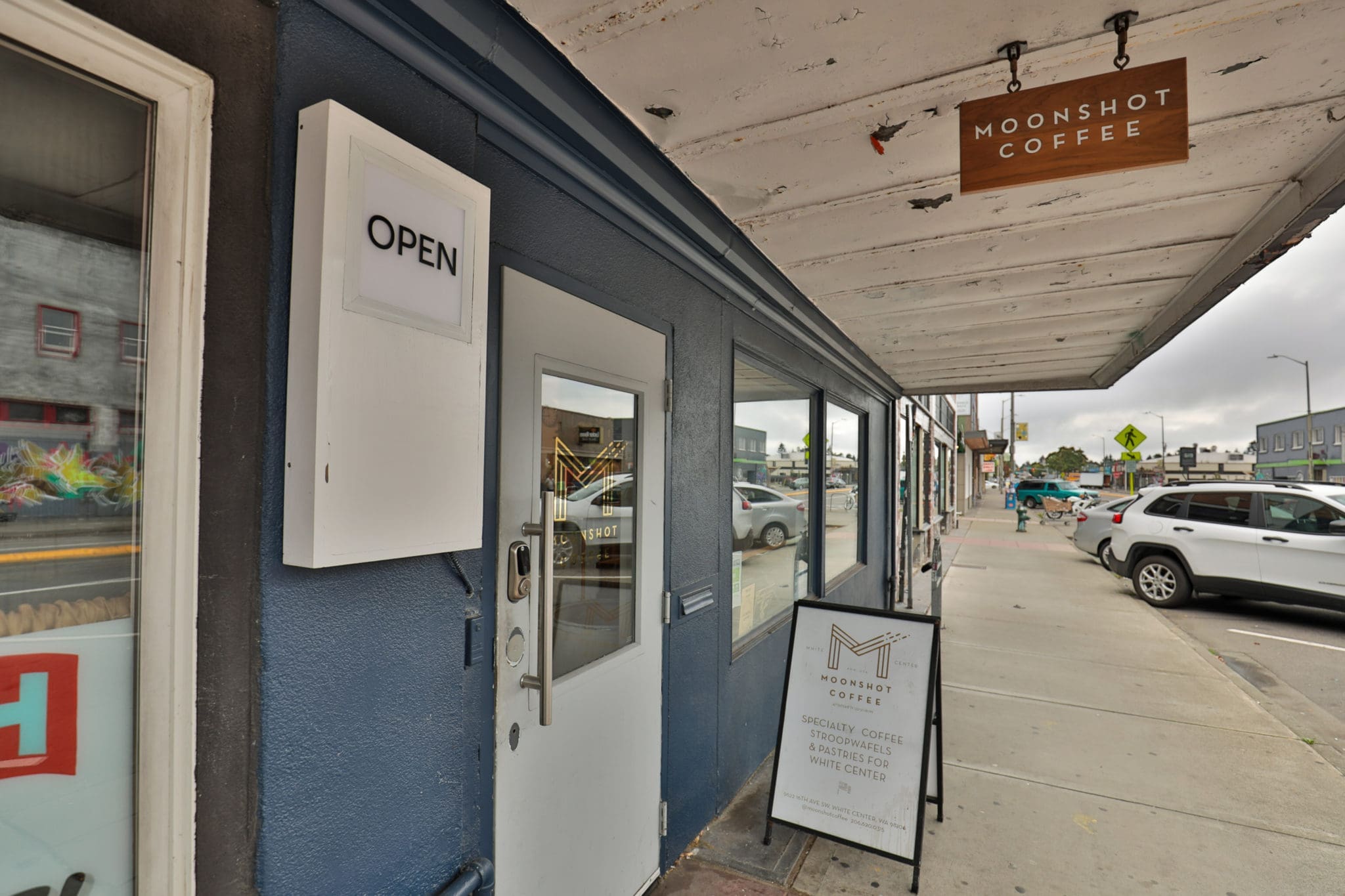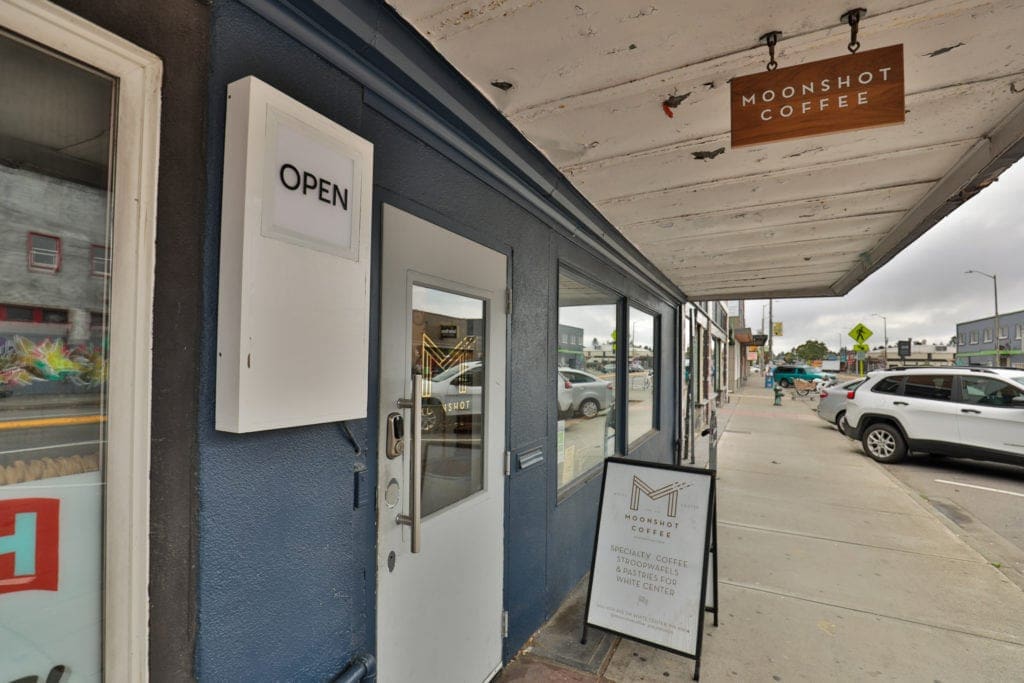 For groceries and everyday essentials, Westwood Village is just a five-minute drive away from this Arbor Heights Rambler. Of course, when most people think of the hub of West Seattle, they probably think of Alaska Junction, which is just a little further north. You have options.
And if you are looking for nightlife, you are also close to White Center, which is full of great local bars and restaurants. This neighborhood is quite beloved for its cheap eats, chill pubs, big roller rink, and unaffected blue-collar vibes.
---
How To Buy A Home in Seattle: An Overview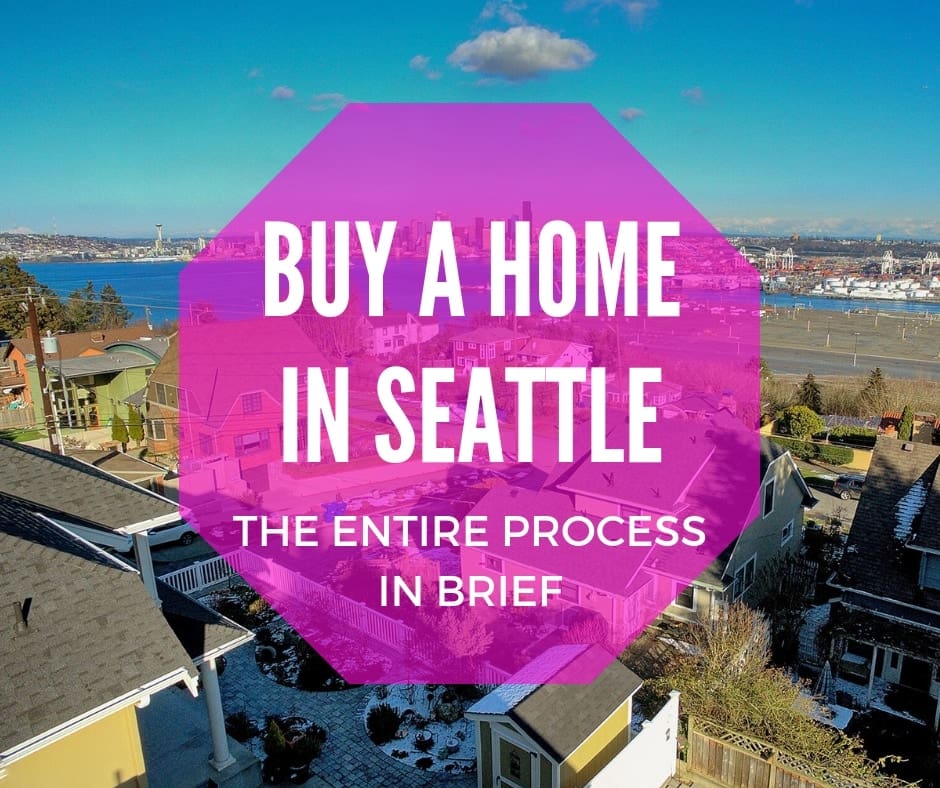 Want an all-inclusive crash course in home buying one place? Check out our How To Buy A Home In Seattle blog post. Whether you are a first-time home-buyer, new to town, or buying up in Seattle Real Estate, our guide can keep you on track. And when you want to get more specific details, check out our Buyer's Page. It's full of instructional content on a vast array of subjects and steps in your home buying journey.
---
Take A Virtual Tour Of This Arbor Heights Rambler
Address: 10236 36th Ave SW
Square Footage: 1,260
Bedrooms: 2
Bathrooms: 1
Offering Price: $550,000